The American road trip … it's iconic! And there's no better way to see some of the most special places across the country. But what if you want to include your pet in the fun? Here are 49 breathtaking sights you'll love exploring together on a pet friendly American road trip!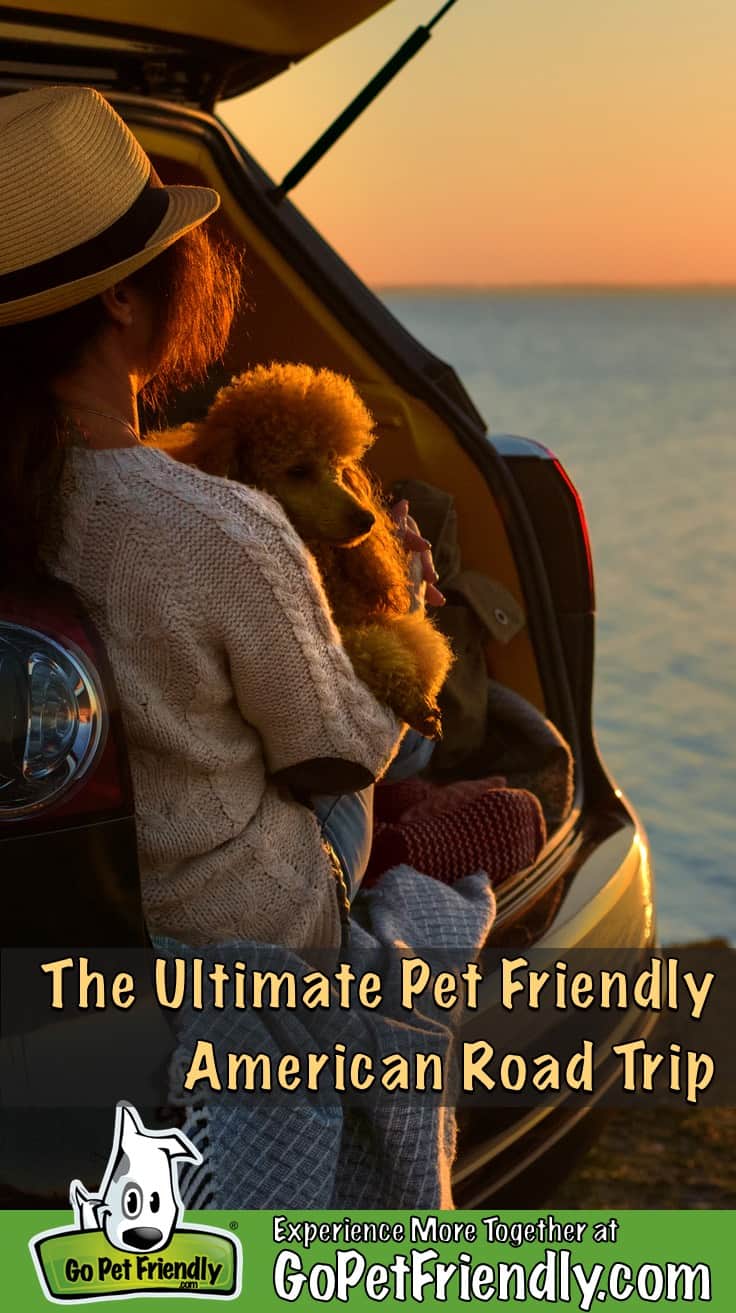 Road trip vacations are as American as apple pie. And yet, planning to see the "best" the United States has to offer can be overwhelming. Your trip could focus on cultural sites, national parks, state capitols, scenic landmarks, or sports venues.
But if you're looking for a truly special experience, why not plan the best pet friendly American road trip? Visit the top pet friendly attraction in each state, and collect precious memories with your best friend along the way!
A Pet Friendly American Road Trip
The most difficult part of planning an epic road trip is choosing the stops. From beaches to mountain tops, bustling cities to secluded retreats, you want to see the very best places across the country.
We traveled full-time with our dogs for twelve years, spending time in all of the lower 48 states. And we're happy to share what we've learned!
Whether you're planning to see the whole country in one trip, or checking out one region at a time, the itinerary we've laid out for your pet friendly American road trip will give you a good feel for what each state is about. And very stop is guaranteed to be fun for you and your pet! Click on the name of each location for more details and photos.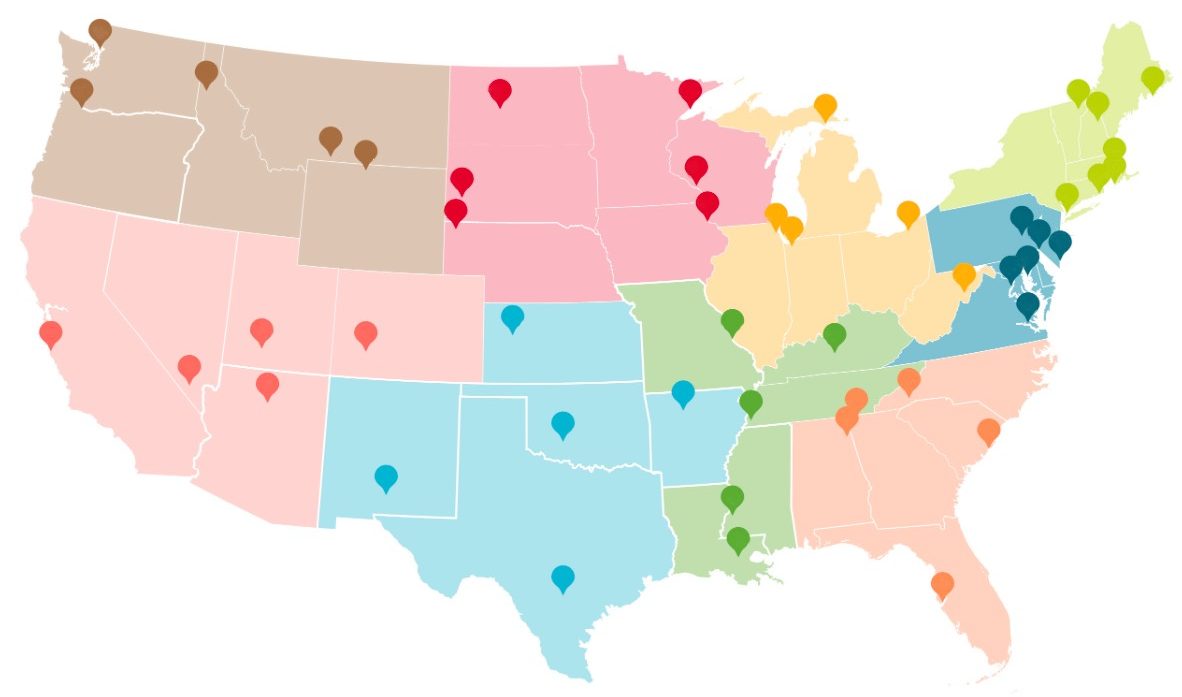 The Ultimate Pet Friendly American Road Trip
This itinerary covers nearly 15,000 miles and would take at least a couple of months to complete. If you can do it all at once, it's absolutely the trip of a lifetime!
If you're looking for shorter trips, choose one or two regions and do a deeper dive in each area. Any combination will make a fantastic pet friendly vacation.
The Northwest
We start this pet friendly American road trip in the northwestern United States. From Washington's green isles to the heights of Beartooth Highway, this region has something for everyone!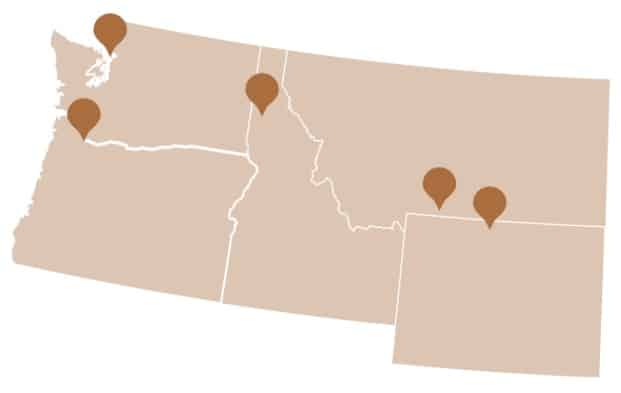 In the far northwest corner of the contiguous United States, off the coast of Washington, lies a confetti of emerald jewels in the Salish Sea. Known as the San Juan Islands, the landscape is a patchwork of pine forests, stoney beaches, verdant pastures and fields, and sparkling lakes.
Each of the islands has its own charm, and no matter which you visit, you won't be disappointed.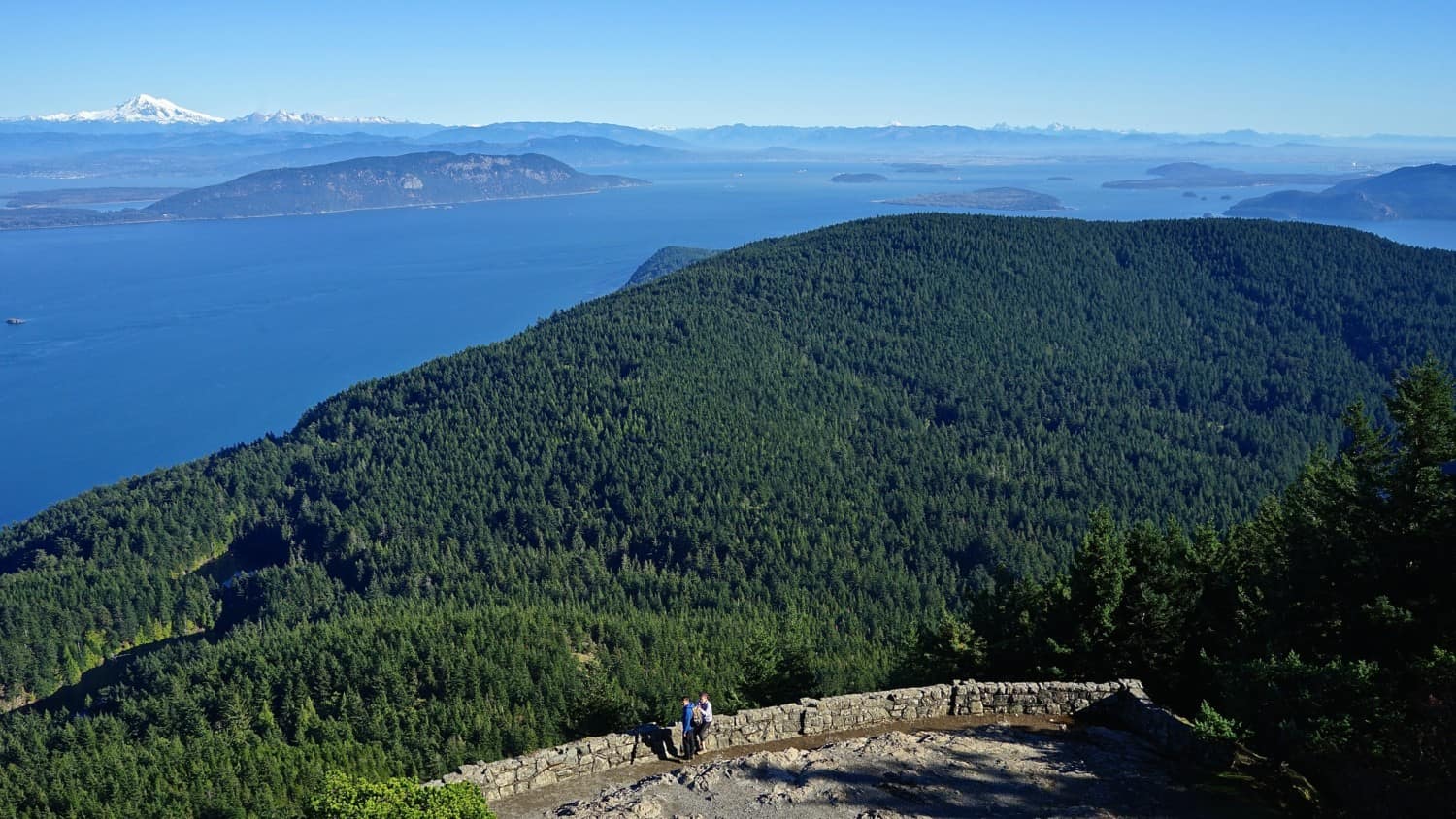 With eclectic neighborhoods, great eateries, and one of the most extensive urban park systems in the country, Portland, Oregon is a pet friendly playground!
Boasting 10,000 acres of natural areas and parks scattered around the city, there's a treasure around every corner. And if your pup enjoys being social, don't miss some of the 20+ off-leash areas!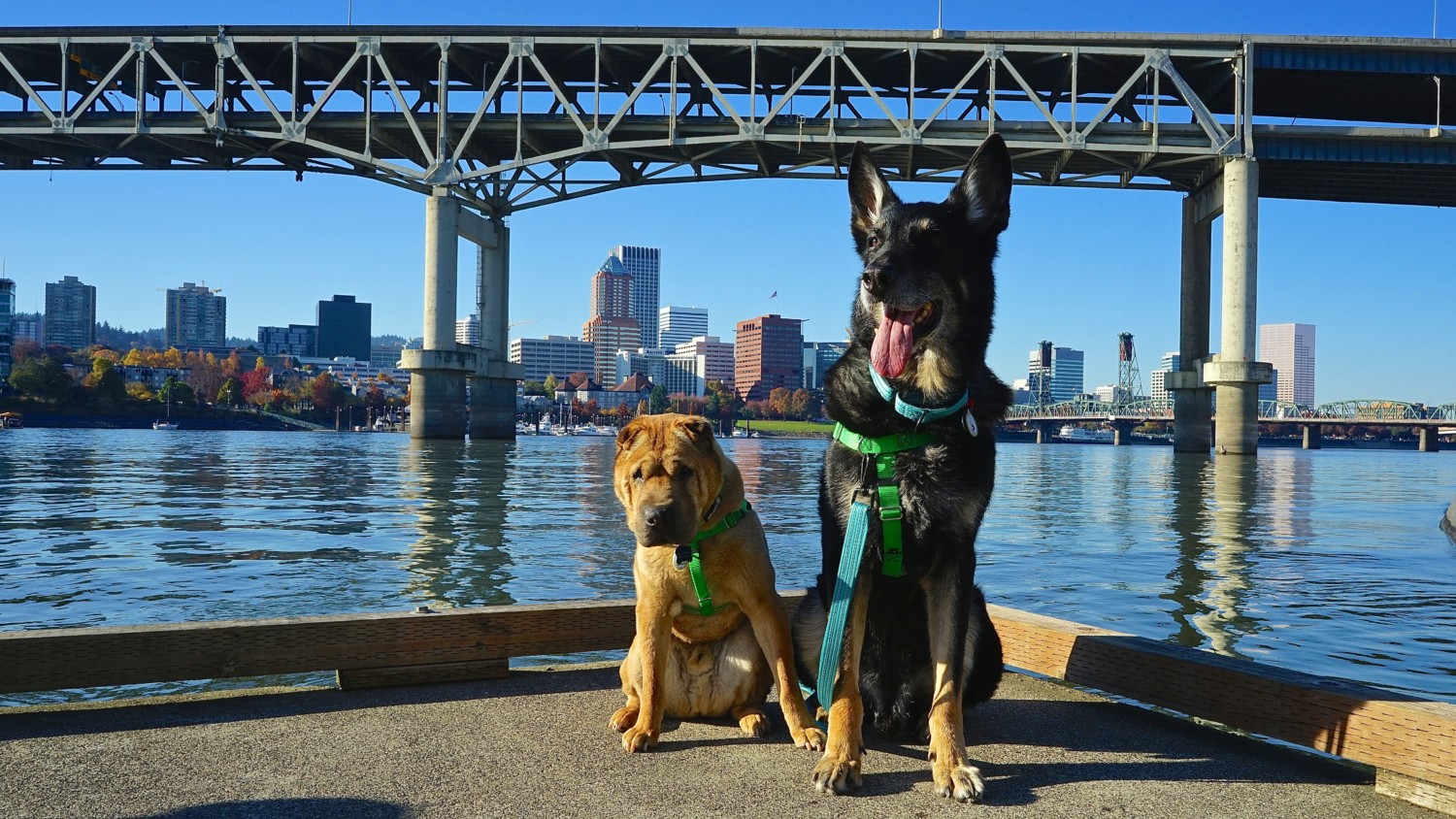 Among the rugged peaks of northern Idaho, where pine trees far outnumber people, lies one of the most beautiful lakes in the world. Unfolding over 26 miles with more than 135 miles of shoreline, Lake Coeur d'Alene is a sparkling blue jewel.
From scenic boat tours to miles of pet friendly trails, there are as many ways to enjoy Lake Coeur d'Alene as your imagination allows.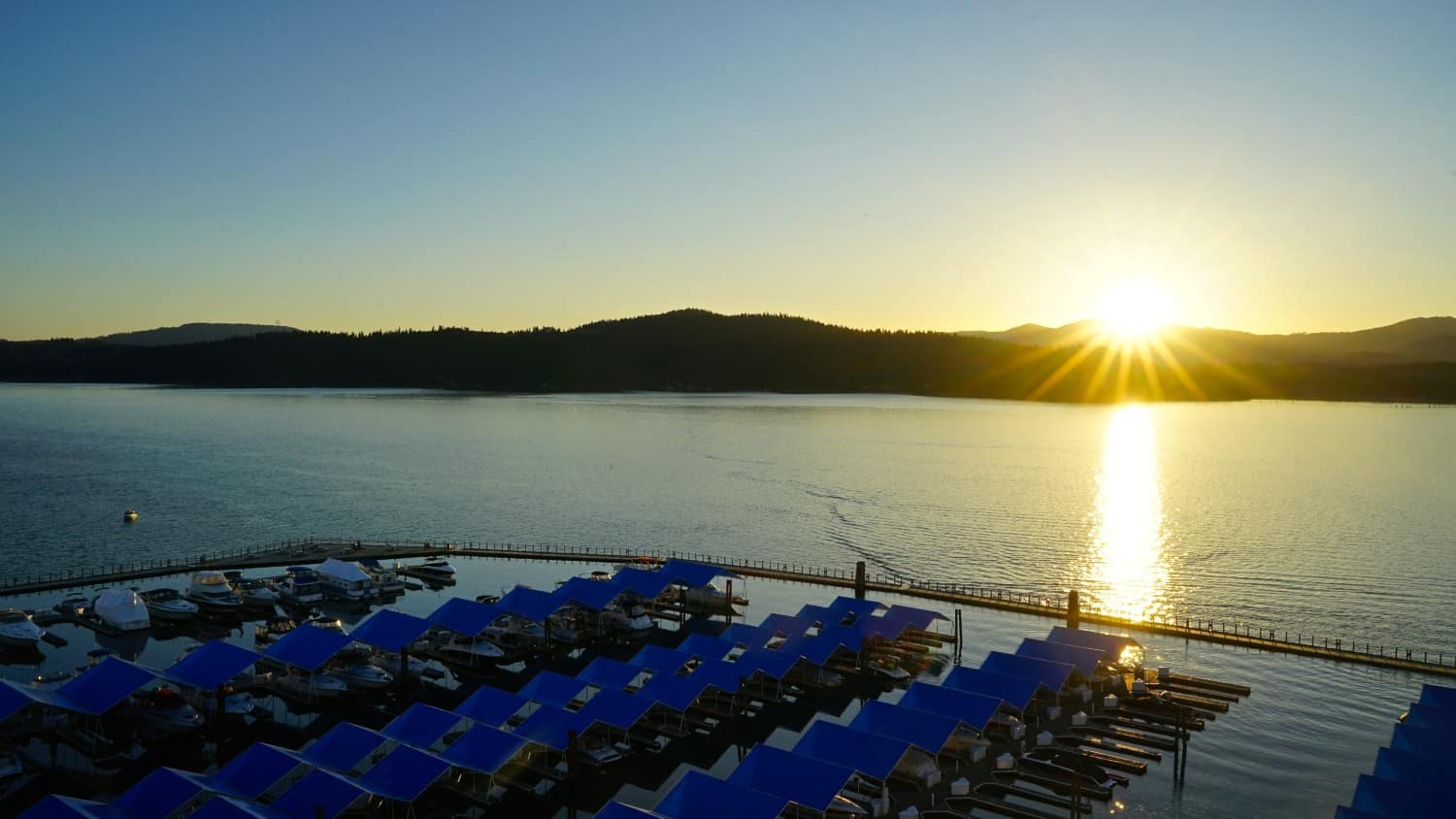 You'll find some of Wyoming's most diverse terrain in the Bighorn Mountains. It would be easy to spend weeks hiking the 1,500 miles of pet friendly trails and enjoying the three scenic drives. But for us, nothing speaks to the timelessness and beauty of the Bighorns like a visit to Medicine Wheel.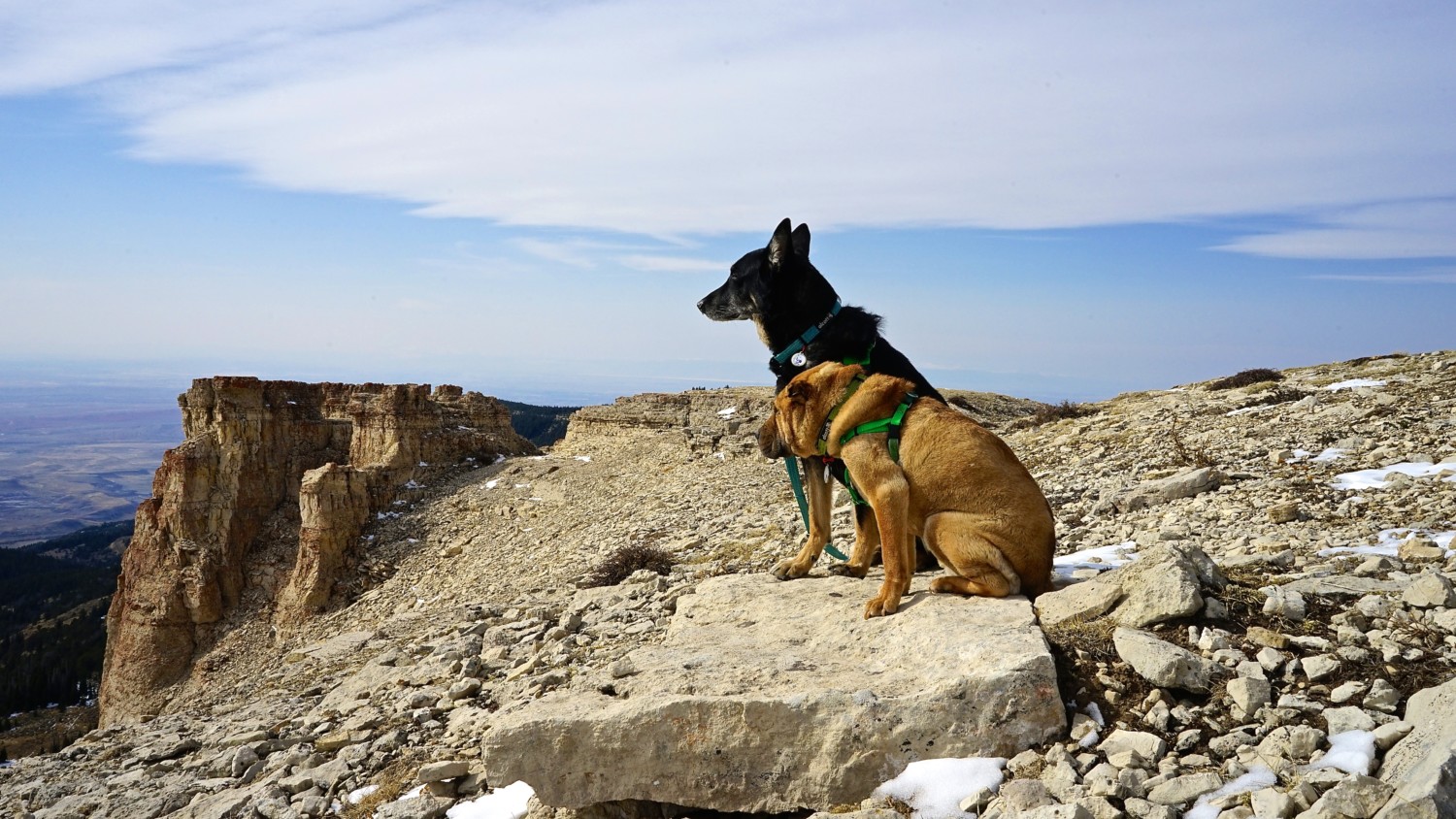 For 68 miles, between Cooke City and Red Lodge, Montana, the Beartooth Highway winds through some of the most awe inspiring terrain in the United States. This road, one of the highest in the lower 48 states, passes 20 peaks that rise over 12,000 feet.
You'll experience pristine mountain landscapes, lush forests, and alpine tundra – all within a few miles. And there are numerous places to park the car and hit a pet friendly trail with your furry travel buddy!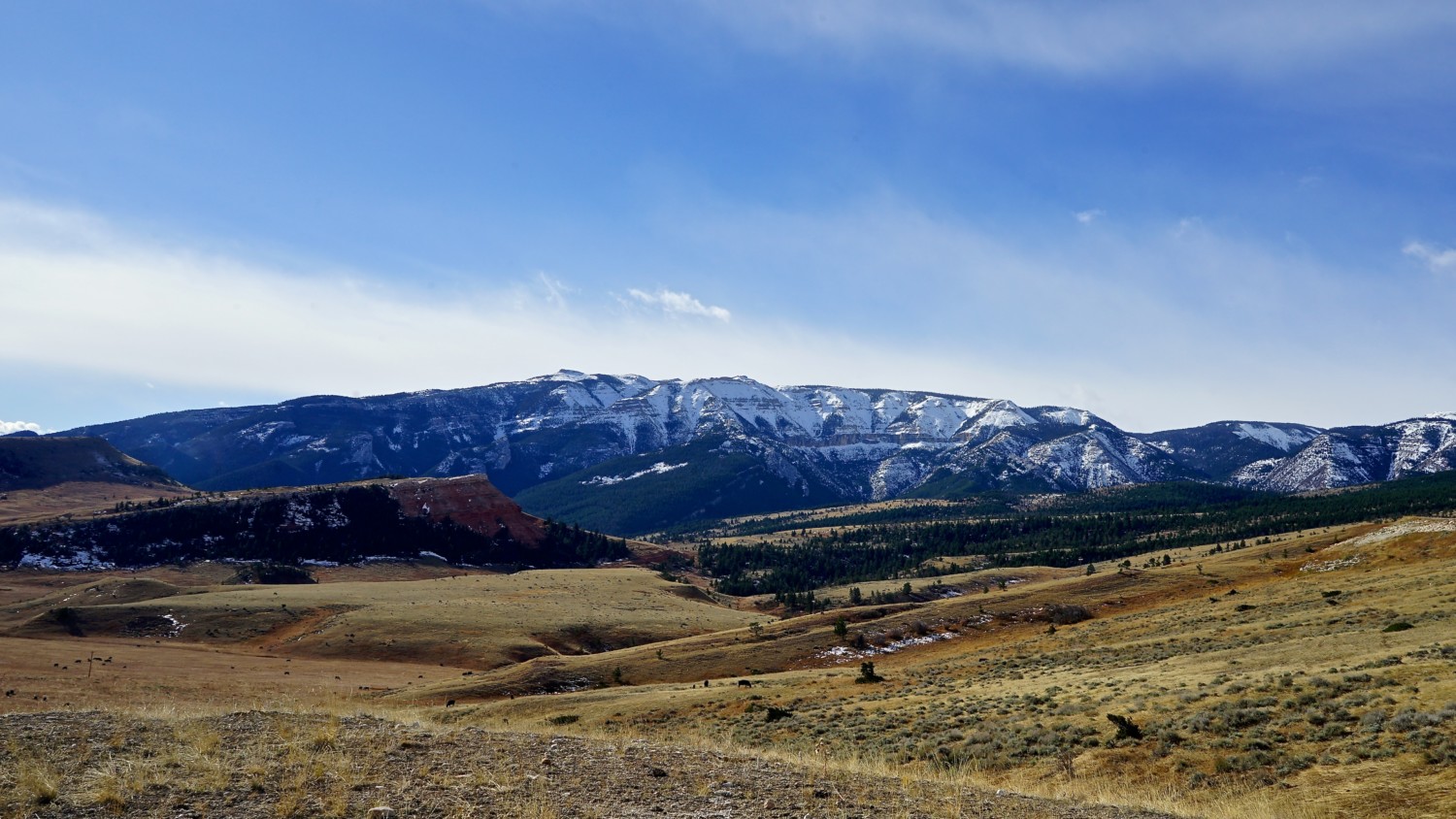 The Southwest
The southwest section of this pet friendly American road trip starts with a romp on Carmel's spectacular dog beach. The next two stops at Red Rock Canyon and the Grand Canyon offer fantastic pet friendly hiking. And we top it off with a trip up Telluride's gondola. You and your active pets are going to love this adventure!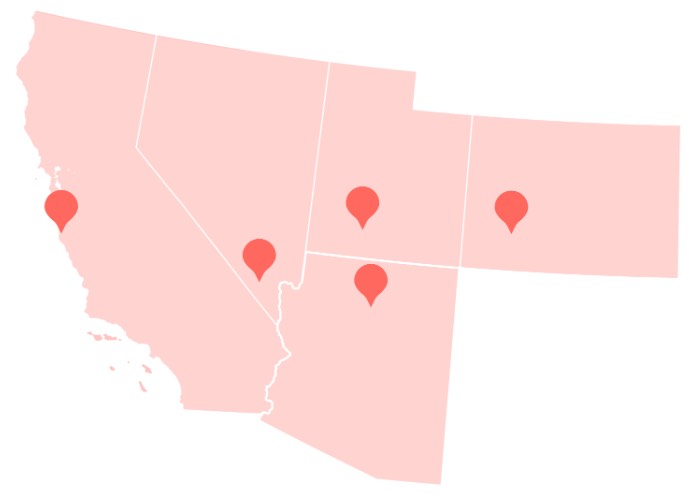 Carmel's crowning glory is its magnificent beach. This mile-long stretch of sand begins just steps from downtown and runs to just below the 9th hole at Pebble Beach Golf Course. And it's all pet friendly!
Dogs are welcome to romp off-leash on the beach. Or visit Carmel River State Beach, just down the road, where leashed pets will find plenty to explore.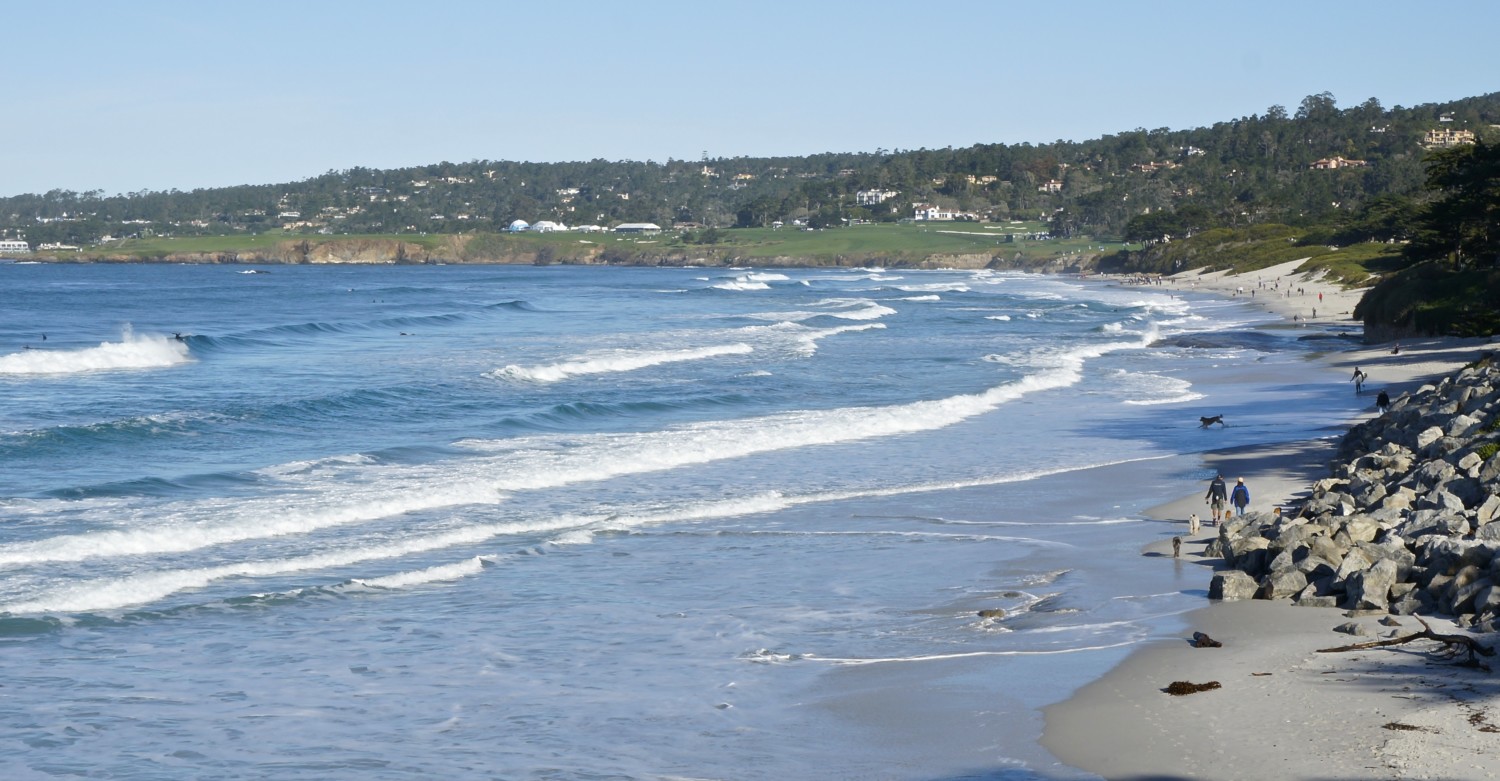 It's only 17 miles from the Las Vegas Strip, but Red Rock Canyon feels like a completely different world! From the 13-mile scenic loop road to the 30+ miles of pet friendly trails and picnic areas with great views, you'll have a fantastic day here with your pet!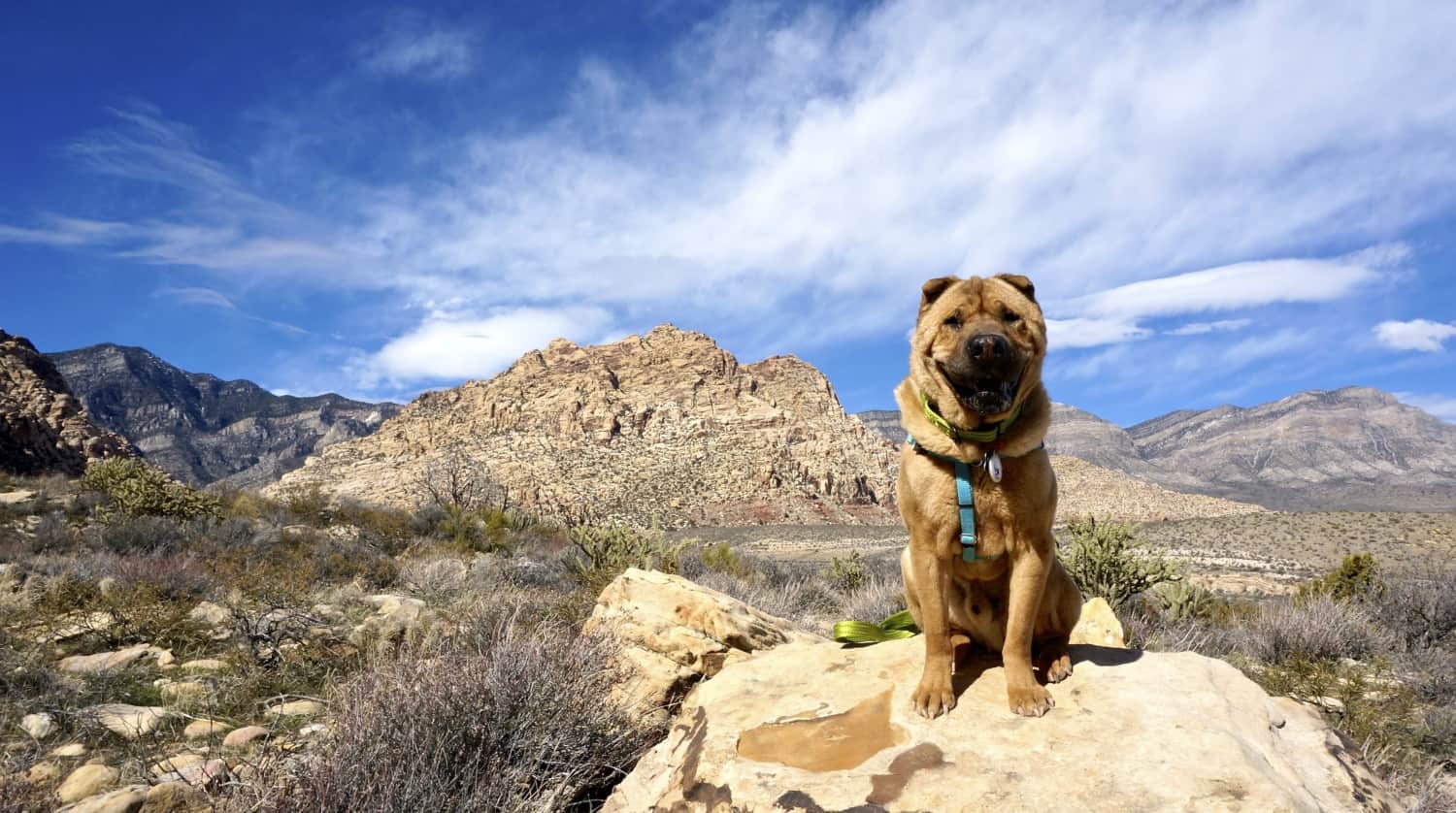 Traveling to any national park is a wonderful experience, but seeing the Grand Canyon with your pet will make your vacation unforgettable!
The pet friendly South Rim Trail runs for 14 miles and is paved for easy walking. Make sure to allow plenty of time to take in the panoramic views!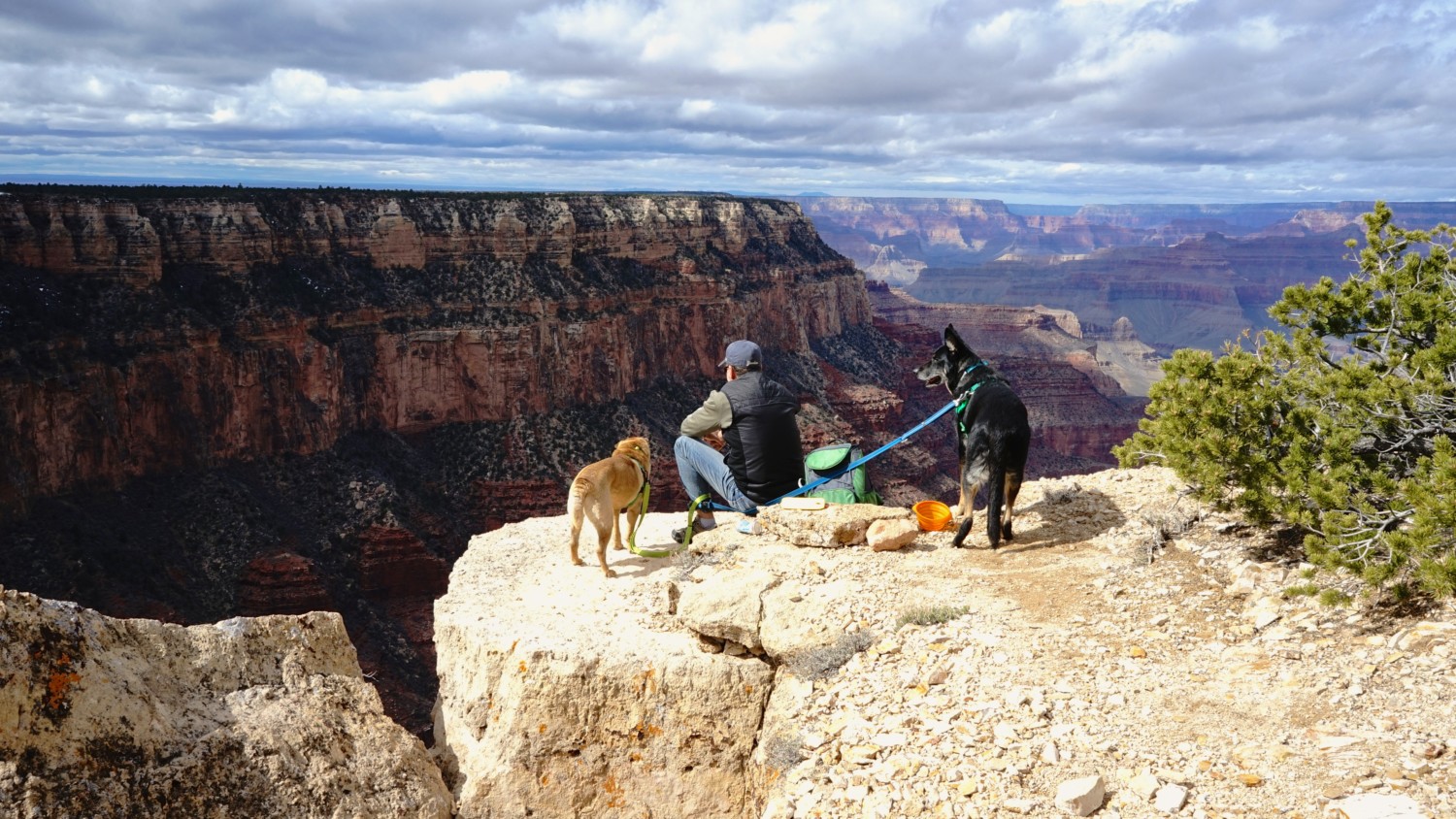 Tucked high in Colorado's San Juan Mountains, the village of Telluride is ideal for a Rocky Mountain adventure with your pet. Offering spectacular scenery, miles of hiking trails, a pet friendly gondola, and a nice selection of eateries and lodging that welcome pets, it might be the highlight of your pet friendly American road trip!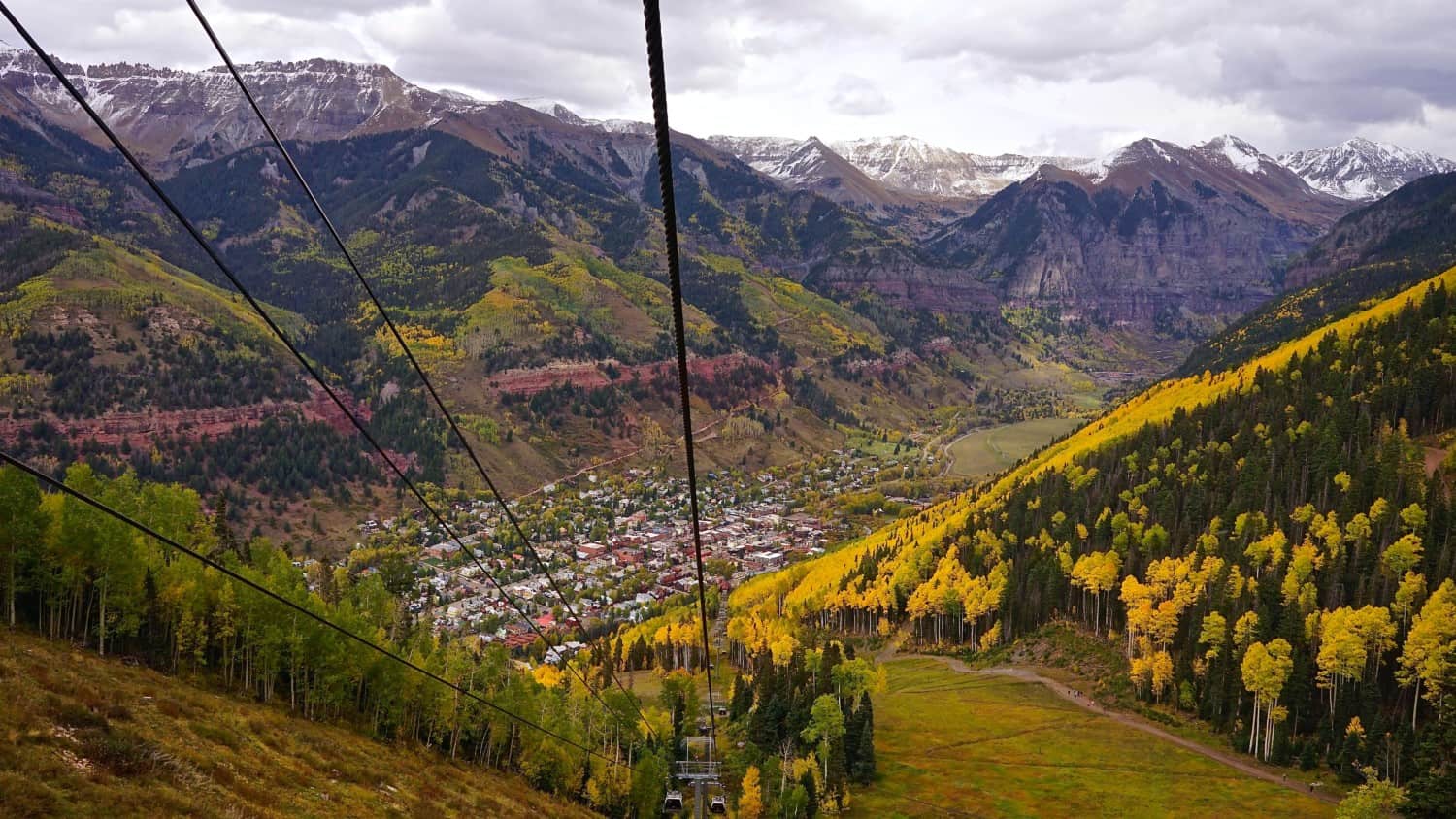 Covering almost 2 million acres, every inch of Dixie National Forest is pet friendly! And with 1,600 miles of hiking, horseback riding, and bike trails, and hundreds of miles of scenic byways, backways, and drives, you and your pet could spend a lifetime exploring here.
While you're in the area, be sure to check out Bryce Canyon and Zion National parks. And don't miss the chance to visit Best Friends Animal Sanctuary in Kanab, Utah!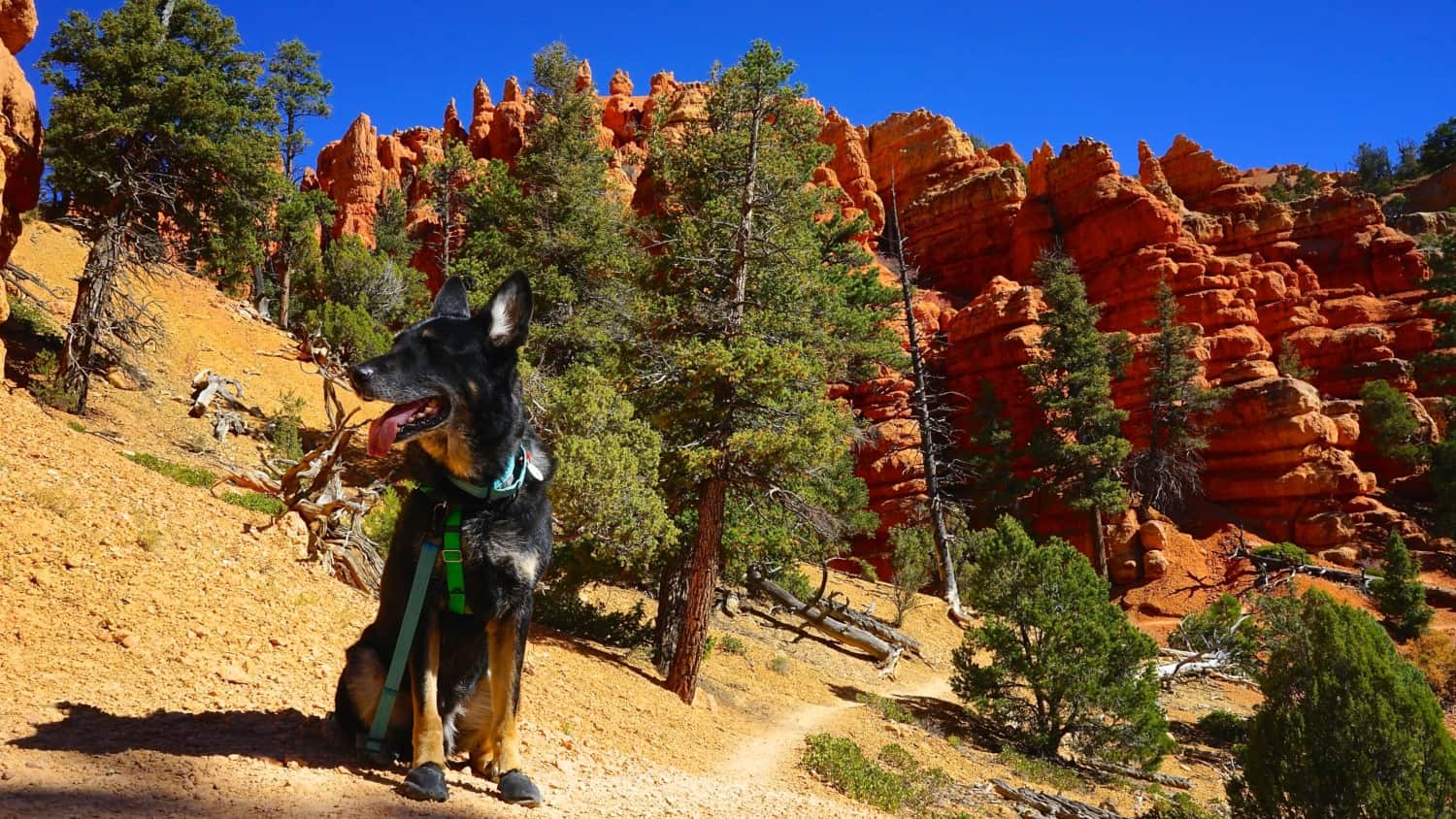 The South Central
Bustling San Antonio is balanced by serene natural wonders on the South Central section of our pet friendly American road trip.
If you're considering skipping the pet friendly paddle on the Buffalo National River … DON'T! We did it with Ty and Buster, and loved every minute. Though it was our dogs' first time in a canoe, they did great. And now it's one of our favorite memories with them.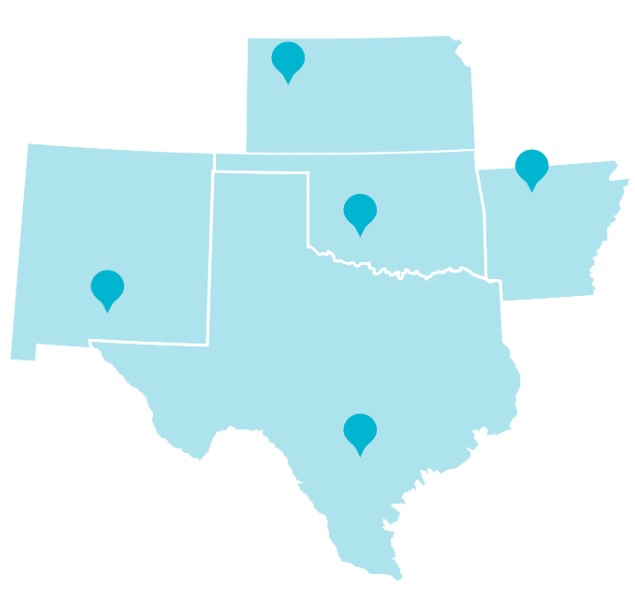 The name "White Sands" might be a little misleading, but that doesn't make this pet friendly national park any less impressive! The shimmering dunes here are actually made of gypsum – not sand. And thanks to an ancient sea and some very fortunate geography, it's now the world's largest dunefield!
You'll find pet friendly trails and plenty to keep you busy at White Sands. And be sure to stay for sunset. It's unlike any other you'll see!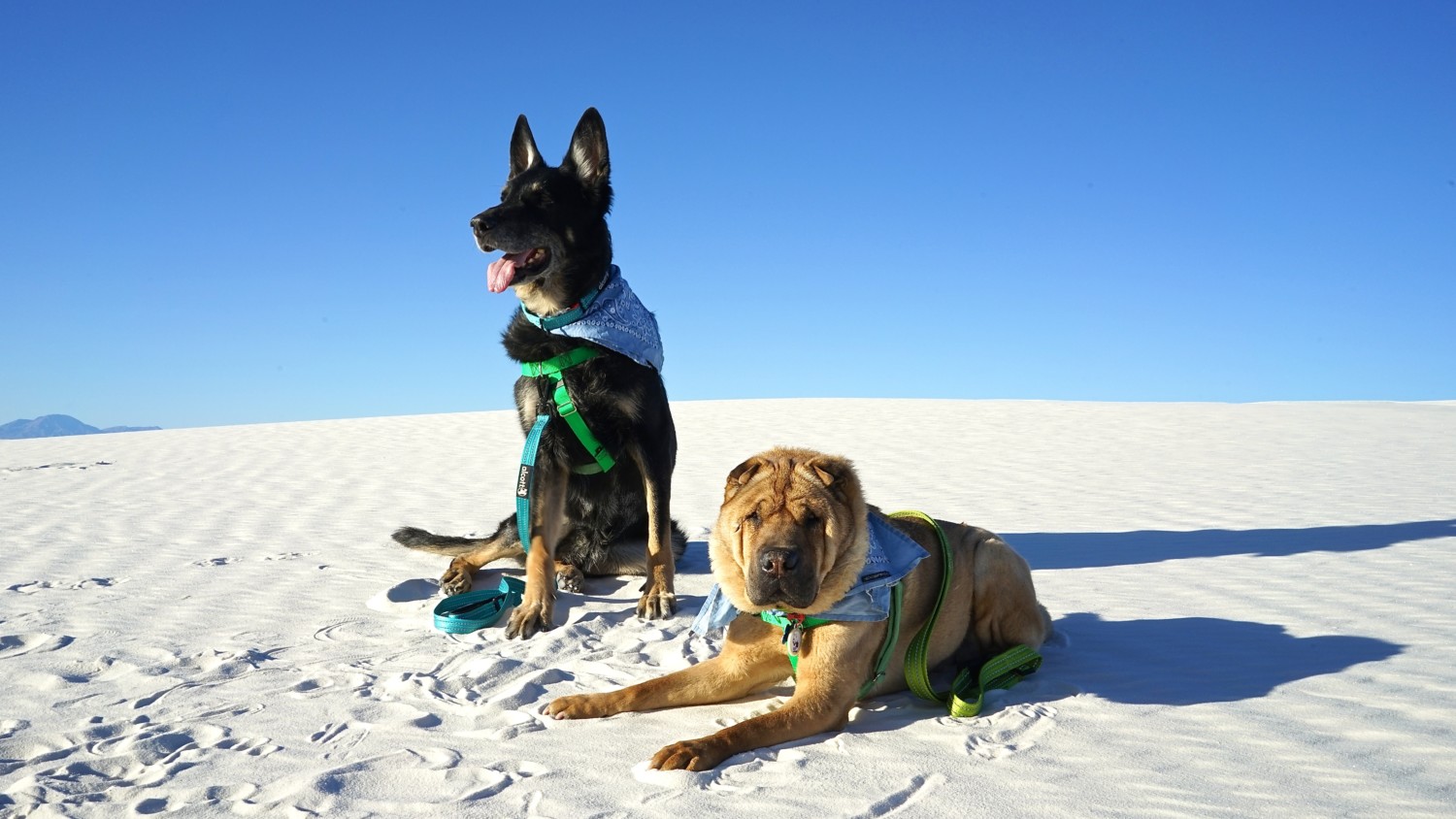 Providing access to some of the city's most precious historical and cultural sites, the 13-mile, pet friendly San Antonio River Walk is one of the most unique parks in the country!
It would be easy to spend several days exploring different sections of the River Walk, hopping on and off to visit all the connected neighborhoods.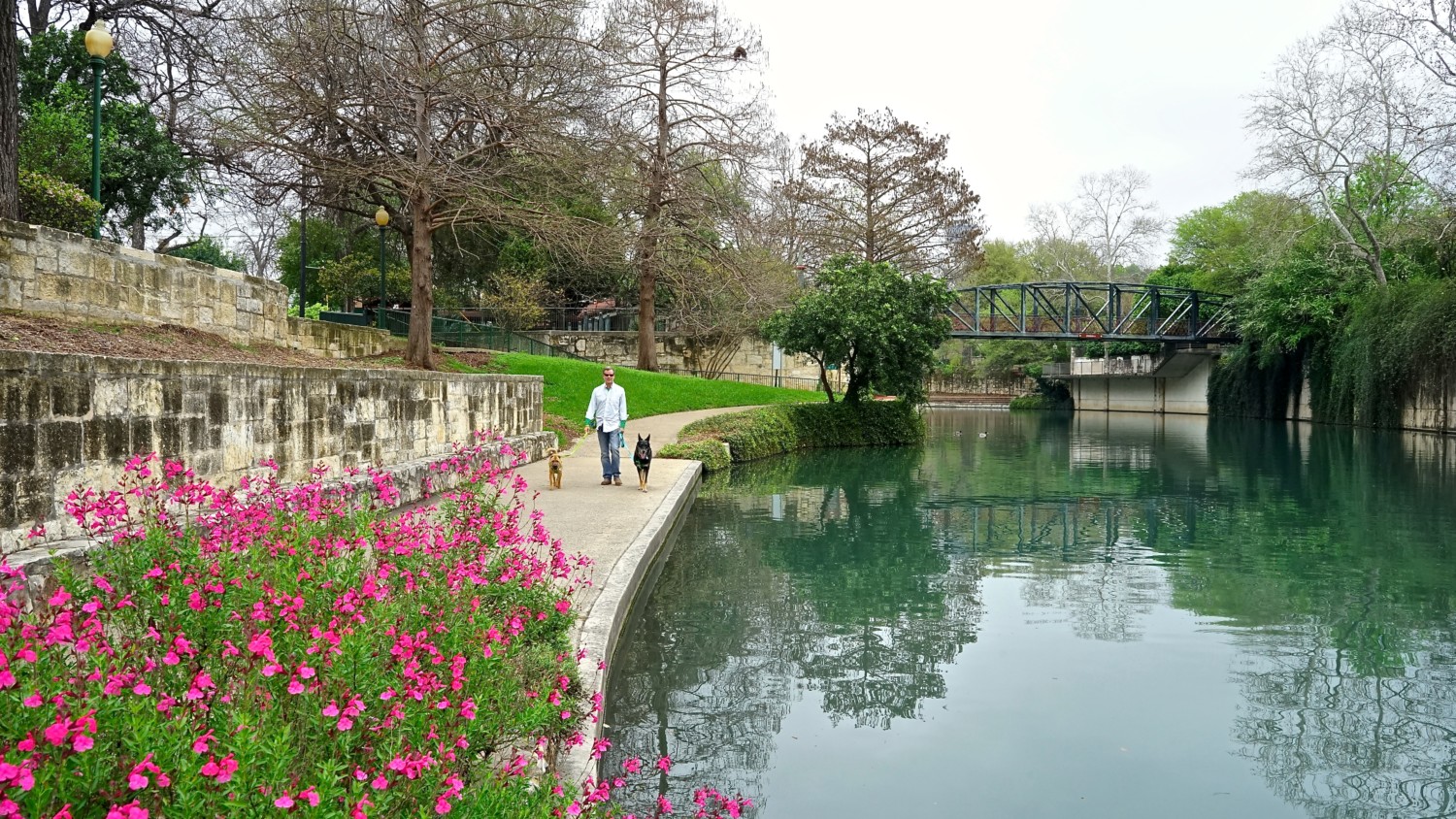 As if watching the grazing bison, elk, and white-tailed deer weren't enough reason to visit Wichita Mountains Wildlife Refuge, you and your pet will also find 18 pet friendly hiking trails and lakes for boating and paddling!
Canoeing the Buffalo National River with your pets is easier than you might think! Pet friendly canoe rentals are a cinch to find, and the calm water will put every paddler at ease.
When you're back on solid ground, there are also miles of pet friendly trails to hike along the river's course and in the nearby Ozark National Forest.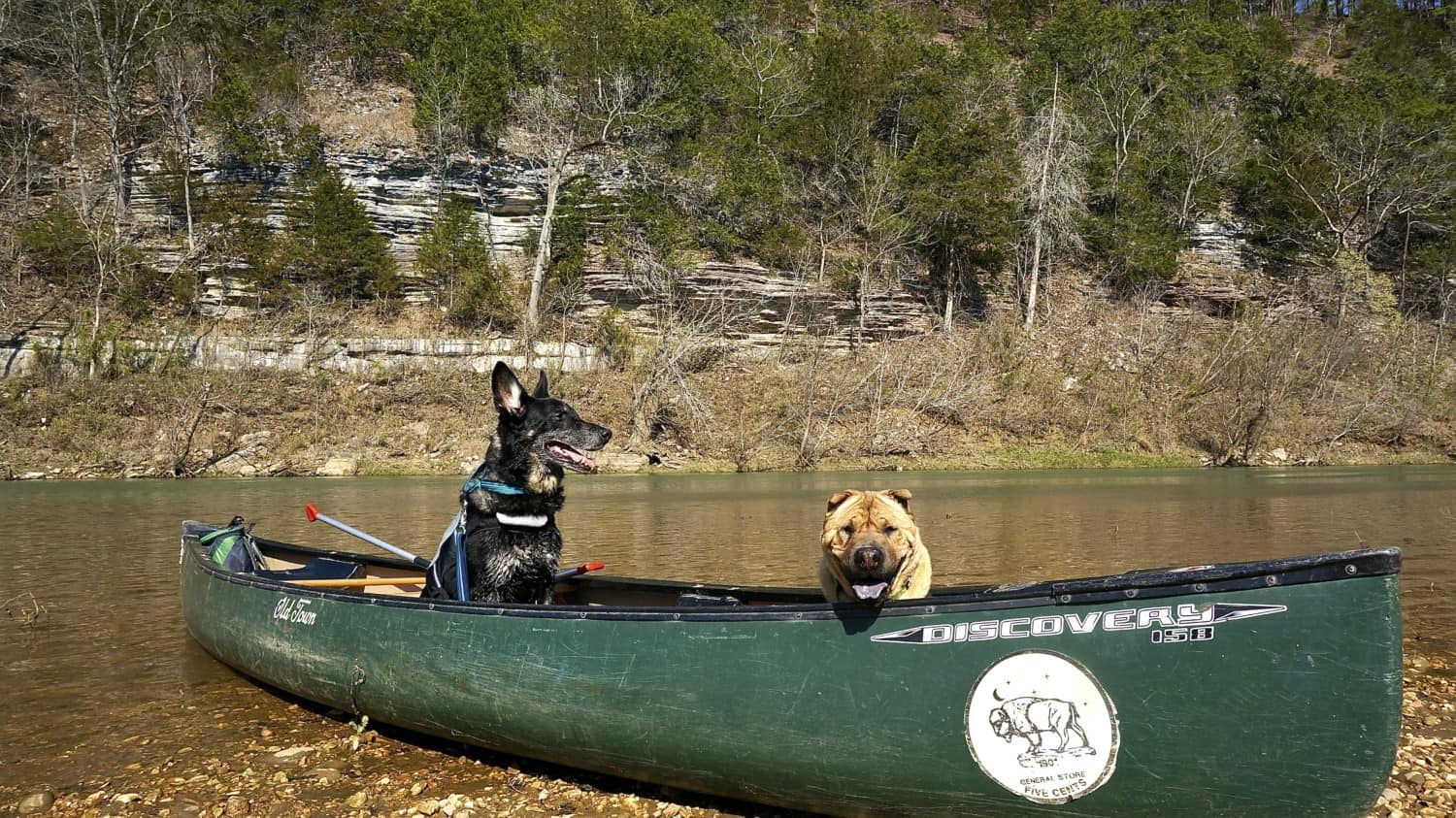 Monument Rocks is what's left of a sea floor that formed millions of years ago when water covered the continent from Montana and the Dakotas to Texas and Louisiana. The chalk spires, buttes, and arches that remain now stand 70 feet tall on the Kansas plains. And your pets are more than welcome to explore them with you!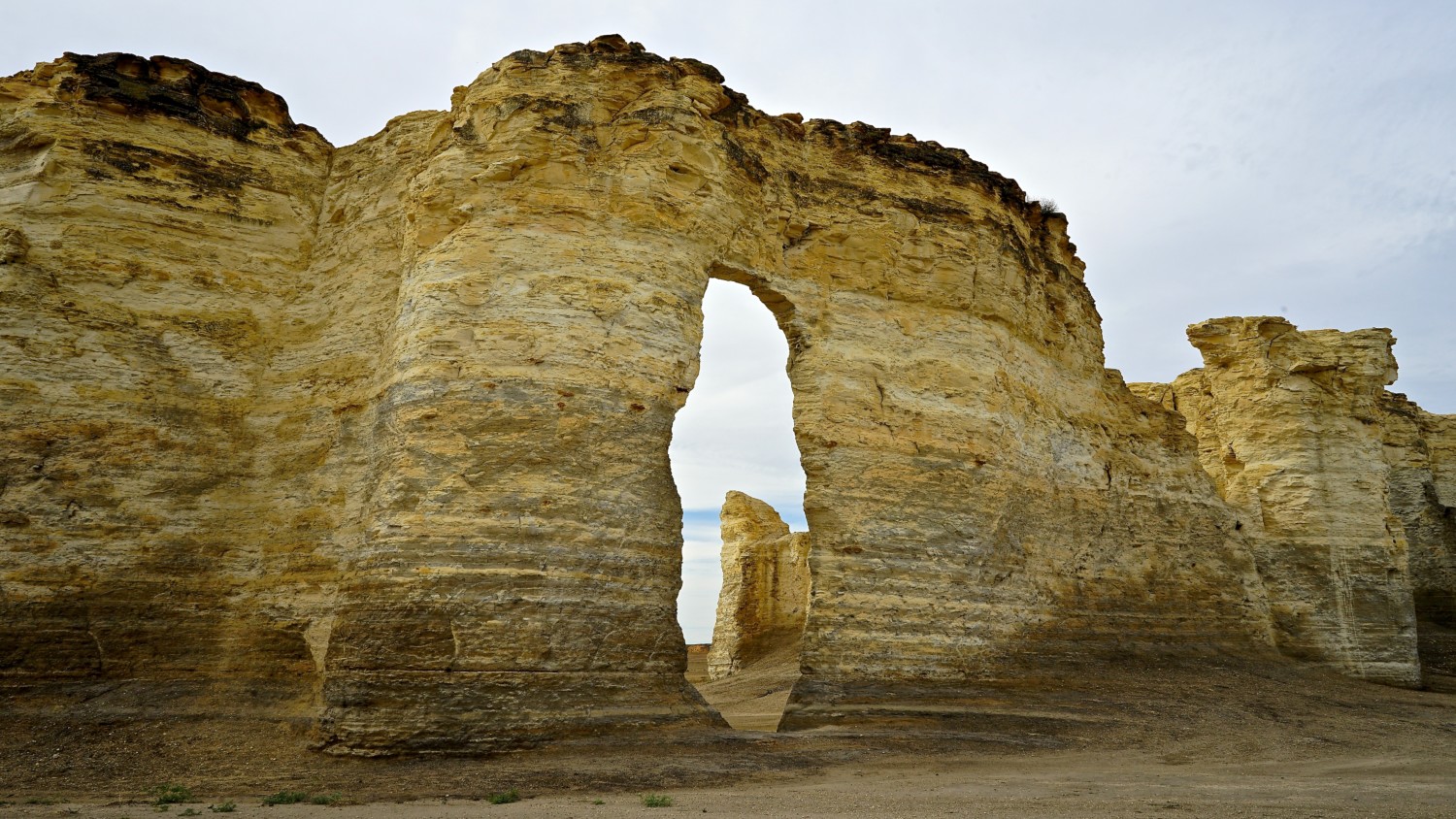 The Plains – North
The Northern Plains section of this trip takes you through the heartland and reveals what America was like before Europeans arrived.
You'll spend time appreciating the vastness of Lake Superior and the powerful Mississippi River. Then walk in the footsteps of the Native Americans who lived in Iowa and North Dakota.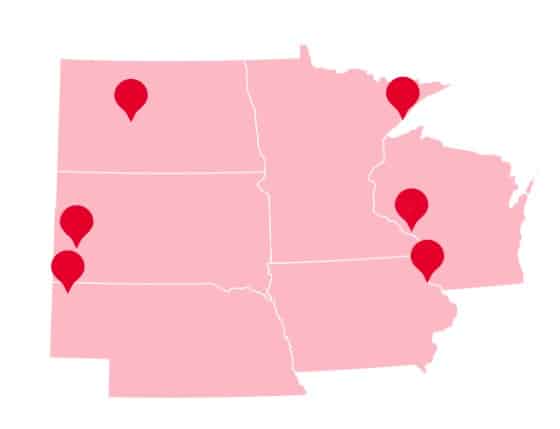 Split Rock Lighthouse State Park sits on Lake Superior's northern shore. Providing breathtaking views of one of the most photographed lighthouses in the country and 14.5 miles of pet friendly trails, it's a great place to stretch your legs or camp on the beach.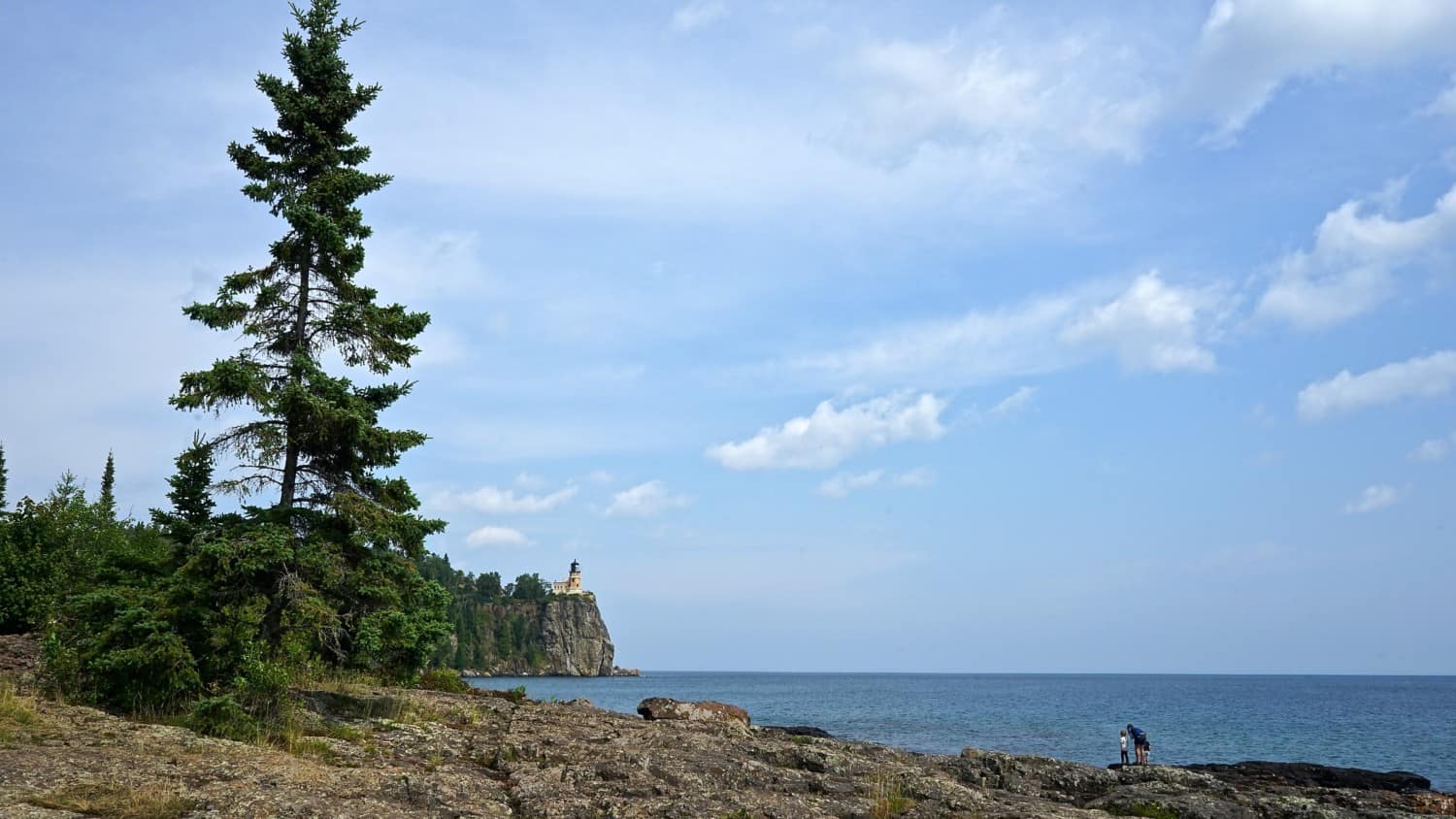 Trempealeau National Wildlife Refuge is located in the Mississippi River flyway, the migration route of about 40% of all waterfowl and shorebirds. The refuge serves as a "bed and breakfast" for the birds as they travel through and is home to the magnificent bald eagle.
In addition to some spectacular bird spotting, there are miles of pet friendly trails to explore.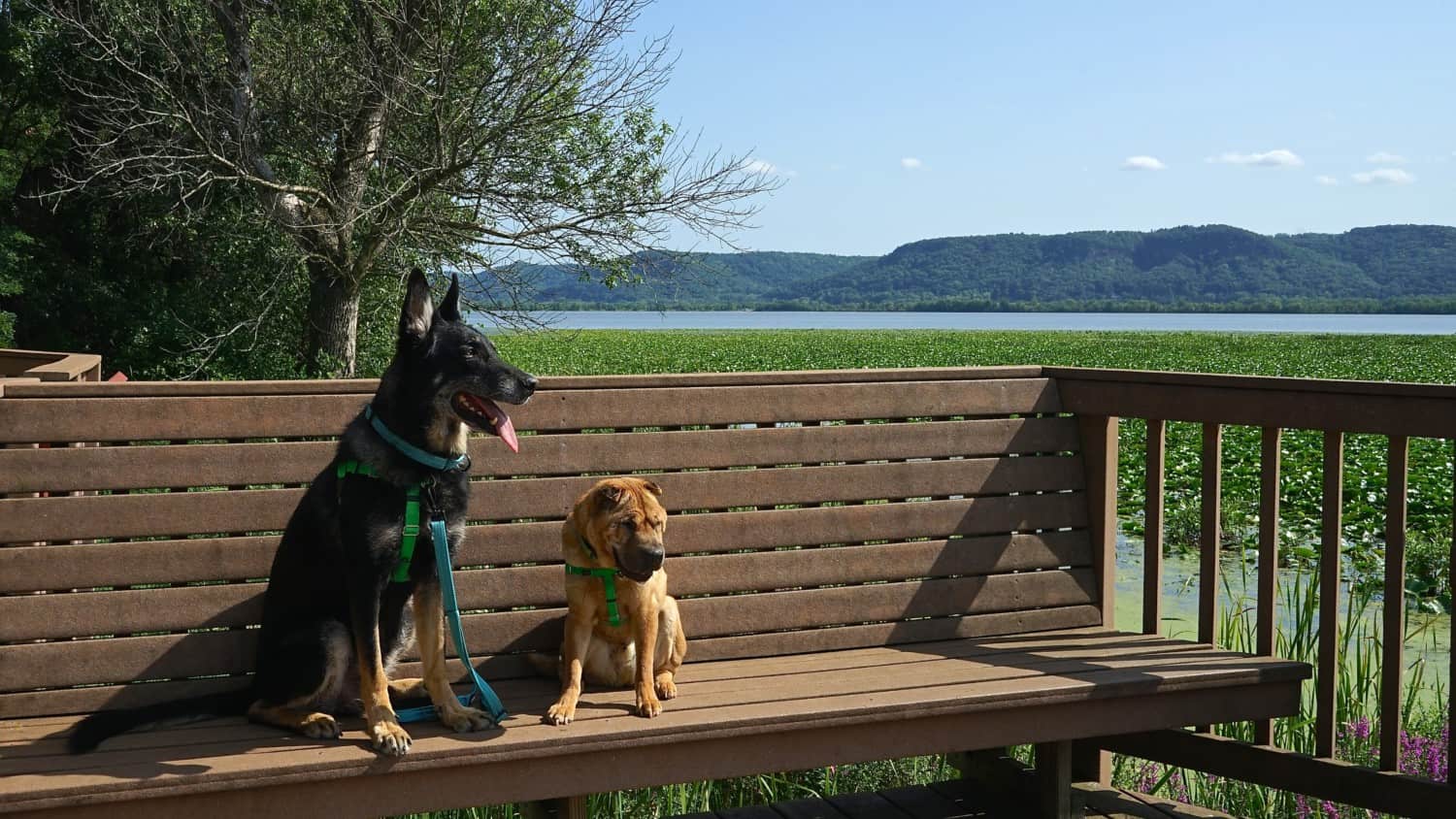 Standing atop the bluffs overlooking the Mississippi River, it's easy to see why American Indians chose to make this breathtaking place their home. Covering 2,500 acres along the western bank of the Mississippi River, Effigy Mounds National Monument now protects 206 prehistoric earthen mounds built by Indigenous People, 31 of which are in the shape of animals.
You and your dogs are welcome to explore all the trails. But remember to be respectful and never walk on (or allow your pet on) the mounds.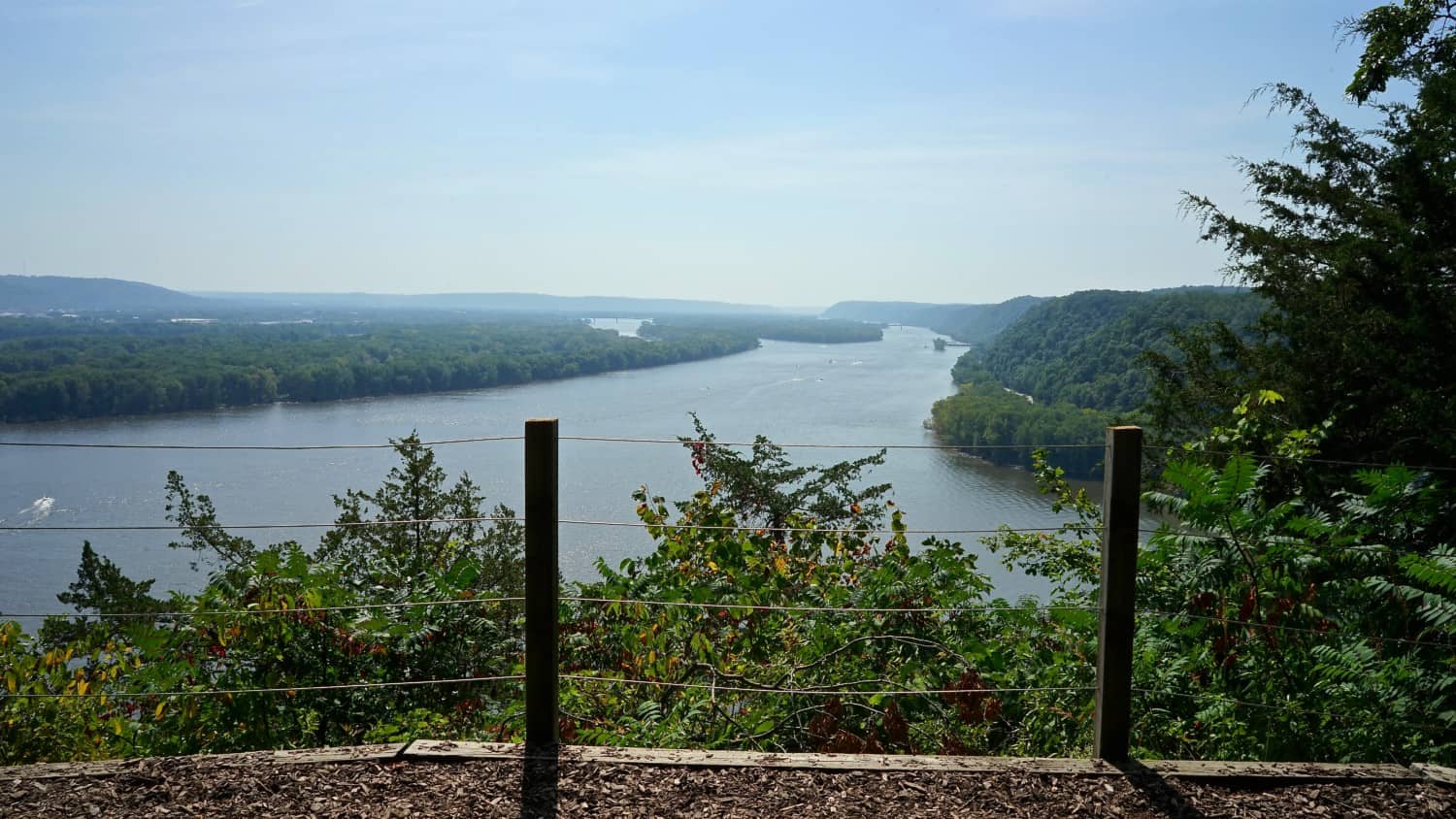 Interpretive plaques help you imagine what life was like at the Knife River Indian Villages. This is where Captains Lewis and Clark first met Sacagewea and her husband, Toussaint Charbonneau. Once a bustling community of nearly 400 people, this is now a quiet place to reflect and enjoy the scenery.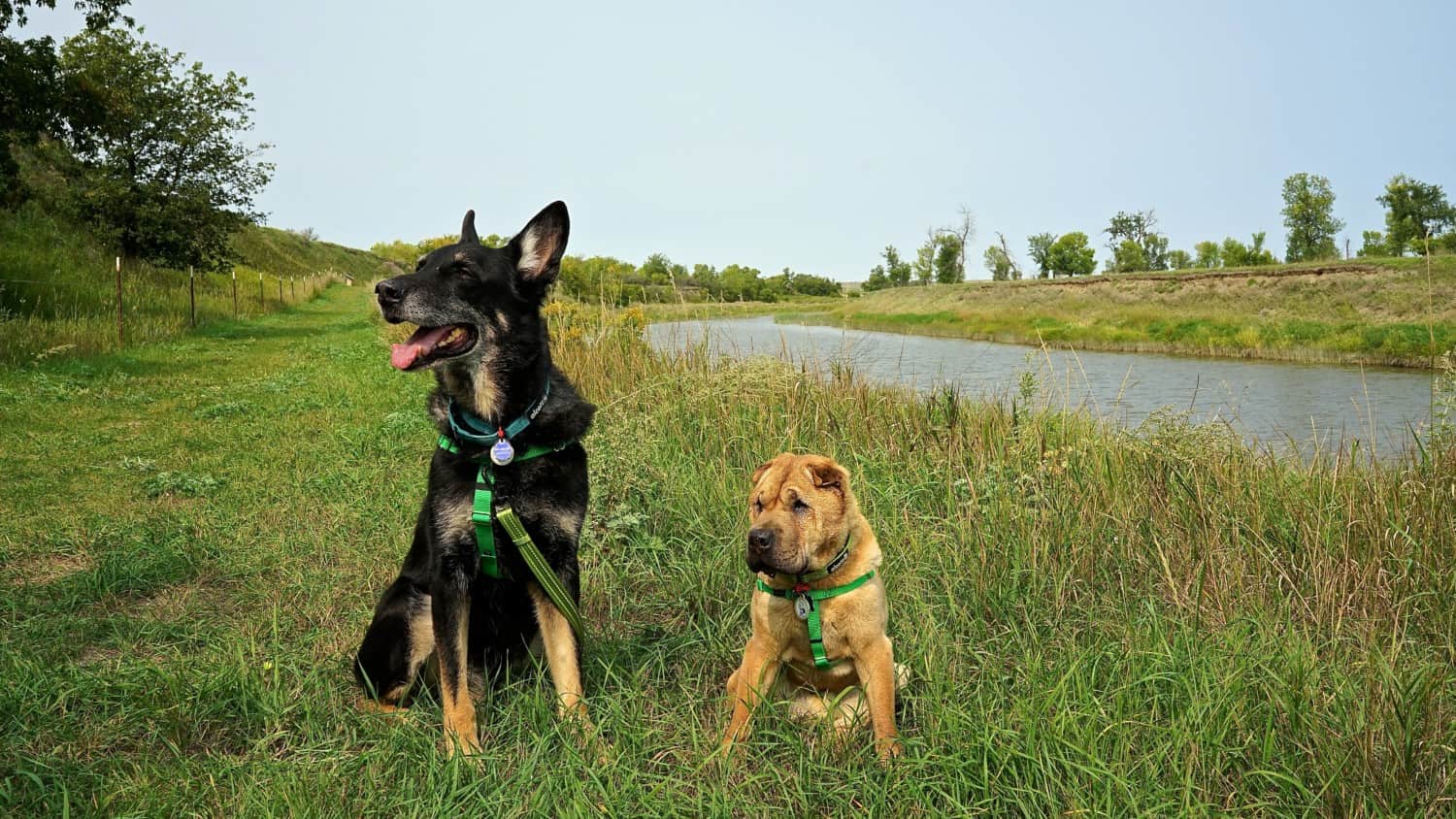 Custer State Park protects 71,000 acres of South Dakota's most magnificent landscapes. It also provides habitats for a dazzling array of wildlife. Whether you prefer picturesque drives or multi-day hikes, wildlife viewing or kayaking, elegant dining or campfires under the stars, Custer has something to please traveler.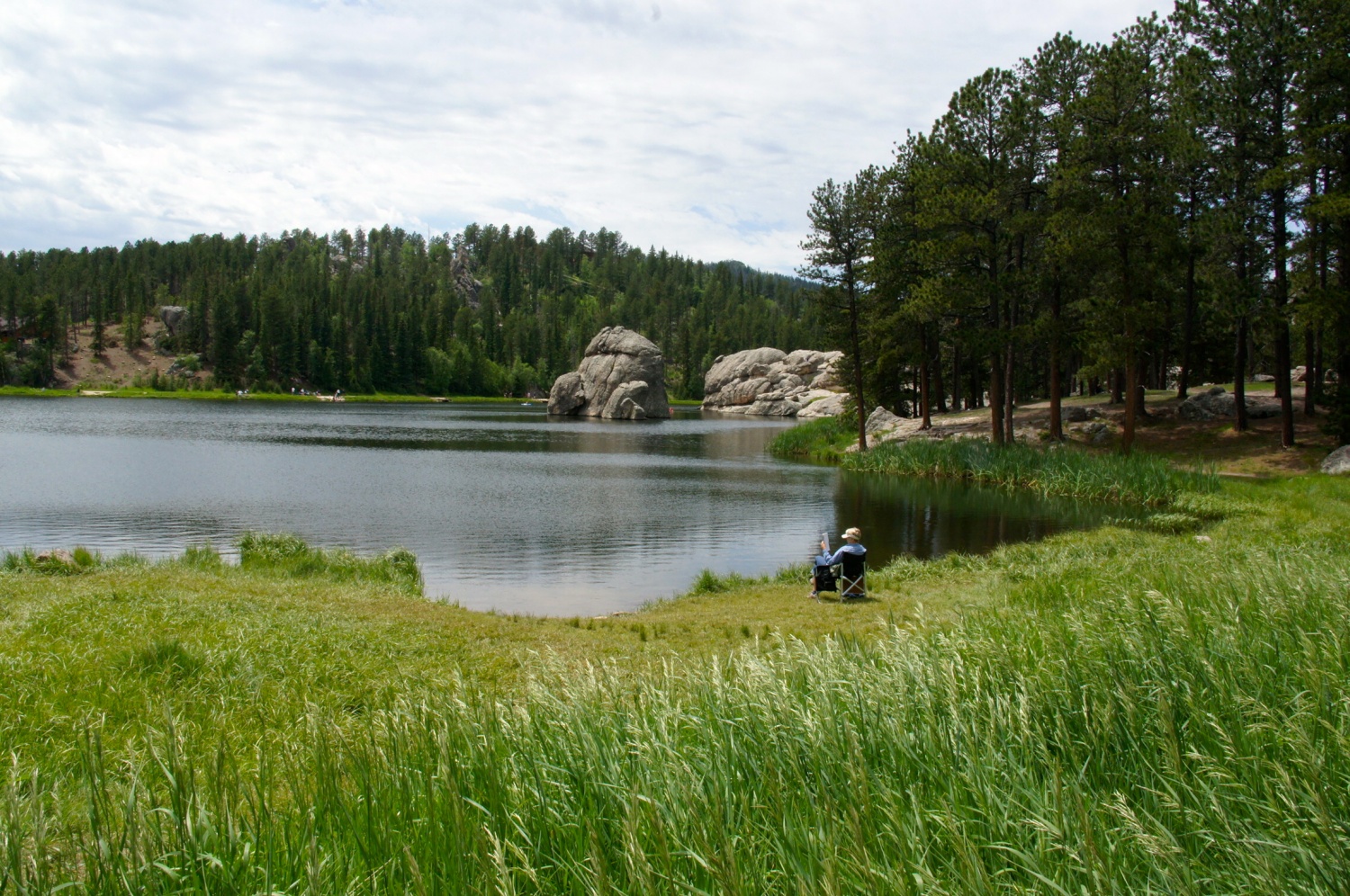 Fort Robinson State Park is a rare combination of stunning landscapes, fascinating history, a variety of recreational opportunities, and pet friendly accommodations.
Spread over 22,000 acres, with rugged buttes as the backdrop, it's a wonderful place to unwind and enjoy the expansive wild prairies during the day and the star-filled skies at night.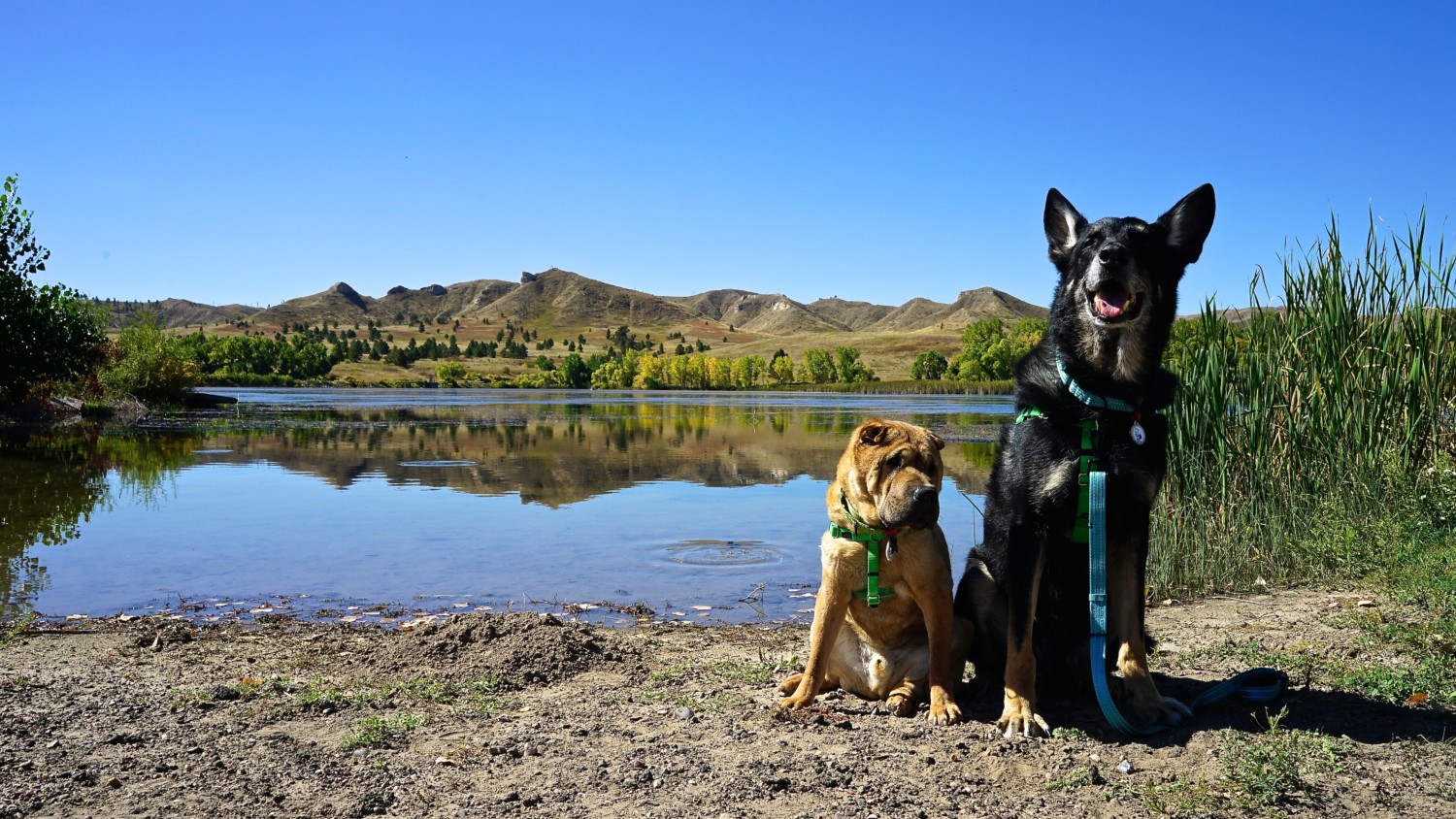 The Great Lakes
Three of the five stops on this section of our pet friendly American road trip are on the Great Lakes! Absorb the energy of downtown Chicago at Navy Pier. Then contrast it with the leisurely atmosphere of Mackinac Island. You'll enjoy both ends of the spectrum!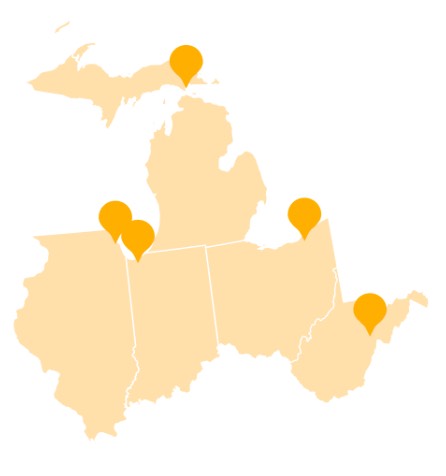 The Monongahela National Forest covers more than 900,000 acres, preserving a rugged and wild paradise unlike any other. With an extensive backwoods road system, oodles of campgrounds, and 825 miles of pet friendly trails, you and your pet will find plenty to explore!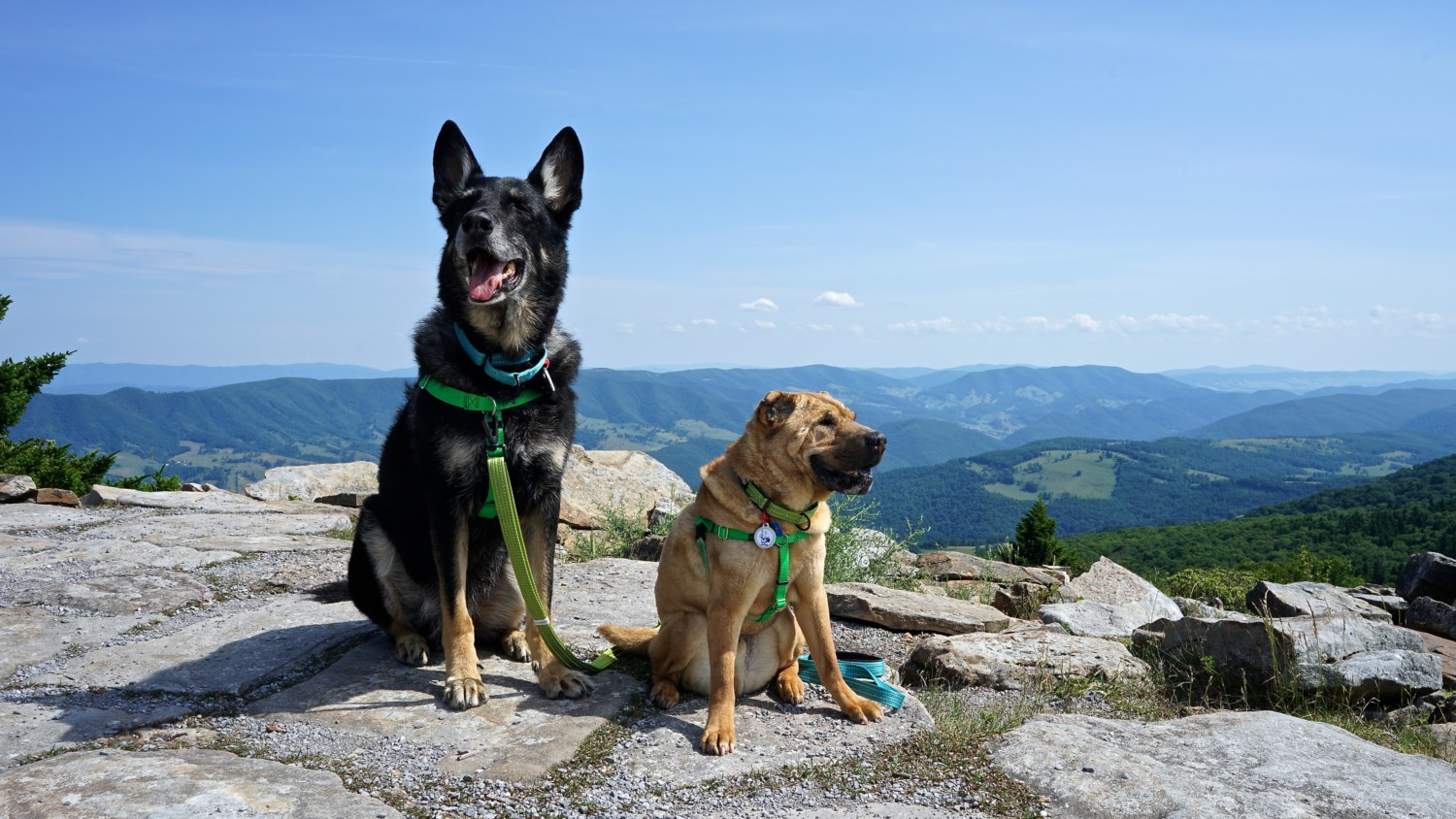 Holden Arboretum is evidence of the beauty that results when humans and Mother Nature work together. Encompassing 3,600 acres, it's one of the largest arboreta and botanical gardens in the country and a fabulous place to explore with your pet.
Wander the garden paths or hit the miles of trails through native forests with your furry travel buddy!
Chicago's pet friendly Lakefront Trail runs for 18 miles along the spectacular shore of Lake Michigan. Connecting vibrant neighborhoods, expansive parks, popular beaches, and famous attractions like Navy Pier, Buckingham Fountain, and Soldier Field, it's fun to choose a section and spend a day exploring it with your pet!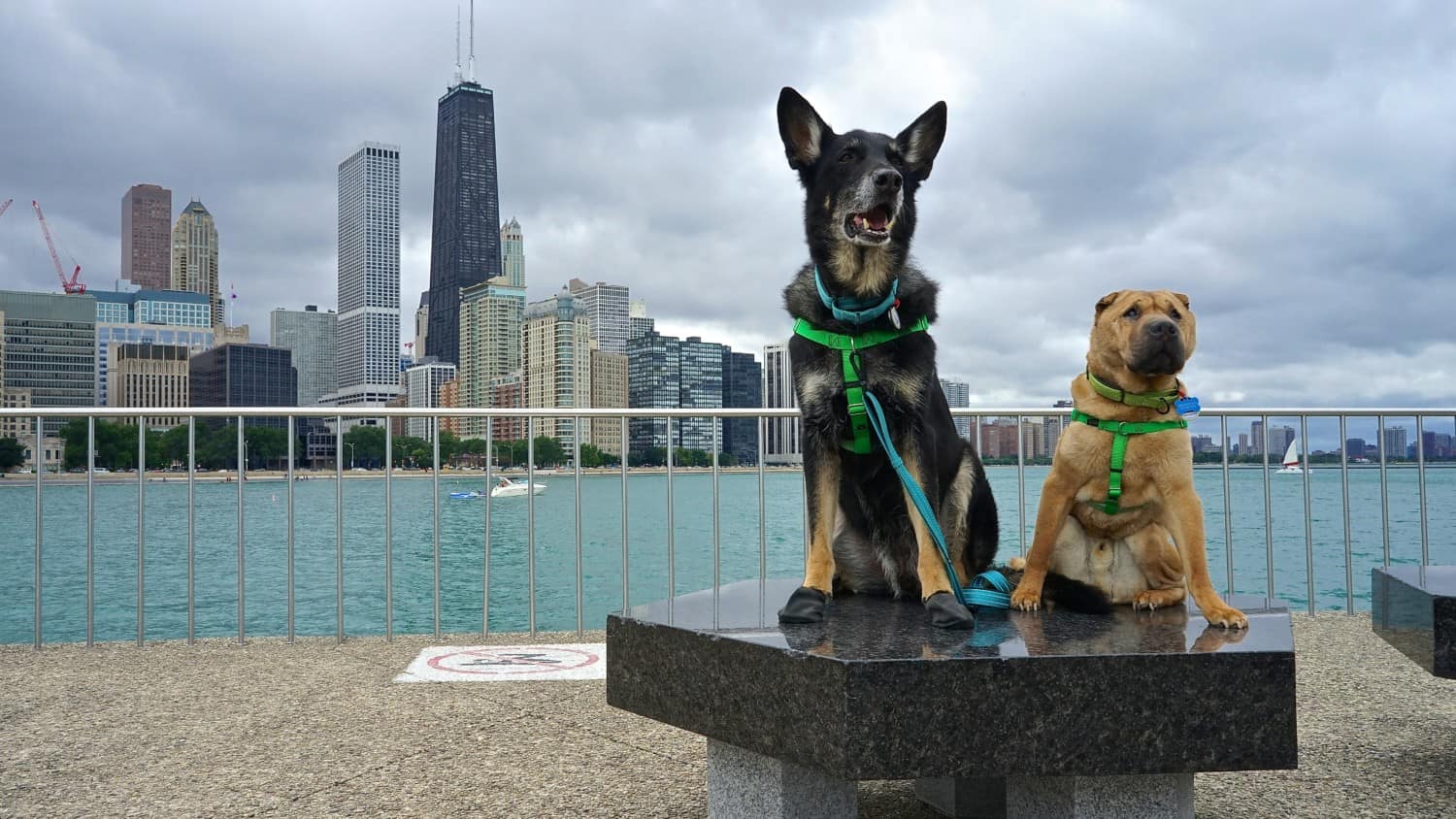 Caribbean blue waters and miles of pet friendly beaches await you at Indiana Dunes National Park. But the beaches are just the beginning!
This dynamic landscape also features dunes, ponds, marshes, creeks, prairie, and forests for your exploration. Whether you decided to hang out on the shore or hike the trails, you're sure to have a great time.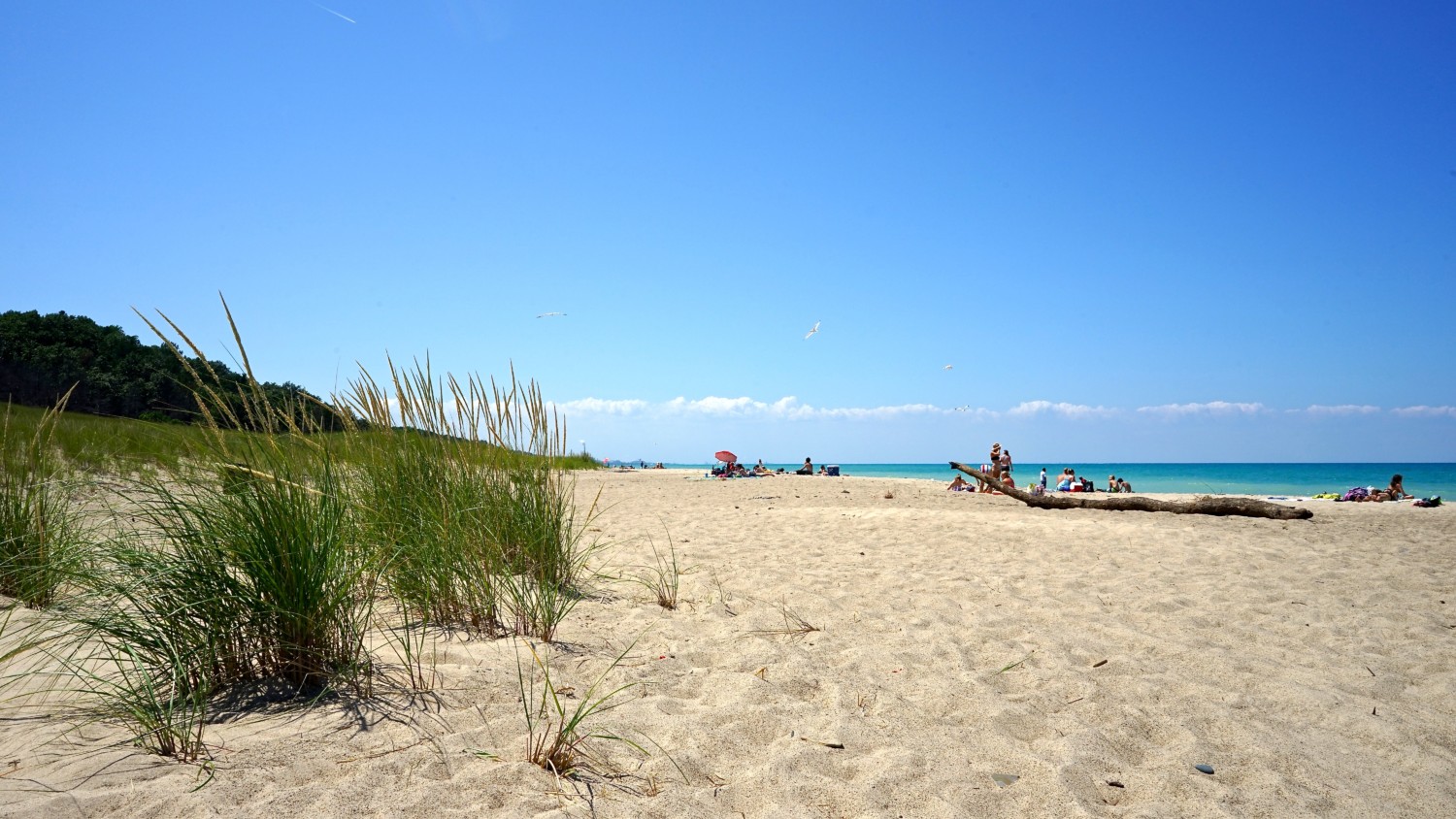 Hop aboard the pet friendly ferry for a trip to Mackinac Island. Automobiles aren't allowed, but you and your pet won't have any trouble getting around!
Main Street is just steps from the ferry docks, pets are welcome on the horse-drawn carriages rides, and bikes with pet trailers are available for rent. So all of Mackinac's most popular attractions are within easy reach!
The Plains – South
Road tripping pets are going to adore this route through the southern plains. Romp at the incredible off-leash dog park at Shelby Farms, then stiff along the 444-mile Natchez Trace! Finally, spend an afternoon relaxing in the shadow of the Gateway Arch in St. Louis.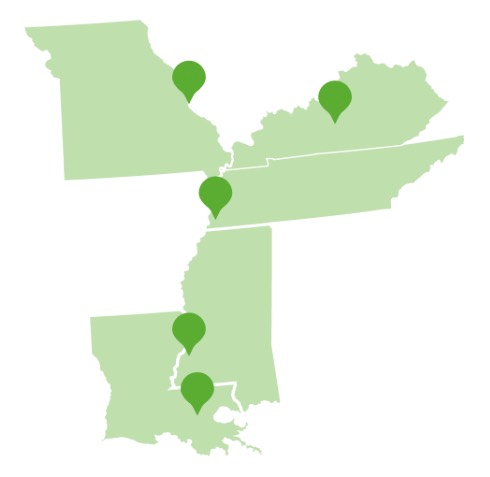 Standing 34 stories tall, Louisiana's capitol in Baton Rouge is the tallest state capitol building in the United States. It's surrounded by 27 acres of pet friendly grounds and gardens that offer picturesque views from every angle.
Stroll the paved paths under massive live oaks and palm trees or plan a picnic with your pet!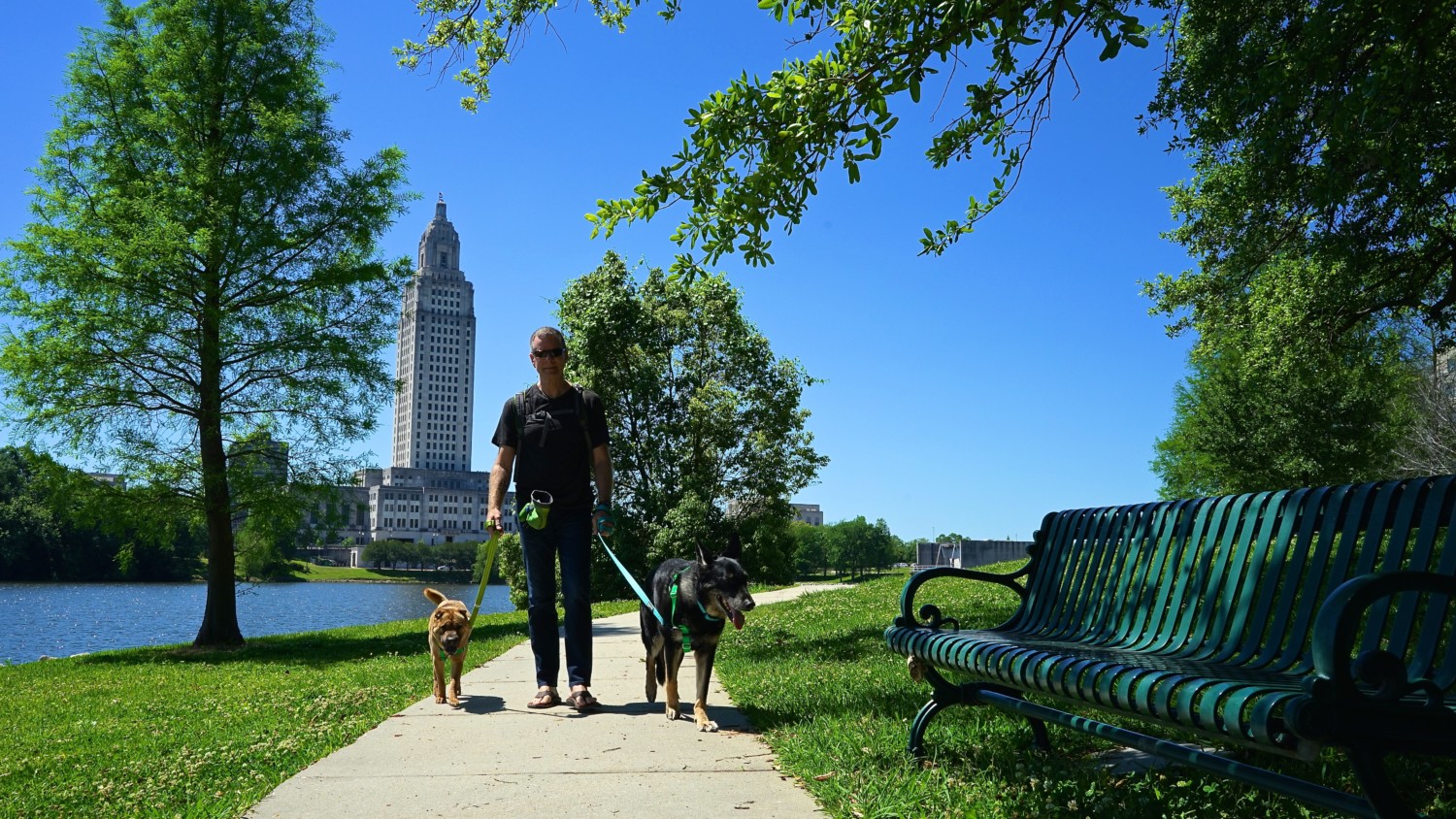 The Natchez Trace Parkway stretches 444 miles, from Natchez, Mississippi to Nashville, Tennessee. It's a blissfully quiet, billboard-free retreat from our fast-paced highways.
But a slower pace doesn't mean you'll be bored! There's something to sniff around every bend with countless exhibits and 28 pet friendly trailheads along the route.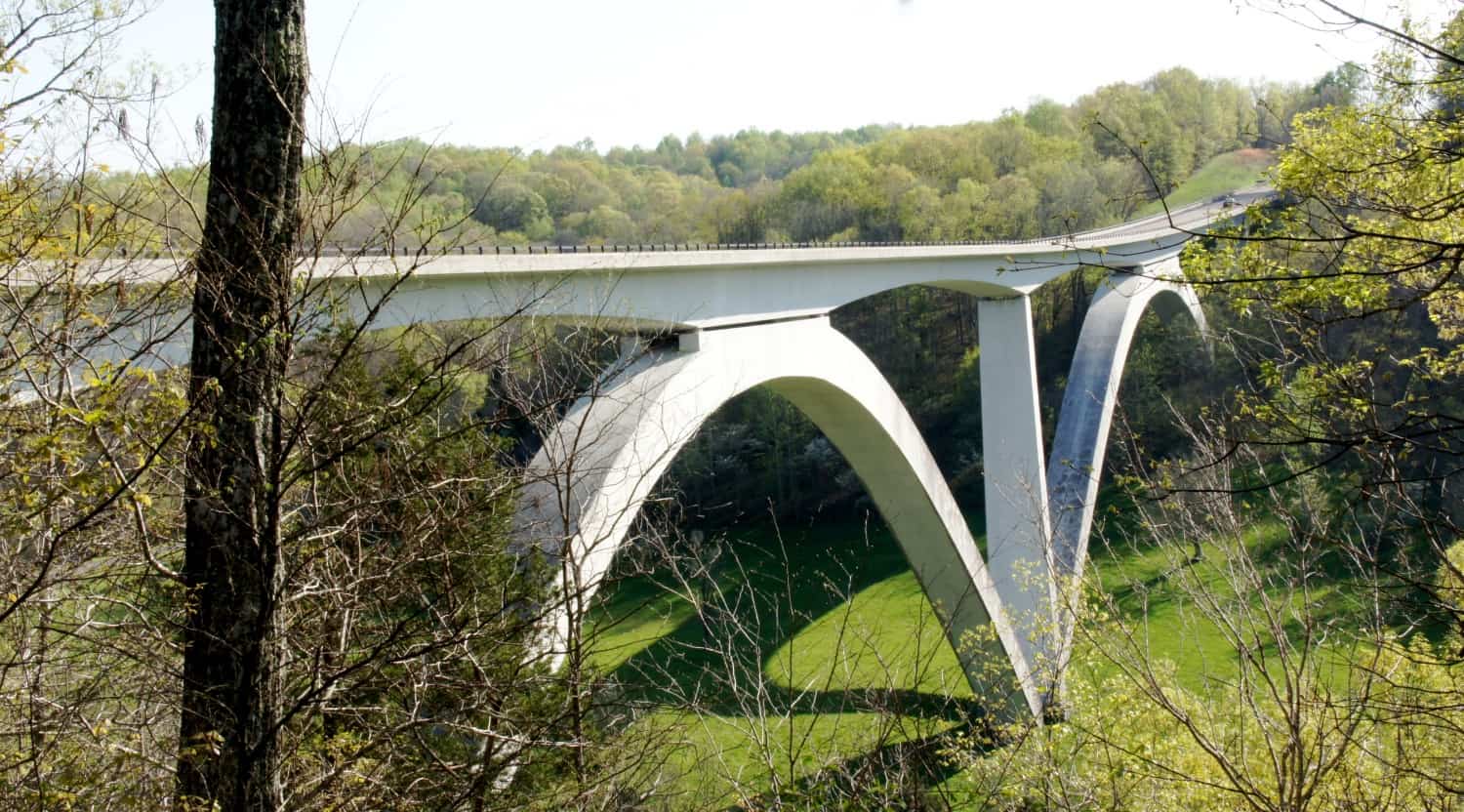 Shelby Farms Park in Memphis is one of the country's largest urban parks. With a massive off-leash dog area, 40 miles of pet friendly trails winding through 4,500 acres, a disc golf course, canoe, kayak, and paddle board rentals, and a lovely visitor center, you could easily spend an entire day here!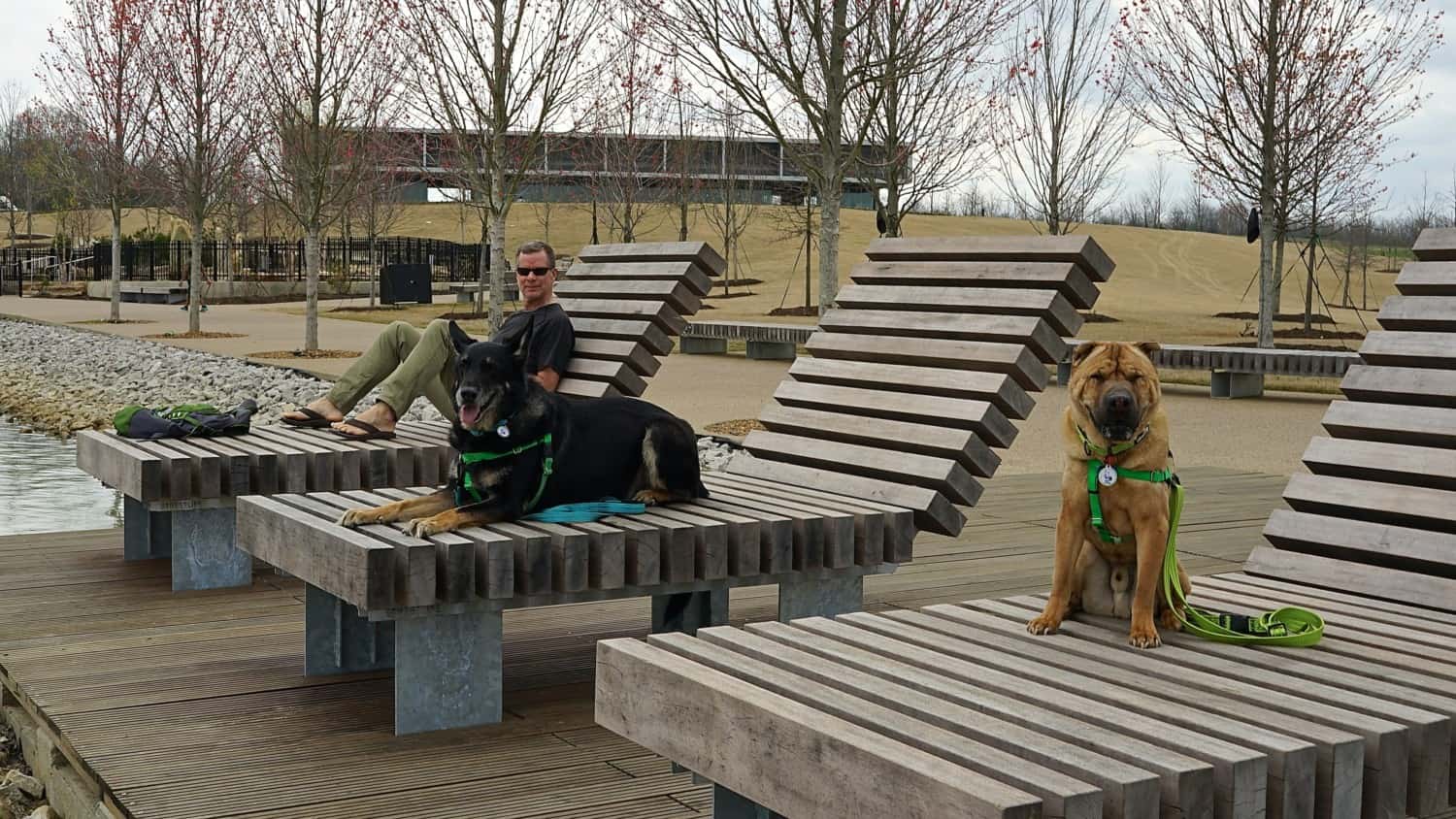 President Abraham Lincoln's life is an inspiration, and visiting his simple birthplace fosters an even deeper appreciation of his accomplishments.
Pets are welcome to join you on the grounds of the historic park. And together you can explore the trails there and at the Lincoln Boyhood Home at Knob Creek, just ten miles away.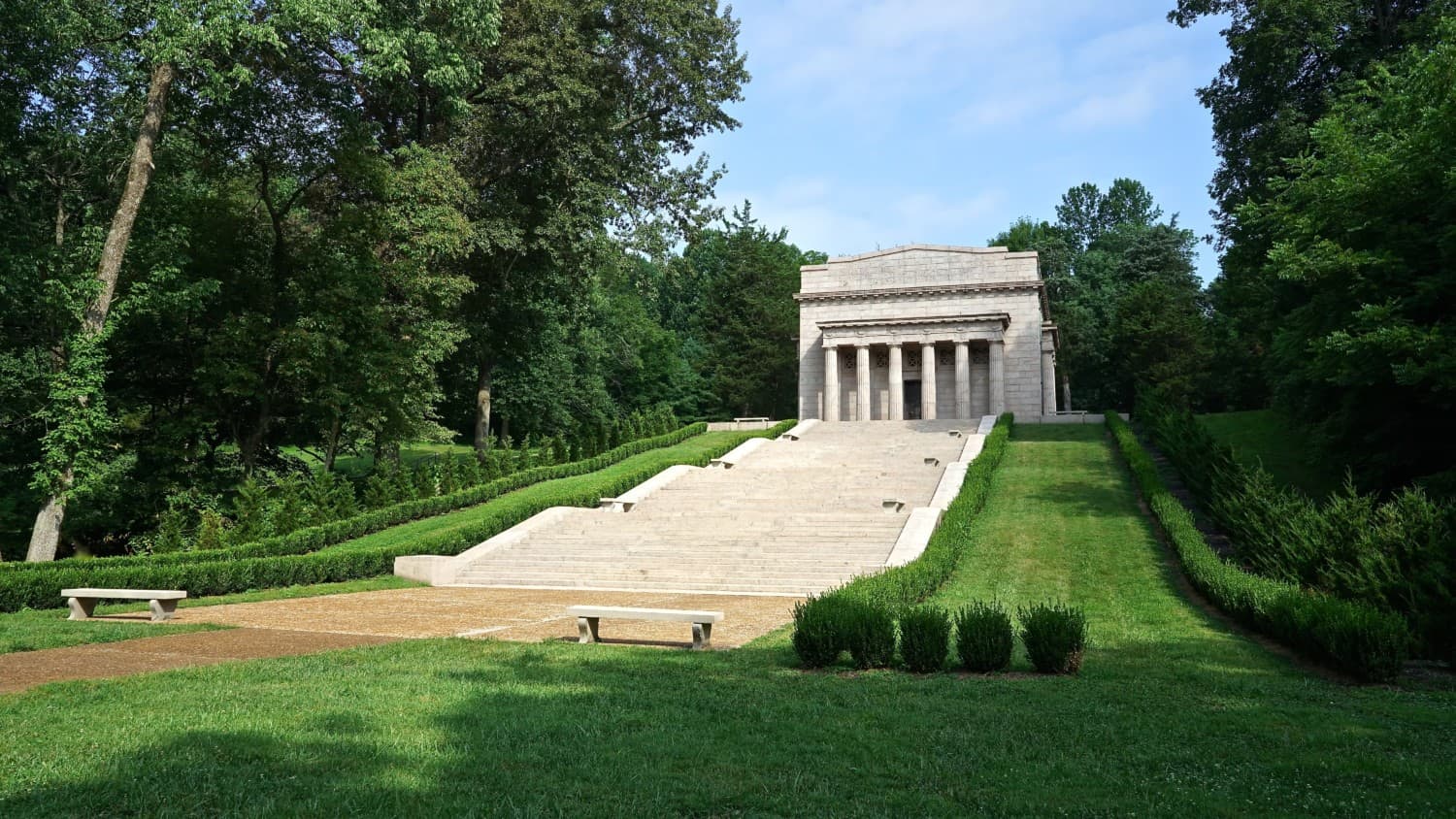 Leashed pets are welcome to explore the extensive grounds at St. Louis' Gateway Arch National Park. Enjoy the Riverfront Trail, embark on a one-hour scenic riverboat cruise, and be sure to ask now your pet can become a BARK Ranger during your visit.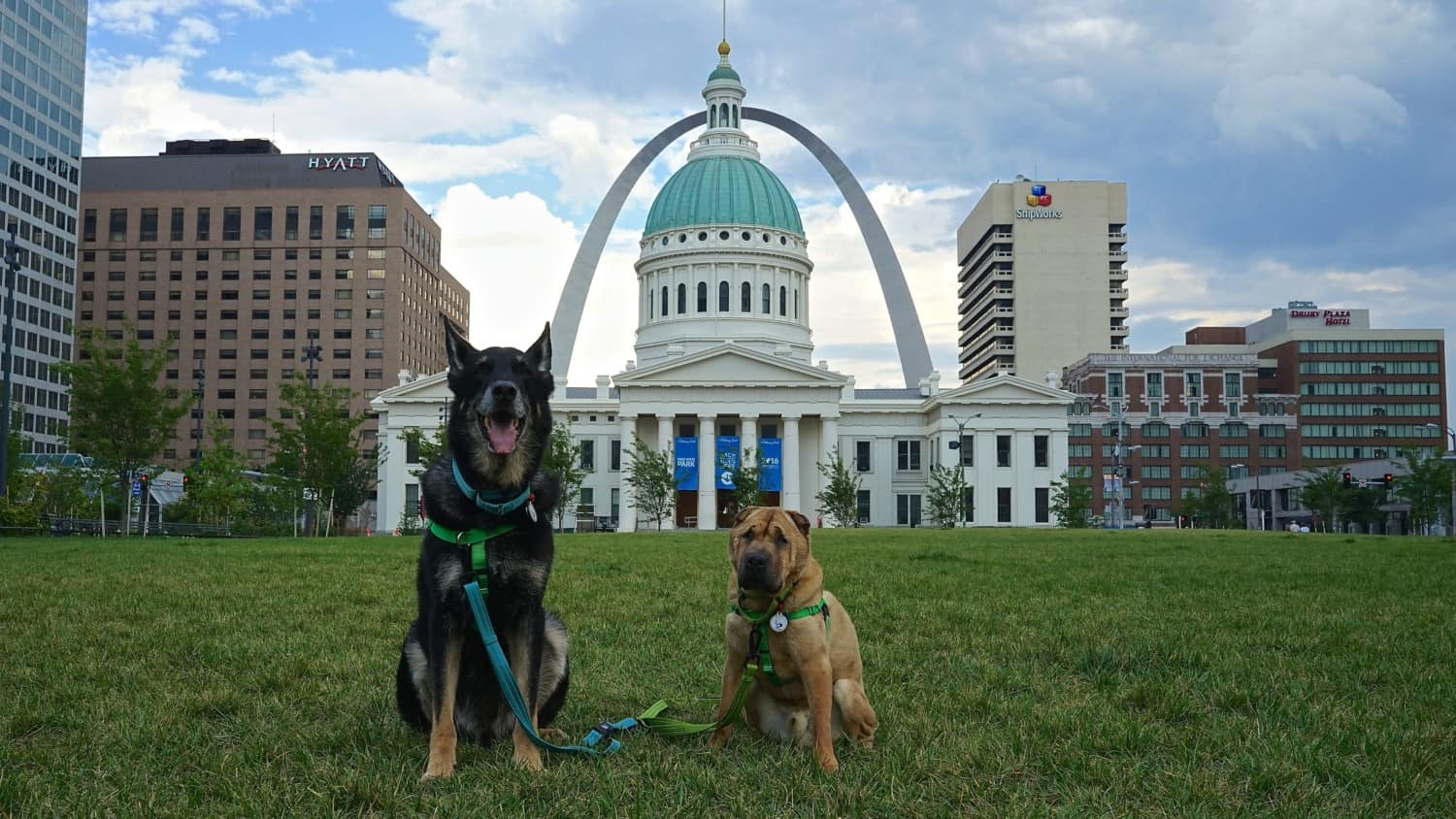 New England
You can see a lot without traveling far in New England! Enjoy Central Park in the heart of Manhattan, then explore the trails in Acadia National Park. Finally, take a splash in the pond at Dog Mountain. From beginning to end, this section of our pet friendly American road trip is a pet's dream come true.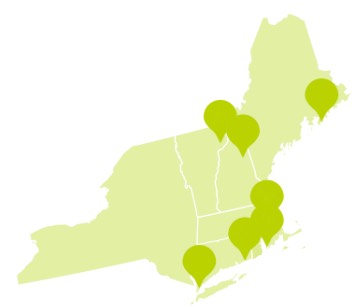 There's no place like New York! Central Park is the third most visited attraction IN THE WORLD – and it's even better with your pet. Whether you choose to lounge on a bench, enjoy the conservatory gardens, or explore the wooded trails in the Ramble, it will be a day to remember.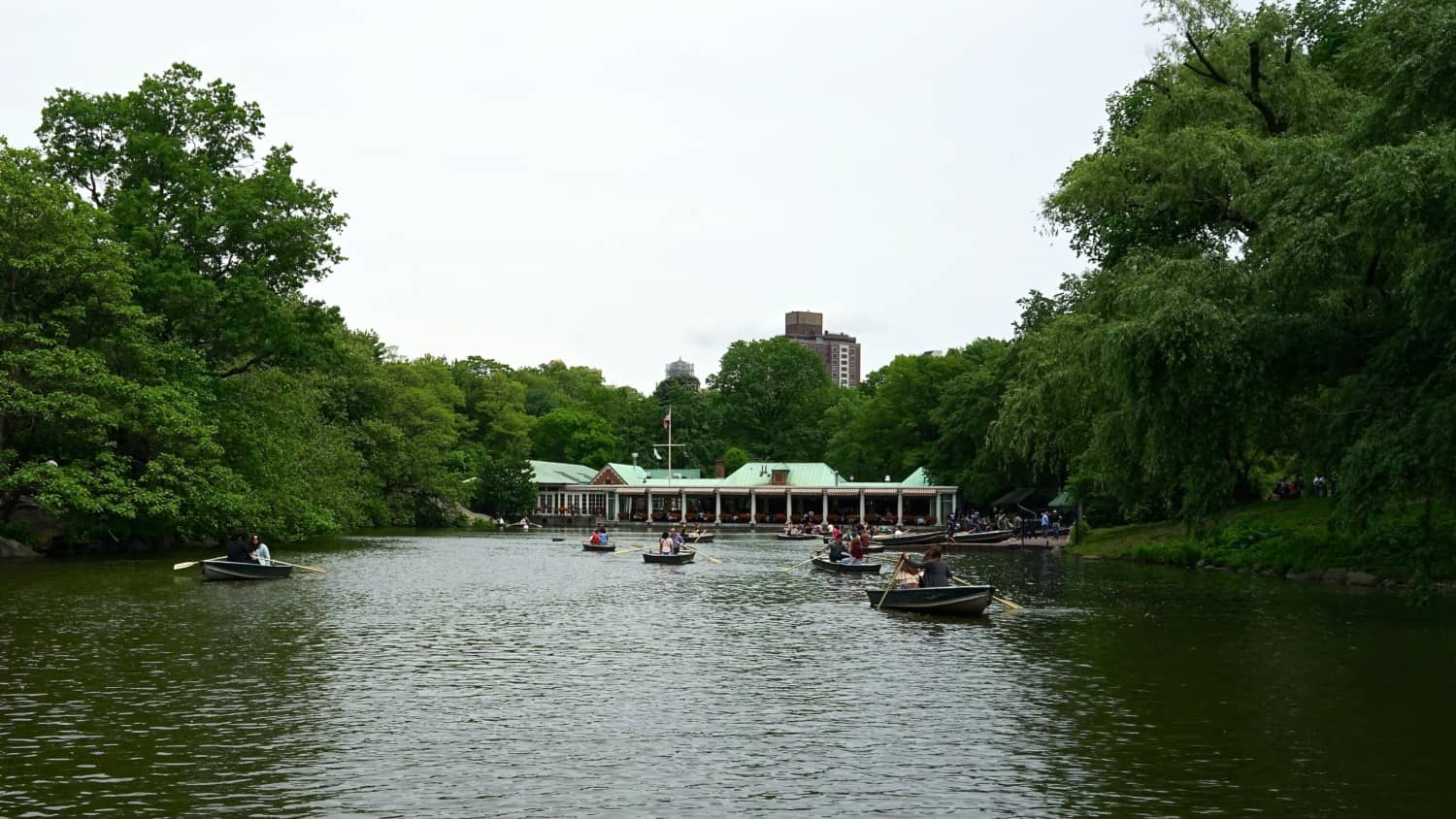 Spread over 19 spectacular acres on the banks of the Mystic River, Mystic Seaport is the largest maritime museum in the United States. You and your pet can view magnificent old boats and learn what life was like for seaport dwellers in this part of New England in the 1800s.
Newport is known as the City by the Sea. And a stroll along the pet friendly Cliff Walk proves that she more than lives up to her nickname!
Winding for 3.5 miles with the rocky shoreline on one side and the lush gardens of historic mansions on the other, the Cliff Walk Trail provides you and your pet with unforgettable views.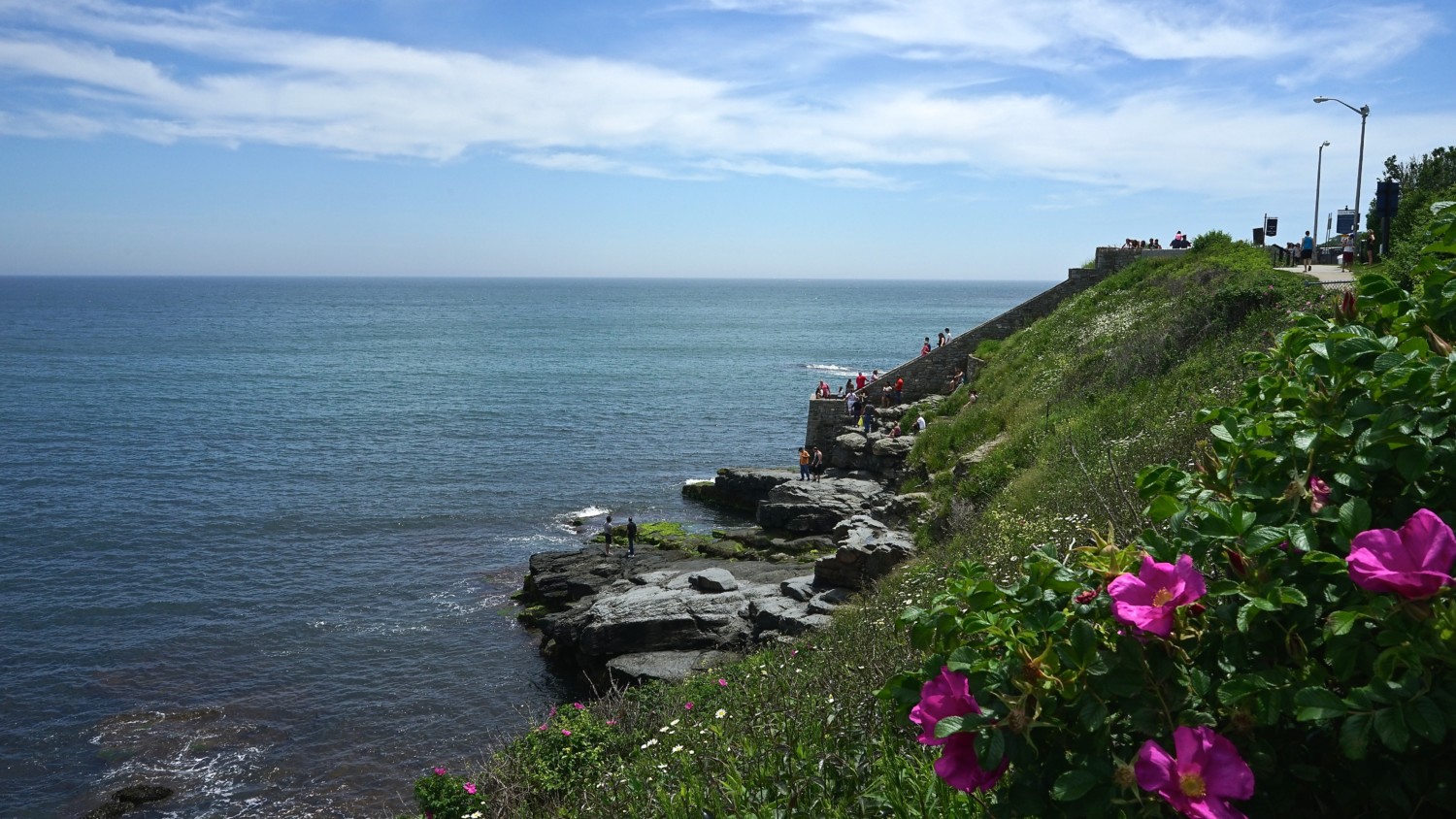 Boston's Freedom Trail connects 16 of our country's most significant historic landmarks – locations that played a pivotal role in America's rebellious beginning.
The pet friendly 2.5-mile path starts in Boston Common where you can pick up a map. Here pups will also find two off-leash areas for sniffing and socializing in America's oldest public park. Then follow the red brick path through the city at your own pace, taking in each site as you go.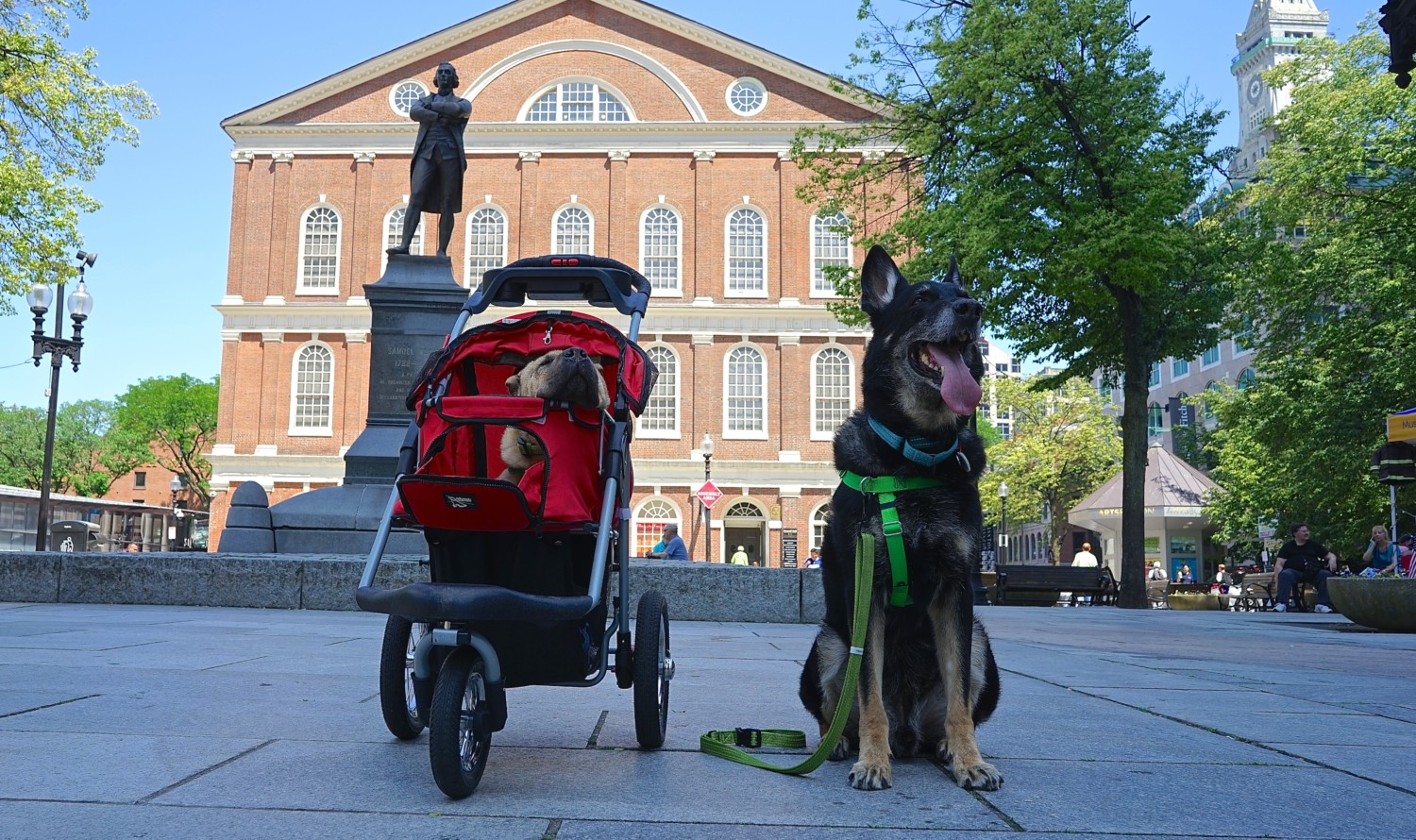 As one of the countries most pet friendly national parks, you and your pet will find plenty to love in Acadia. There are more than 100 miles of trails to sniff, carriage roads to explore, and pets are even welcome on the free shuttles that run throughout the park and around the island!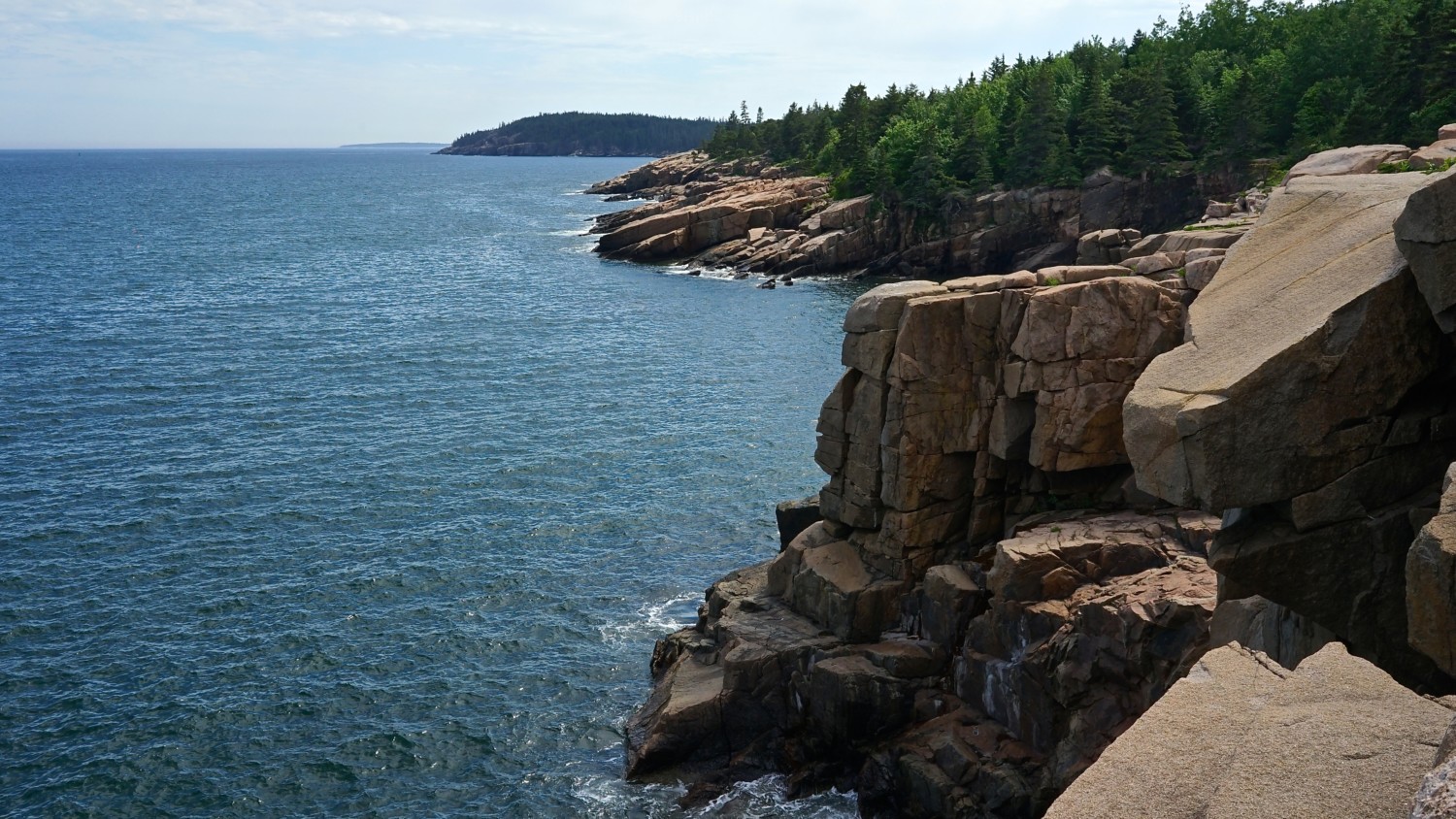 Visiting Mount Washington can be tricky. More than 100 days a year the wind at the summit exceeds hurricane force, the peak is enveloped in clouds 60% of the time, and snow can fall year round. But if you're lucky enough to be there on a pleasant day, you and your pet will never forget the pet friendly trails and stunning views.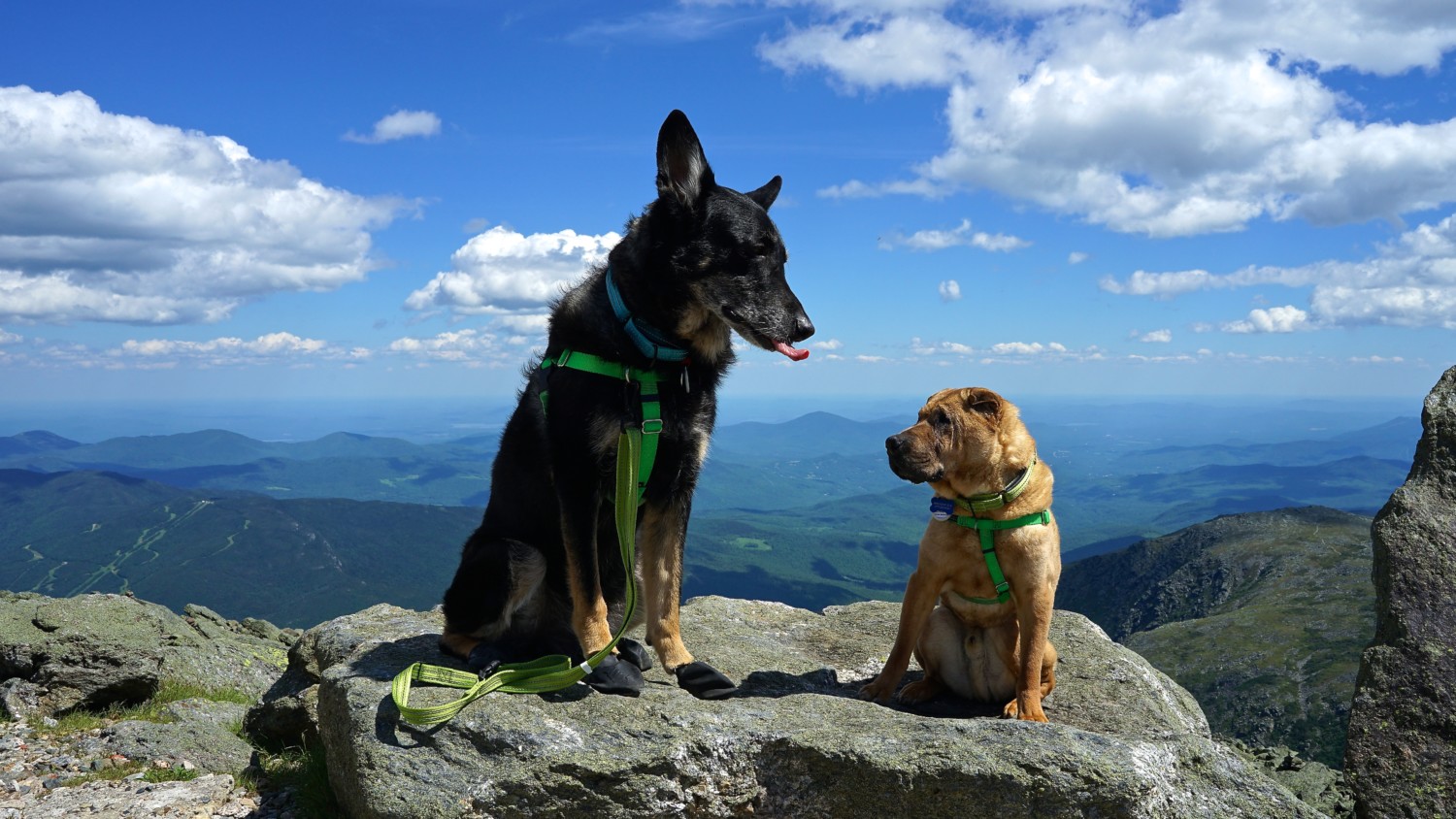 At Dog Mountain, pets aren't just welcome – they're cherished! This 150-acre former dairy farm is always open to the public and dogs are welcome to shed their leashes while they run, play, and swim in the pond.
There are also hiking trails, peaceful retreats, and a pet friendly chapel and art gallery.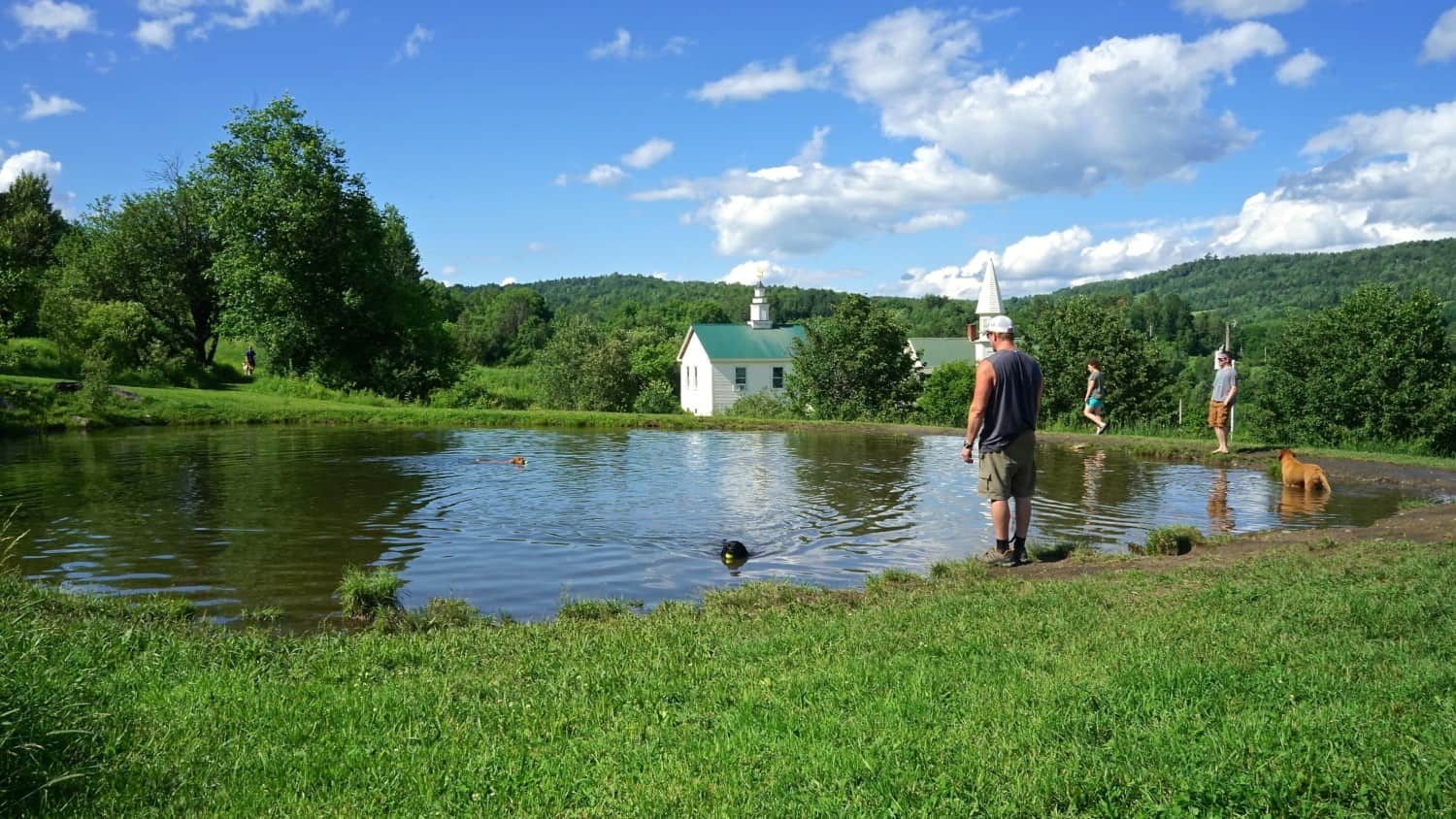 The Mid-Atlantic
The theme of this section of the trip is early American history with a lot fun thrown in! Learn about the first Europeans to arrive in the New World in Colonial Williamsburg. Then stroll through Washington, DC, where history is made every day. Next enjoy a day on the Jersey shore before heading to the Pocono Mountains for a scenic train ride!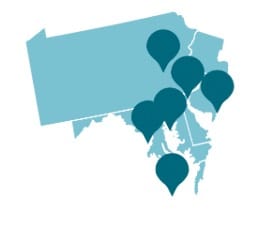 Colonial Williamsburg welcomes you and your pets to step back in time. View historic homes, watch demonstrations at the trades shops, enjoy the fife and drum corps, and get a bite to eat at one of the taverns or restaurants.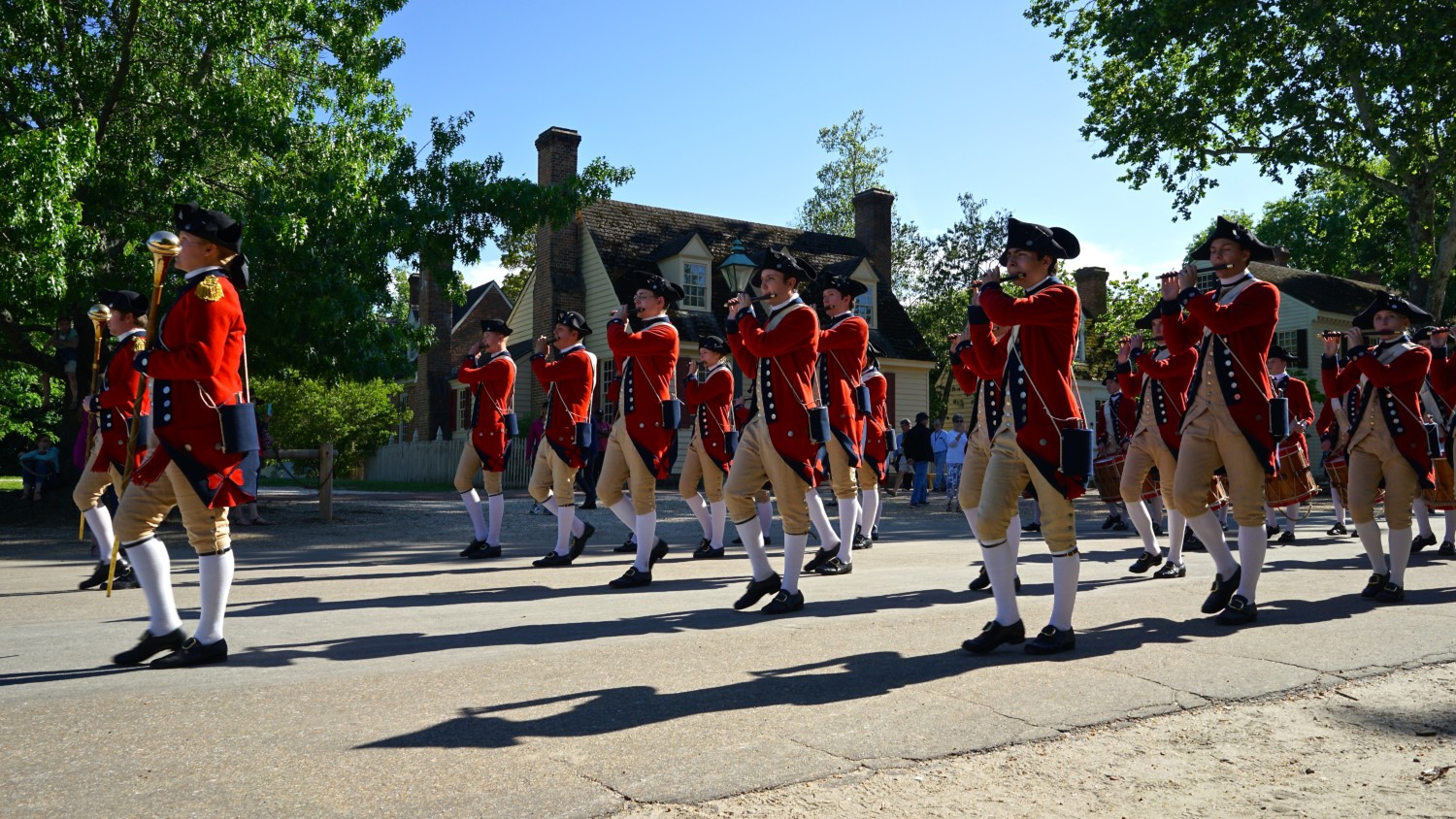 There are few places in the America more inspiring than our National Mall & Memorial Gardens. And because this national park sits in the middle of a living city, it's more pet friendly than you might expect!
From the U.S. Capitol to the Lincoln Memorial, you and your pet can view dozens of iconic sights all within walking distance.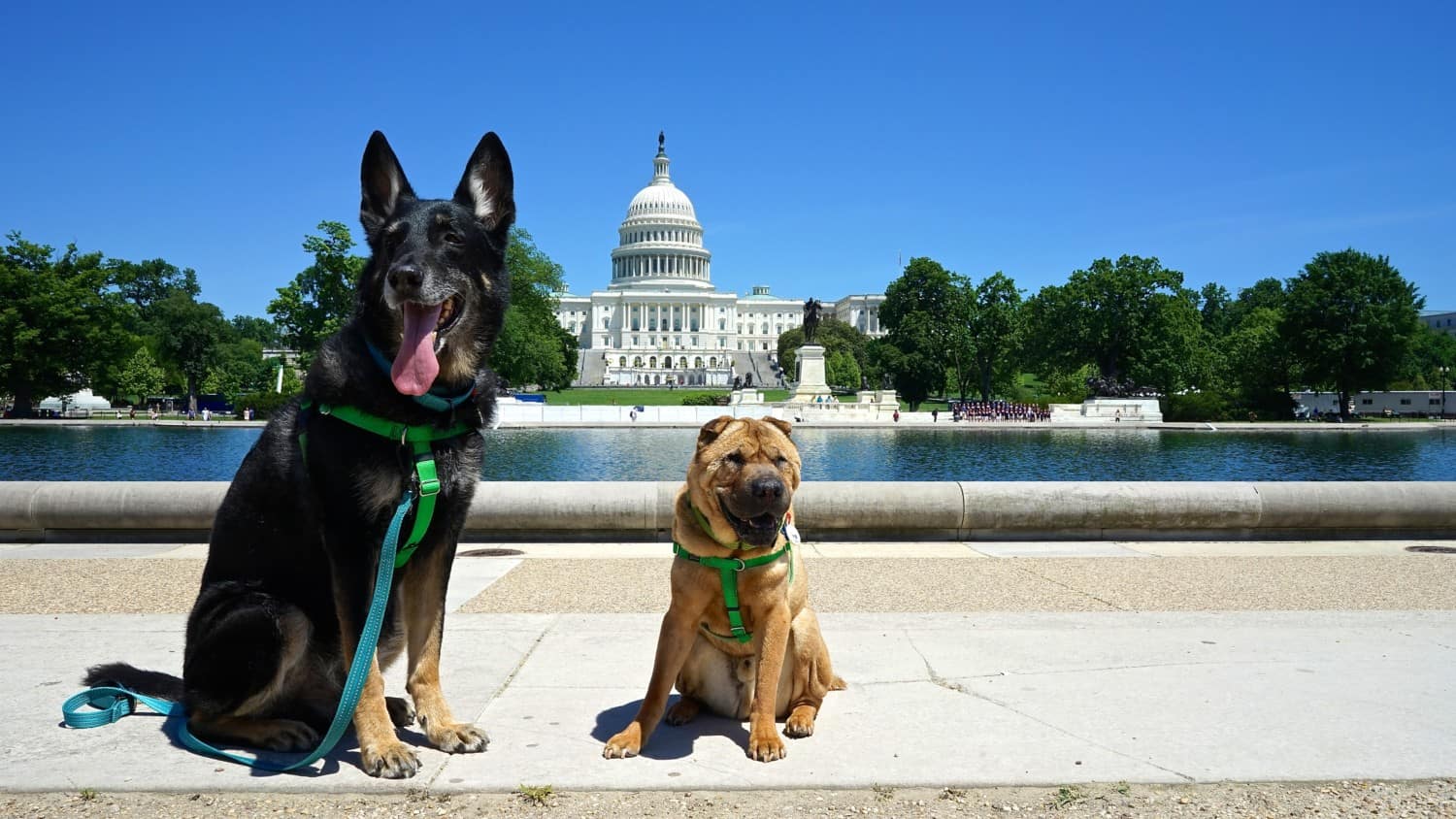 Explore the Chesapeake Bay with your travel buddy aboard a pet friendly cruise! Arrange a tour from Annapolis, Baltimore, or St. Michaels. Or contact one of the countless privately-operated charter boats available in harbors up and down the bay, most of whom are happy to welcome your pets.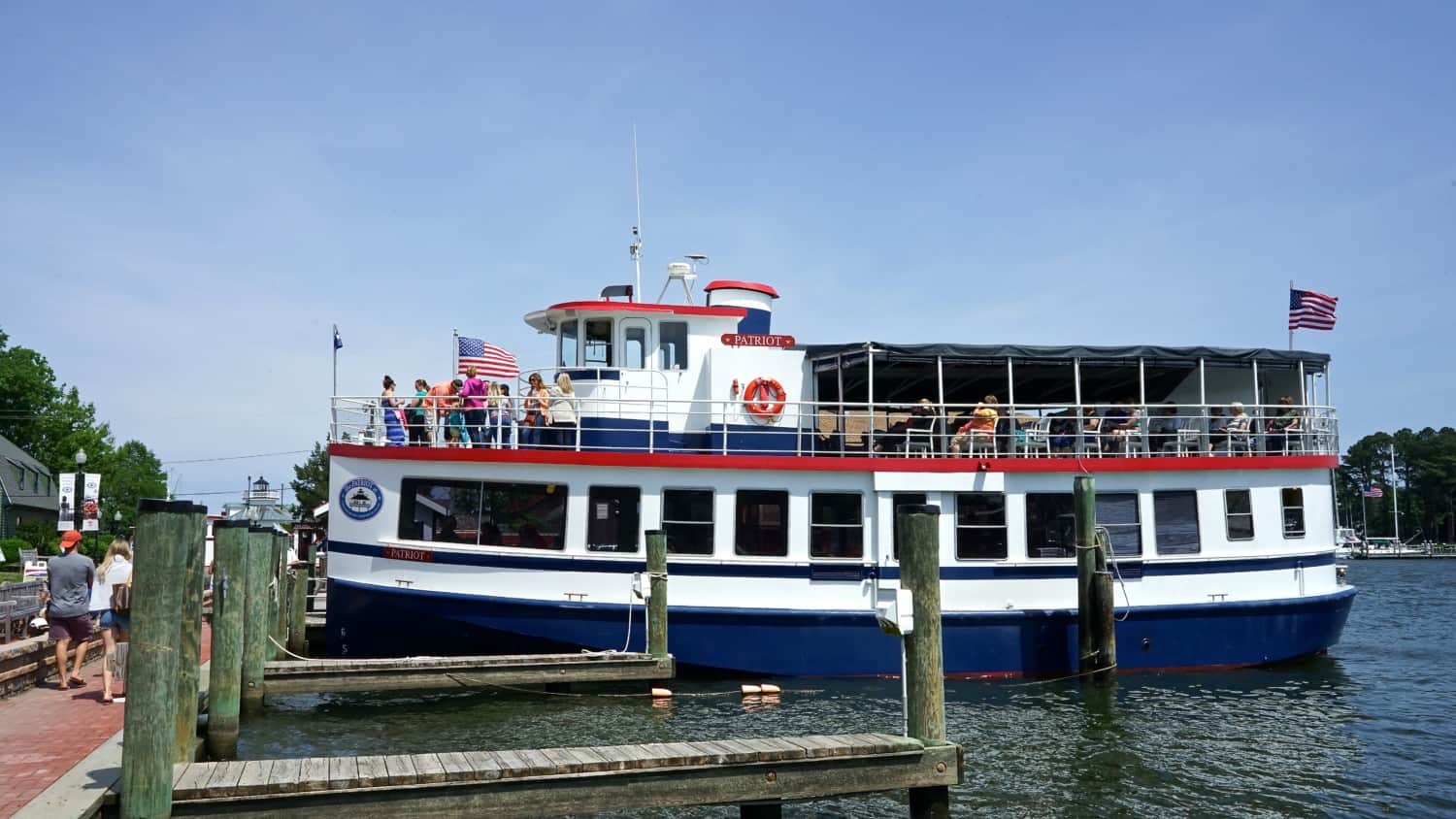 Do you love strolling with your pet along tree-lined streets? Would you like to admire beautiful examples of colonial Dutch and Federal architecture? And what if you could learning a bit about the early history of our country at the same time?
It sounds like a walking tour of New Castle will be right up your alley! Be sure to check the local calendar for pet friendly events when planning your trip.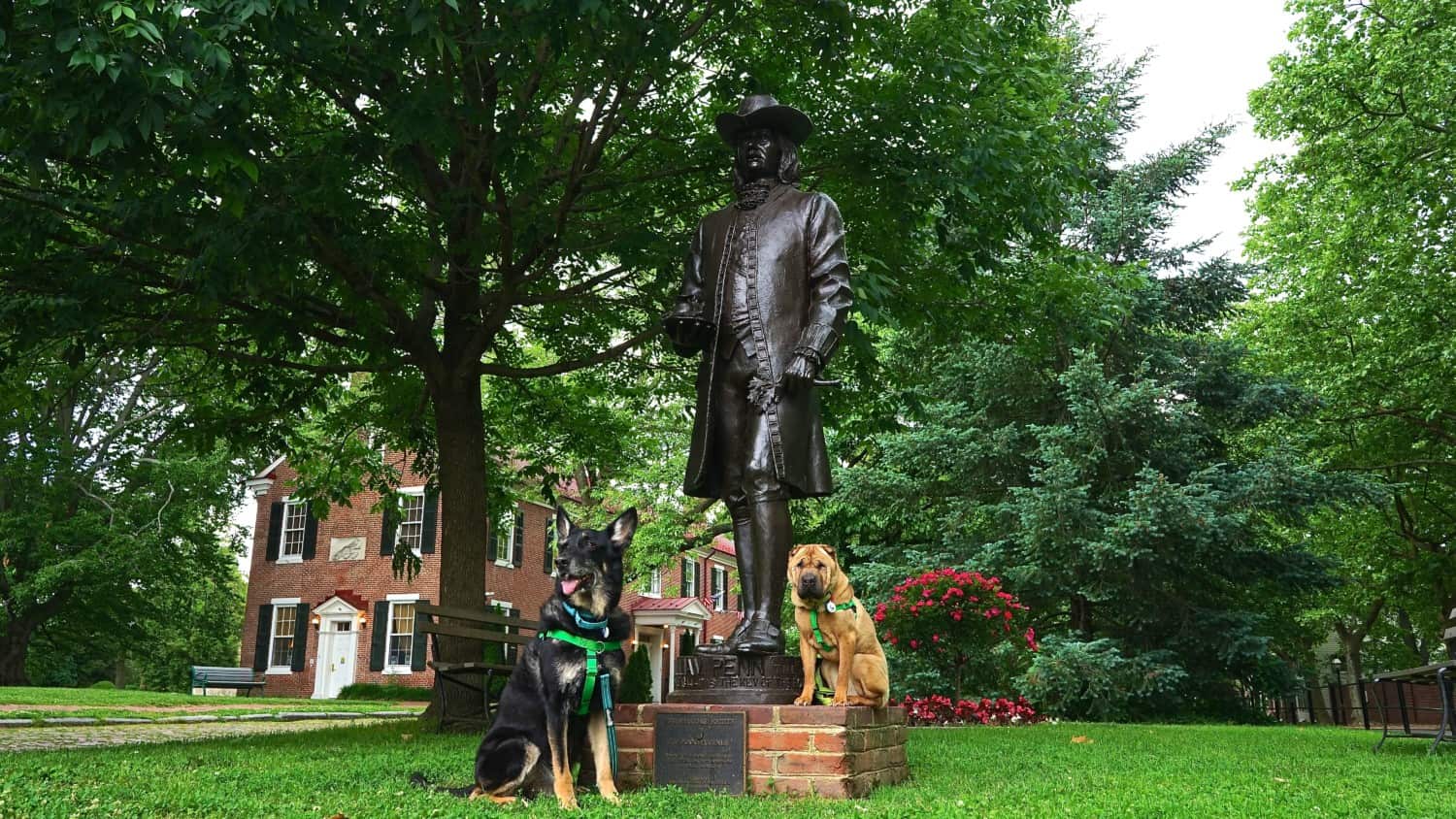 New Jersey has many popular beaches, but Wildwood's beach stands out. It's lovely, spacious, family-friendly, and free to use. And the best part is that your pets can come along!
Dogs on leashes are welcome from dawn to dusk, every day on the Wildwood dog beach between Glenwood and Maple Avenues. Just look for the gigantic fire hydrant and enjoy a day of sand and surf together.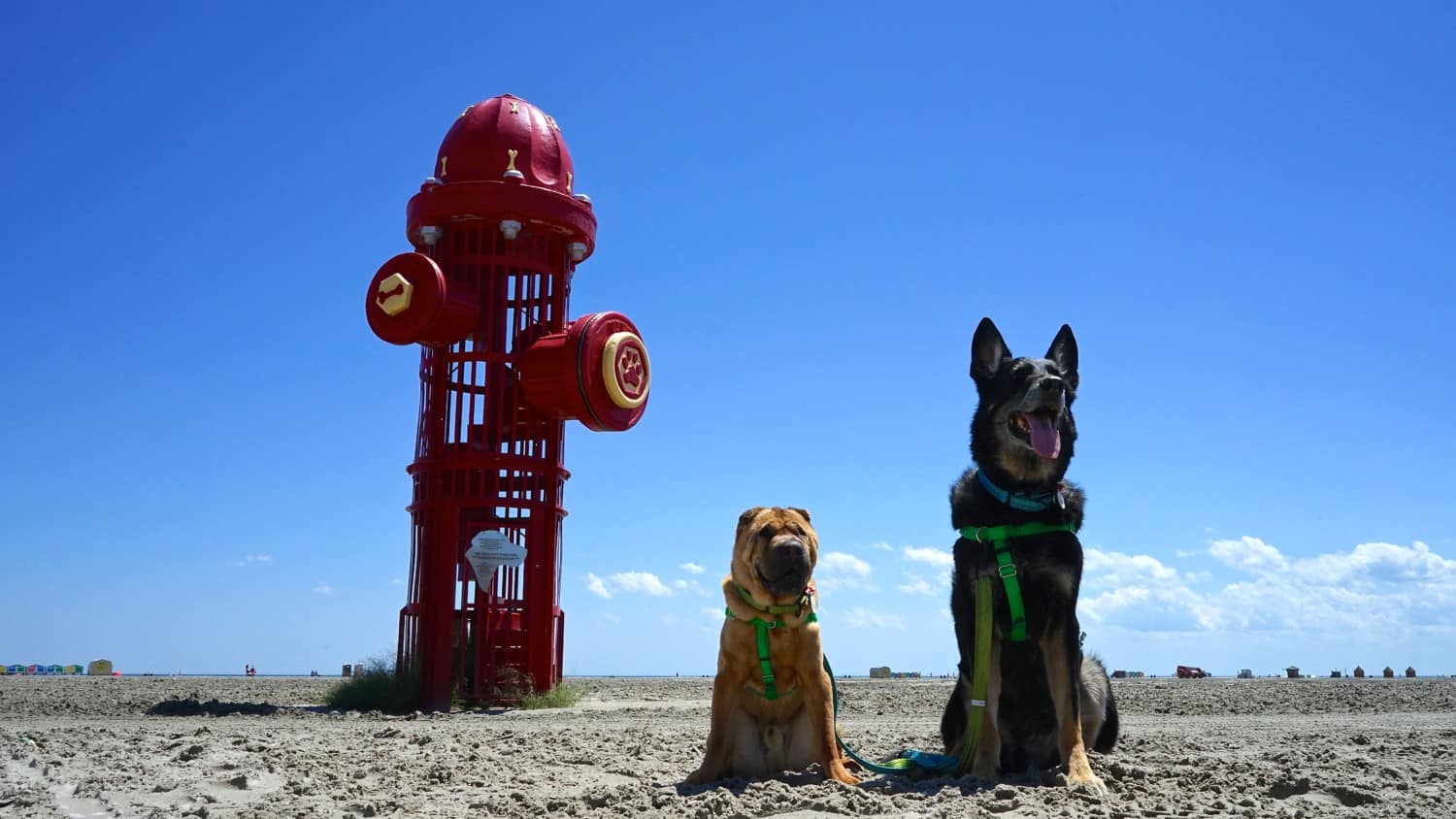 All aboard! The Lehigh Gorge Scenic Railway welcomes pets on their vintage coaches. Powered by diesel engines and departing from the old railroad station in historic downtown Jim Thorpe, the narrated trips lasts about 70 minutes and follow 16-mile route along the Lehigh River as it winds through the gorge.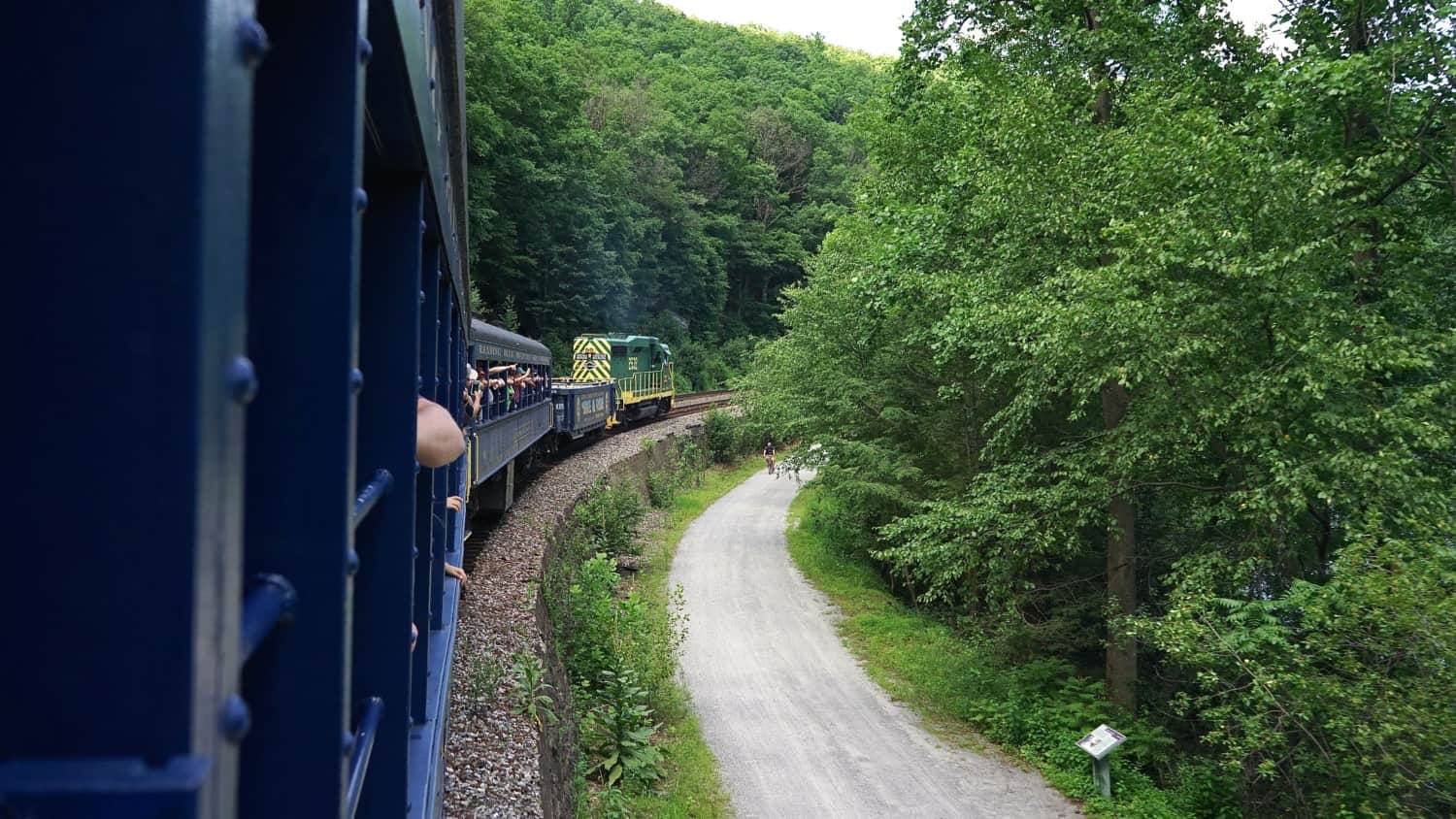 The Southeast
Beautiful gardens await your arrival on this pet friendly road trip through the Southeast. Wander the paths through Rock City, where on a clear day you can view seven states! Then admire the last large-scale romantic-style garden at Magnolia Plantation. Finally, spend a day exploring the formal gardens and wooded trails of the 8,000-acre Biltmore Estate.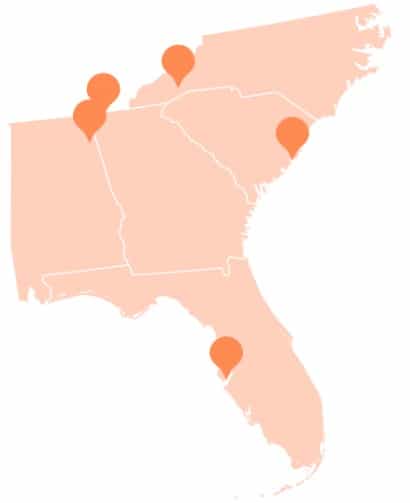 On a flat-top mountain in northeastern Alabama, Little River Canyon National Preserve protects 15,000+ rugged acres along the Little River.
Be prepared for stunning scenery and a taste of southern hospitality, because the preserve is incredibly pet friendly. Not only can your furry travel buddy join you on all the trails — he's also welcome inside the visitor center, and the staff has dog treats!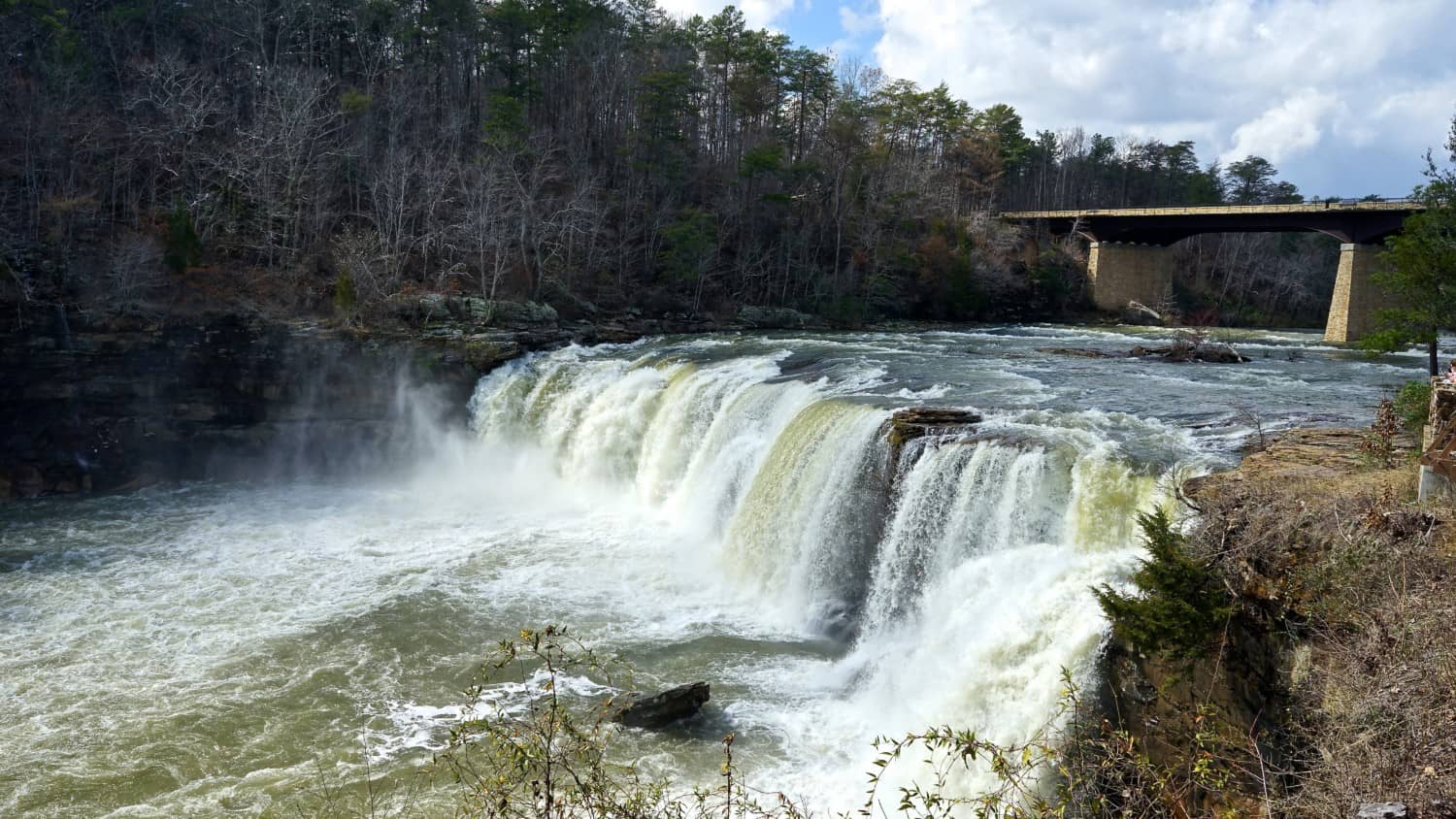 Visitors from around the world come to admire Rock City's botanical and geological features. And your pet is welcome to join you on the trails. You can even have lunch together on the patio at Café 7, a seasonal restaurant with amazing views!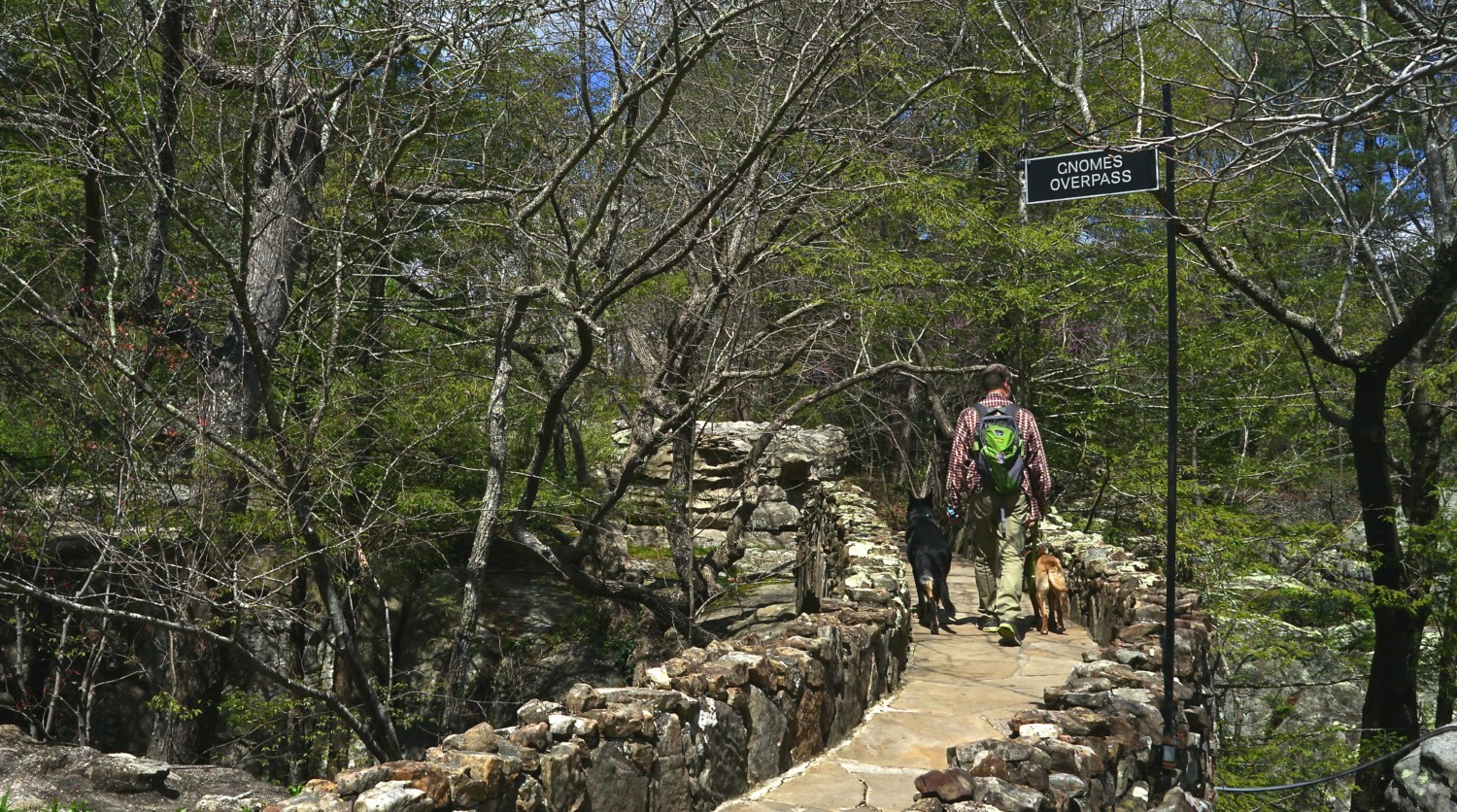 Fort De Soto's beaches are acclaimed for their white sand and clear blue waters. But the best part of this quarter-mile stretch of beach is that it's dedicated to the dogs!
Pups can romp leash-free here and in the adjacent enclosed dog park. Then rent a kayak and paddle the 2.25-mile water trail, peddle the 7-mile bike trail, or hit the hiking trails to see more of the island.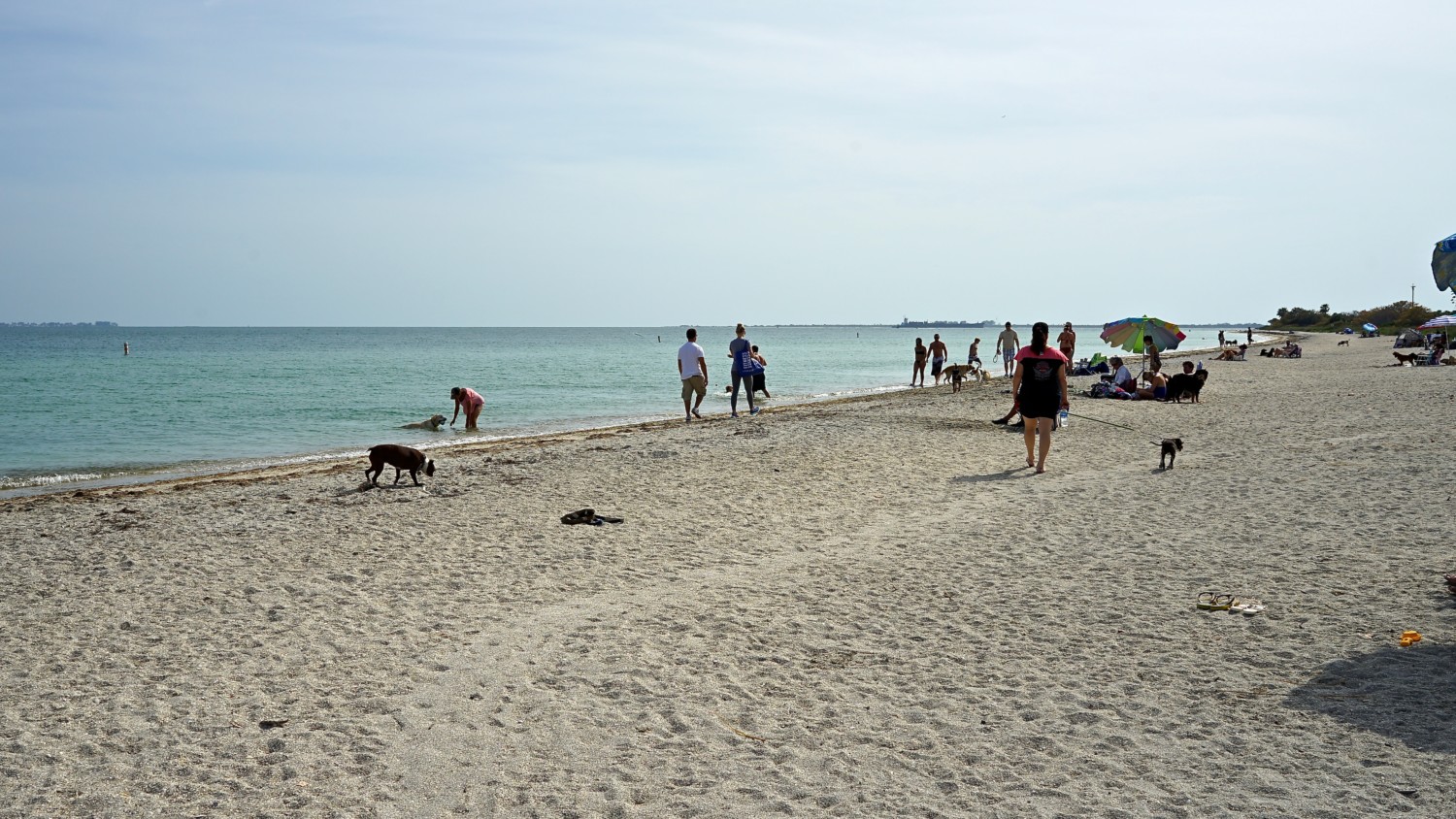 Founded in 1676 by the Drayton family, Magnolia Plantation and Gardens is America's last large-scale Romantic-style garden. You and your pup are welcome to enjoy the trails, grounds, gardens. Plan accordingly to see your favorite flowers in bloom!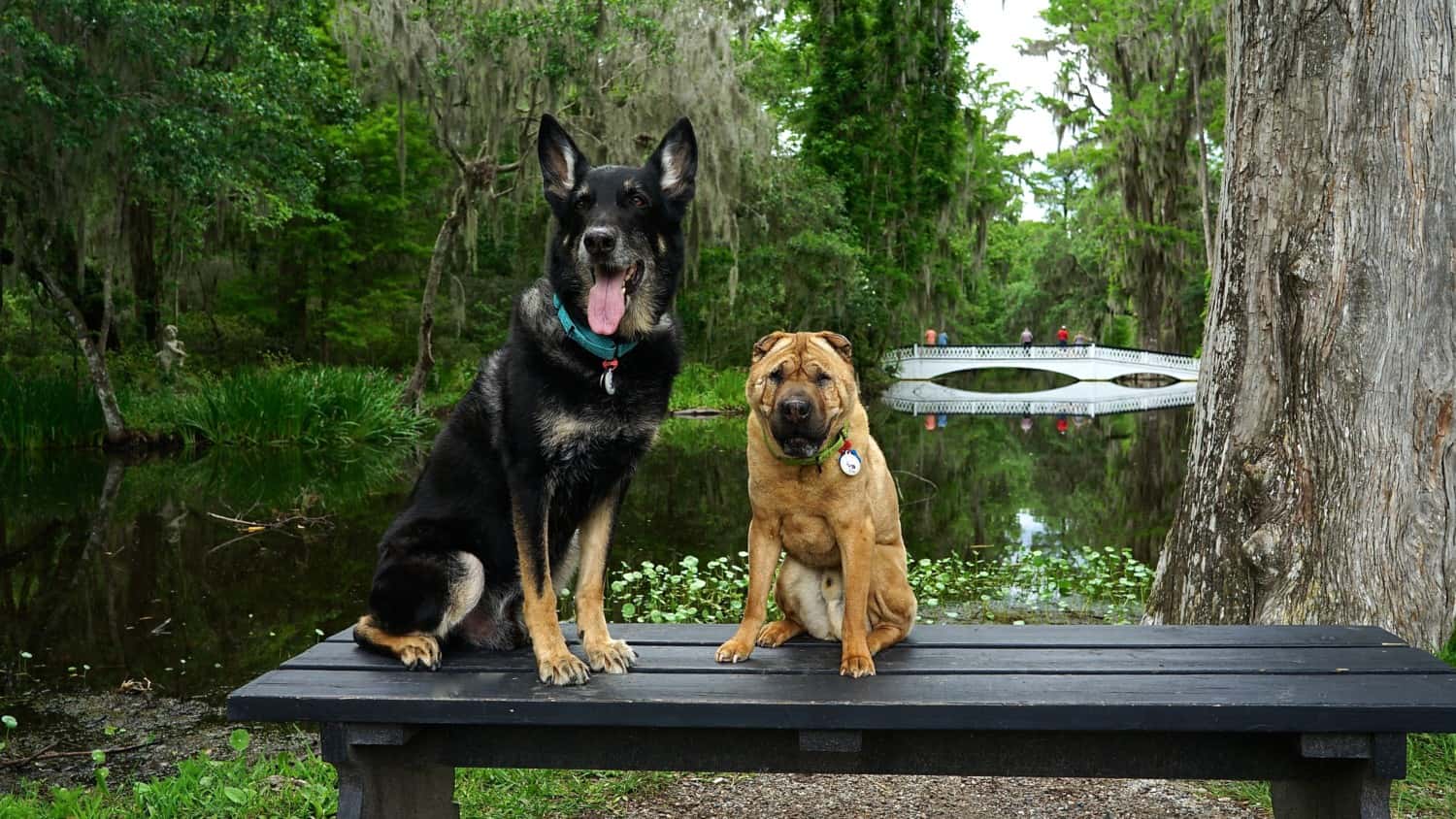 At the Biltmore Estate, pets cannot tour the historic home. However, you and your pet can stroll the lush garden paths, or hit the 23 miles of hiking trails that criss-cross the 8,000-acre estate.
When you've worked up an appetite, head over to Antler Hill Village and choose a table on the patio at one of the pet friendly restaurants!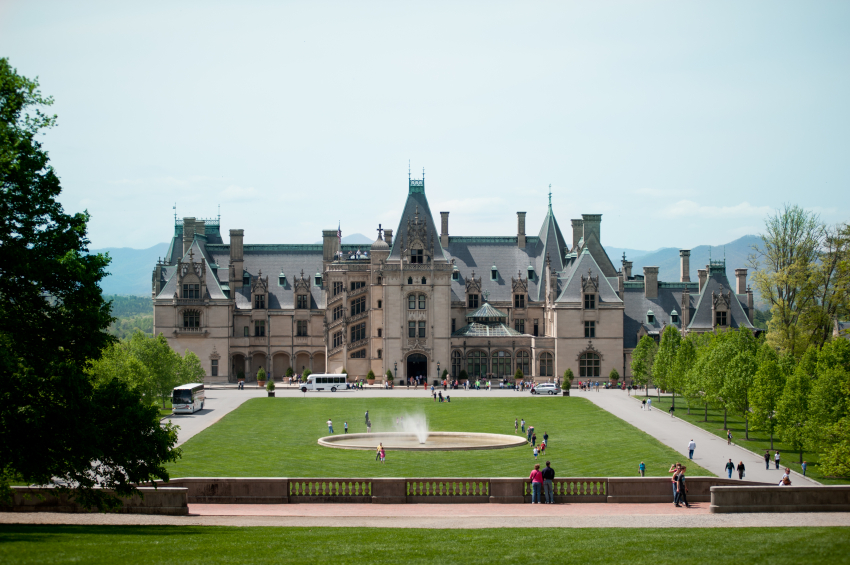 How long will it take and what will it cost?
In total, our entire pet friendly American road trip is 15,000 miles and will take at least two months. That's assuming you have great luck with the weather and don't mind driving about 8 hours a day.
The cost of the trip depends on how you travel. And where you are comfortable staying is a factor that has a big impact. Car camping or tenting will be least expensive. And staying at pet friendly hotels will cost more. Luckily, pets aren't picky about where you sleep – as long as you're together.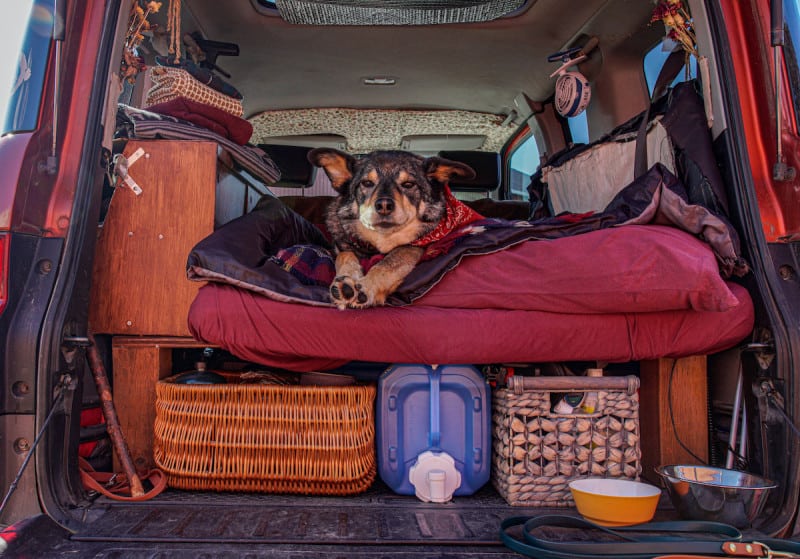 Most of the attractions we've recommended are fairly inexpensive (free – $20), with a few exceptions. So figure around $500 per person for all the admission fees.
Gas will cost another $1,500 to $2,000.
Then there's food, which can also vary a lot. To save money, plan to spend time shopping and preparing your own meals rather than eating out. If you can eat for $15 per day, that adds about $900 per person for a two-month trip.
In total, this trip could be done by one person for around $4,500. Bring a buddy to split the lodging and gas costs and the cost is even less for you both.
So, there you have it – our Ultimate Pet Friendly American Road trip! Now all that's left to do is pack the car, crank up the tunes, and hit the road. Waggin' trails to you!
(Visited 268,653 times, 19 visits today)