Taking a cross country road trip with pets might sound intimidating. But we've zigzagged America several times with Ty and Buster and learned a few lessons along the way.
If you're planning a long road trip with your pets, these tips will boost your confidence and help ensure your adventure is fun for everyone!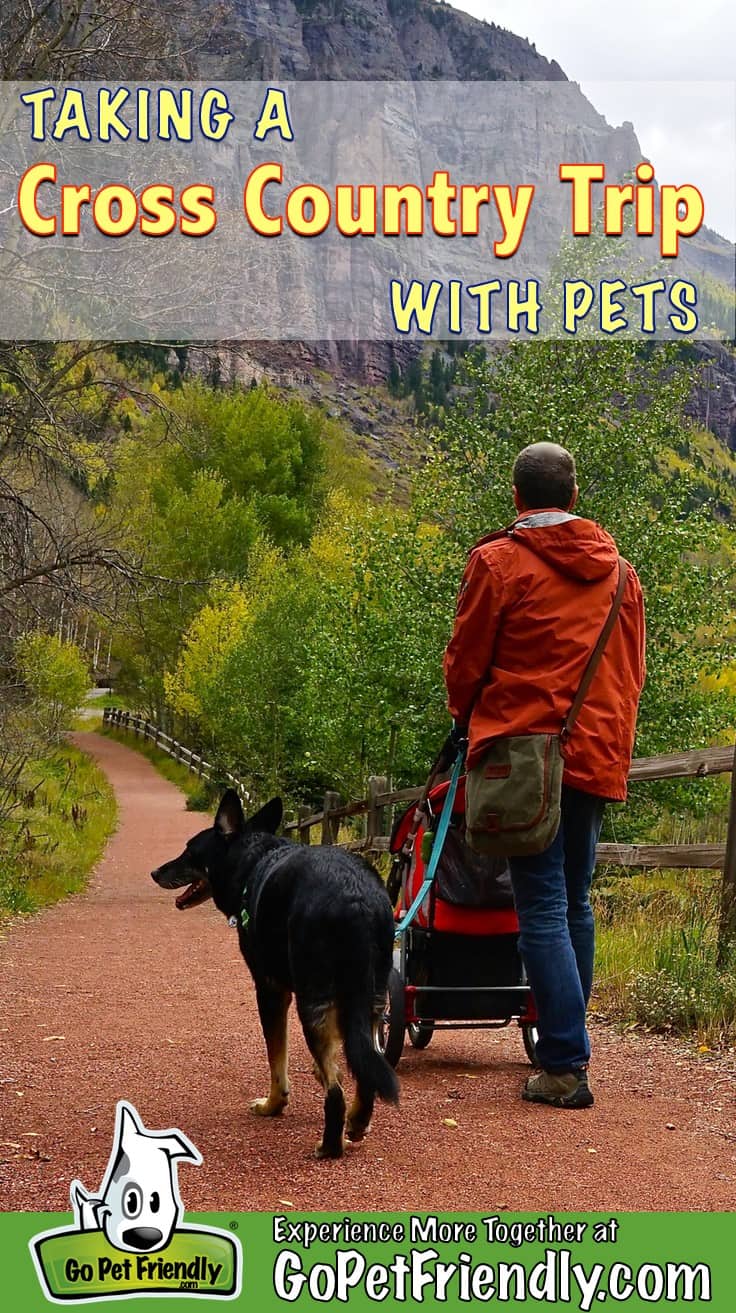 *This post contains affiliate links. Thank you!*
Get a Pet Check-up
Before you start planning a cross country trip with pets, it's a good idea to visit to your vet. Confirm that your dog or cat is healthy enough for the long trip, that all of her vaccinations are current, and stock up on any medications she needs. You should also discuss fleas, ticks, heart worms, or other health concerns that are common where you'll be traveling.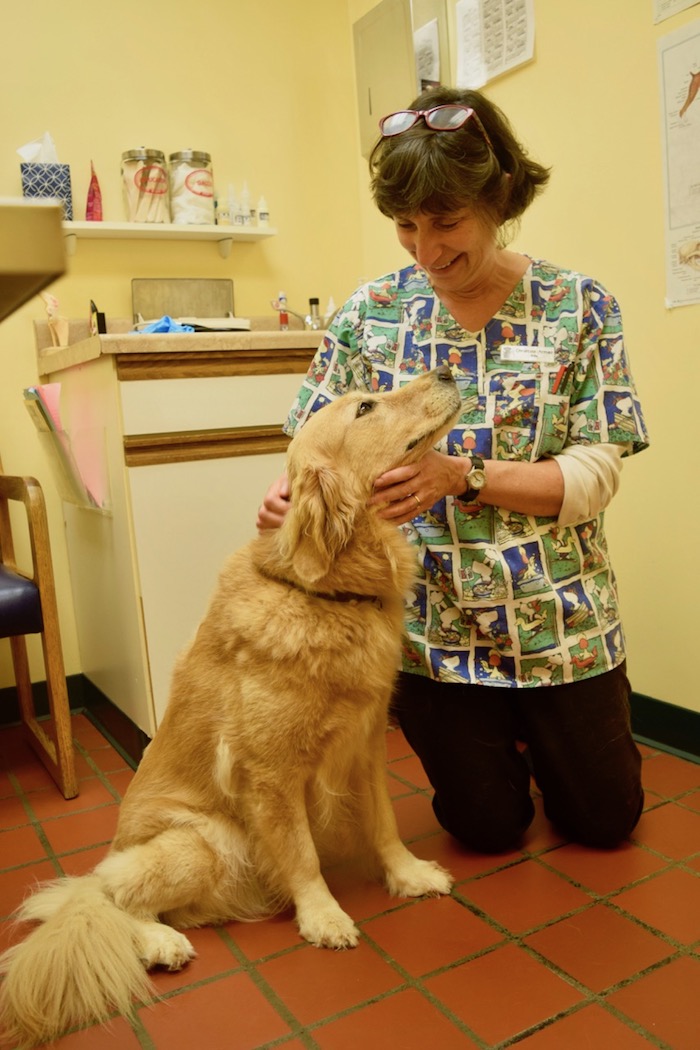 Don't forget to ask about remedies for car sickness, diarrhea, and allergic reactions – just in case! And finally, consider having your pet micro-chipped. It would be a nightmare, but pets can get separated from their people while traveling. A current ID tag and a microchip will give you the best chances of finding your furry travel companion if he should get lost.
After your visit, pack your pet's vaccination certificate. Then scan the rest of her medical records to a USB drive and take it along on your trip.
READ MORE ⇒  Tips To Keep Pets From Getting Lost
Decide on Your Mode of Transportation
Once your pet has gotten a "thumbs up" from the vet,  you'll need to decide how you'll be traveling. Most people take their own car, and if that's your plan, just make sure it's ready for the drive. Another option is to a pet friendly adventure van or rent a camper for your trip.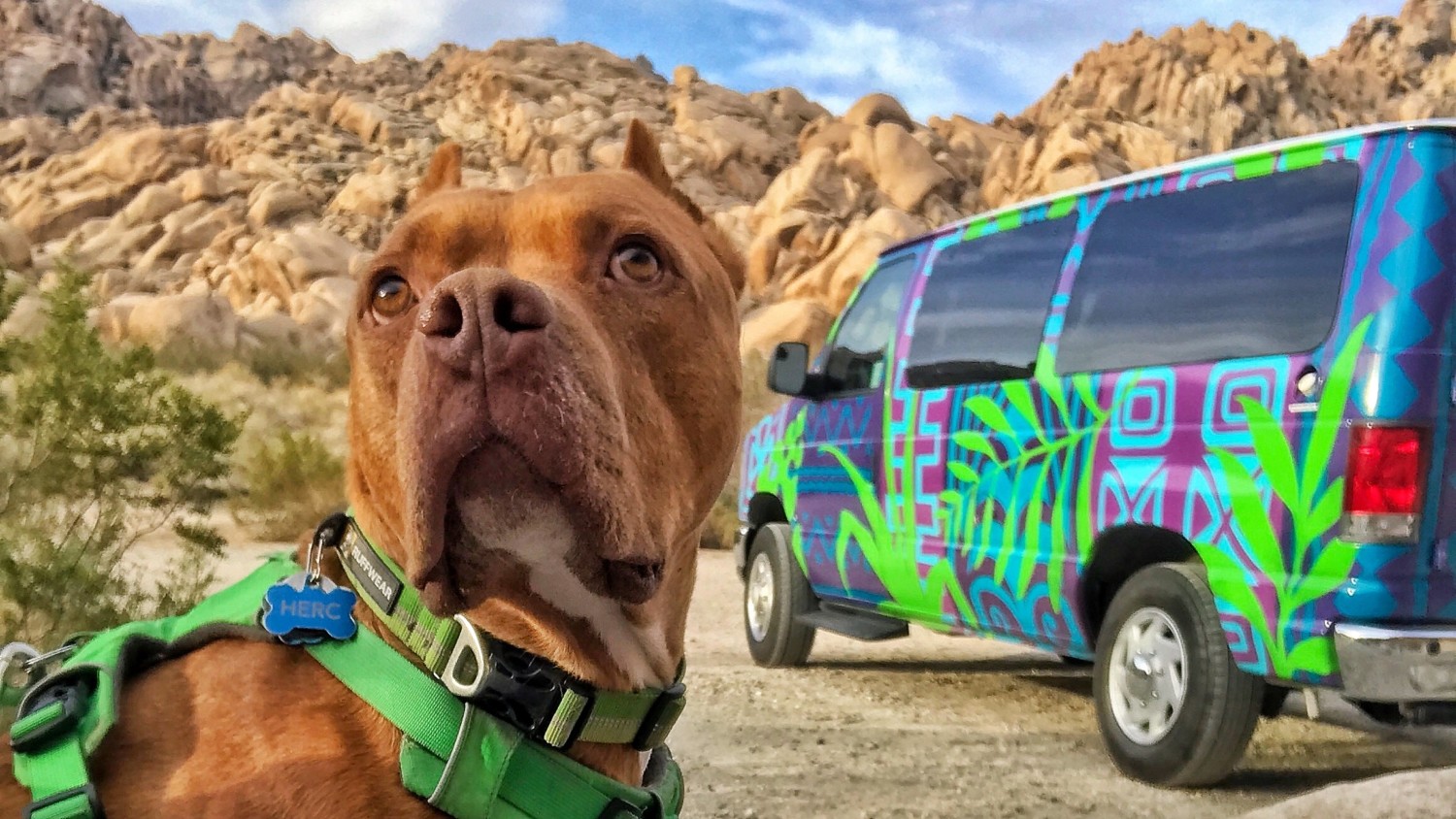 Regardless of how you'll get from here to there, the most important part of any trip is coming home safely. Use a car safety harness or secured carrier to protect your pets in case of an accident, and keep them from bolting out of the car in unfamiliar territory.
Plan Your Route
Choosing a route for your cross country trip with pets is part of the fun! Our pet friendly trip planner will help you lay out your plan. Then add pet friendly hotels, vacation properties, campgrounds, restaurants, and activities – like dog parks and pet friendly beaches – to your itinerary. You can also find veterinarians, pet supply stores, and pet sitters or daycare facilities, if the need arises.
READ MORE ⇒  What You Should Know About an Emergency Vet (Before You Need One)
Choose Your Accommodations
Whether you're pitching your tent in pet friendly campgrounds on your way across the States, or staying in pet friendly hotels, consider making reservations in advance. Campgrounds are busy on weekends and holidays, and some hotels only offer a limited number of pet friendly rooms.
Even if you prefer to be spontaneous, making a few reservations at the most popular destinations along your route will provide some peace of mind.
Pack for Your Pets
Deciding what to pack for your pets can be a challenge. You want all the things they need to be comfortable. But there's a limited amount of space available for all your travel gear!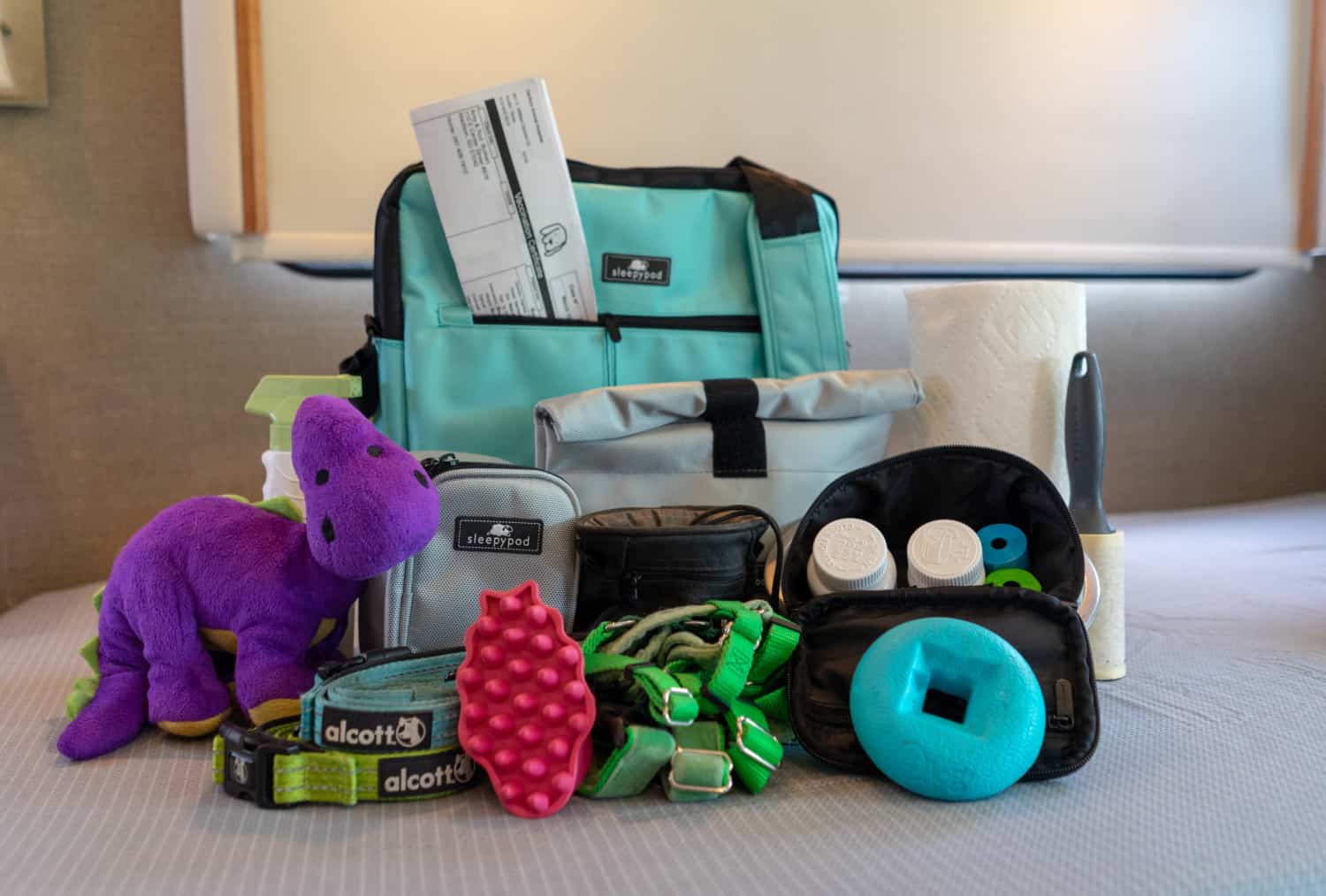 Start with a pet travel bag that is easy to organize, and load it up with all your pet's necessities:
Food and Treats. If you're not certain that you can pick up the brand you feed your pet along the way, pack enough for the entire trip plus a little extra. For canned food, don't forget the can opener!
All of your pets medications, vitamins, supplements, etc.
Food and Water Bowls – portable bowls pack easily and are great when you are out & about, and anti-spill water bowls are fantastic in the car (or RV).
Treat pouch – new places and experiences means constant training, so set your pup up for success and keep the rewards handy!
A couple of rolls of paper towels and some carpet cleaner – for muddy paws and other messes.
An old towel – in case of rain, or after swimming.
Your pet's bed and a couple of toys – so he's more comfortable spending the night in unfamiliar locations.
Waste bags to pick up after your dog along the way.
Pet insect repellent and sunscreen.
An extra leash – Many places require your pet be on a leash no longer than six feet. You may also want to consider a long leash (15-20 feet) if you plan to hike with your dog or let him run in an unfenced area.
Hit The Road
Whether you're planning to visit the most dog friendly national parks, cross the border to Canada, or embark on the Ultimate Pet Friendly Road Trip, remember that traveling with your pets is the perfect time to slow down and sniff the roses! Hustling from place to place can make your vacation feel more like work, so underestimate what you can accomplish.
We've found that driving about 300 miles per day works well for us. We can stick to Ty and Buster's exercise and feeding routines and enjoy the sights along the way.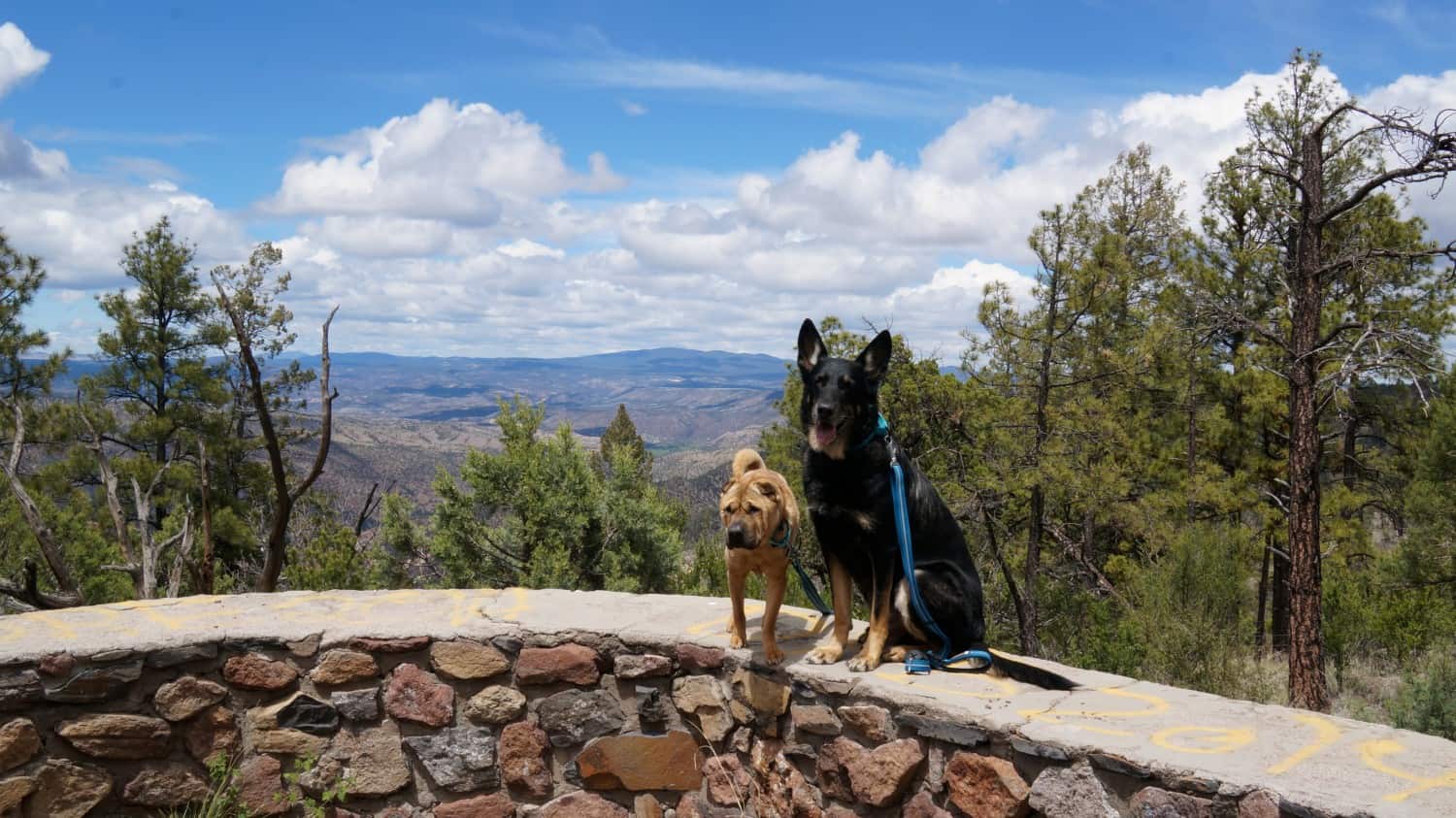 Pets are very adaptable, and most are happiest when you're together! They're sure to be delighted with your vacation choice. And you'll cherish all the memories you'll make together down the road.
Gear Used in This Post:
(Affiliate Links)

Sleepypod Clickit Car Safety Harness

See all the gear we use to make traveling with our pets easier, safer, and more fun!
EXPERIENCE MORE TOGETHER
Amazon Affiliate Disclosure: GoPetFriendly.com LLC is a participant in the Amazon Services LLC Associates Program, an affiliate advertising program designed to provide a means for website owners to earn advertising fees by advertising and linking to amazon.com, audible.com, and any other website that may be affiliated with Amazon Service LLC Associates Program. As an Amazon Associate, the owner of this site earns a commission from qualifying purchases.
(Visited 65,920 times, 1 visits today)