Thinking of renting a pet friendly camper? Learn from one family who did it with FOUR dogs. It might just be a great option for you!
For us, taking any type of vacation is unusual. With four large rescue dogs (including a 2-year-old who's been blind since birth), the question has always been, "Who would take care of the dogs?"
Then it occurred to us that renting a pet friendly camper could be the solution we needed. Primarily because it would allow us all to enjoy the trip together!
Why Renting A Pet Friendly Camper Was The Right Decision For Us
Our dogs aren't little angels. We've spoiled them perfectly, and they've trained us well. They have complete run of our home, and access to all beds and sofas.
On top of that, we live in the mountains of Colorado on land surrounded by a national forest. Needless to say, we've been a little lax in teaching them the social etiquette of cities.
In a pinch, dear friends will stay at the house with our rascals for a few days. But we'd never be so bold as to ask them to stay for longer than that!
So when the stars aligned, and we had the opportunity to get away for a week, we knew the hounds would be going with us.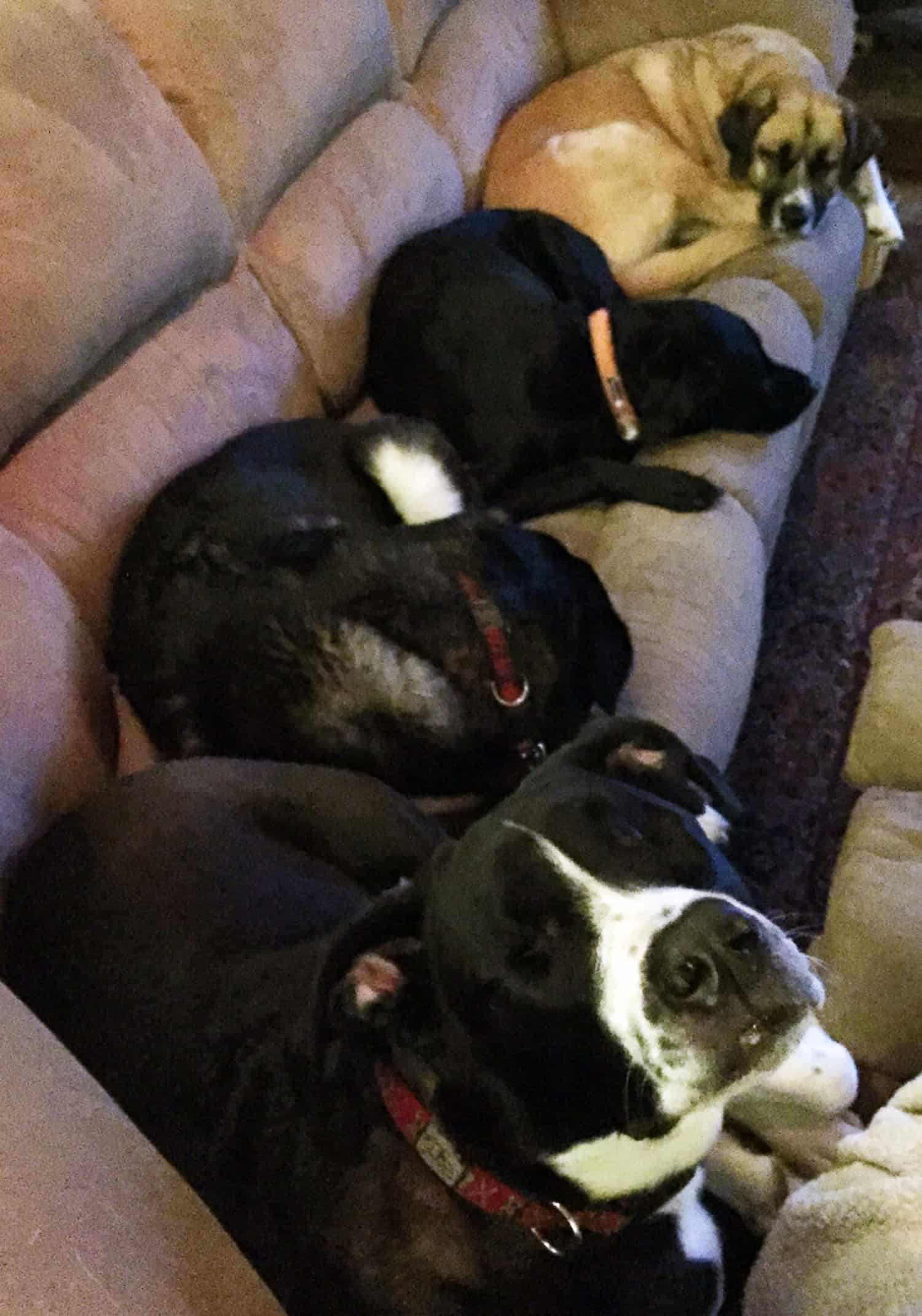 My research led me to GoPetFriendly.com, where I found tips and insights about traveling with dogs that I had never considered. I began to think, "We could do this … but we don't own an RV."
As if by magic, ads for RV rental companies started popping up in my feeds. And that really got our wheels turning!
Ultimately, we chose a smaller company than those popular RV rentals you see on the road, because it was local and much more affordable. And since we already had a truck, a 30' bumper-pull travel trailer was perfect for our needs. All that was left to do was making the plans!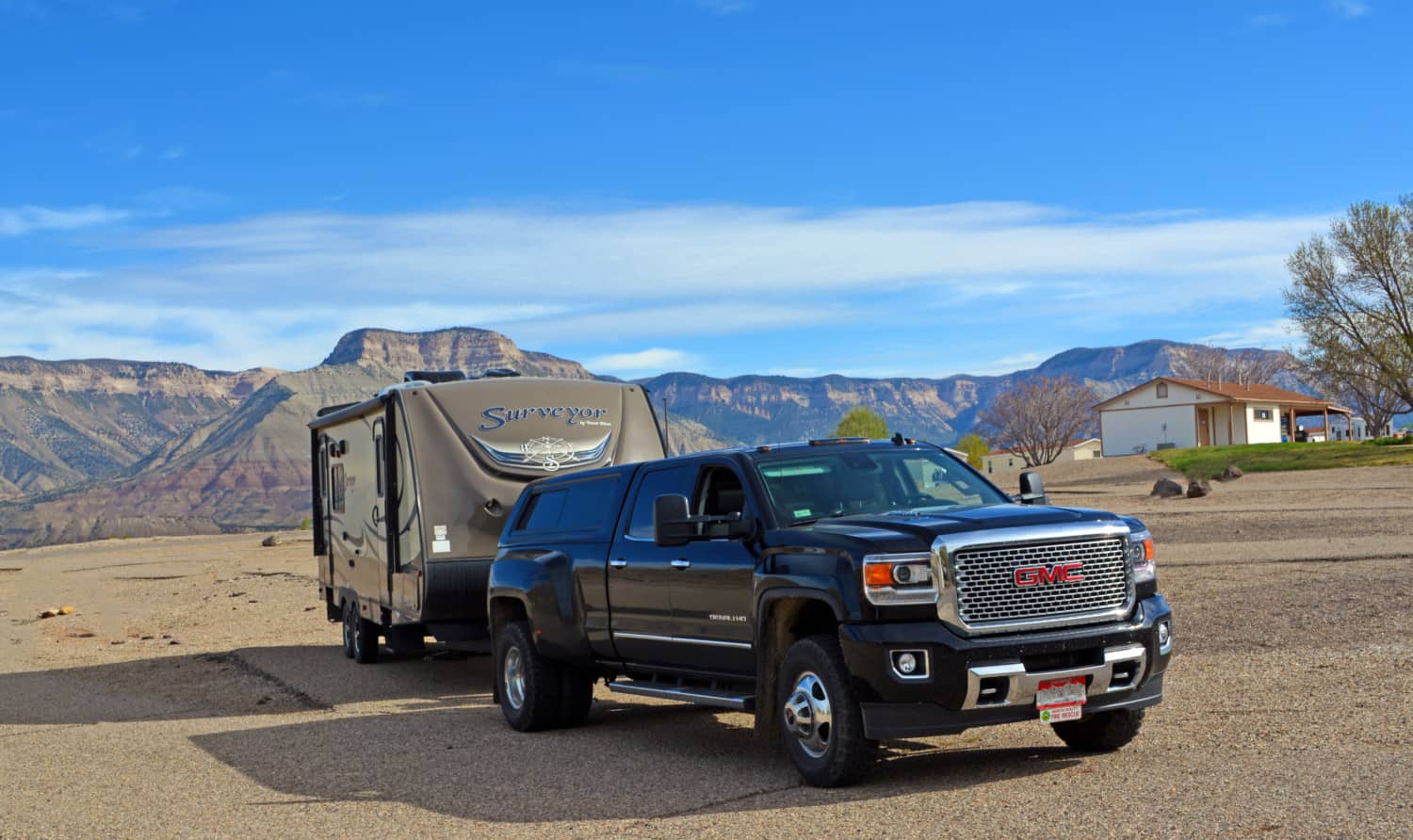 Planning The Trip
Our goal was to drive less than 6 hours per day, take time to walk, hike, and see some sights we'd never stopped at before … with the dogs. We laid out a loop: west to Utah, south to Arizona, east to New Mexico, and then north back to Colorado. It was our maiden voyage, so we didn't want to be too ambitious – we just needed a break from the snow.
Stress over the many unknowns plagued us as we prepared for the trip. Would the dogs bark at every noise in the campsite? They've never had neighbors! Would they damage the rented trailer? How much could that cost? But our blind dog, Panda, worried us most. How would he handle the ever-changing environments?
We told our kids and friends about our plans and they all said, "Oh, that sounds like so much fun!" But, considering all the things that could go wrong, I'd reply, "Yes, it will either be a lot of fun … or a complete disaster."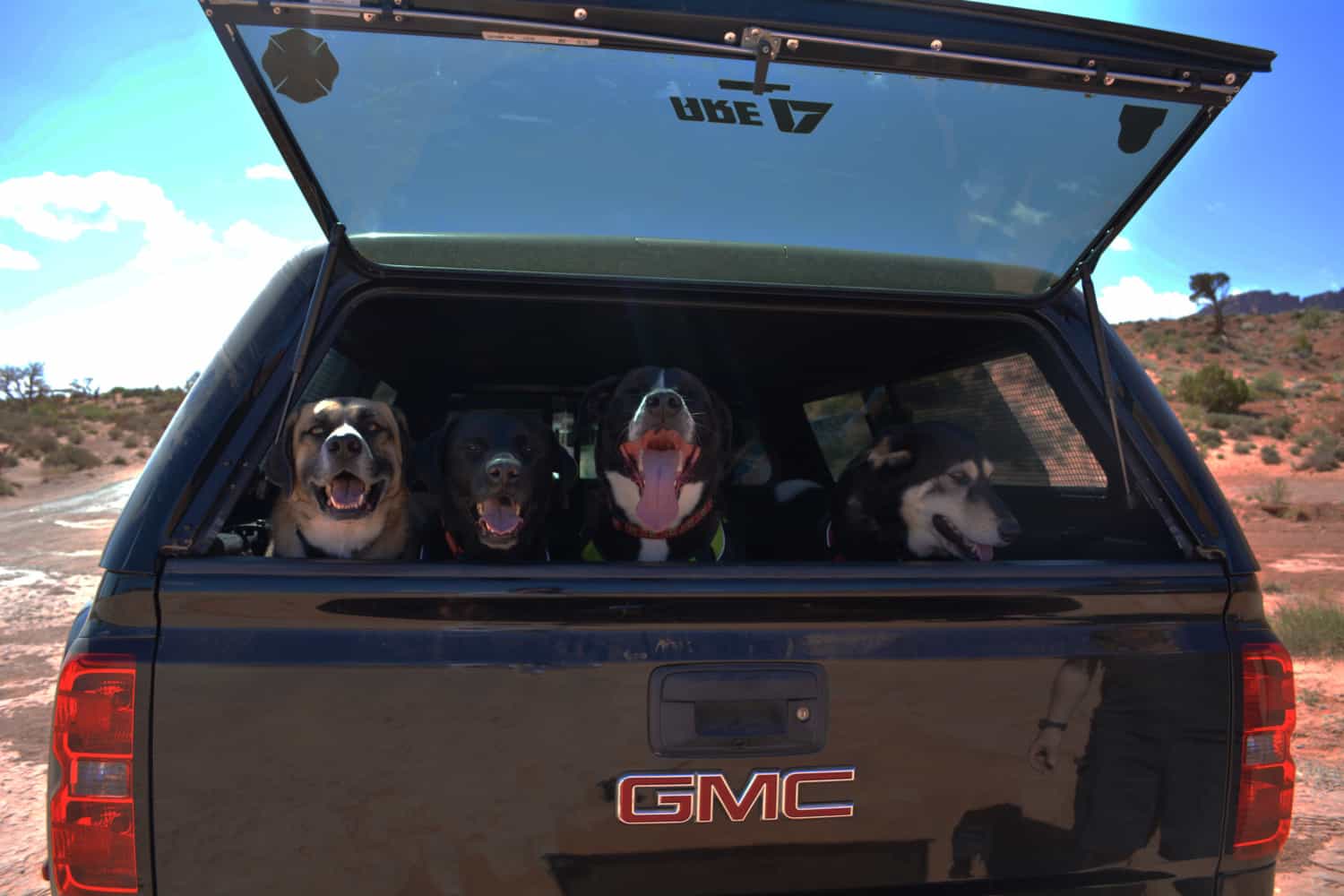 No Need To Worry
As it turned out, our little devils became angels for the entire duration of the trip! One reason was that we prepared well and made accommodations for their needs. The other reason was that they were happy to be with us … 24/7.
Panda did show a little distress over some new experiences, like getting in and out of the trailer on those wobbly steps. But we were patient, and after listening to the other dogs doing things a few times, he soon had to prove he could do it, too!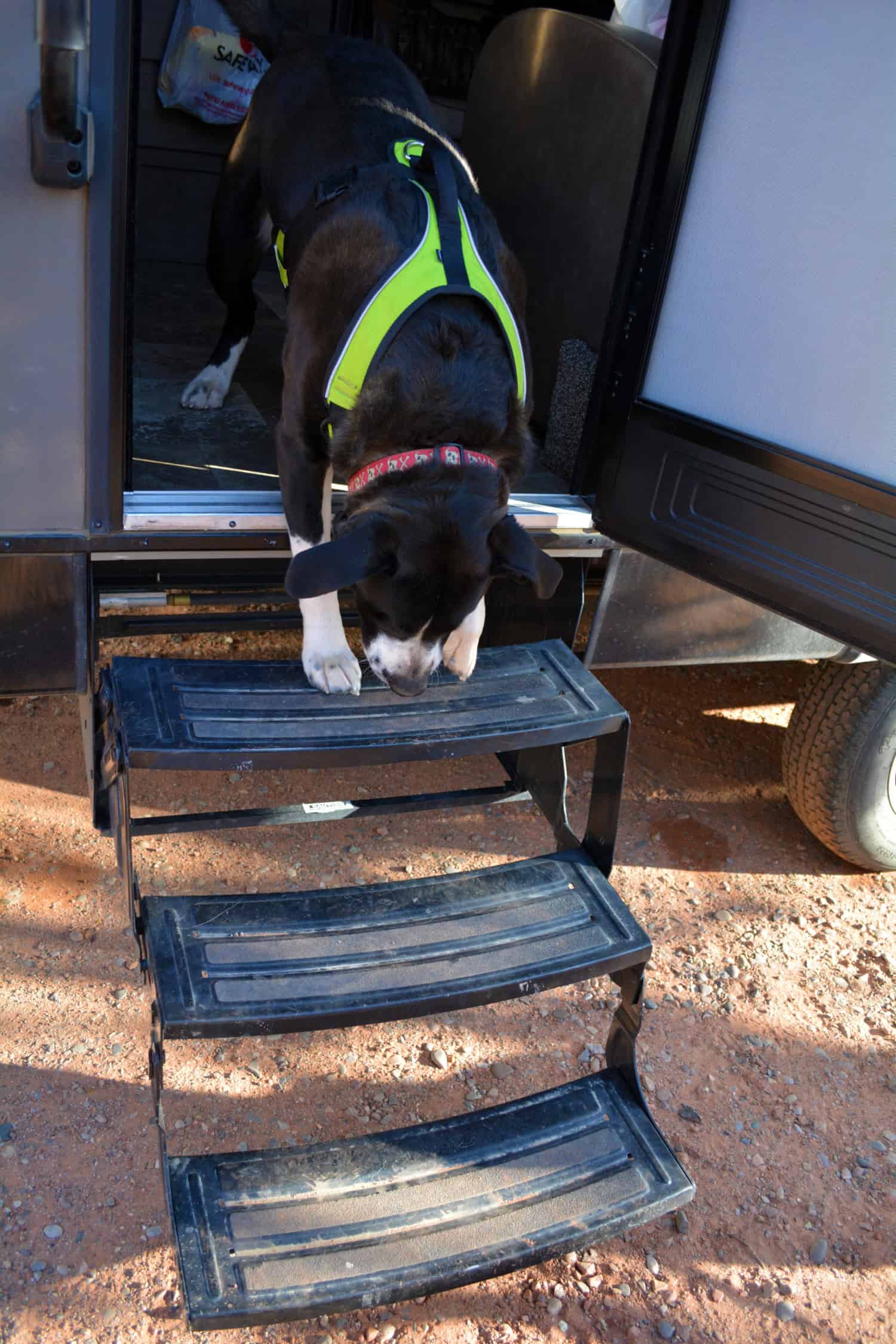 Even his ability to hike on rocky terrain impressed me. All he needed was to listen to my steps to navigate the trails.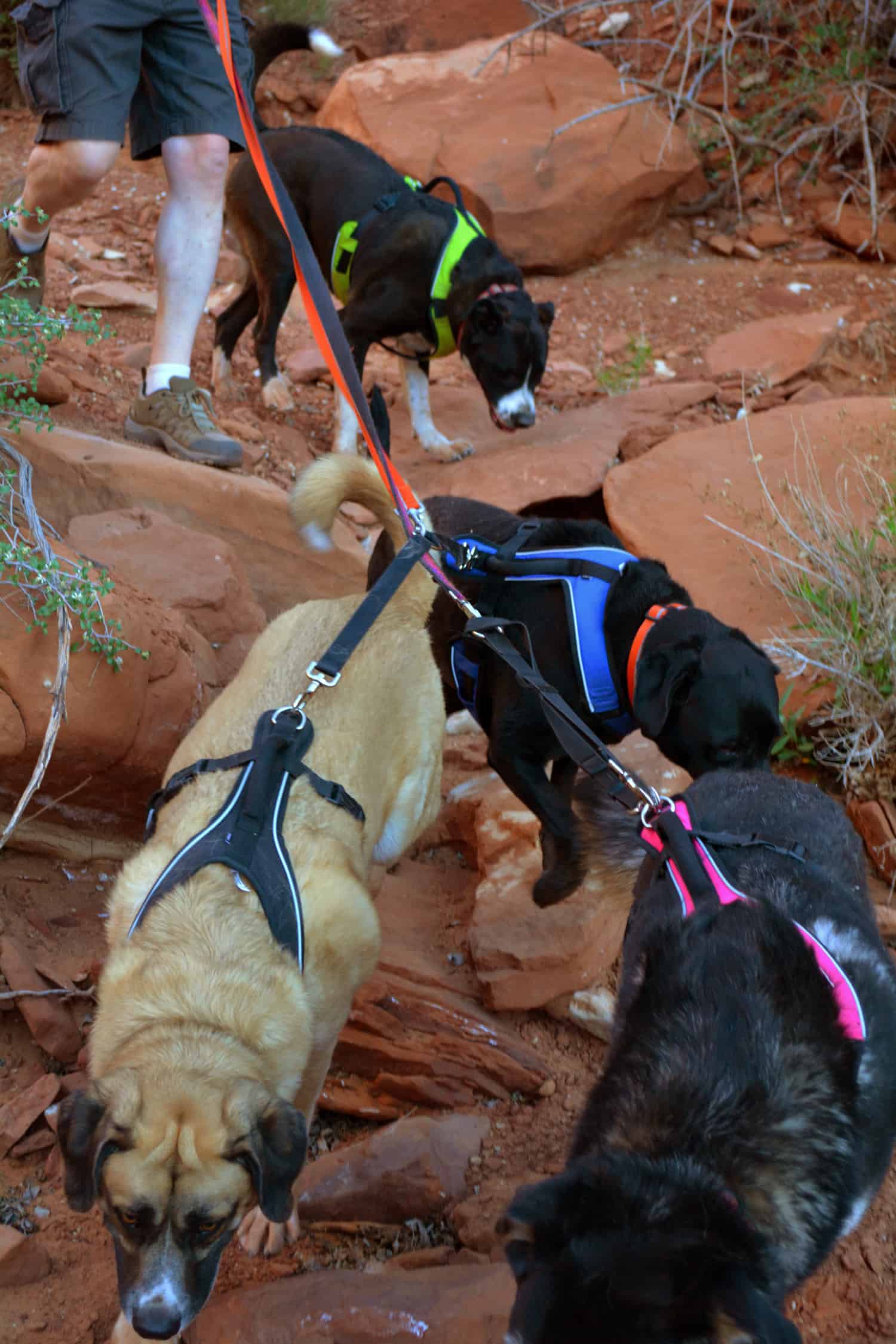 SPOILER ALERT: The Trip Was Amazing!
The most rewarding part of the trip was that the dogs had the best time! Watching them enjoy our adventures made the trip so much more fun for us.
Some of our highlights were Panda meeting his first real life fire hydrant, seeing Hole 'n the Rock, and staying for three nights at Goulding's Camp Park in Monument Valley. It was a beautiful area with all the amenities one could asked for, including trails right from the campground!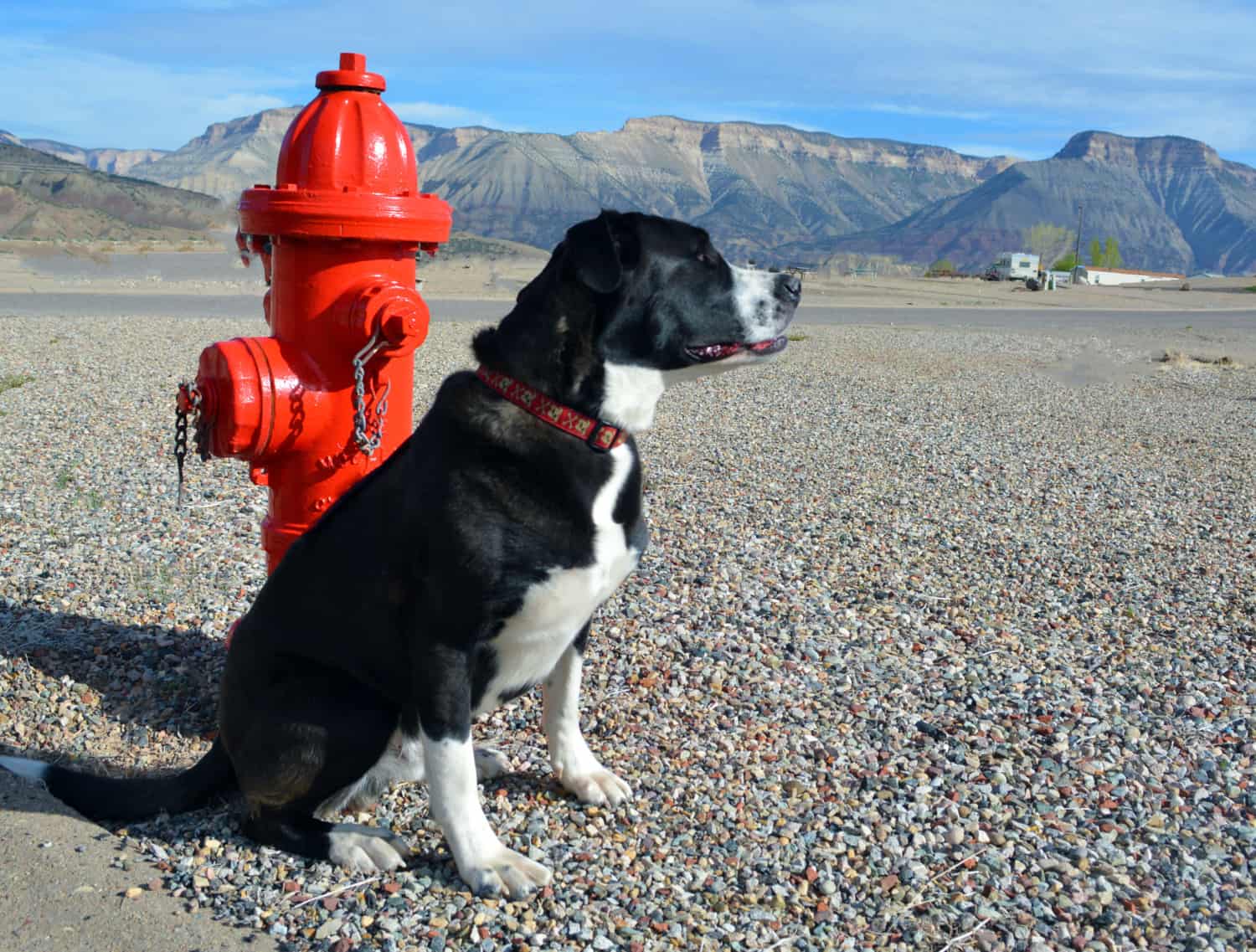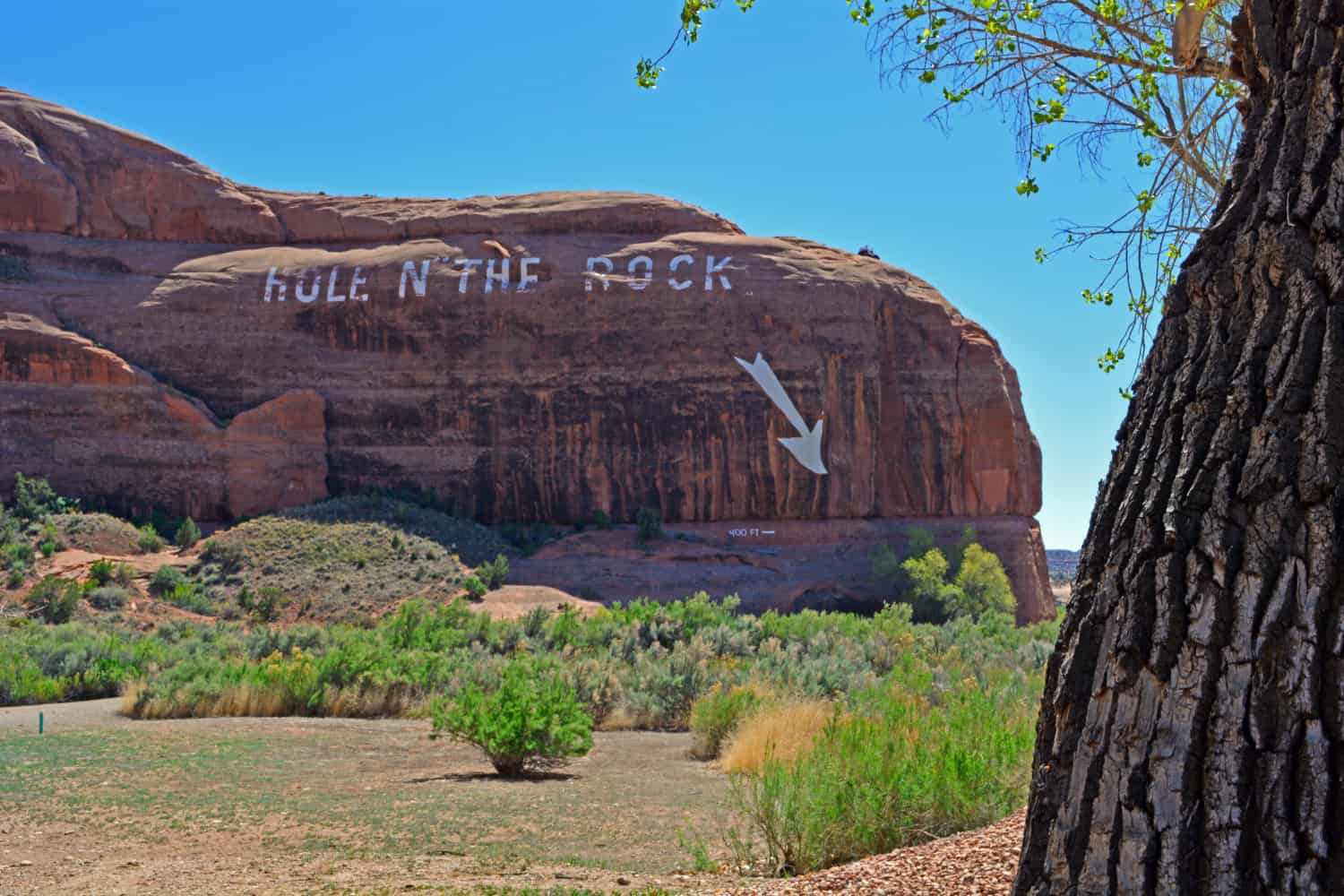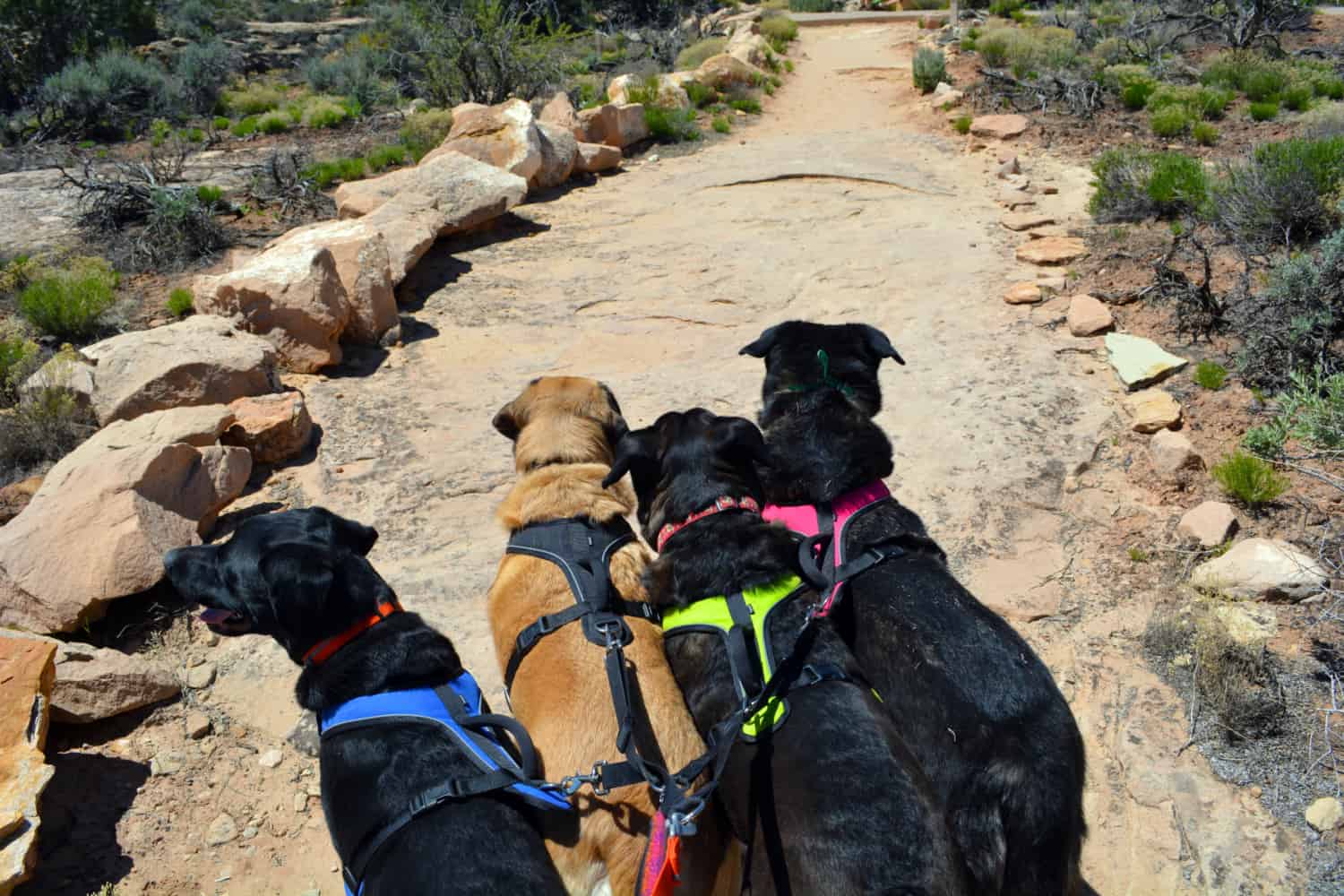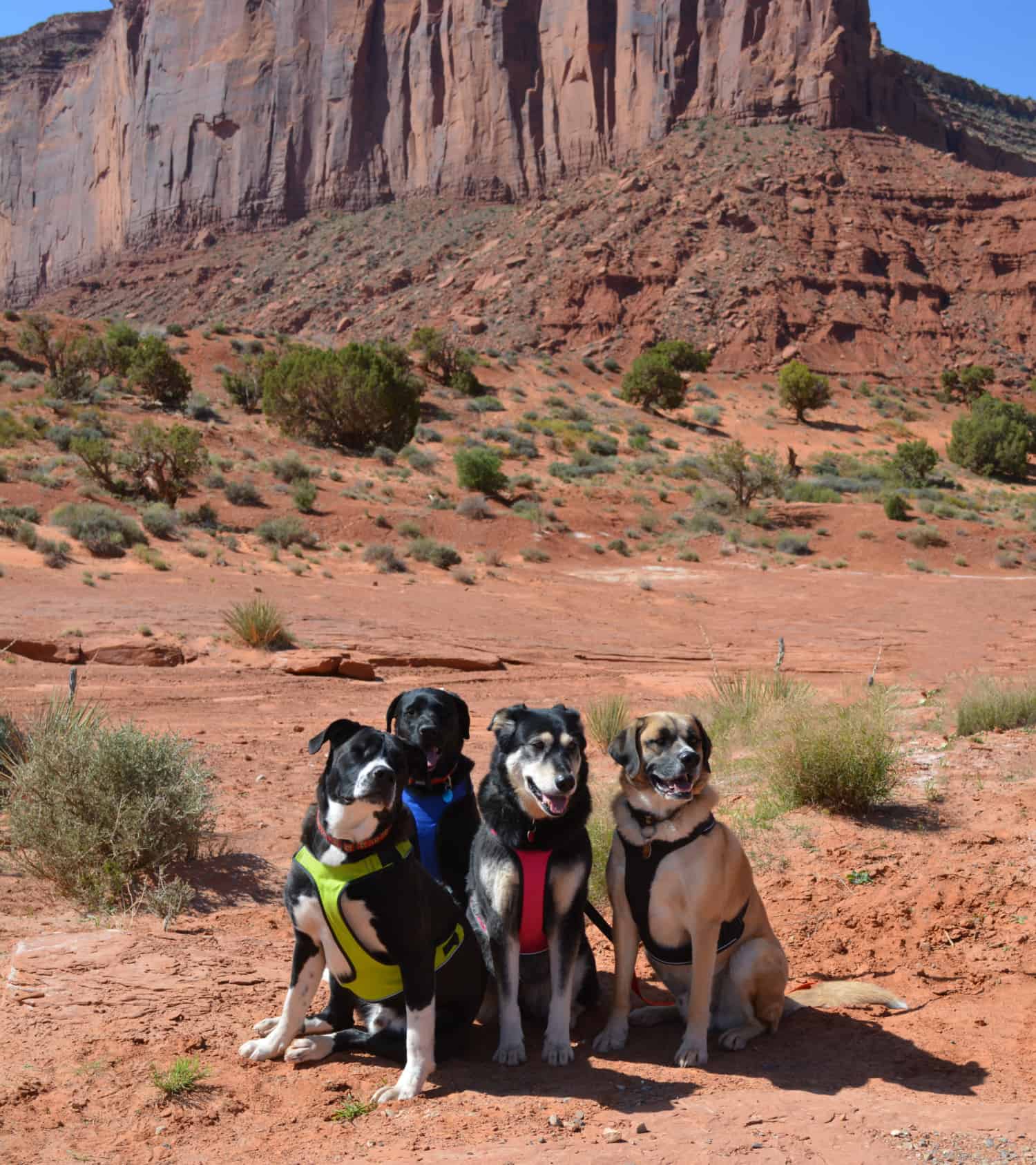 On The Road
On our way to New Mexico we stopped at the Four Corners Monument where, unfortunately, dogs cannot go beyond the parking lot. But we did meet Pez, and I'm sure that if we had stayed longer he could have told us a few exciting travel tales!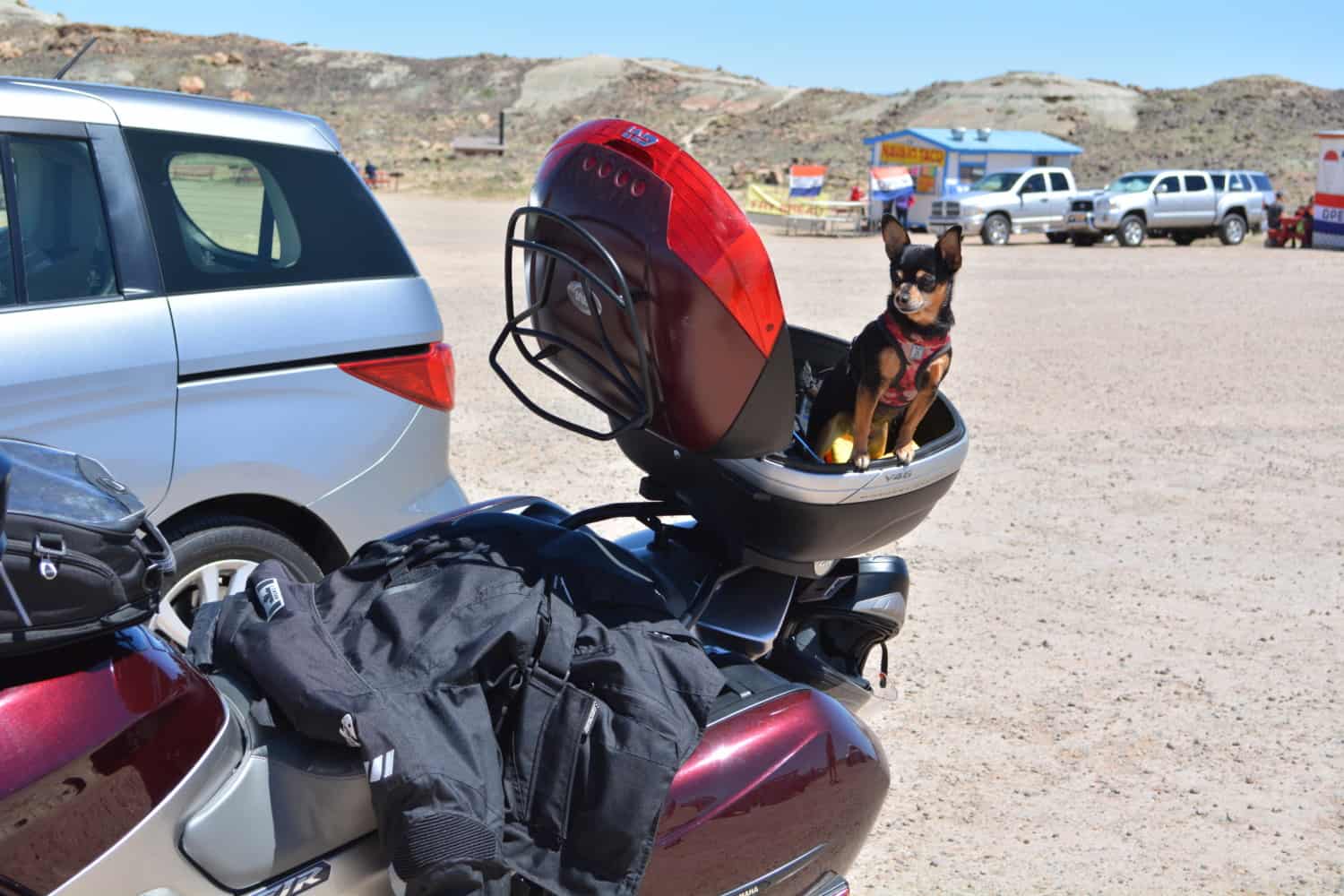 That night we camped at Navajo Lake State Park in New Mexico. It was lovely, and we wished we had more time to spend there!
The only drawback was an abundance of low-lying cactus; keeping Panda from walking right through it was tedious.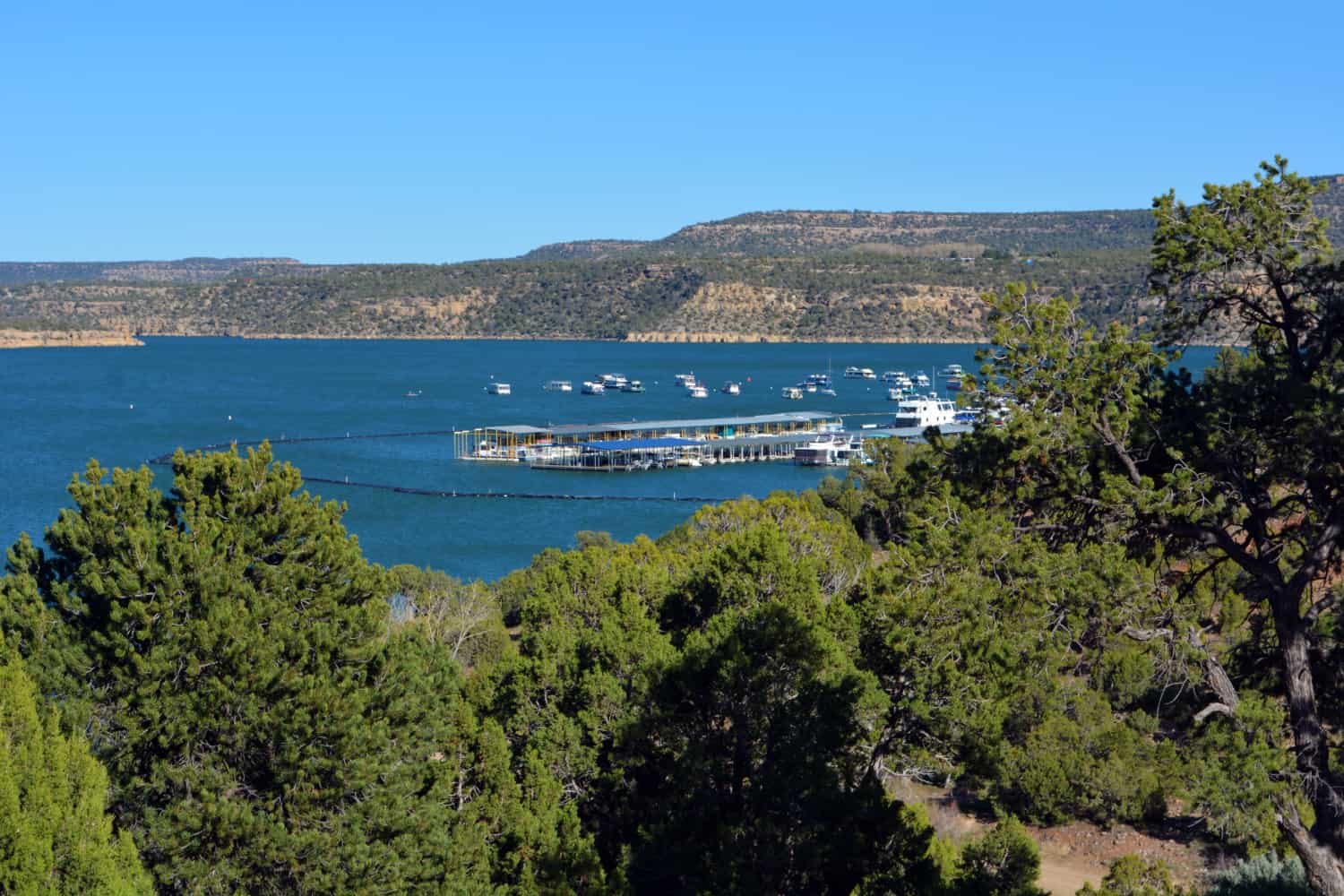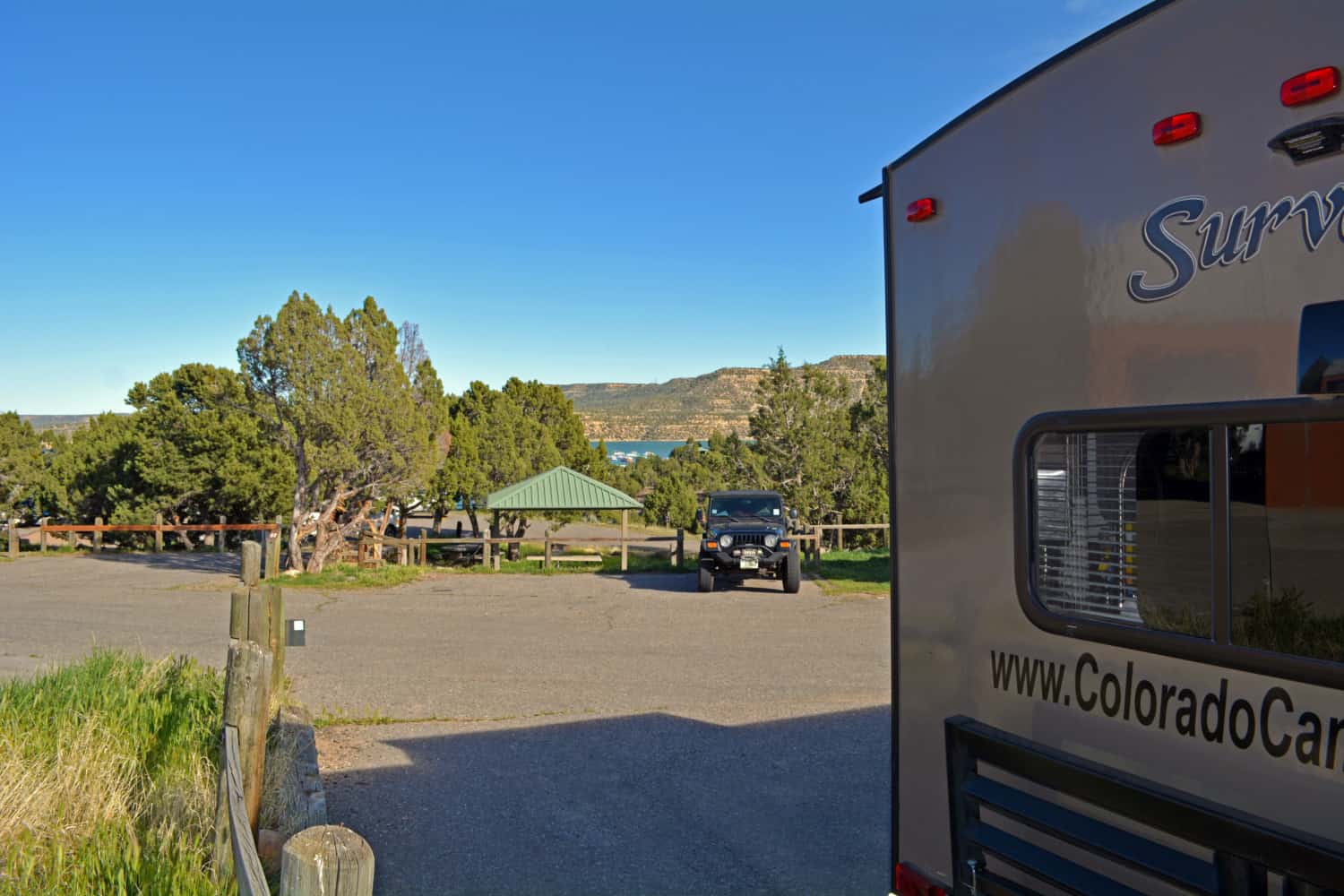 Our final stop was an overnight at the Royal Gorge KOA near Canon City, CO. Before heading home the following morning we visited the scenic Royal Gorge Bridge and Park. The entire park is pet friendly — even inside the Visitor Center — just not in the restaurant. "We understand that your pets are your family," the ranger said.
We were told that some dogs are weary on the bridge, but ours have a bit of pack bravado and did fine. Panda kept his nose to the boards however, trying to figure out the gentle sway and hollow sound beneath his feet.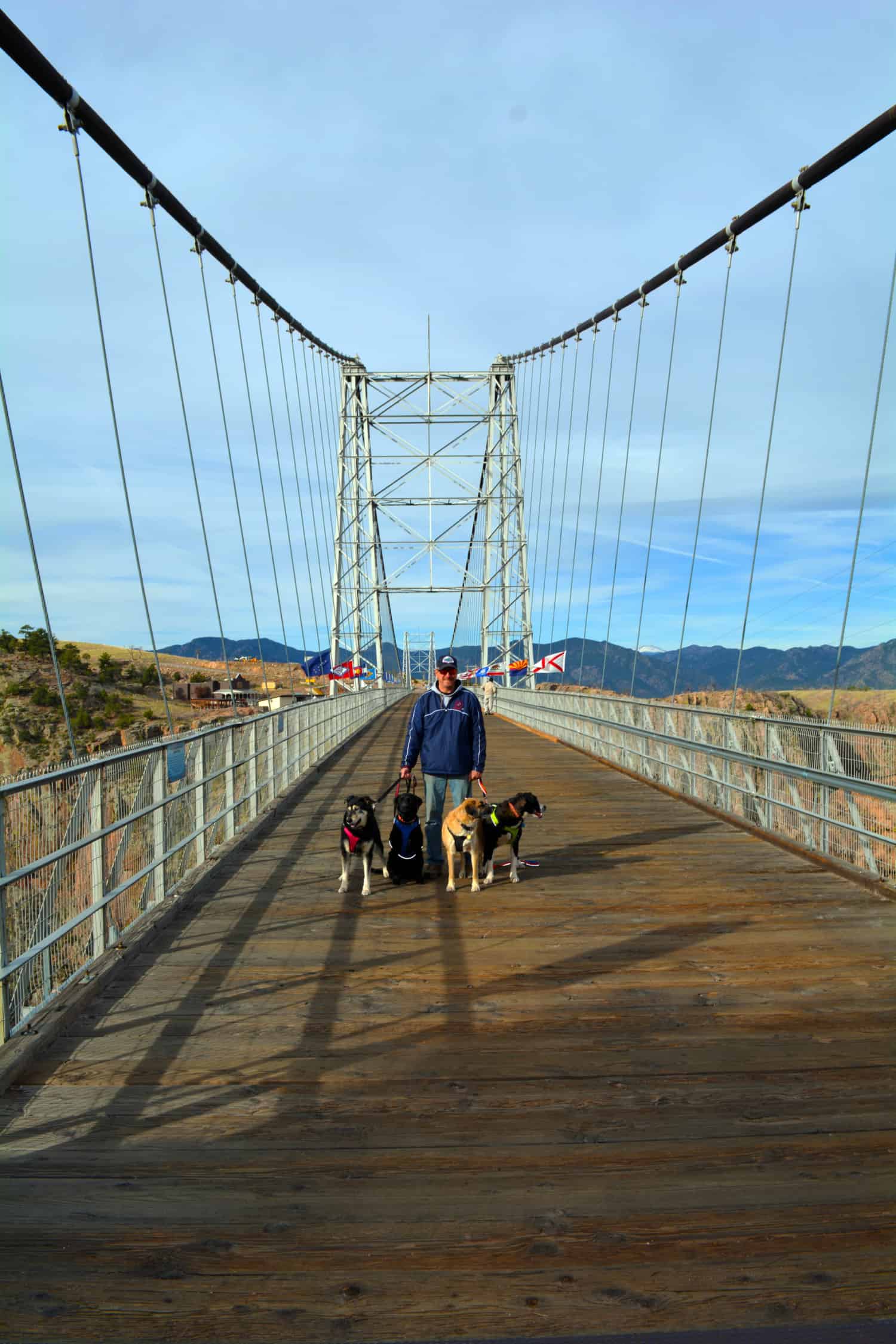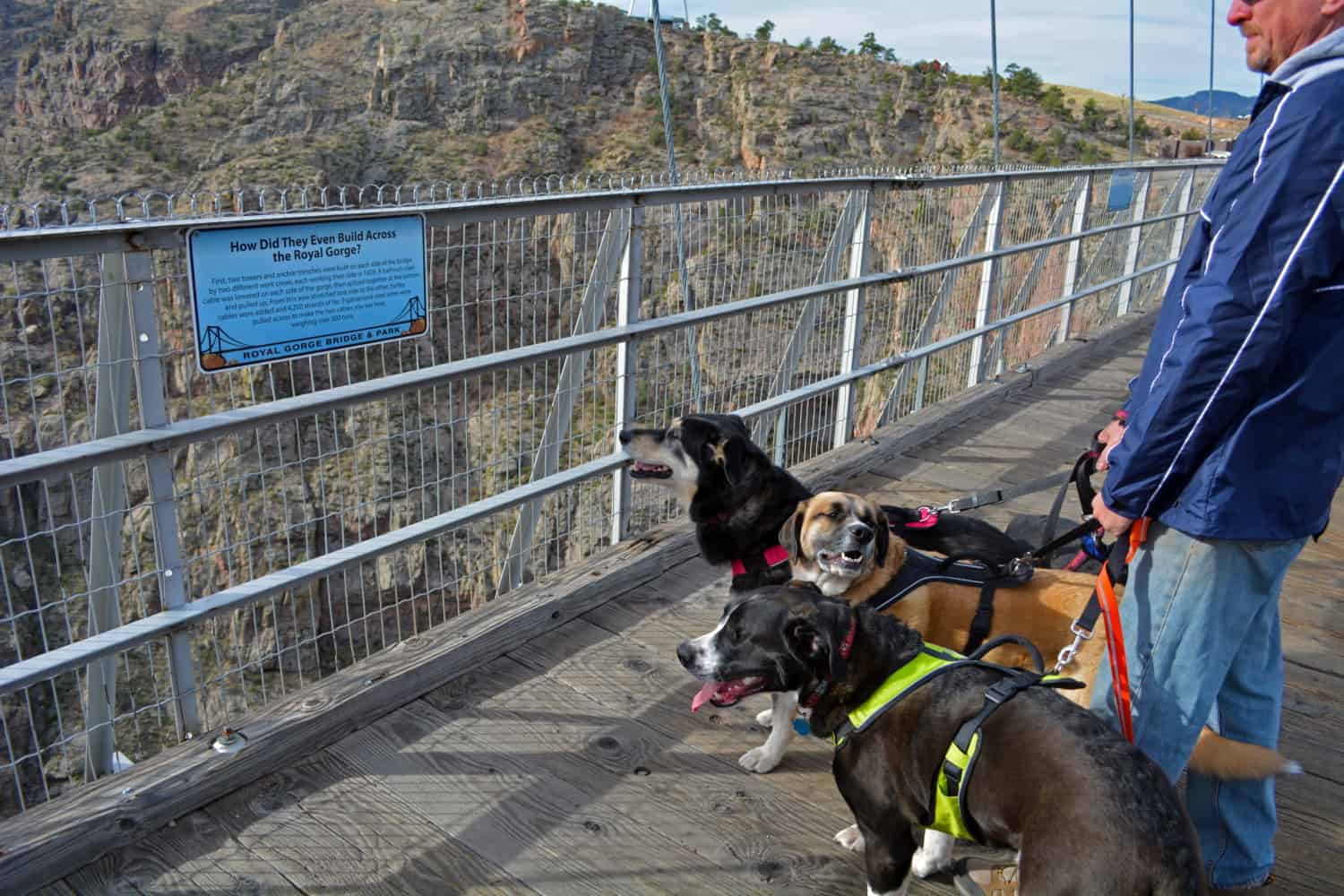 When To Go
Traveling off-season made finding campgrounds really easy. And the temperatures were a lot more pleasant for hiking than if we'd gone during the summer. Because this was our first trip with the dogs, I was especially glad the places we visited were less crowded and the weather was accommodating.
Returning The Camper
We left ourselves enough time on the way home to clean out the trailer before returning it, hoping to recover our entire $500 deposit. A truck stop with car wash and vacuum worked perfectly, and the company thanked us for bringing the camper back in excellent condition.
The ease of renting the trailer and the flexibility it gave us to travel with our dogs was fantastic. The joy it brought us to see them happily enjoying our trip guaranteed many more adventures like this for us. And we hope our story encourages you to try it, too!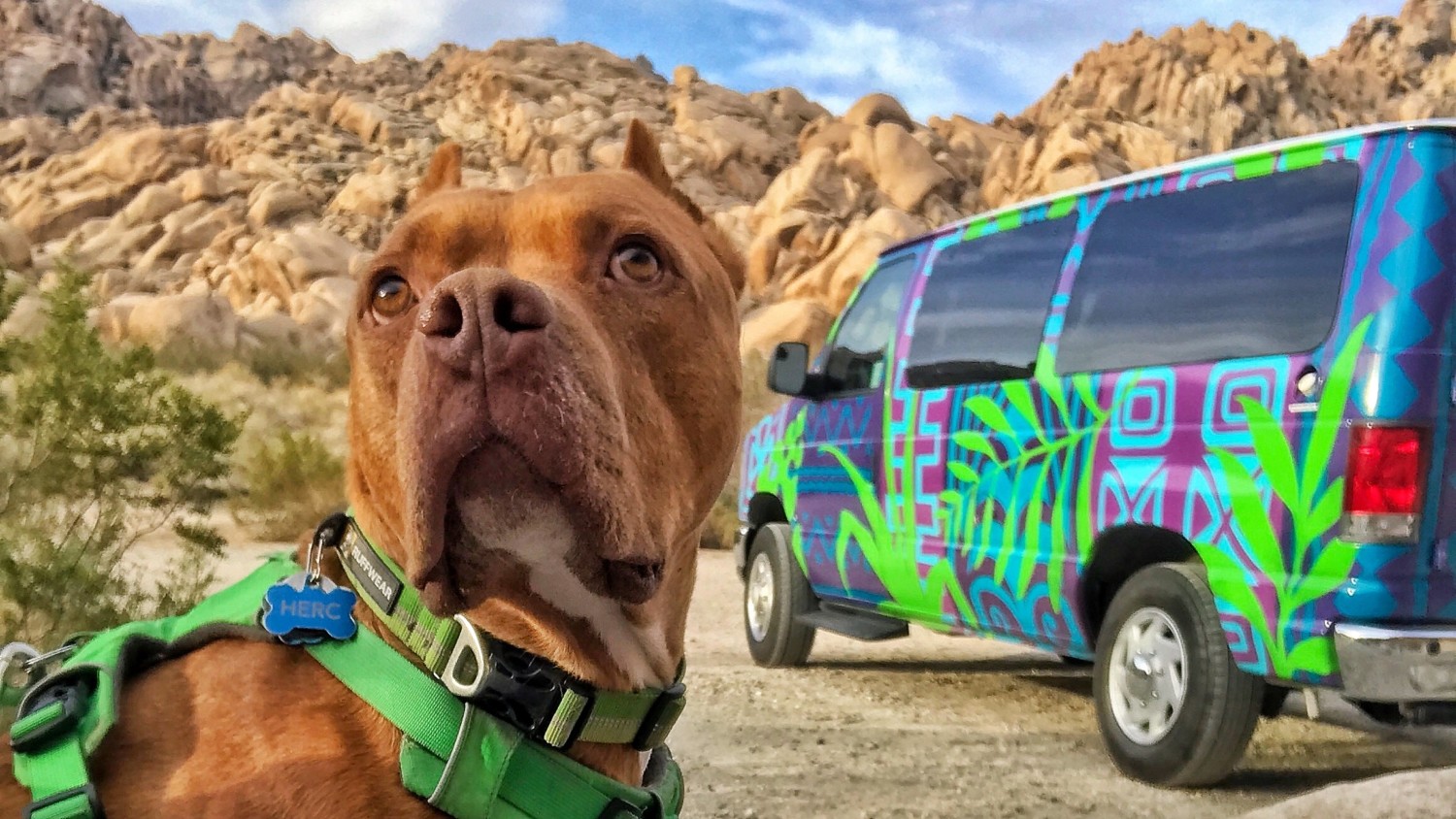 About the Author: Barbara McNary lives with her husband and four rescue dogs in the mountains of Colorado. Barbara McNary owns the rights to all photos in this post. The photos were published with her permission.
(Visited 12,449 times, 1 visits today)