RVing with senior dogs can present unique challenges. If your dog has mobility issues, an RV dog ramp might be a great solution!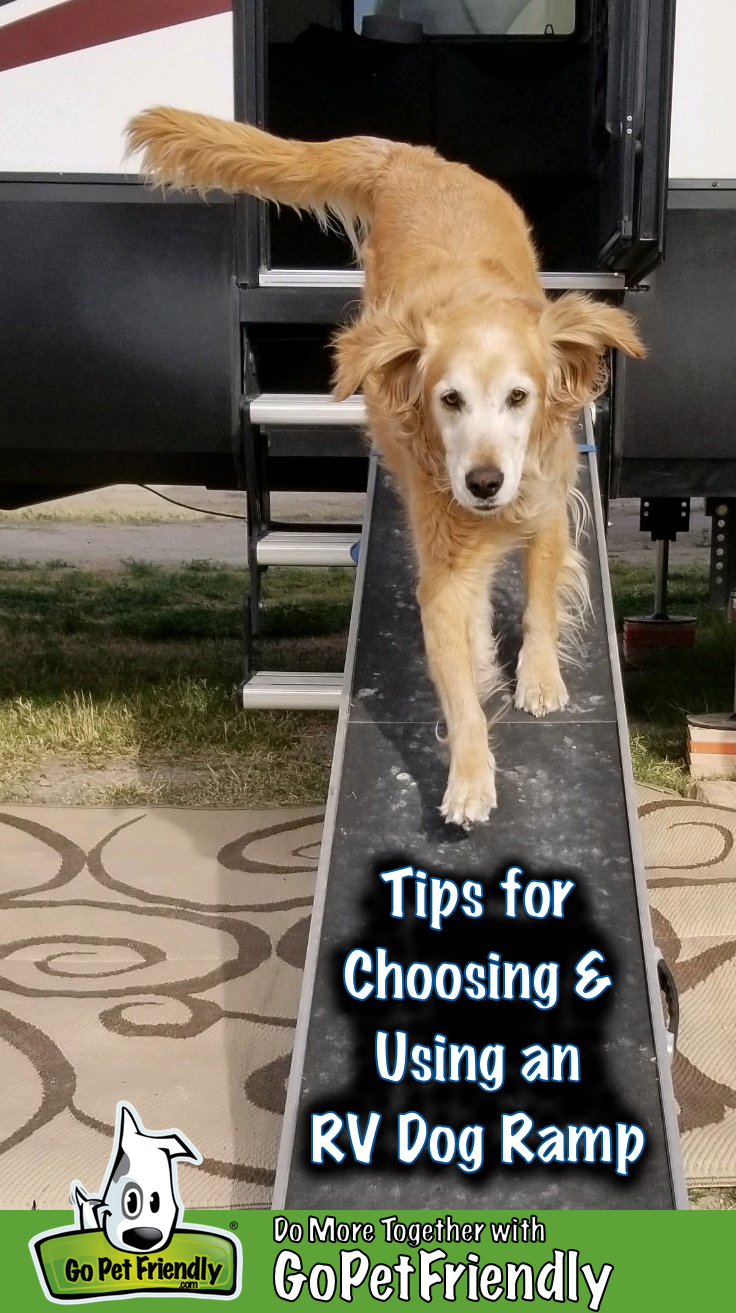 When our dog, Buster, started experiencing weakness in his hind legs, we knew it was time to invest in a dog ramp. At 80 pounds, carrying him in and out of the motorhome was not an option. And watching him struggle up the steep steps was difficult for us all. What if he fell and injured himself, or developed a fear of the steps?
We also knew that it would take some time to train him to use the ramp. And it was best to get started on that while he still had enough strength.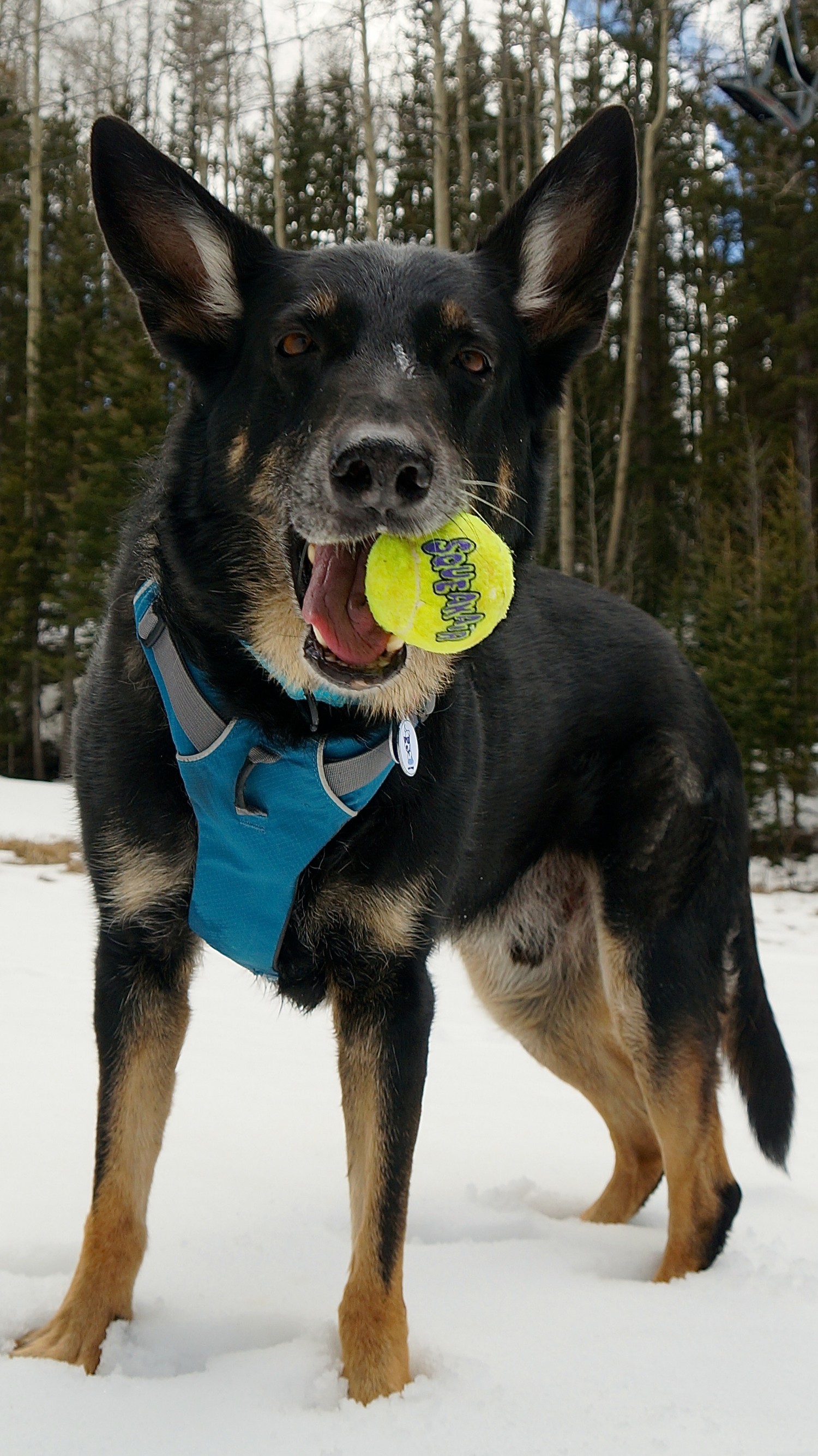 When Buster passed on, we gave his ramp to Kai, a 10-year-old Golden Retriever, who was having some trouble with her hips. She took to the ramp right away, and is barreling in and out of her RV again!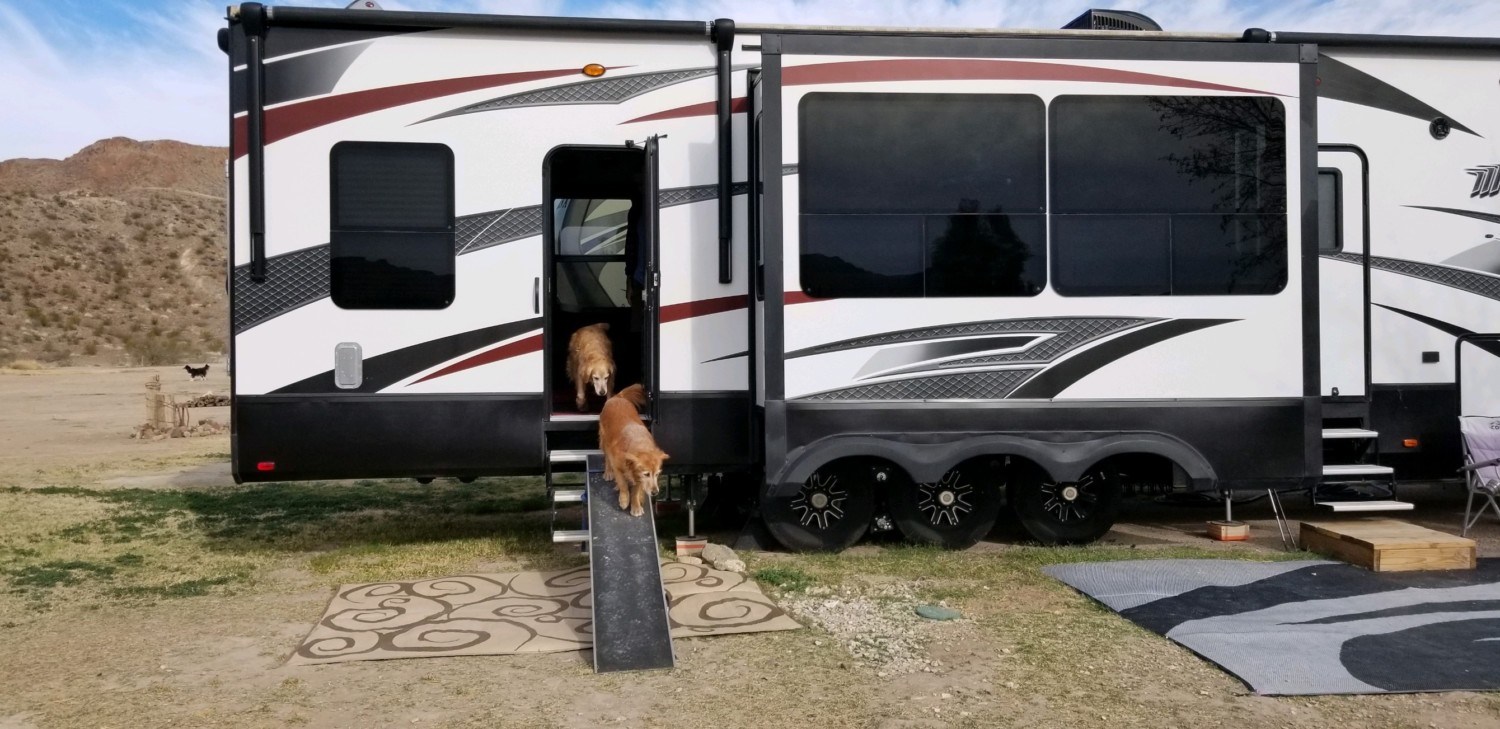 Traveling With Senior Dogs
It's not unusual for big dogs to develop weakness, painfulness, or even neurological issues in their hind legs as they age. Our first hint that Buster was having trouble came when he was about eleven years old.
For Kai, the challenges with her hips started around her 10th birthday. But she's a proud dog and didn't want any help from her people! We knew that Kai would really appreciate Buster's ramp. And it was the perfect time to teach her to use it – before her symptoms got worse.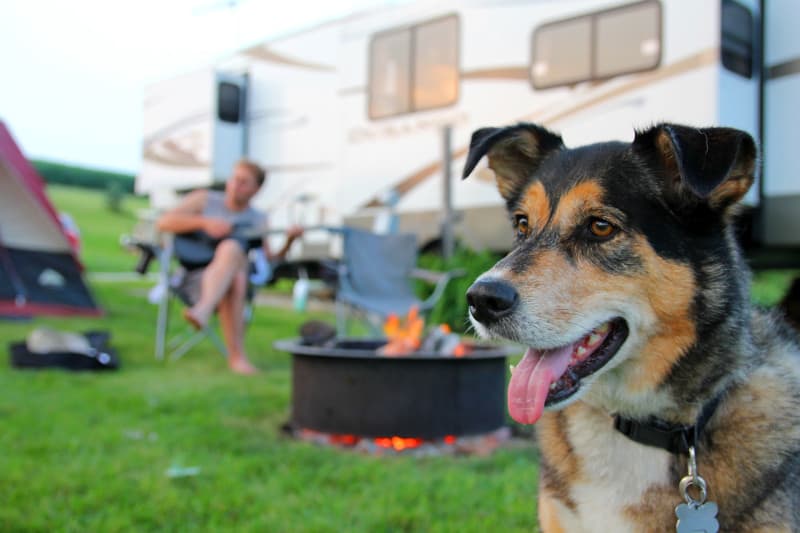 The time to get a portable dog ramp is when your dog begins having difficulty on the stairs, but before he really needs it.
Dogs are great at ignoring pain and could easily strain a muscle or tear a ligament trying to do more than their bodies are able. If your dog were to hesitate or lose his balance on the steps, it could easily end in a fall.
Choosing the Right Dog Ramp
When you know what you want, choosing a dog ramp is easy. RV steps are fairly steep, so we looked for a long ramp to make Buster's climb more gradual. The longest ramp we found that could be easily packed and stowed for travel was 8 feet.
At that length, the ramp covered the three bottom steps and Buster still had to manage the last two on his own. Positioning the ramp any higher made Buster uncomfortable with the incline. But getting a longer ramp would have been unmanageable in the Winnebago. This ramp was the best compromise.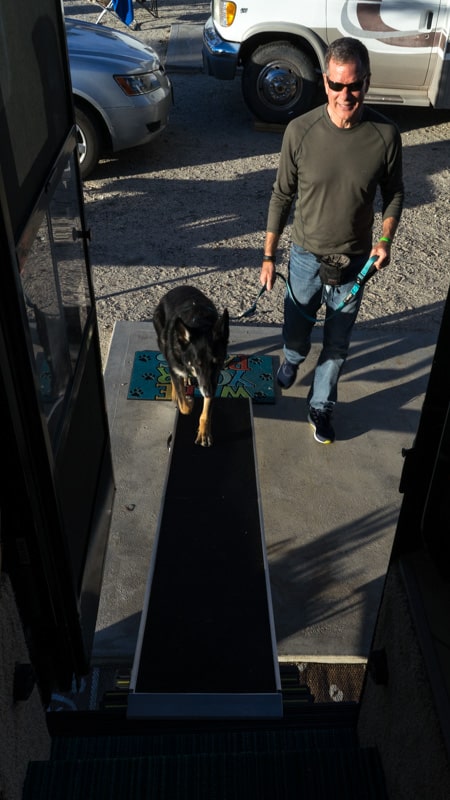 Our second requirement was a non-skid surface. The Range Powersports ramp is covered in what feels like course sandpaper, which provides excellent doggy footing – even when it's wet.
Lastly, I needed a dog ramp that was lightweight and easy to use. This ramp is made of aluminum and weighs just 21 pounds, so it's a breeze to set up and take down.
And it folds in half, clips closed, and has a carry handle, so storing it when we're ready to hit the road isn't a problem.
An added benefit is that this portable dog ramp is just 15 inches wide. That gave us enough space to walk up and down the steps alongside the ramp when it was set up. But, with a weight capacity of 250 pounds, the ramp could easily hold Buster and me at the same time.
Stairs Make It Easier To Use A Dog Ramp In Your Motorhome
One of our long-time friends and fellow pet travelers, Chris A., shared their experience using a folding stairs in combination with a dog ramp to make getting in and out of their coach easier for their dog, Treata. It's such a great idea, I asked her to share it with all of you! Here's what she said:
Helping Treata
When our dog Treata was diagnosed with an extruded disc in her spine which resulted in surgery, we were told from that day forward she should avoid steps as much as possible. Traveling in a motorhome presented a problem, especially since the door of our coach sits 31" up from the ground! Also, the steps getting in and out of the motorhome were narrow and steep, which lead us to research various ideas to remedy our new life situation. 
Given the height of our coach, the angle of the dog ramps available would be too steep for Treata to use. Additionally, we wanted to be able to leave the ramp up all the time, and with the motorhome steps being so narrow didn't want to have to try to navigate the ramp ourselves. Our search led us to RV-CO.com. They offered aluminum, collapsible RV stairs and decks that seemed to be just the fit for us.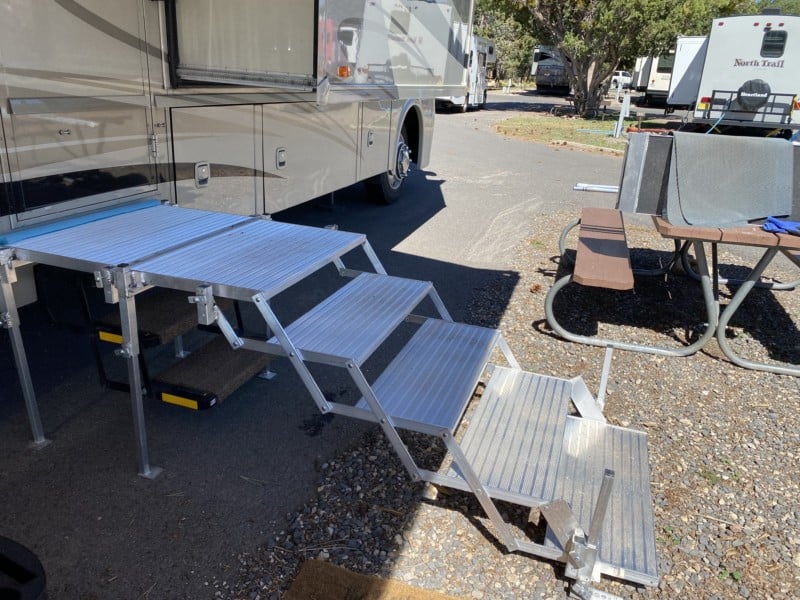 Collapsible RV Stairs And Deck
We purchased the deck extension and the stand alone steps. This gave us some options depending on how much space we had in our camp sites.
The top step is 19 inches deep, and the deck extension gave us an additional 19 inches to come out the door before starting down the steps. The steps and deck are both 31 inches wide. So, with the steps and deck installed together, you walk out onto a deck area that is 31 inches wide and 38 inches deep. Nice!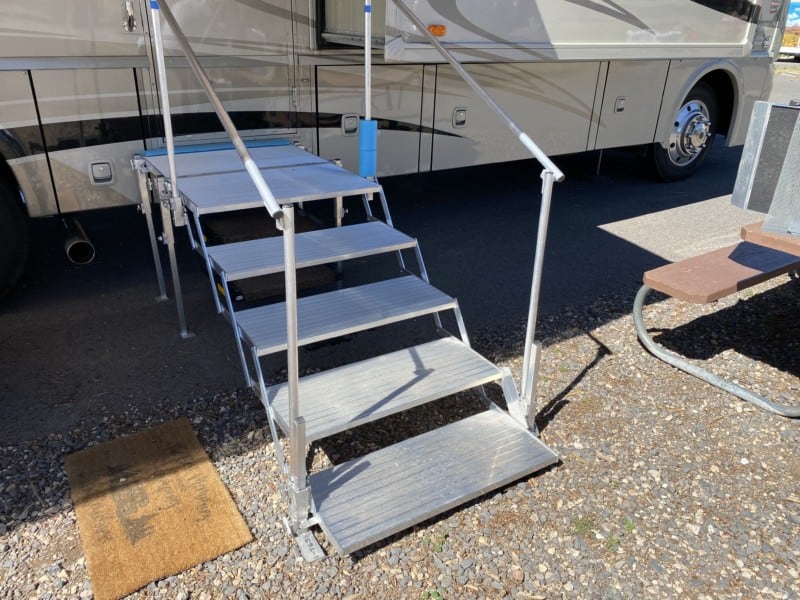 If you need more room, they also sell stand-alone decks measuring 3 feet by 3 feet and 4 feet by 4 feet. The height on all of the products are adjustable to fit your individual needs. The stairs themselves can be ordered with whatever rise of the steps you want as well.
We then purchased a foldable 8-foot aluminum pet ramp to finish off our set up.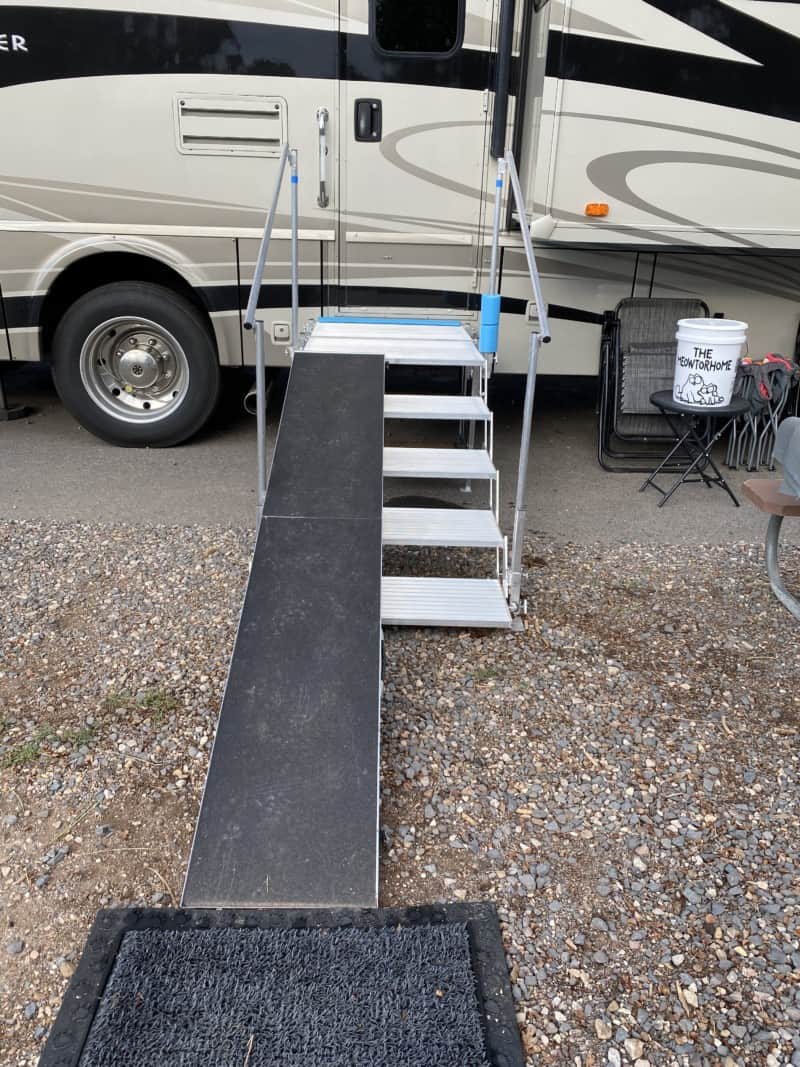 Set-up Options
We attached a blue pool noodle to the edge of the platform that rests alongside the motorhome to avoid any scratching or scraping that might occur. Another section of noodle goes around the stair railing to act as a bumper and protect the door from the railing.
While we prefer to have the ramp go straight down the stairs – which allows plenty of room for us to walk up and down alongside the ramp – there are times when our campsite doesn't have the space needed to do that. In those cases, we can run the ramp off the side of the deck.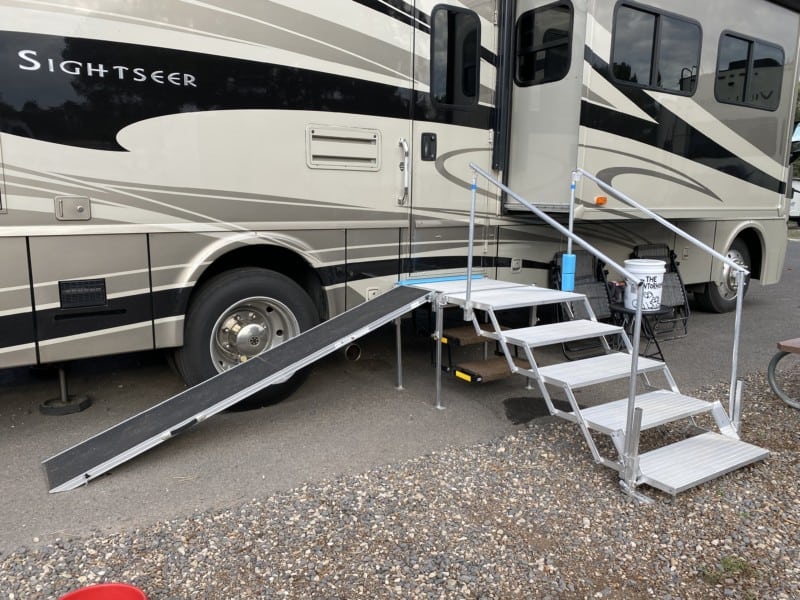 Or we can remove the deck, lay it under the ramp, and just use the steps.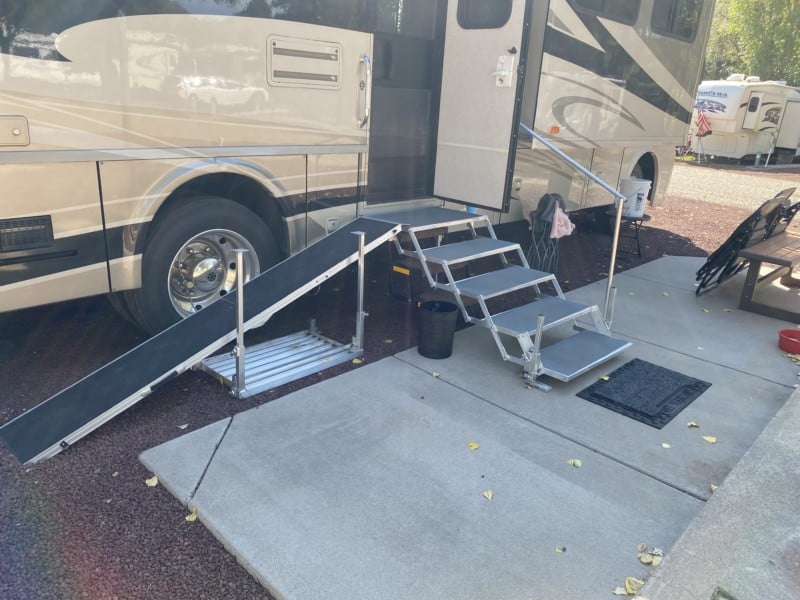 Packing Up
Of course, storage space is always a consideration in a motorhome! We tow a Honda CRV, and the steps, deck and ramp all fold up and fit nicely in the back.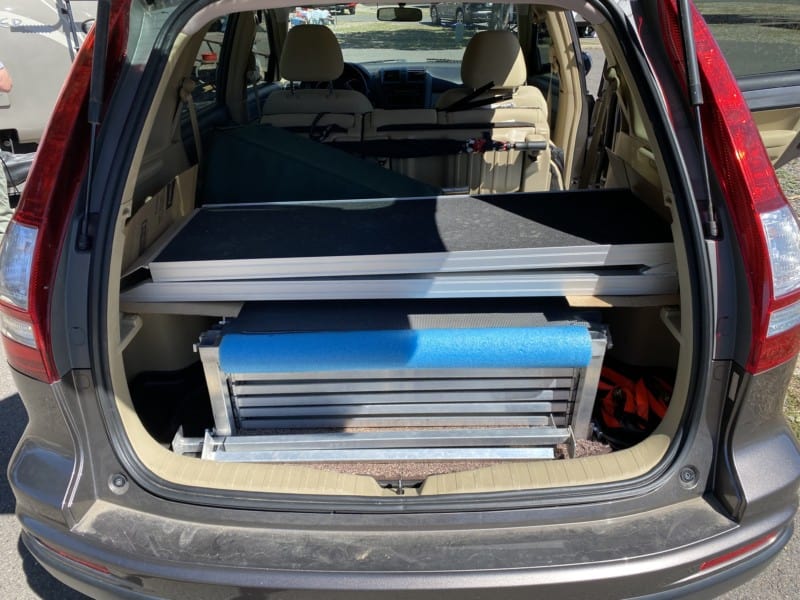 Training Your Dog to Use a Ramp
Every dog is different, and we had no idea what Buster would think of his new ramp. When it arrived we set it up, grabbed the treats, and encouraged him to give it a try.
He was having none of it! He put his front paws on the ramp, but wouldn't go any further. It quickly became clear that getting him acclimated to the ramp was going to take some work.
On the other hand, Kai, and her sister, Nala, were racing up and down the ramp right way!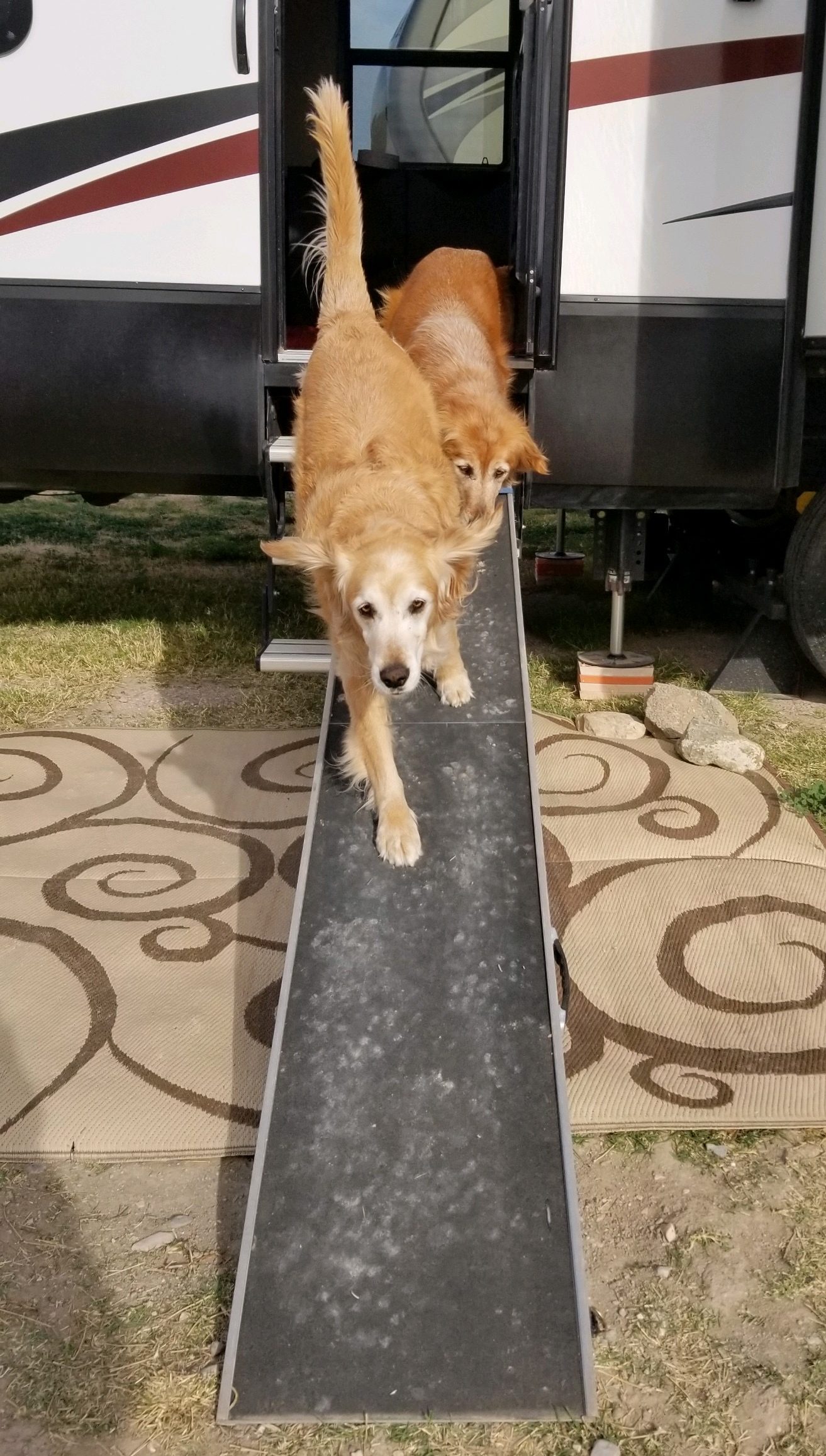 If your dog is more like Buster, keep in mind that baby steps work best when training new behaviors. We started teaching Buster to use his ramp with it lying flat on the ground. He was leery at first, but with some rewards and a lot of praise, his confidence grew.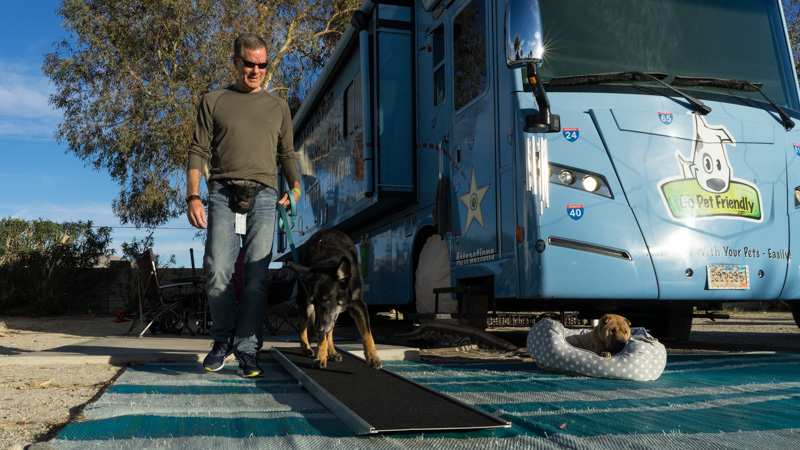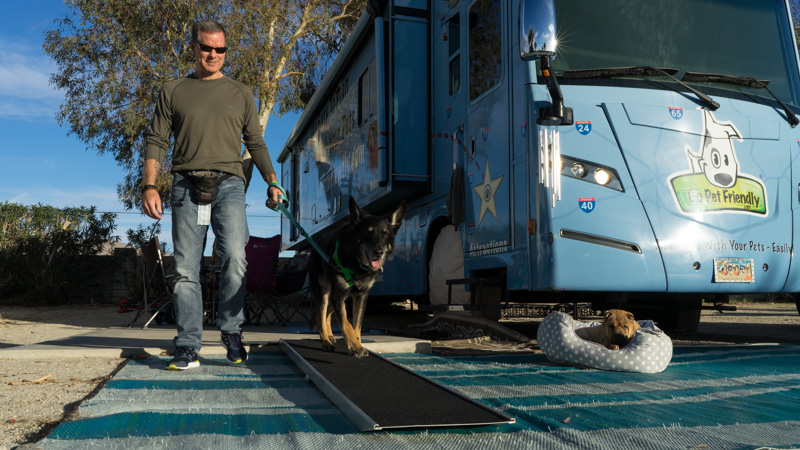 We left the ramp where we could walk Buster across it multiple times a day. Within a few days it had become part of his normal routine.
The next stage was to add a bit of incline and decline. A wooden step provided a stable base, and again Buster started out nervously. But after a few days of practice he had the hang of things.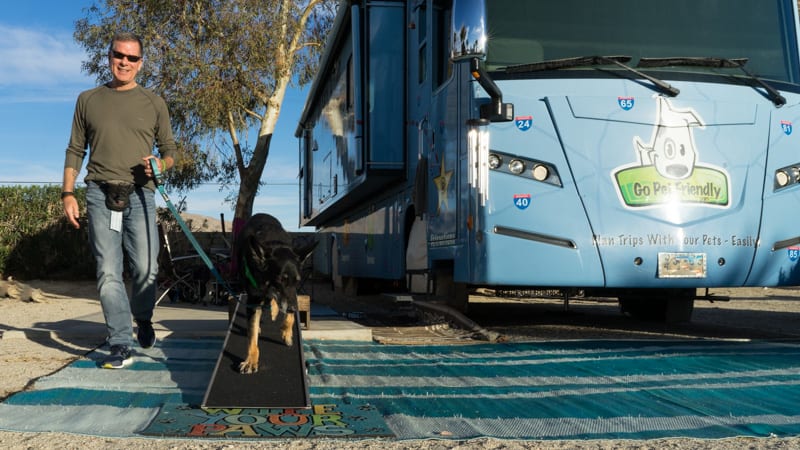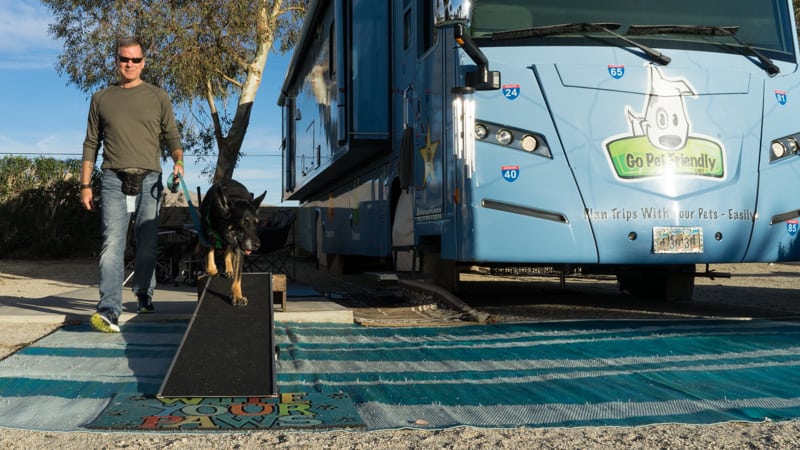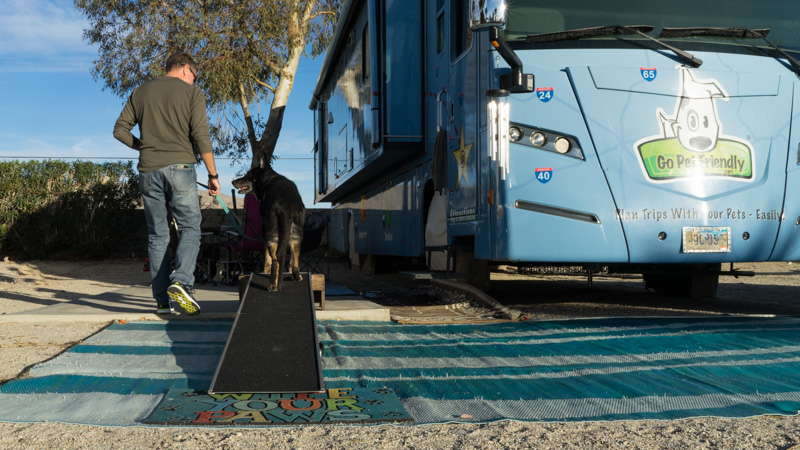 Placing a door mat at the end of the ramp helped Buster learn not to jump off the side of the ramp. If his paws didn't hit the mat, he didn't get a treat!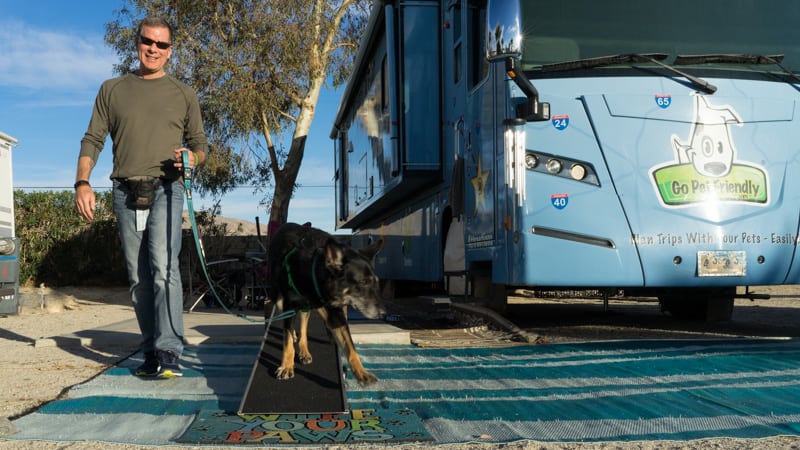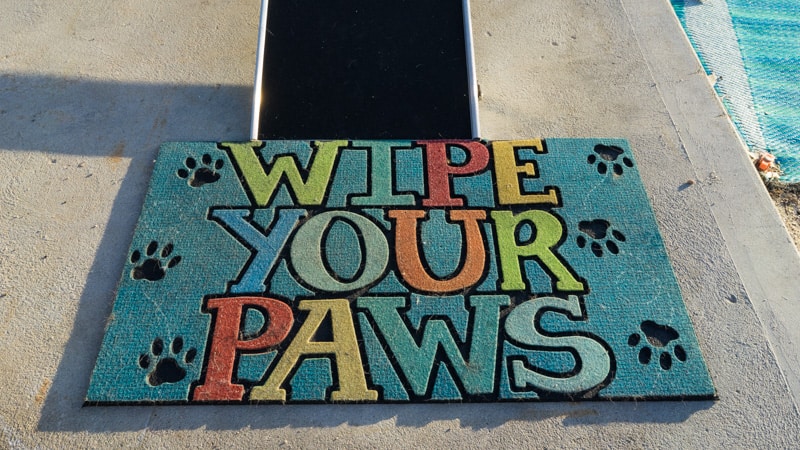 Buster picked things up pretty quickly, and after about a week we were able to move the ramp to RV steps. He took one trip on the lowest step, one on the second step, and then was ready to climb the ramp in its highest position. After that, he used the ramp multiple times a day for years.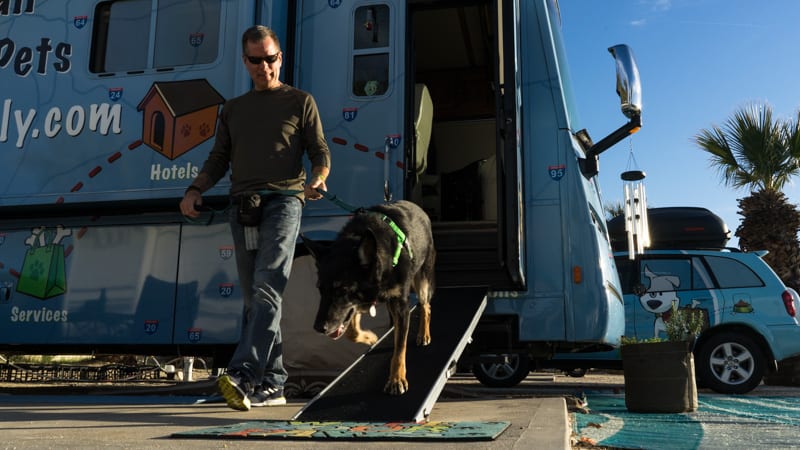 Watching our pets age is never easy. But we were glad to help make Buster's senior years a little more comfortable. And now we're happy that his ramp his helping Kai continue to live an active life traveling with her family.
More Dog Ramp Options:

(Affiliate links)

Rage Powersports Pet Ramp – 6, 7, or 8-foot options, Easy Fold, Aluminum, 250 lbs Capacity, 15″ Wide, Weighs 21 lbs


Range Powersports Extra-Wide Pet Ramp – 8-foot length, Easy Fold, Aluminum, 250 lbs Capacity, 18.5″ Wide, Weighs 32 lbs


PVI Pet Access Ramp – 3-foot length, Easy Fold, Aluminum, 250 lbs Capacity, 36″ Wide, Weighs 9 lbs


PawHut Portable Folding Pet Ramp – 8-foot, Bi-fold, Aluminum, 100 lbs Capacity, 15″ Wide, Weighs 19.8 lbs


EZ-Access Suitcase Trifold Portable Ramp – 5, 6, 7, 8 or 10-foot options, 3-Fold design, Aluminum, 800 lbs Capacity, 30″ Wide, Weighs up to 30 lbs per section
Amazon Affiliate Disclosure: GoPetFriendly.com LLC is a participant in the Amazon Services LLC Associates Program, an affiliate advertising program designed to provide a means for website owners to earn advertising fees by advertising and linking to amazon.com, audible.com, and any other website that may be affiliated with Amazon Service LLC Associates Program. As an Amazon Associate, the owner of this site earns a commission from qualifying purchases.
(Visited 50,238 times, 7 visits today)