As soon as Buster started experiencing weakness in his hind legs, we knew it was time to invest in a dog ramp. At 80 pounds, carrying him in and out of the motorhome was not an option. And watching him struggle up the steep steps was difficult for us all.
We were also concerned that he could fall and injure himself, or develop a fear of the steps. And we knew that we'd need some time to train him to use the ramp.
Now that Buster's gone, we've passed his ramp along to Kai, a 10-year-old Golden Retriever, who has some trouble with her hips. She took to the ramp right away, and is barreling in and out of her RV again!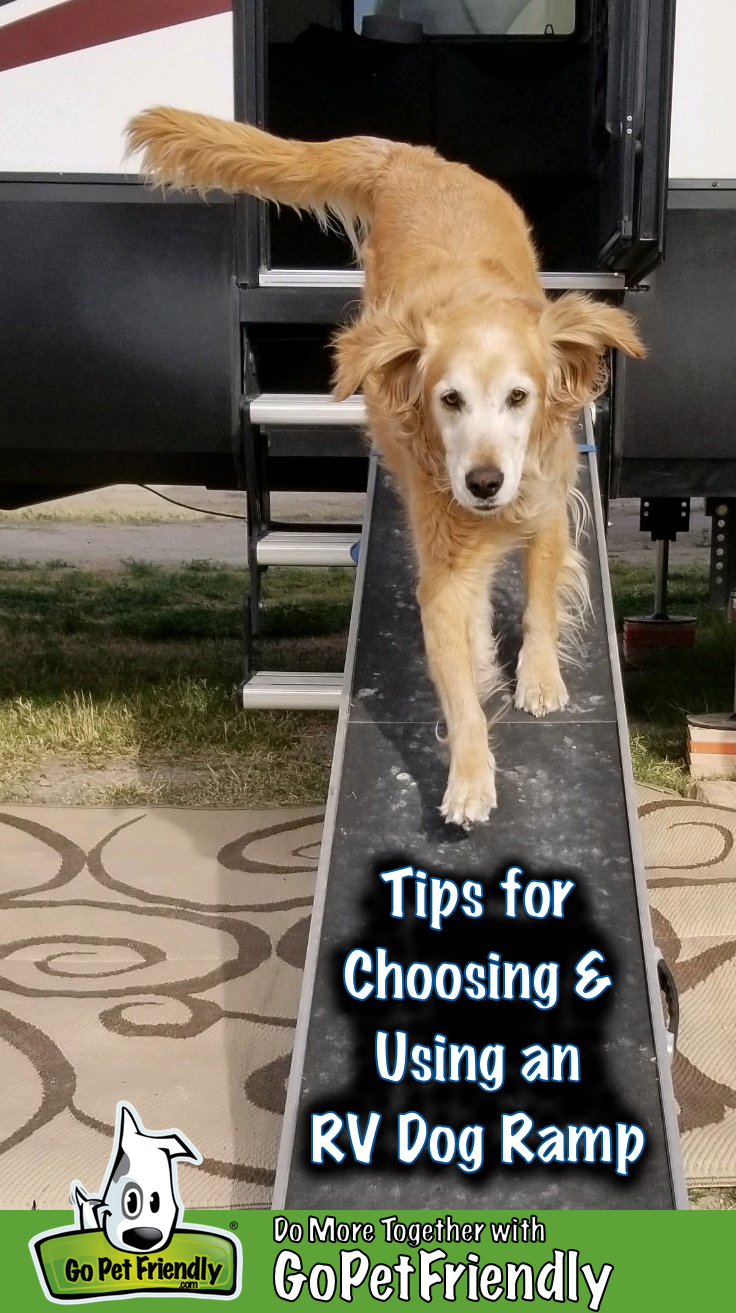 *This post contains affiliate links. Thank you!*
Traveling With Senior Dogs
It's not unusual for big dogs to develop weakness, painfulness, or even neurological issues in their hind legs as they age. Our first hint that Buster had an issue came when he was about eleven years old. For Kai, the challenges with her hips started around her 10th birthday. But she's a proud dog and didn't want any help from her people! When Buster passed, we knew that Kai would really appreciate his ramp. And it was the perfect time to teach her to use it – before her symptoms got worse.
READ MORE ⇒  The Ultimate Pet Friendly American Road Trip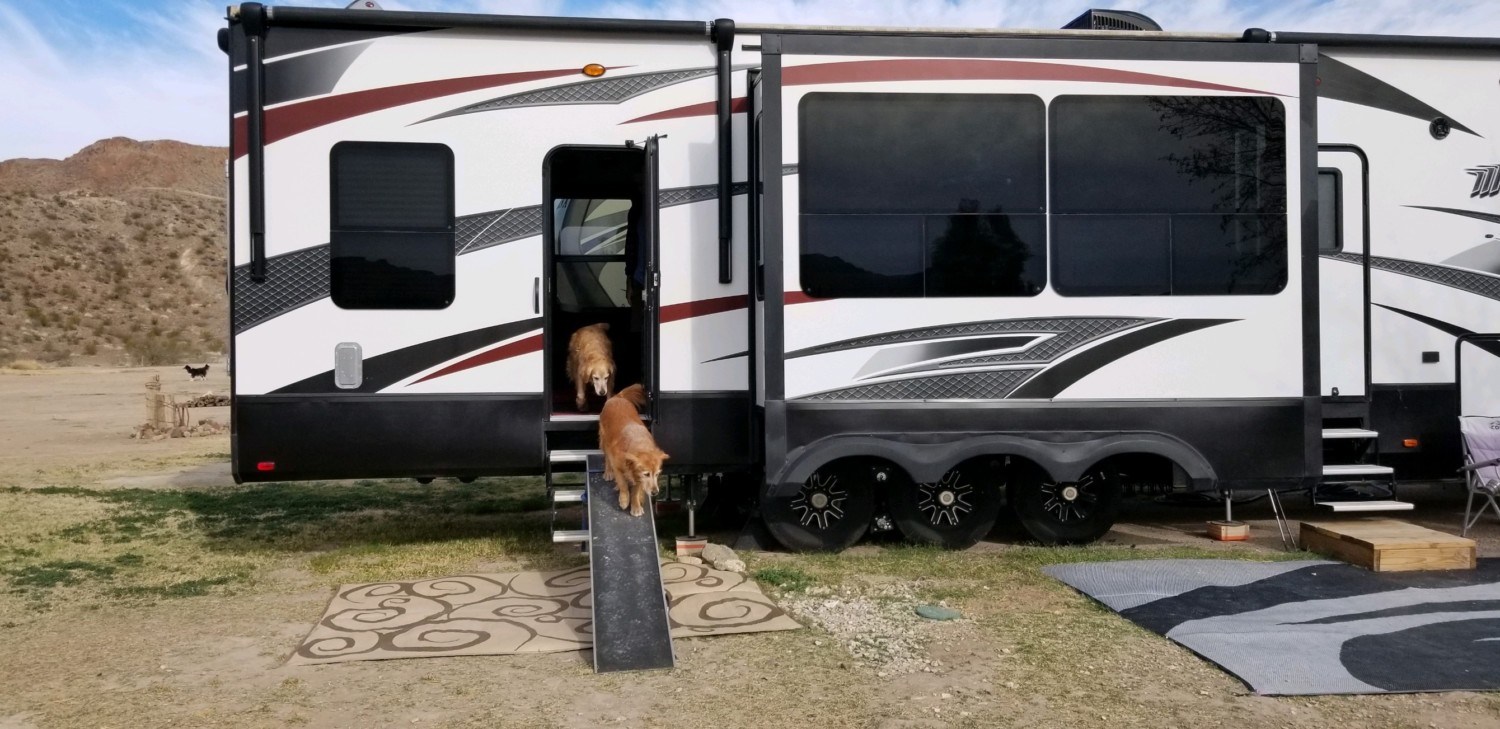 Choosing the Right Dog Ramp
The time to get a collapsable dog ramp is when your dog begins having difficulty on the stairs, but before he really needs it. Dogs are great at ignoring pain and could easily strain a muscle or tear a ligament trying to do more than their bodies are able. If your dog were to hesitate or lose his balance on the steps, it could easily end in a fall. Plus, you might need some time to train your dog to use the ramp.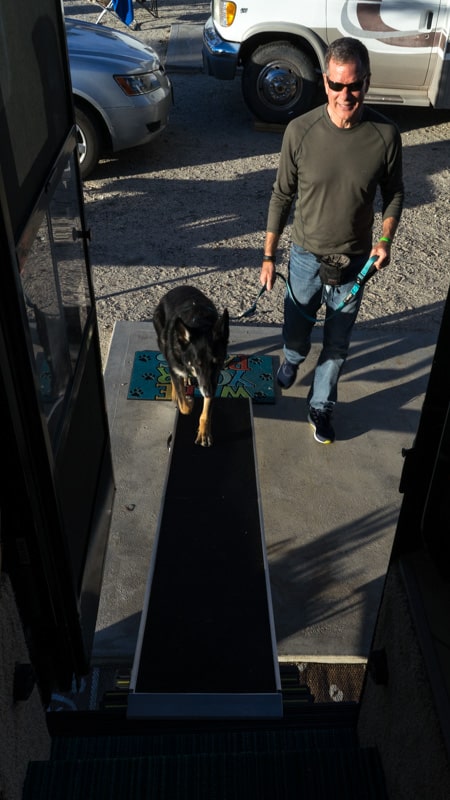 When you know what you want, choosing a dog ramp is easy. RV steps are fairly steep, so we looked for a ramp long enough to make the climb more gradual. The longest ramp we found that could be packed and stowed for travel was 8 feet.
At that length, we could take three steps out of the equation, but Buster still had to manage the last two on his own. Positioning the ramp any higher made Buster uncomfortable with the incline, but a longer ramp would have been unmanageable in the Winnebago. This ramp provided the best compromise.
Our second requirement was a non-skid surface. The Goplus ramp is covered in what feels like course sandpaper, which provides excellent doggy footing.
Lastly, I needed a dog ramp that was light and easy to use. This ramp is made of aluminum and weighs just 19 pounds, so it's a breeze to set up and take down. It folds in half, clips closed, and has a carry handle, so storing it when we're ready to hit the road isn't a problem.
An added benefit is that this ramp is just 15 inches wide. That gave us enough space to walk down the steps alongside the ramp when it was set up. But, with a weight capacity of 250 pounds, the ramp would also hold Buster and me at the same time.
Tips for Using a Dog Ramp in Your RV or Motorhome
Every dog is different, and we had no idea what Buster would think of his new ramp. When it arrived we set it up, grabbed the treats, and encouraged him to give it a try.
He was having none of it! He put his front paws on the ramp, but wouldn't go any further. It quickly became clear that getting him acclimated to the ramp was going to take some work.
On the other hand, Kai, and her sister, Nala, were racing up and down the ramp right way!
READ MORE ⇒  Remote Temperature Monitors – Keep Pets Safe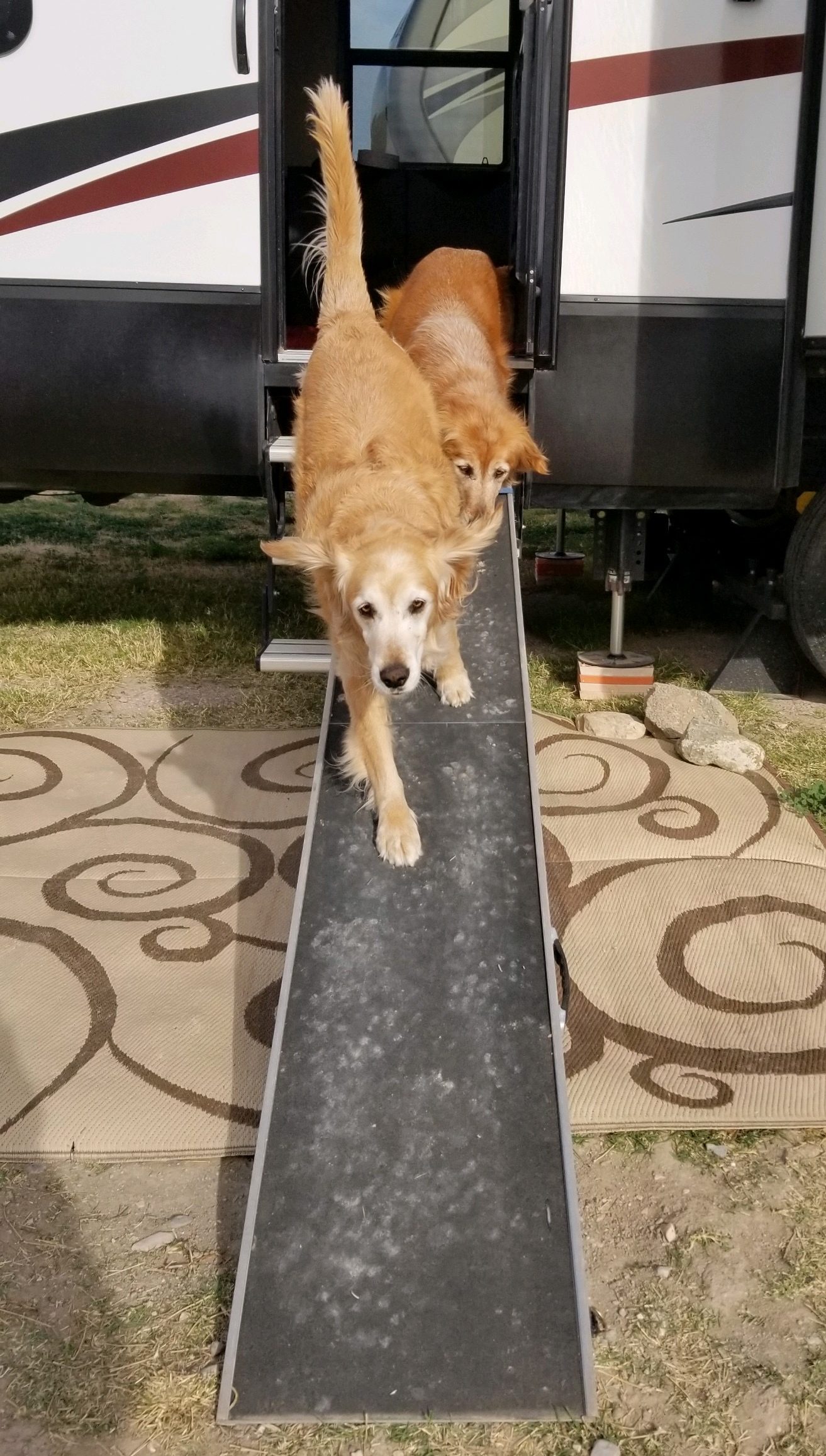 Training Your Dog to Use a Ramp
If your dog is more like Buster, keep in mind that baby steps work best when training new behaviors. We started teaching Buster to use the ramp with it lying flat on the ground. At first he was leery, but with some rewards and a lot of praise, his confidence grew.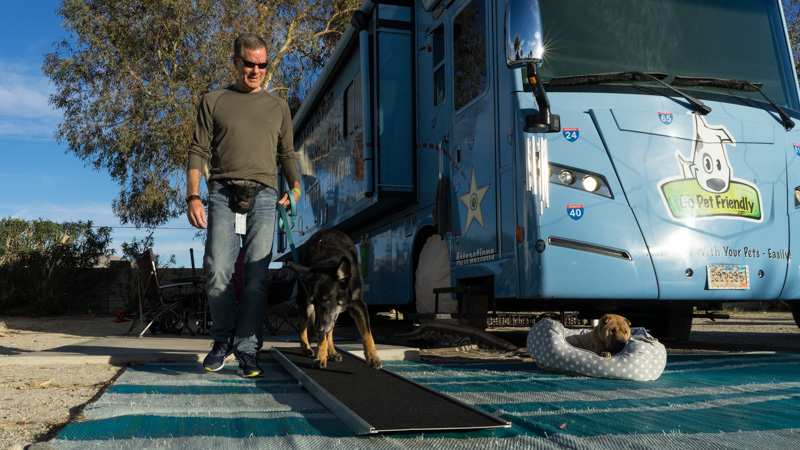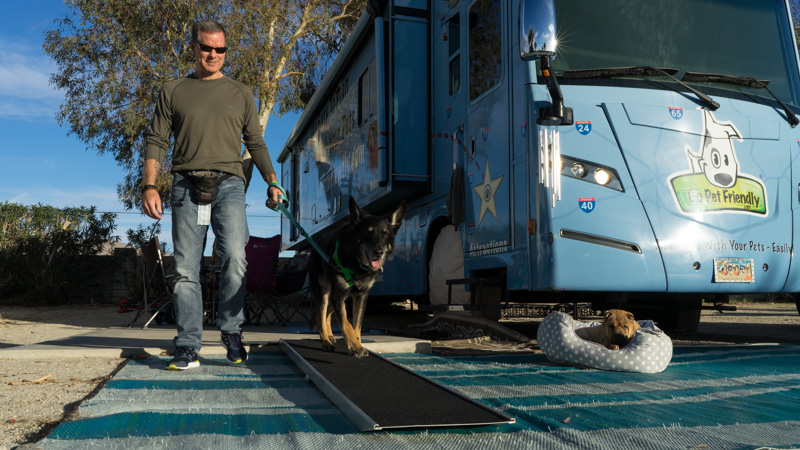 We left the ramp where we could get Buster to walk across it multiple times a day. Within a few days it had become part of his normal routine.
The next stage was to add some incline and decline. A wooden step provided a stable base, and again Buster started out nervously. But after a few days of practice he had the hang of things.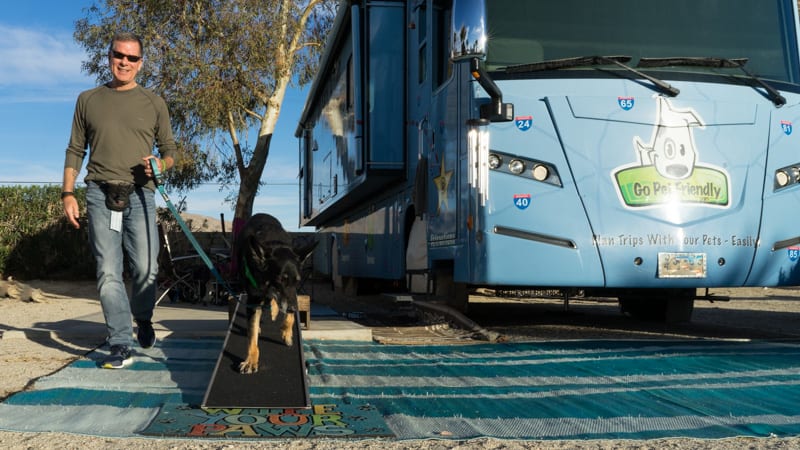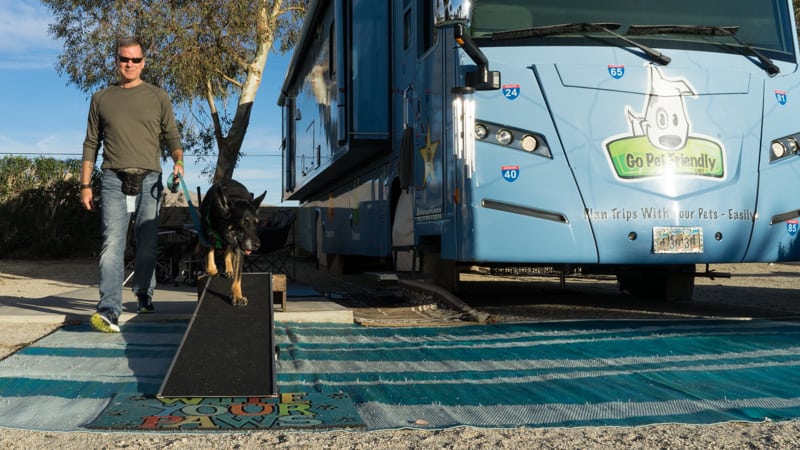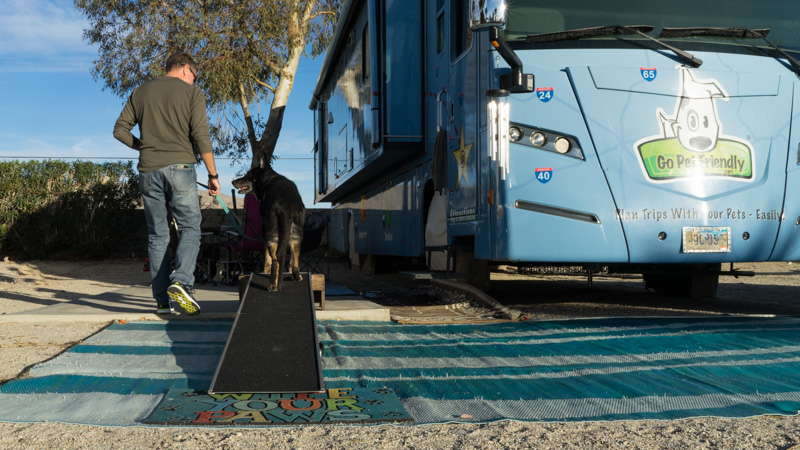 Placing a door mat at the end of the ramp helped Buster learn not to jump off before he got to the end. If his paws didn't hit the mat, there was no treat for that attempt!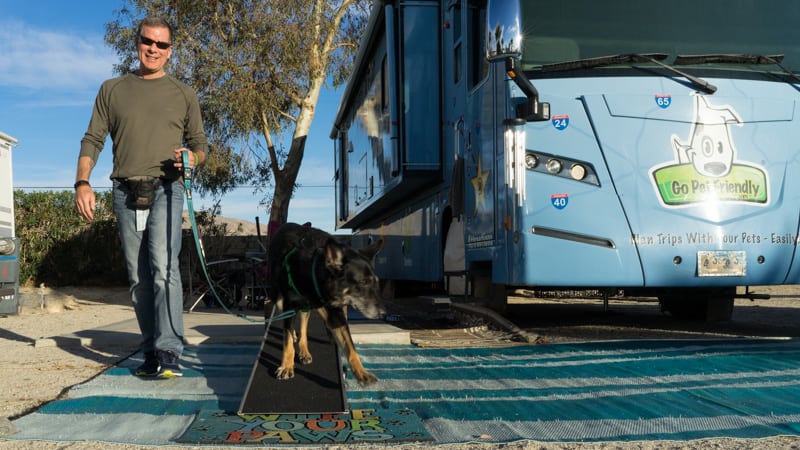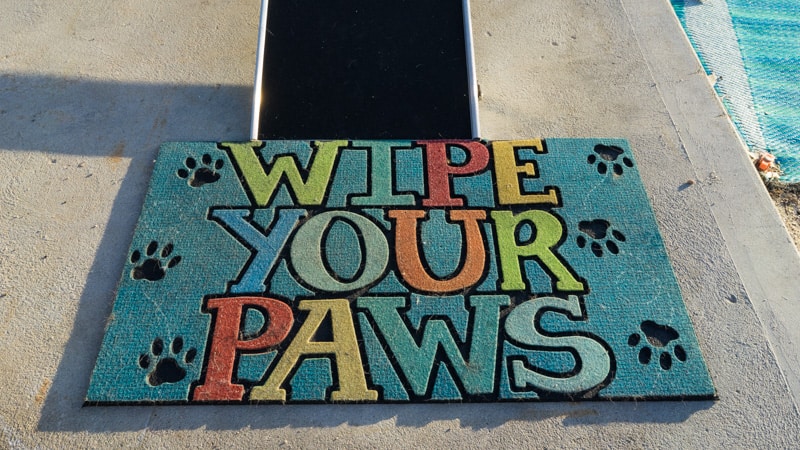 Buster picked things up pretty quickly, and after about a week we were able to move the ramp to RV steps. He took one trip on the lowest step, one on the second step, and then was ready to climb the ramp in it's highest position. After that, he used the ramp multiple times a day for years.
READ MORE ⇒  See Buster Using A Wheelchair To Enjoy Life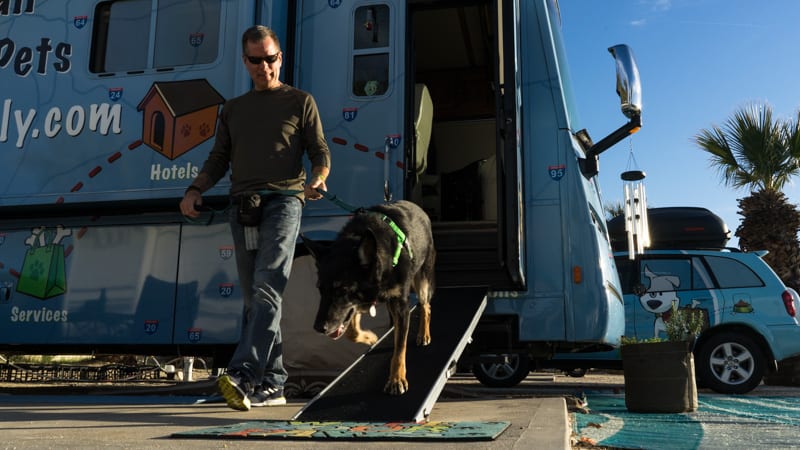 Seeing Buster age wasn't easy. But we're glad we could help make his senior years a little easier. And now we're glad that his ramp his helping Kai to continue to live an active and happy life with her family.
Gear Used in This Post:
(Affiliate Links)
Amazon Affiliate Disclosure: GoPetFriendly.com LLC is a participant in the Amazon Services LLC Associates Program, an affiliate advertising program designed to provide a means for website owners to earn advertising fees by advertising and linking to amazon.com, audible.com, and any other website that may be affiliated with Amazon Service LLC Associates Program. As an Amazon Associate, the owner of this site earns a commission from qualifying purchases.
(Visited 27,672 times, 1 visits today)