A Guide to the #1 Pet Friendly Attraction in 48 States & Washington D.C.
This book by Amy Burkert of GoPetFriendly is a pet lover's bucket list, an inspiration, and a great guide!
Travel from California's Carmel beach to the top of Cadillac Mountain in Maine's Acadia National Park! This book takes you along with the GoPetFriendly team as they discover the pet friendly best America has to offer.
Offering practical tips and advice, and 200 breathtaking photos, you'll feel like you have a personal tour guide to the top 49 pet friendly attractions in the United States.
Use the suggested itineraries, or plan your own route to a lifetime of unforgettable experiences with your pet.
Get your copy of the book today, and start making memories with the GoPetFriendly team!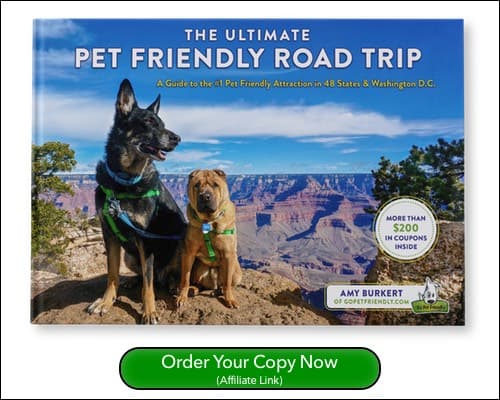 Reviews
Anyone who follows GoPetFriendly.com – and if you don't, you should – knows that Amy Burkert is a pet travel expert extraordinaire. This book, documenting a year-long cross-country trip with canine companions Ty and Buster. It also offers useful tips on visiting some of the top destinations in each of the lower 48 states with dogs that aren't always … well, perfect. Part guidebook, part coffee table book – the photographs are gorgeous. The Ultimate Pet Friendly Road Trip will inspire you to hit the road with your best friend and create your own indelible memories.
–Edie Jarolim, author of Am I Boring My Dog: and 99 Other Things Every Dog Wishes You Knew and Arizona for Dummies
Every traveler has entertained the thought of one day grabbing the car keys–and the dog leash–and heading off for a life on the open road. Amy Burkert made that dream both a reality and a career with GoPetFriendly.com–and now their new book. Whether you use this photo-filled book as a trip-planning guide or an armchair fantasy, it's sure to inspire you to make the most of your experiences with your four-legged travel companion.
–Paris Permenter, Co-author of 33 pet and travel books
Take it from those who walk the walk, talk the talk, and bark the bark. The Ultimate Pet Friendly Road Trip is chock full of tried-and-tested travel plans for great destinations all across the country. Pack this handy book in your suitcase for the best trip ever with your best friend ever!
— Peggy Frezon, contributing editor, All Creatures magazine, author of Faithfully Yours for Kids (Paraclete Press 2018) and other books about the human-animal bond
If you're planning a road trip with your dog The Ultimate Pet Friendly Road Trip is a must-read. This book will save you hours of research. You can use it to put together a high-level itinerary. Then fill in your route, and time, with additional things to do from GoPetFriendly's website or your dog's bucket list.
–Jessica Rhae Williams, Dog-Friendly Travel nut and senior editor at YouDidWhatWithYourWiener.com
The Ultimate Pet Friendly Road Trip is a must-read before you hit the open road with your furry companions. Amy and her pooches researched every travel nugget in this book personally. You won't find another that even comes close to this compressive, first-hand researched pet-friendly travel guide. Think of it as the CAA Travel Book for road tripping fur families. I recommend it to any pet parent making travel plans, whether it's for the weekend or a cross country road journey.
–Amy Tokic, Author and Editor-in-Chief of PetGuide.com
About the Author
Amy Burkert is the founder of GoPetFriendly, a resource that makes it easy to plan trips with pets. In 2010, she and her husband, Rod, and their two dogs, Ty and Buster, moved into a motorhome. For more than 10 years they enjoyed exploring America's highways and byways together, sharing their travels on the GoPetFriendly blog.