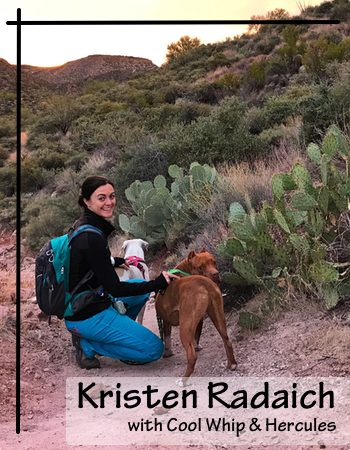 Kristen lives in Phoenix, Arizona, with two perfectly imperfect dogs, Cool Whip and Hercules. Cool Whip had been perfecting her "sad-eye dog pout," at the county dog pound for two months when Kristen first stopped by her kennel. Once she had Kristen's attention, the two quickly became the best of friends. Hercules was not the dog the ladies were searching for when they visited a local rescue eighteen months later, but he's the puzzle piece they both needed! The trio is a perfect team with Cool Whip's sass keeping everyone on their toes, Herc's exuberance for life that keeps the party rolling, and Kristen's critical human contributions of acquiring treats and driving the car to hiking trails.
Their adventuring started because of Kristen can't stop snowballing her plans. "If I'm going to to this, then why not this as well? Oh, and these other things too!" A weekend visit to see family in Minnesota morphed into a week of camping and hiking in Canada's Banff National Park, and before they knew it Kristen and the dogs were galavanting across the country on a 17-day road trip. That experience opened Kristen's eyes to how much more it means to travel with your dog at your side. The three of them have been on the hunt for pet friendly experiences ever since.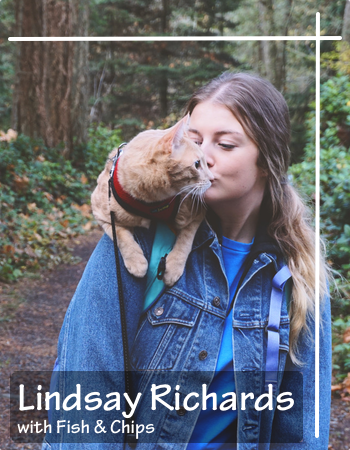 Lindsay is an amateur photographer, blogger, and travel/outdoor enthusiast living on Vancouver Island, BC with her boyfriend, Iain, and their traveling cats, Fish and Chips. Convincing Iain, a self-proclaimed "dog person," to adopt a kitten was no easy task, and Lindsay knew that to providing a cat with an interesting life would mean exploring beyond the walls of their small apartment. So, when they brought Fish home, they popped him in a harness and took their tiny tiger into the great outdoors.
Before long Fish was walking on a leash and riding on the backpack when the trail got too long. He discovered that car rides lead to adventures, and tents  meant cozy sleeping bag snuggles. Most importantly, he learned that the world is quite interesting … so he should probably get off the couch. After a few months, Lindsay and Iain decided Fish needed a buddy, so they adopted Chips. He quickly learned to love traveling, and now Lindsay, Iain, Fish, and Chips spend their free time hiking, camping, and changing the way people view cats as pets.
When she'd not entertaining the cats, Lindsay works full-time as a waitress, saving up for school where she plans to study environmental sciences.
Instagram: adventuresoffishandchips
---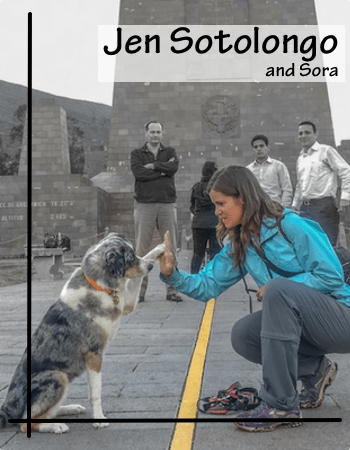 Jen is a freelance writer, photographer, and blogger, whose main subject is her rescued Australian Shepherd, Sora. Along with her husband, Dave, the trio are in constant search of their next adventure. From 2015-2017, they quit their 9-5 jobs and set off for Europe to bike across the continent, towing Sora in a Burley Tail Wagon. After cycling from Norway to Greece via the Balkans and Turkey, they flew to the southernmost city in the world: Ushuaia in Argentine Patagonia, where they battled wind and the Andes mountains as they made their way to Medellin, Colombia. Sora has traveled to 24 countries and counting.
With enough two-wheeled travel under their belts, they returned back to the United States and traded their bikes for running shoes and hiking boots. Jen is an ultramarathoner and can usually be found deep in the woods training for an upcoming race, with Sora as her training partner. When she's not running, she likes to hike in the mountains or camp under a starry sky. Their next adventure will take them to Spain, though the Pacific Northwest will always have her heart and be her home.
---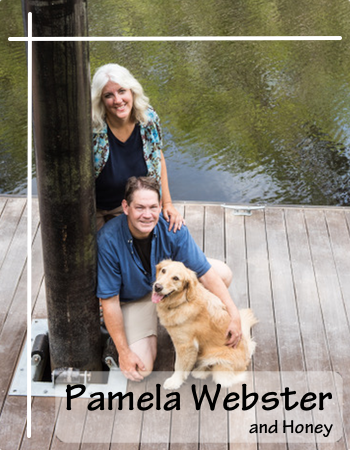 Pamela craves a new adventure about every ten years. From studying abroad, to buying a crack house in a neighborhood revitalization plan, she's always looking for something new. But her greatest joy comes from the everyday adventure of life with dogs.
Having had dog's with behavioral challenges in the past, Pamela raised Honey from a puppy to help foster puppies and fearful dogs for the local shelter. Honey is a "Mary Poppins dog" (practically perfect in every way), and her love of every person and most dogs she meets gave Pamela a new adventure idea that would challenge everyone in the family.
In their mid 40s, Pamela and her husband, Mike, took sailing lessons. Within five years they sold the house, bought a thirty-four-foot sailboat named Meander, and moved on board. Since then, the family of three have been "meandering" the Chesapeake and Delaware Bays and the Atlantic Intracoastal Waterway. They enjoy visiting historic towns and exploring remote beaches. Who knows where their future sails will take them? But for the time being, Honey has made it clear she wishes to get off the boat at least twice a day, so Meander will not be visiting the Mediterranean's sunny shores anytime soon.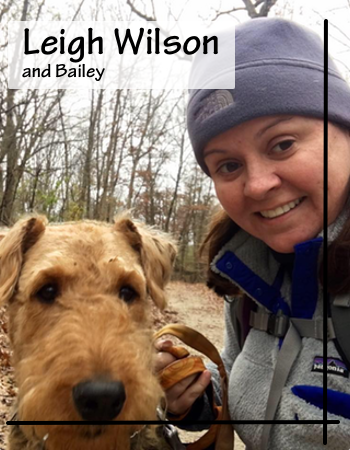 Leigh caught the travel bug at a young age as she traveled the Midwest with her father, selling Kirby vacuum cleaners door-to-door. Born and raised in the Quad Cities region of Iowa and Illinois, Leigh lived in Chicago for most of her post-college years, with the exception of a 3-year stint in Seattle.
Leigh is passionate about dog rescue and has traveled extensively with her 6-year-old Airedale Terrier, Bailey. (And before Bailey, a feisty Miniature Pinscher named Duke.) In August 2017, Leigh and Bailey packed up their life, said goodbye to Chicago, and hit the road for 4 months in search of a new place to live. After covering 10,000 miles and 12 States in a station wagon, they arrived in Tucson, Arizona and decided to call the "Old Pueblo" home.
Leigh and Bailey are having a great time exploring their new surroundings, and Bailey especially is thrilled with the number of lizards darting around the hiking trails – hoping someday she'll catch one!