A field of grass—uh, really? What am I supposed to do there? And, more importantly, what am I going to do with my dogs? These were my actual thoughts as I scoured the map for fun pit stops on our road trip through the Midwest. Many national and state park campgrounds fill up fast during the summer months, so I was on the hunt for other dog friendly places with room to explore. It wasn't until I arrived at Pawnee National Grassland with my dogs that I realized what a gem we'd stumbled upon!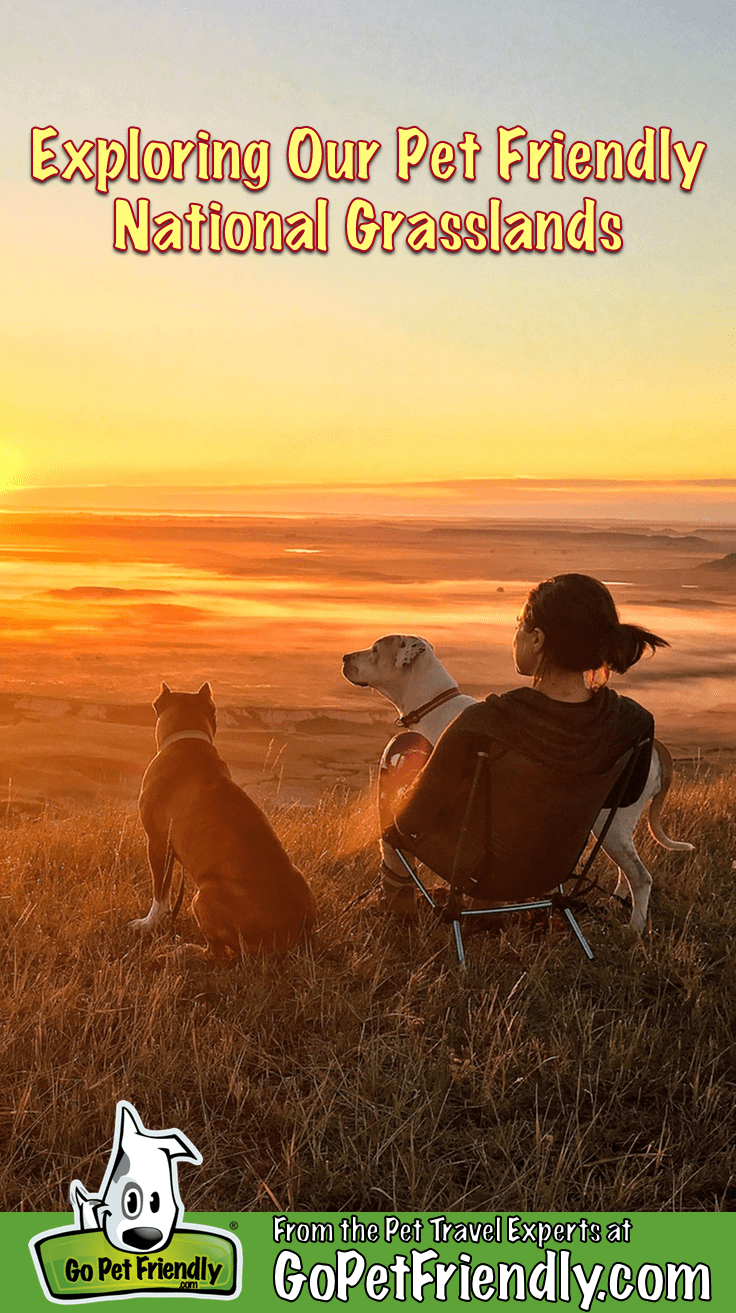 History of the National Grasslands
The grasslands were originally home to native tribes and vast herds of bison, elk, and other wildlife. In the 1860s, European settlers arrived and saw these expansive lands as prime locations for hunting and agriculture. These farmers, however, were not accustomed to managing the arid soils of the grasslands, particularly during years of drought.
Without the native grasses to hold down the thin topsoil, the dry, sandy dirt simply blew away. This triggered the Dust Bowl period of the 1930s, when 20,000-foot walls of blowing dust and sand ripped across the Midwest. Finally, the government stepped in during the Great Depression to purchase the land from farmers. This helped the families with financial troubles and benefited the land as they began to restore the original ecosystem.
READ MORE ⇒ Complete List of Pet Friendly National Park Campgrounds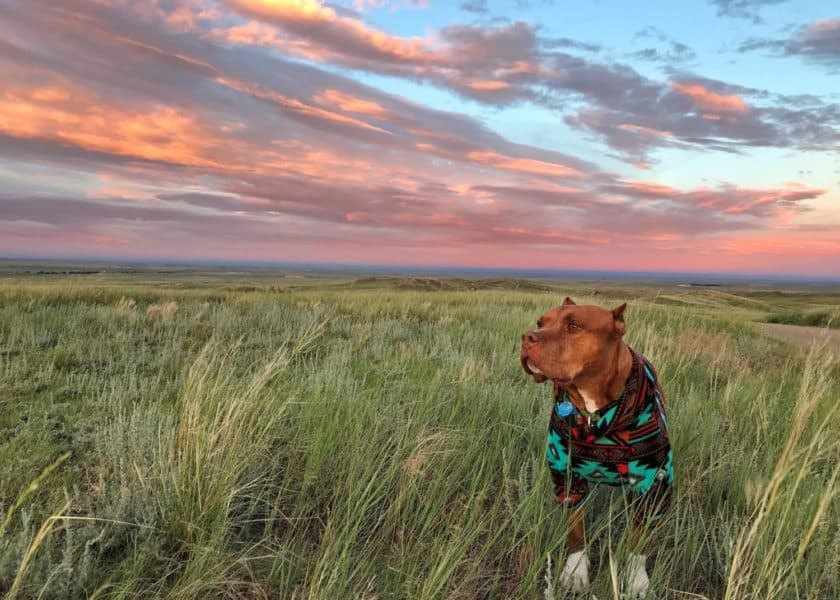 The national grasslands are now managed by the Unites States Forest Service – which is great news for those of us traveling with pets! The Forest Service works to maintain the natural ecosystem while also developing land management techniques that provide sustainable habitats for livestock and the native species. And on top of that, they work to make these lands accessible to us all!
National Grasslands to Visit With Dogs
There are 20 national grasslands across the United States, most of which are located west of the Mississippi River and east of the Rocky Mountains. Visit the National Grasslands website for more details and contact information for the Forest Service Ranger District managing each location.
Butte Valley — CA
Comanche — CO
Pawnee — CO
Curlew — ID
Cimarron — KS
Oglala — NE
Kiowa — NM
Cedar River — ND
Little Missouri — ND
Sheyenne — ND
Black Kettle — OK
Crooked River — OR
Buffalo Gap — SD
Fort Pierre — SD
Grand River — SD
Caddo — TX
Lyndon B. Johnson — TX
McClellan Creek — TX
Rita Blanca — TX/OK
Thunder Basin — WY
What to Expect
You and your dog can experience these national grasslands through a variety of activities: hiking, mountain biking, camping, fishing, sightseeing, and more. And keep in mind that these lands are more than just a field of grass! Many contain rivers, lakes, canyons, and badlands.
Cool Whip, Hercules, and I explored two grasslands in particular: Pawnee and Buffalo Gap. We camped and hiked along buttes and badlands, and relaxed with some of the best sunsets and sunrises we've caught in a long while. If you and your dog like to explore, the national grasslands are perfect as a pit stop or a destination.
READ MORE ⇒  The Ultimate Pet Friendly American Road Trip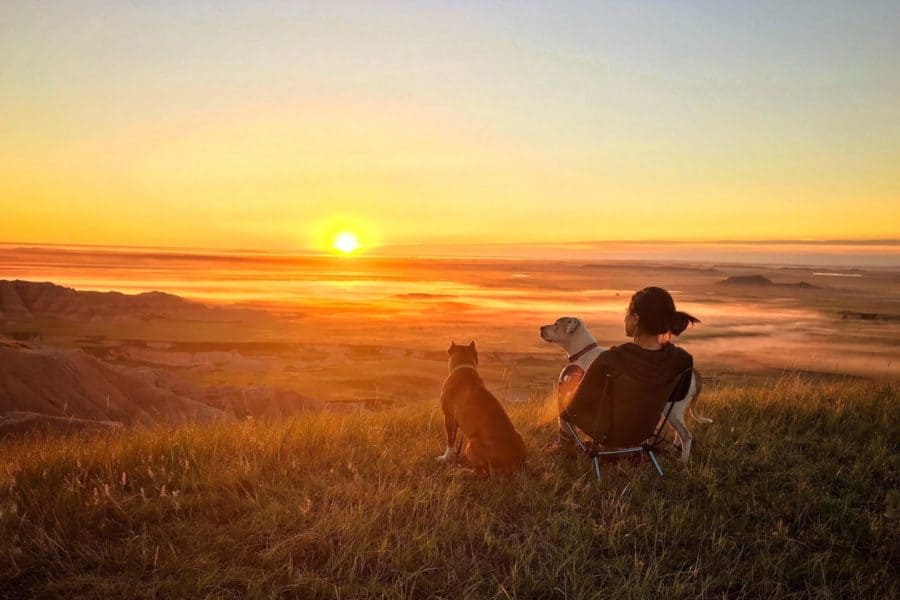 Pawnee National Grassland – Colorado
As you leave the pavement for a few long dirt roads, driving to Pawnee National Grassland feels like you're heading into the middle of nowhere. After crossing cattle guards (and possibly waiting for a herd of cows to mosey by), follow the signs to Pawnee Buttes Trailhead. Cresting a hill, the buttes jutting up from this otherwise smoothly flowing landscape suddenly appear. It's almost a surprise, even though you're expecting them.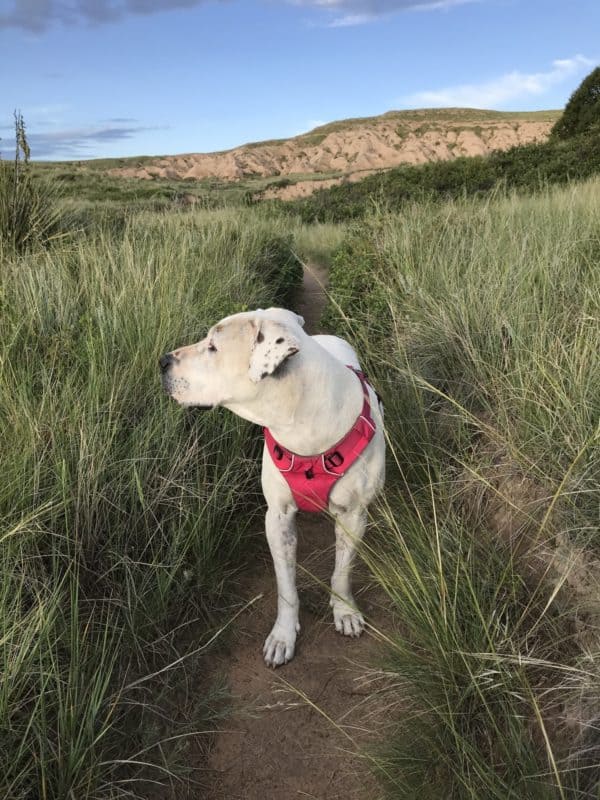 At the trailhead, you'll find bathrooms, picnic tables, and a sign with general trail and landscape information. Hit the trail with your dog for a relatively easy 4-mile roundtrip hike to see Pawnee Buttes close-up. Or, for a shorter hike, just head to the viewpoint, which is about 1 mile, roundtrip.
If you're planning to spend the night, there are several locations along the trailhead road suitable for dispersed camping. Or opt for the campground. It's about 45 minutes away at the Crow Valley Recreation Area in the eastern section of preserve.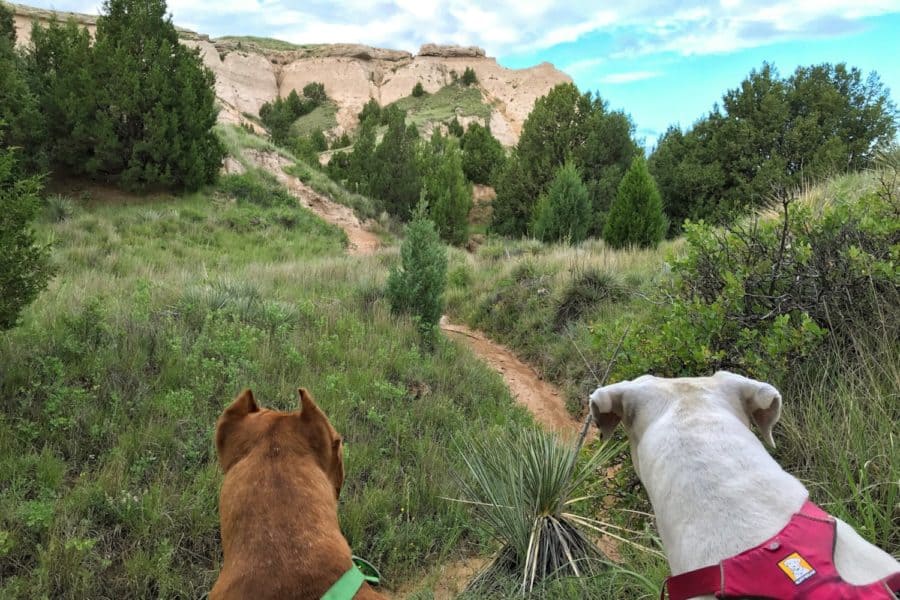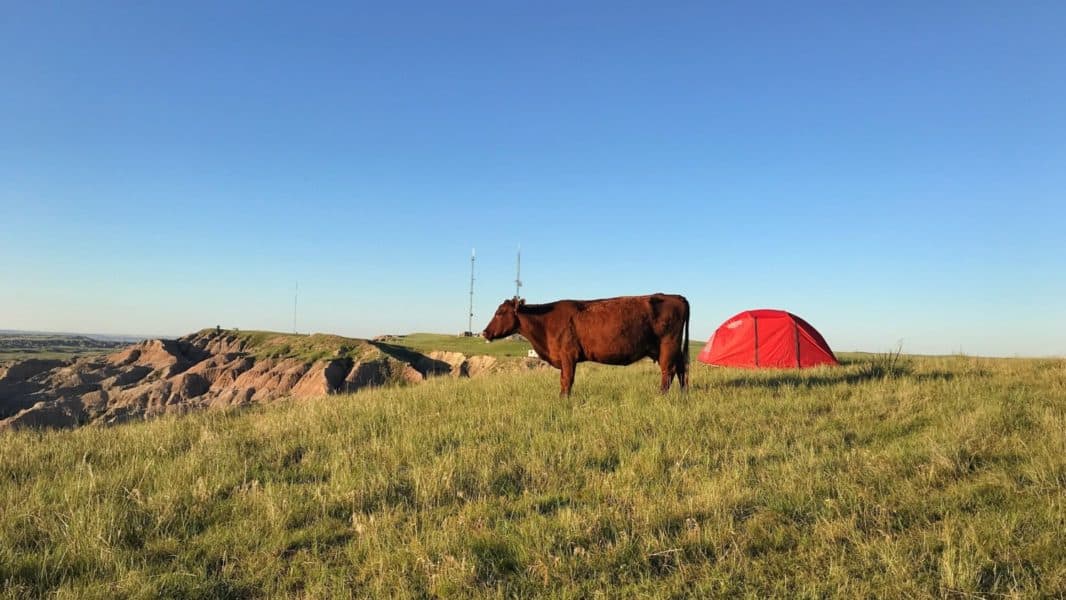 Buffalo Gap National Grassland – South Dakota
The Buffalo Gap National Grasslands wind across the southwestern corner of South Dakota in a stretched-out S-shape. The northern portion hooks around Badlands National Park and is just a few minutes from the National Grasslands Visitor Center in Wall, South Dakota.
Make a point to stop by the Visitor Center before you head into the grasslands. They can provide maps and suggestions for making the most of your visit. This area is a good spot to camp if you want to visit Badlands National Park, but want more freedom for your dog. The views combined with the peace and quiet make for outstanding camping.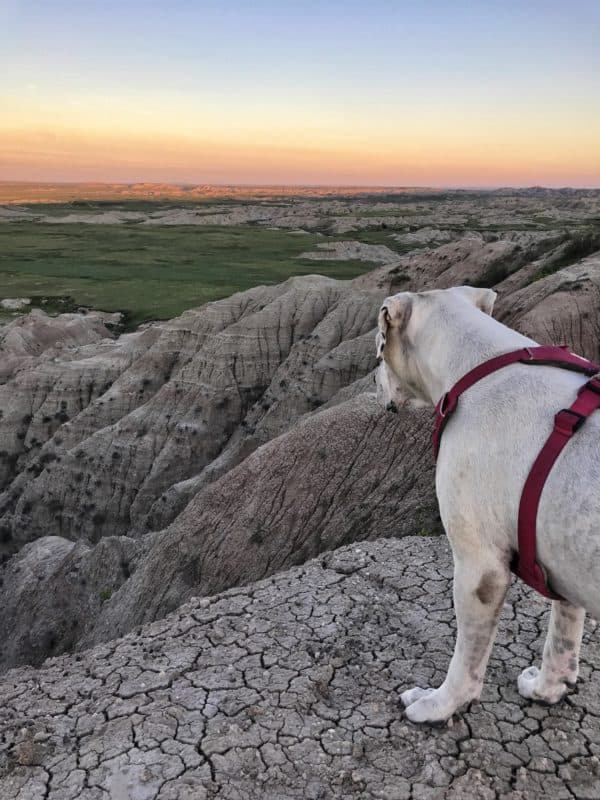 National grasslands are a wonderful place to visit with your dogs — especially when you respect the rules and keep your dog under control at all times. This is not just for the safety of other visitors and local wildlife, but also for you and your dog. The tall grasses can hide cliffs and small cacti, which you don't want to stumble into.  Also, certain areas of the grasslands are used for livestock grazing, so you never know when you'll wake up to find a cow has stopped by for morning coffee. Keep an eye on your furry adventure pals and have a pawsome visit!
(Visited 4,774 times, 1 visits today)