Should you take your pup camping? Absolutely—camping with dogs can be a lot of fun! And sharing a new experience is a great way to build your confidence and deepen your bond.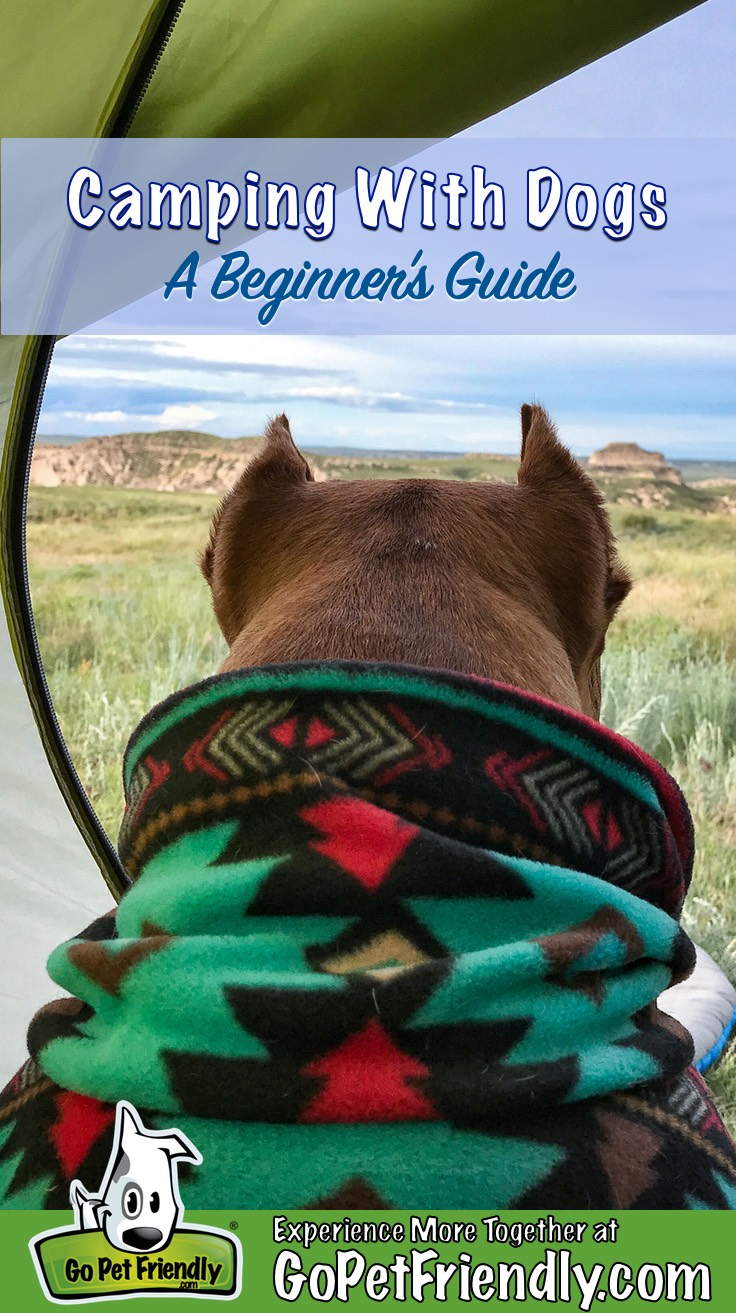 Tips For Camping With Dogs
So, you're thinking about taking your dog camping. Not sure what to pack or how to prepare for your trip? No need to worry, we've got tips for camping with dogs that will ensure you all enjoy the adventure. With a little preparation, you and your furry travel buddy will have a wonderful time in the great outdoors!
Not sure tenting is your thing? Check out our blog post on car camping with pets!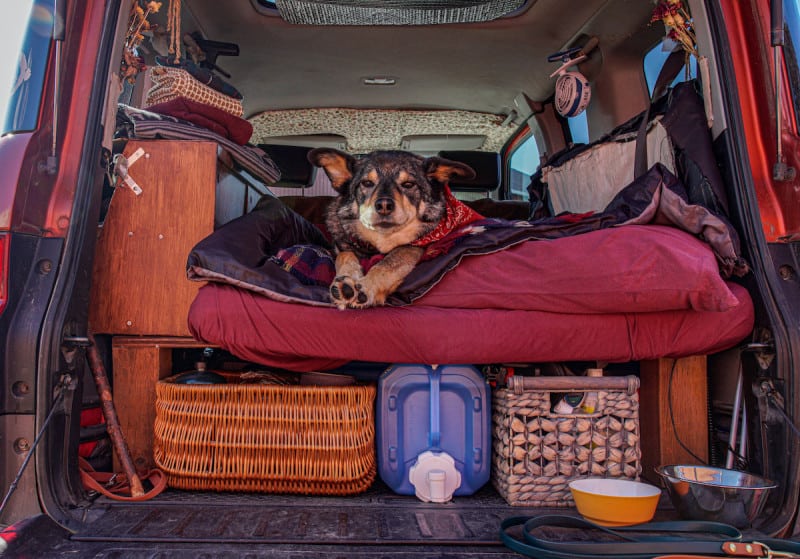 Gear can make or break a camping trip, but that doesn't mean you need everything under the sun. And, if you're hiking to your campsite, be conscious of the weight and size of your gear. Neither you nor your dogs want to lug around a heavy backpack!
While there are a lot of options for dog camping gear, not everything has to be dog-specific. Here are some of the basics to keep you and your dog comfortable and safe without going overboard.
Visit our Amazon store to learn about more products we rely on to make traveling with pets easier, safer, and more fun!
"GoPetFriendly may earn commission or revenue on some items through the links below."
The Right Tent
Choose your tent carefully is the most important step to make sure you're all comfortable. If your pup is a medium-sized dog or larger, you'll probably want to upsize your tent. Think of your dog as another person, especially if he sprawls out to sleep.
Two humans and one dog? Consider a three-person tent. One human and two dogs? Even though Cool Whip and Hercules each weigh about 70 pounds, they typically curl up and sleep like donuts, so the three of us fit in a spacious, two-person tent.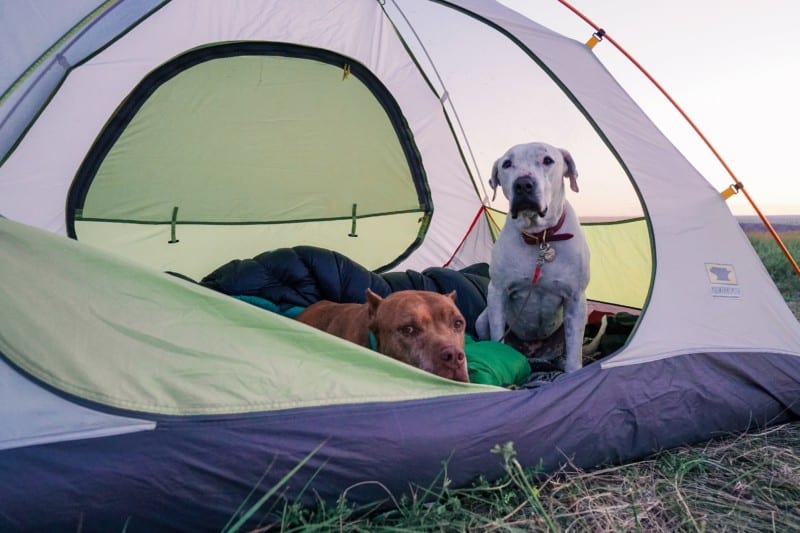 As an accessory for the tent, bring a sheet or blanket to spread out on the floor. Your dog's claws can poke holes in the tent, and the sheet will protect the floor and also makes it easy to shake out any dirt or grass you track inside. When you're camping with dogs, your tent is your castle!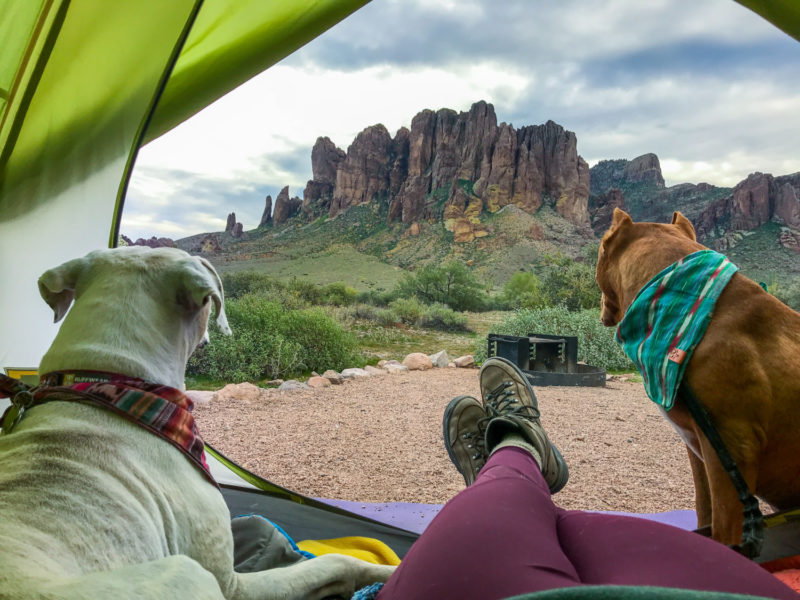 Comfortable Sleeping Gear
My go-to bed for camping is a regular inflatable sleeping pad and a good sleeping bag. It's super comfortable, and Cool Whip and Hercules used to beeline for my half of the tent to claim my bed! I learned quickly that the dog beds I was packing for them weren't cozy enough.
Now, I pack two inflatable sleeping pads — one for me and one for them. They each pack down to the size of a soda can, and they're lightweight and easily fit in my backpack.
I cover the dogs' inflatable sleeping pad with a dog bed or sleeping bag made for the outdoors. These beds and sleeping bags are typically more durable and water-resistant, so you don't have to worry about them getting damaged with some rugged use.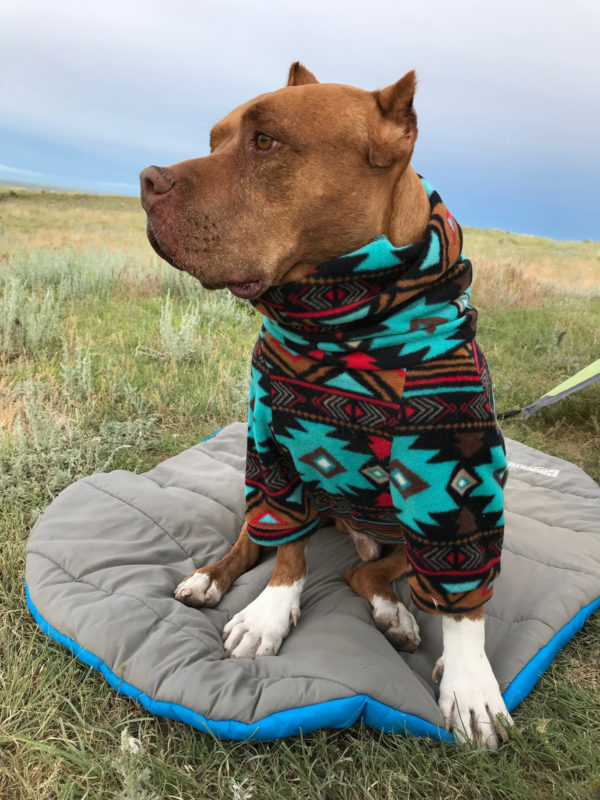 Leashes and Backpacks
Most campgrounds require dogs to be on a leash at all times, so a zip line gives your dog a little freedom while still keeping him safely leashed at your campsite. Plus, your hands are free for other activities, like making s'mores!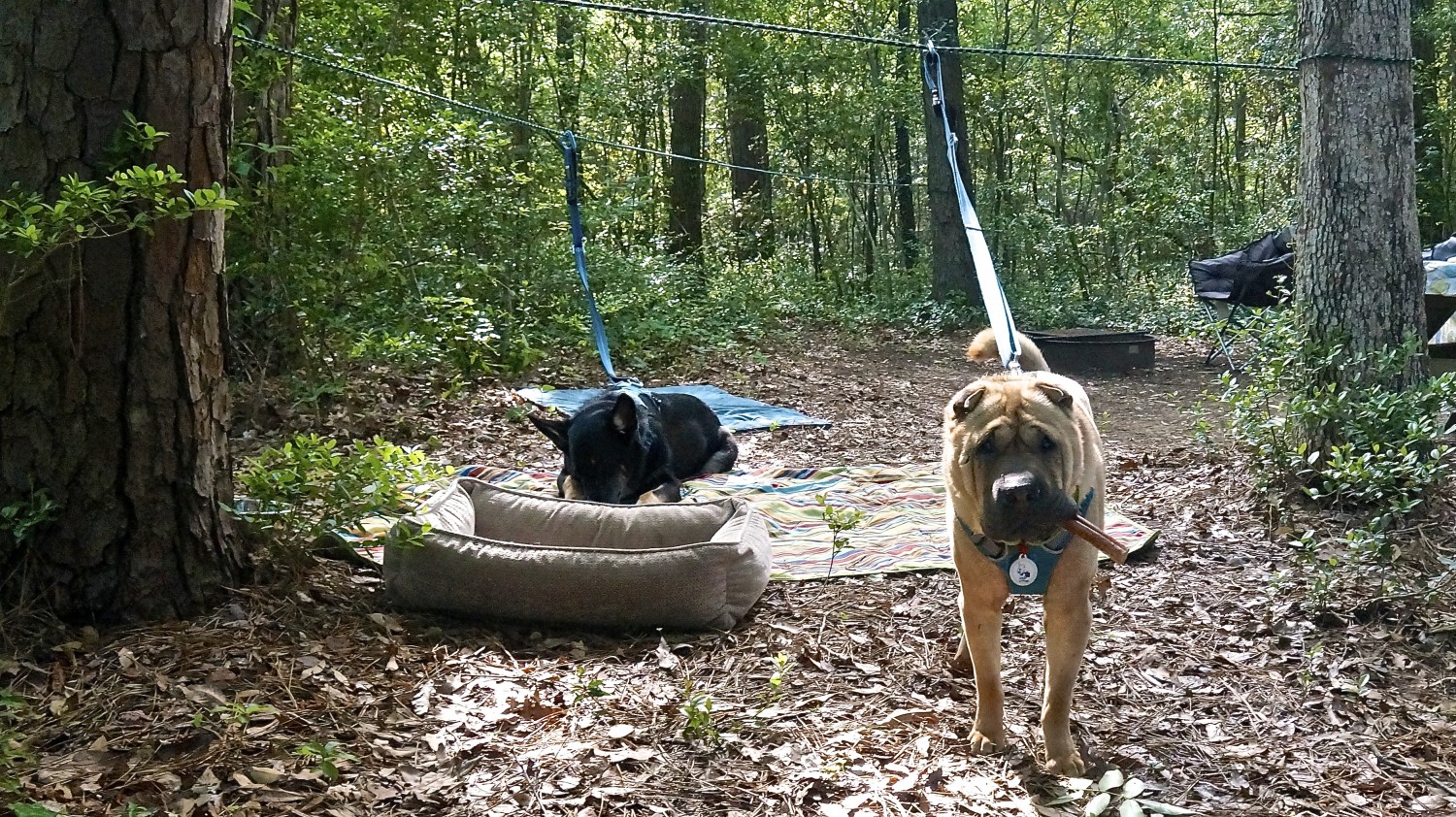 If you'll be hiking to your campsite or spending time on the trails at your destination, consider getting a backpack for your dog. Your dog can help carry some of his own supplies, and it gives some dogs the satisfaction of having a job to do.
Not sure what backpack to pick? We've got you covered with our guide to picking the best backpack for your dog.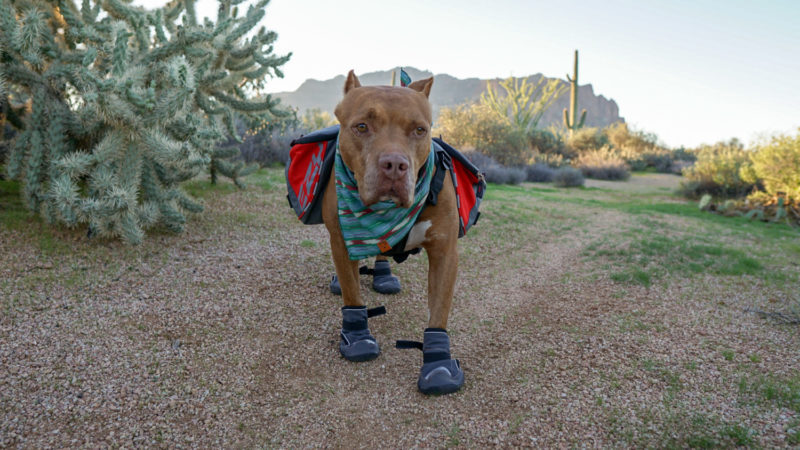 Food and Bowls
It's not always convenient to bring the whole bag of dog food when you're camping with dogs. Instead, look for a kibble carrier — a roll-top dry bags designed to make it easy for transporting dog food.
Or go basic—I like to pack my dog food in a 15-quart, clear plastic bin. In fact, that's how I pack a lot of my gear, because it's easy to see what's inside, they stack well, and they keep everything organized in the car.
If you're going for a long trip and need a lot of food for your dog, consider a dehydrated dog food that is light and easy to pack. The Honest Kitchen is a great choice for traveling pets!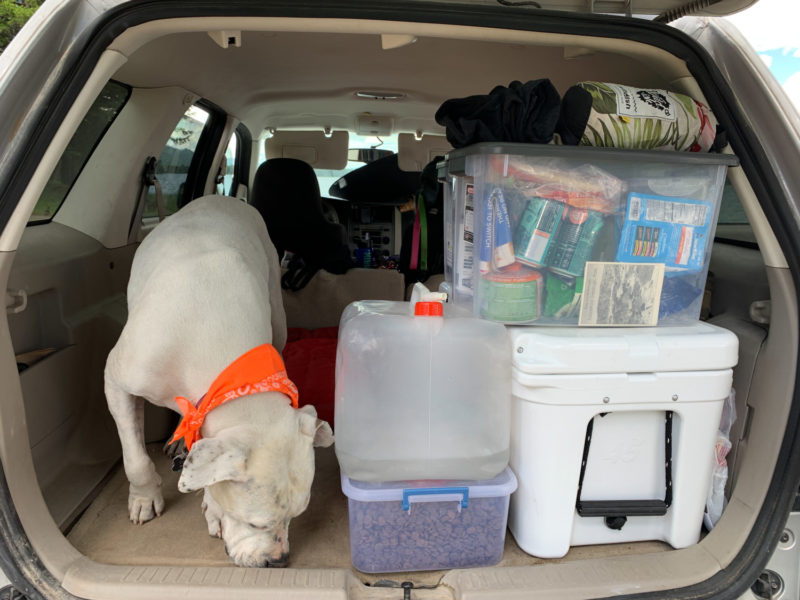 Next, leave the ceramic food dishes at home. They're not the best thing to bring into the wilderness. Pick up metal or plastic dishes that won't break. Or, even better, get bowls made from flexible, collapsible materials that are also easy to pack in your hiking or backpacking pack. Bonus: You and your dog will have extra room for snacks!
Miscellaneous
First aid kit – Accidents happen, even on vacation. In addition to standard first aid gear, include your pet's medical records (scanned to a USB drive), contact info for you and your vet, a recent picture in case your dog gets lost, hydrogen peroxide to induce vomiting of harmful ingestions, Benadryl for allergic reactions, and self-cling bandaging tape (vet wrap).
Lighting – Think headlamp, flashlight, LED collar, etc. These items are good for safety's sake and in case your pup needs a late-night bathroom break, or if you're staying outside to watch the stars.
Treats – Reward good behavior, especially if it's your first camping trip or when you're encouraging them to pose for what seems to them like the millionth photo.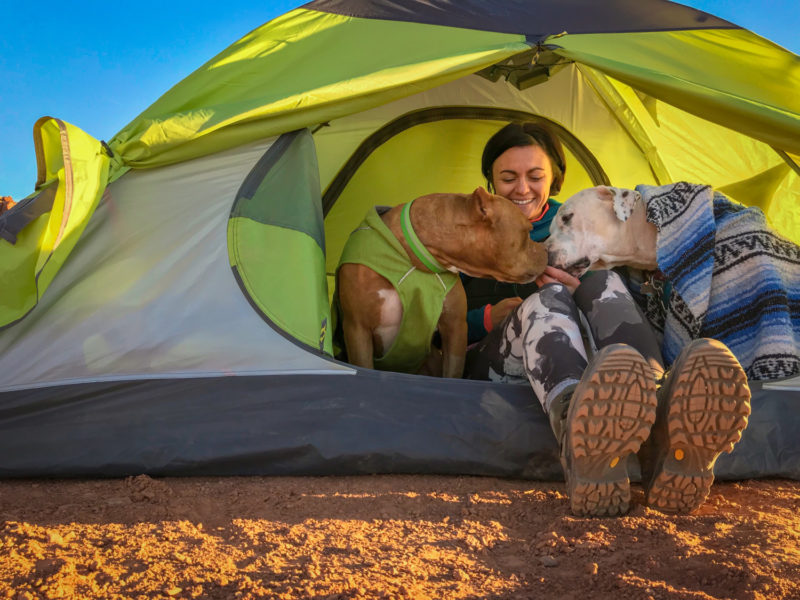 Insect Repellant – Nothing will ruin your trip faster than having a swarm of bugs feeding on you and your pets. And not all human insect repellants are safe for pets! Bug Soother repels mosquitos and gnats, and is safe for people, pets and the environment. And Wondercide kills fleas, ticks, and mosquitos on dogs and cats.
Insect Shield also makes t-shirts and bandanas for dogs that have insect repellent in the fabric. If the bugs are really bad, having a shirt on your dog would help prevent bites can't hurt!
Waste bags – You can never bring too many poop bags. Always pick up after your pet, plus these are great for picking up trash you come across that you don't want to touch with your hands.
Treats – Oh, did we mention this already?? Whoops! Better add another bag, just in case.
Gear for inclement conditions – It isn't always 65 and sunny, so be sure to check the forecast and pack accordingly. The same goes for the terrain; consider packing dog boots to protect paws from hot pavement or rough trails.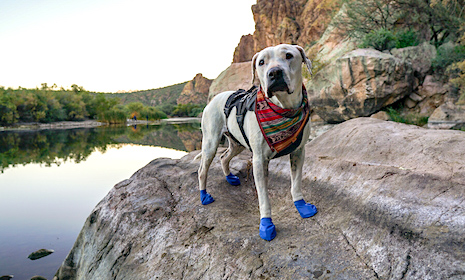 Practice Camping With Your Dog
Our best advice is to test out your gear before you leave home! Set up your tent, pack your backpack, and practice making your zip line.
Do a practice night in your backyard, at a nearby campsite, or even in your living room. The goal is to make sure your dog is comfortable in the tent. You don't want to be out in the wilderness or hours from home only to find out your pup is scared of the sound the tent fabric makes in the wind.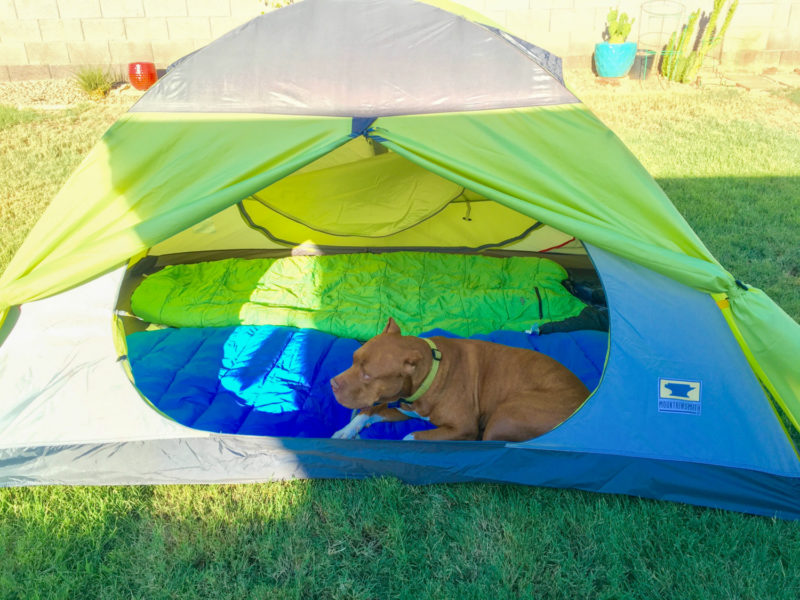 The same concept applies to campfires and your dog's backpack. Make sure your dog is okay with the experience at home before you're in a place where everything is new to them.
Assess your own gear as well if you're trying anything new. Is your sleeping pad comfortable? Is your backpack too heavy with the extra dog gear? Sort it all out at home to avoid surprises when you set off on your trip.
Where To Go
There are many options for camping with dogs, whether you choose a state park, national park, or private park—it doesn't matter. Even parks that have limited pet friendly trails usually allow dogs in the campgrounds. So, you can still enjoy time outside with your dog even if you're not hiking.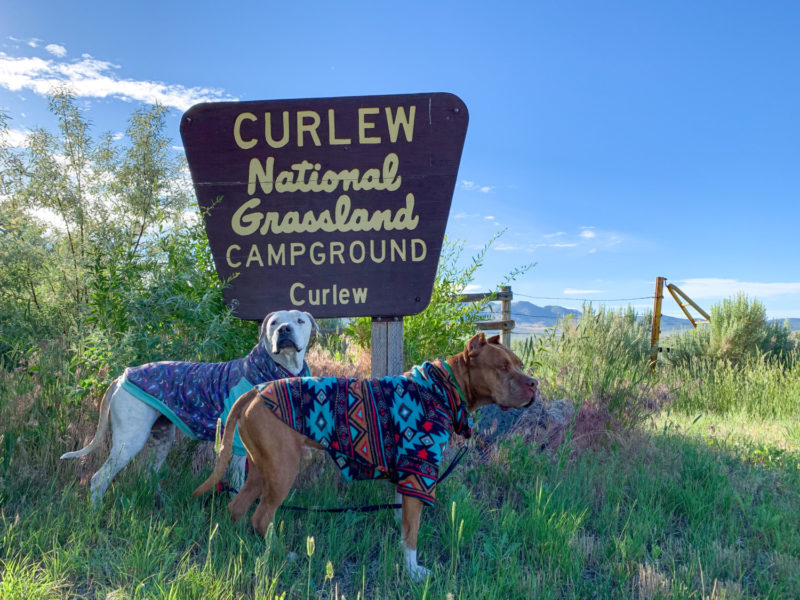 If you're seeking more serenity, check out national forest campgrounds. National forests, along with national grasslands, often have primitive campsites (pit toilets and no electricity) that operate on a first-come-first-served basis. These areas and BLM land often also have dispersed camping options.
Start Camping With Minimal Investment
By now you might be considering the investment that camping with your dog is going to require. Especially if you don't know if you or your dogs will enjoy it!
Luckily, you can start out by finding inexpensive gear at yard sales. Or rent equipment the first time. REI stores sell used gear and also rent it. Outdoors Geek will ship rental gear to you. And some colleges and universities have outdoor recreation clubs (like Cornell Outdoor Education) that rent gear to the general public.
Just remember. If you rent equipment, you are responsible for returning it clean. Make sure you have a good plan for cleaning up pet hair as well as human dirt and messes.
However and where ever you decide to go camping with dogs, the most important part is to relax and have fun!
Visit our Amazon store to learn about more products we rely on to make traveling with pets easier, safer, and more fun!
Amazon Affiliate Disclosure: GoPetFriendly.com LLC is a participant in the Amazon Services LLC Associates Program, an affiliate advertising program designed to provide a means for website owners to earn advertising fees by advertising and linking to amazon.com, audible.com, and any other website that may be affiliated with Amazon Service LLC Associates Program. As an Amazon Associate, the owner of this site earns a commission from qualifying purchases.
(Visited 41,891 times, 40 visits today)