Many people dream of seeing the country with their pet in an RV! We've gathered the information you'll need to determine which pet friendly RV rental company is the best fit for you.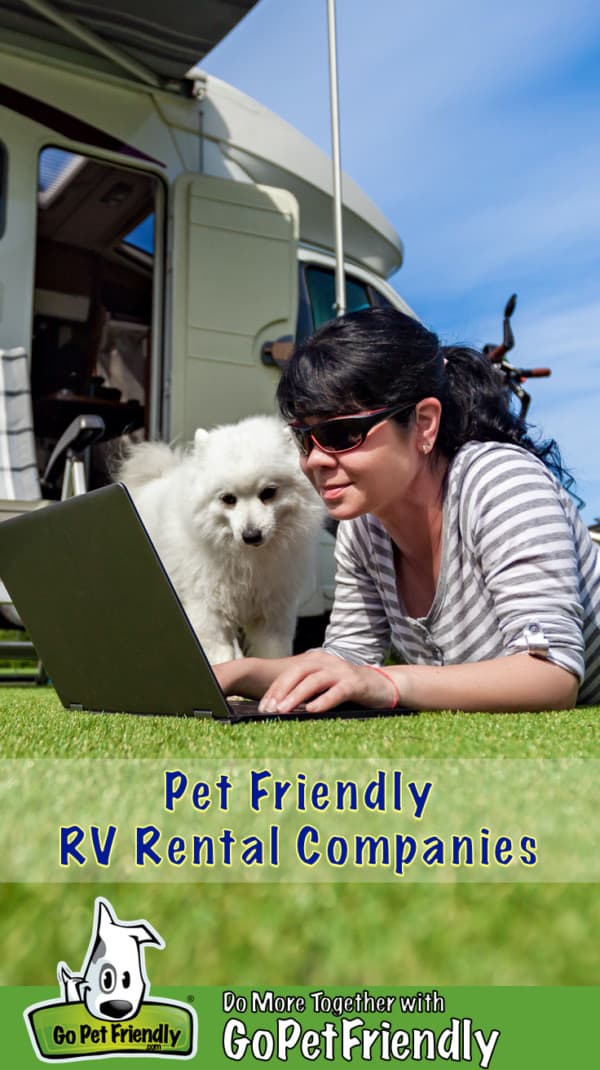 If you're planning a road trip – and you want to include your pets – renting an RV is a popular option. Below you'll find pet polices for the most popular pet friendly RV rental companies, so you can choose the one that works for you.
Pet Friendly RV Rental Companies
Wouldn't it be great to take your family on vacation to spectacular destinations without ever leaving the comfort of home? Renting a pet friendly RV gives you that option!
Complete with a refrigerator, microwave, toilet, shower, air conditioning, and heat – it's like having a home on wheels. Explore and play all day, and relax and recharge in familiar and comfortable surroundings every night.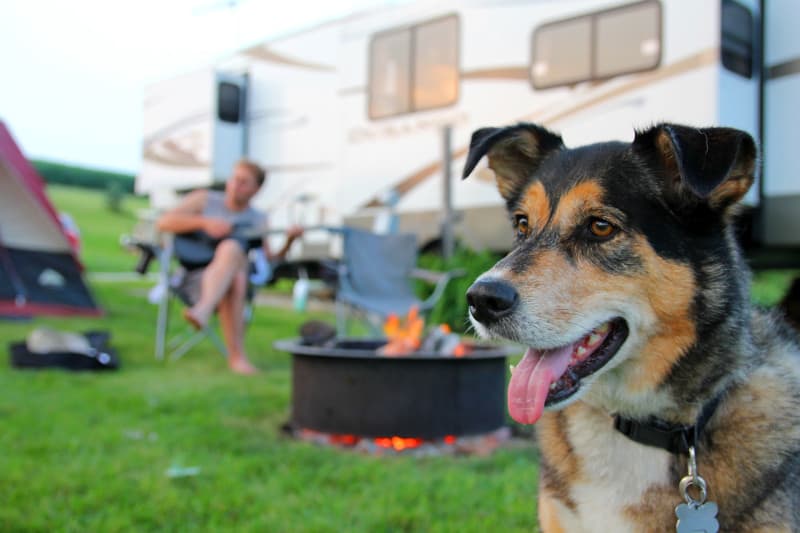 Pet Polices For National RV Rental Companies
Cruise America
Cruise America offers pet friendly RV rentals at 129 locations in the United States, Canada, and Alaska. They also offers a free app, which directs you to the campsites that provide the amenities that you want. And you can book either round-trip and one-way rentals.
Cruise America Pet Policy
Cruise America doesn't impose restrictions on the size or number of pets in the motorhome. And there is no additional deposit required for traveling with a pet. In fact, as long as you return the RV as clean as you received it, you won't incur any additional charges for taking your pet along! If the RV does require cleaning, there is a $250 fee.
El Monte RV
With 28 locations in eight states across the country, El Monte has been renting pet friendly RVs for more than 40 years! They offer a discount to AAA members, provide extensive travel information on their website, and allow both round-trip and one-way rentals.
El Monte RV Pet Policy
El Monte understands that pets are part of the family. They don't charge additional pet fees or deposits and place no restrictions on the size or number of pets that travel with you. The only potential charge you'll incur is a cleaning fee of $50 to $100 only if the RV is not returned in the condition it was received.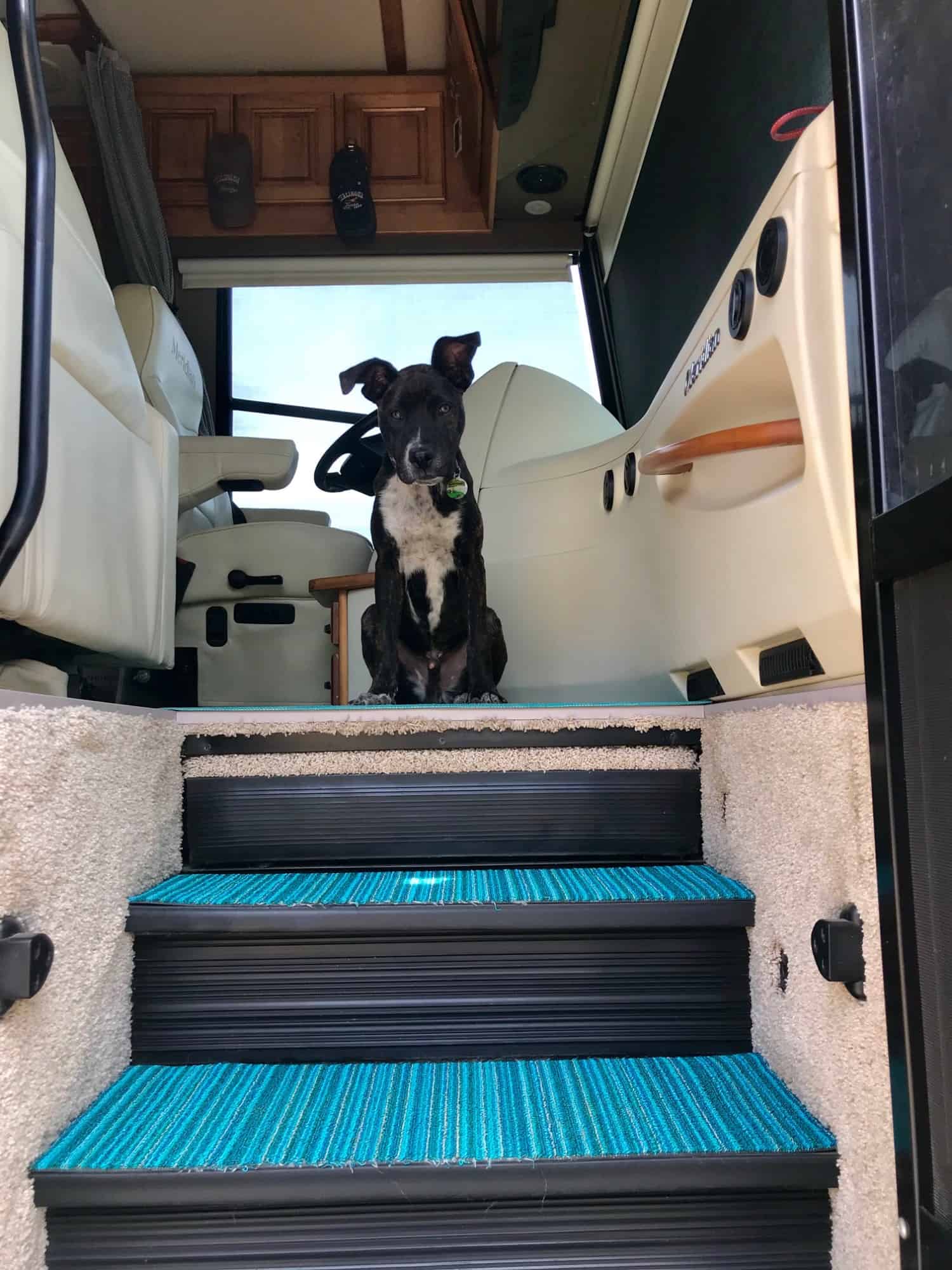 Escape Campervans
Sometimes smaller is better! Escape Campervans has thirteen rental locations in the US and Canada where you can rent fully-equipped, easy-to-drive campervans. Inspiring their clients to embrace the Escape spirit, they've converted their vans into works of art by having them painted by local artists.
Escape Campervans Pet Policy
Escape charges a $150 non-refundable pet fee and allows up to 2 pets. No pets are allowed during the months of July, August and September. Service animals are exempt from the pet fee, but it does apply to emotional support animals. Damages caused by pets are the responsibility of the guest are not covered by the pet fee.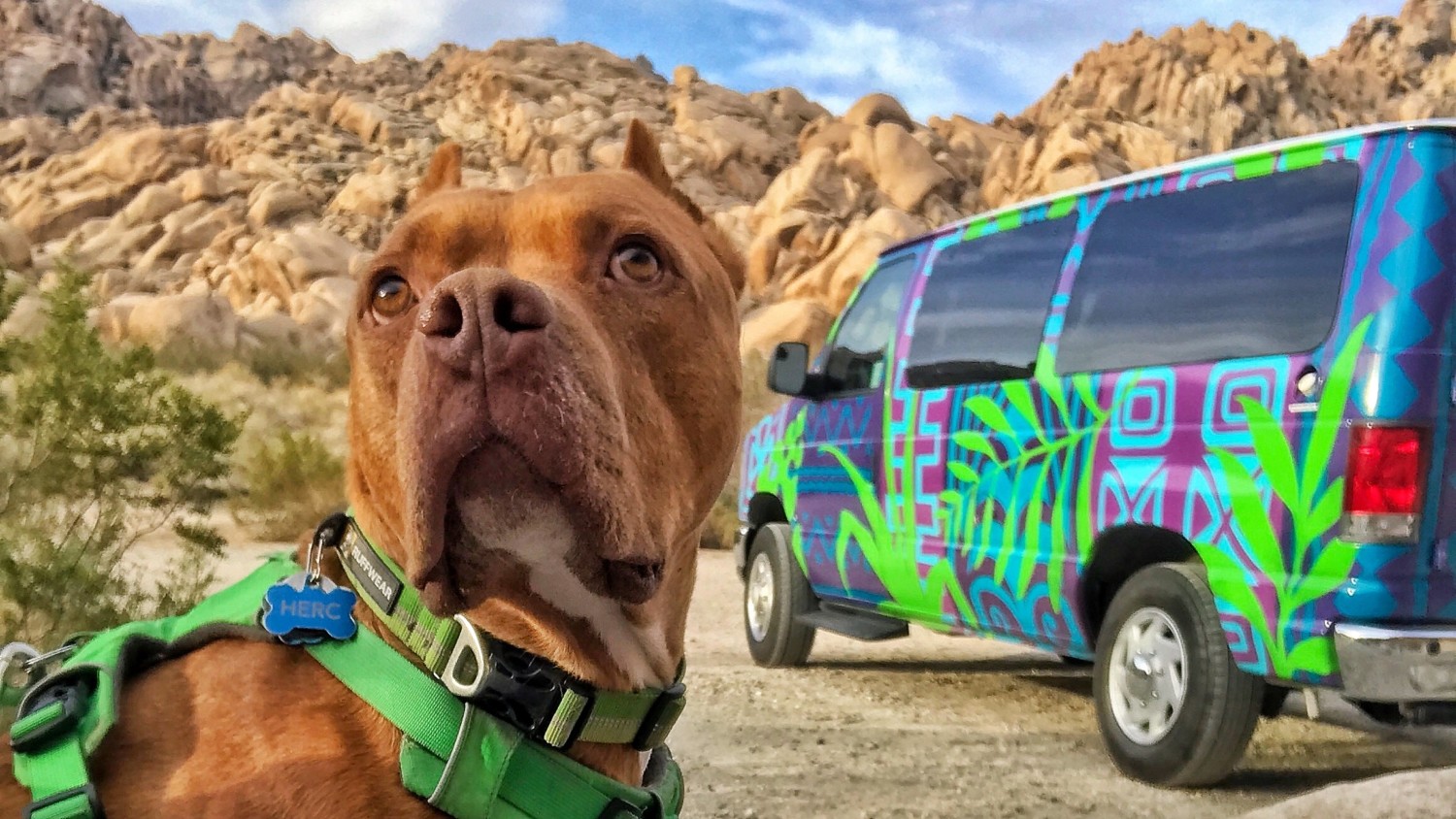 Pet Polices for Local RV Rental Companies
Around The Park RV
Around the Park RV offers pet friendly RV rentals in a variety of sizes in Denver, Colorado and Jackson Hole, Wyoming. They'll also deliver an RV and set up for you!
Specializing in helping you plan the perfect trip, they offer expert advice on scenic routes and unique campgrounds. If you're heading to Grand Teton, Yellowstone, or Great Sand Dunes, they have you covered!
Around The Park RV Pet Policy
Pets are welcome in some of Around the Park RV's campers. Check their website to see the pet friendly options available.
Campervan North America
With locations in Bozeman, Denver, Las Vegas and Seattle, Campervan North America offers pet friendly campervans that seat between two and five people.
Specializing in helping you plan the perfect trip, they offer expert advice on scenic routes and unique campgrounds. If you're heading to Grand Teton, Yellowstone, or Great Sand Dunes, they have you covered!
Campervan North America Pet Policy
Pets are welcome in Campervan rentals for an additional fee of $45 to $90, depending on the size of the vehicle.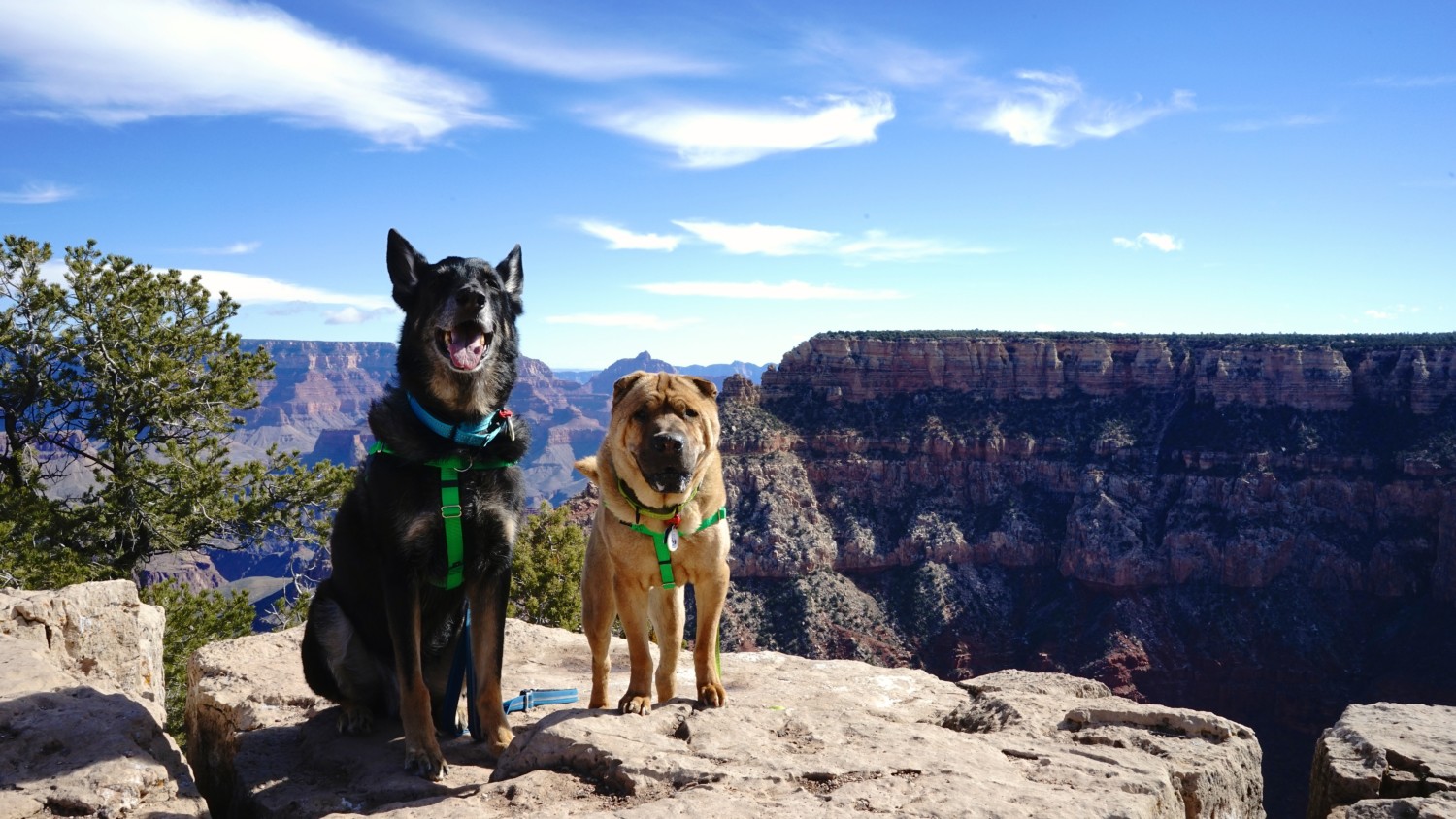 Chill RV Rentals
Operating in the Los Angeles area, Chill RV Rentals offers fully-equipped and stocked luxury motorhome rentals. They'll even deliver the RV right to your front door in Los Angeles County for free! And, for a reasonable fee, will deliver to Orange County, Ventura County, Riverside County, San Diego County and San Bernadino County.
Chill RV Pet Policy
Pets are welcome to join you in Chill RV Rentals for an additional fee of $100 and an increased vehicle deposit. The vehicle must be returned free of pet hair and pet odor.
Native Campervans
Native Campervans' pickup locations are in Denver, Las Vegas, and Salt Lake City. But they also offer one-way drop offs, if you'd prefer not to cover the same road twice.
Native Campervans Pet Policy
Native Campervans loves dogs and welcomes them along for your adventure. are always up for an adventure for a $100 pet fee. The do warn that if your pet throws a party in the van, they'll have to add on additional cleaning and upholstery repair fees.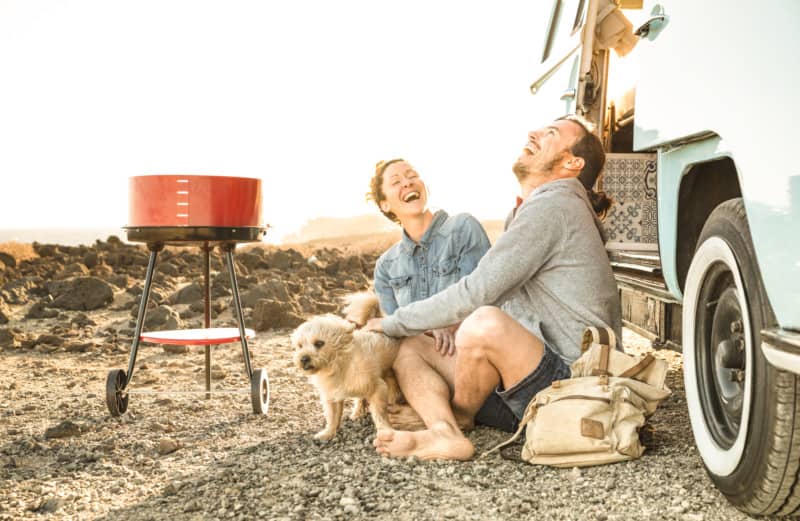 Walden Campervans
Operating in Woburn, Massachusetts, Walden Campervans offers one dog friendly RV rental, but it's REALLY dog friendly!
For an additional pet fee of $100, your pup will have a custom crate installed and ready to go upon your arrival, plus a waterproof pet pad, a dog first aid kit, compostable doggie bags, and leash/zipline anchors.
Want to pull out all the stops for your furry travel buddy? The $65 Off-Grid Adventure Dog Package adds a Ruffwear Dog sleeping bag, Kurgo leash/zipline with exterior runner cable for campsite safety, airtight food container or yeti cooler bag for refrigerated dog diets, stainless steel food/water bowls, a Himalayan dog chew toy, and an extra 2.5 gallons of water.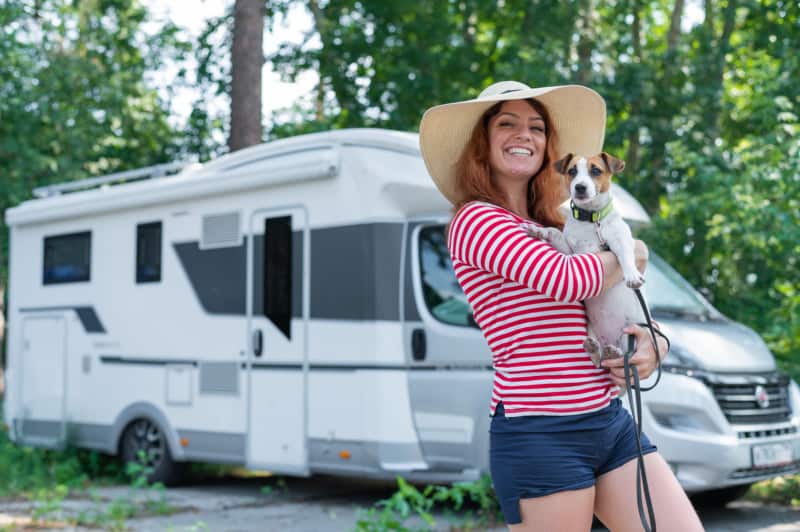 RV Rentals at Local Dealerships
If none of these pet friendly RV rental companies have locations in your area, check with your local RV dealers. Many RV dealerships have a small fleet of rentals available.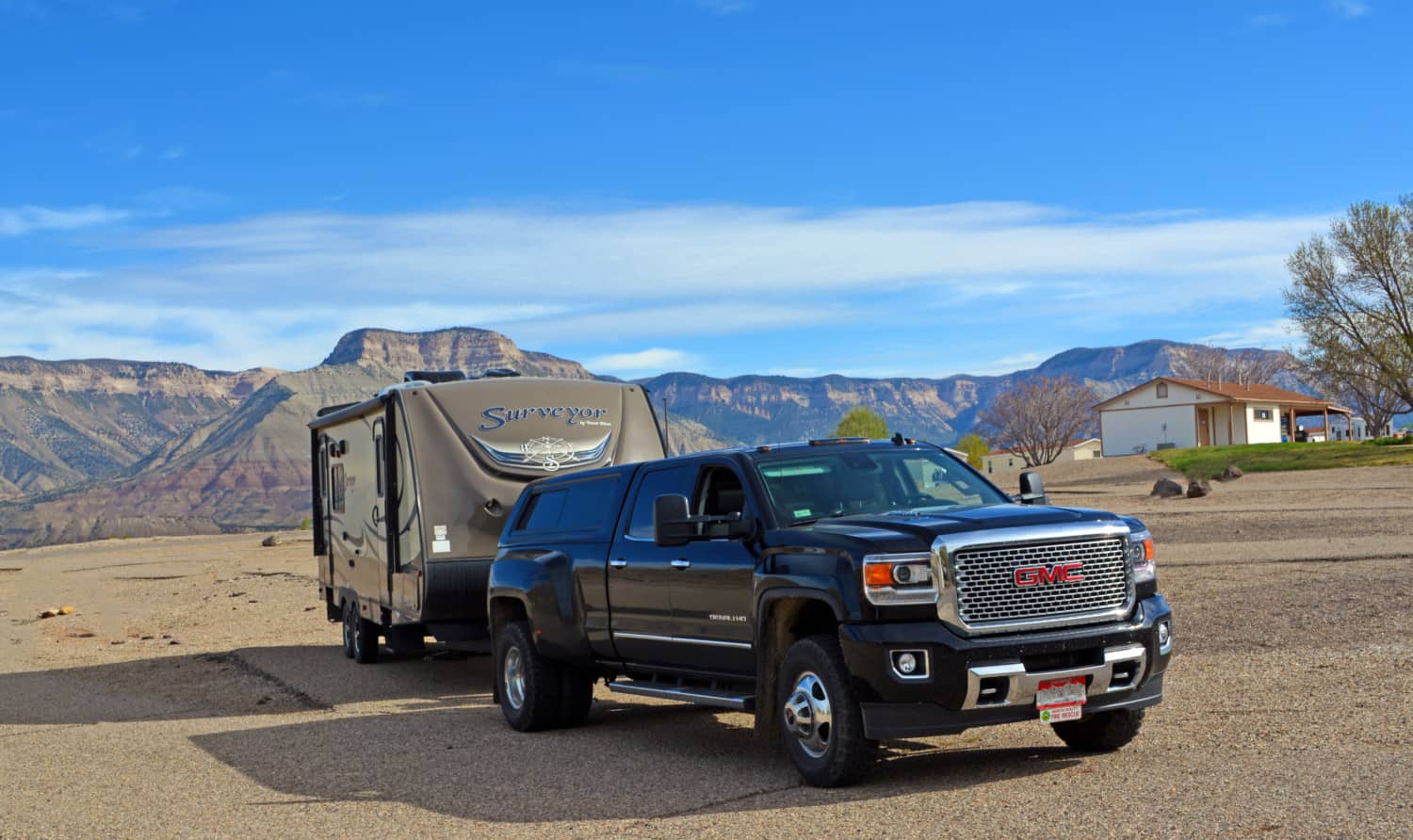 Online Networks Offering Pet Friendly RV Rentals
In recent years a number of RV rental networks have sprung up, offering alternatives for locating pet friendly RV rentals. Similar to VRBO, these businesses connect renters with RV owners who make their personal RVs available for rent. These companies also offer add-on products like roadside assistance, additional insurance, and damage protection coverage.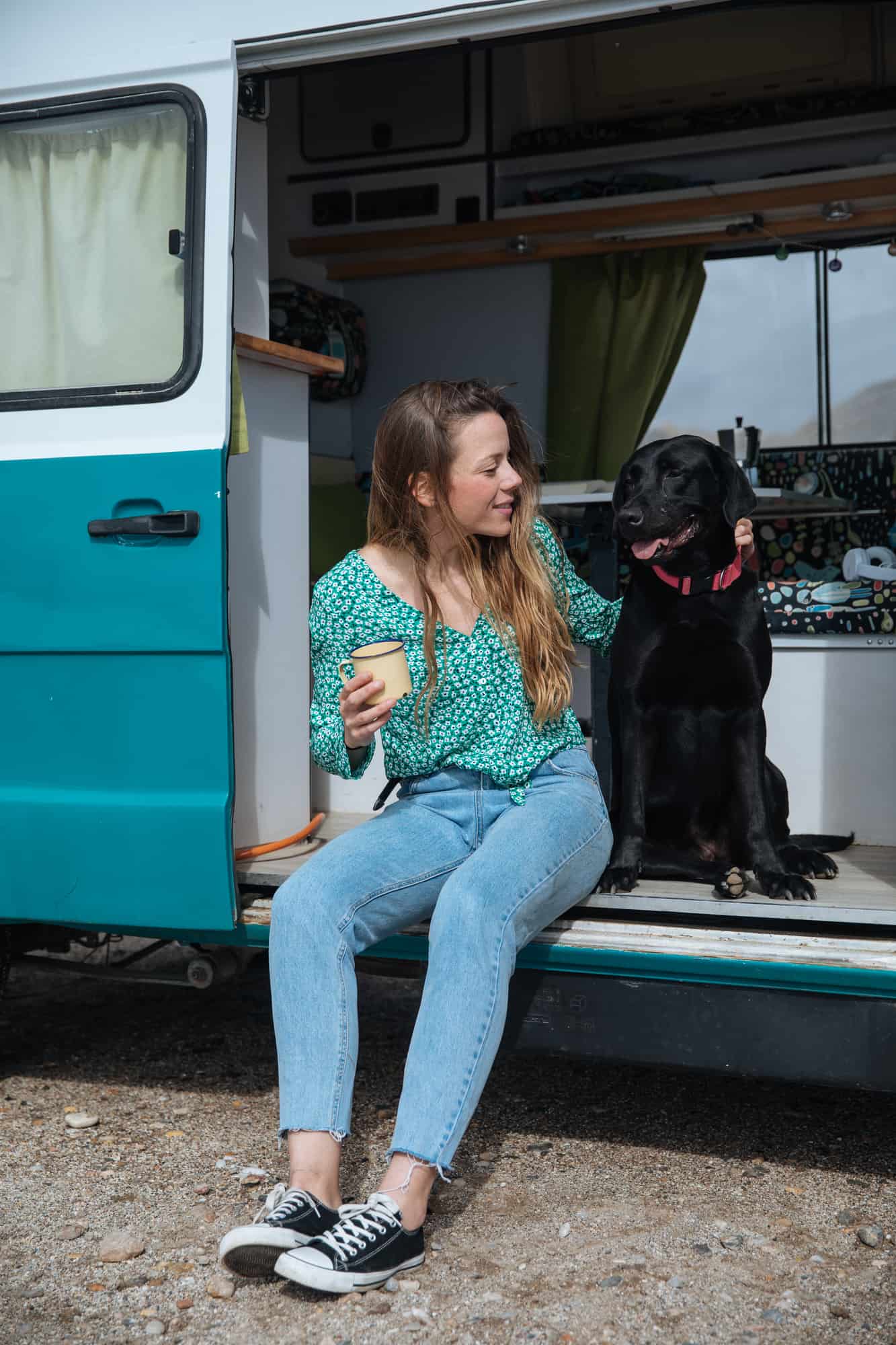 Because these networks don't own their own fleets, they're able to offer a wider selection of RVs and campers. If your heart is set on a vintage Airstream, or you want a "toy hauler" to take your motorcycle along, these companies will be able to help.
Additionally, because they have no rental centers, you might be able to find RV rental options close to you!
IndieCampers.com – Pick-up locations in Denver, Houston, Las Vegas, Los Angeles, Orlando, Salt Lake City, and San Francisco.
Outdoorsy.com – Website filter available to show only RV rentals that are pet friendly.
RVezy.com – Offers a category for pet friendly RV rentals.
RVShare.com – Website filter available to show only RV rentals that are pet friendly.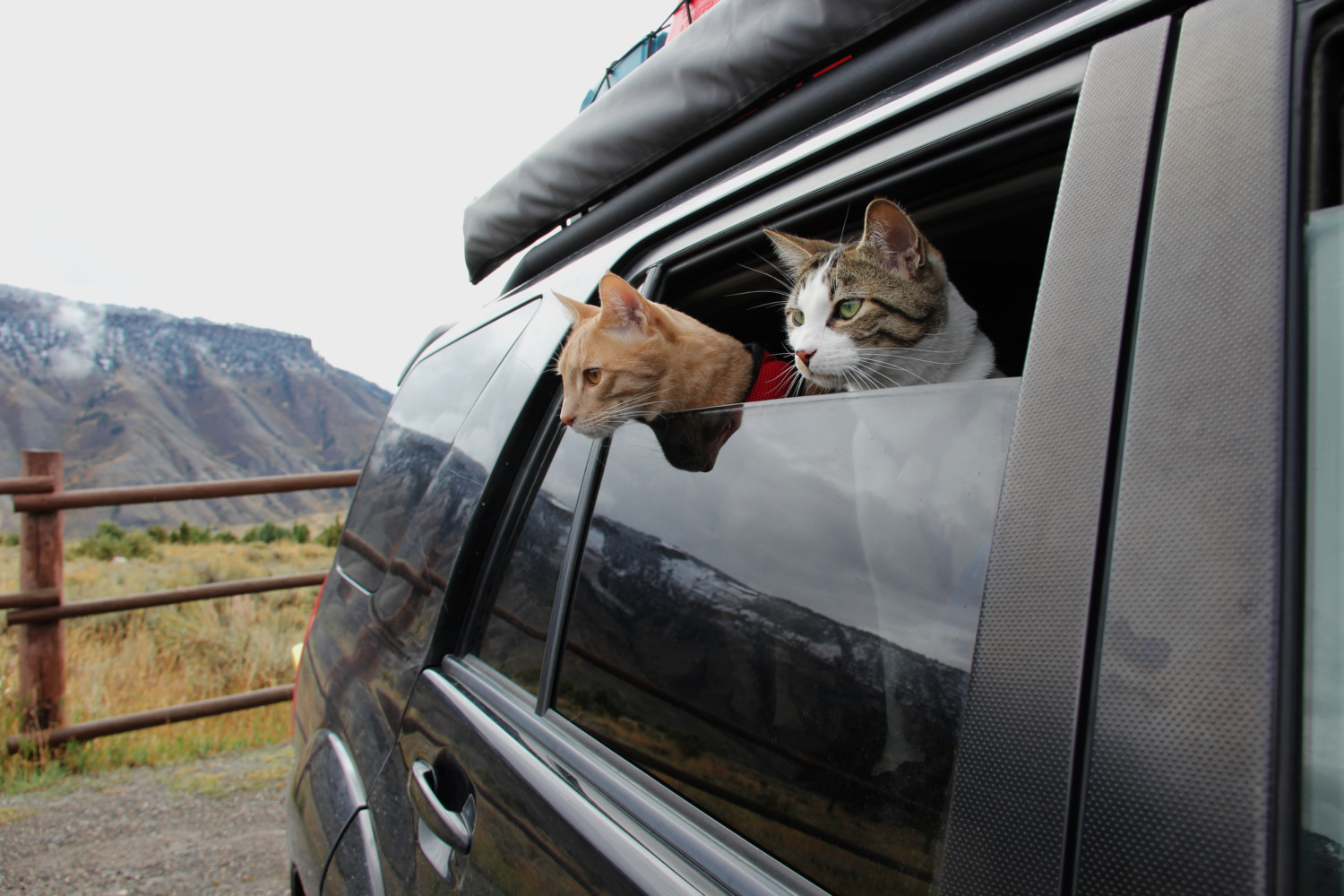 How Much Does A Pet Friendly RV Rental Cost?
The cost of your RV rental will depend on the size of the RV you select and the length of your trip. A small travel trailer could cost less than $100 per night, while large motorhomes might be $250-300 per night plus fuel. And, because they don't own their own fleets, the RV rental networks often have better prices than the "bricks-and-mortar" companies.
In addition, you'll have campground fees, which average around $50 per night. (Very few campgrounds charge additional fees for pets.) And you can find less expensive camping options at national parks, forests, and state parks.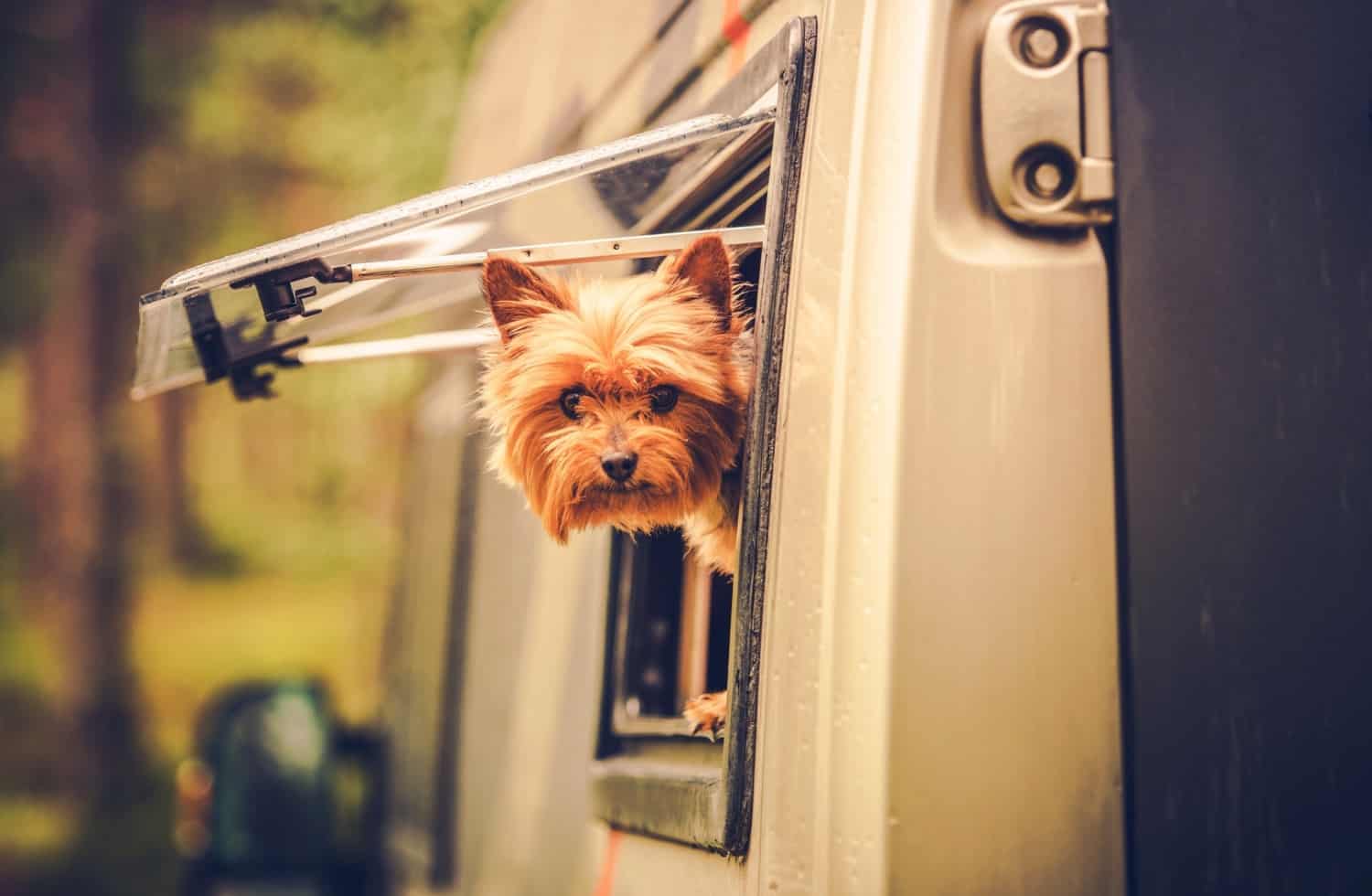 Still, renting an RV could save you money over staying in hotels. The RV allows you to keep snacks and beverages handy, and you can choose to prepare most of your own meals. Plus, many campgrounds have pools, nearby hiking, and other forms of entertainment that are included with your stay. Overall, RVing can be a very economical way to travel!
Is RVing Hard?
If you've never done it, RV travel (with or without pets) is a new experience. And most new experiences involve a learning curve. Each RV has different mechanical systems you'll need to understand, so be sure to get a thorough walk-through before taking off in your rental.
Some of the things you'll need to know are how to plug the RV into shore power, how to start the generator, where the water hose gets connected, and how to dump the tanks. It's a lot to absorb at once, so take notes or record your conversation. And if you do forget something, don't worry! RVers tend to be very friendly, and your campground neighbors will probably be happy to show a rookie the ropes.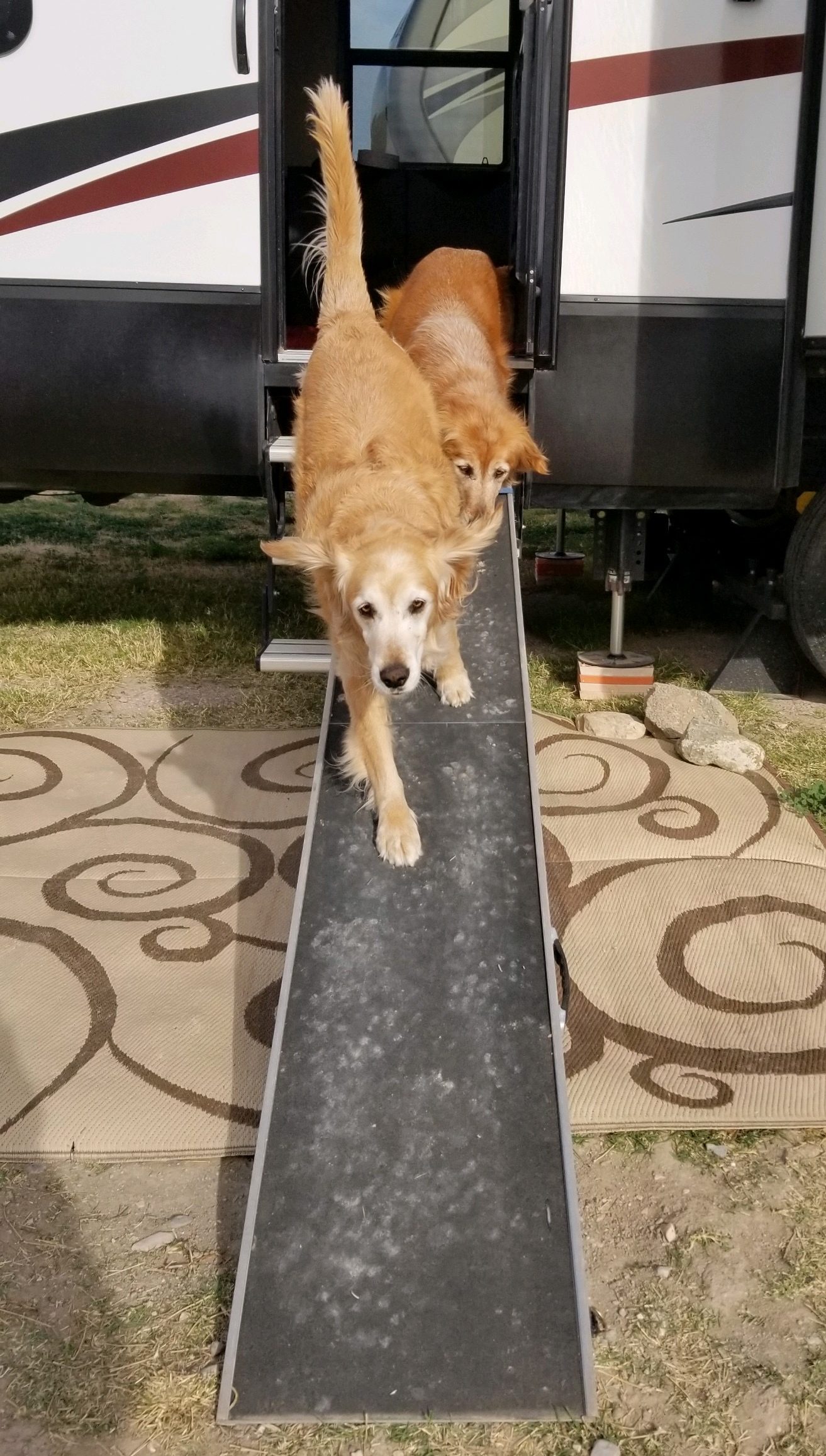 What If I Don't Want To Drive?
If you want to go RVing, but don't want to do the driving yourself, hiring a professional driver might be an option. There are several services that offer long-distance driver services. Doing a quick Google search for "professional drivers for hire" should give you plenty of options.

There's a whole country out there to explore, and we've had a blast seeing it with Myles in our Winnebago. So, what's stopping you from giving it a try?! If you're still feeling uncertain, check out our best tips for RVing with pets and you'll see there's really nothing to it!
(Visited 74,622 times, 1 visits today)