Road trips are a classic form of adventure. One of my favorite vacations growing up was our family road trip to Montana – probably because my yellow lab, Chica, was allowed to come along. Fast forward to the present and I'm seeking a vehicle for a road trip with my kids, Cool Whip and Hercules. After doing some research, I'm renting an adventure van with my pets!
Hopefully the following information will help you prepare for the best pet friendly ad-van-ture possible.

Renting an Adventure Van with Pets
A good road trip is about more than the destination, so you need the appropriate vehicle for your journey. Campervans are a great alternative if you're not up for tent camping and and can do without the bells and whistles of a full-blown RV.
Most campervans are bigger than your average vehicle. While offering space for gear and room to sleep, they're still maneuverable and easy to park. And the bonus? Many rental companies seem to understand that a family vacation means taking your pets along, so there are several pet friendly options!
READ MORE ⇒  Pet Friendly RV Rental Companies
Policies and Fees
Verify and clarify! As with any rental, each company has different policies and fees. Call to verify any information you find online and clarify the rules regarding your furry companion.  The company I rented from had no restrictions on size or breed, but pets were not allowed during July, August, and September. While this seasonal restriction is meant to protect pets from hot vehicles, it could alter plans if you're traveling during summer vacation.
Questions for your campervan rental company:

Are pets allowed in the van?
Are there fees associated with bringing along a pet?
Is there a pet weight limit or a breed restriction?
How many pets are allowed in the van?
Are there any additional rules associated with pets?
Safety During Travel
So, you've asked the questions and found a van that will accommodate your pet, but where will your pet sit?
Many campervans have a back seat that converts to a bed, so your pets may be able to ride just like they do in your regular vehicle. There are seat belts available to use with safety harnesses, and there is space on the floor where most kennels would fit. When in doubt, ask the rental company – they may have additional suggestions.
READ MORE ⇒  The Ultimate Pet Friendly American Road Trip
Our adventure van, Hawaii, was fantastic, but the back seat was a little narrow for CW and Herc to share. Luckily, the seatbelts were accessible in the bed configuration, so I was able to keep the dogs secure without worrying that they'd slip off the seat.
Also, if your dog has a valid driver's license and can reach the pedals, the driver's seat is a potential option. Just kidding — Herc likes to scout for squirrels while CW and I nap!
What to Bring
Pack what you'd normally take for a trip with your pets: food, water, bowls, leashes, harnesses, treats, and toys. Then add in any additional weather or terrain requirements: warm layers, raincoats, paw protection, outdoor beds, and towels for dirty paws.
READ MORE ⇒  Complete Guide To Planning The Perfect Pet Friendly Vacation
Pack plenty of cleaning supplies: paper towels, cleaning wipes, fabric freshener, etc. It's Murphy's Law that if your dog gets sick in the vehicle it will be when you're in the middle of nowhere with no access to running water or a washing machine. Trust me on this one! And pick up some dry shampoo for pets. No one wants to be stuck with a smelly dog, especially in a small space.
Finally, the outdoor beds and a yoga mat were some of my most useful items. A small space can get dirty quickly, so clean dogs means a clean(er) van! The dog beds provided comfy seating to supervising my cooking, and the yoga mat made a handy doormat to wipe paws and keep dirt out of the van. Yoga mats are easy to clean and roll up nicely for storage. Plus they're super-helpful for finding your zen after any less-than-stellar moments.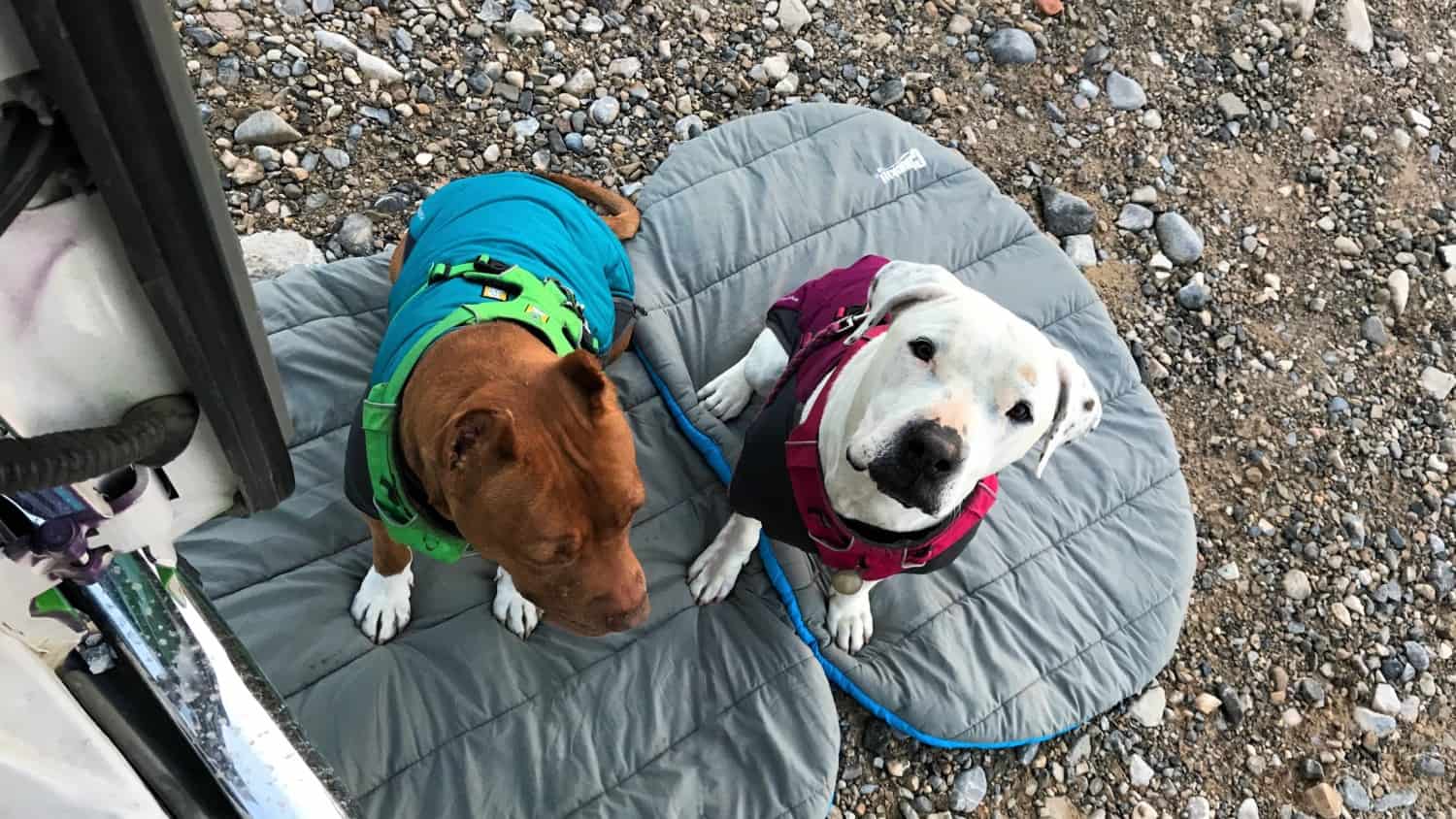 Tips and Tricks
Review the list of gear that comes with your van rental before you start packing. Some things you normally take may already be included. This van came with camp chairs, bedding (fitted sheet, comforter, and 2 pillows), and basic kitchenware (propane stove, 2 pots, 1 pan, 3 dining sets, and several other miscellaneous utensils). I brought another pillow and a few blankets so CW and Herc had familiar items to calm them at bedtime.
Storage is where you'll want to get creative. Plastic storage containers are great for keeping gear secure, organized, and easy to move around. In the evening you can easily shift the containers to the front seats for more sleeping space. I like 15-quart sized containers; they hold a decent amount without getting too bulky. Our van had two built-in storage boxes, space underneath the bed, and a shelving unit in the kitchen area for stowing gear.
At meal time, always be on the lookout for food thieves lurking in the background. They'll patiently wait for you to forget about that plate of pancakes on the counter!
With those tips, we hope you're renting an adventure van and making your own pawsome memories!
EXPERIENCE MORE TOGETHER
Amazon Affiliate Disclosure: GoPetFriendly.com LLC is a participant in the Amazon Services LLC Associates Program, an affiliate advertising program designed to provide a means for website owners to earn advertising fees by advertising and linking to amazon.com, audible.com, and any other website that may be affiliated with Amazon Service LLC Associates Program. As an Amazon Associate, the owner of this site earns a commission from qualifying purchases.
(Visited 7,822 times, 1 visits today)