You've been dreaming about it forever, and it's finally happening … you're planning a pet friendly road trip! You can almost feel the wind in your hair (or fur). And just imagining all the new sights and scents along the way gives you goosebumps.
It's going to be fantastic! But it will take a little preparation to make sure your pet friendly vacation comes off without a hitch. With our guide, it's easy to plan a trip you'll never forget.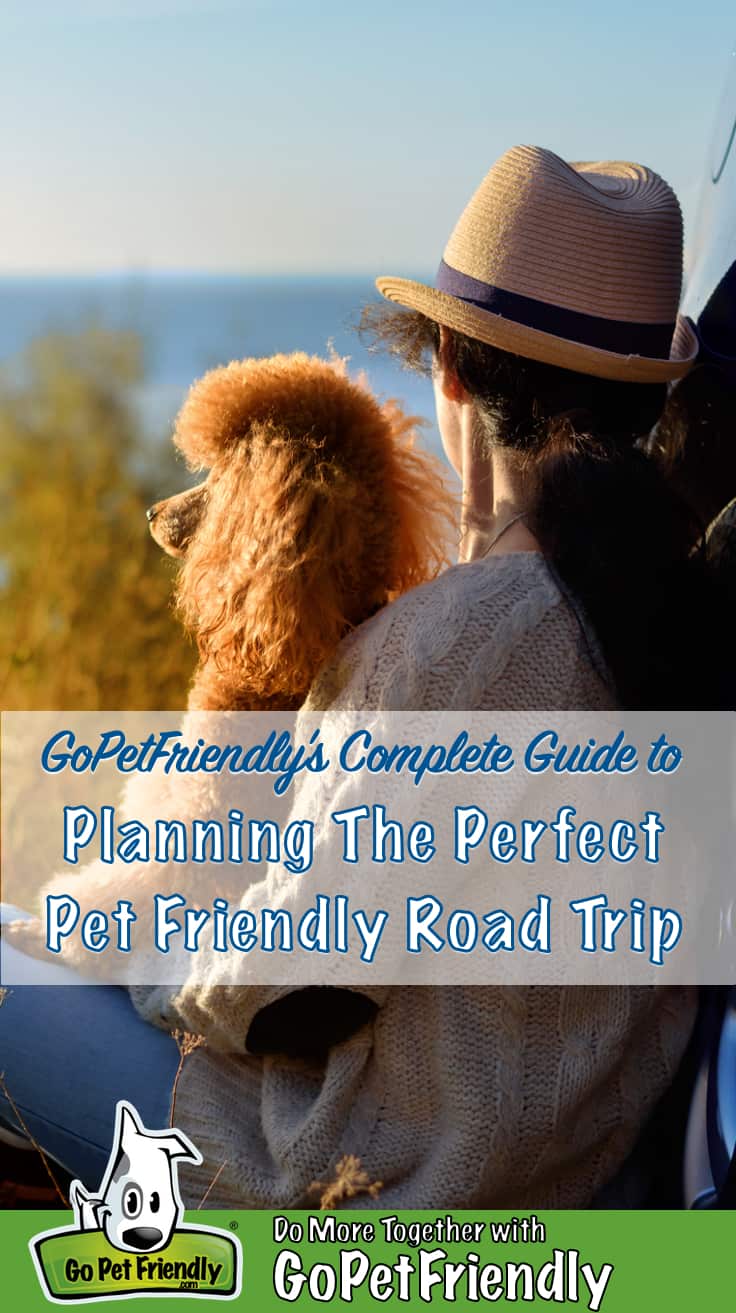 Guide To Planning A Pet Friendly Road Tip
To help avoid issues during your trip, it's best to take care of some tasks before you hit the road.
Prepare Your Vehicle
In addition to making sure your car is tuned-up, you'll need to get it "pet ready." Coming home together safely is the most important part of any trip, so be sure you have a way of securing your pet while you're traveling.
A crate, carrier, or car harness will prevent your pet from making an unannounced visit to check the view from your lap while you're driving, and will protect him from injury in case of an accident. If you're using a crate or carrier, be sure it's attached to the floor or seat  so it doesn't become a projectile in an accident. Also remember to deactivate the airbag for any seat your pet will be occupying.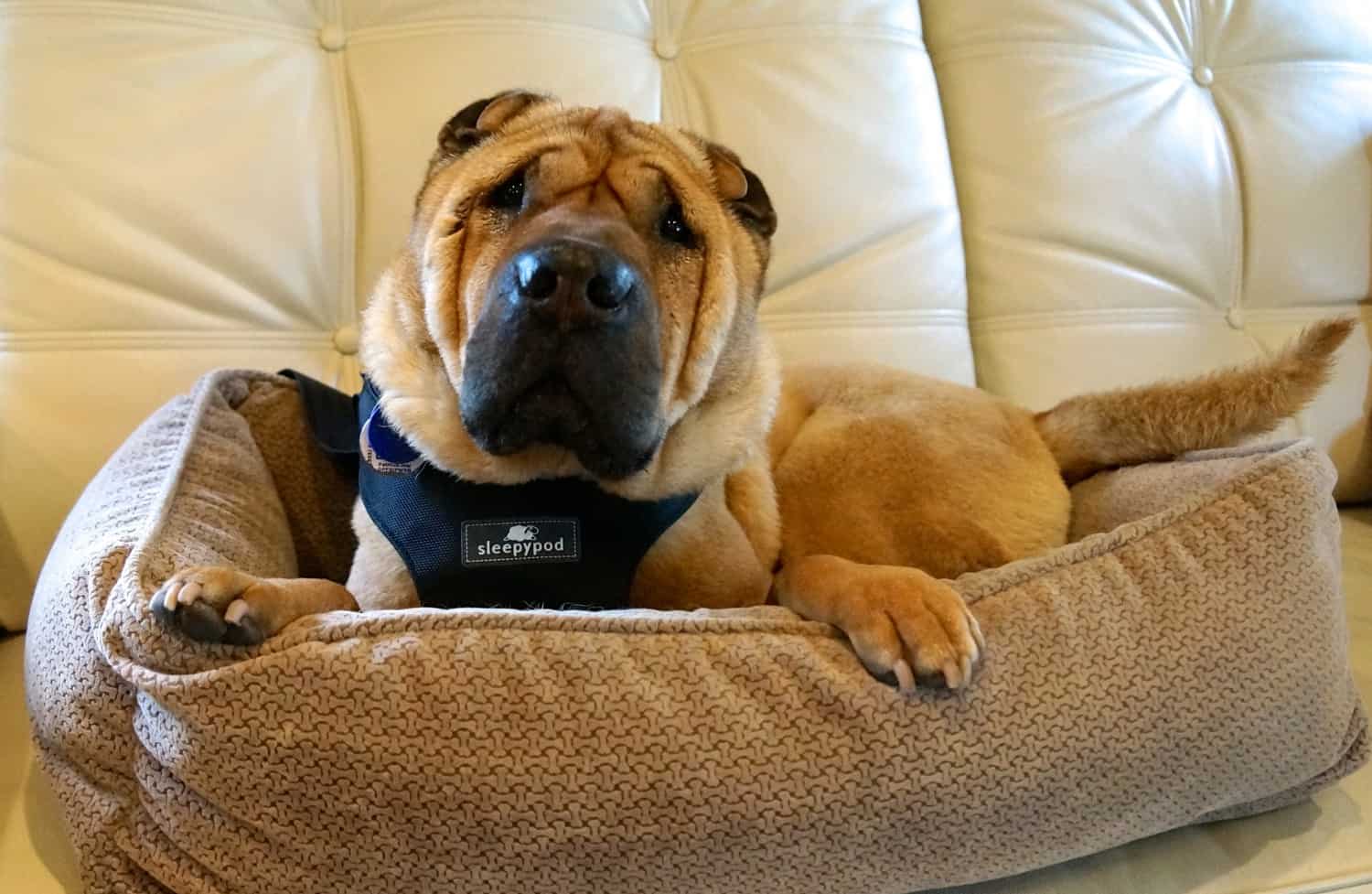 If your pet isn't used to buckling up in the car, the sooner you get him used to the idea, the better! Start by allowing him to explore his new carrier or crate, or wear harness, in the house. As he gets more comfortable, take him for short drives to fun places. Take it slow, and before you know it, he'll be road trip ready.
Talk To Your Vet
Before you leave, call your vet to confirm that your pet's vaccinations are up to date and discuss any possible health concerns that might exist where you'll be traveling. Also ask about possible remedies for car sickness, diarrhea and restlessness – just in case!
READ MORE ⇒ What To Do If Your Puppy Gets Motion Sickness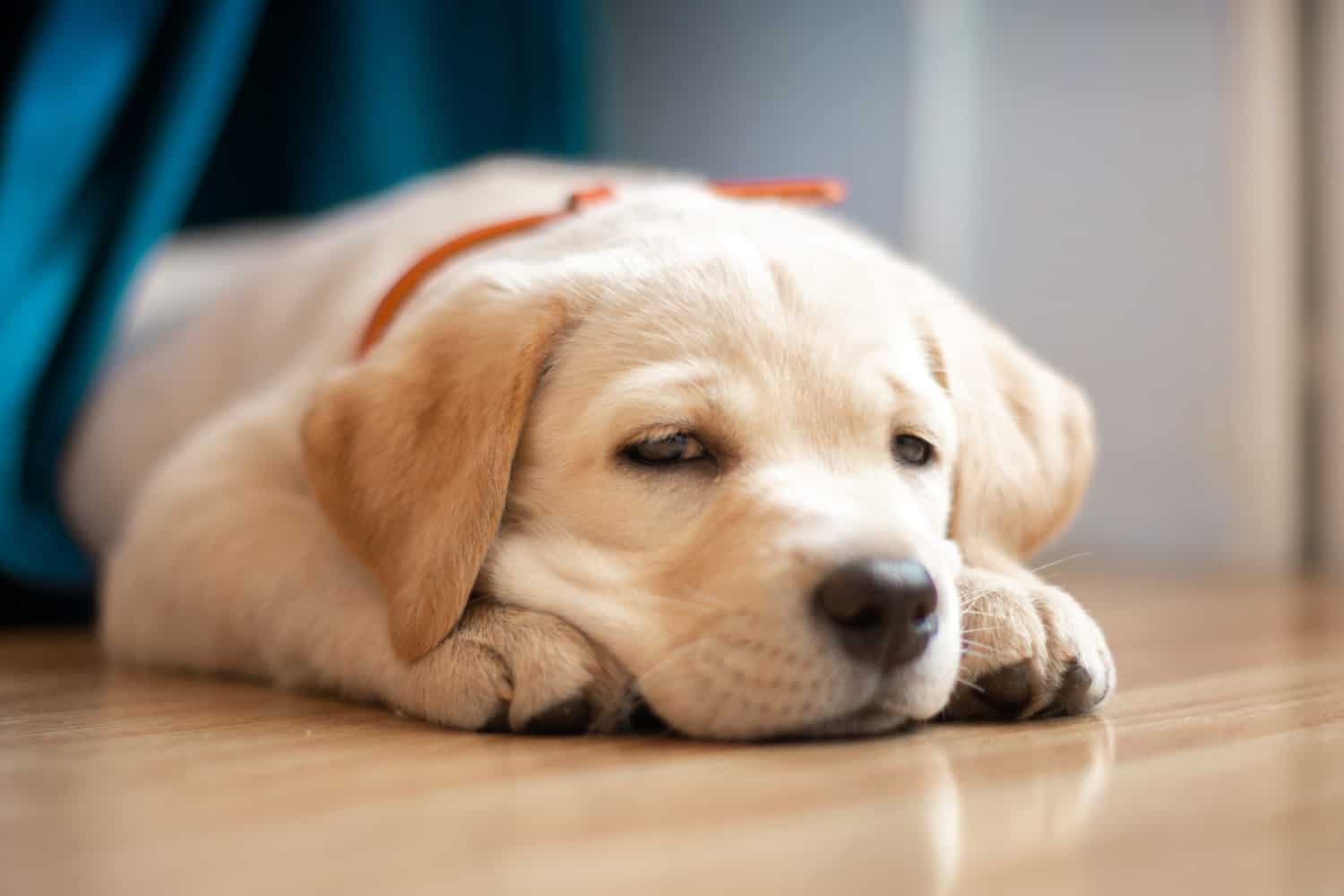 Finally, consider having your pet micro-chipped or update your contact information if your pet's already chipped. It would be a nightmare, but pets do become separated from their people while traveling. Shelters, animal hospitals, veterinary clinics and humane societies have scanners that read the chips, so they can quickly notify you of your pet's recovery.
Polish Your P's and Q's
You can avoid embarrassing and potentially dangerous situations by teaching your dog reliable Come, Heel, Quiet, and Settle commands. Practice is the key! Before you set out, test your progress somewhere with a lot of distractions, like an outdoor café, beach, or dog park.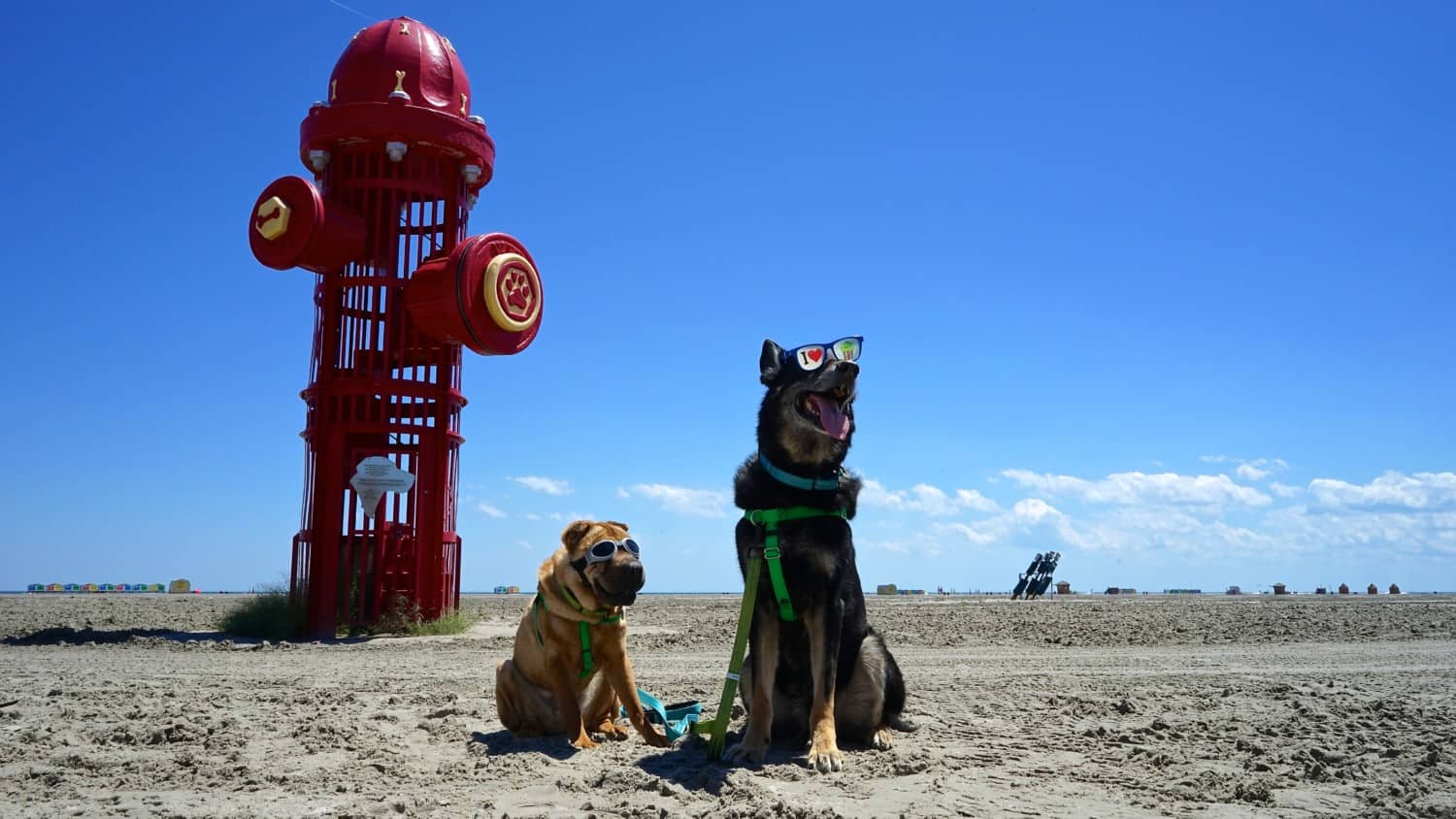 Gather the Gear
Pets need a lot of stuff when they go on vacation! Below is a checklist of things you'll want to take along.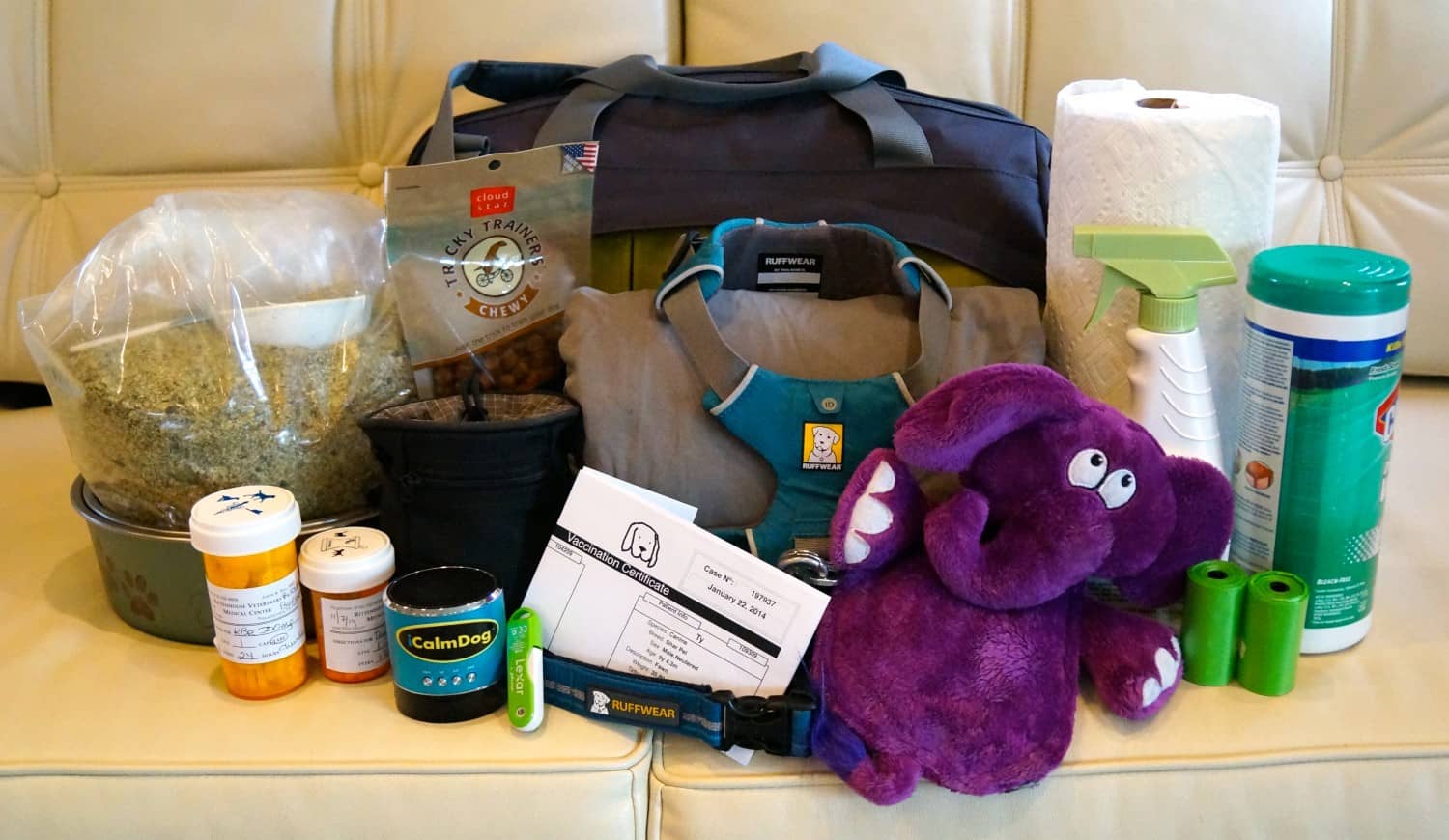 Food and Treats And, for canned food, don't forget the can opener!
All medications, vitamins, and supplements
Drinking Water – If your pet's stomach is easily upset, take along drinking water from home.
Food and Water Bowls
Your pet's bed and a couple of toys
Current Identification Tag – Include your cell phone number or other phone number where you can be reached while you are away.
Leash – Many places require your pet be on a leash no longer than six feet.
Waste bags
Litter box and litter for cats
A roll of paper towels for muddy paws and other messes
An old towel in case of rain or after swimming
First aid kit
Proof of vaccinations
Medical records – Scan the documents to a USB drive and you'll have them in case your pet gets sick or injured.
Photo of your pet – In case you get separated, have a current photo handy so you can create posters quickly.
All this advance preparation takes some time, but it's the secret to planning a pet friendly road trip that's enjoyable for everyone. With the groundwork done, it's time for the fun part … choosing your route and deciding what to see!
Choosing The Route For Your Road Trip
Less is More
Start poking around and you'll find that there are thousands of pet friendly destinations that would be fun to visit with your pet. From national parks to mountain getaways to exploring a new city – the possibilities are almost endless! It's tempting to jam-pack your itinerary with all of the pet friendly stops you'll find along the way. But remember to leave time to stop and sniff the roses!
READ MORE ⇒  The Ultimate Pet Friendly American Road Trip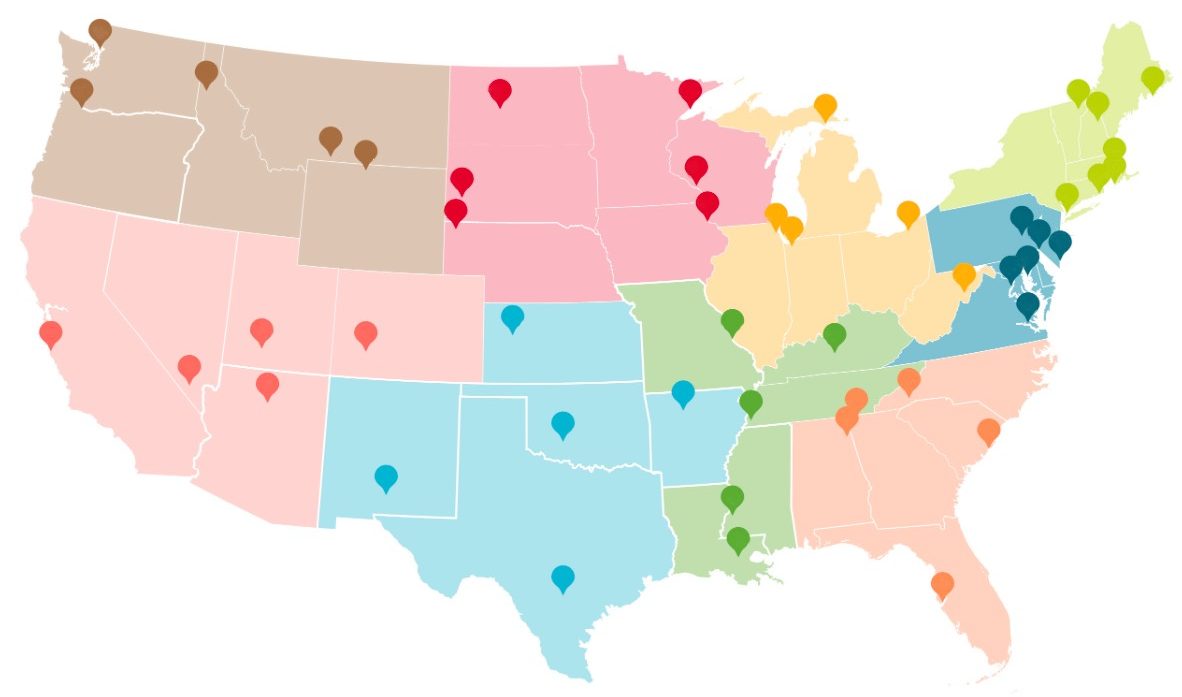 How Far Can We Go?
When planning your route, it's important to keep your pet's comfort in mind. That means you probably won't cover as many miles as you could if you were on your own.
Whether they show it or not, some pets feel anxious when they're away from home. You can help relieve that stress by sticking to your pet's normal feeding and exercise schedule. Set an alarm to remind you when meal time is approaching, and plan time each day to let your dog stretch, run, and burn off some energy. Isn't that what being on vacation is all about, after all?!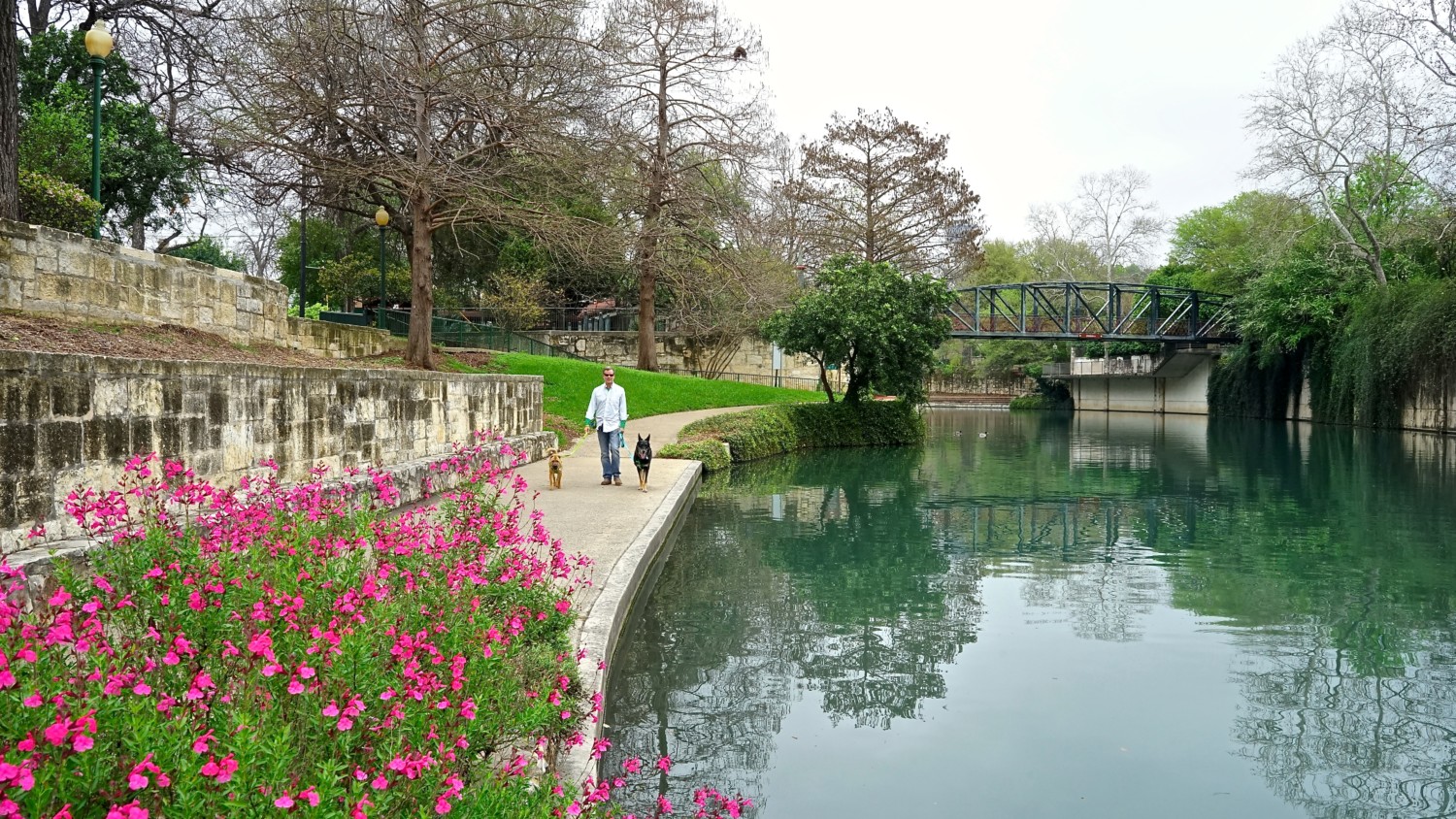 If you set aside time for a nice walk before you hop in the car and another stroll at the end of the day, you'll have less time behind the wheel. But experiencing the places you stay with your pet is part of the fun of a pet friendly road trip!
Making more frequent stops is also part of traveling with your pet. Figure on taking a break from driving every two hours or so to let your pup stretch his legs, sniff what's new, and get a drink of water.
To make your trip more exciting, use our pet friendly trip planner to locate dog parks, roadside attractions, or a place to have lunch along the way!
Booking a Place to Stay
Reserving a pet friendly hotel can be a tricky proposition. While more and more locations welcome pets, the degree of enthusiasm with which your cat or dog will be received ranges from "barely pet tolerant" to "over-the-top accommodating." The following questions will help you narrow down the best places to stay:
Does the hotel accept pets? 
Hotel pet polices change quickly, so it's important to verify that the property you're considering still welcomes pets.
Are there any weight or breed restrictions?
It's common for hotels to impose weight restrictions. If you've found a hotel that's a perfect in every way – except that your pup is a little too big – ask if they'll make an exception. Most hotels have a little wiggle room in their size limitations and will try to accommodate you when asked.
How many pets are allowed per room?

 
When you travel with multiple pets, this is an important consideration.
Will you be charged additional pet fees?

 
This is where a hotel's true pet friendly colors will show. Some hotel chains welcome pets to stay for free, while others heap on additional charges that can add up to more than the nightly room rate!
Be sure you have a clear understanding of the cost before booking your reservation. Determine whether the fee is per night or for the entire stay, and whether it's per pet or fixed regardless of the number of pets. Also ask if any portion of the fee is refundable if the room isn't damaged during your stay.
READ MORE ⇒ Hotel Chains Where Pet Stay Free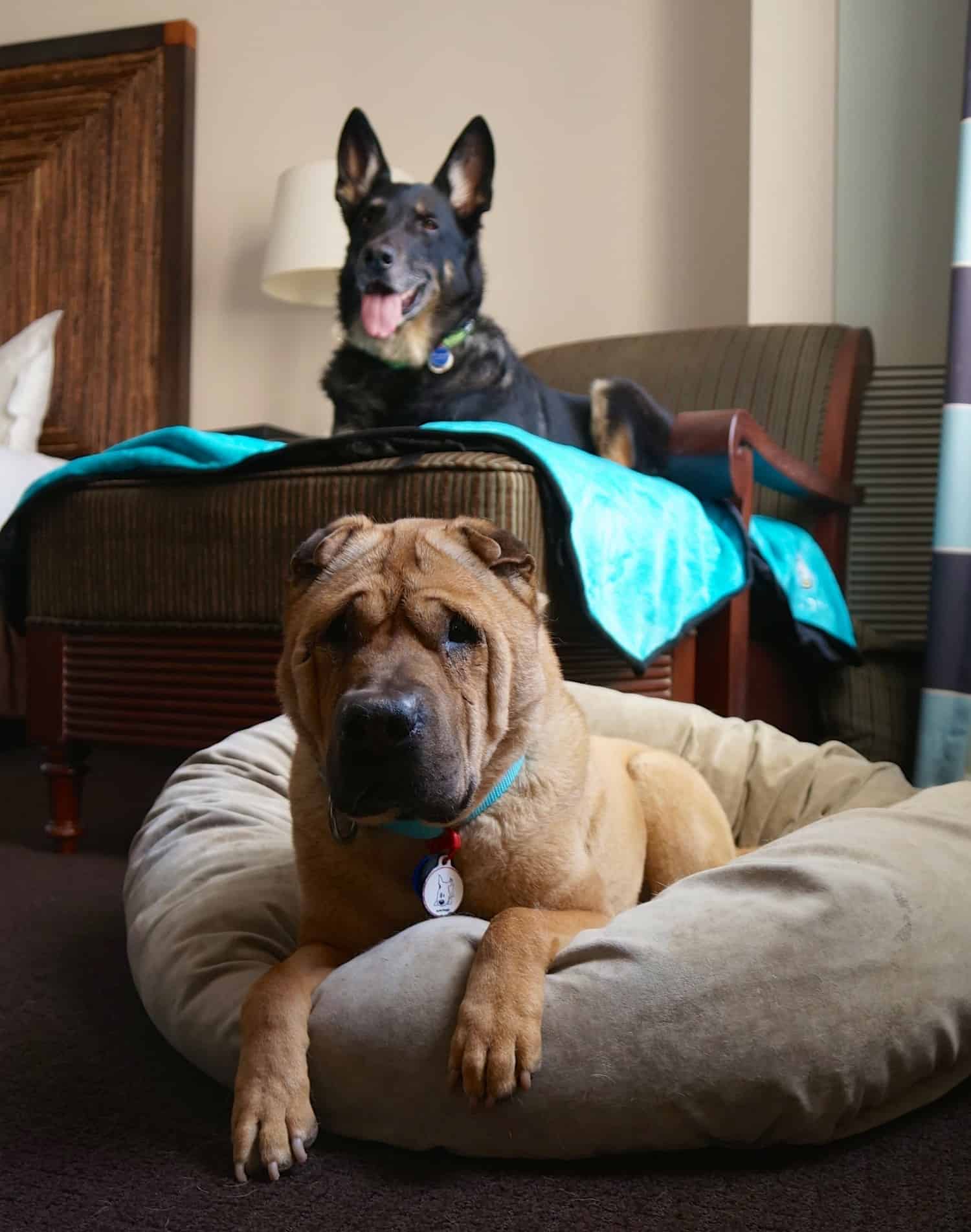 What amenities does the hotel offer?

 
The most important amenity is always a convenient, grassy pet relief area. But some hotels also provide treats at check-in, pet beds and bowls in the room, doggy room service menus, spa treatments, and pet sitting services. It's always nice when your hotel has a restaurant with a pet friendly patio. Some hotels even host a "yappy hour" in the lobby each evening! Deciding how much to pamper your pet is entirely up to you.
Can pets be left unattended in the room?

 
Determining up front whether the hotel allows you to leave your pet alone in the room while you step out for something to eat or to run an errand helps you plan appropriately. Hotels are primarily concerned with two things when pets are left unattended: damage to the room, and barking that disturbs other guests. To alleviate those concerns, some hotels require crates for pets when you're away. And following our tips for a quiet stay will help ease any worries about barking.
Are some areas of the hotel off limits to pets?

 
Pets are generally not allowed in breakfast areas, restaurants, pools, and fitness rooms. As up front to be sure you can live with the restrictions.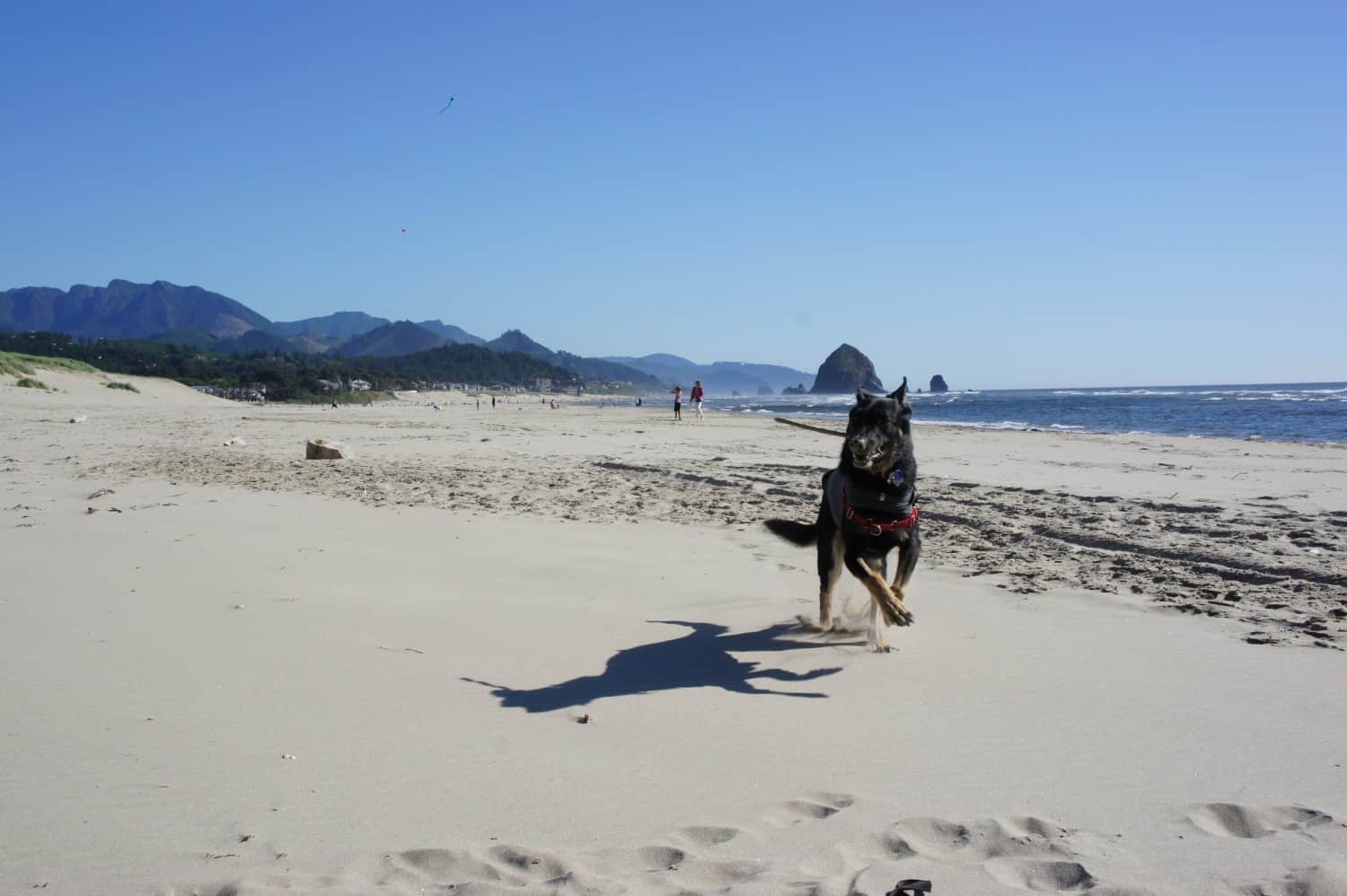 Be Considerate
When you travel with your pet, you are an ambassador for all pet travelers – so make a good impression! Abide by the rules of the places you visit, always keeping your pet on-leash and cleaning up after him. Inconsiderate behavior can have unfortunate repercussions on future pet travelers and local pet owners.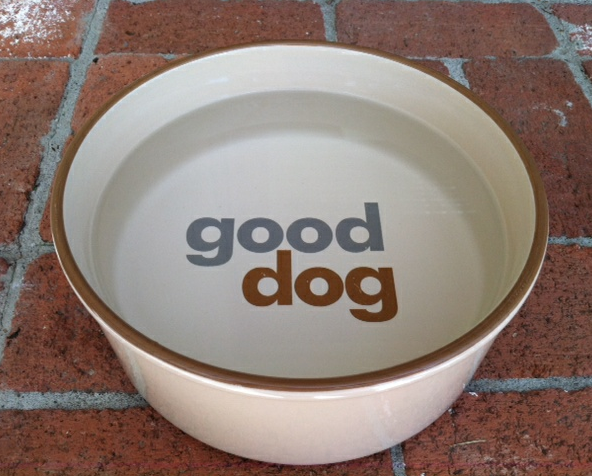 Roll With It
Despite your best efforts planning a pet friendly road trip, things will sometimes go a little sideways. When they do, you can choose to let it ruin your day, or see it as a new adventure. Pets are great teachers in that they're never attached to the outcome … where you end up, how many places you see along the way … it's all irrelevant to your pet. He just wants to be with you and have fun. If you can embrace that mindset, you'll see every detour as an opportunity, and you and your pet will grow closer for the experience.
With these tips in hand, planning your pet friendly road trip will be a breeze! And, most importantly, you'll be making memories with your best friend that will last a lifetime.
Waggin' trails!
(Visited 24,349 times, 1 visits today)