Planning a trip on Historic Route 66? Before taking off, be sure to mark these 17 pet friendly stops on your map! Plus, check out the historic motels along the route where pets are welcome.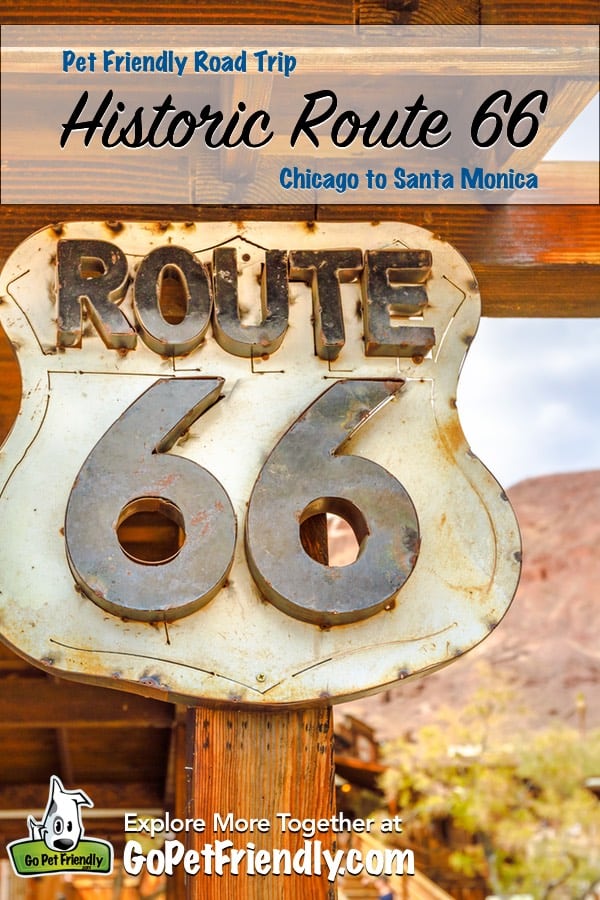 A Pet Friendly Road Trip On Route 66
Established in 1926, Route 66 was one of the original US highways, and its allure survives today. Also known as the Mother Road, the Main Street of America, and the Will Rogers Highway, Route 66 was far more than a paved track across the country. People saw it as a path out of hardship – a way to reach the better lives in the west. And, as it's popularity grew, it supported the economies of the communities it passed through.
US Route 66 went through many realignments and improvements over the years. But in 1985, it was replaced by the Interstate Highway System and removed as a US highway. Since then, portions of the road have been designated a National Scenic Byway. And several states have incorporated significant sections into their state highways systems as State Route 66.
There are many resources for traveling Route 66, listing all the historic attractions along the way. This article supplements those guides, specifically highlighting pet friendly sights that will delight your furry travel buddy!

Pet Friendly Stops Along Route 66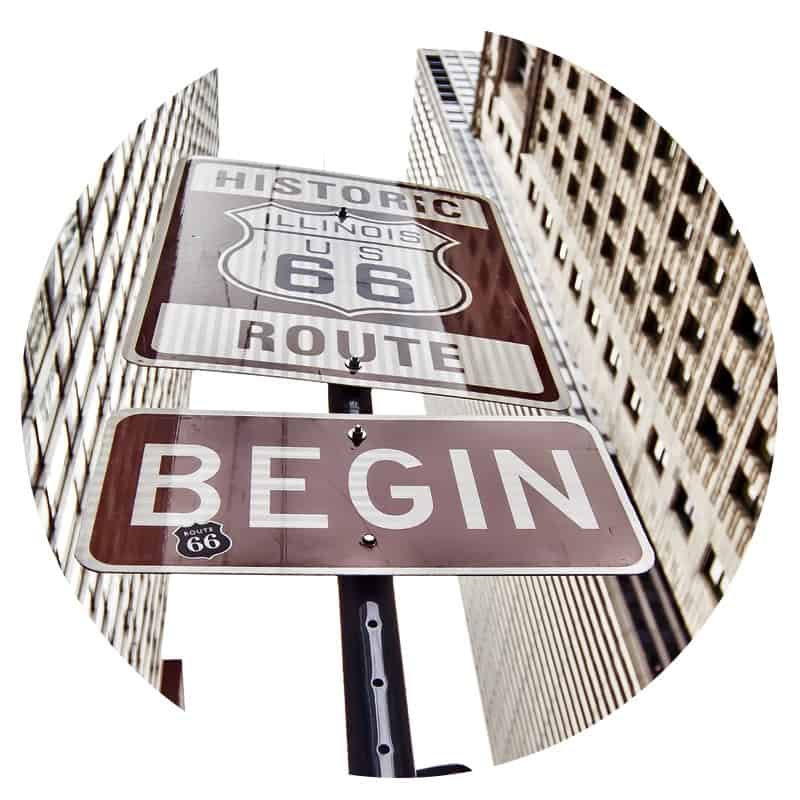 Every journey begins at the beginning, so the first stop on our Route 66 road trip is the "Begin Route 66" sign in Chicago.
Located at Michigan Avenue and East Adams Street, snap a picture of the sign. Then walk toward Lake Michigan on Jackson Avenue to the actual eastern-most point of Route 66.
From there, you're just steps away from Chicago's spectacular Lakefront Trail. With a 2,300-mile road trip in front of you, stretch your legs while you can! The trail runs for 18 miles, but Navy Pier is just 1.5 miles north. Here you'll find pet friendly boat tours, water taxis, and restaurant patios where your pup is welcome to join you.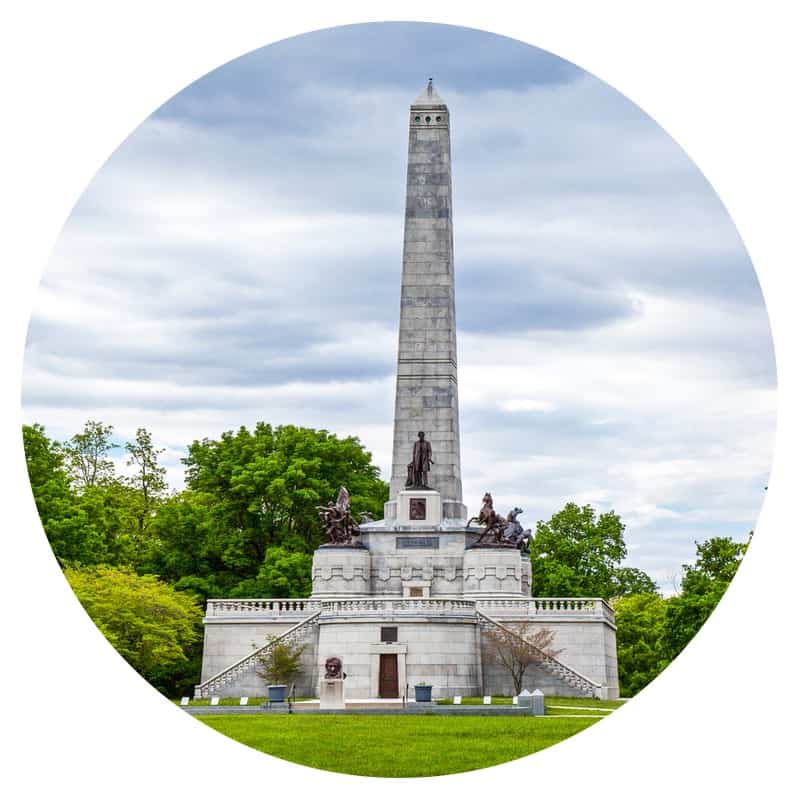 The Lincoln Tomb is the final resting place of the 16th President of the United States, Abraham Lincoln, his wife, Mary Todd Lincoln, and three of their four sons. It is located in Oak Ridge Cemetery – the most visited cemetery in the country after Arlington National Cemetery in Washington, DC.
Pets aren't allowed inside the tomb, so stick your head in the doorway to admire the rotunda. Marble is used throughout the interior and several statues of Lincoln are displayed.
Outside, you'll find four flights of stairs leading to the terrace. Climb up to admire the view and the statues standing at the base of the 117-foot obelisk. Constructed of granite, the monument is truly something to behold.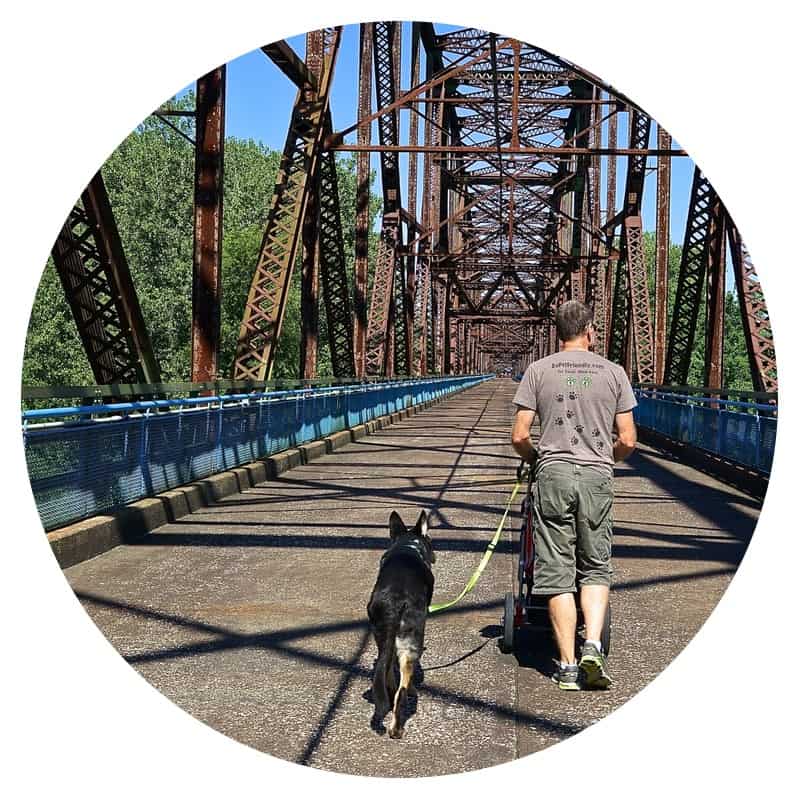 Originally opened in 1929, the mile-long Chain of Rocks Bridge was a significant landmark for travelers of Route 66. It's most surprising feature is the 22-degree turn midway across the span. However, that wasn't the original plan.
The bridge was designed to run straight across the river. But before construction began, it was discovered that the western end of the planned location lacked sufficient bedrock to support the weight of the piers. So, the bridge had to turn.
Chain of Rocks Bridge was closed to motor traffic in 1968. It now connects more than 300 miles of pedestrian walkways and bikeways on both sides of the river. You and your pup will have plenty to explore! The easiest access point is a parking area on Chouteau Island, where you'll also find plaques about Route 66.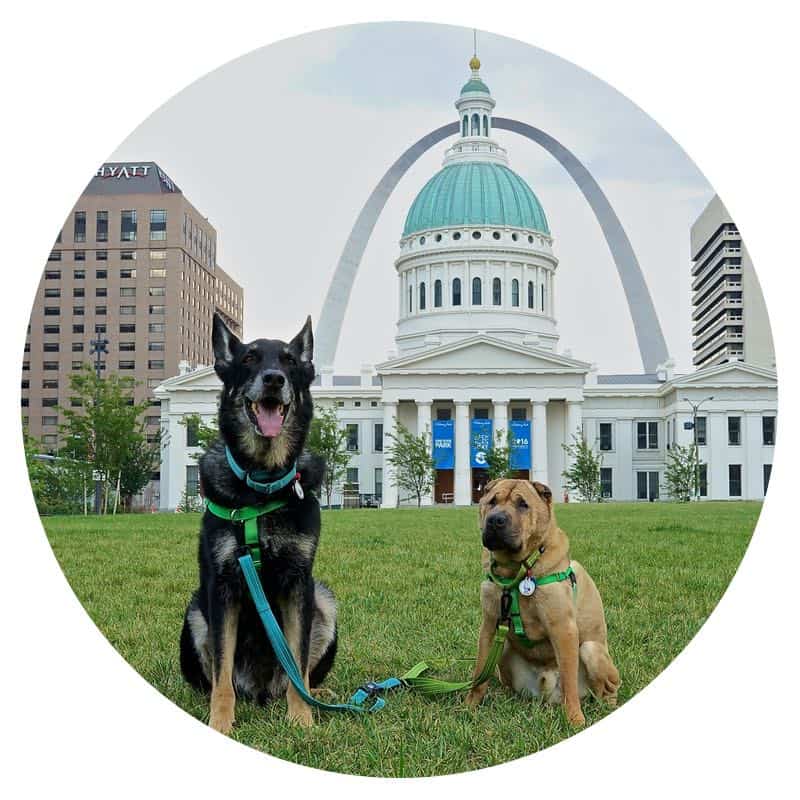 The Gateway Arch towers over the Mississippi Riverfront in downtown St. Louis – a symbol of the role this city played as the American frontier expanded westward.
From the beautiful (and pet friendly) Citygarden, past the Old Courthouse, and down to the riverfront, you'll find plenty to enjoy during your visit. While pets aren't allowed inside the Arch, the extensive park grounds offer many lovely places to relax. Find a bench and wait in the shade while part of your party takes the tram to the top.
Gateway Arch Riverboats welcomes pets aboard their one-hour tours. On the waterfront, snap a selfie at the sculpture of pet travel pioneers, Lewis and Clark, with their Newfoundland, Seaman. If hunger strikes, you'll find a nice selection of pet friendly restaurants at Laclede's Landing, a short walk from the Arch.
Wagon Wheel Motel – Cuba, Missouri

The Wagon Wheel Motel, Cafe and Station opened in 1936, and is easily identified by its landmark neon sign. Now the motel offers guests a glimpse into the past with original wood doors with glass knobs and hardwood floors. Pets are welcome in select rooms.
Best Western Rail Haven – Springfield, Missouri

The Best Western Route 66 Rail Haven has been welcoming guests along Route 66 for 75 years. Included on the National List of Historic Places, this refurbished historic motel is set on beautifully landscaped grounds and offers complimentary continental breakfast, outside pool, spa, and Route 66 Pavilion. Pets are welcome in select rooms.
The 66 Drive-In Theatre shows double-feature movies the whole family will enjoy! The drive-in is open most Friday, Saturday, and Sunday evenings from the first weekend of April through mid-September. Call or check their website to confirm films and show times.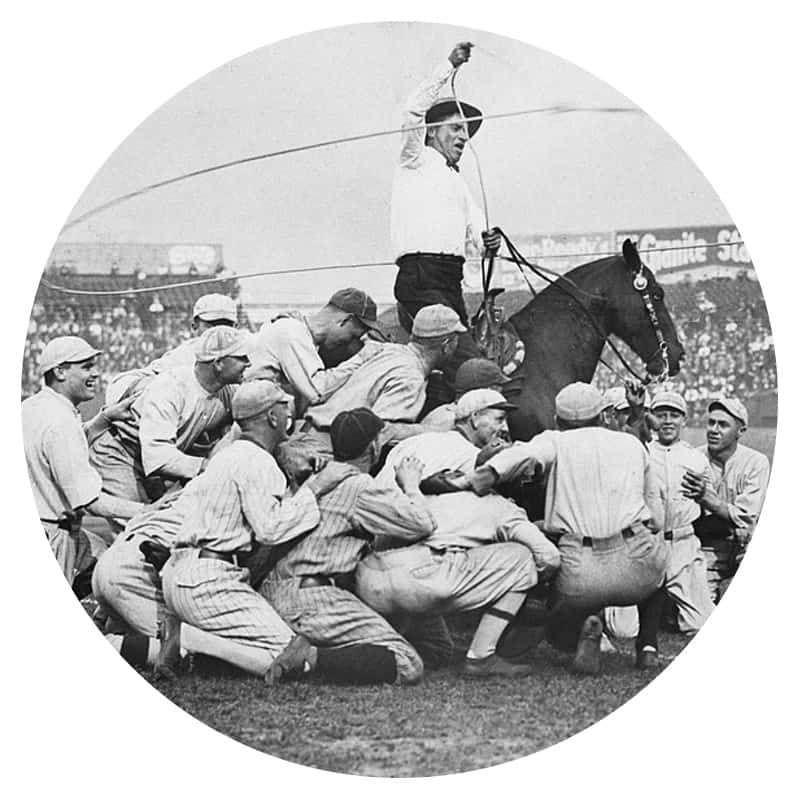 The Will Rogers Memorial Museum stands on land purchased in 1911 by beloved American celebrity, Will Rogers, as the planned site of his retirement home. The location was donated by his widow and children after his untimely death in a plane crash in 1935.
Opened in 1938, the museum houses the world's largest collection of Will Rogers memorabilia and his entire collection of writings. Over time it's become a world class museum with paintings, sculptures, movie posters, books, and other artifacts being added to the collection.
The museum frames the family tomb in the sunken garden overlooking the 20-acre grounds. Though pets aren't allowed inside, this is a lovely spot to stretch your legs or enjoy a picnic.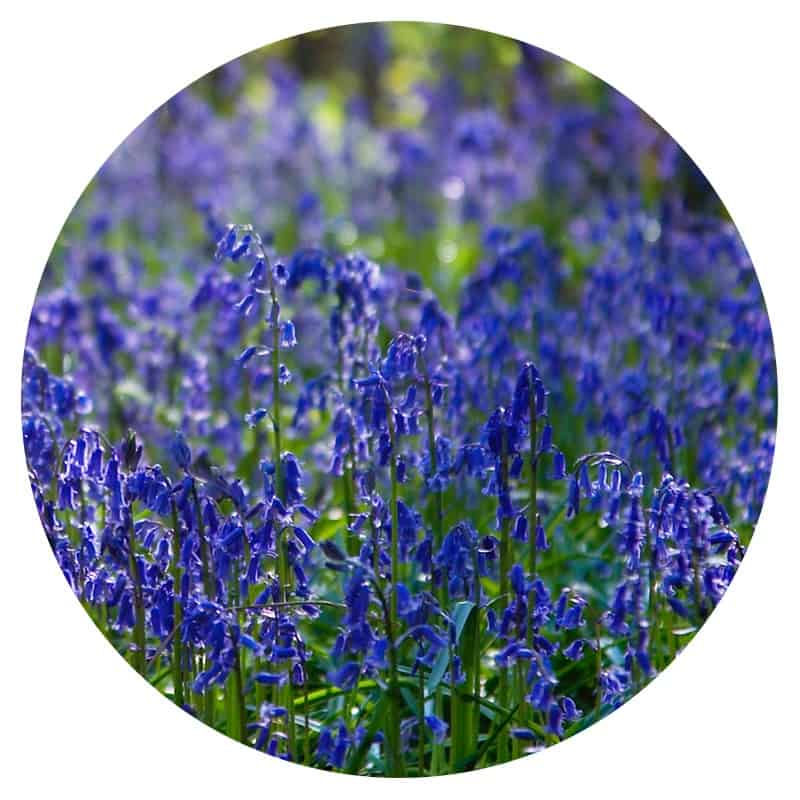 Designed to enhance the museum's collections, themed gardens cover 23 of the Gilcrease's 450 acres. Nestled in the Osage Hills, you and your pet are welcome to explore the Pre-Columbian, Pioneer, Colonial, Victorian, and Rock gardens. Each area reflects gardening styles and techniques common in the American West.
If you're ready for a bit of retail therapy after enjoying the gardens, head to Utica Square. Built in 1952, it was Tulsa's first urban shopping center and has an appealing village-like charm. Pets are welcome in the Dog Dish, which offers premium food treats, toys, bowls, collars, apparel, and more.
Utica Square is known for its great stores and restaurants, so plan to get a bite to eat!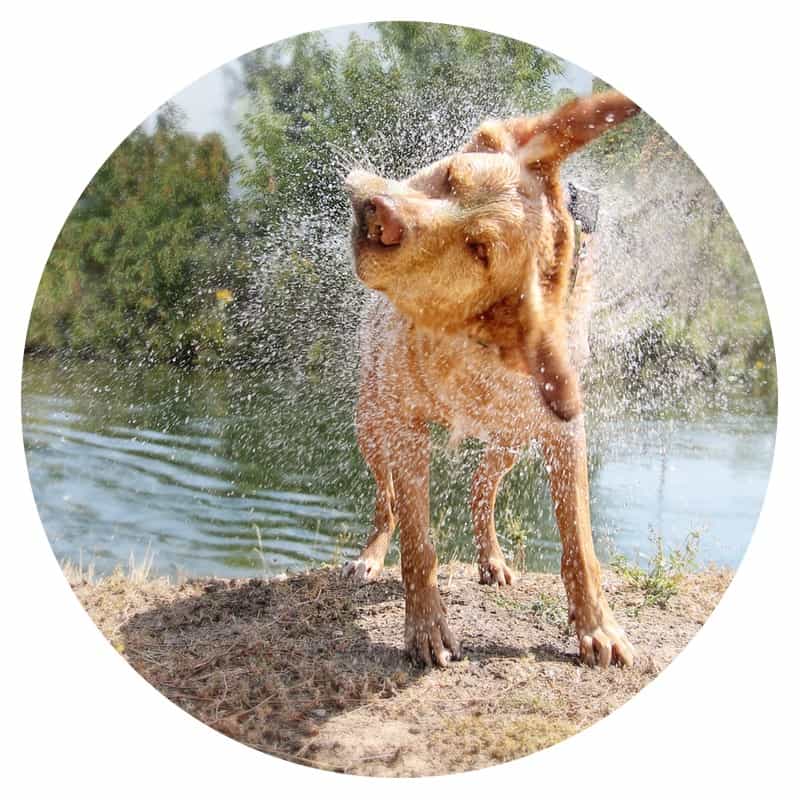 Take a break from the road and burn off some energy at the Oklahoma City PAW Park and Dog Beach. This two-acre, fenced dog park has separate areas for smaller and larger dogs. A pond borders the north end of the dog park and it's gravel beach gives dogs a large area for swimming and playing in the water. Be sure to pack an old towel to dry your pal off before he hops back in the car!
The PAW Park has water stations, lots of shade, and park benches. All the normal dog park rules apply, including up-to-date vaccinations and picking up after your dog. In addition, children under 10 are not allowed in the park, and children between 10 and 18 must be accompanied by an adult.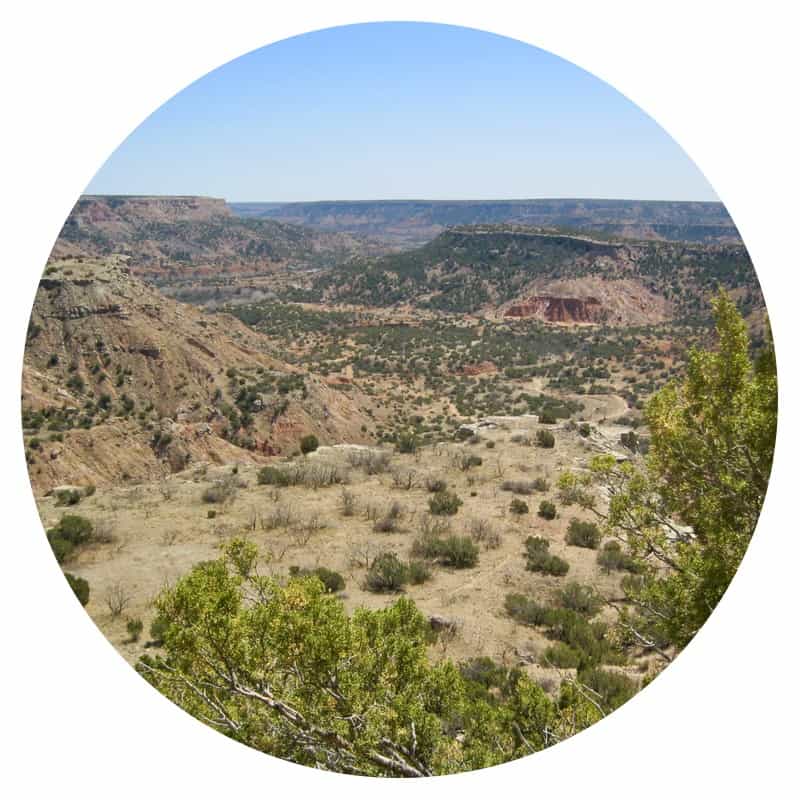 Just south of Amarillo, Texas, the Palo Duro Canyon stretches 120 miles across the Texas Panhandle. Carved by the innocuous Red River, it's the second largest canyon in the United States. And, with more than 30 miles of pet friendly hiking, biking, and equestrian trails, it's a great place to explore with your four-legged travel companion!
Palo Duro Canyon has been inhabited for more than 12,000 year, and its past is as colorful as its scenery. Rangers offer programs about birds, Longhorn cattle, and the park's natural features throughout the year. Check their Events page to make plans for your visit.
Before you leave Amarillo on Route 66, make a quick stop at Cadillac Ranch, a roadside attraction where 10 Caddies are buried nose-down in the ground.
Roadrunner Lodge Motel – Tucumcari, New Mexico

Roadrunner Lodge Motel was a lost piece of classic Americana before the owners moved to the property in 2014. Now you can experience a true 1960s vibe during your stay, including a radio station playing hits and commercials from that era. Pets are welcome, and there's a fenced off-leash dog park on the property.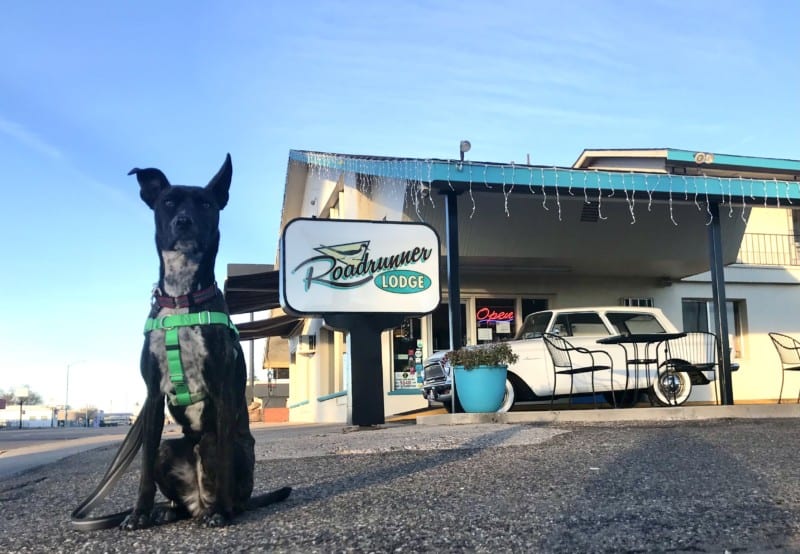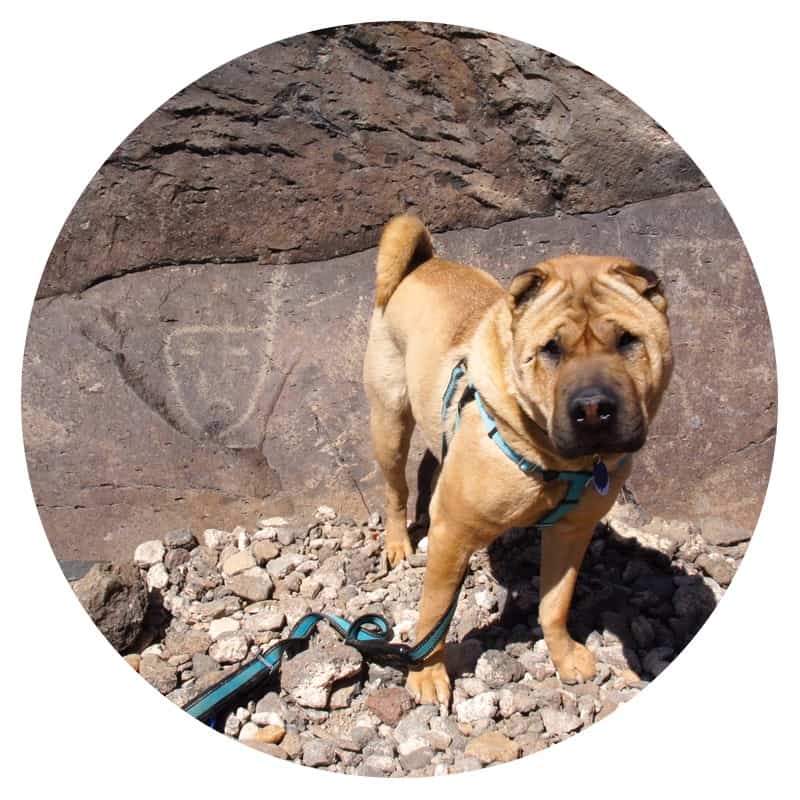 Step back in time at Petroglyph National Monument, one of the largest petroglyph sites in North America! Native Americans and Spanish explorers carved images into volcanic rock between 400 and 700 years ago. Now you and your pet are welcome to view their work along two of the parks trails.
The trails in Rinconda Canyon and Piedras Marcadas Canyon are both pet friendly and relatively short. But don't go unprepared! This is the high desert and you'll need good walking shoes and plenty of water. Also remember there are critters here that your pup might be curious about. Be sure to keep him safely on a leash no longer than six feet.
After your hike, head back into town for a stroll around Nob Hill. This retail and entertainment district offers several restaurants with pet friendly patios.
El Rancho Hotel – Gallup, New Mexico

The El Rancho Hotel was opened in 1936 along U.S. Route 66 by R.E. Griffith, brother of the famous movie director D.W. Griffith. Because of its proximity to striking western landscapes and the hotel's rustic elegance, El Rancho was the center of the movie industry in Gallup. Crews and stars on location used the large, rambling Rustic-style building to "rough it" in comfort. Pets are welcome in select rooms.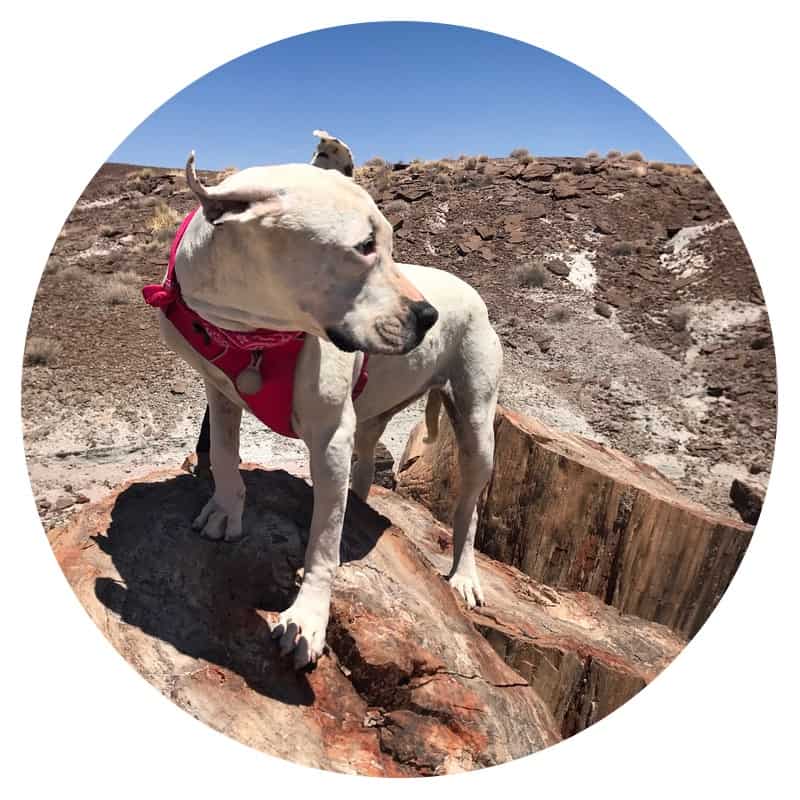 Don't let the name mislead you – you won't find a traditional forest at Petrified Forest National Park. About 225 million years ago, this area was a rainforest with dinosaurs, ferns, and giant trees. River sediment covered the trees when they fell and soaking up minerals from the groundwater caused the wood to crystallize into quartz in an array of colors. This process created the petrified wood you'll see throughout the park.
Visitor center/museums are located on both ends of the park, and pets that stop in can participate in the BARK Ranger program. Pets cannot go inside the buildings, but you're welcome to explore all the trails together!
For the classic experience, plan to drive the 28-mile road running through the park. Then stretch your legs on one of the seven hiking trails. The Long Logs and Giant Logs trails give you an up-close look as some of those old trees. And the Rim Trail at the north end of the park provides stunning views of the Painted Desert.
Wigwam Village Motel – Holbrook, Arizona

Seven Wigwam Villages were constructed between 1936 and the 1950s along Route 66. Finished in 1950, this village was the sixth, and still gives travelers along the Mother Road a chance to sleep in a wigwam. Of course, the Wigwam Village is composed of teepees – not wigwams. Fifteen teepees, each standing 28 feet high and 21 feet wide at the base, are arranged in a semi-circle around the main office. Pets are welcome.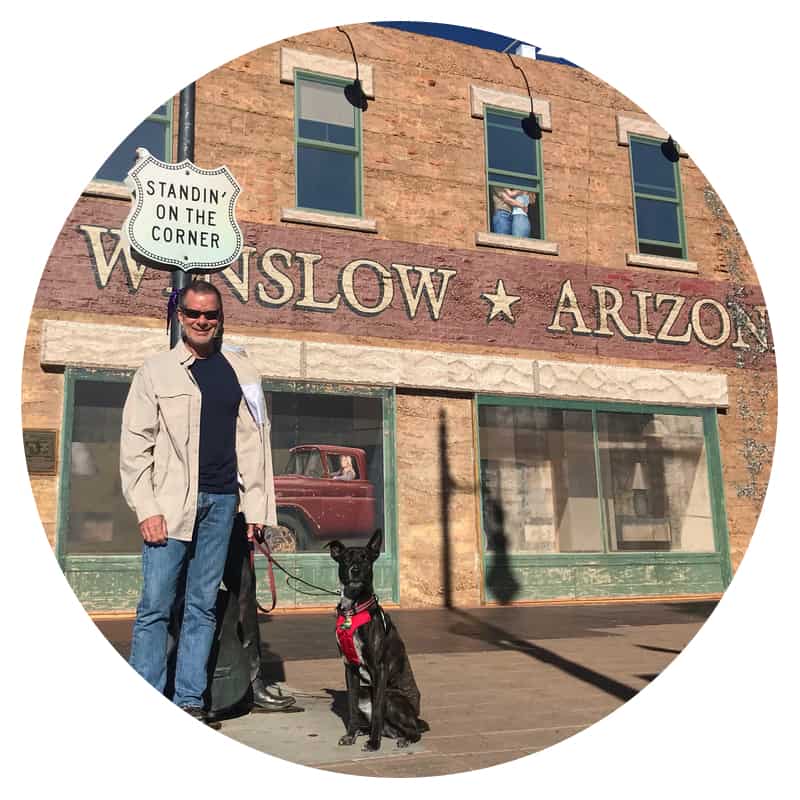 Get a photo of your best friend in Winslow, Arizona! Standin' on the Corner Park commemorates the song "Take It Easy," the Eagles first big hit, which was written by Jackson Browne and Glenn Frey and released in 1972. The song includes the verse "Well, I'm a standing on a corner in Winslow, Arizona and such a fine sight to see. It's a girl, my Lord, in a flatbed Ford slowin' down to take a look at me."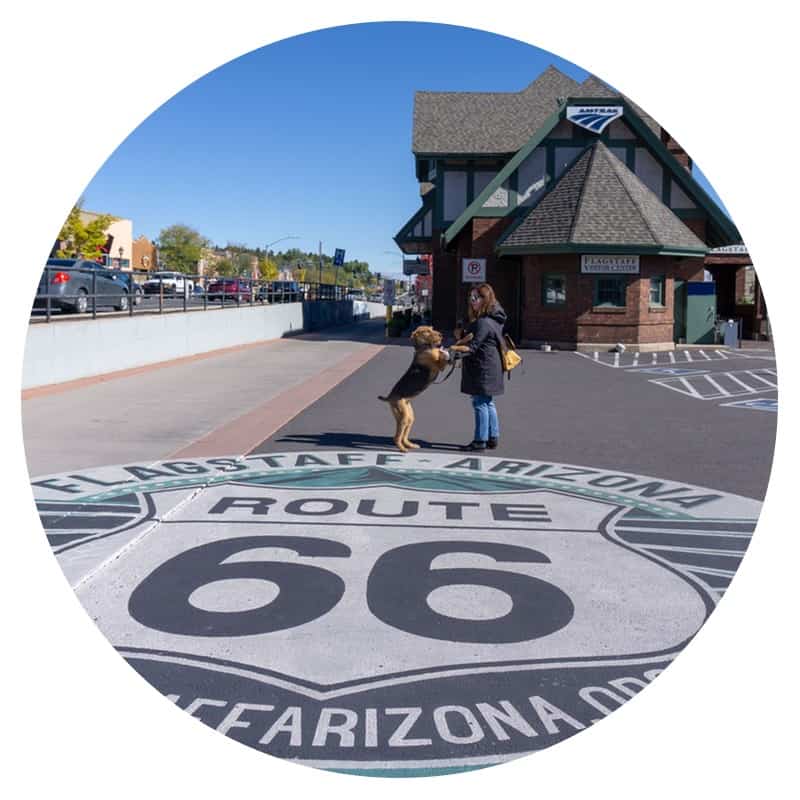 Flagstaff has so many pet friendly things to do, you could easily spend days exploring them all! Start at the visitor center, where pets are welcome, and pick up a free self-guided walking tour map of downtown. Choose from the public art tour, the Route 66 tour, and the "Haunted Flagstaff" tour – or enjoy all three!
Flagstaff boasts a couple nice dog parks where your pup can romp with the locals, and then plan to hit the brewery trail together. With a growing reputation as Arizona's craft brew city, five of the eight breweries also serve good food, and your pup is welcome at them all.
Before making your way back to historic Route 66 and continuing west, consider a side trip to the Grand Canyon. Just 80 miles north of Flagstaff, it would be a shame to be so close and miss one of the most pet friendly national parks!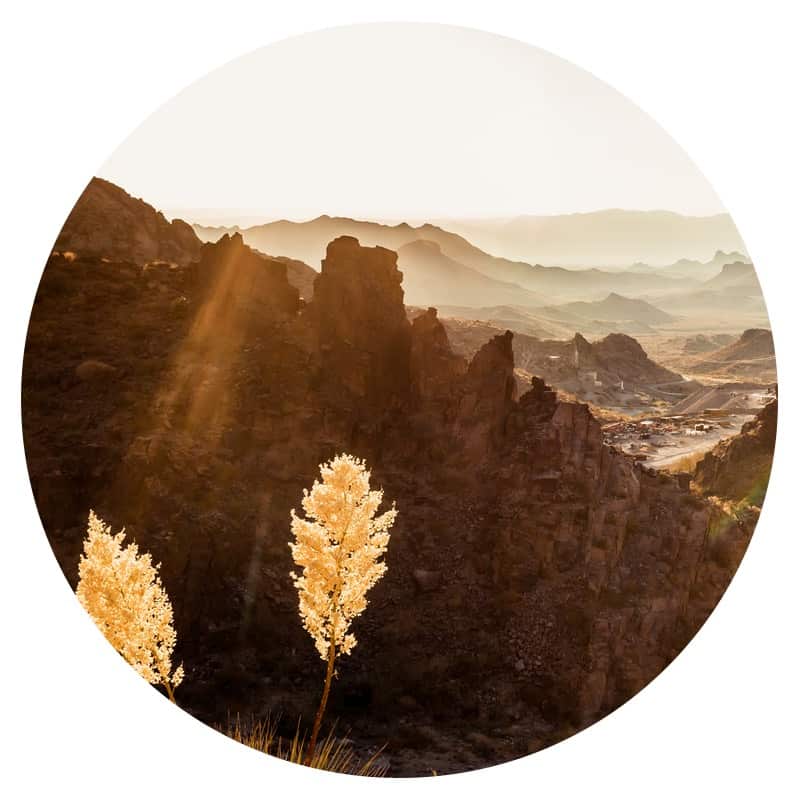 The Mojave National Preserve covers a vast 1.6 million acres of diverse desert terrain. From rose-colored sand dunes that are said to sing, to volcanic cinder cones and Joshua Tree forests, the landscape is rugged and beautiful.
For an opportunity to experience the Mojave, make your way to Hole-in-the-Wall Information Center where you can pick up trail maps and choose from nearby trails. From an easy walk on the nature trail, to an 8-mile one-way maze through washes decorated with barrel and cholla cacti, there are options for people of all abilities.
Pets on leashes no longer than six feet are welcome to explore the Mojave National Preserve with you. The only place pets aren't allowed is in the buildings. If you do take a hike, pack plenty of water for your and your pet, and keep him leashed at all times to protect him from harmful plants and wildlife.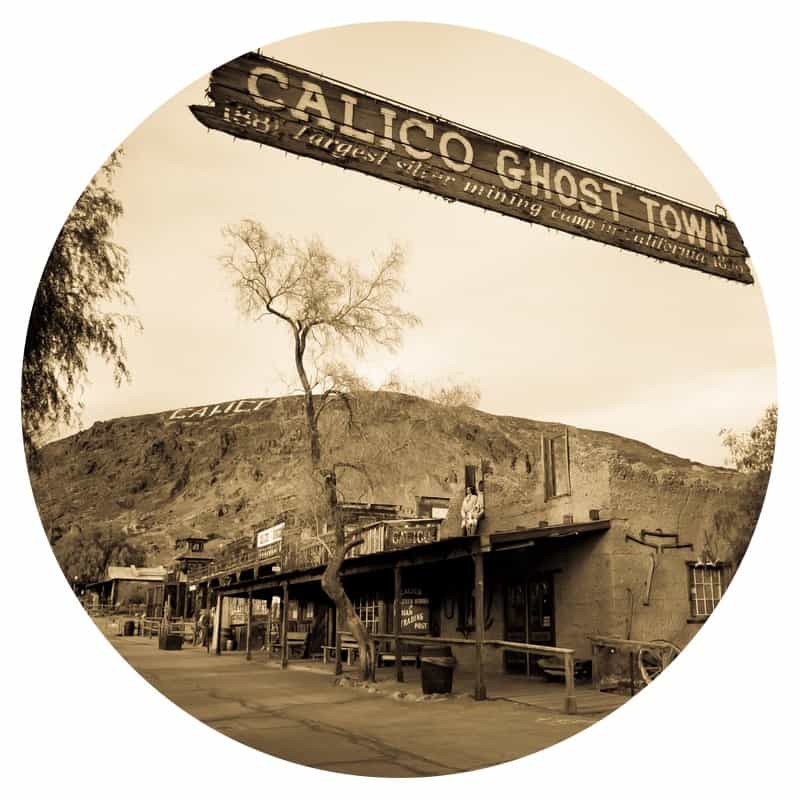 Calico was a mining town that sprung up in 1881 during the largest silver strike in California. With its 500 mines, the town produced over $20 million in silver ore over a 12-year span. But when silver lost its value in the mid-1890's, Calico died and became a "ghost town."
In the 1950's, Walter Knott purchased Calico and restored all but the five of the original buildings to look as they did in the 1880's. Today the town is part of the San Bernardino County Regional Parks system and welcomes people from around the country and all over the world.
You and your pet are welcome to explore Calico Ghost Town's history and attractions, as well as the shops and restaurants. They also offer a campground, if you and your pets don't mind sleeping in a ghost town!
Wigwam Village Motel – San Bernardino, California

Another of the three remaining teepee villages built by Frank Redford, the San Bernardino location was completed in 1949. Nineteen "wigwams" stand 32 feet high, surrounded by plenty of space for stretching your legs. Pets are welcome.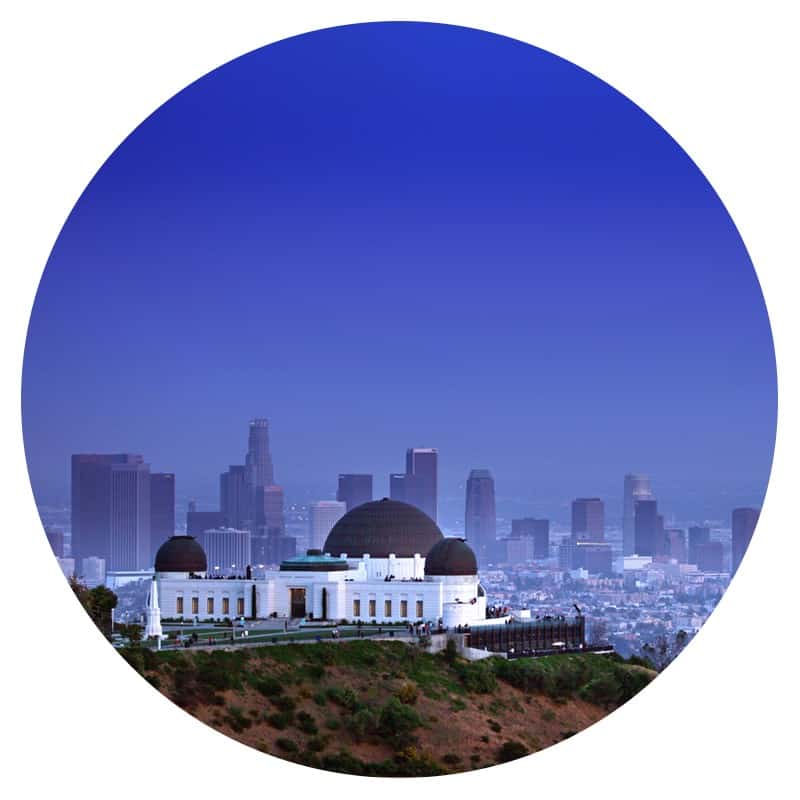 With more than 4,200 acres, Griffith Park is the largest municipal park with urban wilderness in the United States. Exploring the rugged hills is a popular activity, and hikers and their leashed pets are welcome to use the entire 53-mile network of trails, fire roads, and bridle paths.
If you only have time for one hike, try the Mount Hollywood trail from the Griffith Observatory parking lot. It offers the best views of Los Angeles and the Hollywood sign. Stop in the ranger station for a trail map, current trail conditions, and information about any special restrictions before you head out. Also remember that you'll be sharing the area with wildlife, including foxes, coyotes, rattlesnakes and deer. So, please pick up after your pets and leave the area as you found it.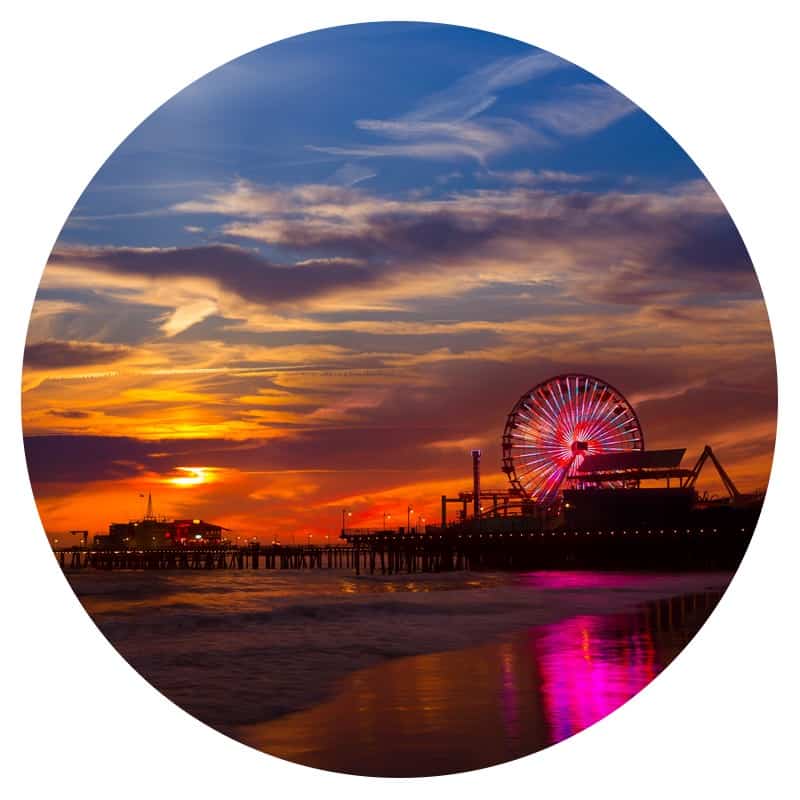 Route 66 ends at the Santa Monica Pier, a wonderful place for you and your pet to celebrate the completion of your road trip. Having celebrated its Centennial on September 9, 2009, it's one of California's oldest pleasure piers.
Get a photo with the "End of Route 66" sign, and then have fun exploring the area. With a carousel, arcade, amusement park, trapeze school, restaurants, and a summer outdoor concert series, the Santa Monica Pier offers a wide range of activities for the whole family. Check their Events page to make plans for your visit.
Leashed pets are welcome on the Santa Monica Pier, but not on the beach below. If you want to play in the waves, check out Rosie's Dog Beach or Huntington Dog Beach!
Plan Your Trip on Route 66
This trip along Route 66 covers 2,312 miles of pure Americana, giving your and your pets a unique opportunity to see the heart of the country. To experience all Route 66 has to offer, plan to spend at least two weeks enjoying the sights.

Other Iconic Road Trips

Chesapeake Bay Loop – Pet Friendly Villages, Beaches and Tours
(Visited 11,204 times, 1 visits today)