It's sunny … it's warm … and with Florida's dog friendly beaches, boat tours, train rides, and parks, you'll find plenty to experience with your furry travel companions. So fasten your seatbelts, because to day we're sharing some of Florida's best dog friendly attractions and activities!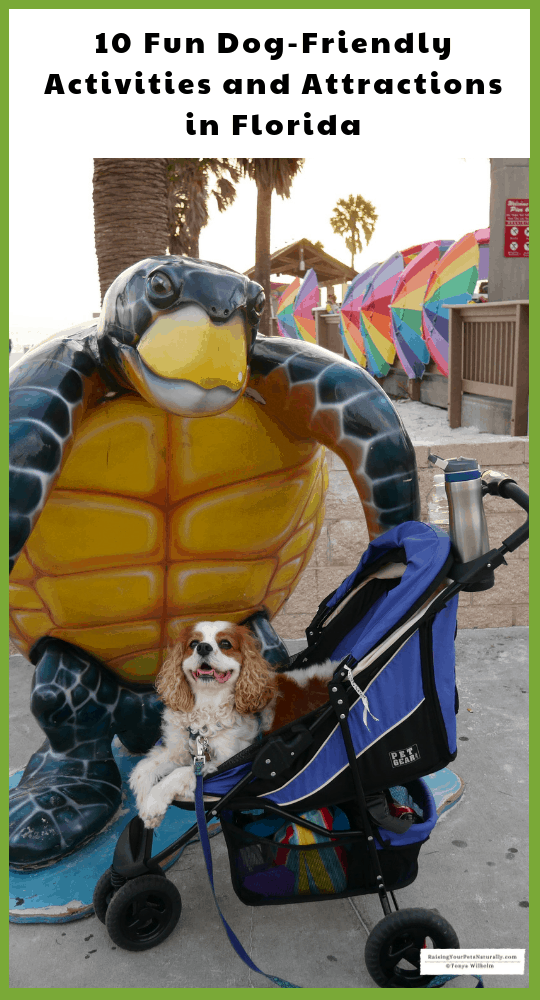 Top Dog-Friendly Attractions and Activities in Florida
The Fountain of Youth Archaeological Park – St. Augustine, Florida
If you enjoy learning a little history while visiting dog-friendly destinations, don't miss the Fountain of Youth Archaeological Park. Dating back to 1513, this is the location of the original spring that was recorded in a seventeenth century Spanish land grant.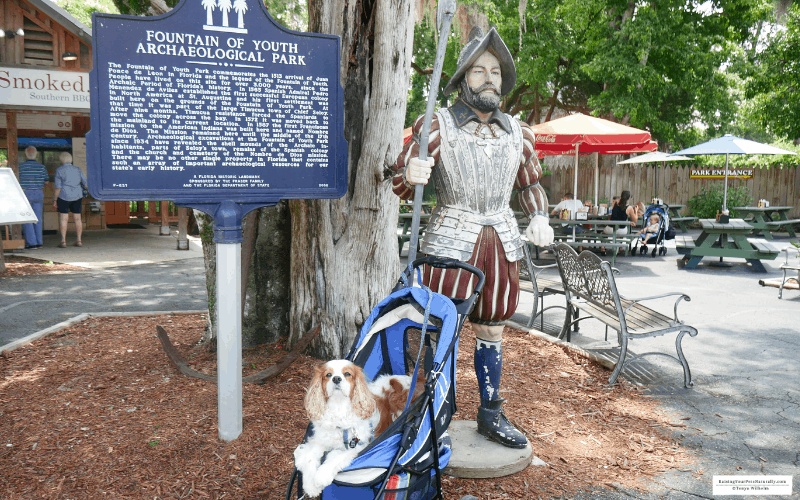 But eternal youth isn't all you'll find at the archaeological park! You and your dog are welcome to explore 15 waterfront acres the rich history of this area. Enjoy the Discovery Globe, blacksmith exhibit, Timucuan burials and village, Nombre de Dios Mision, 1565 Menendez settlement, excavations, Spanish lookout, cannon firing, Founders' Observation Riverwalk, and (of course!), sip from the Fountain in the Spring House. Your pup will have a great time watching the gorgeous Indian peafowl (peacocks) roaming around.
Shell Key Shuttle – St. Pete Beach, Florida
What dog doesn't love a boat ride?! Sniffing the fresh air with the ocean breeze blowing by is the stuff dog dreams are made of. And the Shell Key Shuttle offers a relaxing and enjoyable sunset cruise that welcomes dogs on board.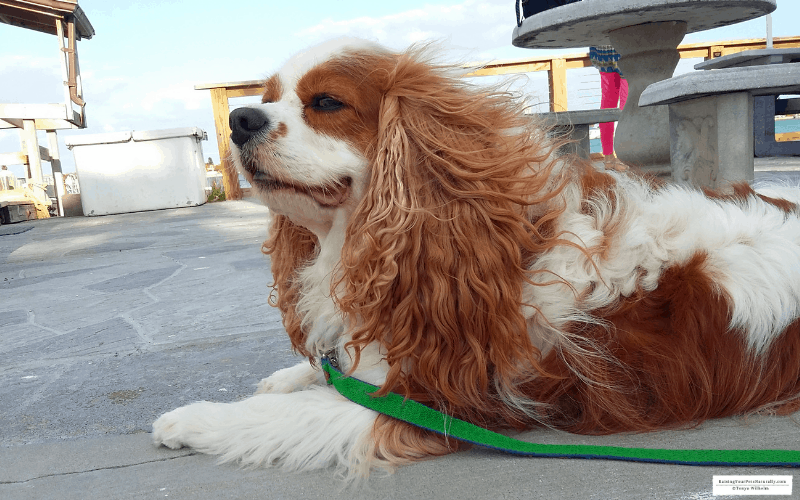 If you are looking for a unique way to see the sunset and spot some dolphins with your dog, this is the way to go. This dog-friendly Florida boat ride takes guests around five residential islands where you can learn about the historic cypress beach cabins and even view some new modern mansions. If you enjoy learning about shorebirds, Shell Key Shuttle also has you covered. With a great narrator pointing out all the birds of the area and even answering questions, this is a boat tour you'll never forget.
Red Train Tour – St. Augustine, Florida
St. Augustine is an amazing dog-friendly city. There are so many great things to do with a dog, attractions to see, and some amazing architecture. One of the best ways to see and learn about the city is on a guided tour.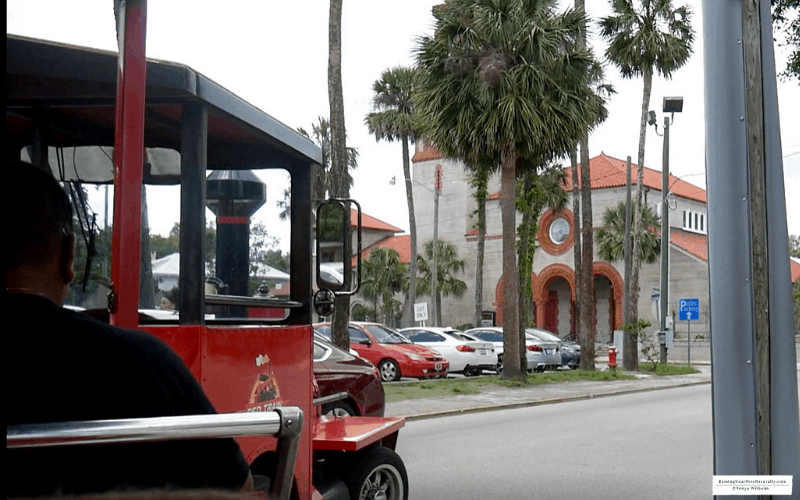 The Red Train Tour, operated by Ripley's Believe It or Not! since 1953, takes guests and pets small enough to ride on their laps on an extensive and educational tour through St. Augustine. The train conductors narrate the entire trip, and their love for "The Nation's Oldest City" definitely comes through.
Ripley's Believe It or Not! – St. Augustine, Florida
If you like to discover the odd, strange, and even shocking, you should visit Ripley's Believe It or Not! This dog-friendly attraction is like no other. The exhibits range from interesting facts to the down-right creepy. It's a fun indoor (air conditioned) adventure that your dog can accompany you on – you just have to see for yourself!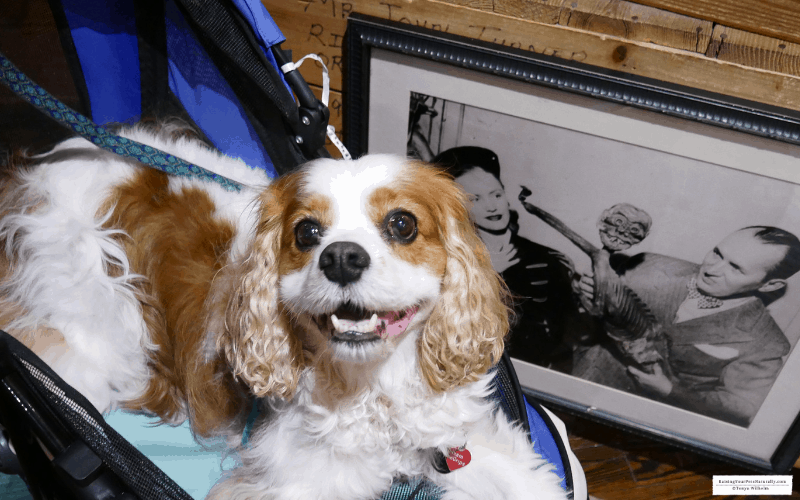 Sunsets at Pier 60 – Clearwater Beach, Florida
This isn't your typical "catching the sunset" experience at a Florida beach. It's much, much more! The dog-friendly festivities run 364 days a year, starting two hours before sunset and lasting two hours after sunset. The nightly celebration features street performers, artisans, crafters, kid's games, and food. And of course a great view of the world-famous Pier 60 sunsets.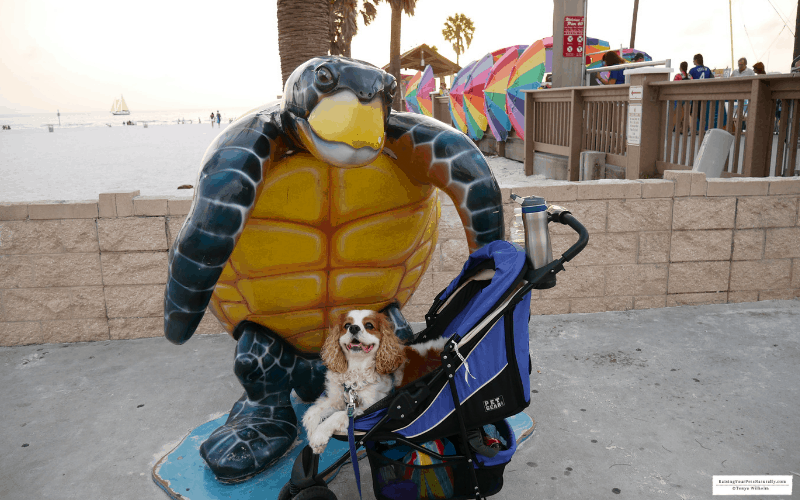 Paradise Grill – Pass-A-Grille, Florida
If you are looking for a laid-back sunset experience, look no further than Paradise Grill, located on the beach in the historic town of Pass-A-Grille. This outside grille not only offers great food, but a family- and dog-friendly nightly Sunset Bell Ringing party! Have dinner or a drink as you ring in the night. *Please note that dogs are not permitted on the beach in Pass-A-Grille.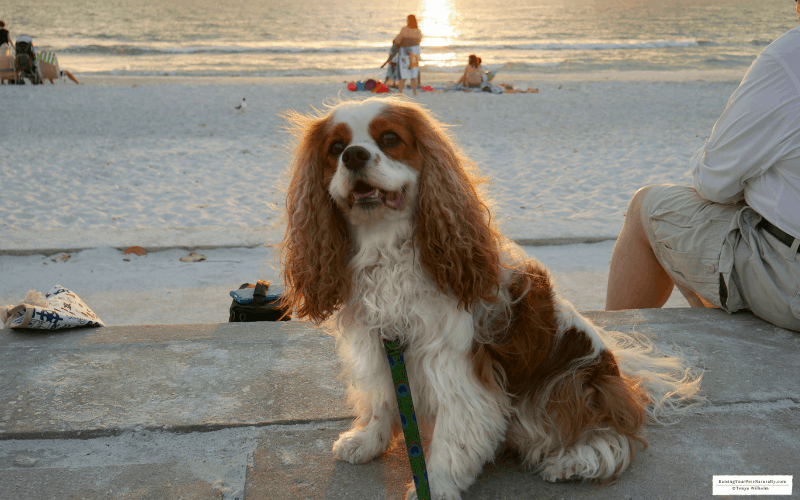 Rainbow Springs State Park – Dunnellon, Florida
Warm sapphire-blue waters, ornamental gardens, sloping hills, waterfalls, and lush hiking trails. What's not to like about Rainbow Springs State park? The springs was amazingly clear and inviting, and so clear you can see fish and turtles.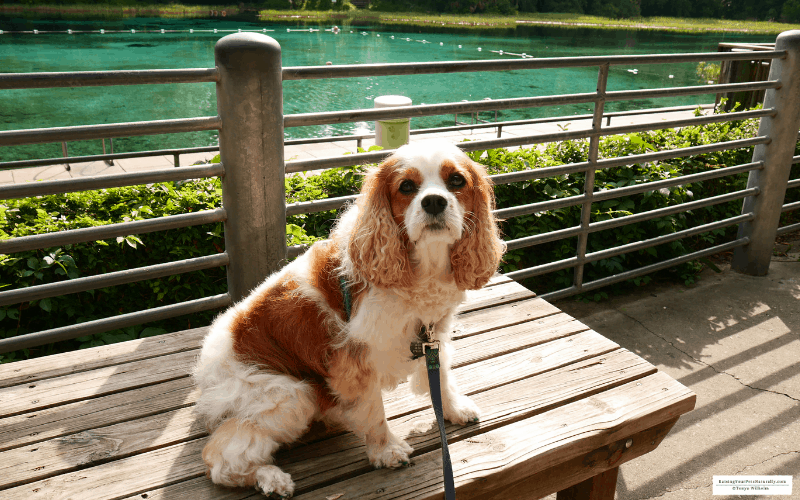 Legend has it, the waters at Rainbow Springs possess magical healing powers, so I had to dip my toes. My stepdad took the plunge and went all in. It's no wonder why it's a time-honored tradition to take a dip in the springs. *Dogs are not permitted in any of the springs.
Tarpon Springs, Florida
Set along the water, Tarpon Springs a unique dog-friendly city. And if you are curious about the history of sponges, or want to experience the difference between a real sponge  synthetic sponge – this is your city!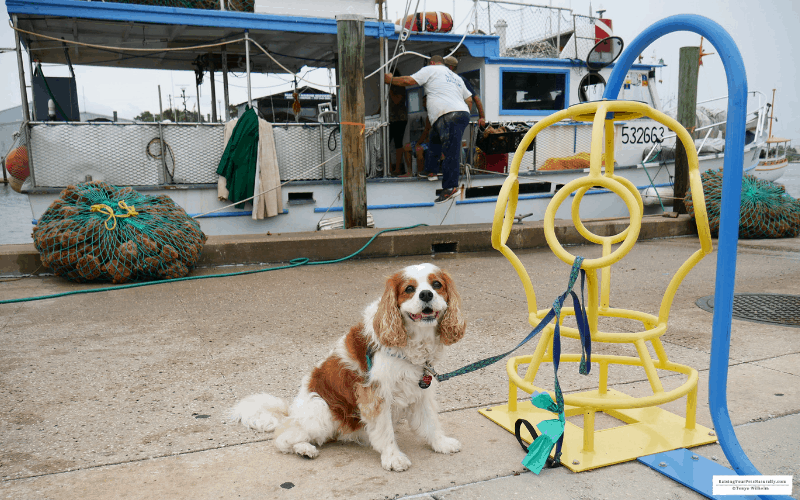 Take a stroll along the historic sponge docks and talk to the local divers and captains. When you get hungry, you and your dog will be welcome at a variety of restaurants with outside seating. Dexter and I were welcome in a lot of the local stores, too, so plan to do a little souvenir shopping.
Fort De Soto Park and Beach – Tierra Verde, Florida
This Florida island is a Pinellas County park that offers a dog-friendly beach, nature trails, camping, and the historic fort. And you and your pet are welcome to enjoy it all. Take a stroll around the fort grounds, touch the mortar battery cannons, and climb the steep stairs of the fort for an amazing view. *Note that pets are not allowed inside of the museum.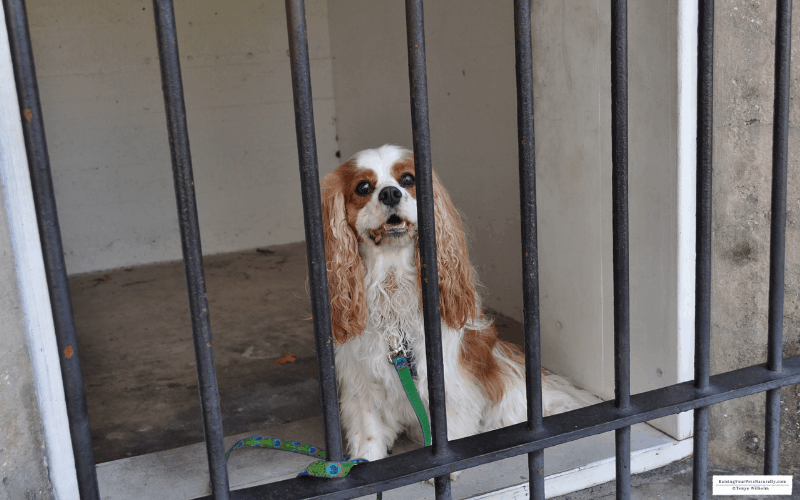 Learn more about Fort De Soto Park and Dog Beach – the #1 pet-friendly attraction in Florida!
Dogedin – Dunedin, Florida
Dunedin is referred to as Dogedin by locals and tourists alike. Their amazing Murals for Mutts is part of The Florida Mural Trail and makes this town a must-see for any dog-lover. This small town has a lot to offer any dog family, with a great walkable downtown and tasty dog-friendly restaurants. You and your pooch are sure to have a great day in Dunedin.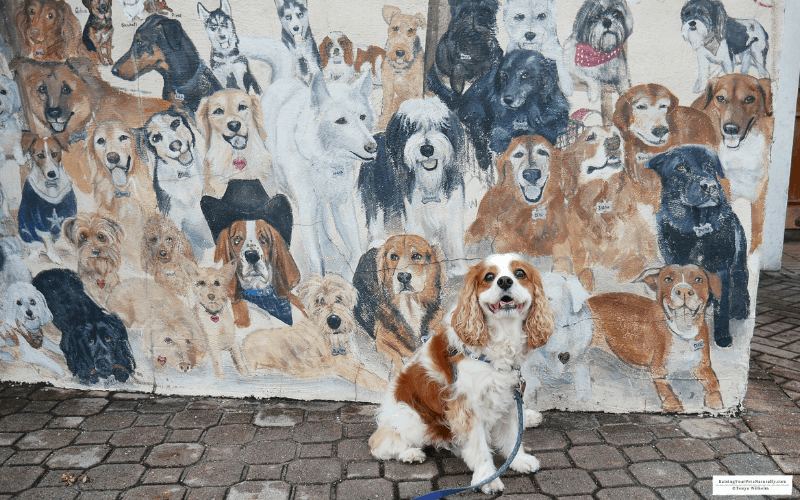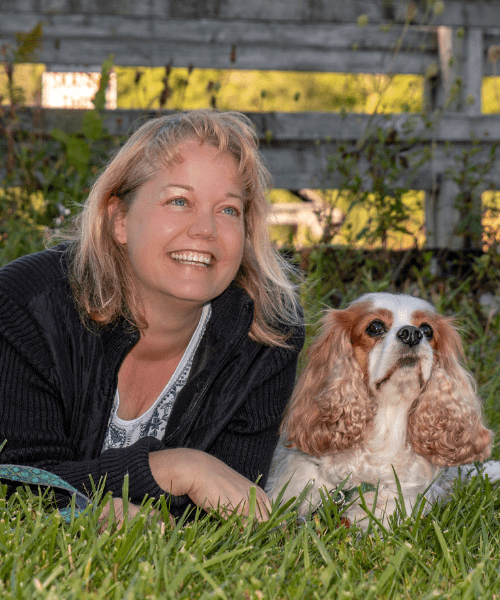 About the Author: Tonya Wilhelm is a dog training expert who has traveled the US promoting positive ways of preventing and managing behavior issues with a holistic approach. She is a vlogger, writer, blogger, and published author who loves exploring new locations with her trusty companion, Dexter. Tonya is on a mission to inspire pet parents to LIVE life and explore. Learn more about Tonya and Dexter on their blog www.raisingyourpetsnaturally.com
Guest Posts on GoPetFriendly.com: We love sharing stories from people having fun traveling with their pets! And reading your pet travel experiences may be just the nudge someone else needs to pack up and head out with their own best friend. If you're interested in writing a guest post for Take Paws, let us know!
Amazon Affiliate Disclosure: GoPetFriendly.com LLC is a participant in the Amazon Services LLC Associates Program, an affiliate advertising program designed to provide a means for website owners to earn advertising fees by advertising and linking to amazon.com, audible.com, and any other website that may be affiliated with Amazon Service LLC Associates Program. As an Amazon Associate, the owner of this site earns a commission from qualifying purchases.
(Visited 4,806 times, 1 visits today)