Looking for a charming pet friendly get away steeped in history with hiking, shopping, sightseeing, lots of places to eat and stay? Let us show you around Bisbee, Arizona!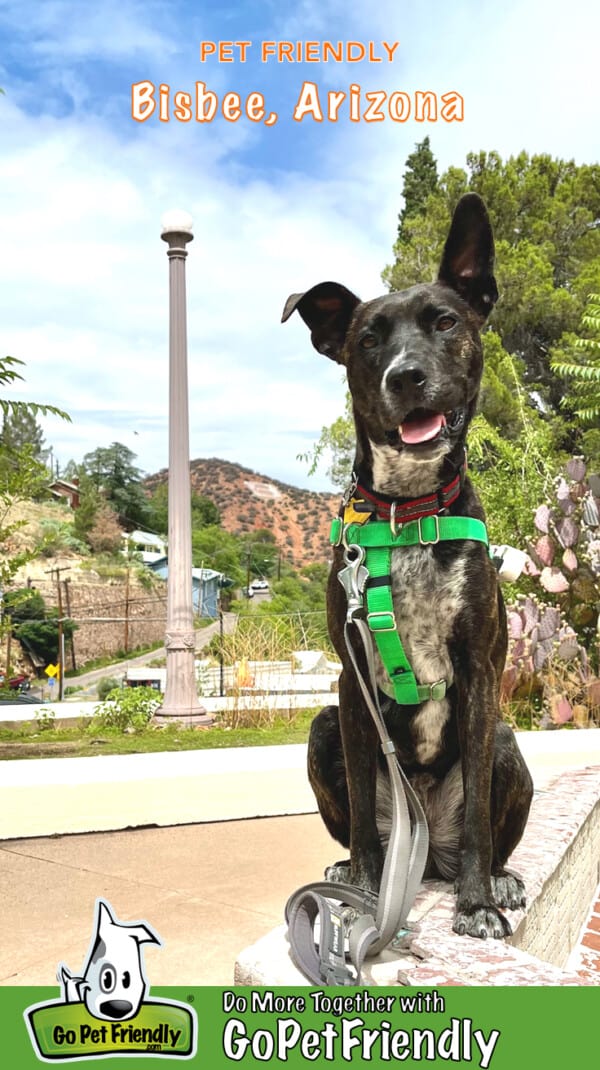 For an "off the beaten path" getaway, pet friendly Bisbee is a great option. Less than two hours south of Tucson, this former copper mining town is now known for its eclectic art galleries and shops, unique architecture, live music, and friendly residents.
Exploring Old Bisbee is best done on foot, which is fantastic for those of us traveling with pets! And at 5,350 feet of elevation, your walks will elevate your heart rate as well as your spirit.
Fortunately, there are plenty of pet friendly places to catch your breath, rest your paws, and enjoy the views. We're excited to share some of our favorites with you!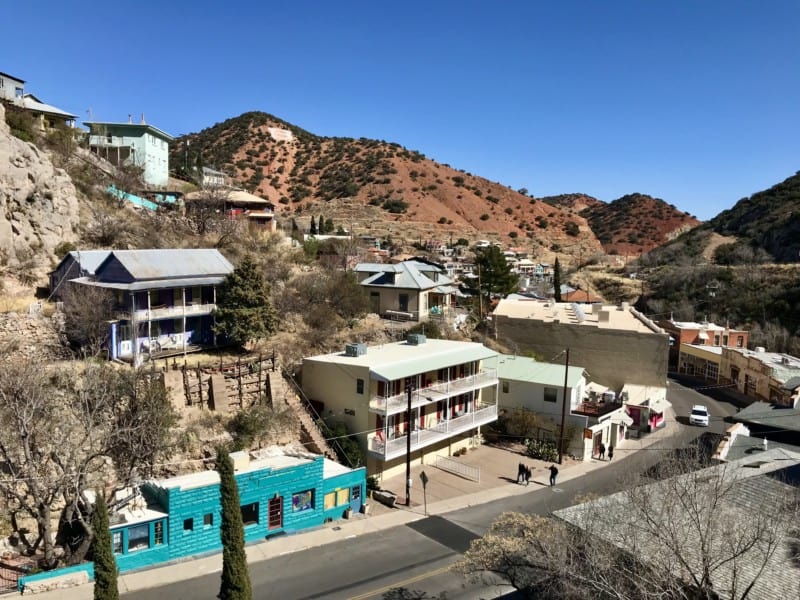 Exploring Pet Friendly Old Bisbee
The first thing you'll notice about Old Bisbee is that it's built into a canyon. And none of the streets run in straight lines. Some even go up a hill and … just … end. So do yourself a favor and park your car. You'll have more fun — and see a lot more — by walking.
Main Street runs through the heart of town. This is where you'll find many of the galleries, shops, and eateries. But to see the real Bisbee, you'll want to explore the side streets and staircases. Part of Bisbee's charm is discovering the hidden nooks and crannies.
Bisbee 1000 Great Stair Climb
For the most exciting (and breathtaking) tour of town, grab a map and follow the route of the Bisbee 1000. Always the 3rd weekend in October, participants in the race climb many of Bisbee's historic public staircases.
Of course, there's no reason for you to hurry. So set your own pace and admire the many houses and gardens along the 4.5-mile trek.
Following the race course will give you a great overview of the city. And following it in REVERSE gives you the same fantastic views, but takes you down the staircases instead of up!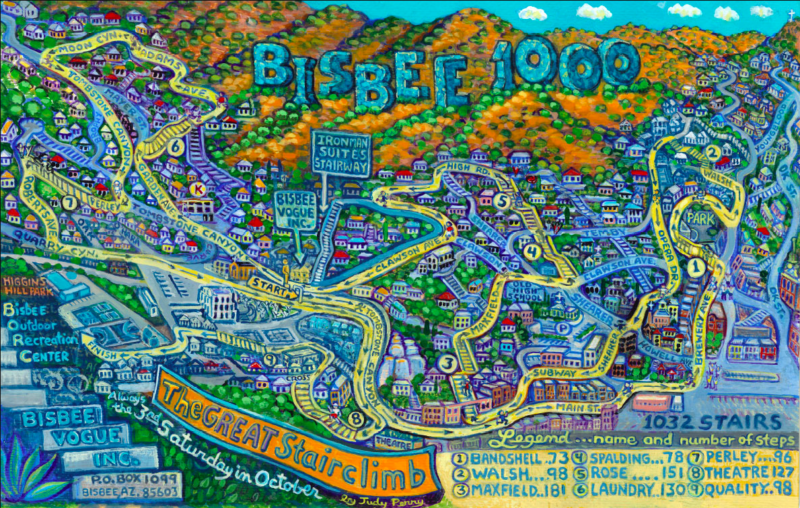 Bisbee's Unique Architecture
One of our favorite things to do in Bisbee is admire the buildings and homes. From dilapidated miners' shacks barely clinging to the hillsides to colorful cottages, you'll see it all. And regardless of the condition of the structures, you have to admire the ingenuity of the builders!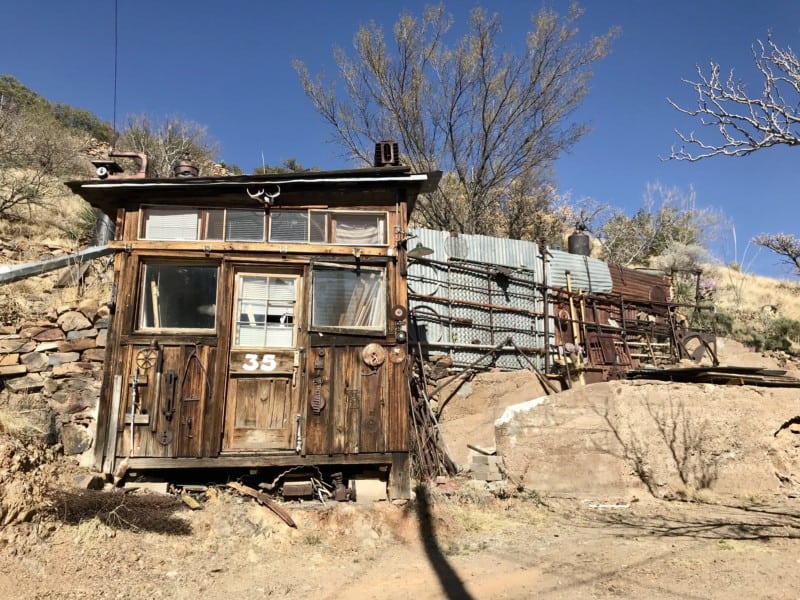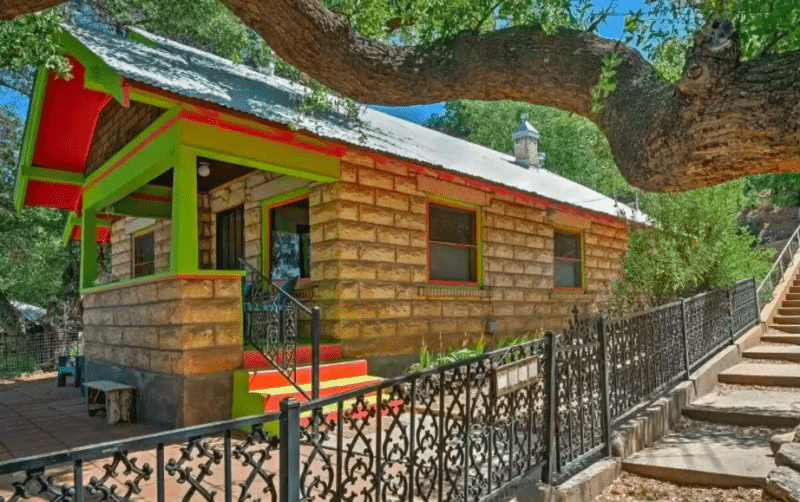 If you are a lover of old buildings, don't miss Bisbee's library and post office. And be sure to poke your head inside St. Patrick's Church to see the exquisite stained glass!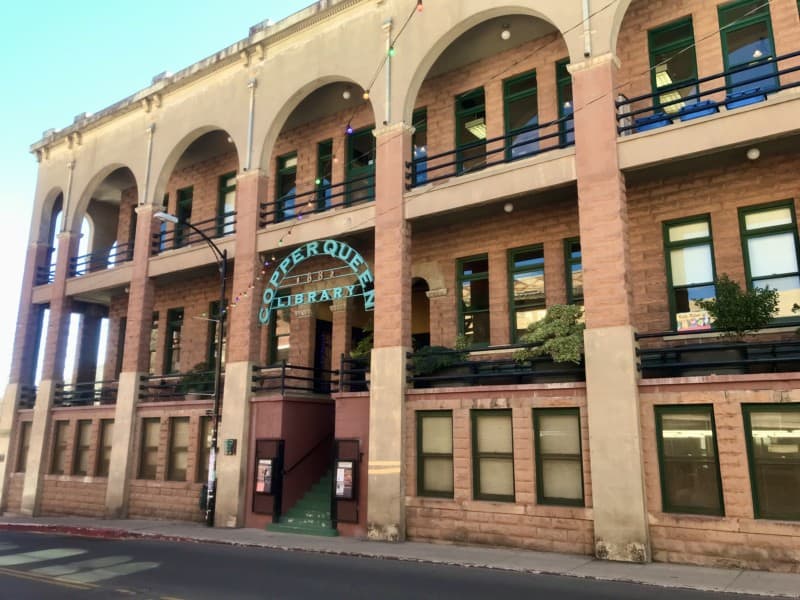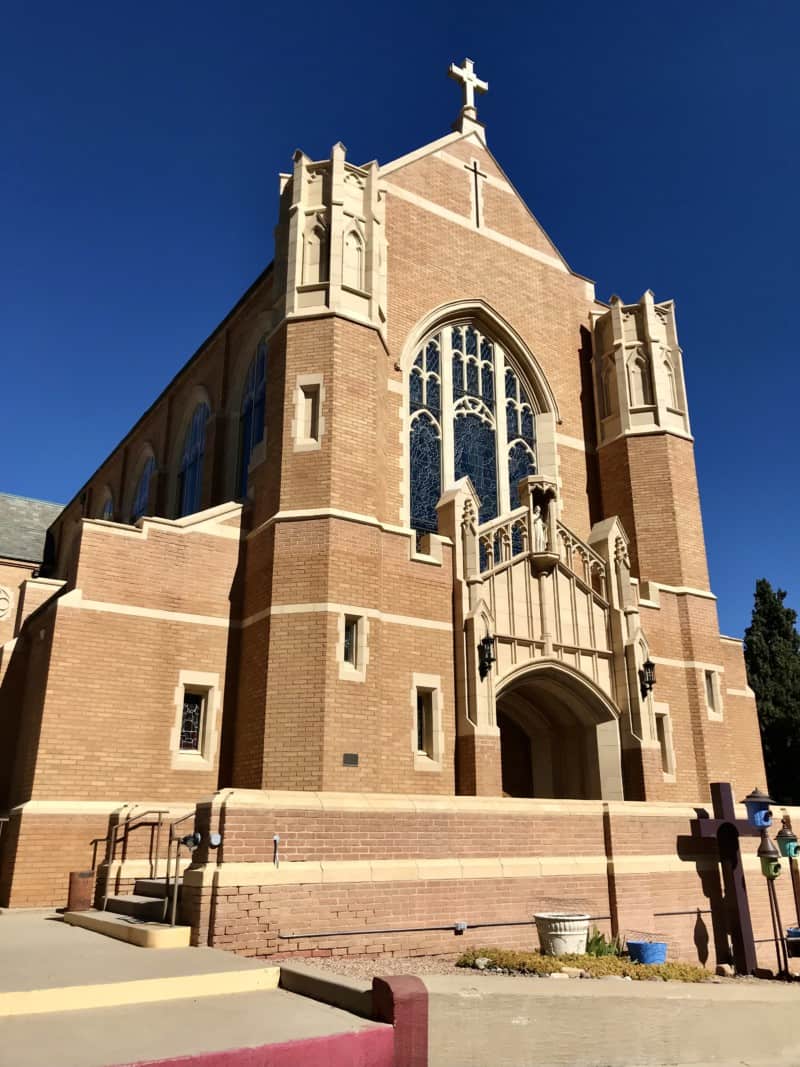 Wall Art
Bisbee is blessed with many wonderful artists, and their work is on display all over the city. As you're wandering around town, keep an eye out for murals, paintings, and walls that are whimsical as well as functional.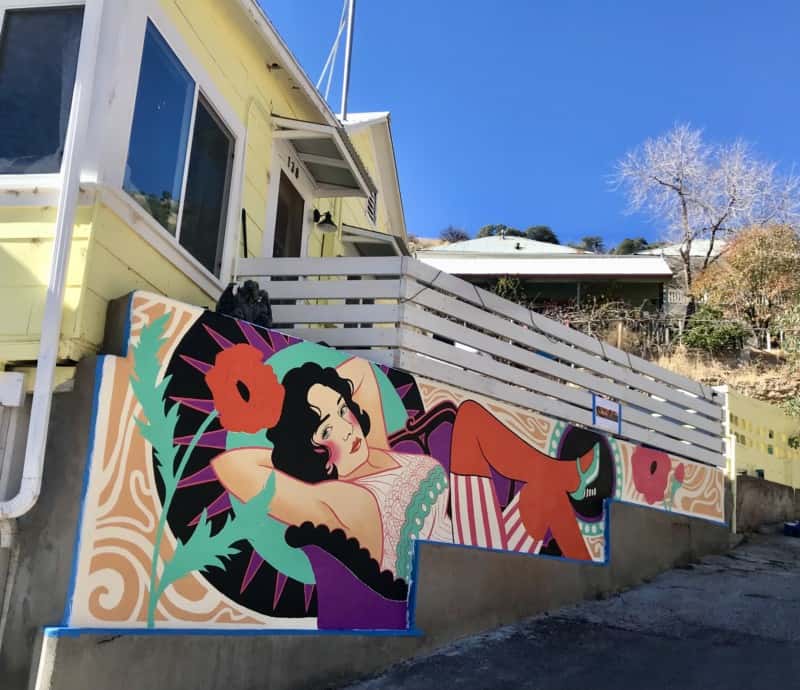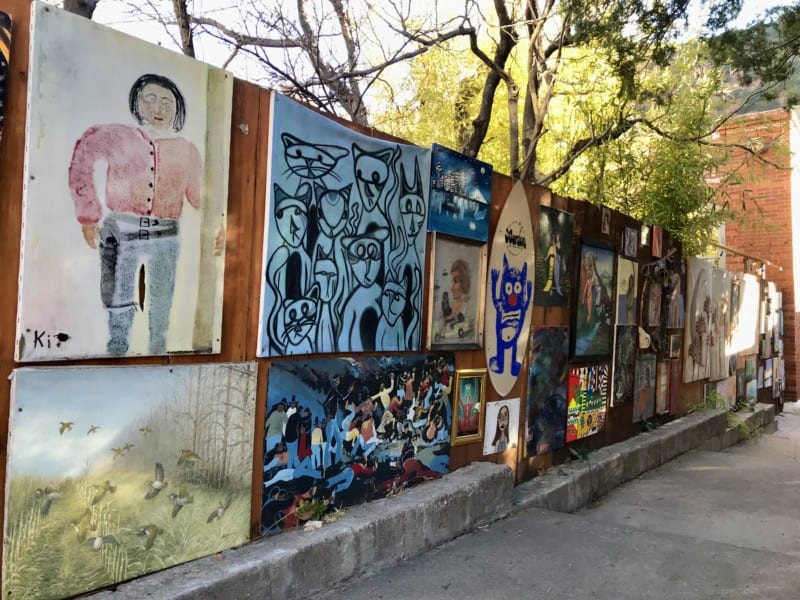 As you stroll around pet friendly Bisbee, see if you can find these murals that include dogs!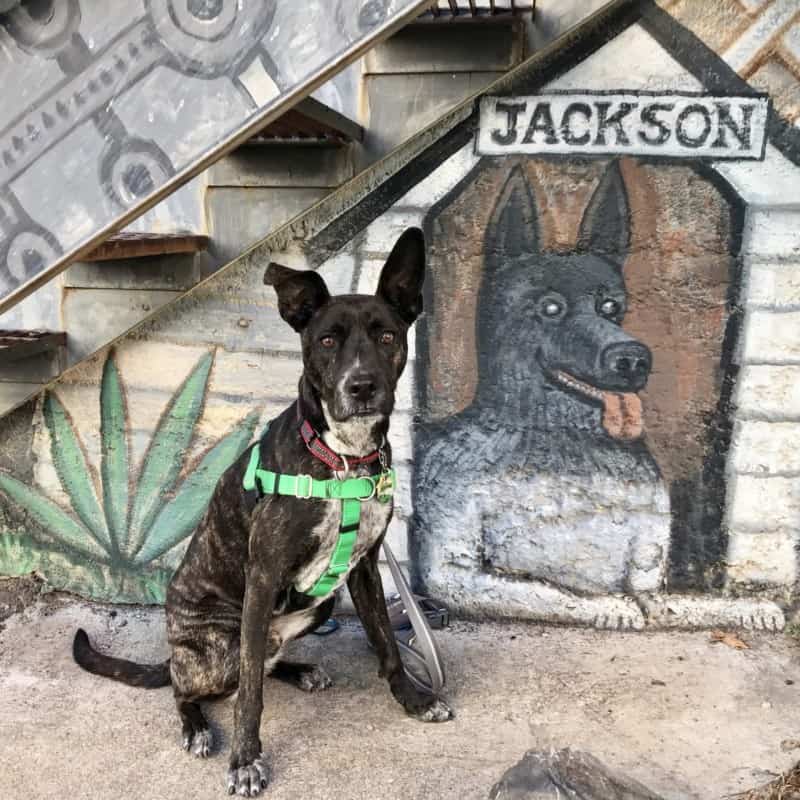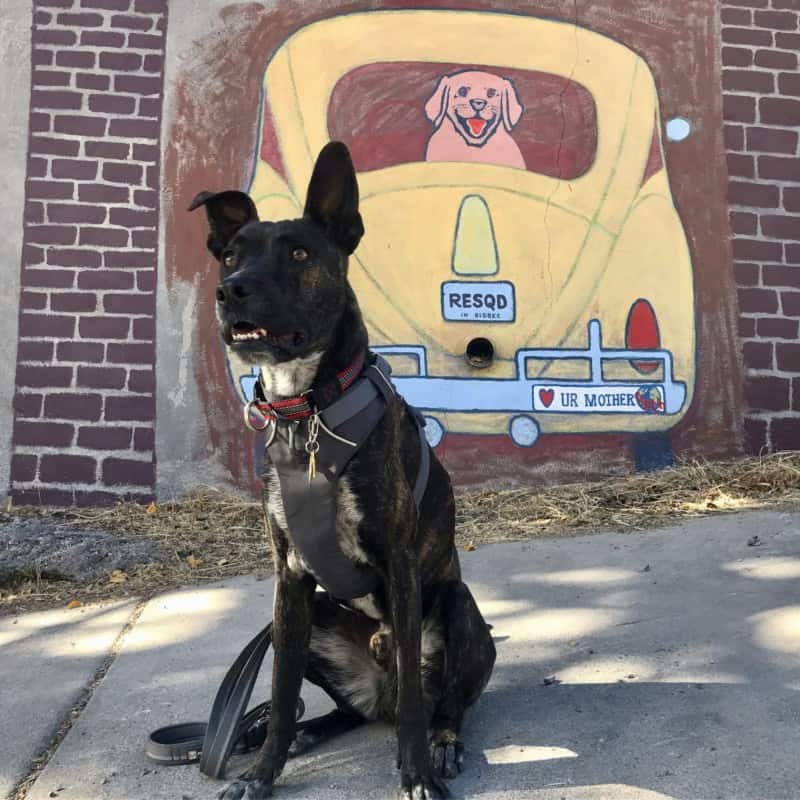 City Parks
Anytime you travel with pets, it's good to note the locations of the area parks. You'll be happy to find that Bisbee has a nice selection of pet friendly parks for your furry buddy to sniff.
City Park is one of Bisbee's best pet friendly parks. With covered picnic tables and great views, it's a nice place for a picnic.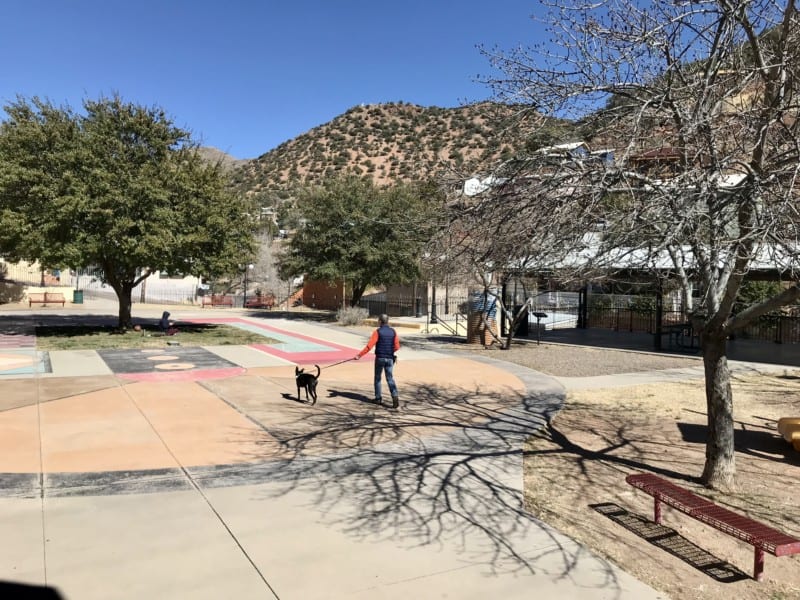 Copper Queen Plaza is located next to the Bisbee Mining and Historical Museum. If your pets are craving a little grass between their toes, this is your spot!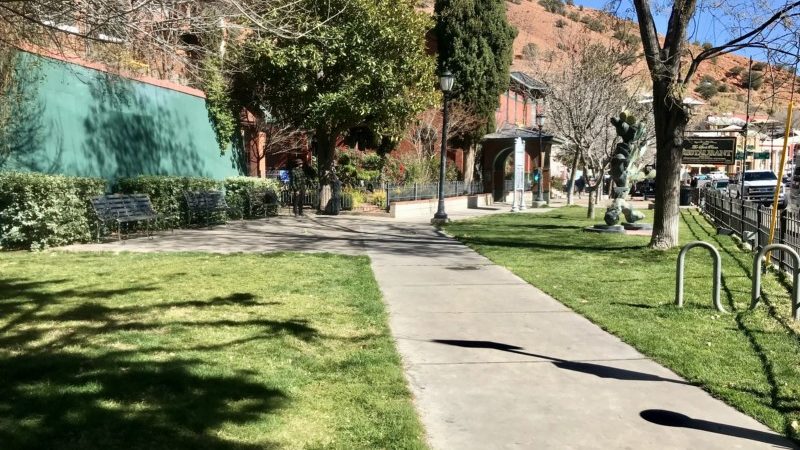 Goar Park occupies a triangular-shaped lot where Brewery Gulch meets Main Street. With benches and picnic tables, it's convenient to the high traffic areas.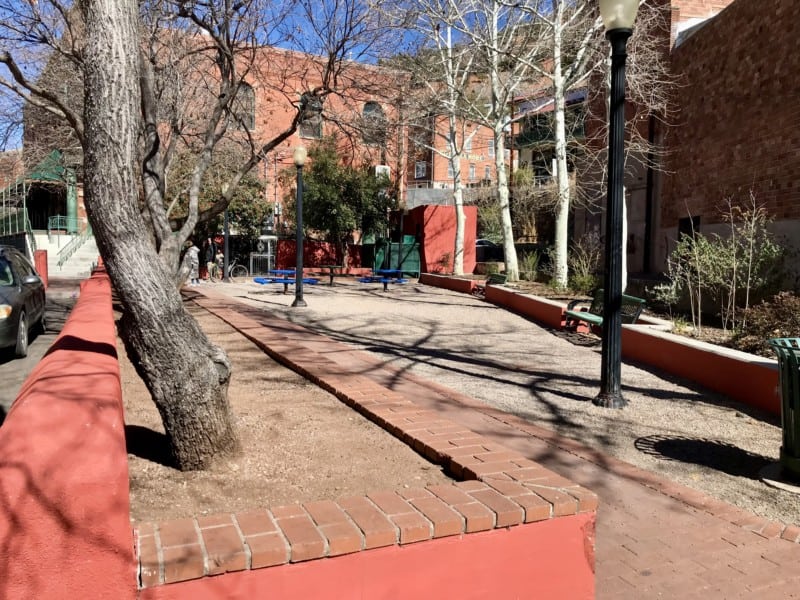 For more shade and fewer tourists, make your way to Higgins Hill Park at the corner of Quality Hill Road and Key Avenue. This lovely spot also has covered picnic tables, plus pickleball courts, fitness equipment, and the city swimming pool.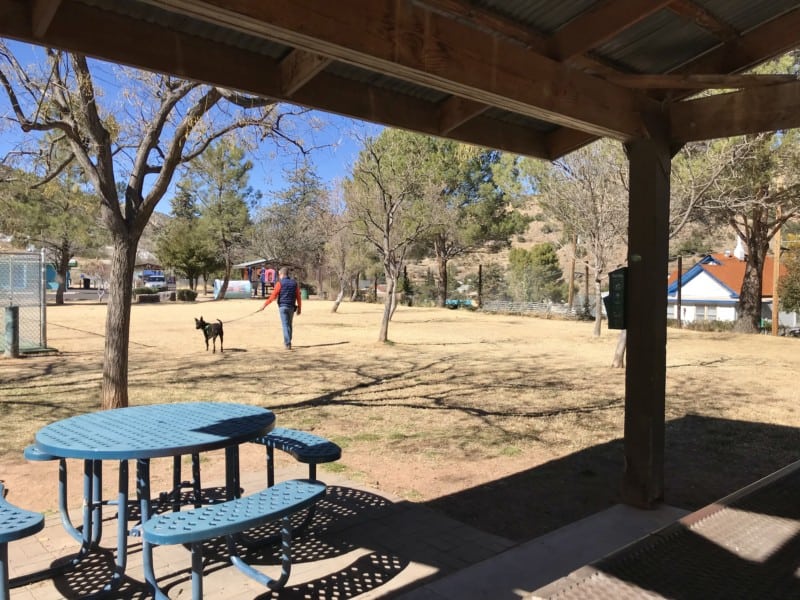 Finally, if your pup is looking for some off-leash fun, hop in the car and head to the Bisbee Dog Park (316 N Washington Avenue). Formerly a little league ballpark, it has separate areas for large and small dogs. And all the pups have plenty of room to run!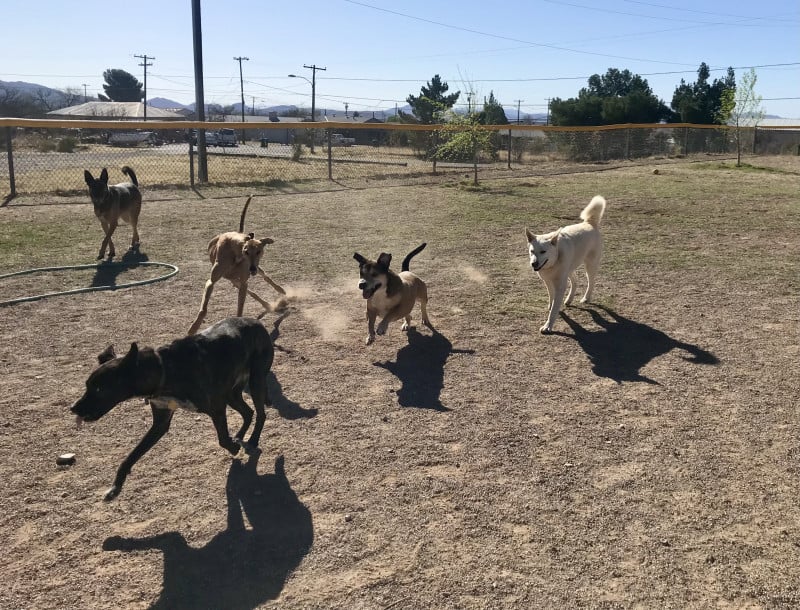 Learn More On A Tour
Founded in 1880 as a gold, silver, and copper mining town, Bisbee has a long and colorful history. If you want to learn more about the early days, make plans to take a tour.
Queen Mine Tours
The Queen Mine Tour takes guests down into the old mine tunnels on a small train. For safety reasons, the below-ground tour is not pet friendly. But pets can join you in the gift shop.
The Queen Mine Gift Shop is an experience you won't want to miss. With historical displays and a movie explaining the mining process, you and your pet will be well entertained while the rest of your party takes the tour. And you'll find loads of interesting souvenirs to remember your visit.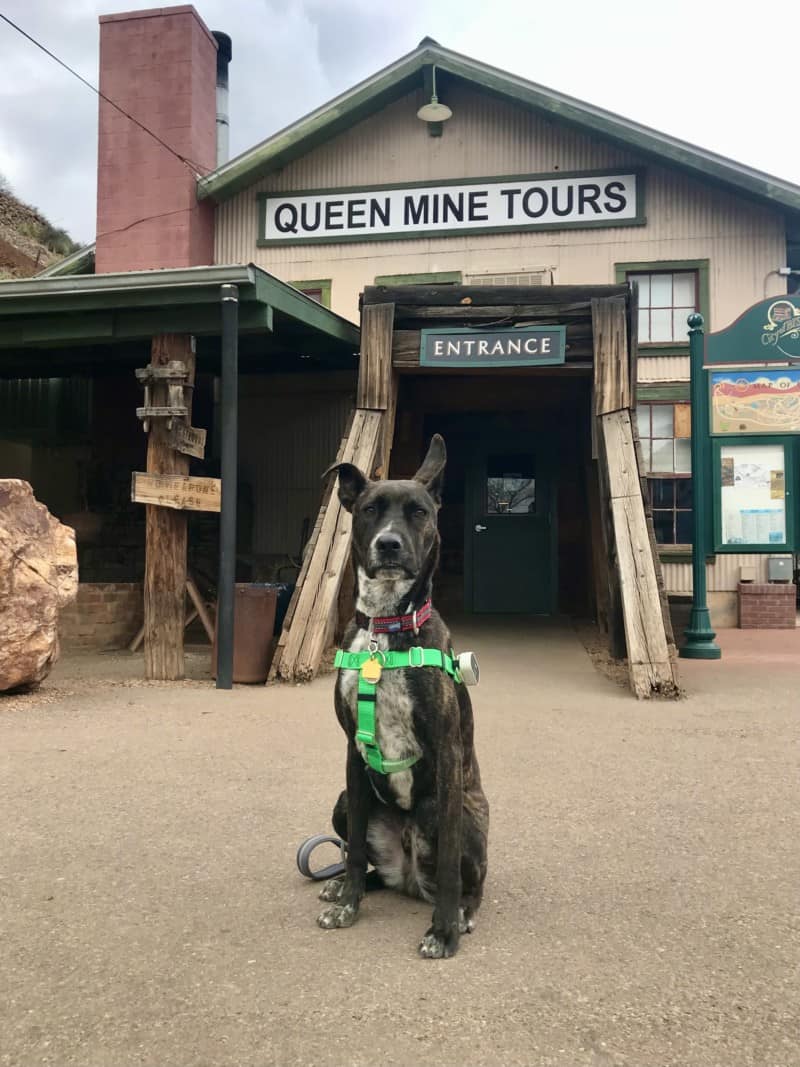 Lavender Jeep Tours
To explore Bisbee above ground, consider a Lavender Jeep Tour. This driver-narrated tour rambles through the hills of Old Bisbee. From there it's on to the "suburbs," down to the border, up into the Sky Islands, to the neighboring ghost towns, and the tour ends with a picnic at a nearby ranch.
Guests on the tours ride in open-sided Jeeps. For that reason, pets must keep their feet the floor and be on a short leash.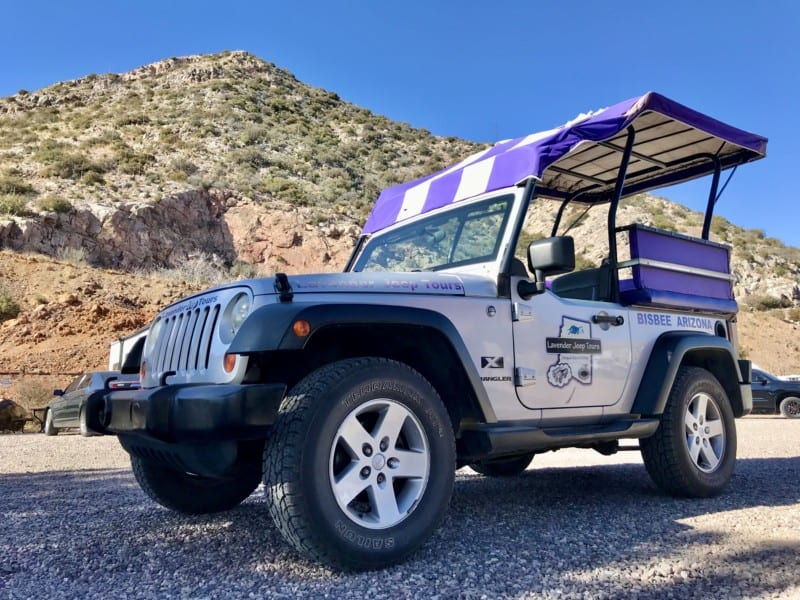 Walking Tours
The Bisbee Mining and Historical Museum offers a "Step Back in Time" guided walking tour, and well-behaved pets can join you. Check their website for dates and times.
A town as old as Bisbee is sure to have a few ghosts. To learn more about them, join an Old Bisbee Ghost Tour. Well-behaved pets can join you, but make your reservations early – they sell out!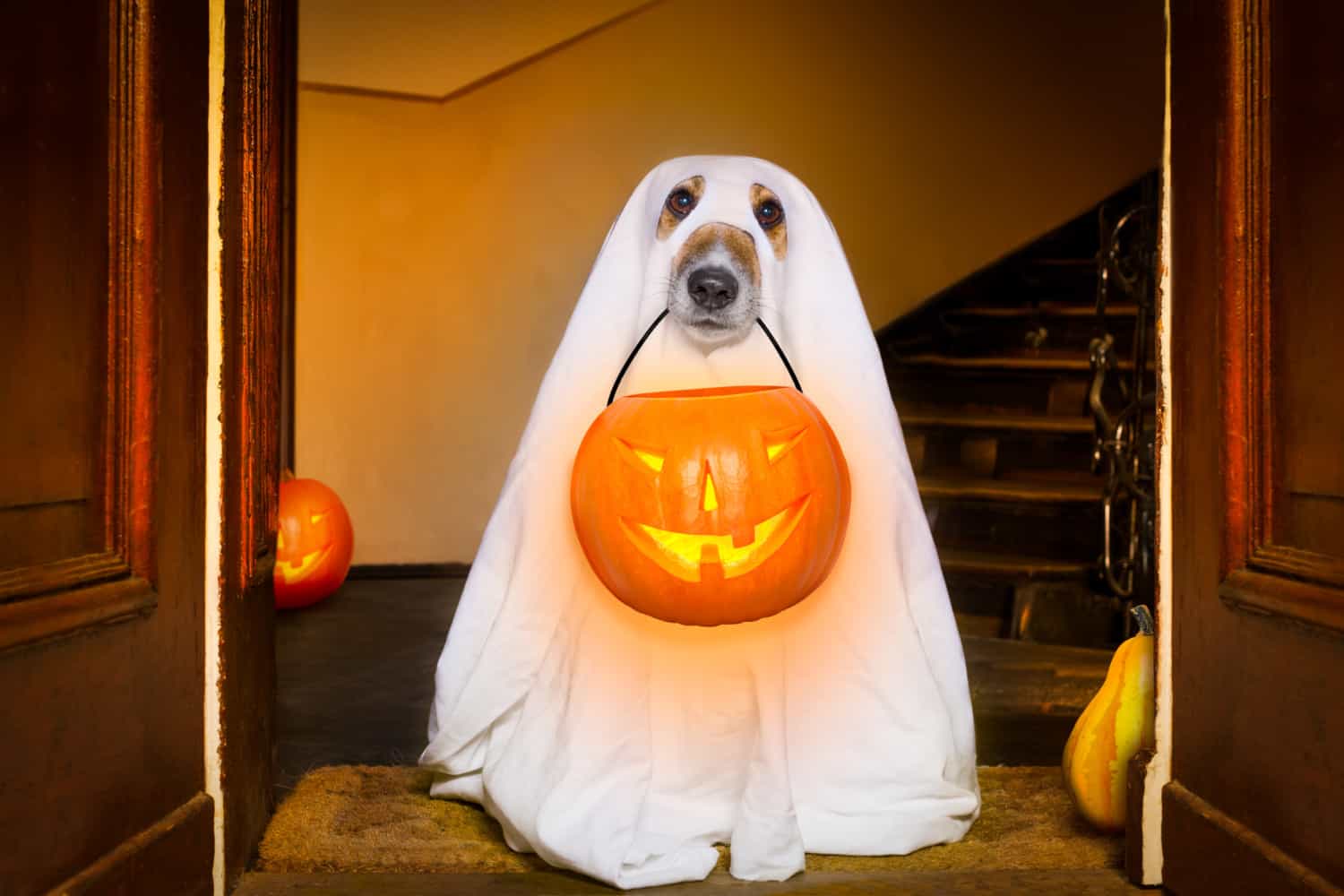 Eating & Drinking In Pet Friendly Bisbee
Walking around pet friendly Bisbee is going to make you hungry and thirsty. Fortunately, you'll find plenty of places to eat and get a drink with your pet!
Coffee Shops
Bisbee Coffee Company – pets can join you at the outdoor seating area.
Kafka Coffee – pets are welcome inside.
Snacks And More
Bisbee Good Cakes – pets can join you inside.
Patisserie Jacqui – pets can join you at the outdoor seating area.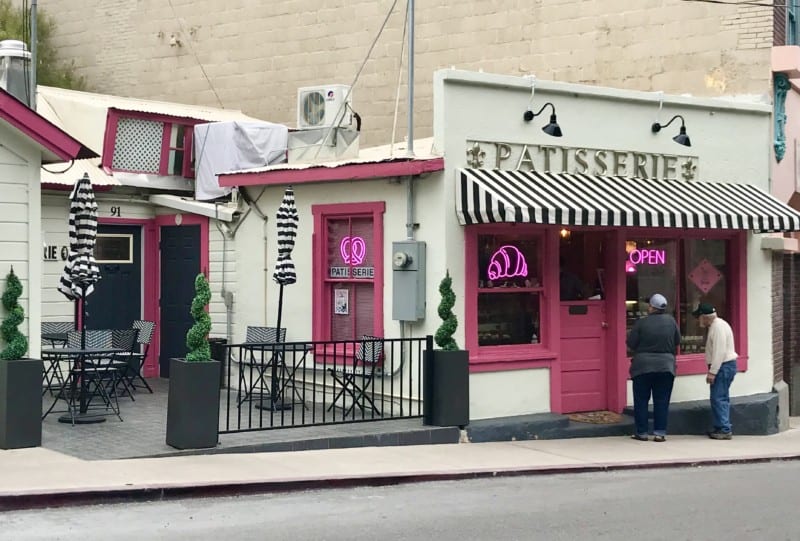 Restaurants and Cafés
Bisbee Grand – pets are welcome inside the bar area, where you can order from the full menu. Please don't take pets into the dining area.
Bisbee's Table – pets can join you at the seasonal outdoor seating area.
Contessa's Cantina – pets can join you at the outdoor seating area.
Copper Queen Hotel, Restaurant & Bar – pets can join you at the outdoor seating area.
Dot's Diner – pets can join you at the outdoor seating area.
High Desert Market and Café – pets can join you at the outdoor seating area.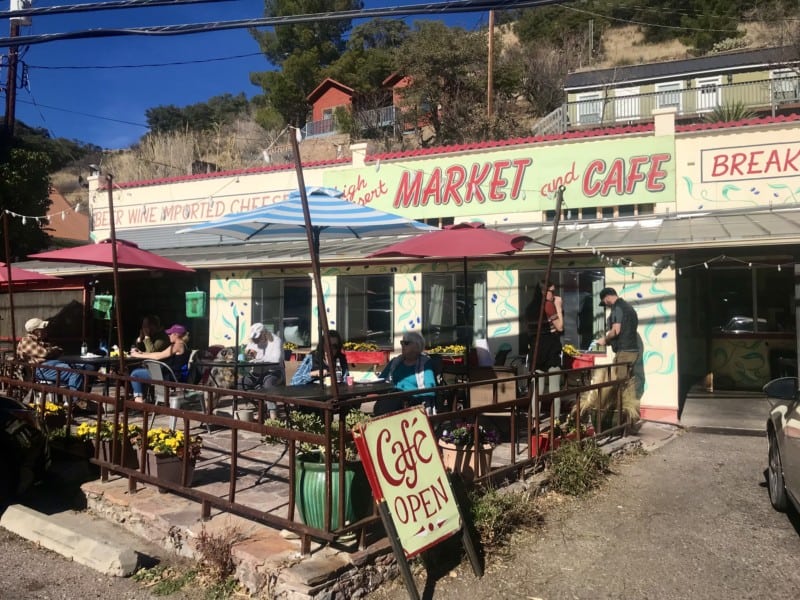 Poco Restaurant and Market – pets can join you at the outdoor seating area and inside the market.
Screaming Banshee Pizza – pets can join you at the outdoor seating area.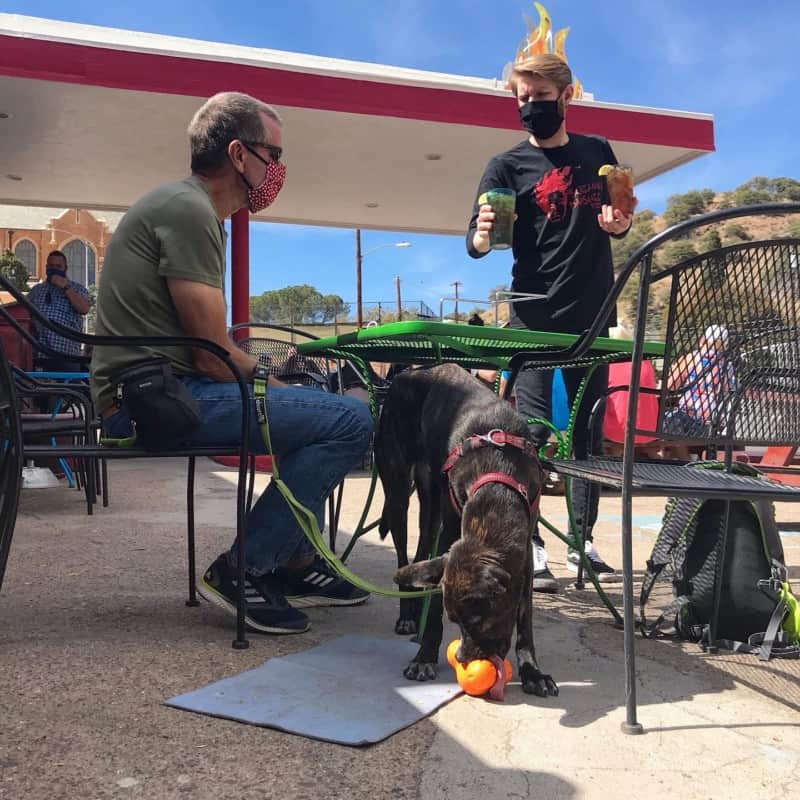 The Quarry Bisbee – pets can join you inside.
Thuy's Noodle Shop – pets can join you at the outdoor seating area.
Thirsty Lizard – located about 7 miles east of Bisbee in McNeal, the Thirsty Lizard has a large outdoor seating area and is generally less crowded than the downtown eateries.
Drinks
Bisbee Social Club – pets can join you inside.
Old Bisbee Brewing Company – pets can join you inside and in the courtyard.
St. Elmo Bar – pets can join you inside.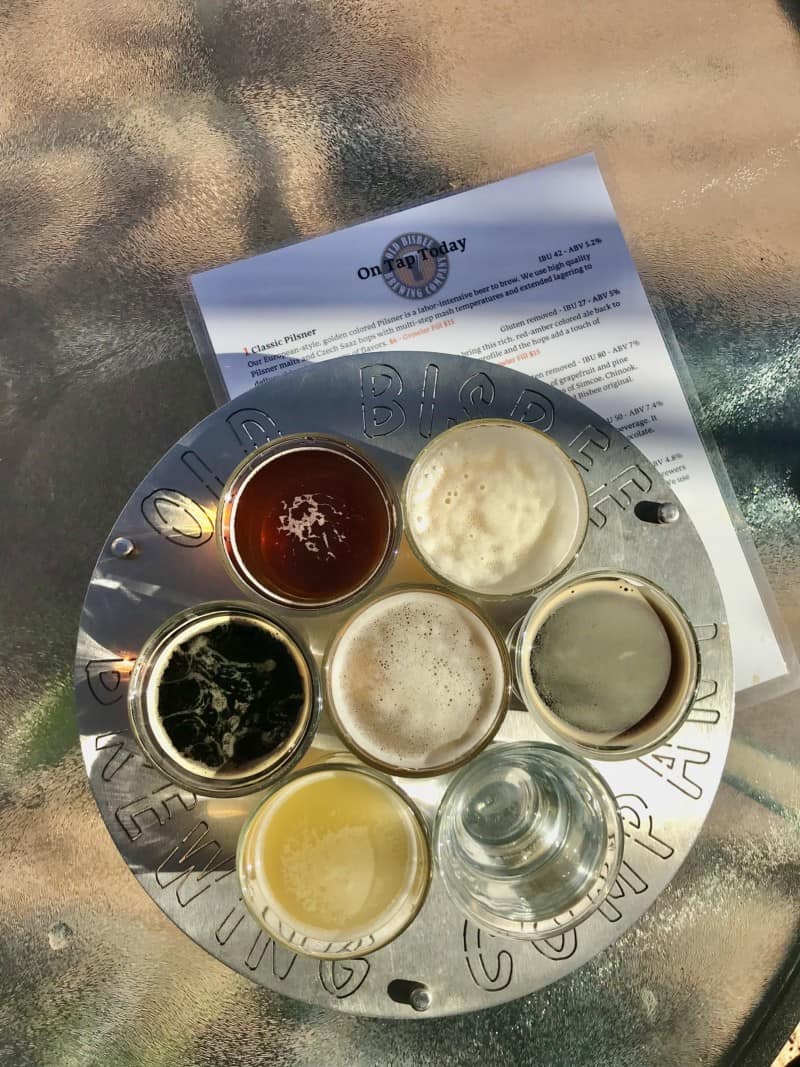 Shopping
Many of Bisbee's shops welcome pets — just be sure to ask first. Don't miss Poco Market, a bodega where you can pick up some grocery items. And pets can join you inside.
Well-behaved, leashed dogs are also welcome at the Bisbee Saturday Market. Open every Saturday 9am to 1pm in Vista Park in Warren, this is a great place to shop for locally and regionally grown, raised, and sourced food, as well as hand made items. And most weeks they have music and food vendors.
Another of our favorite places is Old Bisbee Roasters. If, during your visit, the entire town smells like roasting coffee, you probably have them to thank. Swing by on Saturday or Sunday for a free espresso and tell Seth we said hi!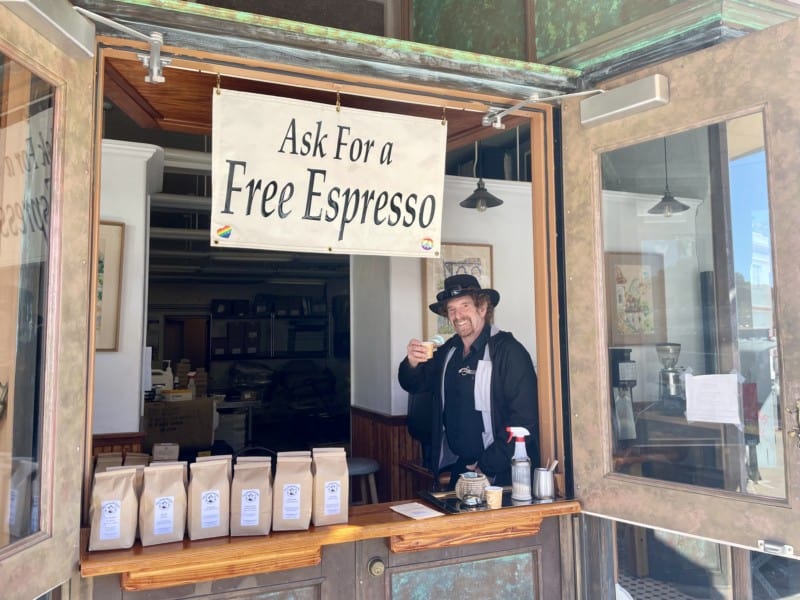 Hit The Trails
For some people, urban hiking is no substitute for getting out on a trail. If you're part of that crowd, pet friendly Bisbee will not disappoint. Pack your sturdy footwear — as you might expect, Bisbee's trails lean toward steep and rocky.
Though there aren't signs marking the trails, most are well established and easy to follow. And all are pet friendly!
From town you'll likely notice a hill with several white crosses on top. For a quick hike, walk to the end of OK Street and take the trail up to the shrine.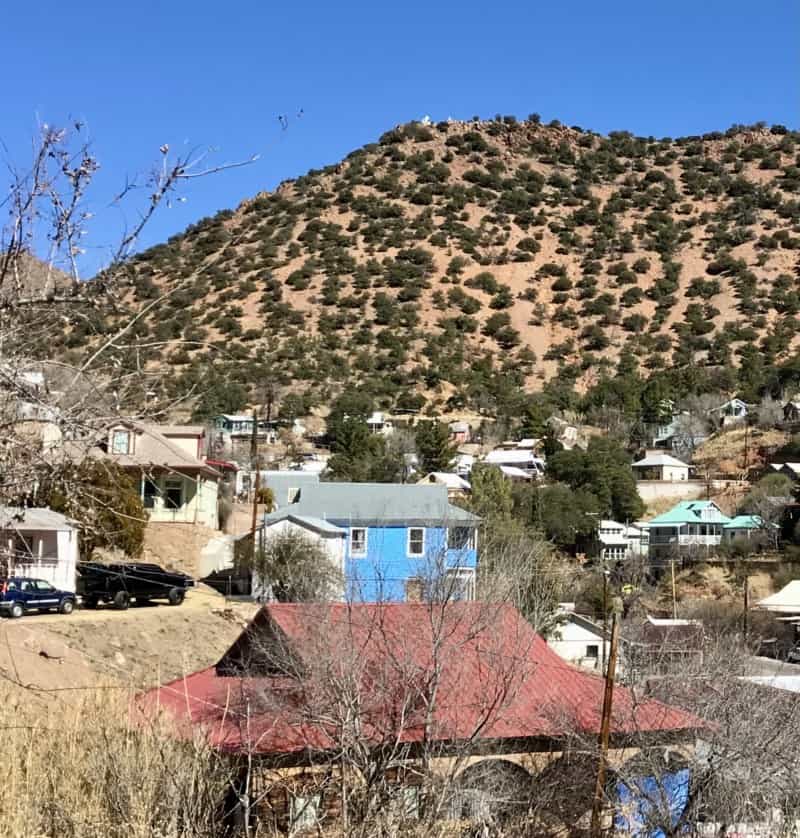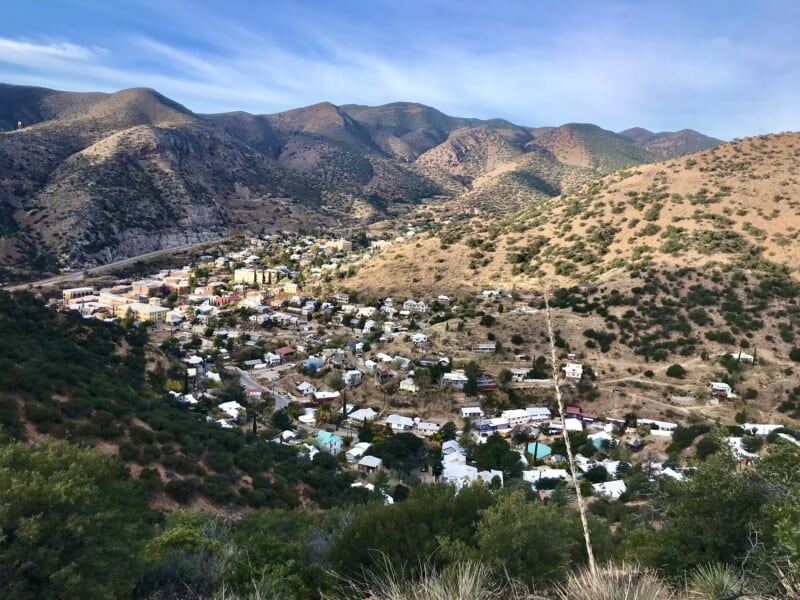 For a longer hike with views of the Chiricahua Mountains, pick up the Ridge Trail from Adams Avenue.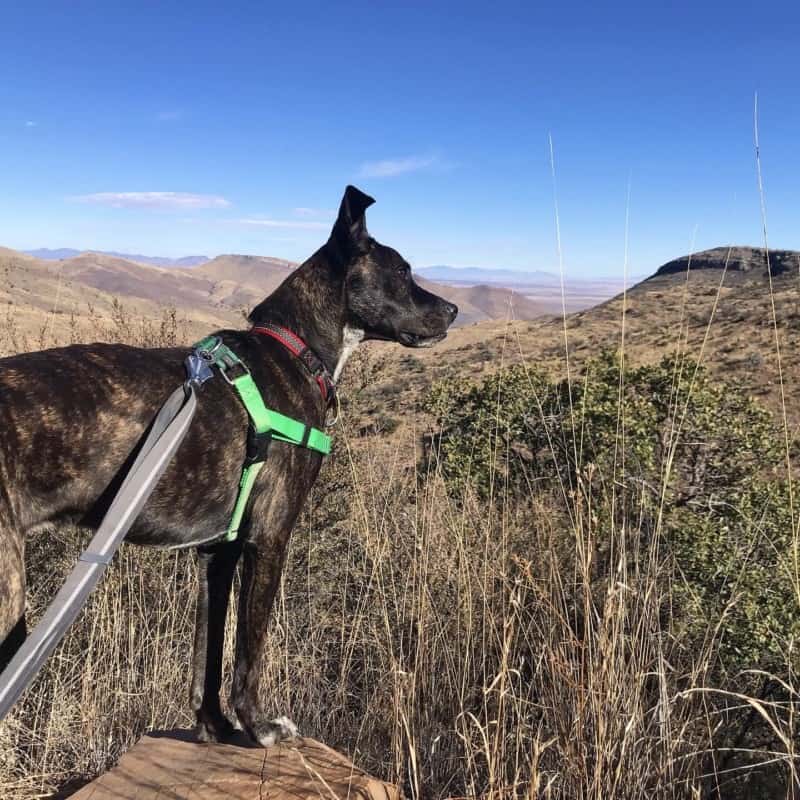 For those who prefer to stay on the pavement, but still want a workout, walk up to "the Divide." (It's not the actual Continental Divide, but the scenery is equally impressive.)
From downtown, walk northwest on Tombstone Canyon, cross under Hwy 80, and follow West Boulevard up to the white wall at the top. You'll be standing over the Hwy 80 tunnel that brings most visitors to Bisbee. The views along the way are stunning, especially at sunrise!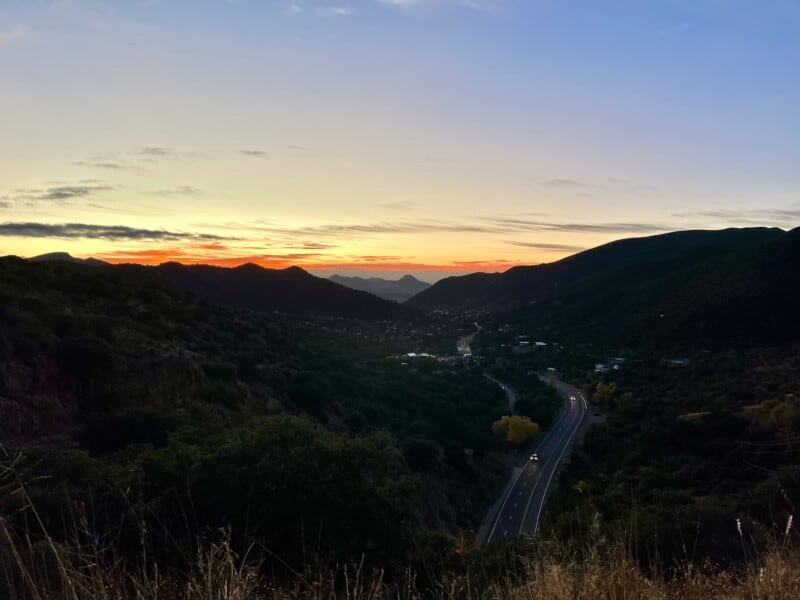 Pet Friendly Places To Stay In Bisbee
For a small city, there is a great selection of pet friendly accommodations in Bisbee. Whether you're traveling in an RV, or looking to stay in a hotel or vacation rental during your visit, you'll find the perfect place to meet your needs.
RV Park
Located within easy walking distance of downtown Bisbee, and just up the hill from the Queen Mine Tour, the Queen Mine RV Park is a popular winter destination. So be sure to make your reservations well in advance!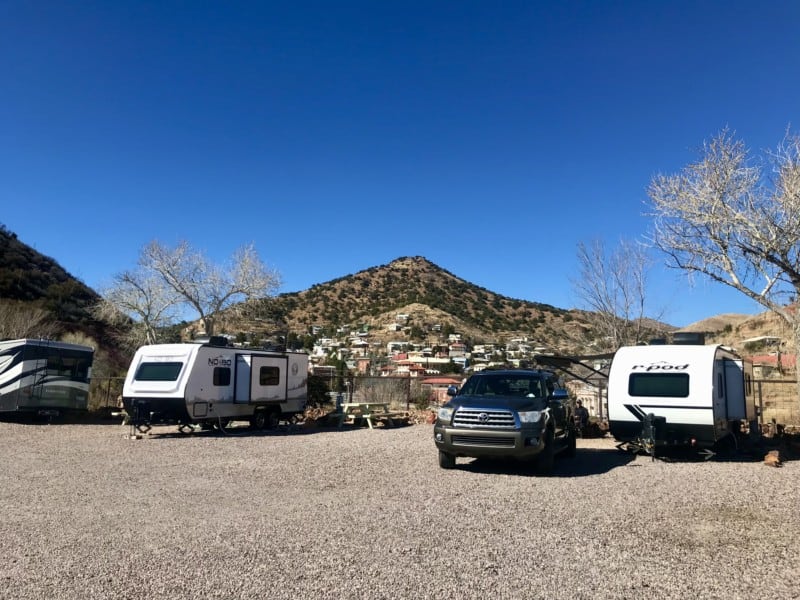 Hotels
Copper Queen Hotel – welcomes up to two dogs for with a $50 per stay, per pet fee and no weight limits
Eldorado Suites Hotel – welcomes one dog for a $30 fee and two dogs for $45 per stay
Jonquil Motel – welcomes up to two dogs with a $25 per night, per pet fee and no weight limits
Silver King Hotel – offers one pet friendly suite on the first floor for $5 per pet per night
The Inn at Castle Rock – welcomes two pets up to 40 pounds. Contact the hotel directly for details about fees.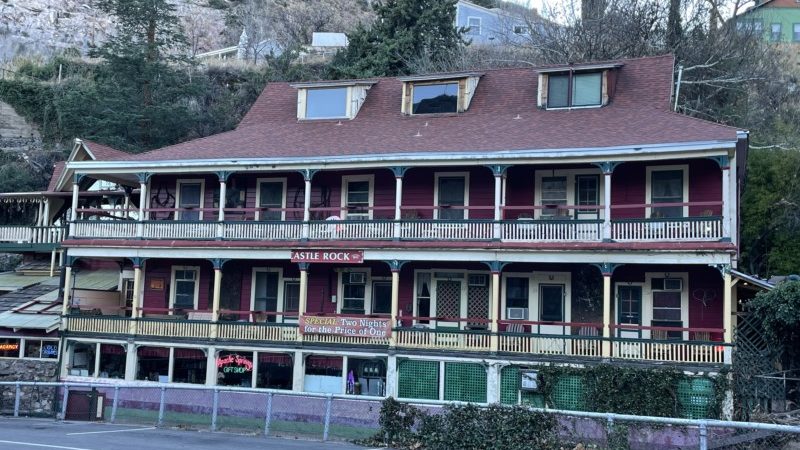 Vacation Rentals
Bisbee also has a wide variety of pet friendly vacation properties available. Check your favorite rental website to see the options.
More Pet Friendly Things To Do In Bisbee
Lavender Pit Overlook
Just south of Old Bisbee, toward the neighborhoods of Lowell and Warren, is the Lavender Pit. In operation from 1950 through 1974, the sheer scale of the mine is stunning.
There's a parking area overlooking the pit with informative signs explaining how the mine got it's name and how the mining process worked. It's definitely worth a quick stop.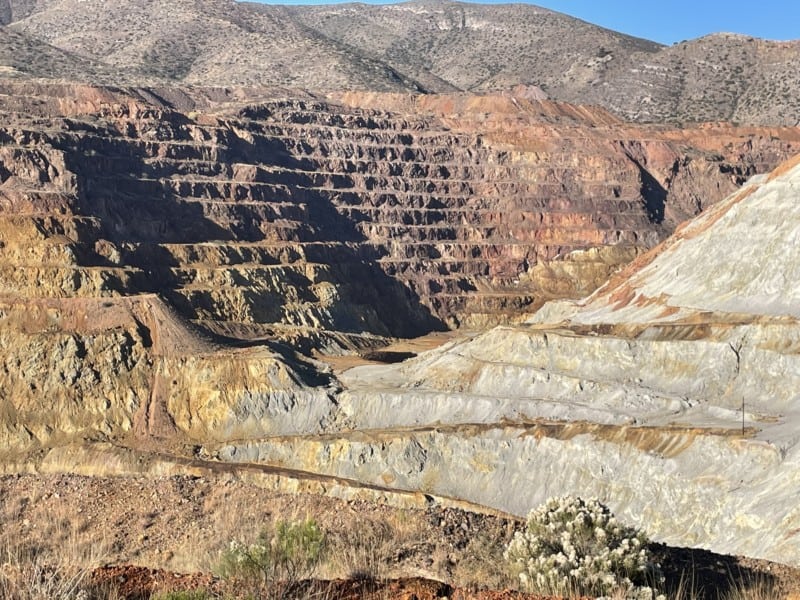 Stroll Through Lowell
Erie Street is most of what is left of Lowell. Much of the town's residential area was moved to widen the Lavender Pit. Unfortunately, the relocation of these residents caused many of Lowell's businesses to fail.
Today, it's a step back in time as you walk by the defunct businesses and antique vehicles in various states of repair.
Across the traffic circle, on Old Douglas Road, don't miss Dot's Diner. All the seating here is outdoors and pet friendly. In all our travels, we've never seen any place quite like it.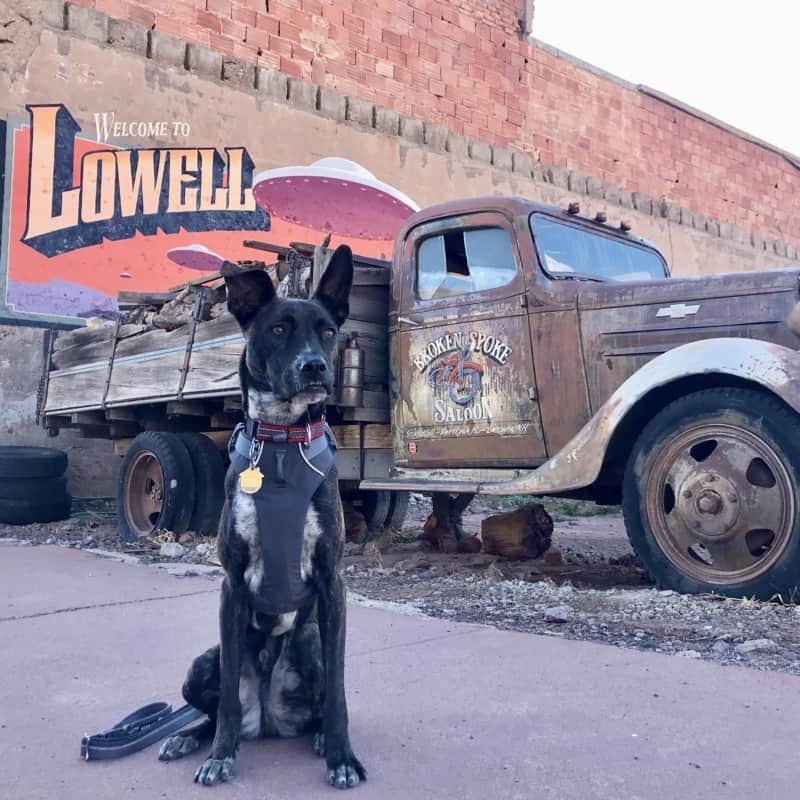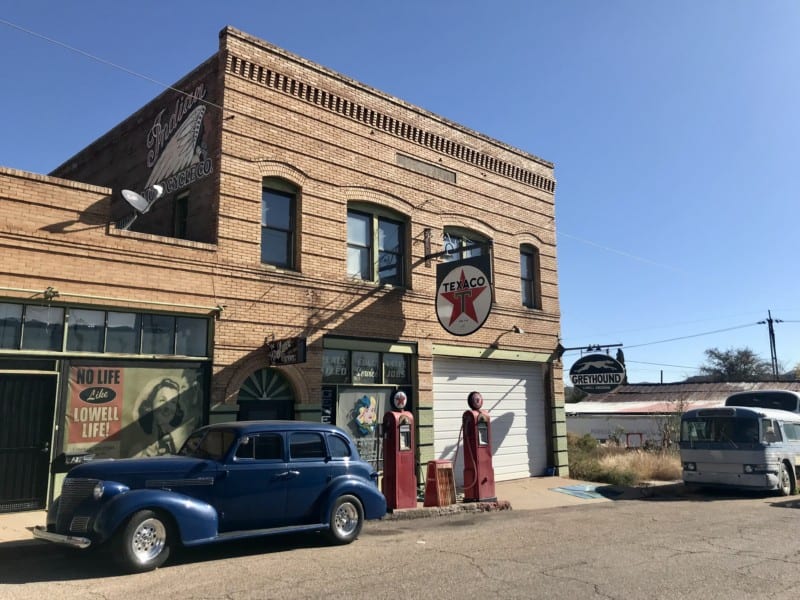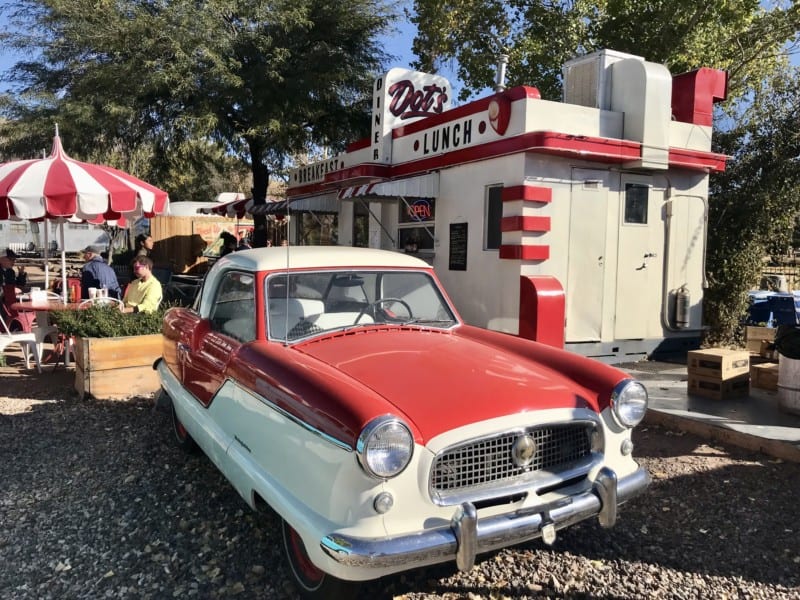 Day Trips From Bisbee
Naco, Sonora, Mexico
Park in Naco, Arizona, just 20 minutes from Bisbee, and walk to Mexico! Crossing the border with your dog is a cinch, and Naco, Sonora is a fun little Mexican town.
Stop for a delicious lunch on the patio at Cafiuta, a coffee shop that also serves salads, sandwiches, and more.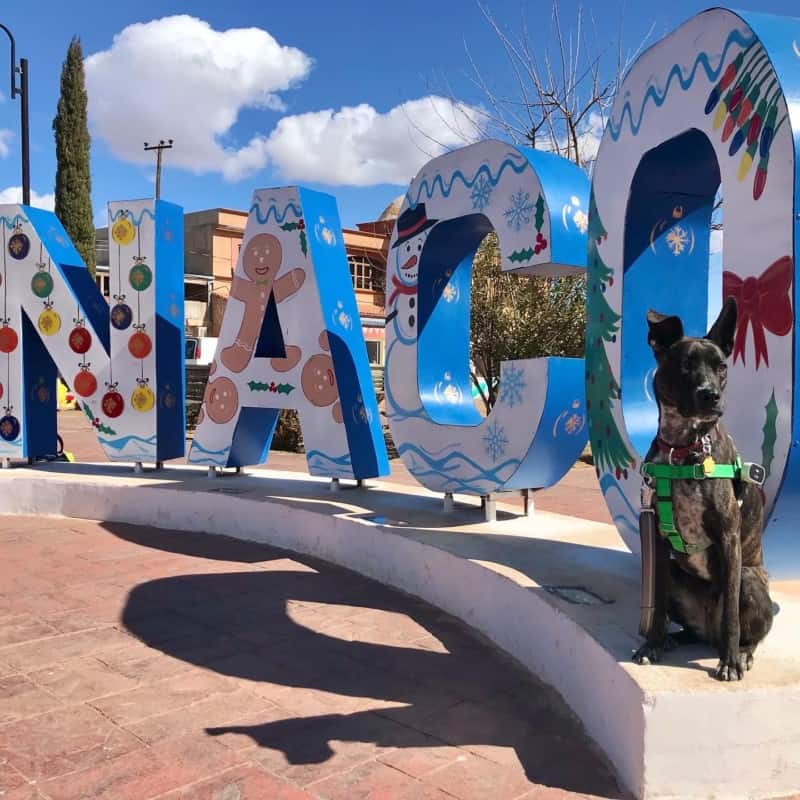 Tombstone, Arizona
Devoted to the wild west, Tombstone is just a 20-minute drive from Bisbee. If you dream of walking the very same streets where Wyatt Earp and Doc Holliday roamed, this is your chance!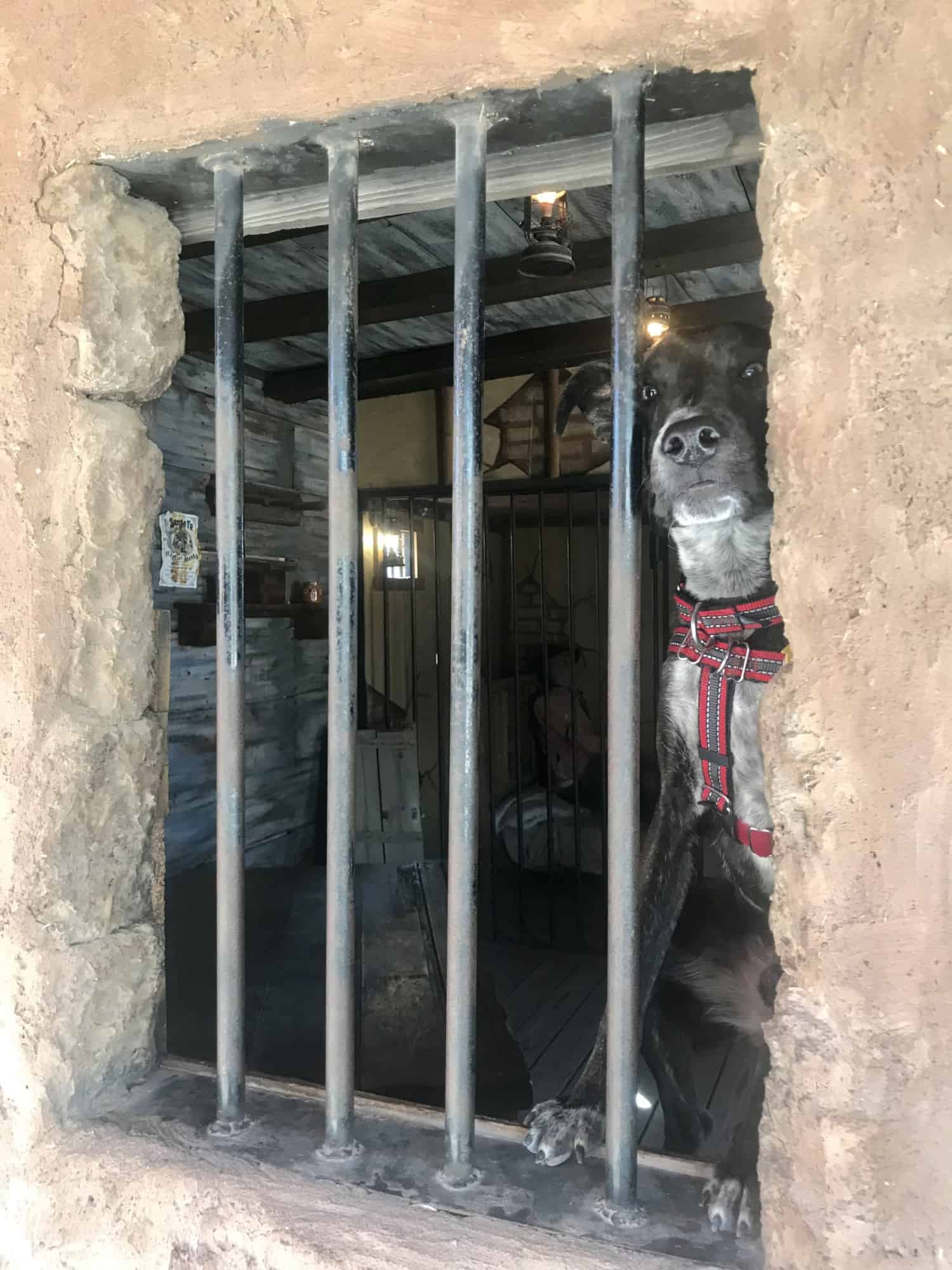 Patagonia Lake State Park
About 90 minutes west of Bisbee, Patagonia Lake is a 250-acre dog friendly oasis in the desert. Popular for fishing, camping, picnicking, bird watching, and hiking, there's something here everyone will enjoy.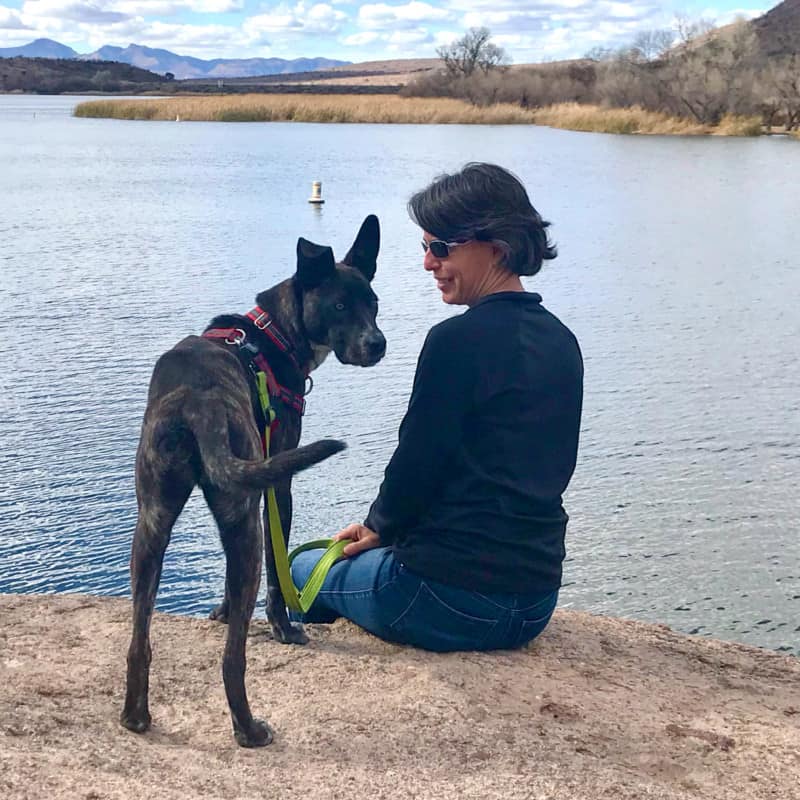 Breweries and Wineries in Sonoita & Elgin
Just an hour from Bisbee, you'll find one of Arizona's finest and most beautiful wine growing regions. Surrounded by the Santa Rita, Huachuca, and Whetstone Mountains, visiting the pet friendly wineries and breweries is a great way to spend a dog friendly day!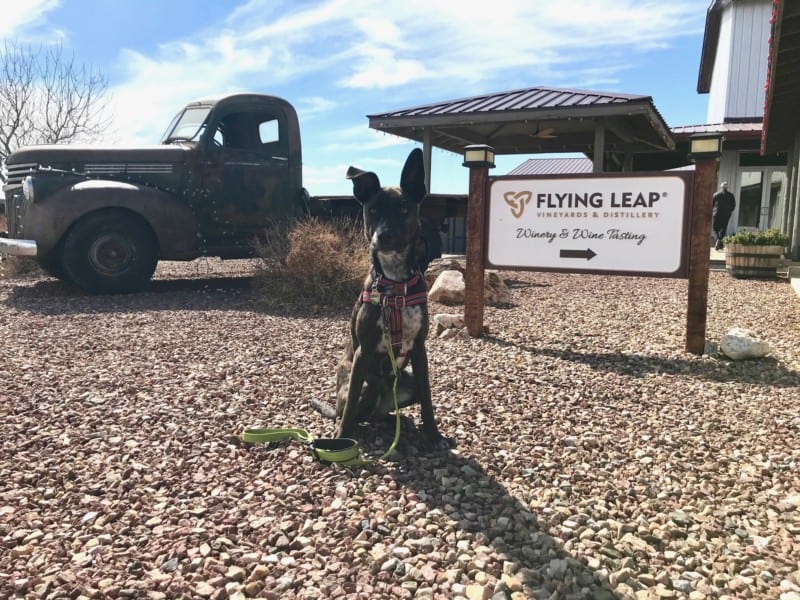 Hiking At Kartchner Caverns
Kartchner Caverns is known for its cave tours, but what drew us to this state park were the trails! Less than an hour north of Bisbee, the Guindani and Cottonwood Saddle Trails are definitely worth the drive.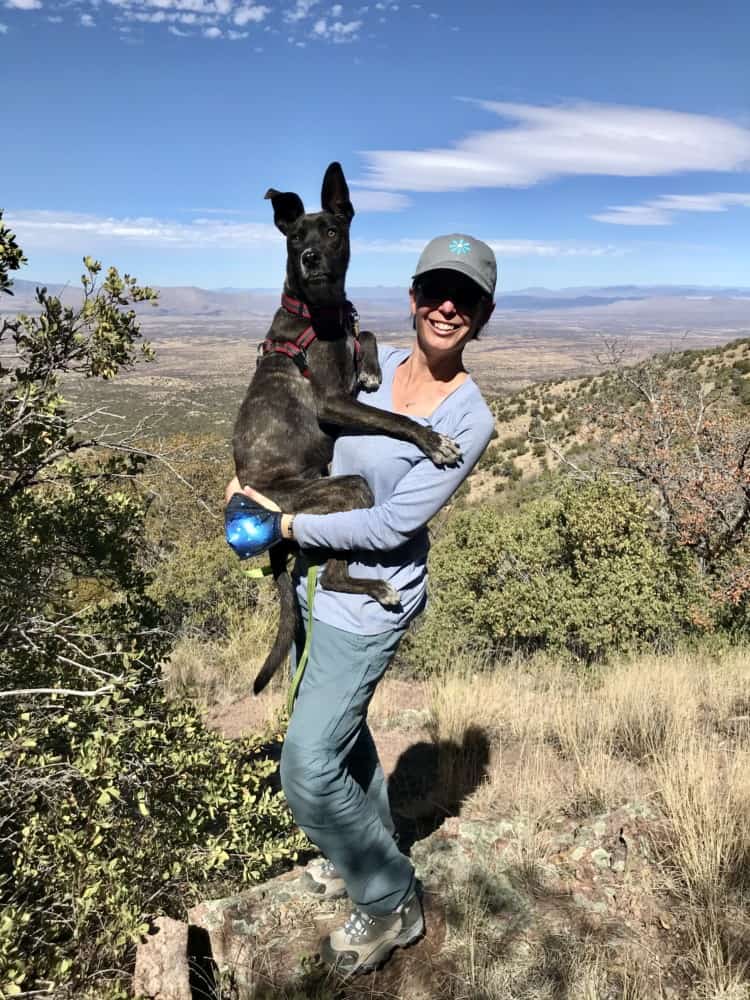 Coronado National Memorial
For a pet friendly history lesson, visit the Coronado National Memorial. Just 30 minutes from Bisbee, the exhibits here interpret Francisco Vásquez de Coronado's expedition from Compostela, Mexico to what is now Salina, Kansas.
The park also offers panoramic views of the US-Mexico border and San Pedro River Valley, which is considered Coronado's likely route. And the one pet friendly trail is a thigh-burner, but the payoffs are worth the effort!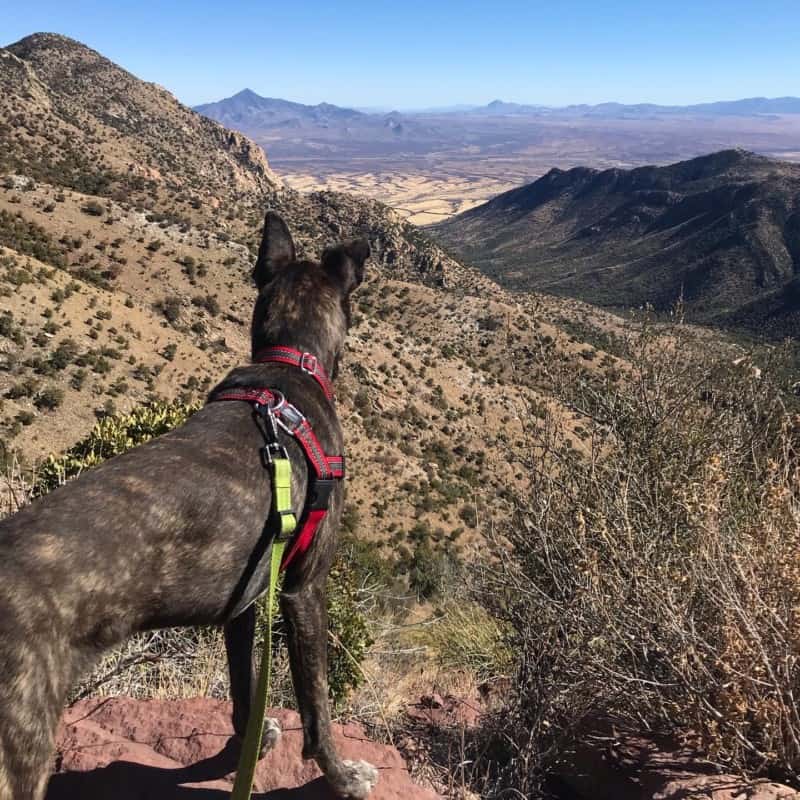 White Water Draw State Wildlife Area
Plan your visit between early October and mid-March to see the sandhill cranes. Whitewater Draw, just 30 minutes from Bisbee, is the winter home of 20,000 cranes.
The birds spend the night standing in the shallow waters to evade predators. Each morning at dawn they fly out to feed and socialize in the surrounding area. In the afternoon, they start returning to Whitewater Draw to settle in for the night.
Chiricahua National Monument
Seventy miles northeast of Bisbee, Chiricahua National Monument covers more than 12,000 acres. Called "standing up rocks" by the Chiricahua Apache, an eight-mile drive winds through the park's spires and pinnacles.
The best hiking trails at Chiricahua are exceptional … but not pet friendly. There is one trail through the valley where pets are allowed, but it's in a less scenic area of the park.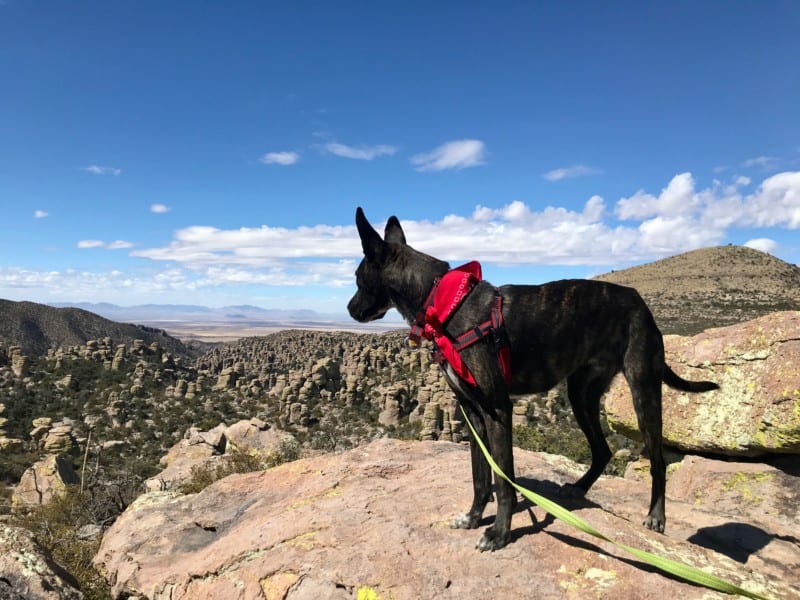 We hope our visit to pet friendly Bisbee has inspired you to plan a trip of your own! This is one of the easiest and most enjoyable places we've found to do more together.
In fact, we fell in love with Bisbee during our stay. So much that we've made it our home! Keep an eye out for us. We spend a lot of time walking the streets and trails with our pups.
(Visited 3,788 times, 1 visits today)