Moab is one of the most spectacular places in America. With breathtaking scenery and incredible outdoor activities, it's also the perfect place to plan a trip with your pet!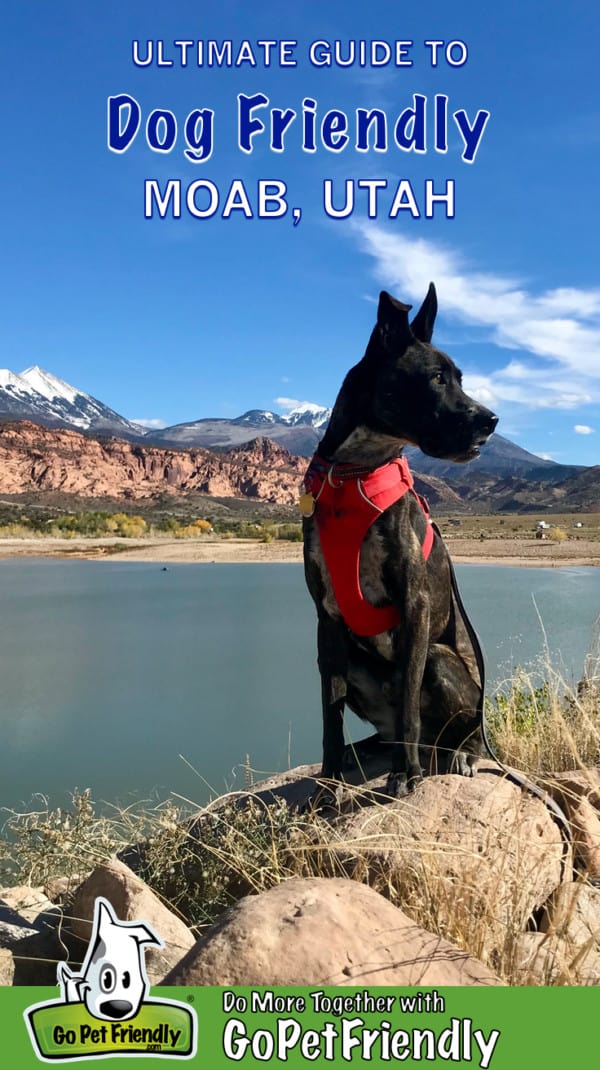 If you love the outdoors – and what dog doesn't? – Moab, Utah is an amazing vacation destination. Perched 4,000 feet above sea level on the Colorado Plateau, where the Colorado River tumbles by towering red cliffs, dog friendly Moab is the perfect basecamp for exploring all Southern Utah has to offer.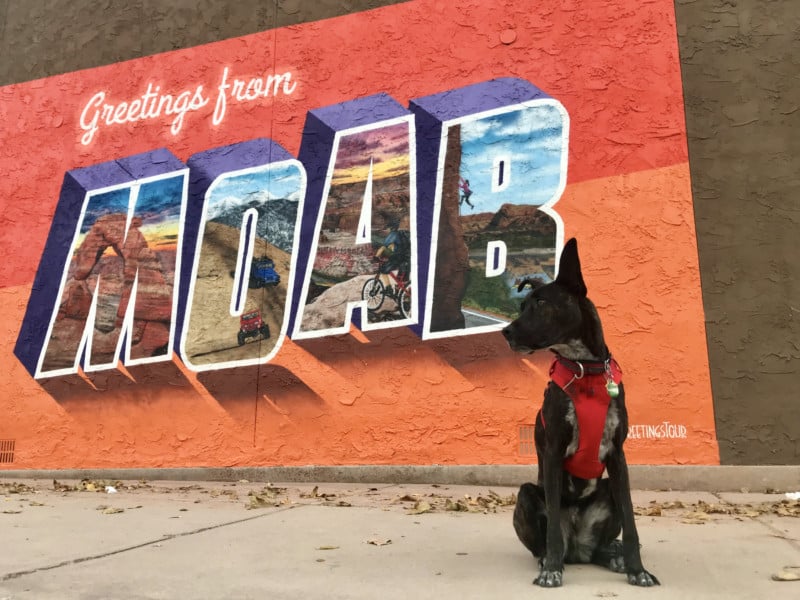 Dog Friendly Moab Travel Guide
The great thing about Moab is that it's very dog friendly! You'll find a few places (like the national parks) that limit where pets can go. But there are so many pet friendly things to do, you'll have no trouble staying busy.
Things To Do
Dog Friendly Hikes in Moab
Perhaps the best way to appreciate the scenery in Moab is to take a dog friendly hike. And there are a plethora of options to meet every ability level.
Arches National Park
Arches National Park boasts the densest concentration of natural stone arches in the world. Over 2,000 arches have been documented within the park's borders. It's a landscape unlike any other you'll see.
Though dogs aren't allowed on the trails at Arches, there are some great places to walk your pup! Take a stroll around the campground, or check out one of the unpaved roads. We especially liked Cache Valley Road and Willow Flats / Willow Springs Road.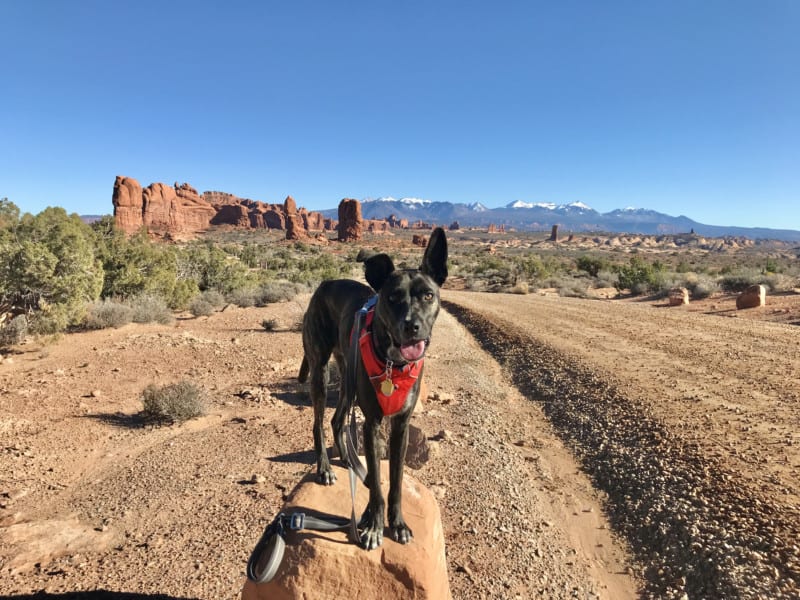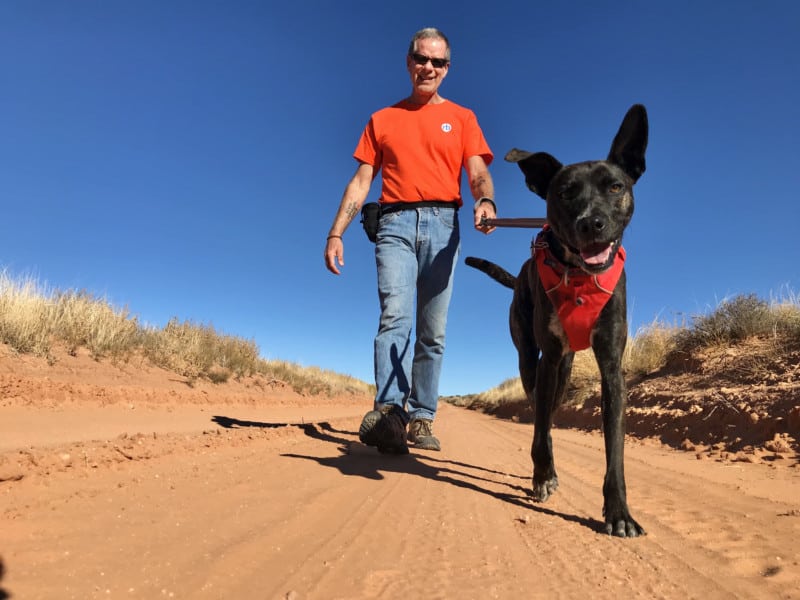 Corona Arch
After driving around Arches National Park, you might be aching to see some arches up close with your pup. If so, head to the Corona Arch Trail. In just three miles, you and your dog can enjoy three arches!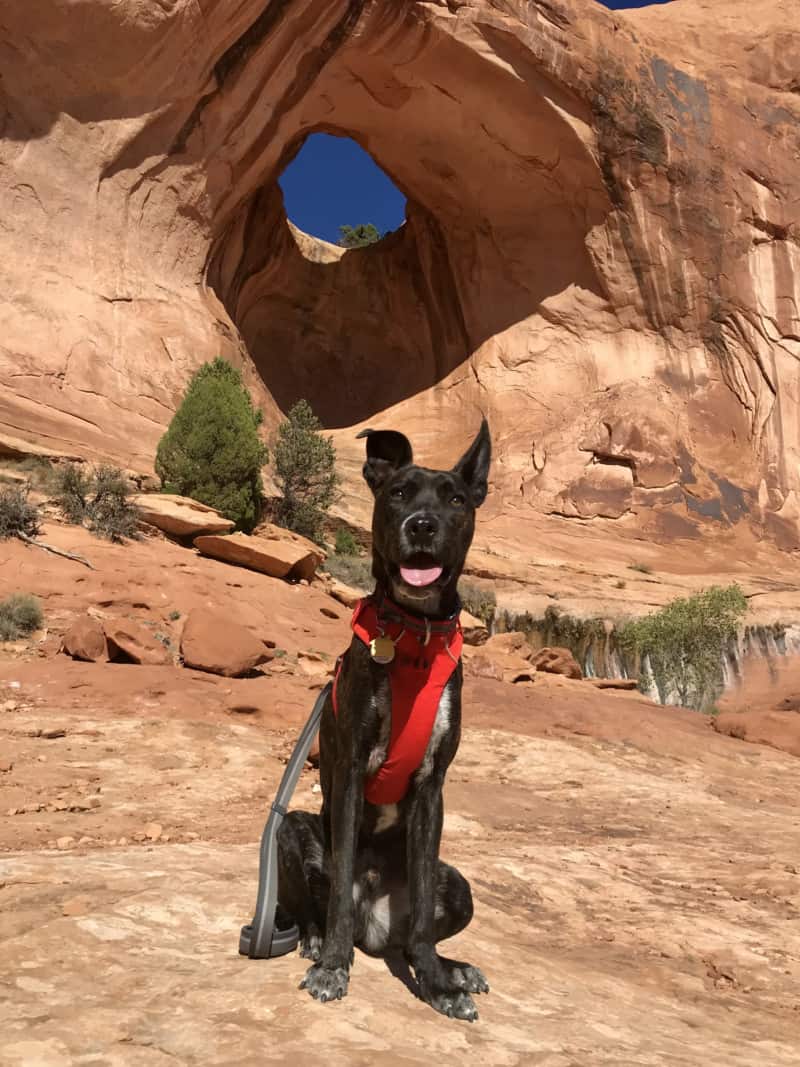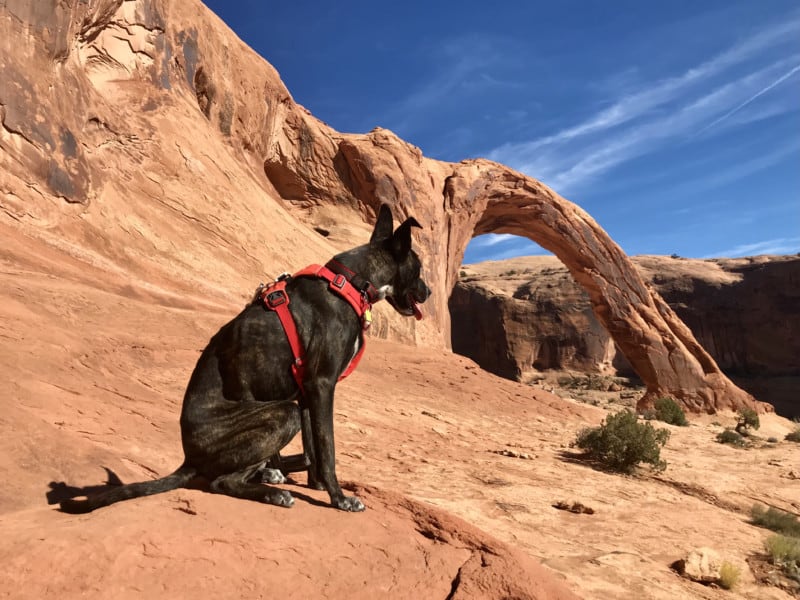 This is a bighorn sheep lambing area, so leashes are required. And the spur to Bowtie and Corona Arches passes over some slickrock and involves a short ladder. So it's not the best option for dogs or people with mobility concerns.
Myles is small enough that we could lift him up and down the ladder. And he was able to scramble over the slickrock on his own.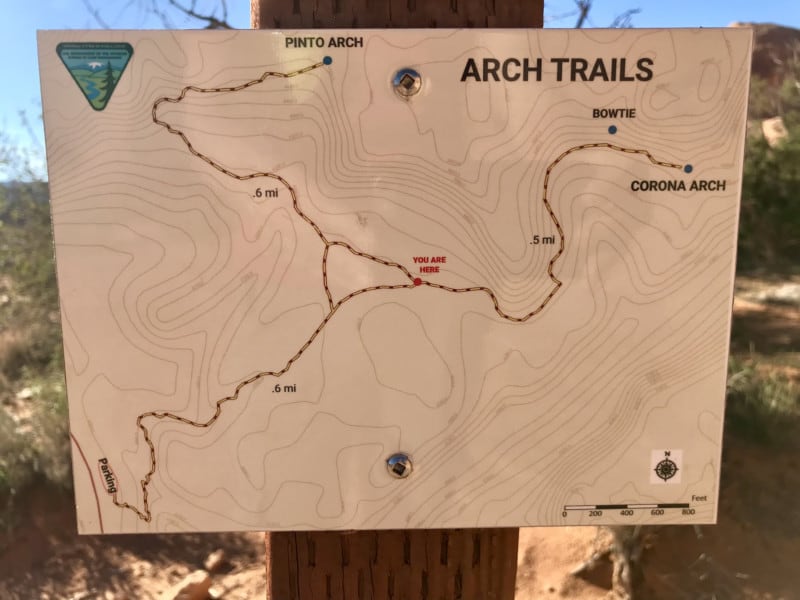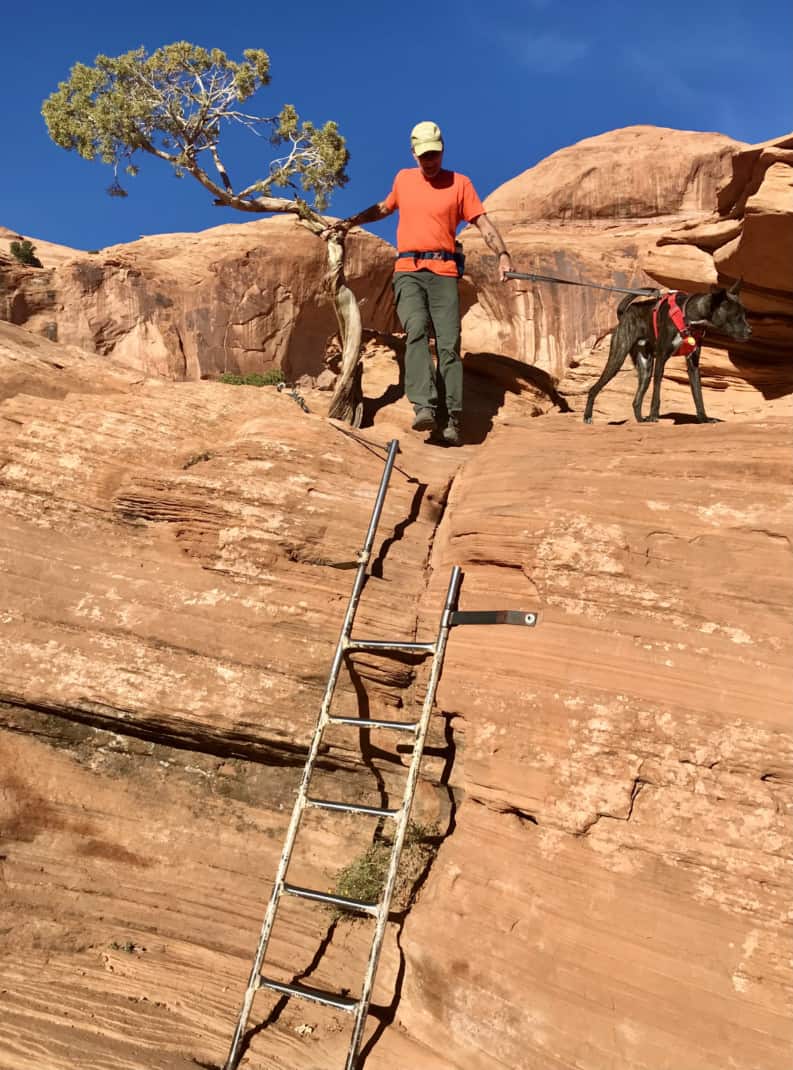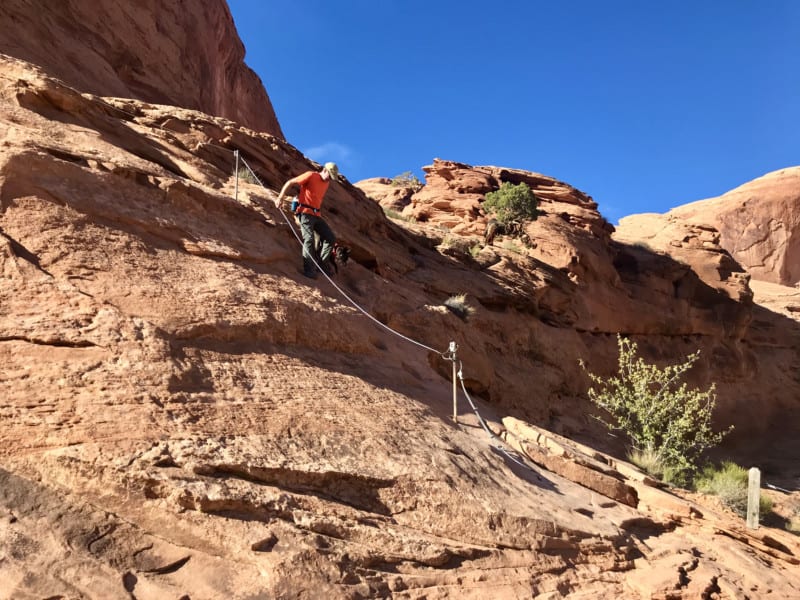 Dead Horse Point State Park
Ten million years of erosion are responsible for the spectacular views at Dead Horse Point State Park. The wind, rain, and Colorado River – now 2,000 feet below the rim – have sculpted this unimaginable land of canyons, mesas, and buttes.
The best way to experience the Park with your pet is to hike the Rim Trail from the Visitor Center. Combining the East Rim and West Rim Trails creates a 4.5-mile loop that follows the rim of the canyon. For a little longer hike, add the four spur trails to the overlooks.
Pets on leash can join you on all the hiking trails at Dead Horse Point Sate Park. However, pets are not allowed on the mountain biking trails.
When your dog has reached his hiking limit for the day, head down the road for a scenic drive through Canyonlands National Park (see below).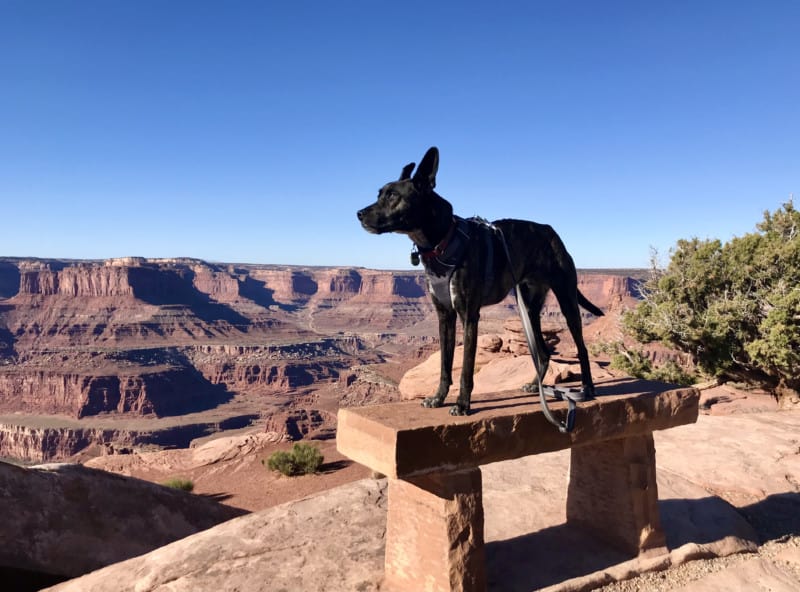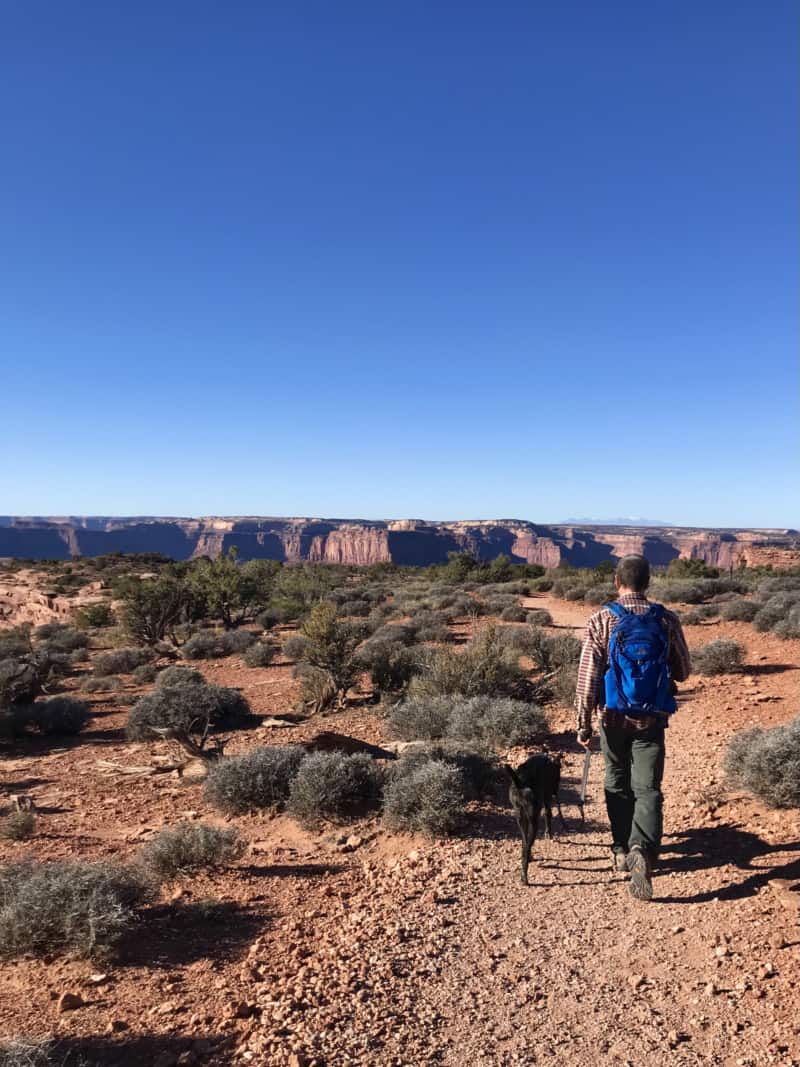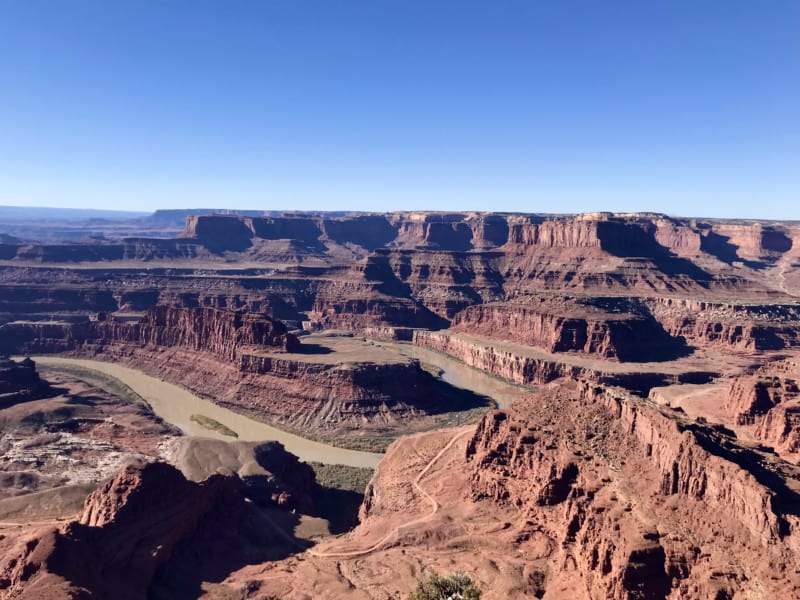 Hidden Valley Trail
The Hidden Valley Trail is six miles roundtrip, and starts with a steady climb to … you guessed it … a hidden valley! Once you've reached the top of the climb, the terrain levels off for the remainder of the hike.
The views and the rock art at the saddle are a special treat. And you can follow the trail to where it connects with Moab Rim 4-wheel-drive road and continue on if you want a longer hike.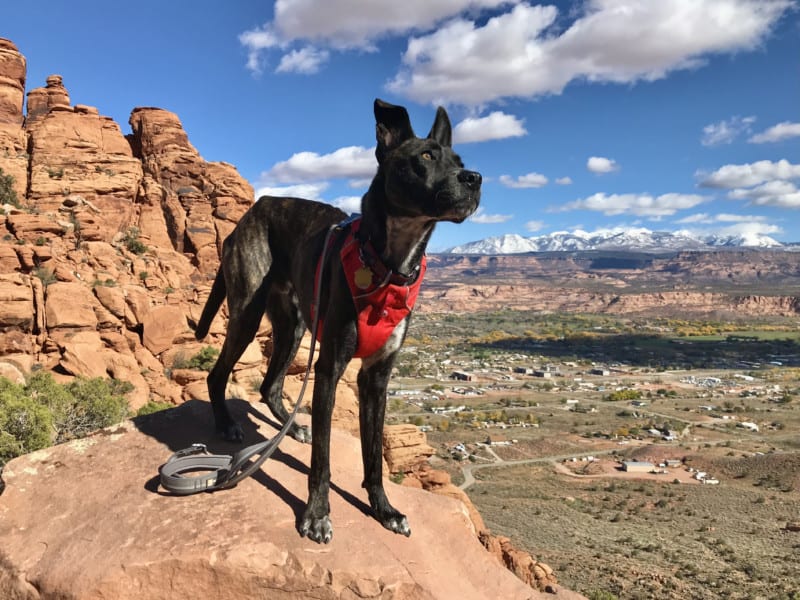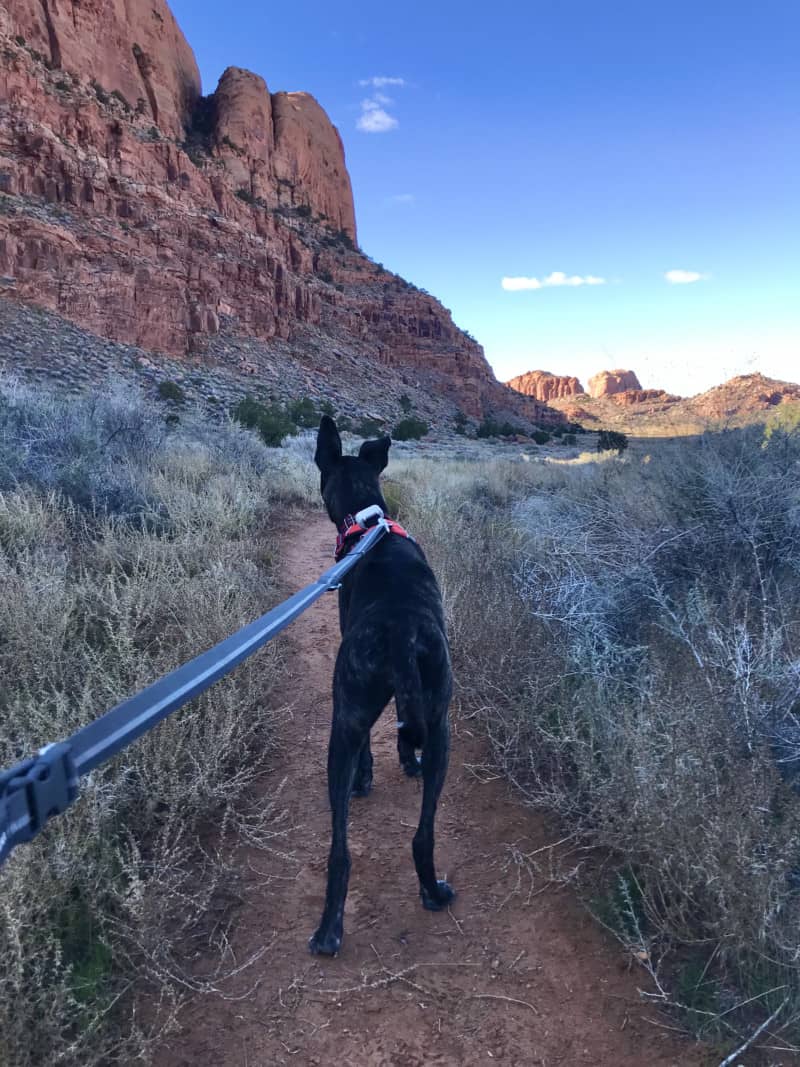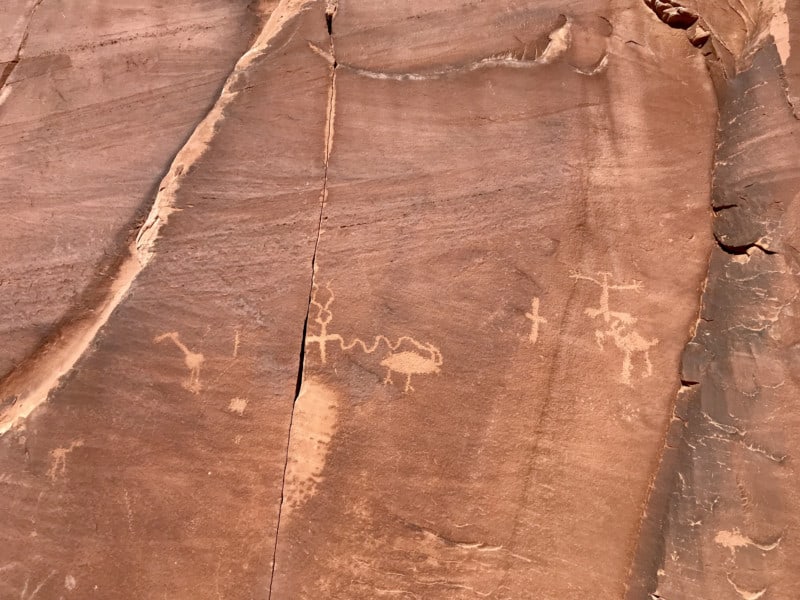 Ken's Lake Day Use Area
Nine miles south of Moab, Ken's Lake offers several miles of dog friendly trails. Choose from an easy stroll along the reservoir, a walk among the red rocks on the Rock Loop, or hike up to view Faux Falls.
The trails at Ken's Lake are connected, so you can make your hike as long or short as you like.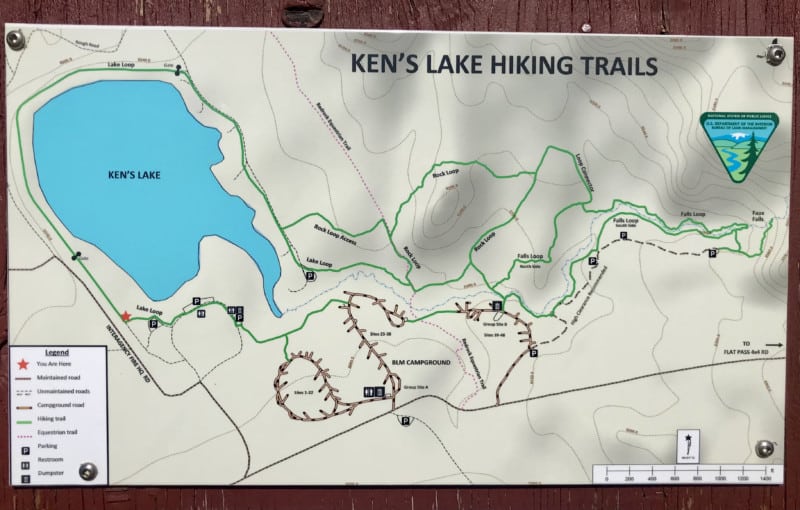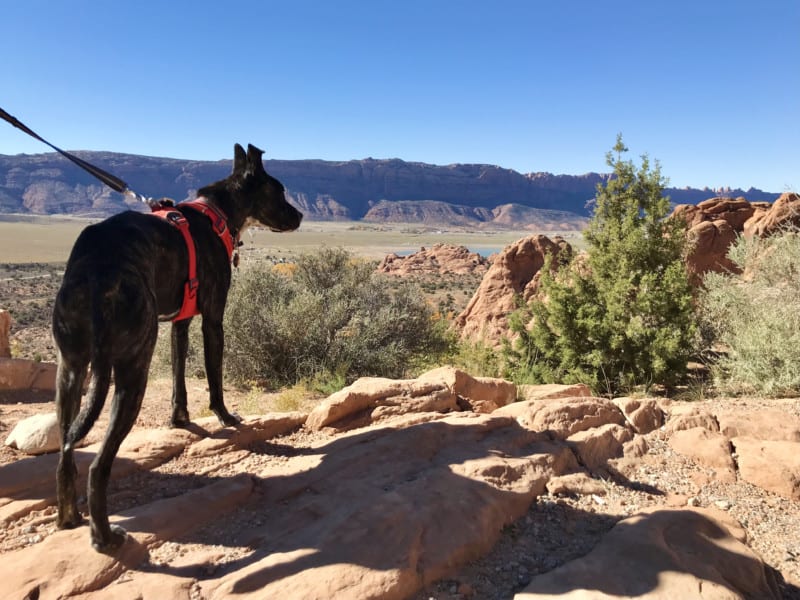 Mill Creek Parkway
The Mill Creek Parkway is a great place for an urban hike along the water. This paved path begins at Rotary Park (680 S Mill Creek Drive) and runs for two miles through downtown Moab, following the creek to South 100 West.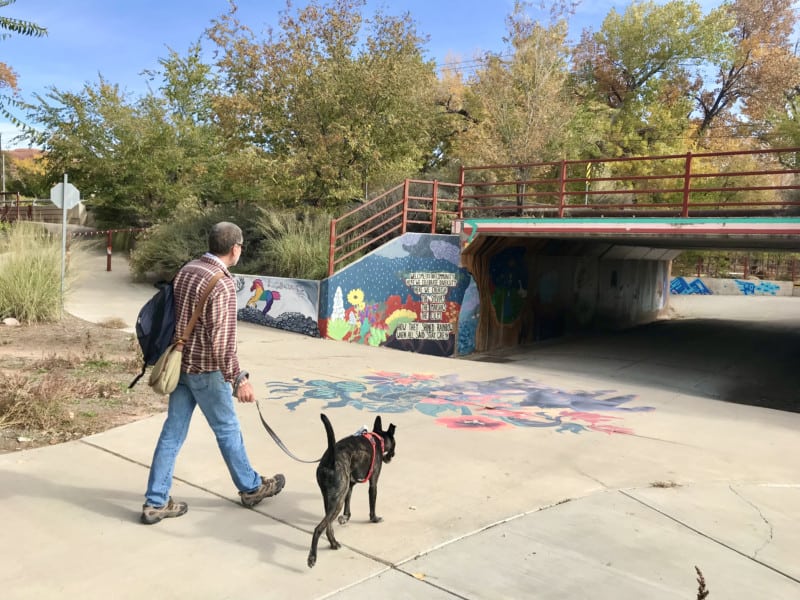 Moab Canyon Pathway
From its hub at Lions Park at the intersection of Highways 191 and 128, you can take the paved Moab Canyon Pathway in three directions. Head north 8.5 miles, past Arches National Park to Highway 313. Or go south two miles into downtown. But absolutely do not miss the 2.5 mile route east along the bank of the Colorado River!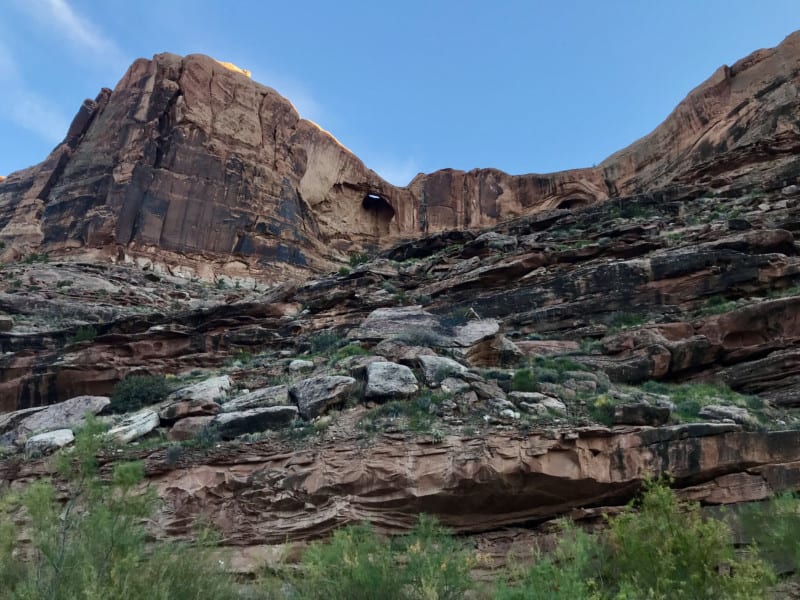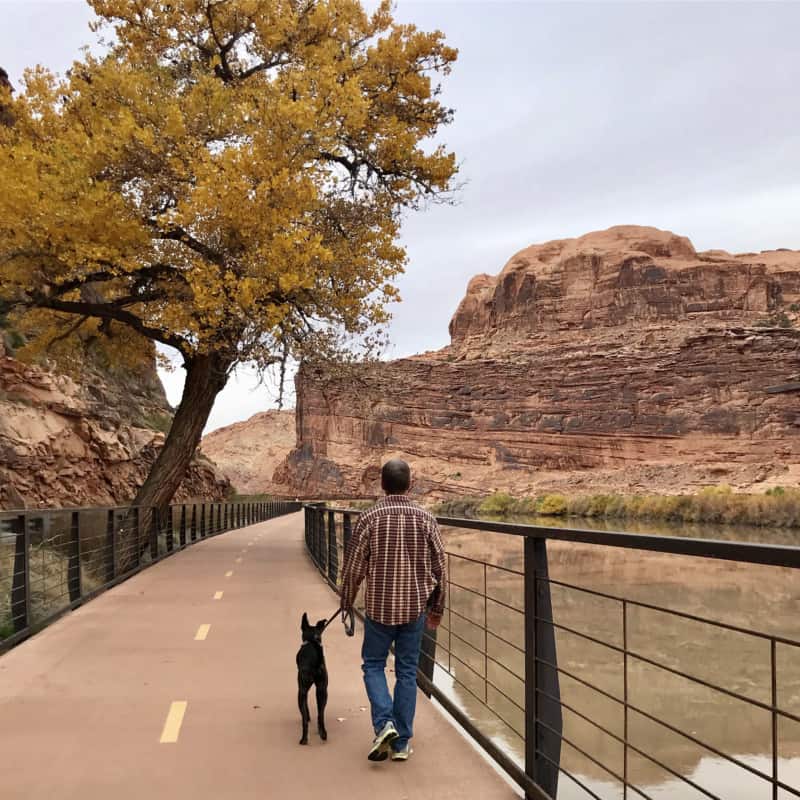 More Dog Friendly Hikes In Moab
With so many great dog friendly hikes in Moab, we didn't have time to try them all. Here's are thirteen more trails you can try:
Amphitheater Loop – 2.8 miles roundtrip through washes and around boulders in the Moenkopi and Cutler sandstones with views of the Colorado River
Dellenbaugh Tunnel – 3 to 4 miles roundtrip to a natural rock tunnel
Dinasour Stomping Grounds – 3.4 miles roundtrip with dinosaur tracks
Fisher Towers Trail – 4.4 miles roundtrip with fantastic closeups of the Fisher Towers (include a short ladder)
Grandstaff Canyon – 4 miles roundtrip along a perennial stream to Morning Glory Bridge, a 243-foot natural rock span
Hunter Canyon – 4 miles roundtrip with a seasonal stream and large arch
Jeep Arch – 4 miles roundtrip among fins and spires ending at the arch
Juniper Loop – 1.9 miles to the top of a mesa with sweeping views
Longbow Arch – 2.4 miles roundtrip with dinosaur tracks, rock art, and Longbow Arch (includes a short scramble on slickrock)
Mill Creek North Fork – 2 to 8 miles roundtrip with stream crossings, pools, and a waterfall (Your feet will get wet.)
Poison Spider Bench – 2.2 miles roundtrip with views of the Colorado River
Portal Overlook – 4 miles roundtrip with panoramic views of the Moab Valley, La Sal Mountains, and Colorado River
Sylvester – 6.5 miles roundtrip with views of Castle Valley
Play At The Dog Park
Moab's Bark Park is a one-acre, off-leash dog park located at 100 East 300 South Street. With separate areas for large and small dogs, this is a great place to bring your dog to run, play, and socialize unleashed.
The surface is mostly dirt, and there are some large trees for shade. The park also has drinking water for the dogs, except in winter. Remember to always clean up after your dog.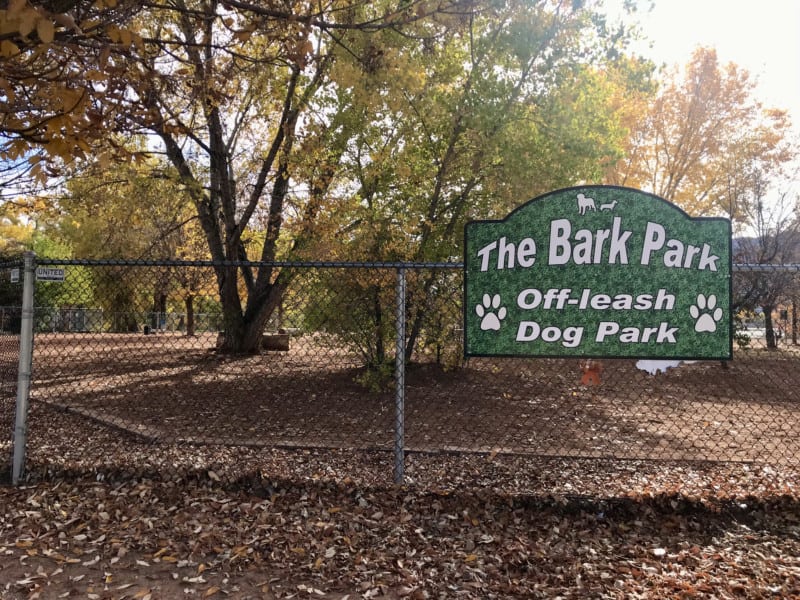 Scenic Drives
Canyonlands National Park
For people traveling with pets, Canyonlands National Park is a scenic drive. But that's fine! Start your day with a walk at nearby Dead Horse Point State Park (see above), where the hiking trails are pet friendly.
Get your dog good and tired, and he'll snooze in the backseat while you take in the views along the 20 miles of paved roads in Canyonlands.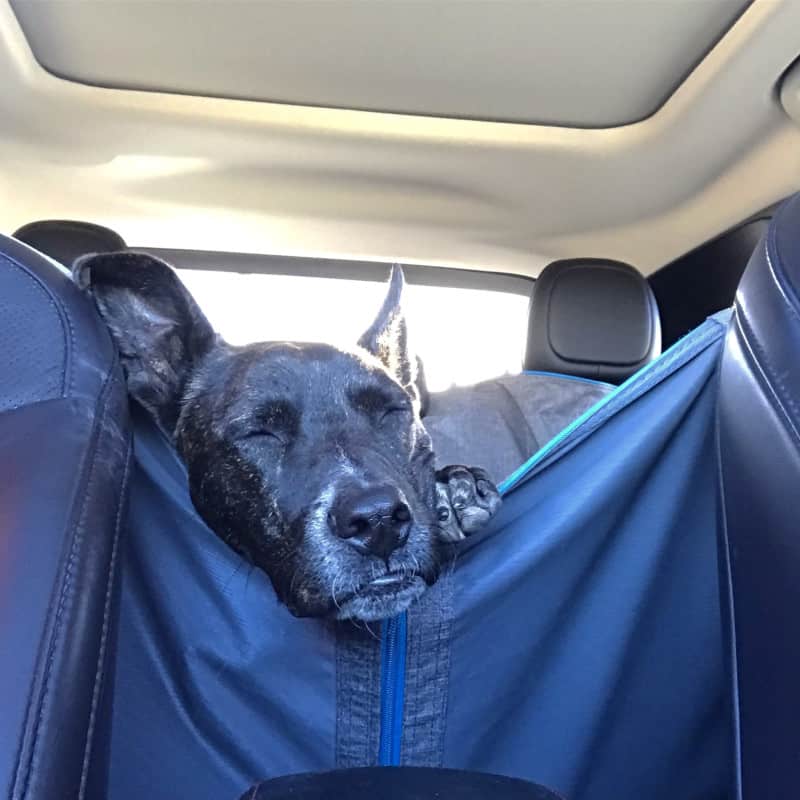 From dog friendly Moab, the Island in the Sky section of Canyonlands is easiest to reach. Thirty-two miles from town, and just down the road from Dead Horse Point State Park, this mesa provides spectacular views of canyon country.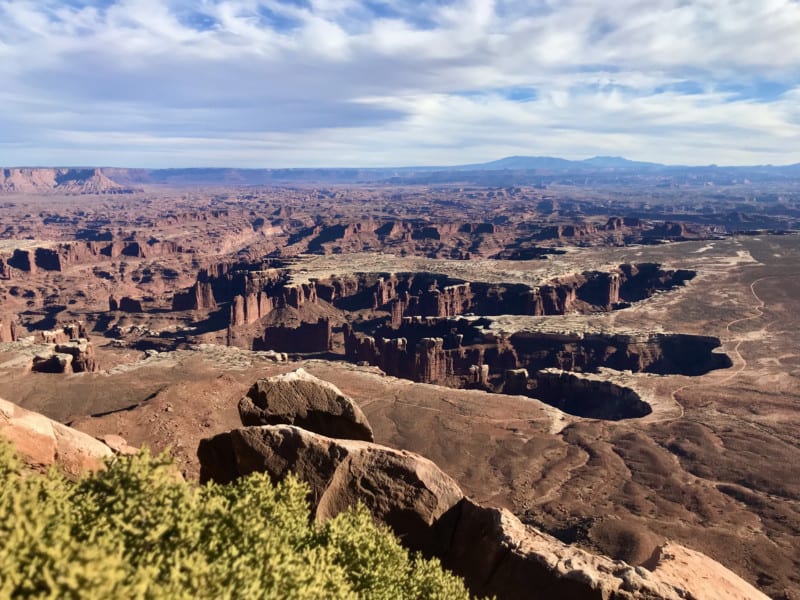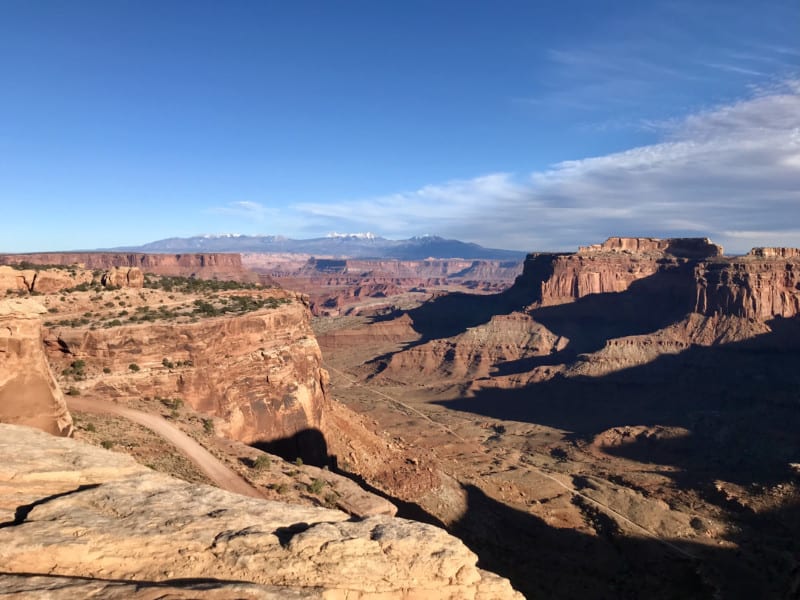 Pets at Canyonlands can only be walked on paved parking lots, in the campground, and on the unpaved Shafer Canyon Road between Moab and Island in the Sky – which we don't recommend. The traffic, dust, and steep grades would make it a difficult trek. Also, pets cannot go on the 100-mile, unpaved 4-wheel-drive White Rim Road – even in vehicles.
But the picnic areas are pet friendly and lovely. So, bring your lunch and your pooch, and enjoy the views!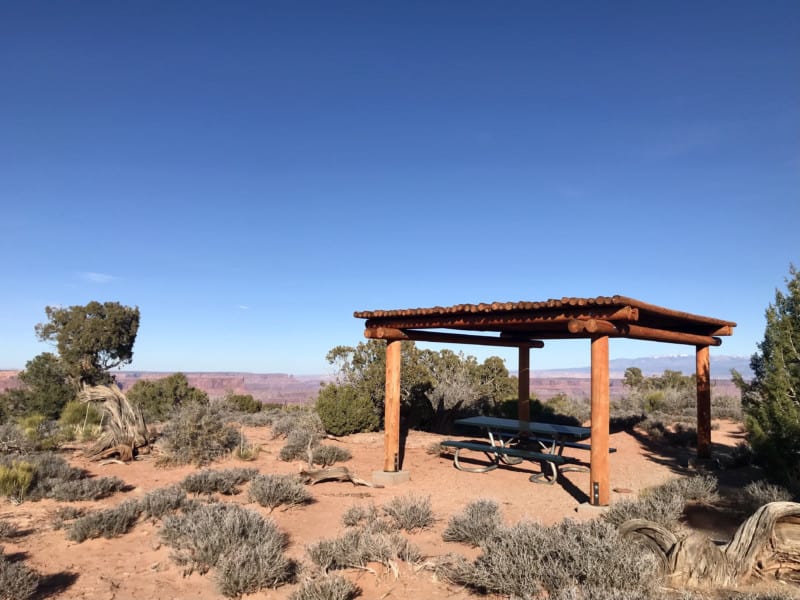 La Sal Mountain Loop
For a completely different perspective on Moab's unique terrain, take a drive on the La Sal Mountain Loop. The route starts on Hwy 191, just south of Ken's Lake Campground and Day Use Area, and winds north through the La Sal Mountains and Castle Valley, ending at the Colorado River on Hwy 128.
Beginning and ending the loop in Moab takes about 3 hours and covers 60 miles. But, if you have time, plan to spend the day! You can explore the many national forest trails, picnic by Oowah or Warner Lake, or watch for birds and other wildlife in the alpine landscape.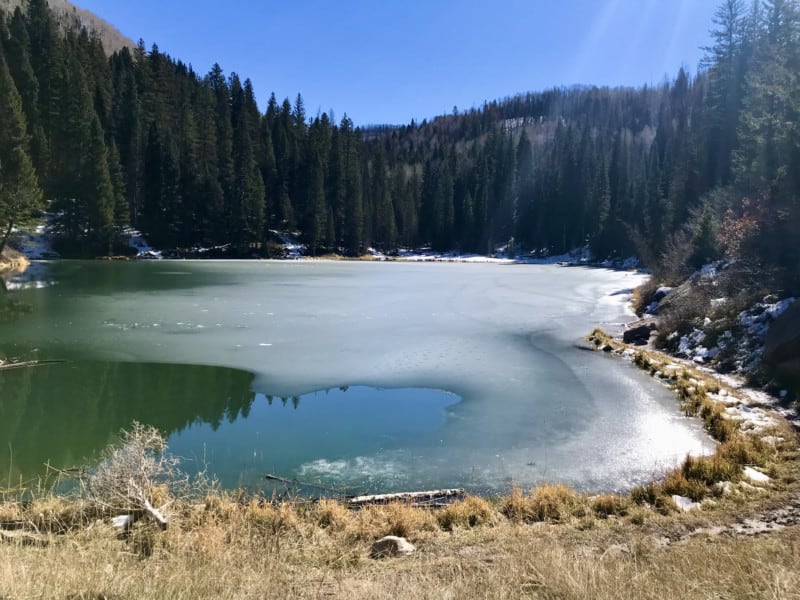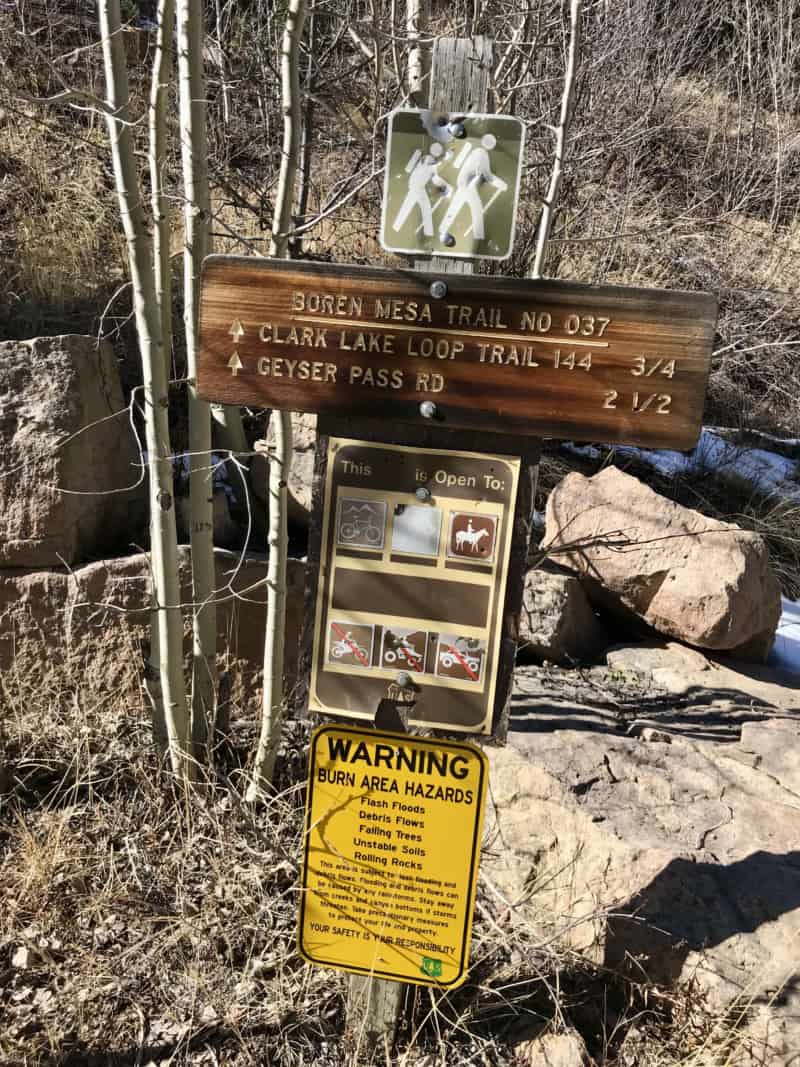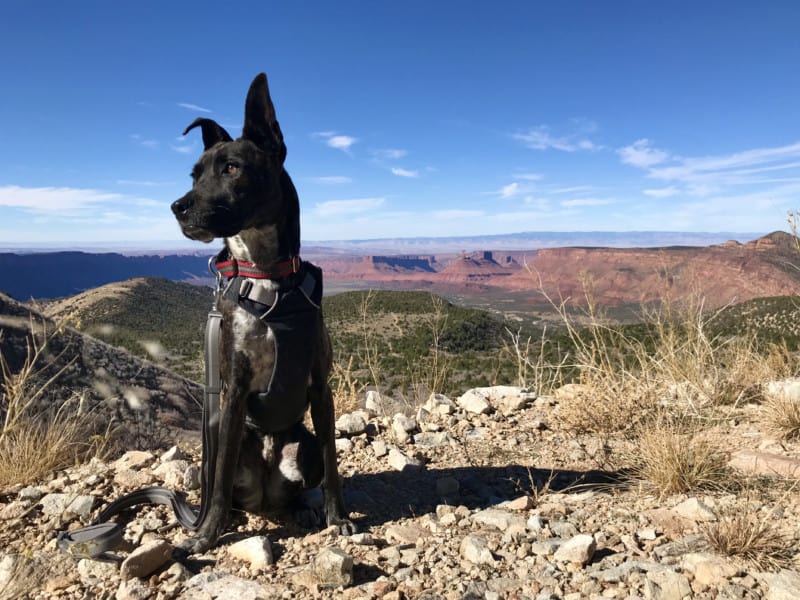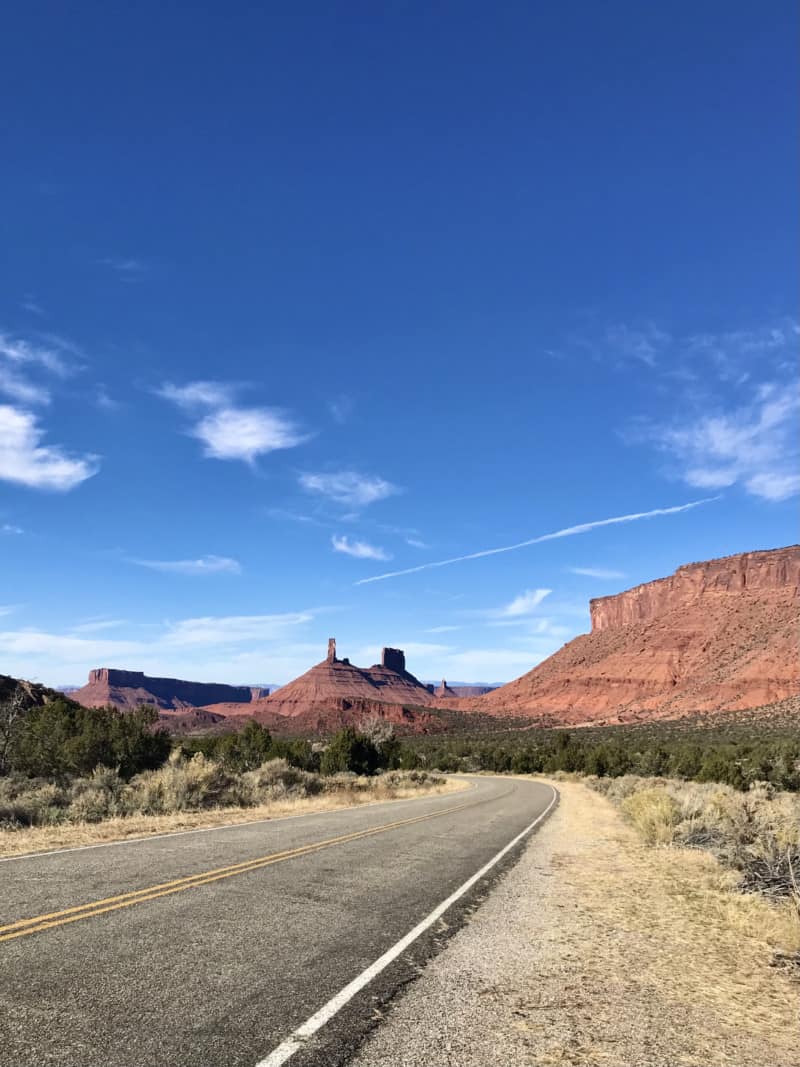 Upper Colorado River Scenic Byway (Hwy 128)
Beginning at the intersection of Highways 191 and 128, this scenic drive follows the Colorado River to Castle Valley. The first 13 miles pass through the narrow gorge, twisting and turning like the river below. Then the gorge widens and gives way to the Castle and Professor Valleys, where numerous movies have been filmed.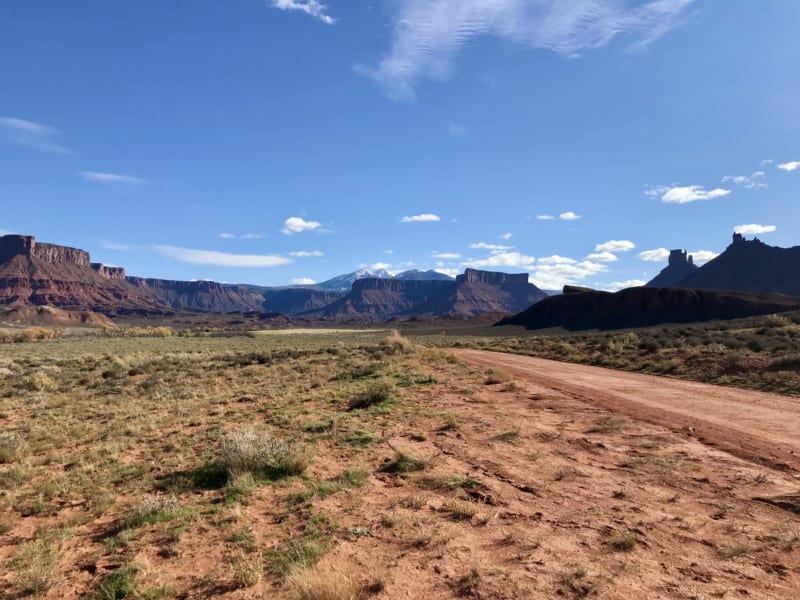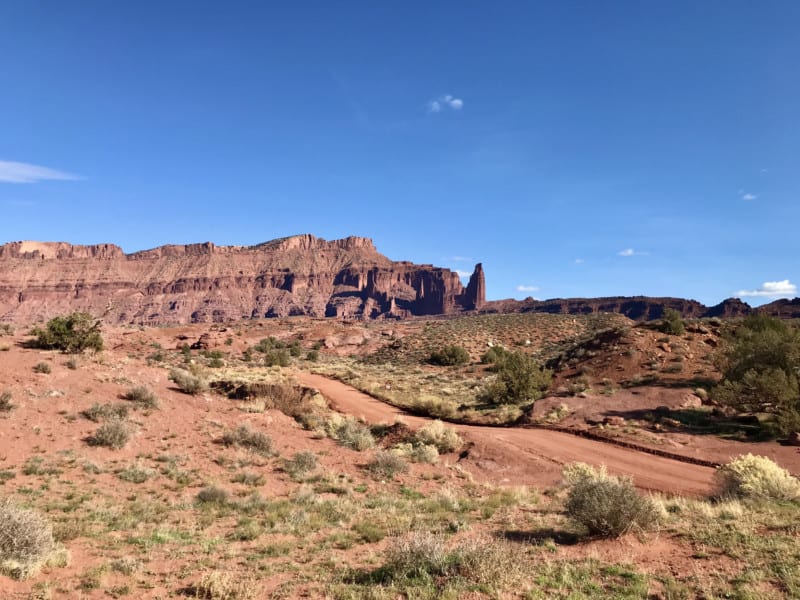 You'll also pass Sandy Beach, which provides access to the river. If your dog likes to splash, be sure to pack his life preserver. On Utah rivers every person must wear a personal flotation device – and your pup should, too!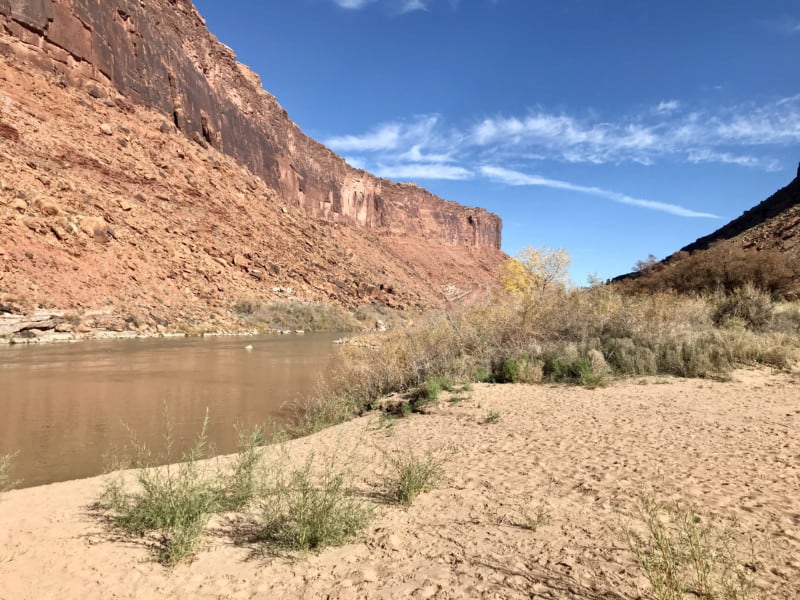 Popular dog friendly hiking trails along this route include Sylvester Trail, Amphitheater Loop, and Fisher Towers.
Where To Stay
From hotels to vacation properties to campgrounds, you and your pup will find the perfect place in Moab to rest your paws at the end of the day.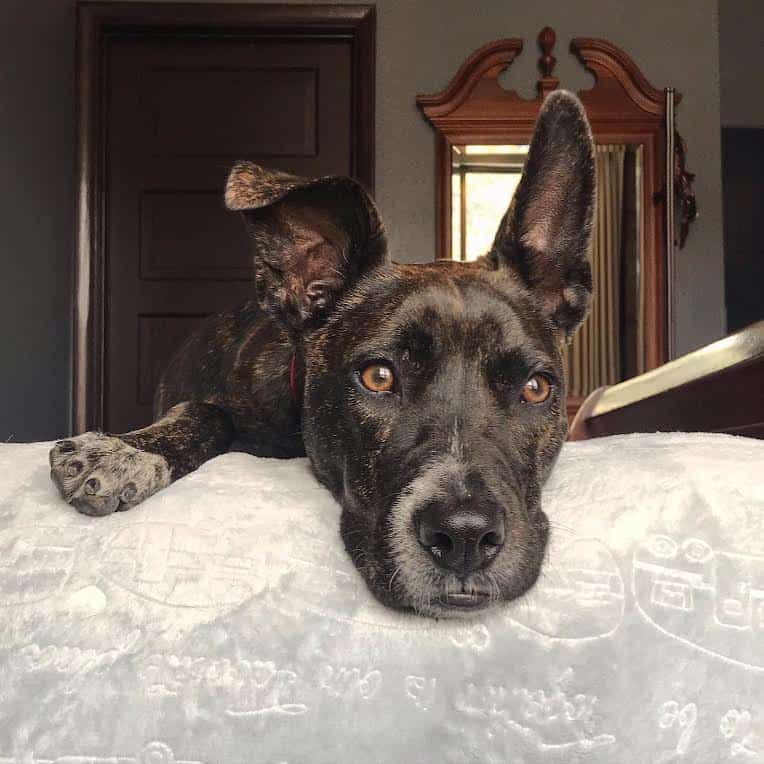 Dog Friendly Hotels in Moab
For a small town, Moab has a surprising number of dog friendly hotels, and something to fit every budget. Here's a list of the dog friendly hotels in Moab to get you started:
Pet Friendly Camping
There is a wonderful variety of pet friendly campgrounds in Moab. From remote, off-the-grid options, to full-service, pet loving RV resorts, you'll find one that's perfect for you. We tried one of each during our visit and loved them both!
Moab Valley RV Resort and Campground
We were invited to a complimentary stay at Moab Valley RV Resort and Campground, two miles north of downtown Moab, and it was wonderful. If you're looking for a campground with all the amenities, this is a great option!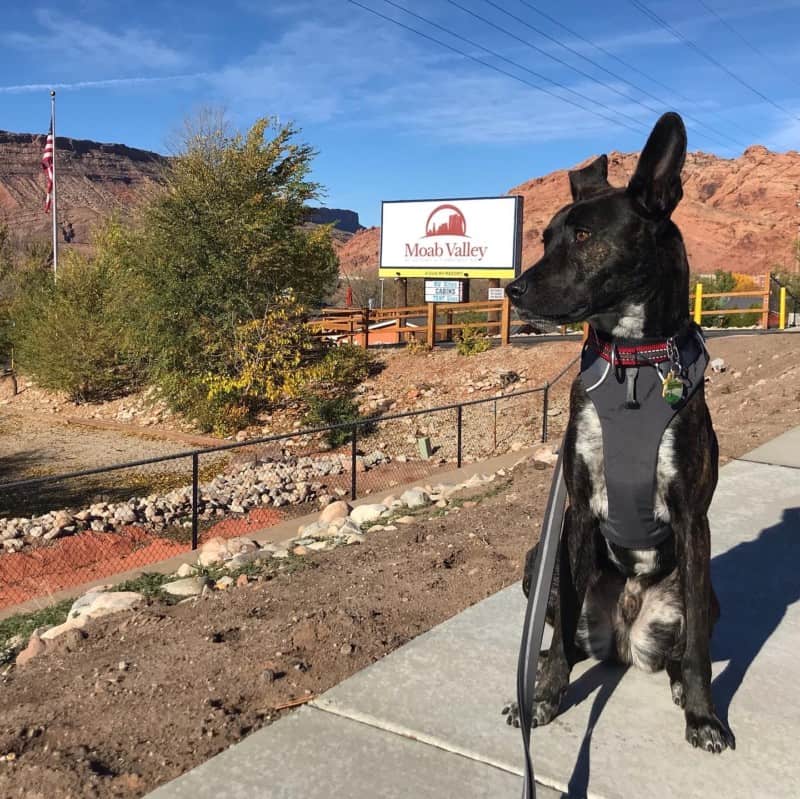 Choose from a pet friendly RV site, tent site, or vacation rental. Pets are very welcome at Moab Valley, with no additional pet fees at RV and tent sites. There's also no wight limit, no breed restrictions, and no limit on the number of pets per campsite.
You and your pet can enjoy views of the towering red cliffs from the two off-leash dog parks, life-sized checkers and chess game boards, cornhole, or putting green.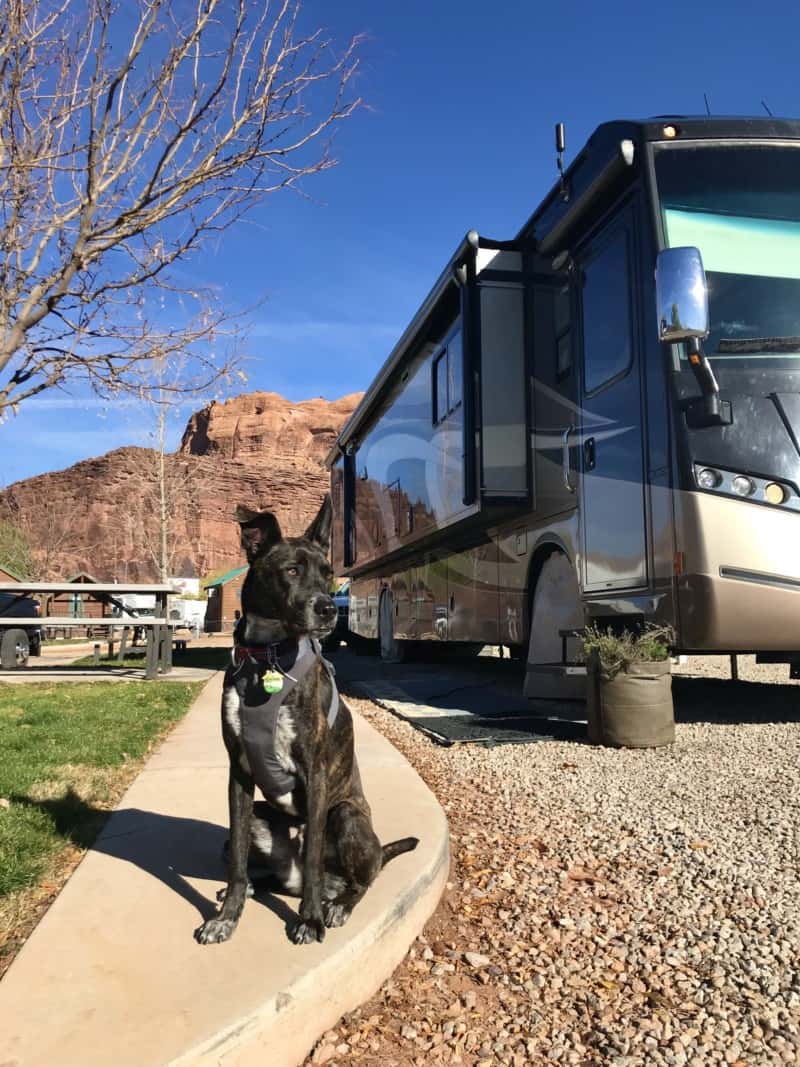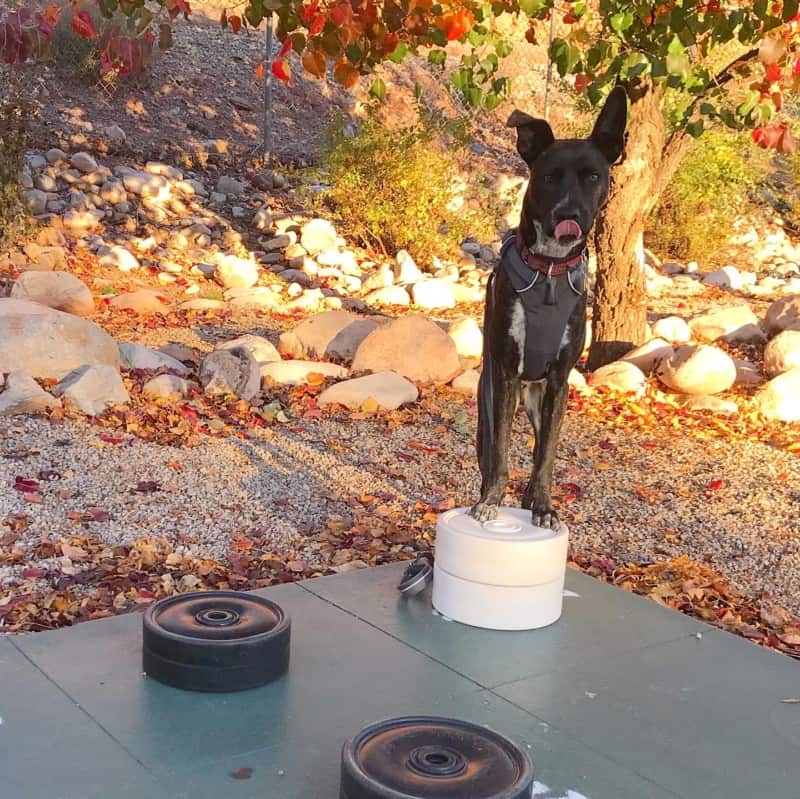 Just two miles north of downtown, two miles south of Arches National Park, and across the street from Lions Park and the Colorado River, Moab Valley's location can't be beat. And making it even better is its easy access to the Moab Canyon Pathway, a paved bike/walking path that runs along the river and connects everything!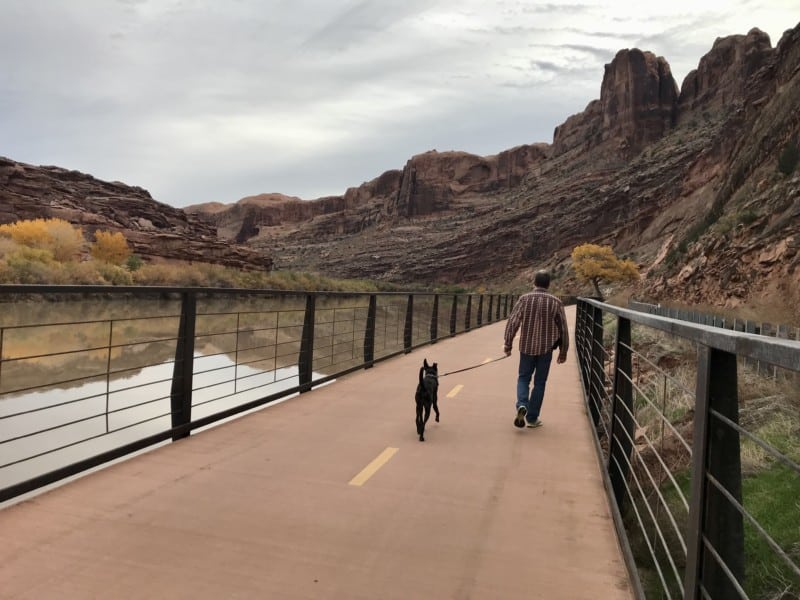 Ken's Lake Campground
The remainder of our stay in Moab was spent nine miles south of downtown at Ken's Lake Campground. Though this Bureau of Land Management site has no water, electric hookups, or dump station, the views take your breath away. And the cell reception on AT&T was sufficient for us to get our work done.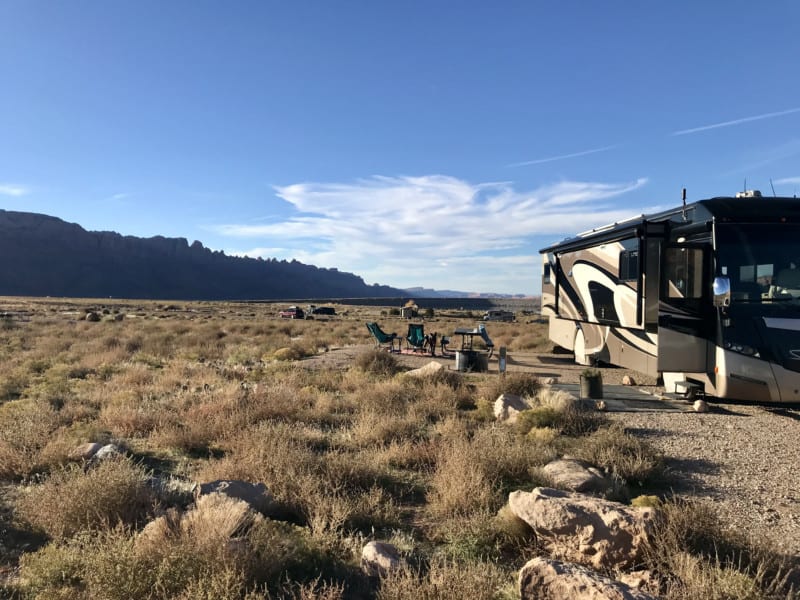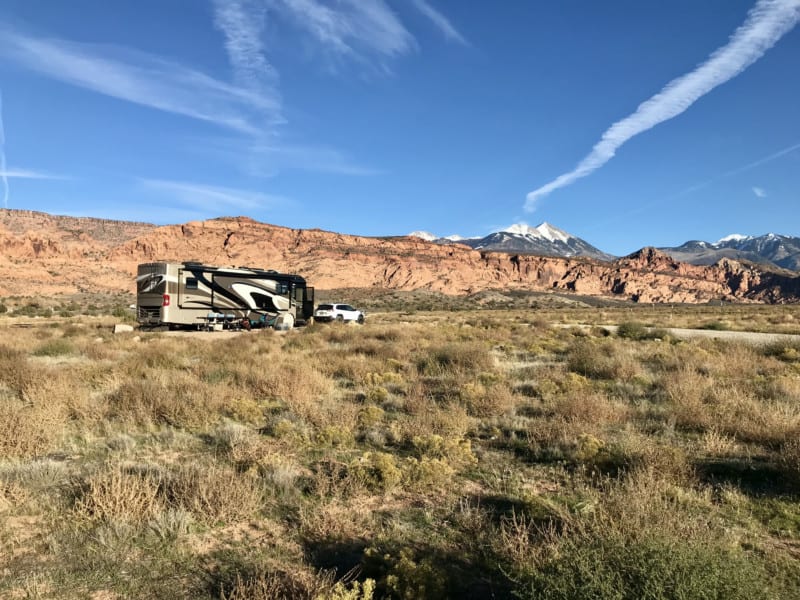 Ken's Lake Campground is pet friendly, and dogs can join you at the day use area, at the reservoir, and on the trails accessible from the campground. Just make sure to keep your pup leashed when you're in the campground.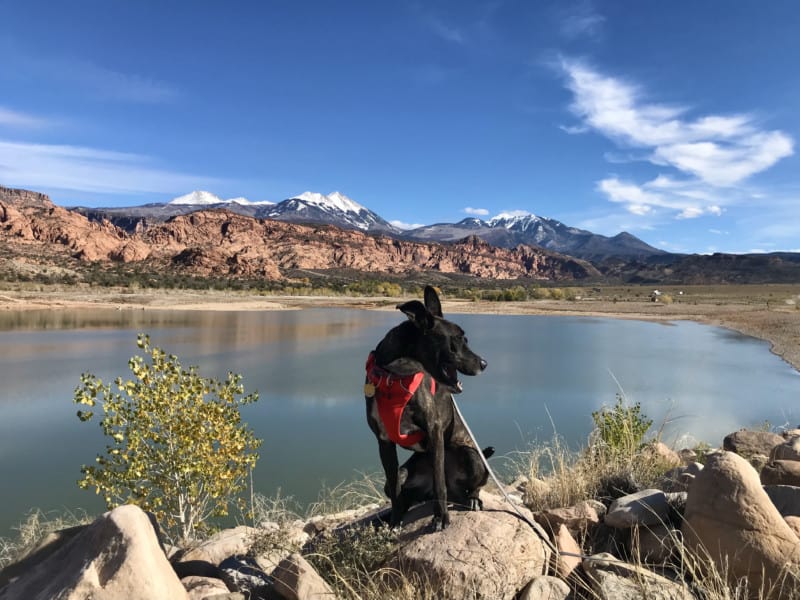 Where To Eat
It's easy to work up an appetite in dog friendly Moab, so finding restaurants where dogs are welcome is a must! Fortunately, Moab has a bunch of eateries with dog friendly patios or sidewalk seating options. You and your pup definitely don't have to worry about going hungry.
Dog Friendly Restaurants in Moab
Antica Forma
With an enclosed, dog friendly patio and wonderful pizzas, Antica Forma tops our list for places to eat in Moab.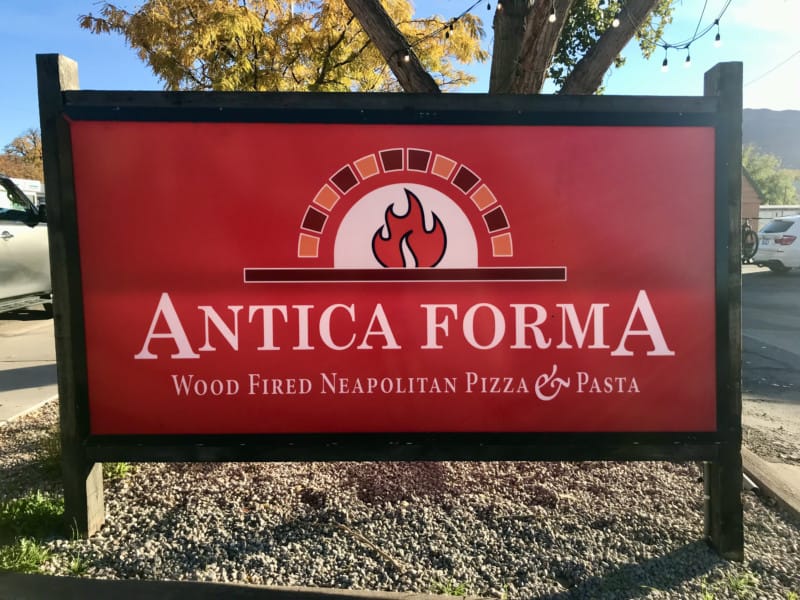 Cafe Italiano
It's hard to miss the colorful seating area and umbrellas at the Cafe Italiano food truck.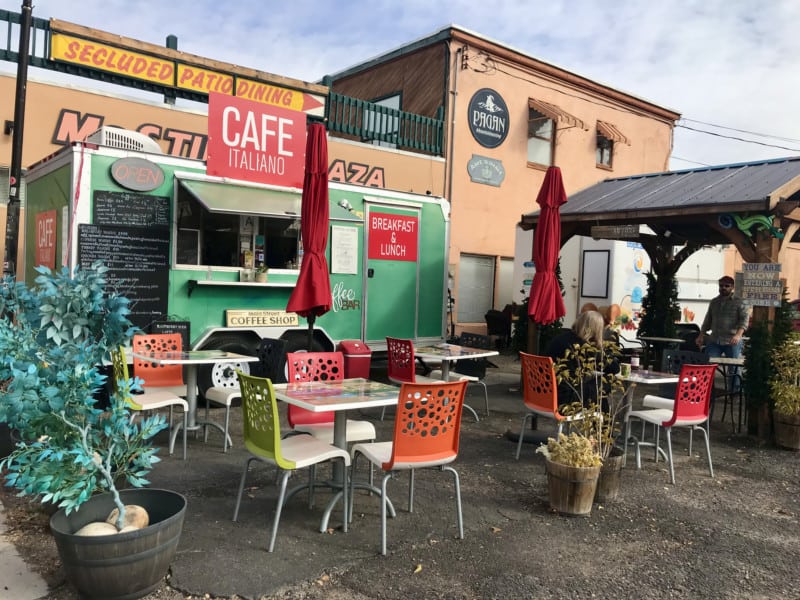 Doughbird Donuts
If you're looking for fantastic coffee, the best chai latte, and donut creations beyond your wildest imagination … look no futher than Doughbird.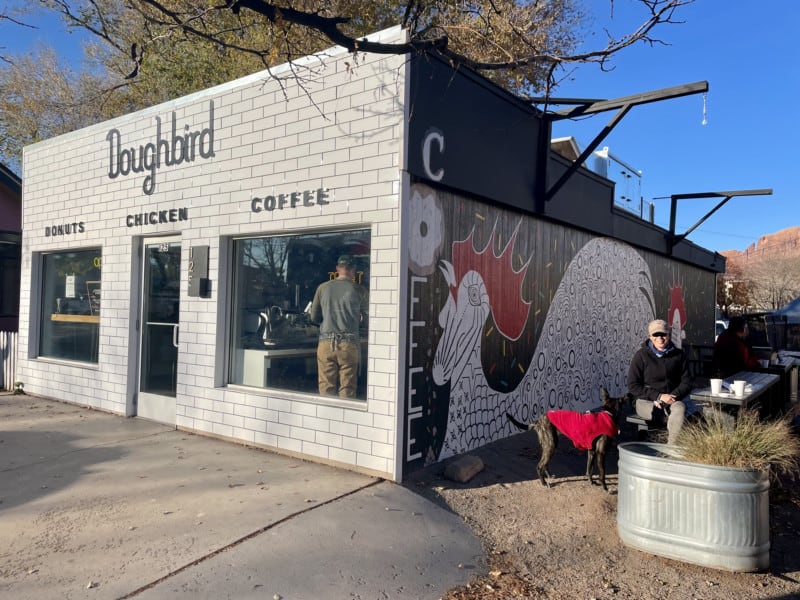 Gloria's Corner Café
Serving breakfast, lunch, and dinner, Gloria's Corner Café's lovely, covered/enclosed patio is great if you're looking for shade, warming heaters, or a place to get out of the rain.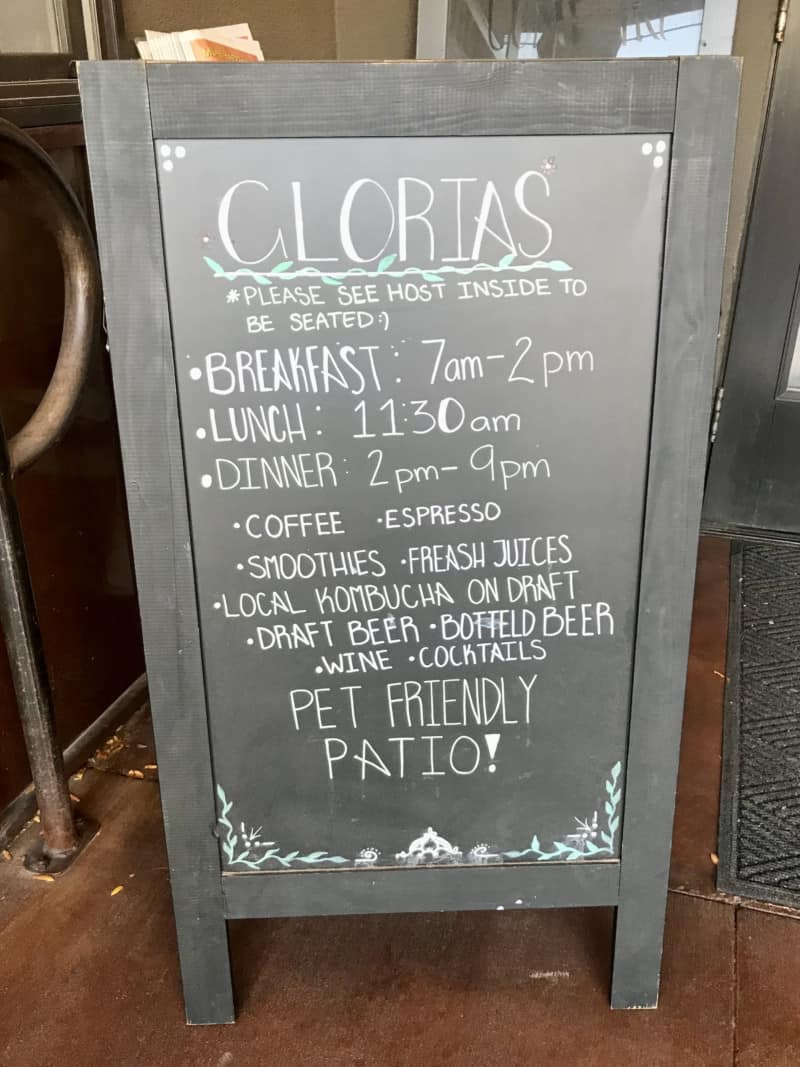 Milt's Stop and Eat
This classic American diner serves grass-fed beef burgers, buffalo burgers, old-fashioned milkshakes, and more. Take them to go, or enjoy their shady, dog friendly picnic area.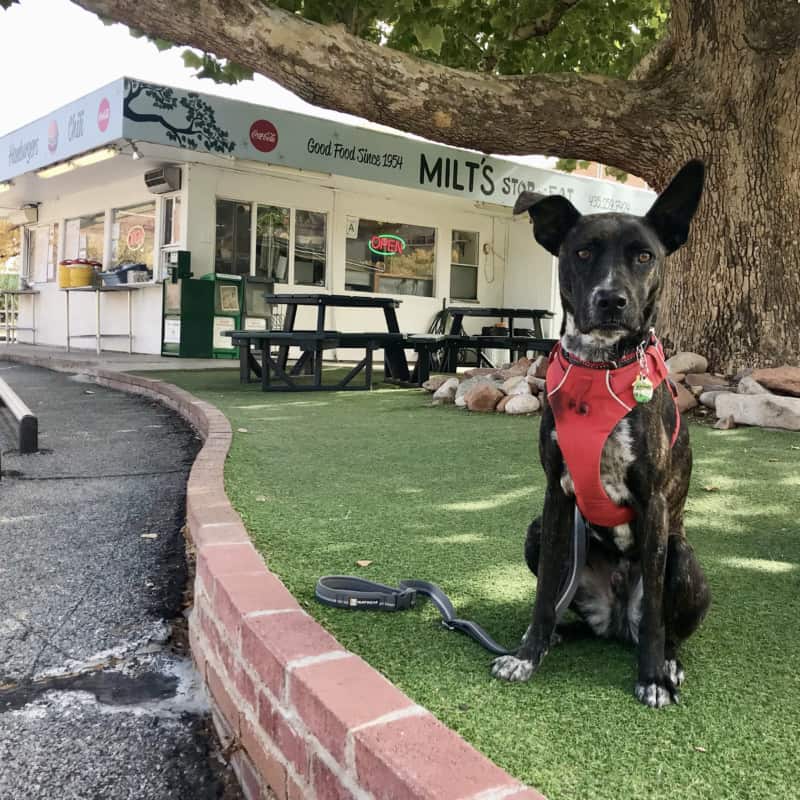 Moab Coffee Roasters
They roast their own beans at Moab Coffee Roasters! Stop in for a cup of joe, grab-and-go breakfast and lunch items, treats from Rocky Mountain Chocolate Factory, or fresh gelato or ice cream.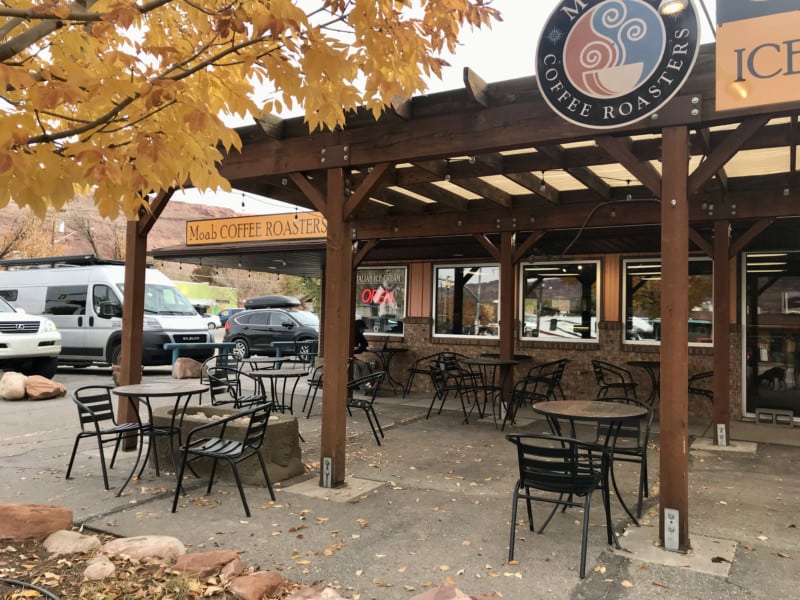 Moab Food Truck Park
The Moab Food Truck Park offers a fun variety of eating options to satisfy everyone. Choose from Hokulia Shave Ice, Delicate Donuts, Red Wok Chinese Express, Paninis Plus, Downtown Dawgs, The Crusty Crab, Big Don's Pizza, and Tacos Gordo. Then make yourself comfortable at the shaded picnic tables.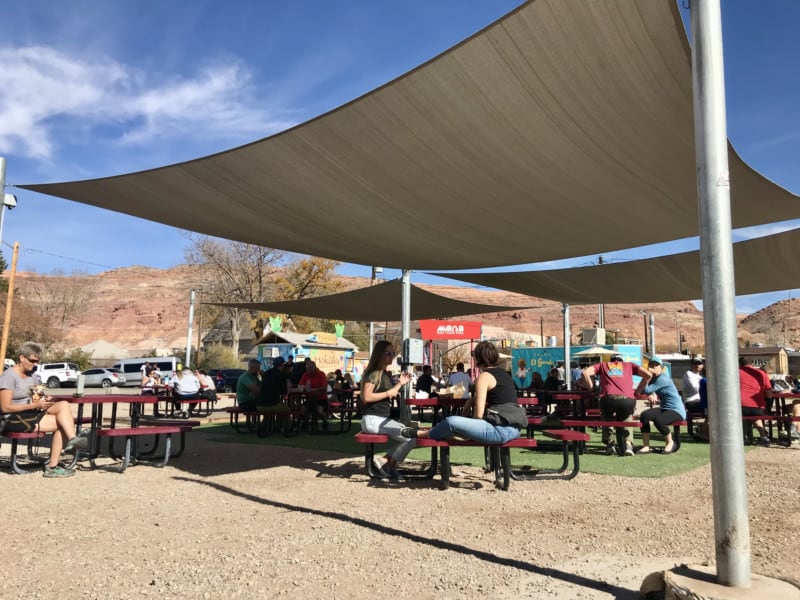 Spitfire Smokehouse Bar and Taps
Spitfire specializes in pit-fired prime brisket, pulled pork, ribs, pork belly, sausage & more.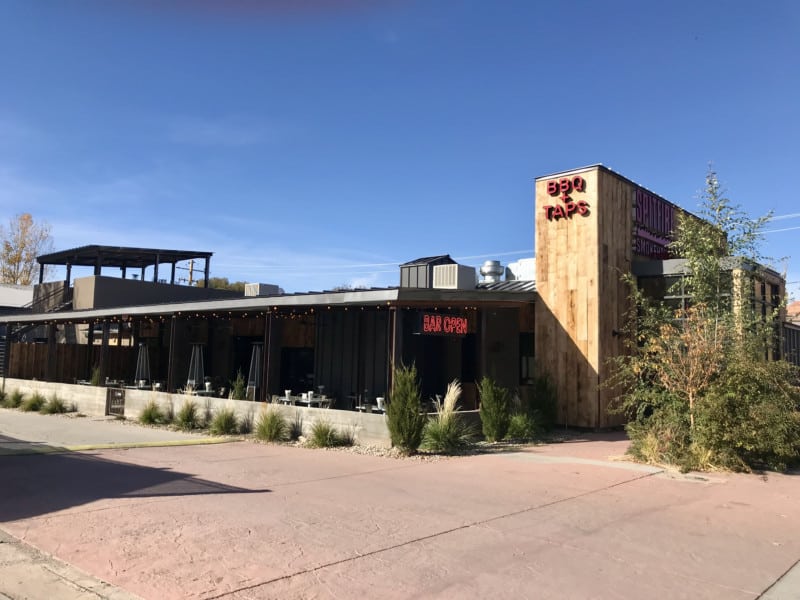 The Trailhead Public House and Eatery
For hand-crafted burgers, a great pub menu, beer, wine and liquor and lovely sidewalk seating on the main drag, check out The Trailhead.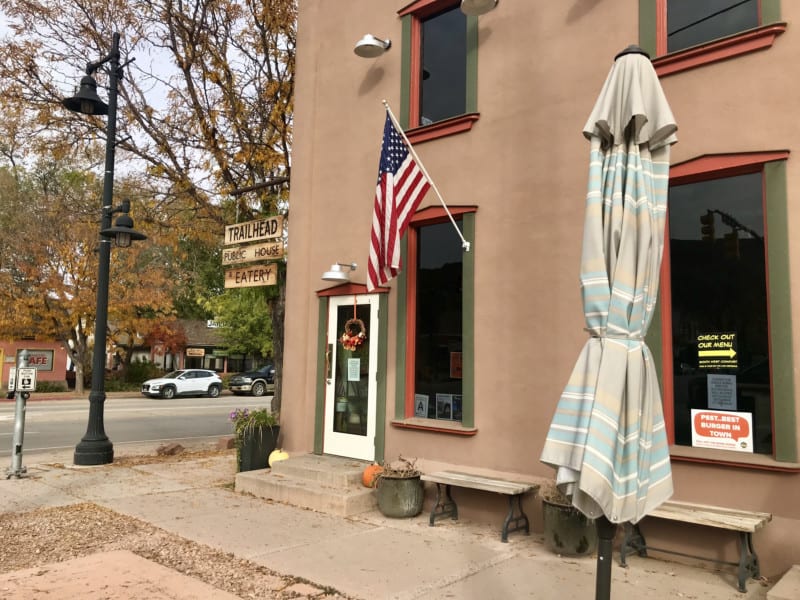 More Dog Friendly Restaurants in Moab
The Blue Pig – known for live music and BBQ
Love Muffin Café – go early – they sell out!
Moab Diner – an old-school diner with all day breakfast
Moab Garage Company – casual café and coffee with sidewalk seating
MOYO – Moab Frozen Yogurt
Red Rock Bakery and Café – best scones in town
Thai Bella Moab – Spicy curries, noodles & other Thai favorites. Outdoor seating is seasonal.
Sweet Cravings Bakery and Bistro – coffee shop, sweet treats, and lunches to eat at their outdoor seating area to packed to go
The Spoke on Center – a popular burger joint
Zax Restaurant – pizza and pub food
Other Things To Know
Pet Supplies
The Moab BARKery (200 North 100 West) carries premium pet food, natural treats, outdoor gear, beds, apparel, dog boots, and pet-related gifts. With a friendly, knowledgeable staff, they'll be able to help with any of your pet supply needs.
GearHeads Outdoor Store is the place to go for collars, leashes, harnesses, backpacks, life vests, and cooling vests for your dog.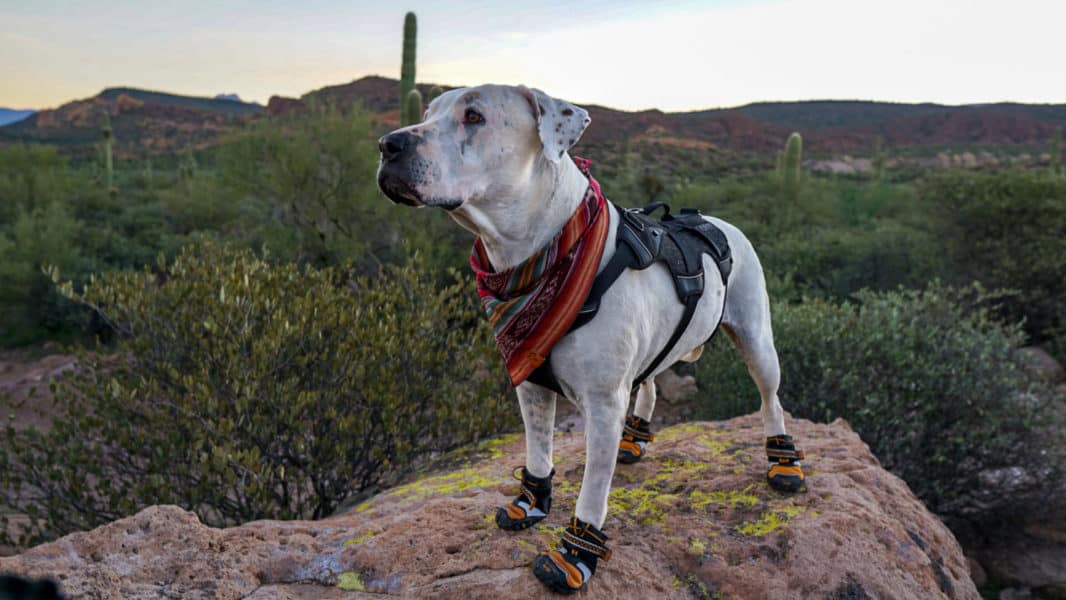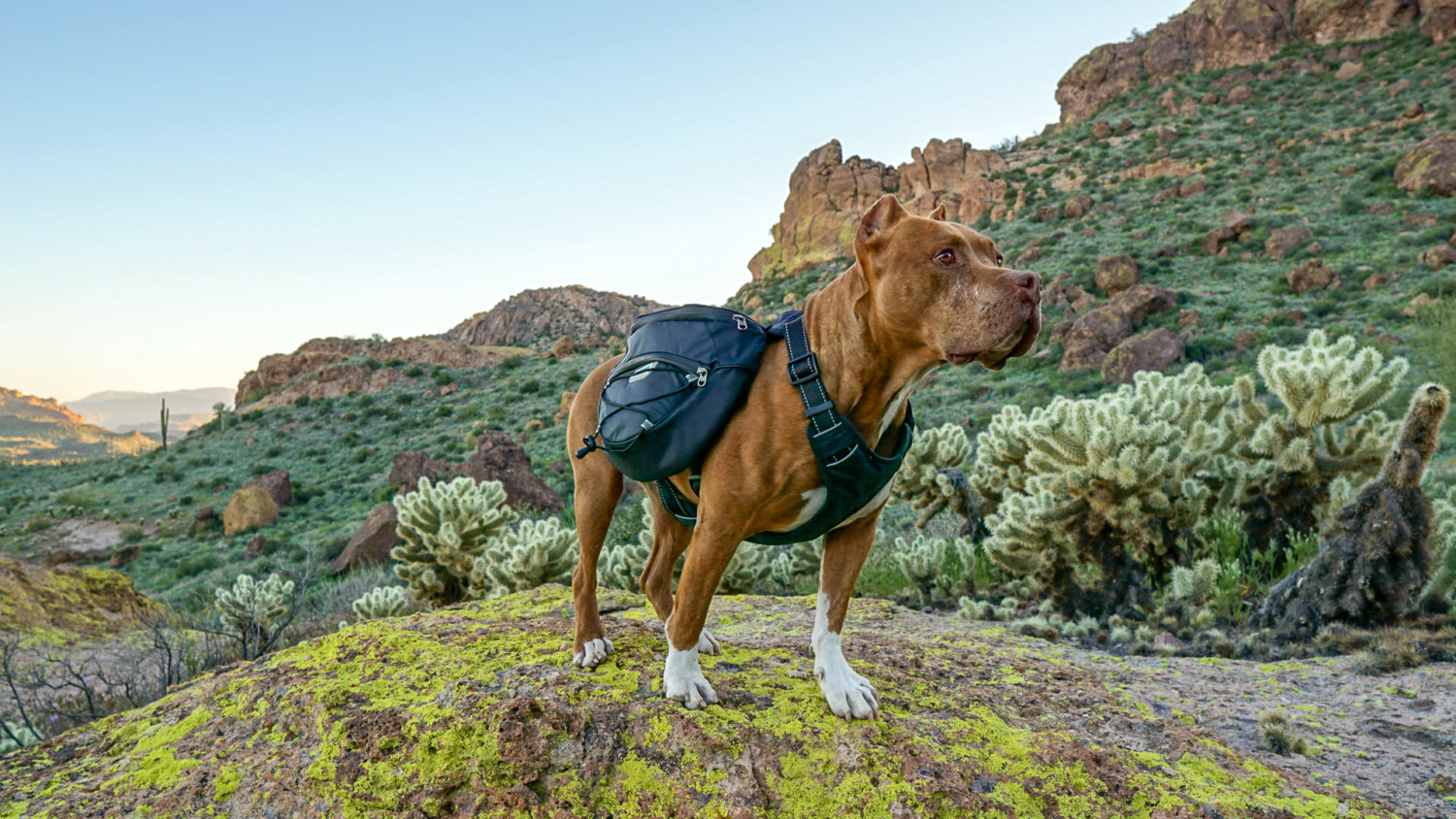 Off-Road Rentals
One of the most popular activities in Moab is off-roading, either in 4-wheel-drive or off-highway vehicles. The area is criss-crossed with hundreds of miles of old mining roads and 4X4 trails, and many people enjoy the beauty and solitude of off-road adventures.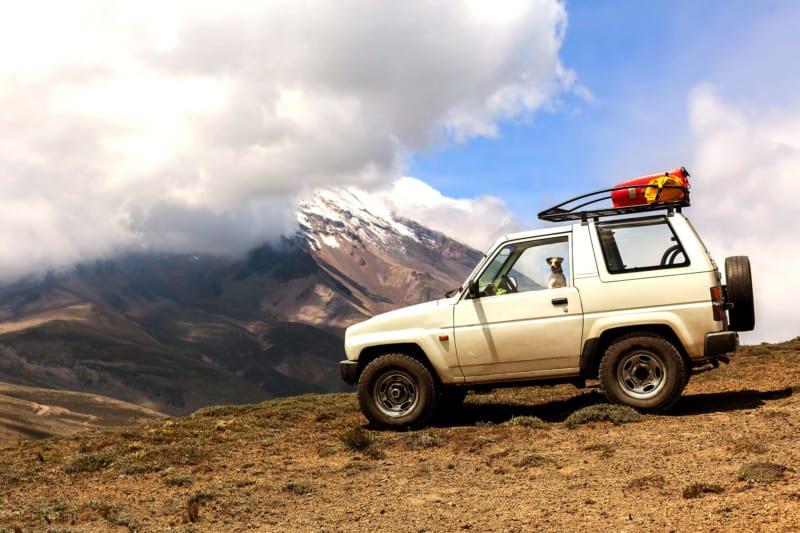 If this appeals to you – and you want to take your dog along for the ride – Moab has three companies offering dog friendly off-road rentals:
Before taking your dog off-roading, consider whether he'll enjoy the trip. Some dogs find the noise, bumpy terrain, and long periods of time confined to the vehicle uncomfortable.
If you don't know how your dog will react to off-roading, try a short rental, bring his blanket or bed to cover the seat he'll be using, and be prepared to take frequent breaks to stretch his legs. Of course, all pets in off-road vehicles should be buckled in with a seatbelt harness for safety.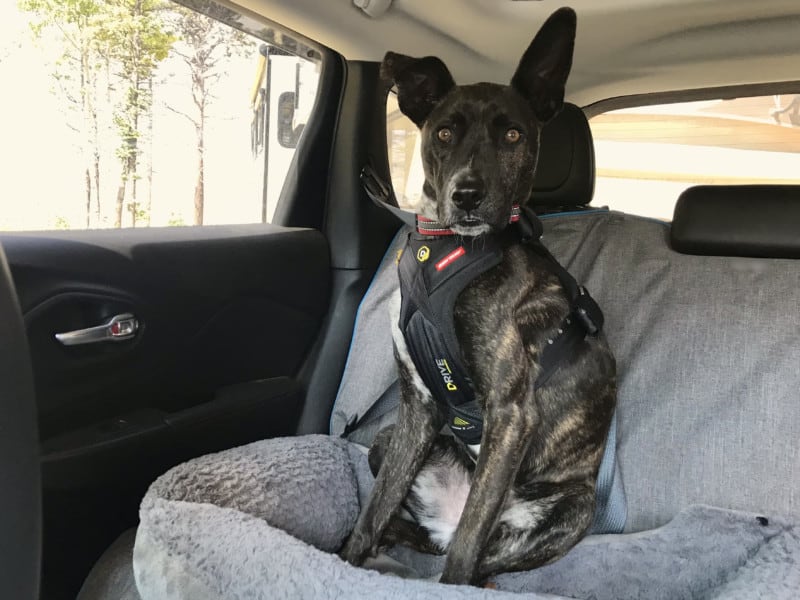 Outfitters
There are dozens of outfitters in Moab offering rentals and guided excursions. You can choose from 4-wheel-drive, ATV/UTV, canoe, kayak, boat, raft, stand up paddle board, biking, hiking, dinosaur site, rock art, and photography tours. Some welcome pets, some do not.
To find a dog friendly tour, or an outfitter with dog friendly rental equipment in Moab, visit DiscoverMoab.com.
Dog Daycare and Boarding
Moab has a limited number of pet sitters, doggy daycare providers, and boarding facilities. If you are planning activities that your pet can't do, be sure to make reservations for his care well in advance.
This is especially important if you'll be visiting during the prime season.
Moab Veterinarians
There are two veterinarians in Moab, the Moab Veterinary Clinic (4575 Spanish Valley Drive, 435-259-8710) and Mill Creek Animal Hospital (125 E 300 South, 435-259-2733).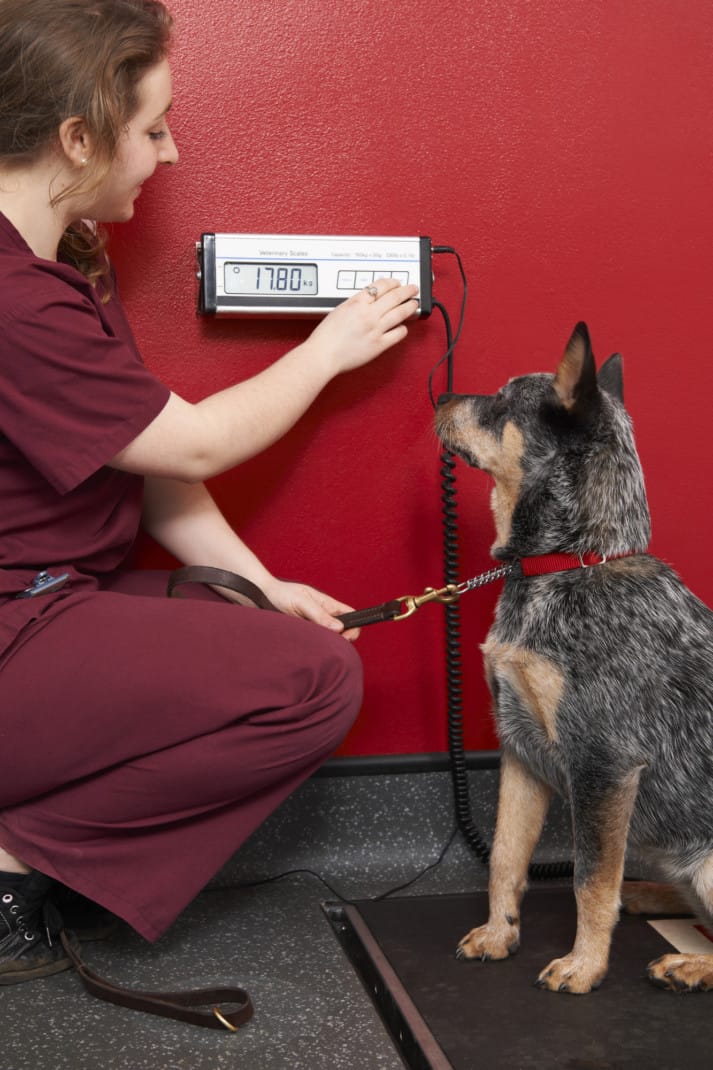 Dog Friendly Day Trips From Moab
If you're hoping to see more of Utah and have a little extra time on your hands, check out one of these day trips during your stay in Moab.
Canyon of the Ancients National Monument
Located 110 miles south of Moab, Canyon of the Ancients National Monument protects an area where humans have lived for at least 12,000 years. Covering 176,000 acres, the Monument is managed by the Bureau of Land Management (BLM), and the trails are pet friendly.
Start at the Anasazi Heritage Center, ten miles north of Cortez. Here you can get maps and park information, as well as take the paved, 1/2-mile interpretive path to Escalante Pueblo and its panoramic hilltop views.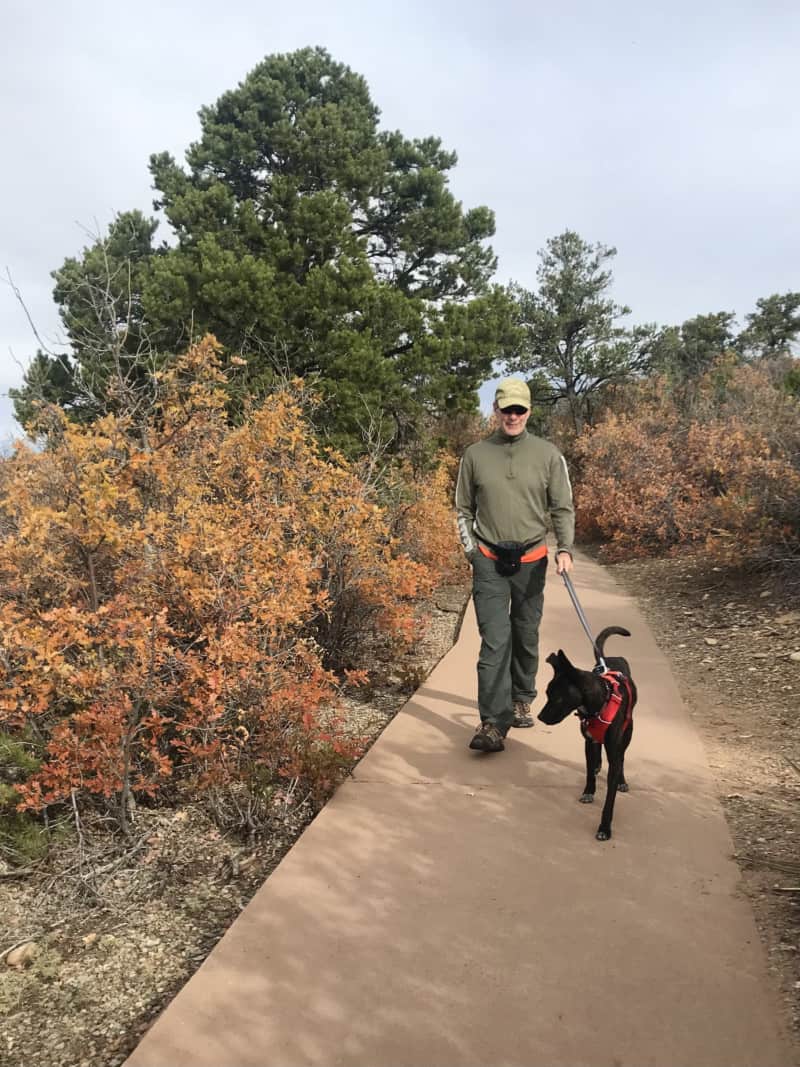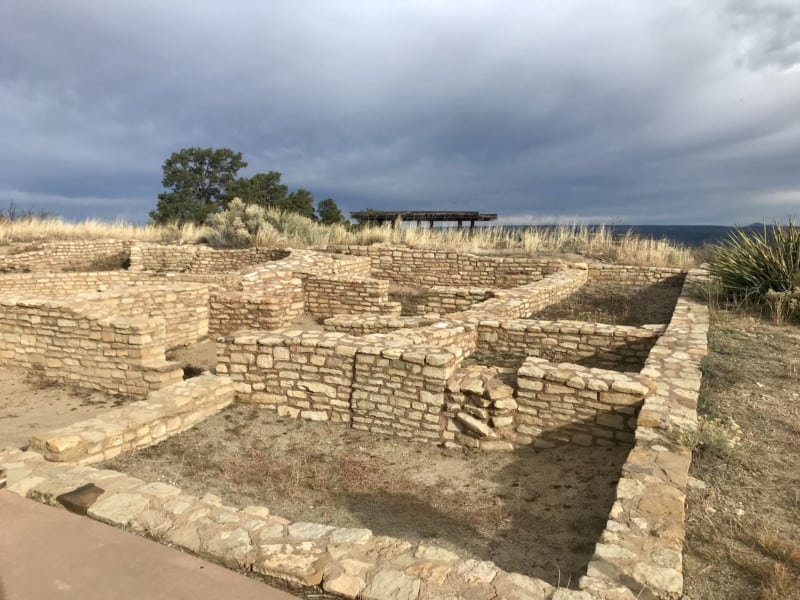 From the visitor center, you have a few options – but you probably won't be able to do them all in one day. You can either head to Lowry Pueblo, nine miles to the west, and explore its 40 rooms, eight kivas, and Great Kiva. Or visit Painted Hand Pueblo, a beautiful standing tower perched on a boulder, and walk the trail there. We opted to see Sand Canyon Pueblo and hike part of the Sand Canyon Trail.
Sand Canyon Pueblo includes the remains of about 420 rooms, 100 kivas, and 14 towers. It sits at the top of a dramatic canyon and, though the structure is hard to make out, there are interpretive signs that provide insights and drawings of how the Pueblo once looked.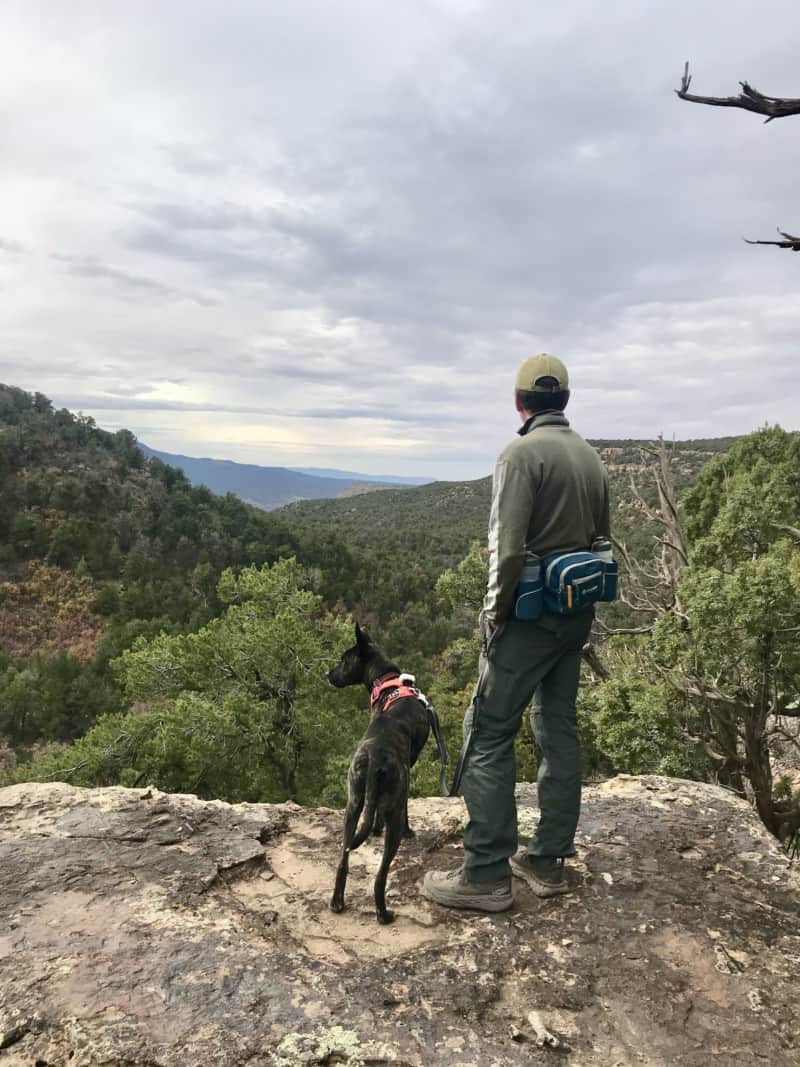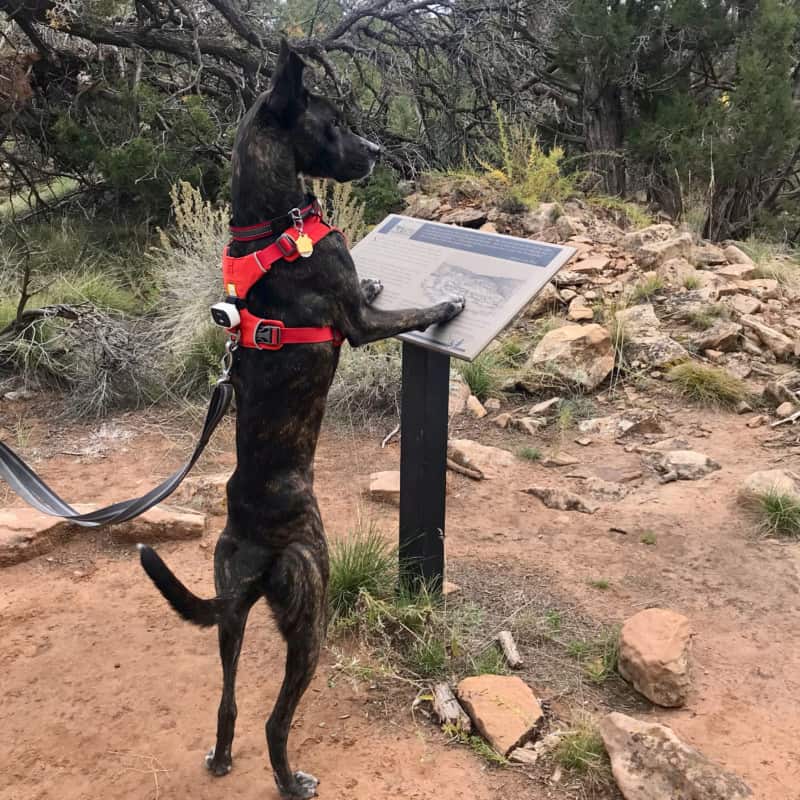 You can access the less popular north trailhead of the Sand Canyon Trail here. The trail is six miles one way and descends (sometimes steeply) past a number of ruins.
If your goal is to view the ruins along the trail, it's best to park at the south trailhead and walk up the canyon. Myles also recommends packing a lunch to enjoy along the way. Also, though leashes are not required on the trails, this area is home to rattlesnakes, so take care.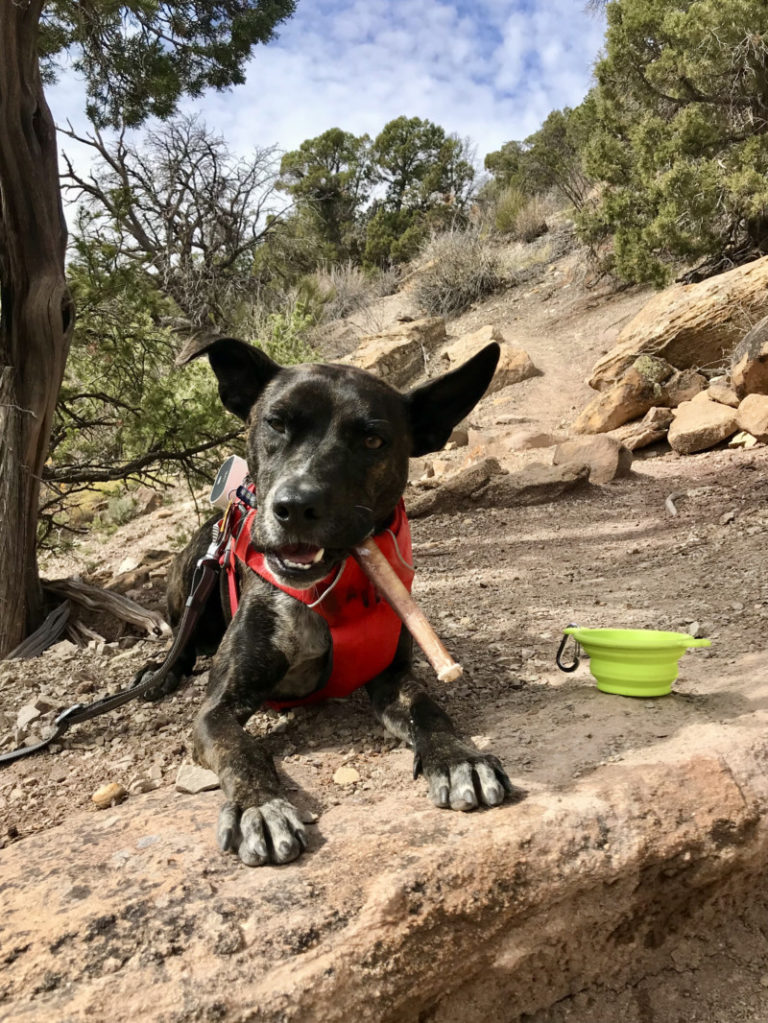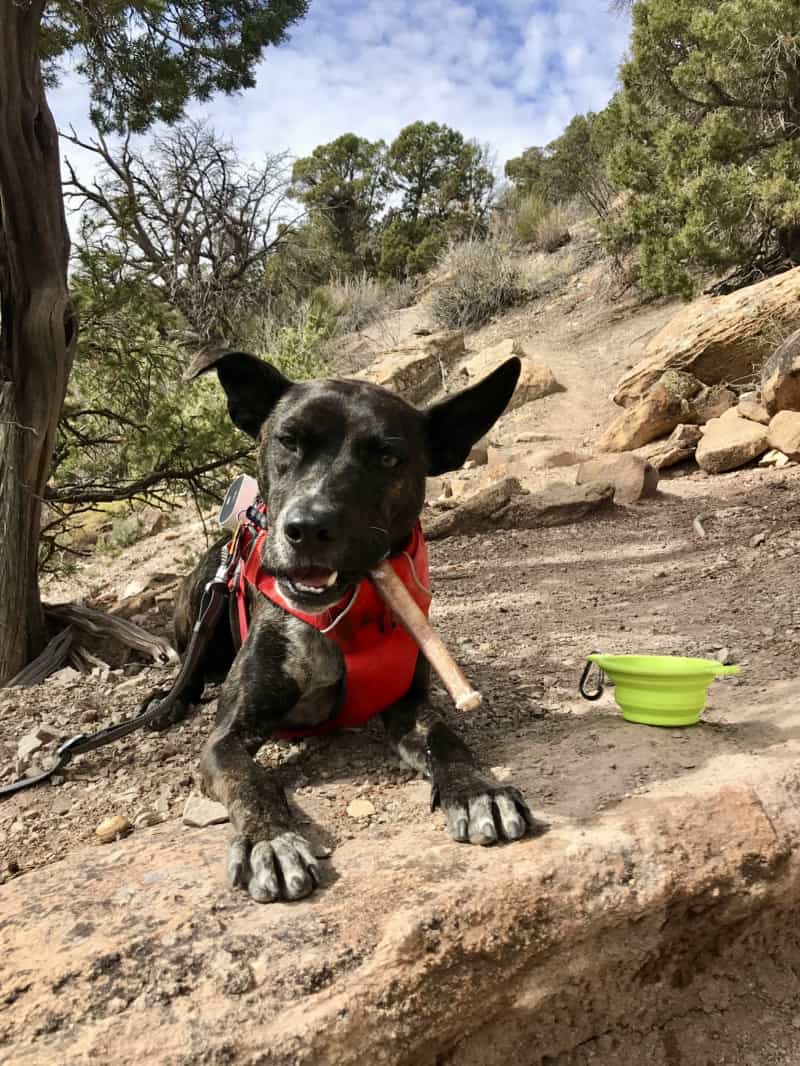 Other Dog Friendly Day Trips from Moab
Colorado National Monument – 107 miles northeast in Fruita, Colorado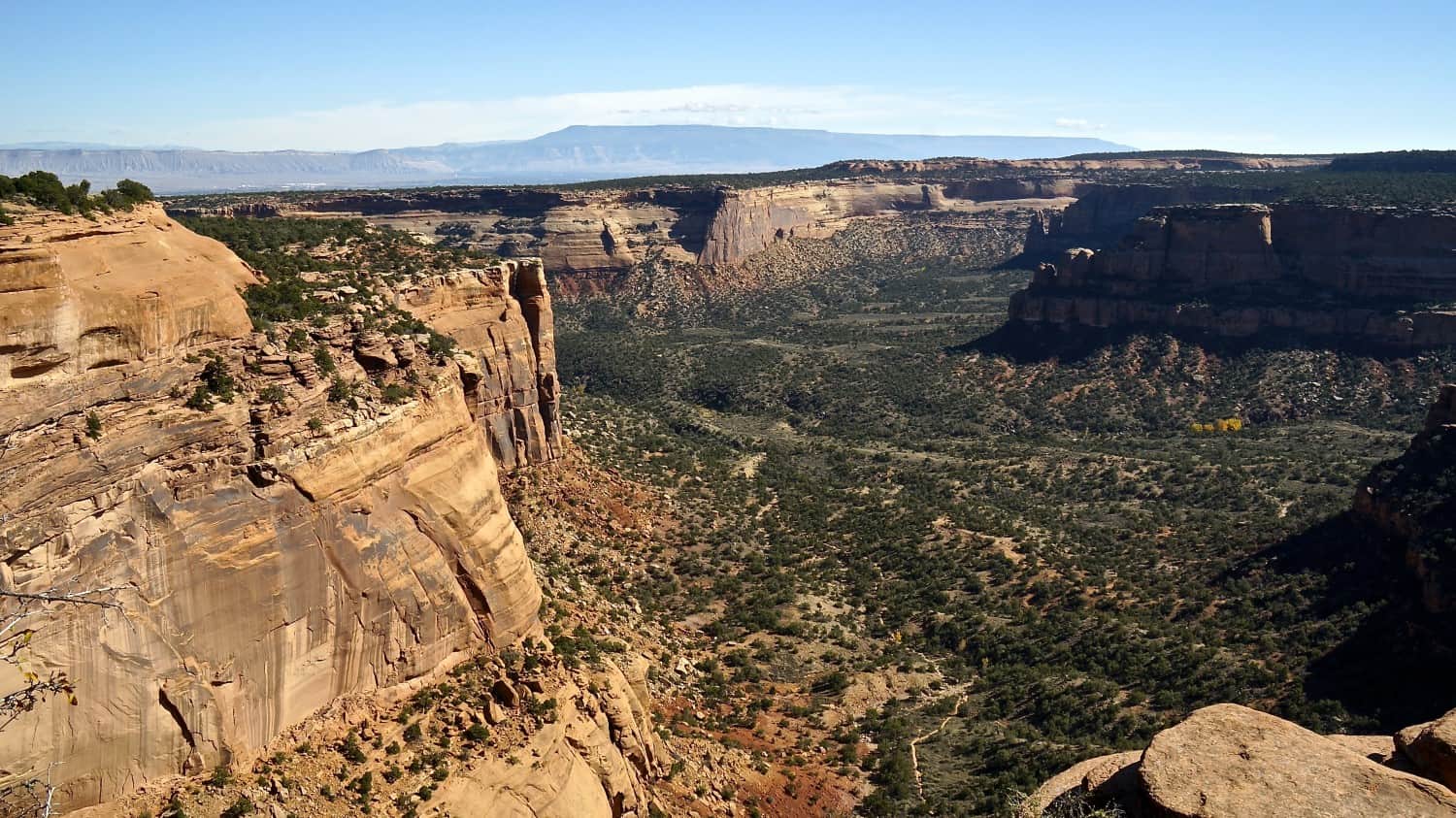 Hovenweep National Monument – 120 miles southeast between Cortez, Colorado and Blanding, Utah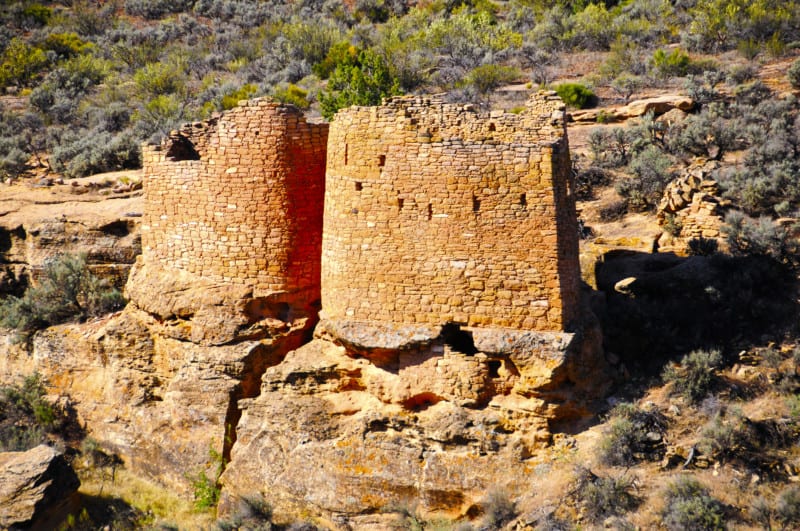 Monument Valley Navajo Tribal Park – 148 miles south in Navajo County, Arizona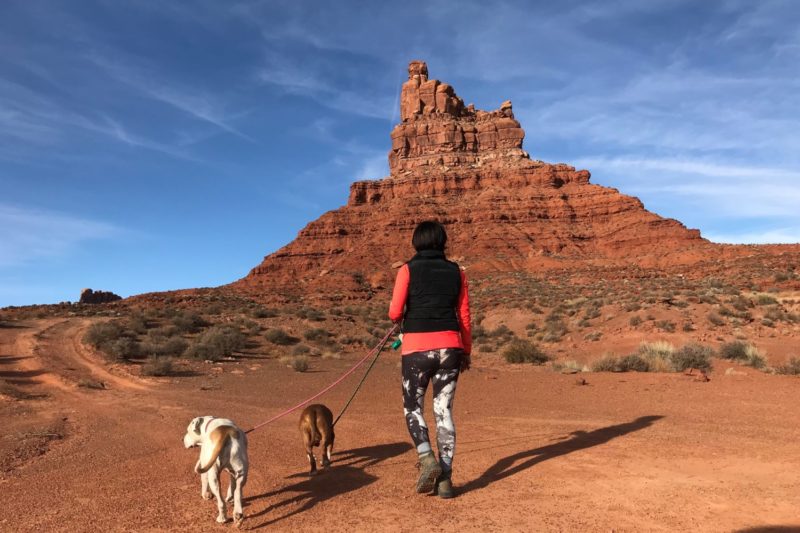 We hope this guide to dog friendly Moab encourages you to visit with your pet! If you find more dog friendly things to do, be sure to share them in the comments below.
(Visited 25,960 times, 1 visits today)