When we moved to Arizona, I knew the summers would be hot. But I thought the lack of humidity would make up for it. It never occurred to me that even sneaking in a quick walk in the early morning would be difficult. At the peak of summer, a dog cooling vest can make all the difference!
Desperate for a better alternative than driving an hour to the closest mountains, I started looking into dog cooling vests.

*This post contains affiliate links. Thank you!*
How Does A Dog Cooling Vest Work?
The dog cooling vest concept was new to me before moving to the desert. When we lived in the Midwest, Bailey and I just took our walks after the sun went down. That strategy doesn't work in the desert, where the temps rarely dip below 80 degrees at night!
The idea behind these vests is that evaporation can be used to keep a dog from overheating. At first, it seems counterintuitive to put clothing on a dog when it's hot out, but it really helps!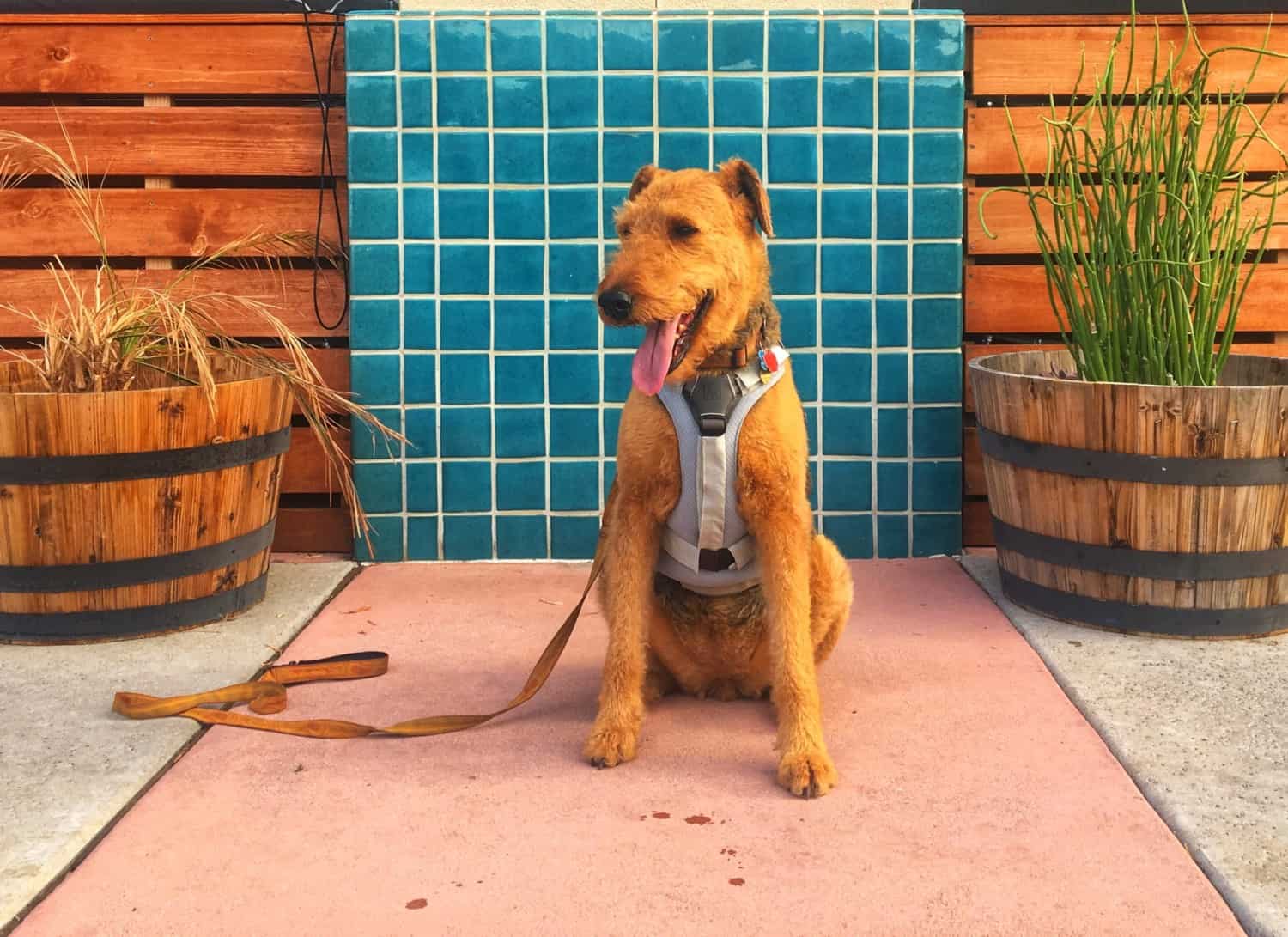 Each dog cooling vest is a little different, but the general concept is that you wet the garment and then put it on your dog. As the water evaporates, it takes the body heat your dog is generating with it. Adding water to the vest keeps it from drying completely, which happens faster in dry climates.
There are many cooling vests for dogs on the market, but Ruffwear products are well-made and durable, so we tried the three options they offer. All three of these vests fit Bailey perfectly, so Ruffwear has their size charts on point!
Disclosure: Ruffwear supplied the cooling vests we tested for free. We did not receive any compensation for this post, and the opinions expressed here are our own.
The Ruffwear Core Cooler ($24.95, plus harness) is a cooling chest panel that attaches to your existing Ruffwear harness. Since we already have the Palisades Pack and harness, this is a great accessory. Of the three cooling options we tried, this one was the most difficult for me to figure out. Turns out, it's much easier to attach this to the harness and then put it on your dog. It also works best to wet the panel before attaching it to the harness, so it might take you a few times to develop a good routine.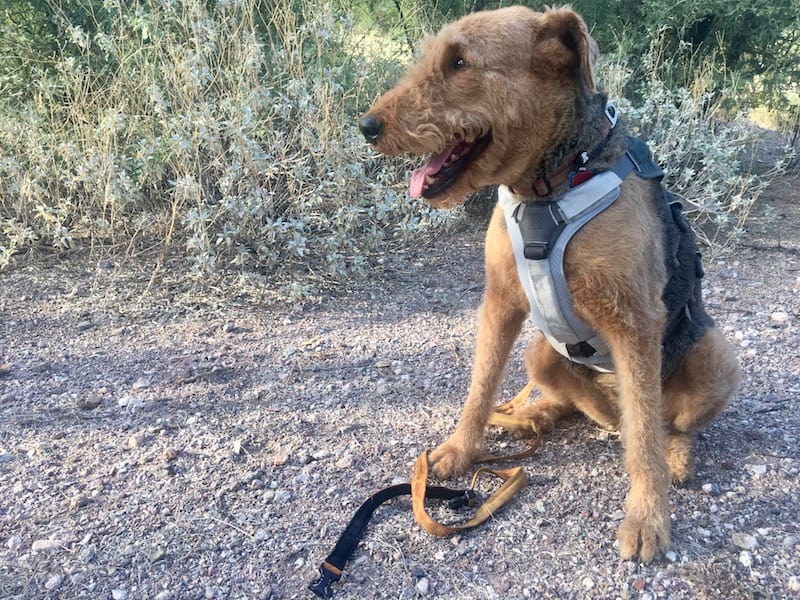 I can also see how it could be tricky to handle all this gear at the trailhead before a big hike. Because you won't want to wet the cooling panel until you're ready to use it, you'll need to bring extra water. And, since the panel is against your dog's chest, re-wetting it is more challenging. That said, this cooling option would be perfect for hikes with lots of stream crossings and water to play in.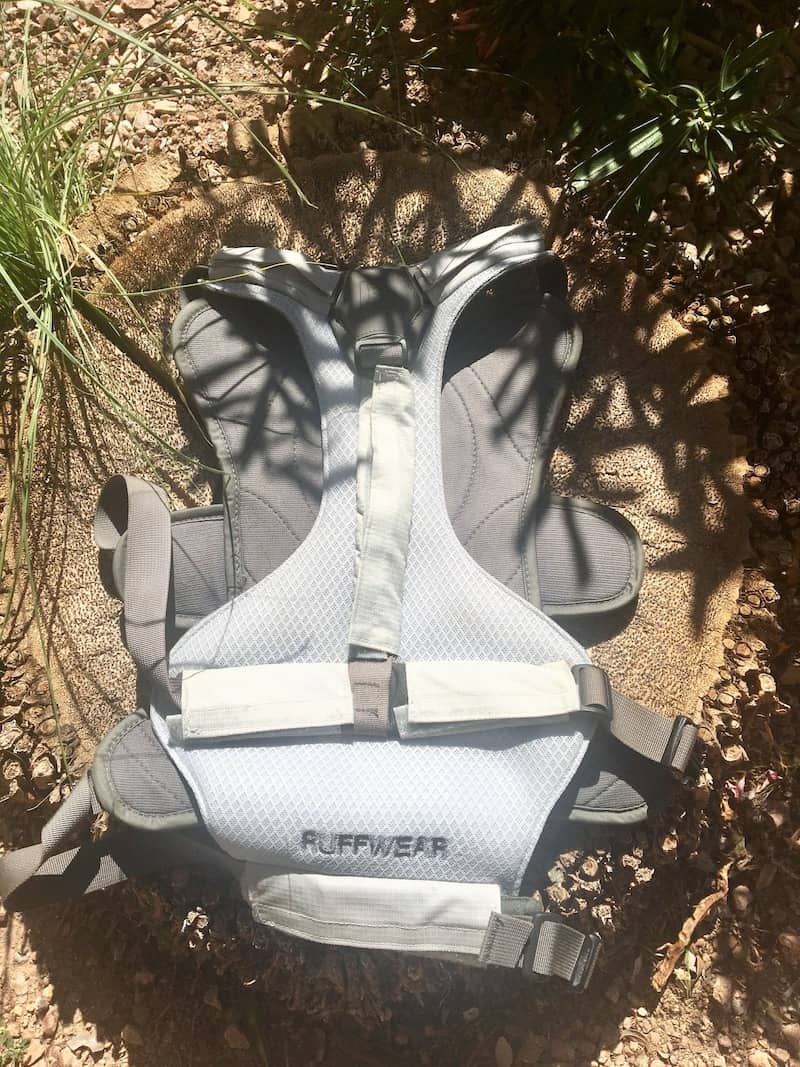 Perfect for: Backcountry adventures with easy access to water
READ MORE ⇒   7 Essentials for Desert Hiking With Dogs
My first impression of the Ruffwear Jet Stream Cooling Vest ($39.95) was that it looked like Spanx for my dog. This vest slides over the head and has a side-zip closure. While it was tricky to put on the first time, it was very effective in keeping Bailey cool.
Since it fits close to the body, the wet part of the vest is always in contact, an advantage over the options that fit more loosely. And the material on the back really absorbs water easily. It's easy to re-wet with a water bottle when we were out and about. Of the three we tested, this was my favorite dog cooling vest.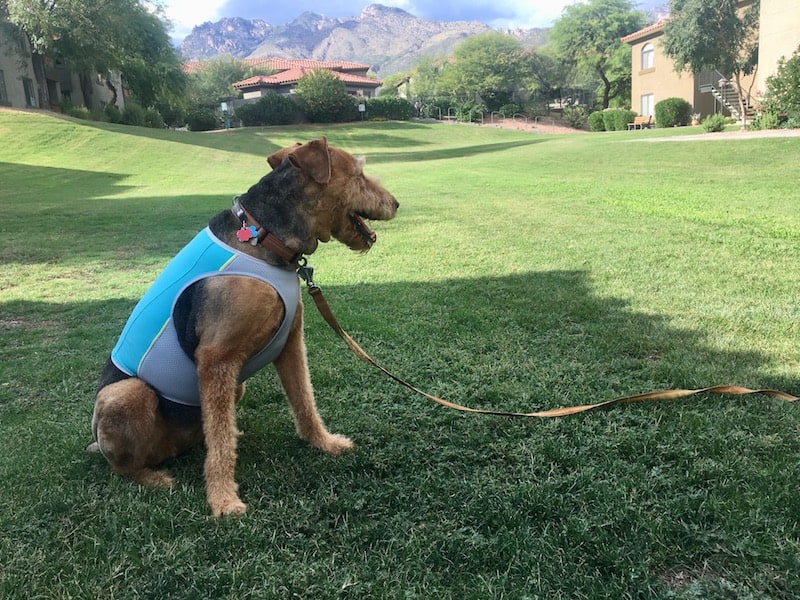 Perfect for: Everyday use in hot temps, extended walks or hikes with access to water for re-wetting
The Ruffwear Swamp Cooler ($59.95) dog cooling vest is the most heavy-duty of the Ruffwear lineup. And it was super easy to put on Bailey, just like their harnesses. The only drawback was that the fabric repelled water at first, so it took quite a bit to soak it in the parking lot before our hike.
The great thing about this dog cooling vest is that it shades the whole back of the dog. That's especially helpful for black dogs in the hot sun! And it stayed cool for a long time. While Bailey was still warm after our hike, she cooled down much more quickly than normal.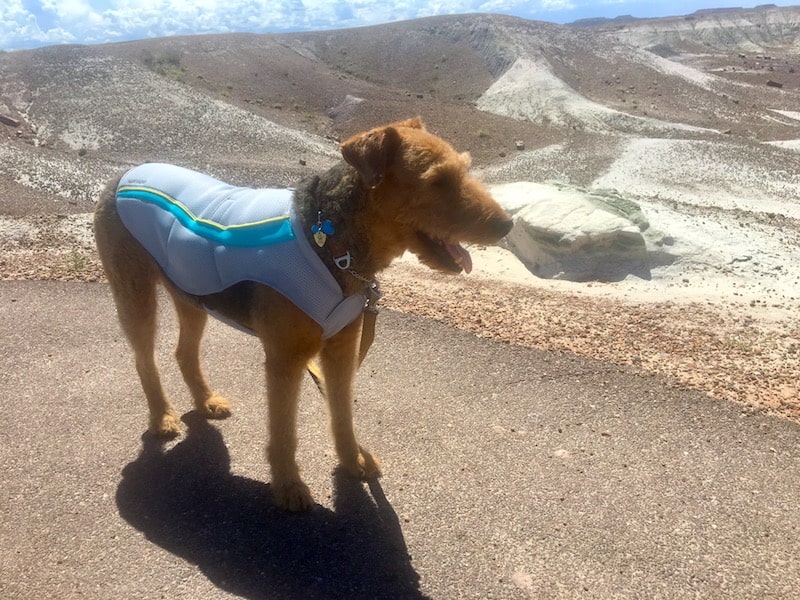 As usual, Ruffwear thought of all the details when designing this dog cooling vest. There's a slot for your leash if you use a harness, and a place to attach a light for night walks.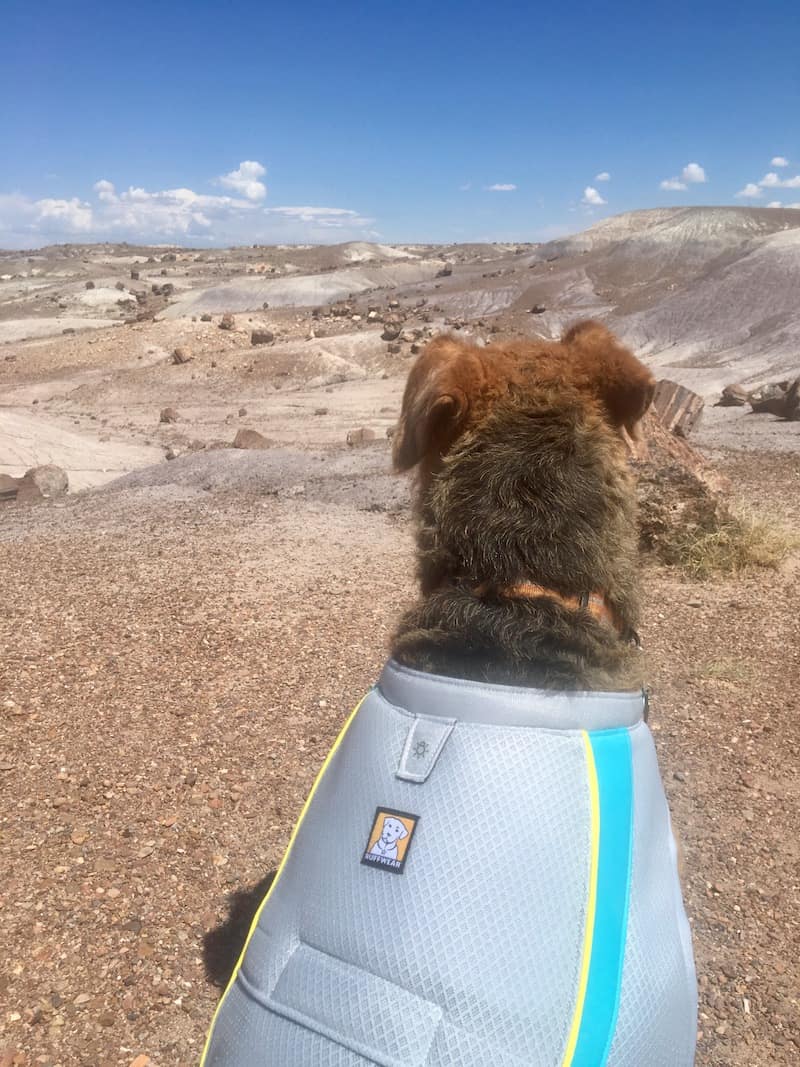 Perfect for: Longer walks on warm, sunny days
I'm thrilled to know about the options for keeping Bailey cool, but we still won't be hiking in the Arizona summer heat! For one thing, it's still too hot for me to hike in those temps. Also, these vests aren't air-conditioned bubbles – your dog still gets warm, so take care not to overdo it.
READ MORE ⇒   Recognizing and Treating Dehydration in Dogs
What a dog cooling vest means for us is probably an extra month of hiking in the shoulder seasons. The rest of the year, the vest will make our 90-degree short walks a little more comfortable for Bailey.
Have you tried a cooling vest for your dog? Share your experience in the comments!
Visit our Amazon store to learn about more products we rely on to make traveling with pets easier, safer, and more fun!
Amazon Affiliate Disclosure: GoPetFriendly.com LLC is a participant in the Amazon Services LLC Associates Program, an affiliate advertising program designed to provide a means for website owners to earn advertising fees by advertising and linking to amazon.com, audible.com, and any other website that may be affiliated with Amazon Service LLC Associates Program. As an Amazon Associate, the owner of this site earns a commission from qualifying purchases.
(Visited 10,248 times, 1 visits today)