Boating can be a wonderful summer activity for you and your dog! But there are a few things to consider before you go.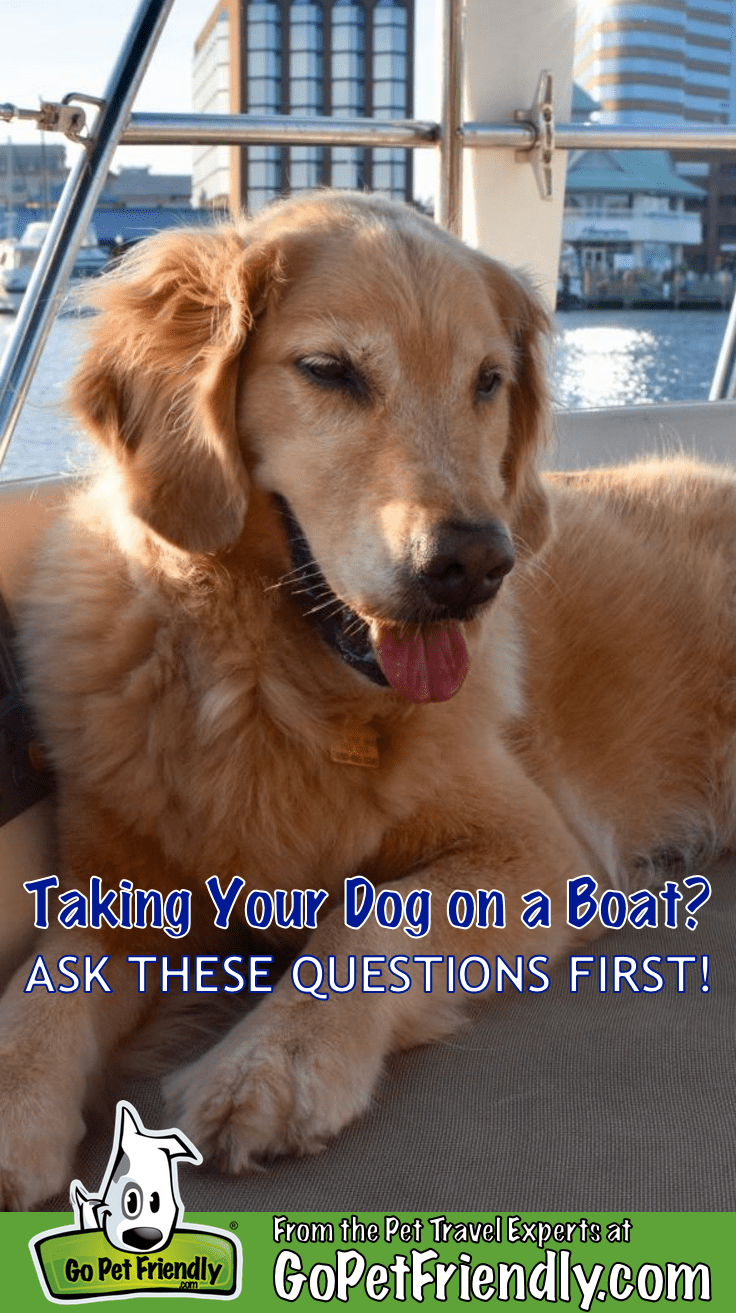 What could be more fun than taking your dog on a boat? The wind in their fur, interesting smells, and dolphins splashing nearby … there are so many experiences most pets love! To ensure you both have a great time, ask these questions before you head out.
Questions To Ask Before Taking Your Dog On A Boat
1. Is Your Dog Allowed?
Unless you own the boat, it's important to ask if your dog is welcome. Depending on the planned activities and the number of human guests that have been invited, even your dog-loving friends might prefer you make alternative plans for your pup.
If you're looking at outfitters, ferries, charter boats, and local cruises, remember that many are pet friendly — but not all. And businesses change their policies without notice, so even if you see a company listed as pet friendly, it's worth checking again.
Also keep in mind that some ferry companies consider themselves "pet friendly" because they allow your pet to stay alone in your car during a crossing. Before booking your trip, ask for clarification of the pet policy and any additional information people traveling with pets should know.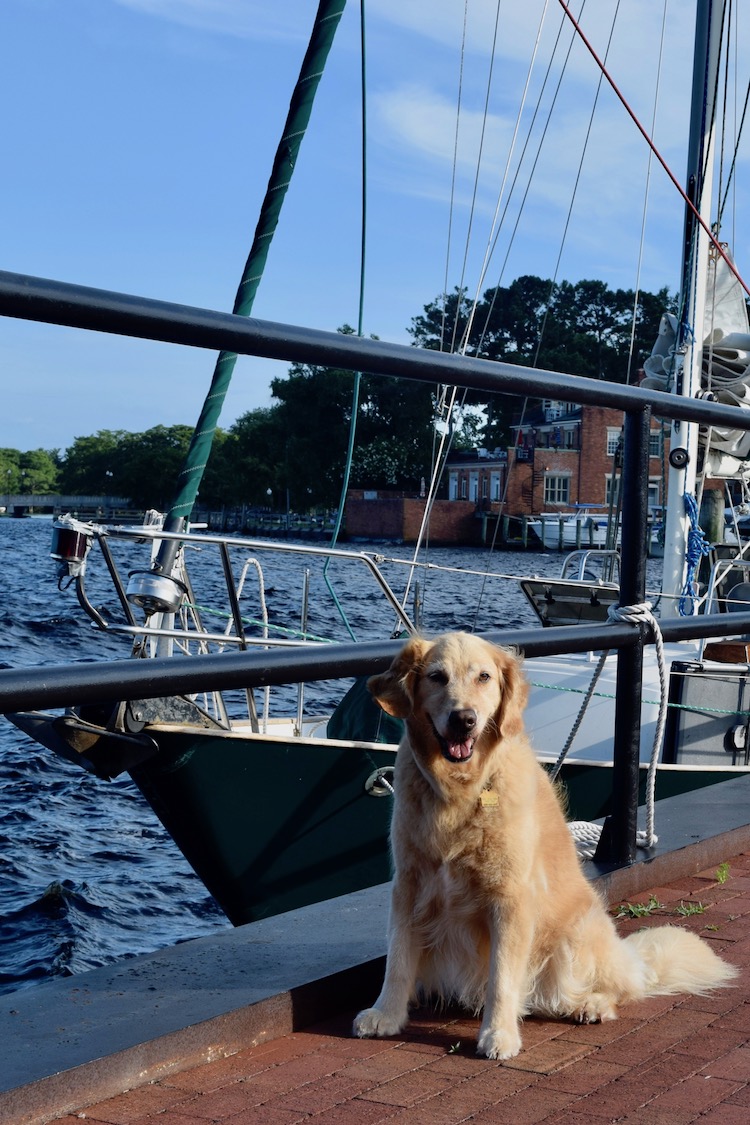 2. Does Your Pet Need A Life Jacket?
* This section of the post contains affiliate links. Thanks! *
This is actually a trick question, because ALL pets should have a life jacket when they're on a boat!
When riding small watercraft like canoes, kayaks, and stand-up paddle boards (SUPs), pets should wear their life vests at all times. I even know of two corgis who liked to ride on the running board of their people's jet skis. And you can bet they wear life jackets!
When you're cruising on a larger boat, you may not think a life jacket is necessary for your dog. But even huge ships are required to have flotation devices for all their human passengers. There are many reasons why every pet should have a life jacket.
Cats or dogs who feel apprehensive in new settings might feel more comfortable in a life jacket. And dogs who are excitable around water and likely to jump in should wear a life jacket in any setting that's new to them. Even if they are strong swimmers, you'll appreciate the sturdy handle built into the life jacket to help get them back aboard.
A special note for people traveling with cats: Most life jackets are still made for dogs, so you might need to experiment to find one that fits your cat. Paws Aboard makes a dog life jacket that comes in a wide range of sizes (including XX-Small) and several Amazon reviewers claim it worked for their cat.
Of course, if you're vacationing in an unfamiliar place, you may be unaware of the dangers caused by swirling currents, alligators, or other predators … or how your pup will react to the temptation of playful dolphins or sea lions. In those cases it's always better for your pet to wear a life vest.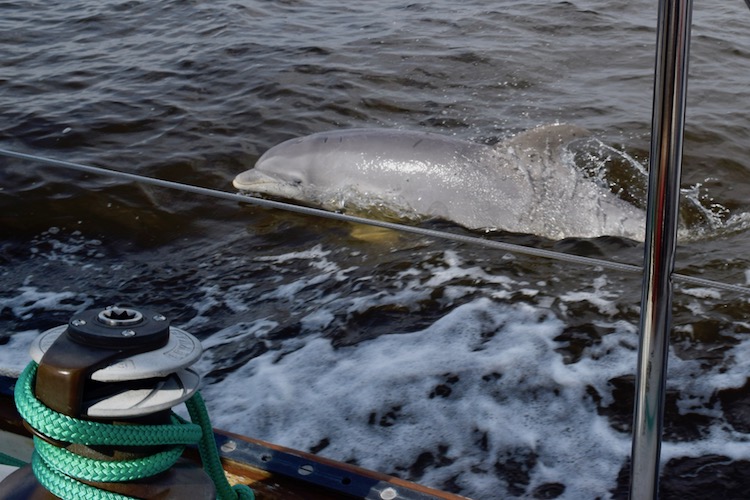 Experienced Sailing Dog Wears Her Life Jacket
Honey almost wears her life jacket when we're underway in our sailboat. The only exception is when the life vest is more of a risk than her falling in the water.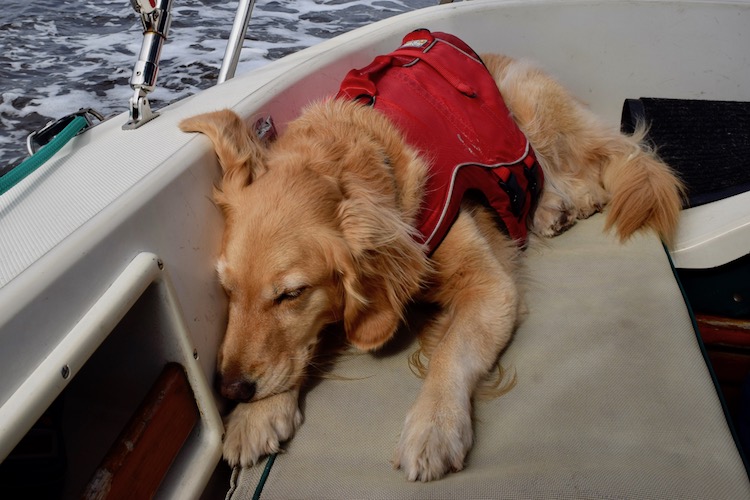 On a still, hot day where we're motoring in calm conditions, I usually don't put Honey's life jacket on her. She never leaves the security of the cockpit, and since she dislikes swimming we don't have to worry about her jumping overboard.
On those days, the possibility of her overheating is a greater concern than drowning. But if we're sailing, or when conditions are even a little rough or changeable, or if it's cold (yes, we've sailed in sub-freezing temperatures), Honey always wears her life jacket.
Pets with Special Needs and Those that Can't Swim
I once saw an aging Labrador fall off a dock because he couldn't tell what his hind legs were doing. Luckily his people got him back quickly, but if the current had been stronger, he would have benefitted from the extra flotation of a life jacket while his people figured out how to get him back on board.
If your pet has special needs, or they are a breed that finds swimming difficult, they may benefit from a life jacket even on a large vessel like a ferry. The dock crew will be wearing life jackets as well so your pet won't feel silly. And everyone thinks it's adorable when a dog on the boat is dressed for the occasion!
3. What's The Forecast?
Both weather extremes can be problematic for dogs on boats. Of course, stormy conditions are dangerous in personal watercraft. And thunder, even if the storm remains distant, is frightening for many pets. But pets are often confined to outside decks on ferries and tour boats — and you'll be out there with them. So check the weather before making your plans to ensure it will be comfortable for the whole family.
Shade is also scarce on the open water. If you're expecting hot, sunny weather consider whether your dog will be comfortable in the cockpit of a kayak all day. And keep in mind that many large boats, like ferries and local cruise boats, have metal decks. On a hot day, your dog could burn his paws walking a short distance. Protective boots (affiliate link) might be necessary to protect your pup's paws.
No matter what the weather, be sure to bring plenty of fresh water and a bowl for your pet.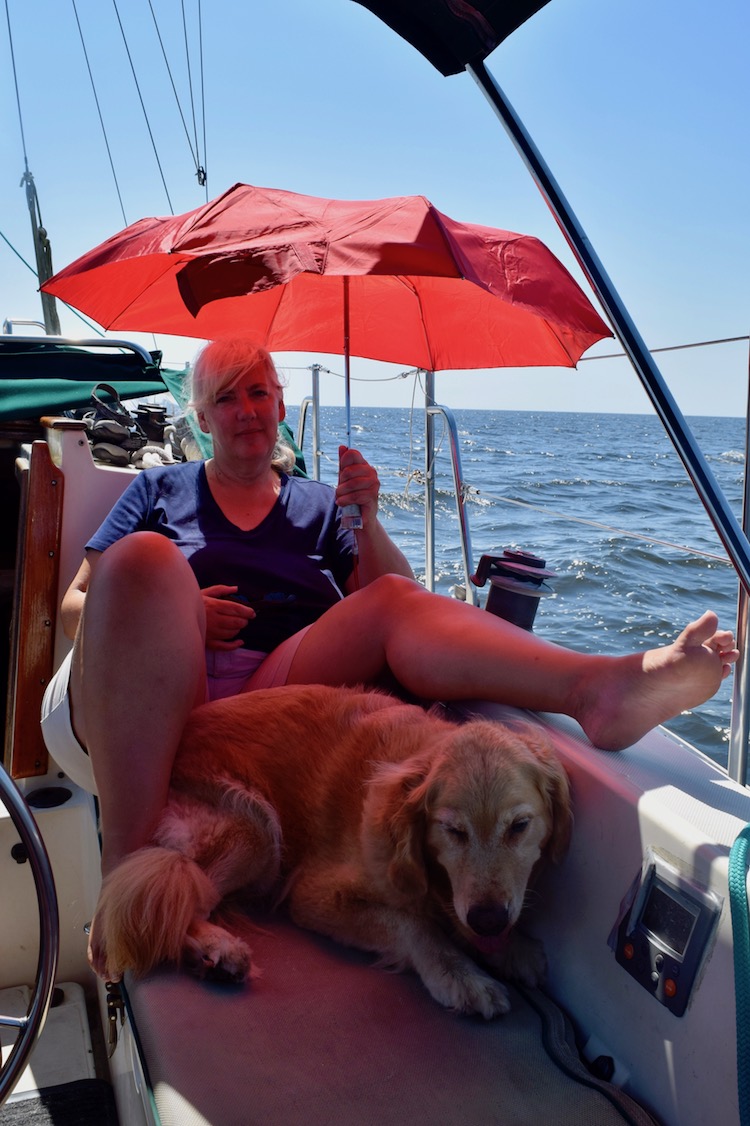 4. What Time Of Day Should You Go?
If you haven't spent much time on the water, you might not be aware of how tides affect the ramps that connect larger vessels to the docks.
At low tide the ramps will be much steeper than at high tide. And in places with high tidal ranges like Georgia or Nova Scotia, the ramps at low tide can be extremely steep.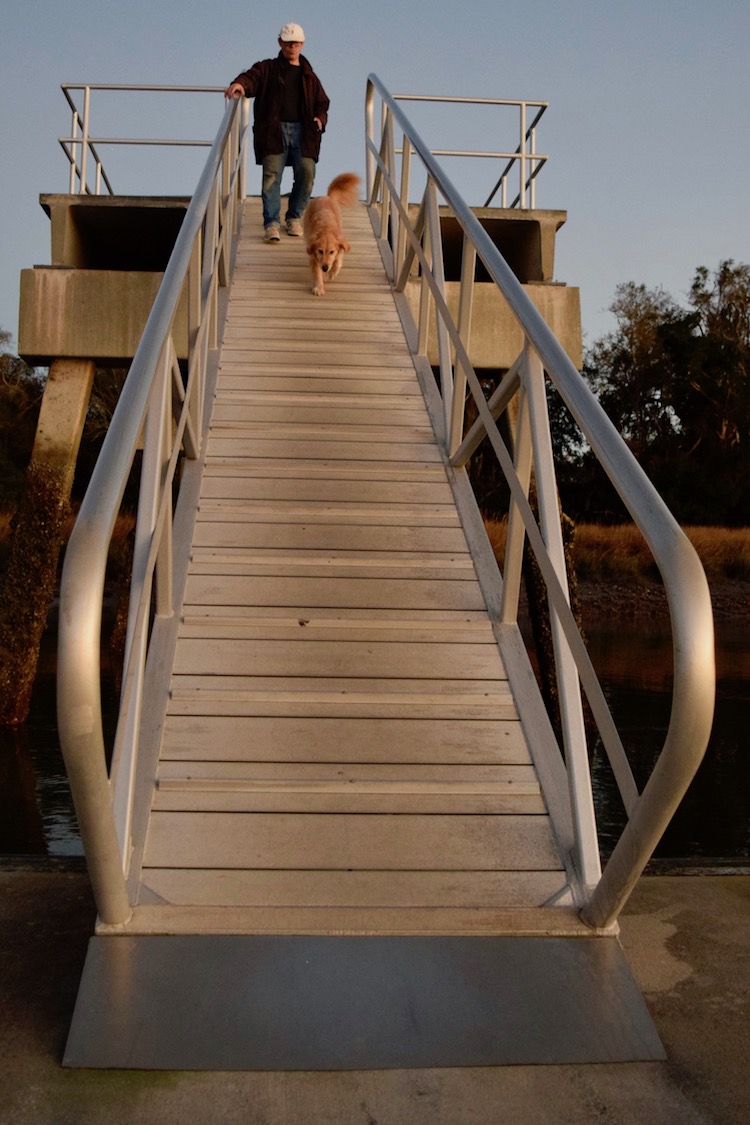 If your pet isn't experienced at walking on metal ramps (some have open grates), a steep grade could make it even scarier. And a confident pup who can't wait to get to the water could find herself taking a tumble.
An online search for tide predictions will provide the the information you need for the area you're visiting. Make your plans for the best time for everyone. You don't want to buy tickets for a lovely cruise on the San Francisco Bay just to find your 120 pound Newfie won't budge at the top of a steep ramp during low tide!
And remember that tides reverse about every six hours. So the conditions you saw arriving at a boat may not be the same when you leave.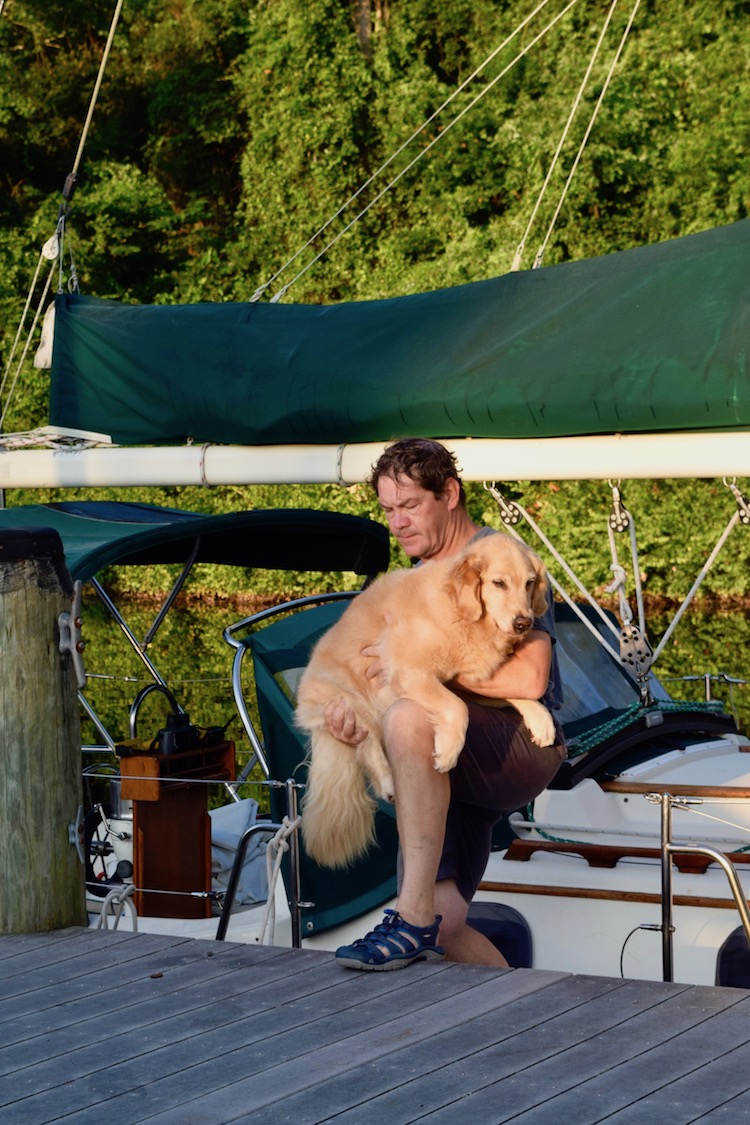 5. Where Can You Find Pet Friendly Boats?
Boating is one of the most pet friendly activities you'll find. And you can have fun boating fun even if you don't own a boat yourself! Search for the area you're visiting on GoPetFriendly and look for boat rides, ferries, and outfitters under "attractions."
Many state parks also have kayak and canoe rentals. But not all are pet friendly. Don't assume – ask first.
You can also find outfitters who will give you everything you need to spend the day on the water, including lessons. Pet friendly paddleboard outfitters seem to work especially hard at helping pets get familiar with the board before sending everyone out on the water.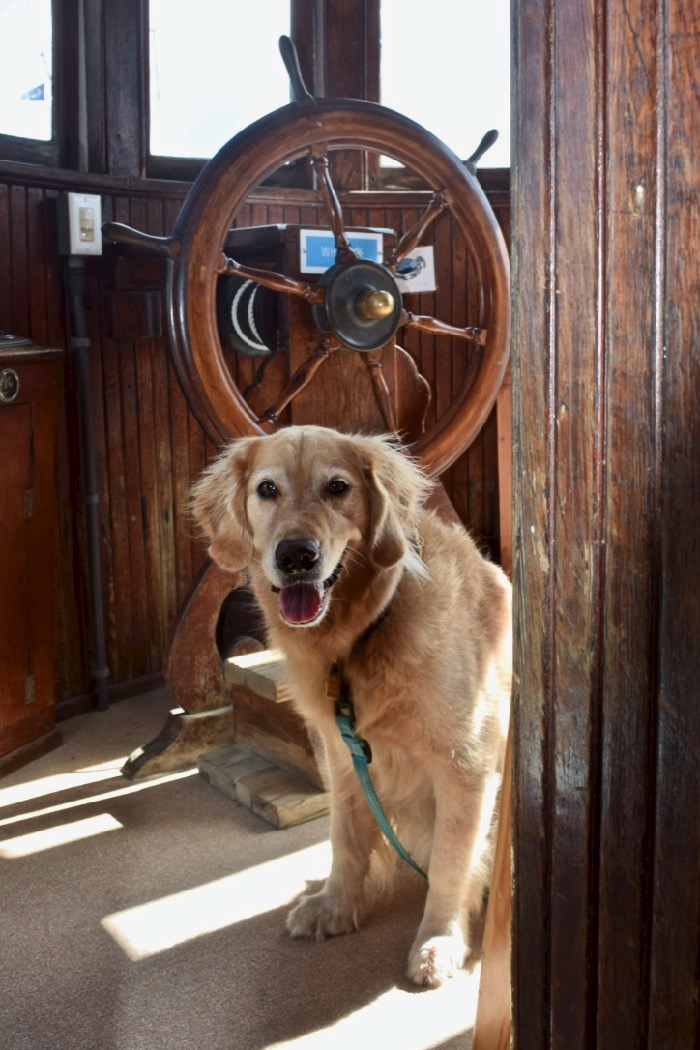 Ferry websites usually post their pet policies, but many smaller nature tour boat rides and small cruising companies do not, so you may have to call.
The best way to find a great pet friendly boat trip or charter when you arrive in a new place is to go down to the waterfront and check out the ticket booths and brochures along the docks. Ask the ticket agents if the captain will allow you to take your dog on the boat.
Also consider the type of cruise your pet would enjoy most. A deaf dog might be perfectly happy on a noisy airboat. But your cat who hates loud noises might prefer a peaceful cruise under sail.
Taking Your Dog On A Boat Could Change Your Life
I've kayaked and canoed with all of my dogs. But a few years ago, I started thinking it would be fun to learn how to sail and to live on a boat. How could I know if Honey would enjoy sailing?
Luckily, I read about Doggone Sailing Charters in Provincetown, Massachusetts on GoPetFriendly. Captain Rory took us out with Honey on two different sails. She even had an extra life jacket when we forgot to bring Honey's the second day!
Honey was happy to cuddle up in the cockpit under sail. And it showed me that I could start making plans to live on a sailboat full time.
So one more thing you might want to ask yourself before taking your pet on a boat … what will you do if you love it so much you want to move aboard?!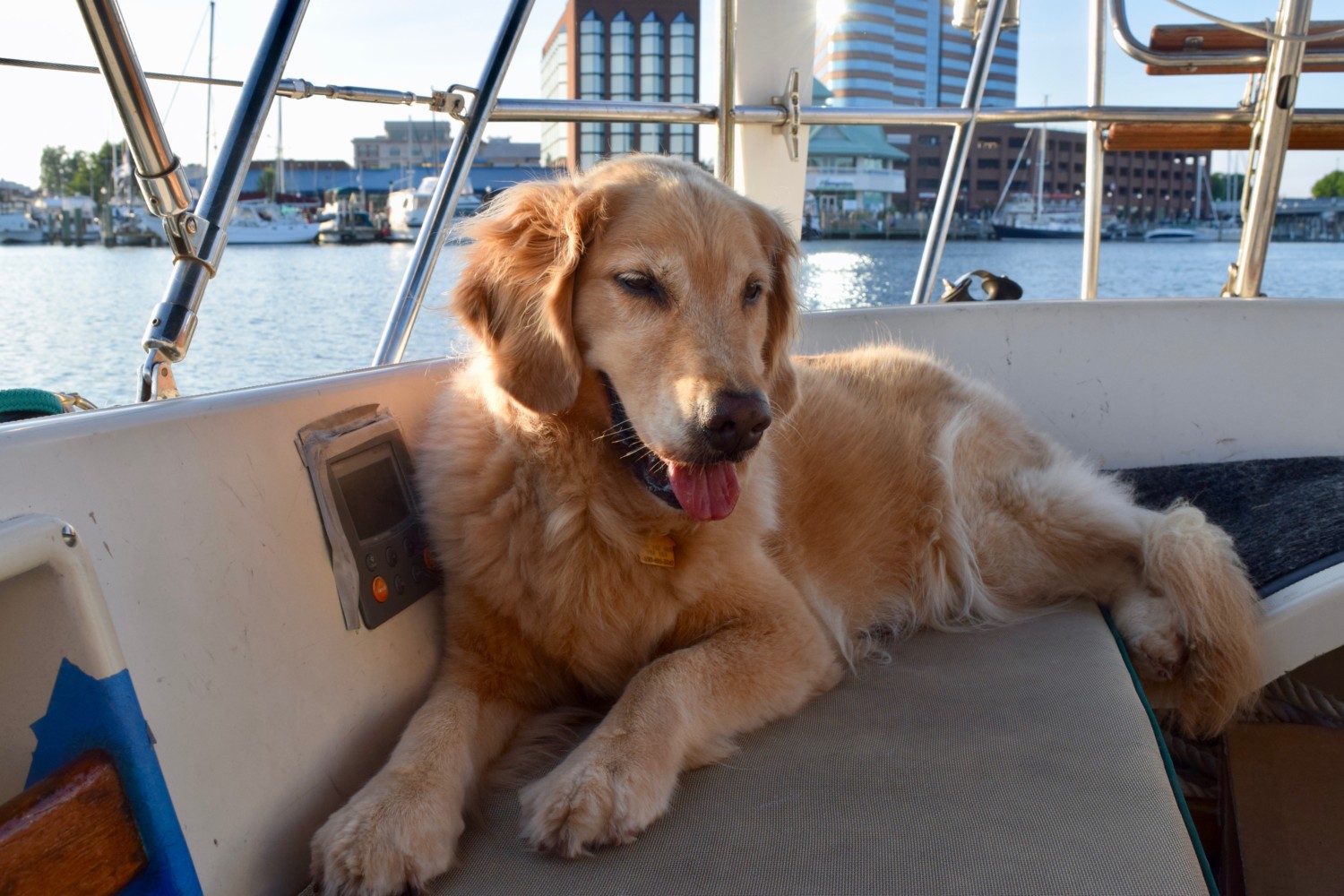 Amazon Affiliate Disclosure: GoPetFriendly.com LLC is a participant in the Amazon Services LLC Associates Program, an affiliate advertising program designed to provide a means for website owners to earn advertising fees by advertising and linking to amazon.com, audible.com, and any other website that may be affiliated with Amazon Service LLC Associates Program. As an Amazon Associate, the owner of this site earns a commission from qualifying purchases.
(Visited 10,447 times, 1 visits today)