As avid paddlers and advocates for safe and fun pet friendly outdoor adventures, my husband and I enjoy sharing our love of canoeing and kayaking with dogs. We hope that by providing some pointers, we can encourage you to try paddling with your pup. It's a wonderful activity that you can enjoy together for many years!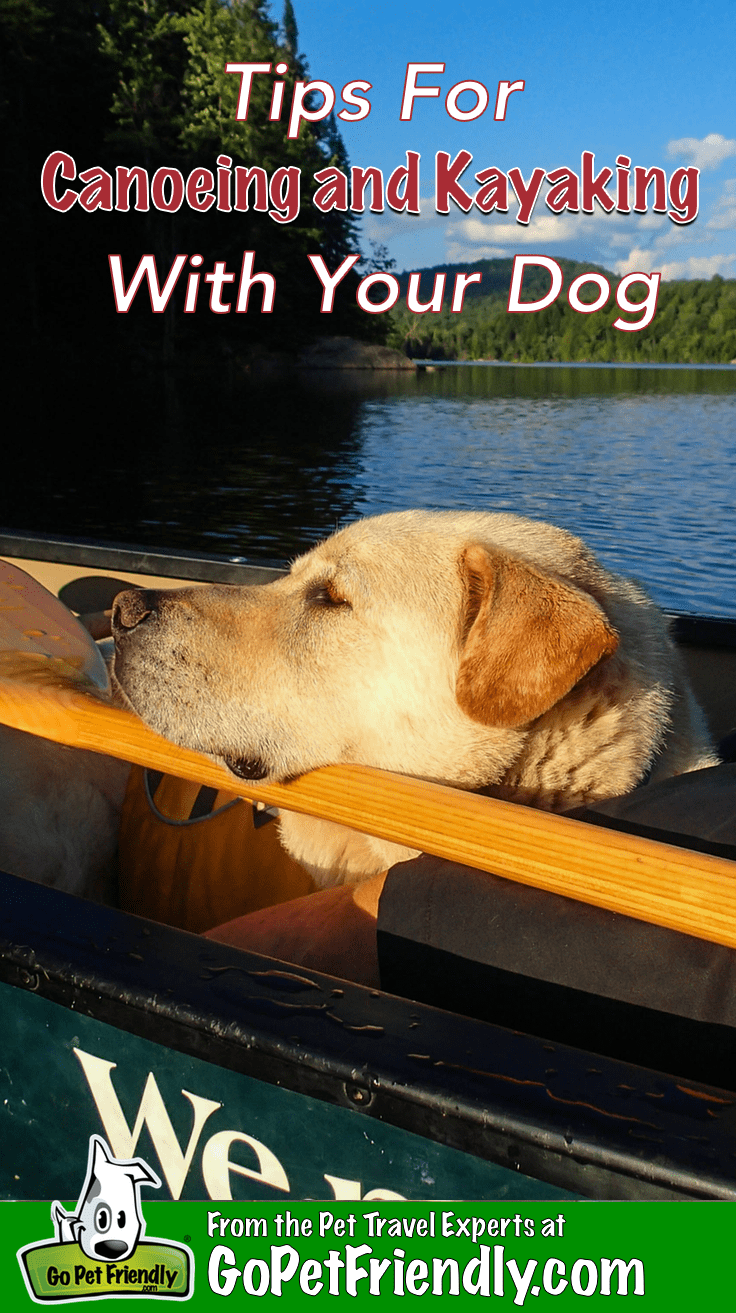 *This post contains affiliate links. Thank you!*
Can YOU Go Canoeing or Kayaking With Dogs?
No way … you put TWO dogs in your canoe with you? Oh, we've heard that before! We started out with Gryphon, a yellow lab mutt, who took to canoeing like a pro. He paddled with us for a few summers as a "solo dog."
Then we adopted Edgar and, with a few adjustments, had two large mutts in our 16'6" canoe. Off we would go, on multi-day canoe camping trips, day trips, picnic paddles, and exploring new waterways. If we can do it, you can go canoeing or kayaking with dogs, too!
Any dog that rides happily in a car is a good candidate for paddling. Our dogs love the peaceful movement of the canoe and kayak, the opportunity to see wildlife, exploring islands and beaches, camping out, and splashing around to cool off.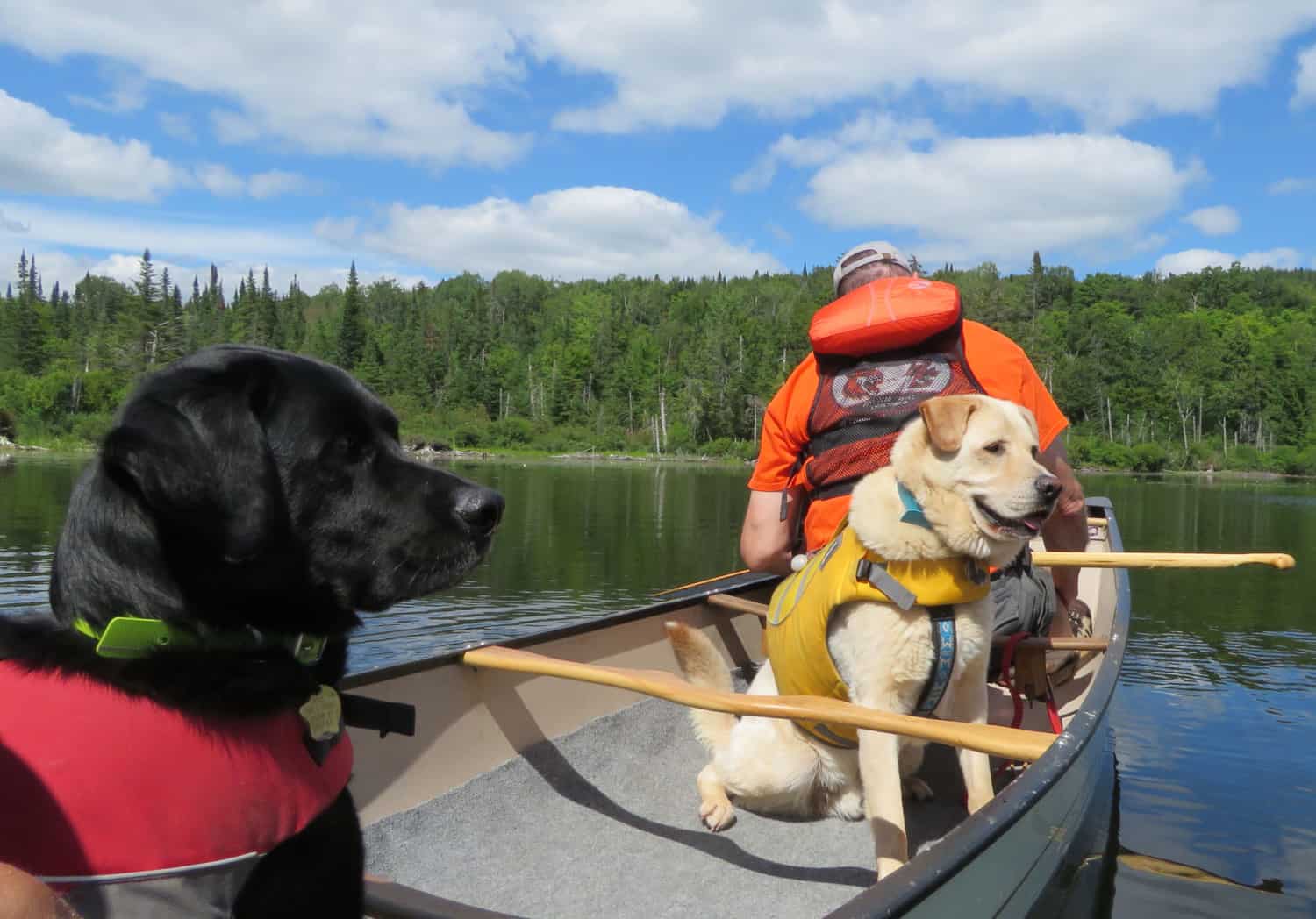 How to Choose an Appropriate Canoe or Kayak
When deciding which watercraft is best, we suggest starting with a stable, family-suitable canoe. Some configurations are more suitable for canoeing and kayaking with dogs than others, so bring your pup along to try the boats.
Keep in mind that aluminum canoes can get very hot and noisy – both unpleasant conditions for a dog – so we suggest avoiding them. If you're leaning toward a kayak, you check that there is adequate room for you to paddle with your dog safely seated in the boat.
When you've narrowed down the options and are ready for a test paddle, take your dog along! Just be sure he's wearing his doggy life jacket, of course.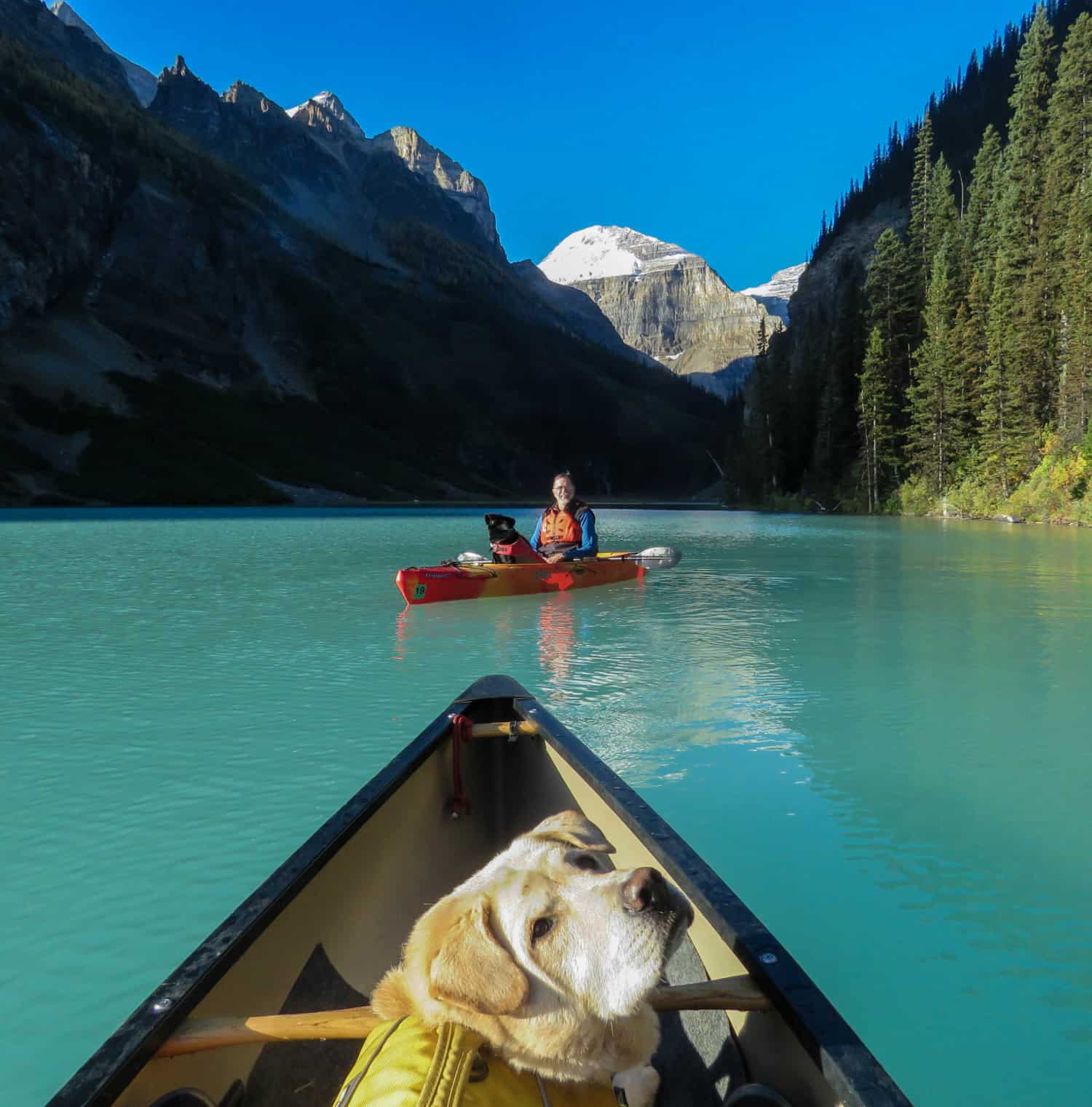 We still use our tandem canoe (Swift Kipawa 16'6) for some trips. But most of our outings now involve the use of a 13-foot solo canoe (Wenonah Fusion RX) and a 12-foot kayak (a Jackson Tipper 12). One dog prefers the canoe, and the other likes his kayak. This way, both dogs and paddlers are happy!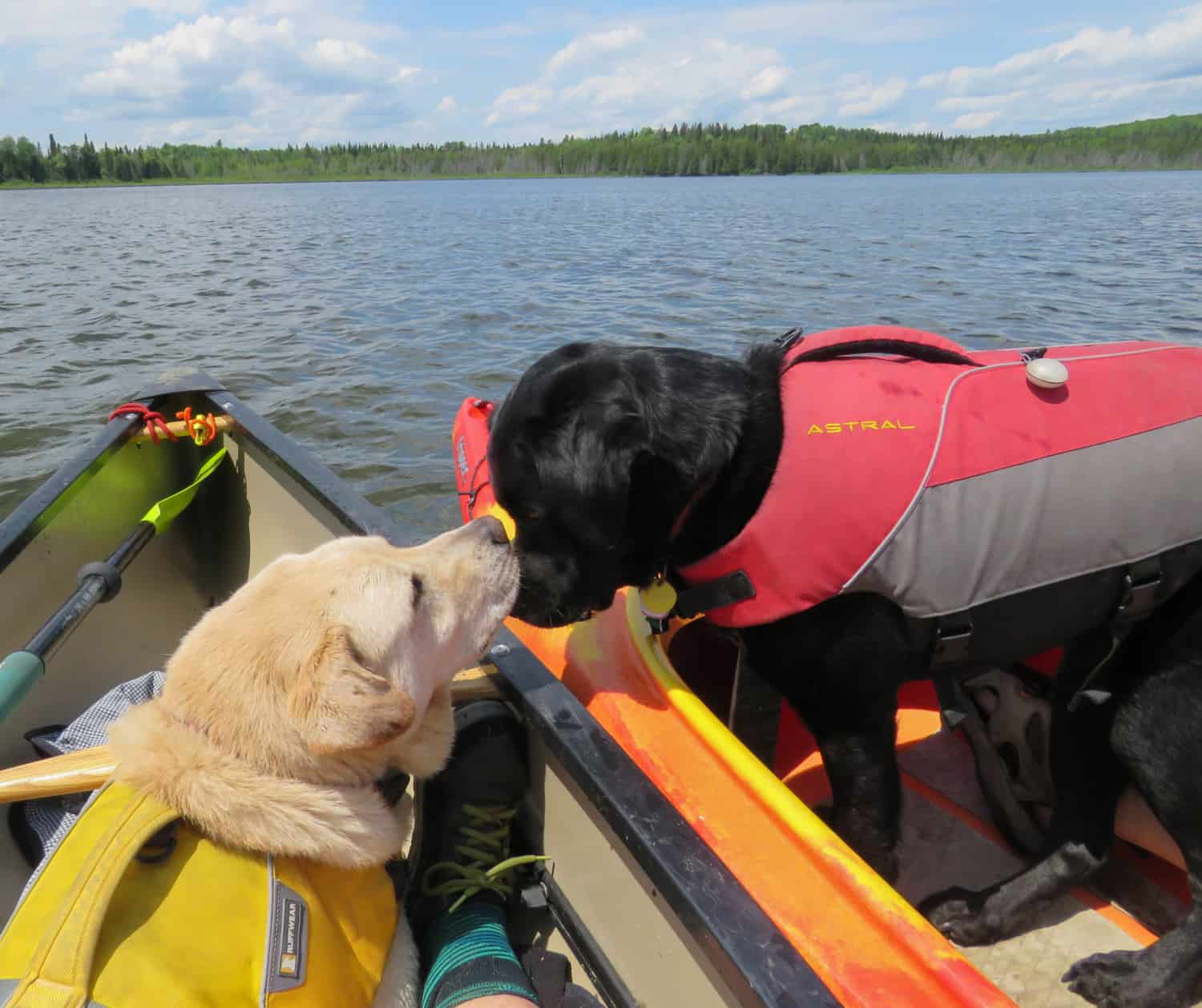 Comfort is Key When Canoeing or Kayaking with Dogs
The first step in ensuring your dog's comfort in the boat is to cover the floor. Your dog will need to adjust to the movement of the canoe or kayak, and if he's slipping or sliding, he won't be able to get comfortable and settle down. We have tried yoga mats, backpacking pads, and foam mats, but all of these options slide when water gets under them.
What works best in our canoe is a quality indoor-outdoor carpet. This material can be cut to fit the length of the canoe, protects the interior from the dogs' claws, and is easy to clean, dry, and roll up for storage. For the kayak, we like the adhesive traction mats sold for stand-up paddle boards.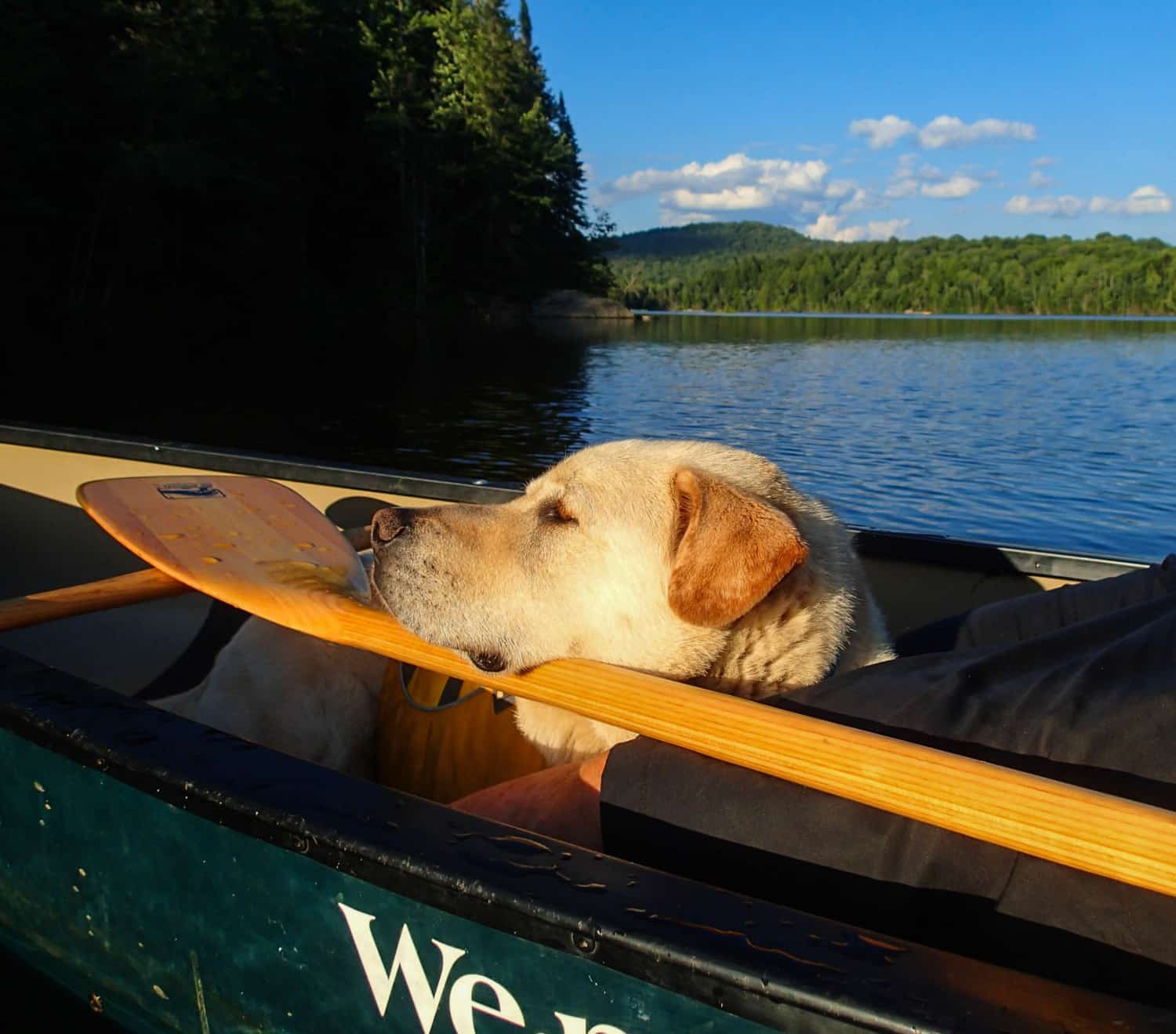 Refine Your Skills Before Including Your Pet
Be sure that you are a confident paddler before you go canoeing or kayaking with dogs. You do not have to be an expert paddler, but even on quiet waters, you can still have a miserable (and dangerous) time if you and your dog are both uncertain and inexperienced.
Start out on a quiet, calm bodies of water with easy access launch sites. And choose a time of day when there are fewer boaters or dogs around; the smoother the water, and the fewer distractions, the more successful your initial trips will be.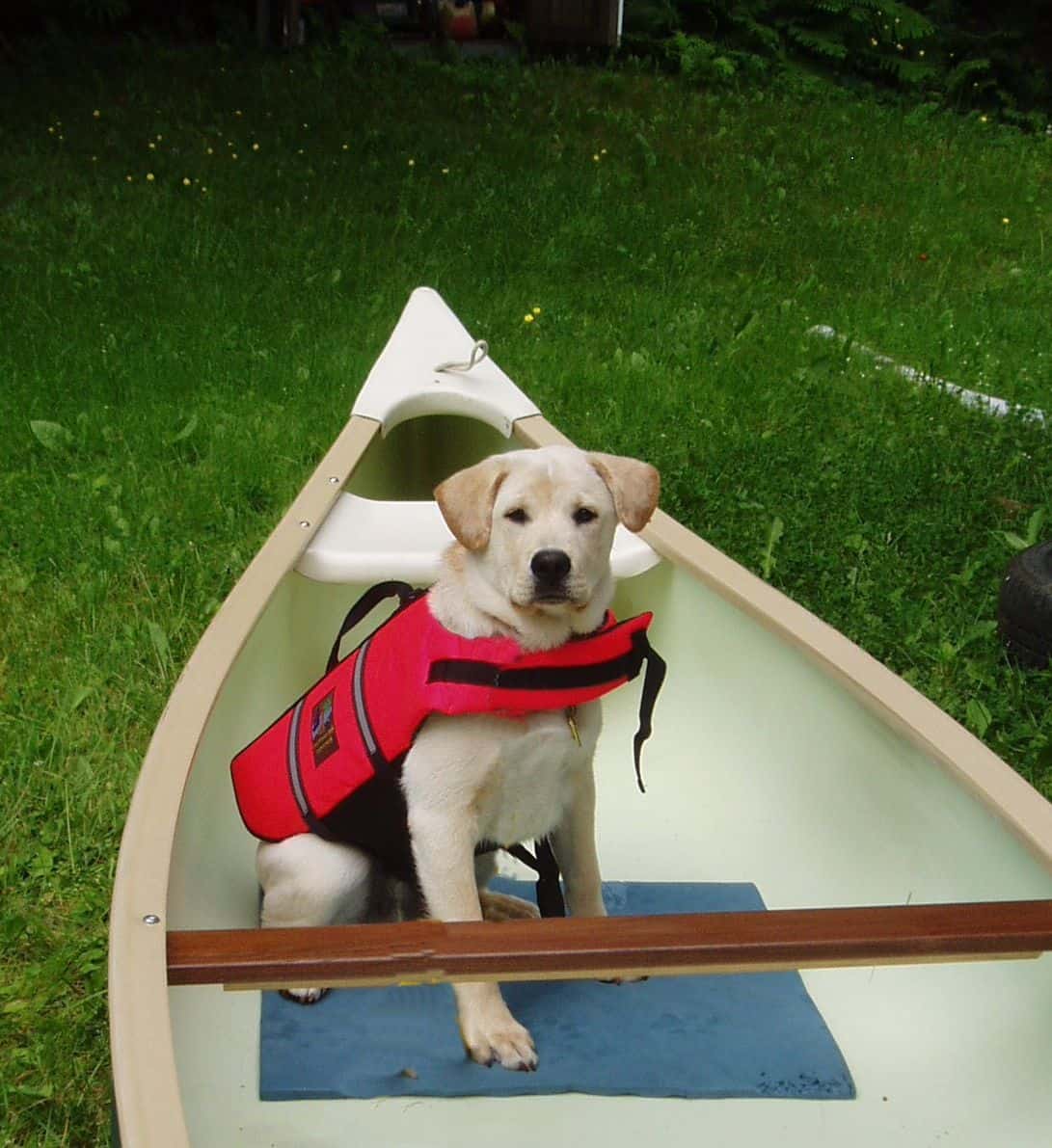 Safety First!
Your dog does not have to be a good swimmer to have a safe trip. In fact, regardless of their swimming skills, all dogs should wear a dog life jacket when on the water. These jackets provide thermal protection in cool water, a nice handle should you need to lift your dog out of the boat or water, and make your dog visible to other boaters when he's in the water.
Neither of our dogs are skilled swimmers; should we capsize, I'd rather deal with a floating dog than one who is struggling. And we periodically have our dogs practice swimming while wearing their dog life jackets, so they gain confidence in the water.
Do not forget to wear your personal flotation device! No matter how strong a swimmer you are, assisting your dog in the water without a PFD could be detrimental to your health. According to the American Canoeing Association, 85% of canoeist who drown were not wearing life vests. Take that to heart, and then consider the added exertion required in trying to help your dog!
We also keep short leashes handy for use at the launching sites and anywhere leashes are required. We do not suggest using a leash on your dog while in the boat. Hanging lines could get tangled if the boat tips over. And NEVER tie your dog to the boat!
Brush Up On Basic Obedience
Before taking off, it's a good idea to work a bit on your pup's basic obedience commands. Sit, stay, down, and "hup" (or another command you select for getting in and out of the boat) all come in handy when canoeing or kayaking with dogs. Our dogs worked on these skills in the boat while on land before they ever went on the water. And their training has saved us from disaster more than once!
Each of our dogs began canoeing by sitting near the stern paddler. In this position he was secure, easy to hold, and less likely to cause unexpected motion. As they got more comfortable, our dogs "graduated" to choosing their preferred position in the canoe.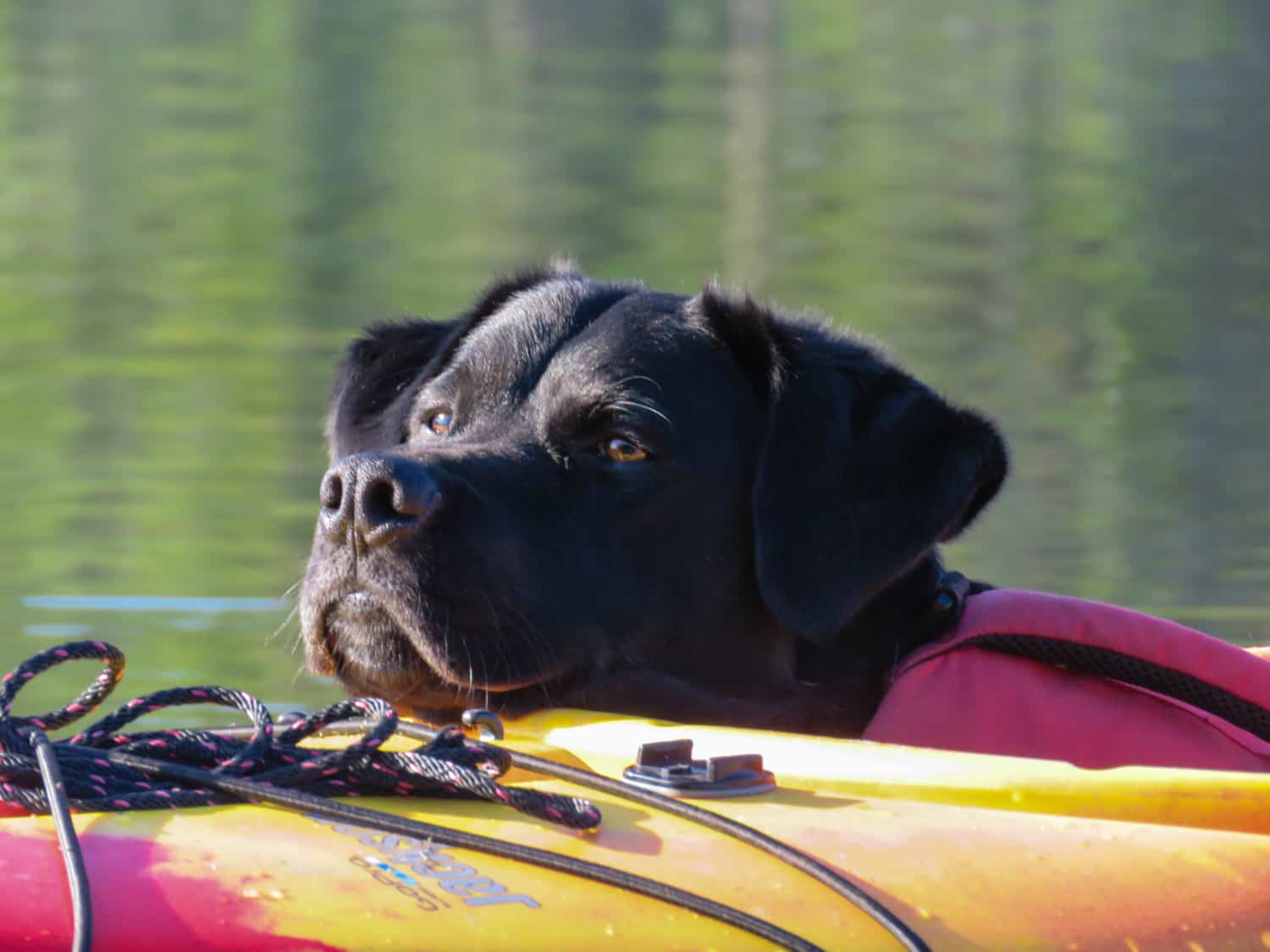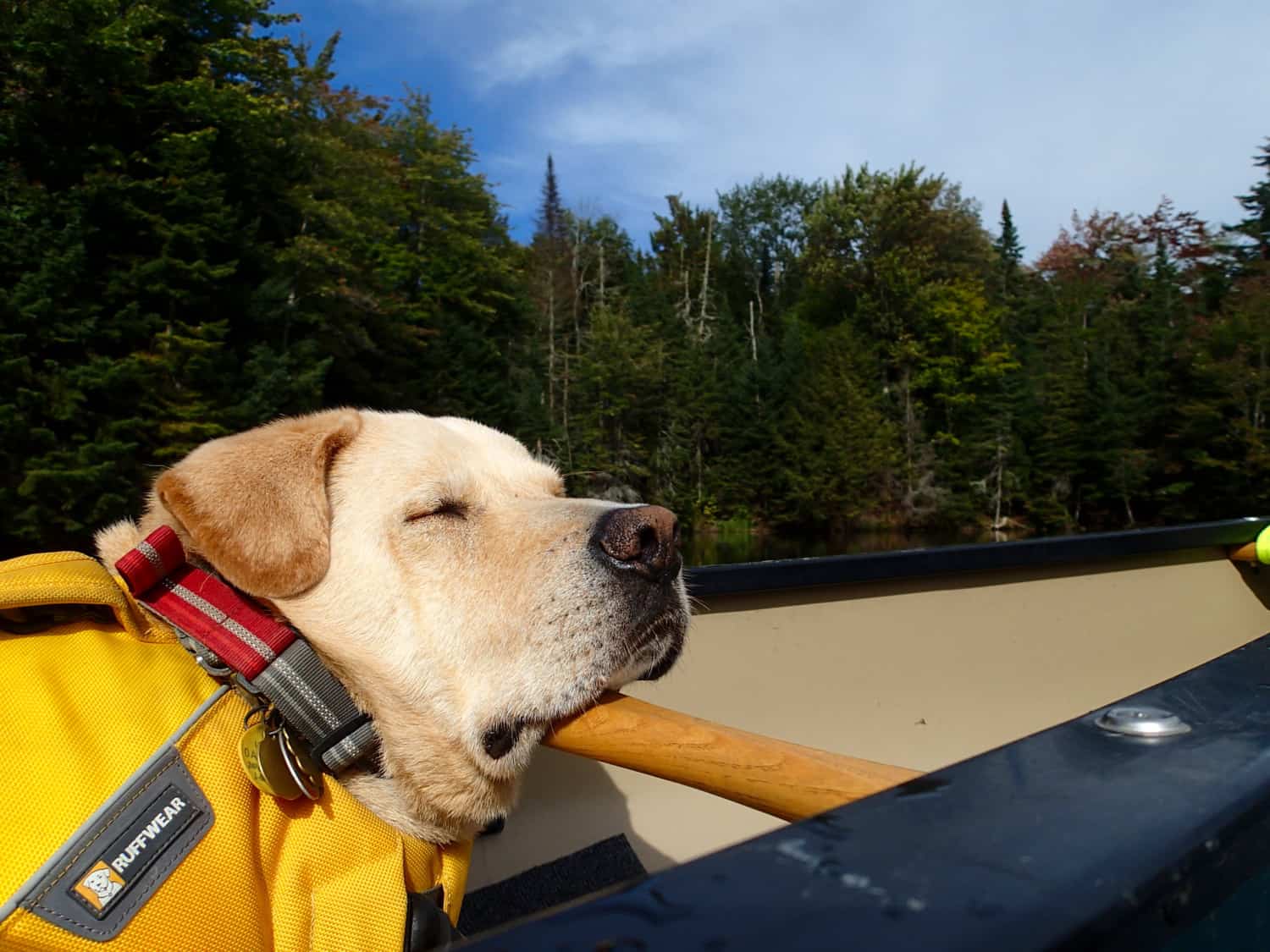 Gryphon and Edgar get very excited when they see that they are going out on the water, and that's to be expected! If your dog has trouble settling down, you may want to take him for a walk or run first. It is also a good idea to let him take care of any potty business before he gets into the boat.
Dogs can lean over the gunwales to access water, but we do not always want our dogs drinking from the water we're paddling across. So be sure to pack plenty of drinking water for yourself and your dog.
We also pack essential safety gear, which includes a dog first aid kit. We added a few dog booties to the kit, so if we have to bandage a paw, the bootie will help keep the bandage in place.
Develop a Routine
Our routine for getting in and out of the boat is: the dogs go first, one at a time, on command. Then we get in. The dogs know that we decide when they enter and exit the boat. When we land, we reverse the process.
Most boats capsize within 10 feet of shore, and keeping a strict routine can help prevent this. Your dogs should only get in and out of the boat when you decide it is safe.
Paddling Etiquette
It's also important to practice good paddling etiquette with your dog. We do not allow the dogs to bark while in the canoe or kayak. We paddle near some amazing wildlife, and wouldn't want our dogs harassing the loons, beaver, herons, moose, or other paddlers we see.
Also be sure to clean up after your dogs. We are responsible for them, and for keeping our waters clean.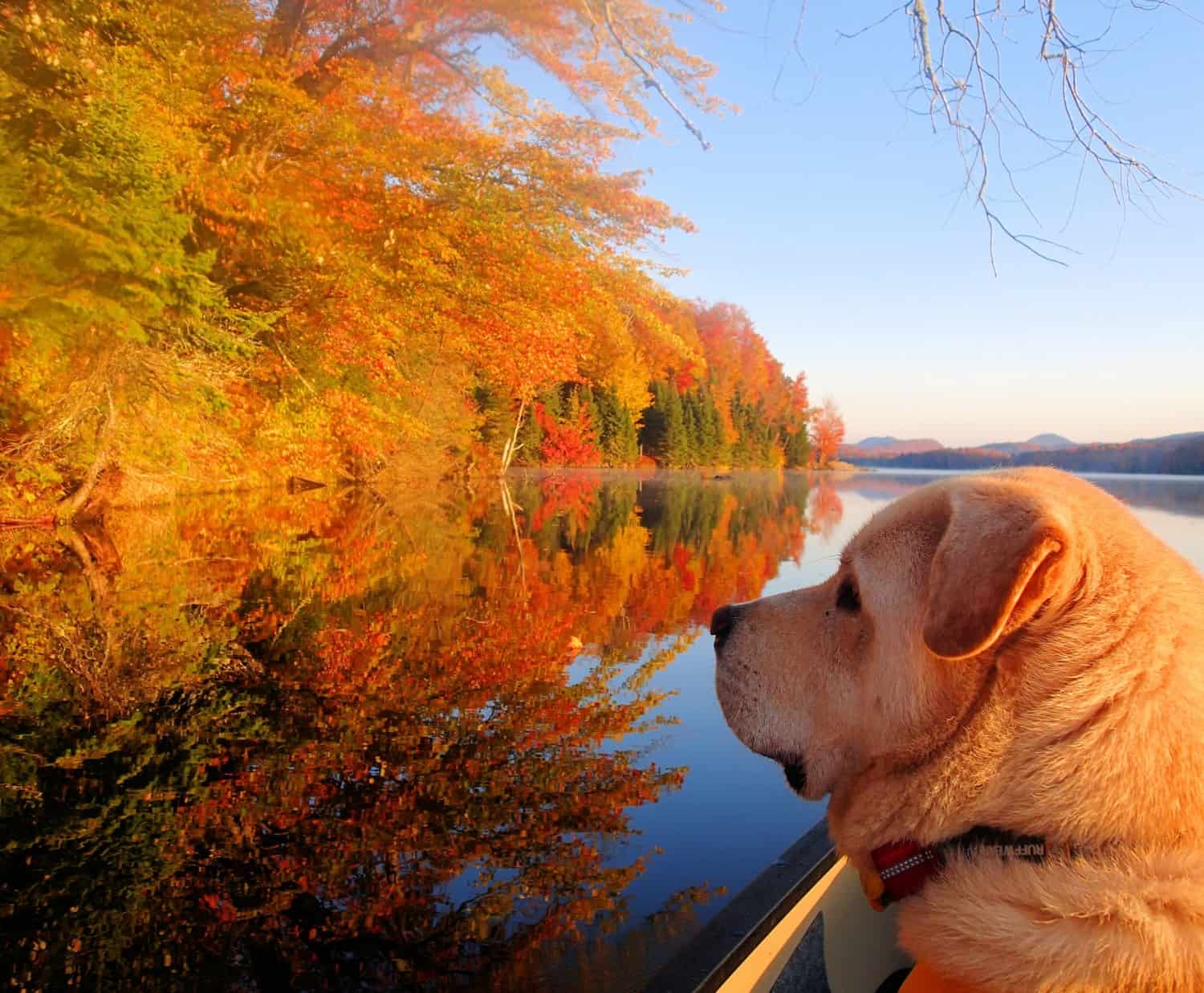 Have Fun Canoeing or Kayaking with Dogs
Perhaps the most important element to having a successful day canoeing or kayaking with dogs is your attitude! Have fun, and remember that this activity may be a bit unsettling to your dog. Go slowly … start with short trips, so your dogs can earn your praise while he practices his canoeing skills.
And take photos! You will want to look back and realize how far you and your dog have come, and laugh at your adventures (and misadventures!).
Canoeing and kayaking can be a "lifetime activity" for dogs. Once our dogs' more active days are over, we know that they will continue to enjoy paddling with us.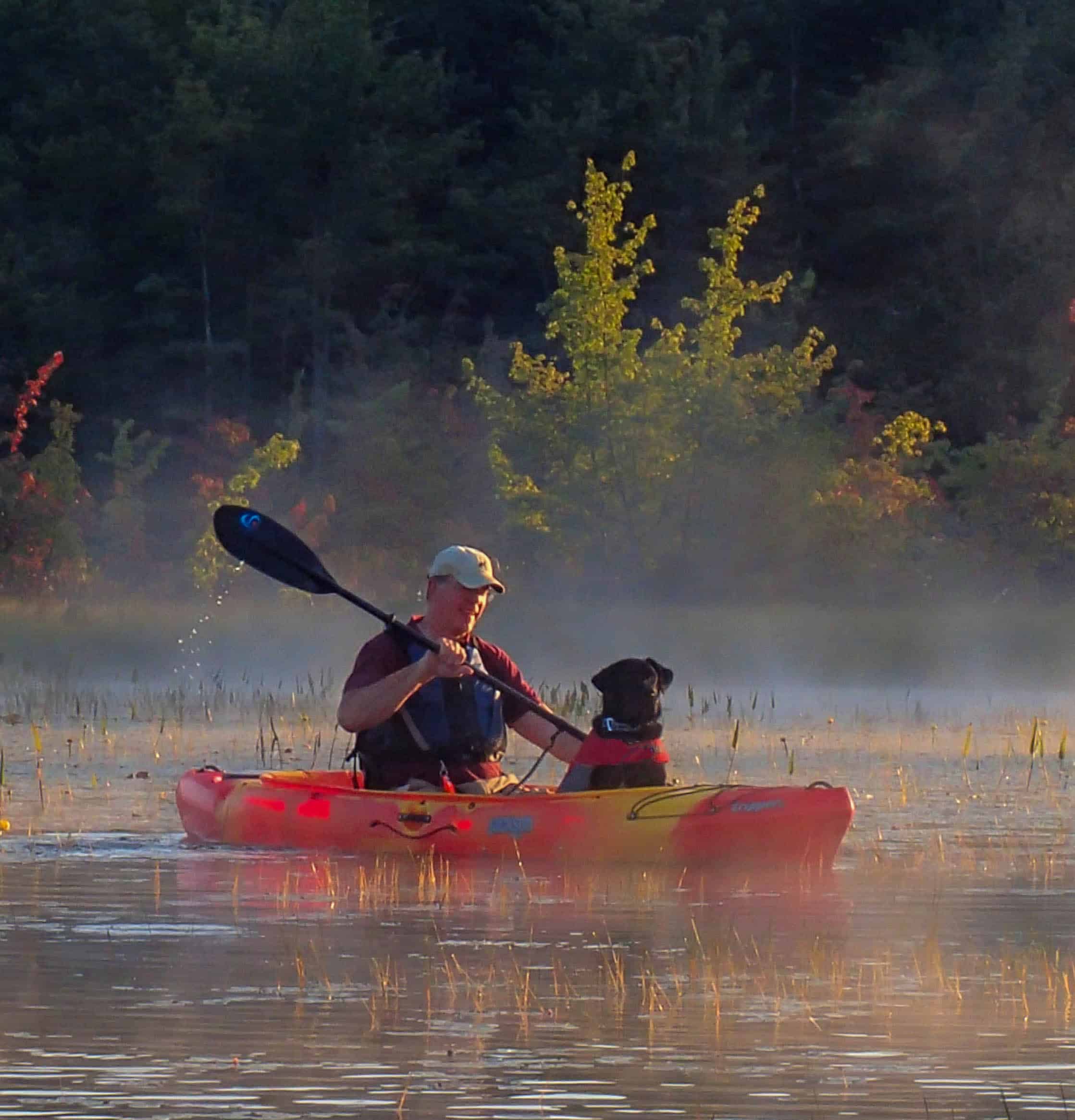 About the Author: Sheila Bergin Goss lives in northern Vermont, surrounded by mountains and lakes that support her love of outdoor recreation. She and her husband are empty-nesters who enjoy hiking, snowshoeing, bicycling, camping, and paddling, with their two paddle pups. She is active in recreational advocacy groups, promotes safe and responsible outdoor recreation with dogs, and writes the Vermont Paddle Pups blog. All photos in this post belong to Sheila.
Amazon Affiliate Disclosure: GoPetFriendly.com LLC is a participant in the Amazon Services LLC Associates Program, an affiliate advertising program designed to provide a means for website owners to earn advertising fees by advertising and linking to amazon.com, audible.com, and any other website that may be affiliated with Amazon Service LLC Associates Program. As an Amazon Associate, the owner of this site earns a commission from qualifying purchases.
(Visited 49,143 times, 1 visits today)