This post is part of a series on The Ultimate Pet Friendly Road Trip, our 10-month, 15,000-mile tour of the top pet friendly attraction in each of the lower 48 states.
Arkansas' Top Pet Friendly Attraction: The Buffalo National River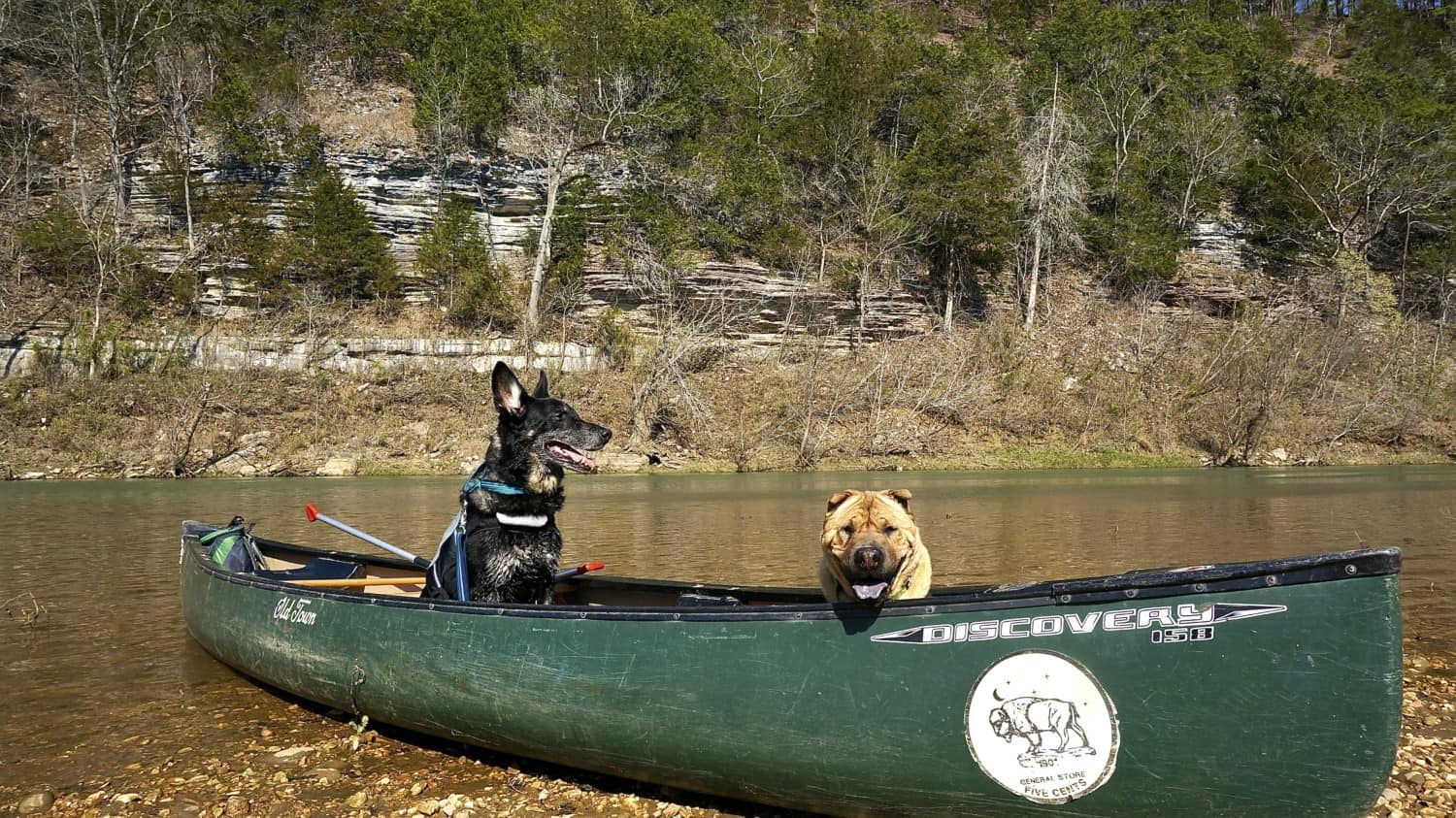 The Buffalo National River was established in 1972, ensuring it will run freely and maintain its natural character for generations to come. The first of only three national rivers, the waterway is protected from industrial uses and any obstructions that might change the river or disrupt the habitat of its flora and fauna. It's a place where time seems to stand still … where the wild remains wild, and where we have the opportunity to revel in nature's untouched beauty.
The Buffalo originates in the 2,500-foot peaks of the Boston Mountains range in the Ozarks and runs for 153 miles until it joins the White River. The river's headwater is part of the Upper Buffalo Wilderness Area (not pet friendly), and the remaining 135 miles are managed by the National Park Service. Flowing west to east, the upper part of the river is the steepest, is floatable only during periods of high water, and presents a whitewater challenge for canoeists and kayakers. Further downstream the Buffalo slows and levels out, providing a lovely passage for paddlers of all skill levels.
First Timers

Ever since we started the Ultimate Pet Friendly Road Trip, I've been concerned about this stop. Rod and I had never been in a canoe together … much less the dogs! We were fairly certain Ty would be fine, but Buster's an 80-pound wild card. Wondering how he'd react to the canoe, and facing the unpleasant prospect of getting dumped caused some anxiety. If we hadn't needed the pictures, we probably would have scrapped the whole idea. If you're feeling the same way, I hope you'll go canoeing anyway. We didn't give Buster enough credit, we all experienced something new together, and we had a great time … I'm so glad we did this!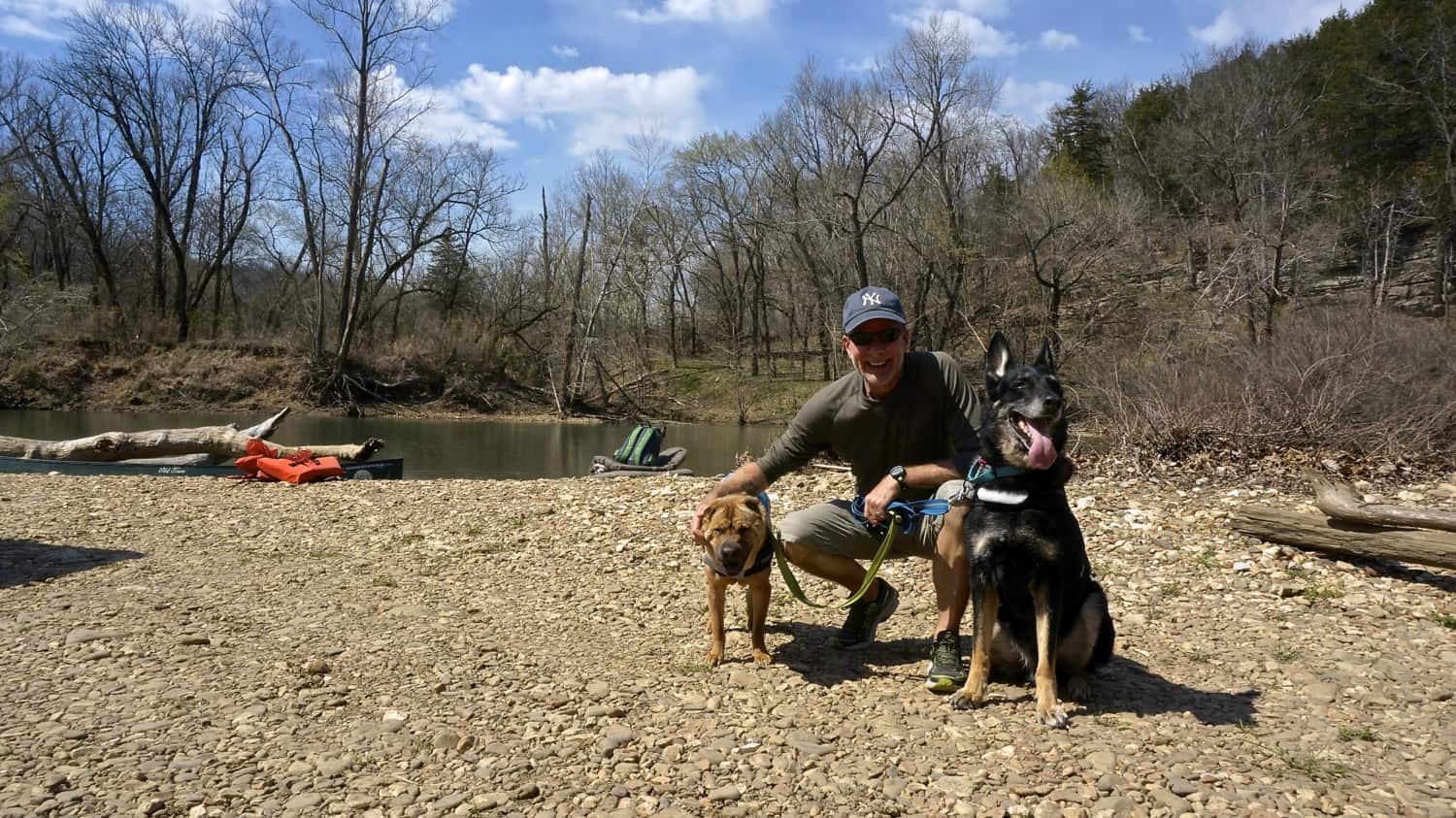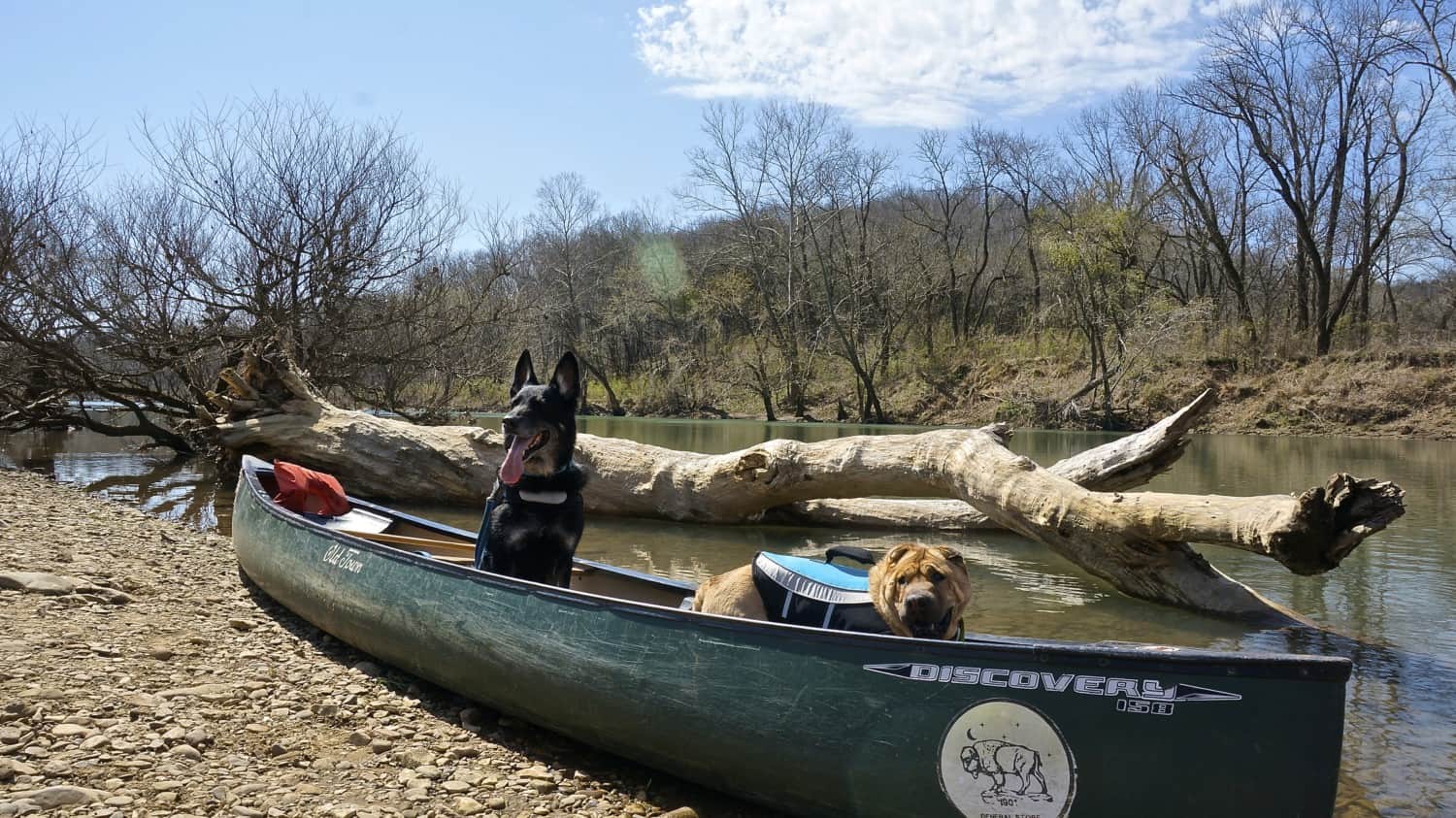 Town of Gilbert, Population 33
The town of Gilbert sits about two-thirds of the way along the Buffalo River and was our base camp for this trip. With a population of 33, it's one of the smallest municipalities in the country and an experience all its own. Perched on the riverbank at the end of the road, the only traffic coming into Gilbert arrives by choice, and there's a homey, welcoming feel about the place. Everyone literally knows everyone … and their dog, because there are no leash laws here, and the pooches have license to explore.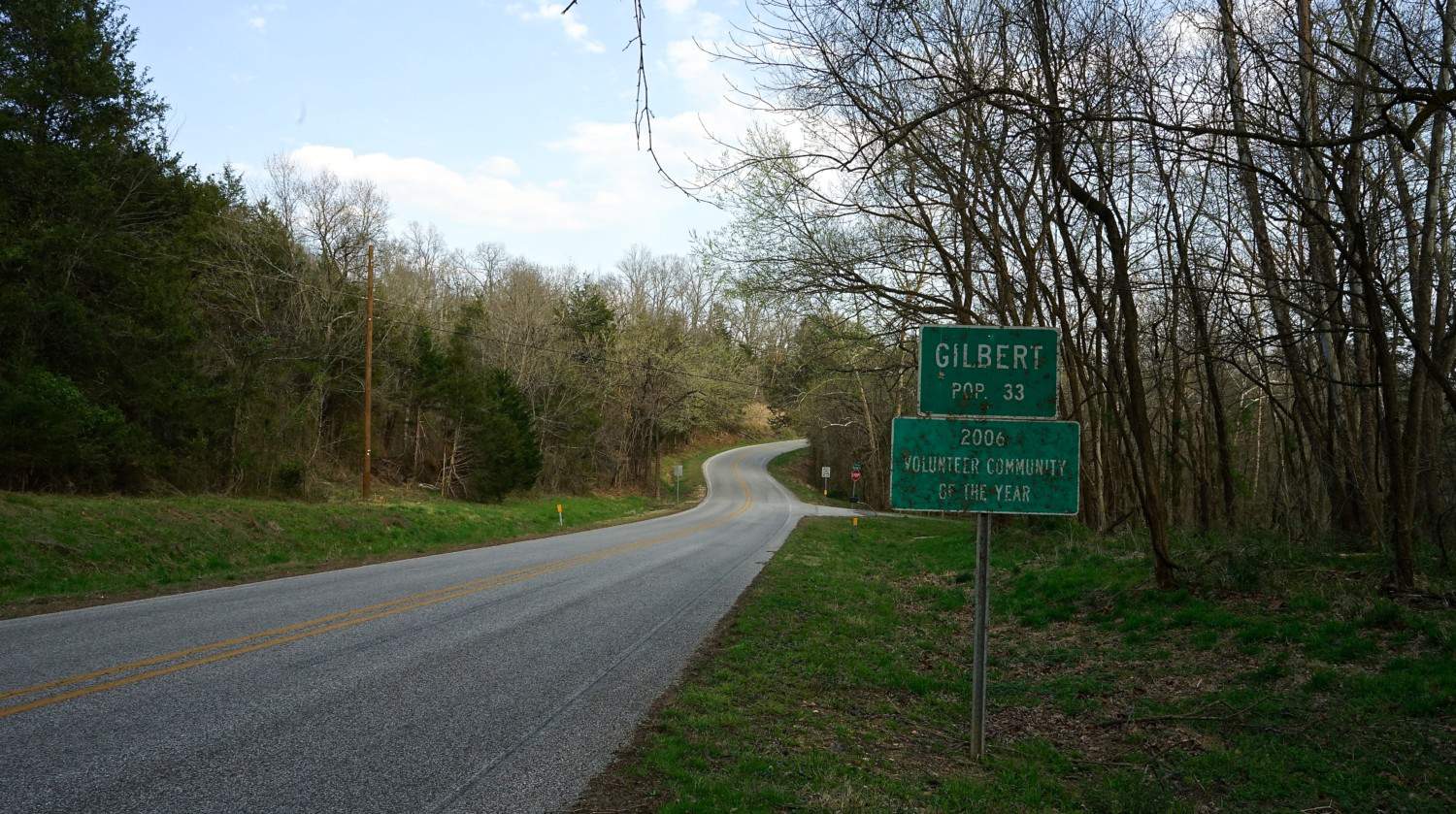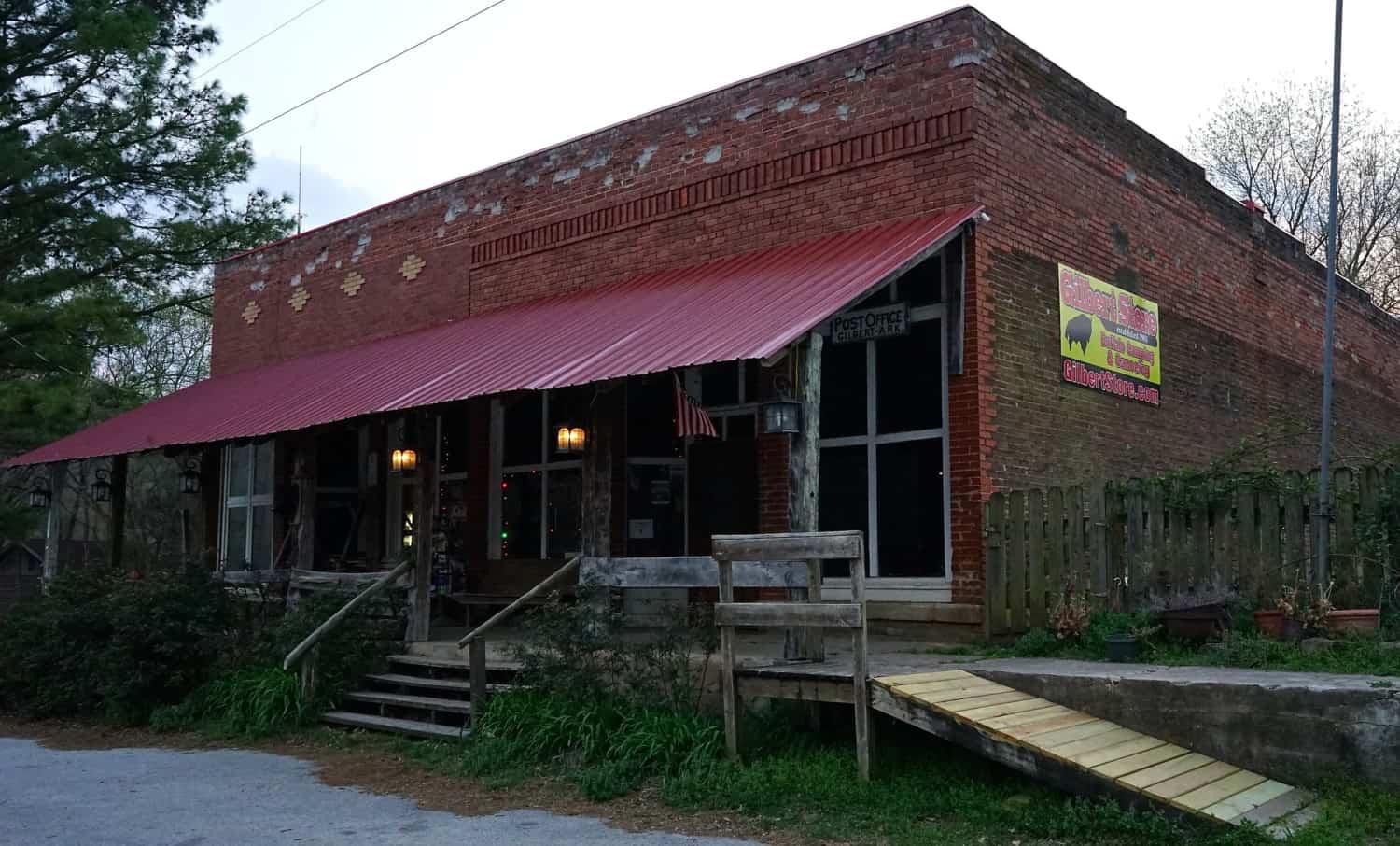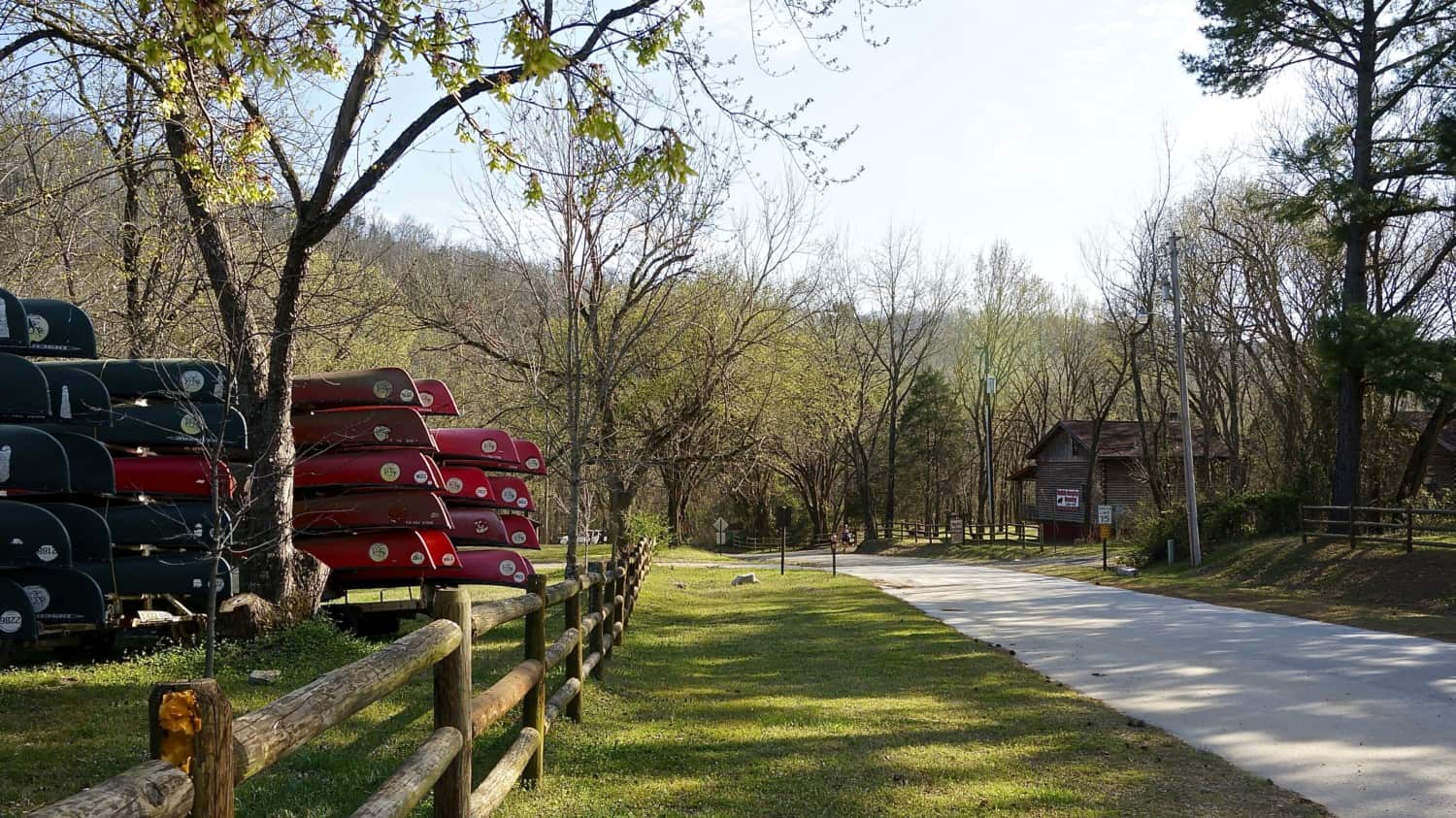 We stopped in at the Gilbert General Store, the local canoe rental, supply depot, souvenir stop, and provider of dog friendly rental cabins, to seek advice on our maiden voyage with the boys. The proprietor, Ben, has been on the river most of his life, and believed whole-heartedly that our concerns were unwarranted. He recommended that we put in at Tyler Bend, about 6 miles up river, and go for it – so that's what we did!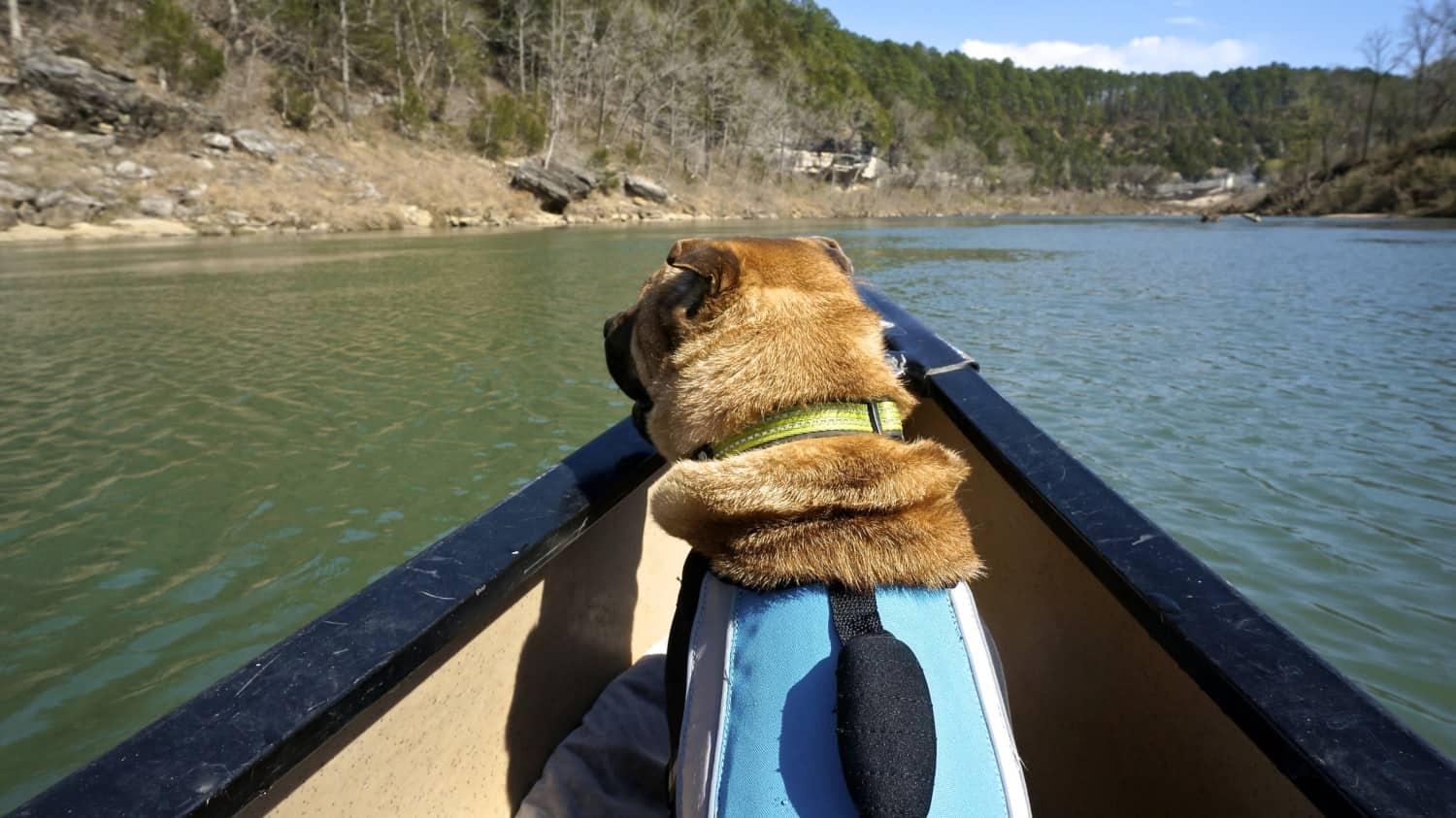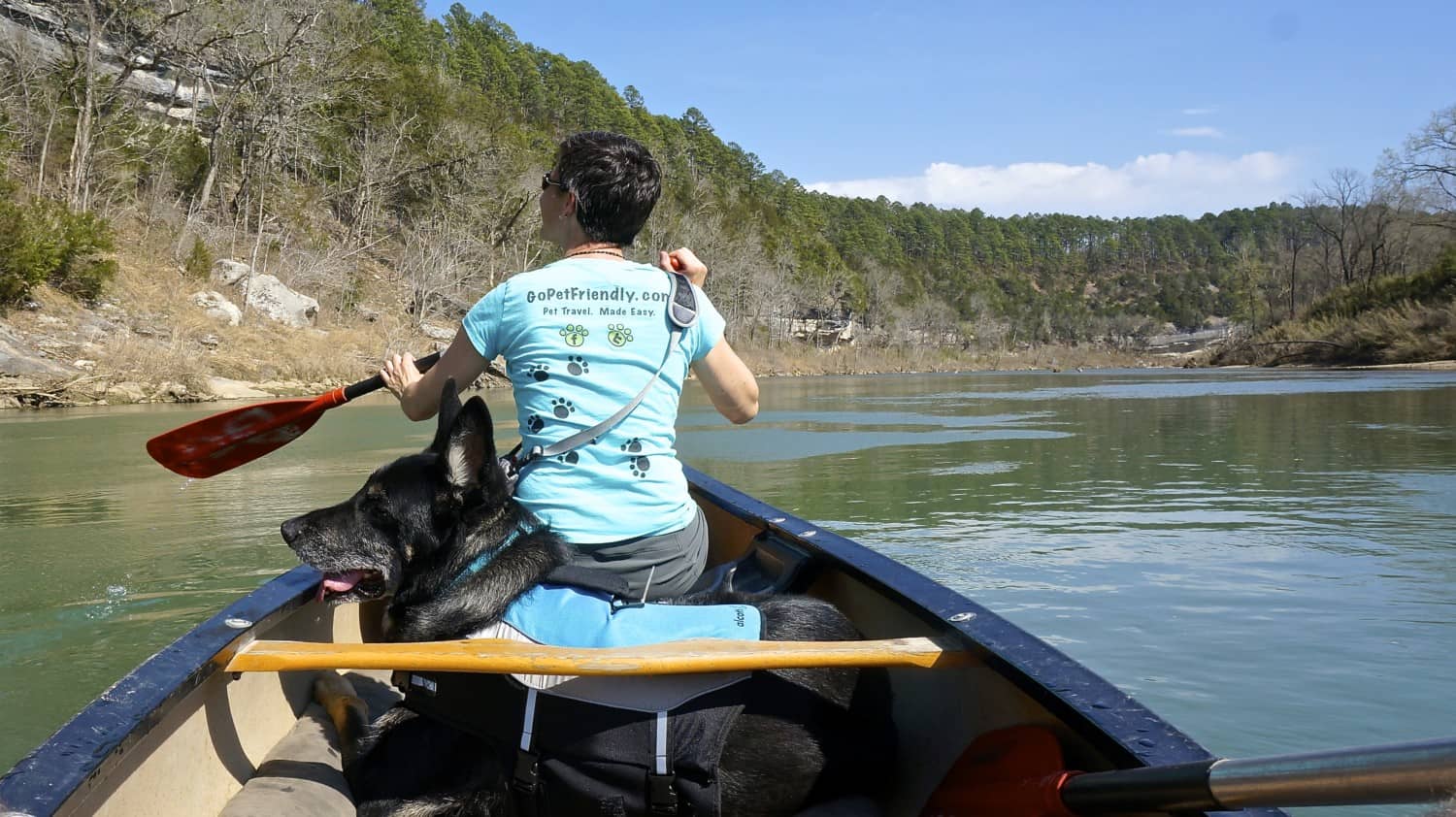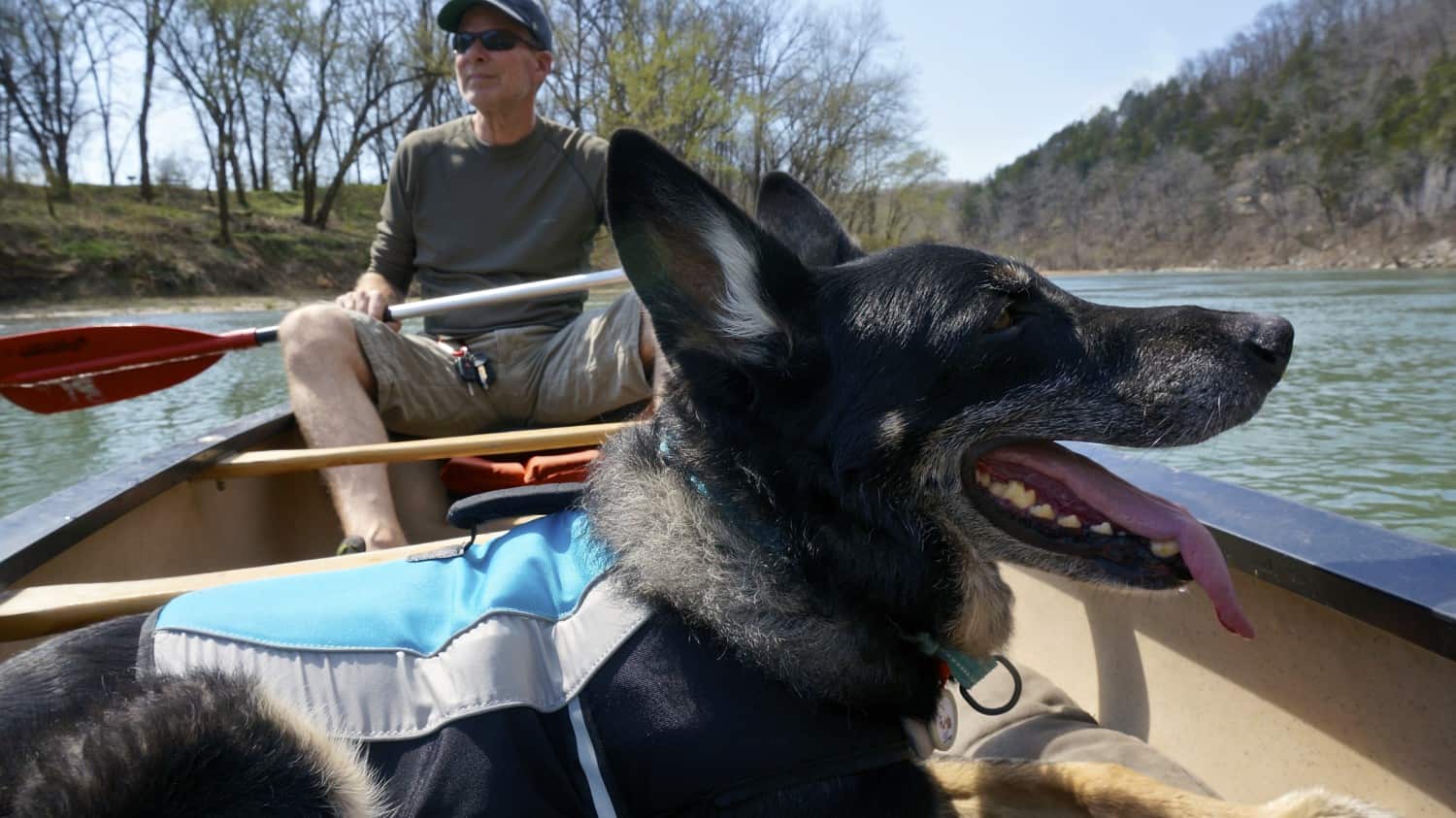 The $75 rental fee included life vests for Rod and me, the canoe and paddles, and a shuttle up to the boat landing at Tyler Bend. The boys donned their Alcott Mariner life jackets and settled down on their beds that we had put on the floor of the canoe. And then we pushed off on a perfect day for a paddle. Long, quiet pools appeared around every river bend as we passed limestone and sandstone bluffs high above us, as the history of our surroundings hung in the air.
Rules for Pets at the Buffalo National River

Pets must be under physical control at all times (either inside a boat, or on a leash no longer than six feet)

Leashed pets are allowed in campgrounds and on gravel bars up to 100 feet from the water's edge

Pets may not be left unattended

Pet waste must be picked up and disposed of properly

Pets are not allowed in any buildings or caves

Pets are not allowed in the designated wilderness area, with the exception of gravel bars along the river corridor in those areas

Pets are only permitted on the Buffalo River Trail only between Ponca and Steel Creek. They can also hike the Villines Homestead Trail at Ponca, the Tyler Bend Campground Trails, and the Buffalo Point Campground Trails. Visit the hiking page for trail maps and more information.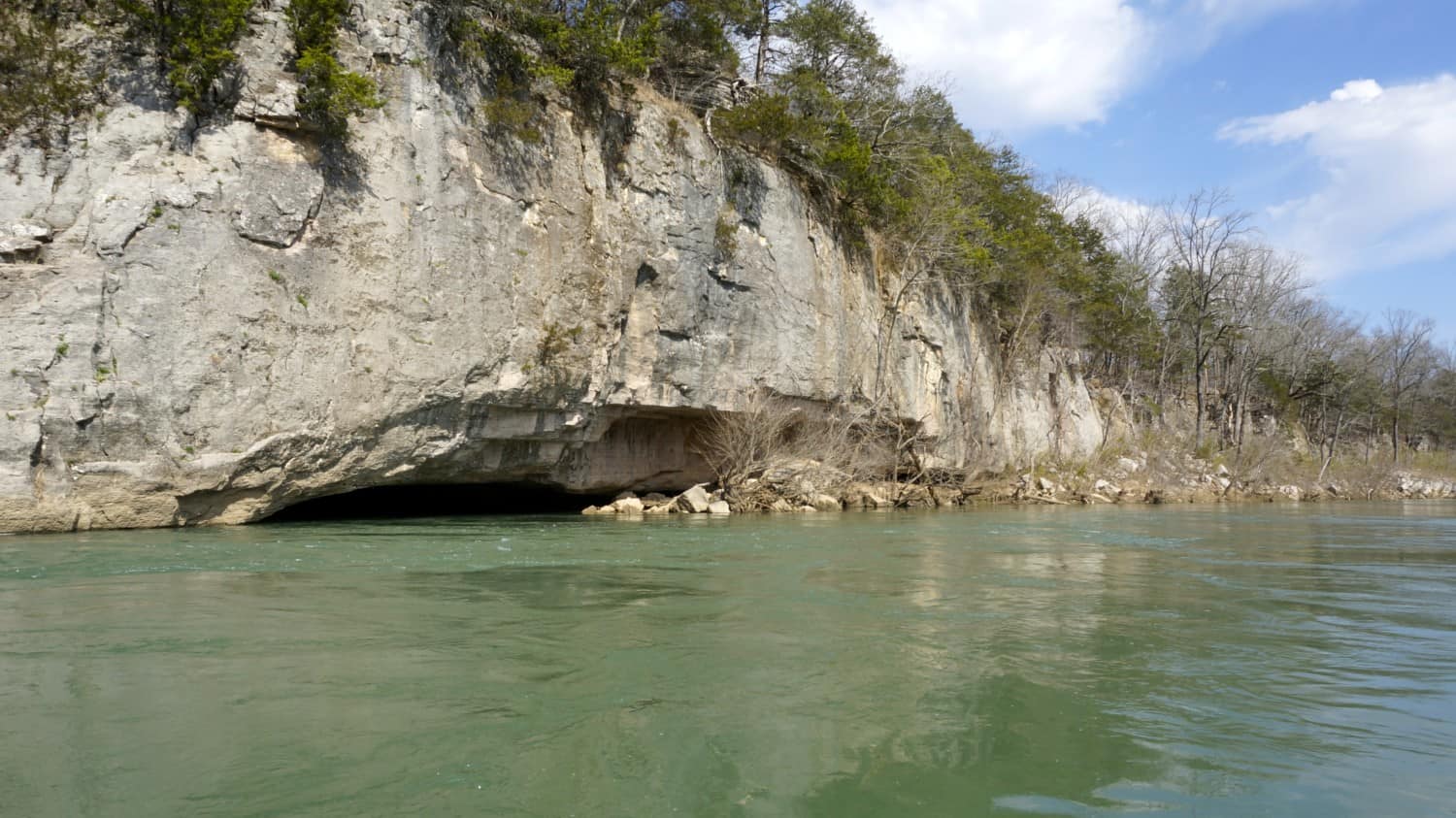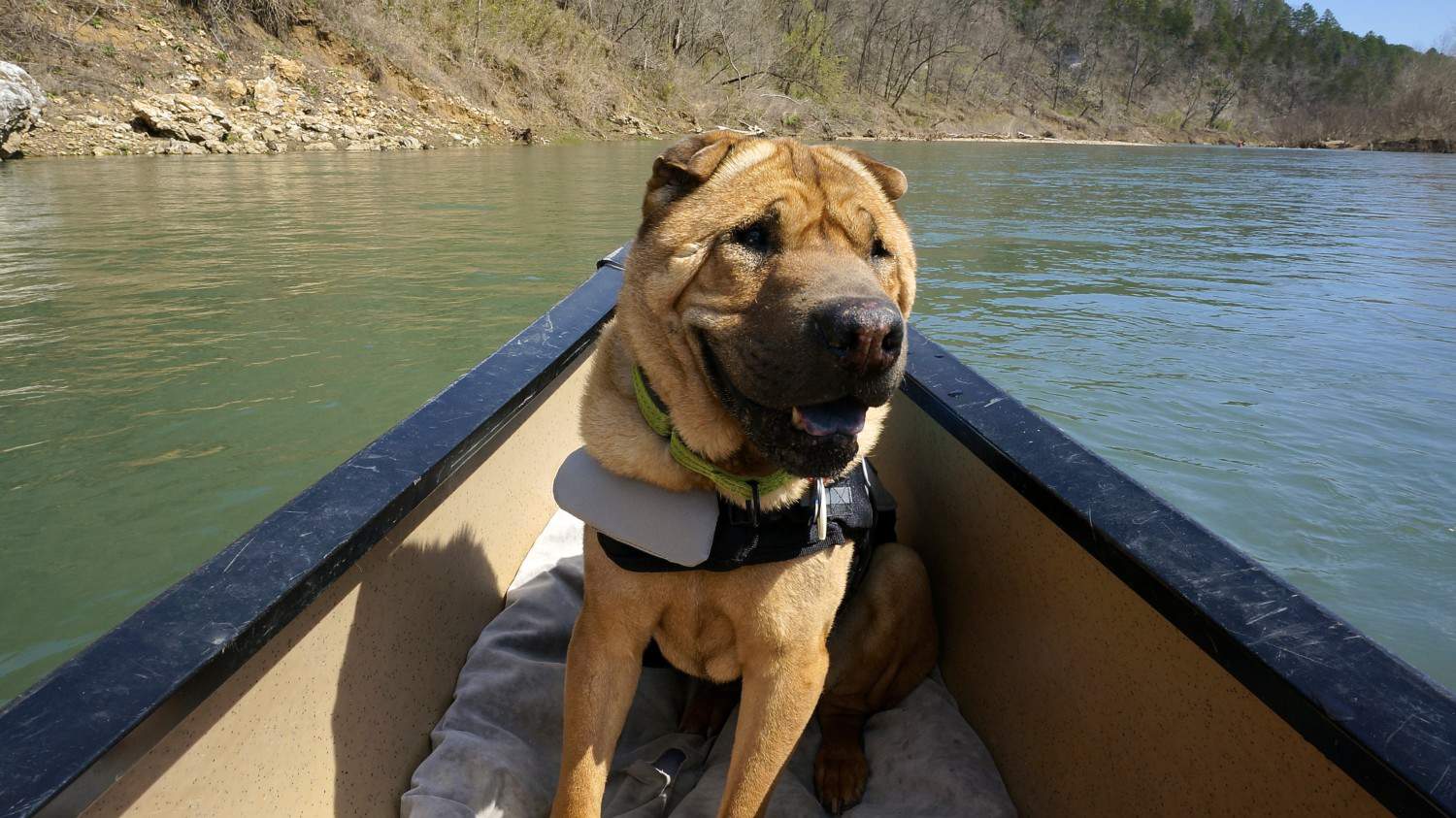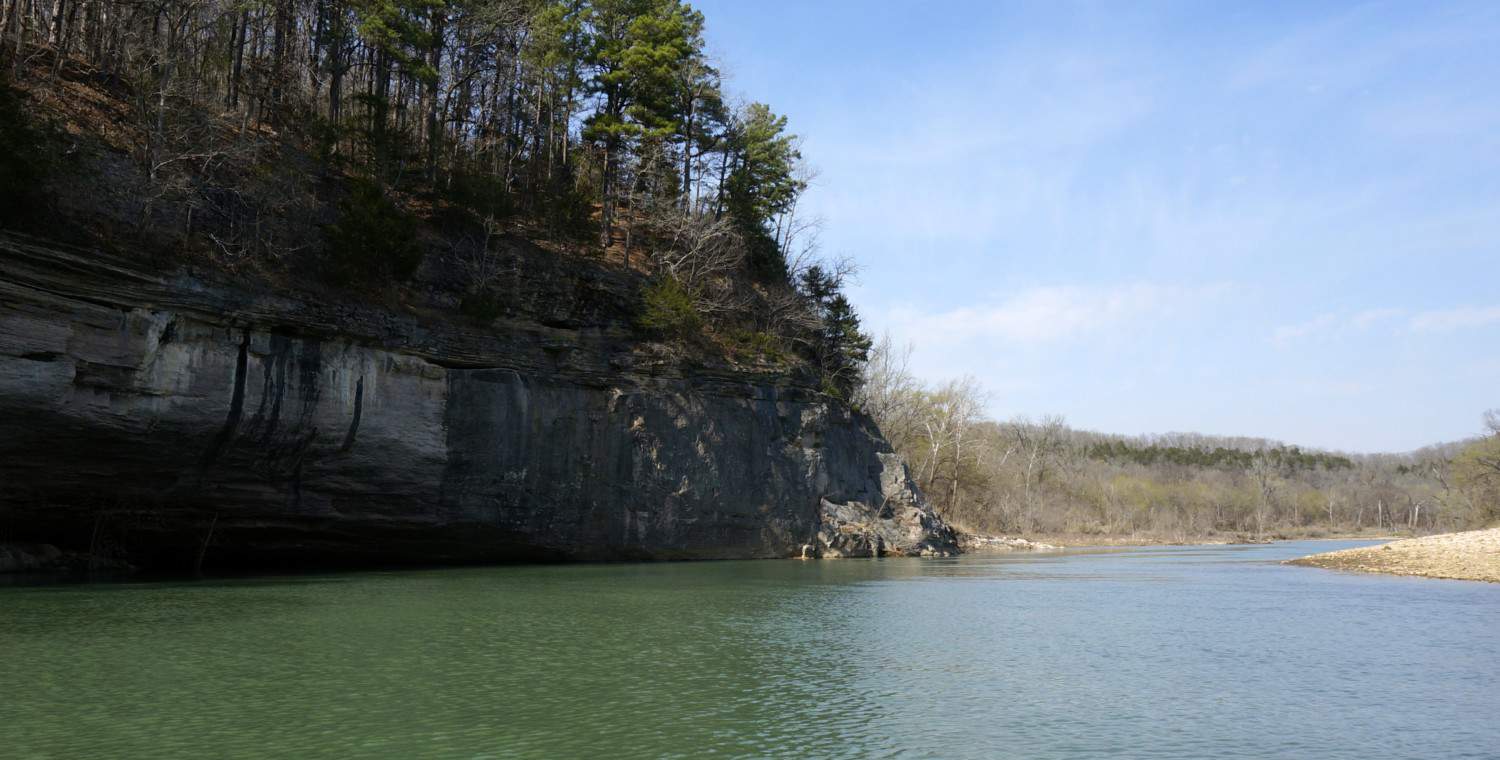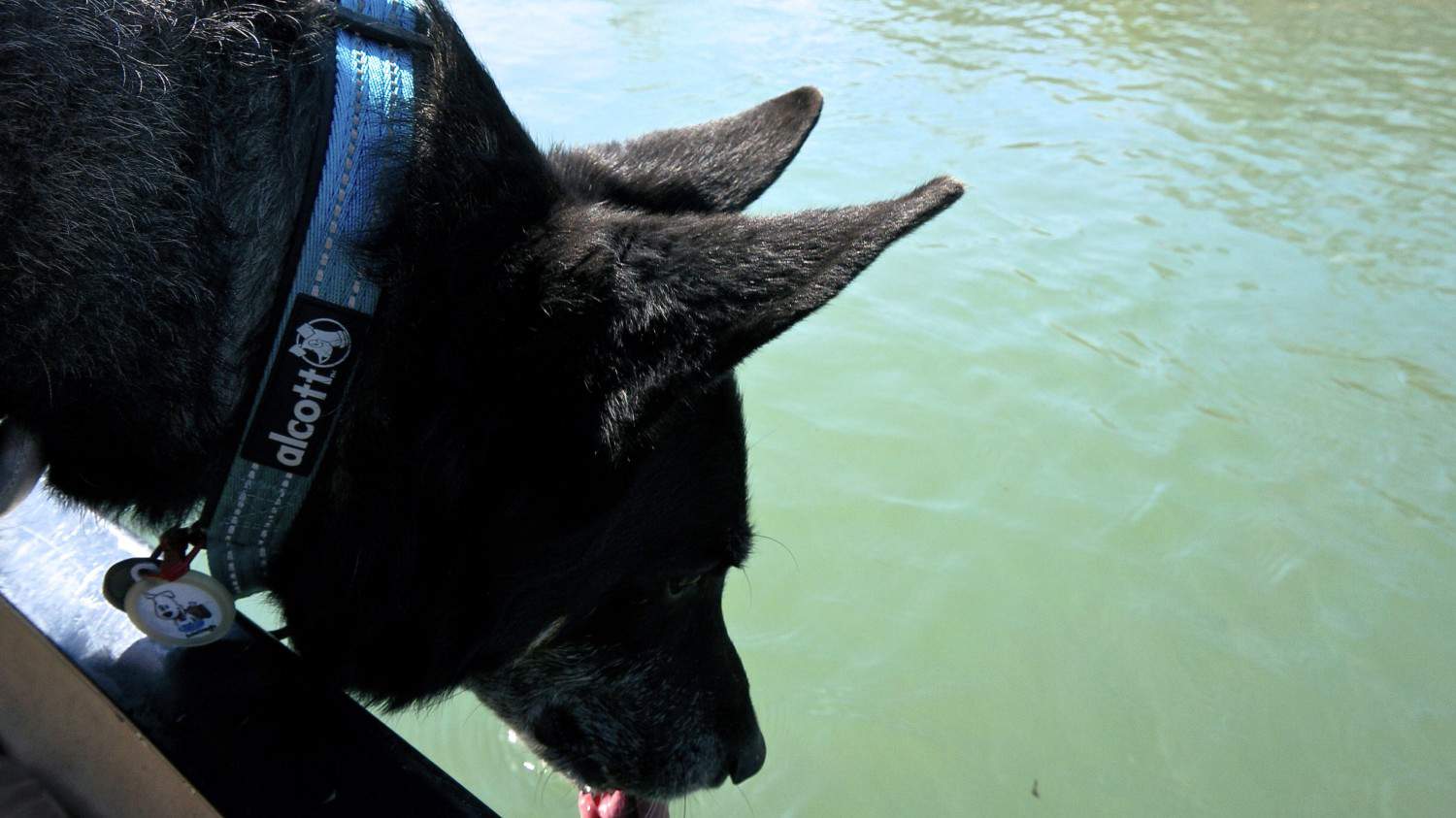 Buster loved the convenience of getting a drink from the canoe and, fortunately, there are plenty of gravel bars to pull out and take a break! Of course, the shallows are the perfect spot for a some "minnow hunting," but those little fishies are FAST and Buster didn't have any luck.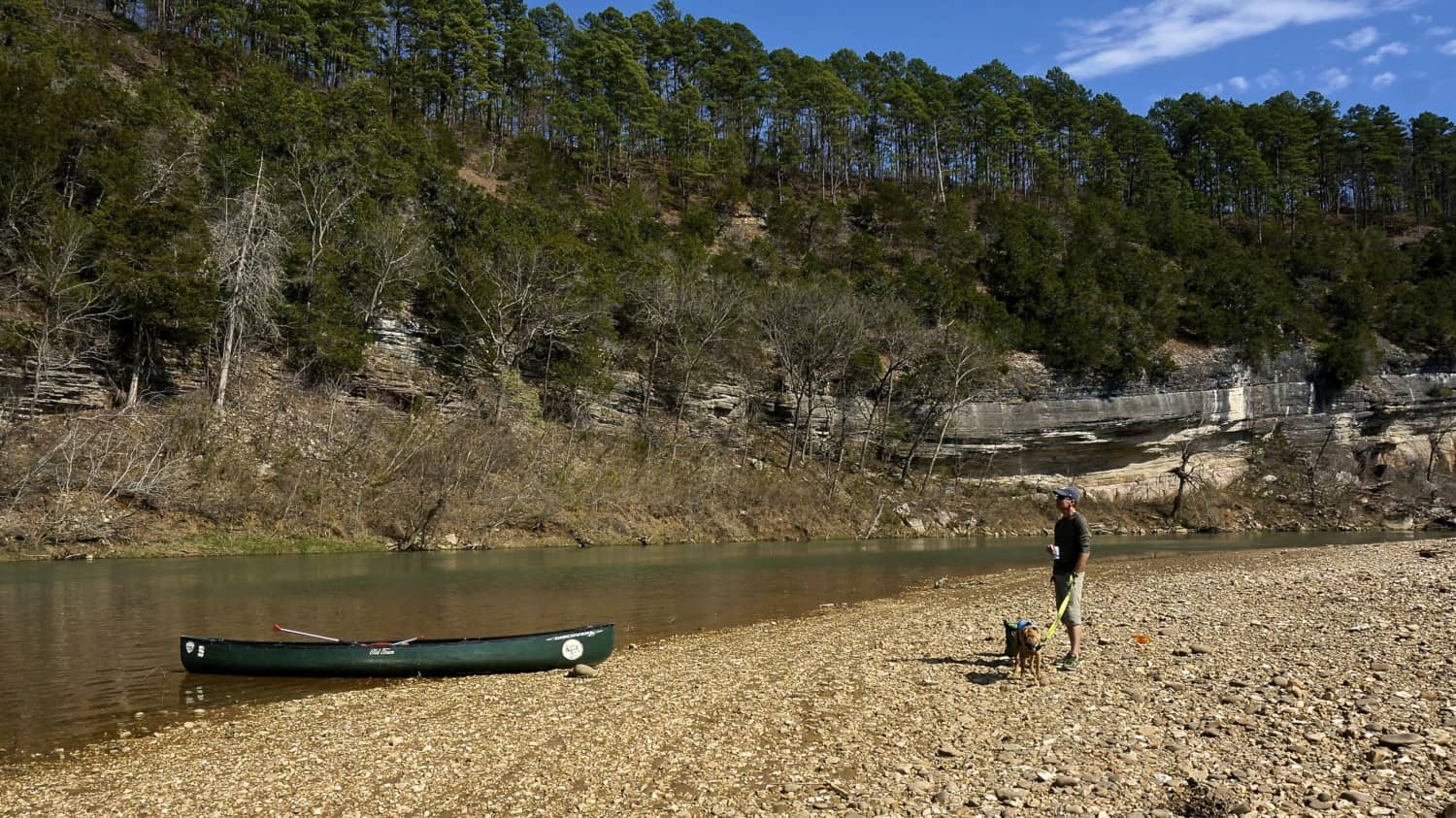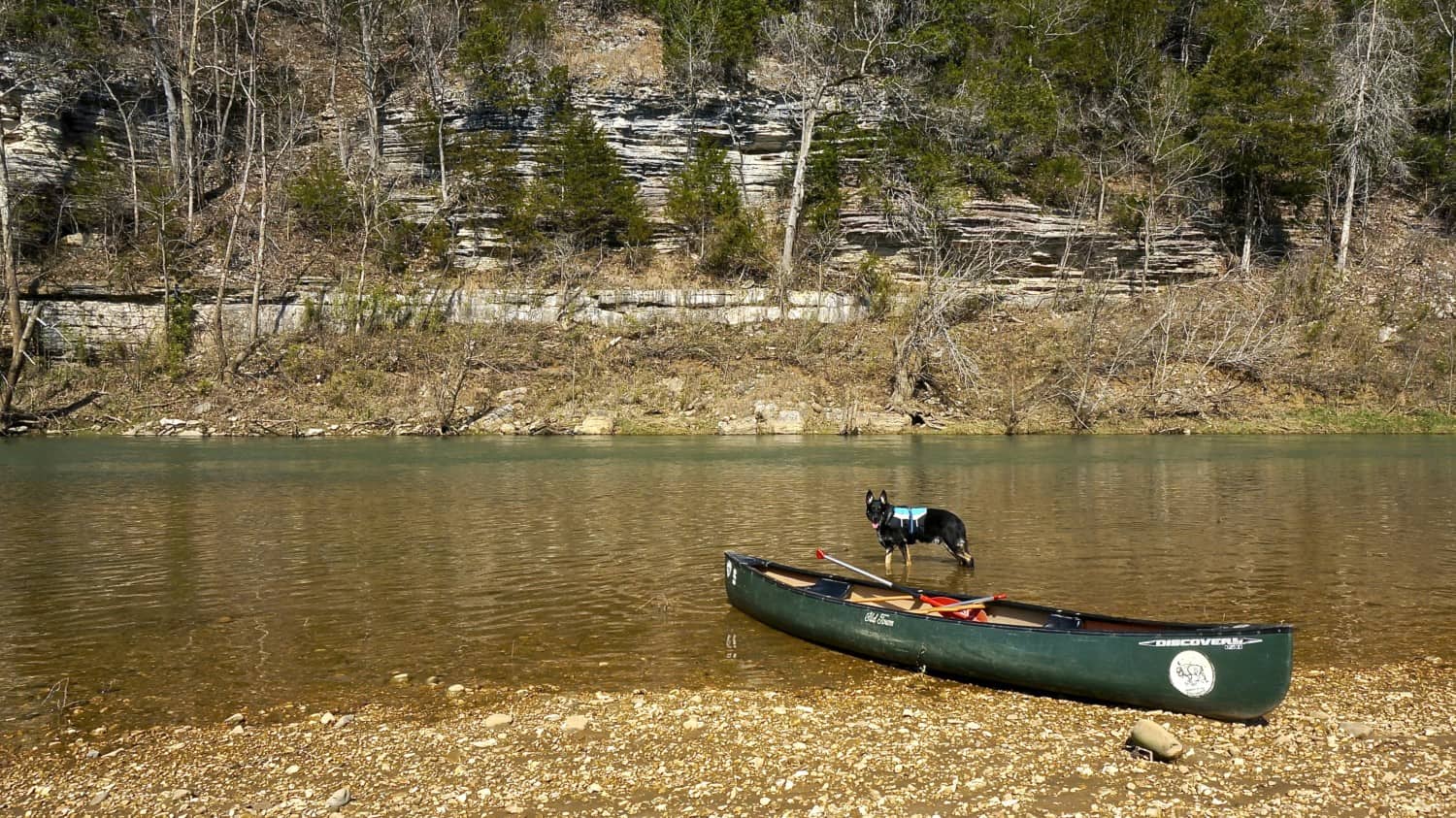 This six-mile trip took us a little over two hours with one stop. Not wanting to test Buster's patience, Rod paddled pretty steadily while I took pictures – but you could easily spend a half-day floating along the same section of river and stopping along the way. Before we knew it, we were back at the landing in Gilbert!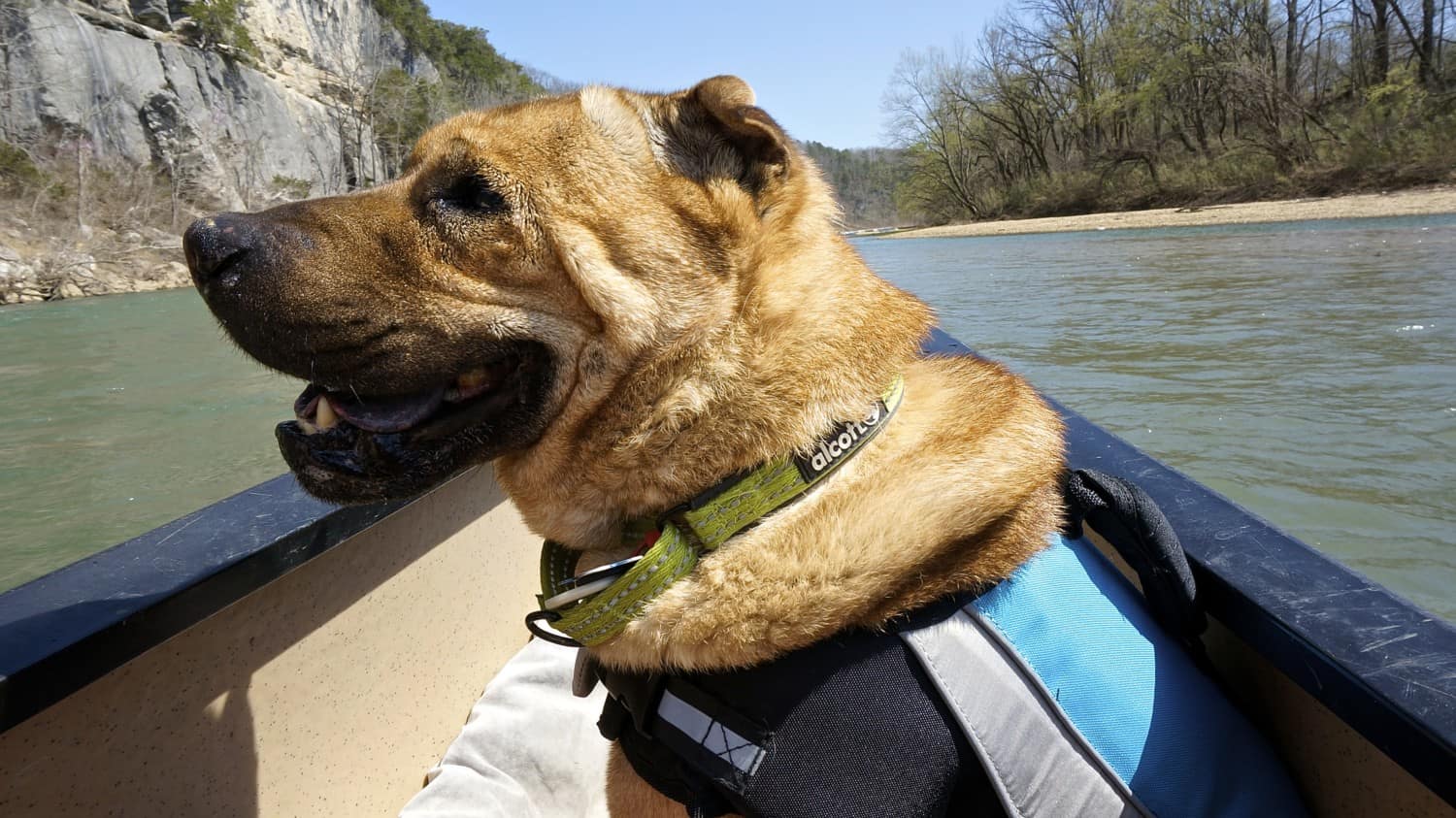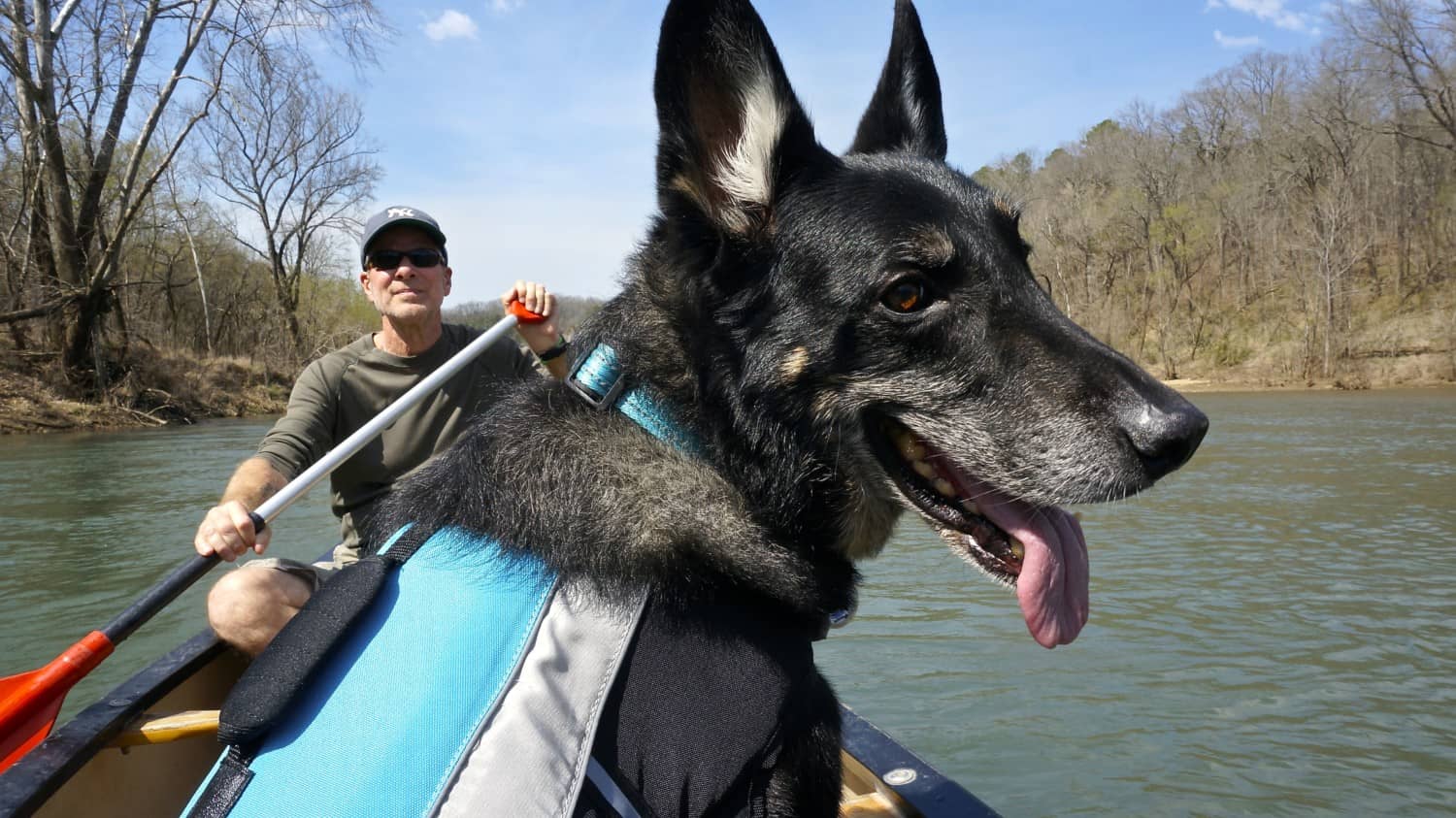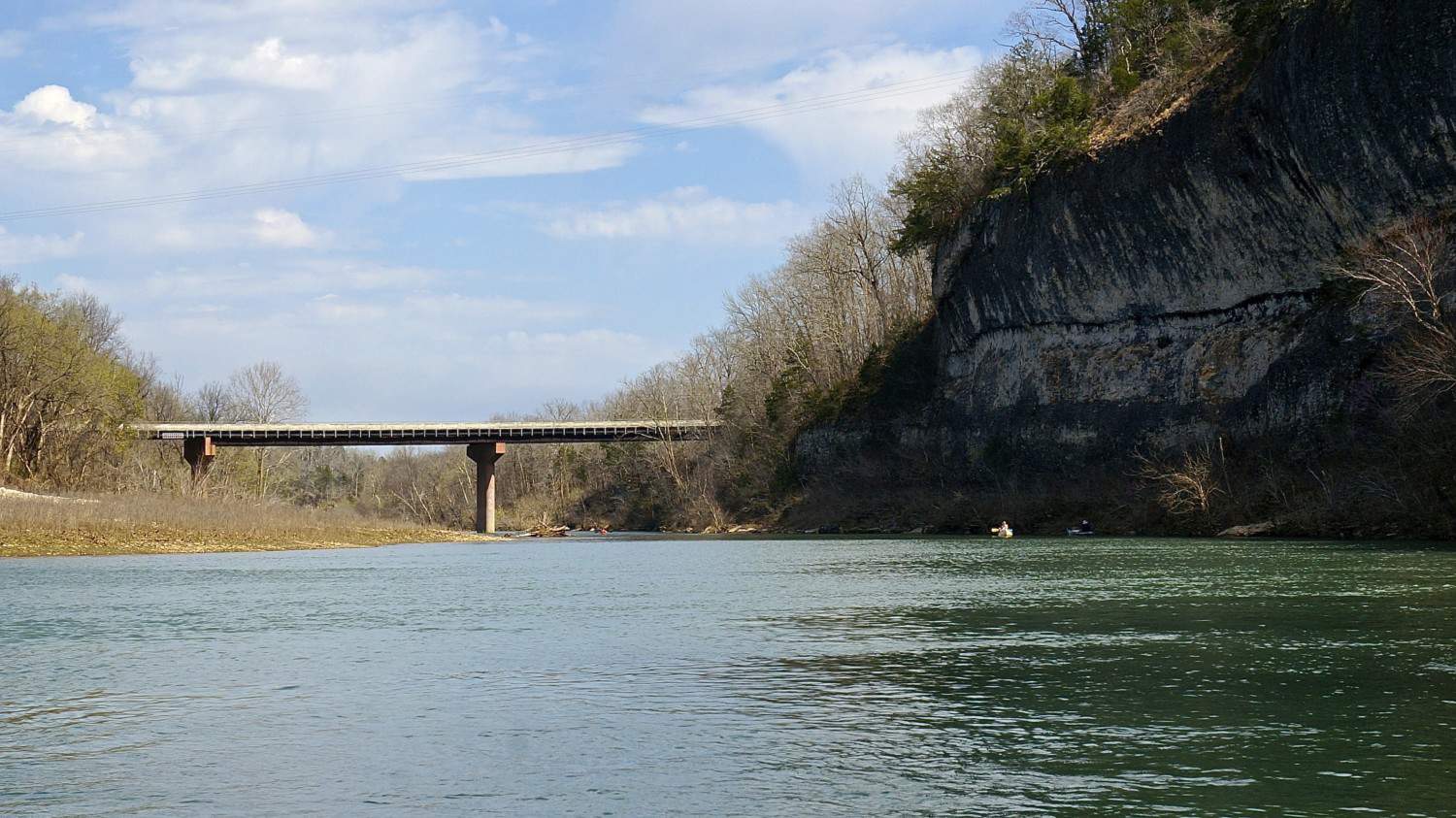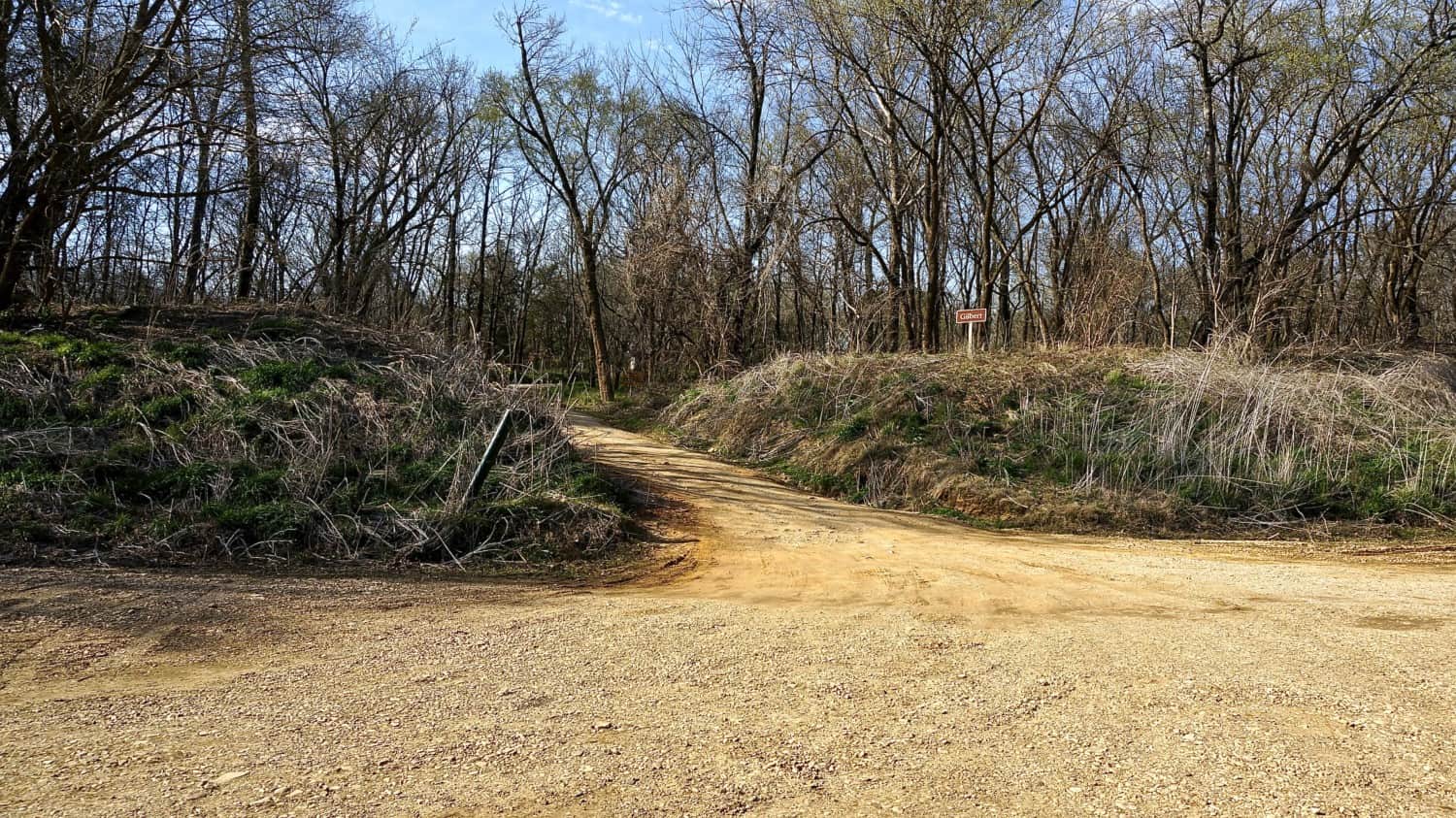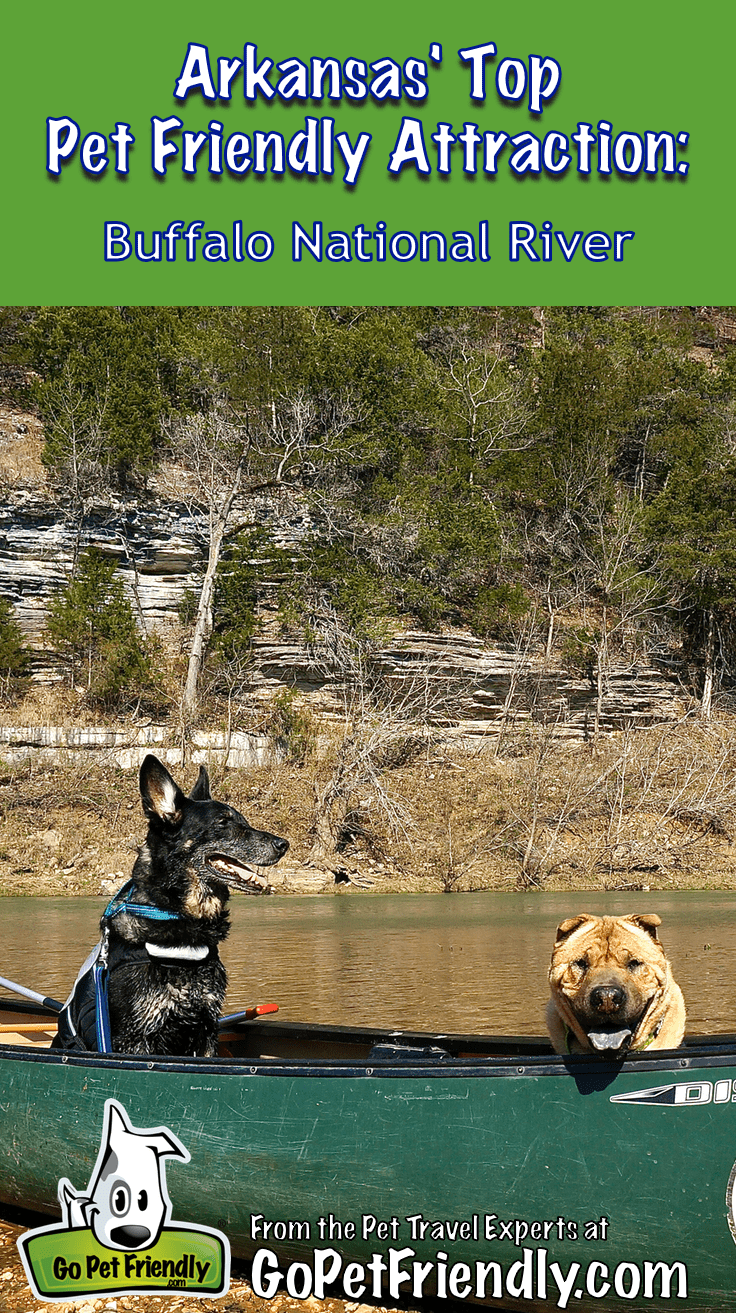 Getting Out For A Hike
After a day in the canoe it's nice to stretch your legs! The Mill Creek Trail is about an hour drive up river from Gilbert to the Pruitt Landing lower launch area and is an easy 2.2 mile loop. The Overlook, Campground, and Forest Trails are all located down river at Buffalo Point, which is about a 45 minute drive from Gilbert. At 0.3, 1.2, and 0.7 miles, respectively, you could easily hike them all in a day.
Beyond the Buffalo National River area, trails within the Ozark National Forest are also accessible east of Buffalo Point. For dogs who enjoy hiking, exploring the national forest would provide more recreational opportunities.
Thank You to our Sponsors
Visiting the top pet friendly attractions in the U.S. with Ty and Buster is a dream come true. We'll be blogging about each one as we go along, so fasten your seatbelt and stay tuned!
The Ultimate Pet Friendly Road Trip wouldn't be possible without the support of our wonderful sponsors: Winnebago, 2 Hounds Design, Alcott, goDog®, PetGuide.com, Red Roof Inns, Sleepypod, The Bark, PetHub, RVPetSafety.com, and The Honest Kitchen. Please be sure to visit their websites and social media pages and thank them for their participation!
Amazon Affiliate Disclosure: GoPetFriendly.com LLC is a participant in the Amazon Services LLC Associates Program, an affiliate advertising program designed to provide a means for website owners to earn advertising fees by advertising and linking to amazon.com, audible.com, and any other website that may be affiliated with Amazon Service LLC Associates Program. As an Amazon Associate, the owner of this site earns a commission from qualifying purchases.
(Visited 7,305 times, 1 visits today)