Cape Cod is known for it's miles of white sand beaches, picturesque lighthouses, quaint historic villages … and now for being one of the most pet friendly places we've visited.
We left Newport and drove about 2.5 hours out to Provincetown at the very tip of the Cape – what a treat. It's nickname, P-town, could just as easily stand for Pup-town! There are more dog people here, per capita, than anywhere else we've been.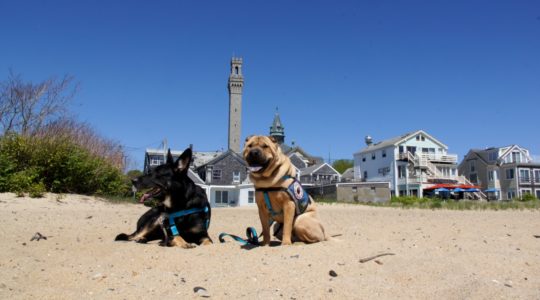 Visiting in the spring or fall seems to be perfect timing if you're not in love with crowds. Even so, the narrow sidewalks can't contain the foot traffic and everyone spills out into the streets. Navigating the crush during the high season with our easily-distracted dogs would be agony. But strolling Commercial Street's nearly two miles of shops, restaurants, and galleries in May was just lively enough.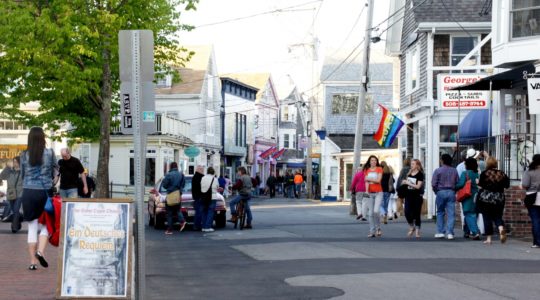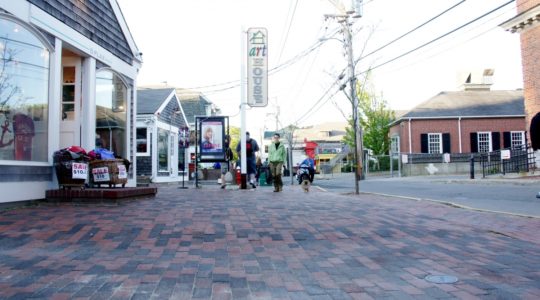 Welcoming Attitude
Provincetown's history as a fishing and whaling village is still evident, and the town reflects the Portuguese heritage introduced by the sailors that originally settled here. As time passed, writers and artists were attracted to the isolation and relaxed atmosphere. The residents continue to celebrate individuality and acceptance, and several gay and lesbian events are held here during the summer.
What struck us most about the locals was their friendliness. Born a Mid-westerner, I didn't expect to be impressed with North Eastern hospitality. And yet, nowhere have I ever felt so instantly welcomed … so a part of the in-group … so included. It's easy to meet nice people at the dog park – and we did – but we also made friends with our waiter, were invited onto a private patio for better pictures of the bay, chatted with store owners, people at neighboring tables in restaurants, and folks we bumped into on the street. Everyone seemed happy and warm … it was a stark contrast to our recent stay in Newport, where the divide between the rich and not-rich is evident at every turn.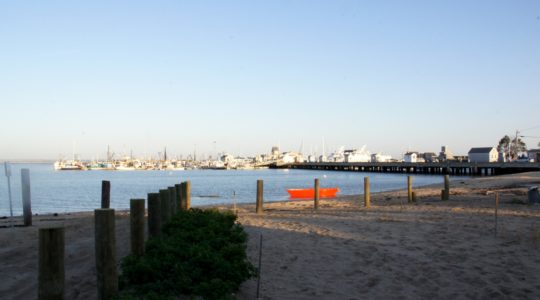 Dog Friendly Beach
Provincetown also has plenty of places to go to admire the natural beauty and avoid the throngs of people. Leashed pets are allowed on the beaches (but not the trails) throughout the Cape Cod National Seashore. The beach in P-town is just steps away from the main drag and dogs are welcome to enjoy the sun and sand there year round. In fact, pups can play on the beach off-leash from Nov. 2nd to Memorial day. During summer when the beaches are more crowded, the off leash times are between 6 and 9 in the morning and the evening.
Walking the Break Wall
If you're not much for sitting, take the mile-long walk out the break wall to the other side of the harbor. The huge granite blocks create a rough walkway, and if your timing is right you'll get to see the tide come up to engulf the marshlands. There are also two lighthouses, one at the very tip of hook called Long Point Light and one at Race Point. Both make nice photo subjects.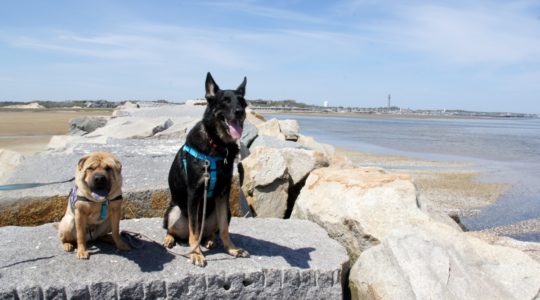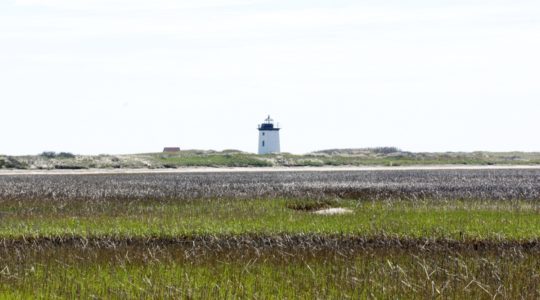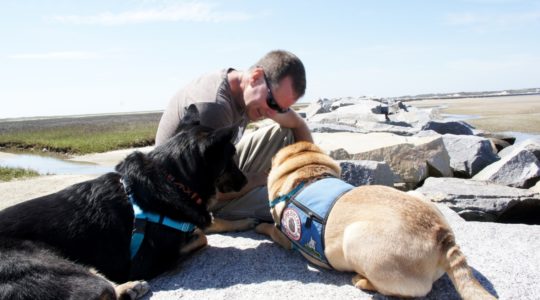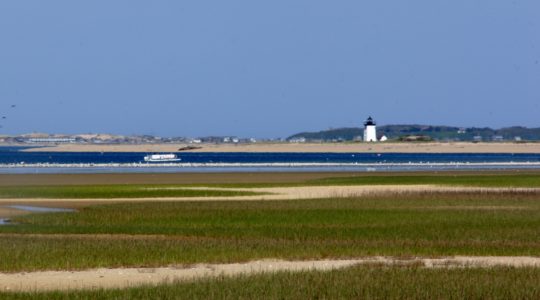 Though it's only a mile, the walk takes longer than you'd expect as you concentrate on gaps in the rocks and stop to admire the tidal pools and stunning scenery.
Dog Park
The Pilgrim Bark Park is a beautiful site and the people and pooches are super nice! On a weekday morning we met three pet owners and their dogs, all playing in the small dog section. The big dog area was plenty big for a good game of fetch, and any pups in attendance would have had it all to themselves!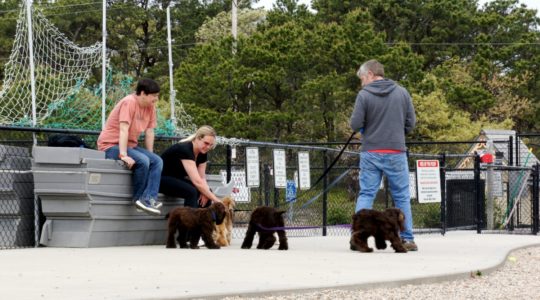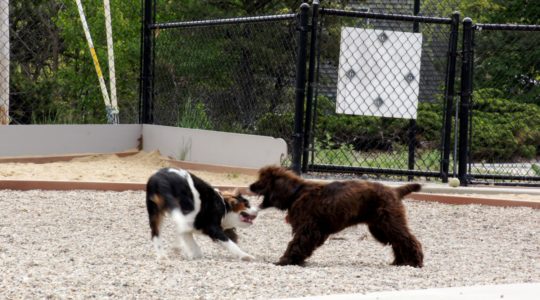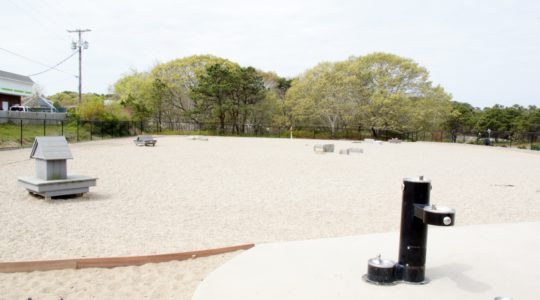 Pet Friendly Hotels
We stayed at one of the local RV parks, which was a quick 10 minute walk from downtown, but if you're looking for pet friendly hotels in Provincetown, up to two dogs are allowed to join you at the Outer Reach Resort. It seems that most of the pet friendly accommodations in the area are guesthouses, inns, and vacation rentals – you won't see any hotel chains up here.
Pet Friendly Restaurants
There are quite a few nice, pet friendly restaurants in Provincetown to choose from. We especially liked hanging out on the patio at Joe's Coffee and Espresso and the pizza at Spiritus, and we had a lovely dinner on the patio at Patio American Grill. If you know of other restaurants were your dog can join you in P-town, please leave a comment below!
Next Time
On our last day in Provincetown we met Captain Rory and her elderly beagle, Mate. They run Dog Gone Sailing Charters, and offer dog friendly whale and dolphin watching excursions. It sounds like the perfect way to spend an afternoon!
Amazon Affiliate Disclosure: GoPetFriendly.com LLC is a participant in the Amazon Services LLC Associates Program, an affiliate advertising program designed to provide a means for website owners to earn advertising fees by advertising and linking to amazon.com, audible.com, and any other website that may be affiliated with Amazon Service LLC Associates Program. As an Amazon Associate, the owner of this site earns a commission from qualifying purchases.
(Visited 6,669 times, 1 visits today)