After two weeks spent visiting family, running to doctor appointments, and attending to various other commitments we collapsed into our hotel in Newport, RI. The next eight glorious (if somewhat rainy) days were spent relaxing, celebrating a decade of marriage, and preparing for our summer tour of New England and Nova Scotia.
Kicking off this travel season in Newport couldn't have worked out better. Since we were consciously limiting our online time – recharging our human batteries – we spent most days walking around and casing the attractions. Betwixt and between the spring showers we found  there was no shortage of places to stroll with the dogs.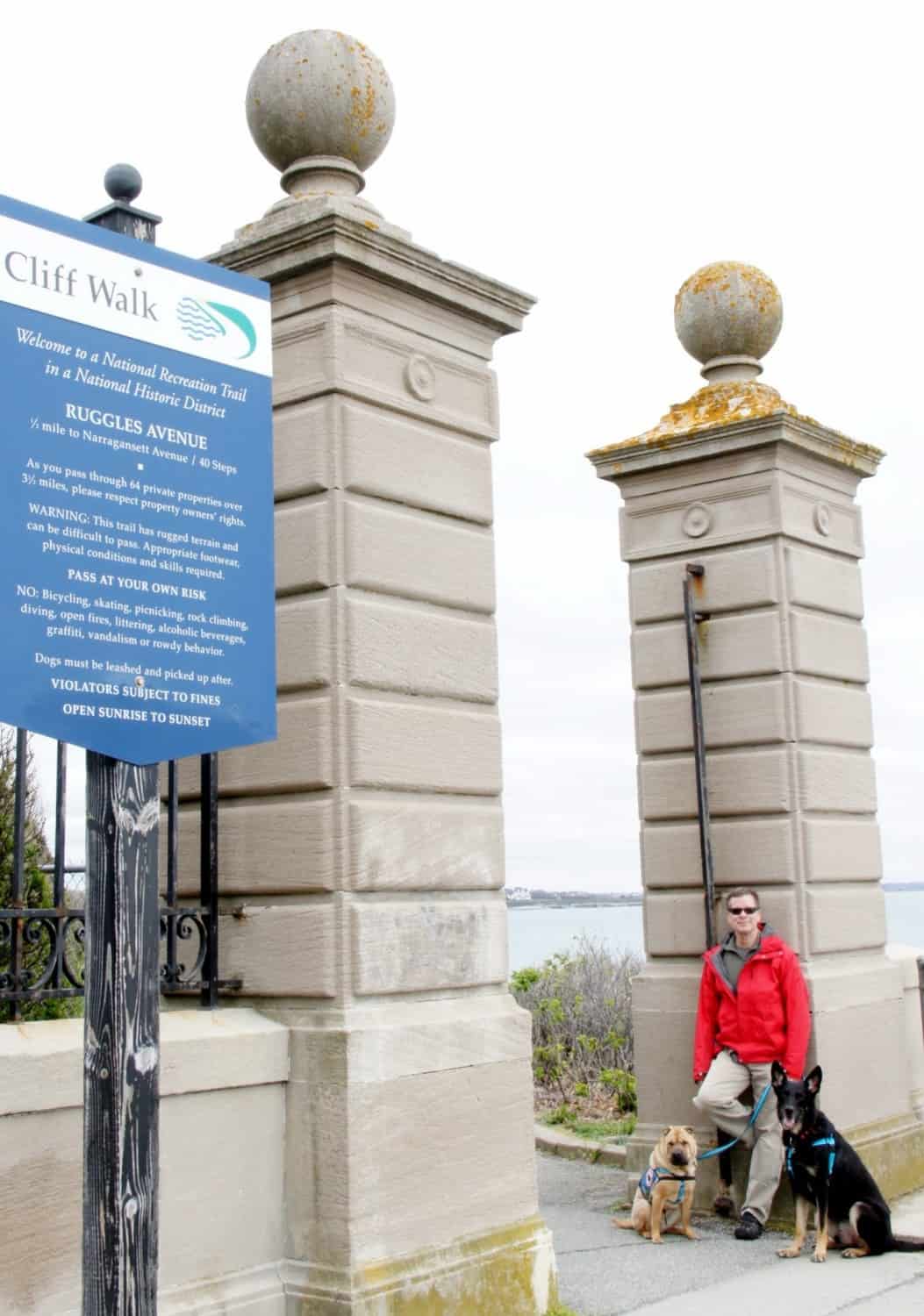 The Cliff Walk is one of Newport's most alluring draws and it's easy to understand why. Shimmying along for 3.5 miles with historic mansions on one side and the ocean on the other, the views here are unlike anywhere else. The path itself ranges from a paved, easy walk in the beginning, to a dirt trail, to dots painted across massive boulders toward the end. Of course, Buster and Ty thought hopping across the rocks like mountain goats was great fun, but we only did that once. Fortunately, there are several access points along the route, and I suggest staying north of Marine Avenue if you're looking for a more leisurely saunter.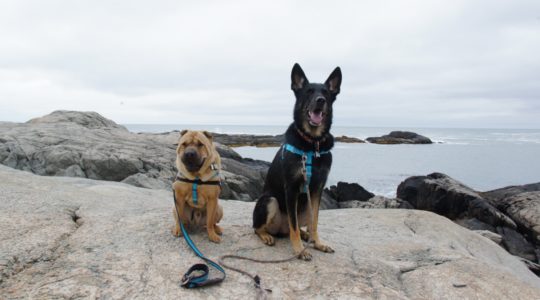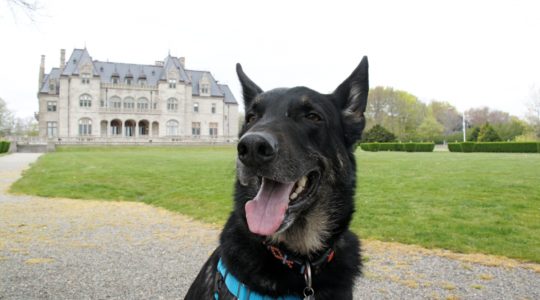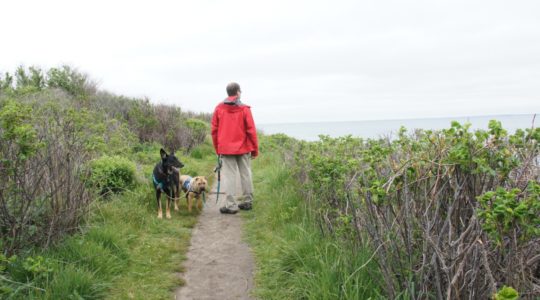 It's quite a hike from downtown to Fort Adams, so if time is an issue either drive out (there's plenty of free parking) or consider catching a water taxi from the warf in Newport. The Fort Adams Bay Walk allows you to enjoy Newport from a different perspective – across the harbor – and the fort itself is something to behold. Built in fits and starts between 1824 and 1857, it is the largest coastal fortification in the United States.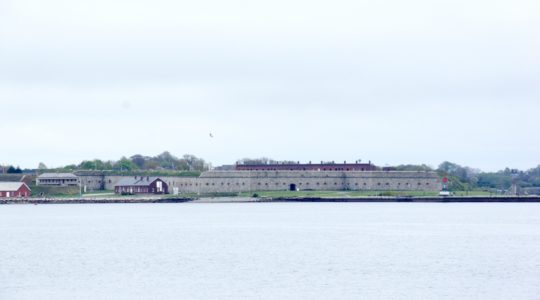 A trip to Newport wouldn't be complete without a jaunt on Ocean Drive. Here you can still get a taste of what the island was like in the old days. Now a historic district of it's own accord, the Ocean Drive area was once farmland. But, as the wealthy summer residents of Newport continued building mansions along Bellevue Avenue, they eventually engulfed this land as well. Due to the rolling landscape, the houses here are smaller – but the views are killer.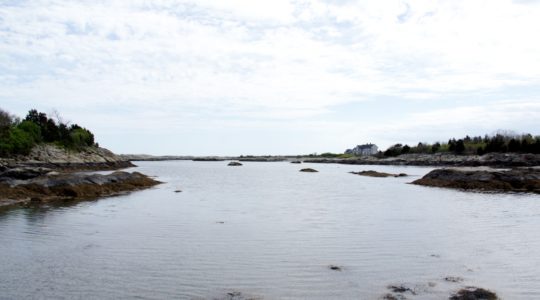 At the far western point of Ocean Drive sits Brenton Point State Park. Occupying the former grounds of one of Newport's grandest estates, it boasts one the most breathtaking views on the Eastern Coastline.
Bellevue Avenue
If you want to do a little window shopping for a "summer cottage" of your own, there's no better place for it than Bellevue Avenue. One after another, the magnificent mansions line the street on both sides. Built by prominent families like the Vanderbilts and Astors in the 1800s, a fair number remain private residences today. And it's understandable why those that are open to the public don't allow pets, so either admire them from afar or take turns touring them with a friend.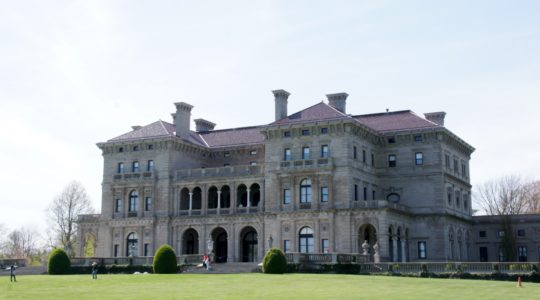 Goat Island
Much to the boys' chagrin we did not run into a single goat on Goat Island. We did, however, get a picture by the light house. I'm not sure how I accomplished this photographic feat, but I swear to you that structure is perfectly straight.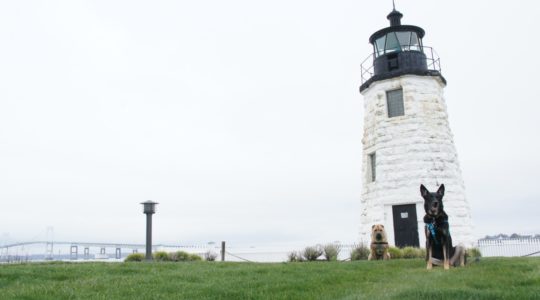 Just to the north of the bridge that takes you across to Goat Island is a little neighborhood of Victorian homes. Compared to the  colossal homes on Bellevue, this area has a sweet, cozy feel. It's obvious that living in a tiny space for so many months has changed me, because I found this area more enjoyable to explore! And I got a picture of the boys with a cherry tree in full bloom.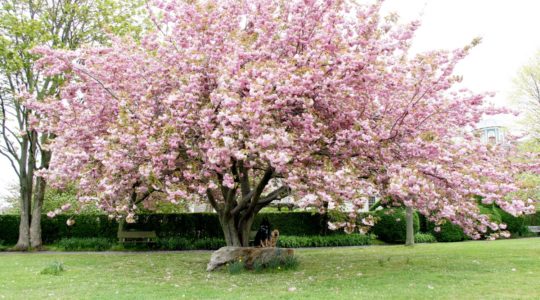 What? You can's see them? Here, I'll show you …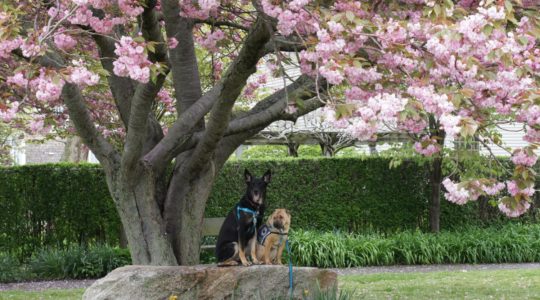 We found a nice selection of pet friendly hotels in Newport. Since we were celebrating, we splurged on a two-room suite at The Mill Street Inn. Several things made this hotel special. First, the continental breakfast was the best I've ever had … by far. Homemade granola, oatmeal, a nice variety of fresh and dried fruit, and some thick bakery breads for toasting. And the staff was great. Buster and Ty learned quickly about the stash of dog treats behind the front desk and were looking for a friendly face every time we went through the lobby. They were also kind enough to make an exception to their weight restriction and allowed our big boy to stay. Finally, our room (#108) had a private entrance, which made trips outside with the dogs super easy.
Pet Friendly Restaurants
The weather was certainly an issue, but we didn't see a single dog on a patio or at a sidewalk table. I'm not sure if a local ordinance prohibits doggy dining, but if you know of any pet friendly restaurants please leave a comment below!
Next Time
When you leave a place it's always good to have a reason to go back … for us that's a trip to Block Island. From early July until early September the Block Island Ferry runs out of Fort Adams State Park – and pets are welcome aboard. The ferry can also be caught in Narragansett, but with the iffy weather we decided not to make the drive and run the risk getting drenched.
Update
It took us five years to finally get back to Newport, and you can read about our most recent visit now!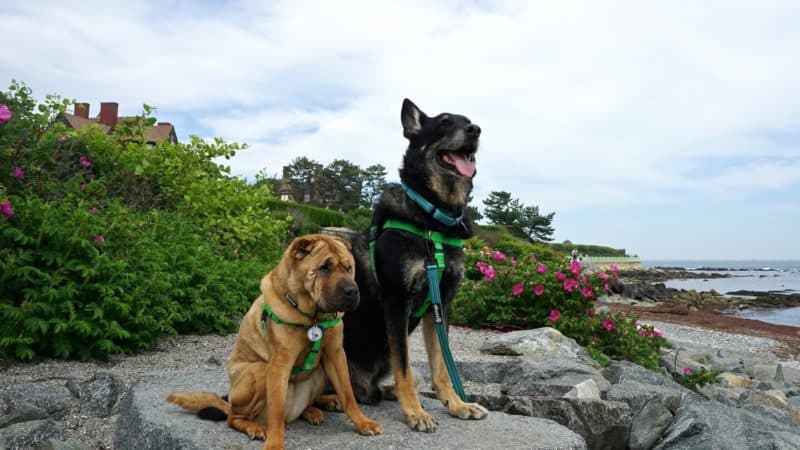 Amazon Affiliate Disclosure: GoPetFriendly.com LLC is a participant in the Amazon Services LLC Associates Program, an affiliate advertising program designed to provide a means for website owners to earn advertising fees by advertising and linking to amazon.com, audible.com, and any other website that may be affiliated with Amazon Service LLC Associates Program. As an Amazon Associate, the owner of this site earns a commission from qualifying purchases.
(Visited 5,553 times, 1 visits today)