This post is part of a series on The Ultimate Pet Friendly Road Trip, our 10-month, 15,000-mile tour of the top pet friendly attraction in each of the lower 48 states.
Rhode Island's Top Pet Friendly Attraction: Newport Cliff Walk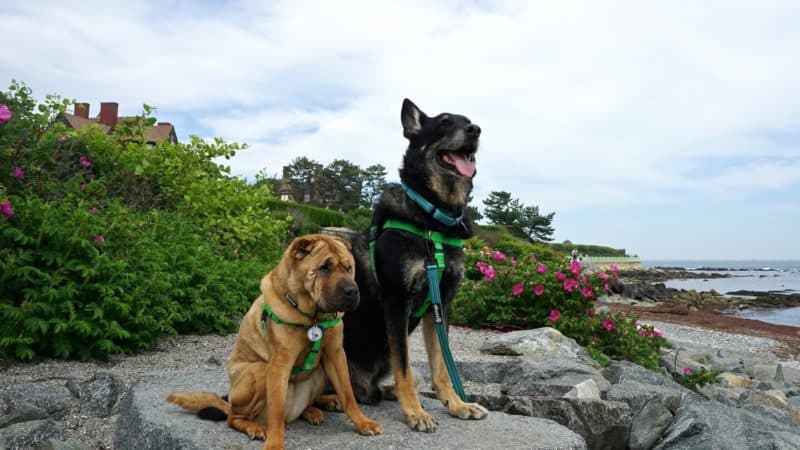 Newport is known as the City by the Sea, and a stroll along the stunning Cliff Walk Trail provides all the evidence you'll need that she more than lives up to her nickname. Winding for 3.5 miles, the trail provides panoramic views to the horizon, while the Atlantic crashes into the rugged cliffs, and the surf boils over the weathered boulders below. Framed by the rocky shoreline on one side, and the lush gardens of historic mansions on the other, there are few other places quite like it.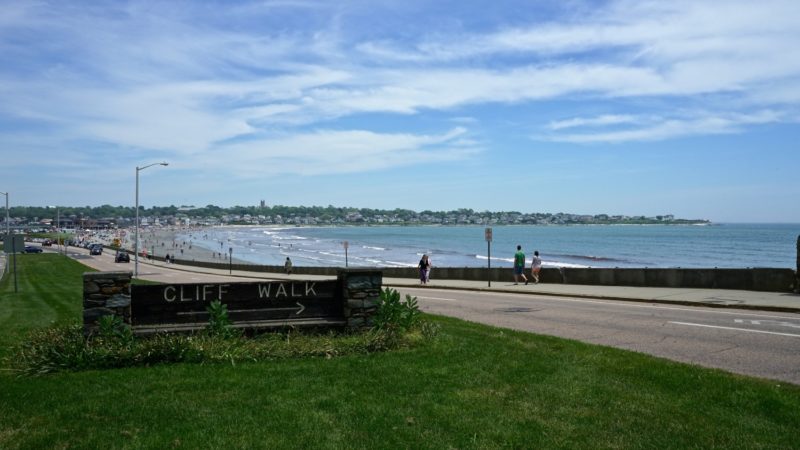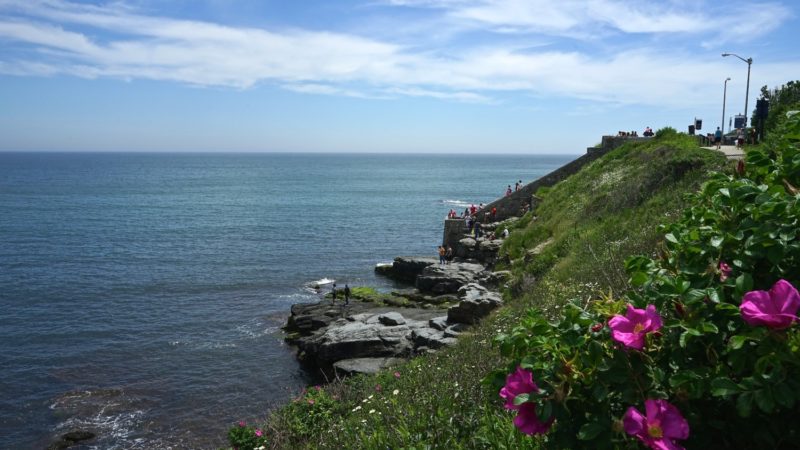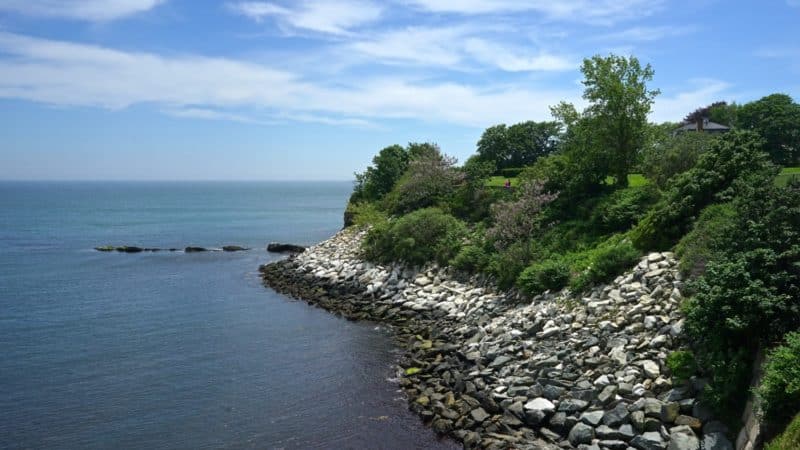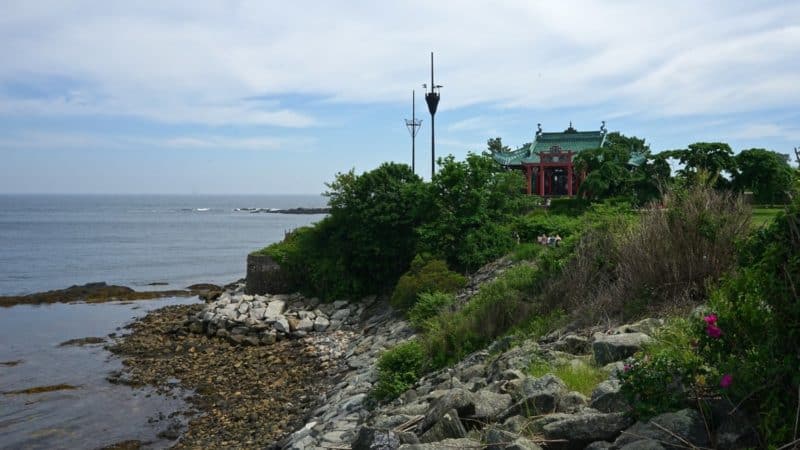 To preserve this unique combination of natural and man-made beauty, the Cliff Walk was designated a National Recreation Trail in 1975, ensuring a public right-of-way over private property. The Cliff Walk begins at Memorial Boulevard (just west of Easton's Beach), and runs south of Bellevue Avenue near Bailey's Beach. Along the way, there are access points at Narragansett Avenue, Webster Street, Sheppard Avenue, Ruggles Avenue, Marine Avenue, and Ledge Road.
The north half of the path is paved for easy walking and, from the origin to Ruggles Avenue, a few steps are the biggest challenge visitors face. South of Ruggles, the path becomes more rustic and passes over boulders in some areas. Visitors pass at their own risk, and should take special care as the rocks in these areas can be slippery.
Pets at the Cliff Walk
Leashed pets are welcome to enjoy the Cliff Walk with you, as long as they are leashed and you pick up after them. Short leashes are recommended, as steep drop-offs are sometimes hidden by bushes and other vegetation. Benches are scattered along the Walk, and lawns stretch out along the path, providing ample opportunities to sit with your best friend and admire the views.
Pet Rules at the Cliff Walk

Pets must be on leash
Pet waste must be picked up and disposed of properly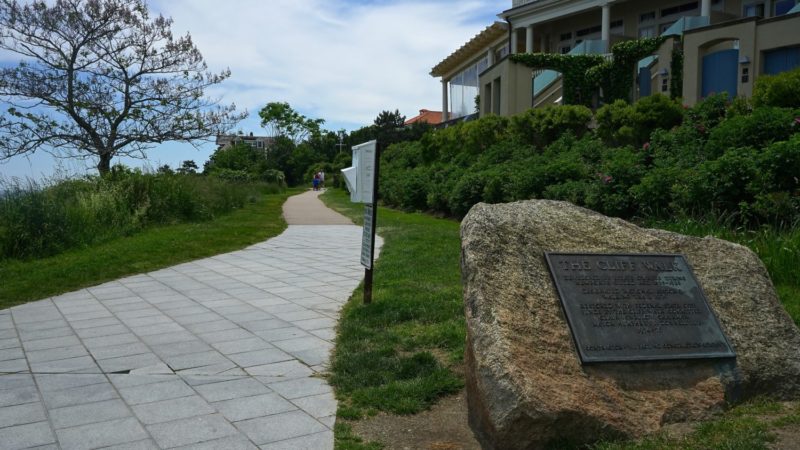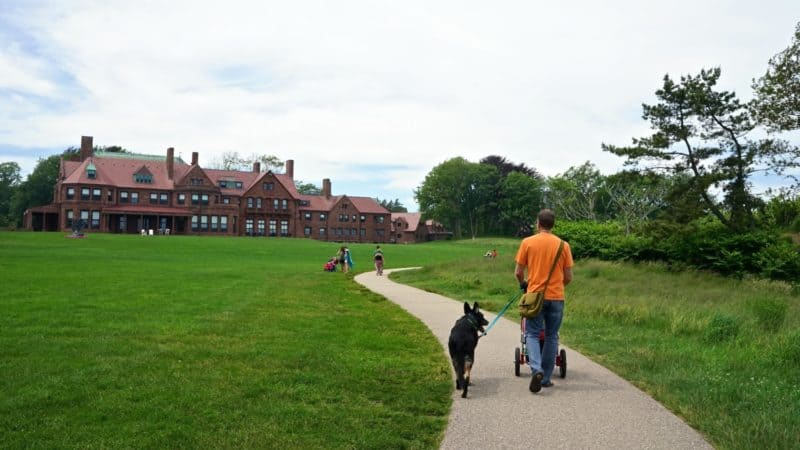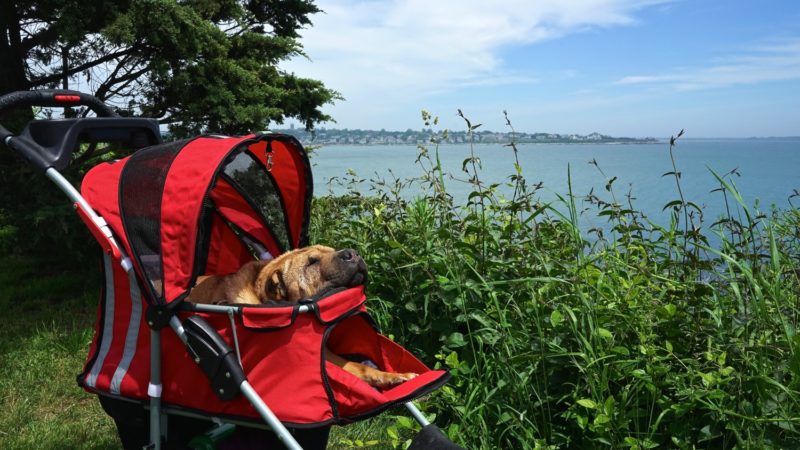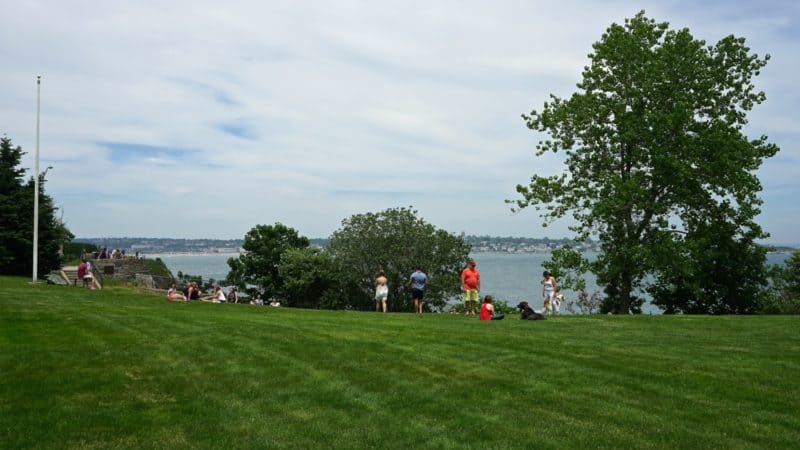 The Mansions
The architecture in Newport is one of it's most distinctive features, with a stunning collection of "summer cottages" built by wealthy families between 1850 and 1900. Some of these homes are open for tours – unfortunately, at those locations dogs are not allowed either inside the buildings or on the grounds.
However, you and your dog can view several stunning examples of these opulent vacation homes from the Cliff Walk trail, including Ochre Point, which is now owned by Salve Regina University.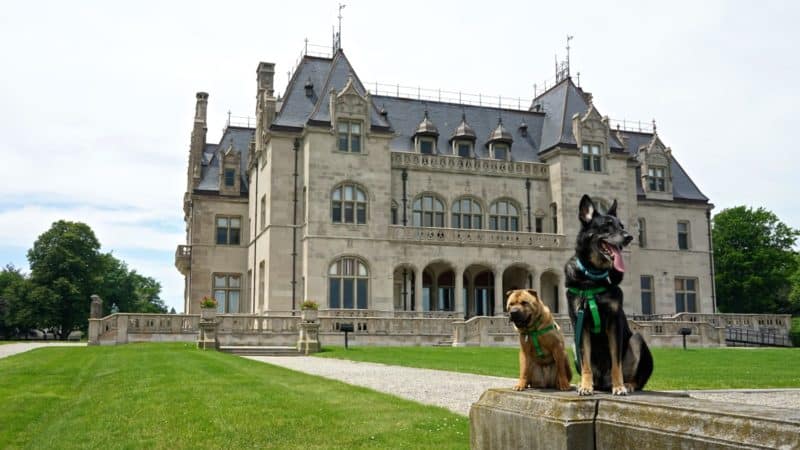 The Breakers, perhaps the grandest of all Newport's mansions, is also located along the Cliff Walk. This magnificent home was built by Cornelius Vanderbilt II in 1893, but at just 70 rooms, it hardly holds a candle to his brother's residence, which we visited in North Carolina.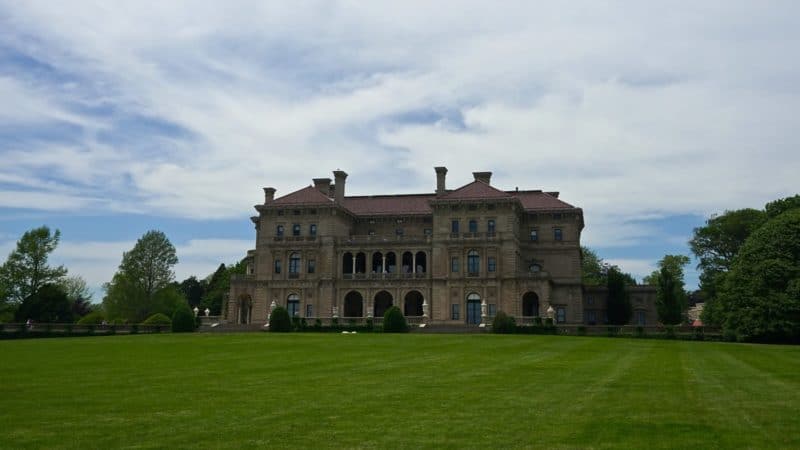 Beyond the Cliff Walk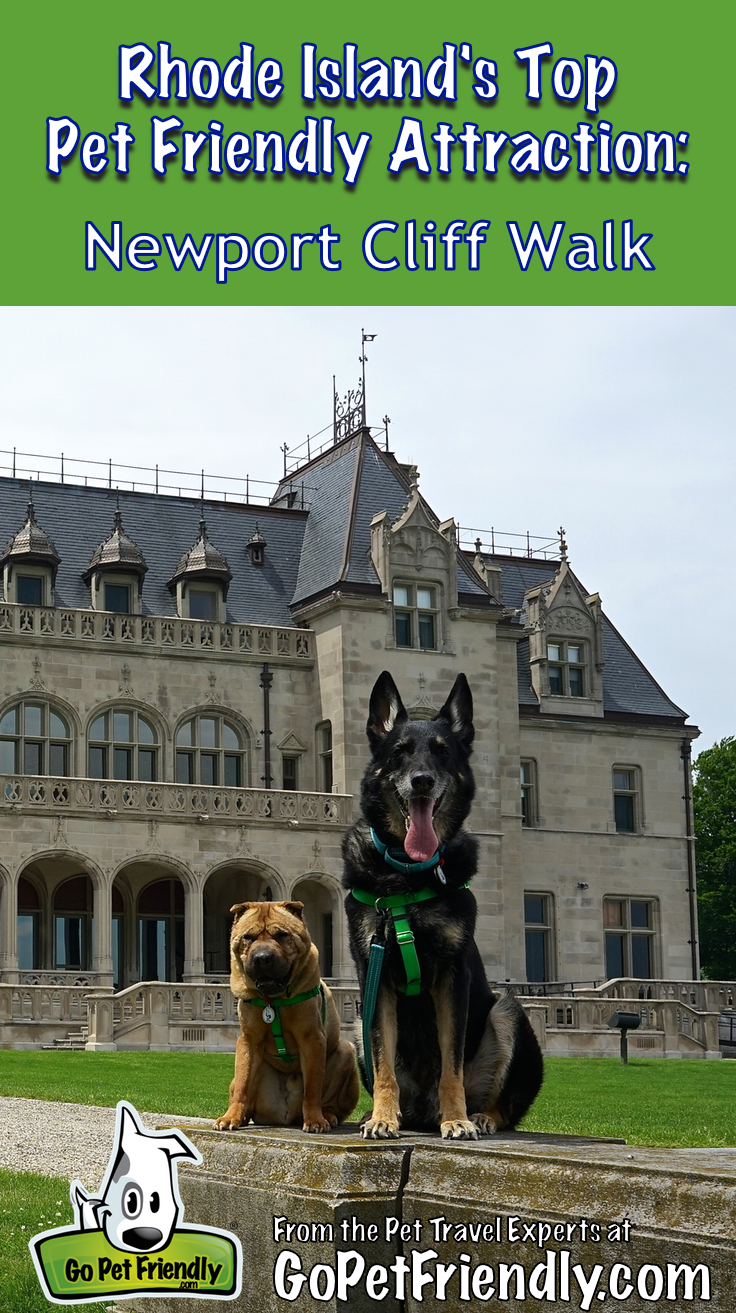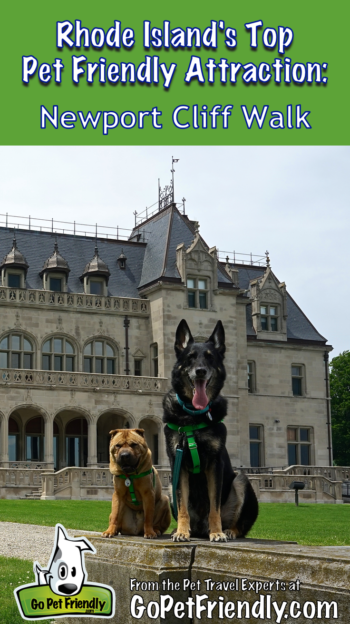 While Newport is primarily known as a summer playground for the well-to-do, this area actually has a diverse and intriguing history, some of which you can explore with your dog at the following sites:
Fort Adams State Park – built in fits and starts between 1824 and 1857, it is the largest coastal fortification in the United States.
Scenic Ocean Drive and Brenton Beach State Park – occupying the former grounds of one of Newport's grandest estates, Brenton Point State Park boasts one the most breathtaking views on the Eastern Coastline, and is the perfect place for a picnic or to watch the sunset.
Goat Island – a quaint neighborhood, complete with Victorian homes and a lighthouse.
Thank You to our Sponsors
Visiting these attractions with Ty and Buster is a dream come true. We'll be blogging about each one as we go along, so fasten your seatbelt and stay tuned!
The Ultimate Pet Friendly Road Trip wouldn't be possible without the support of our wonderful sponsors: Winnebago, 2 Hounds Design, Alcott, goDog®, PetGuide.com, Red Roof Inns, Sleepypod, The Bark, PetHub, RVPetSafety.com, and The Honest Kitchen. Please be sure to visit their websites and social media pages and thank them for their participation!
Planning a pet friendly trip of your own? We'll make it easy:
Pet Friendly Hotels | Pet Friendly Destinations | Pet Friendly Activities
Amazon Affiliate Disclosure: GoPetFriendly.com LLC is a participant in the Amazon Services LLC Associates Program, an affiliate advertising program designed to provide a means for website owners to earn advertising fees by advertising and linking to amazon.com, audible.com, and any other website that may be affiliated with Amazon Service LLC Associates Program. As an Amazon Associate, the owner of this site earns a commission from qualifying purchases.
(Visited 10,814 times, 1 visits today)