What's the best dog stroller for a medium sized dog? That's a question we've been asked many times since Ty started using a dog stroller two years ago.
When Ty lost his vision, I chose a dog stroller that worked well for us. But, we had no experience with other strollers, so I couldn't help when people needed advice. The obvious solution was try some other options! So, I asked the most popular dog stroller companies to send us their best dog stroller for medium sized dogs. We put them to the test, and the results are below!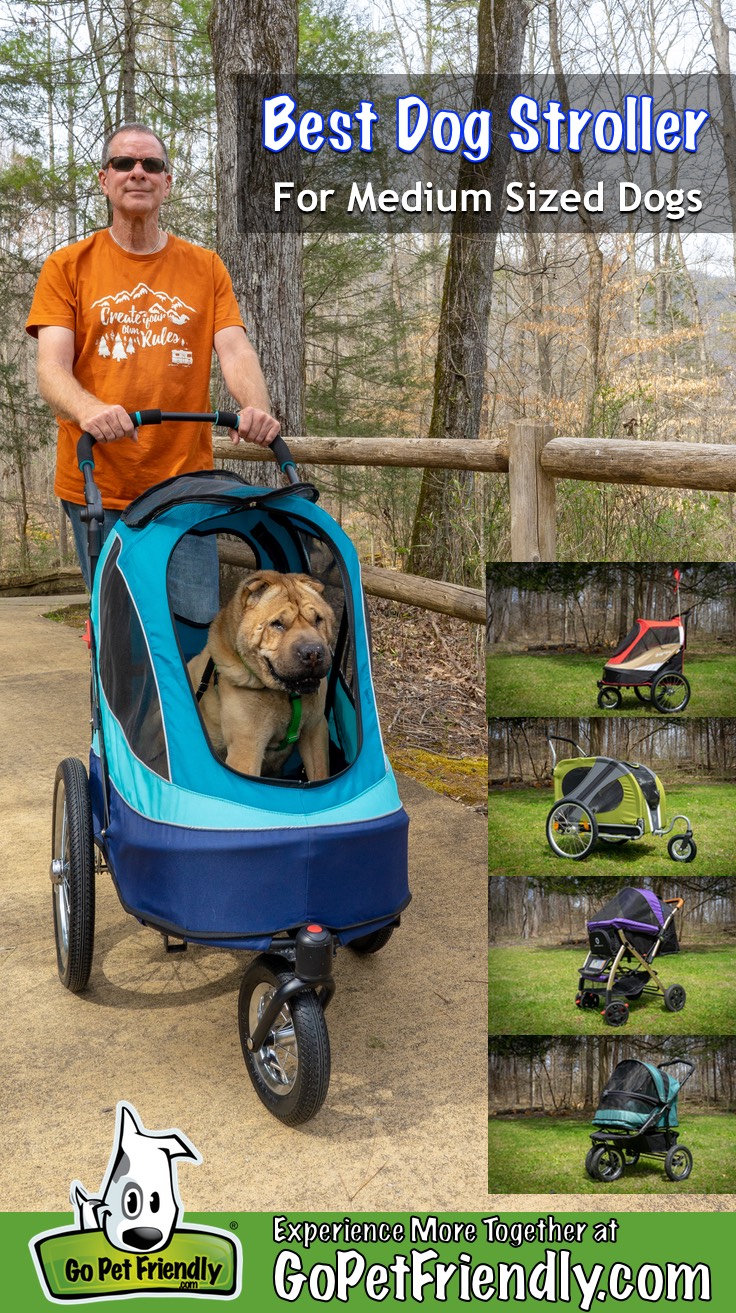 The Best Dog Stroller for a Medium Sized Dog
Figuring out which stroller is best for your medium sized dog can be tricky. The first thing to consider is how you want to use the stroller. We're pretty active and need a versatile stroller that goes on trails, sidewalks, and across grass.
The next thing to consider is ease of use. We're always on the go with the stroller in the cargo carrier on top of our car. During a day trip, we might set up and collapse the dog stroller several times. So having one that folds easily and stores compactly is a priority.
Of course, the stroller also needs to accommodate your dog! It can be a little tricky to tell a dog's size from pictures, so we're providing Ty's measurements. Compare them to your dog to determine which of the dog strollers will be most comfortable.
Weight: 36 pounds
Height when sitting: 23 inches
Length (nose to rump) when laying down: 30 inches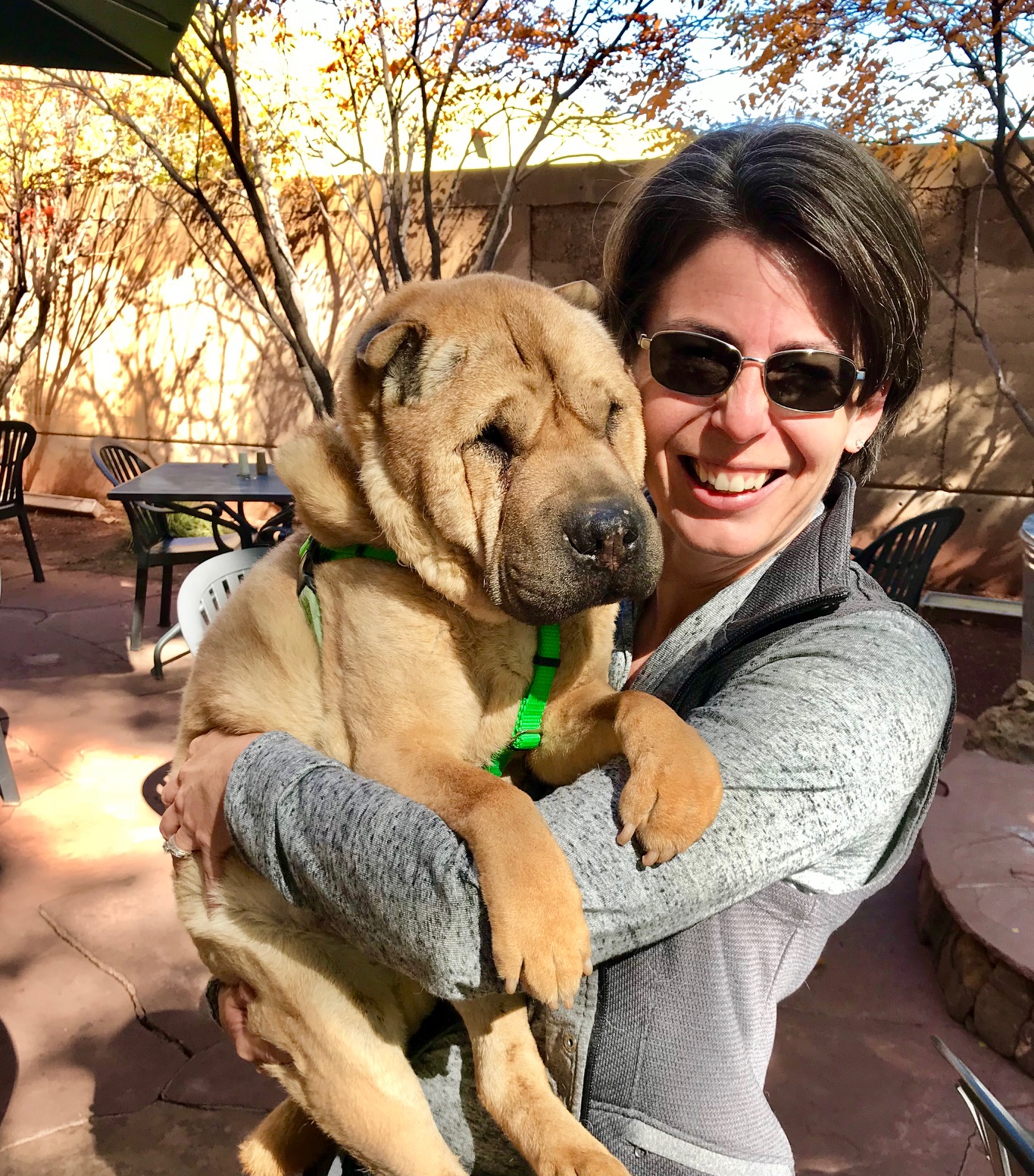 READ MORE ⇒  Helping a Dog with Arthritis Keep Going
Comparing Dog Strollers
After receiving Ty's measurements and our intended use for the stroller, we received five dog strollers to test. We hit the trails, cruised the campground roads, and went off-road to evaluate their performance.
We should note that Ty loved them all. There are few things he enjoys more than riding in his dog stroller – sniffing all the smells and snoozing with the sun on his face. If it were up to him, we'd have kept them all! But we live in a Winnebago, and having five strollers isn't practical. We had to decide which to keep … and it wasn't easy.
Comparison Photos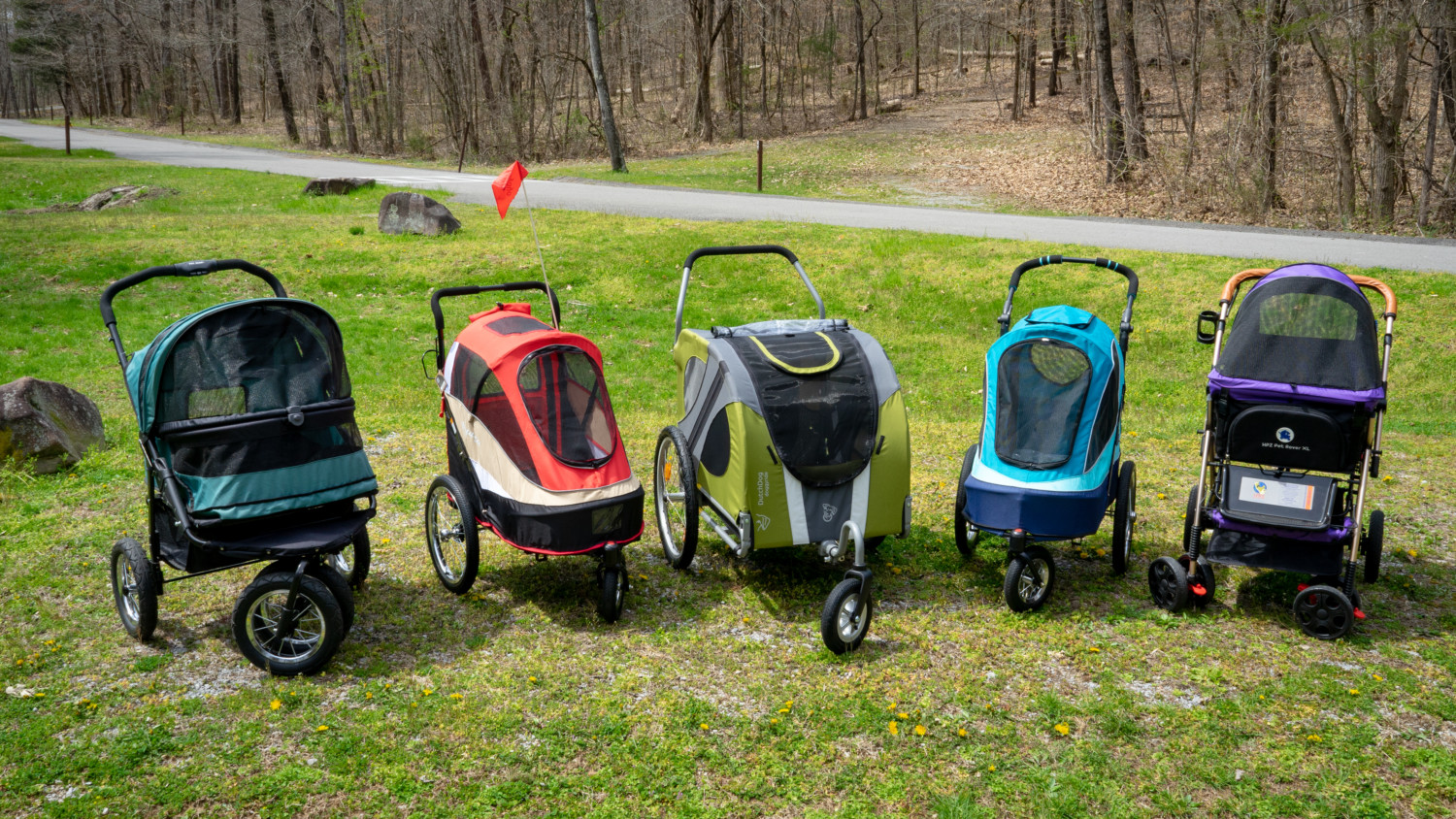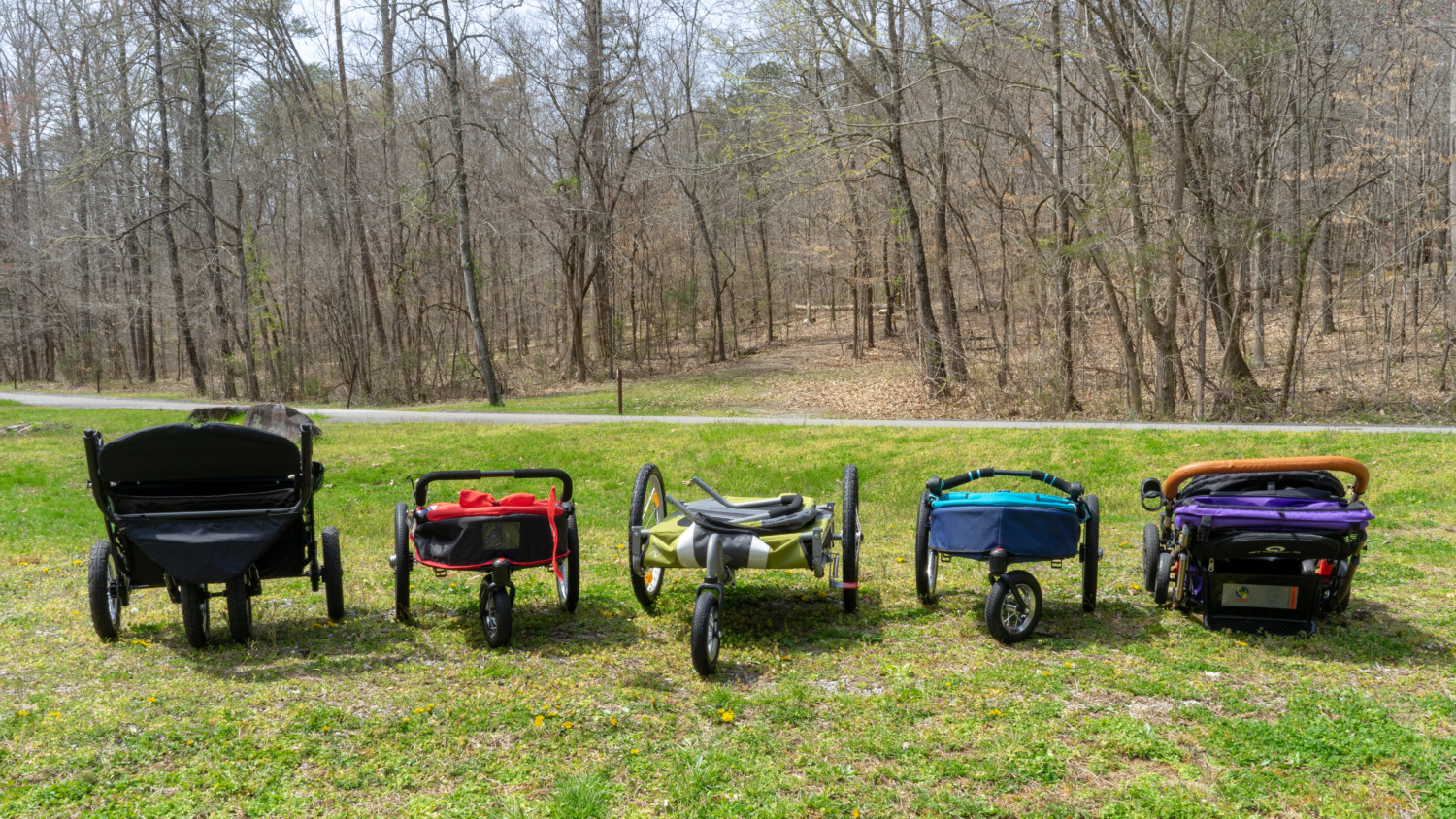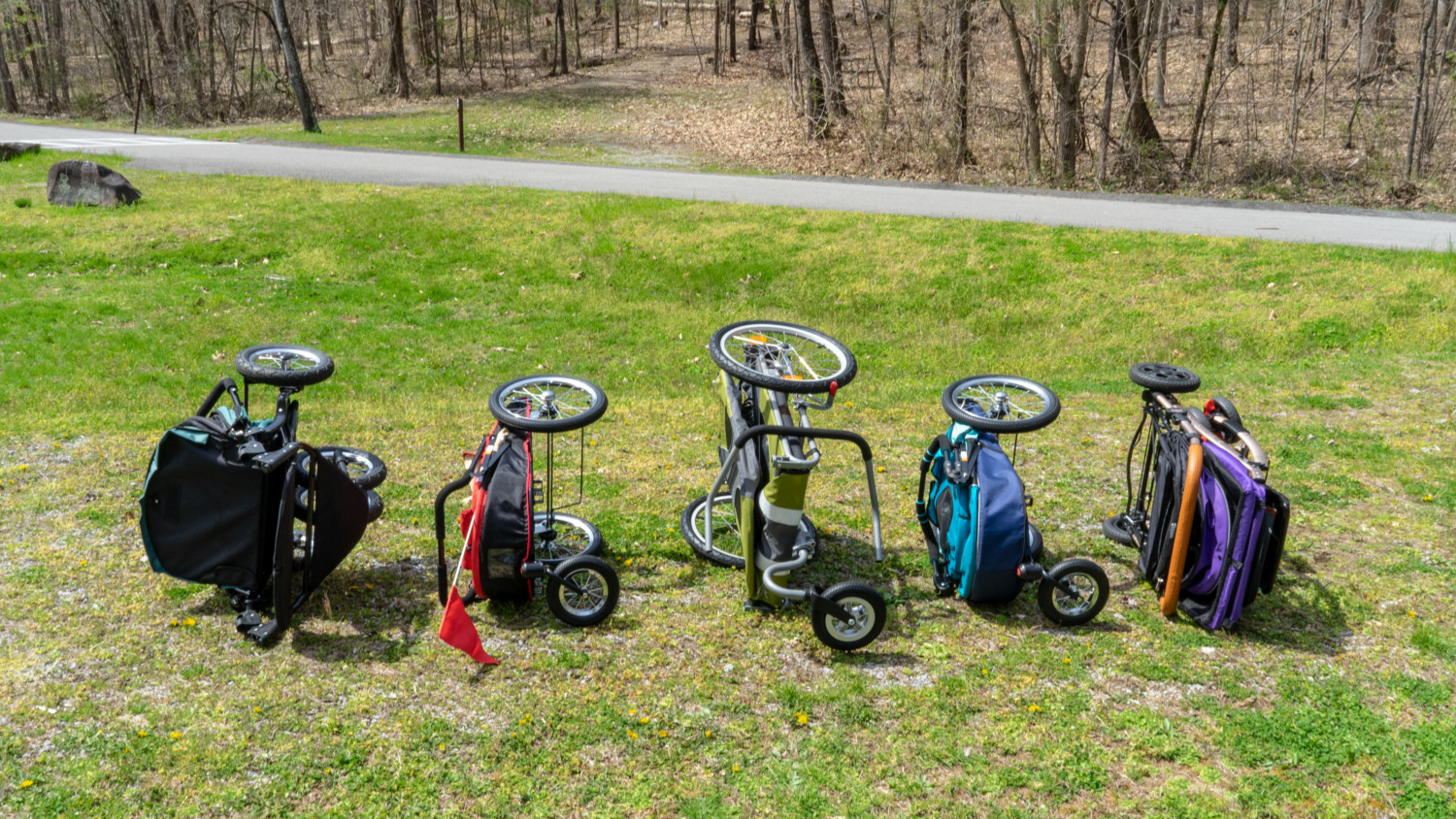 At the end of this post you'll find a table comparing the dimensions, weight, and other details of each stroller.
All the strollers had appealing aspects. But in the end, one rose to the top as our favorite. Below is our take on each of the dog strollers we tested, in the order they appear in the photos above.
The Pet Gear No Zip Double Stroller is the dark green and black stroller on the far left in the comparison photos. This stroller rides like a Cadillac, with air-filled tires, a fuzzy cushion, and a storage basket under the carriage. With a maximum weight capacity of 90 pounds and carriage dimensions of 26″ L x 19″ W, it could easily accommodate two smaller pets.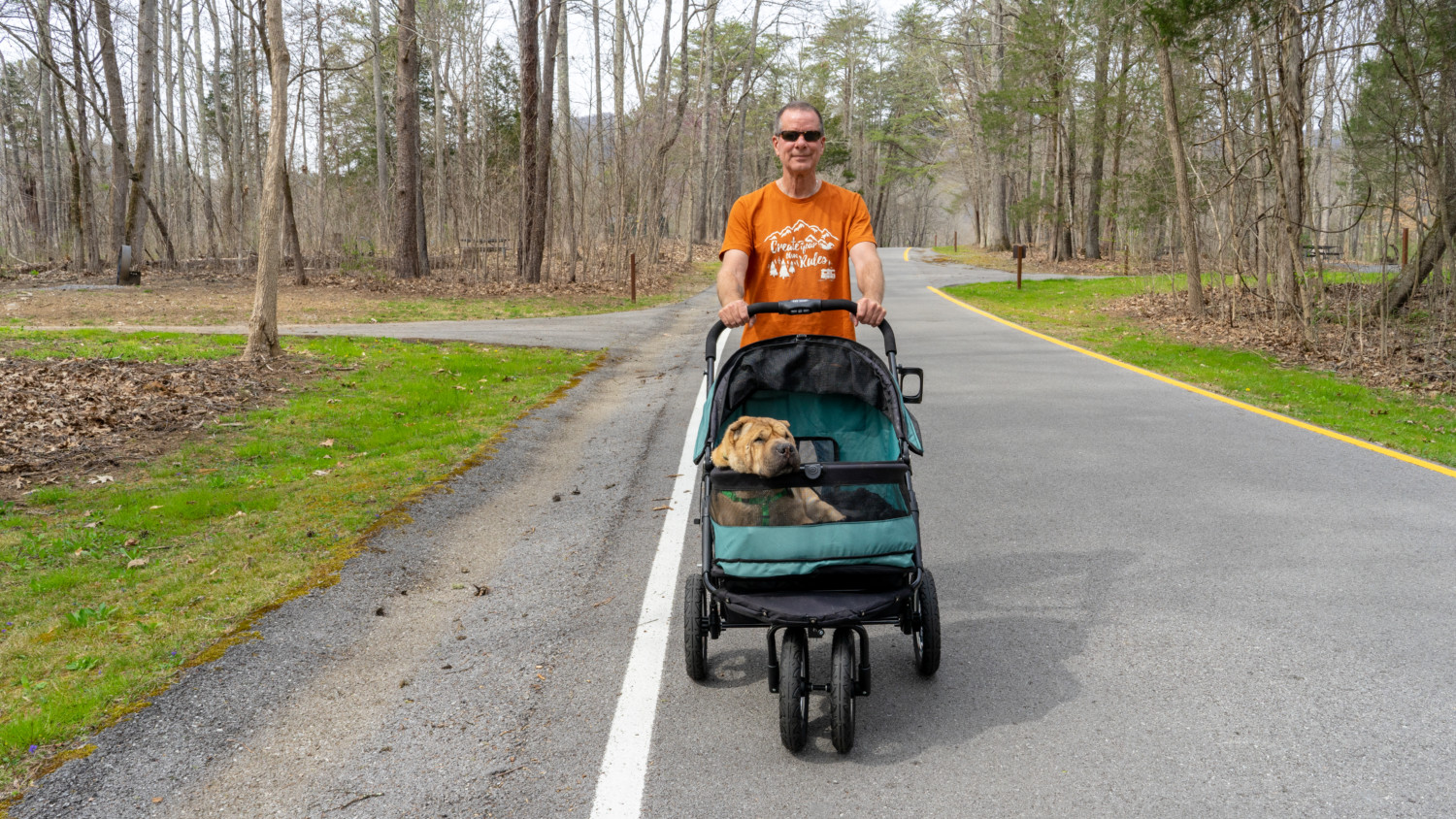 For maneuverability and comfort – both Ty's and ours – this was our top dog stroller choice. Having four tires in a triangular configuration gives the stroller maneuverability and stability no matter the surface. And being able to close the canopy securely without a zipper is a nice feature. This stroller also comes with a cup holder, rain cover, and tire pump.
While the Pet Gear stroller is easy to set up and fold, its drawback is that it doesn't collapse compactly. In comparison to the other folded strollers, this was by far the bulkiest. This might not be a concern if you have plenty of cargo space, but it was a deal-breaker for us. We couldn't get the stroller and both dogs into our RAV4.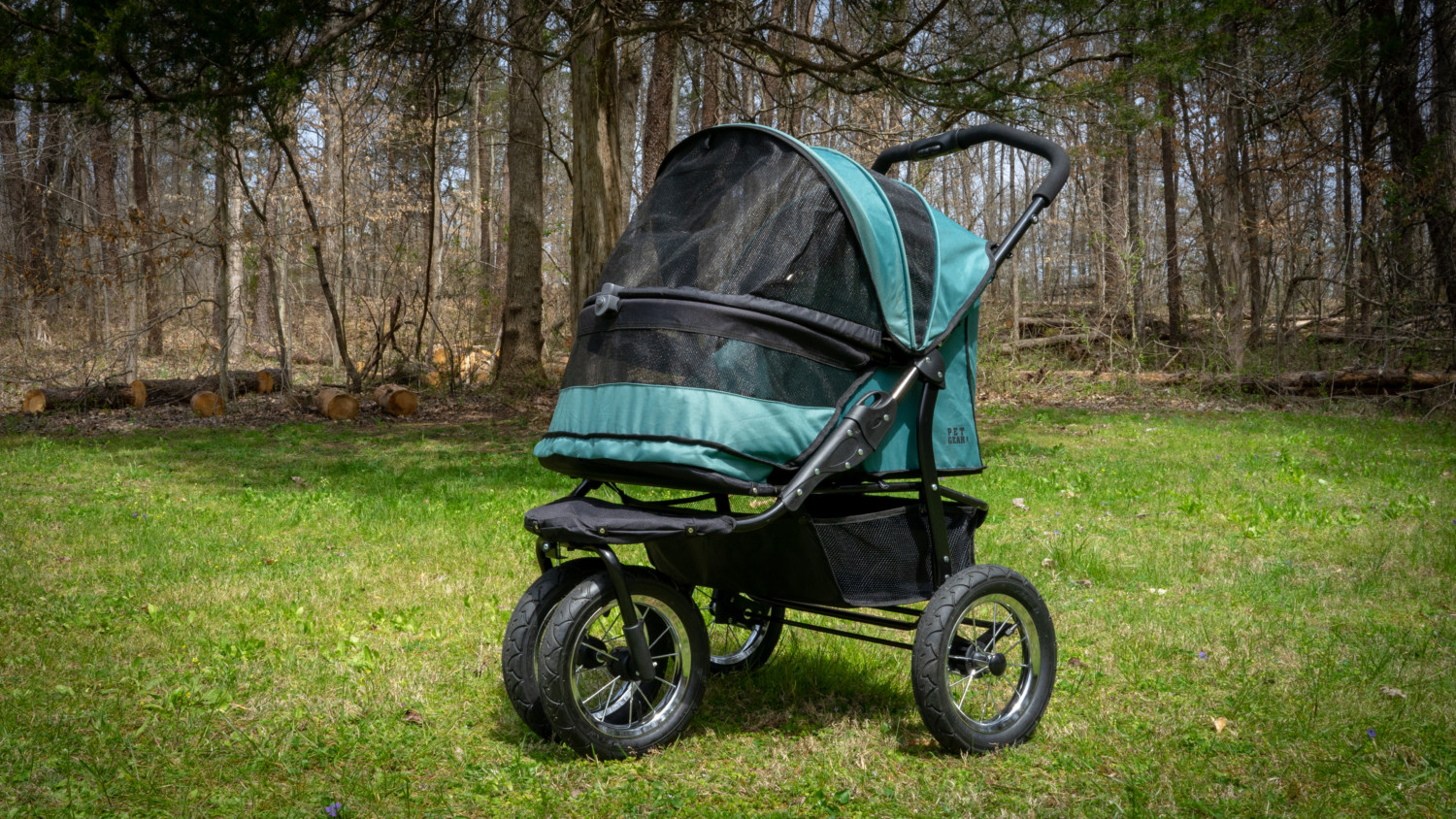 The ibiyaya Happy Bicycle Pet Trailer / Stroller is the red dog stroller second from the left in the comparison photos. This was our first experience using a bike trailer-type dog stroller, and getting Ty into this style was more difficult. Since losing his vision, he won't step onto uncertain footing, and lifting him into this dog stroller and securing the safety straps is awkward.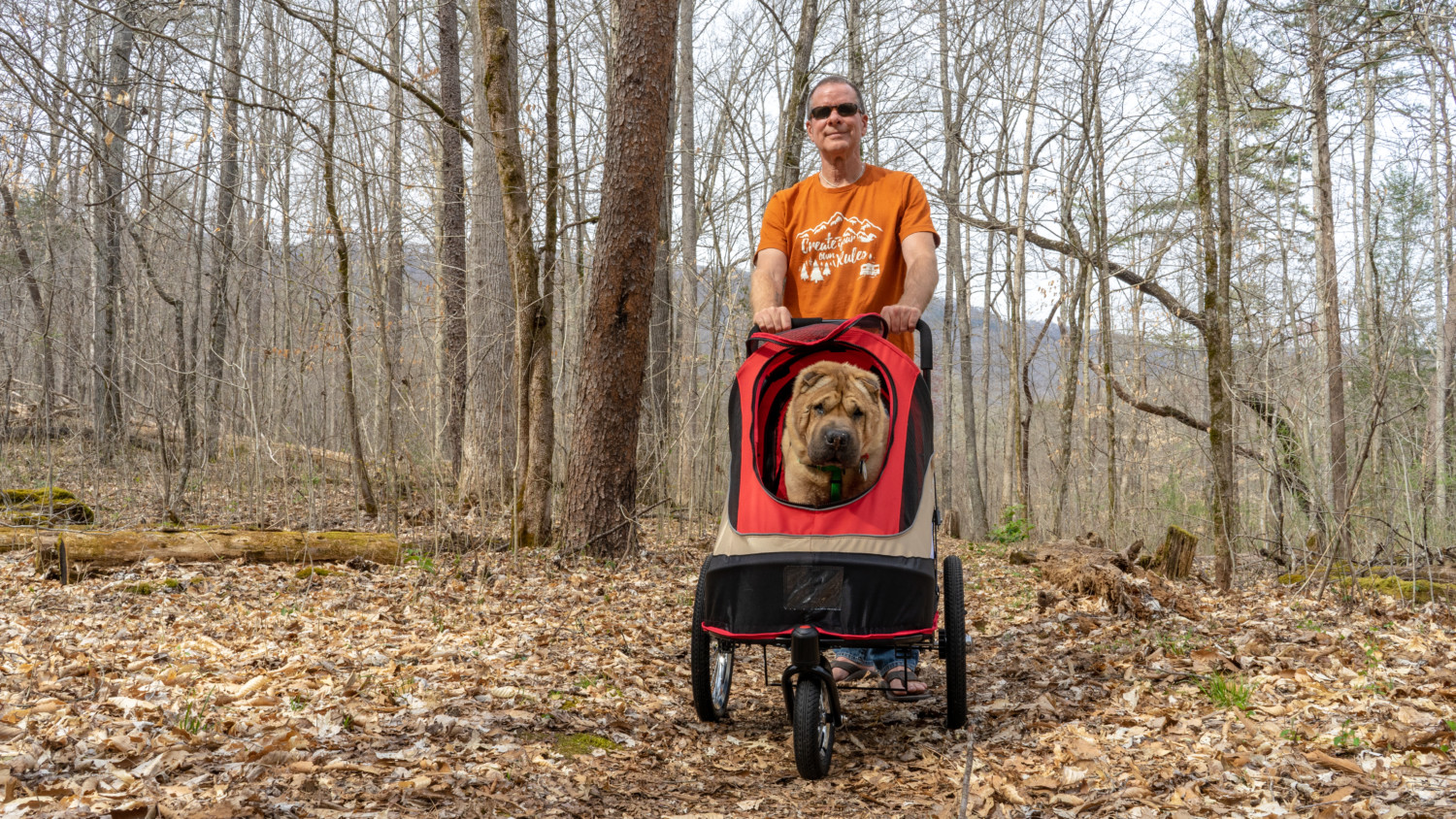 The ibiyaya dog stroller comes with the bike trailer arm, though we only tested it as a stroller. It also has air-filled tires, a cup holder, reflectors and a flag for visibility, a large storage pocket, and comes with a rain cover. With a maximum weight capacity of 66 pounds, this is a more compact stroller. While Ty fit fine, it would only accommodate multiple pets if they were very small.
Traversing trails, grass, and pavement was no problem for this dog stroller, and Ty seemed quite comfortable in it. It has a very simple folding mechanism and a clasp that holds it closed. One of the drawbacks to this stroller is the fixed handle bar, which might be uncomfortable for some humans. The other is the plastic zippers, which don't glide easily.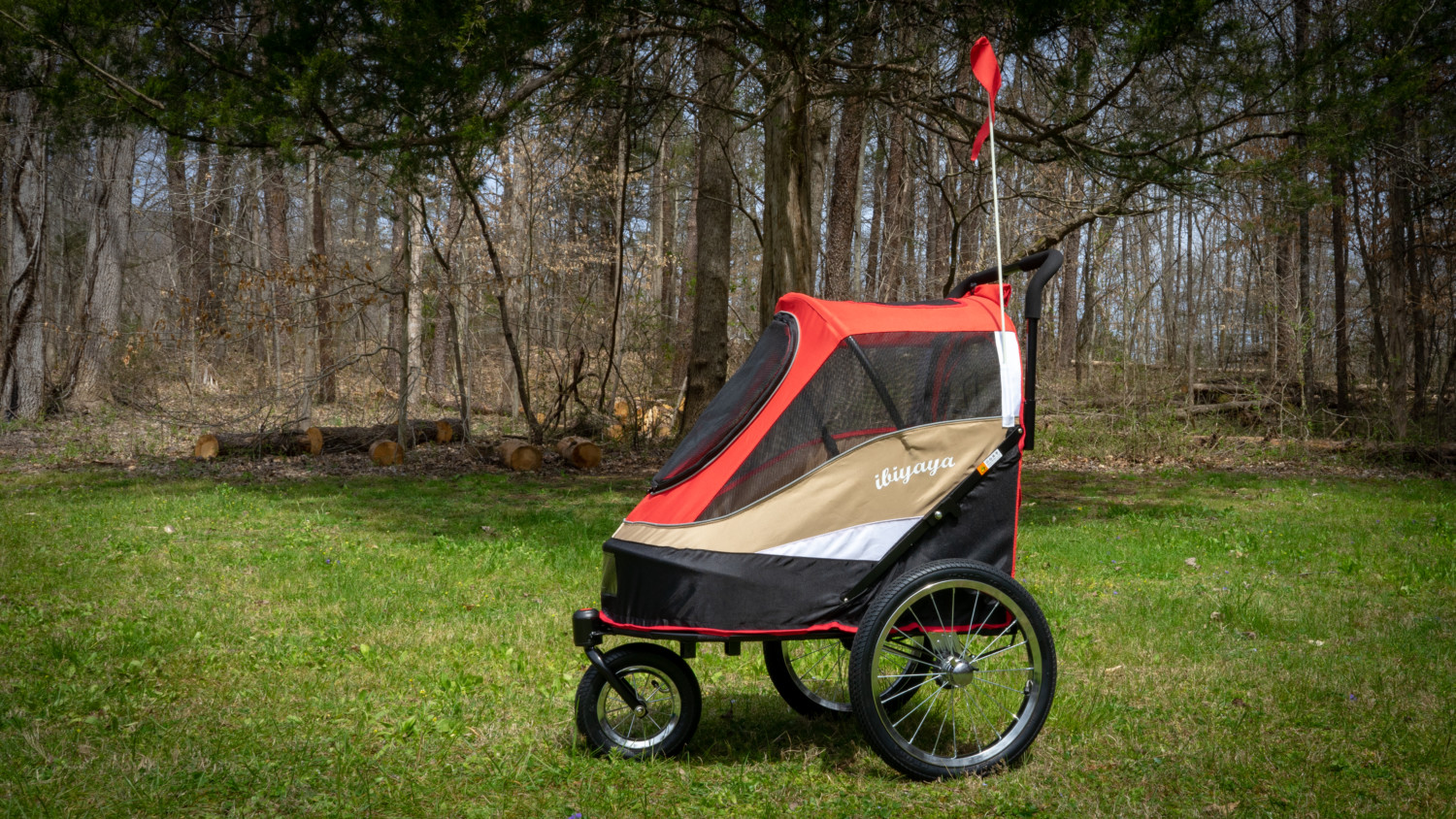 The DoggyRide Novel Dog Jogger-Stroller is the green/grey/black stroller in the center of each of the comparison pictures. This is the roomiest of all of the dog strollers we tested and has the highest weight capacity at 110 pounds. It has air-filled tires, reflectors for visibility, and a very large storage pocket on the back.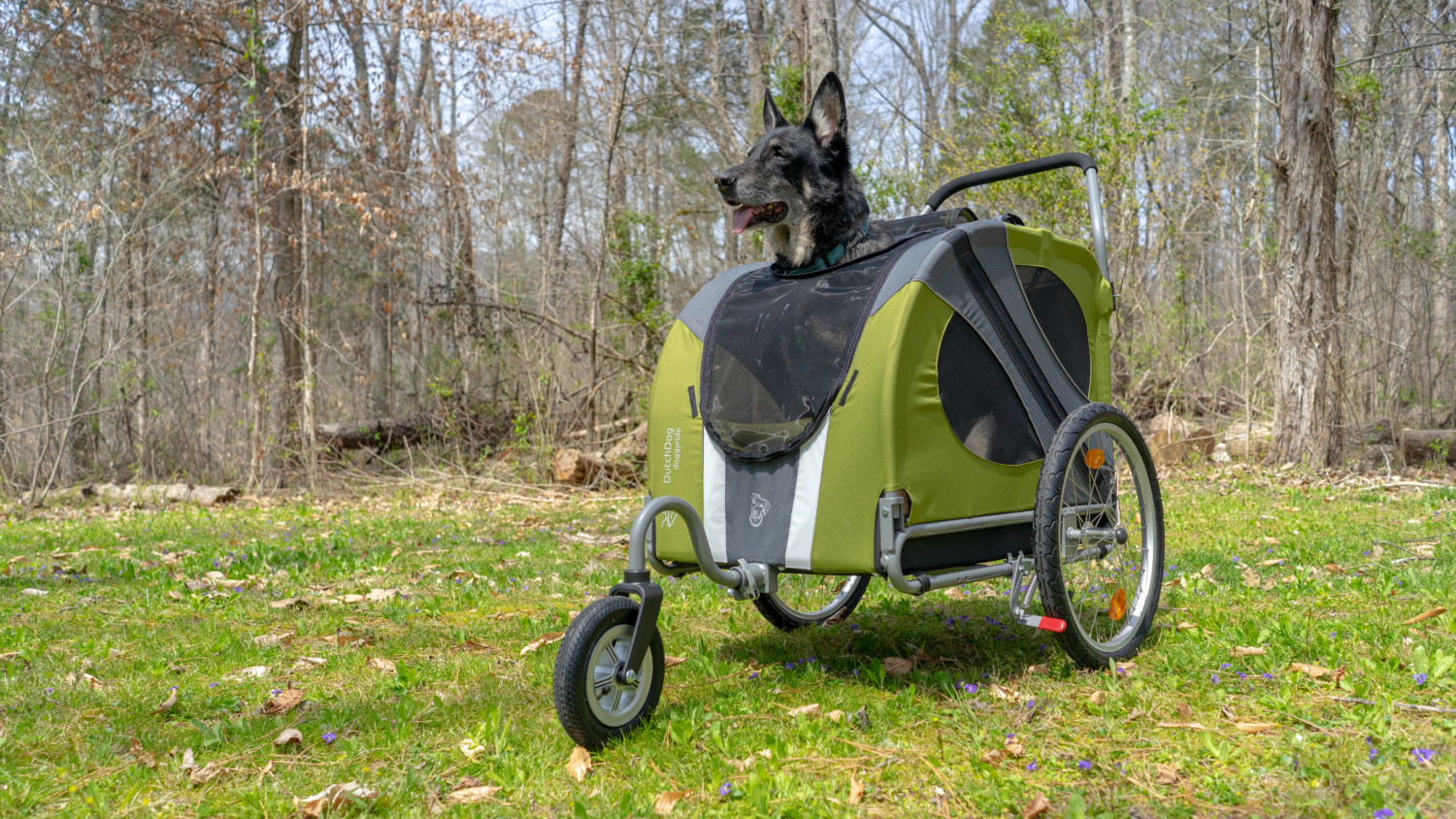 The DoggyRide stroller has a nice, smooth ride and can also be used as a bike trailer with the conversion kit (sold separately). However, this was the most challenging of the strollers to assemble. It's also the most complicated to collapse and set up. Folding the stroller requires the handle bar taken off and a support bar inside the stroller to be released. The tires can also be easily removed for more compact storage. But there is no locking mechanism to keep the collapsed stroller from unfolding while being stowed.
Because of it's size and weight capacity, this would be a great stroller for more than one pet. The flexibility to use the stroller as a bike trailer is an added benefit. We found it spacious enough for Buster, and almost too big for Ty. It felt like more stroller than we needed.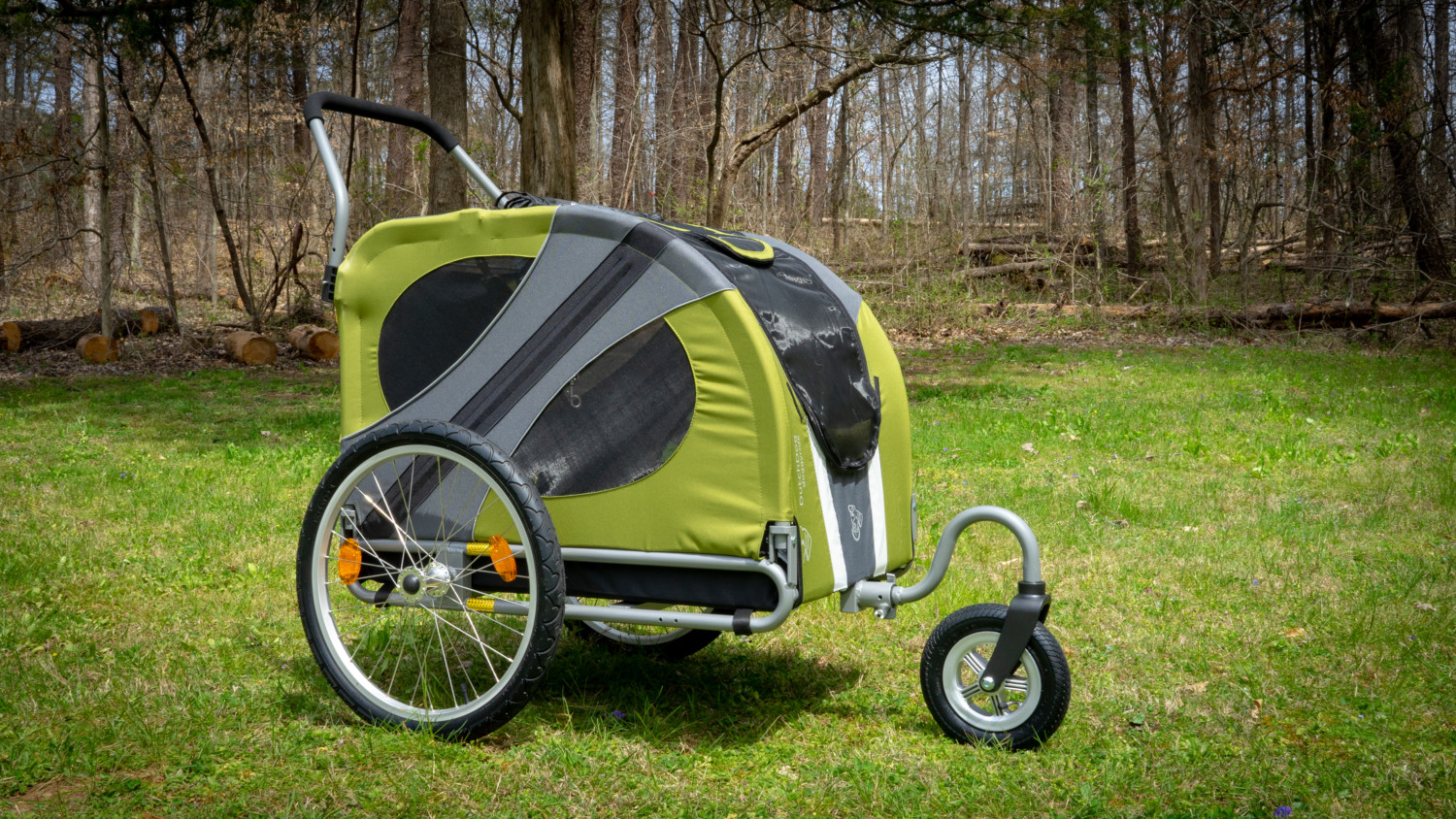 The Petique All Terrain Pet Jogger is the blue dog stroller second from the right in the comparison photos. This stroller appears to be fundamentally the same as the ibiyaya discussed above, with a few notable differences. The Petique dog stroller has air-filled tires and reflectors for visibility, but has two storage pockets rather than one. It comes with a rain cover and a tire pump, and the bike trailer conversion kit is sold separately.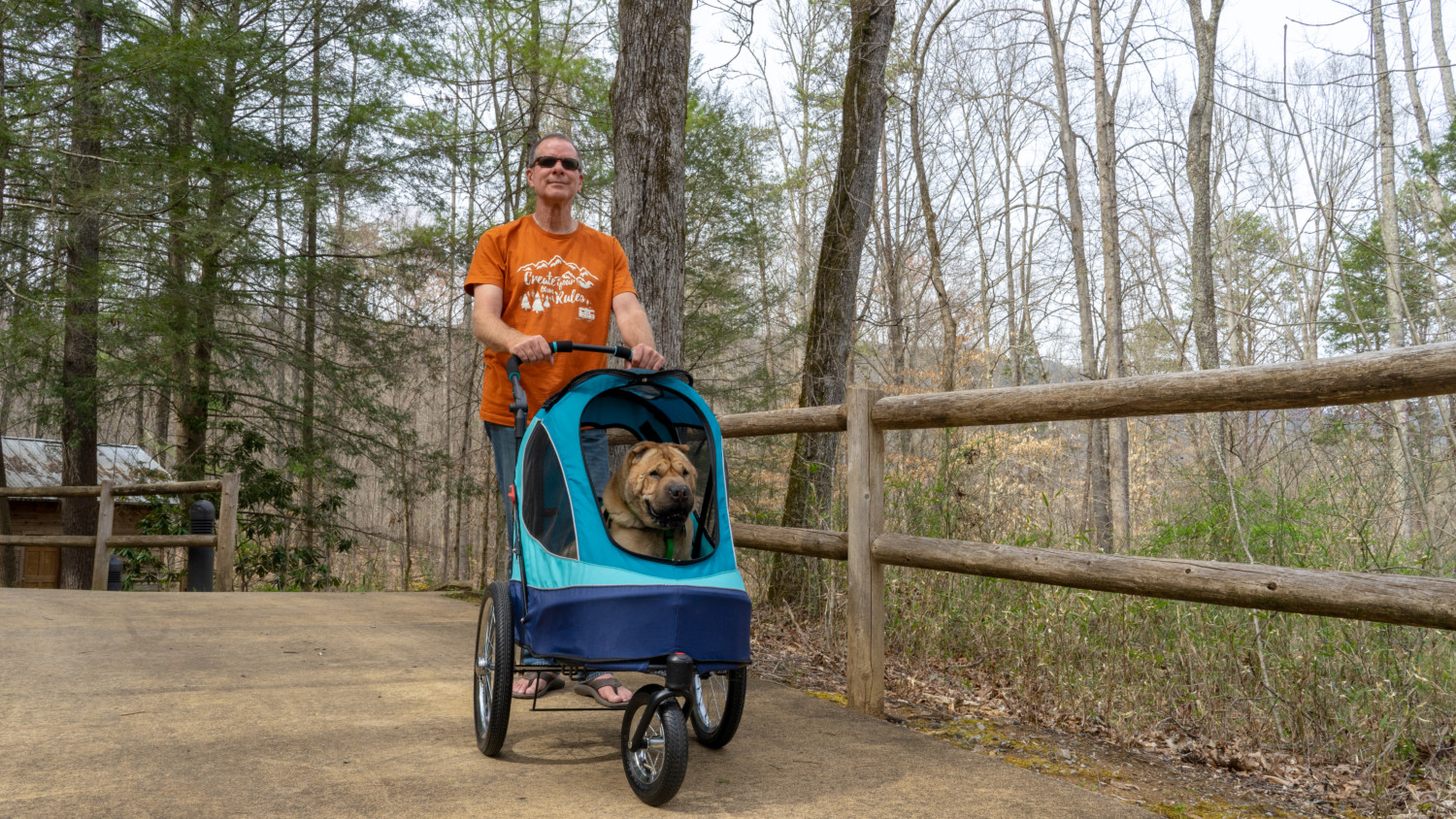 One feature that differentiates the Petique dog stroller from the ibiyaya its the multi-position, adjustable handle bar. This makes it easy for humans of any height to comfortably push the stroller. The other difference is the zippers. The Petique zippers were easier to use and felt more durable. This stroller, as well as the ibiyaya, folds flat and the tires can be quickly removed for easy storage.
The compact size of the Petique stroller allows you to use it anywhere. And it's maximum weight capacity of 60 pounds makes it comfortable for medium sized dogs. While we would have preferred a bit more storage, this stroller met all of our needs.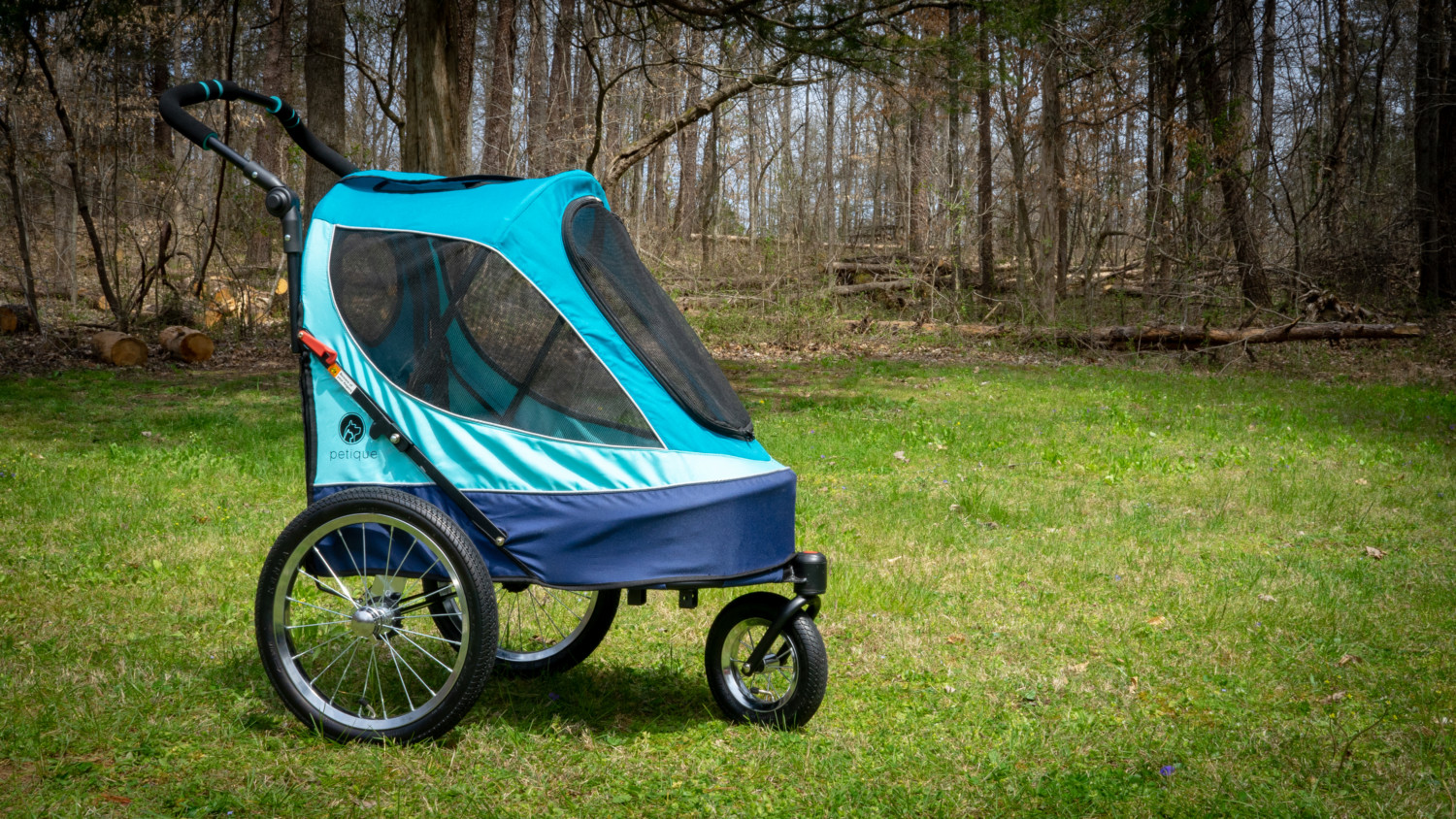 The Pet Rover XL is the purple and black stroller on the far right in the comparison photos. This pet stroller has foam-filled rubber tires, a no-zip canopy closure, a wrist strap for safety, a cup holder, under-carriage storage basket, and storage pockets. With a maximum capacity of 75 pounds and an expandable carriage bed, it offers plenty of room for one medium-sized pet or two smaller ones.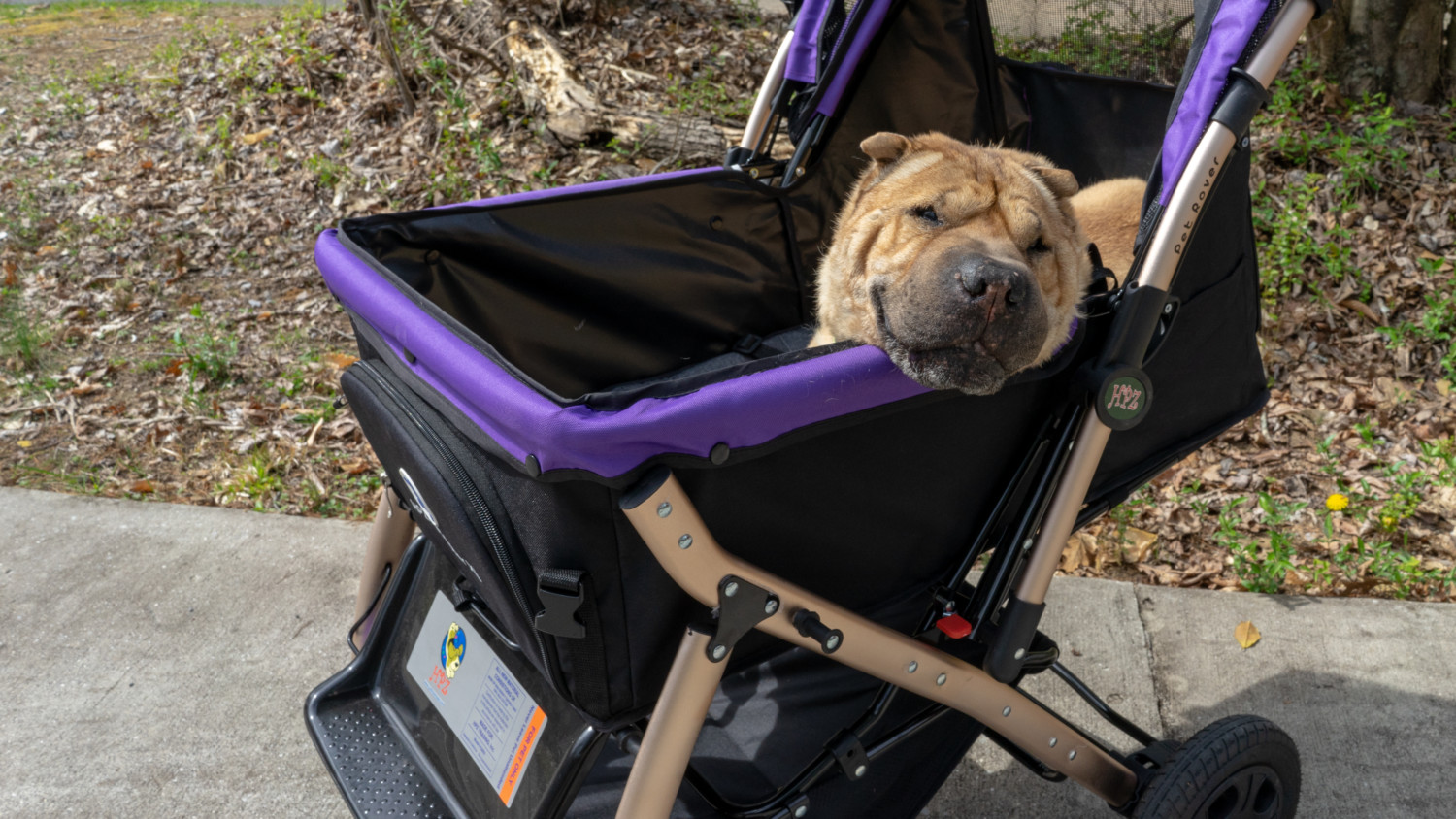 The Pet Rover XL offers a lot of features at this price point. The leather-covered handlebar is reversible, the front tires lock, and it's the most compact of the stroller when folded.
However, with tires at the four corners, we found this dog stroller more difficult to maneuver than the other models. The Pet Rover XL also had the smallest tires of the dog strollers we tested. That made going on trails or grass more challenging and the ride a little rougher. For better versatility, we prefer the strollers with larger tires in a three-point configuration.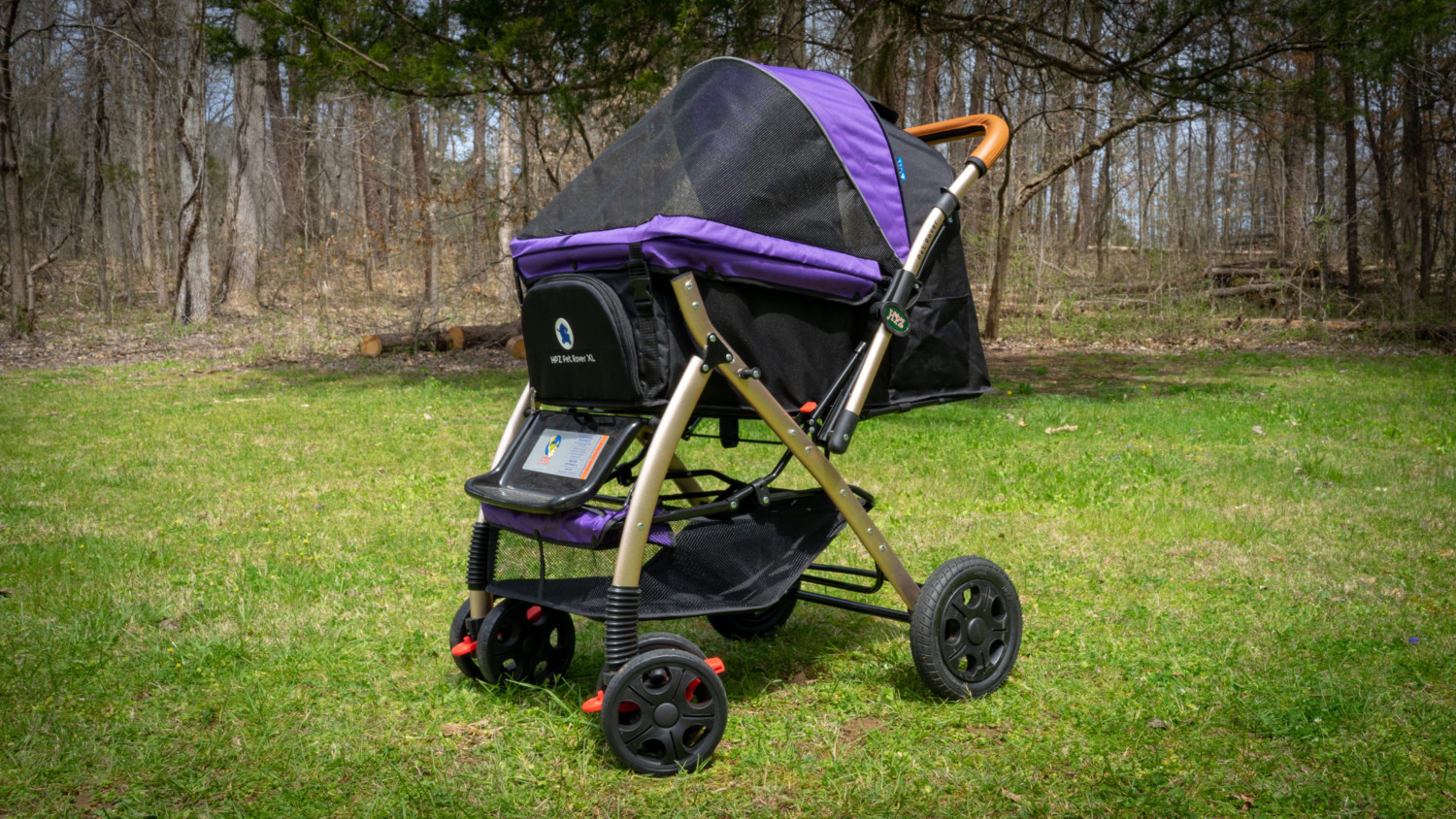 Dog Strollers By the Numbers
For each of the strollers tested, we gathered the dimensions, weight, price, and other vital information for easy comparison:

The Best Dog Stroller for Ty
Choosing the best dog stroller was ruff, and Ty worked his tail off snoozing in each one. After much deliberation we concluded that, of the five strollers we tested, the Petique All Terrain Pet Jogger best met our needs. It handles well on different surfaces, is comfortable to push, and folds compactly, so it fits in our car with both dogs. And, best of all, it allows Ty to explore (and nap) with us.
READ MORE ⇒  Does Your Dog Need a Wheelchair?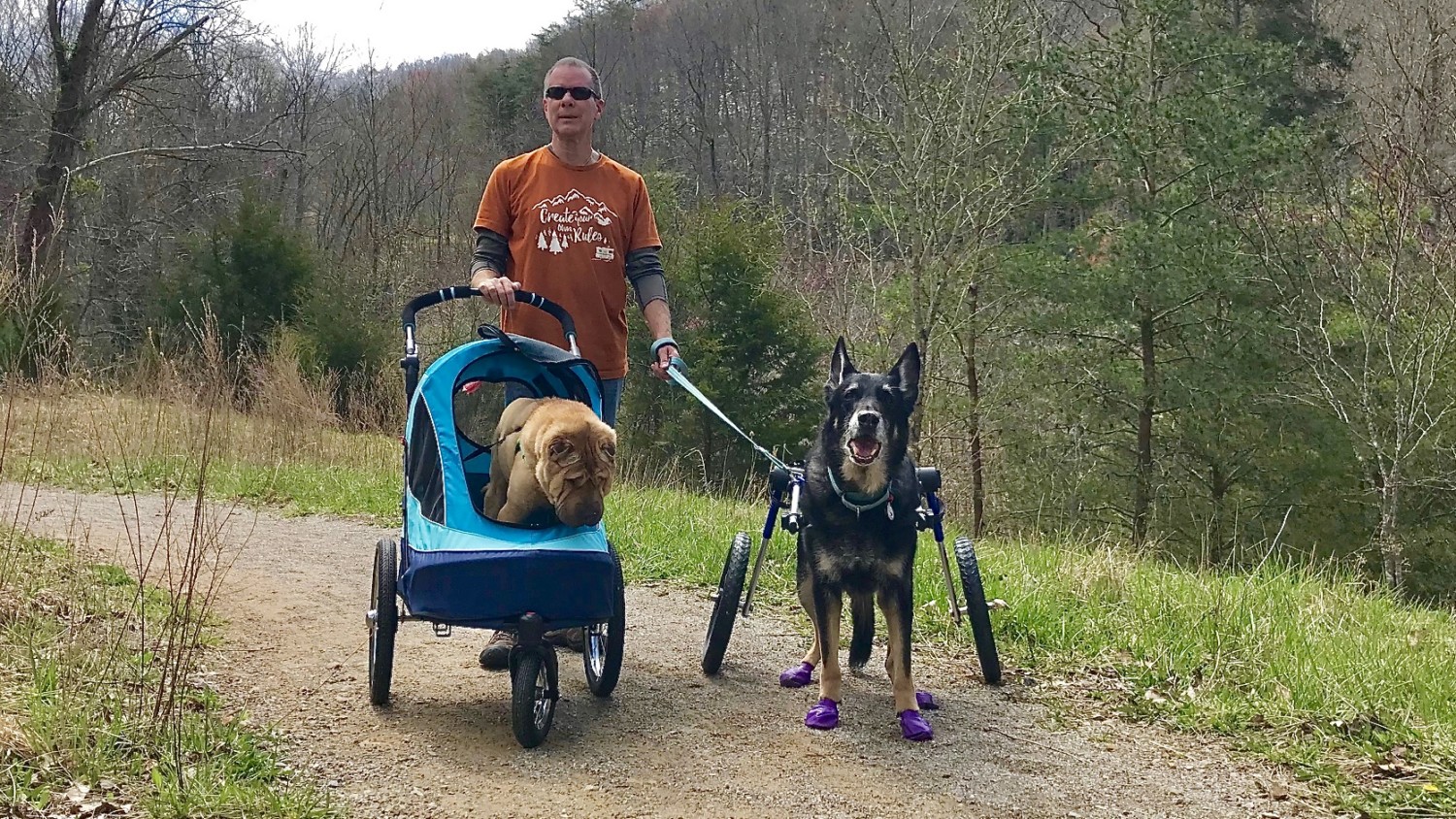 If you're using a pet stroller that you love, tell us about it in the comments!
Visit our Amazon store to learn about more products we rely on to make traveling with pets easier, safer, and more fun!
Amazon Affiliate Disclosure: GoPetFriendly.com LLC is a participant in the Amazon Services LLC Associates Program, an affiliate advertising program designed to provide a means for website owners to earn advertising fees by advertising and linking to amazon.com, audible.com, and any other website that may be affiliated with Amazon Service LLC Associates Program. As an Amazon Associate, the owner of this site earns a commission from qualifying purchases.
(Visited 21,425 times, 1 visits today)