If you've been following our adventures for the past nine years, you've probably noticed that our travels with Ty and Buster have slowed down. Ty's still happy getting around in his stroller, but Buster's been dealing with arthritis. This post is about the things we're doing to help our dog with arthritis keep going!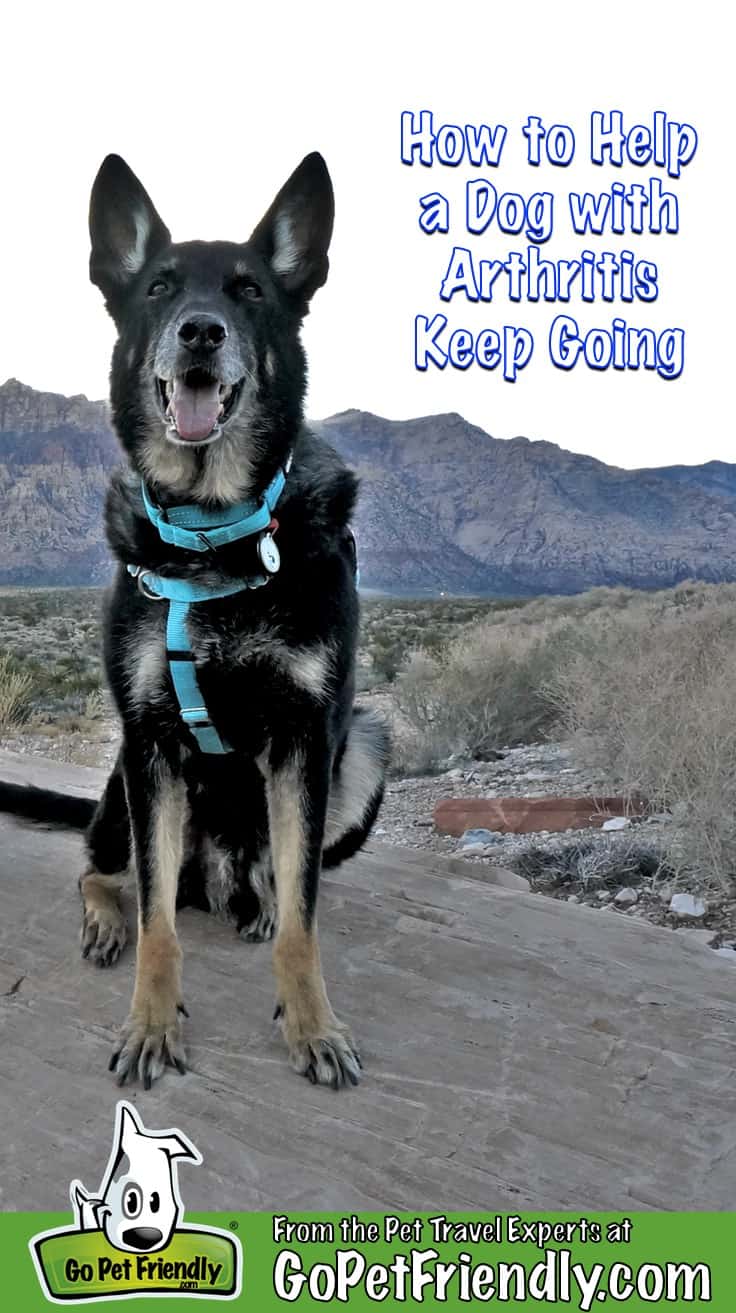 Arthritis in Dogs
Studies show that as many as one in five dogs suffers with arthritis. It can strike dogs of any age, and about a year and a half ago, we started noticing some of the symptoms in Buster.
Symptoms of Arthritis in Dogs
The signs of arthritis can be subtle, and many dogs are excellent at hiding their discomfort. Here are the behaviors to watch for:
Lameness and/or stiffness (especially after rest)
Struggling to rise after resting
Walking slowly
Lethargy and tendency to sleep more
Depression
Muscle weakness
Swelling of the joints
Licking the joints
Weight gain or loss
Nervous or aggressive behavior
Reluctance to jump or be active
Squatting to urinate or urinating indoors
In a 10-year-old German Shepherd, it wasn't surprising to see some indications of arthritis developing. We had x-rays and blood work done to rule out other possible causes, and then we got busy figuring out how we could help our boy.
Treating Arthritis in Dogs
Meet with Your Vet
There are a number of medications your vet can recommend for a dog with arthritis. Drugs for pain, anti-inflammatories, or steroids can be prescribed. Other treatment plans might include acupuncture, laser therapy, magnetic therapy, stem cell therapy, and ultrasound therapy.
Each veterinarian will have a preferred course of treatment and will advise you on which will be the most effective for your dog. And once you leave the vet, there are a number of things you can do at home to help your dog deal with arthritis.
READ MORE ⇒  Could A Wheelchair Help Your Dog?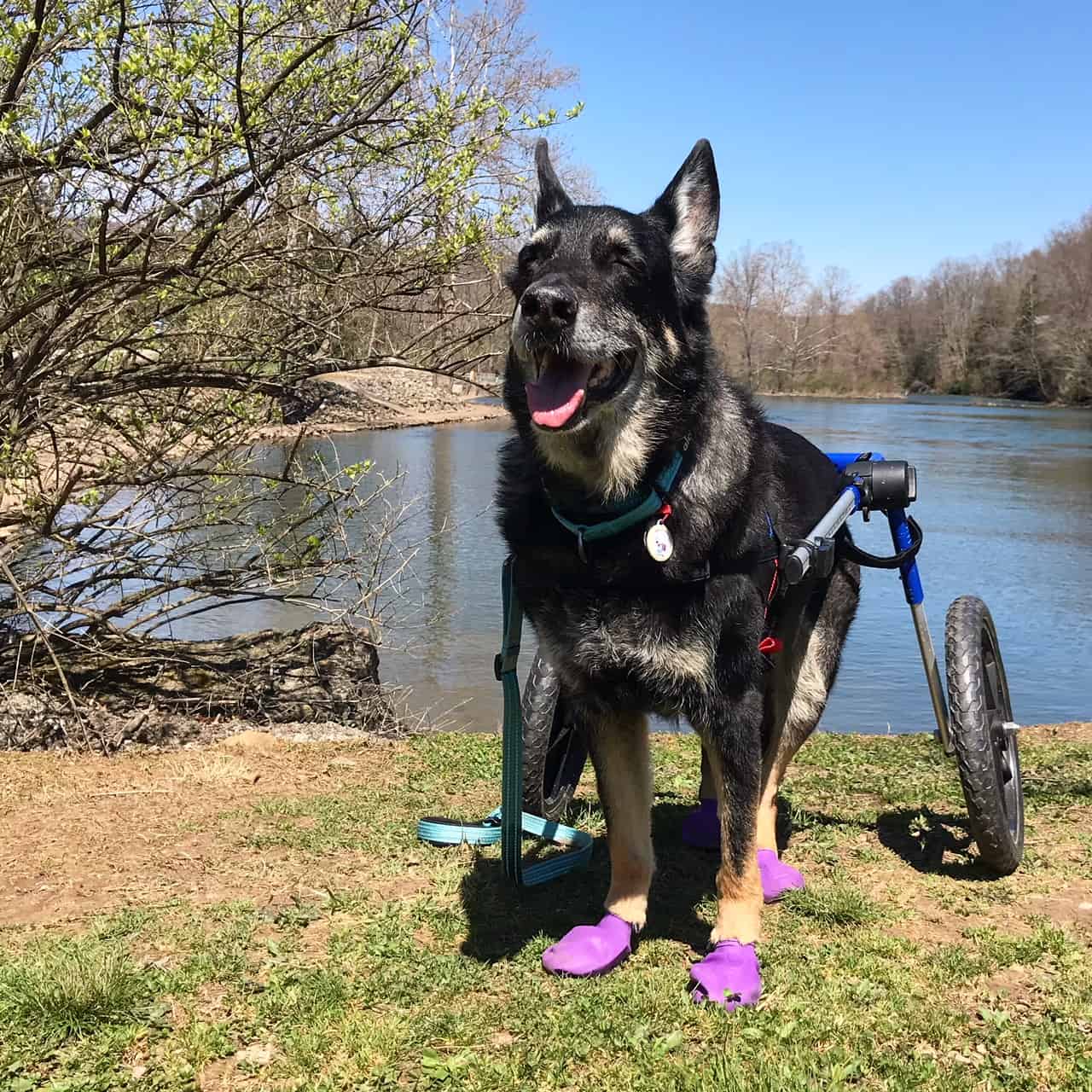 Diet and Exercise
Diet and exercise are key in maintaining a good quality of life for a dog with arthritis. One of the things that tipped us off to Buster's arthritis was that he wanted to walk less. And without as much exercise, he started getting a little chunky.
Once Buster had a confirmed diagnosis of arthritis, our first step was to walk him more frequently, but for shorter distances. Moderate exercise helps reduce joint pain and keep muscles toned to support the joints. But going too far can cause additional pain and stiffness.
Swimming is another excellent exercise for dogs with arthritis, but we haven't tried it with Buster. It's too hard to locate and schedule treatment sessions given our nomadic lifestyle. And for now, Buster's doing well with short walks.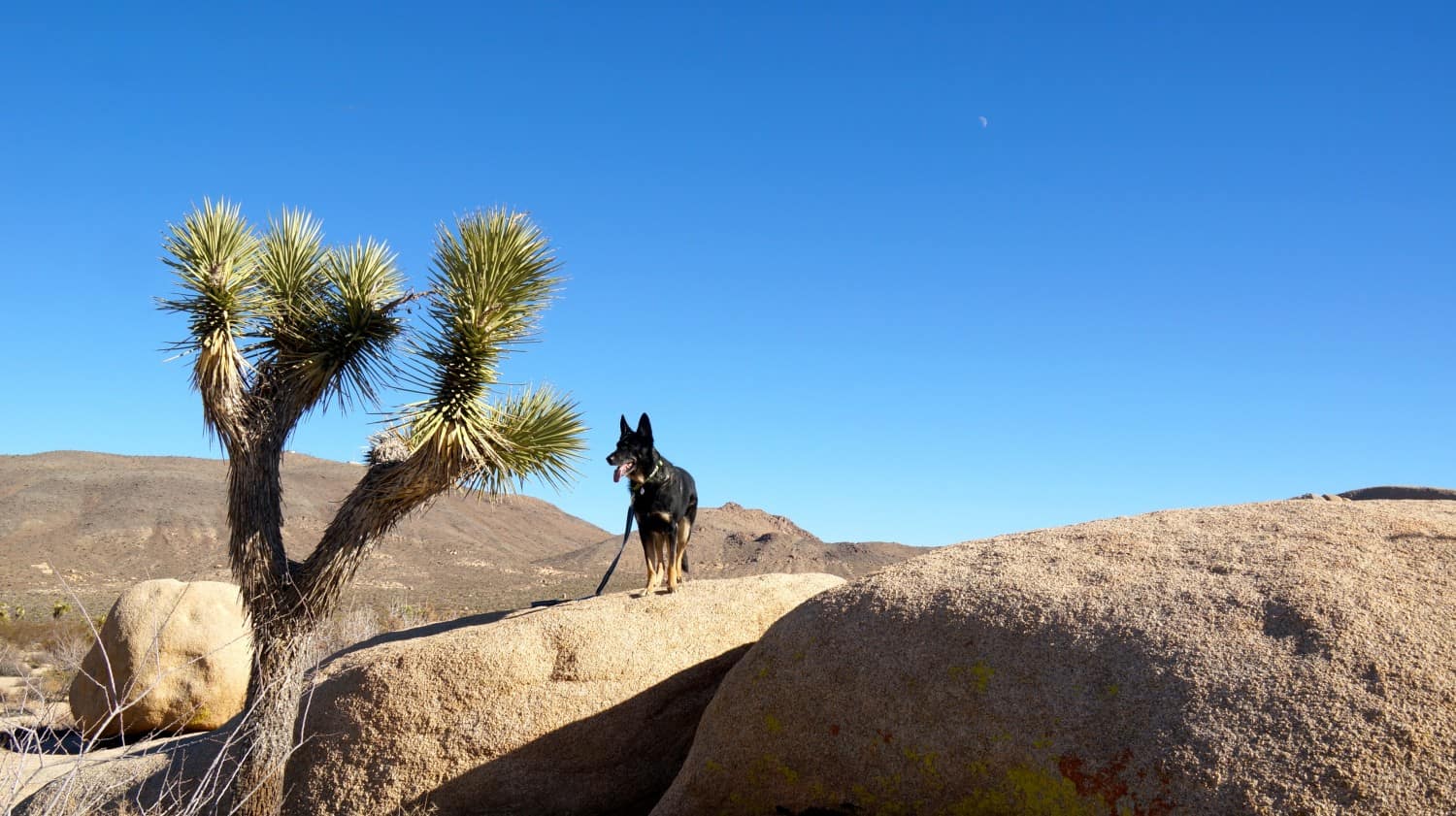 Of course, carrying extra weight is also hard on the joints, which are already painful when arthritis sets in. To get Buster back to a healthy weight, we reduced how much he was eating to correspond to his lower level of activity. Over a couple months, he dropped those extra pounds and he's nice and slim again.
A healthy diet with natural ingredients can also help the body deal with the inflammation of arthritis. Much to Ty and Buster's droolite, The Honest Kitchen has been our dog food sponsor for most of their lives. It's a human-grade pet food that's gently dehydrated and contains natural ingredients, with no additives or preservatives. In fact, we attribute Ty and Buster's long lives to the fact that they've eaten so well all these years!
Adding Supplements
Before beginning any supplement, you should discuss it with your veterinarian, and they'll often recommend glucosamine for dogs with arthritis. We found that each large chew of Sound Dog Viscosity from Herbsmith not only provided 1000 milligrams of glucosamine, but 1000 milligrams of MSM, which can help boost the body's natural process of forming connective tissue. Along with herbs known for their anti-inflammatory properties, Sound Dog Viscosity also has chondroitin, which can helps strengthen bones and cartilage, and hyaluronic acid, which can contribute to proper joint lubrication.
In addition to the herbs Buster gets in the Sound Dog Viscosity, he also takes a combination of Chinese herbs formulated to benefit hips and knees – the areas where the arthritis gives him the most trouble. To make the tablets more appetizing, we wrap them in thinly sliced hard salami, and Buster wolfs them down.
Many people are also using CBD to help their dogs with arthritis. Unfortunately, we can't speak to that. We tried CBD years ago to help relieve Buster of his anxiety in the car, and it actually made him more anxious. Since we're doing well with our current approach, we haven't given CBD another try.
READ MORE ⇒  The Best Strollers for Medium Sized Dogs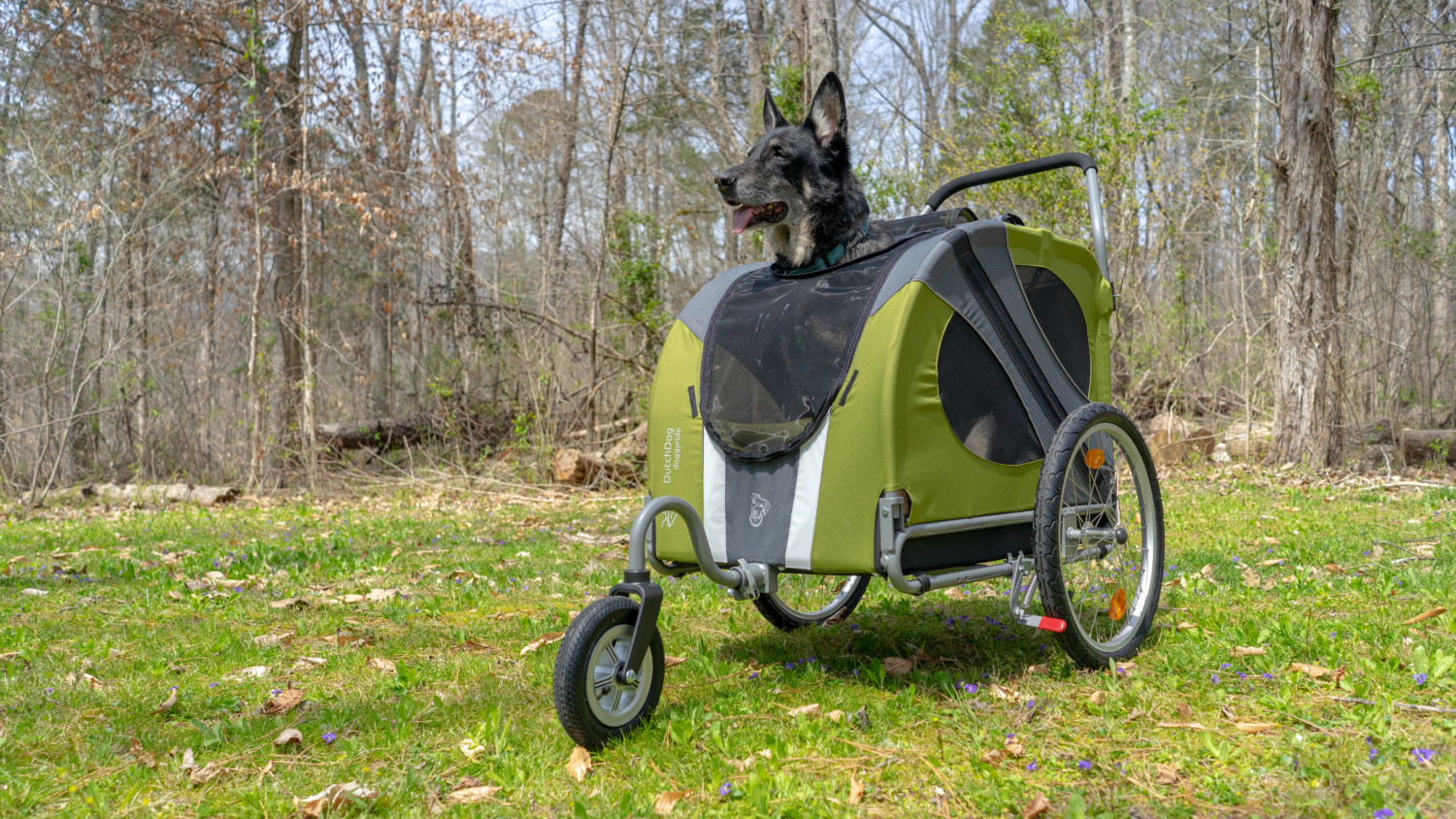 A Comfortable Place to Rest
Knowing that a pet with arthritis often feels achey, it's important to provide a comfortable place to rest. Buster usually sleeps on his sofa, but at night he likes to lay at the foot of our bed for a bit.
Rather than have him on the cold tile, I tried several different dog beds in that spot … and he wouldn't lay on any of them. But a rubber-backed bath mat did the trick! It doesn't slide when he's laying down or getting up, and he seems happy to have something a little softer to snooze on.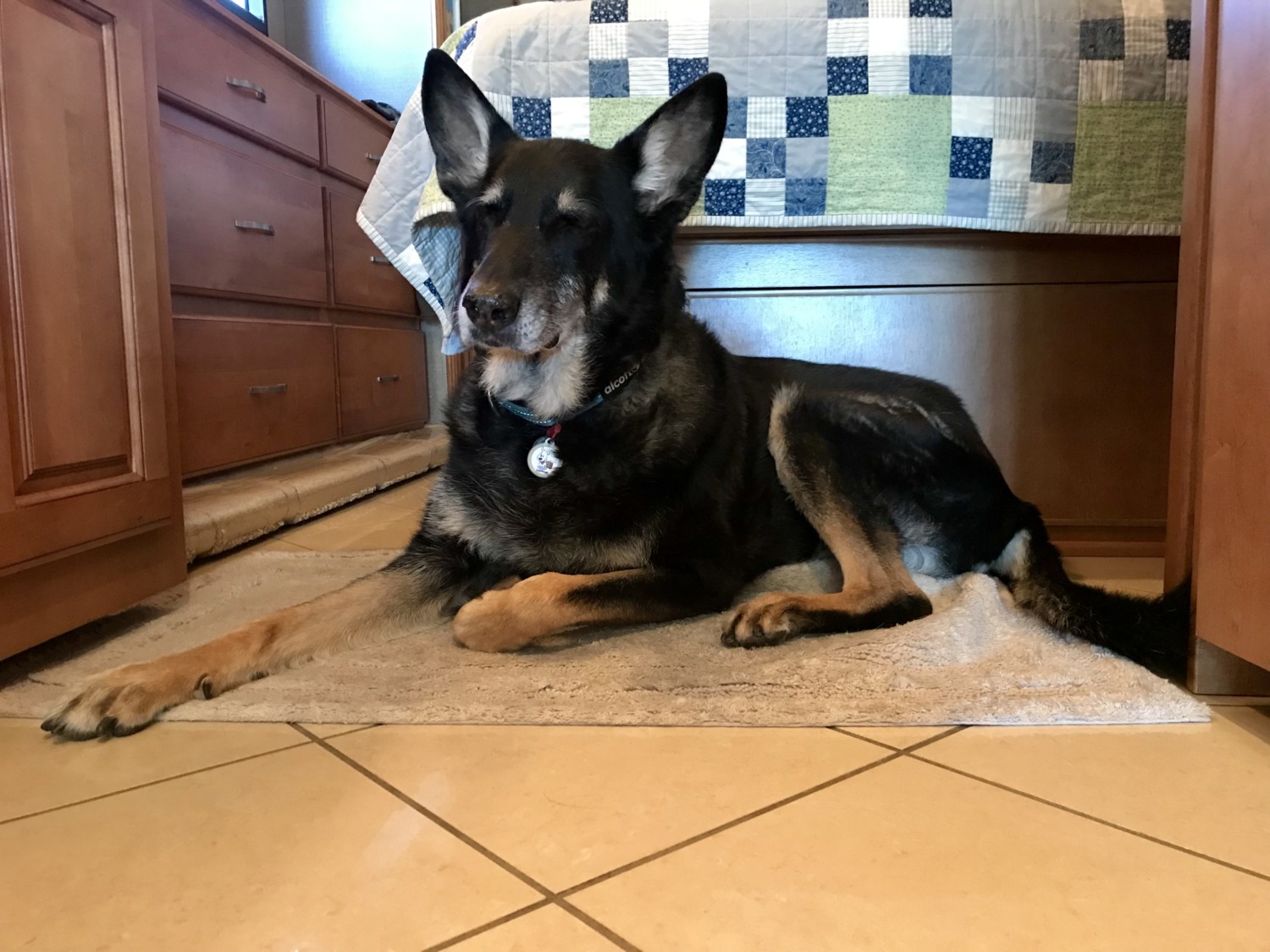 Using Light Therapy 
For the past 40 years, Low Level Light Therapy has been shown to deliver therapeutic benefits to living tissue and organisms. To make this treatment more convenient for pet owners, LumaSoothe developed a home use device to address pain from deep joint and muscle related conditions such as arthritis, and skin conditions like wounds, eczema, and hair loss.
LumaSoothe provide us with a light therapy device to help treat Buster's arthritis. As you can see, he seems to find it relaxing!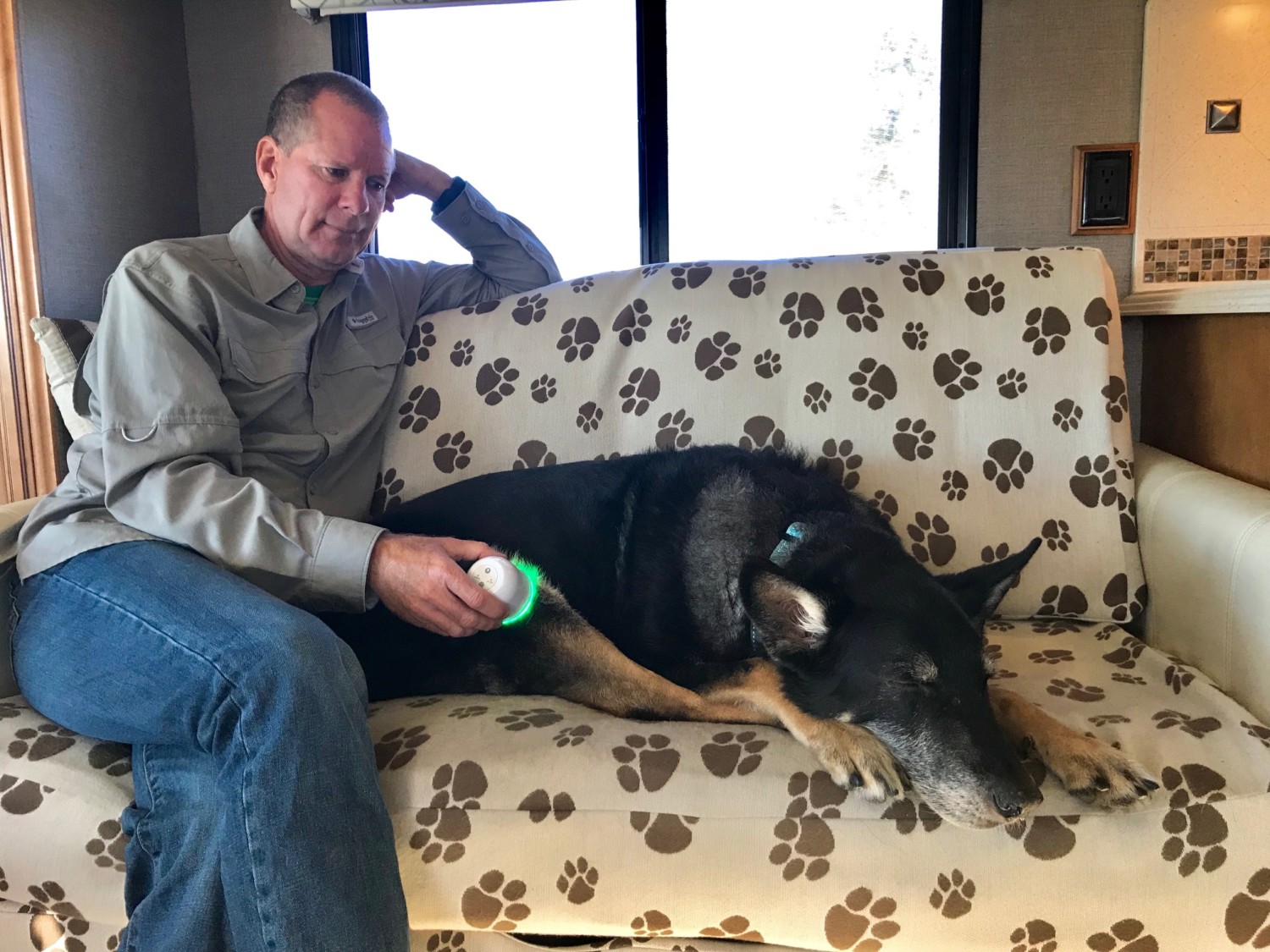 Paw Protection
As the arthritis has progressed, and especially when he's tired, Buster drags his back paws when he walks. Because we know how important it is for him to keep moving, and because he's always so happy to get out for a sniff, we needed to protect his paws from getting scraped. So now Buster wears booties when he's out and about!
PAWZ dog boots are like putting little balloons over your pup's paws. Made from a single layer of rubber, they provide protection, but still allow the dog to feel the ground like they normally would. Buster's perfectly comfortable in them, and gets a lot of compliments on his terrific fashion sense.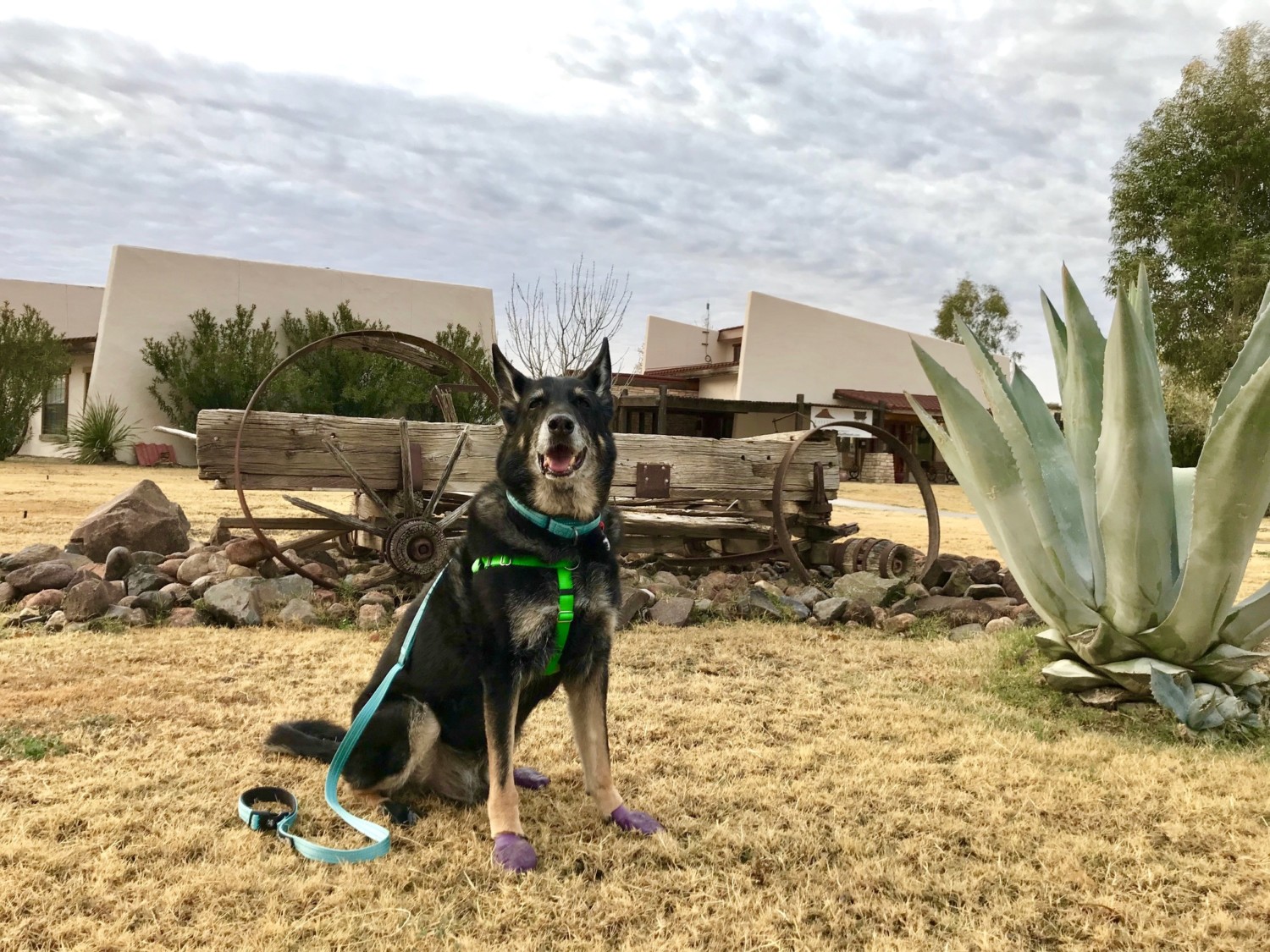 Providing Support
We've been walking Buster (and Ty) on the Freedom No-Pull Harness for a long time. In the past, we connected the leash at Buster's chest to give us better control if he reacted to another dog. But since he's been showing the affects of arthritis, we've started connecting the leash to the loop on the back of the harness. This allows us to provide a little extra support if he stumbles or loses his balance.
Remove Obstacles When Possible
The biggest challenge the arthritis created for Buster was getting up the steps of the motorhome. With the stiffness and weakness in his hind legs, he had trouble climbing the steep incline. It was hard watching him struggle, and a few times we had to give him a boost to get to the top.
This obstacle was easy to resolve – we got Buster a ramp for the Winnebago. It's lightweight, portable, and at 8-feet long, providing a gradual slope for him to walk up. Teaching Buster to use the ramp was another challenge! But he got the hang of it, and now he uses it all the time.
READ MORE ⇒  Tips for Choosing and Using a Dog Ramp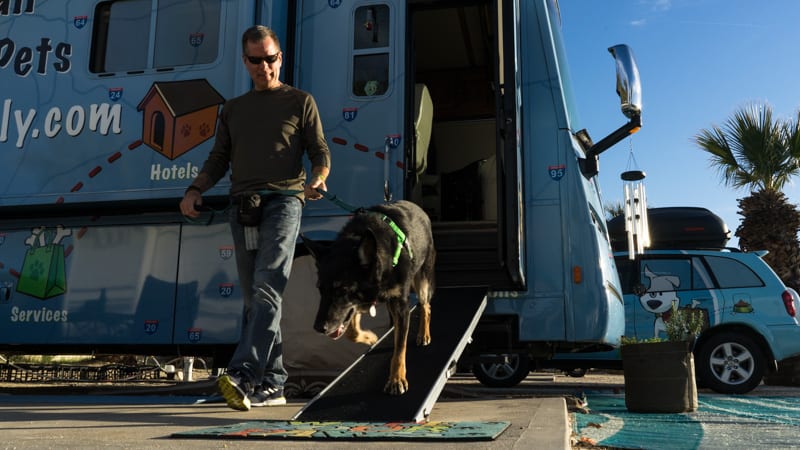 What's Helping Our Dog With Arthritis?
Life would be so much easier if our pets could just talk! Instead, we watch them closely, guess what they're feeling, and hope we're making the right decisions. That's the best we can do.
It's impossible to say with certainty whether everything we're doing for Buster is working. Our only clues to how he's doing come from watching his behaviors. Since we've been using the remedies described above, I've noticed:
He's licking his paws less, which I assume means he's feeling less pain.
He walks more quickly, sometimes even breaking into a trot.
Sometimes, on short walks, he doesn't drag his paws at all.
A few times he's gotten excited, hopping around and biting his leash like he does when he wants to play.
More often than not, he lifts his leg to pee.
He stumbles or loses his balance less.
He's hopping on and off his sofa with no hesitation.
Most importantly, he's happy. Sure, he sleeps more. He's still a little stiff when he gets up, but what dog with arthritis isn't? And our days of long hikes together are in the past. But he's almost 12 years old. According to the dog age chart, that's 77 in human years. And he's put some miles on those paws! We're just grateful to be enjoying this time together.
So we'll keep doing what we're doing for as long as he's feeling good. If something changes, we'll consult with his vet and decide what treatments or medications to try next. Whatever it takes to keep him happy and healthy.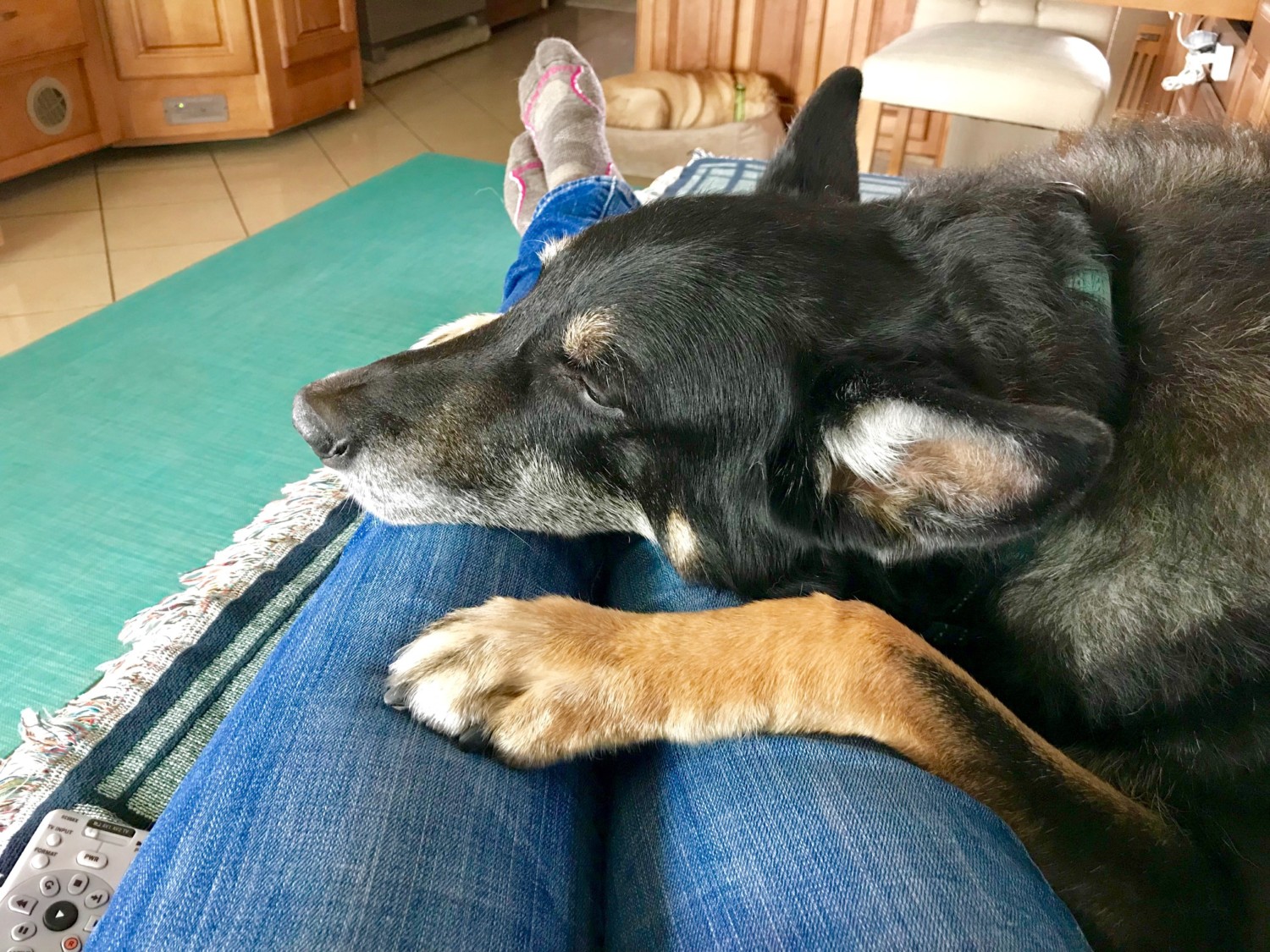 Gear Used in This Post:
(Affiliate Links)

Kan Esseintials – Benefit Hips and Knees Formula

LumaSoothe Light Therapy for Pets
Disclosure: I'm not a veterinarian – just a concerned pet mom doing her best to take care of her dogs. If you suspect your pet is developing arthritis, you should talk to your vet about ways to help.
Visit our Amazon store to learn about more products we rely on to make traveling with pets easier, safer, and more fun!
Amazon Affiliate Disclosure: GoPetFriendly.com LLC is a participant in the Amazon Services LLC Associates Program, an affiliate advertising program designed to provide a means for website owners to earn advertising fees by advertising and linking to amazon.com, audible.com, and any other website that may be affiliated with Amazon Service LLC Associates Program. As an Amazon Associate, the owner of this site earns a commission from qualifying purchases.
(Visited 4,513 times, 1 visits today)