The Biltmore Estate is one of North Carolina's most iconic tourist destinations. And certainly you'll want to see it when you're in Asheville. But can you bring pets? Yes! Exploring Biltmore with dogs is fun for everyone!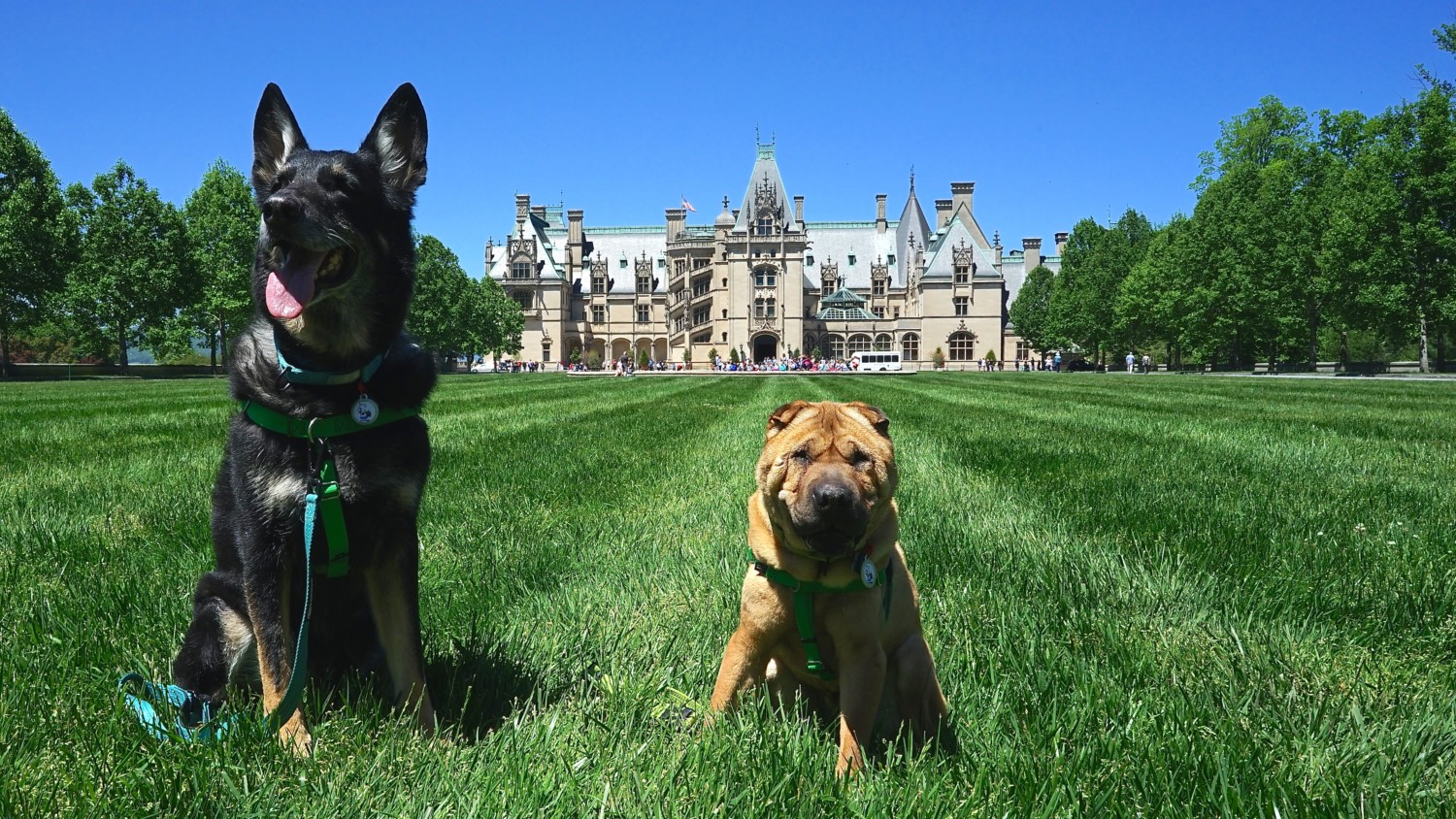 George Vanderbilt's first guests arrived at the 250-room country retreat he named "Biltmore" on Christmas Eve, 1895. The house is an architectural wonder, with more than four acres of floor space, including 35 bedrooms, 43 bathrooms, and 65 fireplaces. It's still owned by Vanderbilt's descendants, and it remains the largest privately-owned home in the United States.
Biltmore's Pet Friendly Legacy
The Biltmore Estate has always welcomed pets. George and Edith Vanderbilt's Saint Bernards and wolfhounds lived in the lap of luxury. Their daughter, Cornelia, followed in her parents' footsteps, having not only dogs, but also a parrot named Coco, and a pet skunk!
While visiting pets are no longer allowed inside the home, Biltmore has carried on its pet friendly tradition. Pets are welcome to enjoy all the outdoor spaces with you throughout the estate.
Pet Policy At Biltmore

Leashed pets are welcome in the gardens, on all paths and hiking trails, and on the outdoor patios at Bistro and Cedric's Tavern.

Pets cannot go inside buildings (including all lodging accommodations on the estate), on the carriage tours, on the horse trails, and may not enter the equestrian center or fenced enclosures that protect farm animals.

Owners must picked up pet waste and dispose of it properly.

https://www.biltmore.com/faq/is-biltmore-pet-friendly-2/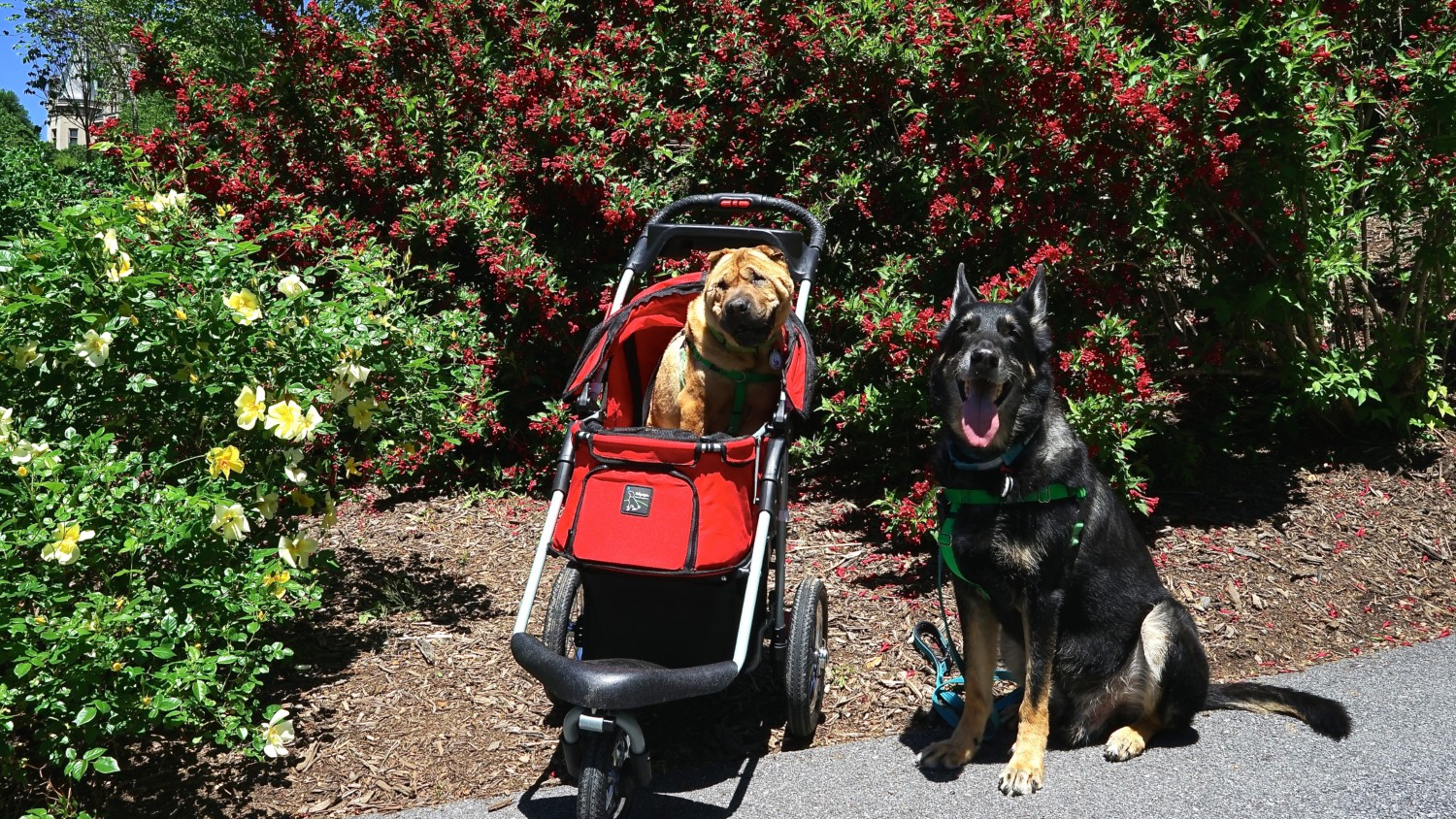 Tips For Touring Biltmore House
There is so much to do at Biltmore with dogs, you could easily spend a day without setting foot in the house! However, touring the massive château is part of the experience. Since pets are not allowed, we have some suggestions:
Bring a human friend and take turns doing the 50-minute audio tour of the home. (Guided tours take 90 minutes or more.)
Do your tour later in the day — when your friend and dog will be happy to rest on a shady bench while waiting for you. Keep in mind that reservations are required every day for all guests touring Biltmore House. Entry times can be reserved online or over the phone when purchasing your tickets.
Biltmore provides free outdoor kennels on a first-come-first-served basis. They're in a shaded location, have concrete floors, and are divided with concrete block and sheets of plywood. Locks are provided for each kennel. But you'll need to bring your own water bowl.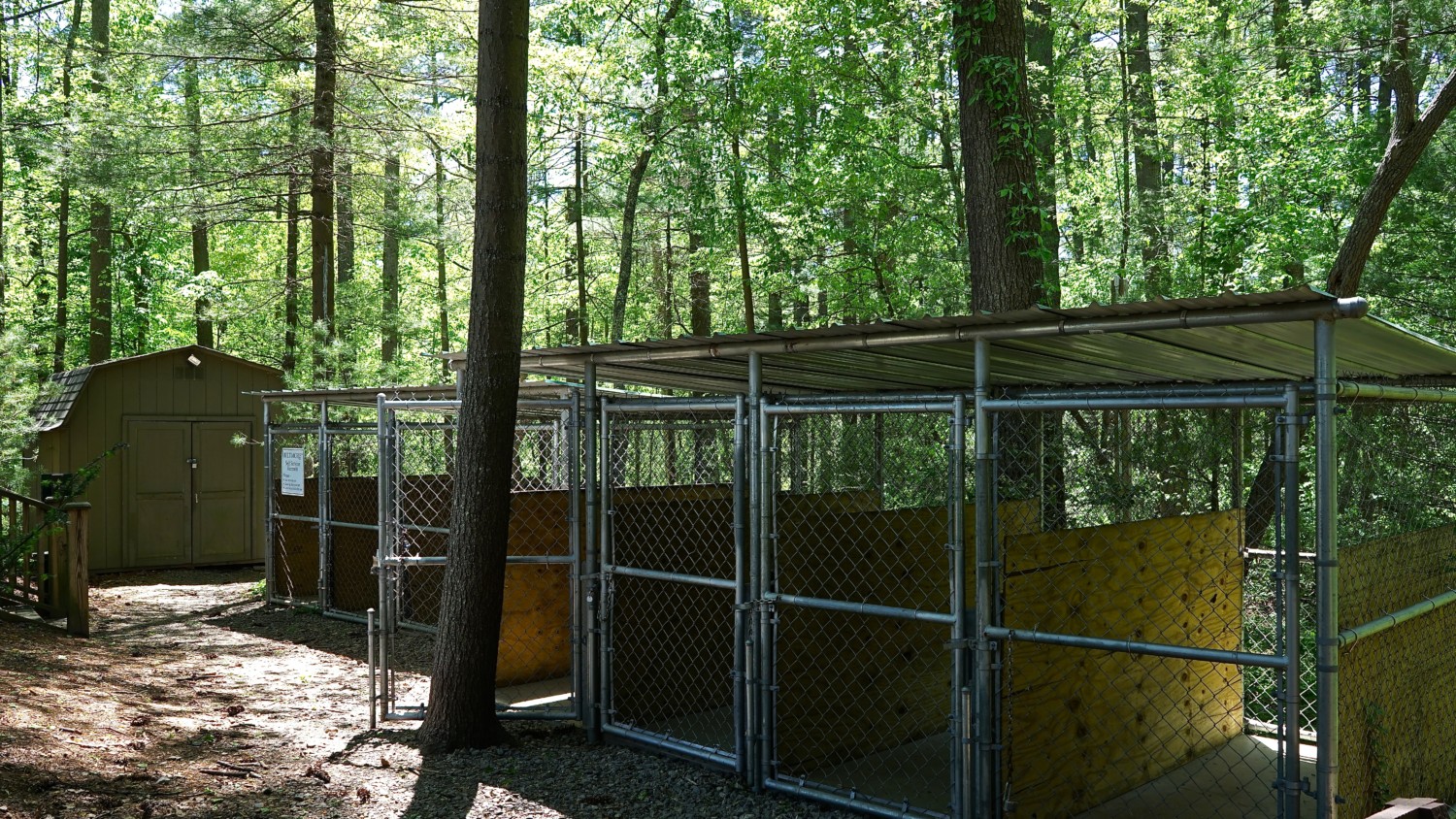 Purchasing your admission tickets after 4pm gives you access to the Estate for the remainder of that day and the entire following day. The house is generally only open until 5pm, which would allow for a quick self-guided tour. Drop your pup with a local pet sitter or doggy daycare for a few hours, and then return to Biltmore the next day to enjoy all the outdoor activities together.
Alternatively, you can extend your visit so the time spent touring the house doesn't come at the expense of your outdoor fun. Just stop by a Guest Services station with your admission ticket to reserve an outdoor activity or tour for the following day. This allows you to return for your tour or activity without purchasing an additional admission. (Does not apply to hiking or biking. Some restrictions may apply.)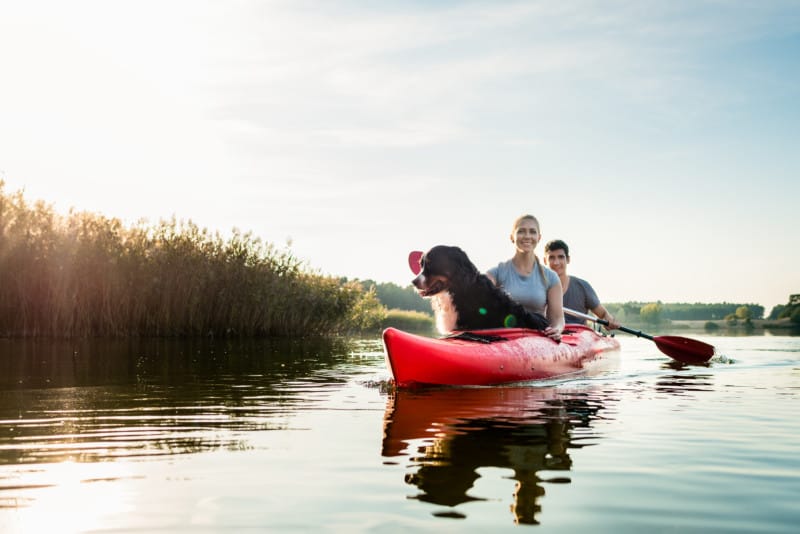 Enjoying The Gardens At Biltmore With Dogs
During the original design, Vanderbilt envisioned a park-like setting for his home and hired landscape designer Frederick Law Olmstead to lay out the grounds. The result is a spectacular collection of formal gardens covering 75 acres, including Italian, rose, azalea, shrub, spring, and walled gardens. Plus there's a conservatory with rooms for palm trees and orchids!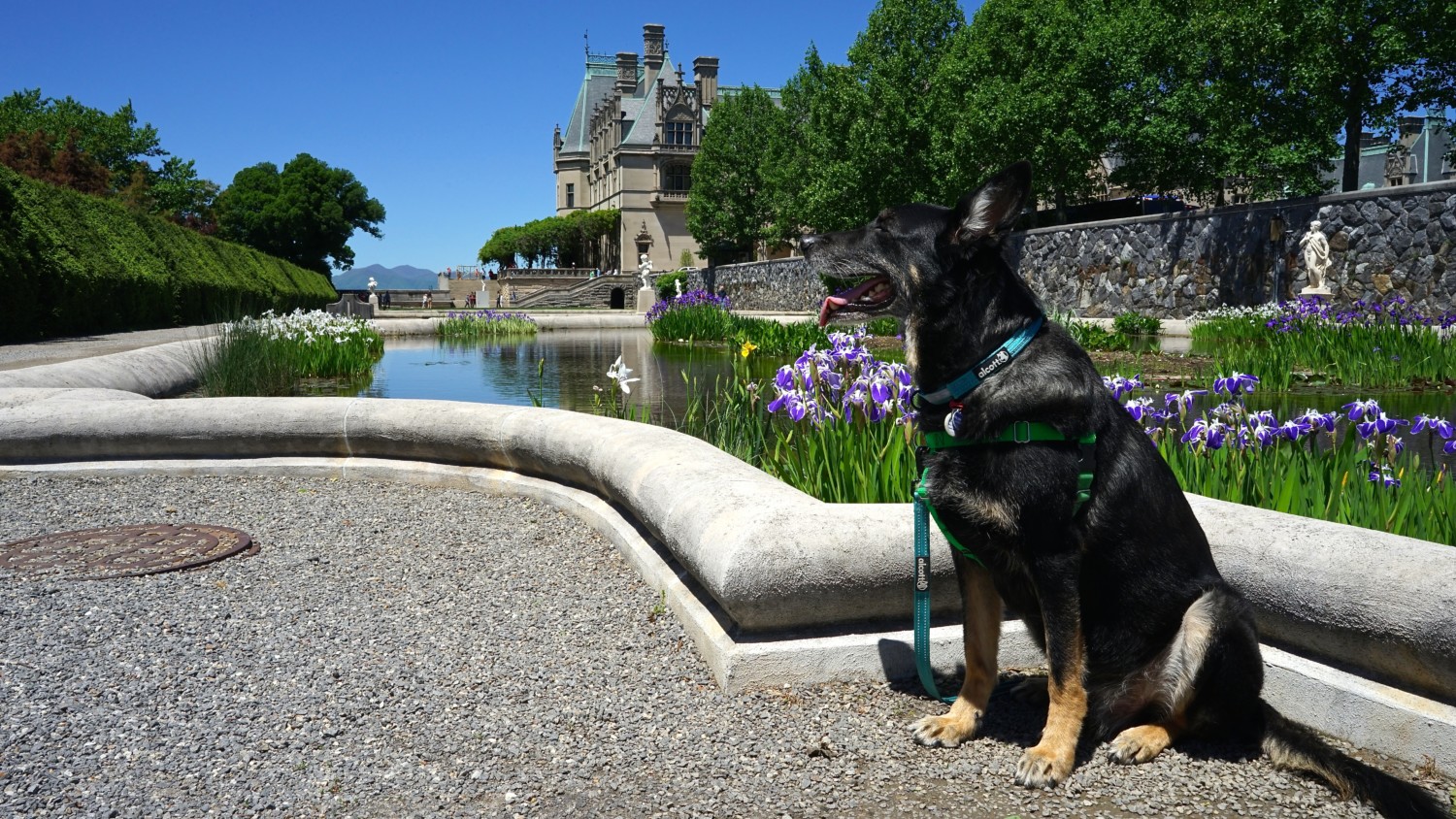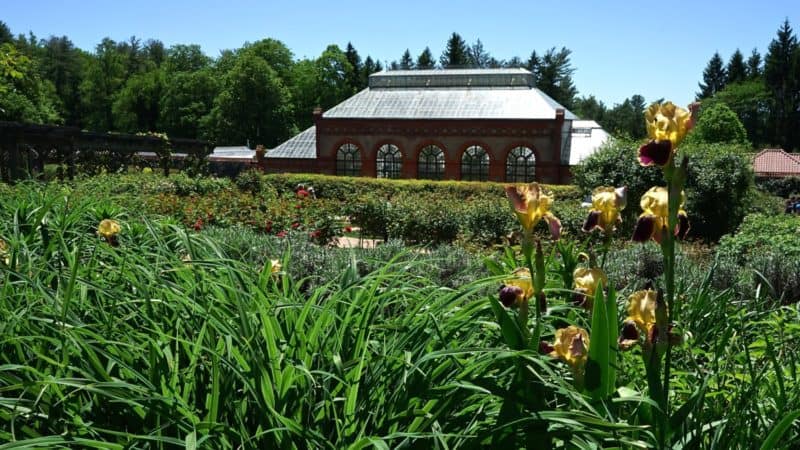 Paved, gravel, and wood chip-covered paths meander though the lush gardens, providing views of the surrounding mountains and peeks of the stately house.
Visitors do have to navigate some steps, but walking is easy to moderate. And there are well-placed benches, allowing you to catch your breath and admire your surroundings. The payoffs are definitely worth the effort!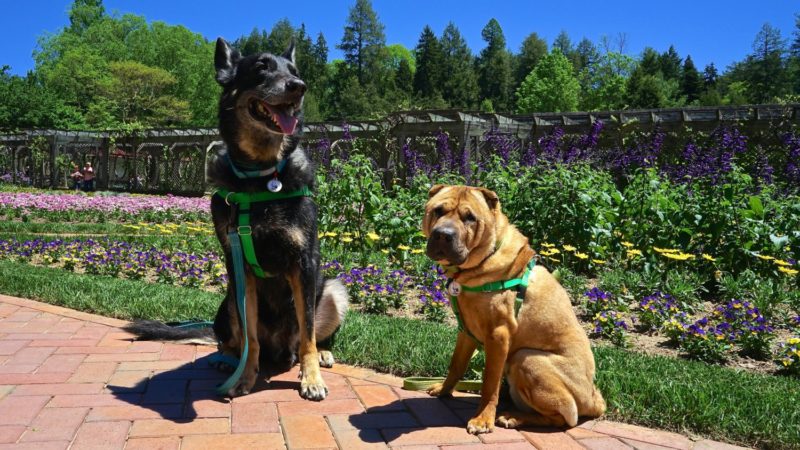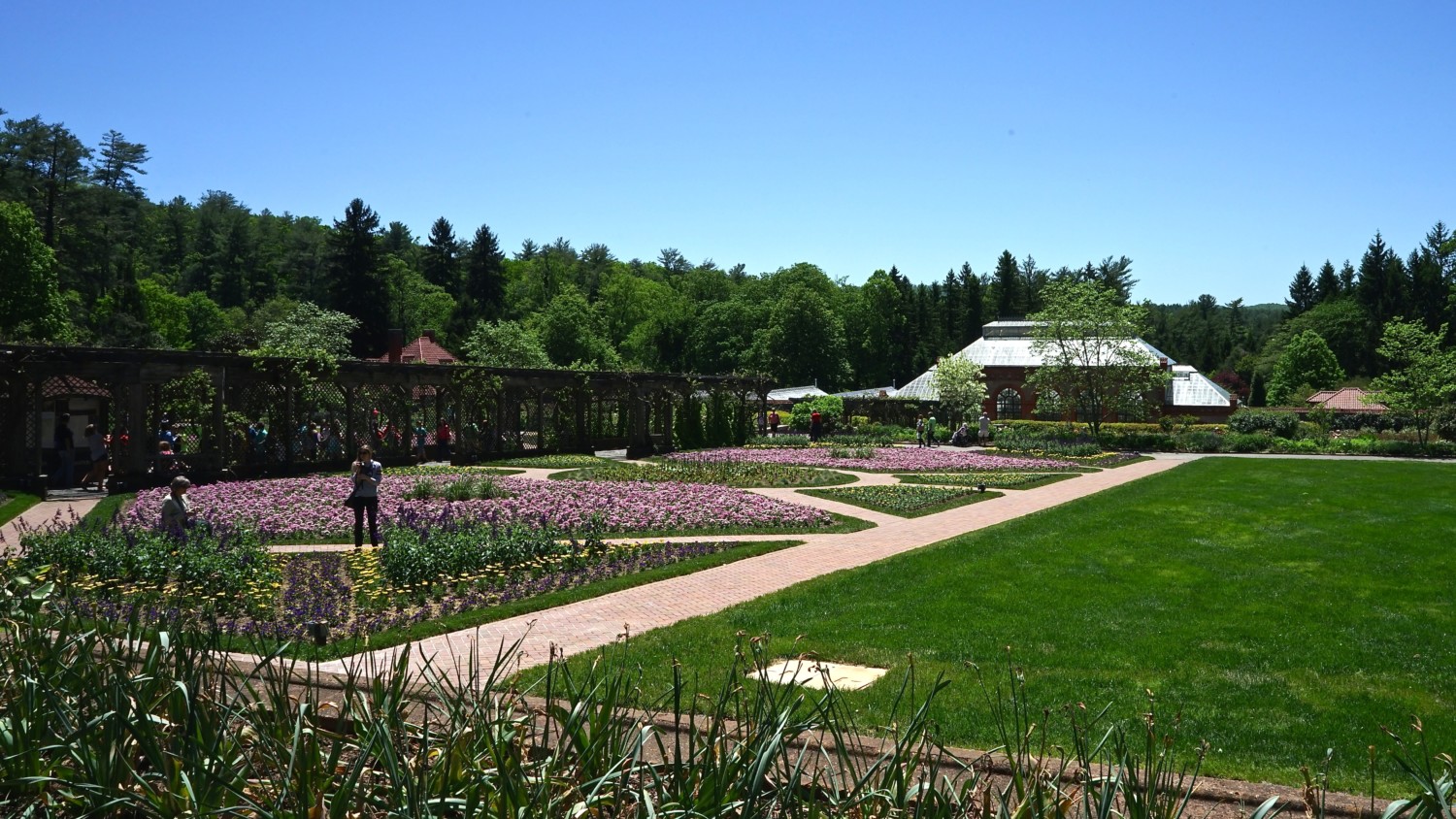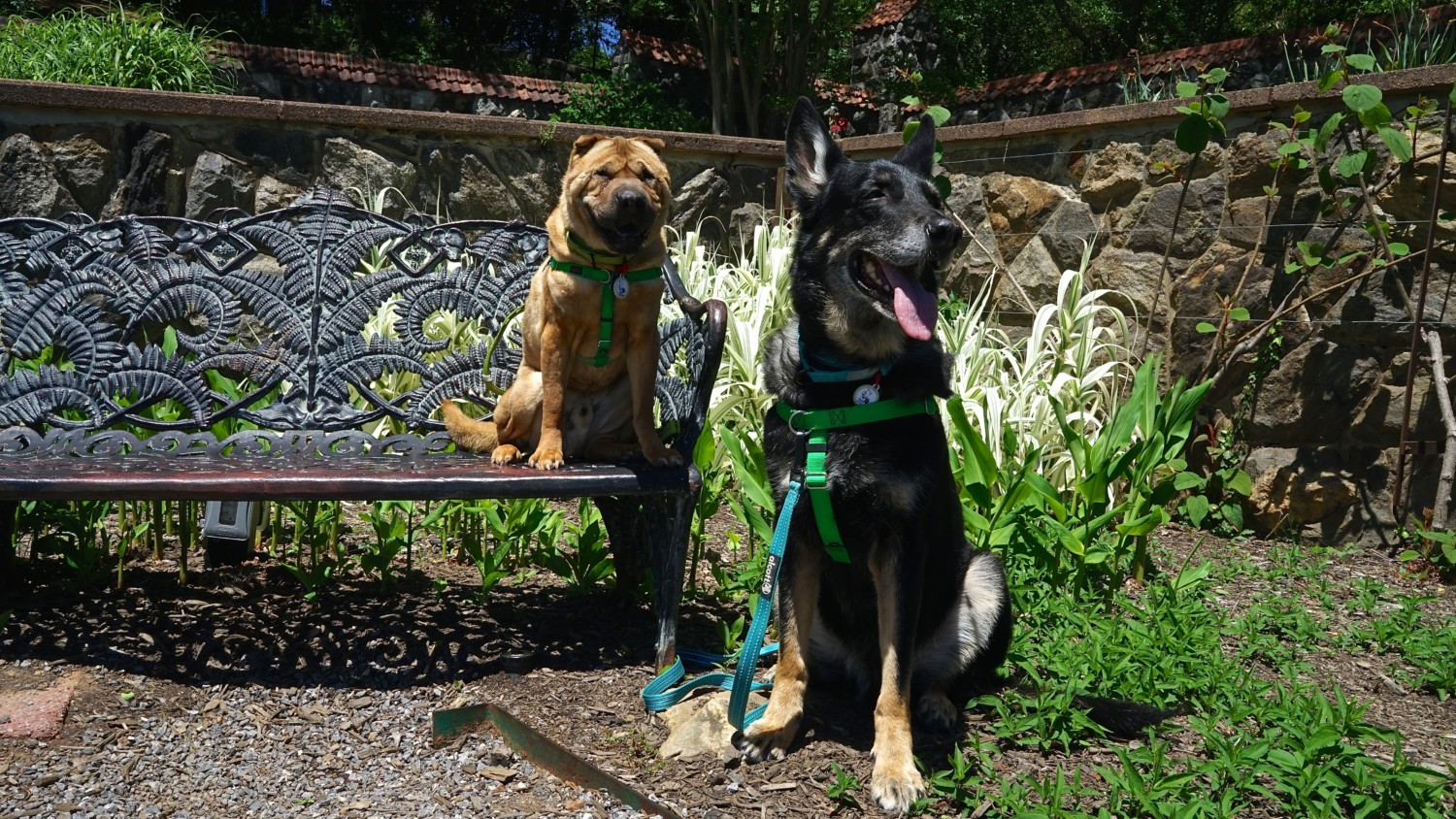 If exploring the gardens makes you thirsty, head over to the dog friendly back patio at the Conservatory. The café is open seasonally and serves light snacks, small plates, and Biltmore wines.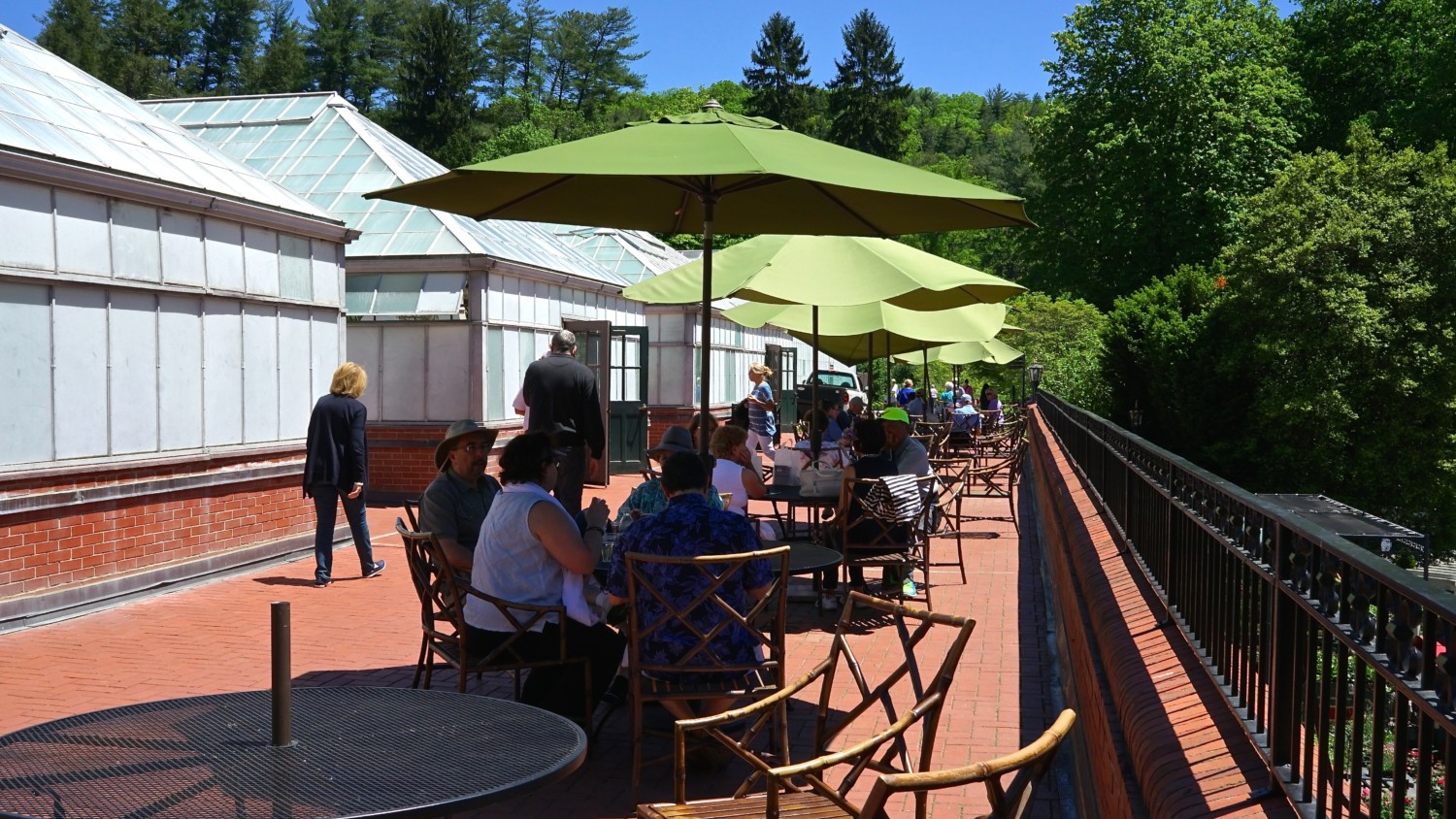 Exploring The Trails
In addition to the garden paths, there are 23 miles of hiking trails to enjoy on the 8,000-acre Biltmore Estate with your dogs. Maps are available at the information kiosk at the Outdoor Adventure Center.
From the house, you can stretch your legs by following the Deer Park Trail for 2.5 miles down to the lagoon and French Broad River. For more of a workout, pick up the Lagoon Trail there. It runs three additional miles to Antler Hill Village and provides striking views of the back of the house.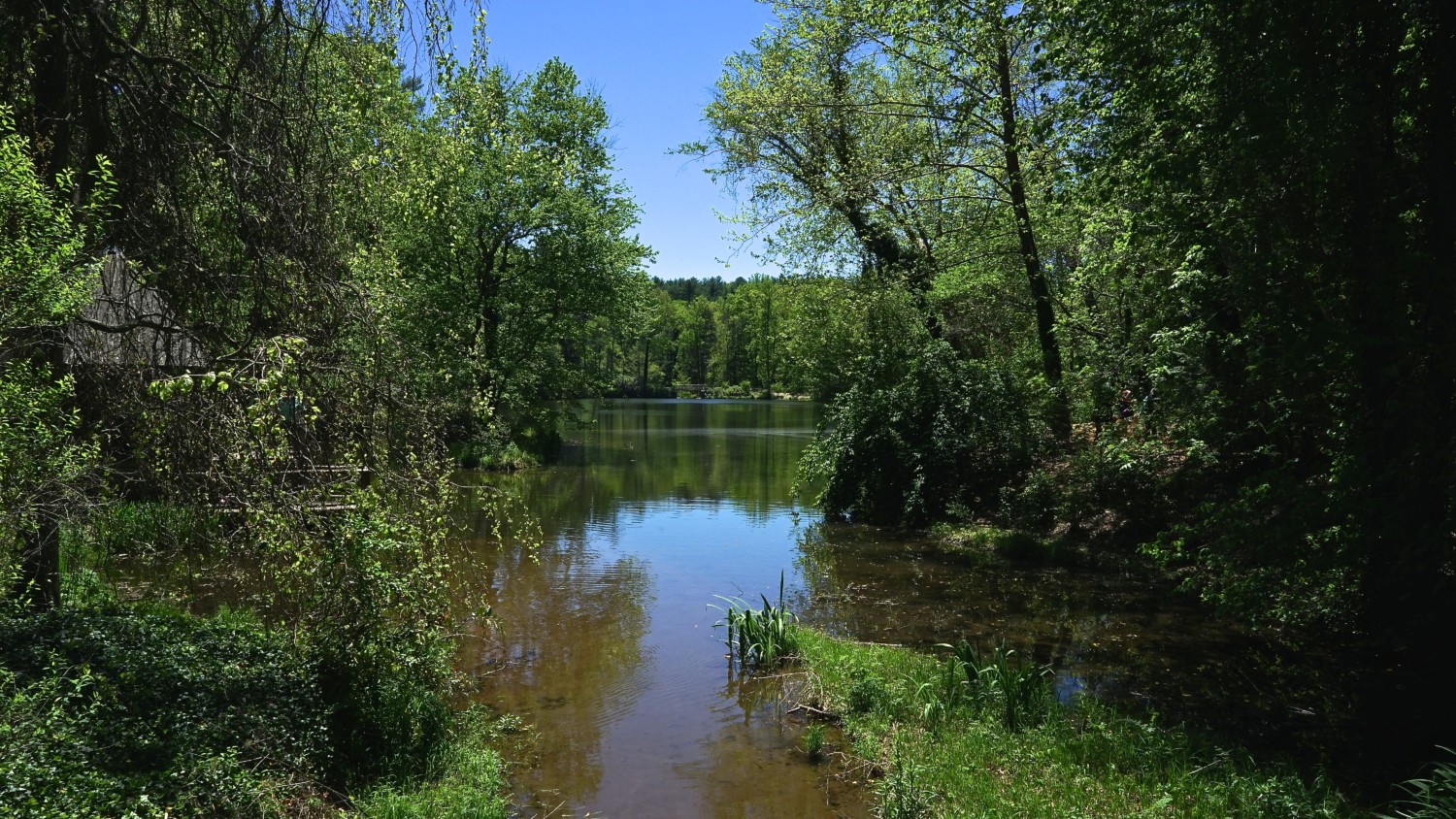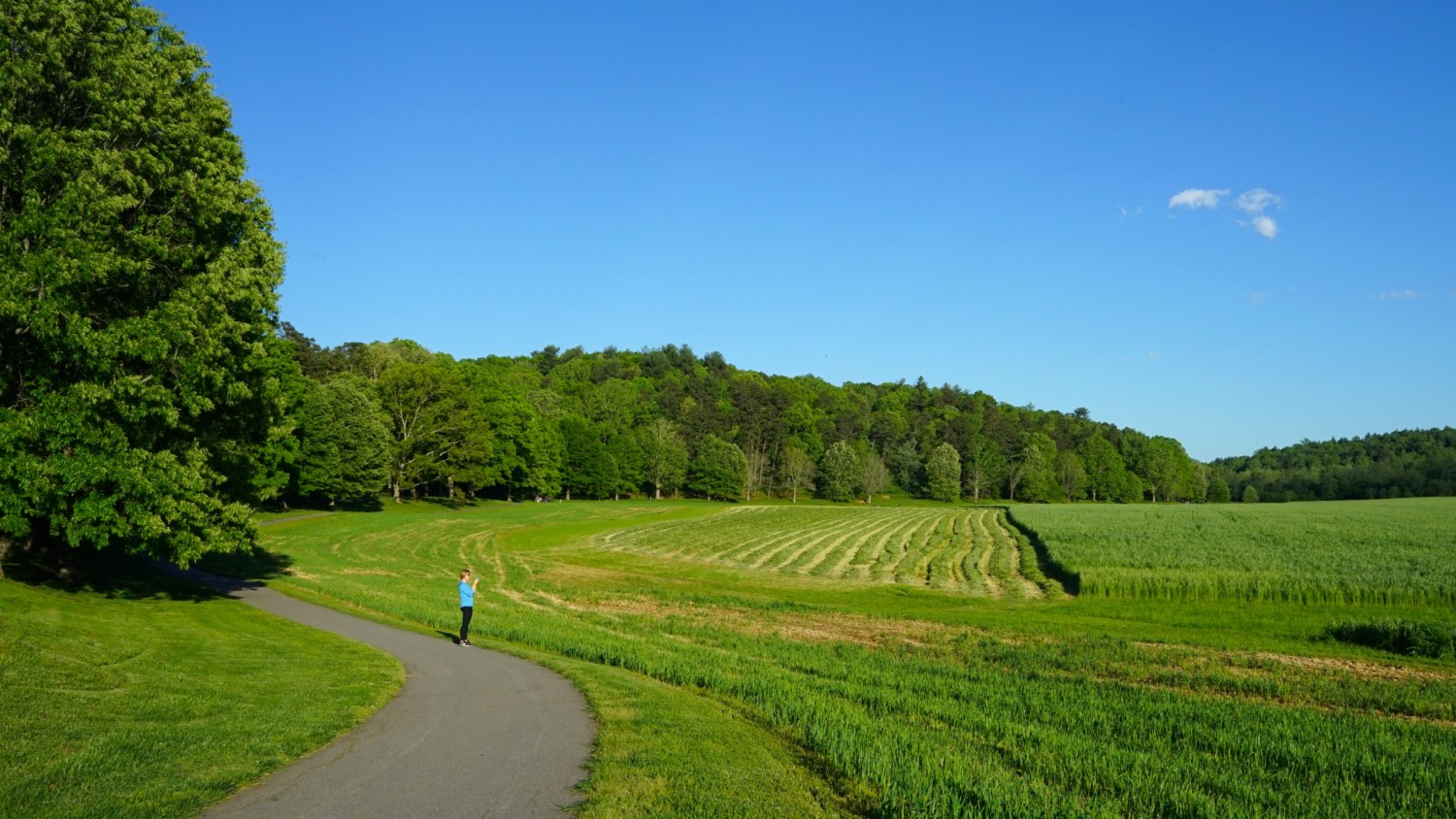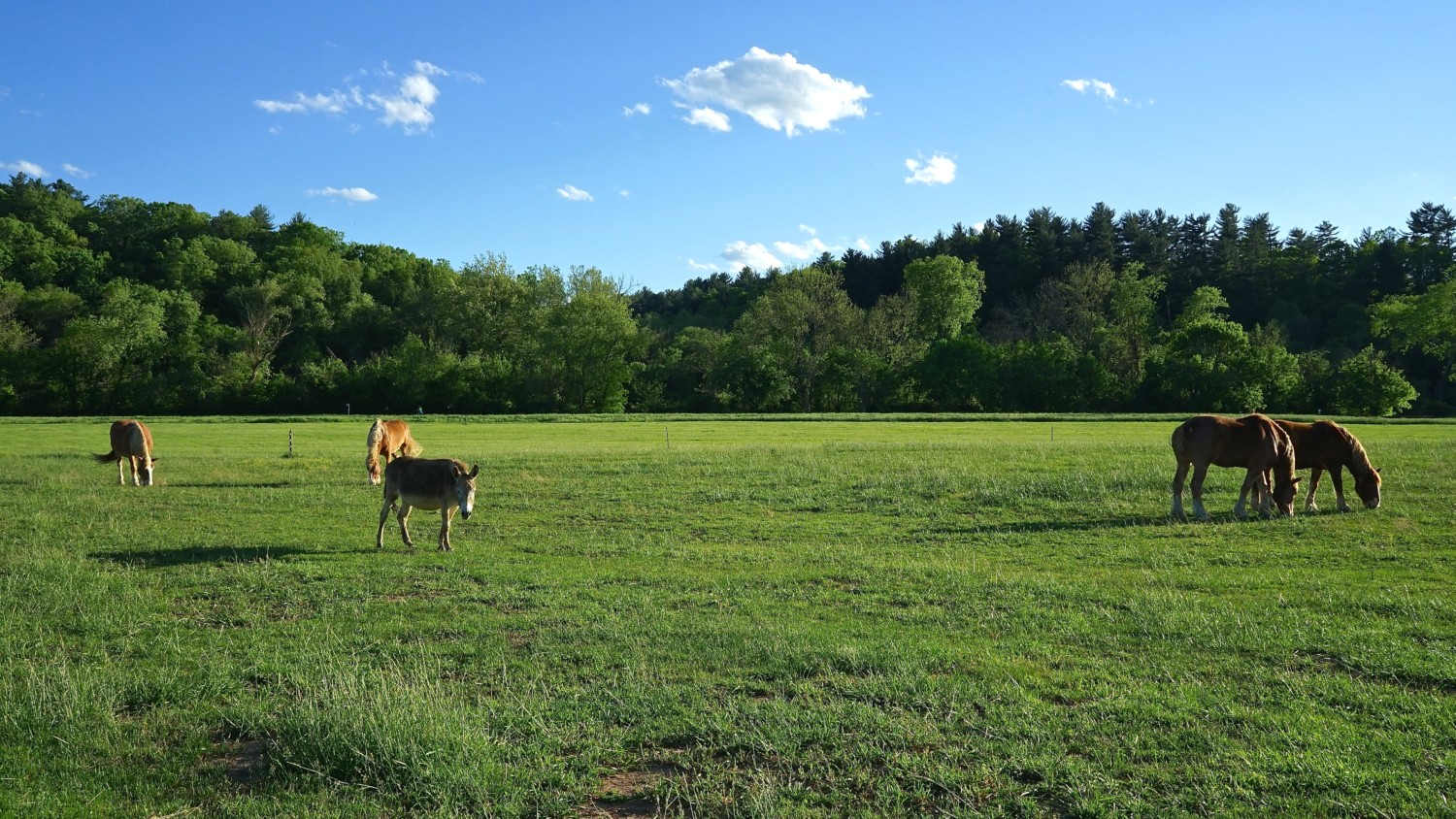 Shop And Eat At Antler Hill Village
When you've seen all there is to see at the house, jump back in your car and take the 5-mile drive over to Antler Hill Village. Here you'll find the Village Green surrounded by the estate's winery, eateries, shops, and adventure center.
Settle near the bandshell to enjoy the live music. Then take turns savoring the estate's wines with a complimentary tasting at the winery. When you've worked up an appetite, choose a table on the pet friendly patio at Cedric's Tavern or Bistro for creative and delicious fare, fresh from the estate's kitchen garden and fields!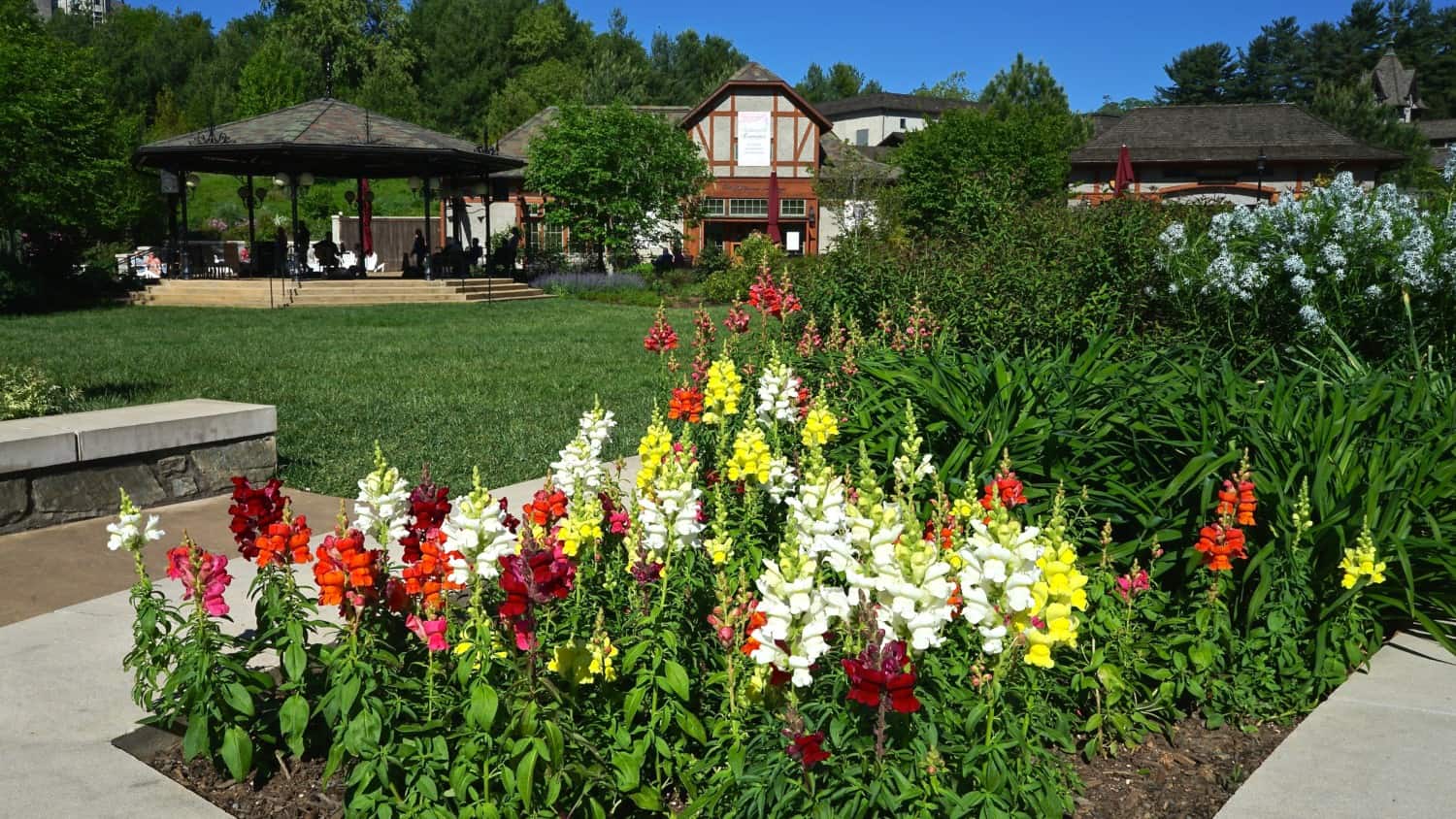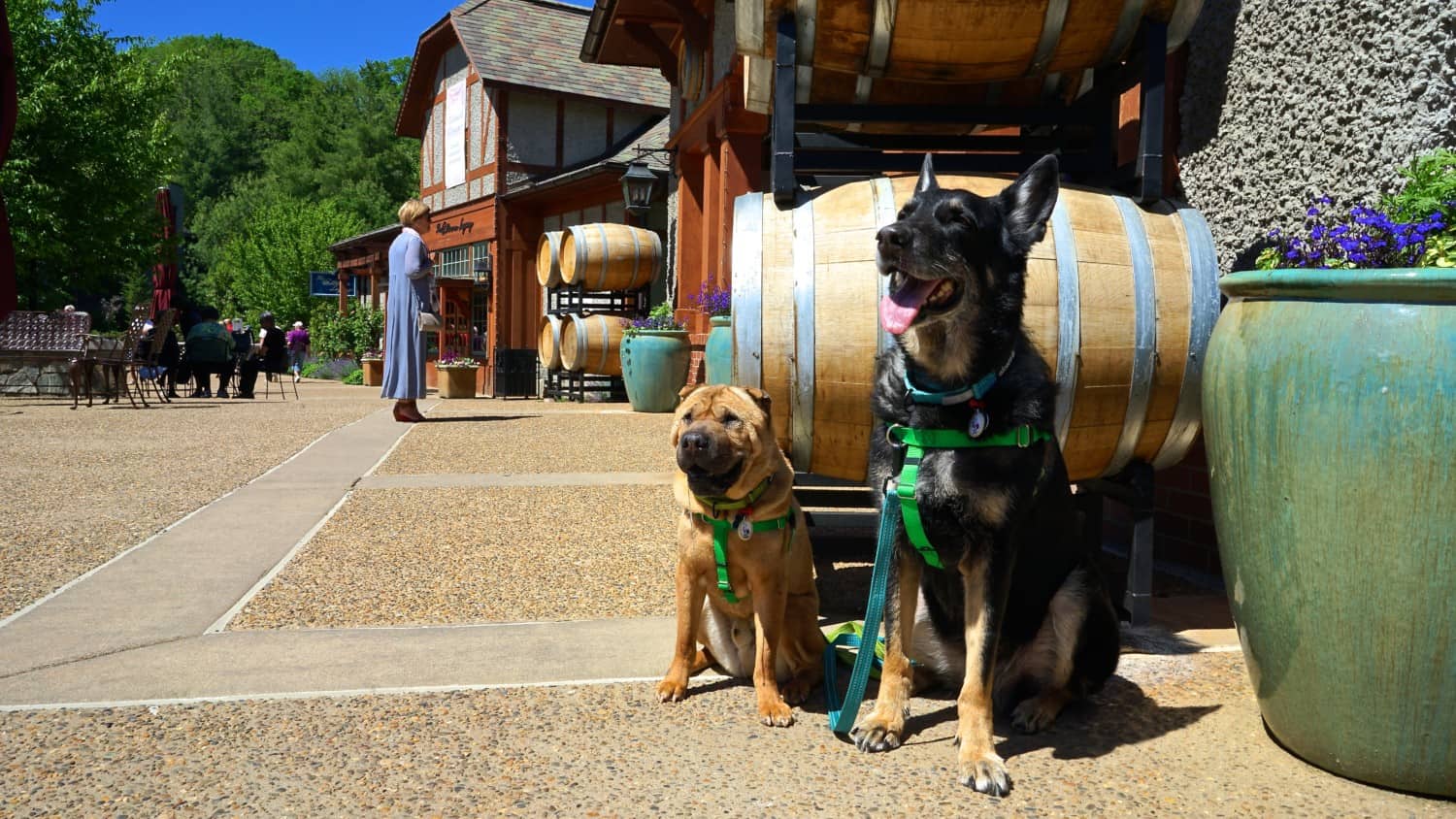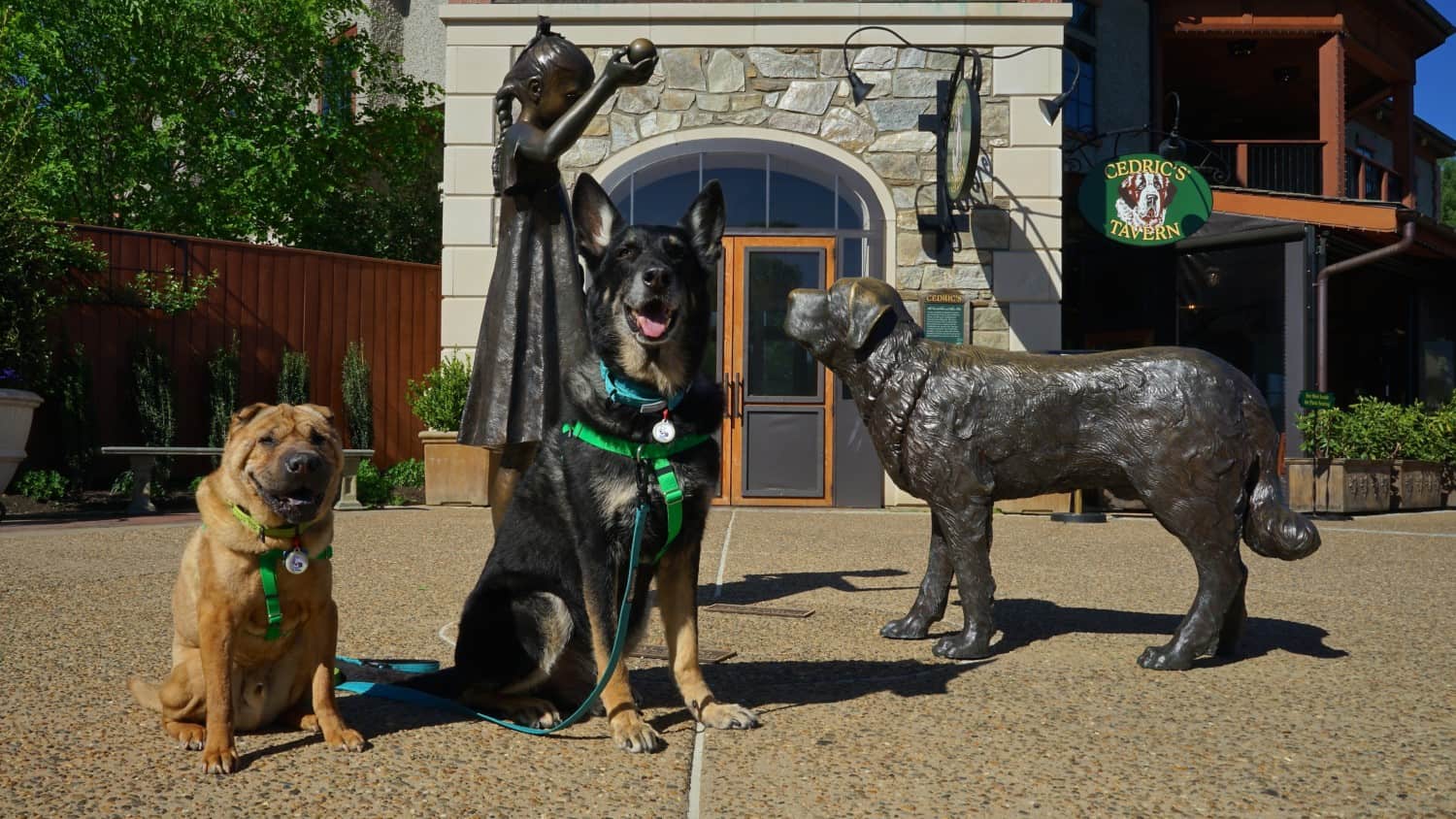 More Dog Friendly Things To Do In Asheville
Asheville is known as Dog City USA, so you'll find a lot more to do here after visiting Biltmore with your dogs. Start at the The Dog City USA Asheville Welcome Center (1 Battle Square). Located right downtown, the center features a doggy potty area, fresh water from doggie drinking fountains, free good dog bags, and doggie ice cream. It's also a fantastic resource to make sure you and your pup get the most out of your visit to Asheville!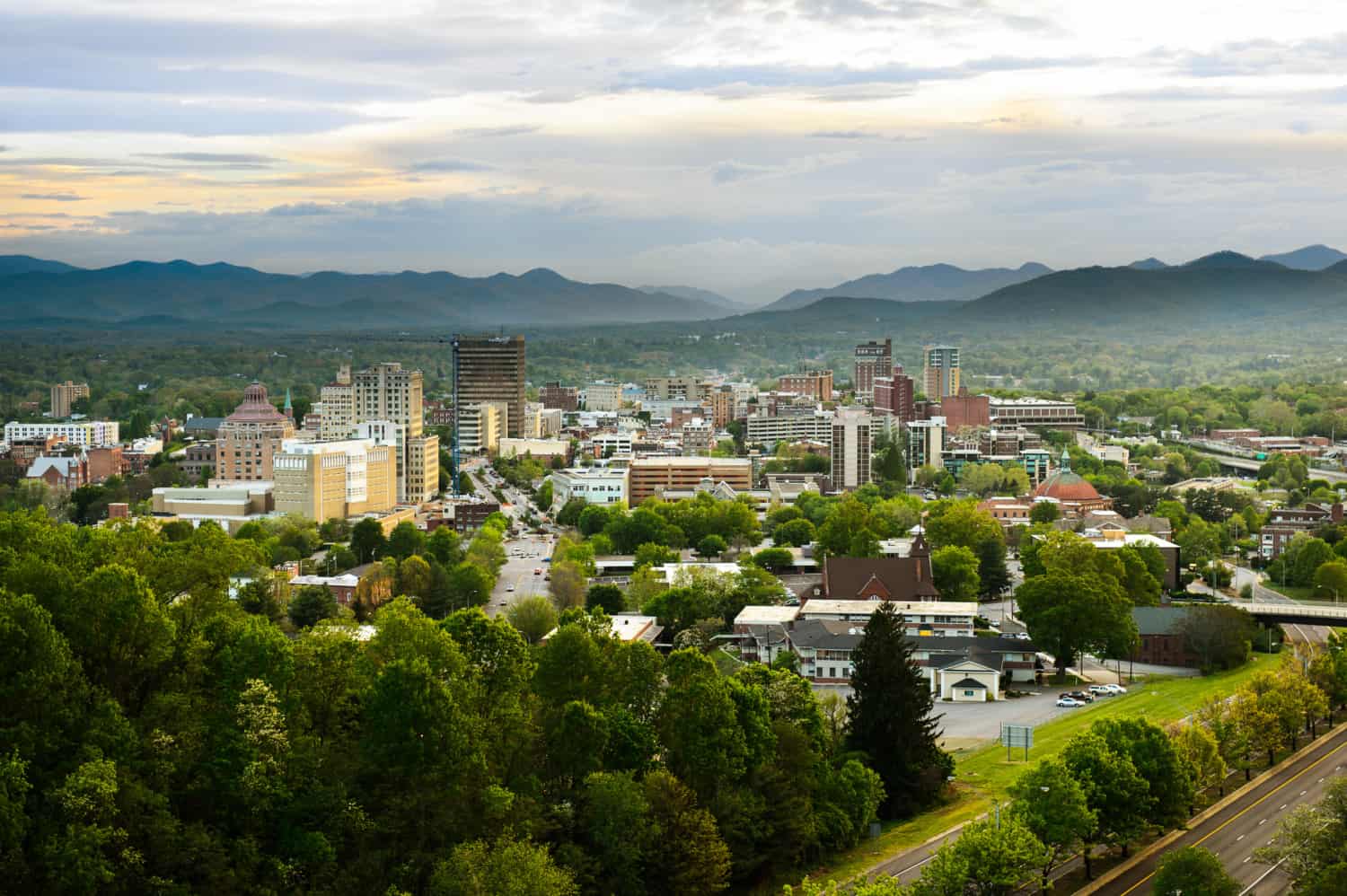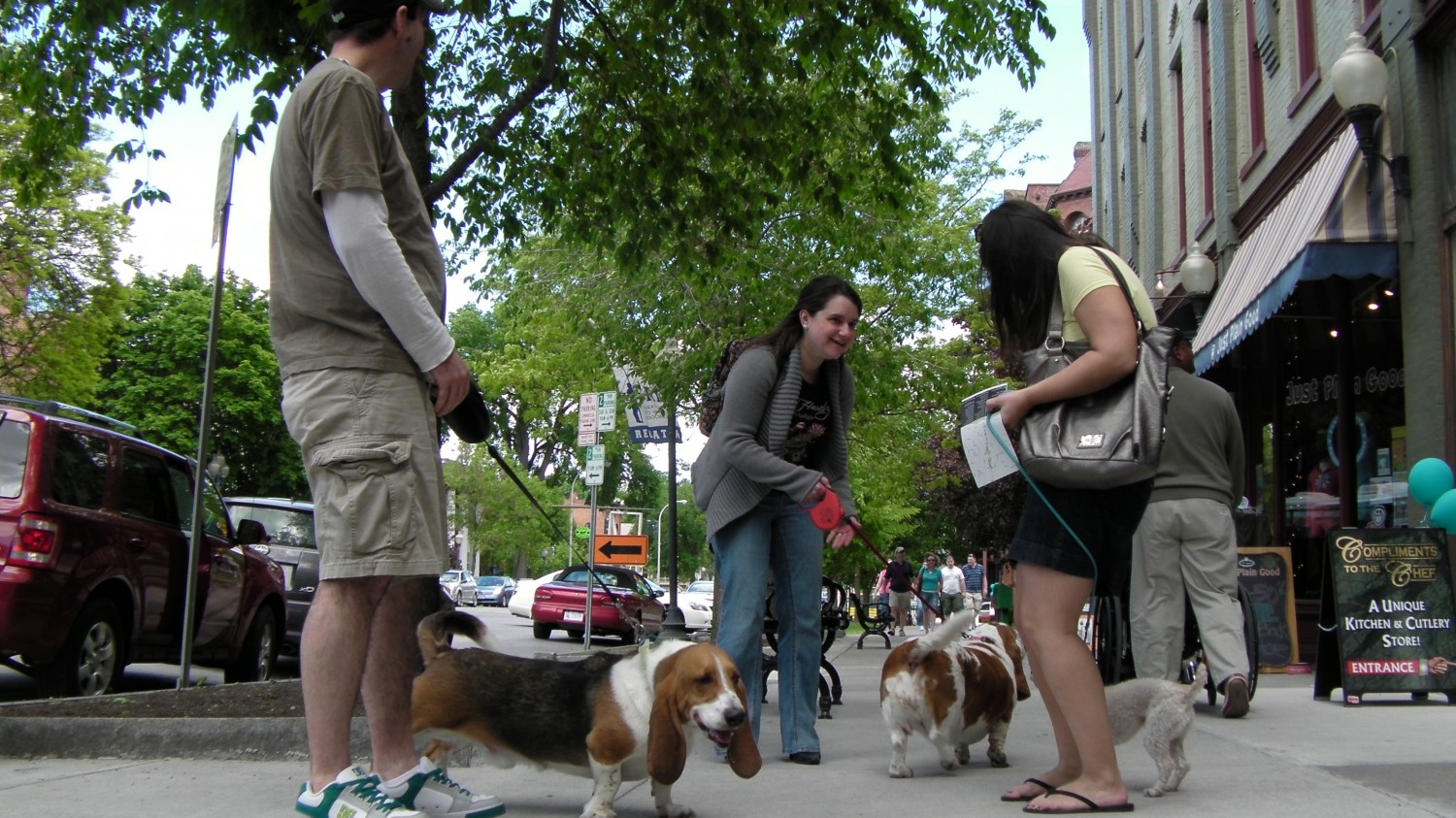 Off-Leash Dog Parks In Asheville
After spending time walking politely around Biltmore, dogs are often ready to romp at one of the local dog parks! Fortunately, there are a couple of good options to choose from near downtown Asheville.
Azalea Park (395 Azalea Road) runs along the Swannanoa River in east Asheville. The dog park here has separate fenced areas for small and large dogs and is located near soccer field #4 of the John B. Lewis Soccer Complex. Also check out the trail that runs along the river for a flat, easy (on-leash) walk with your dog. There are many places along the river for water-loving pups to have a splash.
French Broad River Park (580 Riverview Drive) is one of Asheville's most beautiful parks as it follows the river. The dog park is a fully-fenced acre covered in wood chips, with fresh water and dog waste bags.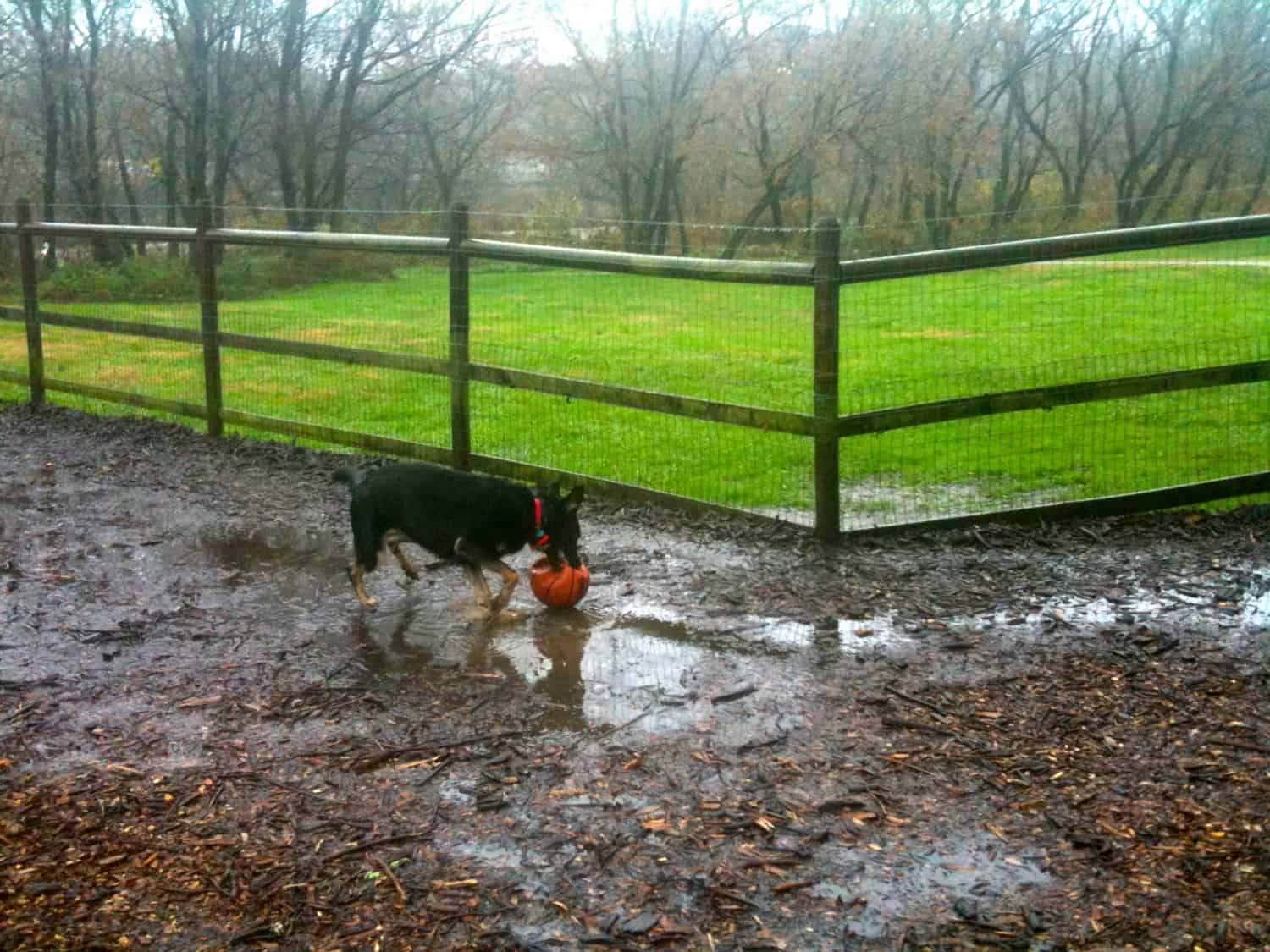 Hit The Dog Friendly Trails In Asheville
Thousands of miles of trails twist, ramble, dip and climb through the peaks and valleys of the Blue Ridge Mountains around Asheville. From peaceful strolls along mountain streams to technical climbs, and short hikes to multi-day adventures — there's something for everyone!
If you were planning to visit Great Smoky Mountains National Park, just know that dogs are not allowed on the trails. But here are some great dog friendly hikes to get you started …
Asheville's Urban Trail
Learn about Asheville with your furry travel buddy on the Urban Trail. Marked with plaques and sculptures, each of the 30 stations describes an interesting fact about the city. Pick up or print the map before you head out, and then enjoy the 1.7-mile informational trek.
After completing the trail, stop for snacks for your pup at Woof Gang Bakery. Or get a treat for yourself and a special doggy ice cream at The Hop Ice Cream Cafe in North or West Asheville.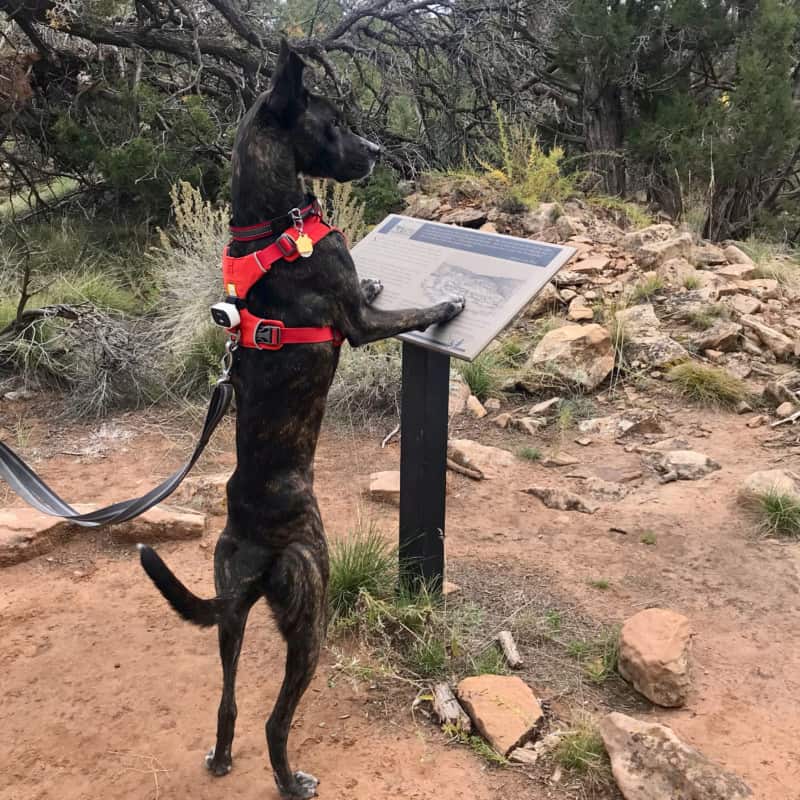 Craggy Gardens And/Or Pinnacle
The Craggy Gardens Trail is accessed from the south end of the Craggy Garden Visitor Center parking area (MP 364.5 on the Blue Ridge Parkway) or from the north end of the picnic area (MP 367.6). Twisted, jagged, rocky "crags" give Craggy Gardens its name, but these high elevation summits are home to the most spectacular floral display along the 469-mile Blue Ridge Parkway corridor. This 2.2-mile out-and-back trail provides unobstructed views of the town of Montreat and the lofty Black Mountain Range. Pack your lunch, because this is picnic paradise!
For a short hike with big rewards, the Craggy Pinnacle Trail begins at the upper level of Craggy Dome (MP 364.1). This 1.4-miles round-trip trail winds through rhododendron, a sweet birch forest, and towering rock croppings and ends at the 5,892-foot summit of Craggy Pinnacle. The 360-degree views will take your breath away, so leave time in your schedule to enjoy the view.
Black Balsam and Sam Knob Trails
Black Balsam Knob is a classic Asheville hike offering epic mountain views. Beginning at milepost 420, the hike is short at 1.4 miles roundtrip, relatively easy, and can be crowded.
The Sam Knob Trail begins at the same parking lot as Black Balsam Knob, and is less popular. This 2.2-mile roundtrip hike takes you through a beautiful meadow (sometimes filled with wildflowers) and up to the 6,045-foot summit of Sam Knob for breathtaking views.
DuPont State Forest
DuPont State Forest features incredible natural wonders, including three waterfalls. On the weekends, the trails can get quite crowded. If you're looking for a quieter hike, take the trail to Bridal Veil Falls, it's a nice alternative. From the Fawn Lake Access Area the total walking distance is 4.2 miles roundtrip. For a longer hike continue on from Bridal Veil Falls to Lake Julia.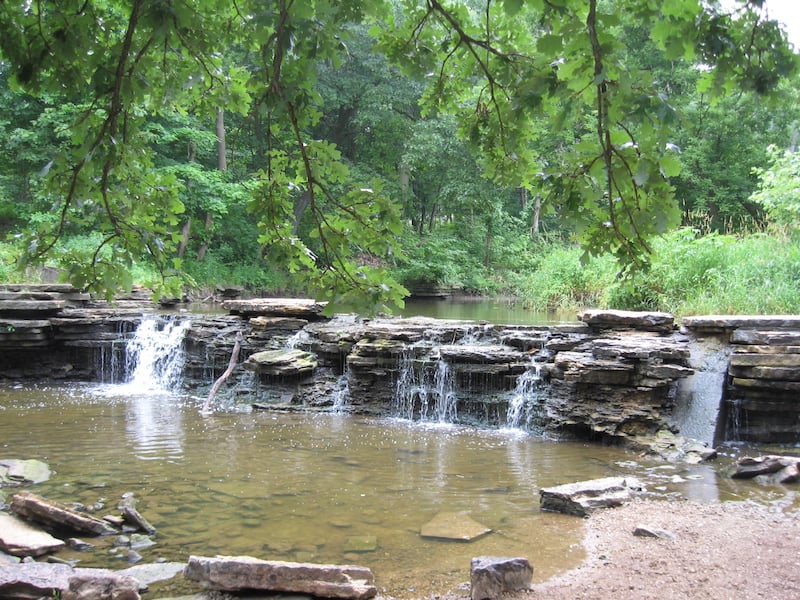 Eating And Drinking With Your Dog In Asheville
Good news — you and your pup will absolutely not go hungry or thirsty on this trip! After enjoying the eateries at Biltmore with your dogs, you'll find dozens more pet friendly restaurants in Asheville.
Check out the Asheville Pizza & Brewing Company for award-winning craft beers, or the Laughing Seed Café for gourmet vegetarian.
A few of the other area restaurants with lovely, pet friendly outside decks or patios include: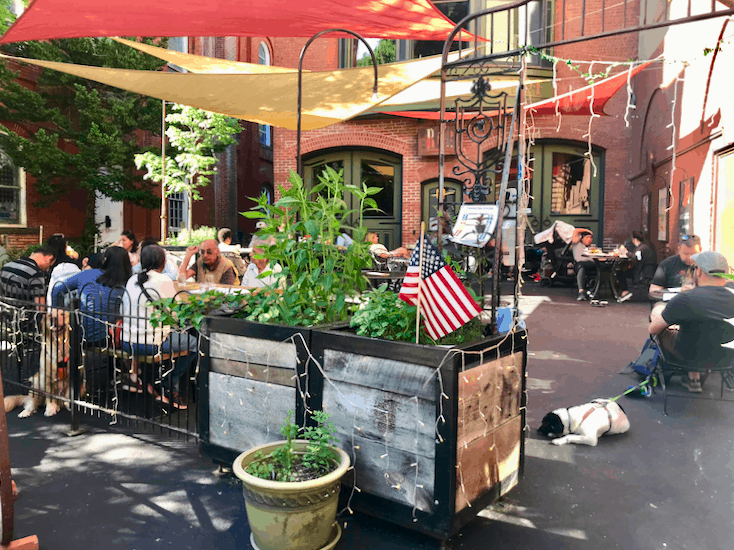 You'll also find that many bars and breweries in Asheville allow dogs inside. Enjoy perusing used books while sipping fine wine or champagne at the Battery Park Book Exchange & Champagne Bar. Or have a seat at one of these dog friendly establishments:
Aventine Wine Bar
Fleetwood's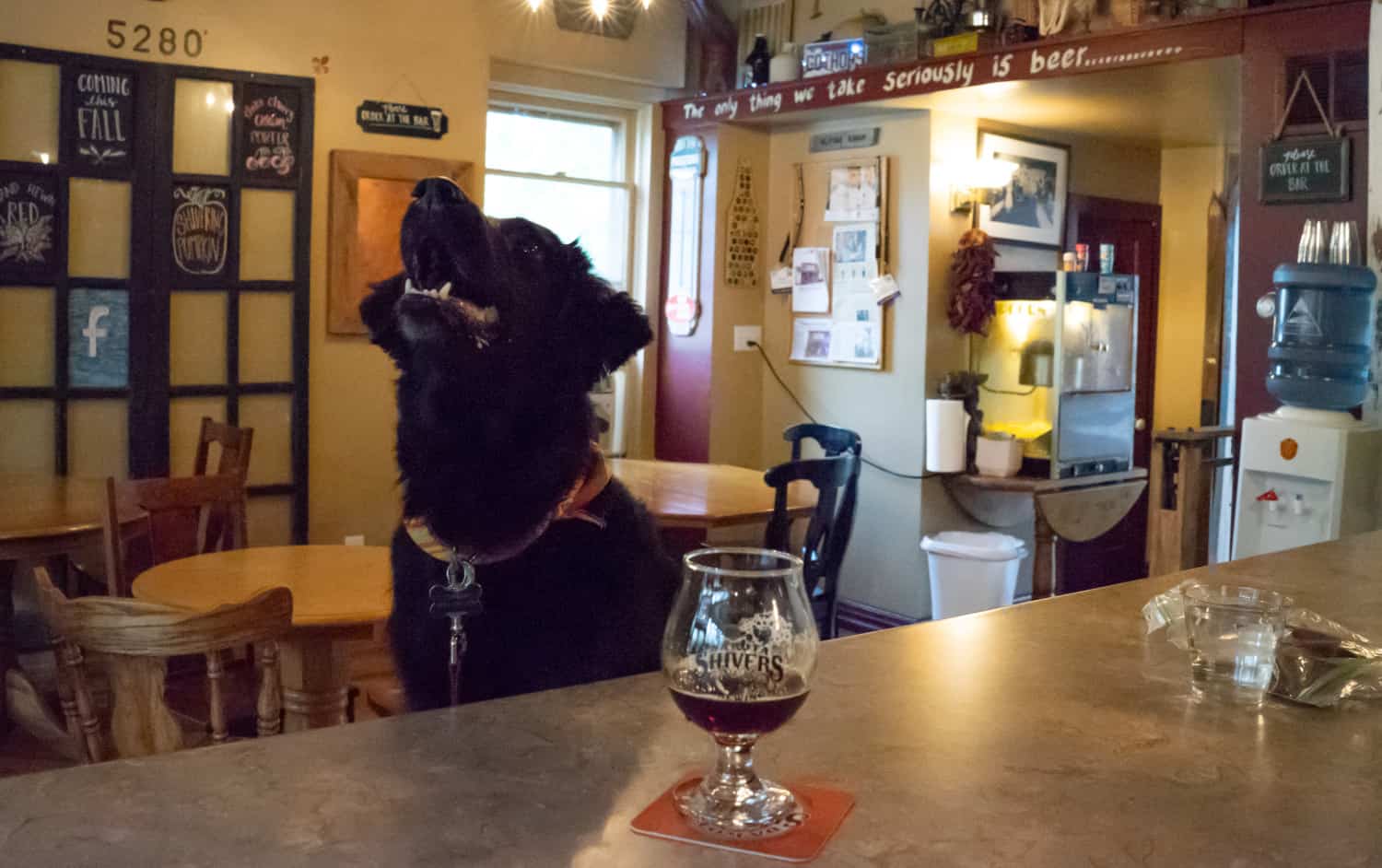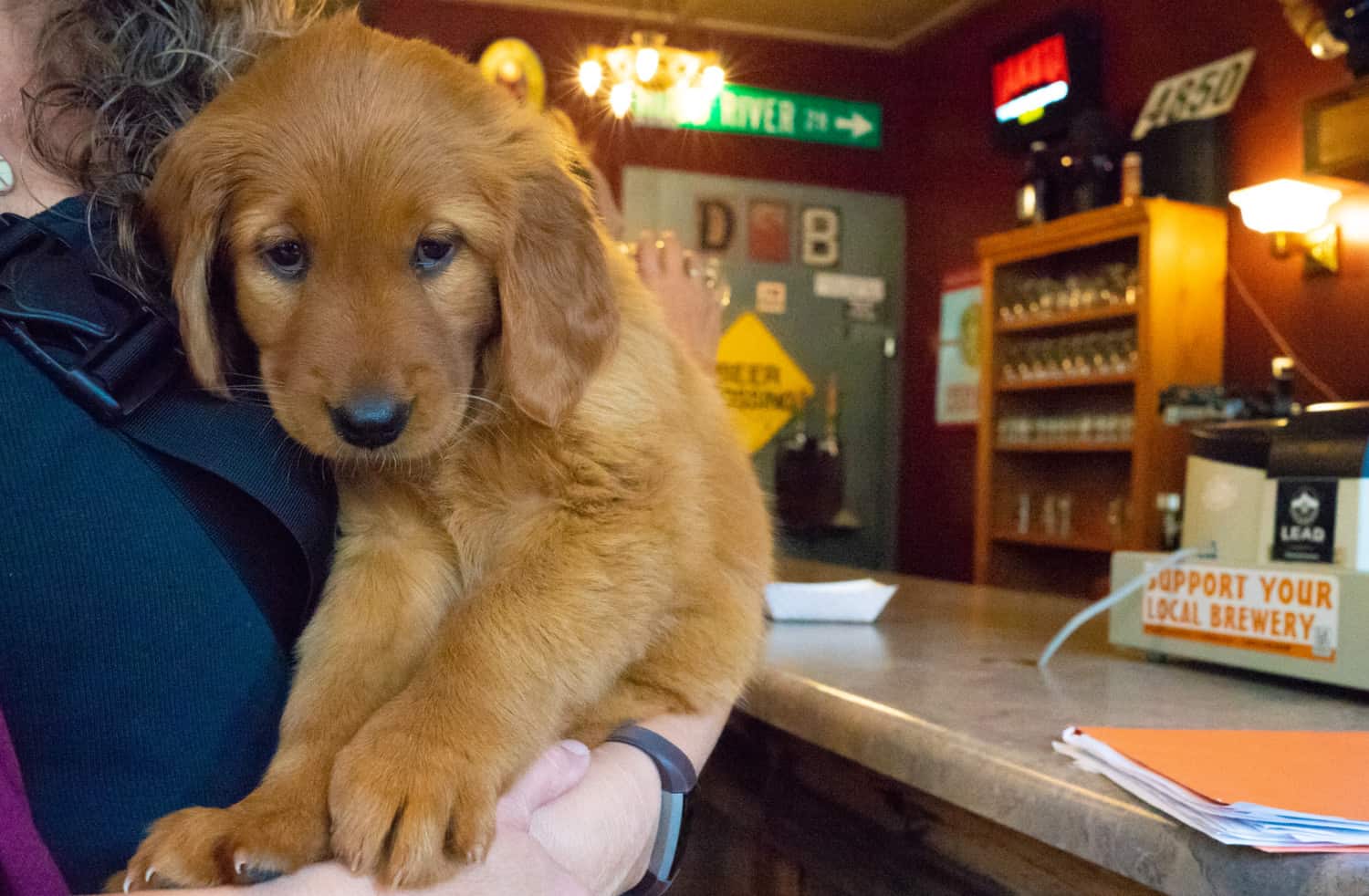 Asheville's Dog Friendly Wineries
Did sampling the estate wines at Biltmore with your dogs give you a taste for more? With nearly 60 wineries dotting the mountains of Western North Carolina, including more than a dozen within an hour of Asheville, there's plenty to explore! Don't miss these dog friendly wineries near Asheville during your trip: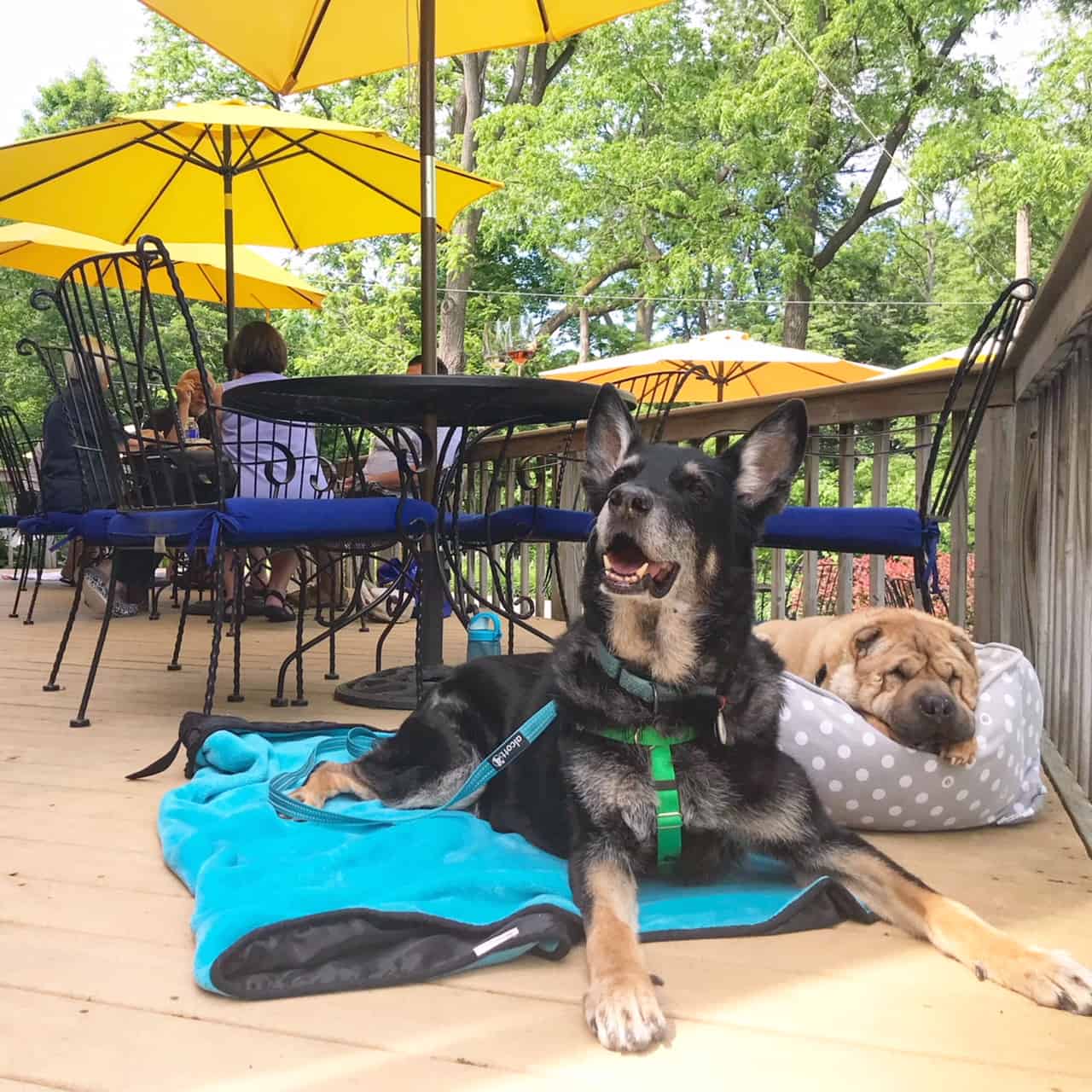 Pet Friendly Places To Stay In Asheville
Staying at Biltmore with dogs isn't possible, since none of the accommodations on the estate allow pets. But the pet friendly lodging options and walkable downtown make staying in Asheville more preferable anyway.
Wake up each morning to gorgeous mountain views in one of Asheville's pet friendly hotels & resorts. Stay in a cozy, secluded cabin hideaway. Or enjoy a campfire and stargazing at one of the magnificent campgrounds & RV parks.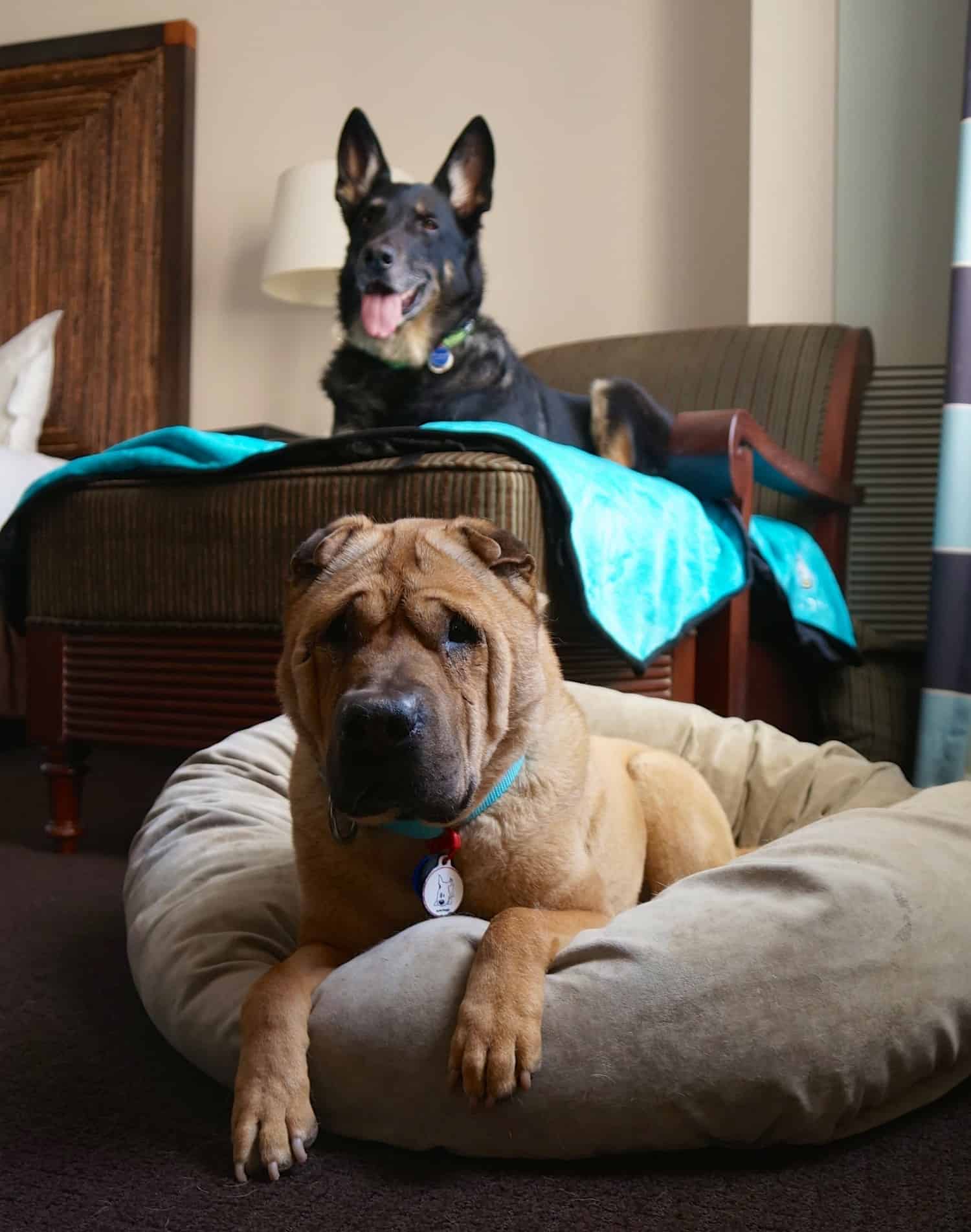 Asheville is the perfect dog friendly vacation destination for you and your furry travel buddy. From Biltmore, to the miles of mountain trails, to the delicious things to sniff, it will be a trip you and your pet will never forget.
(Visited 18,380 times, 1 visits today)