One of our favorite ways to explore new areas and spend time with the dogs is to take a hike. It gives us the opportunity to enjoy nature, appreciate vistas that you can't see from the car, and get a little exercise at the same time. We're day hikers – keeping our excursions between three and five miles because, with his 11th birthday approaching, that's about as far as Ty wants to go.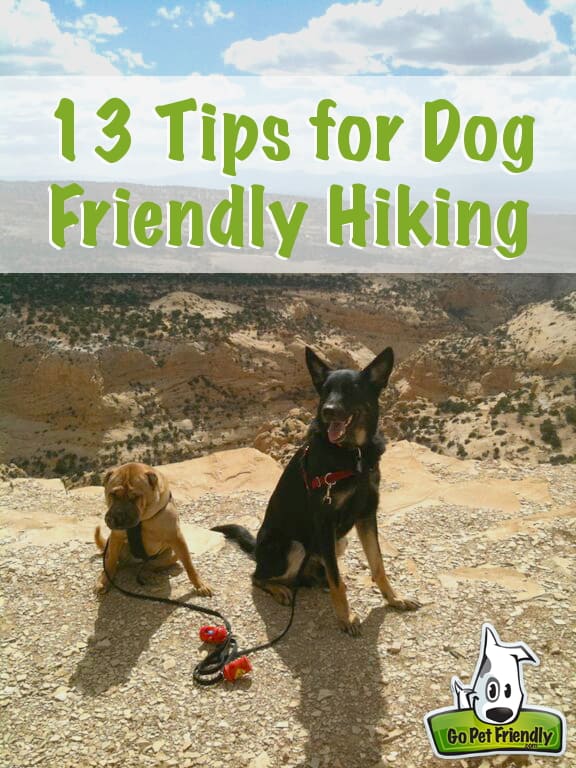 Still, we've found that you don't have to go a long way to feel like you've got the whole trail to yourself – and that means you'll need to take some precautions to be sure everyone stays safe. Here are the tips for dog friendly hiking that we want to pass along:
1. Make sure your dog is in good physical condition. Begin with long walks in your neighborhood before you start taking short hikes in the woods, and work up from there. Believe it or not, Ty matches Buster's pace – but only because we've slowly built up his endurance.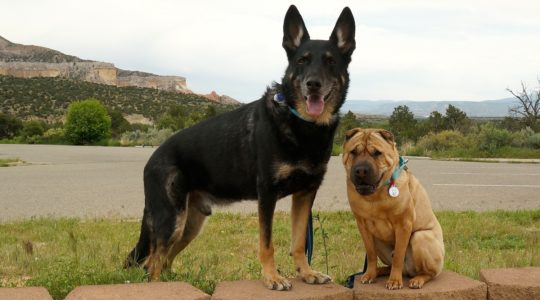 2. Check the dog regulations in the area you'll be hiking. Find out where dogs are allowed to go, and whether leashes are required – and then abide by the trail rules! Many places have stopped allowing dogs on the trails after complaints about off-leash incidents. If the regulations don't suit you, find another place to hike.
3. Prepare your dog for the weather and terrain. Spring and summer hiking means sun and bugs, so pack sun screen and insect repellant formulated for dogs. Breeds with short coats may appreciate an outer layer if you're hiking in wet or cold conditions, and dog boots may be necessary if you'll be hiking in snow or where cacti or nettles are common.
4. Carry plenty of water for your dog. Dogs don't sweat, and that makes them prone to heat stroke in warmer temps. I used to be a competitive runner, and the rule was: Drink before you get thirsty. The same applies to your dog. And I would strongly discourage you from allowing your dog to drink from streams or lake shores as the water may contain gnarly parasites.
Related topic: Recognizing and Treating Heat Stroke and Dehydration in Dogs
5. Leaves of three, let it be. Dogs are susceptible to plant-based toxins just like people, and can pass the oily substance from poison ivy or poison oak to you on their fur. Take a moment to be sure that you can identify the toxic plants common to the area you'll be hiking.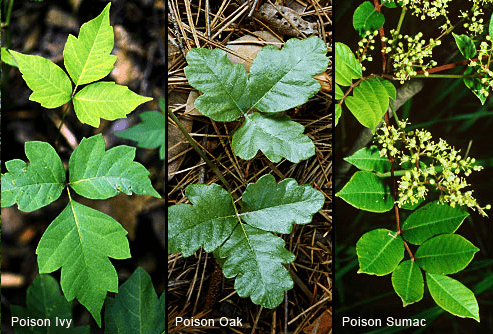 6. Carry a small first aid kit. Generally, a human first aid kit will do since you are both likely to suffer the same type of cuts, bruises, and abrasions. Talk to your vet about the proper dosage, and include an antihistamine in your medical supplies in case you or your dog gets bit or stung and has an allergic reaction. Be sure that you know what's in your kit and how to use it – when someone is howling in pain is not the best time to search the kit or read the directions!
7. Your dog should have proper identification. In case your dog gets lost, make sure his ID tag is properly secured to a collar that won't slip off. The tag should have your cell phone number and any other information that someone might need if they find your dog. Here's what we put on Ty and Buster's tags.
8. Take extra care during hunting season. Extra precaution are necessary when hiking during any hunting season. Bright or reflective dog clothing will help your pup stand out in the natural environment. You'll also want to wear something similar to prevent being mistaken for a target.
9. They call it wildlife for a reason. Your dog can hear, smell, and sense things before you can – so if your dog starts barking, he may be warning you of a bear, coyote, or snake in the vicinity. If you're hiking in bear country, fit your dog with bear bells and carry a can of bear spray. Anytime you're entering an area where bear sightings are possible, always keep your dog in sight and stay alert!
Related topic: What To Do If You Encounter Predators On The Trail
10. Your dog can share the load. Acclimate your dog to carrying a pack by starting with short walks. Most dogs can safely carry up to a third of their weight, so be careful not to overload them. Adjust the pack contents and straps as needed to balance the weight. Buster loves his backpack, and we appreciate him for hauling the dog water and a light collapsible bowl.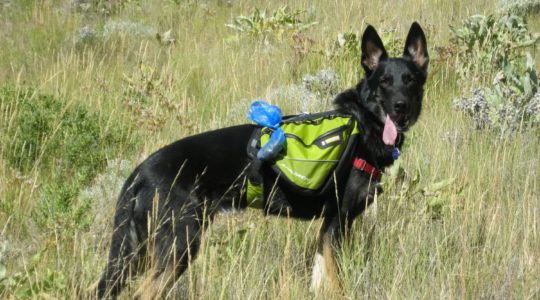 11. Someone should know that you and your dog went for a hike. Stuff happens! If for some reason you were unable to get back and needed assistance, having a relative, friend, neighbor, or park ranger know where you are and when you expected to return is a big help. Printing this information on a simple note card with relevant contact numbers could save a lot of heartache.
12. No one should know that you and your dog went hiking. All trash and dog waste should be bagged, carried out, and properly disposed of. Don't leave any evidence that you and your dog were on the trail.
13. When you get home, check for ticks. Ticks can cause severe medical problems such as Lyme disease and Rocky Mountain spotted fever – both of which can be contracted by both dogs and humans. Talk to your vet about an appropriate tick prevention program, and be sure to examine yourself and your dog after hiking in wooded areas where ticks are common.
Planning a pet friendly trip of your own? We'll make it easy:
Pet Friendly Hotels | Pet Friendly Destinations | Pet Friendly Activities
Amazon Affiliate Disclosure: GoPetFriendly.com LLC is a participant in the Amazon Services LLC Associates Program, an affiliate advertising program designed to provide a means for website owners to earn advertising fees by advertising and linking to amazon.com, audible.com, and any other website that may be affiliated with Amazon Service LLC Associates Program. As an Amazon Associate, the owner of this site earns a commission from qualifying purchases.
(Visited 2,187 times, 1 visits today)