May is Lyme disease awareness month and we've never really talked about our experience since we found out Ty has Lyme disease, so this seemed the perfect time.
Last summer Ty seemed a little off for a few weeks – just not quite himself – and, since we were in New England where the tick-borne disease is common, the vet we saw suggested we run a blood test. It came back positive for Lyme.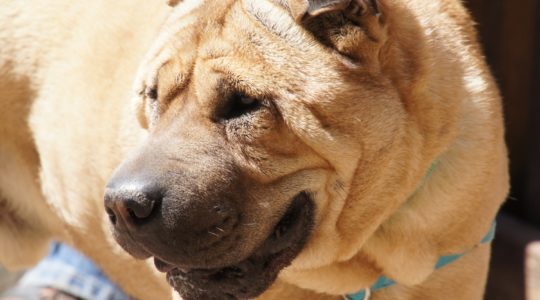 I have to admit, I was surprised. Ninety-five percent of the ticks we find on the dogs are on Buster. They show up a lot better on Ty's light coat so we often see them before they've attached and his oily skin seems to be some kind of natural repellant for the little blood-suckers. But, the facts were the facts … at some point Ty had been bitten by a tick that gave him Lyme.
Symptoms of Lyme Disease in Dogs
Most dogs don't show any symptoms at all after contracting the bacteria that causes Lyme disease. Others have swollen and painful joints, lameness, weakness, lethargy, loss of appetite, or fever. It can also cause kidney and heart problems, but these are rare and tend to appear when the pet has had the disease for a long time. Ty just seemed to be stiff and I might have attributed it to arthritis, except that it came on in just a few weeks.
Treatment For Dogs with Lyme Disease
The common treatment for Lyme disease is a course of the antibiotic doxycycline, and that's what our vet prescribed for Ty. Unfortunately, this parasite is very good at hiding in the body, so you can't count on the dog being cured. The symptoms can show up again months or years later, and Ty was on another course of antibiotics last month when his Lyme disease flared up.
Can You Get Lyme Disease From Your Dog?
Lyme disease cannot be transmitted directly from your dog to you. However, if a tick bites your dog and then bites you, you can become infected.
Protecting Your Pet
When you're traveling with your pets, it pays to do a little research on the types of parasites you might encounter and be prepared. Several vaccinations are available for canine Lyme disease, though all vaccines carry their own risks. Deciding whether or not to vaccinate your pet is definitely a conversation to have with your veterinarian.
There are also a number of flea and tick preventative on the market. Most that I've researched say they kill ticks within 48 hours of it coming into contact with your treated pet. According to the American Lyme Disease Foundation, ticks begin transmitting the disease an average of 36 to 48 hours after attaching, so treating your pet will reduce their chances of infection, though it's not a guarantee.
We treated Ty with a typical preventative every month … until Buster came to live with us. For the first three months Buster was with us, we treated him with the same product we were using on Ty. Sadly, it took us that long to finally made the connection that the stuff was making Buster seriously sick. Each month, two days after we'd squeezed on the little tube, Buster would suffer with a bout of diarrhea and vomiting. When I realized how the drug was affecting Buster, I stopped using it on Ty, too.
Since then, we've used a natural insect repellant when we're out with the dogs in places ticks hang out. When we get back from hikes we give the boys a quick brushing, and the next day do a thorough check for any of the little buggers we may have missed.
Unfortunately, all of our precautions were not enough to protect Ty from Lyme disease. We're lucky that he's handling it like a trooper.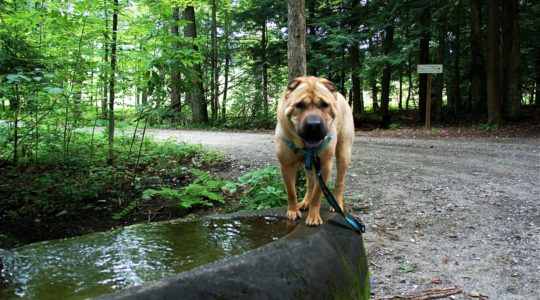 Planning a pet friendly trip of your own? We'll make it easy:
Pet Friendly Hotels | Pet Friendly Destinations | Pet Friendly Activities
Amazon Affiliate Disclosure: GoPetFriendly.com LLC is a participant in the Amazon Services LLC Associates Program, an affiliate advertising program designed to provide a means for website owners to earn advertising fees by advertising and linking to amazon.com, audible.com, and any other website that may be affiliated with Amazon Service LLC Associates Program. As an Amazon Associate, the owner of this site earns a commission from qualifying purchases.
(Visited 345 times, 1 visits today)