Heading to Joshua Tree National Park with your dogs? Worried you won't see much because pets aren't allowed on the trails? We have good news — there's a lot you can do together in Joshua Tree!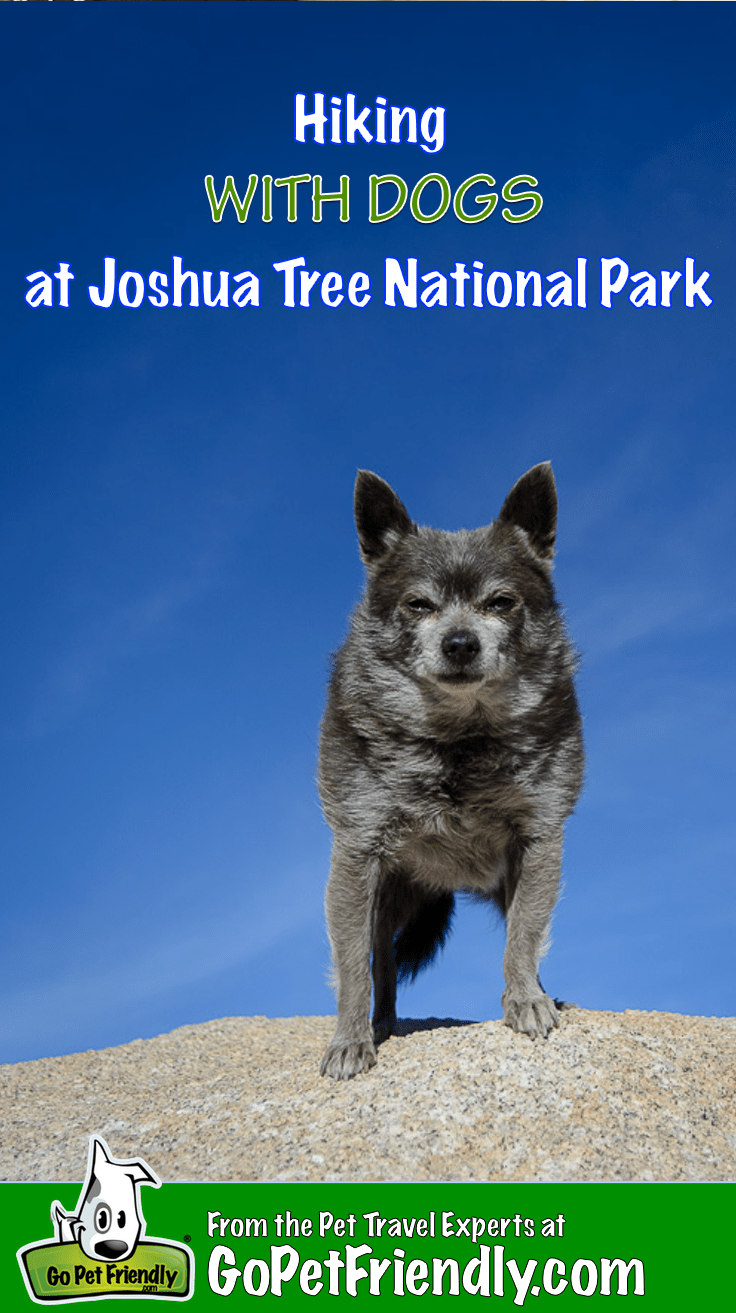 There are a handful of pet friendly national parks in America that go out of their way to make our furry travel companions welcome. But, as a general rule, finding pet friendly hiking at a national park is rare. In fact, most national parks have strict limitations when it comes to pets on the trails. That's what makes visiting Joshua Tree with dogs a pleasant surprise!
Pet Rules At National Parks
With a few exceptions, most national parks require pets to be within 100 feet of a paved road, parking area, or campground. And anytime they're outside your vehicle, pets must be crated, in a carrier, or on a leash no longer than six feet.
When it comes to hiking, many national parks prohibit pets from all trails. So your experience of the park is limited to the turnouts and overlooks along the road. Not that those views are bad! It's just that there's so much more to see when you can get off the beaten path.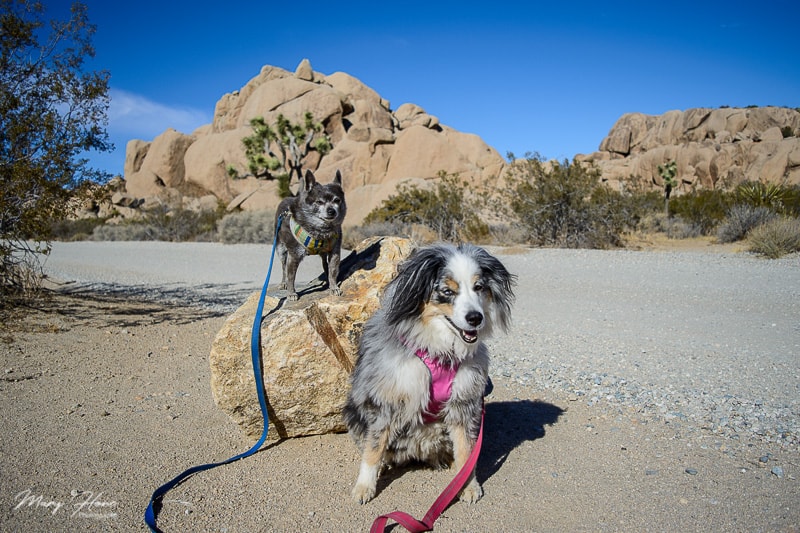 Visiting Joshua Tree With Dogs
Before our visit, I checked the park's website for their pet policy. Like many national parks, Joshua Tree allows dogs in the picnic areas and campgrounds. This includes the paved Oasis of Mara and Keys View Trails. But as I expected, Joshua Tree does not allow pets on hiking trails, in the backcountry, or in park buildings.
However, I noticed that pets are welcome to walk all the unpaved roads. That gave me a glimmer of hope, because Joshua Tree has miles and miles of dirt roads providing access to a great variety of terrain. And they get very little vehicle traffic, so exploring on foot is perfect!
Be aware that the sidewalks and pavement at Joshua Tree get hot enough to burn your pet's paws. Walk during the cooler parts of the day, and consider bringing dog boots to protect your pup's feet.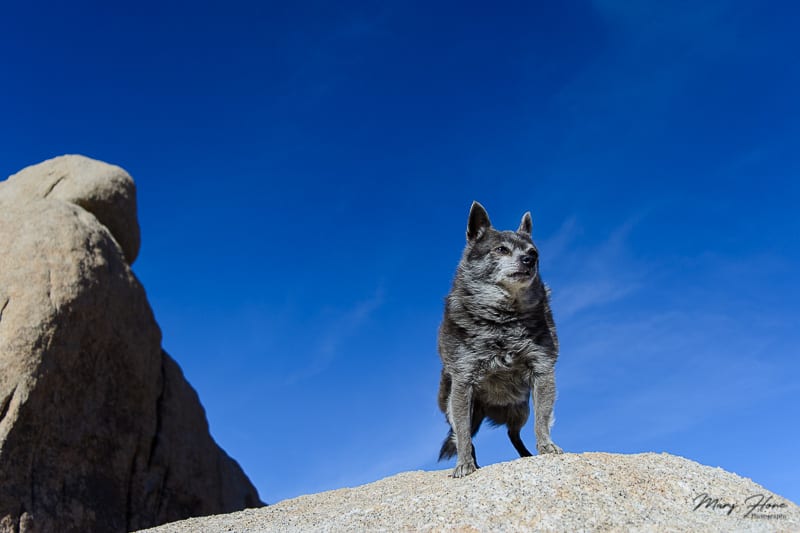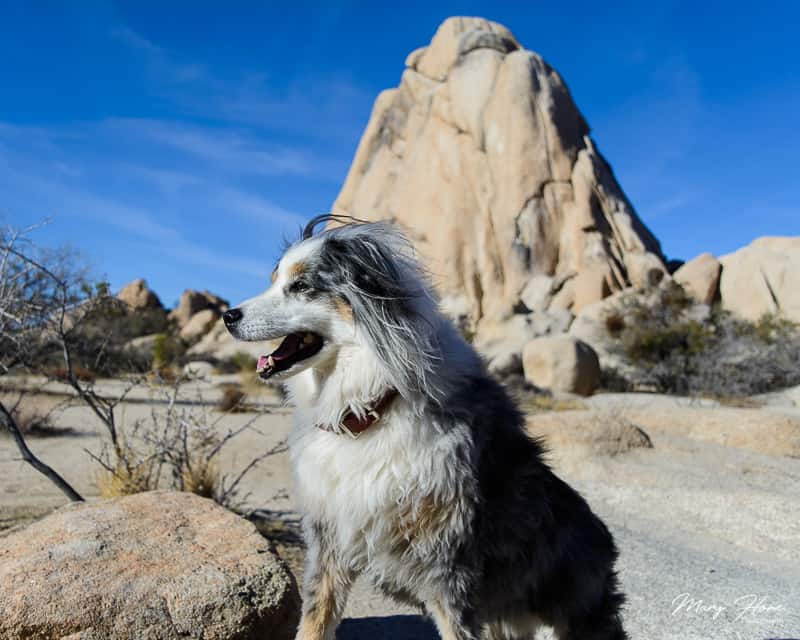 Hiking At Joshua Tree With Dogs
Joshua Tree's dirt roads provide access to spectacular scenery and the opportunity to immerse yourself in the desert landscape with your pet. According to the park's rules, you can take your leashed dog anywhere you can drive your vehicle. So pick up a map at the visitor center and ask the rangers which roads offer the best scenery and are appropriate for your skill level.
Most of the roads in Joshua Tree have pullouts or nearby parking areas where you can begin your walk. Of course, the standard etiquette of leashing and picking up after your dogs always applies. And also remember to pack plenty of water for you and your pet. The combination of elevation and desert air can quickly lead to dehydration.
Some roads are more rugged than others, so choose a route that works for you. And while the roads listed below don't get much traffic, be sure to stay alert and move out of the way of any vehicles that do pass.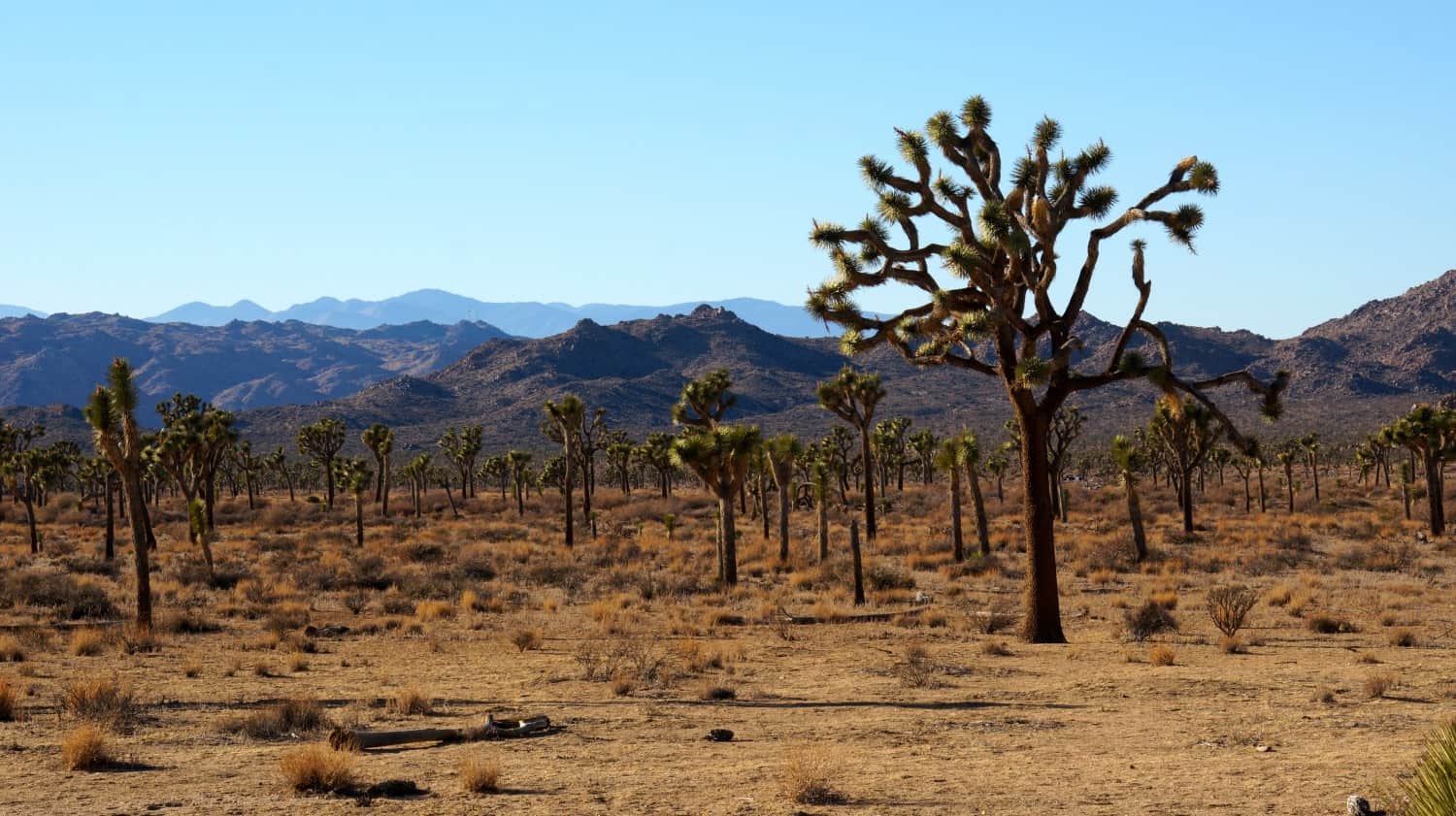 Accessible To All Vehicles (One-Way Distances)
Queen Valley Road – 2.9 miles with one-way traffic
Stirrup Tank Road – 1.5 miles
Odell Road – 1.5 miles
Geology Tour Road – 5.4 miles
Desert Queen Mine Road – 1.2 miles
Bighorn Pass Road – 3.2 miles (5.1 km)
Accessible To 4-Wheel Drive Vehicles (One-Way Distances)
Covington-area Roads – 9.9 miles
Pinkham Canyon Road – 19.2 miles
Old Dale Road – 12.6 miles
Geology Tour Road past Mile 5.4 – 18 miles
Black Eagle Mine Road – 9.6 miles
Berdoo Canyon Road – 11.5 miles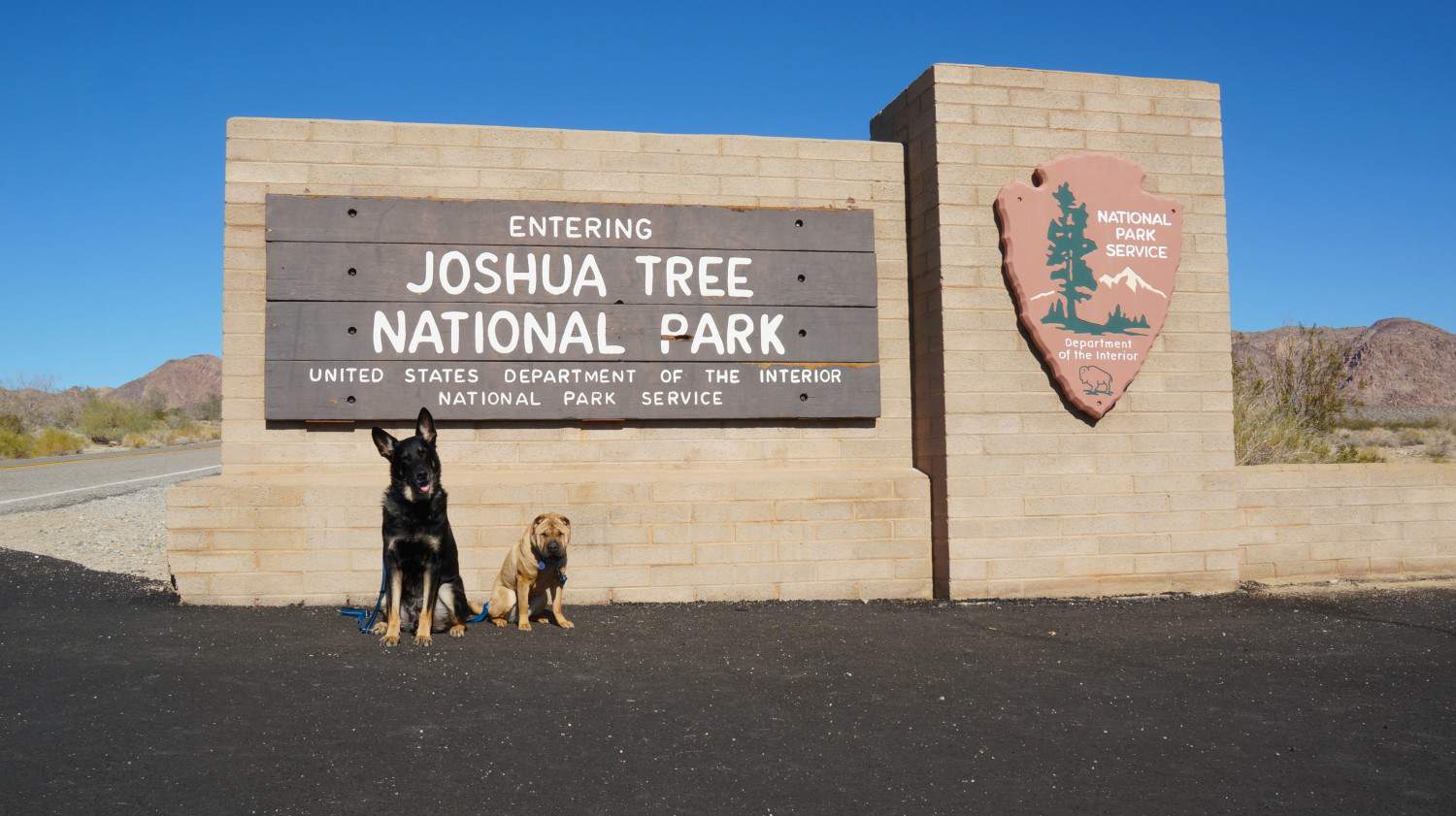 Exploring Joshua Tree With Dogs
Joshua Tree is one of our national parks that is pretty easy to explore without having to hike for miles and miles on backcountry trails. I was able to drive down side roads, or even pull off the main road and see the rock formations and Joshua trees that make this park famous.
We started at the south entrance, and by mid-afternoon we were well into the north end of the park. We stopped there to enjoy a picnic and watch a bunch of rock climbers soak up the sun on a beautiful day. It was a fun excursion to a place I have always wanted to see.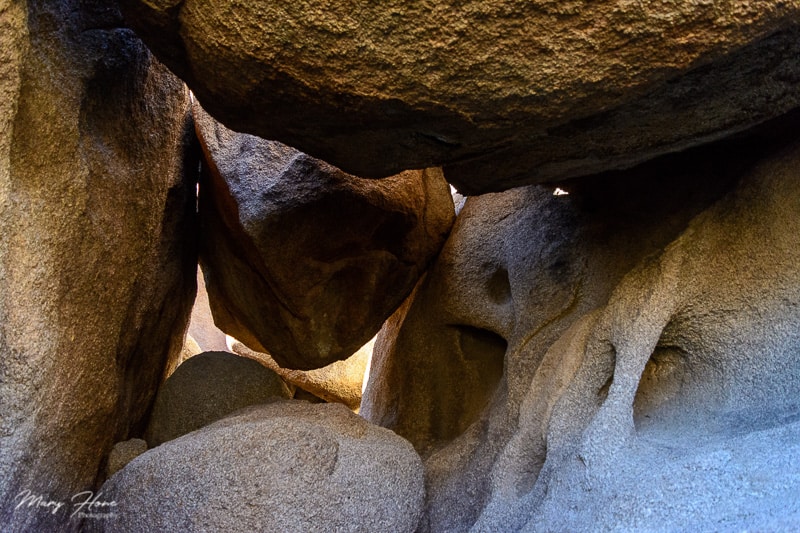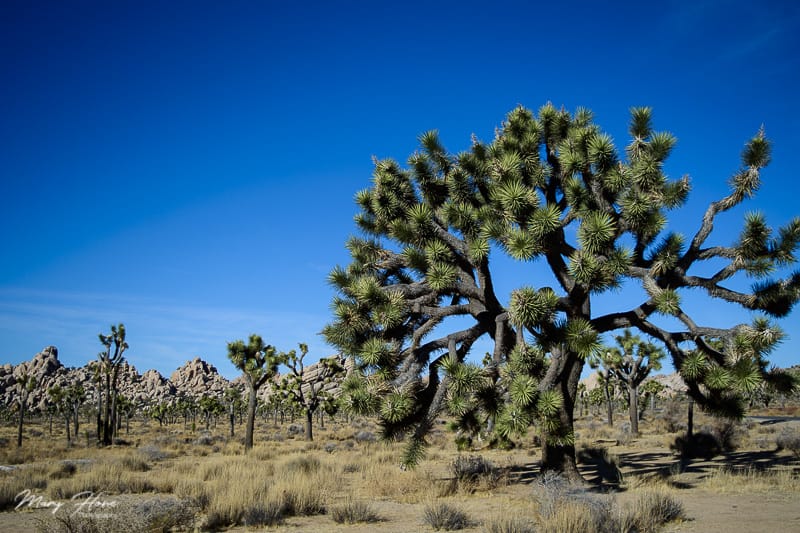 Rock Climbing Areas Accessible To Dogs
Is rock climbing is your thing? Or perhaps you prefer to watch the climbers skillfully rise to the challenge. Either way, you'll be happy to know that four of the rock climbing areas are within 100 feet of a road, picnic area, or campground and therefore pet friendly!
Belle Campground: Castle Rock
Hidden Valley Campground: Many (but not all) of the climbs are within 100 feet of a road
Indian Cove Area: Billboard Buttress, King Otto's Castle, Pixie Rock, and Short Wall
Quail Springs Area: Trash Can
No matter what you choose to do, a trip to Joshua Tree with dogs is one you'll never forget!
Looking for more to do in the area? Check out the Top 10 Dog Friendly Things To Do in Palm Springs
About the author: Mary Hone is a photographer, artist, and the author of Stories From The Range, a blog about Mary's passion for saving wild horses. She and her husband, Al, also a talented artist, travel full-time in an RV with their adorable dog, Torrey.
(Visited 80,792 times, 1 visits today)