Pet friendly Palm Springs is a winter paradise for everyone who enjoys the outdoors – including your furry travel buddy!
With 354 days of sunshine each year and January temps reaching the 70s, Palm Springs is one of our favorite places to chill out while the rest of the country contends with winter's icy grip.
If you're looking for fun things to do with your dogs while on vacation in the Coachella Valley, we've gathered some of our favorite places. So grab your shades, apply some sunscreen, and make your plans to enjoy this beautiful desert oasis!

Top 10 in Pet Friendly Palm Springs
1. Go for Coffee at Koffi
There are loads of great coffee shops with pet friendly patios around Palm Springs, but we fell in love with the view from the patio at Koffi (1700 S Camino Real). The friendly atmosphere, great selection of baked goods and snacks, free WiFi, and fantastic coffee made this a fun place to hang out.
With the constant stream of traffic, the people- and dog-watching is suburb. And the pet friendly patio has several areas, so you can find a sunny spot or a comfortable place in the shade depending on your preference and the time of day.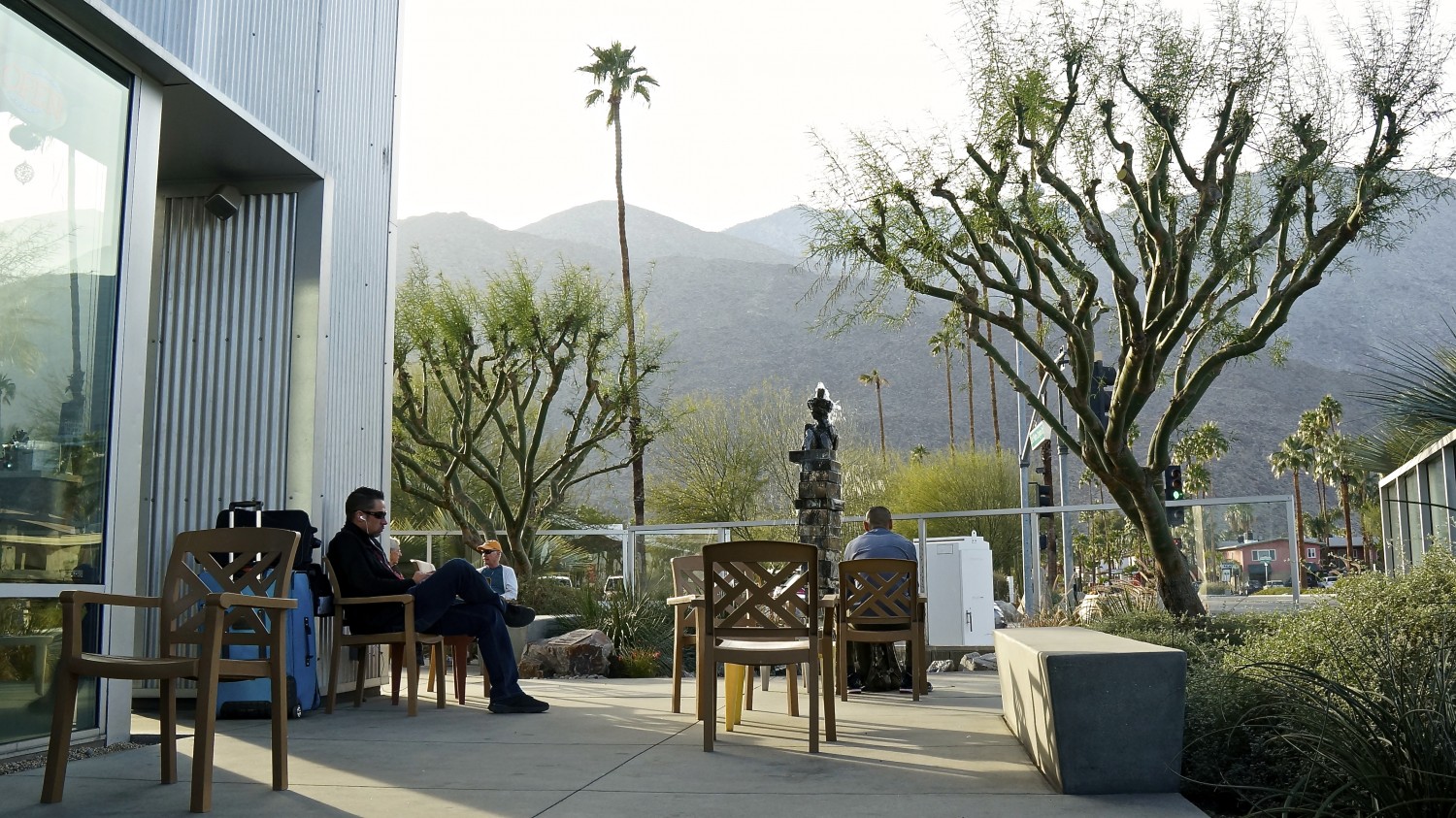 2. Take a Hike at Mission Creek Preserve
Once you've gotten your daily dose of caffeine, it's time for a hike! Head out to Desert Hot Springs for a gorgeous hike in the Mission Creek Preserve. Located in a transition zone between the Sonoran and Mojave deserts, the preserve covers 4,760-acres and protects a variety of flora and fauna representing both deserts. The center of the preserve is a lush wetlands with the colorful painted hills and Mount San Gorgonio in the background.
This easy trail follows the stream for 1.7 miles to an old stone house and group campground. Another two miles beyond the stone house the trail connects Pacific Crest Trail.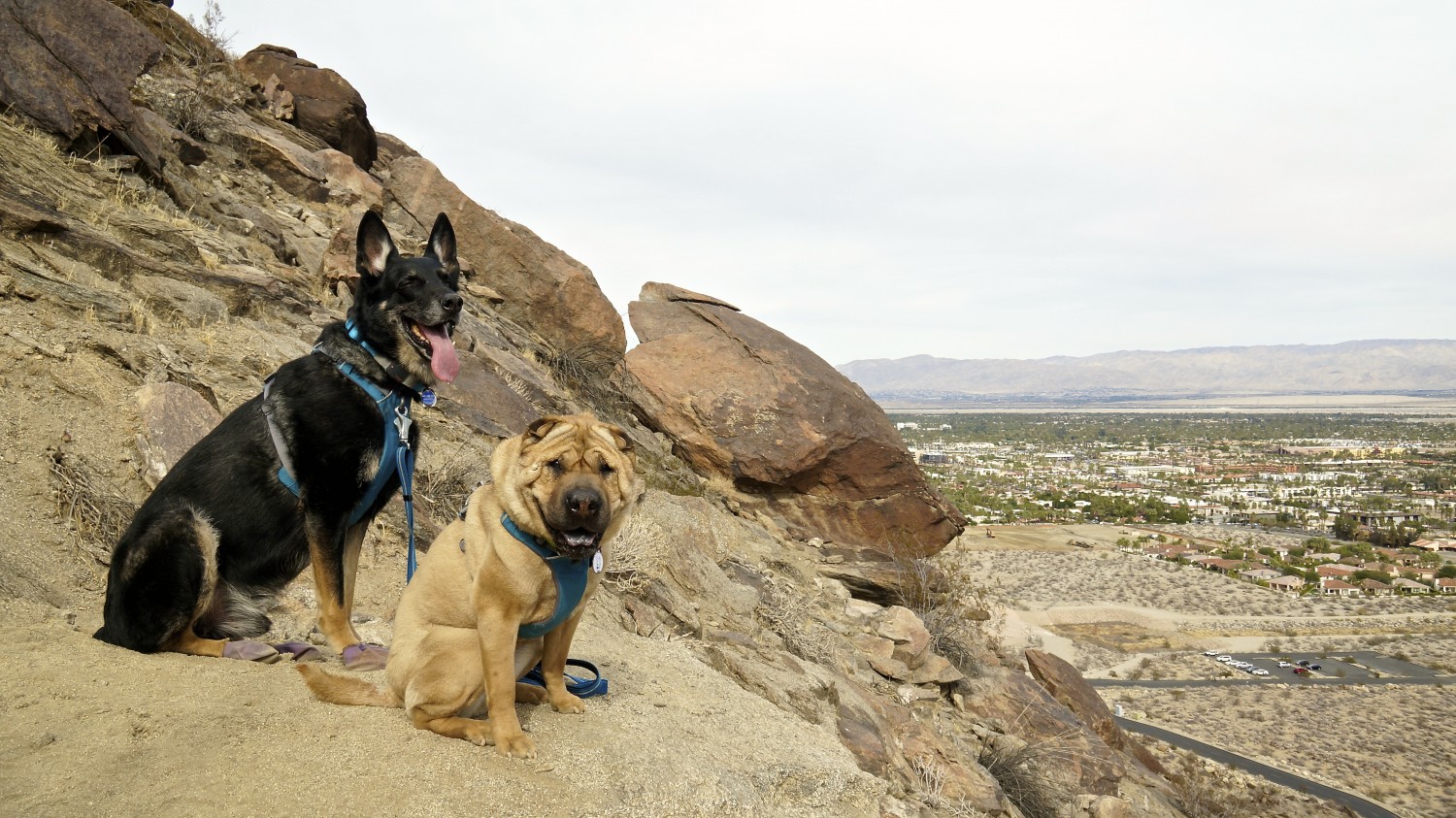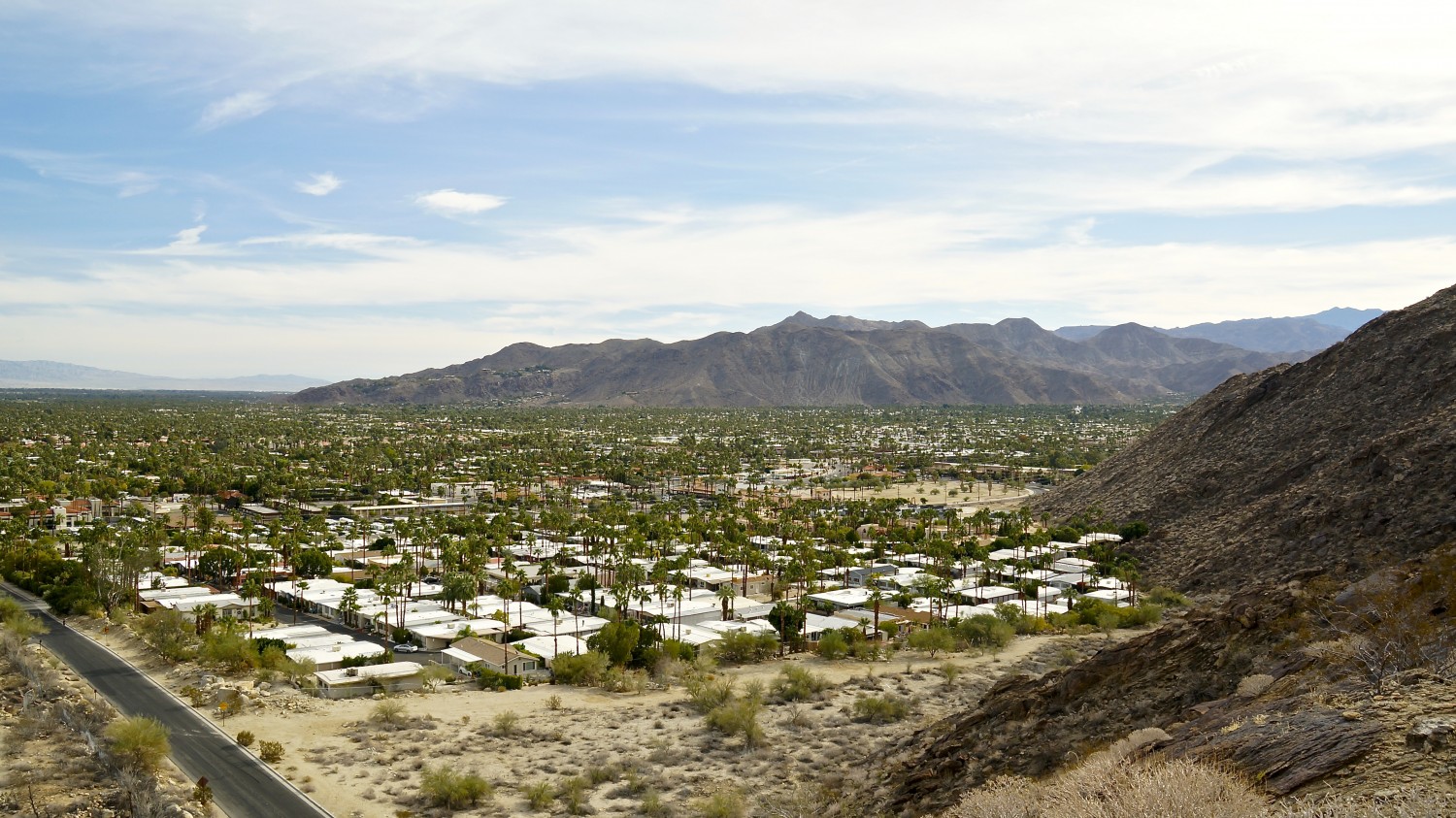 3. Hop on the Buzz
Getting around town is as easy as hopping on the Buzz! From 11am to 1am, Thursday through Sunday, these colorful trolley cars transport people and their pets around Palm Springs on a 30-stop loop. The ride is free, and a trolley rolls by every 15 minutes.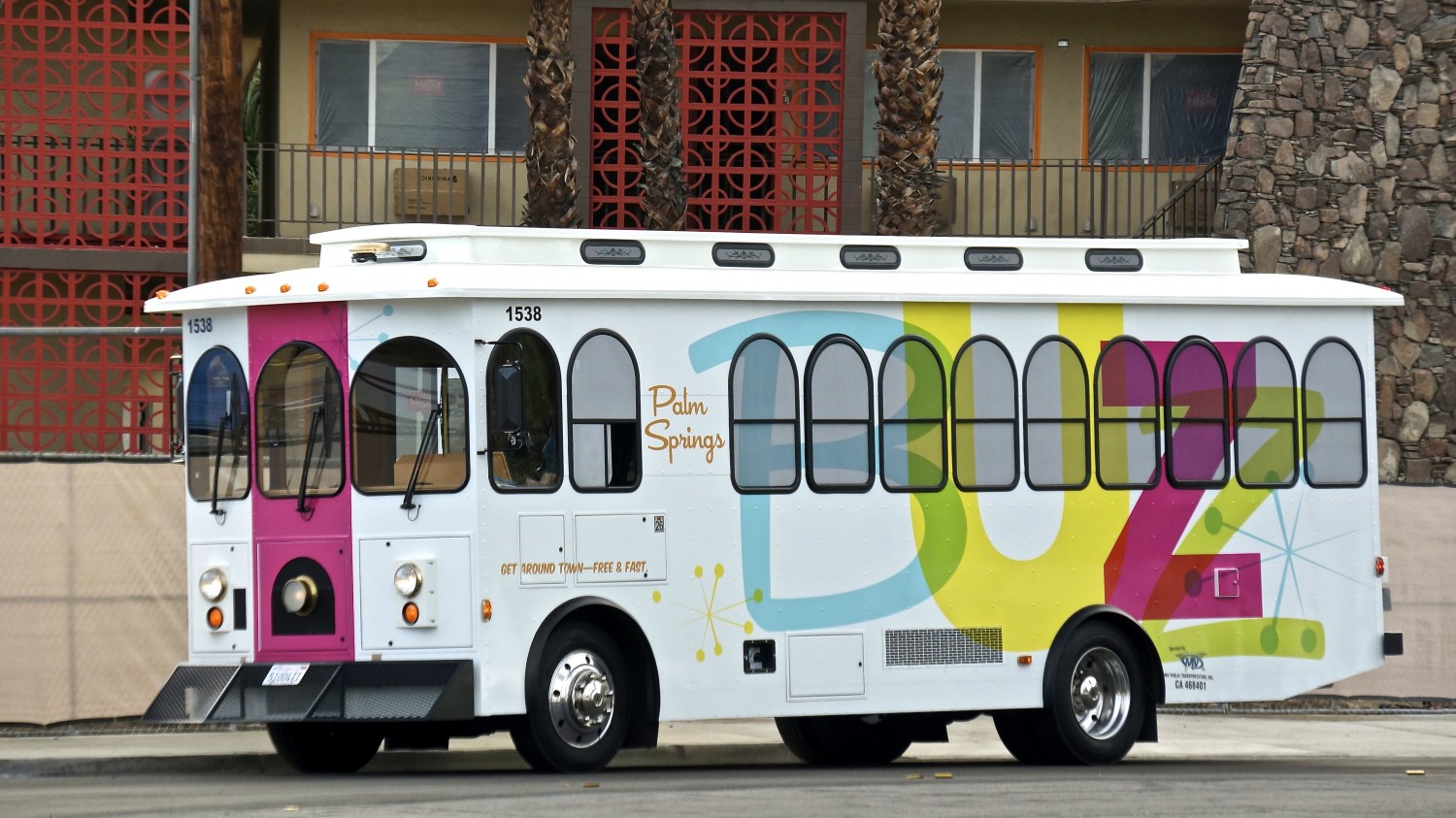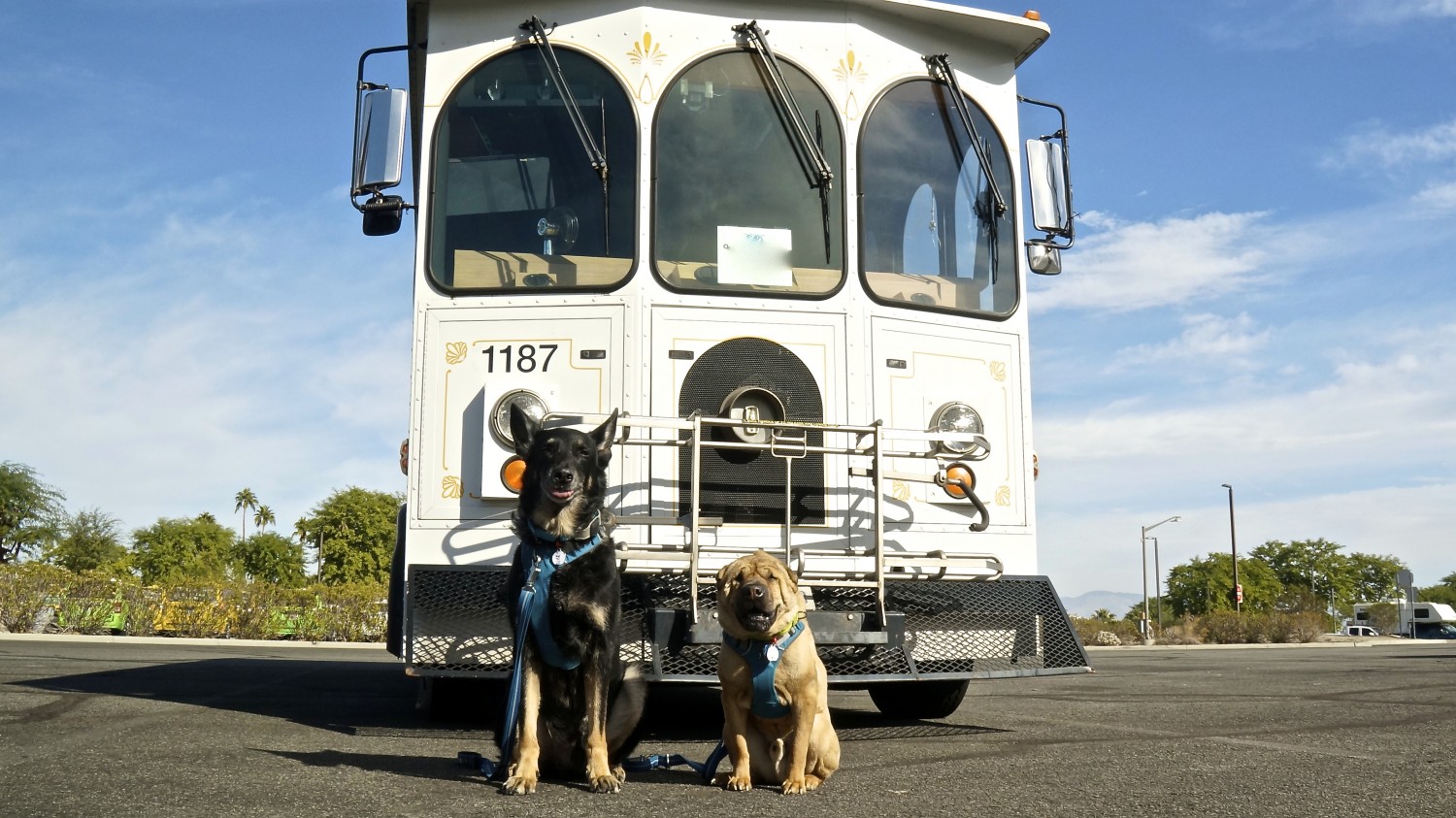 4. Enjoy a Picnic with a View the Valley
Pack a picnic and take a short drive south on the Pines to Palms Highway (Hwy 74). The road twists and turns its way to a scenic overlook where the entire Coachella Valley stretches below you.
From here you can see all the way to the Salton Sea! It's a great place to spread your picnic blanket, unpack your lunch, and enjoy the afternoon.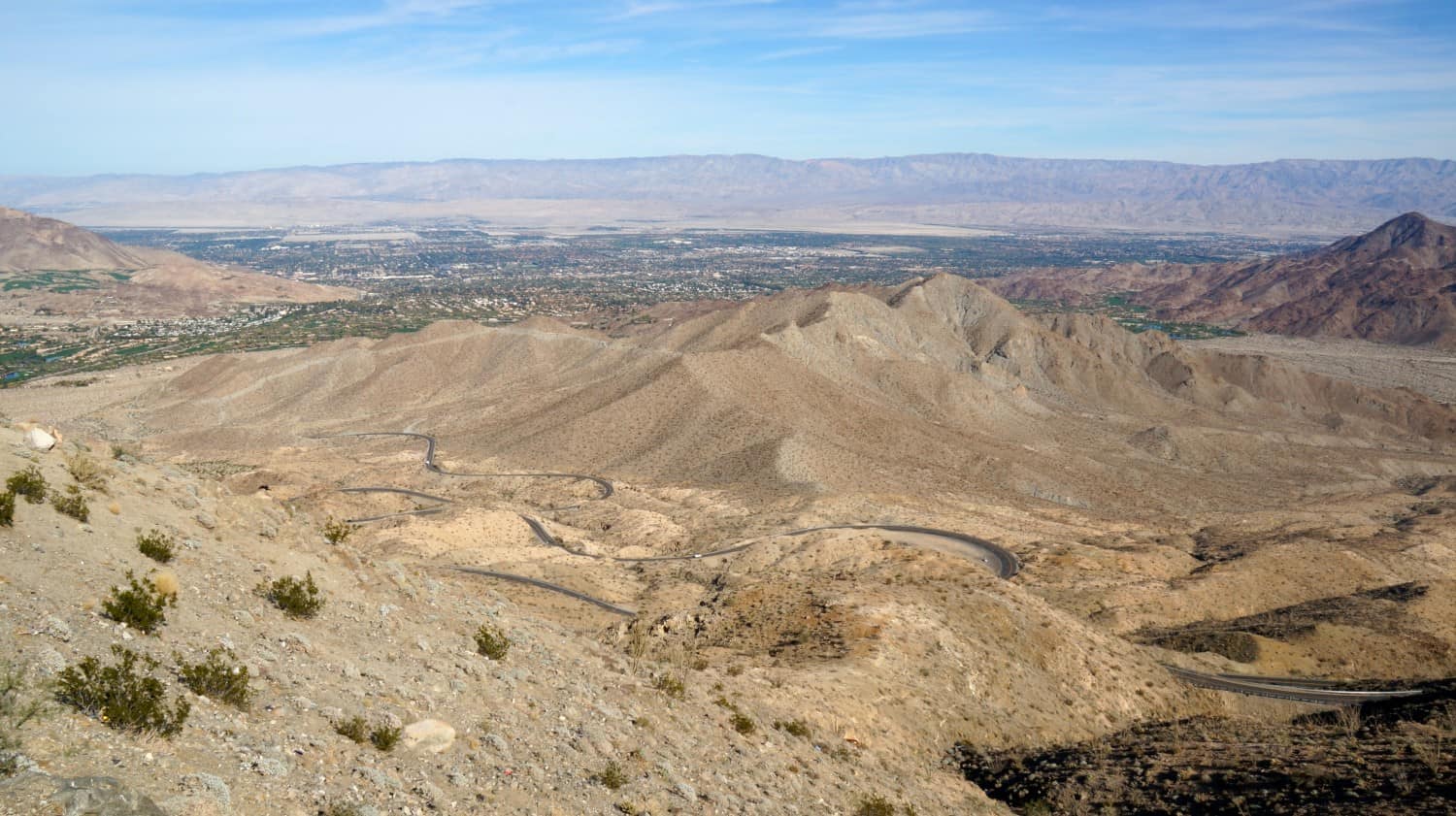 5. Take a Walk on the Pacific Crest Trail
Whether you're into some serious hiking, or just want to walk a part of this famous trail, continue up Pines to Palms Highway (Hwy 74) to the Pacific Crest Trail trailhead. This 2,600-mile trail stretches from Mexico to Canada, and takes hikers four to six months to compete!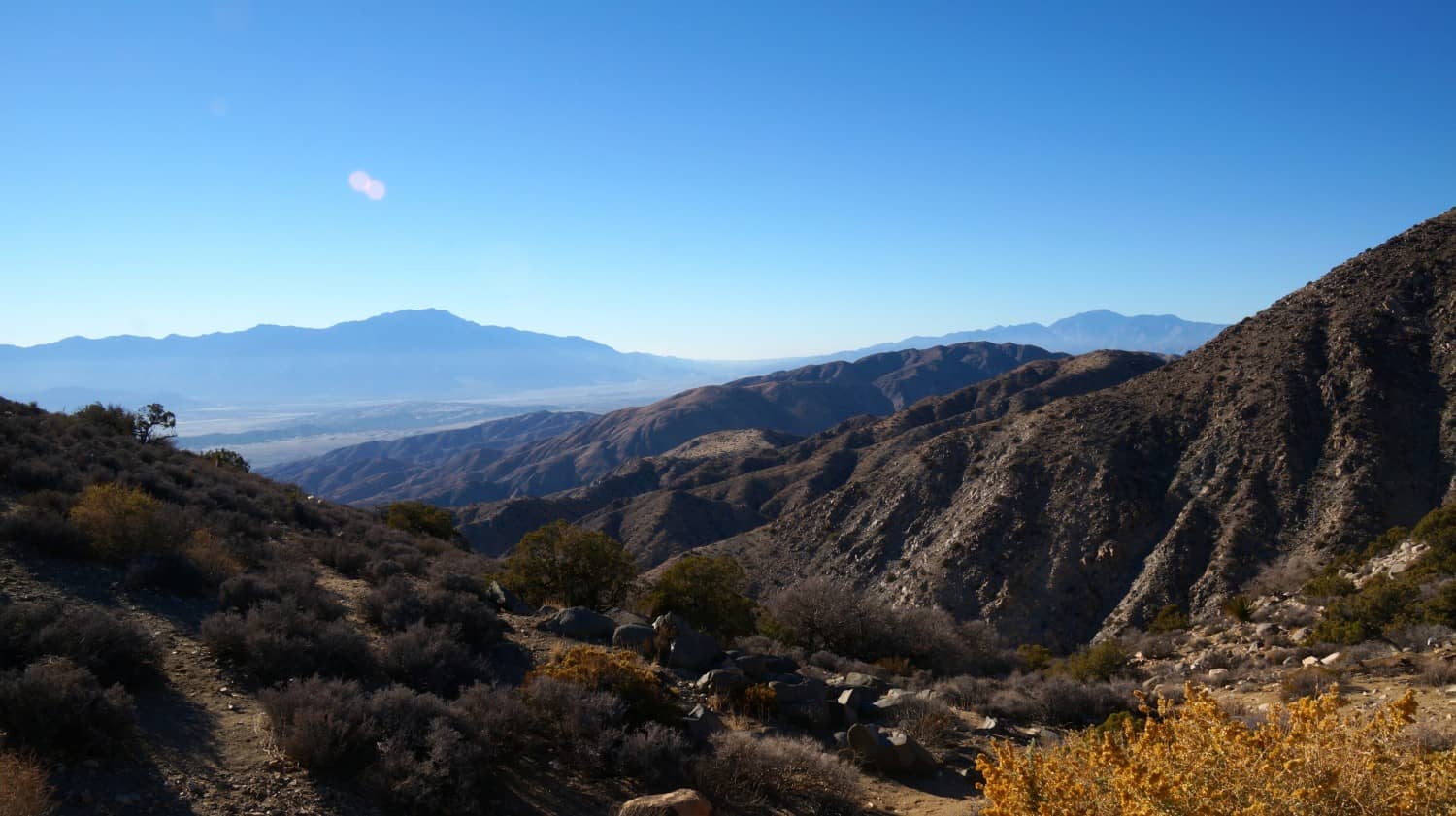 6. Have Dinner at El Mirasol
Friends recommended El Mirasol (140 E Palm Canyon Drive), and what a treat it was! The food was fantastic, the margaritas were superb, and the partially covered, dog-friendly sidewalk patio was cozy and beautiful.
The restaurant is located several blocks away from the more congested downtown shopping area, but still easy to get to – either on foot or on the Buzz.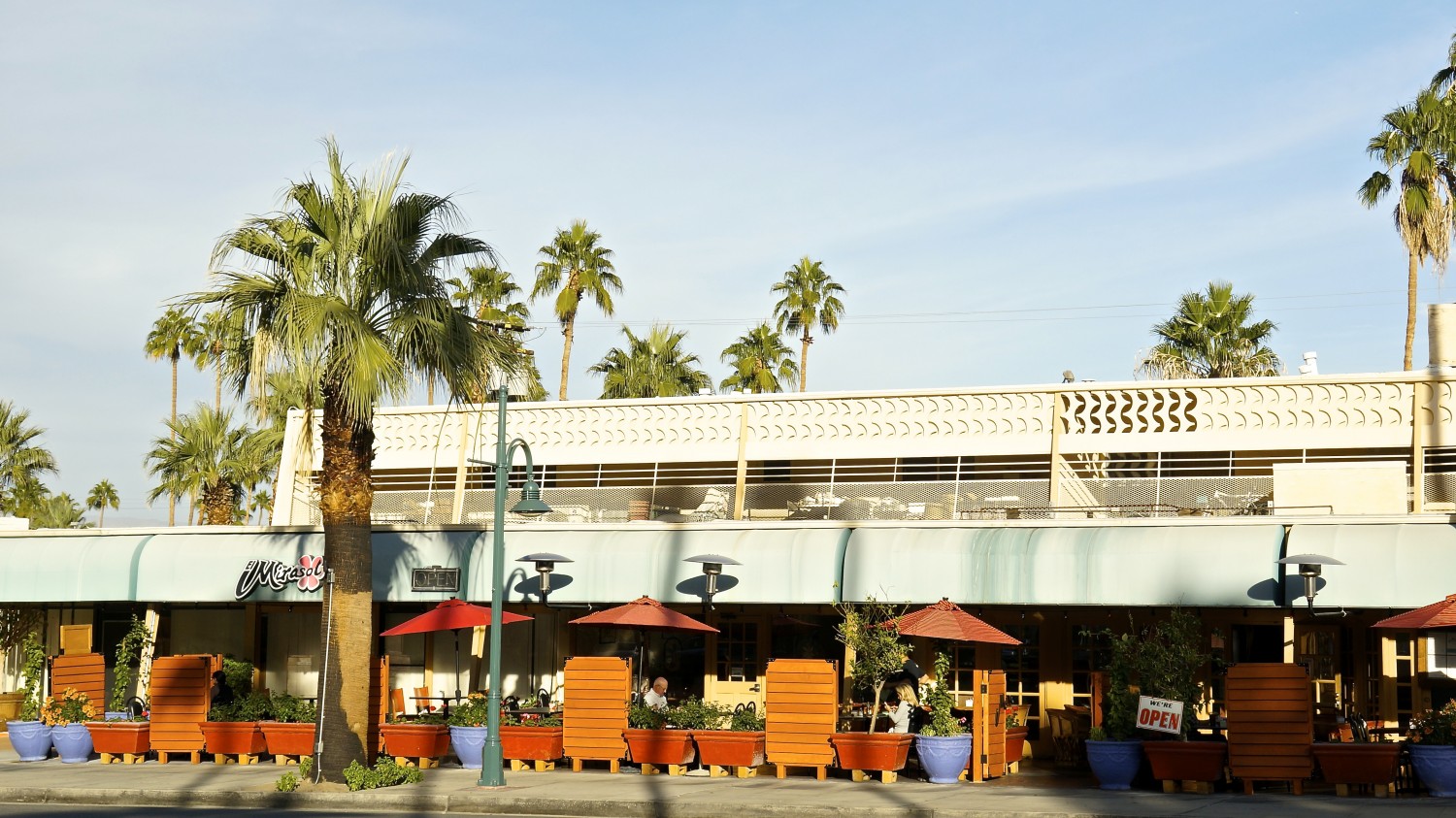 7. Visit the Palm Springs Dog Park
No visit to Palm Springs would be complete with out a stop at the dog park (222 Civic Drive North)! At 1.6 acres, it's divided into separate areas for large and small dogs. And, while it's not huge, there's plenty of room for some doggy socializing or a game of fetch.
The most spectacular part of this dog park is the fence. Sacramento sculptor Phill Evans formed hot-rolled steel bar into cacti and trees, dogs, and a cat to enclose the area.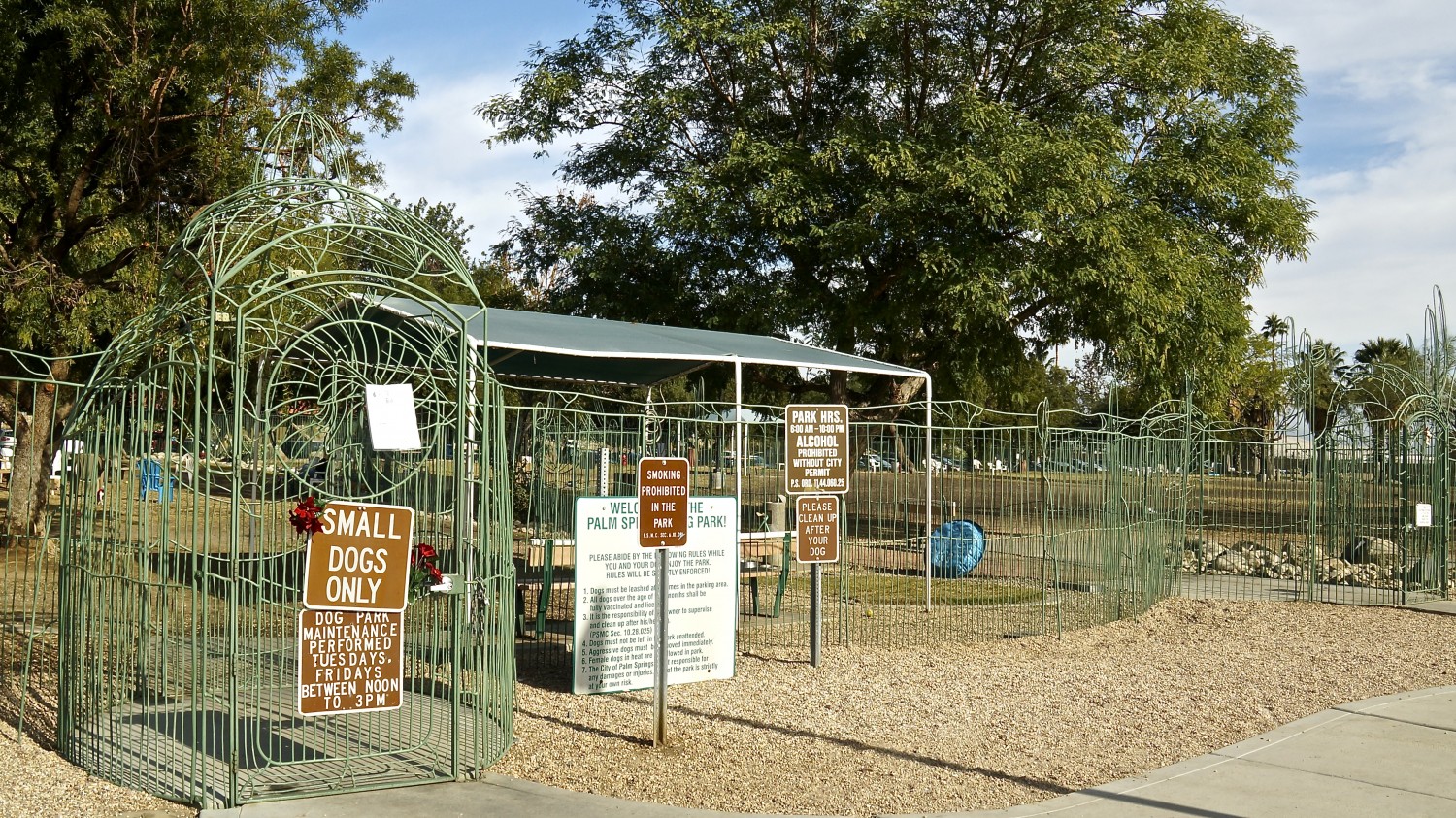 8. Hike the Bear Creek Nature Trail
The Bear Creek Nature Trail is a moderately difficult, paved pathway that stretches 4.8 miles along the base of the Southern Santa Rosa Mountains.  Enjoy the pink bougainvillea blossoms and wispy mesquite trees as the trail meanders through a protected nature preserve. Markers along the way highlight native plants and wildlife, while shade structures and drinking fountains provide comfortable pit stop for thirsty travelers and their pups.
There is plenty of street parking available at the trailhead near the intersection of Calle Tecate and Avenida Madero at the far end of the La Quinta Cove neighborhood. The trail is open to the public from dawn to 10pm, with some of the best views occurring at sunrise and sunset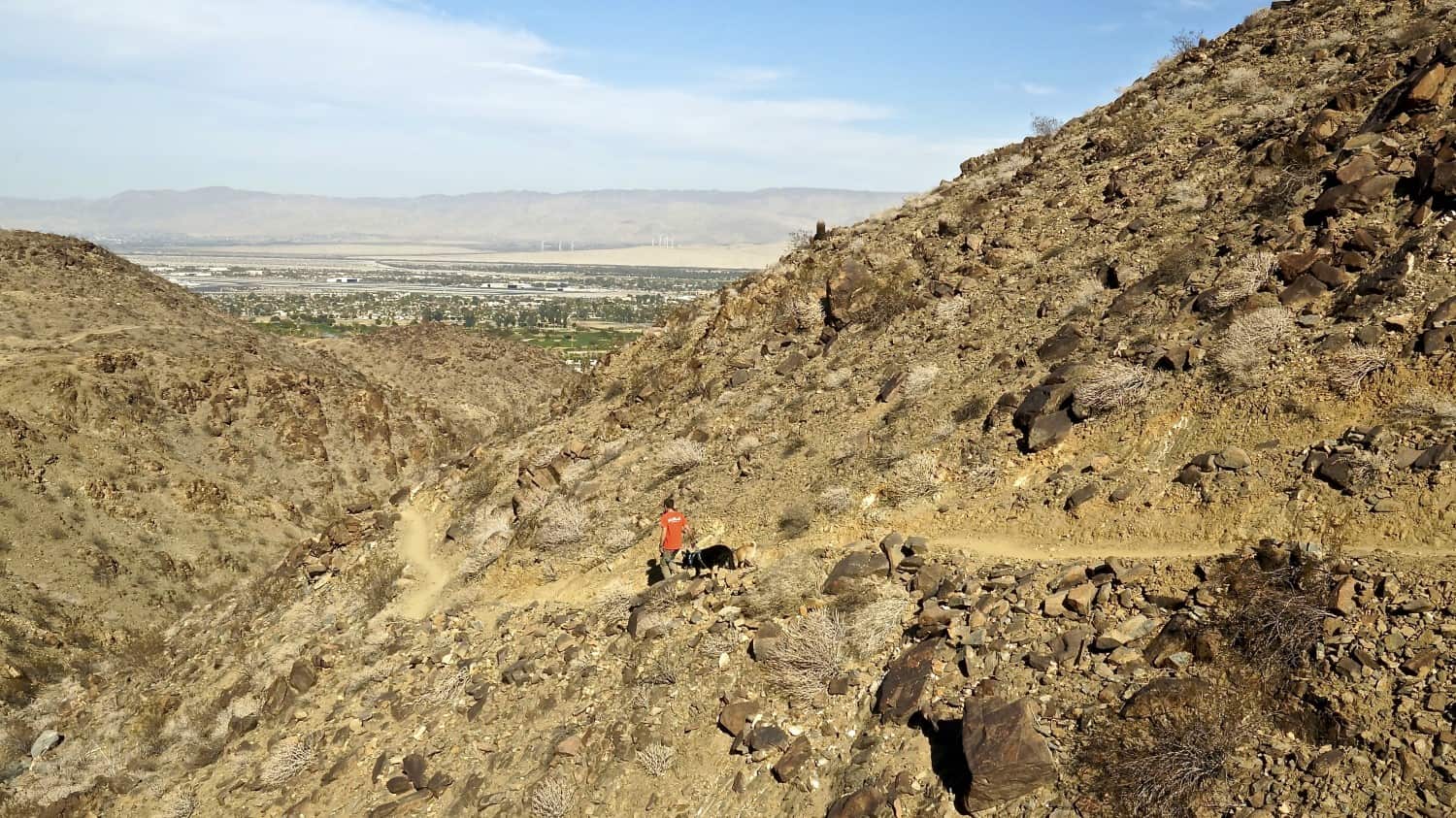 9. Drive out to Joshua Tree National Park
One of the most popular attractions in the area is Joshua Tree National Park, and for good reason! Spreading over nearly 800,000 acres, where the Mojave and Colorado Deserts meet, Joshua Tree's scenery is unlike any other we've ever seen. It's well worth the drive to see this stunning landscape!
Pets are prohibited from all the trails, but that doesn't mean you can't get out for a walk together! Get more information in this post on hiking with pets at Joshua Tree.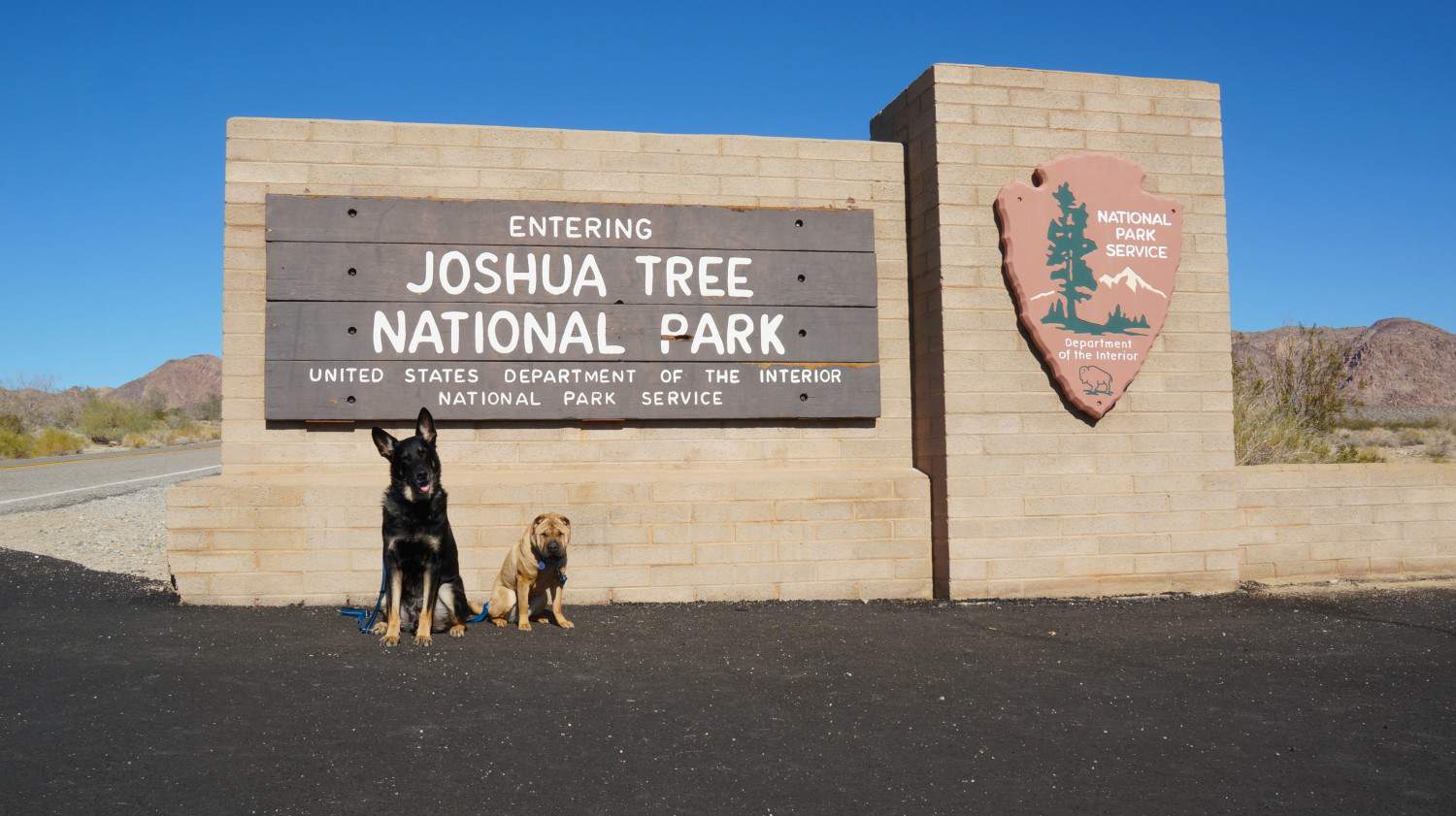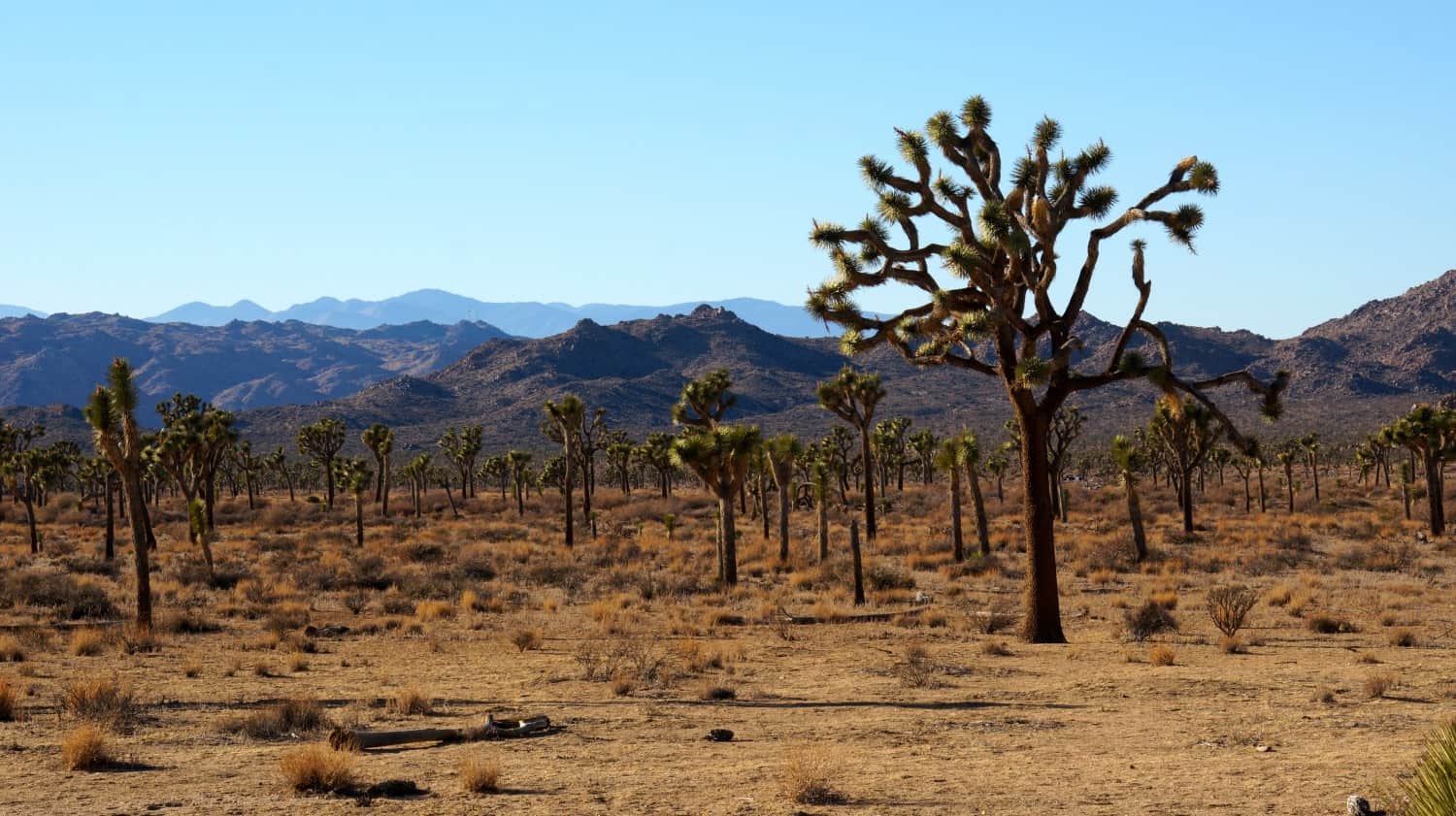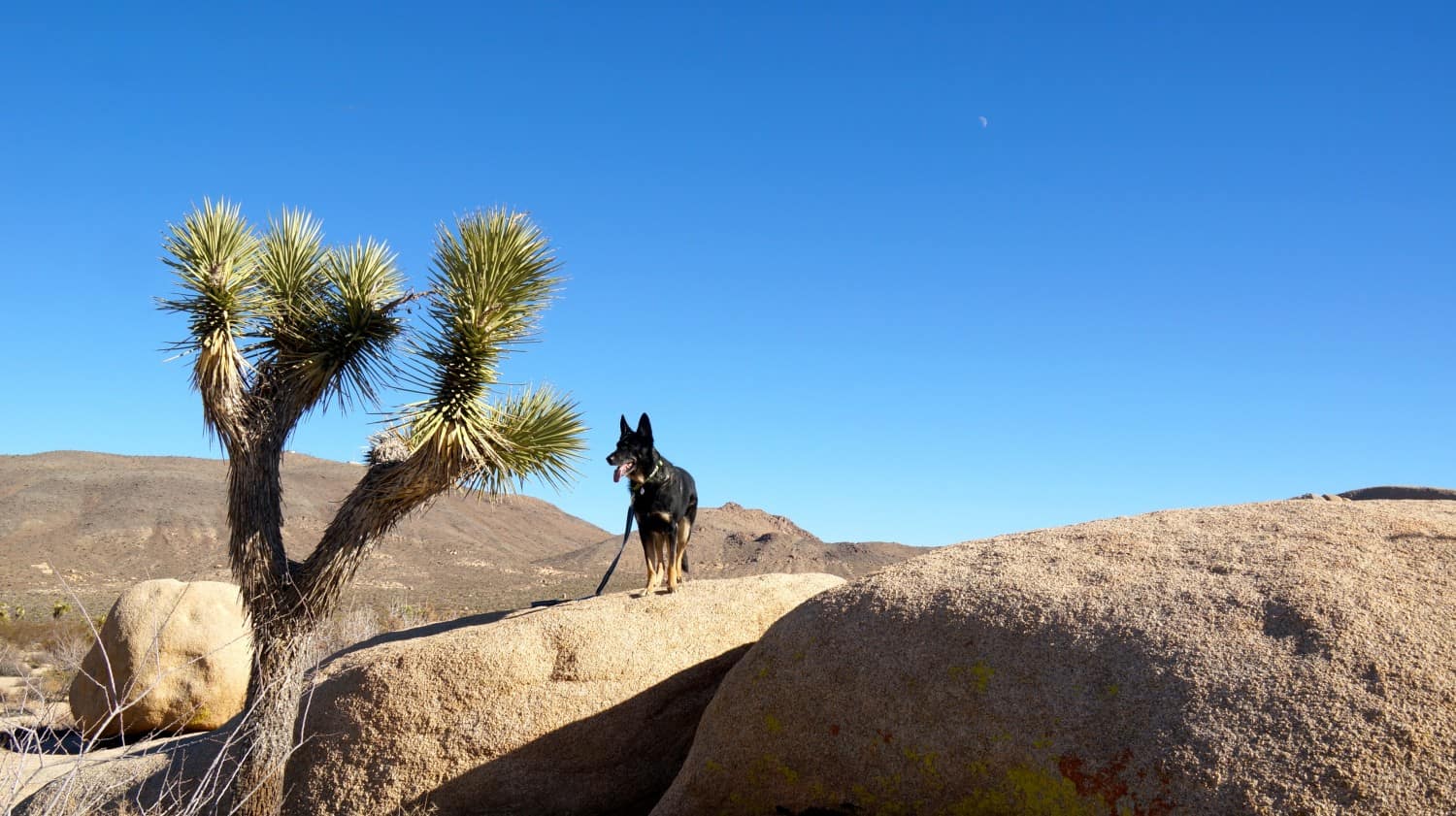 10. Get a Bite at Sherman's Deli
Sherman's Deli (401 E Tahquitz Canyon Way) is famous for it's generous portions, friendly service, and delicious food. The covered, dog-friendly outdoor patio is spacious, and their sign and dog bowls at the entrance make it clear that they welcome furry guests – as long as they keep their paws on the ground.
This is a great place to get a bite to eat if you're strolling around the downtown shopping area.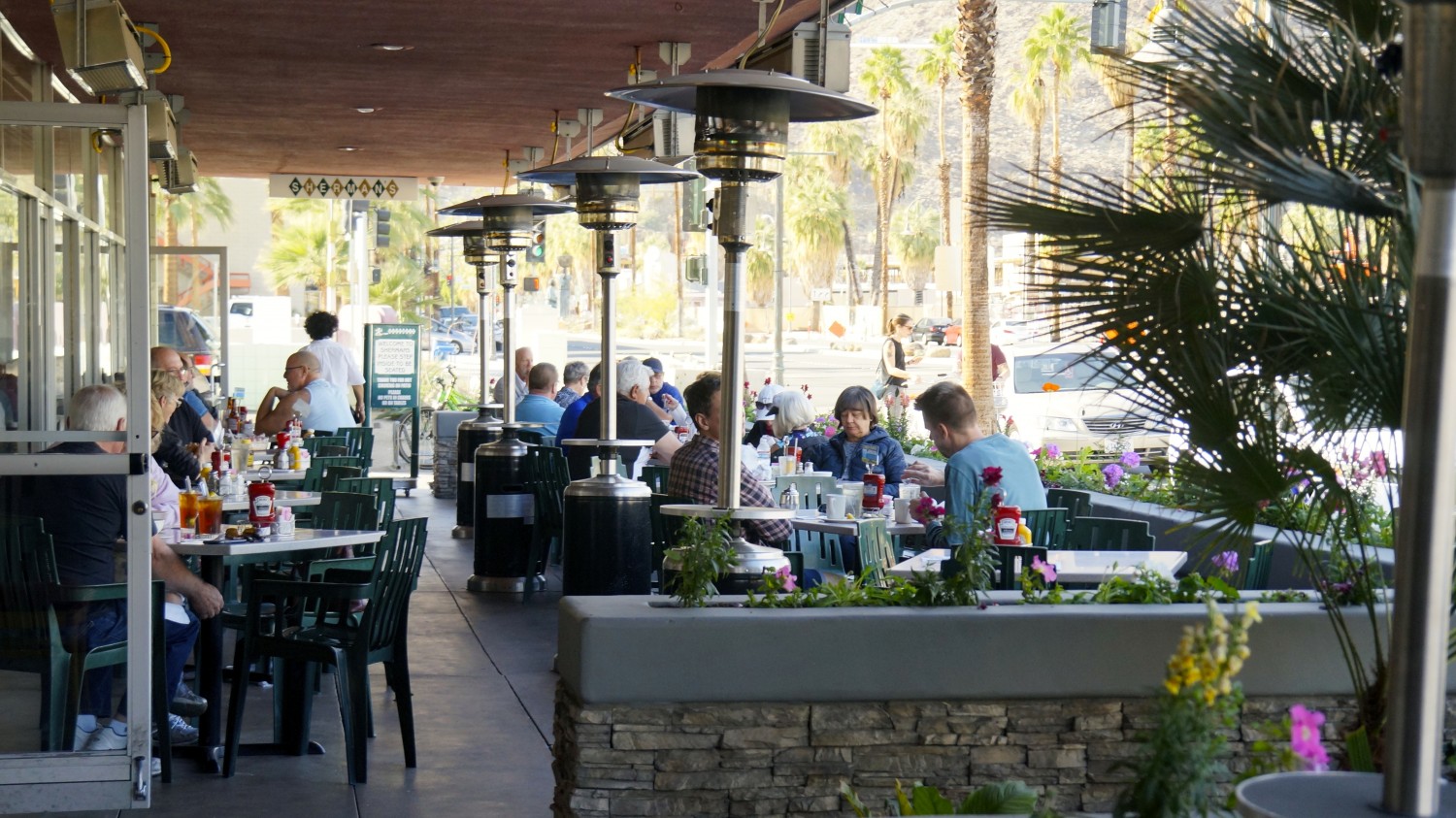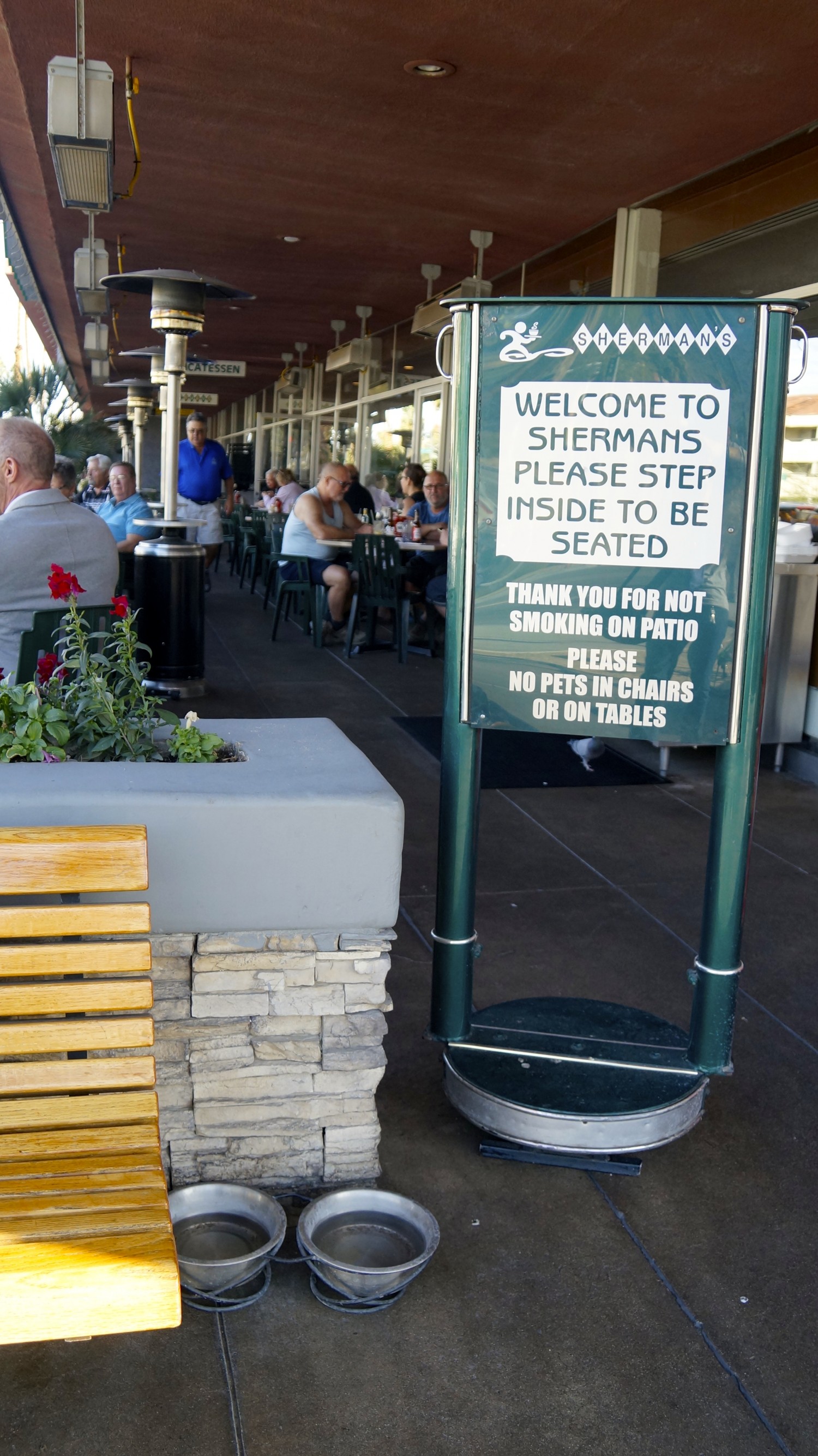 So there you have it – our ten favorite things to do in pet-friendly Palm Springs with our dogs. We hope that you enjoy your visit as much as we did!
Dog Friendly Day Trips
Take the Pines to Palms Highway (Hwy 74), which climbs to a spectacular overlook. Then getting out for a hike in the San Bernadino National Forest!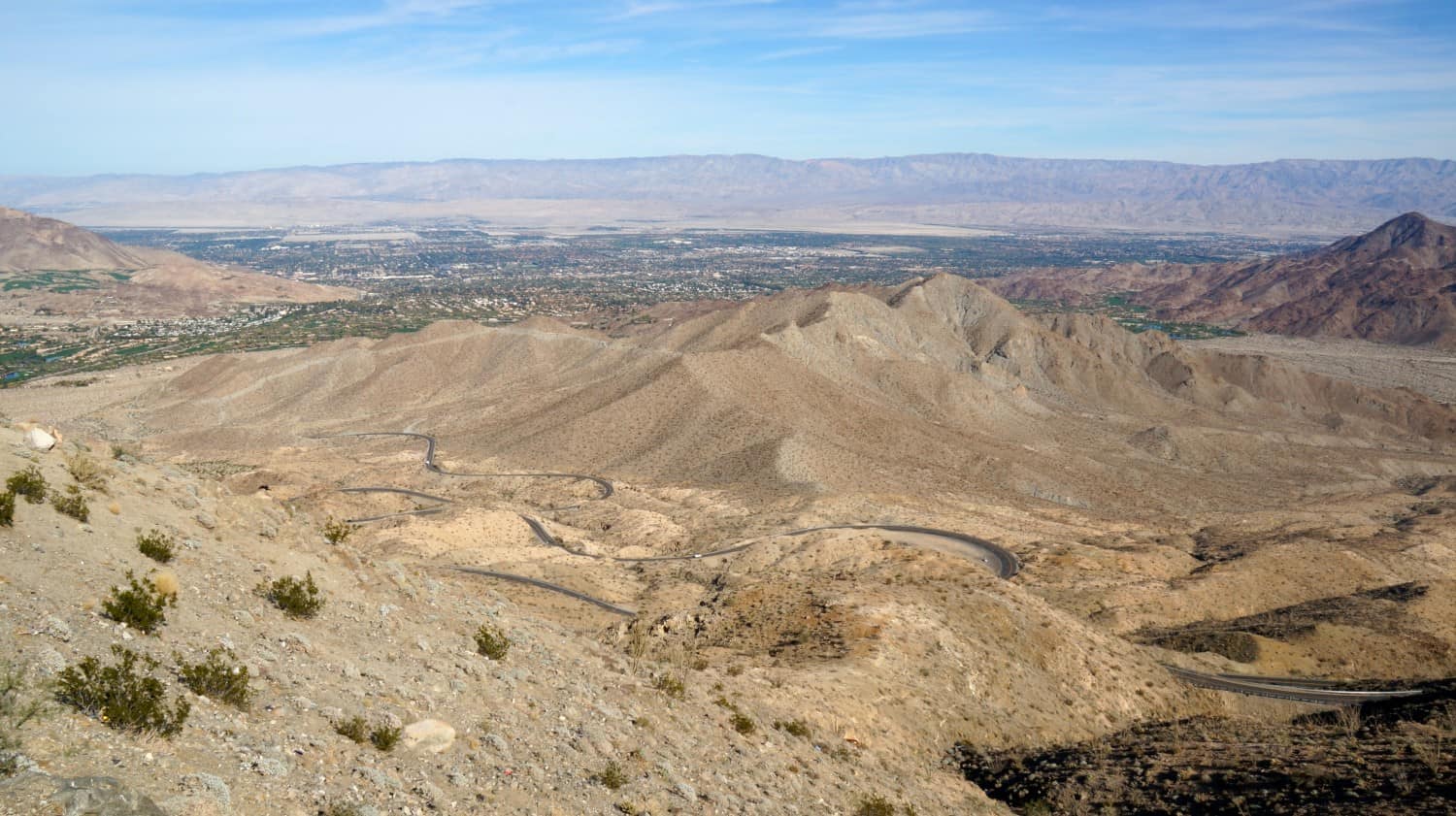 To get to the national forest, you'll pass by a few trailheads in the Santa Rosa and San Jacinto Mountains National Monument.  Be aware that not all the trails in the national monument allow dogs, to protect the bighorn sheep that inhabit the area.
Once you've passed through the national monument into the national forest, all the trails are dog friendly, but dogs must still be kept on leash in case you encounter bighorn sheep.
Pacific Crest Trail
If you're looking for a serious hiking trail, check out the Pacific Crest Trail, which runs stretches 2,6oo miles from Mexico to Canada. Of course, you can just enjoy it for a day! It takes hikers four to six months to compete the whole trek.
Idyllwild
While you're in the area, don't miss the quaint mountain resort of Idyllwild. The views alone are worth the drive, and the rustic, small-town atmosphere will steal your heart.
We stopped for lunch on the pet friendly patio at Idyll Awhile Wine Shoppe Bistro, and would have stayed to enjoy their wine selection – if we hadn't had that curvy road between us and home!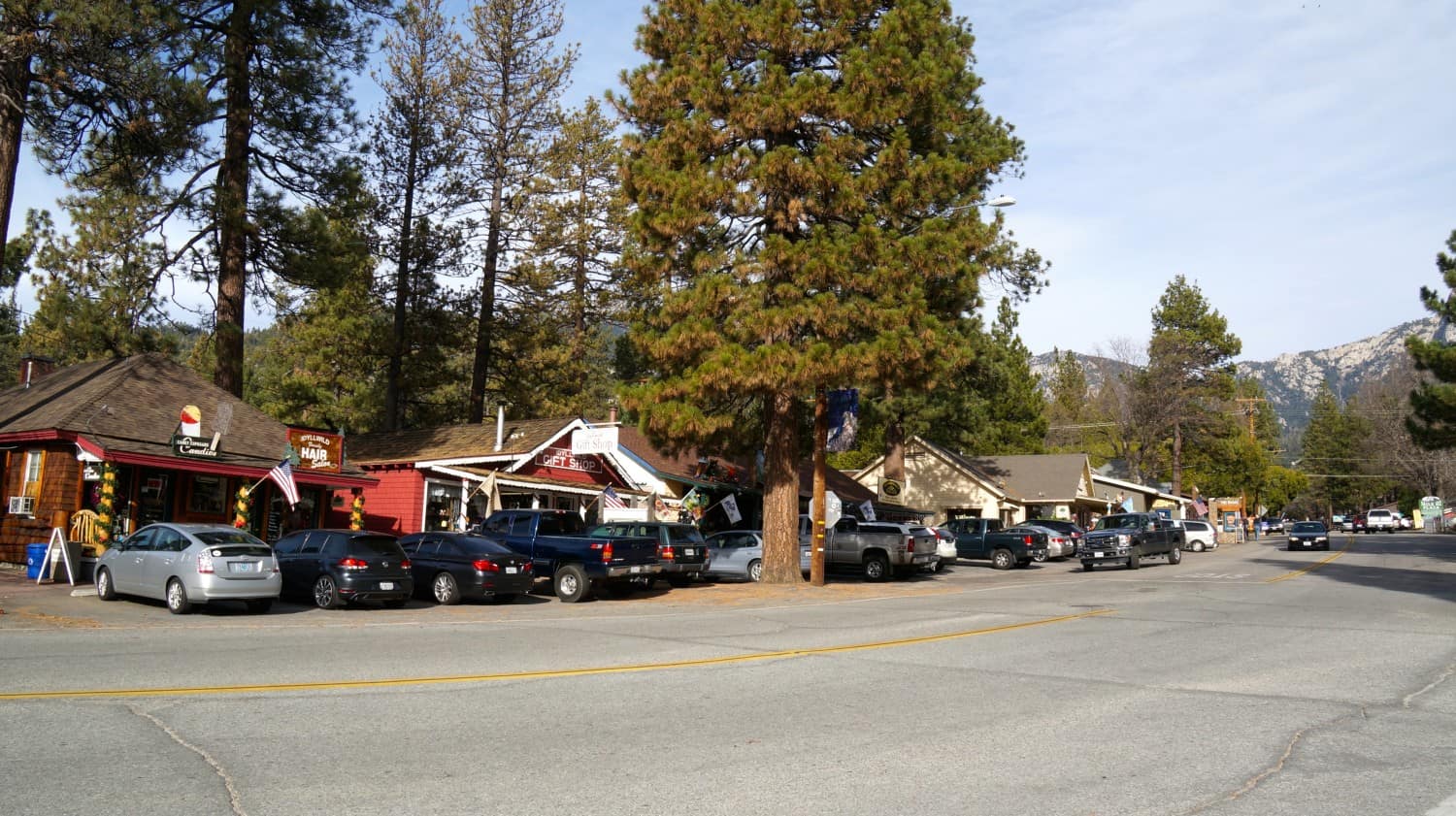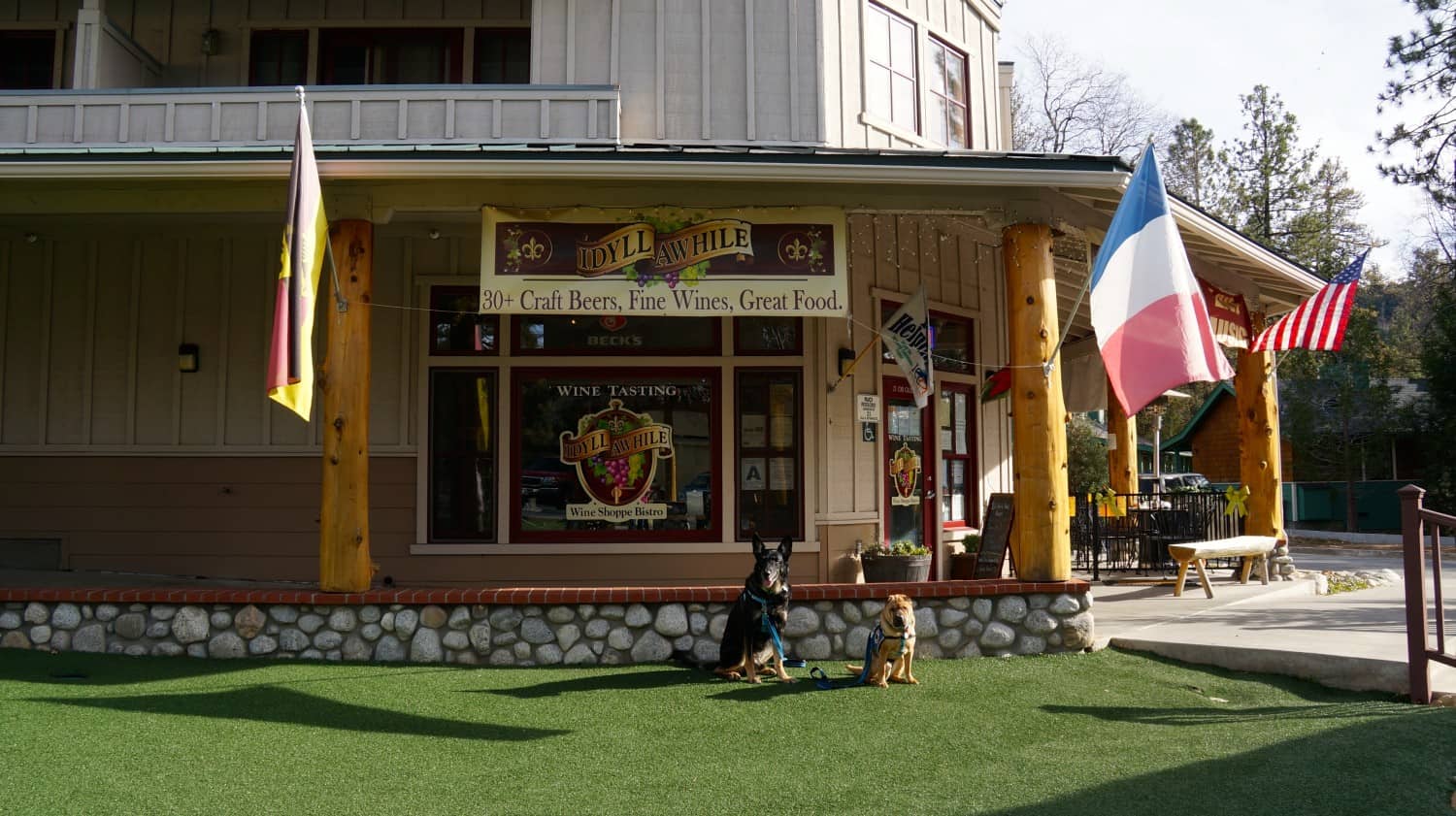 Looking for another fun day trip from Palm Springs? See what we did in pet-friendly Borrego Springs!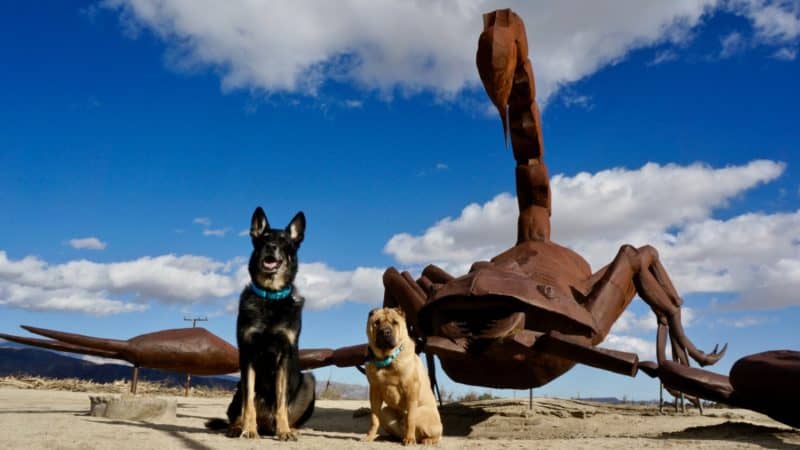 UPDATE: Who knew?! We recently learned that the Palm Springs Air Museum is pet friendly. See what Ty and Buster thought of our visit.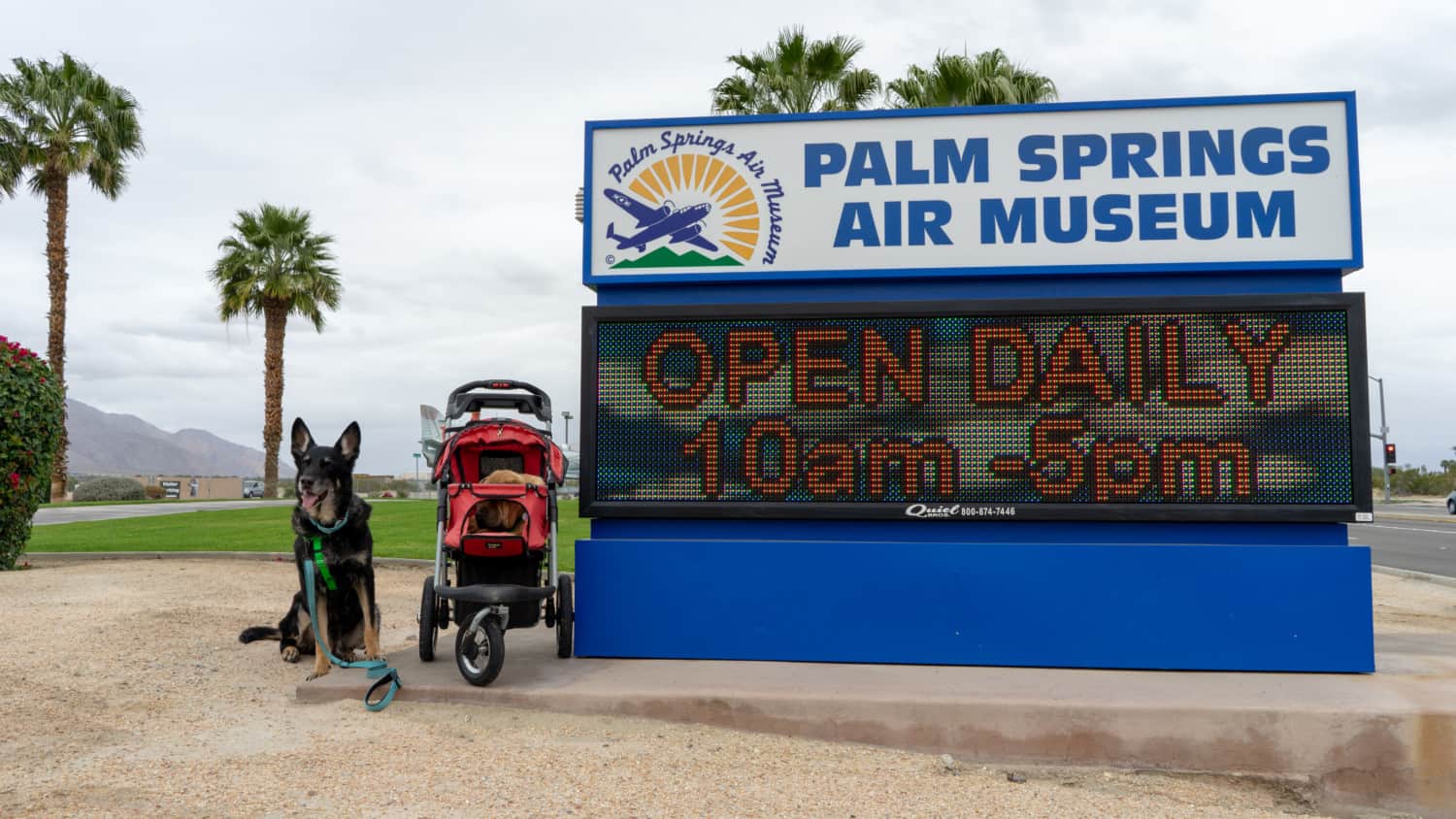 Gear Used in This Post:
(Affiliate Links)
Sleepypod Clickit Car Safety Harness
Visit our Amazon store to learn about more products we rely on to make traveling with pets easier, safer, and more fun!
Amazon Affiliate Disclosure: GoPetFriendly.com LLC is a participant in the Amazon Services LLC Associates Program, an affiliate advertising program designed to provide a means for website owners to earn advertising fees by advertising and linking to amazon.com, audible.com, and any other website that may be affiliated with Amazon Service LLC Associates Program. As an Amazon Associate, the owner of this site earns a commission from qualifying purchases.
(Visited 50,506 times, 1 visits today)