Adventuring with cats is still quite rare, so people have a lot of questions. Get expert answers to the most common inquiries about hiking with cats.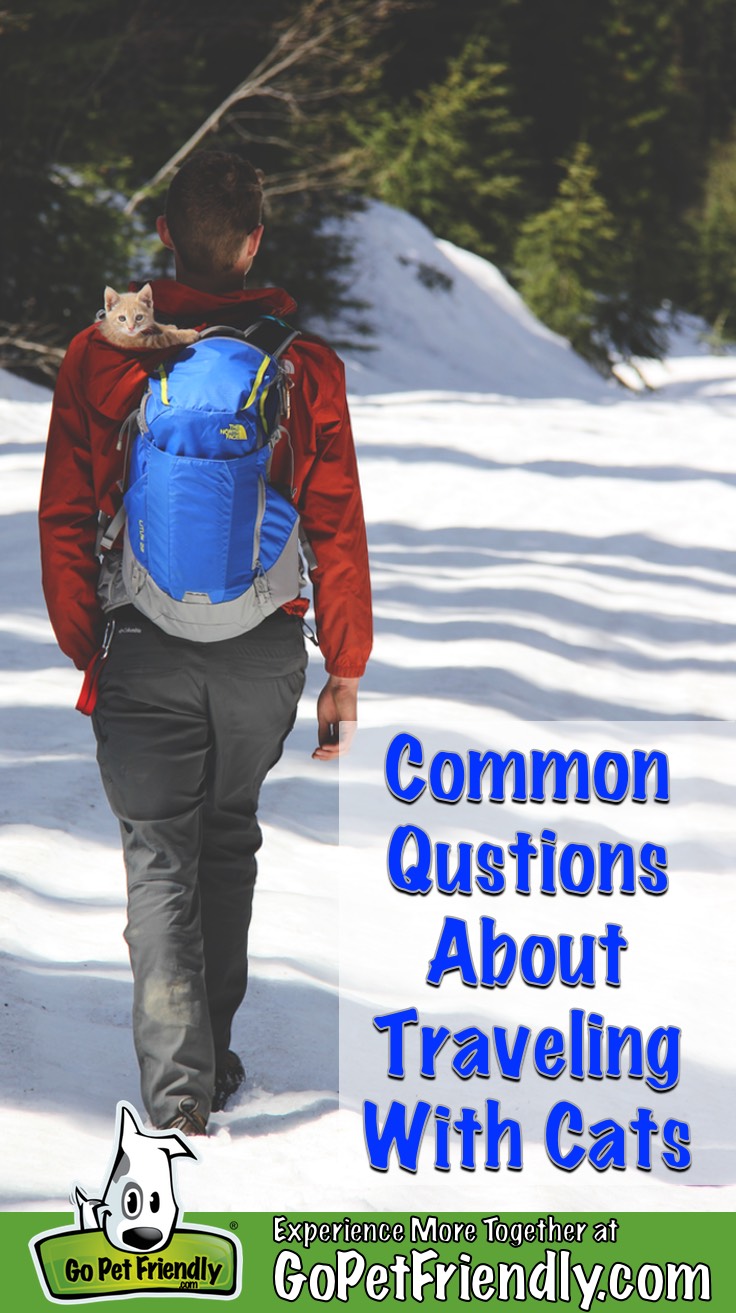 It's unusual to see cats hiking up a trail or riding in a backpack, so we get a lot of questions when we're on adventures with our cats, Fish and Chips. People are curious, and we're happy to share our experiences. Below we're answering to some of the most common questions we've received about hiking with cats.
Tips For Hiking With Cats
How old were Fish and Chips when you started taking them on adventures?
We started taking Fish and Chips with us when they were kittens. The day we adopted Fish, we put him in a tiny harness as soon as we got him to the car. By nine weeks old he'd done his first hike, although he fell asleep in the backpack half way through! And at three months old, we took him on his first multi-day road trip to California.
When we adopted Chips, he started out in Fish's kitten harness and was out on the trails the next day. Kittens adapt better than older cats, so exposing Fish and Chips to as many things as possible while they were young made training easier.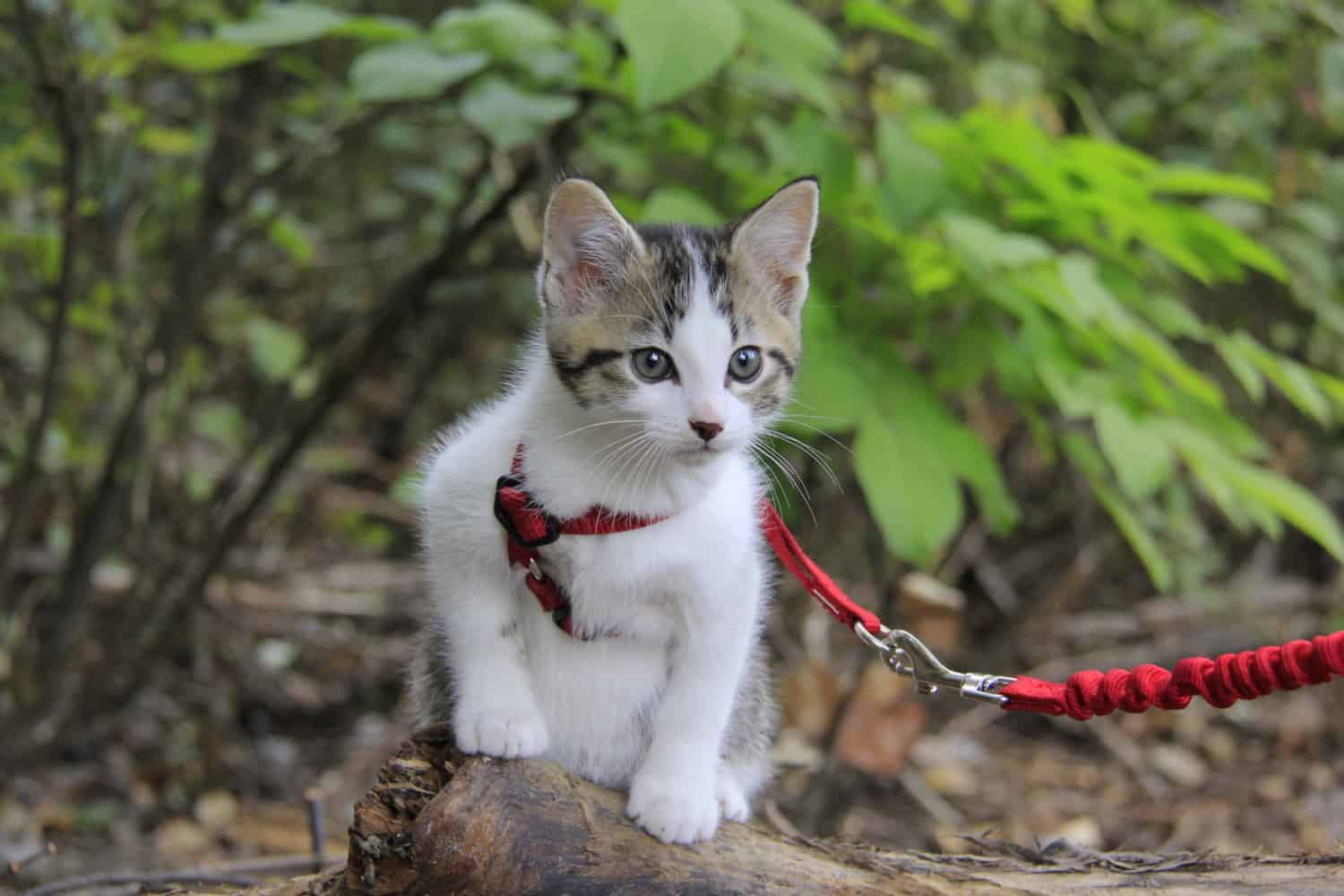 What's is hiking with your cats like?
This is a question we get a lot. People see our Instagram photos and think we carry the cats out to pretty places just to take their pictures. That's not the case. When we're hiking, the cats spend a significant amount of time walking and running along the trail and only hitch a ride on our backpacks when their legs have trouble keeping up.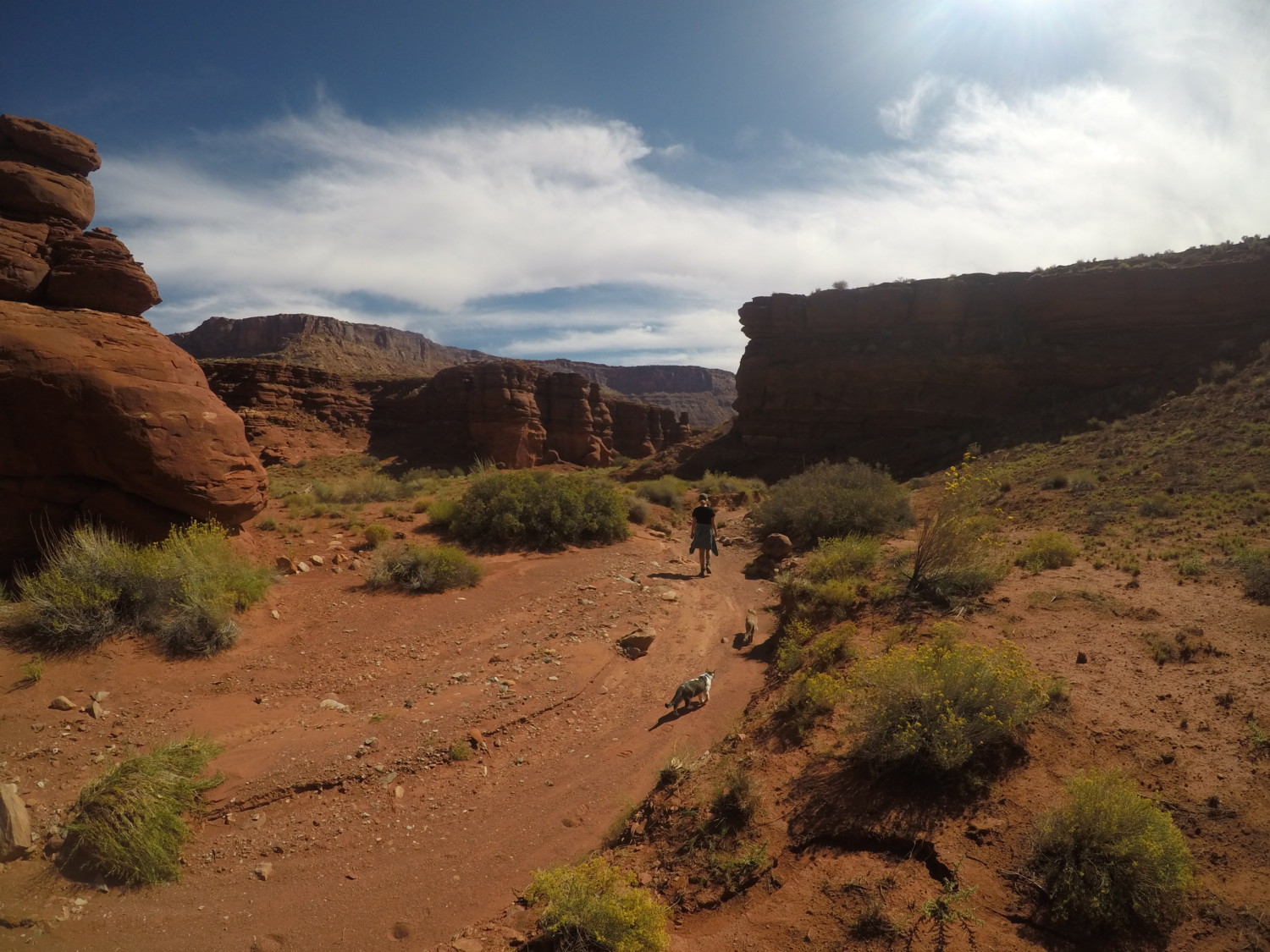 How did you train your cats to walk on a leash? And how do you get them to follow you?
Training a cat to walk on a leash requires time and a lot of patience. People assume that the process will be similar to leash training a puppy, which is far from the truth.
When we first started, our "walks" consisted of letting the cats wander around, or carrying them in a backpack. They didn't know to follow the trail, nor were they interested in following us. The outside world was far more interesting, and they wanted to explore it on their own schedule.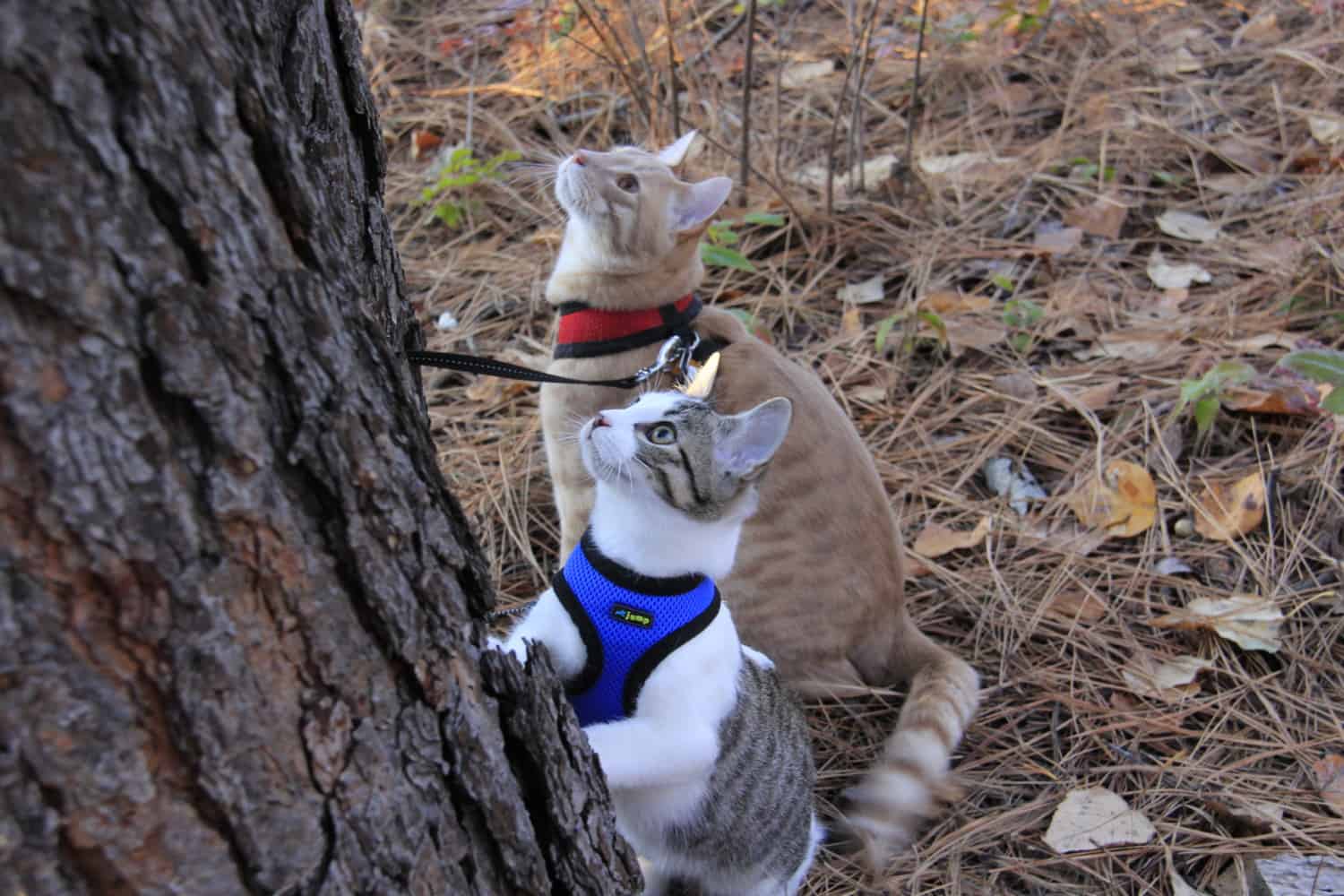 Getting them used to being outdoors and comfortable with the sights and sounds was the first step. Once they were more relaxed outside, we could give them a little more freedom.
We used retractable leashes, which were essential in training the cats to follow us. The longer leashes allowed them to get as much as 20 feet away, so they felt independent. But once they reached the end of the leash, a gentle tug let them know it was time to catch up. When they reached us, a treat provided positive reinforcement and let them know that sticking close meant more snacks!
After years of hiking together, we've reached a point of trust. Now we use regular leashes and often drop them, letting the cats drag them behind. This allows us to step on the leashes if we need to scoop the cats up quickly (if there's a dog on the trail), but also gives them a real sense of freedom.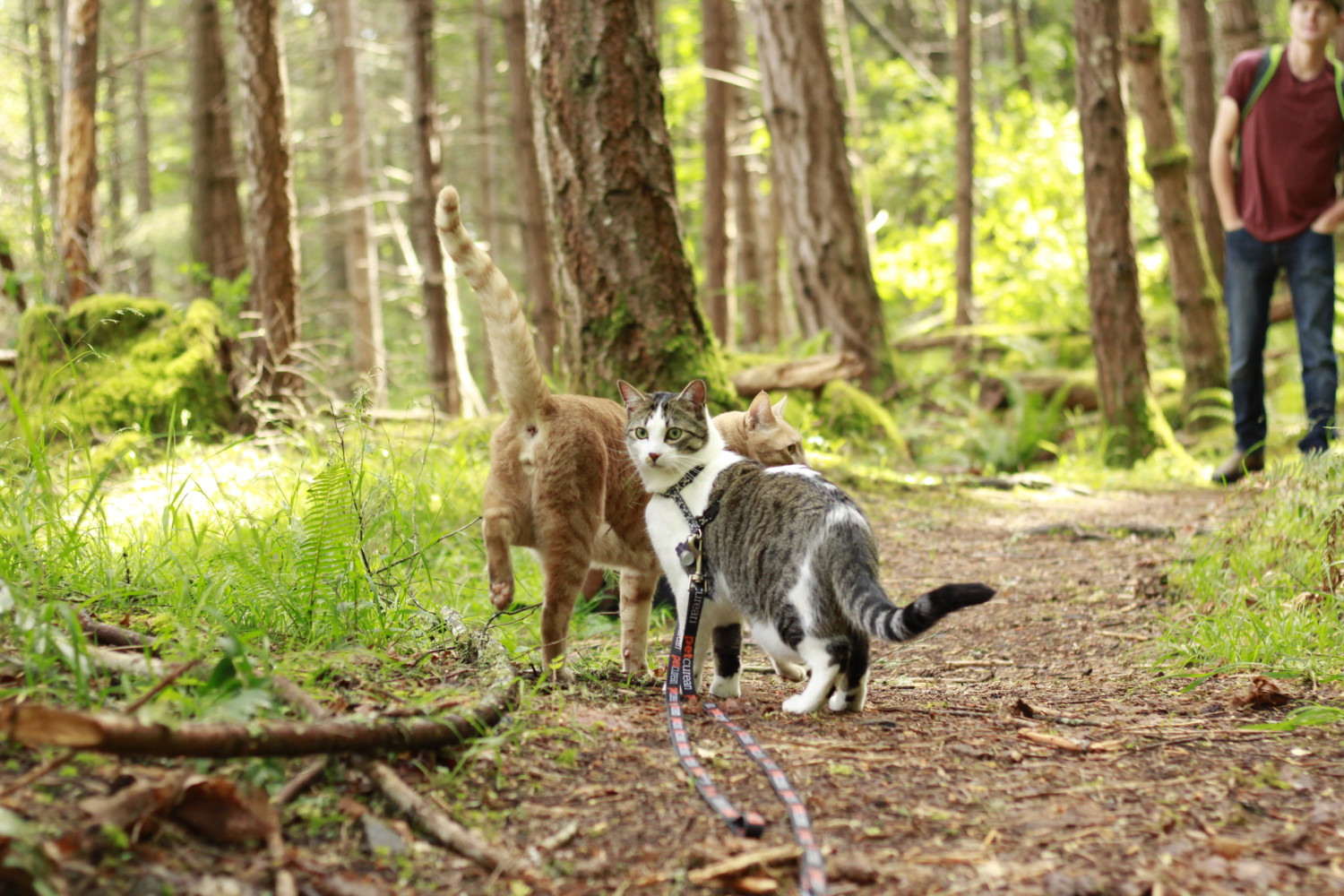 What kinds of harnesses and leashes do you use?
Fish wears a vest style harness and Chips wears a H-style harness. For more on our harness choices, see our post on Choosing the Right Harness for Your Cat.
We started with bungee leashes for backpack training because they were safer when the cats jumped off the packs. Then we moved to retractable leashes to help with leash training. Since then we have converted to regular 6-foot leashes because they're easy to pack and make it simpler for the kitties to roam when possible.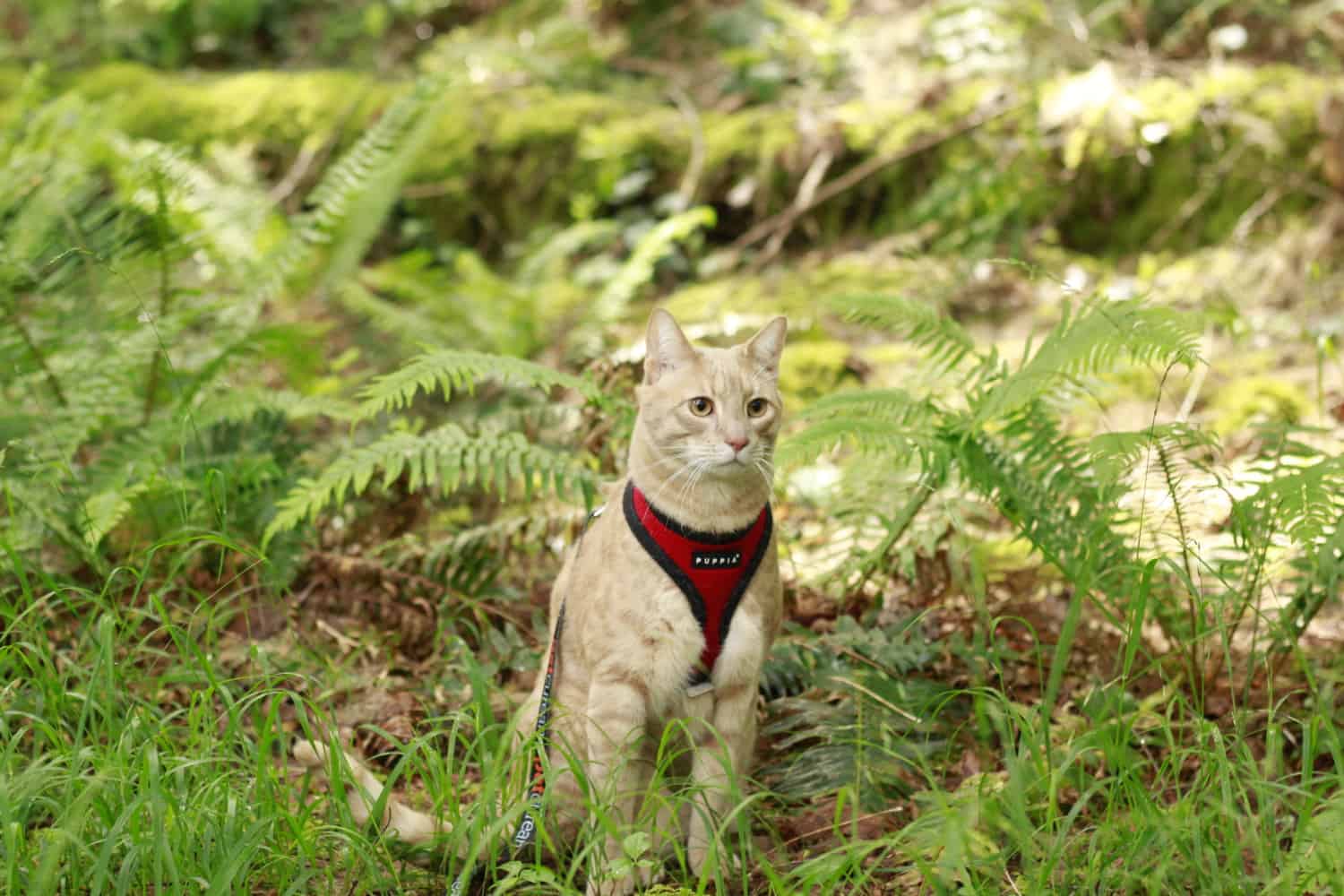 How do you deal with the dangers your cats may encounter when they're hiking?
People tend to be quite fearful of letting their cats outside, which is understandable. They are just like any other member of the family, and we feel a responsibility to protect them. What we're trying to change is the way people view cats. They need exercise and stimulation, just like dogs.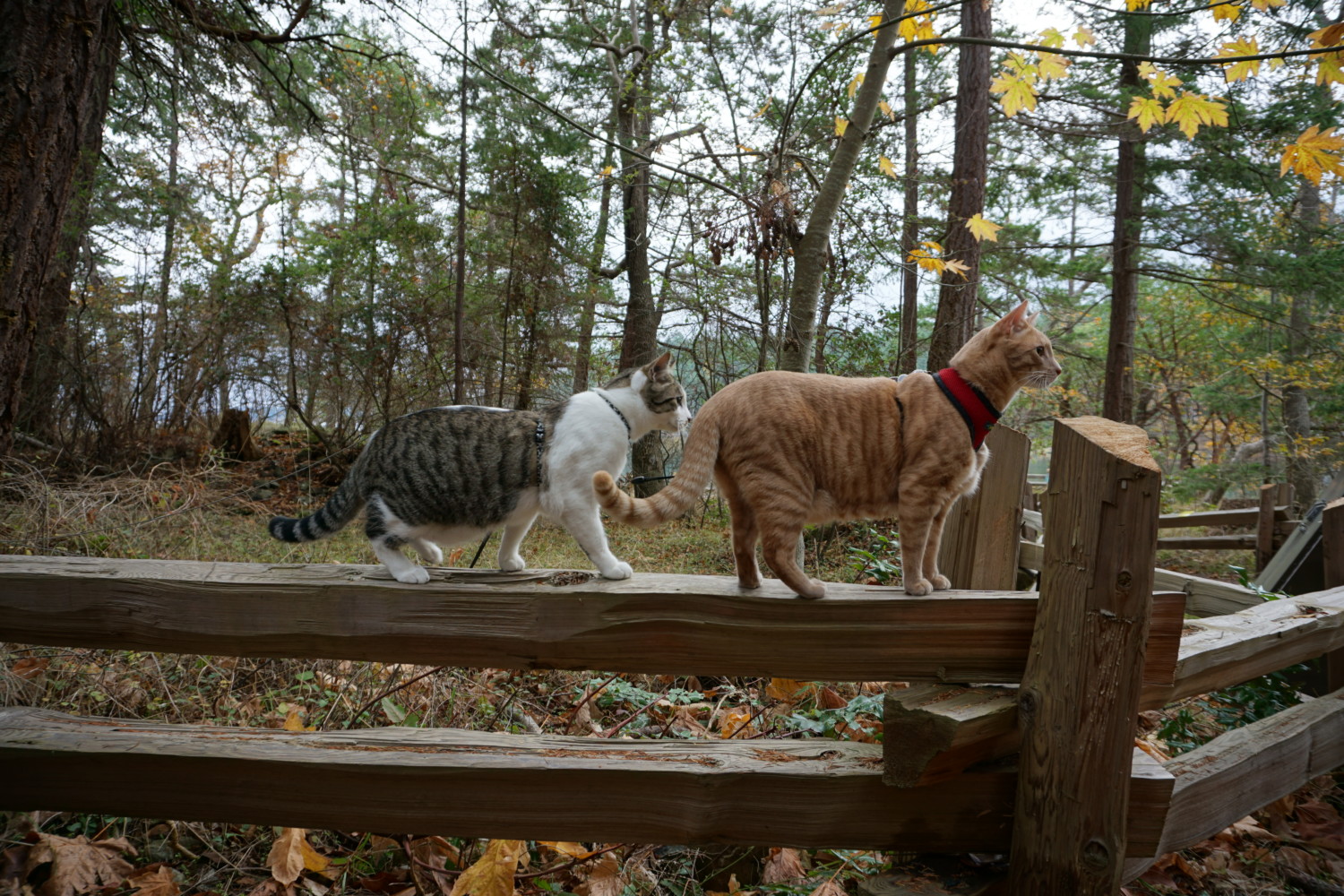 There are plenty of dangers traveling cats might encounter including wildlife, unfriendly dogs, parasites, toxic pants, and more. But, just like people and dogs, the positives of hiking certainly out weigh the negatives!
Care and precautions should definitely be taken, but that doesn't mean your cat should never leave the house. Some of the steps we take to ensure Fish and Chips' safety is always keeping them in sight, making sure they're harnessed at all times with ID tags on their harnesses, having them microchipped, and not letting them off-leash until we were 100% certain they'd come when called.
How do you deal with them needing a litter box? Will they go outside?
We always bring a litter box with us. Actually, we have one that stays in the car permanently. That being said, we did take a multi-day backpacking adventure with Fish once, and he did go outside. Although, he didn't seem too pleased about it.
What do you pack for a day out with the cats?
The essentials we take along for a day trip with the cats include: a litter box, water bottles, collapsible dishes, treats, and leashes. Depending on the weather, we may also pack cat jackets if we're worried about them being chilly.
What advice do you have for encountering other people or dogs on the trail?
We've never had any major issues with dogs. We avoid off-leash dog areas out of respect for dogs and their humans, and we pick up Fish and Chips whenever we see a dog approaching. Often the dog doesn't even notice the cats.
Our encounters with people on the trails mostly involves them asking for photos or saying "there's something you don't see every day." We appreciate the opportunity to educate people on the joys of exploring with their cats.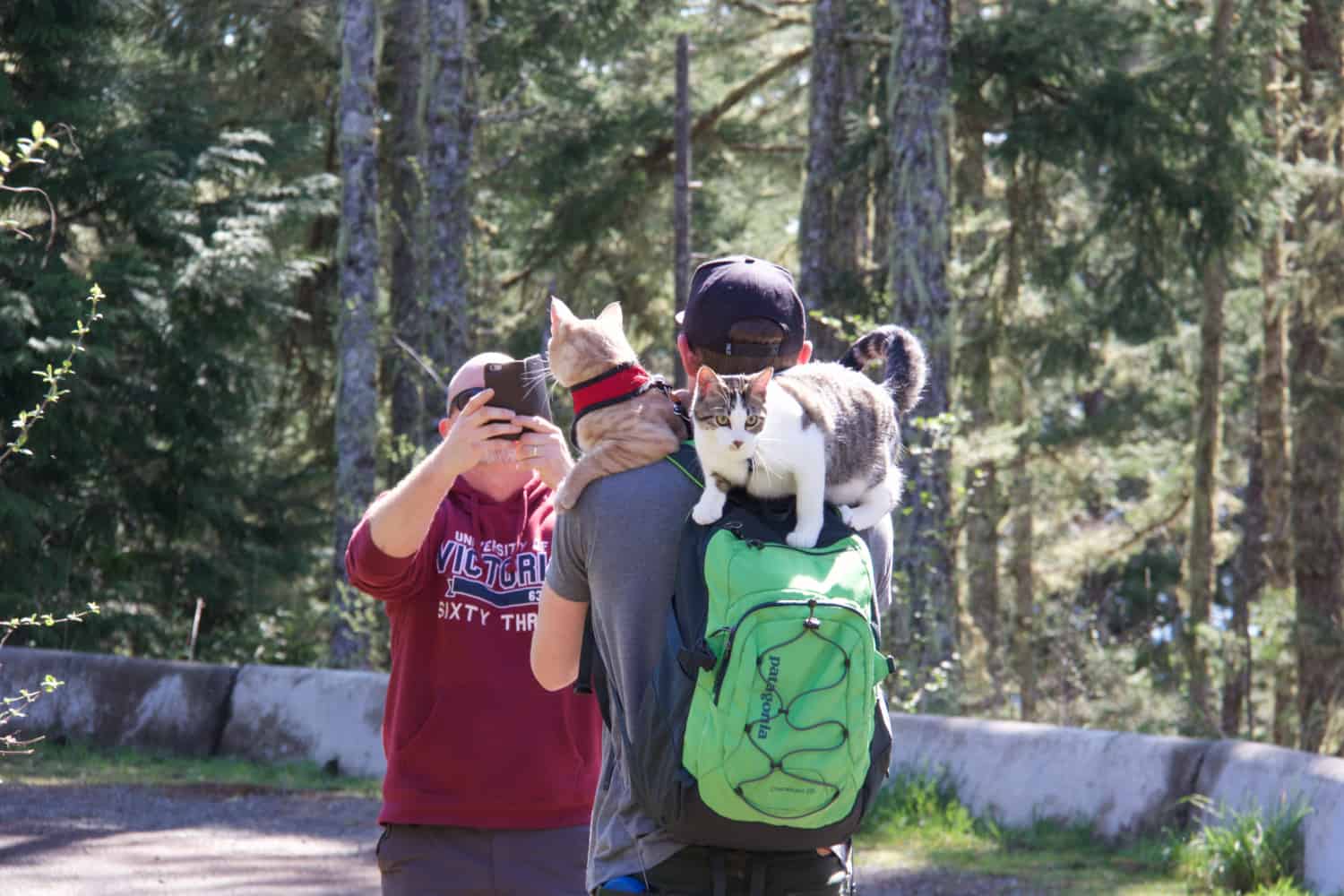 How did you teach your cats to ride on your backpacks?
When Fish was tiny we put him inside the backpack when he got tired on a hike, and he seemed quite content. As he grew, he learned to balance on top of the pack or ride on our shoulders. This was essential for us, so we taught Chips the same thing when he came along.
It took Fish some time to figure out how to get comfortable on the pack since he wanted to look around at everything that passed by. Chips on the other hand was naturally calm on the backpack and required very little practice.
Something that might help when training older cats is to start in an environment where they are comfortable, like inside the house or the backyard.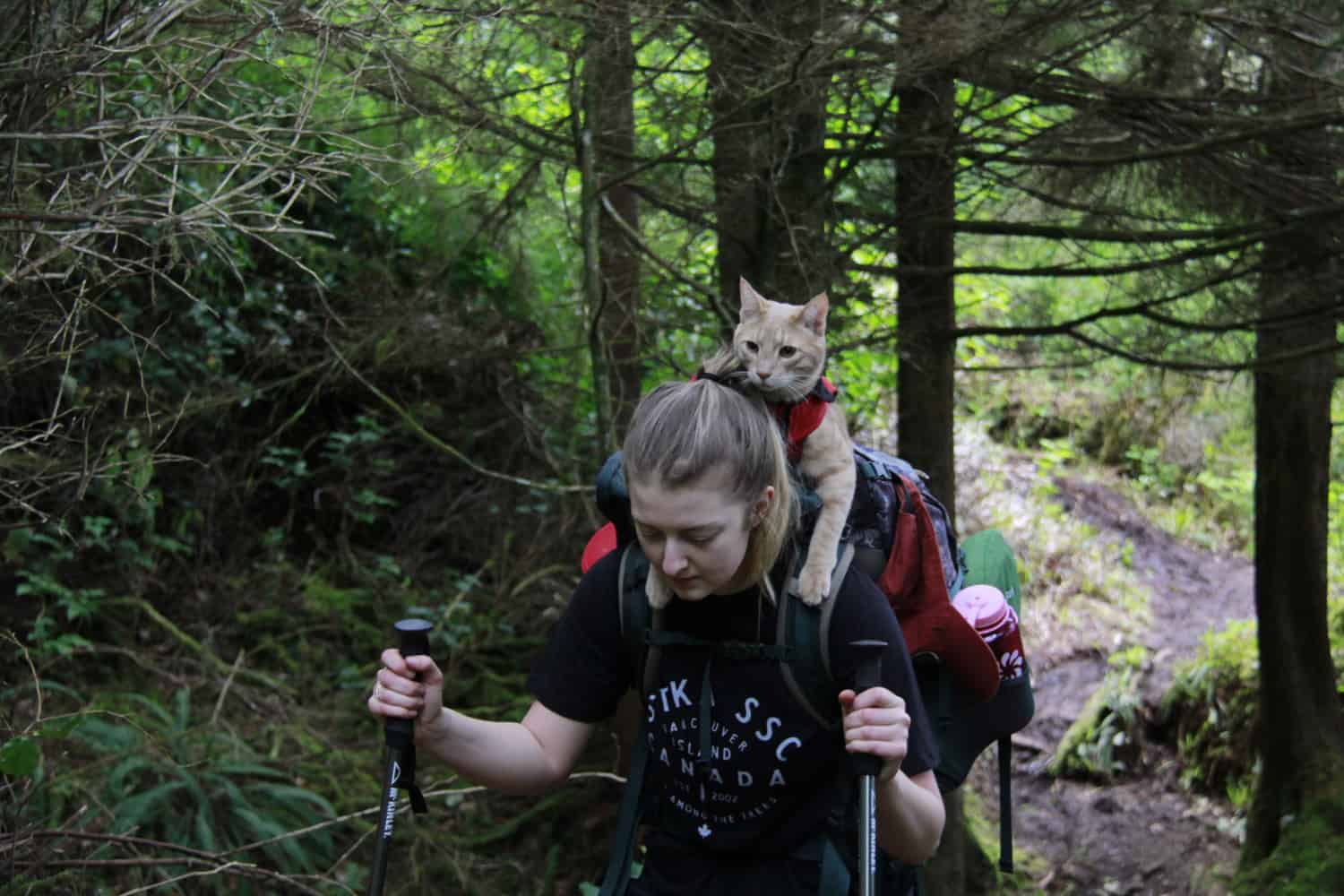 What complications are added by hiking with two cats?
Adding Chips to our family definitely came with some challenges, but it was totally worth it. Fish and Chips are very different, so it can be difficult to find activities they both enjoy. For example, Fish prefers warm, dry weather and loves the desert. Chips, on the other hand, prefers cooler temperatures and lots of trees.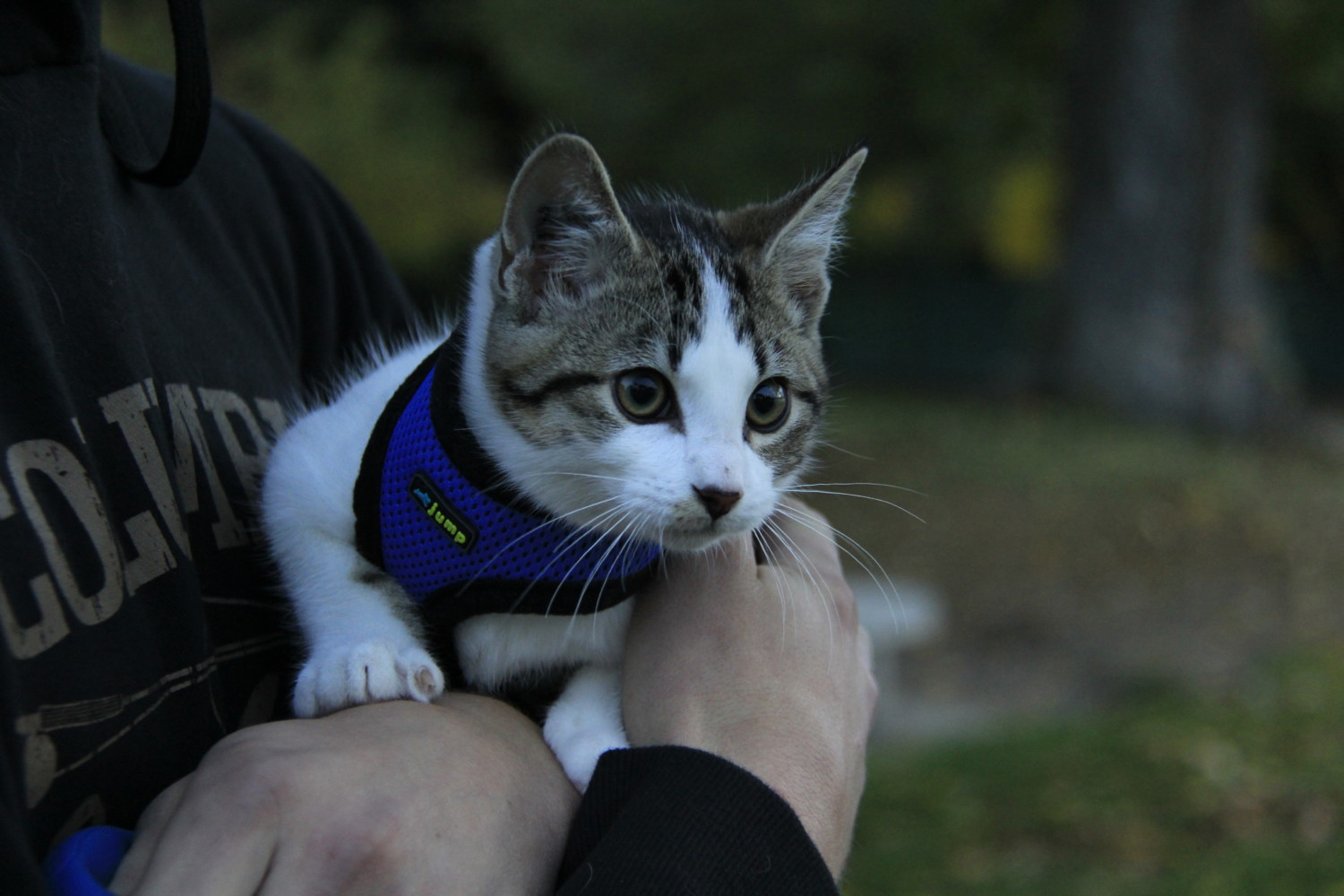 Also, if you want to explore with two cats at the same time, it's best to have two humans. Taking one cat out for a hike on your own can be difficult enough. Trying to take two is nearly impossible and will give you a new appreciation for the phrase "it's like herding cats."
Having two cats also means that we can no longer take turns carrying one on our backpacks like we did when it was just Fish. Now we both have a kitty to handle, so we have to be fit enough to carry our pack plus a cat.
Do you need any special vaccinations or flea/tick medications for the cats?
When you're traveling, it's important that your cat is up to date on her their vaccines. We've crossed the Canadian/US border with our cats several times, and all that's required is a copy of their rabies certificates.
As for flea and tick medications, we've never administered them to either cat and they've never had fleas. Chips did have a tick once, and we removed it. If you'll be exploring areas where ticks are very common, we recommend consulting your vet.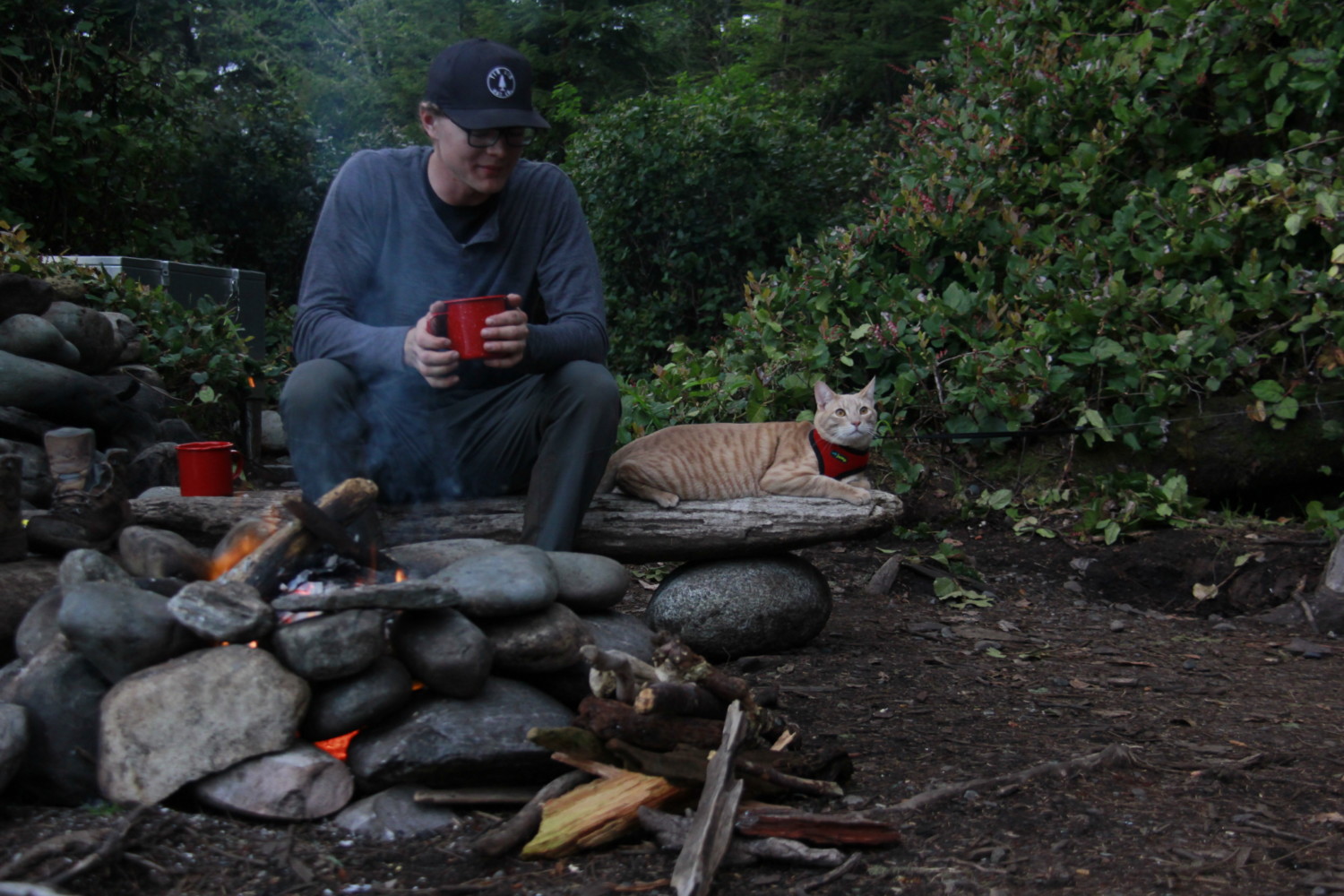 What is your favorite hiking trail on Vancouver Island?
Vancouver Island is so beautiful, and there are tons of hiking trails to explore! We live in Parksville and enjoy the local trails at Englishman River and Little Qualicum Falls. Our favorite, however, would be the Juan De Fuca trail on the west coast between Jordan River and Port Renfrew.
Is traveling with cats complicated?
Just like taking any other pet, traveling with your cat in the car requires a little extra planning. You have to consider what you'll do with the cats when you go somewhere they can't – like inside the grocery store. Will it be too hot for them in the car? Do you have room in the car for a litter box? What about spending the night away from home? Are you more into tenting or staying in hotels?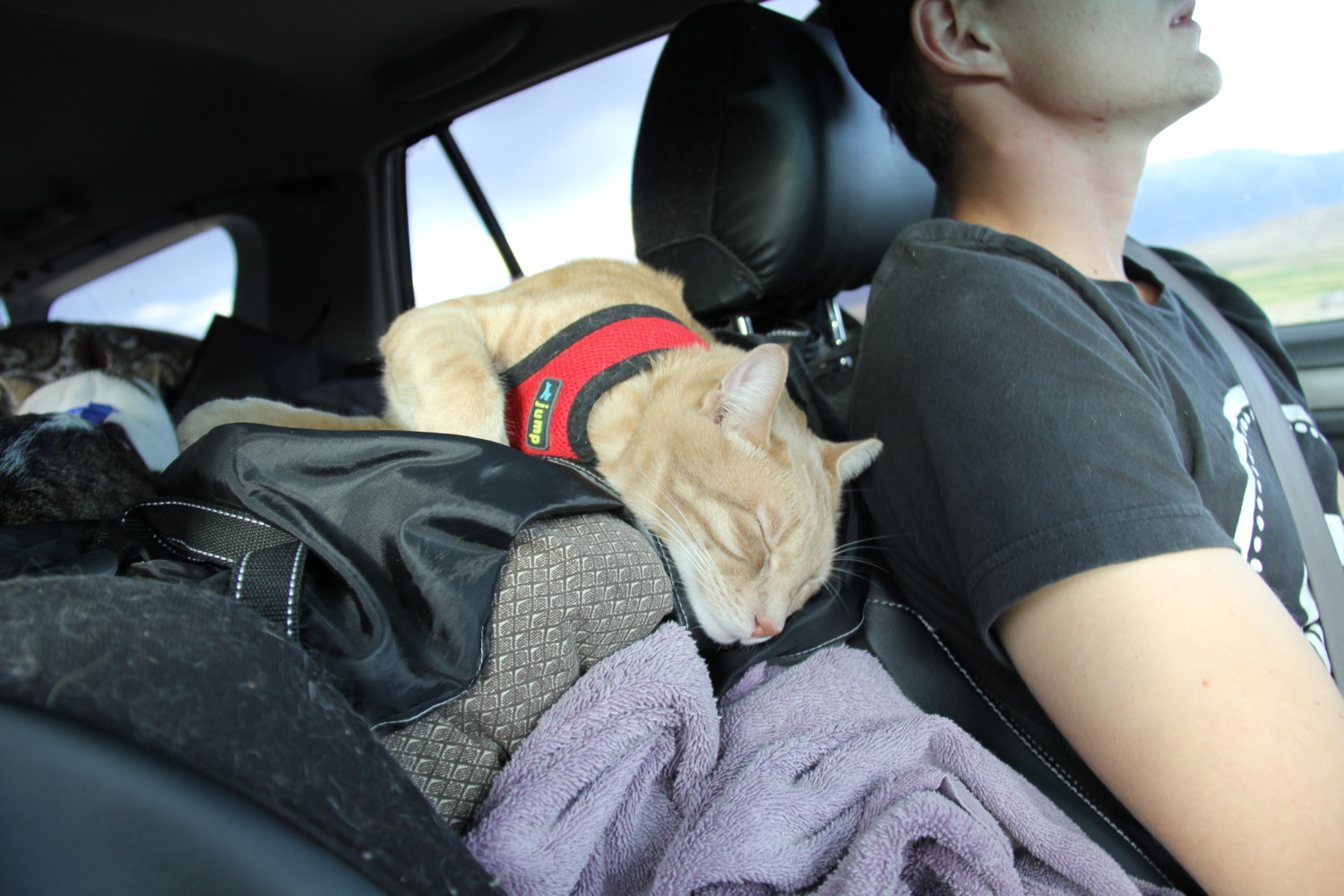 When we take Fish and Chips on longer trips, we camp in the car for the most part. But we usually book a couple nights in a hotel so they have a safe place to stay while we explore a city or do an activity that they can't.
If we need to stop and get groceries when the weather's warm, one of us goes in while the other waits in the car. If the weather is mild enough to leave them in the car, we make sure there is food, water, a litter box, and a little fan running.
Just like anything else, traveling with cats does present some new challenges, but a little planning and a willingness to adapt make it enjoyable for you and your feline friend!
If you have questions about traveling with an adventure cat that we haven't answered, leave a note in the comments below!
(Visited 4,258 times, 1 visits today)