Choosing the right gift for your traveling dogs and cats can be ruff! Finding that special something to convey how much you love them requires some creativity and a fair amount of research.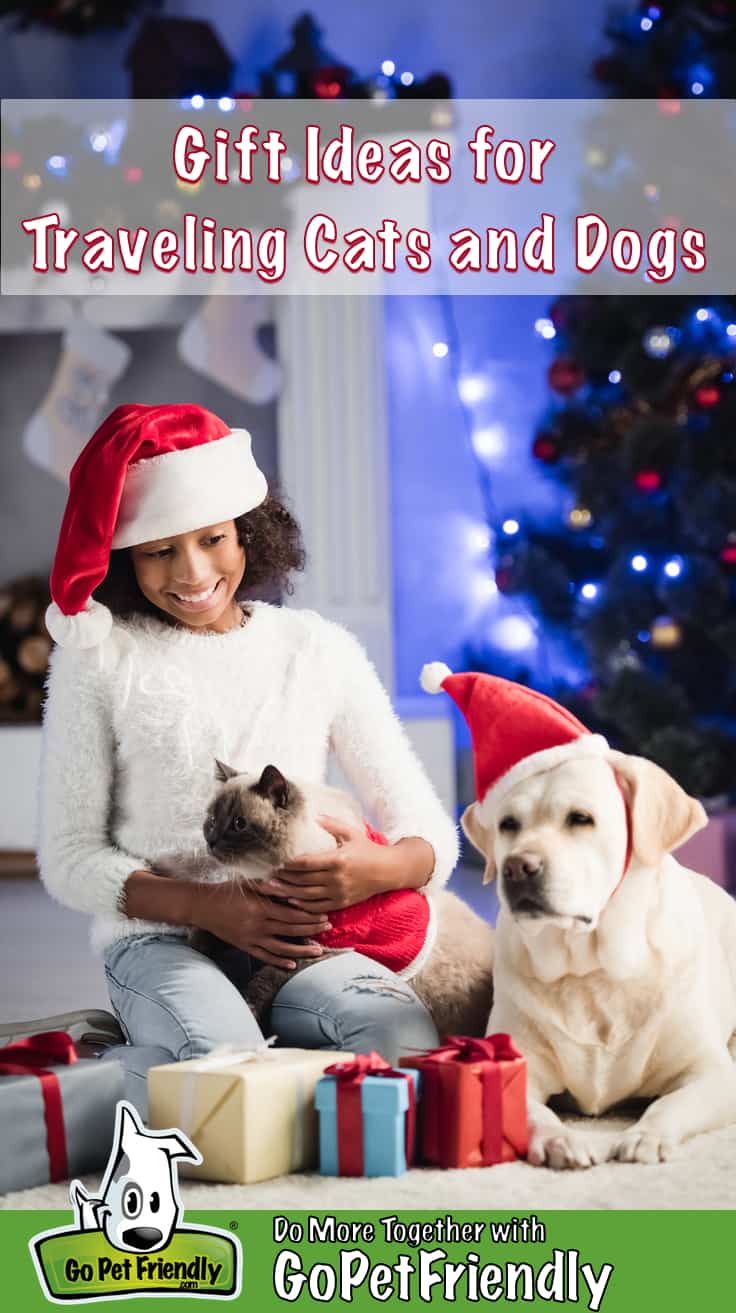 *This post contains affiliate links. Thank you!*
Of course, there's nothing traveling pets love more than taking a vacation with you! And some new pet travel gear, along with a promise to hit the road soon, is what every dog and cat is really hoping to find under the tree.
Here are our suggestions for gift ideas for traveling dogs and cats (and their owners):
Built for pet travel, the Go Bag makes it easy to organize pet and human travel essentials. Comfortable for cross-body carrying, the it even has zippered storage cubes and an insulated food pouch. And it's easy to keep all your gear organized with gusseted side pockets, an exterior utility ring, exterior zippered pocket, a padded main compartment, and an interior lanyard for keys.
Ruffwear's Haul Bag may soon be your favorite pet gear bag. It's waterproof and durable enough to stand up to all of your adventures. And with an adjustable and detachable shoulder strap, you can carry it over your shoulder, cross-body, or with the handle. Plus it has plenty of room for your pet's food, bowls, leashes, toys, waste bags, and more!
Nothing is more important than keeping your pet safe when you're traveling together! The crash-tested Clickit Sport Harness for dogs is what we trust to protect our pup in case of an accident. This harness is simple to use, with no anchor belts needed. Just put the harness on your dog, slip the seatbelt through the built-in loops, snap the seatbelt into the receptacle, and you're ready to go!
The beauty of this mobile pet bed is its versatility. A dog that likes to observe her surroundings can be accommodated as easily as the cat who prefers his privacy. The secret is in the adjustable dome top, which can be opened, closed, or removed entirely. And it can be used to transport your pet safely with a crash-tested seatbelt loop on the base and top handle!
Every pet on the go needs a place to curl up, and what could be more comfy than his own sleeping bag? Made of a polyester outer shell and fleece lining, your pet will love it! And it's easy to roll up and pack when he's not using it.
For cats on the go, a well-fitted harness is essential! The Puppia RiteFit Harness features polyester mesh construction for comfort. It also provides added safety with an adjustable chest belt and loop and hook straps on either side of the neck to keep your kitty secure.
Every dog on the go wants to look his best, and a spiffy new walking harness will do the trick! At $30 the Freedom No-Pull Harness is a gift for you both. The patented control loop on the back of the harness, which tightens gently around your dog's chest to discourage pulling, makes walking together even more enjoyable.
If you love taking your furry little buddy out, but her short legs make it hard to keep up, try a backpack for cats and small dogs! This well-ventilated design offers optimal airflow and makes it easy to check on your pet. And the cozy sherpa lining ensures she'll be comfortable. Some styles even include a collapsible bowl to help keep your pet hydrated on the go!
If your pet is too big for a backpack, or you're not able to carry one for extended periods of time, a pet stroller can change your life! When Ty lost his vision, he rode in a stroller, and it allowed us to do so much more together. Whether your pet is small or large, there's a perfect stroller out there for you.
Safety and functionality combine with this collar and leash combo! Both the leash and collar come in five fashionable colors and have reflective accents, increasing your pet's visibility in the dark.
Your dog will love the neoprene-lined martingale collar. And the martingale loop will keep him from slipping out of his collar and getting lost if he's startled.
The Weekender leash is durable and comfortable with its heavy-duty swivel clip and neoprene-padded handle. The handle includes an integrated buckle, allowing you to safely connect your pup to a chair at the coffee shop, or stool at "yappy hour."
Nothing says love like a cushy orthopedic pet bed. These stylish, practical designs are good for both dogs or cats. Made from high-quality upholstery fabric with removable bolsters and foam inserts, the beds are easy to wash and will look great for years.
Whether you're training your pet to pose for photos, or just behave politely, the job will be easier with a treat pouch! Timing is key when rewarding your pets, and a treat pouch keeps rewards handy and your pockets crumb-free!
You'll want to stock your new treat pouch with something delicious! These cat and dog treats from Ageless Paws are made only from raw chicken, so they're as healthy as they are tempting. Freeze-drying maintains the freshness, and the treats contain no artificial ingredients, additives and fillers. Made with the strictest food safety standards, these are treats you can feel good about.
For those chilly morning and evening walks, a pet jacket will help keep your cat or dog comfortable. This polar fleece jacket is windproof and breathable, and goes on easy with velcro closures.
For walks on those truly cold winter days, your dog or cat will appreciate the Summit Parka. It's quick and easy to put on and take off, with just one buckle around the waist. And with its adjustable back length, belt, and collar, you'll get the perfect fit. On top of that, it comes in several colors, has a waterproof coating, and high-visibility 3M reflectors so your pet can be seen at night.
Planning a trip south to enjoy some warmer weather? When the temperatures climb, your pup will enjoy the cooling action of the Jet Stream cooling vest! Pouring water on the vest allows your dog to benefit from the cooling effects of evaporation, helping to prevent overheating.
For a light bootie that will protect your pal's paws from salty sidewalks in winter and hot pavement in summer, try these dog boots. Made from a single layer of rubber, your pup will hardly know he's wearing them! And with 3 sets to a package, there's no need to whine if one gets lost.
With these protective dog boots, your pooch can take on any terrain confidently! Ankle cord locks make them easy to put on and keep them in place, and outsoles give them durability and added traction. These boots even have reflective strips and light-up soles to make your pup easy to spot at night.
Homemade gifts show you care! This DIY Pet Zip Line is a great way to keep your cat or dog safe, while allowing him some freedom in your campsite, at the park, or in your backyard. The materials to make the zip line will cost around $25 and you should be able to complete it in less than an hour.
Keeping your car's upholstery clean and scratch-free will make everyone happy. This back seat mat for your car can be easily moved from seat to seat or stowed away to accommodate human passengers.
Up your game with The Ultimate Pet Friendly Road Trip: A Guide to the #1 Pet Friendly Destination in 48 States and Washington DC. Packed with practical tips and advice, along with more than 200 full-color photos, is just what you need to begin planning your next pet friendly road trip!

What do you think? Would the cats and dogs on your list be happy with these gifts? We certainly hope we've helped you narrow things down. And don't forget … the gift your pet loves most of all is spending time with you!
(Visited 2,507 times, 1 visits today)