Take Paws is a showcase for people having fun with their pets – and sharing YOUR pet travel experience may be the nudge someone else needs to pack up and hit the road with their own best friend! A couple of weeks ago Monica Turner asked me about tips for traveling with cats, since we tend to focus on dog-related information. (Unfortunately, Rod and I are both highly allergic to cats and can't have one of our own, which severely limits our knowledge in this area.) Of course, we'd love to have more information available for those folks who have feline travel buddies, so I invited Monica to share her experience, and I'm excited to have her here today discussing her travels with Firefly and Gillian, her cats.
*** 
About two years ago, my fiancé and I moved halfway across the country from Pennsylvania to Wyoming, along with our cat and dog. We found tons of information on how to make the trip safe and happy for Lucy, our dog, but came up short on tips for traveling with Firefly, our cat. So we did what everyone does: worked with what we could find and winged it! Since then have added another cat, Gilligan, to our family and have been back and forth between Wyoming, Pennsylvania, and Arkansas many times in our car – and even a few times with our fifth wheel camper! Hopefully some of what we've learned along the way can make things easier for you and your cat.
The first question that must be addressed is keeping your cat safe and restrained while on the road. Regardless of how you choose to restrain your cat in the car, the most important thing to remember is to practice your chosen method long before you start traveling.
The safest way to travel with your cat is using a cat carrier. Carriers give cats their own personal space, protect them from impact should you have an accident, and most importantly, prevent escape. Carriers come in soft and hard-sided options. Hard-sided carriers are safer because of their stiff bodies, but soft-sided carriers are easier to bring to and from your vehicle and sometimes include built-in seatbelt straps. Be sure to teach your cat to love her carrier before you move it or take her for a ride in it – this can take a lot of patience, so give yourself plenty of time!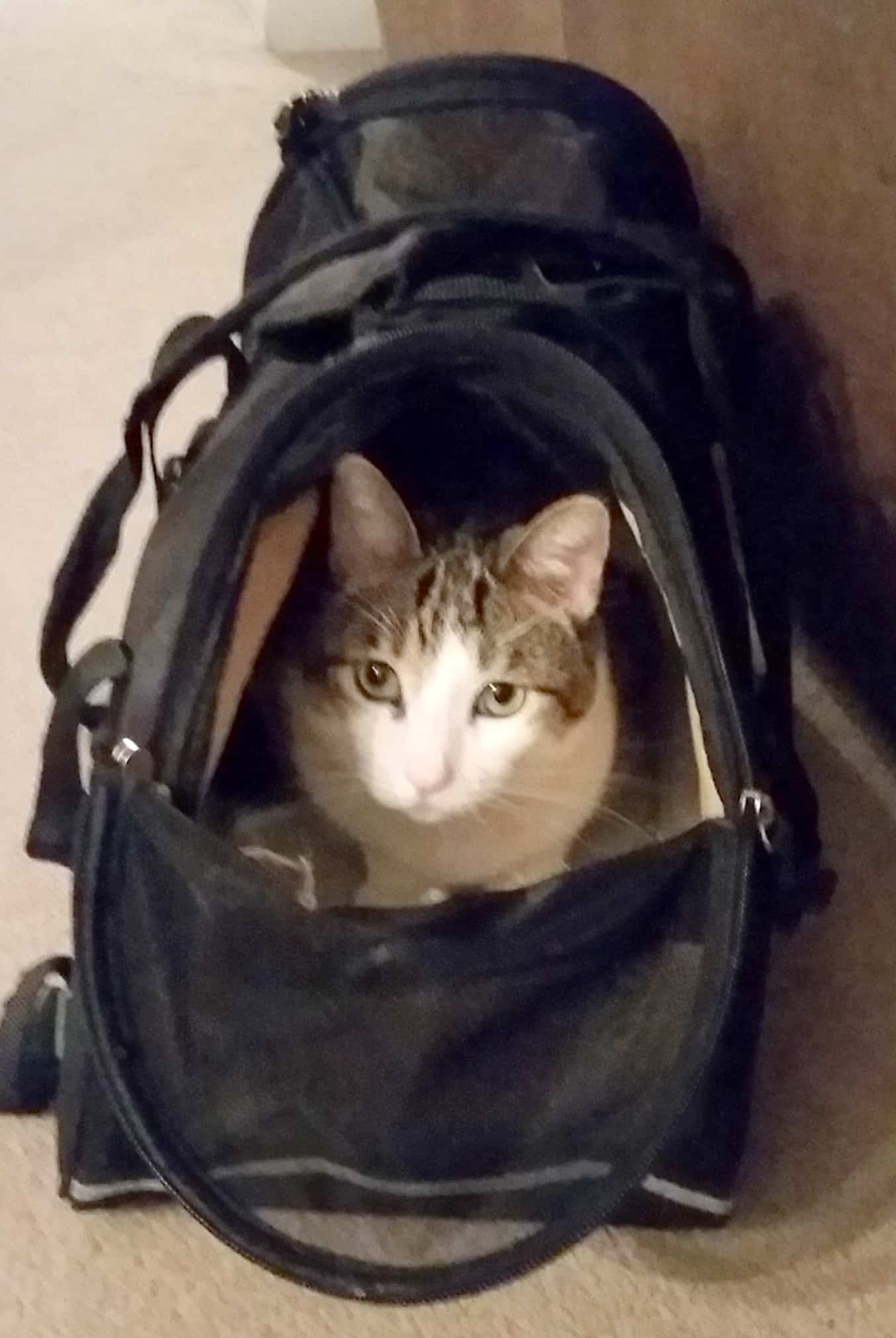 If your cats are like ours, they adore their carriers in the house, but despite all that training, cry and cry once their carriers are moved. If your cats feel the same way, consider a seatbelt harnesses – it will keep our cats safe, and save everyone's sanity. These harnesses we use are designed for dogs, but we find that they disperse a cat's weight across her chest quite nicely, whereas most cat harnesses would choke the cat in an accident. We use them along with a tether that snaps into the seatbelt receptacle and clips onto the d-ring of the harness. This allows our cats to move about somewhat so they can reach their water bowl and litter box while on long trips. Just like the carrier, you'll want to do a lot of advanced training so that your cat loves her harness before she steps foot in the car!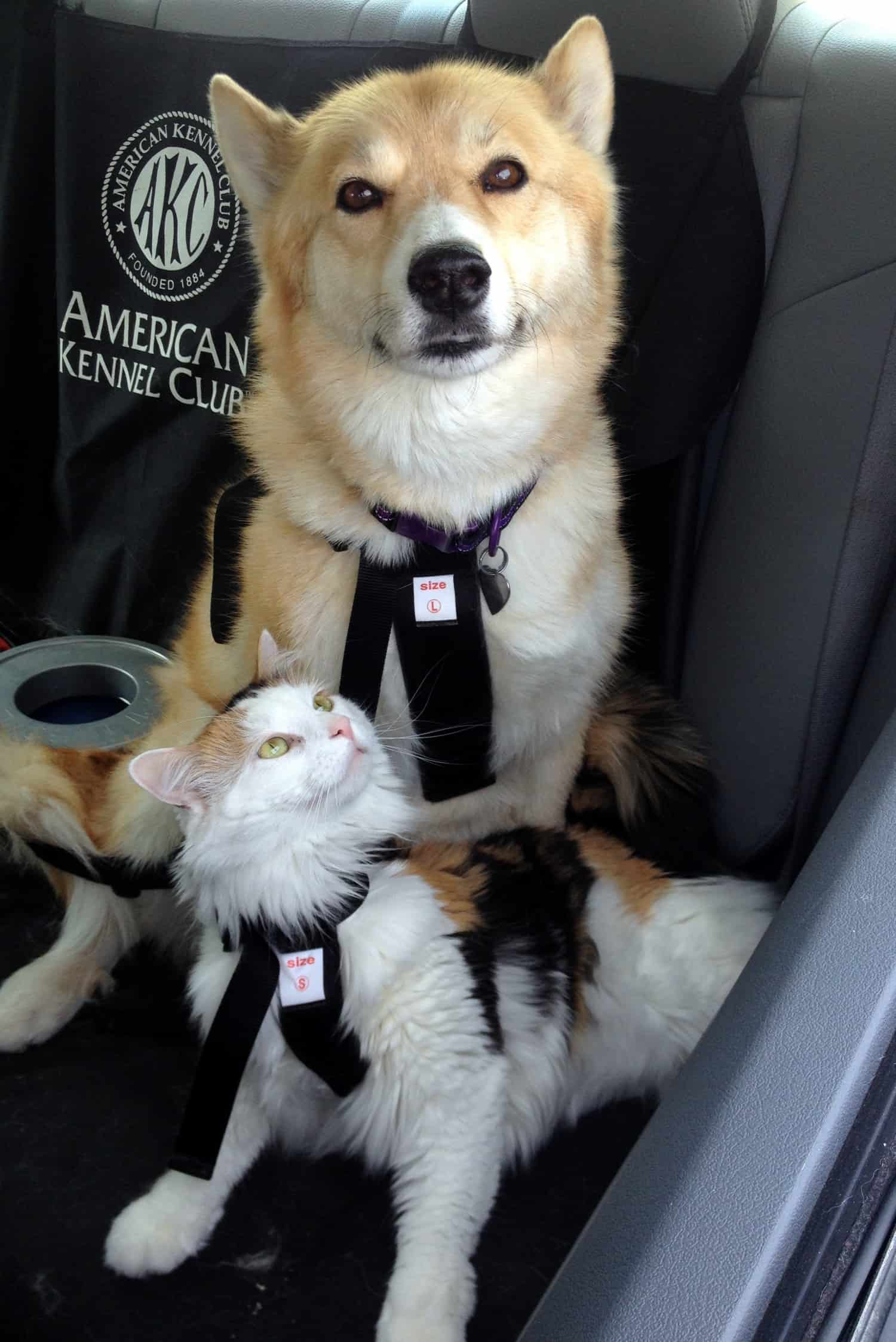 There are other options for your cat while in the car, but the one thing you should NOT do is let your cat run loose. Cats can get into dangerous places in the car, like under your feet while you drive, or in a position to distract you. They can also eat things that are poisonous to them and get stuck in places you'd never imagine. Not to mention, an unsecured cat can easily jump out once the car doors open.
Opening and closing doors (to cars and to carriers) can be a dangerous time regardless of how you restrain your cat. If your cat travels in a carrier, never open the door unless your cat's carrier is in a safe, enclosed area. If you use a seatbelt harness, make sure you have your cat leashed and a firm grip on that leash before you unbuckle your cat. Just in case, it is best to microchip your cat and keep the information up-to-date. We also keep tags with names and cell phone numbers on our cats' walking harnesses to help them find their way home should they ever bolt.
About the Author: Monica Turner loves to explore with her best friends in the back seat! Her cats, Firefly and Gilligan, and her dog Lucy are all seasoned travelers.
Planning a pet friendly trip of your own? We'll make it easy:
Pet Friendly Hotels | Pet Friendly Destinations | Pet Friendly Activities
Amazon Affiliate Disclosure: GoPetFriendly.com LLC is a participant in the Amazon Services LLC Associates Program, an affiliate advertising program designed to provide a means for website owners to earn advertising fees by advertising and linking to amazon.com, audible.com, and any other website that may be affiliated with Amazon Service LLC Associates Program. As an Amazon Associate, the owner of this site earns a commission from qualifying purchases.
(Visited 12,328 times, 1 visits today)