When we retired, we knew we wanted to travel. But we kept hitting a road block – what about our sweet cat Rosie? We didn't want to leave her behind while we jetted off to some exotic destination! Deciding on an RV lifestyle and introducing a cat to RV travel was easier than we imagined!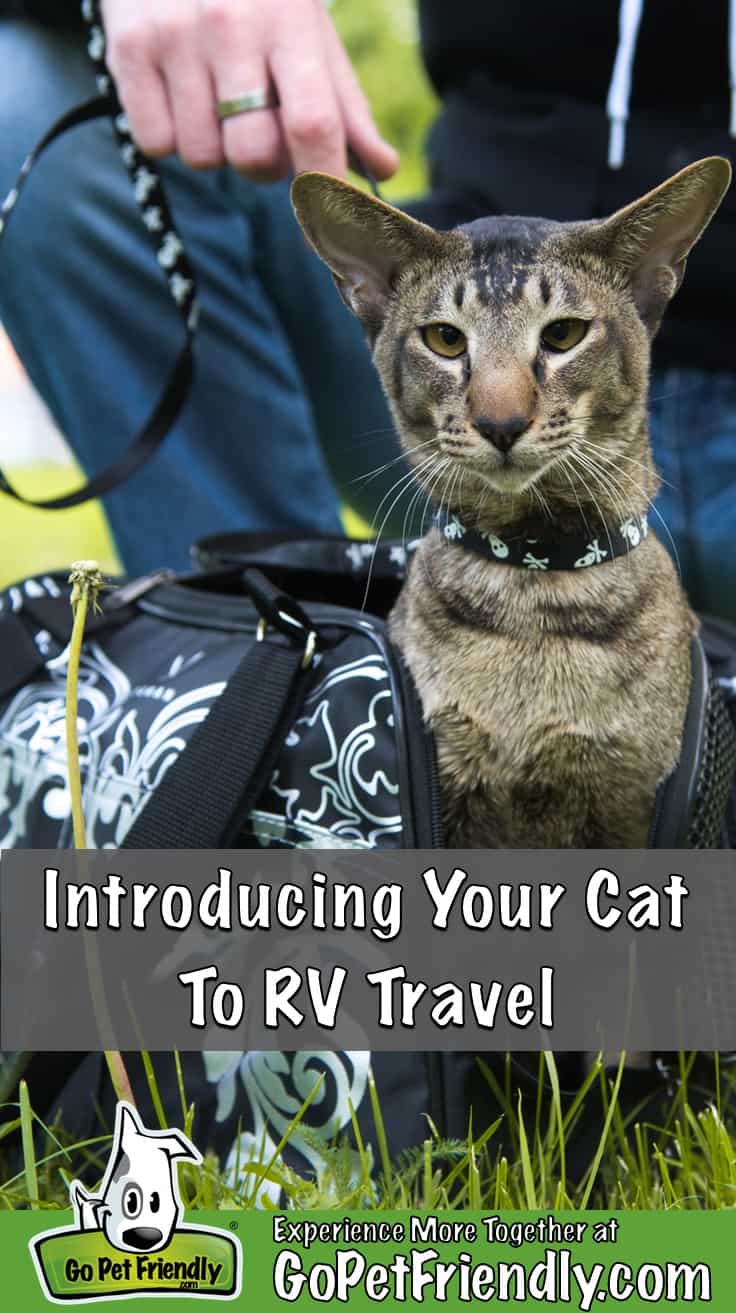 *This post contains affiliate links. Thank you!*
How We Travel Full Time with Our Cat
We spent a couple of years researching and planning how we would live our lives when we retired. Travel was always part of the plan, but we couldn't imagine leaving our sweet Rosie behind. Enter the RV lifestyle!
We could travel the continent in the comfort of our own home, change our location whenever the urge took us, eat healthy home cooked meals and, best of all, take Rosie with us.
There are many different types of RV's to consider, and purging all of your belongings down to fit in the RV of your choice is not an easy thing to do. But it was the avenue to adventure that seemed to fit us best! And so we set about introducing our cat to RV travel.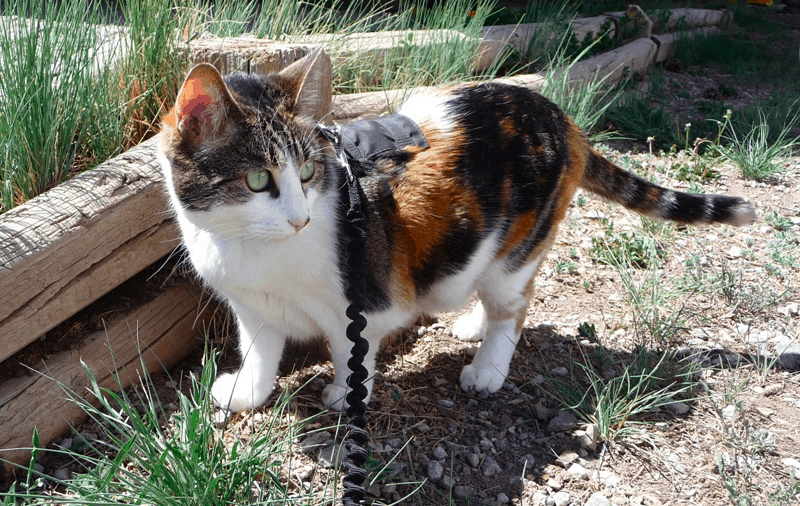 Cats Enjoy The Outdoors, Too
When we lived in a house, Rosie enjoyed exploring outside when we could watch her. We wanted to encourage that type of adventure on the road, but we also needed to keep her safe. There were too many scenarios where she could get lost or meet critters that could hurt her, like rattlesnakes.
We tried several harnesses but they had thin straps and she squirmed out. Then we discovered the Cat Walking Jacket. It is substantial enough that she has a very hard time wiggling out of it once it is snugly fitted to her body.
READ MORE ⇒   Choosing the Best Cat Harness
We also wanted a leash with some forgiveness. When using a normal six foot leash, if she got scared and bolted, she hit the end of the leash abruptly, and got even more scared. We found a bungee-style leash that allows for a softer landing when she got startled.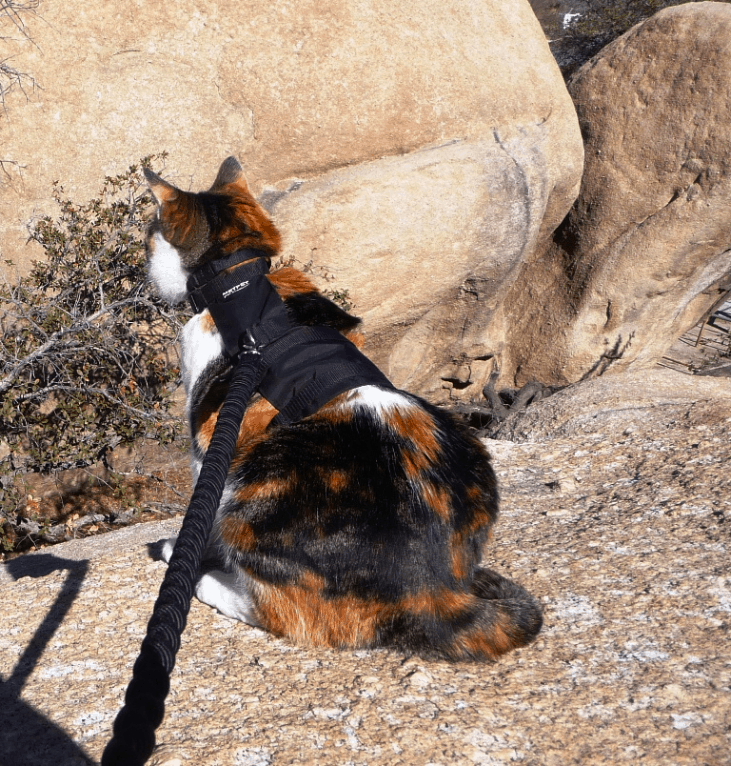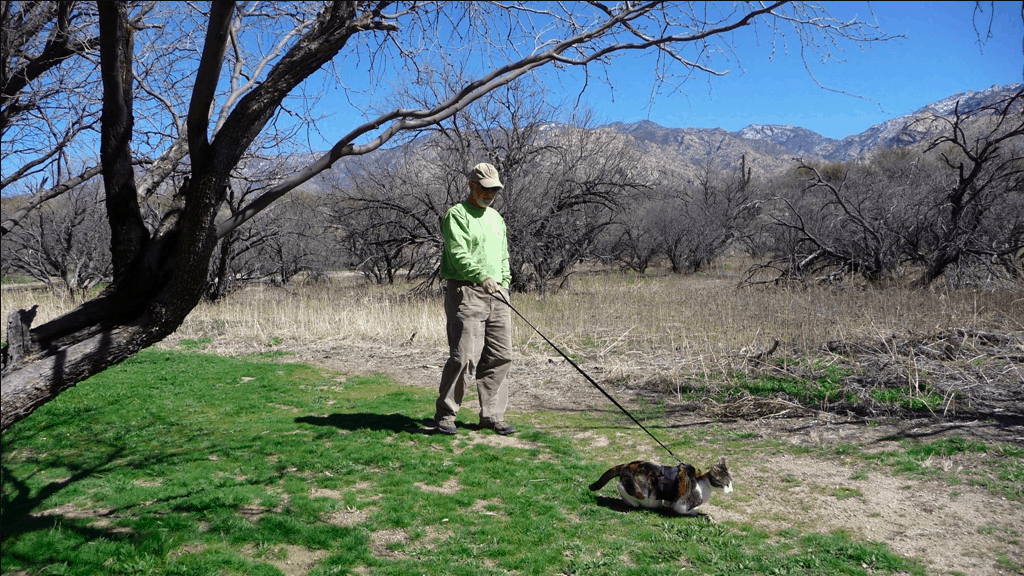 Introducing A Cat to RV Travel
Cats can be easily leash trained as kittens, but an adult cat is much more cautious. Over time, Rosie's confidence has grown on the harness and leash. And it took us eight months to learn that we don't walk Rosie. She walks us.
Rosie prefers sticking close to protective objects such as vehicles or bushes, as opposed to wide open spaces. Walking her requires a lot of patience, because she frequently stops to observe things for a while. I've come to see it as a meditative experience, moving slowly along and inspecting everything closely!
Our RV is a 5th wheel trailer which we pull with our truck. On travel days, I take Rosie outside for a walk before we leave because it works off some of her energy and makes for a calmer kitty during the ride.
Rosie rides in the truck with us and usually meows a little at the beginning of the ride. She wears her harness and we keep the leash handy so we can snap it on before we open the doors and she has a chance to scoot out.
Her cat carrier is also in the truck with us, just in case of emergencies. I ride with a cat bed on my lap and she lays there most of the time.

Making the RV Cat Friendly
One of the biggest challenges to RVing with a cat is where to put the litter box! Some RVers put it in the shower; some designate a cabinet for the box and cut a hole in the door. It could go in a corner of the bedroom or in the closet.
We were fortunate that our RV had enough room between the two recliners for a litter box cabinet. Multi-purpose functionality wins every time in a small living space!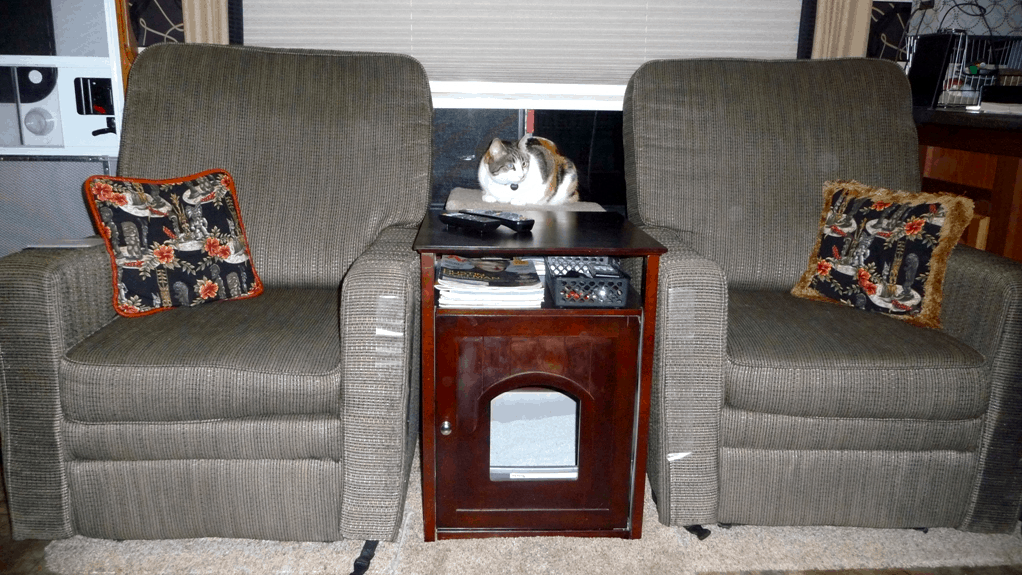 We also struggled to keep Rosie from shredding the furniture in the RV. Everyone knows cats love to scratch, but double-sided anti-scratching tape kept Rosie from scratching in inappropriate places. You can see on the chairs in the photo above.
Giving her a small scratching mat and creating a cat scratching wall by stapling a small rug to the end of a kitchen cabinet gave Rosie plenty of space to work her claws.
Successfully Traveling with a Cat
Living and traveling in an RV with a cat took some planning and ingenuity, but every bit of effort has paid off. We are all enjoying this lifestyle in the comfort of our own home on wheels. Living the life of our dreams and sharing it with our best buddy, Rosie – what could be better than that?!
READ MORE ⇒  Tips for Traveling Cross-Country with Pets
About the Author: Lisa McGuire travels full time in an RV with her husband, Hans, and cat, Rosie; blogging about their adventures at Metamorphosis Road. 
Guest Posts on GoPetFriendly.com: We love sharing stories from people having fun traveling with their pets! And reading your pet travel experiences may be just the nudge someone else needs to pack up and head out with their own best friend. If you're interested in writing a guest post for Take Paws, let us know!
Gear Used in This Post:
(Affiliate Links)

 
Visit our Amazon store to learn about more products we rely on to make traveling with pets easier, safer, and more fun!
Amazon Affiliate Disclosure: GoPetFriendly.com LLC is a participant in the Amazon Services LLC Associates Program, an affiliate advertising program designed to provide a means for website owners to earn advertising fees by advertising and linking to amazon.com, audible.com, and any other website that may be affiliated with Amazon Service LLC Associates Program. As an Amazon Associate, the owner of this site earns a commission from qualifying purchases.
(Visited 19,626 times, 1 visits today)