What's camping without a campfire?! But really, who enjoys smelling like smoke? Our solution was to get a propane fire pit — all the fun with less stink! And with a simple modification, we used the propane quick-connect on our RV to fuel the fire pit!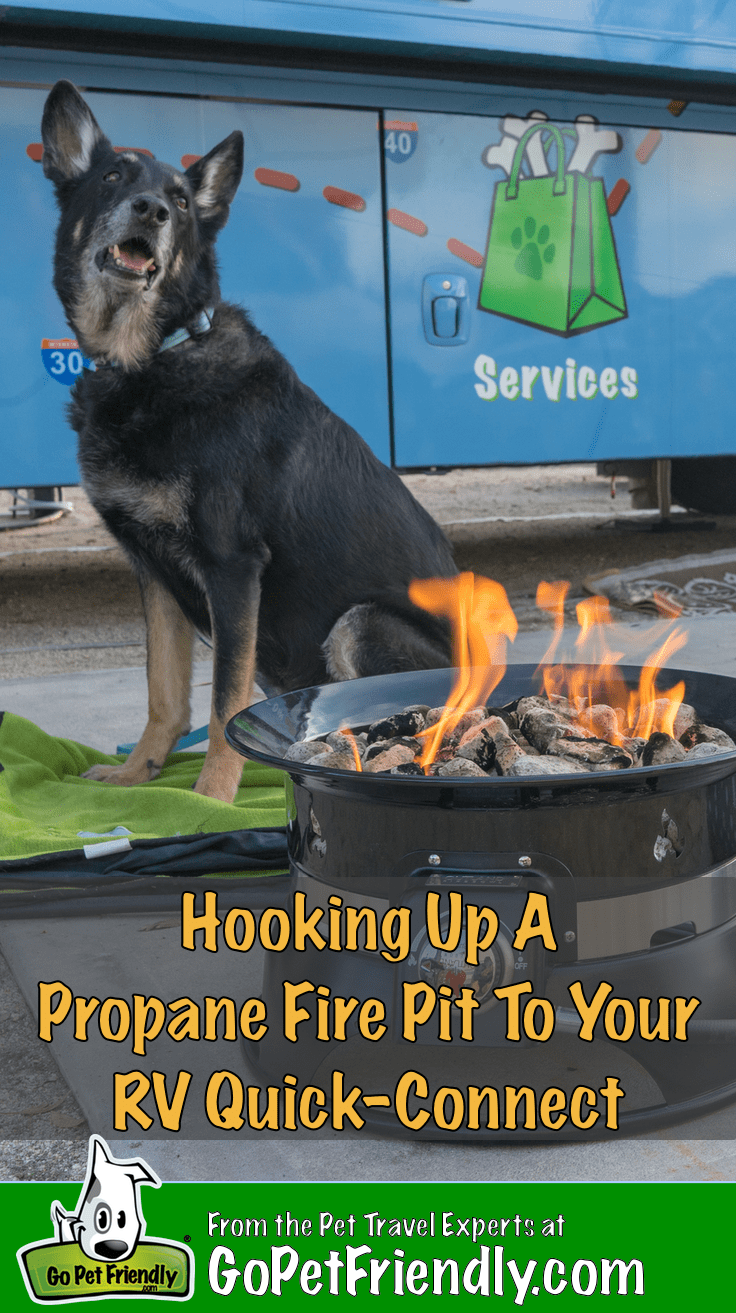 Disclosure: I'm not a professional technician. Be sure to confirm that all methods and materials you use are compatible with your equipment and abilities. Regardless of what we recommend, consult a professional if you feel unsure about proceeding. Any task you perform or product you purchase based on information provided here is strictly at your own risk.
GoPetFriendly may earn commission or revenue on some items through the links below.
I love campfires, but am allergic to smoke. Difficult, right?
Whenever we start a fire, I feel congested. And as soon as the flames go out, I want a shower and clean clothes. But connecting a propane fire pit to our RV changed everything!
Imagine flipping a switch and immediately enjoying the heat and ambiance of a fire. And not smelling like smoke? EVEN BETTER! My research into propane fire pits had me intrigued. But dragging around re-fillable propane tanks to fuel the thing seemed ridiculous. After all, we had propane right in the motorhome!
A little digging revealed that (1) our RV had a low-pressure propane connection for powering a gas grill. And (2) most portable fire pit manufacturers don't sell conversion kits that would allow their units to be used with these "quick-connect" valves.
Fortunately, the solution was a cinch!
Connecting A Propane Fire Pit To An RV
I started by ordering an Outland Firebowl 870 Premium Portable Propane Gas Fire Pit with an enamel finish for long-lasting durability. This fire pit has auto-ignition, an enamel finish from the protective powder coating, an adjustable flame, a lid, a handy carry strap, and no assembly required. There is a standard carry bag available, but sold separately.
It looks great, and with 58,000 BTUs, it provides all the heat we need on a chilly night. And because it is CSA-approved, it can still be used through most fire bans.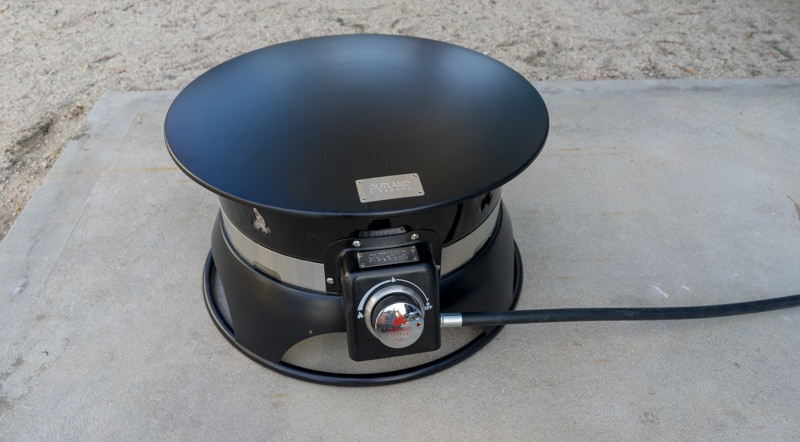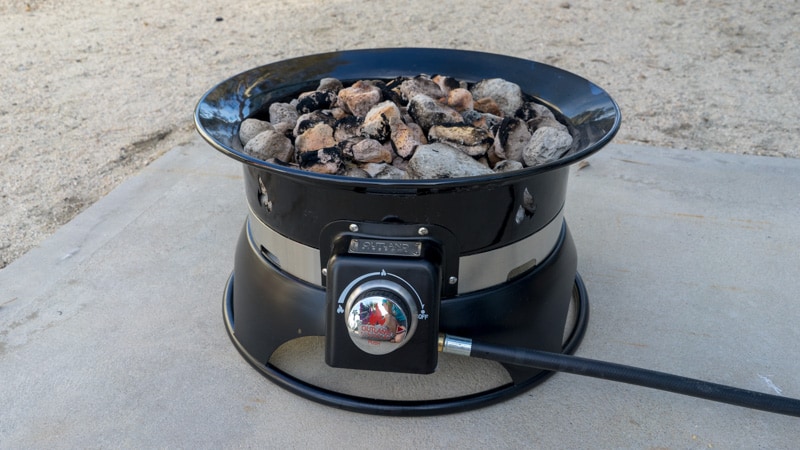 The fire pit came with a 10-foot hose and regulator to connect it to a 20-pound LP tank. Since the propane quick-connect on the RV was already low pressure, the regulator had to be removed or the gas flowing through the line would not have been sufficient to feed the fire.
Removing the hose from the portable Outland fire pit was easy, but that might not be the case with all brands. In our case, with the fire pit disconnected from all propane, I removed the black shrink wrap on the hose connection behind the flame control nob, loosened the connector, and removed the hose.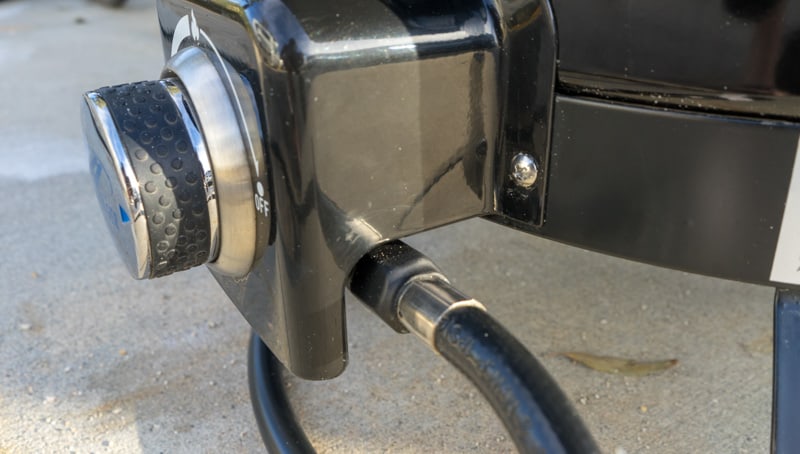 Parts Needed For The Conversion
The parts you'll need to convert your fire pit to use the propane "quick-connect" on your RV can be found in most hardware stores. Or just click the links below and add everything to your Amazon cart! We'll make a couple of bucks and you'll save time driving to and from the store.
Before you start dropping things in your cart, grab a tape measure and head outside. Stand in a spot that you feel would be the ideal place to make a campfire outside your RV. Keep in mind that RVs are very flammable. Now measure the distance from that spot you chose to your RV's quick-connect valve. Then add two to five feet to allow for different campsite layouts.
Order A Pre-Assembled Hose
If the distance you came up with in the above step is 12 feet (yikes!), 18 feet (still a little close), or 24 feet, you can get a hose complete with all the right connections.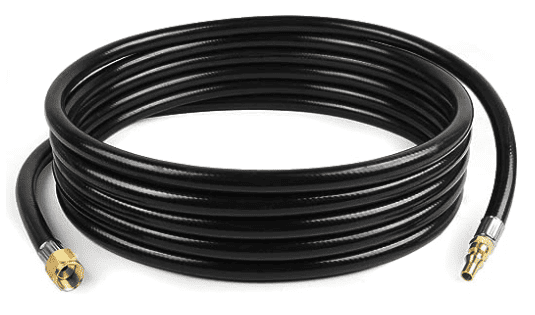 Assemble A Hose To Your Desired Length
If you're like us and want a hose longer than the 24-foot option available above, you'll need to order the parts sold separately, and put them together. It's really simple.
Start with a 3/8″ propane hose with female flare swivels on both ends in the length you'd like.
We decided on a 30-foot hose to allow us to set the fire pit a comfortable distance from the motorhome. But the hoses come in lengths up to 50 feet for more flexibility in placing your fire pit.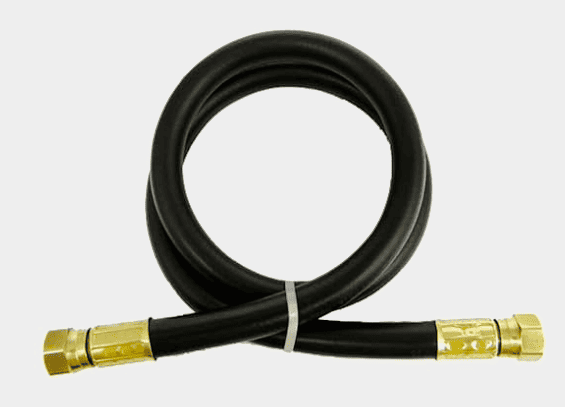 Next you'll need an adapter to connect the female flare on one end of the hose to the quick-connect plug. The adapter you'll need is a 3/8″ flare x 1/4″ female pipe thread.
The last part goes from the adapter and snaps into the RV quick-connect propane receiver. It's called a 1/4″ male NPT x full flow male plug.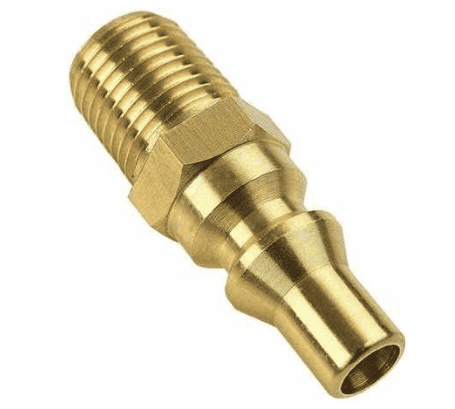 Finally, if you don't have any on hand, order some yellow propane gas tread seal tape to ensure your joints won't leak.
In total, the parts will cost around $150, not including the cost of the brand of fire pit you choose.
Assembly and Testing
Assembling the parts takes a few minutes, and only requires basic tools. Wrap each joint in the thread tape, and connect one end of the hose to the fire pit. Then connect the adapter to the other end of the hose and add the flow plug.
Tighten each joint snugly, but don't over tighten. When you have the parts assembled, it's time to test your work!
Mix half dishwashing liquid and half water in a spray bottle and shake. Then, in a well-ventilated area with no other open flames, insert the flow plug into the RV quick-connect sleeve, turn on the gas valve, and light the fire pit.
Spray all the connections liberally with the soapy water mixture. If you see any bubbles forming, you have a leak in that connection.
Immediately turn off the propane valve and disconnect the hose from the quick-connect. Redo the problematic connection using thread tape. (Be sure to wrap the thread tape in the same direction you'll be turning the connecting part.)
Continue testing your connections until no bubbles appear when sprayed with soapy water.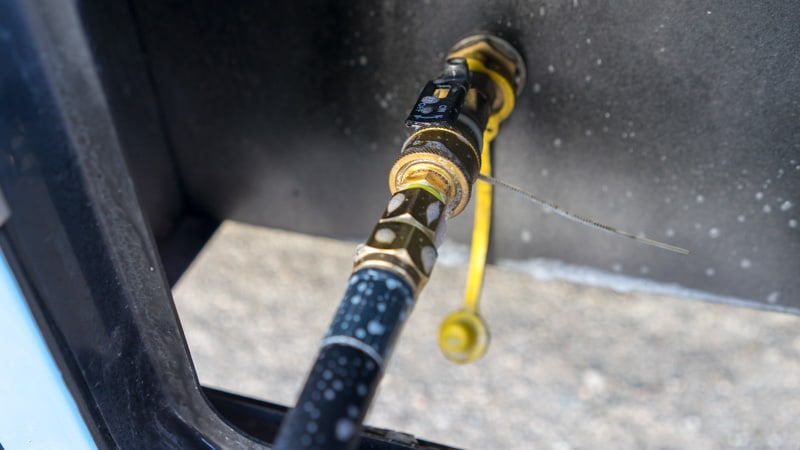 Don't forget to test the connection between the hose and the fire pit!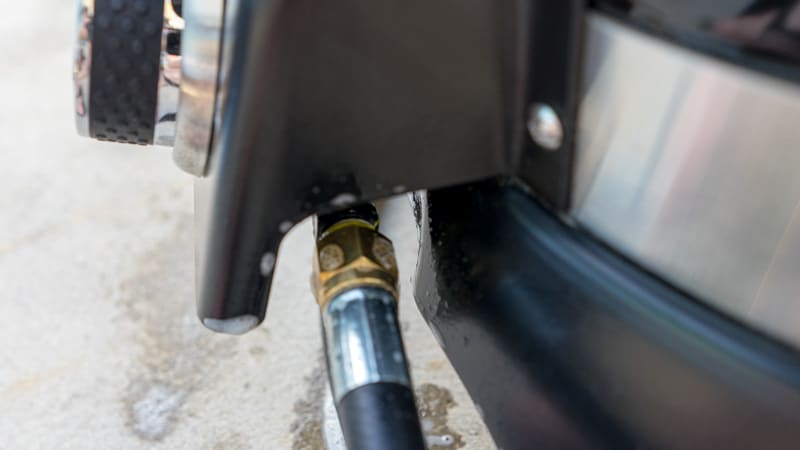 Enjoying Your Propane Fire Pit
When everything is working as it should, it's time to enjoy your new fire pit! Gather the family around, pull out your chairs, blankets, or beds, and kick back.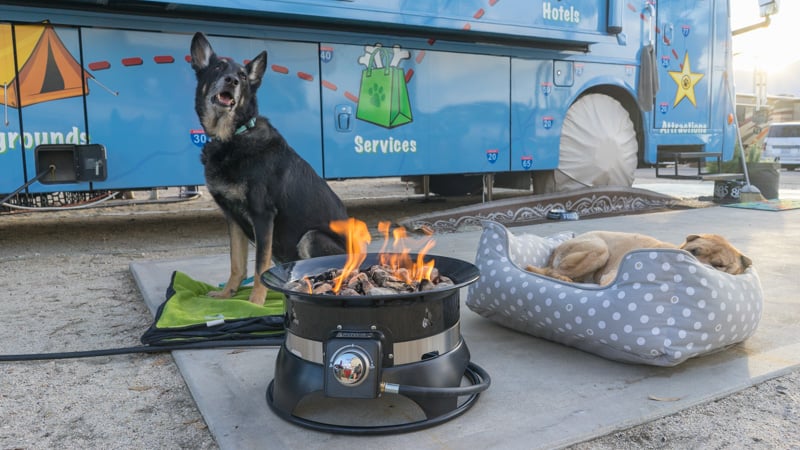 When everything is working as it should, it's time to enjoy your new fire pit! Gather the family around, pull out your chairs, blankets, or beds, kick back, and enjoy the lighting and warmth from your propane fire pit.
Amazon Affiliate Disclosure: GoPetFriendly.com LLC is a participant in the Amazon Services LLC Associates Program, an affiliate advertising program designed to provide a means for website owners to earn advertising fees by advertising and linking to amazon.com, audible.com, and any other website that may be affiliated with Amazon Service LLC Associates Program. As an Amazon Associate, the owner of this site earns a commission from qualifying purchases.
(Visited 35,090 times, 6 visits today)