Confession time! I love campfires, but hate the smoke. Whenever we start a fire, I feel congested. And, as soon as the flames go out, I want a shower and clean clothes. But connecting a propane fire pit to our RV has changed everything!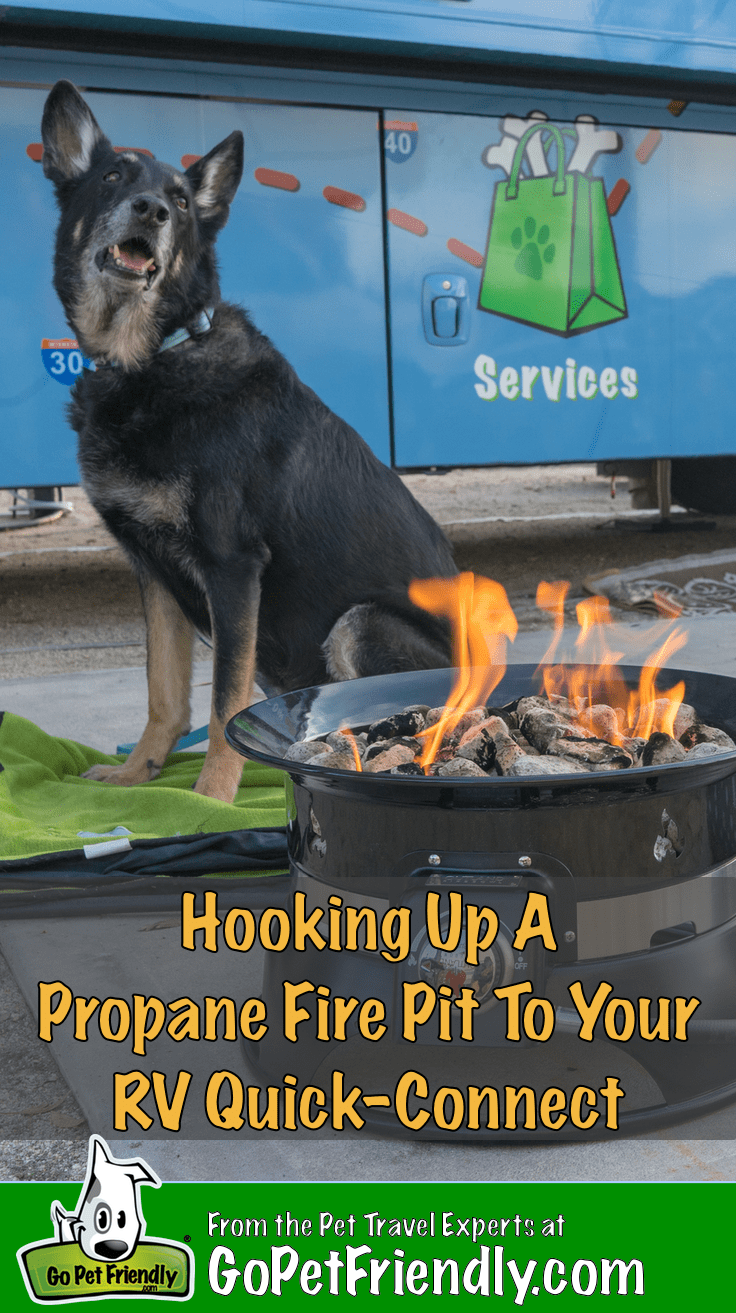 *This post contains affiliate links. Thank you!*
 Connecting A Propane Fire Pit To An RV
The thought being able to flip a switch and enjoy the heat and ambiance of a propane fire pit had me hooked. And not smelling like smoke? EVEN BETTER! But dragging around a 20-pound propane tank to fuel the thing seemed ridiculous when we have propane right in the motorhome.
After a little digging, I discovered (1) our RV came with a low-pressure propane connection meant for gas grills, and (2) portable fire pit manufacturers don't sell kits to convert their units to be use with this "quick-connect" valve. Fortunately, the solution was a cinch!
I started by ordering the Outland Firebowl 870 Premium Portable Propane Gas Fire Pit. This fire pit has auto-ignition, adjustable flame, and comes with a lid and handy carry strap. It looks great, and with 58,000 BTUs, it provides all the heat we'll need to take the chill off.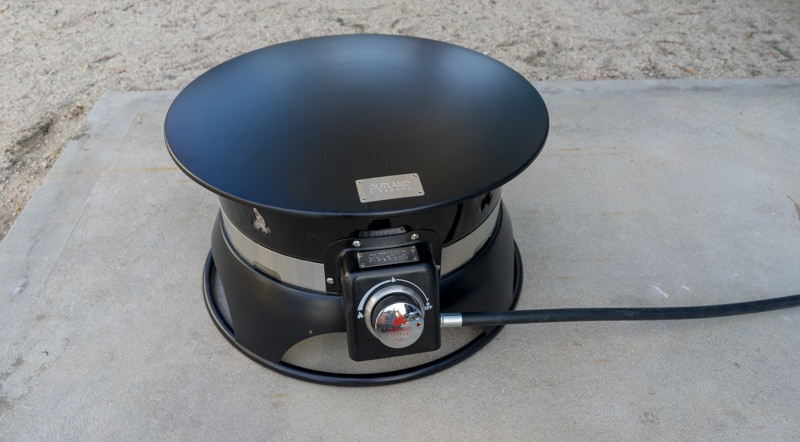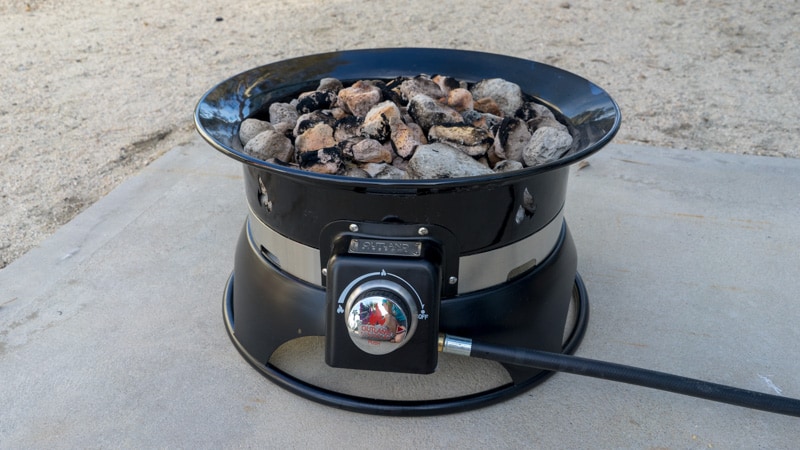 The fire pit came with a 10-foot hose and regulator so it can be connected to a 20-pound LP tank. Since the gas feed coming from the quick-connect on the RV is already low pressure, this regulator needs to be removed or the gas flowing through the line will not be sufficient to feed the fire.
Removing the hose from the Outland fire pit was easy, but that may not be the case with all brands. For this model, I just removed the black shrink wrap on the swivel connector behind the flame control, loosened the connector, and removed the hose.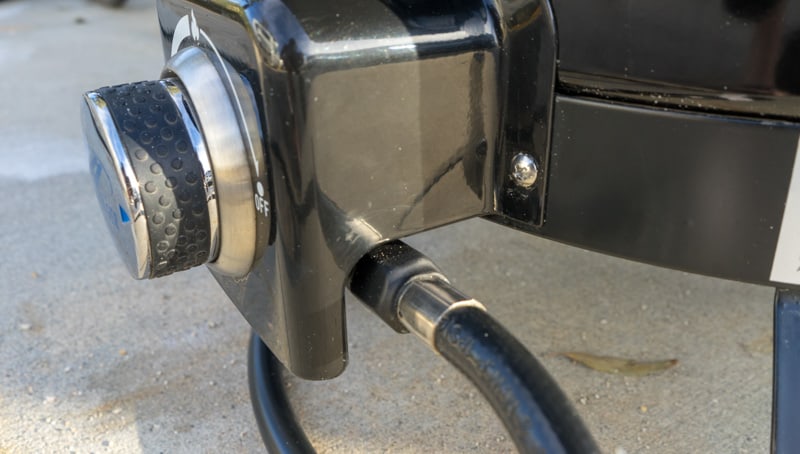 Parts for the Conversion
If you want the hose that connects your propane fire pit to an RV to be a particular length, these are the parts you'll need:
1. A 3/8″ propane hose with female flare swivels on both ends, like this one:
These hoses come in a variety of lengths so you can choose which will work best for you. We decided on a 20-foot hose to allow us to set the fire pit a good distance from the motorhome.
2. An adapter to get from the female flare on the hose to the quick-connect plug. It's called a 3/8″ male flare x 1/4″ female pipe thread, and it looks like this:
3. The final part snaps into the quick-connect propane connection, and is called a 1/4″ male NPT x full flow male plug, which looks like this:
Finally, if you don't have any on hand, order some yellow propane gas tread seal tape to ensure your joints won't leak. In total, the parts should cost around $85, not including the cost of the fire pit you choose.
Or, if you'd rather, you can order either an 18-foot or 24-foot RV connection hose with the appropriate ends already attached.
READ MORE ⇒  Making a Zip Line for Your Dog
Assembly and Testing
Assembly takes a few minutes, and requires only basic tools. Wrap each joint in thread tape, and connect one end of the hose to the fire pit. Then connect the adapter to the other end of the hose and add the flow plug. Tighten each joint snugly, but don't over tighten. When you have the pieces assembled, it's time to test your work!
In a spray bottle, mix half dishwashing liquid and half water and shake. Then, in a well-ventilated area with no other open flames, insert the flow plug into the quick-connect sleeve, turn on the gas valve, and light the fire pit. Spray all the connections liberally with the soapy water mixture to ensure there are no leaks.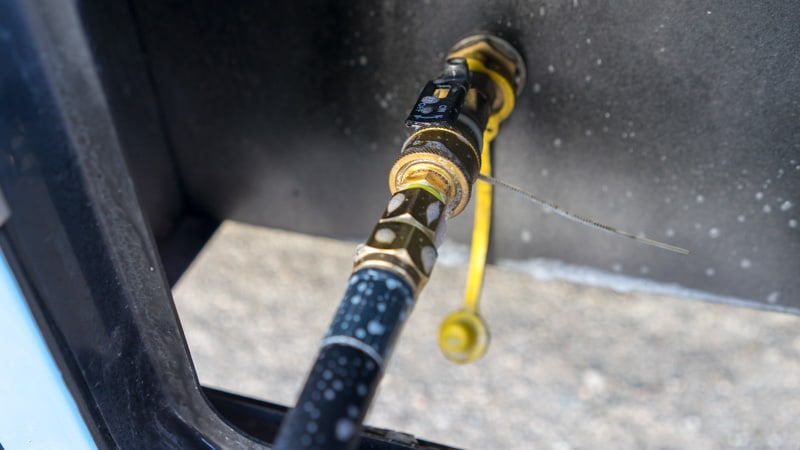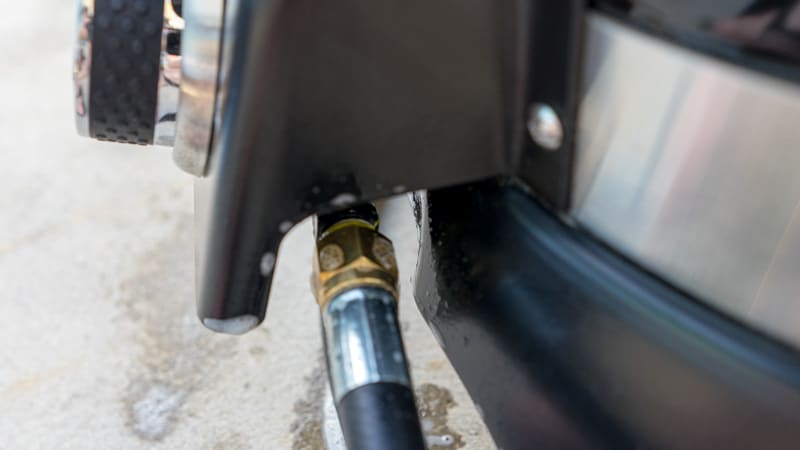 If you discover any leaks, immediately turn off the fire pit, shut off the gas, fix the problematic connection, and try again. Once everything is working as it should, it's time to kick back and enjoy your new fire pit!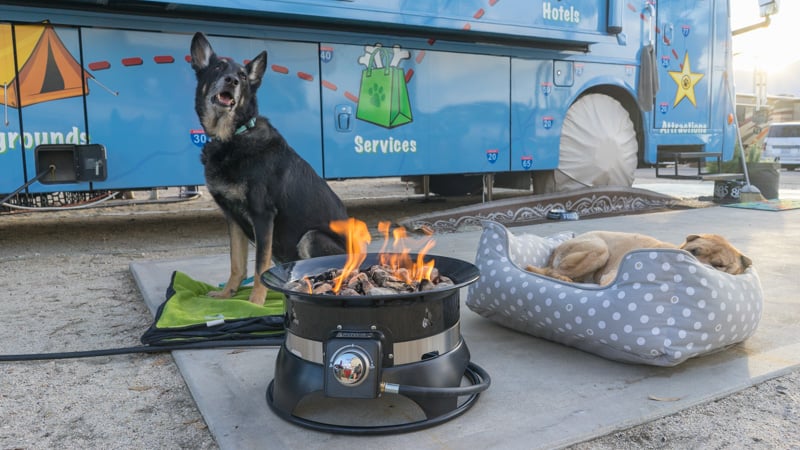 It goes without saying that your system may be a little different than ours, but these details will hopefully make it easy for you to connect your propane fire pit to an RV quick-connect in just a few minutes.
READ MORE ⇒   Tips for RVing with Pets
Disclosure: I'm not a professional technician. Be sure to confirm that all methods and materials you use are compatible with your equipment and abilities. Regardless of what we recommend, consult a professional if you feel unsure about proceeding. Any task you perform or product you purchase based on information provided here is strictly at your own risk. 
Amazon Affiliate Disclosure: GoPetFriendly.com LLC is a participant in the Amazon Services LLC Associates Program, an affiliate advertising program designed to provide a means for website owners to earn advertising fees by advertising and linking to amazon.com, audible.com, and any other website that may be affiliated with Amazon Service LLC Associates Program. As an Amazon Associate, the owner of this site earns a commission from qualifying purchases.
(Visited 27,018 times, 1 visits today)