It's becoming more common to see people traveling with their cats. But some felines are more comfortable staying home. If you're wondering if your cat would enjoy a road trip, or hoping to adopt a kitten who'll become your furry travel buddy, learn to identify the personality traits that traveling cats share!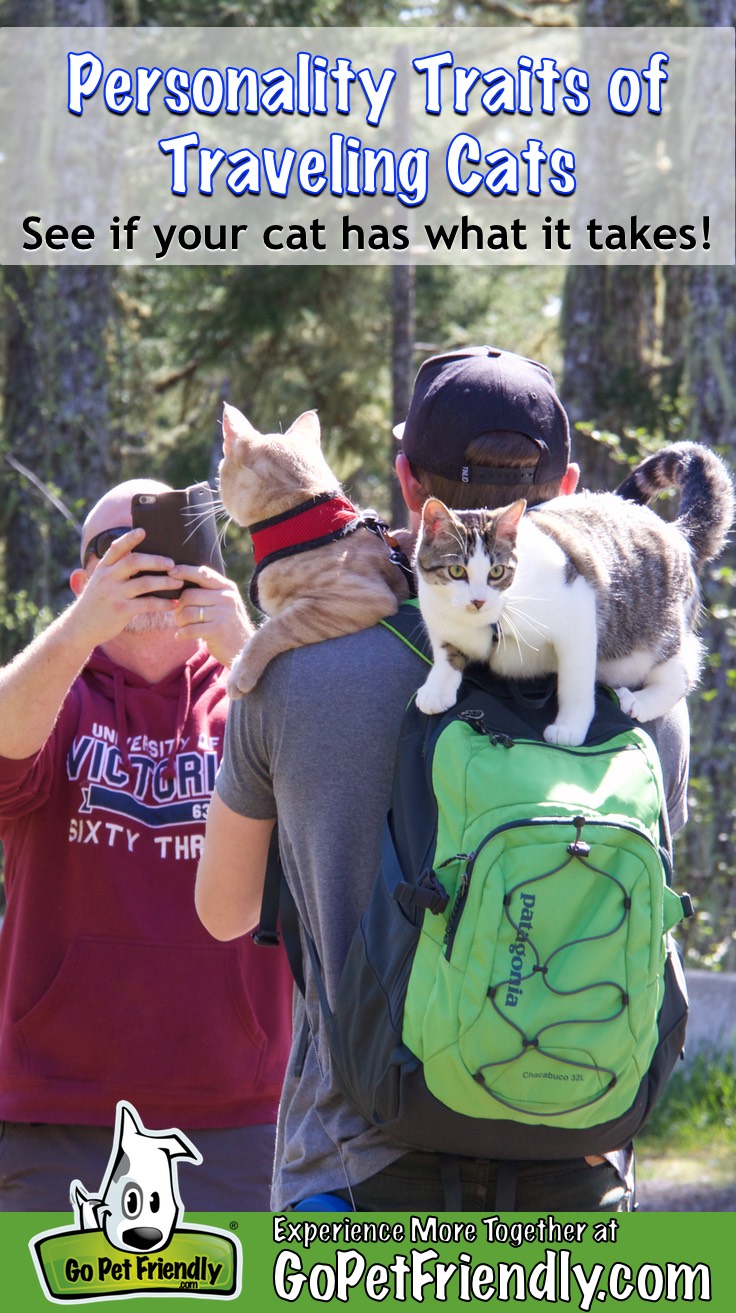 Traveling with cats is becoming more popular, much to the delight of many adventurous felines! After years of traveling with my cats, Fish and Chips, I can say that most cats can be taught to enjoy exploring the great outdoors. But, cats with certain personality traits will find it easier to embrace new experiences.
Personality Traits Of Traveling Cats
Like humans, cats have different personalities. Some are cautious, prefer routine, and would generally rather be homebodies. Others thrive on adventure, and sometimes get themselves into hair-raising situations!
What's important to know is that the cat's breed is irrelevant. Fish is half Bengal, half unknown. And Chips is the perfect combination of who-knows-what. To have the "purrfect" travel buddy, all you really need is a cat or kitten who enjoys learning new behaviors.
Cats who tend to be outgoing are the most likely to enjoy traveling with you. So, if you're adopting a kitten or cat with the hope of traveling together, choose the craziest, boldest one. Basically, do the exact opposite of what most people would do!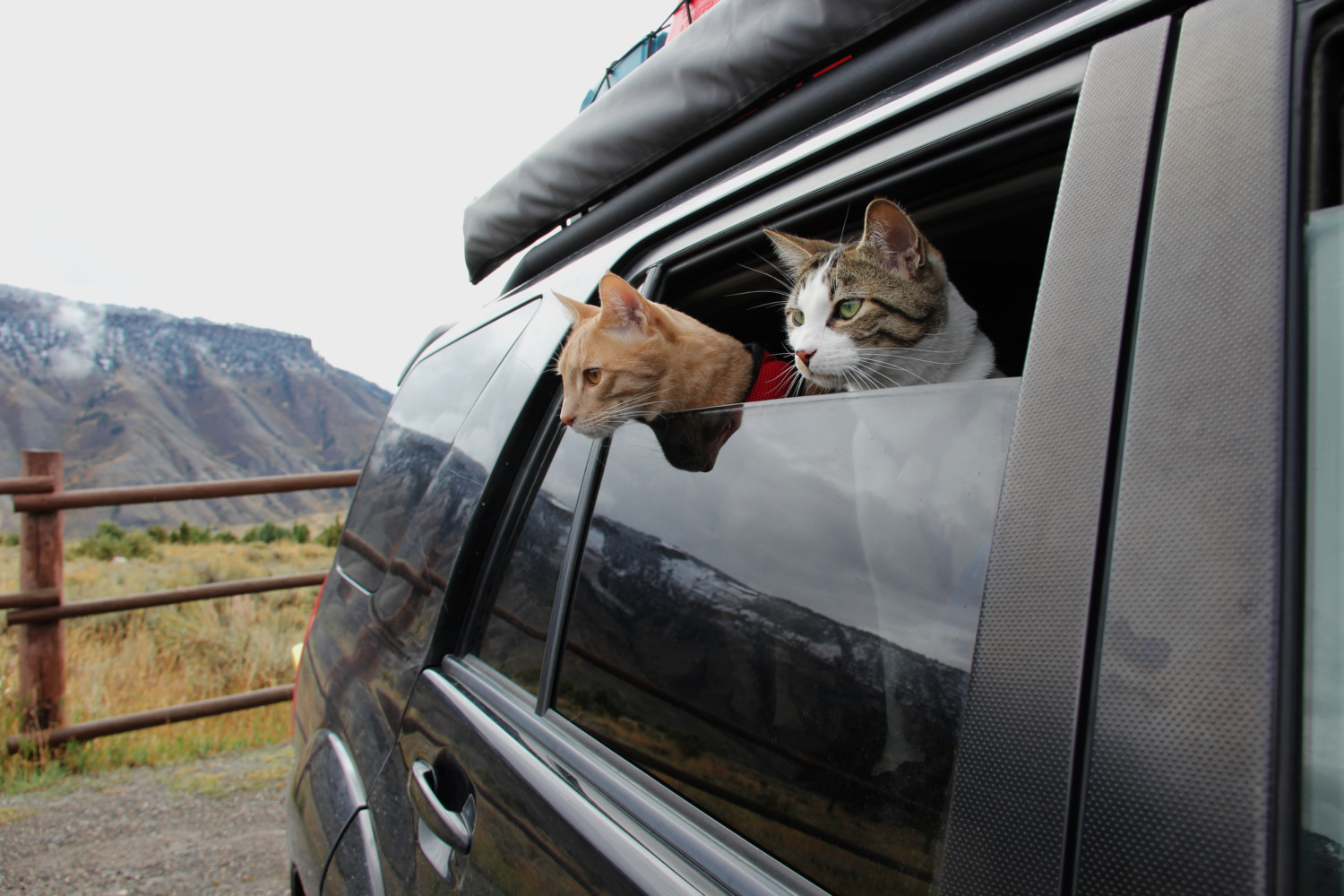 Adopting Our Future Traveling Cats
When we adopted our first kitten, Fish, he was a tiny ball of energy. His sisters were curled up sleeping on a blanket, and he was climbing our legs getting into mischief. We knew from the moment we saw him he'd make an ideal traveling cat! He was, and still is, almost fearless.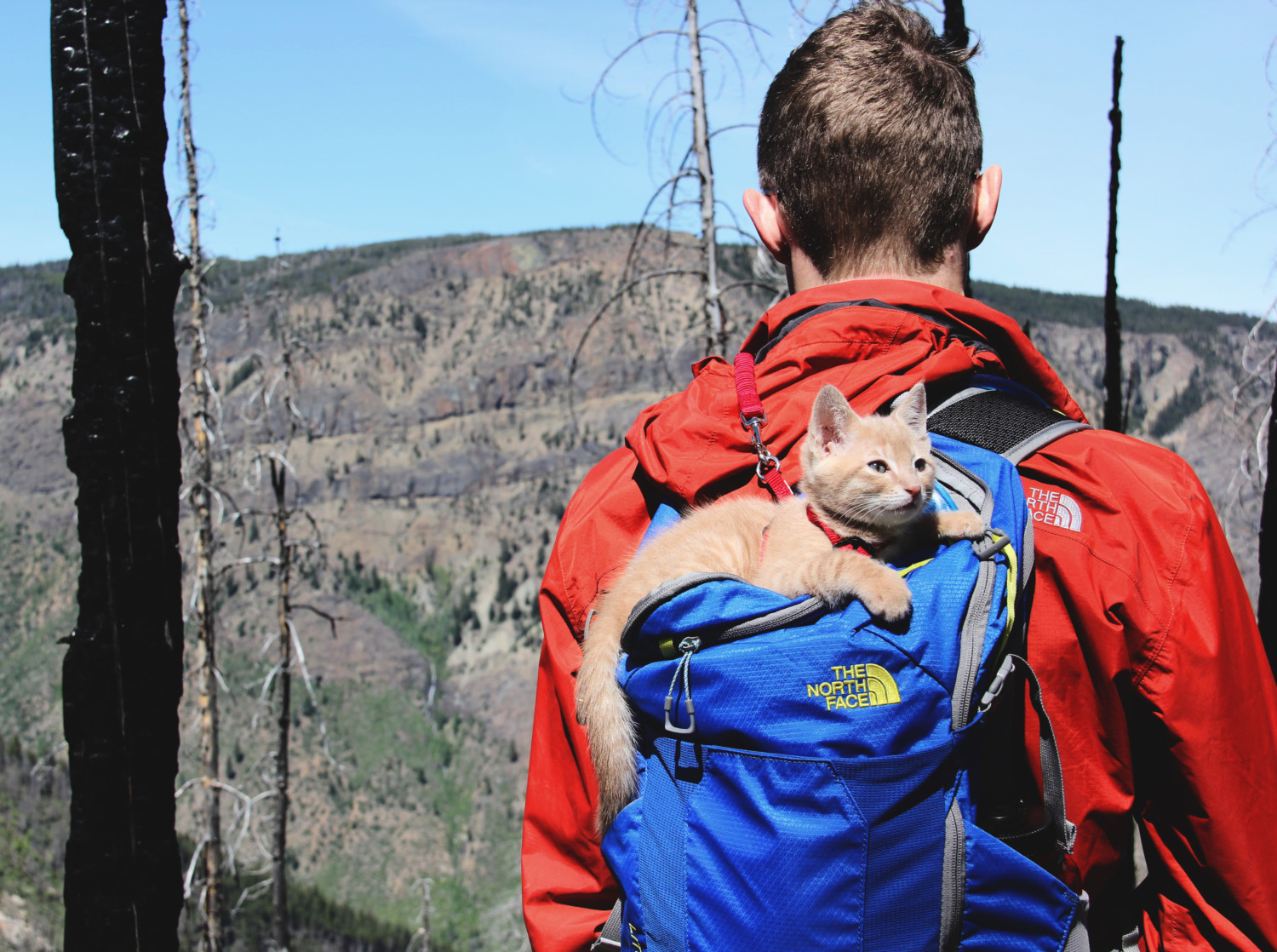 Chips, on the other hand, was very shy when we adopted him. He liked to play, but was generally nervous. Despite being less intrepid, he followed in Fish's pawprints and was able to accommodate our lifestyle.
The difference in Fish and Chips' personalities shows that nearly any cat, if introduced in a way that works for them, can become a great travel companion.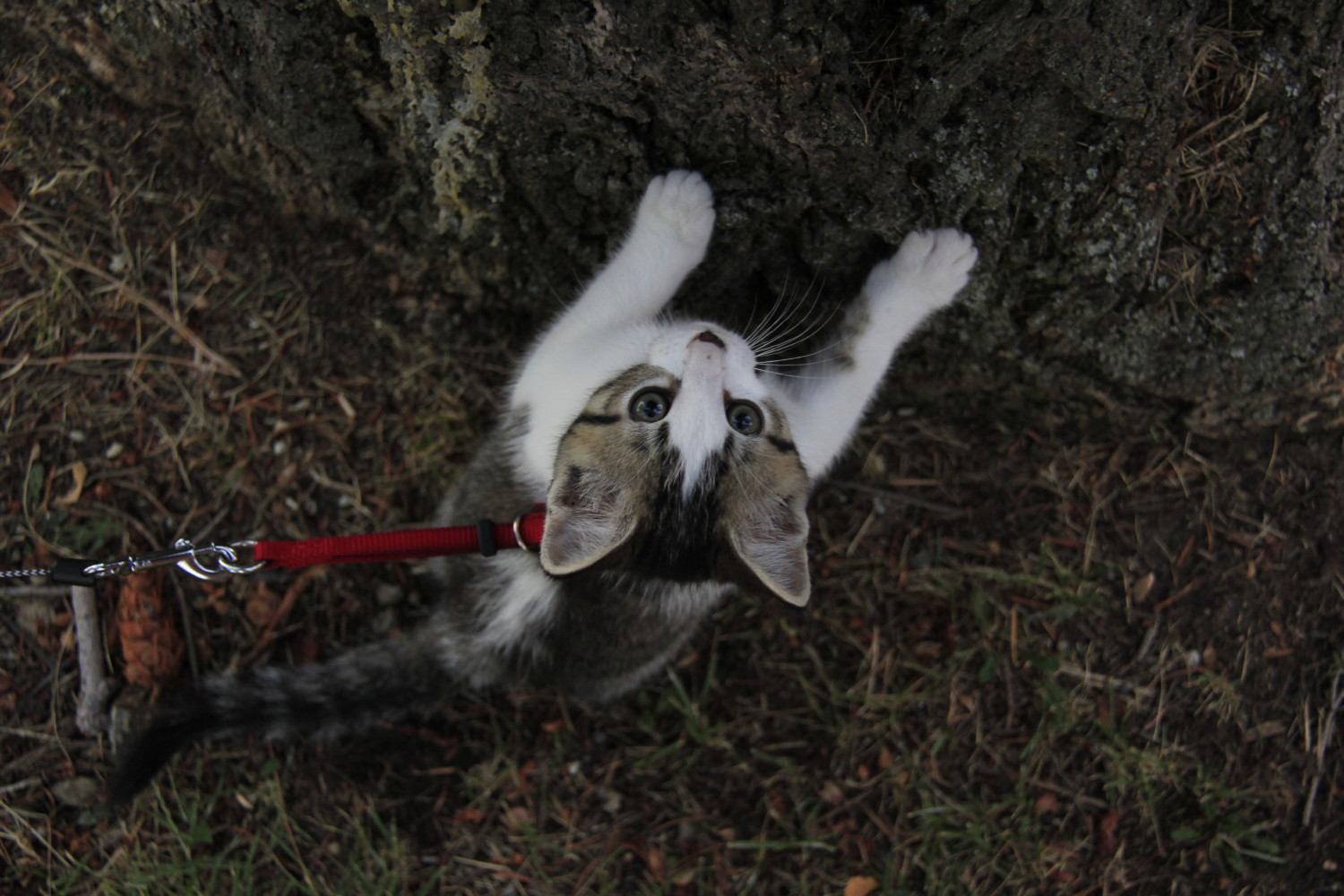 Is Your Cat Trainable?
Being outgoing helps cats feel comfortable more quickly in new situations. But having a cat with strong motivations can be just as important when it comes to training.
Whether it's food, play, or a desire to be together, being able to reward your cat with something he really likes makes it easier to reinforce new behaviors. And teaching your cat positive associations with things he'll experience while traveling is the name of the game!
Trainability can be a factor of the cat's age. Kittens tend to be adaptable, and will more easily accept new experiences. And young cats tend to learn more quickly, because they have fewer engrained habits. But any willing cat can be trained! Just remember — he's not a dog — so patience is key.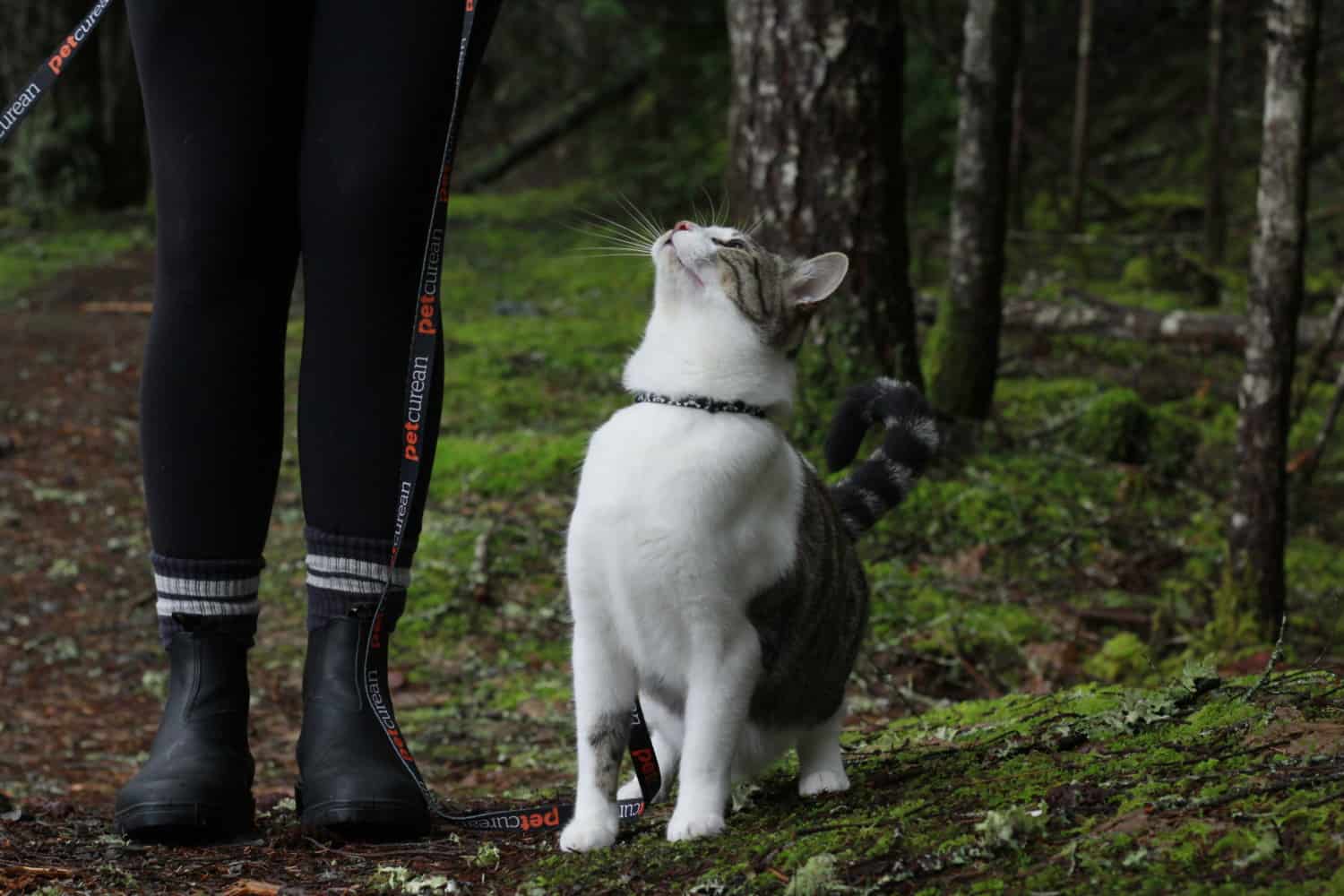 Is Your Cat Curious?
The next thing to consider when determining whether your cat will enjoy a life of adventure is his level of curiosity. Does he crave the outdoors — trying to sneak out when you open the door? Or is sitting by the window all day more his speed?
Cats with a strong desire to be outside are more likely to enjoy traveling. They can be trained to associate their harness and leash with the excitement of getting out to go exploring.
Being curious also helps your cat overcome the natural feelings of insecurity and fear in new situations. So, when it comes to traveling cats – a healthy dose of curiosity is a good thing!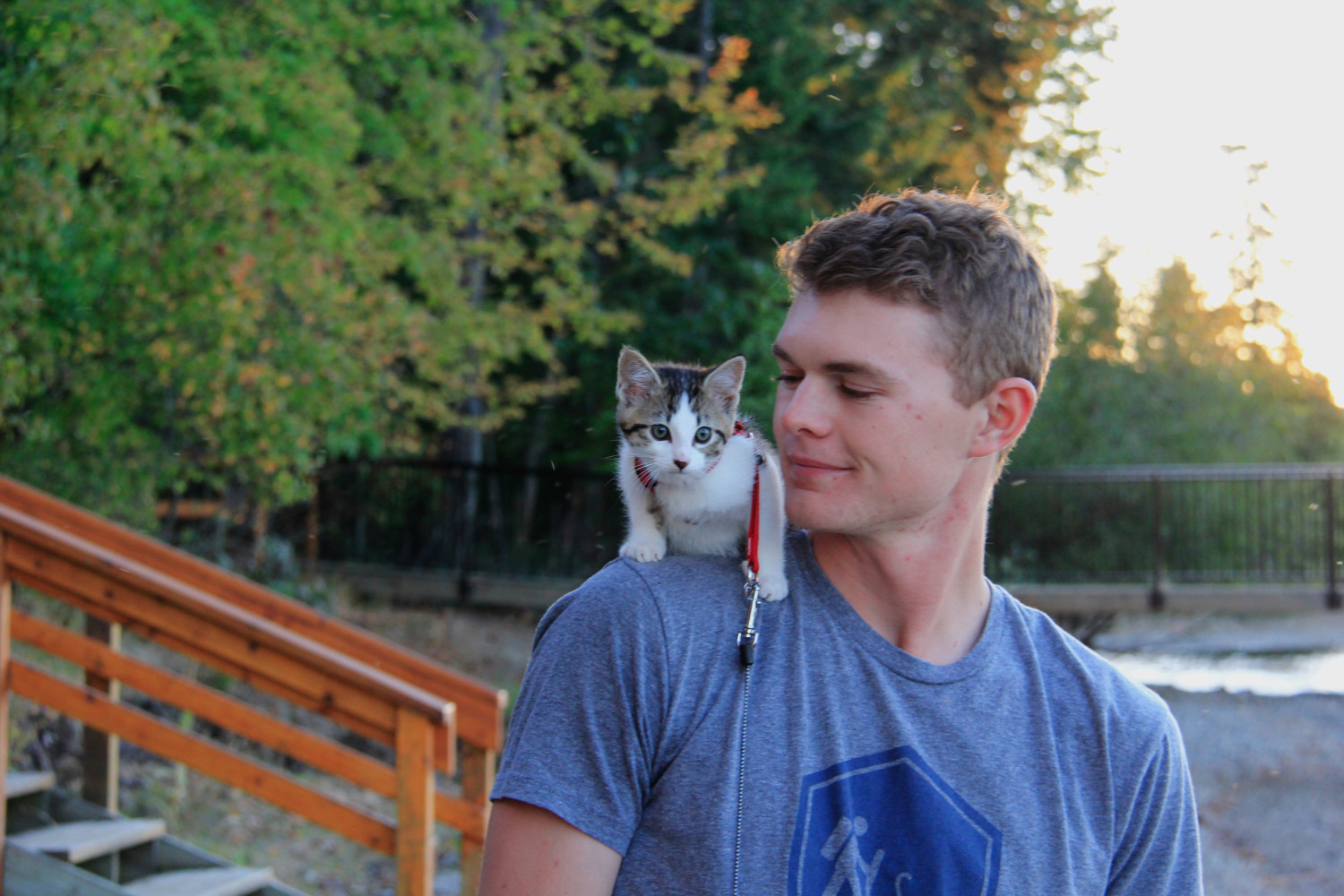 Does Your Cat Trust You?
Next, consider how bonded your cat is to you. This is huge. To be safe outdoors on a leash, your cat must trust you. And an affectionate cat is more likely to put his confidence in you than one who's more aloof.
We've formed such strong bonds with Fish and Chips that we now feel comfortable letting go of their leashes for short periods of time. If they get frightened, our cats to run towards us for protection rather than running away.
If your cat is fiercely independent, but has all the other traits of being a great traveling cat, training together can help build your bond. Just like learning to wear a leash, your cat can learn that he can count on you to take care of him in any situation.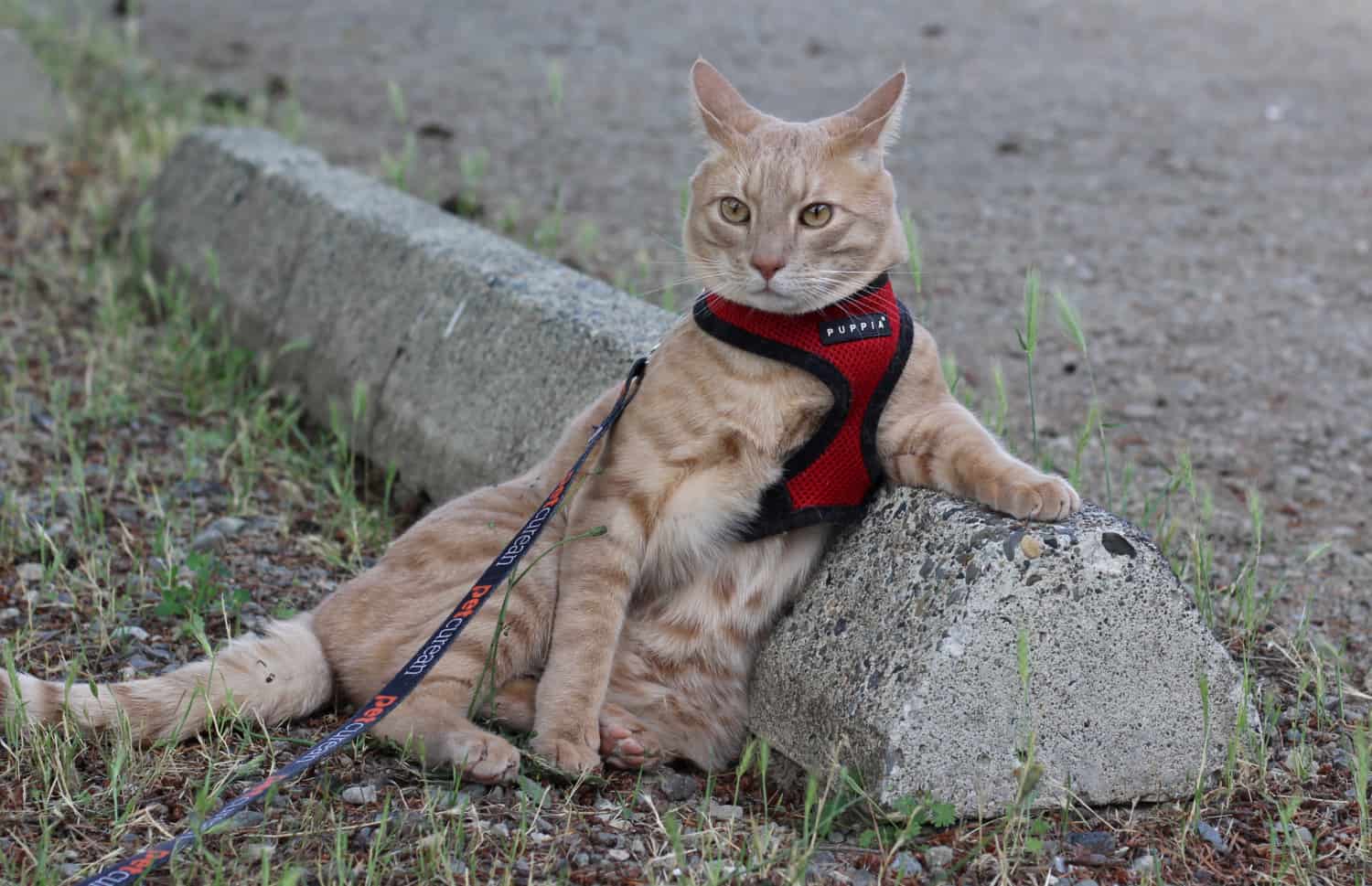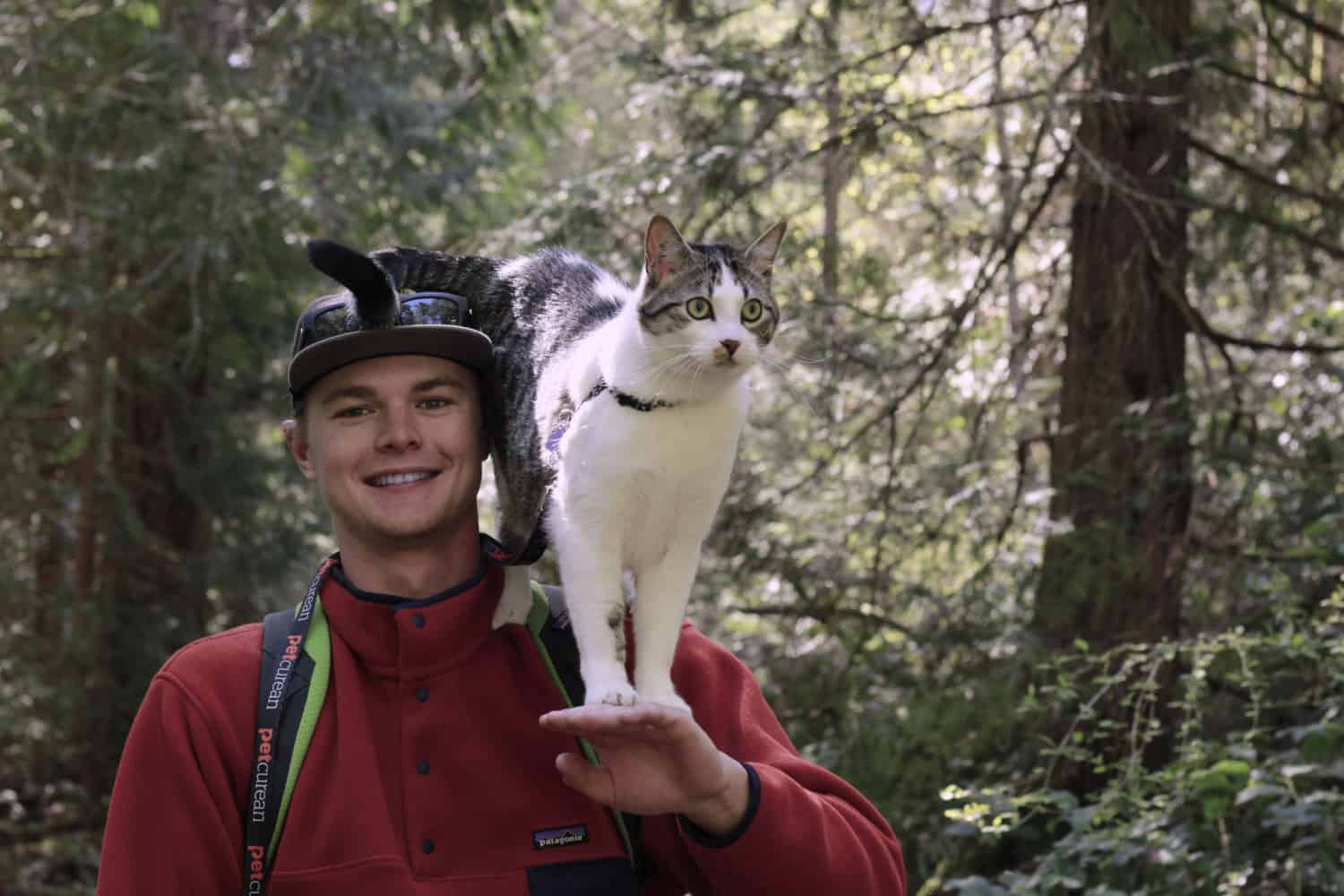 Is Your Cat Friendly?
Finally, how does your cat react to other people and animals? People are going to want to meet your cat, whether you're walking around town, or hitting the trails together. And you're likely to see some dogs.
Cats who are comfortable with strangers and other animals are more likely to enjoy traveling with you.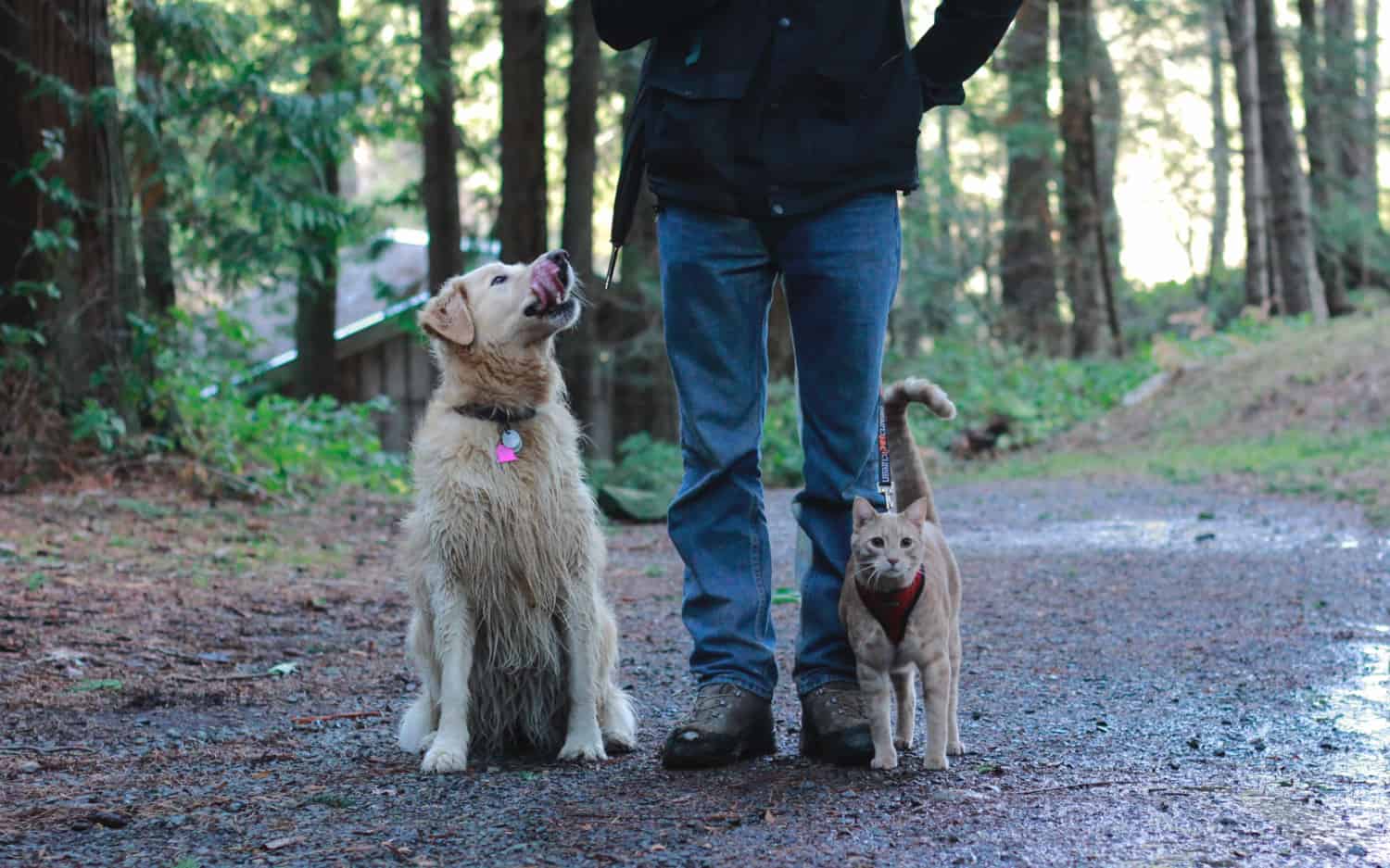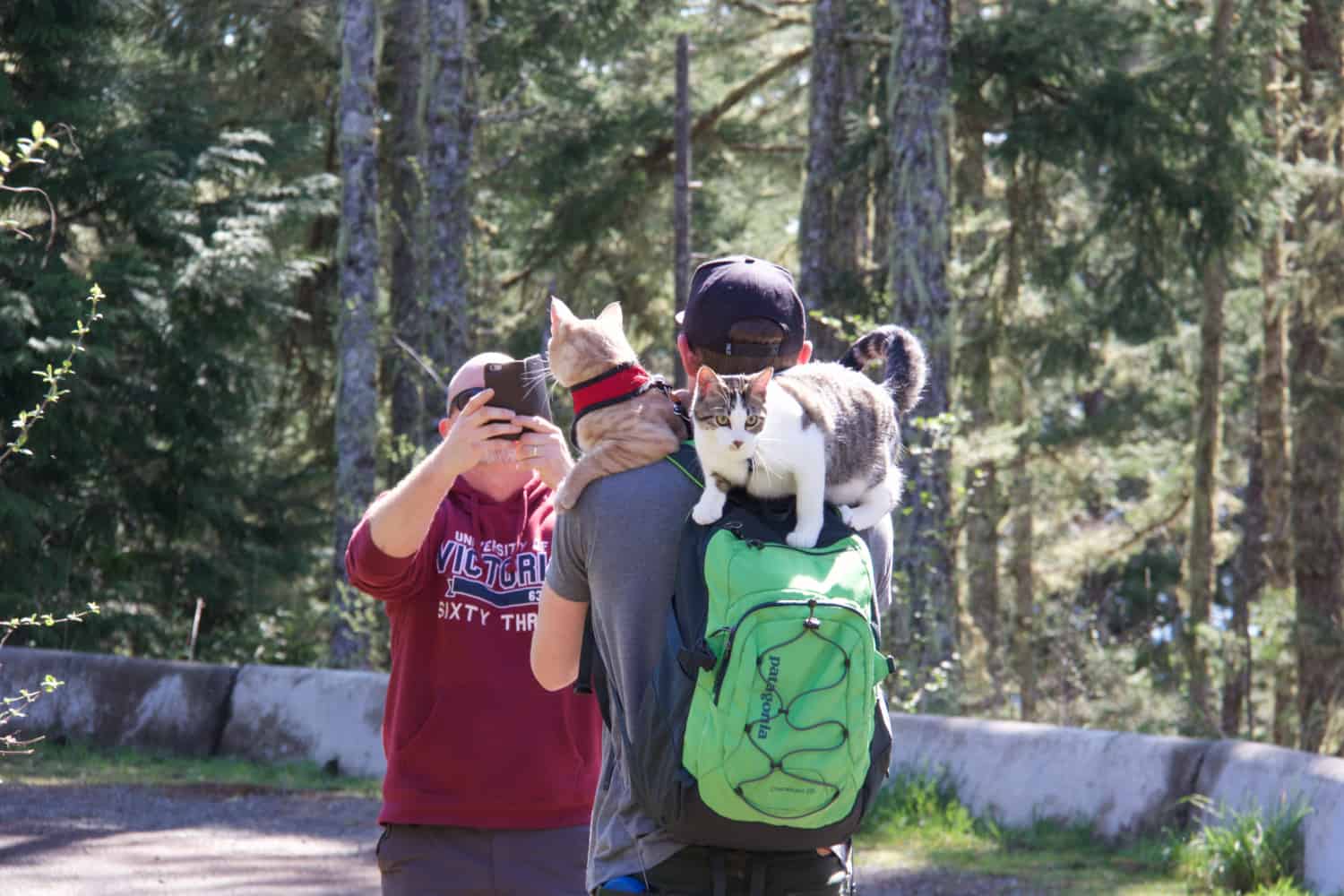 What If Your Cat Doesn't Share The Traits Of Traveling Cats?
Just because your cat doesn't have a "traveling cat" personality doesn't mean you can't explore together! Start slowly by helping your cat develop a positive association with being in the car, in a backpack style carrier (Amazon affiliate link) or a pet stroller (Amazon affiliate link).
Safety is the first priority! And being concerned your cat will run away wouldn't be a fun way to spend your vacation. Tucked comfortably in his backpack or stroller, your cat can get accustomed to new surroundings. And you can both build your confidence at your own pace.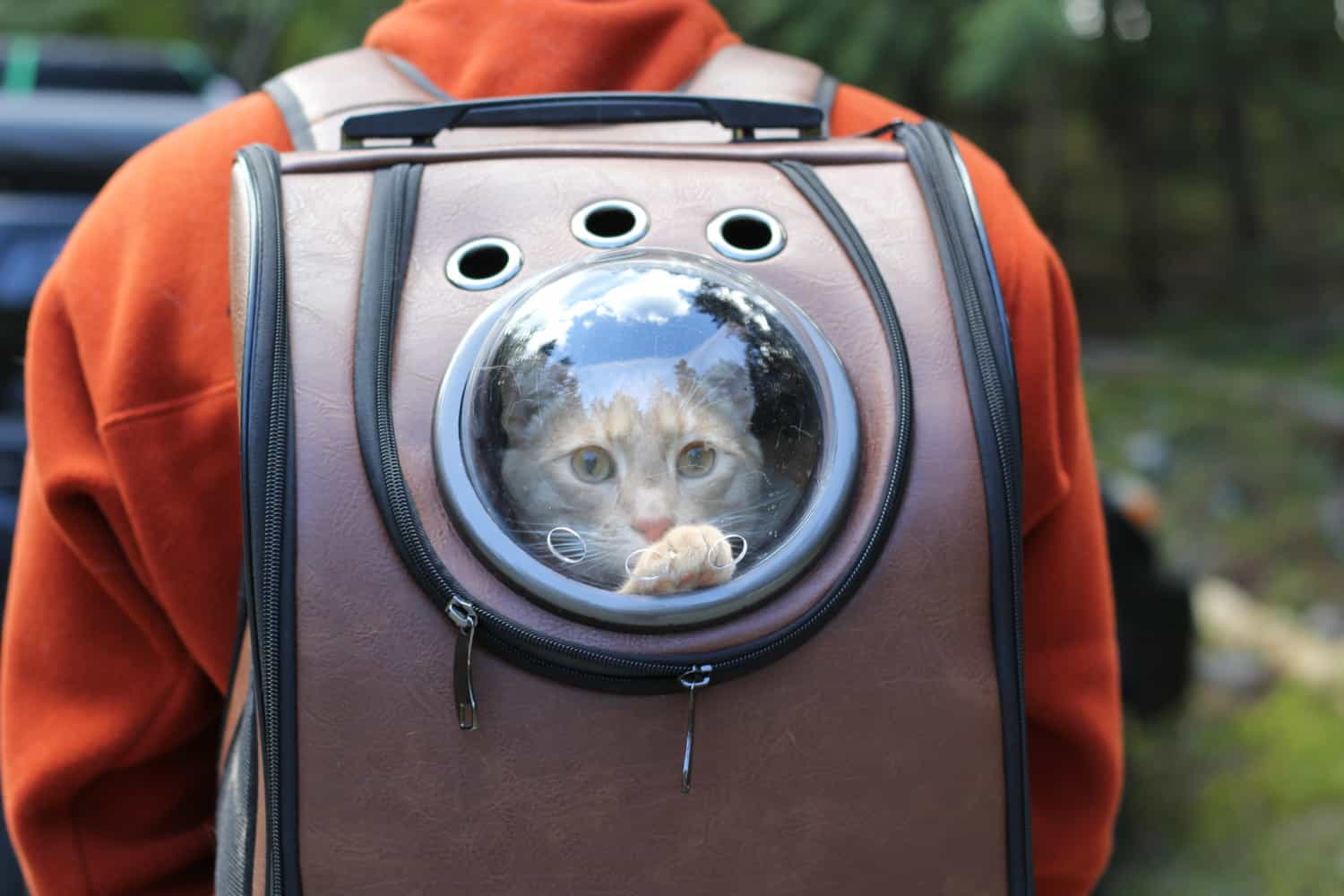 There are a lot of things to consider when it comes to training a traveling cat, and we'd never deny that it can be difficult and frustrating at times. However, with the right cat and some patience it can be exceptionally rewarding for both you and your feline friend!
Visit our Amazon store to learn about more products we rely on to make traveling with pets easier, safer, and more fun!
Amazon Affiliate Disclosure: GoPetFriendly.com LLC is a participant in the Amazon Services LLC Associates Program, an affiliate advertising program designed to provide a means for website owners to earn advertising fees by advertising and linking to amazon.com, audible.com, and any other website that may be affiliated with Amazon Service LLC Associates Program. As an Amazon Associate, the owner of this site earns a commission from qualifying purchases.
(Visited 7,225 times, 1 visits today)