The Chesapeake Bay Loop offers a great variety of pet friendly must-dos. Enjoy the history, natural beauty, and fascinating culture of this amazing region with your pet! It's a place you can visit again and again.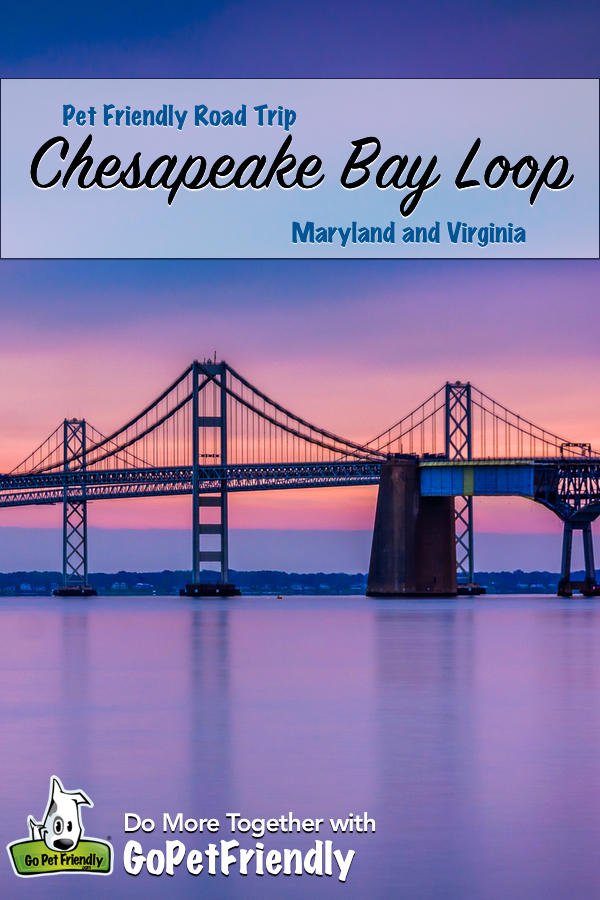 Whether you're planning a short getaway or a two-week vacation, the visiting the Chesapeake Bay with pets offers something for everyone to enjoy.
North America's largest estuary, the Chesapeake Bay, is only about 200 miles long. But with more than 11,000 miles of shoreline – more than the entire west coast – you'll never run out of things to do!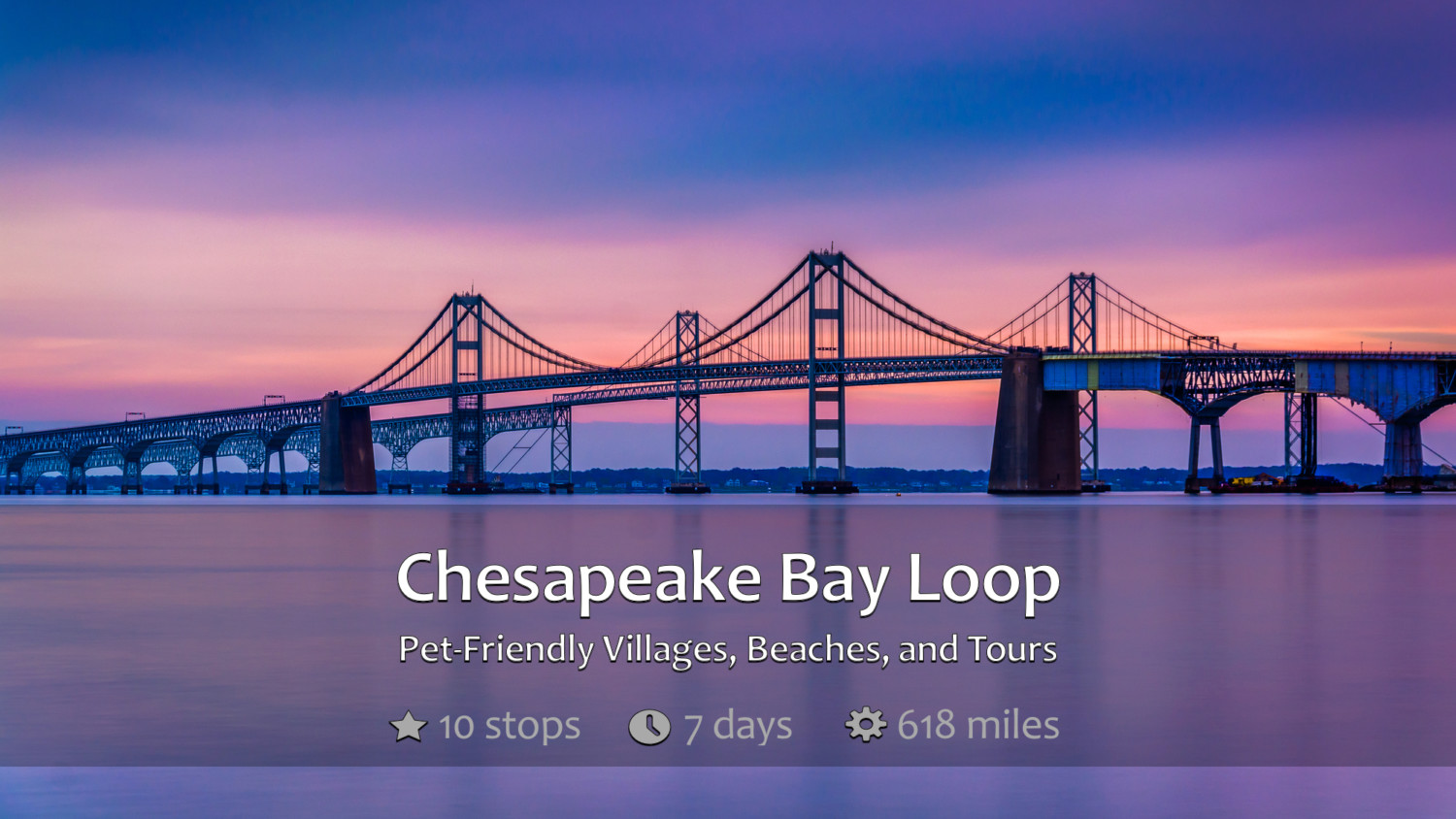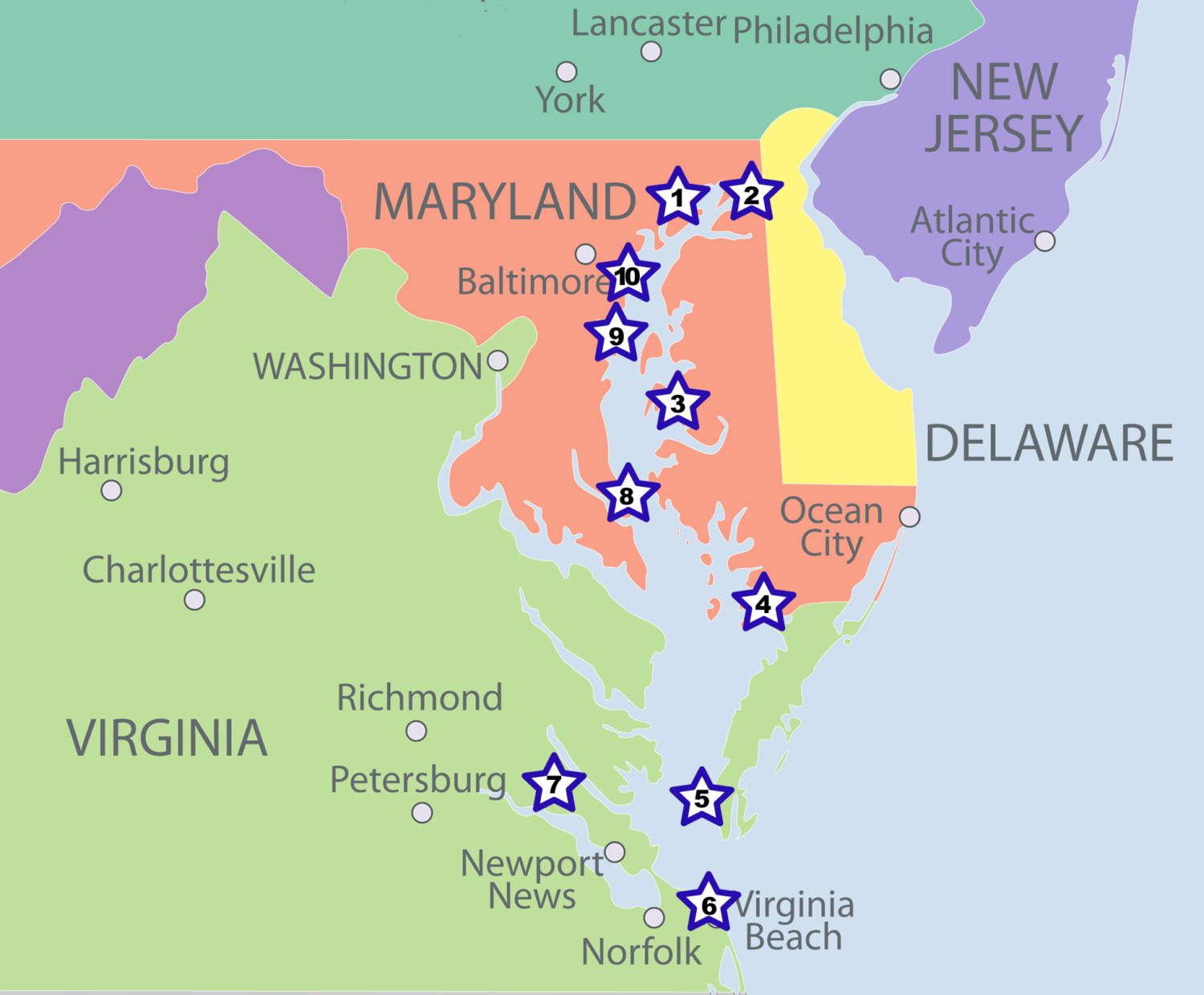 Pet Friendly Stops On The Chesapeake Bay Loop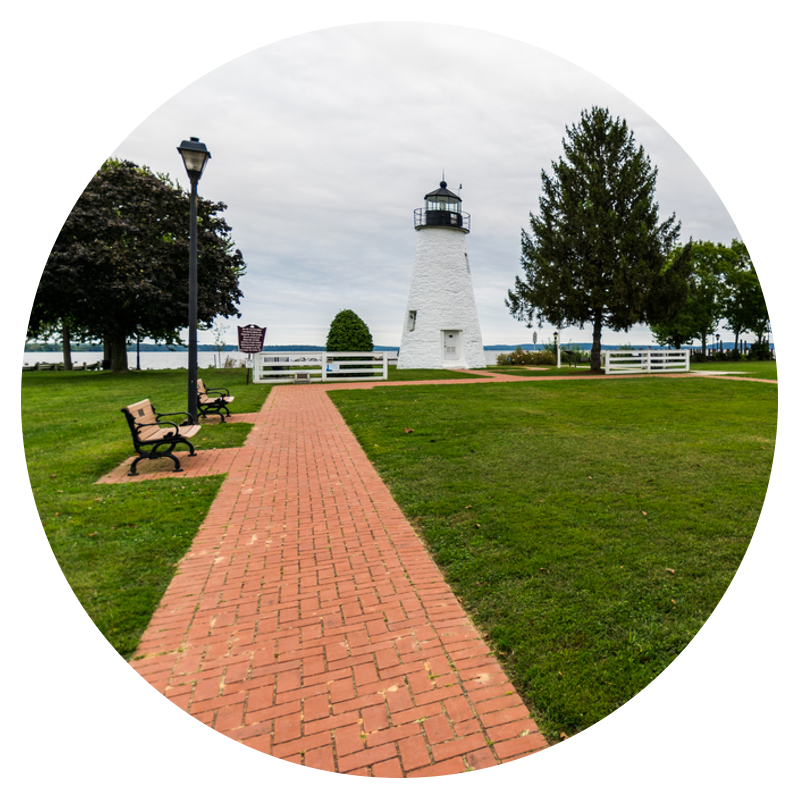 Start your trip in Harve de Grace, a town rich in maritime history. The Lafayette Trail, a three-mile loop, will give you a nice overview of the historic district, parks, and views of the Susquehanna River and Chesapeake Bay and can be enjoyed with pets. Pick up the self-guided tour at the visitor center (450 Pennington Avenue) and follow the numbered medallions embedded in the sidewalks.
Once you have the lay of the land, spend some time window shopping downtown and don't forget to stop at the Concord Lighthouse. Admission to the lighthouse is free. Although pets are not allowed indoors, it's on a breezy point where one person can wait with pets while the other looks around inside.
Feeling peckish after your walk? Unfortunately, the popular boardwalk along the waterfront does not allow dogs. However, the Tidewater Grille welcomes polite pets on the deck and has a views.
If you're not quite ready to leave, unpack your kayak or paddleboard at Susquehanna State Park. Besides paddling, you can hike the 15 miles of trails, and get a campsite for the night.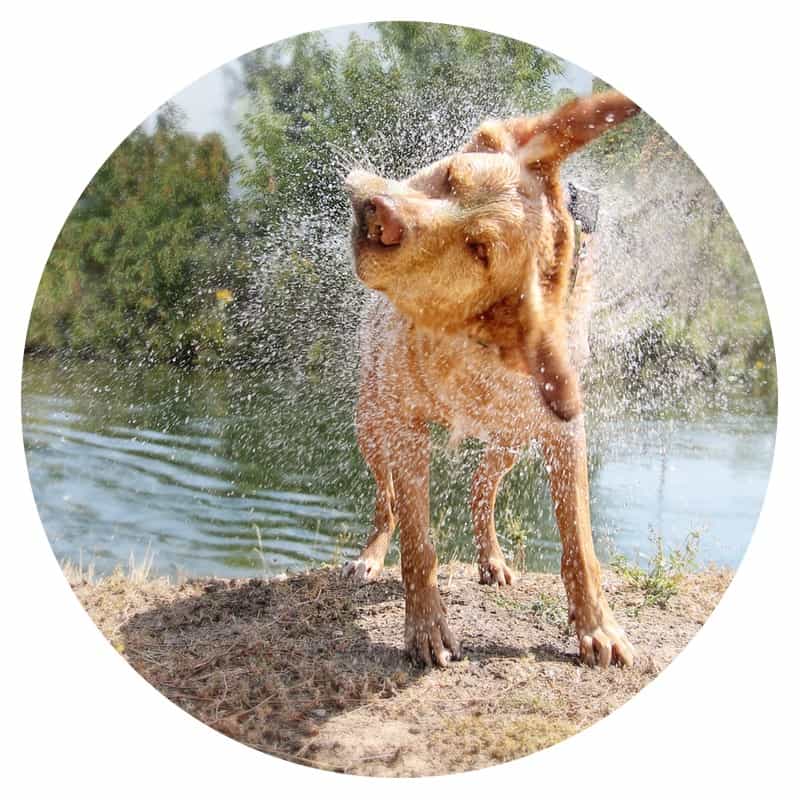 Ships travel between the Delaware and Chesapeake Bays by way of the 14-mile Chesapeake and Delaware Canal (commonly known as the C&D Canal). For a great view of ocean tankers and sailboats, stop in Chesapeake City and take a walk or bike the Ben Cardin C&D Canal Trail. It joins up with the Mike Castle Trail at the Delaware state line and continues all the way to Delaware City!
From the trail, you can also access Lums Pond State Park. In addition to campsites, Lums Pond has an off-leash play area where your pup can enjoy a swim.
To get a feel for the town, jump on the ferry at the dock near pet friendly Schaefer's Canal House. The Chesapeake City Water Tours welcome pets aboard for no extra charge.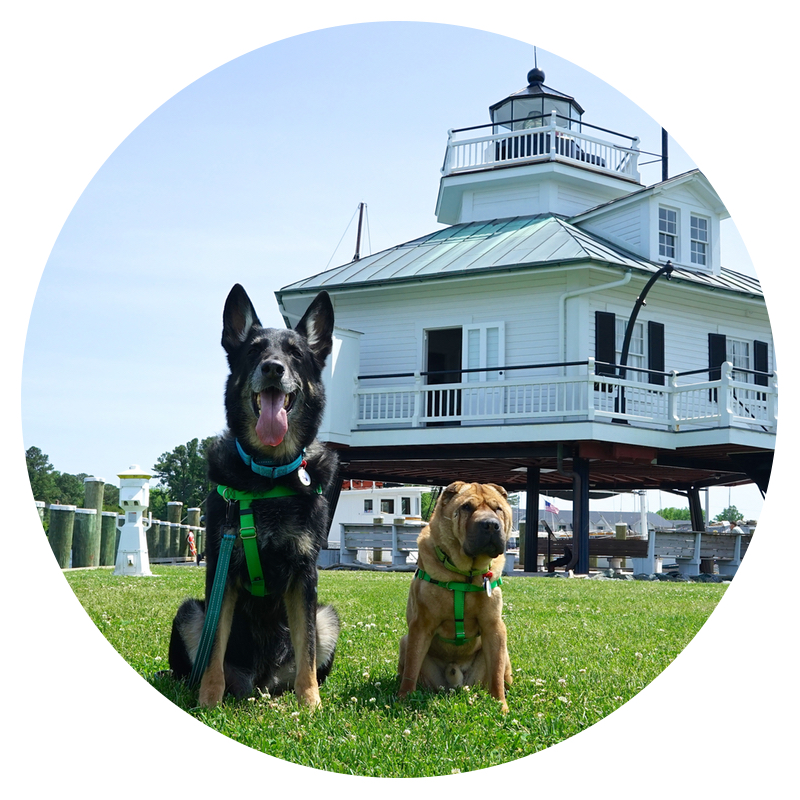 Charming St. Michaels sits on the eastern shore of Chesapeake Bay. On weekends, it can get quite crowded – but no wonder! It's a fun, very pet friendly place to stroll around. For a peaceful walk, make your way to the St. Michaels Nature Trail.
For a bit of local history, check out the Chesapeake Bay Maritime Museum. Pets can join you in all buildings that don't have carpets, including the lighthouse.
And, if the views and displays have you longing to get on the water, you're in luck. Patriot Cruises welcomes small (weighing less than 12 pounds; they must remain on your lap) pets on board their 65-75 minute narrated cruises of Chesapeake Bay.
Once you return to shore, enjoy pizza on the stunning enclosed patio at Ava's. Or check out Foxy's for some waterfront fun.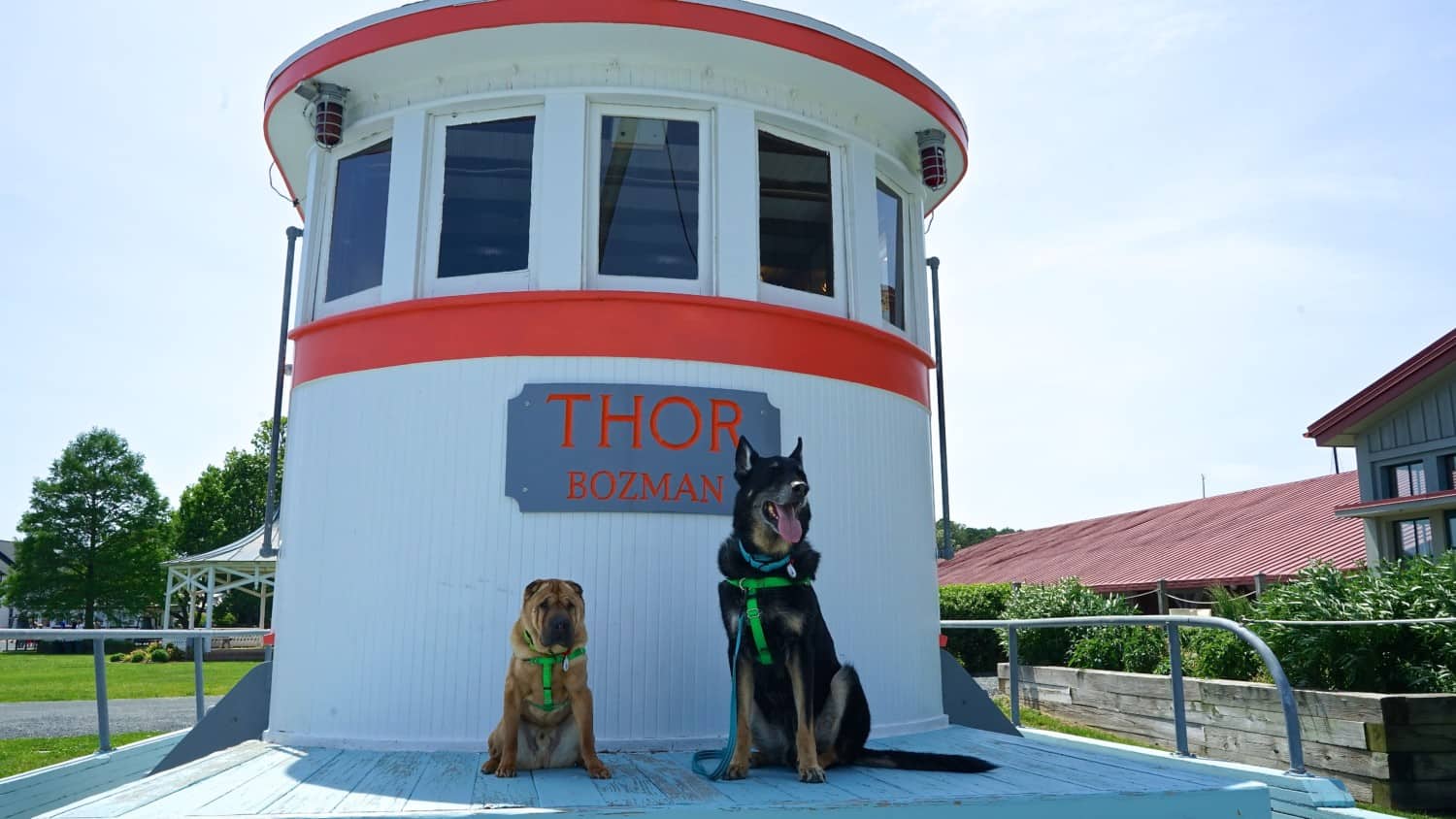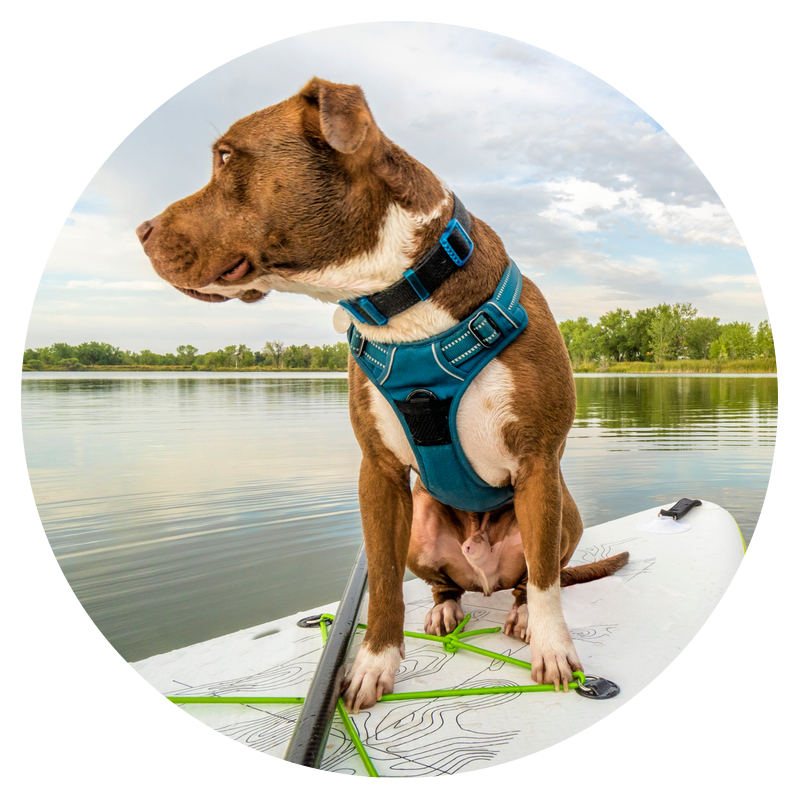 The best way to explore the Chesapeake Bay with pets is by getting up close and personal. And Janes Island State Park is the perfect spot for that with 30 miles of water trails. Explore 2,900 acres of salt marsh before landing on a long beach with a view of Tangier Island. Don't have your own boat? Don't worry! The park has pet friendly canoes and kayaks rentals. They also have pet friendly campsites, if you're looking for a place to stay.
If your pup is a social butterfly, don't miss nearby Wellington Beach and Park, the community beach of the town of Crisfield. Dogs are welcome year round, and there's a shower for washing off sandy paws.
While it's not on Chesapeake Bay, Assateague Island National Seashore isn't far from Crisfild, and is well worth the trip. Your pup will love a chance to play on the wind-swept beaches, and you might even spot the famous wild horses!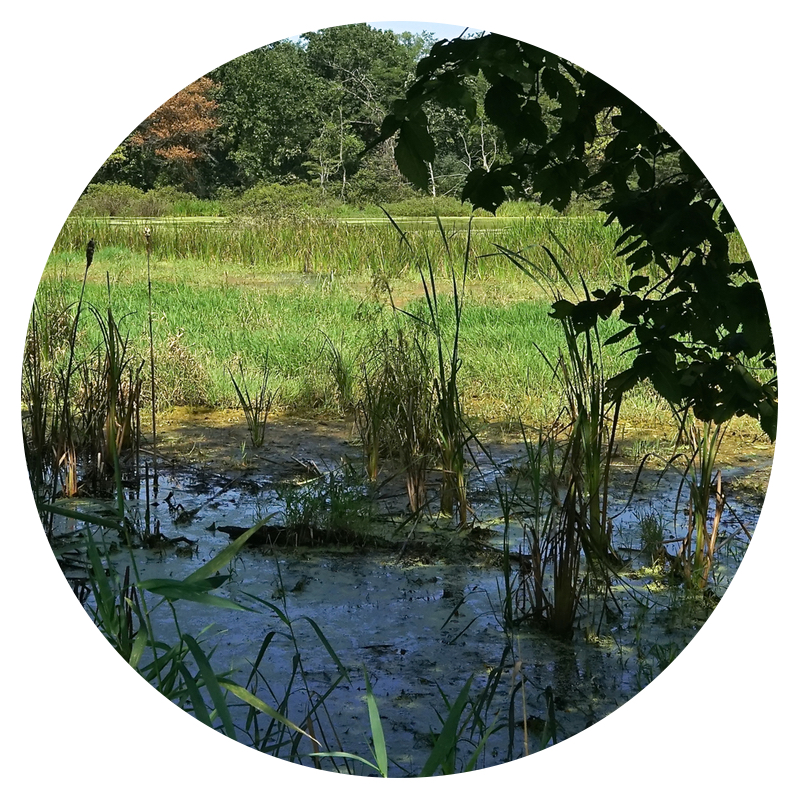 The quaint town of Cape Charles is a lovely base for exploring Virginia's eastern shore. From here you can check out the art scene in Onancock. Or hit the dog friendly trails at the Cape Charles Natural Area Preserve or the Eastern Shore of Virginia National Wildlife Refuge. These natural areas are important stops for migrating birds – if that's your thing, time your trip accordingly. Just remember to also prepare yourself and your pet for mosquitoes and ticks.
Before crossing the bridge/tunnel to continue the loop, stop at Kiptopeke State Park. The ghostly concrete fleet (a bulkhead made of decommissioned WWII concrete ships) is something to behold. For a closer look, launch your kayak at the boat ramp and paddle around the eerie hulks. This is also a great opportunity to enjoy the nesting birds that make their homes here.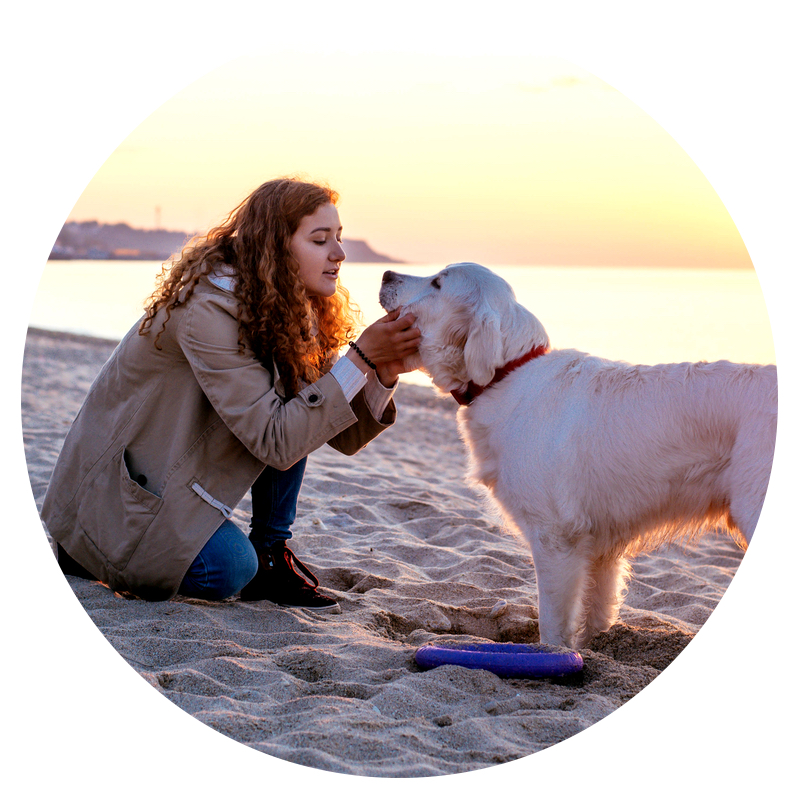 In 1964, the 17.6-mile Chesapeake Bay Bridge Tunnel replaced the ferry service from Kiptopeke. Linking the Delmarva (short for Delaware, Maryland, and Virginia) peninsula with Hampton Roads and Virginia Beach, it's still one of only ten bridge–tunnel systems in the world. Enjoy its stunning views and fascinating engineering on your way to delightfully pet friendly Virginia Beach.
If you visit Virginia Beach during the off-season, pets are allowed on the beach and boardwalk at all times. There are some restrictions for when and where you can take your dog during the summer, however. From Memorial Day through Labor Day pets are limited to the north end of Virginia Beach above 42nd Street and the south end of Virginia Beach in the Sandbridge area before 10am and after 6pm. During the summer season, dogs are also allowed on the boardwalk from 6am to 10am only.
For an interesting side trip, check out the unfortunately named Great Dismal Swamp. And leave enough time to visit Hampton Roads, which encompasses the towns of Norfolk, Portsmouth, and Hampton.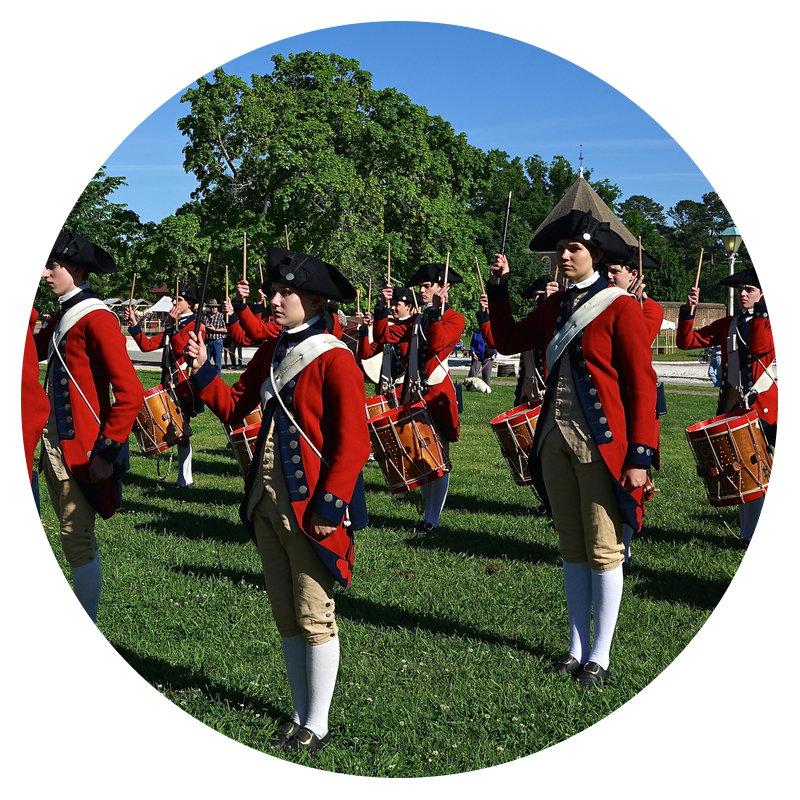 There are dozens of pet friendly museums around the country, but Colonial Williamsburg is one of the best! Here you and your furry travel buddy can can travel back in time.
View historic homes, watch demonstrations at the trades shops, and get a bite at the taverns and restaurants. Or have a picnic on the Palace Green where you can watch for Liberty – Colonial Williamsburg's doggy mascot!
Although pets are not allowed in buildings, you'll find plenty to see from outside. And with lots of benches and welcoming green spaces, it's easy for pets to wait in shade with one human while the other steps into a building. And, all three of the hotels on the park grounds welcome pets!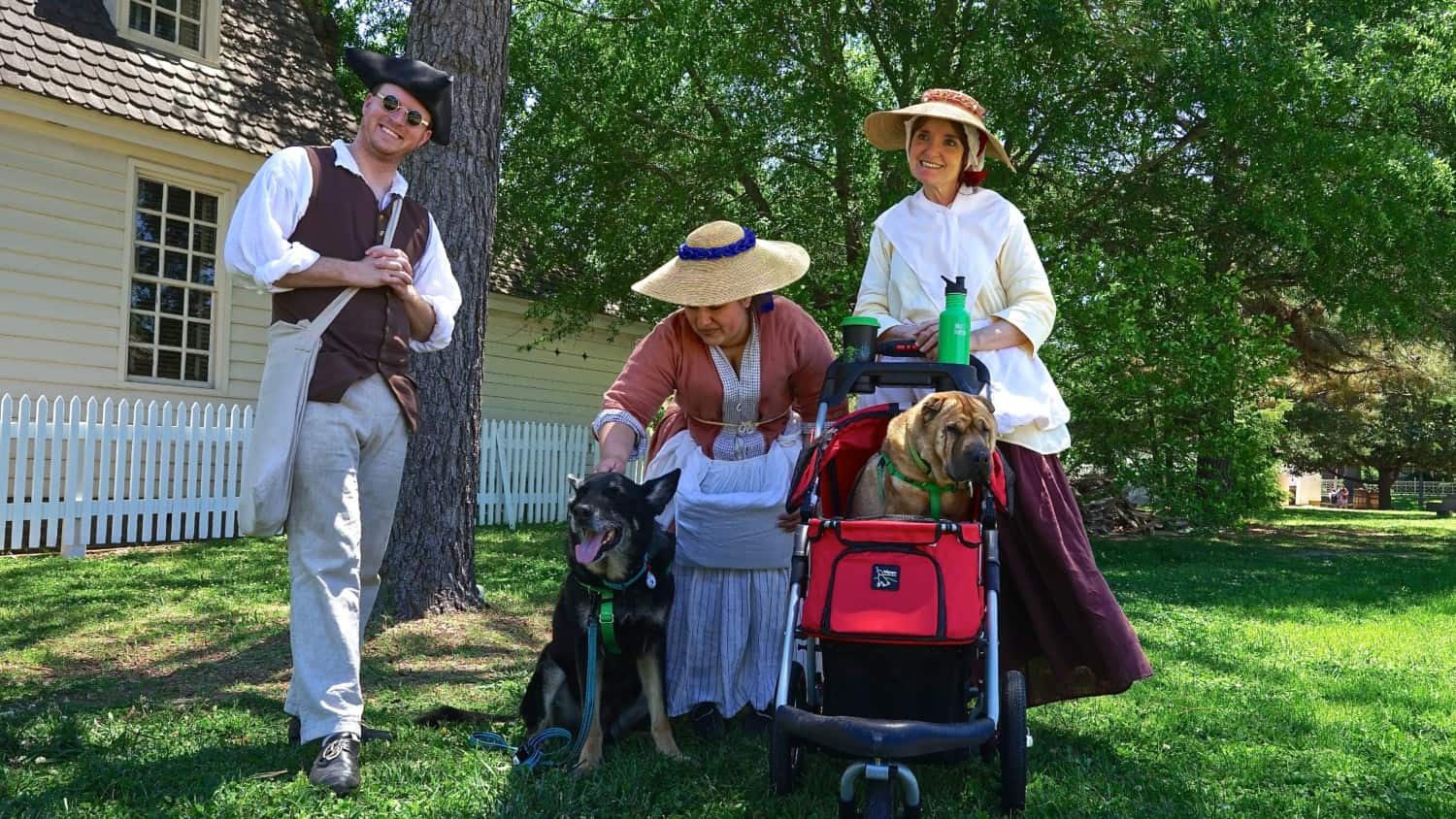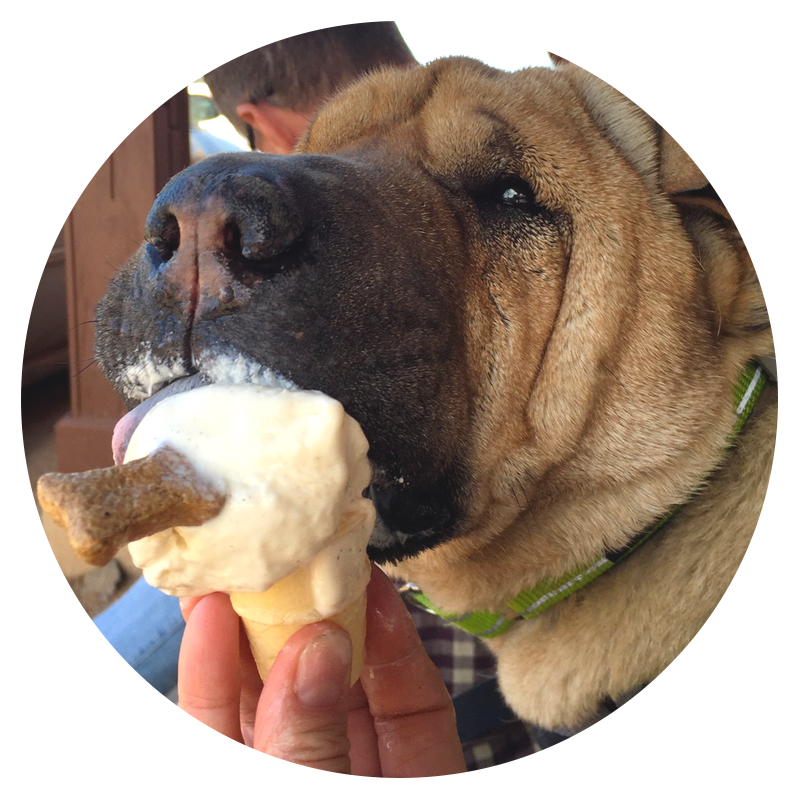 Is your pet an art lover? Okay, maybe not. But if you are, AnnMarie Sculpture Garden is a grand spot to stroll with your pet. Admire works of art on loan from the Smithsonian Institute as well as pieces in the AnnMarie collection.
After getting your culture fix, how about spending some time on the water? Rent a boat from Bunky's Charters for a day fishing on the Patuxent River. Pet's are welcome on the rentals – just don't forget to bring a doggy life jacket!
For the landlubbers, opt for a walk on the boardwalk along the river. Be sure to stop for a "pup cup" of ice cream at Cone Island – or your pup might never forgive you. And if you're hungry for more, many of the restaurants have pet friendly, outdoor decks. Perhaps the most welcoming (and shady) is Lotus Kitchen. Their famous key lime pie is to die for!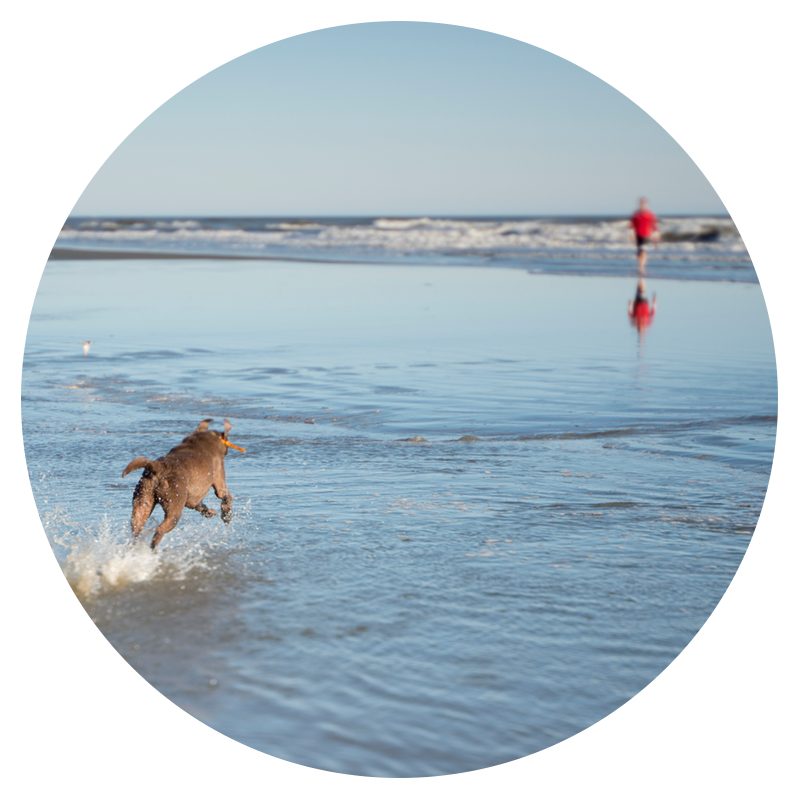 While Annapolis is a charming, small city, walking the narrow, cobbled streets with your pet can be a challenge during tourist season. Luckily, Quiet Waters Park is made for dogs and their people.
Your pup will have a ball at the off-leash dog park. There are even separate areas for small and large dogs. But keep walking and you'll soon come to the popular dog beach. The small sandy shore on the South River is a calm place for friendly pups to ditch their leash and play in the water.
Explore the nearby Eastport neighborhood and take a pet-friendly water taxi ride to downtown Annapolis. By now, your playful pup should be tuckered out and ready to snooze beneath the table at one of Annapolis's pet friendly restaurants. Federal House Bar & Grill is a great spot to people-watch near Ego Alley. And they even have a dog menu!
If your dog is ready for more beach time, Metapeake Park is a short drive away. This beach is much larger, pet friendly, and looks directly out onto the Chesapeake Bay. It's also a great place to launch a kayak on a calm day.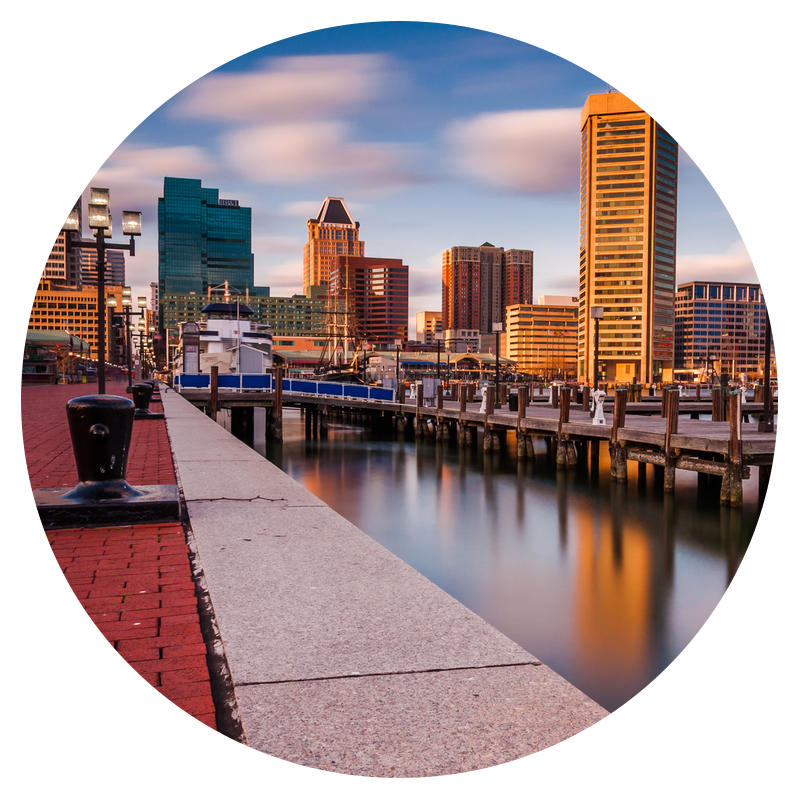 Though it's a short trip up the Patapsco River, Baltimore is still considered to be on Chesapeake Bay. The food, the history, and the architecture all reference its Chesapeake heritage.
Get a feel for the city by starting your visit at Fort McHenry. The defense of this famous fort during the War of 1812 inspired Francis Scott Key to write the Star Spangled Banner. You'll have splendid views of the water, and pets can explore the grounds with you, but cannot go inside the buildings.
Continue to consort with the ghosts of historic residents by taking a Baltimore Ghost Tour. The tour guides believe that animals are often more sensitive to ghostly presences. Maybe yours will sniff out a spirit!
And while you're in the neighborhood, stop into Riptide By The Bay in Fells Point, a popular neighborhood eatery that's dog friendly. Order a dozen steamed blue crabs or oysters and really get a taste of the Baltimore experience.
If you decide not to share the catch with your pooch, make sure to swing by The Dog Chef Cafe. The fresh food and snacks for dog cooked up here will make your pup's day.
Plan A Trip On The Chesapeake Bay
You could explore the Chesapeake Bay region for a lifetime and never run out of places to visit! The trip we've laid out for you and your pet along the Chesapeake Bay Loop covers 618 miles of pet friendly cities, waterways, history, and culture.
To get a good feel for what the Chesapeake has to offer, plan to spend a week enjoying the sights. And then plan to come back and dig a little deeper into the things you enjoyed most! This is a fanatic place to explore again and again with your entire family.
Other Iconic Road Trips

Historic Route 66 – Chicago to Santa Barbara
Amazon Affiliate Disclosure: GoPetFriendly.com LLC is a participant in the Amazon Services LLC Associates Program, an affiliate advertising program designed to provide a means for website owners to earn advertising fees by advertising and linking to amazon.com, audible.com, and any other website that may be affiliated with Amazon Service LLC Associates Program. As an Amazon Associate, the owner of this site earns a commission from qualifying purchases.
(Visited 14,787 times, 7 visits today)