It's a lovely city to visit, but we found Annapolis was less pet-friendly than we'd hoped. The cobblestone streets and old buildings – while charming – draw crowds that can make exploring it with your pet challenging.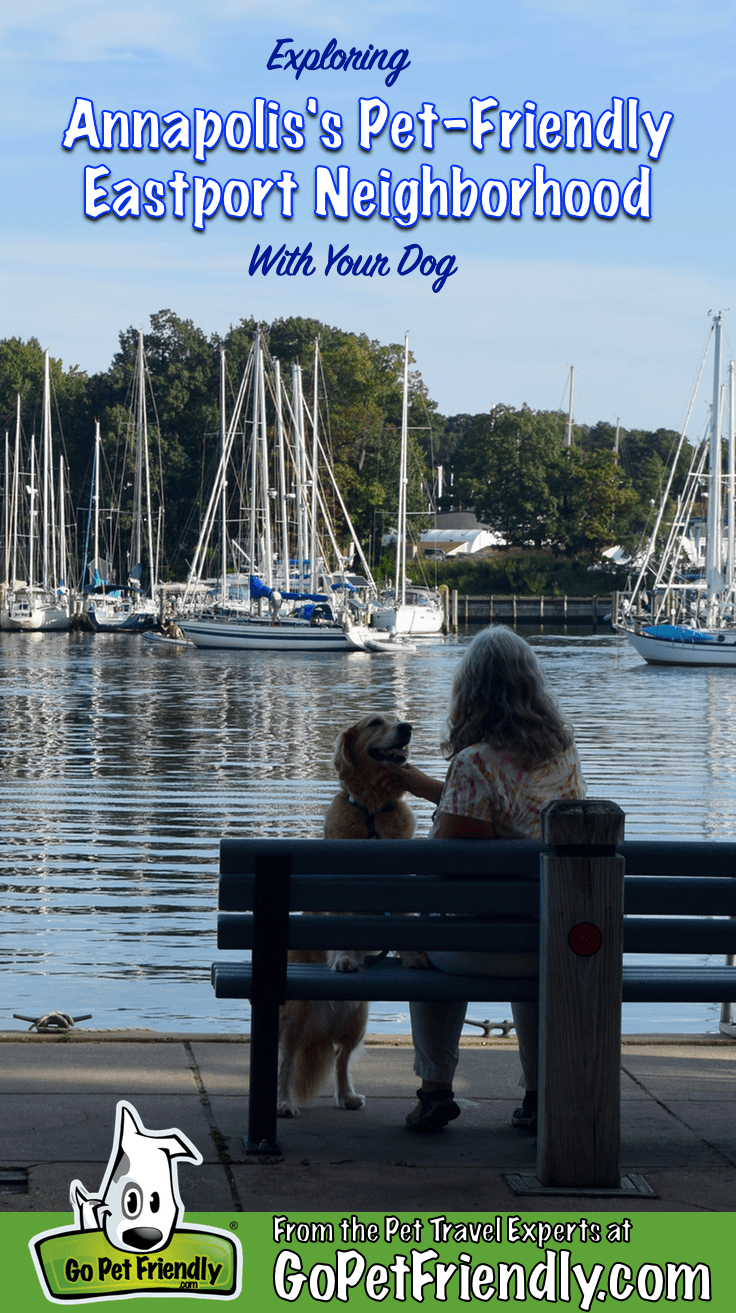 Annapolis vs. Eastport
If you're not into bumbling around with the rest of the tourists, may we suggest Annapolis's sibling rival — pet-friendly Eastport?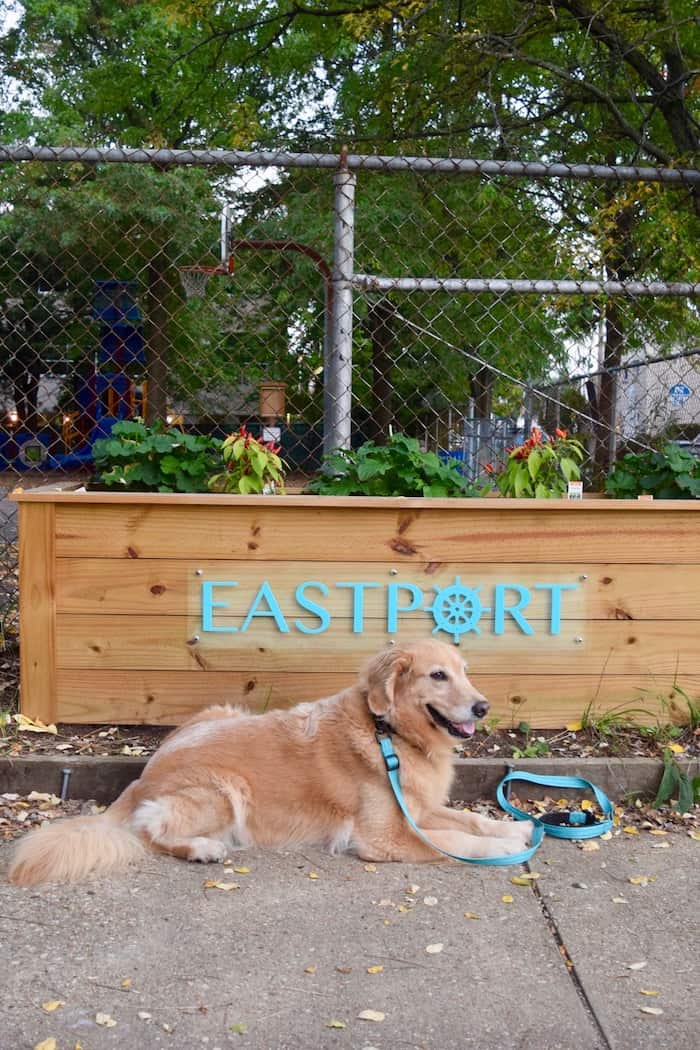 For decades, Annapolis was known as the home of wealthy boatyard owners. Eastport was where the blue-collar watermen and boat builders lived.
Now you're more likely to see recreational boaters in Eastport than watermen harvesting oysters. But Eastport still takes pride in its working-class roots. And, although Annapolis annexed the town in 1951, Eastport maintains its individual identity.
In 1998, when the bridge over Spa Creek connecting Eastport to Annapolis was closed for repairs, Eastporters took the opportunity to "secede" from Annapolis. They formed the Maritime Republic of Eastport (MRE) to assert their independence, and you'll see that the flag continues to flying proudly from many houses in town.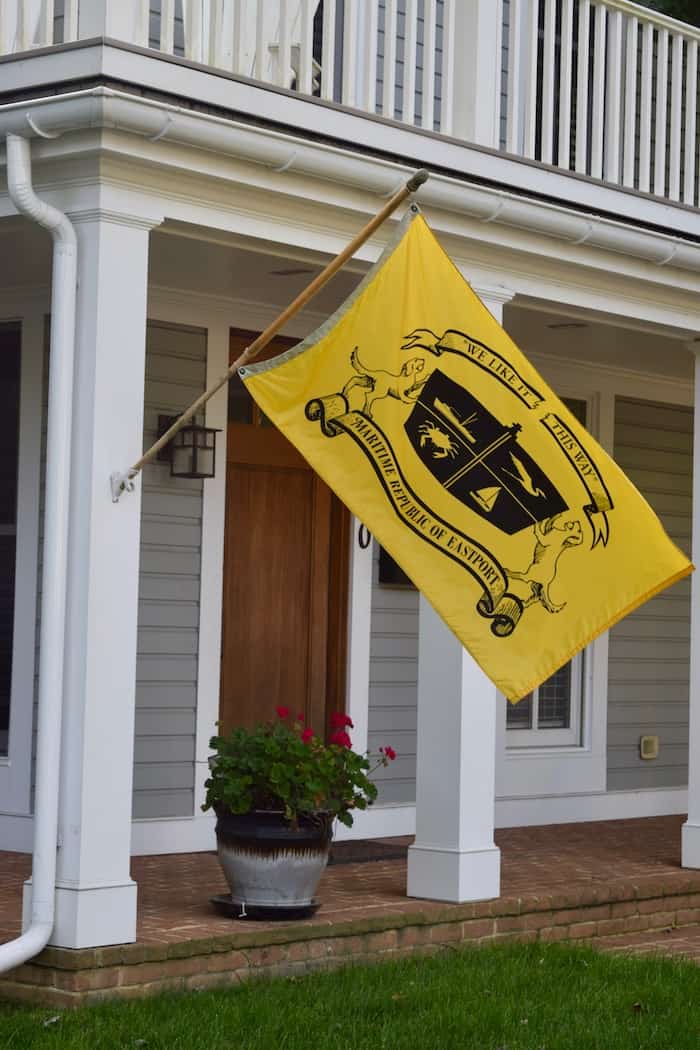 Look at it closely. Do you see two dogs with balls in their mouths on their hind legs? Obviously, Eastport is a dog-friendly place to visit.
So why not enjoy it with your pets?
Pet-Friendly Things To Do In Eastport
We've brought our sailboat to Eastport twice while working at the Annapolis Sailboat Show and have enjoyed exploring this neighborhood with Honey. Here are a few of our favorite things to do in Eastport:
1. Take a Walk
Walking tours were made for dog lovers! Humans get to explore and learn new things about a place, and dogs get to enjoy a long, sniffy walk. Heck, kitties like to explore, too!
Download a walking route from All About Annapolis to discover more about this interesting neighborhood. Their walking tour begins on Back Creek at the Annapolis Maritime Museum, but I recommend skipping ahead and starting at the gateway to Eastport—the Spa Creek Drawbridge.
You can easily walk a dog over the bridge with its full-width sidewalk. But remember, it's a drawbridge. You may find yourself waiting at the barrier while the bridge opens for a sailboat to go through.
It's fun to watch, even if your pet doesn't find it particularly interesting.
You can take some beautiful shots looking back at Annapolis, and enjoy viewing boats underway as well as those docked in the nearby marina. On the left side of the street as you leave the bridge, you'll find a historical marker and a walking tour route on a sign.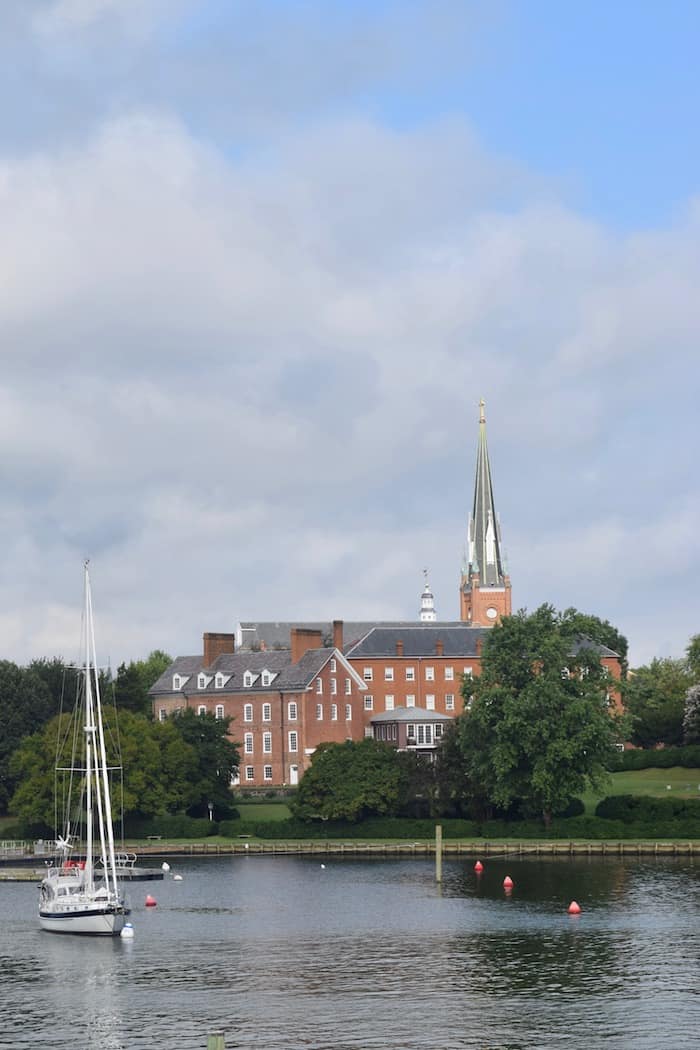 Need a place to rest your paws? You're in luck!
2. Visit the Parks
Several of Eastport's streets end along the waterfront in charming little parks.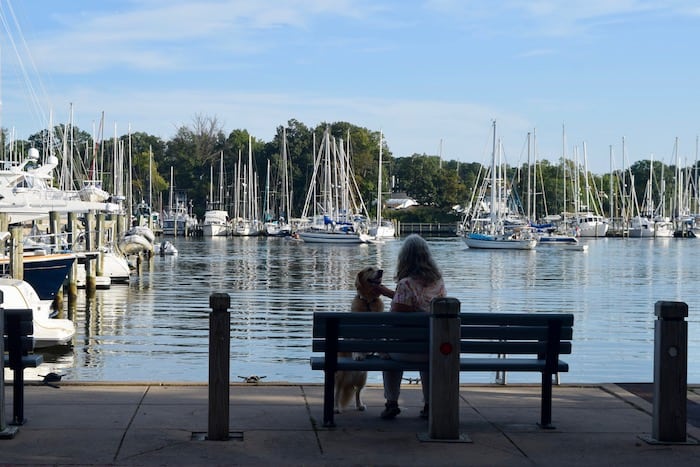 If you start exploring the Spa Creek side of the neighborhood, you'll come to Horn Point Park first. It's originally the site of Fort Horn, built to protect Annapolis from the British Navy (which didn't actually threaten Annapolis either during the Revolutionary War or the War of 1812).
Today, it's a grassy park that ends at a small sandy beach that Honey loved. She was happy to absorb her daily allowance of fish smell by rolling in the sand.
If you're so inclined, you can also launch a kayak from there. But be aware that Horn Point looks out onto the large Severn River.
If you're not confident handling a small craft on a large, busy river, consider putting in at a quieter spot, like the Ellen O. Moyer Nature Park (7314 Edgewood Road), which looks out onto calmer Back Creek. Considerably bigger than the other pocket parks, the Moyer Nature park is 12 acres and has trails and exhibits from the Annapolis Maritime Center.
If kayaking isn't your thing, or if you don't want to clean sandy paws before heading back to your hotel room or car, visit George Washington Davis pocket park (4th Street and Chester Avenue). It's tiny … but you can't beat the view! This is a beautiful place to admire the boats, and maybe enjoy a picnic.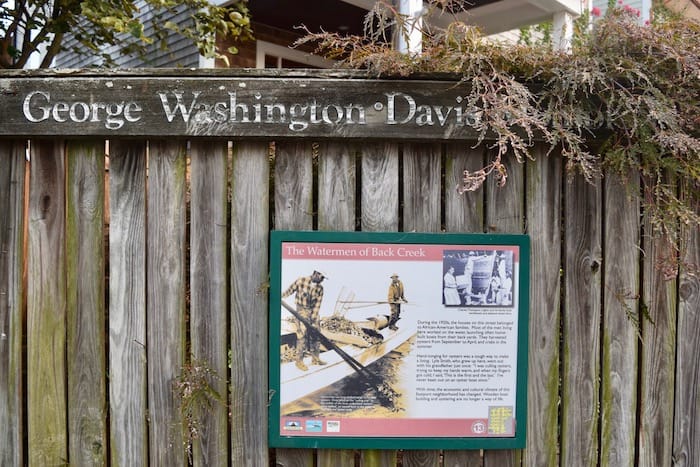 And it's very close to another pet-friendly activity …
3. Dine in a Pet-Friendly Restaurant
Davis's Pub
Cross Chester Avenue to Davis's Pub (400 Chester Avenue). Originally the site of George Washington Davis's general store, it became a popular watering hole for the African-American watermen from Eastport. Chester Avenue was where many black oystermen lived and worked, and where some of their descendants continue to reside today in houses that have been in their families for generations.
Today Davis's Pub is a popular neighborhood hangout that also attracts world sailors and YouTube stars during boat show week.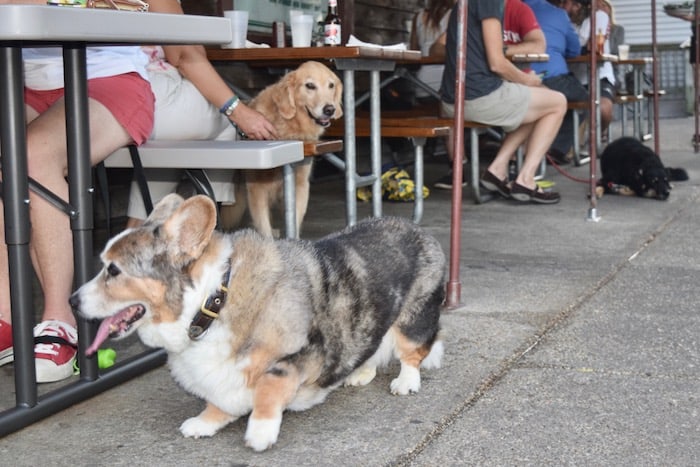 The picnic tables that flank the pub on two sides are pet-friendly, and the pub even offers a special dog menu!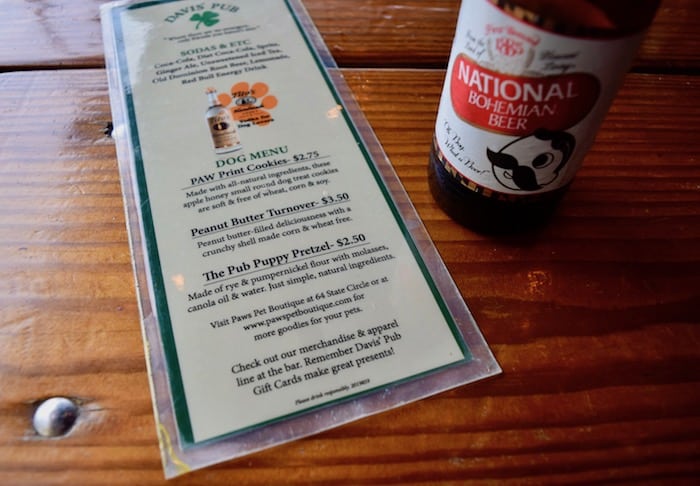 Bakers & Company
We're particularly fond of Bakers & Company (618 Chesapeake Avenue), a family-run bakery on a busy street. They have pet-welcoming outside tables, and serve a nice selection of fresh-baked treats.
Boatyard Café
The Boatyard Café (400 Fourth Street) draws big crowds for its famous all-lump, no-filler crab cakes. If your pet isn't fond of crowds, try to visit before or after the lunch and dinner rush.
Wet Dog Café
Finally, if you visit the Moyer Nature Park mentioned earlier, try the Wet Dog Café (7082 Bembe Beach Road). It's located at the Port Annapolis Marina and offers water bowls and treats for dining pups. Boaters visiting the café are even welcome to dock for free.
Wet Dog Café is a short drive or walk from the trails of the nature park. But it's also accessible by another fun, pet-friendly form of transportation.
4. Ride a Water Taxi
Watermark Cruises offers pet-friendly cruises and water taxi rides out of Annapolis. Their water taxis are a fun way to see Eastport from the water.
There are a few taxi landings in Eastport, and you can call to arrange where you'd like to be picked up.
And for boaters anchored in the creek – they'll pick you and your pup up right at your boat!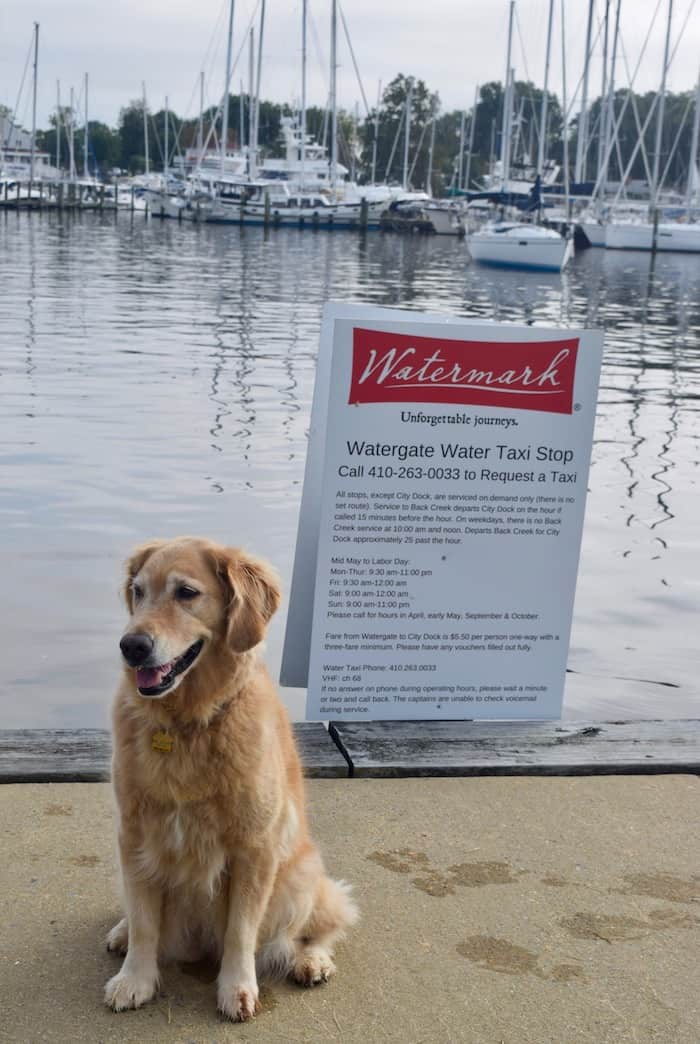 5. Hit the Dog Beach
While you're exploring, there's one pet-friendly place you absolutely can't miss. While it's technically not in the Eastport neighborhood, Quiet Waters Park (600 Quiet Waters Park Road ) is easy to reach from the Eastport side of Back Creek.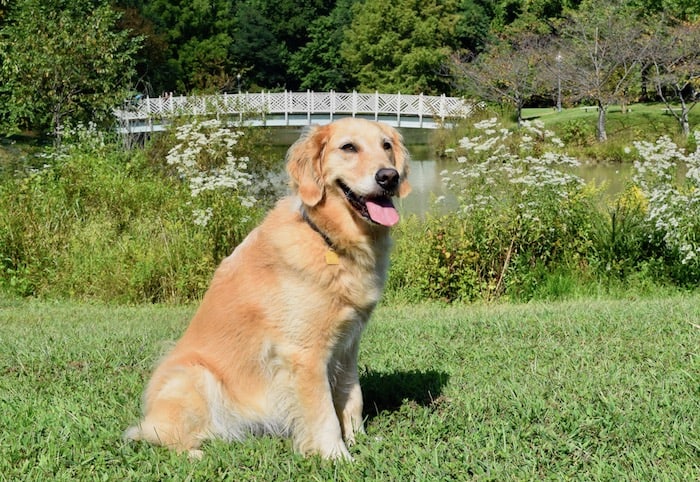 Quiet Waters has acres of grassy fields and wooded trails with great views of the South River. But its big draw is the dog beach!
You can walk the trails along the water's edge or drive to the end of the park and walk down a long set of stairs to get to the dog beach.
On a sunny weekend, you'll find dozens of people throwing balls to their un-leashed pups on the cozy beach. We walked 8 miles round trip from where we were docked in Eastport to check it out for ourselves. And despite the fact that Honey choose not to swim, we all found it worth the trip.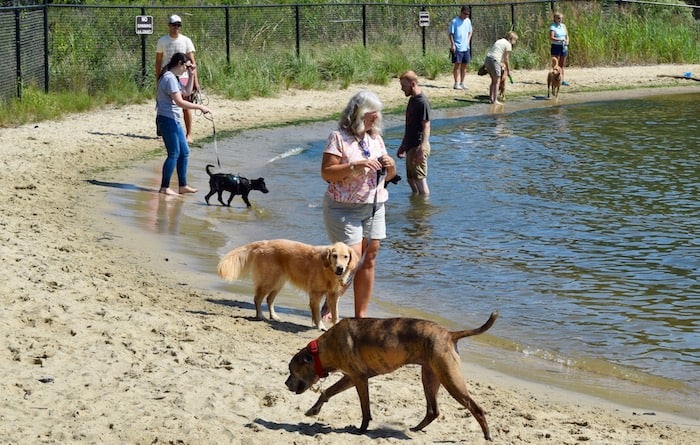 Just a short distance away, you'll find Bark N' Bean (130 Hillsmere Drive), where you can wash the sand off your pup yourself … or sit and enjoy coffee and internet while the staff does the grooming.
Annapolis or Eastport?
Truthfully, I love both bustling downtown Annapolis and the quieter, neighborhood feel of Eastport. But Honey definitely prefers Eastport.
Walking through the quiet residential neighborhoods, we pass under mature trees that shade our path. And the collection of street-end pocket parks means Honey can always stop to chase her ring or roll in the grass when she's tired of walking.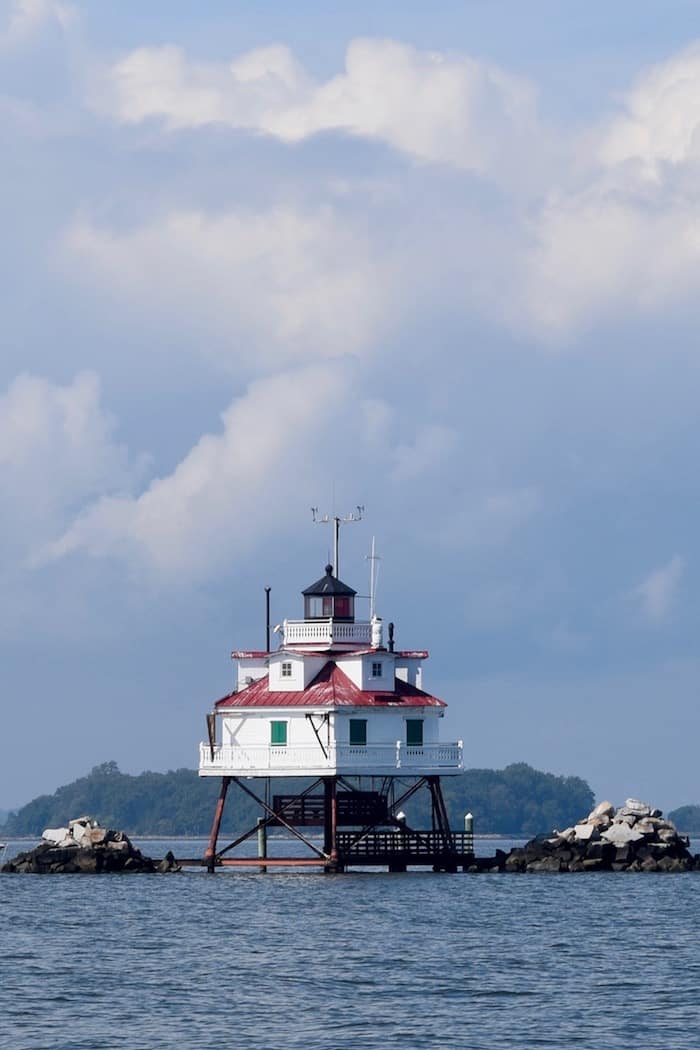 The outdoor tables in Annapolis tend to be crowded and right beside sidewalks teeming with pedestrians. Honey's floofy tail is far less likely to get stepped on at Eastport's roomier outside seating areas.
So, take a short day trip from Baltimore or Washington! Or make a reservation at one of Annapolis's several pet-friendly hotels. Just don't forget to check out the pet-friendly Maritime Republic of Eastport the next time you explore Maryland's historic state capital. You won't even need a passport!
Amazon Affiliate Disclosure: GoPetFriendly.com LLC is a participant in the Amazon Services LLC Associates Program, an affiliate advertising program designed to provide a means for website owners to earn advertising fees by advertising and linking to amazon.com, audible.com, and any other website that may be affiliated with Amazon Service LLC Associates Program. As an Amazon Associate, the owner of this site earns a commission from qualifying purchases.
(Visited 1,561 times, 1 visits today)