This post is part of a series on The Ultimate Pet Friendly Road Trip, our 10-month, 15,000-mile tour of the top pet friendly attraction in each of the lower 48 states.
Maryland's Top Pet Friendly Attraction: The Chesapeake Bay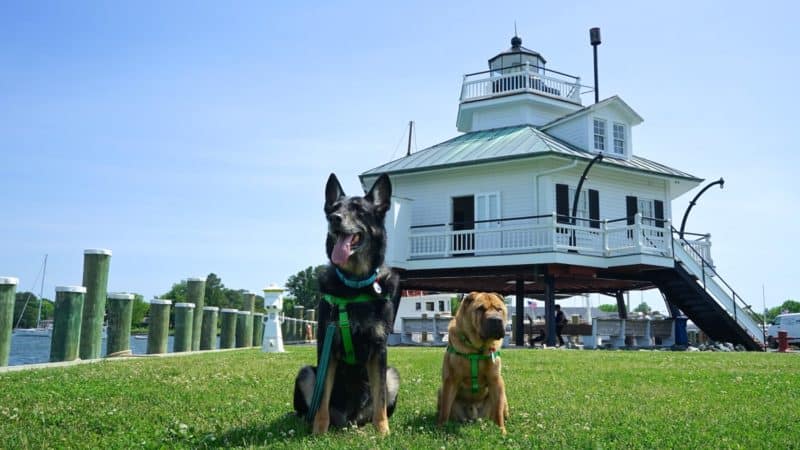 The Chesapeake Bay is North America's largest estuary, stretching approximately 200 miles from its headwaters where the Susquehanna River completes its journey in Havre de Grace, Maryland to Norfolk, Virginia where the Bay finally meets the Atlantic. With more than 11,000 miles of shoreline – more than the entire west coast – hitting the beach is a lovely way to enjoy the Bay. But to get a better appreciation for its scale, you may want to see it from a boat!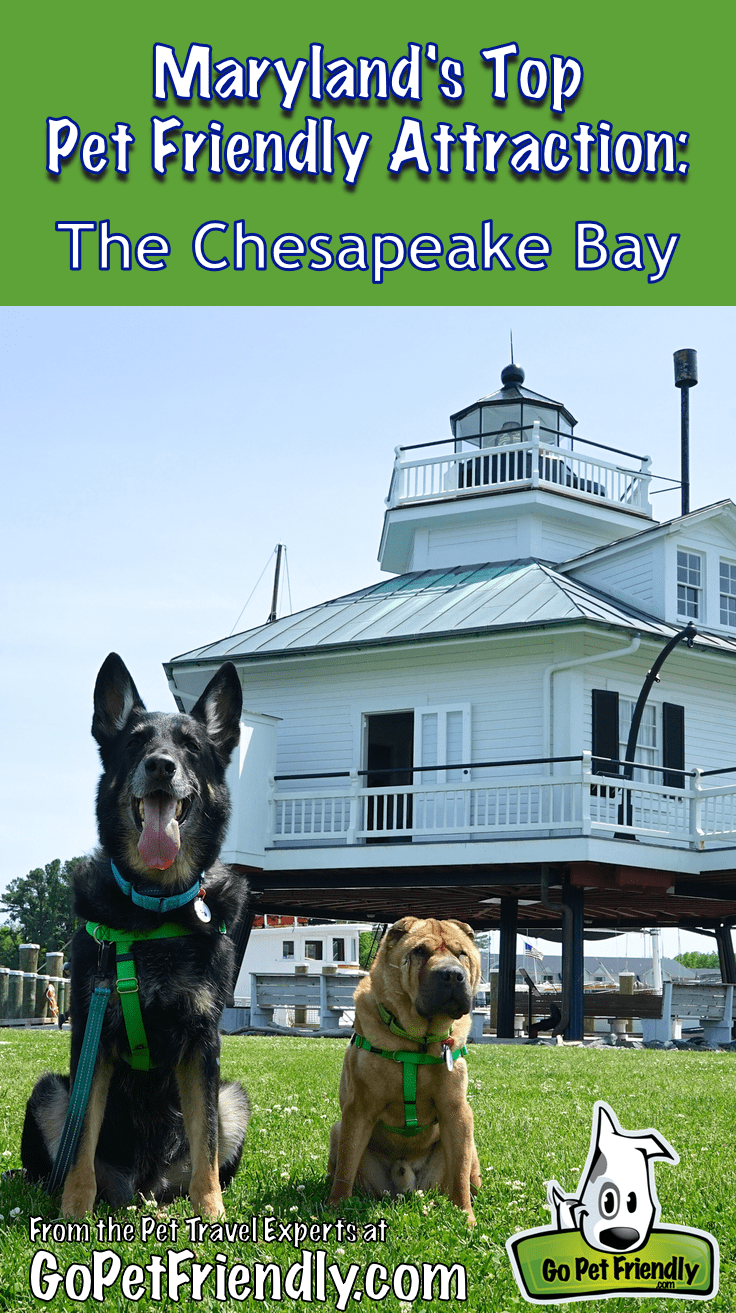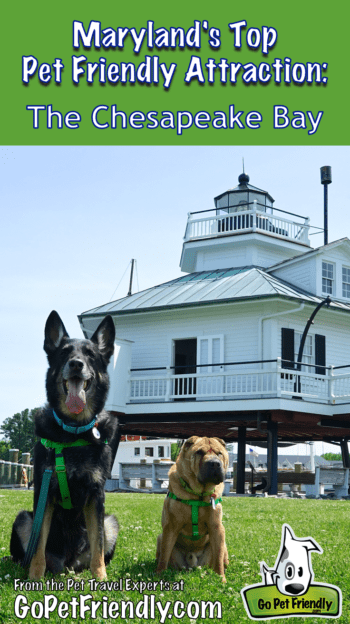 Dog Friendly Boat Tours of Chesapeake Bay
Finding a dog friendly boat tour of the Chesapeake Bay is not as complicated as you might expect. Watermark Cruises in Annapolis and Baltimore welcome pets aboard their day tours. Patriot Cruises allows small dogs (weighting 12 pounds or less) to sit on your lap during their narrated tours out of St. Michaels. Additionally, there are countless privately-operated charter boats available from harbors up and down the Chesapeake.
Some things to consider when choosing the right option for you and your dog:

Whether you'd prefer a narrated tour of specific sights, or just a quiet cruise
The length of time your pet will be comfortable on the boat
Whether a larger boat with more stability (less wave action) is preferable to a smaller boat
How crowded the boat might be, with humans and possibly other dogs
Whether flexibility in the route and timing are important to you
We opted for the three-hour River-Lighthouse​-Bridge narrated tour out of Annapolis and set it up for Buster's birthday. Unfortunately, we were reminded that boats can be unpredictable when the cruise we'd chosen was cancelled! Flexibility is key when traveling with pets, so we quickly settled on another option – a day trip across the Bay from Annapolis to the lovely little town of St. Michaels. We boarded the 65′ Lady Sarah in Annapolis on Saturday morning with about 140 other people and one pug named Zoe.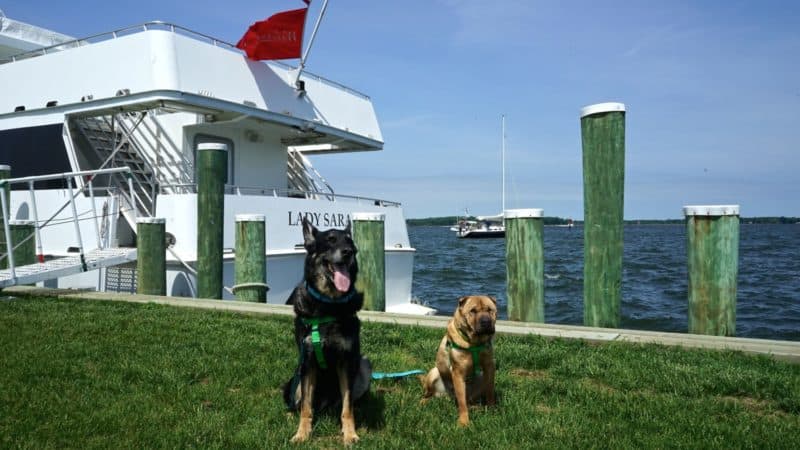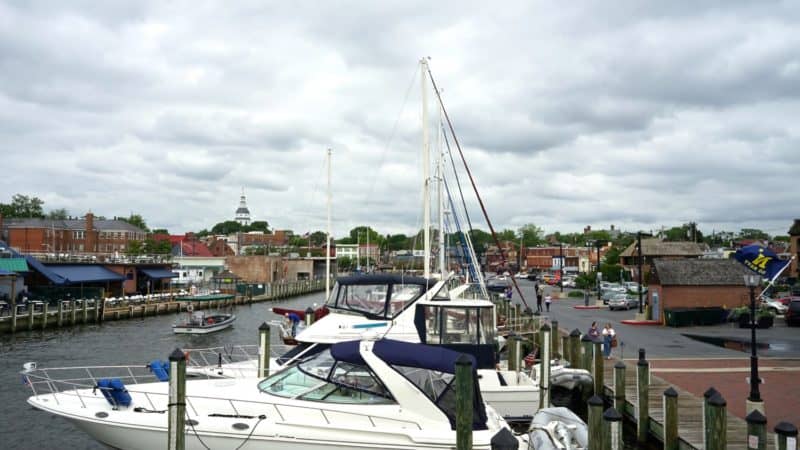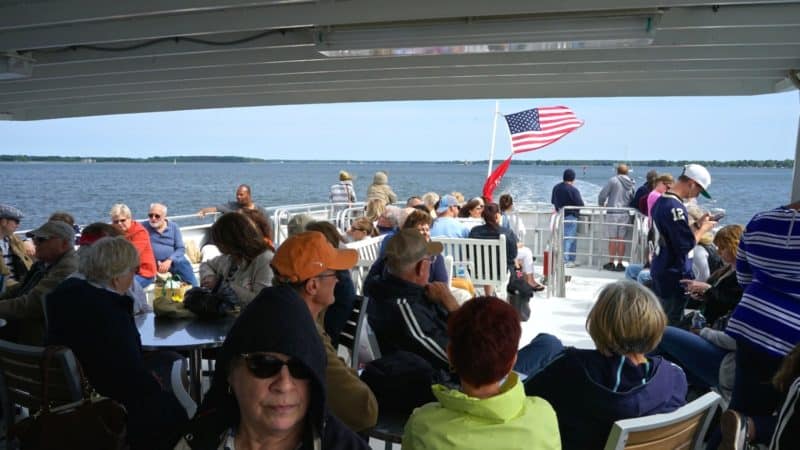 On this cruise pets were allowed both on the open upper deck and the enclosed lower deck. We opted to be outside, and chose a spot in the front corner of the boat where the boys wouldn't be underfoot for any passengers moving around. Buster was all excited for our big day, but when the engines started and we took off, it wasn't long until both boys were asleep!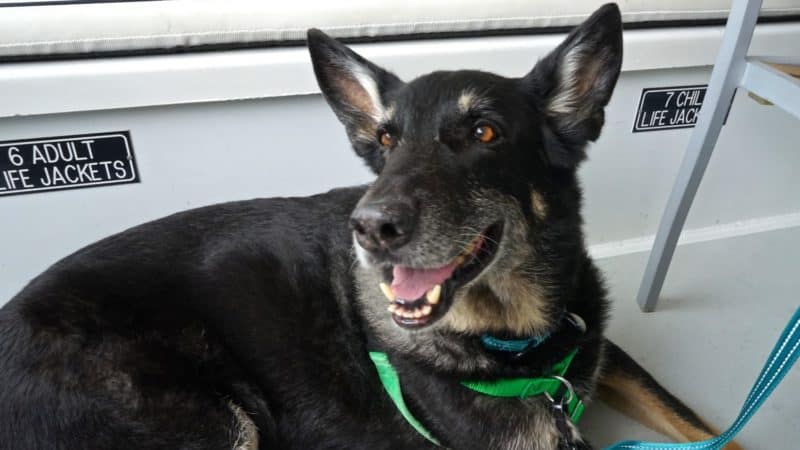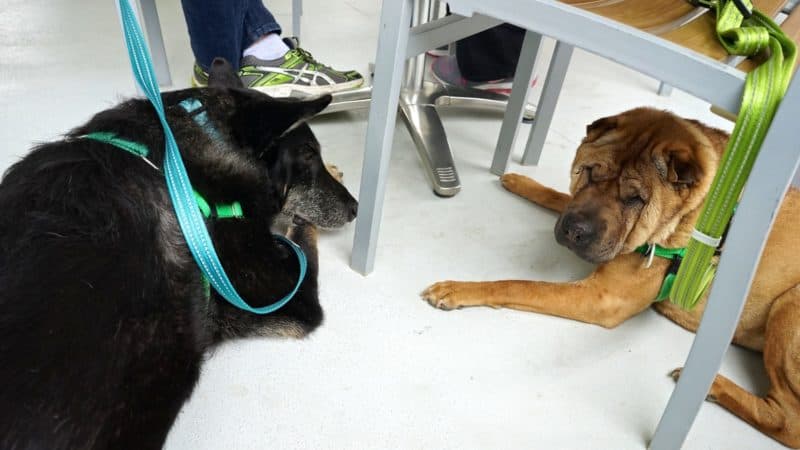 The cruise across the Chesapeake took a bit more than two hours, and along the way we caught views of the Chesapeake Bay Bridge and lots of other boats enjoying a day on the water. Even from this perspective, the fact that the Bay contains 18 trillion gallons of water – enough to fill 50 billion bathtubs – is unfathomable.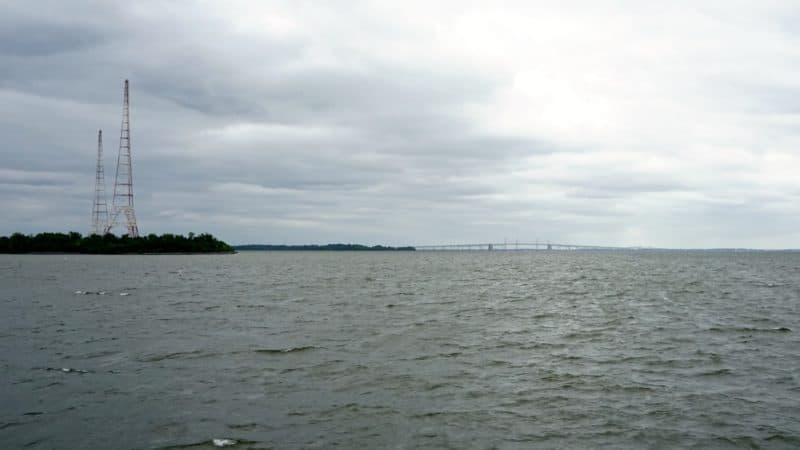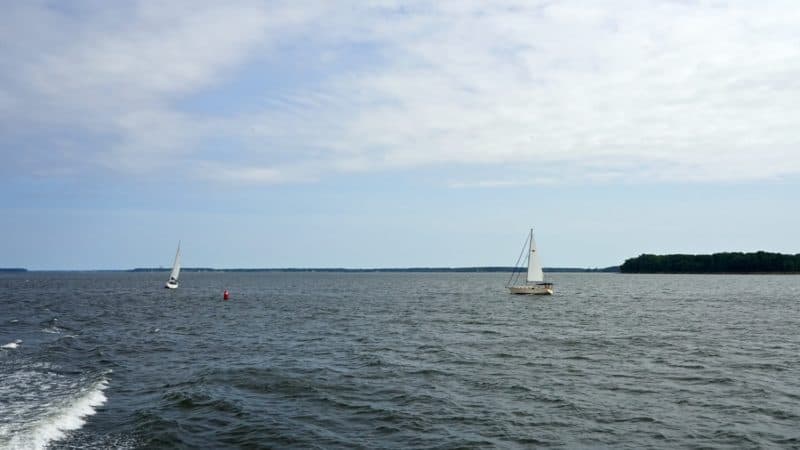 We pulled into the harbor in St. Michaels around 12:30pm and had three hours to explore before our return trip. Luckily we were in St. Michaels last year, because three hours is not enough time to scratch the surface here! After a 2+ hour nap, Ty and Buster were ready to stretch their legs, so we sniffed around the Chesapeake Bay Maritime Museum and then got out for a walk on the St. Michaels Nature Trail.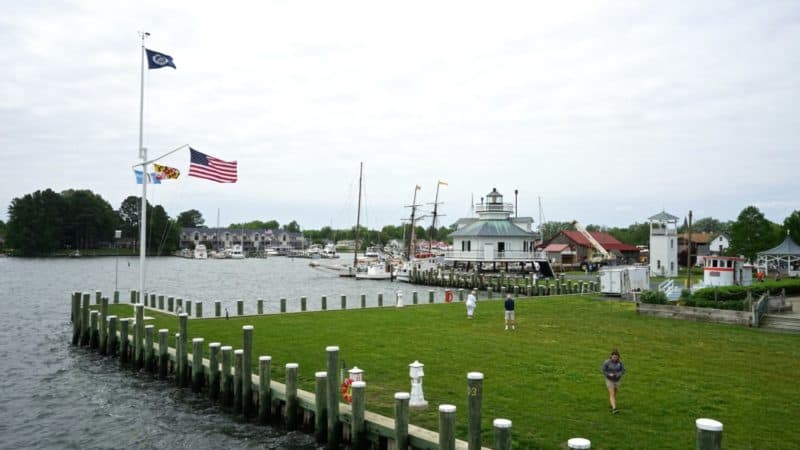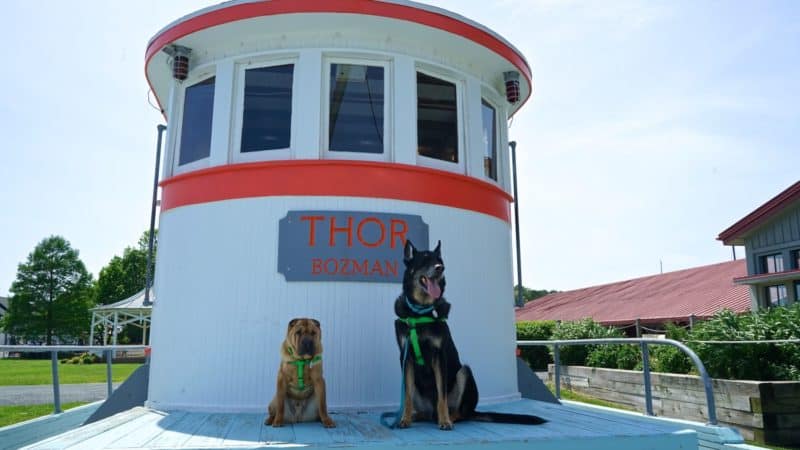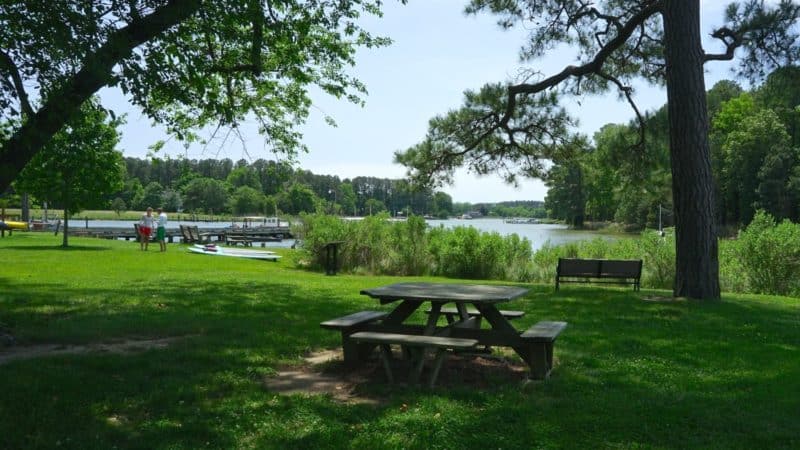 Before we knew it, the time had come to head back to the boat! Ty and Buster offered to drive home, but when that suggestion sunk Ty was satisfied being named "Captain for the Day." The boys quickly settled back into their responsibility-free lives for another nap under our table.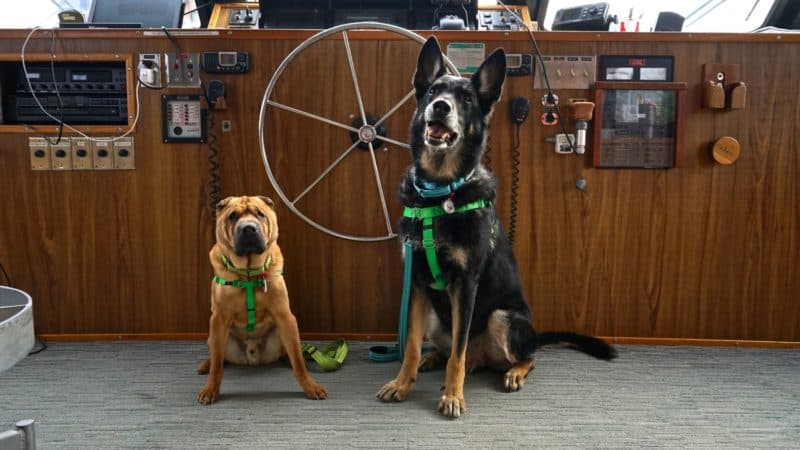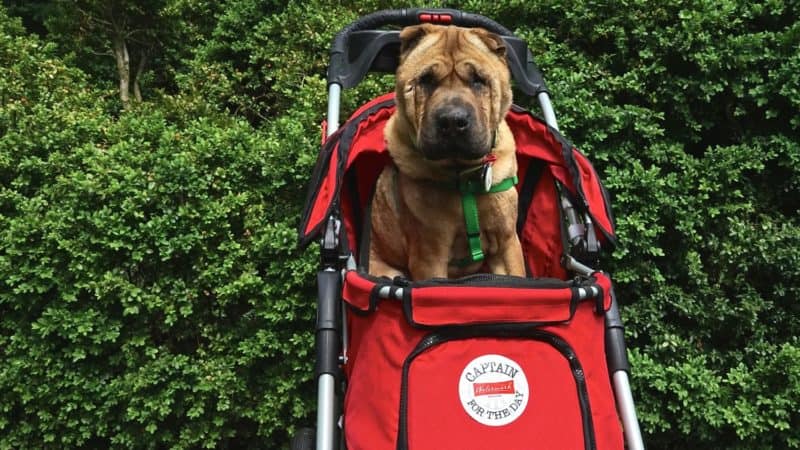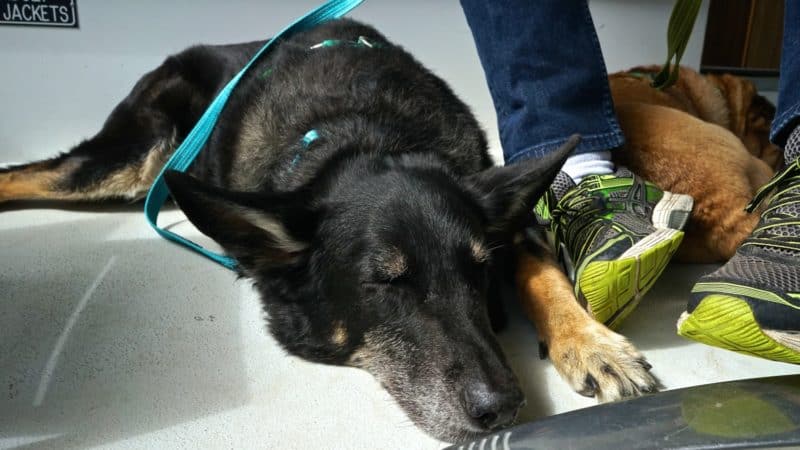 Our return trip took us by The Thomas Point Shoal Light and brought us in close to some lovely sail boats.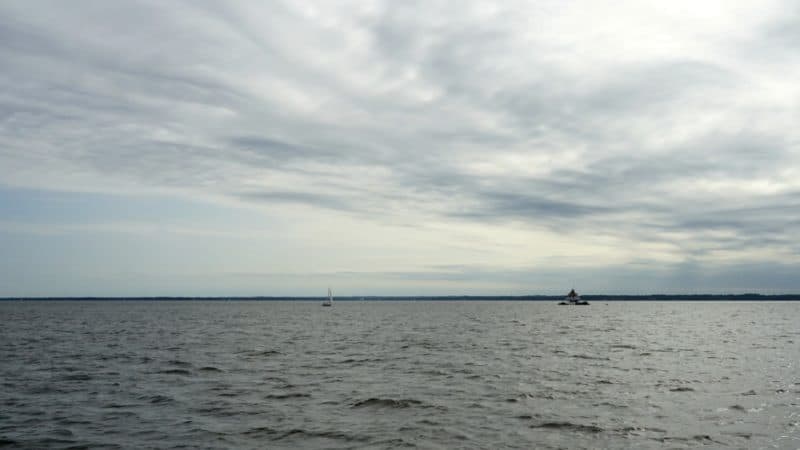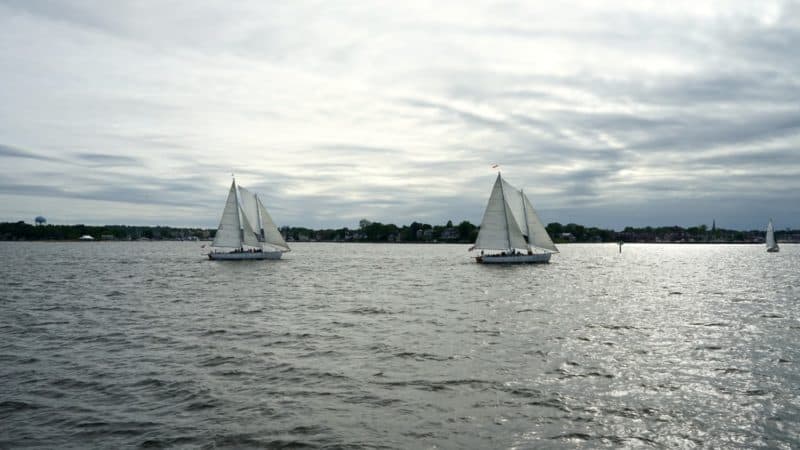 In Hindsight
While we all enjoyed our day, there are a few things I'll do differently next time. First, I'd have preferred a narrated tour that would have allowed us to learn about the Chesapeake Bay while we enjoyed it. Also, while we adore St. Michaels, it gets very busy on the weekends during the season. Browsing the shops or eating at one of the pet friendly patios – especially with our dogs who have their challenges – is more difficult when it's crowded. If I were planning this day over again, I'd drive to St. Michaels on a week day and take one of the 65-75 minute narrated cruises of the Chesapeake offered by Patriot Cruises. I hope what we learned helps make your day perfect!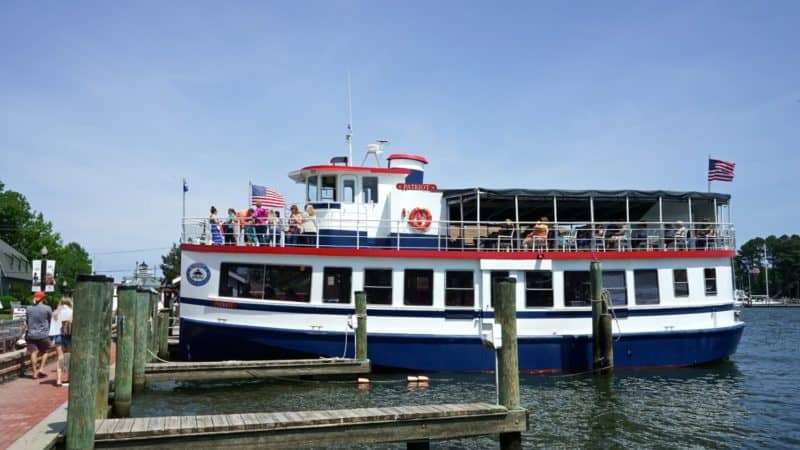 Annapolis Meet Up
It was a cloudy, chilly day, but we still had a blast with the folks from Bark Annapolis, Paws and Possibilities, LLC, the SPCA of Anne Arundel County! One of our most lovable fur-ends, Theo the Shar-pei, stopped by with his people, and we got to catch up with some great human friends in the area, too. Thanks to everyone who stopped by!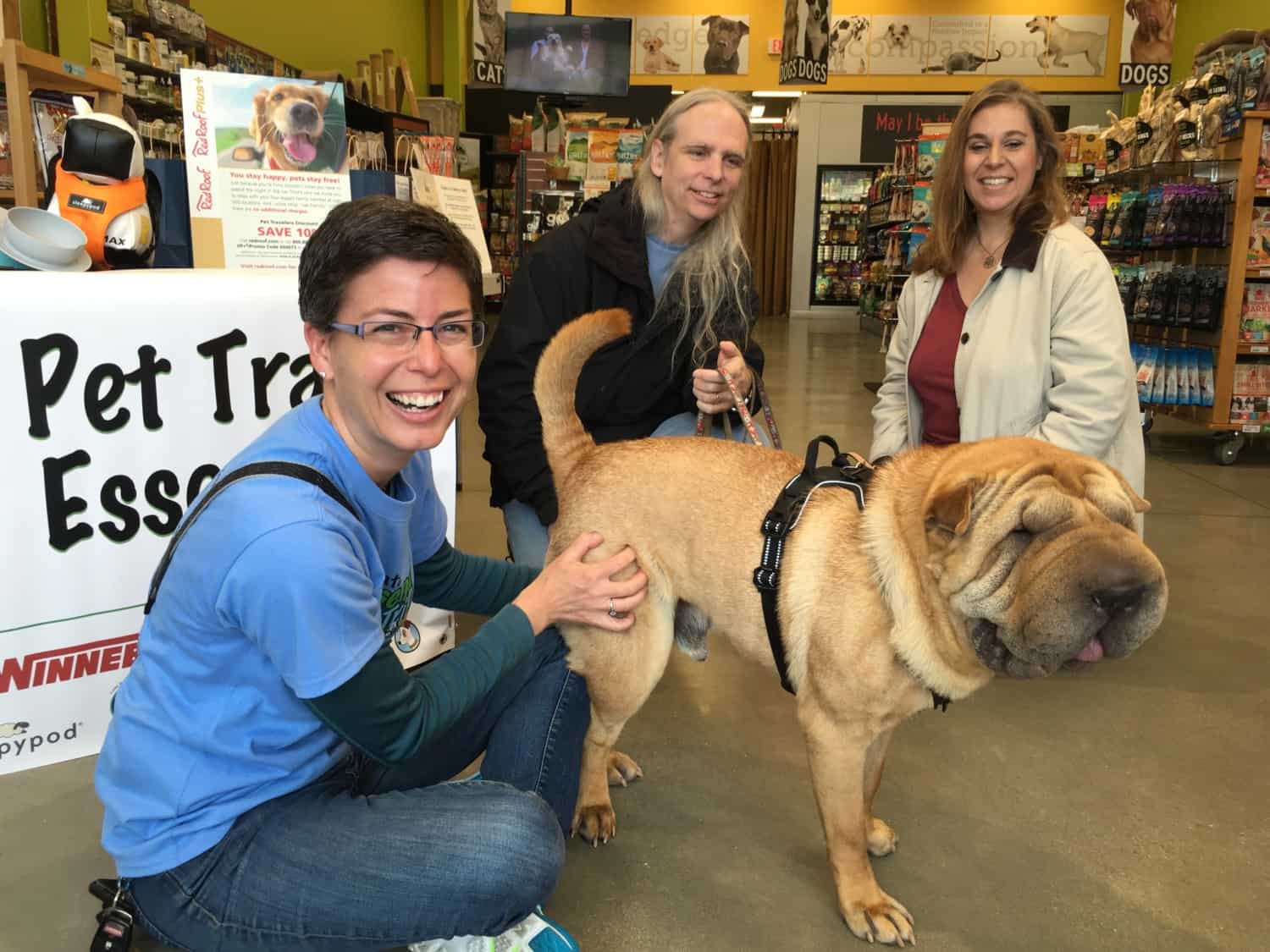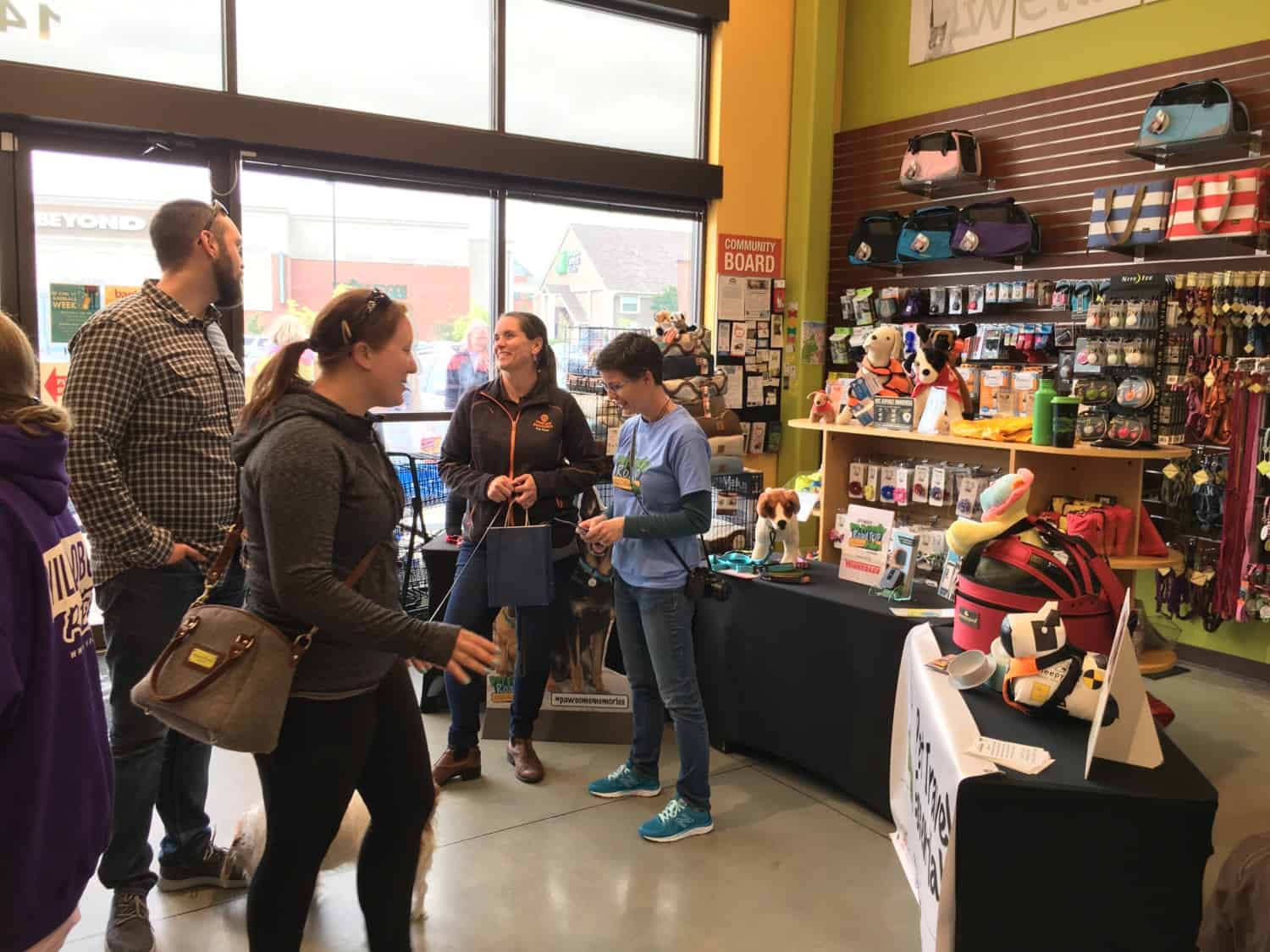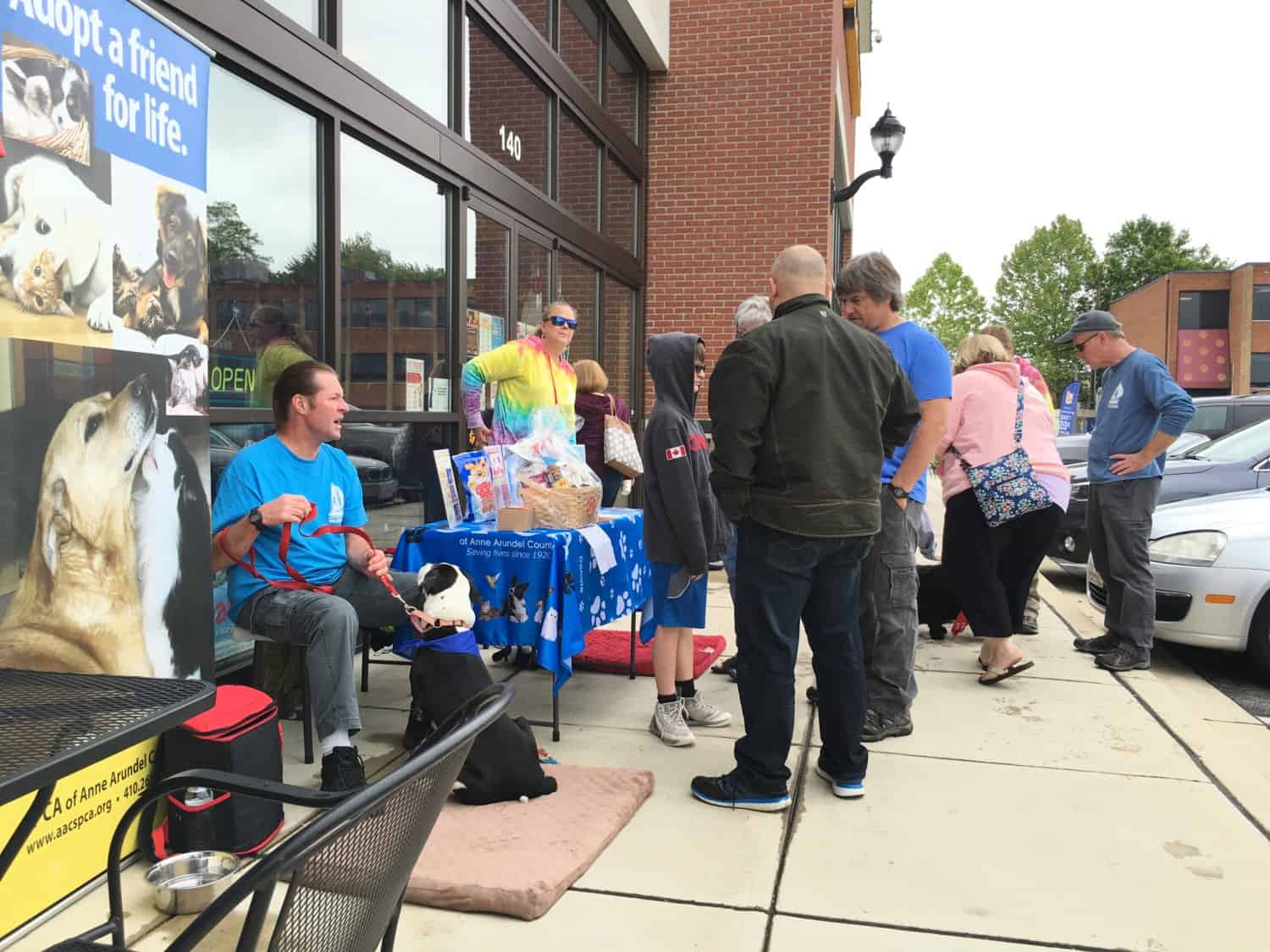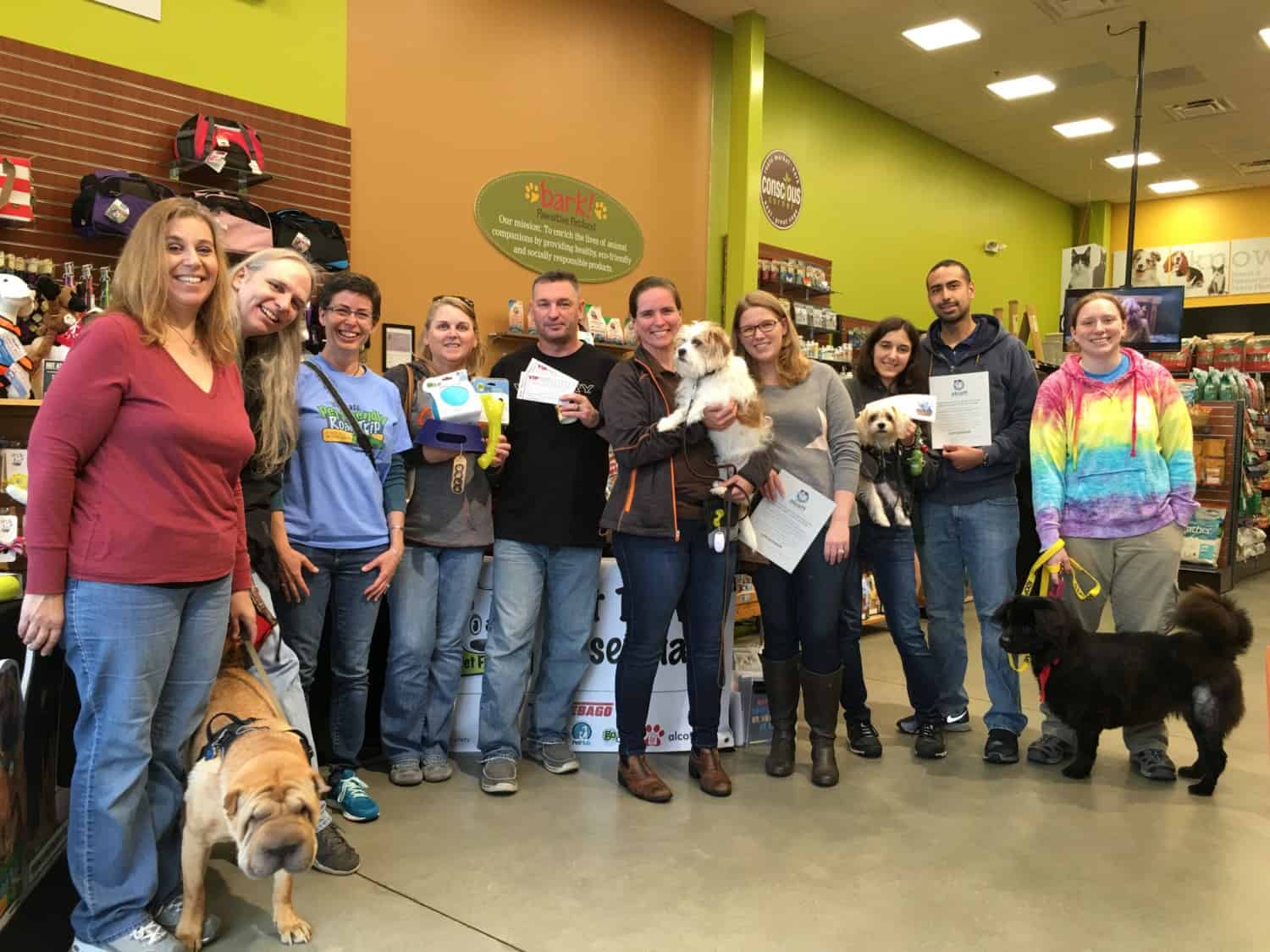 Thank You to our Sponsors
Visiting these attractions with Ty and Buster is a dream come true. We'll be blogging about each one as we go along, so fasten your seatbelt and stay tuned!
The Ultimate Pet Friendly Road Trip wouldn't be possible without the support of our wonderful sponsors: Winnebago, 2 Hounds Design, Alcott, goDog®, PetGuide.com, Red Roof Inns, Sleepypod, The Bark, PetHub, RVPetSafety.com, and The Honest Kitchen. Please be sure to visit their websites and social media pages and thank them for their participation!
Amazon Affiliate Disclosure: GoPetFriendly.com LLC is a participant in the Amazon Services LLC Associates Program, an affiliate advertising program designed to provide a means for website owners to earn advertising fees by advertising and linking to amazon.com, audible.com, and any other website that may be affiliated with Amazon Service LLC Associates Program. As an Amazon Associate, the owner of this site earns a commission from qualifying purchases.
(Visited 4,729 times, 1 visits today)