Words cannot describe, and pictures cannot capture, the magnificence of the Grand Canyon. It's Mother Nature's most stunning sculpture, stretching 277 river miles from Lees Ferry to the Grand Wash Cliffs. And, no matter how many times you visit, the views will never be the same. Sunlight and clouds, the bright green of spring, or a dusting of snow make each trip unique. But what makes the Grand Canyon truly special is how much of it you can experience with your dog.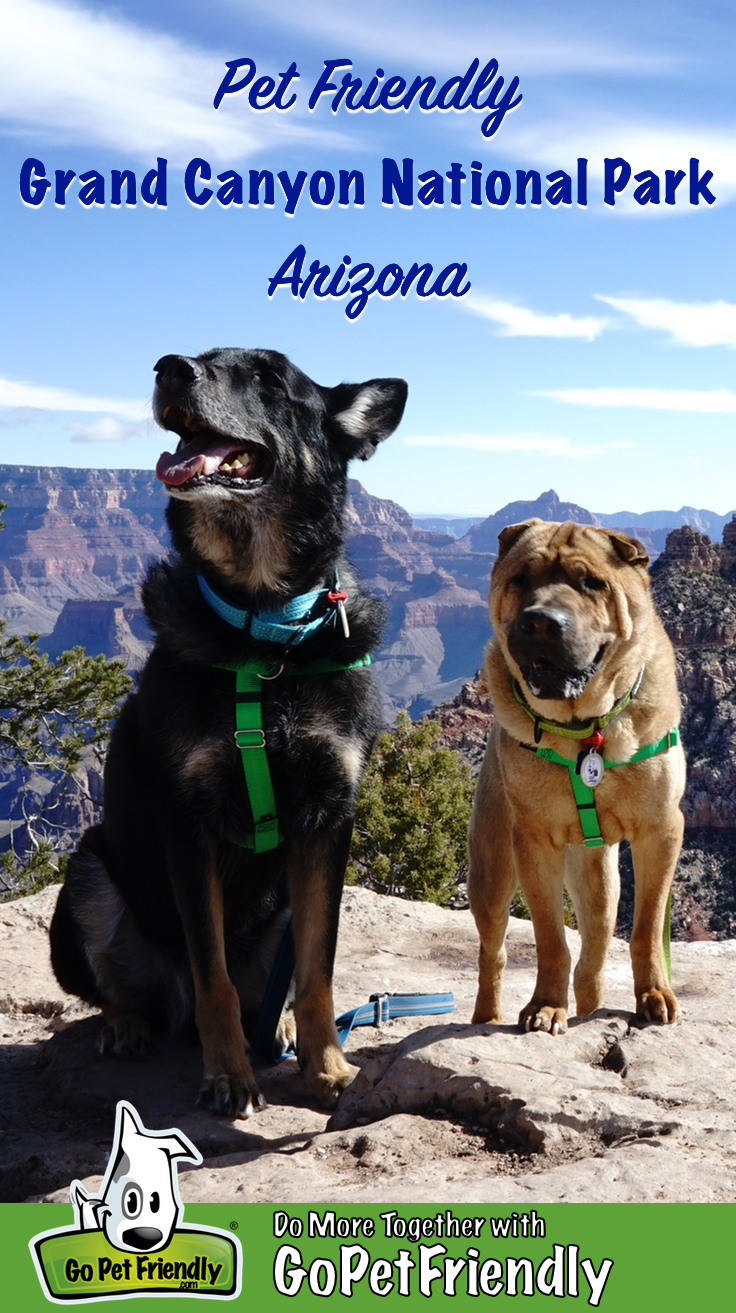 Pet Friendly Grand Canyon National Park
Most of the pet policies in our national parks make visiting with dogs a challenge. In fact, many times pets can't go beyond paved parking lots or campgrounds. Fortunately, that is not the case at the Grand Canyon. This is one of the most pet friendly national parks in the country!
READ MORE ⇒  America's Most Pet Friendly National Parks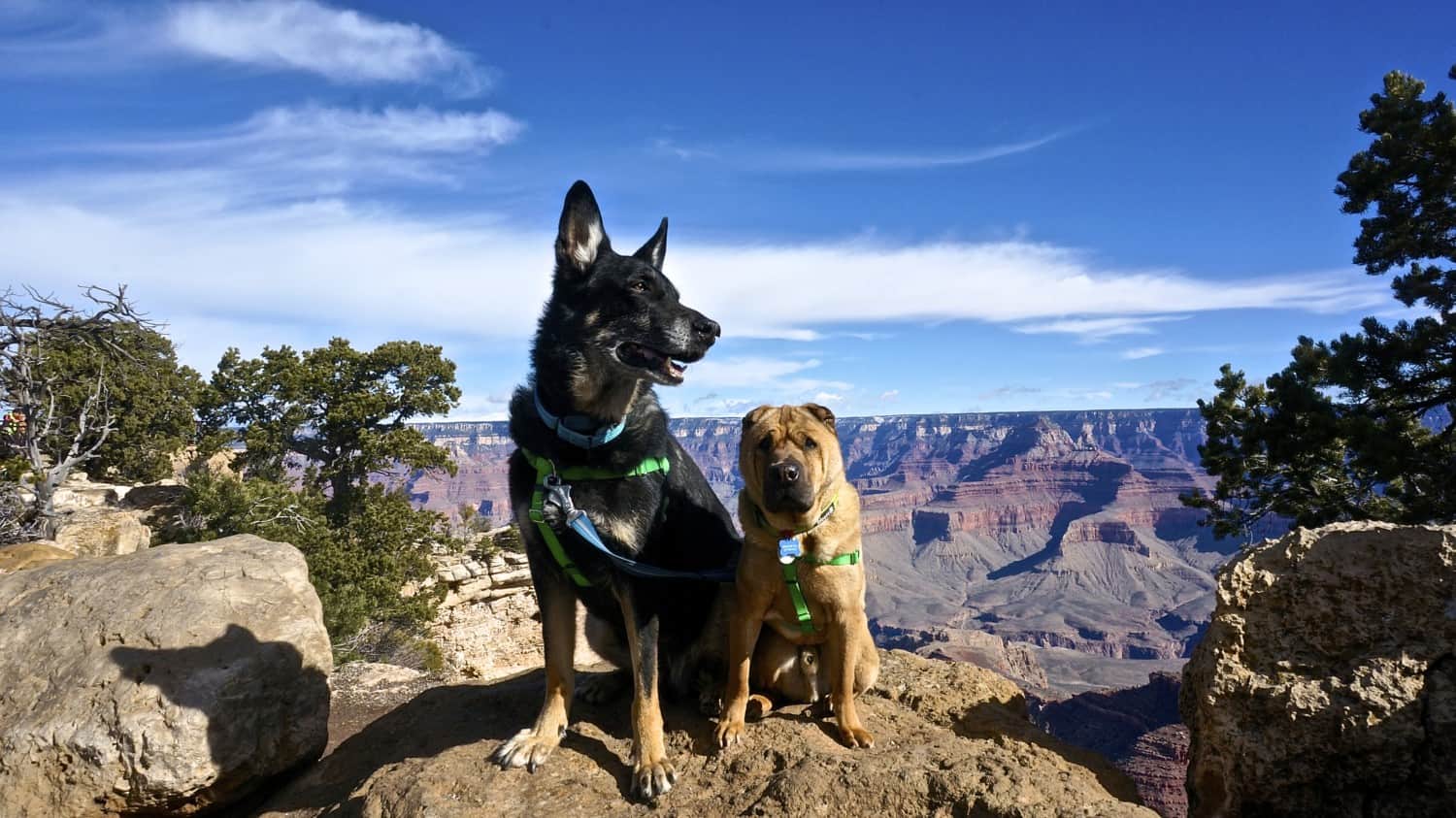 Pet Policy the Grand Canyon
The South Rim of the Grand Canyon is a wonderful place to visit with a dog. You'll find plenty to explore, pet friendly lodging, and a kennel where your pet can spend the day if you want to see parts of the park where pets aren't allowed.
Leashed pets are welcome on the Rim and Greenway trails at the South Rim. Leashes must not be longer than 6-feet.

The Mather Campground, Desert View Campground, Trailer Village, and other developed areas of the park are pet friendly.

Yavapai Lodge has pet friendly rooms available for an additional fee of $25 and allows up to two pets per room.

Pets cannot go below the rim, inside the buildings, or on the shuttle buses.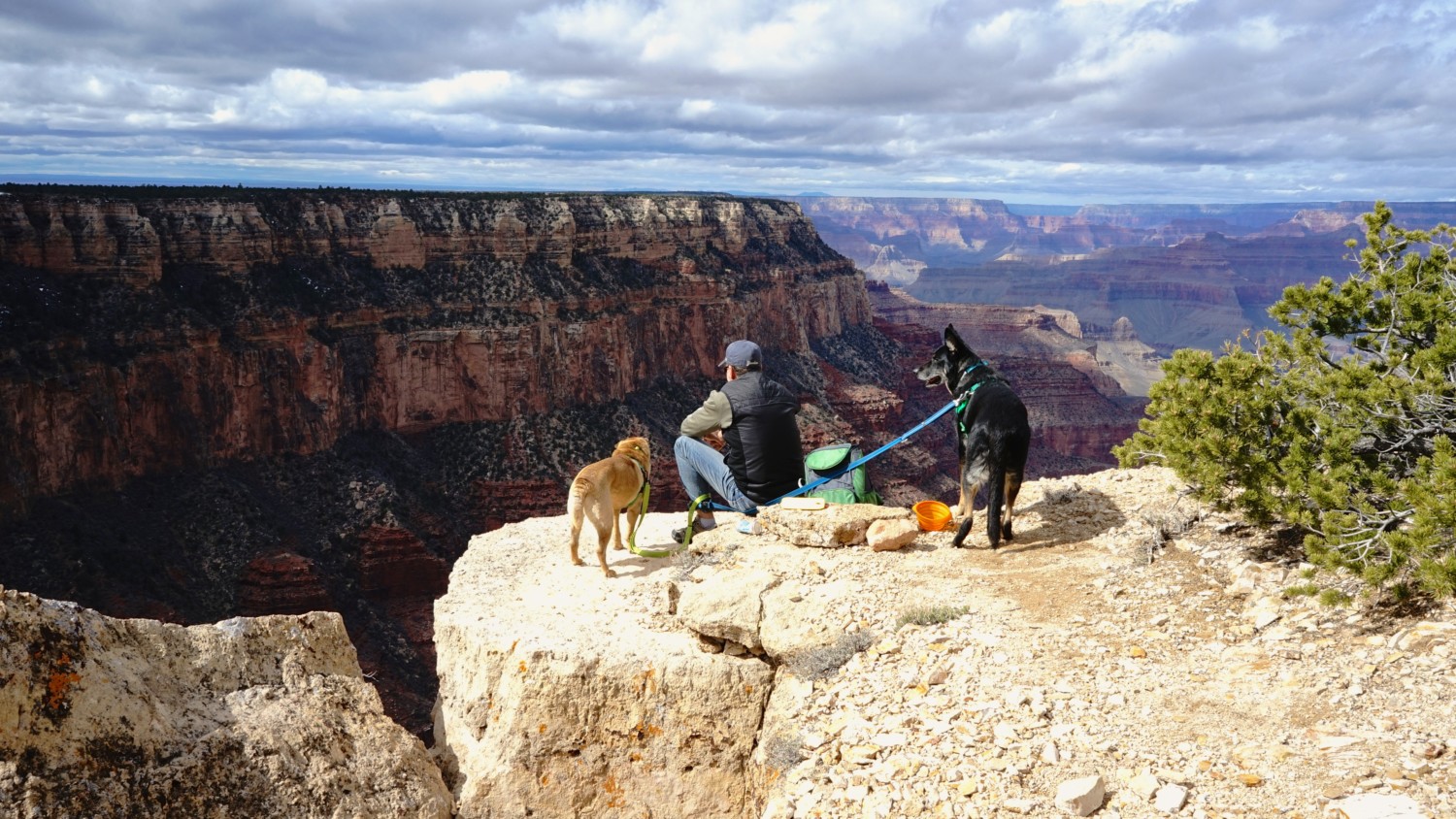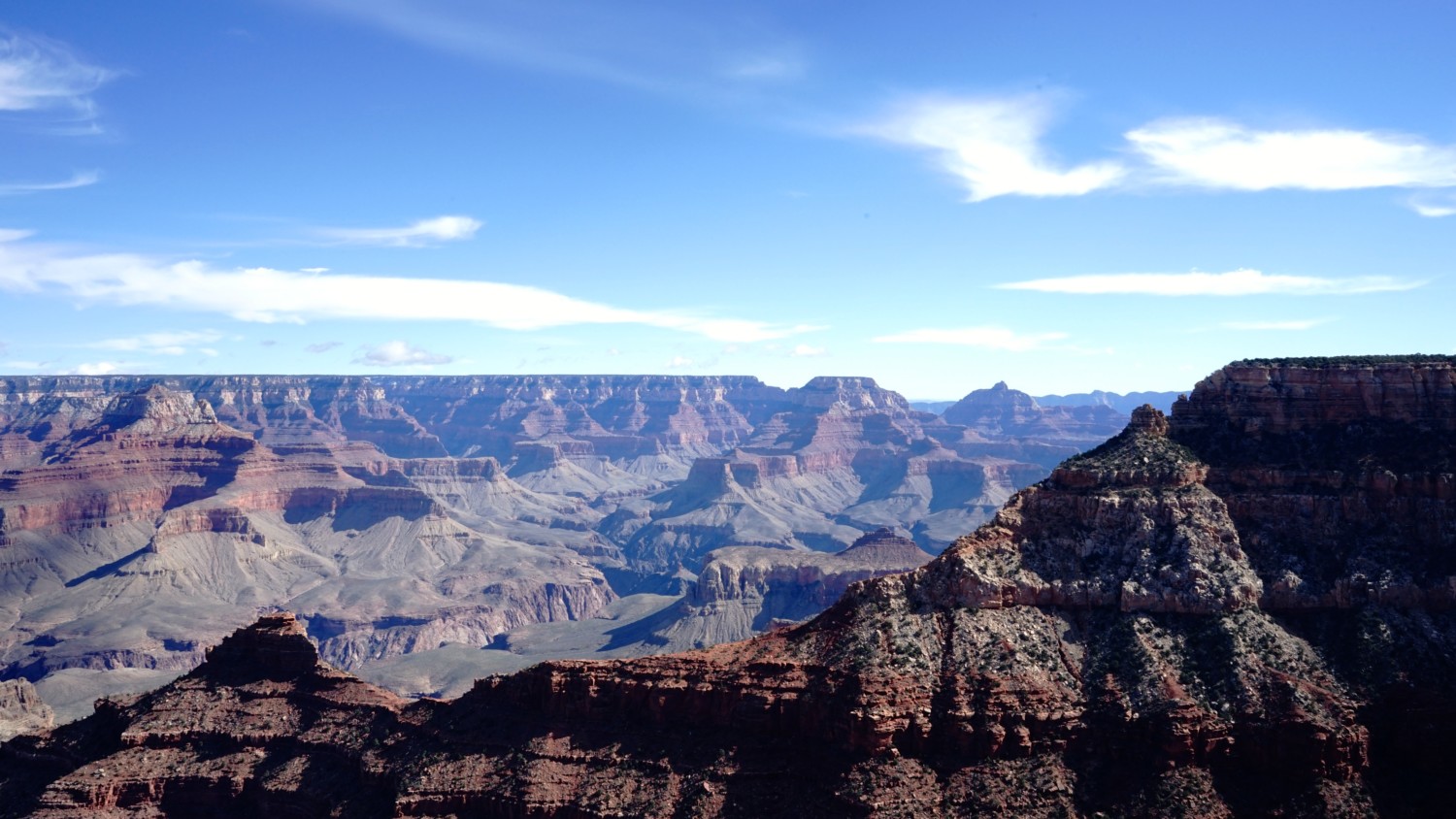 Hiking at the Grand Canyon with a Dog
When you're ready to hit the pet friendly trails, the best scenery is along the South Rim Trail. The 14-mile trail is paved, so it's easy walking. And foot traffic is more concentrated near the shuttle stops, but most of the time it feels like you and your dog have the whole Grand Canyon to yourselves!
Keep in mind that the average elevation of the trail is about 6,800 feet – that makes it easy to get dehydrated. Be sure to carry plenty of water for you and your pet, because bottle filling stations don't operate during the winter, and bottled water isn't for sale.
In the summer, heat can be an issue. Consider a cooling vest and protective boots for your dog. And refresh your memory on the signs of dehydration and heat stroke in dogs, so you can recognize a problem before it becomes an emergency.
READ MORE ⇒  Recognizing Dehydration and Heat Stroke in Dogs
Finally, be aware that altitude sickness (nausea, shortness of breath, exhaustion, headache) can affect both humans and pets, so take it easy until you've acclimated to the elevation. If your pet is older or has health issues, using a pet stroller during your visit will allow you to see more together. And that makes everyone happy!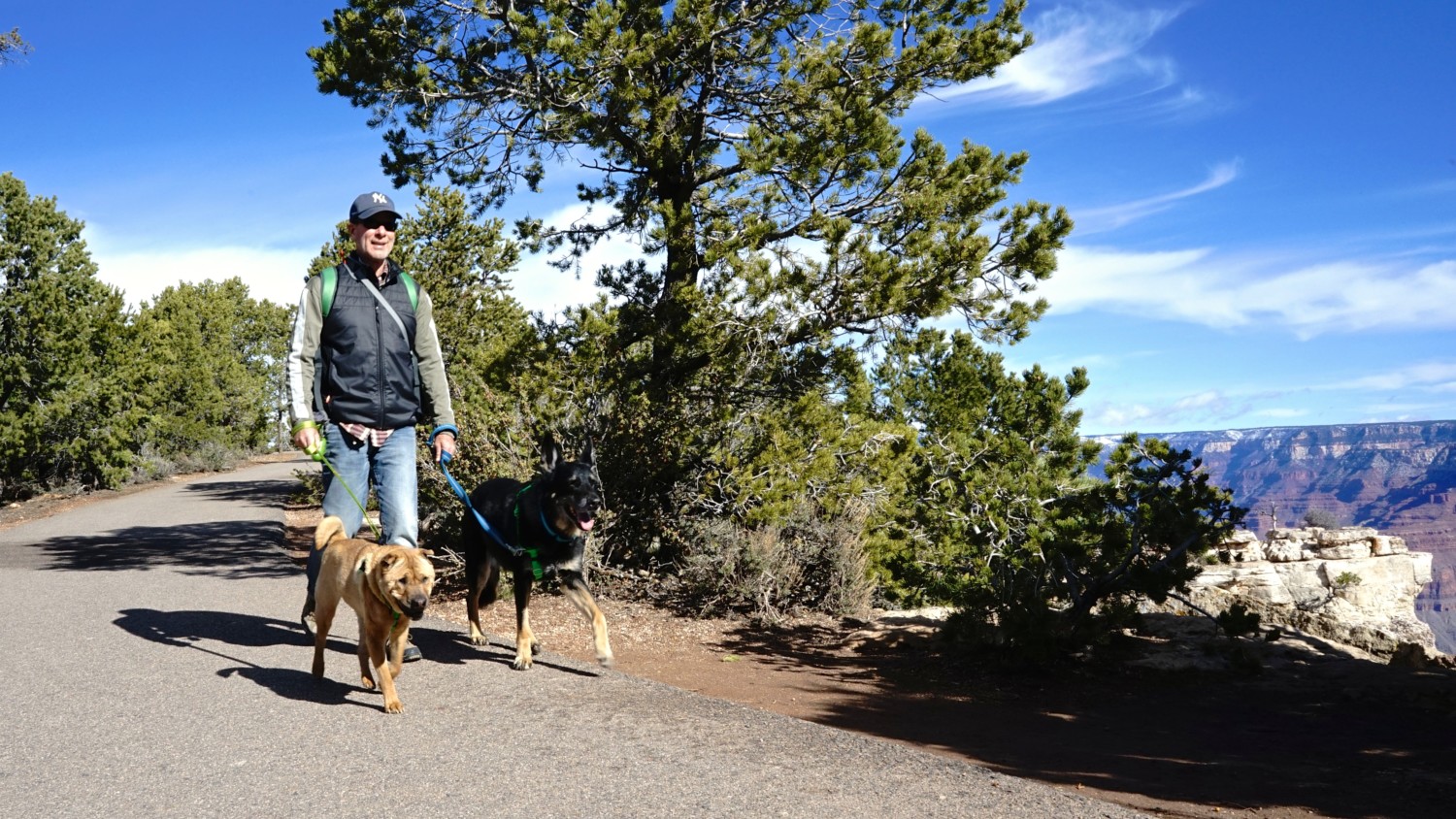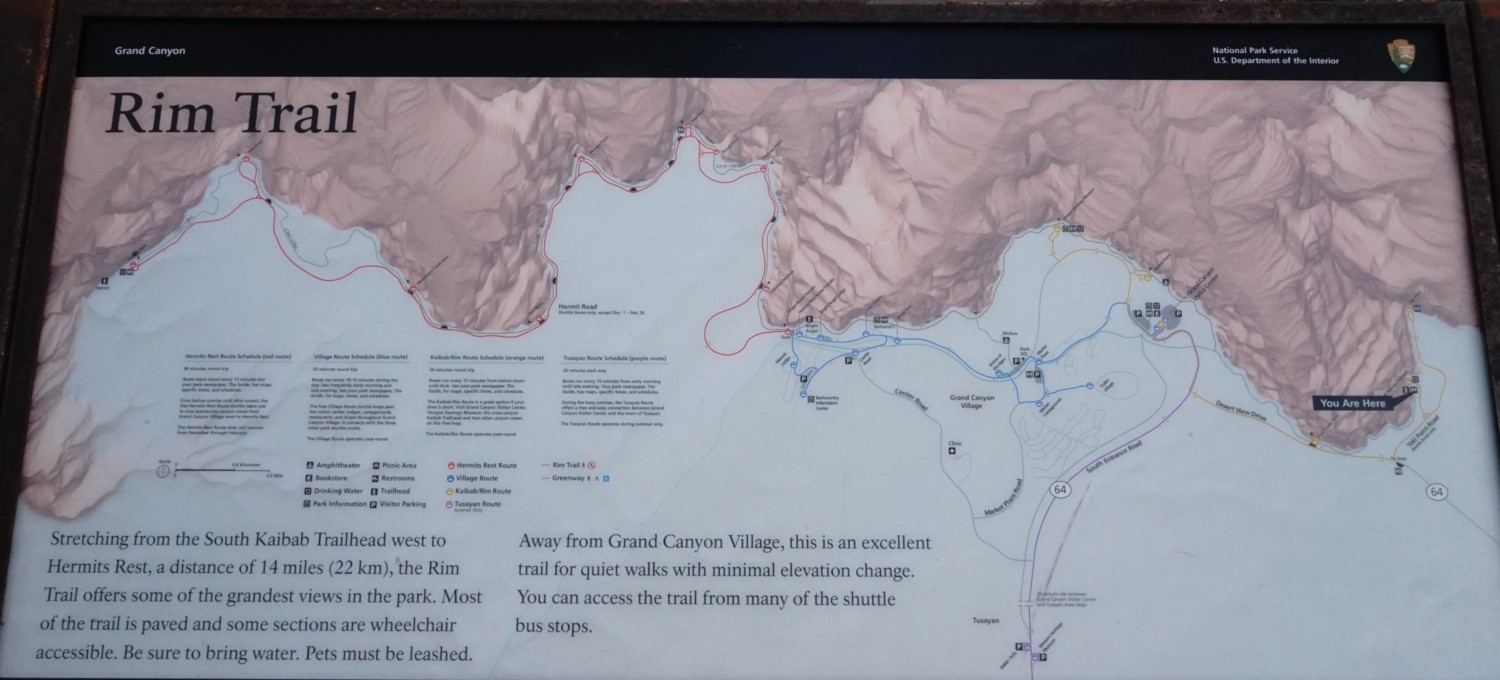 Grand Canyon In One Day
If you're only in the park for a day, head for Hermit Road. From Hopi Point you can catch some views of the Colorado River, and from Pima Point you can hear the roar as the river crashes through Granite Rapid. Hermit Road is closed to personal vehicles from March 1st to October 31st, and pets can't ride the shuttles, so accessing these spots requires a trip during the off-season, or a lot of walking!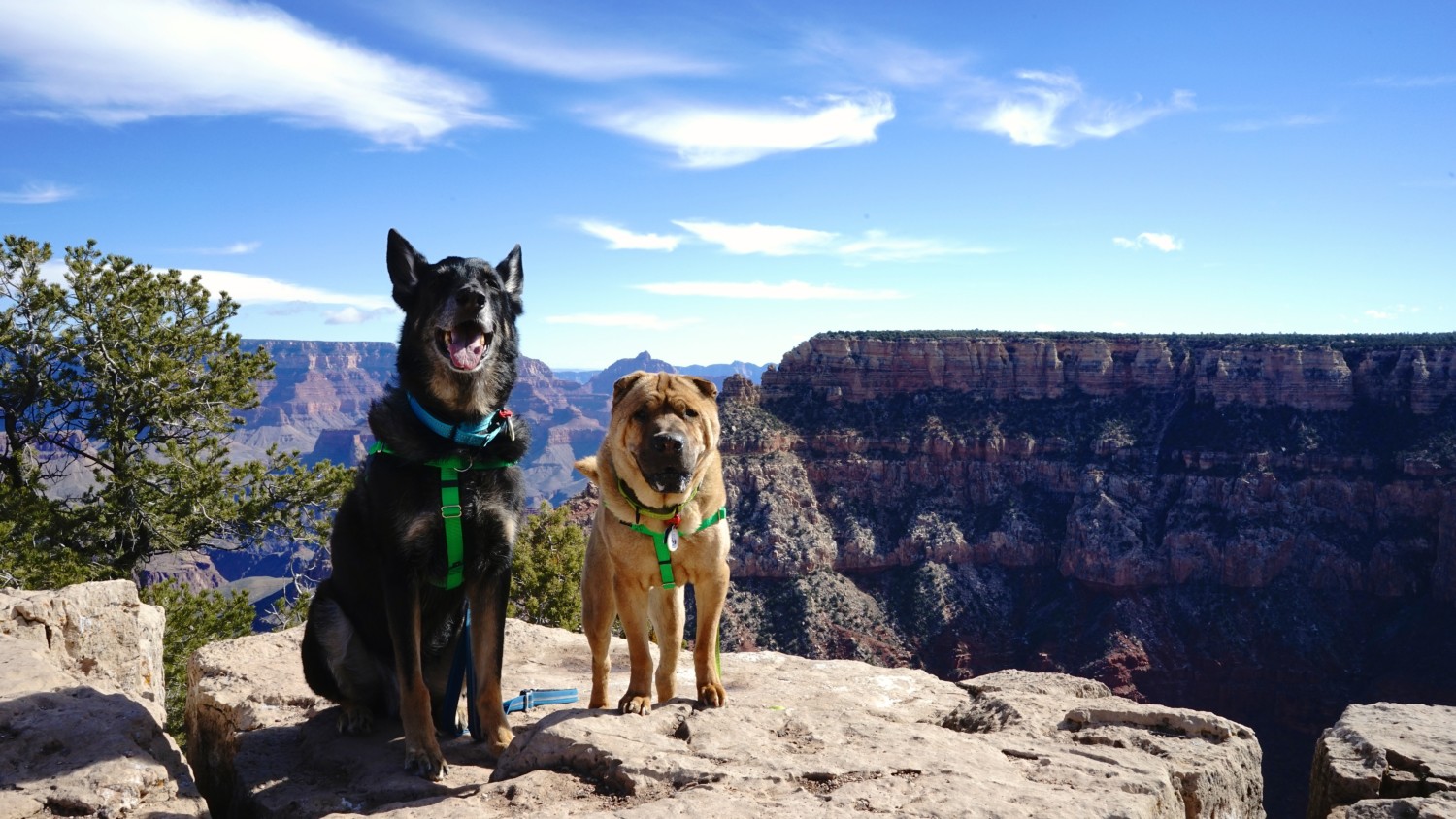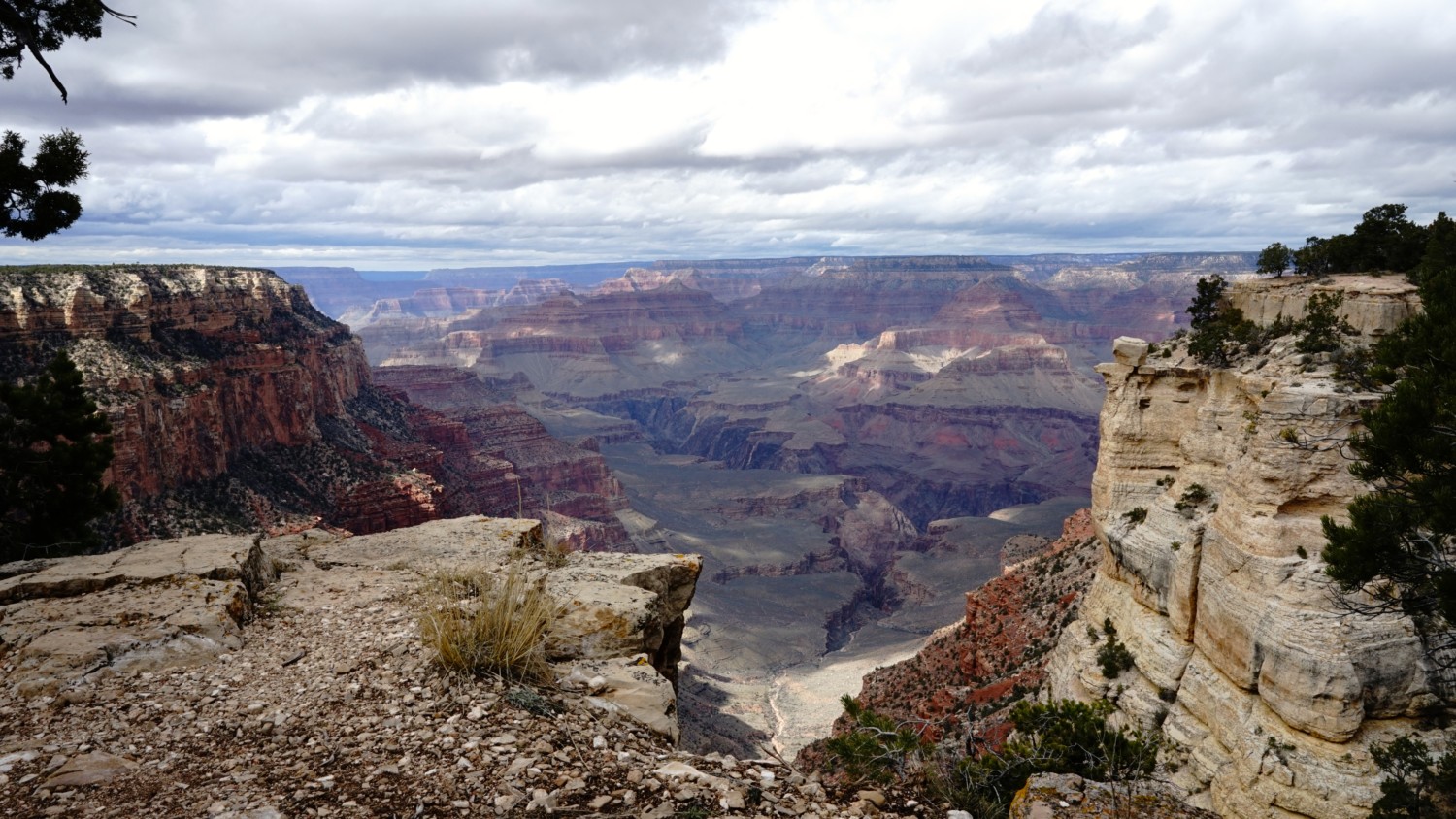 Watch the Weather
At the Grand Canyon, storms can blow in quickly, so be sure to keep an eye on the sky as you're hiking and move toward the nearest shelter if the clouds turn ominous.
READ MORE ⇒  The Ultimate Pet Friendly American Road Trip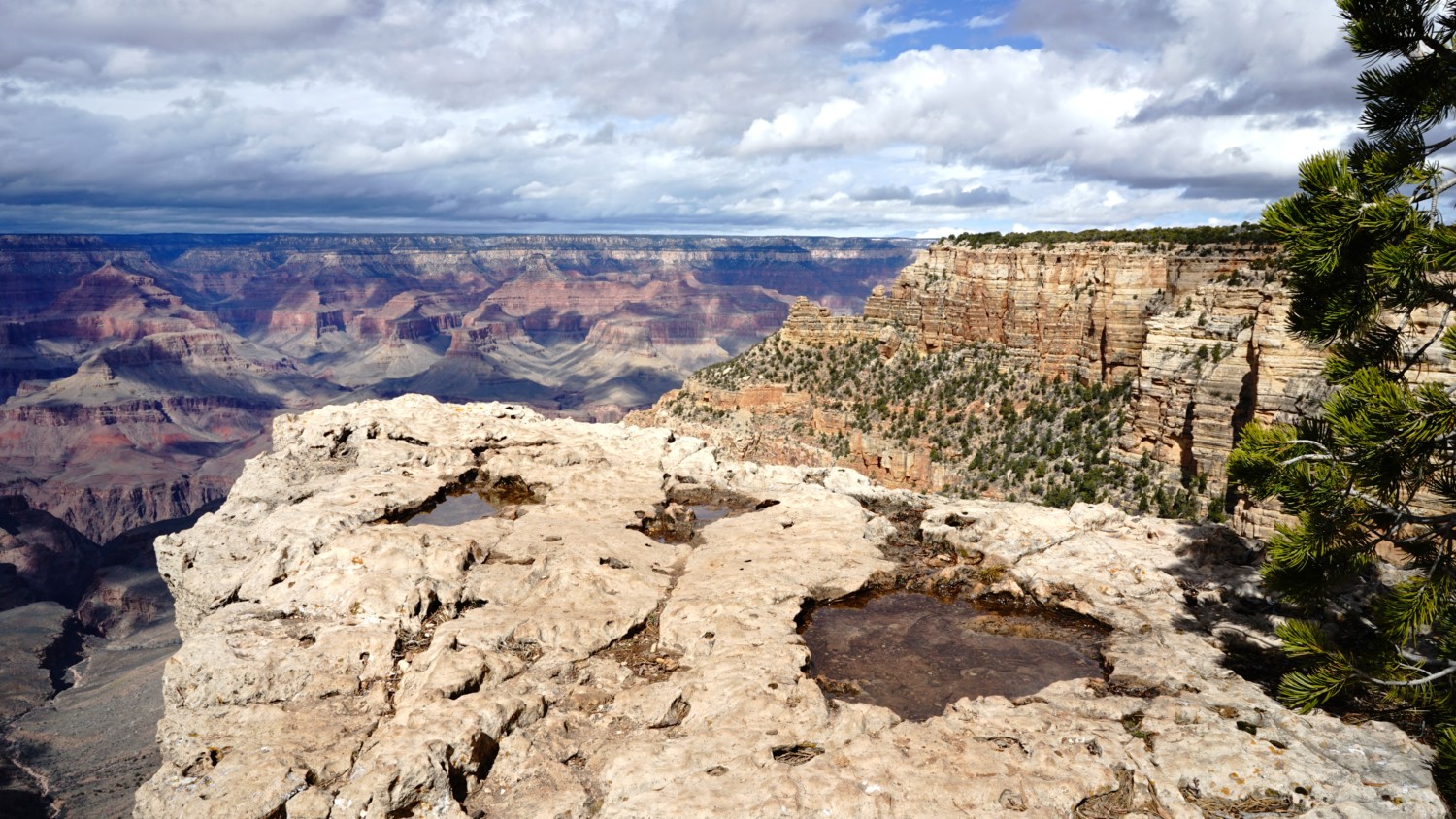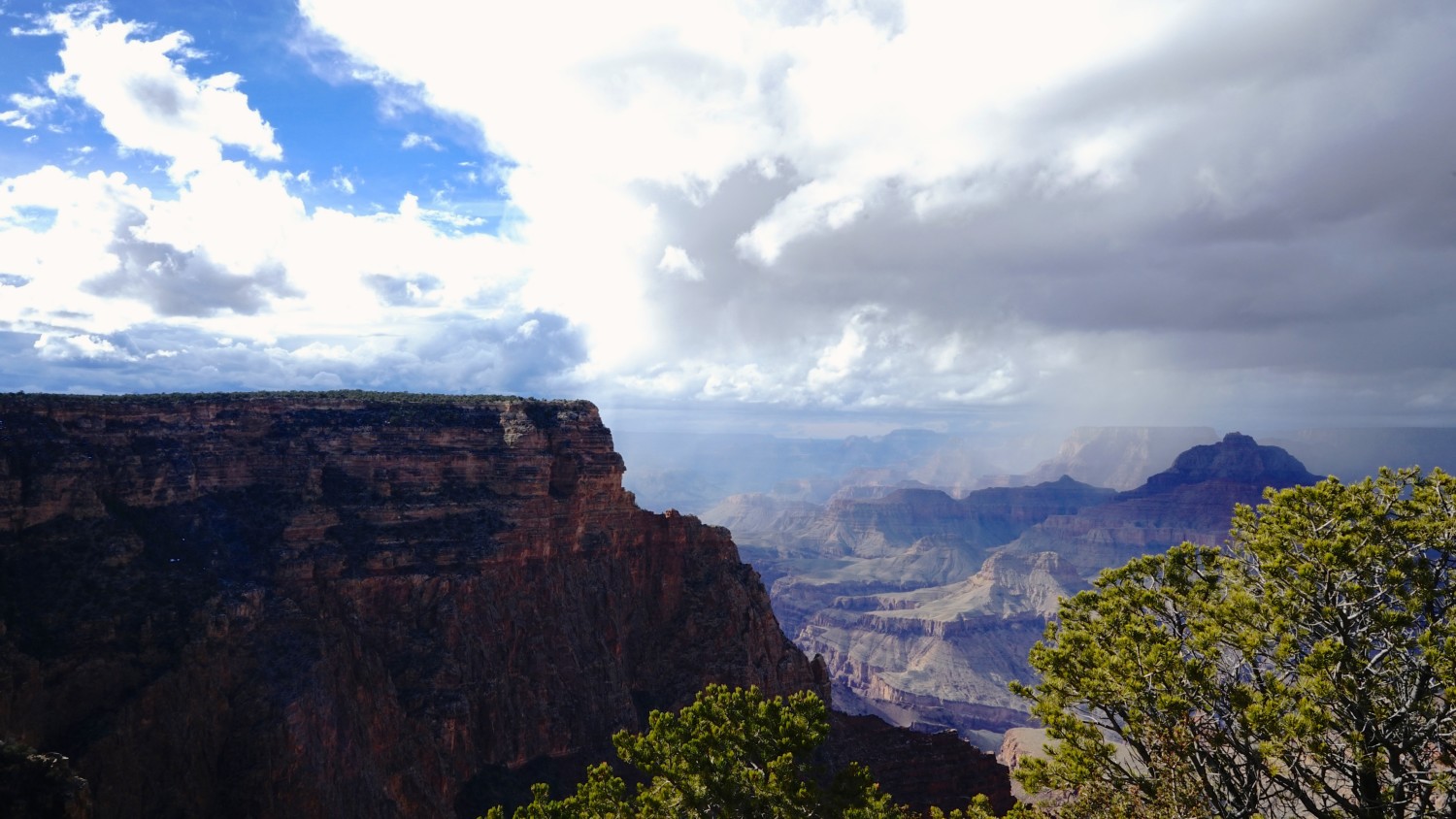 Pet Friendly Hotel in The Grand Canyon
The Yavapai Lodge has pet friendly rooms for an additional $25 fee per stay. They allow two pets per room with no restrictions on size. There are also two campgrounds without hookups, and one RV park with hookups inside the park. You can find additional pet friendly accommodations just south of the Grand Canyon in Tusayan, Arizona.
Finding pet friendly restaurants here is a bit more challenging. The closest we were able to locate was in Williams, Arizona. We packed picnics and ate take-out food during our visit. If that's your plan, stock up before you arrive. Grocery options are limited once you're in the park.
Grand Canyon Kennel
If you're planning to take a trail down into the Grand Canyon you'll need to make arrangements for your pet. The kennel at the Grand Canyon is open every day from 7:30am to 5pm, and is located on the South Rim near Maswik Lodge. Accepting dogs and cats for day or overnight boarding, the kennel recommends making reservations, especially during the summer months and holidays. Be sure to bring your pet's vaccination records.
Gear Used in This Post:
(Affiliate Links)

Sleepypod Clickit Car Safety Harness

See all the gear we use to make traveling with our pets easier, safer, and more fun!
Amazon Affiliate Disclosure: GoPetFriendly.com LLC is a participant in the Amazon Services LLC Associates Program, an affiliate advertising program designed to provide a means for website owners to earn advertising fees by advertising and linking to amazon.com, audible.com, and any other website that may be affiliated with Amazon Service LLC Associates Program. As an Amazon Associate, the owner of this site earns a commission from qualifying purchases.
(Visited 44,010 times, 1 visits today)