With pet travel on the rise, many pet friendly hotels are rolling out the red carpet for our four-legged companions. While some accommodations impose exorbitant fees for bringing your pet along, others have taken a truly pet-friendly approach.  Today we're celebrating the pet friendly hotel chains were pets are welcome to stay for free.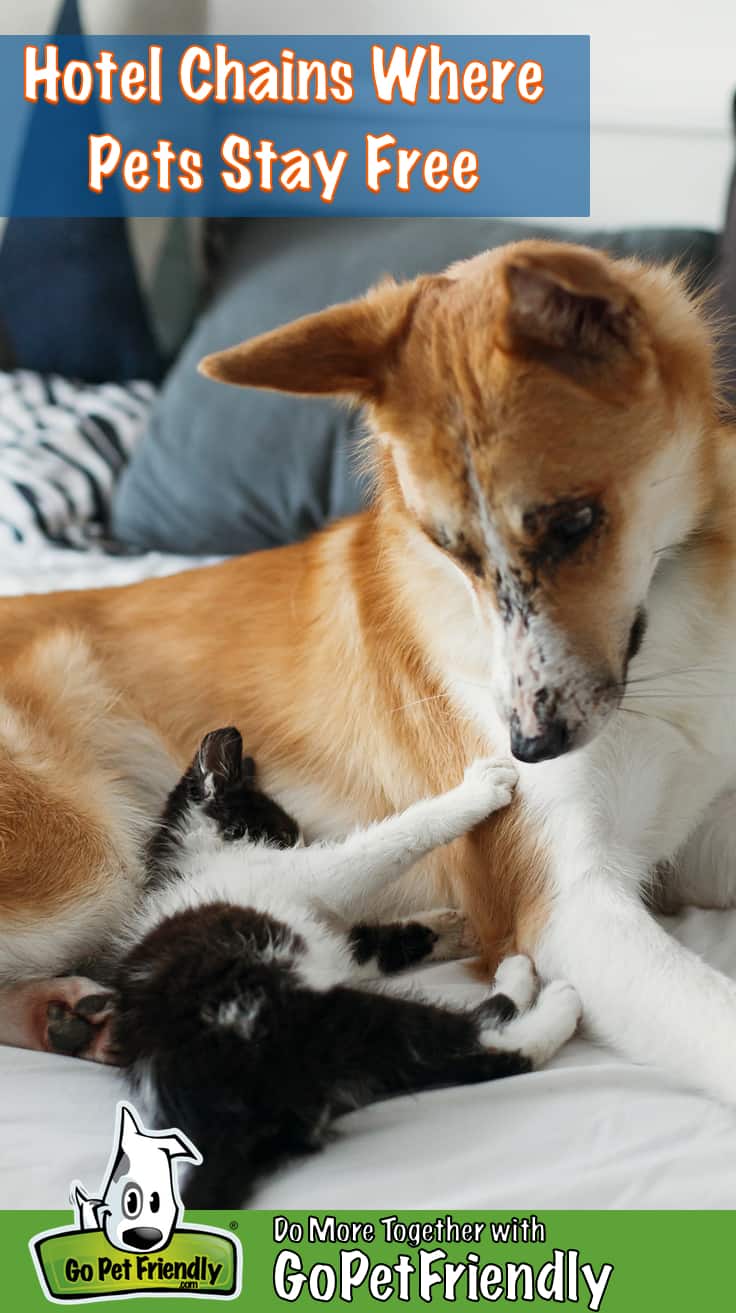 Pet Friendly Hotels Without Pet Fees
Aloft Hotels
Aloft hotels are part of the Marriott family, and most of their North American properties are pet friendly. Policies vary slightly by location, so contact the hotel before booking. Through their Arf ® (animals are fun) program, Aloft provide canine guests with beds, bowls, and complimentary treats and toys.
Aloft Hotels Pet Policy: 134 pet friendly properties in major cities across North America. Most locations allow two dogs under 40 pounds per room at no additional cost. Guests with larger dogs and other types of pets are encouraged to contact the hotel directly for a waiver.
View the Aloft Pet Policy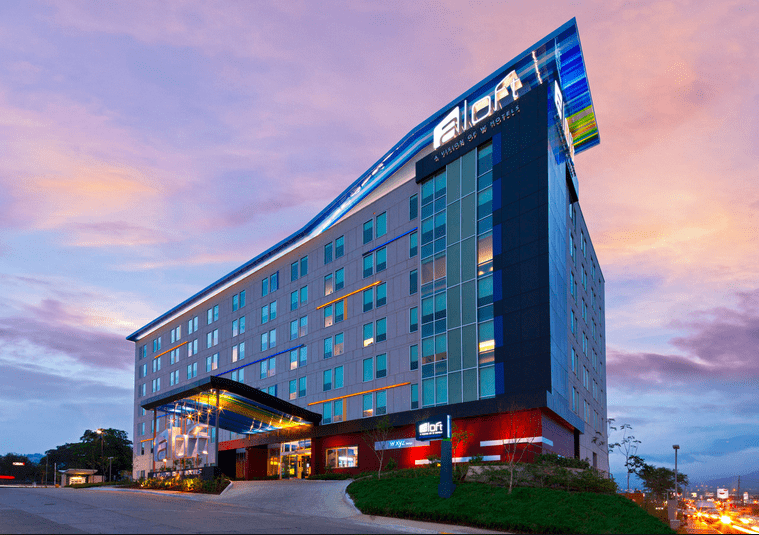 READ MORE ⇒  Tips For A Great Hotel Stay With Dogs
Kimpton Hotels
The Kimpton Hotel chain is part of the InterContinental Hotels Group, and is known for its animal attraction. Every one of their hotels welcomes furry, feathery, and scaly family members with special amenities like comfy pet beds, bowls, treats at check in, and pet friendly "yappy hour" receptions in the evening. Some locations even have a Directors of Pet Relations on staff to give you and your travel buddy a tail-wagging welcome!
Kimpton Hotel Pet Policy: 60 properties in 34 cities across North America. Kimpton welcome all pets with no additional fees regardless of their size, breed, or weight and puts no restriction on the number of pets.
View the Kimpton Pet Policy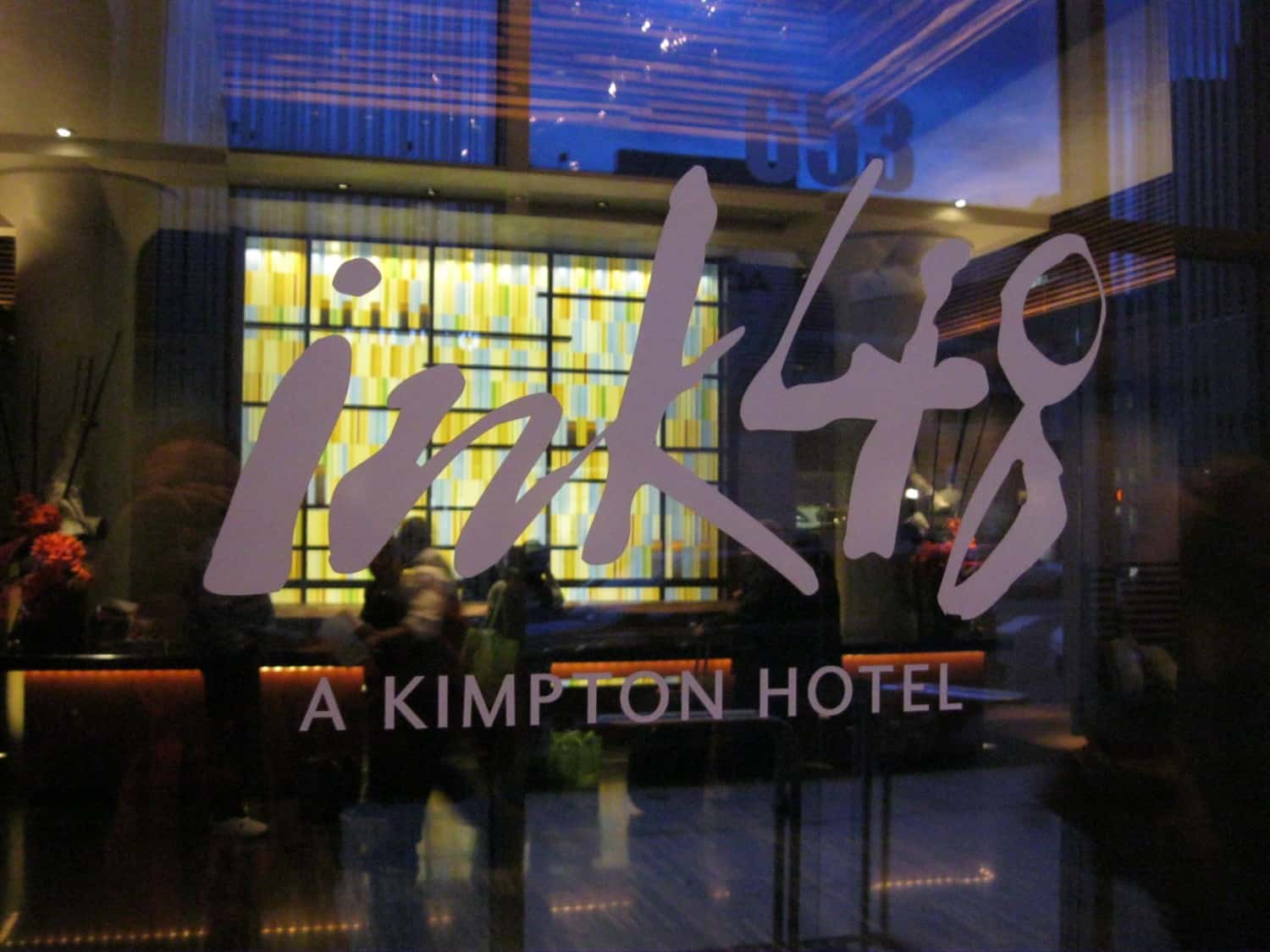 Motel 6
Motel 6 was the first national pet friendly hotel chain, welcoming pets since 1962. With a focus on providing affordable, "no frills" accommodations, the quality of the rooms at Motel 6 can be inconsistent, and brand's popularity has suffered. If you're looking for a basic, inexpensive, pet friendly hotel room, you'll almost always find a Motel 6 nearby.
Motel 6 Pet Policy: 1,400+ properties across the US and Canada. Motel 6 allows two dogs or cats per room with a combined weight of 150 pounds or less and does not charge additional fees. (The affiliated Studio 6 hotels charge a $10 per night pet fee, up to $75.)
View the Motel 6 Pet Policy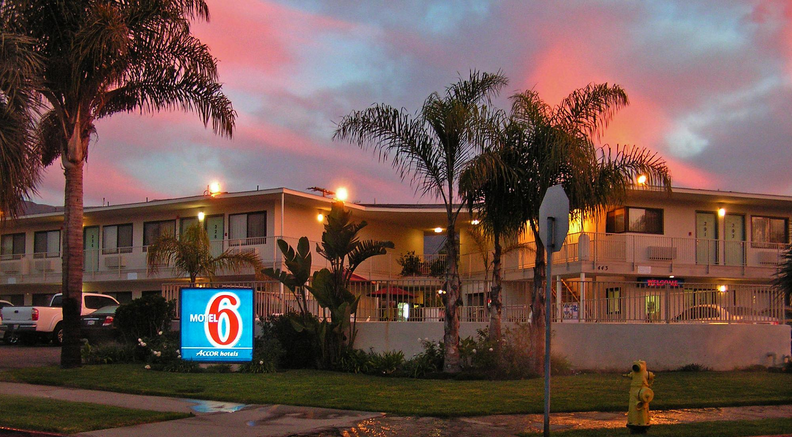 READ MORE ⇒ Pet Friendly Hotels Chains that Welcome Cats
Red Roof Inns
Red Roof Inns take pet friendly travel to a new level. Not only do they not charge additional pet fees – they'll give you a 10% discount when you bring your pet along! Under the Red Roof Inn, Red Roof PLUS+, and the Red Collection brands, the chain provides an economical option for pet travelers.
Red Roof Inns Pet Policy: 500+ properties in 36 states. Red Roof allows one cat or dog per room with no pet fees, though fees might be charged for additional pets. At Red Roof Inn and Red Roof PLUS+, pets must weigh 80 pounds or less. At the Red Collections, pet must weigh 40 pounds or less.
*Due to specific circumstances, the Oxon Hill, MD and Queensboro, NY locations cannot accept pets.
View the Red Roof Inn Pet Policy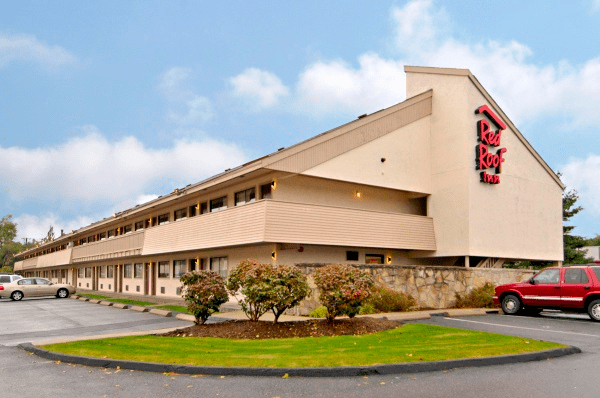 Virgin Hotels
New on the pet friendly hotel scene, the Virgin Hotel currently has locations in Chicago, Dallas, Nashville, and San Francisco with more on the way! The staff at Virgin admit to being fans of fuzz, and canine guests will find the accommodations every bit as welcoming as their humans. Dogs are provided a bed, bowls, treats, and a stylish bandana.
Virgin Hotels Pet Policy: 4 properties with Las Vegas opening later this year. Virgin welcomes dogs with no breed or size restrictions and no additional fees.
Keep your nose to the ground, because they're expanding to Las Vegas (Fall 2020), New York, Palm Springs, New Orleans, and Miami.
View the Virgin Hotel Pet Policy
What About La Quinta?
Experienced pet travelers might be surprised that La Quinta hotels are not included in this list of pet friendly hotels where pets stay free. Welcoming up to two dogs or cats per room, La Quinta was the most popular pet friendly hotel chain for years. But, in 2018, the chain was purchased by Wyndham Hotels and Resorts. Shortly thereafter, many La Quinta locations began charging a pet free of $20 per night with a maximum of $40 per stay per room. Before making your reservation, please call the hotel directly to verify its pet policy.
Now that you've got the scoop on all of the pet friendly hotel chains where pets stay free, all that's left to is pack a bag and hit the road! Waggin' trails!!
READ MORE ⇒  Pack Your Pet's Overnight Bag
(Visited 274,565 times, 1 visits today)