Are you looking to ease into camping? Or maybe you're a long-time camper looking for an upgrade. Cabin camping with your pets might be just the thing for you!
I love camping with my Airedale Terrier, Bailey, and we have spent many nights car camping and backcountry camping around the U.S. As much as we love sleeping outdoors, it's not always the most viable option.
Sometimes weather isn't conducive to camping, or if I'm only passing through an area for one night, it's not always worth the hassle of setting up a campsite. Hotels are great, too, and it's easy to find pet friendly hotels these days, but they're not always in my travel budget. For us, cabin camping is the perfect compromise!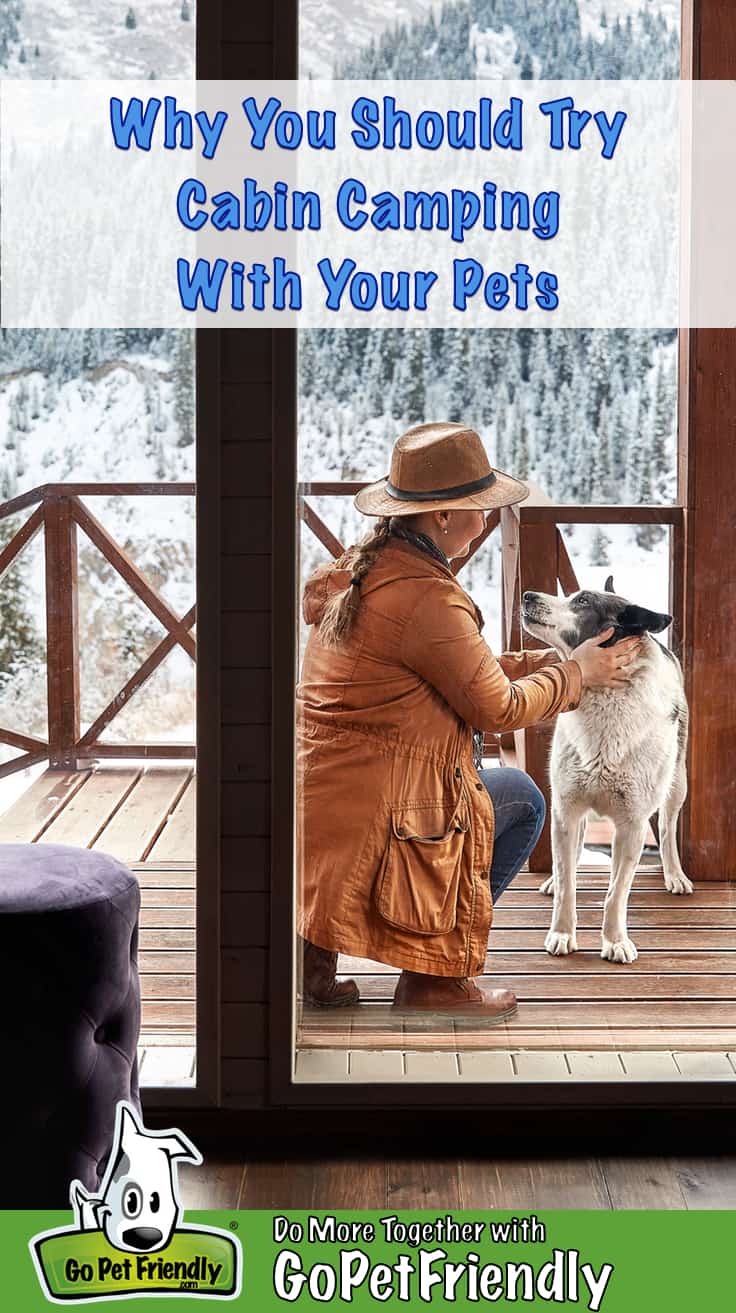 The Benefits of Cabin Camping With Pets
What is Cabin Camping?
"Cabin" can mean pretty much anything from a one-room shack to a 10-bedroom ski chalet, but cabin camping usually refers to a rustic cabin with few amenities. In fact, most camping cabins are one step up from a tent. In recent years we've "camped" in a lot of cabins, and it's become my favorite way to camp!
Another reason I love cabin camping with pets is that I have a place to leave Bailey if I decide to go out to eat or visit a nearby museum. I wouldn't leave her in the tent or car for any extended period of time, so renting a cabin allows me to see more attractions in an area.
READ MORE ⇒  A Beginner's Guide to Camping With Dogs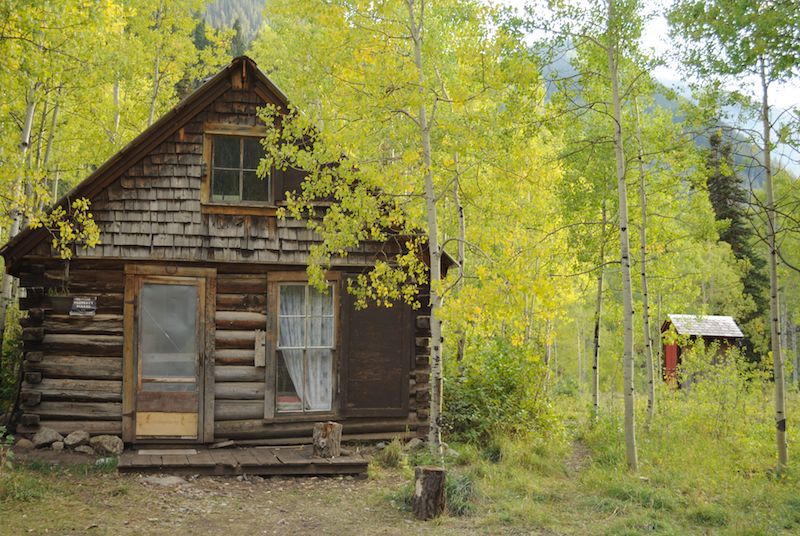 Cabin Camping Packing List
In most camping cabins, you'll need to bring the same supplies you would for tent camping … minus the tent. The most rustic camping cabins have a bed with a mattress and maybe a chair. Obviously, this will vary from cabin to cabin, and you'll need to confirm ahead of time. But in general, these are some of the things you'll need to pack for every cabin camping trip:
Linens
Cook stove
Plates, napkins, and utensils
Cooler for perishables
Portable toiletries, towels and shower shoes for the bathhouse
Flashlight, to find your way to the bathhouse at night!
Where to Find Camping Cabins
Camping cabins are popping up everywhere these days! Some of the most common places to find them include:
Private campgrounds, such as KOA or Good Sam
State Parks
National Parks
DNR or National Forest Land
Comparing The Options
Campground Cabins
KOA has been offering camping cabins for a while, and some of them are very lush, with full baths and kitchens. When it's just me and Bailey, I stick to the basic camping cabin which typically has a double bed, twin bunk beds, and sometimes a small fridge and a TV! You share the bathhouse with the other campers, and can cook outside your cabin at a picnic table or grill.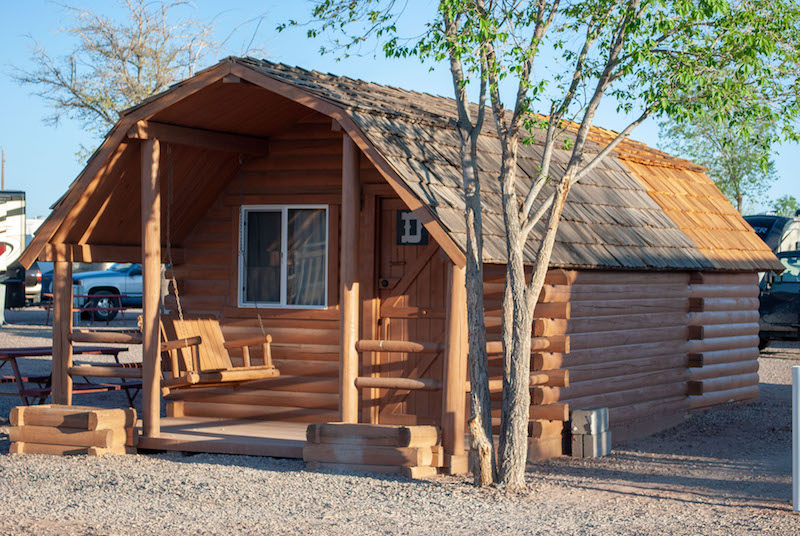 Many private campgrounds are starting to offer camping cabins now. They're especially convenient for family gatherings when you have RV campers, tent campers, and cabin campers all in the same party. To find pet friendly options, search for campgrounds in the area you'll be visiting on GoPetFriendly.com. Pet policies (and fees) will vary.
State Park Campground Cabins
You might be surprised at the lodging options state parks have to offer! My home state of Illinois has several state parks with cabin rentals, as do many other states. The cabins are often located at the campground, but sometimes cabins will be adjacent to a lodge.
A good place to start your search is this guide to pet friendly amenities at state parks across the country. Or search "state park cabin" and the name of the state you're visiting. While a yurt isn't technically a cabin, the philosophy is the same. Aren't these yurts at Tumalo State Park in Bend, Oregon cool?!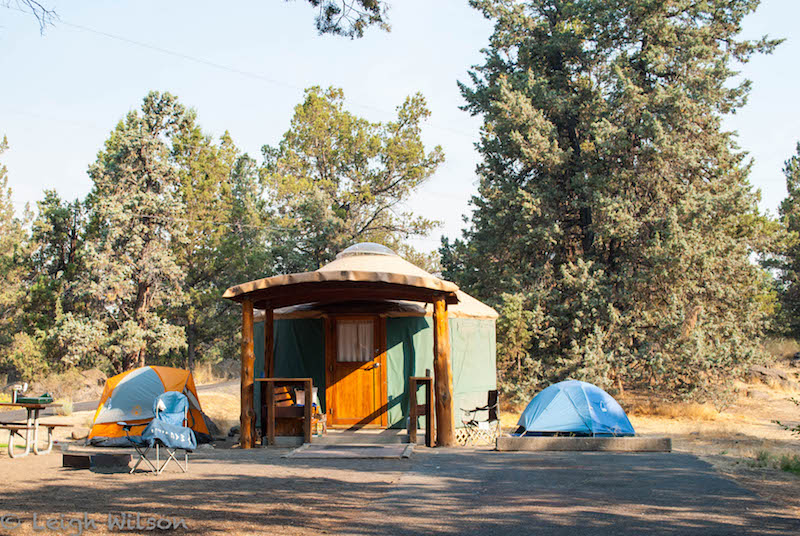 National Park Cabins
Cabins in national parks are usually a little more posh — and quite a bit pricier — but you get more of an outdoor feel than staying in a lodge or motel. I rented a two-bedroom cabin at Colter Bay in Teton National Park, and it was pet friendly even though the trails at the park are not! The dog I had at the time was older and well-behaved, so I was able to leave him in the cabin for a few hours while I hiked with friends.
Searching for "national park cabins" will get you started, and will likely turn up a lot of  private cabins nearby. If you specifically want a camping cabin in the national park, start with the national park website and follow the links to camping and lodging options.
National Forest Cabins
Before leaving the Midwest, I spent a lot of time in Michigan's Upper Peninsula, and discovered that the DNR owns and operates some really cool camping cabins on national forest property. A group of my friends rent out a cabin at Tom's Lake in the Hiawatha National Forest each spring, and it's a blast!
The cabin has bunk beds to sleep eight and a wood stove. Water comes from a pump outside, and there's an outhouse behind the cabin. Unlike most other camping cabins I've mentioned, this one sits on a private lake with no other cabins nearby. There are many of these in Michigan, including some backcountry cabins for skiers or hikers. In Colorado, there is even a backcountry hut system if you are looking for a long, scenic hike to your camping cabin!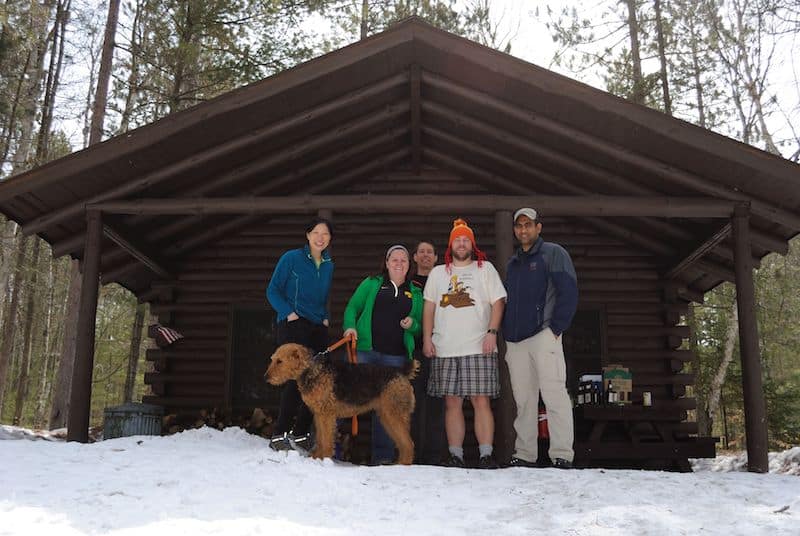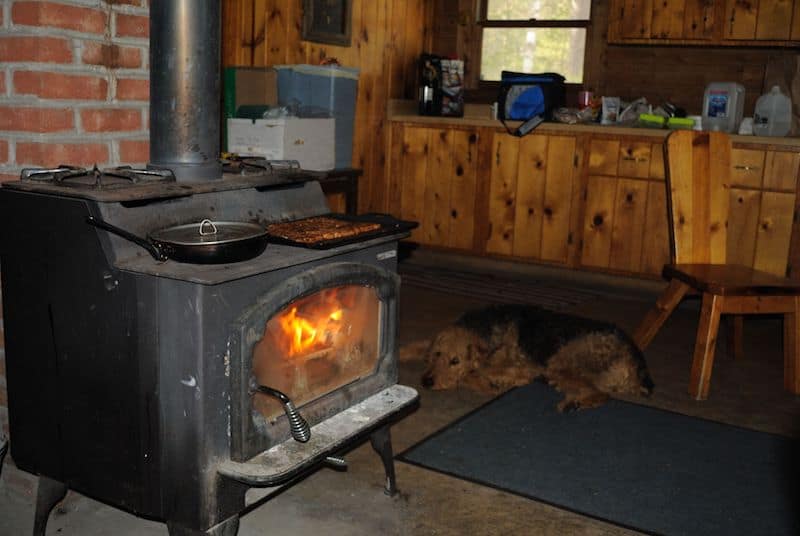 Sometimes the accommodations you choose for your pet friendly trip add to the experience. That's certainly the case when you're cabin camping with pets! Hopefully these options have you thinking about how a trip like this might work for you.
Have you tried cabin camping with pets? Tell us about your favorite cabin in the comments!
(Visited 10,355 times, 1 visits today)