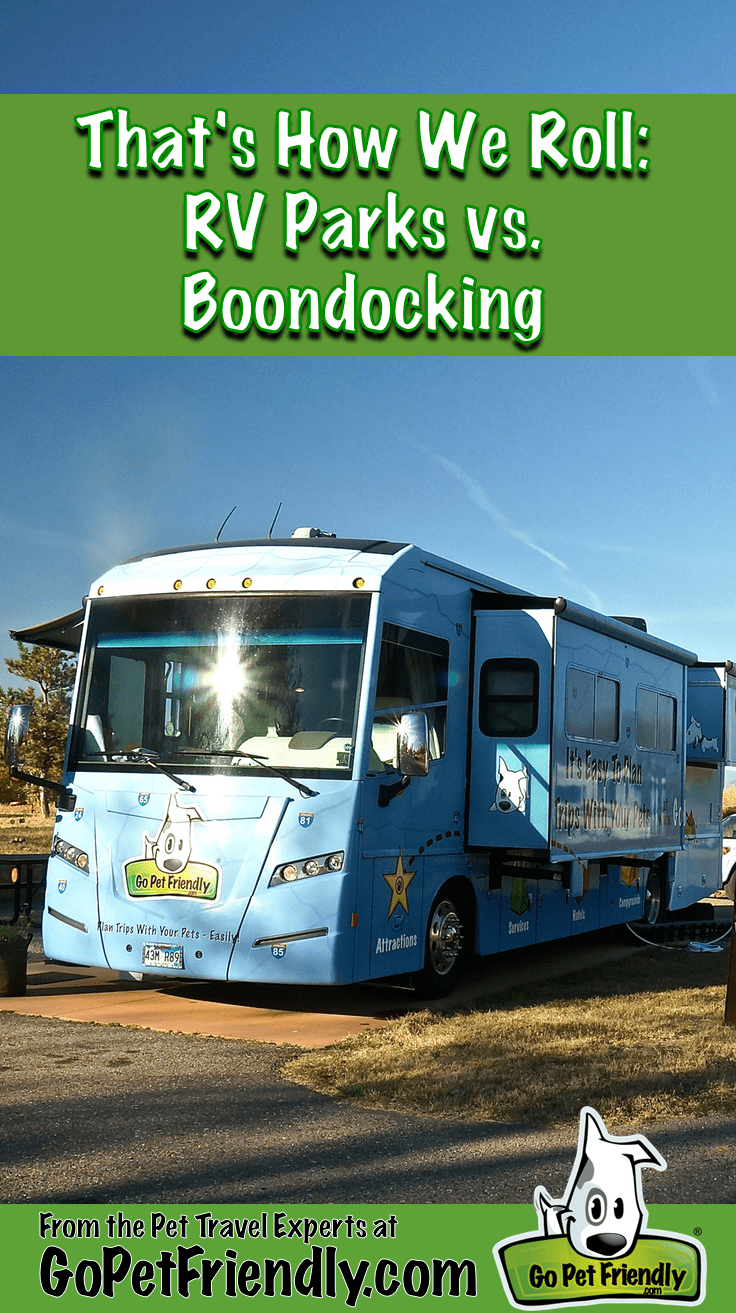 When we first started out in the motorhome, we unconsciously adopted a "herd mentality." Like pioneers crossing the Great Plains, we felt there was security in numbers … and, let's be honest, being somewhere with a higher probability of good Internet access didn't hurt either! So booking private campgrounds without really considering other options was a habit we fell into. But hanging out with RVers means we're always seeing different perspectives, and that's led us to begin stretching our wings.
In the past year or so, we've met several couples who throughly enjoy boondocking, or dry camping, and their enthusiasm has been contagious. We're having our first real go at boondocking at Lake Mead right now, so this seems like the perfect opportunity to discuss what we're learning with you. In some cases, a private RV park or campground is your best option, depending on location and the amenities you're after. But if you're looking for solitude and a more authentic "camping" experience, there may be better alternatives. Let's have a look at what's out there!
Private Campgrounds
At one end of the spectrum we have private RV parks and campgrounds – businesses owned by individuals or corporations with the goal of generating income. As with any accommodations, you'll find that RV parks range in quality from decrepit to luxurious, and everything in between. Generally though, the private parks are where you'll find some of the best amenities – pools, hot tubs, cable television, game rooms, off-leash dog areas, and a calendar full of scheduled activities – giving those parks a resort-type atmosphere and attracting people who want lots to do right at their fingertips.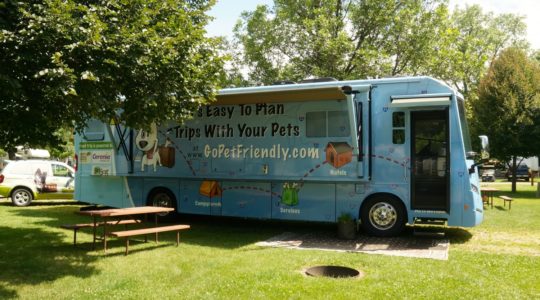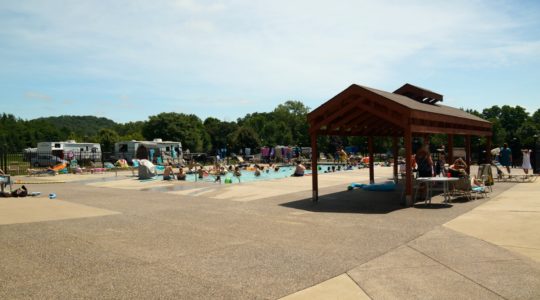 Private parks generate the highest return on investment when they're fully utilized, so the more campsites that can be squeezed in, the better from the owner's perspective. Guests will be offered sites with water, electrical, sewer, and sometimes cable television connections – so you can just park, plug-in, and everything you need to fully operate your home on wheels is provided.
We've found that prime locations, nearby attractions, and top-notch amenities correlate to smaller RV sites and higher prices. Of course there are always exceptions, and the cost of private RV parks varies greatly, but a decent site with all the utility hook-ups within easy driving distance of some interesting attractions usually runs between $35 and $50 per night. Staying a week or a month may get you a reduced rate, but if you're just looking at a weekend getaway, that's going to be in the ballpark.
Boondocking
At the other end of the spectrum is boondocking. This is where you park your RV in a location that allows you to stay for free (or a nominal fee) and receive no utilities, amenities, or services. An example of short-term boondocking is a truck stop or big box store, where you sleep overnight in your RV in their parking lot. Some waysides and rest stops also allow you to park for a 24-hour period or longer, depending on state laws. Most RVers do this type of boondocking when they're looking for a place to sleep after a long day of driving before hitting the road again in the morning.
Another type of boondocking is what we've been doing for the past 10 days at Lake Mead. We're parked at a Bureau of Land Management site called Government Wash, and people are allowed to camp here for up to 15 days for free. There are similar locations, each with their own fees and length of stay restrictions, all across the country, and Apps like AllStays and websites like Campendium.com make them easy to find.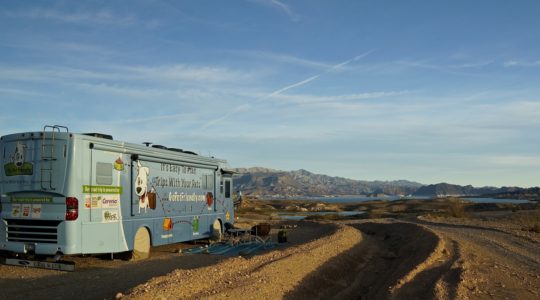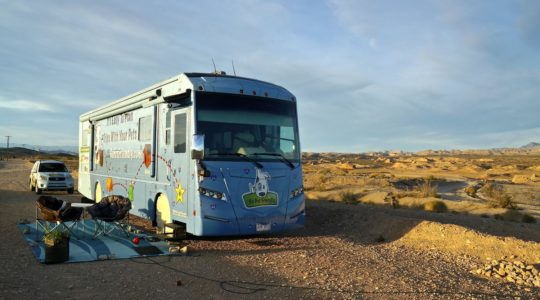 With no utilities provided, boondocking requires that you be self-sufficient. Most RVs come equipped to allow you to do some boondocking, and our motorhome was pretty well setup when we bought it. We have a 100-gallon fresh water tank and a battery-operated water pump to feed the shower, sinks, and toilet. Our diesel generator draws fuel from our 100-gallon fuel tank at approximately a quarter gallon per hour, and we can use that to recharge our batteries or operate larger appliances, like our microwave oven. We also have a 28-gallon propane tank on board that runs the hot water heater, furnace, and three-burner stove. And our grey and black water holding tanks store all of our waste water while we're boondocking.
The only thing that would make boondocking more convenient would be to have solar panels on the roof of the RV, to recharge our batteries so that we wouldn't need to run the generator as much. Most of our RVing friends who like to boondock have added solar electricity to their rigs, and if we'll likely be adding it, too.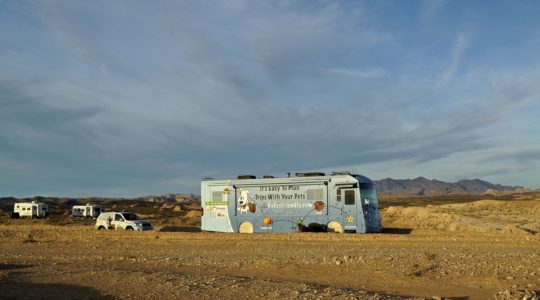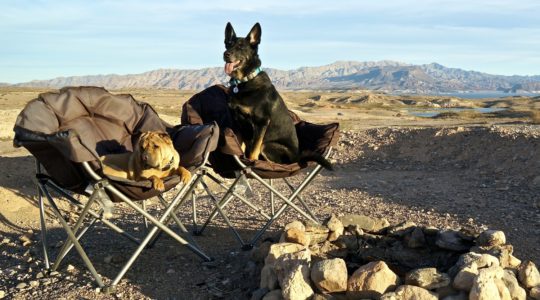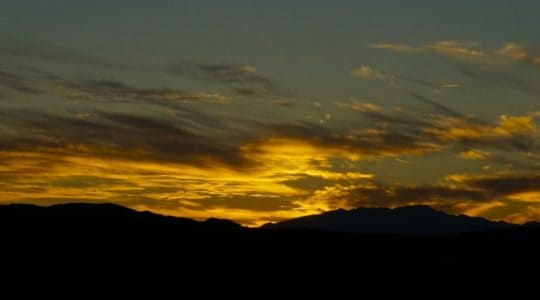 One of the biggest benefits of boondocking is really feeling like you're getting away from it all. Though we're currently only 20 miles from Henderson, Nevada at Government Wash, there are only a handful of other people camping here and everyone has plenty of space. I have no idea why we haven't tried this sooner! Our big fear about Internet coverage was unfounded, and Buster's able to get off-leash on some of our walks! Even better, we have no worries about meeting other people or dogs on the trail, so taking the boys out is a lot more relaxing. We also have a fantastic view of Lake Mead – one we'd be paying handsomely for in a private RV park – and all it's costing us to stay is the price of the diesel, propane, and water we're using while we're here.
Everything In Between
There are a vast array of options between private RV parks and boondocking for all kinds of RVers. National parks, national forests, state parks, regional parks, and city parks offer campgrounds, and it really comes down to your preferences and the tradeoffs you can accept to get what's important to you.
Our campsite at Gros Ventre Campground in Grand Teton National Park had no utilities, but was decent-sized, and with moose in the park every morning, it was well worth the $24 per night that we paid to stay there.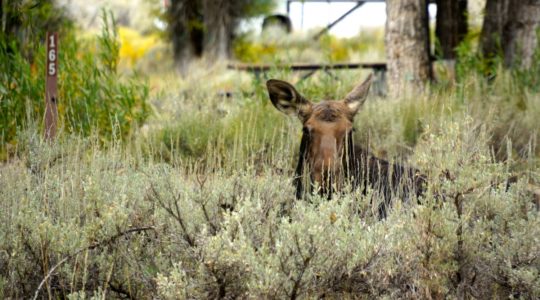 The lakeside location, gigantic sites, water and electric hook-ups, and $26 per night fee made our stay at Lake Sakakawea State Park in North Dakota feel like a fantastic bargain.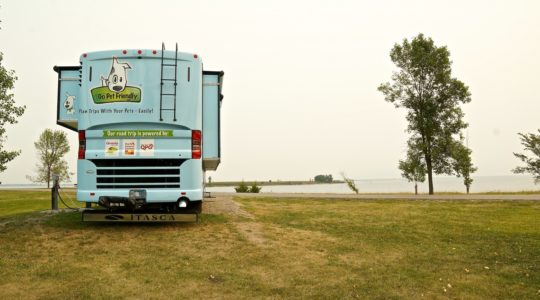 And the $28 per night that we paid at James M. Robb State Park in Fruita, Colorado was a steal for all utilities, a spacious campsite – complete with portico, and the spectacular views of Colorado National Monument.
Once you've determined the type of campsites that appeals most to you, it's best to read some reviews of the campgrounds, RV parks, or boondocking locations you're considering to see what others who are "in the know" thought of the accommodations. Then all that's left to do is to get out there and try it!
Planning a pet friendly trip of your own? We'll make it easy:
Pet Friendly Hotels | Pet Friendly Destinations | Pet Friendly Activities
Amazon Affiliate Disclosure: GoPetFriendly.com LLC is a participant in the Amazon Services LLC Associates Program, an affiliate advertising program designed to provide a means for website owners to earn advertising fees by advertising and linking to amazon.com, audible.com, and any other website that may be affiliated with Amazon Service LLC Associates Program. As an Amazon Associate, the owner of this site earns a commission from qualifying purchases.
(Visited 2,151 times, 1 visits today)