It's known for having the tallest dunes in North America, but what might surprise you about Great Sand Dunes National Park is that pets are welcome here!
Covering 30 square miles, visitors and their pets can experience a sense of solitude among the 750-foot dunes.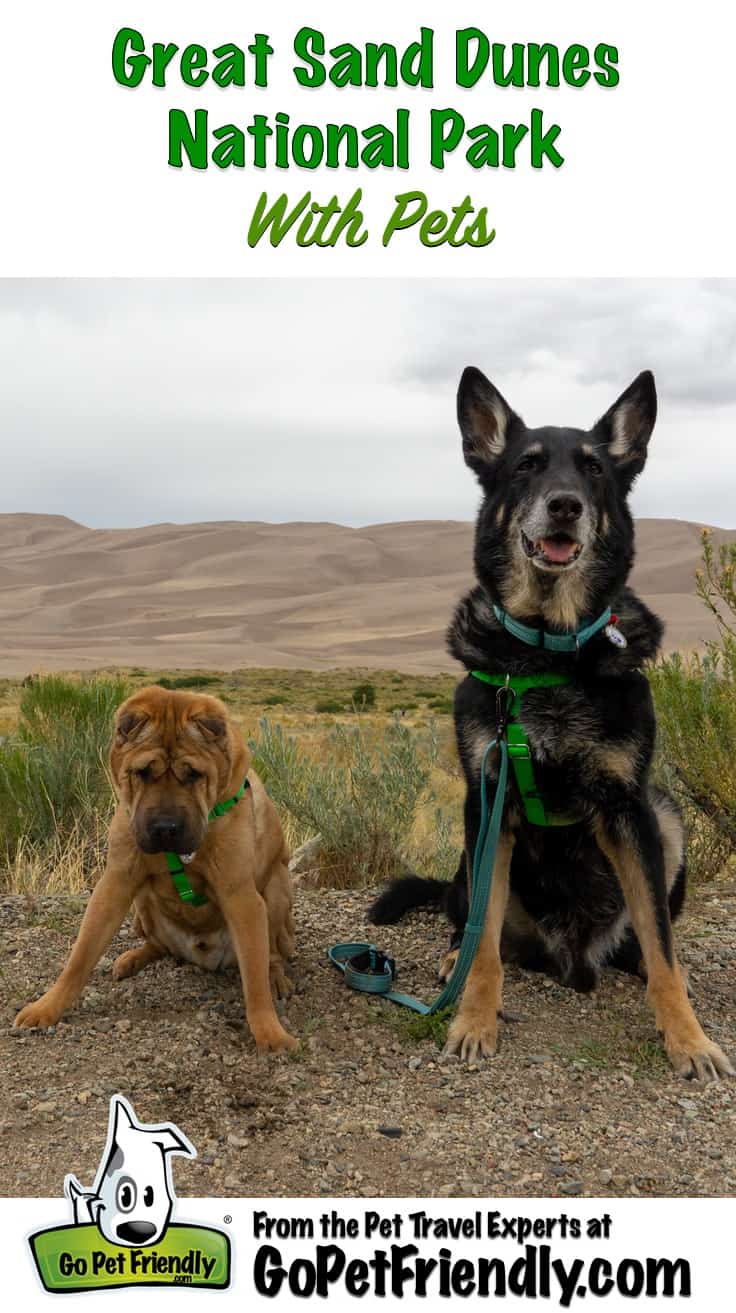 Great Sand Dunes National Park With Pets
Nestled against the rugged Sangre de Cristo Mountains, Great Sand Dunes National Park is a wonderful place to experience with pets. With high mountain peaks, sparkling streams, and majestic dunes that have accumulated from eroding sand, there's so much to explore!
Leashed pets are welcome in day use areas of the national park, including the play area of the dunefield and the campground, and throughout the adjoining national preserve. Pets are not allowed in the backcountry areas of the national park, but there's more than enough ground for them to cover.
READ MORE ⇒  Best Pet Friendly National Parks in the US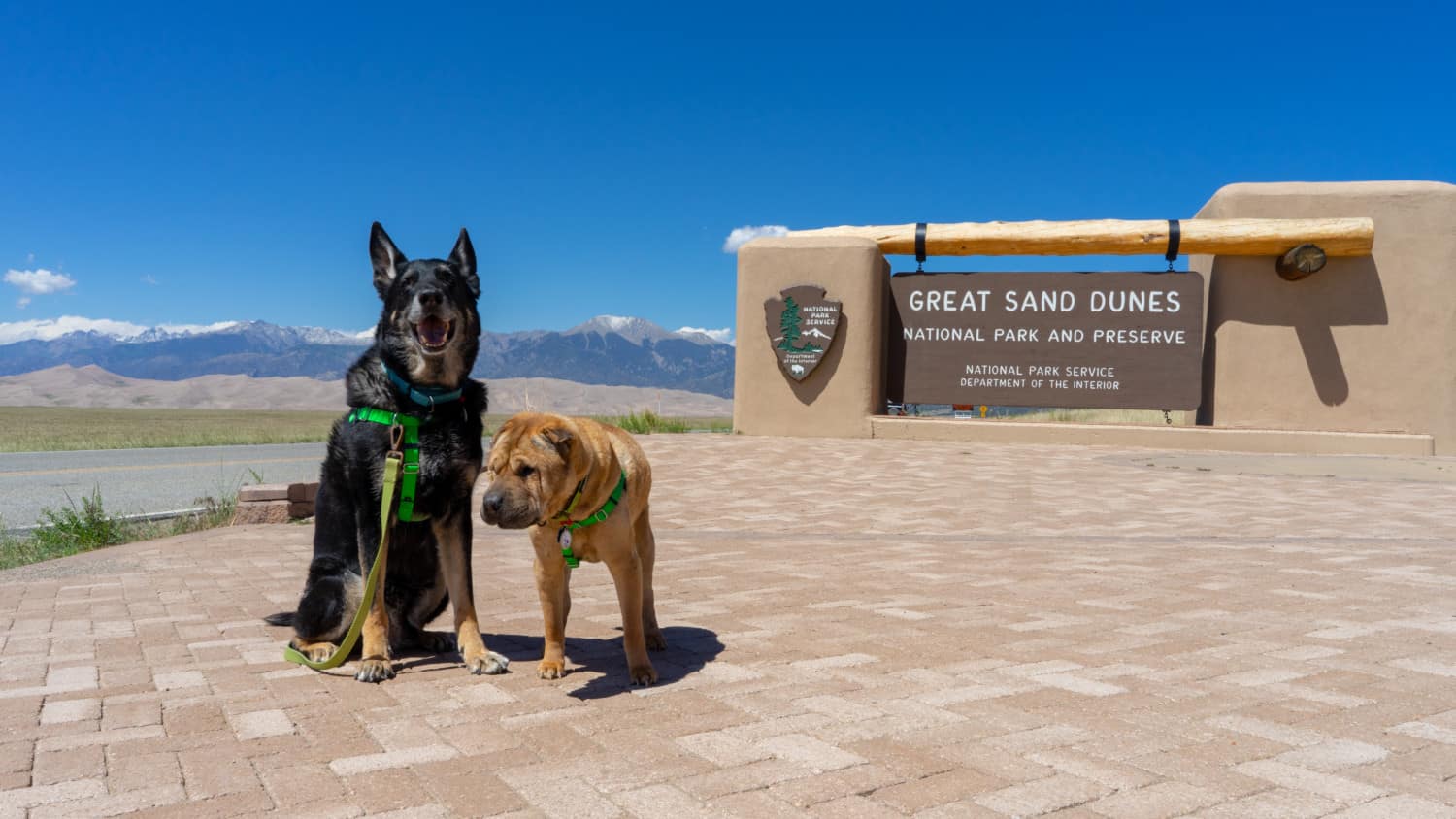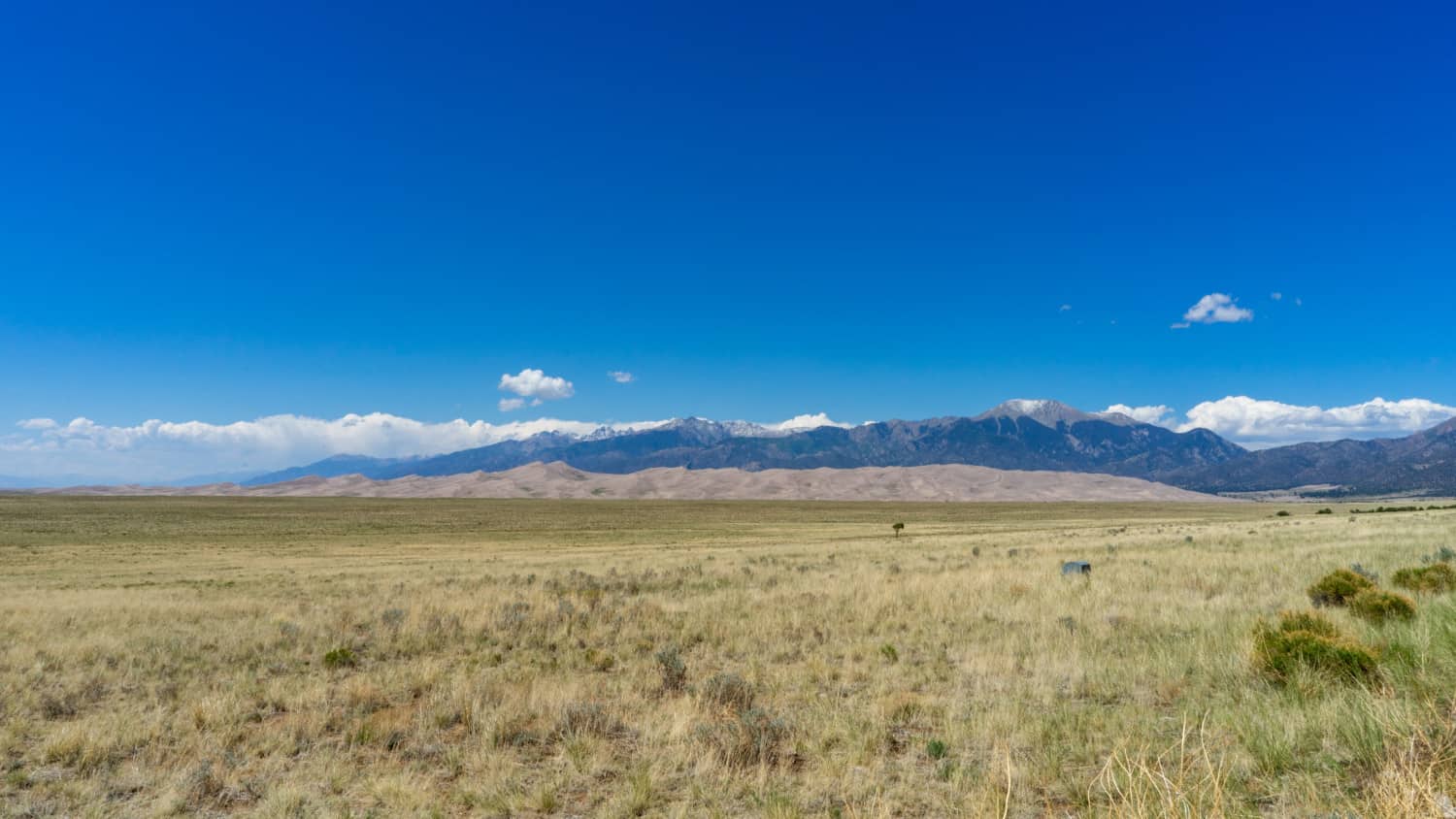 Keeping Pets Safe
Great Sand Dunes National Park is open 24 hours a day, year-round. Depending on what time of year you visit, you'll need to take precautions to keep pets safe.
During the summer, the surface of the sand can reach 150°F. If it's too hot for you to walk barefoot – it's too hot for your pup!
Rain and wind storms can occur any time of year. Be prepared to protect your pet's eyes from blowing sand.
With elevations ranging between 8,200 and 13,600 feet, it's easy to get dehydrated. Carry plenty of water for you and your pets.
Wildlife, including bears and mountain lions, are found within the park boundaries. Store food and scented items in your car or in bear-proof containers in Piñon Flats Campground and Medano Pass Primitive Road and always be aware of your surroundings.
How Did the Dunes Form?
At one time, a huge lake covered the valley between the Sangre de Cristo Mountains and the San Juan Mountains, more than 65 miles to the west. As the lake receded, prevailing winds from the southwest blew the sand that had washed out of the mountains across the valley to the foot of the Sangre de Cristos.
Storm winds that howl out of the Sangre de Cristo range from the northeast push the dunes back on themselves, giving them their extraordinary height.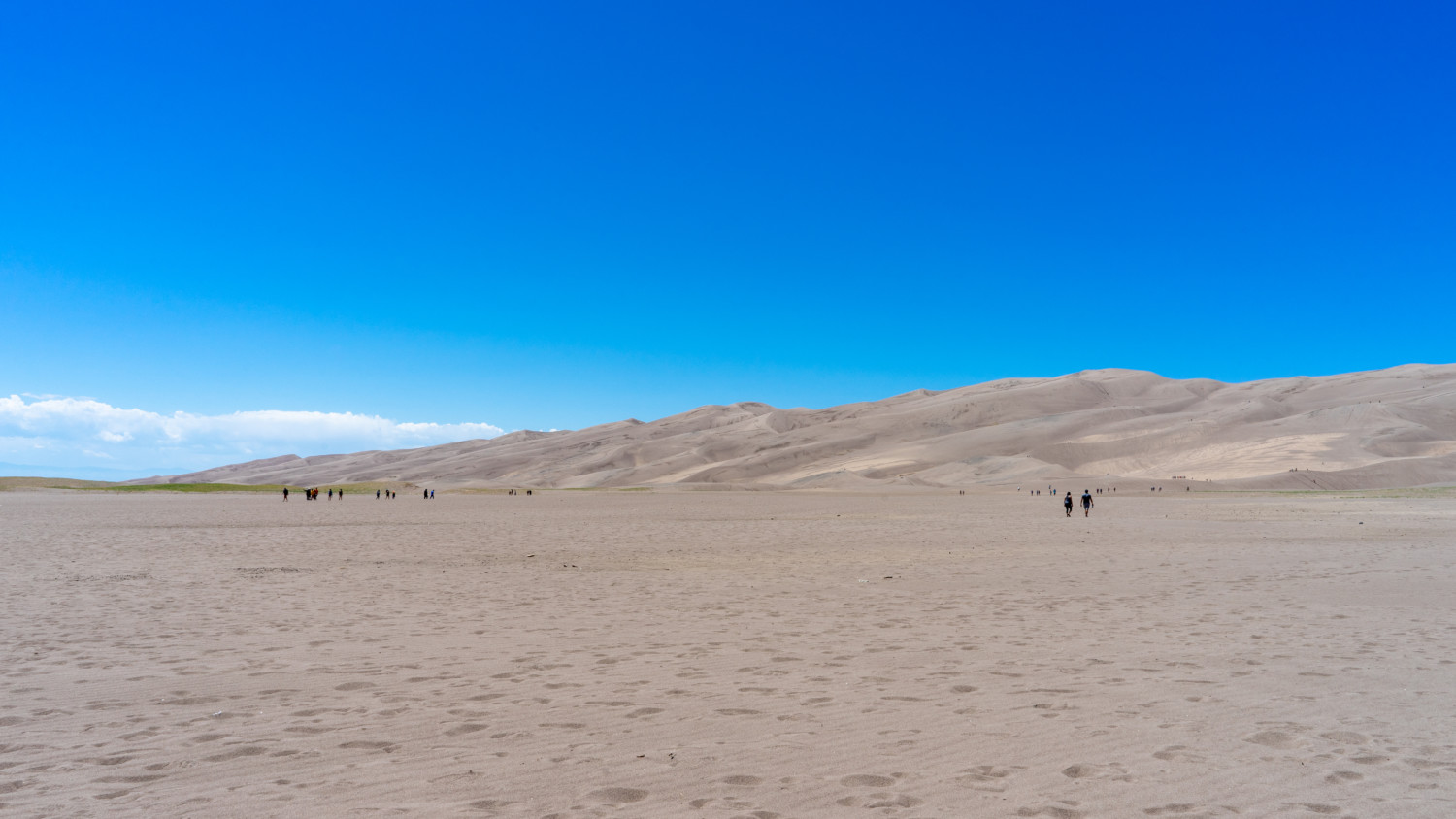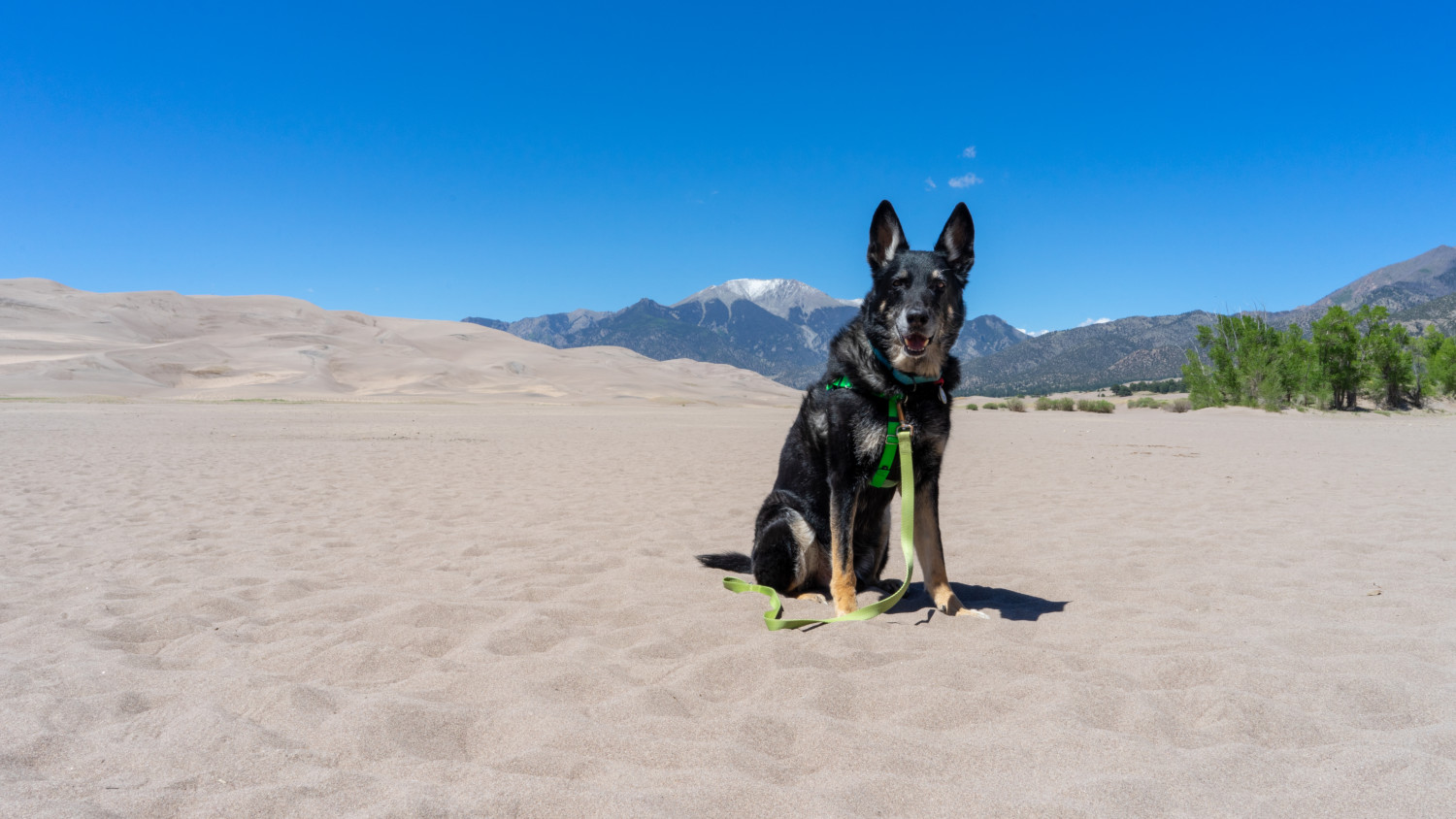 What Is There to Do?
It would be easy to spend a long weekend enjoying all the sights and natural beauty of Great Sand Dunes!
Start with a hike up High Dune for a view of the entire dunefield. This 2.5-mile round-trip climbs nearly 700 feet and takes around 2 hours. The most dramatic photos are shot at sunrise and sunset when shadows are cast by the dune ridges. Bring a sled or sandboard for an exciting ride to the bottom!
READ MORE ⇒  Dog Friendly Off-leash Hiking on Federal Lands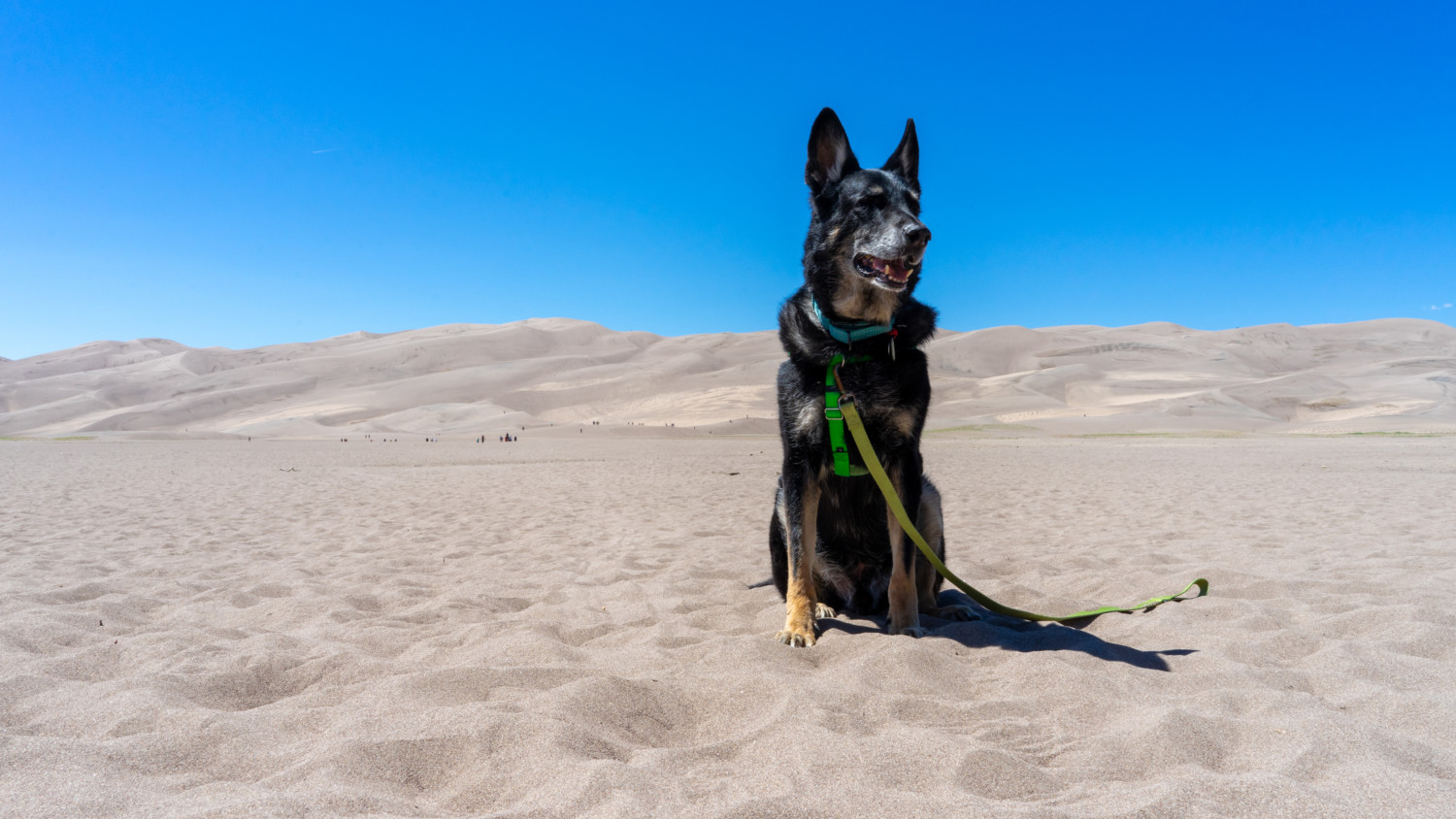 Back at the base of the dunes, stop for a splash in Medano Creek. The creek is fed by precipitation and snowmelt, so depths vary by season. In most years, the creek flows from April though June, creating a unique beach environment.
For lunch, plan a picnic and take your 4WD vehicle out Medano Pass Primitive Road to the Sand Pit or Castle Creek Picnic Areas.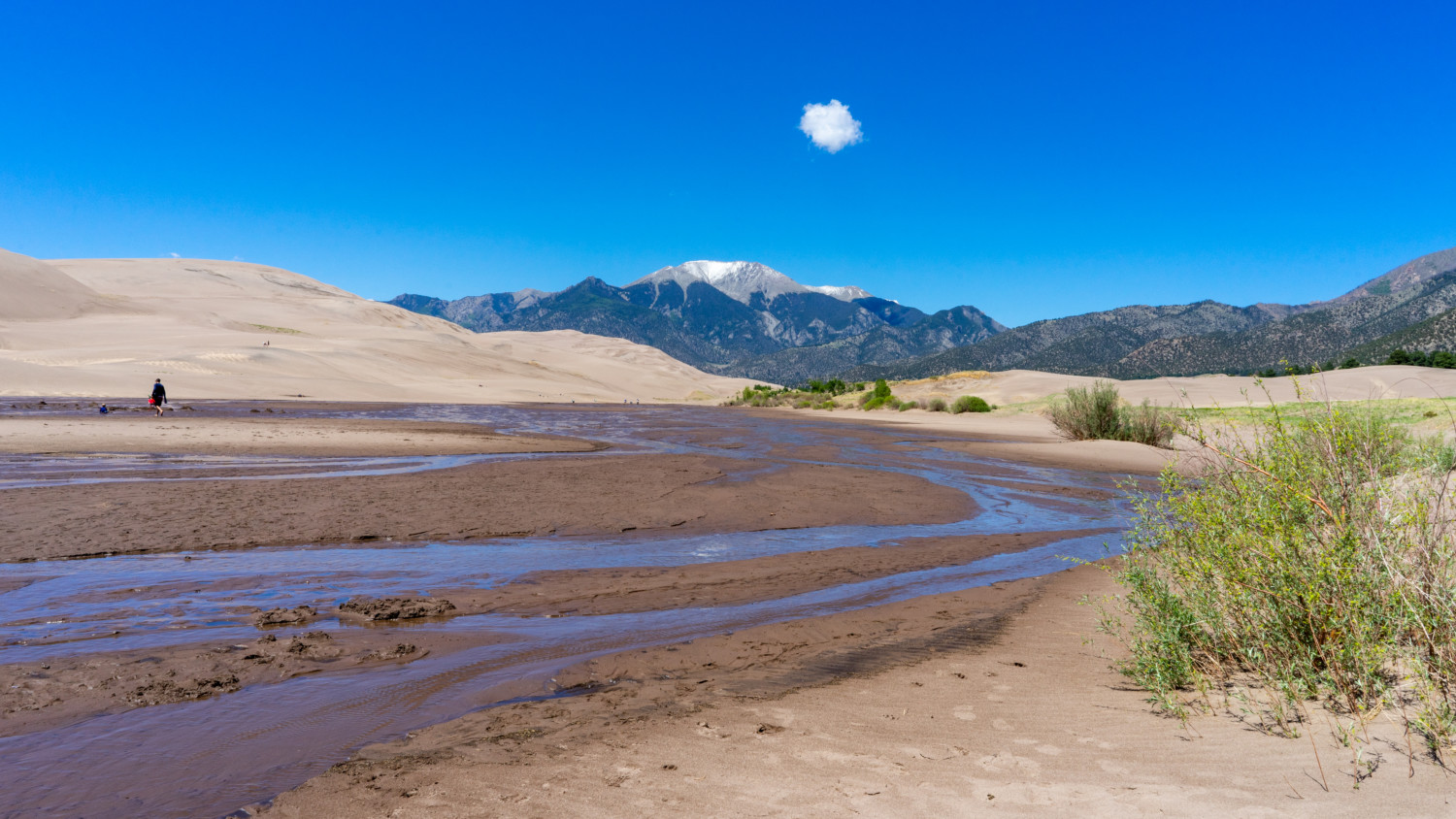 When you're ready to hit the trail, there are plenty of options! For an easy walk, the Sand Sheet Loop Trail covers a quarter-mile through the grassland. And the Montville Nature Trail covers a half-mile and takes about 30 minutes. For a little longer walk, the Montville trail connects to the Wellington Ditch Trail for a sunny, level 1-mile walk to the campground.
For a more serious hike, Dunes Overlook covers 2.3 miles, climbs 450 feet, and takes about 2 hours. And Mosca Pass Tail is 7 miles round-trip, climbs 1,400 feet, and takes about 3.5 hours.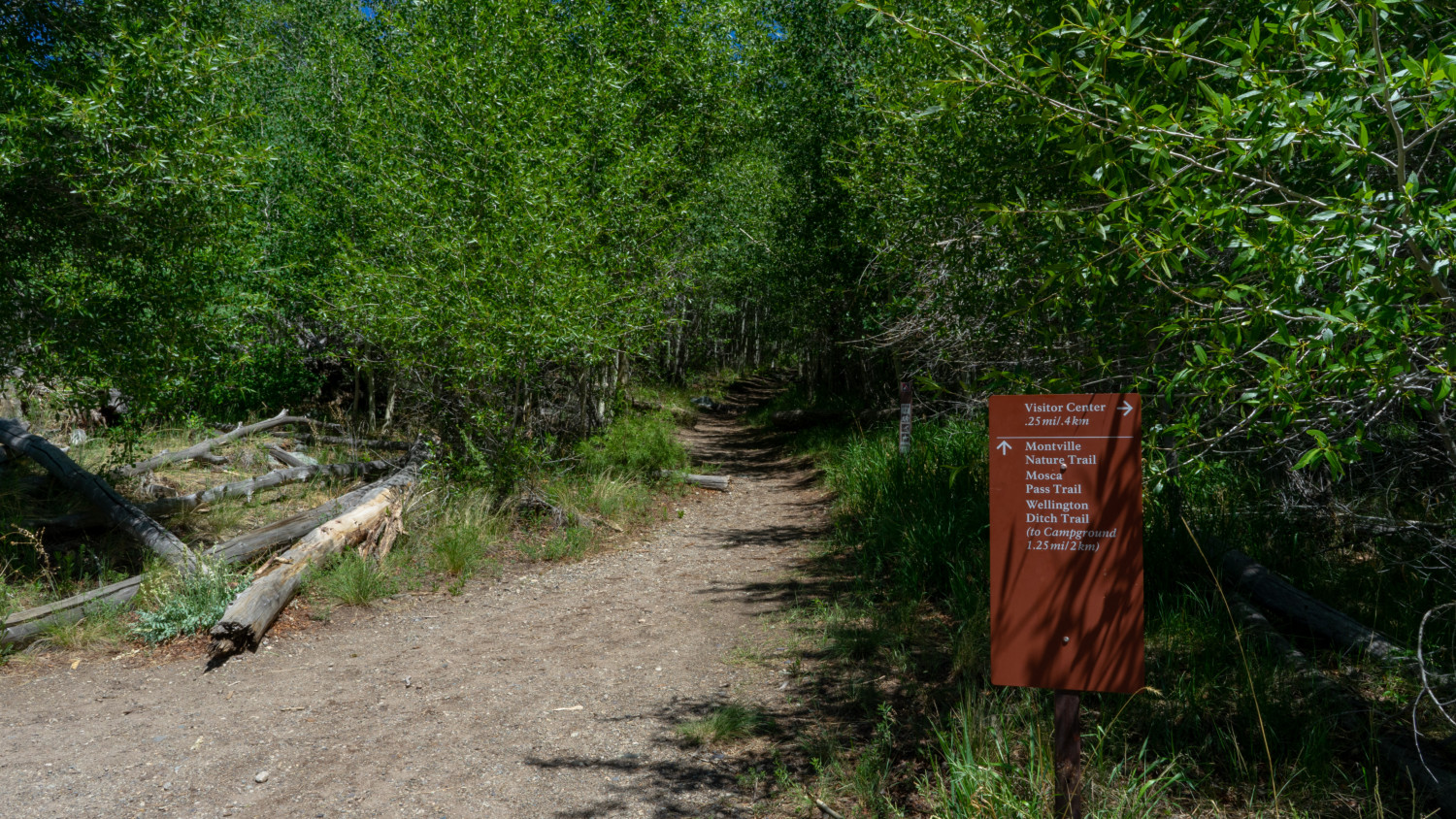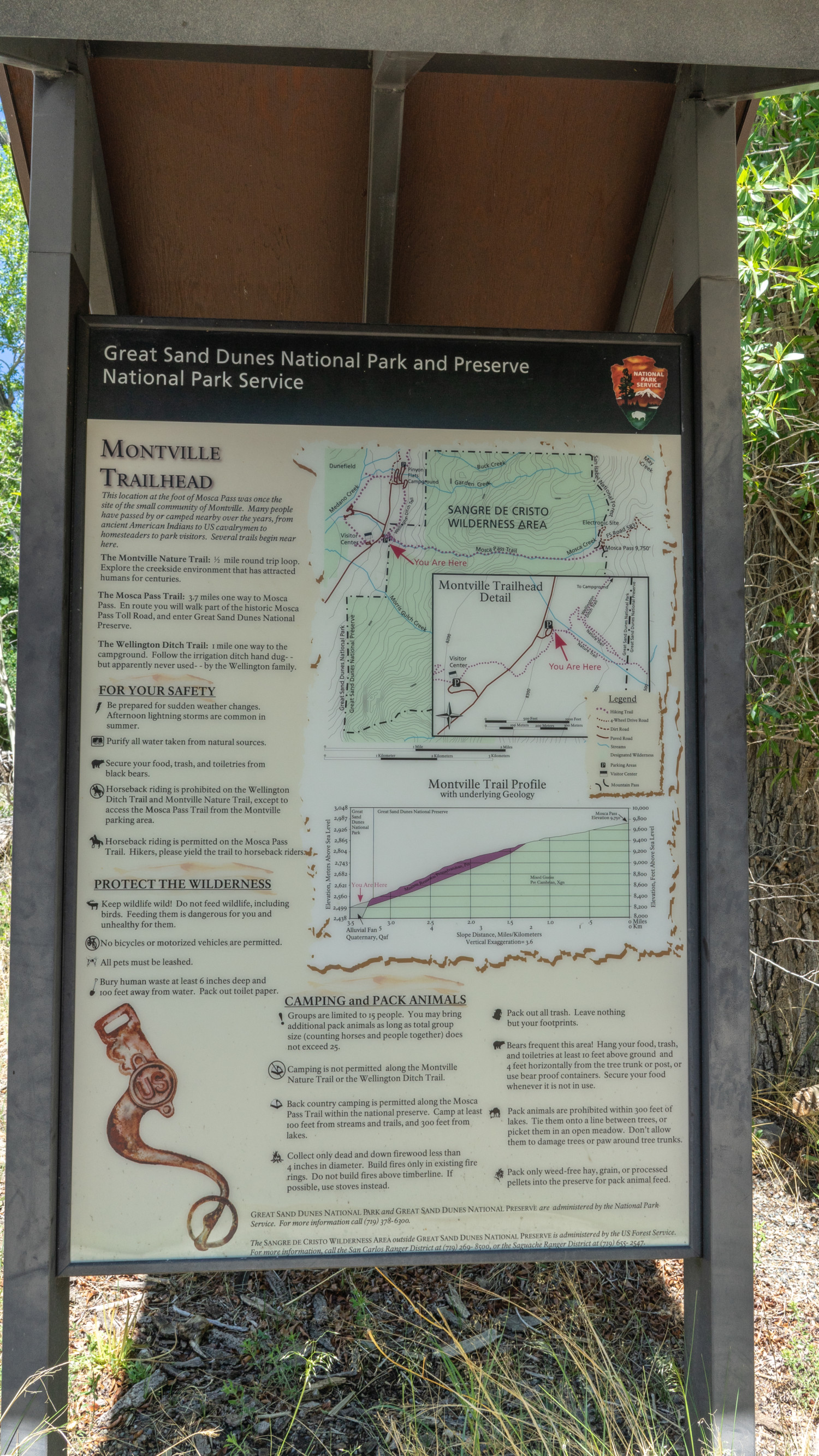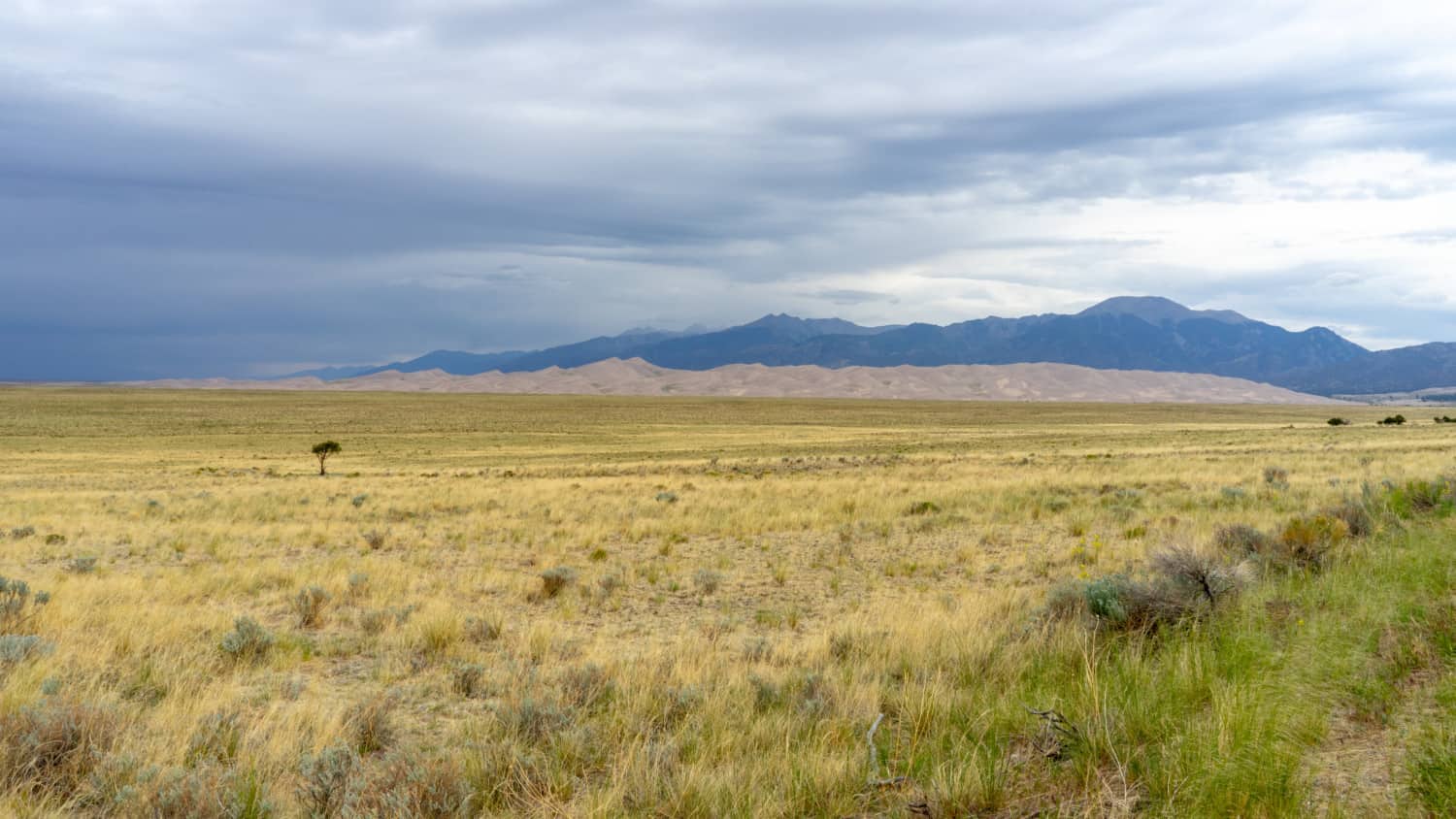 What's Nearby?
If you plan an extended visit to Great Sand Dunes National Park with your pets, there are more places to investigate nearby!
Zapata Falls Recreation Area – Leashed pets are welcome to join you for a hike to see this 20-foot waterfall cascade through a narrow crevasse. Along the way, enjoy spectacular views of the entire dunefield. The trail is less than a mile round-trip, but the road to the trailhead is 3 miles on a bumpy gravel road. Also, you must hike through water into the cave to view the falls.
Alamosa National Wildlife Refuge – The refuge offers a 3-mile auto tour route that is open year-round. The 2-mile Rio Grande River Trail is open for hiking and biking year-round. Depending on snowfall, cross-country skiing and snowshoeing are also available in the winter. Pets are welcome as long as they're under control at all times.
Dog Bar in Cuchara, Colorado – Take a day trip (70 miles) to the former ski resort of Cuchara and have lunch on the deck at the Dog Bar.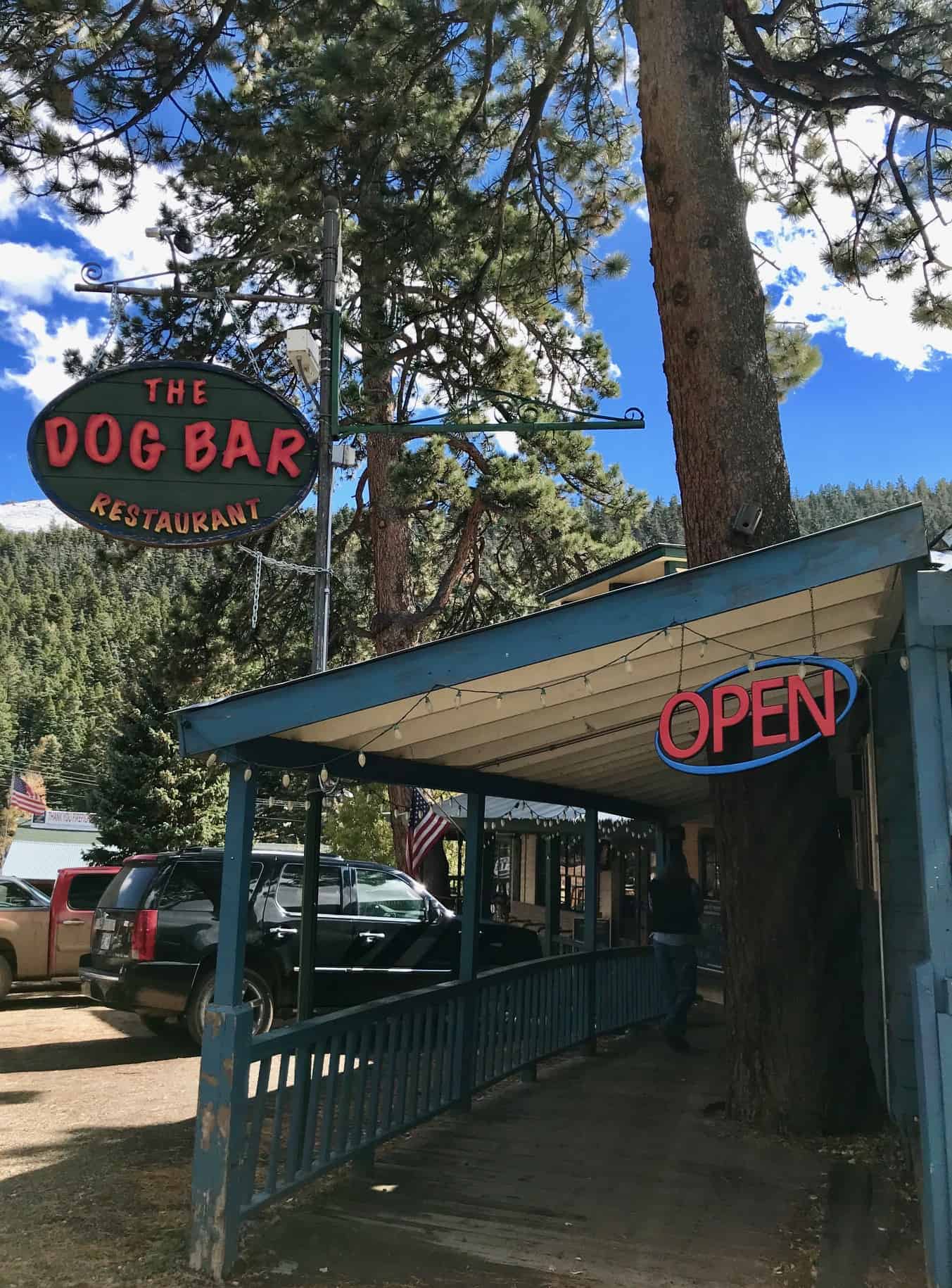 Have you been to Great Sand Dunes National Park with pets? Be sure to share your experience below!
Gear Used in This Post:
(Affiliate Links)

Sleepypod Clickit Car Safety Harness

See all the gear we use to make traveling with our pets easier, safer, and more fun!
DO MORE TOGETHER
Amazon Affiliate Disclosure: GoPetFriendly.com LLC is a participant in the Amazon Services LLC Associates Program, an affiliate advertising program designed to provide a means for website owners to earn advertising fees by advertising and linking to amazon.com, audible.com, and any other website that may be affiliated with Amazon Service LLC Associates Program. As an Amazon Associate, the owner of this site earns a commission from qualifying purchases.
(Visited 9,944 times, 1 visits today)