If you like camping, there's really nothing better than including your pets in the fun! To make sure you all enjoy your time together, look for campgrounds that are truly pet friendly.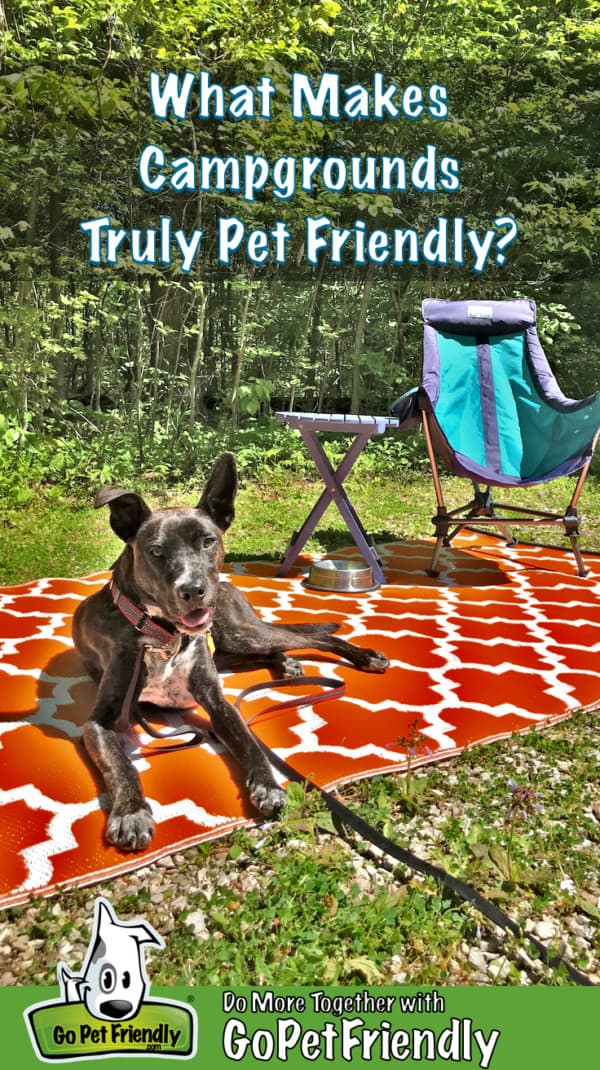 Not all pet friendly campgrounds are created equal! We've been traveling the country in our motorhome for eleven years, and have experienced the entire range … from over-the-top pet loving to barely pet tolerant.
When planning your trip, it's important to find a campground that you and your pet will both love. So you might be wondering, "How can I tell if campgrounds are pet friendly before I make my reservations?"
What Makes Campgrounds Truly Pet Friendly?
Finding truly pet friendly campgrounds is easy! Just look for parks that do the following:
Clearly Communicated Pet Rules
Every campground sets its own pet policy. Some allow you to set up a pen or use a tie-out for your pets in your campsite; others don't. Some require you to be outdoors anytime your pet is outside. Many don't allow pets to be left unattended in your RV. Often there are areas where pets are not allowed (like the pool). And some charge additional fees for pets.
Whatever policy a campground adopts, it's important that they communicate it clearly. Providing these details allows you to choose a park that will meet your needs.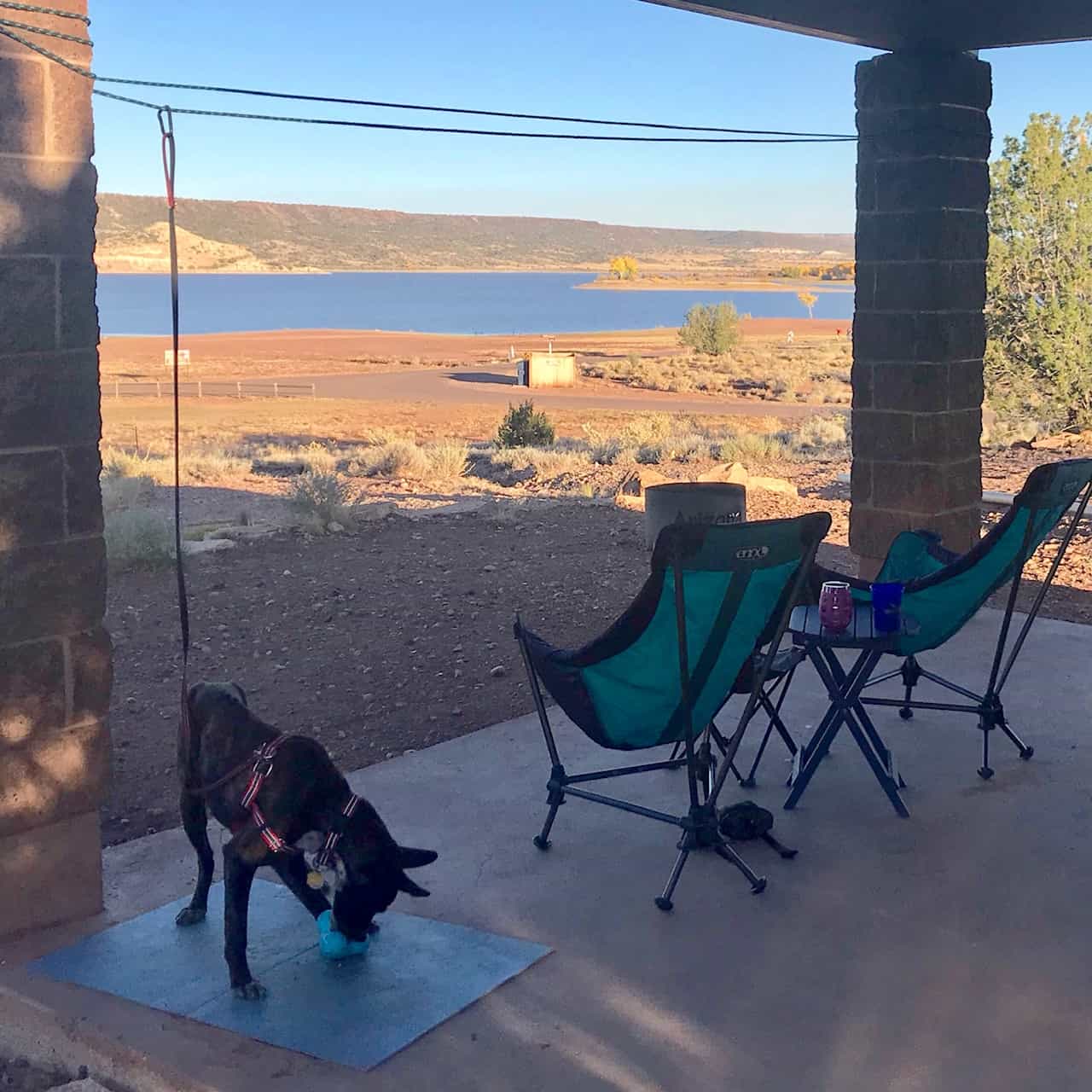 A Place To Go
We once stayed at a campground that only allowed dogs to relieve themselves in a designated area. And to make sure that the dogs made it there with no accidents, owners were required to DRIVE them to the pet walk area! Pets were not allowed to be walked on the campground roads.
Though that campground took things a little far, we do appreciate when designated dog walk areas with waste disposal bags and trash cans are provided. It's a nice way to encourage dog owners clean up after their pets.
Truly pet friendly campgrounds will offer pet relief areas with a couple different surfaces, like grass and wood chips, to keep all their canine guests are comfortable.
Large Off-Leash Area
After a long day in the motorhome, the words "We have an off-leash area" are music to my ears. But nothing is more disappointing than whisking Myles there only to find a fenced space the size of a postage stamp.
Campgrounds with chihuahua-sized dog parks should indicate that on their on their websites and marketing materials. But they don't. So, if you have larger dogs, ask that question when before making your reservations!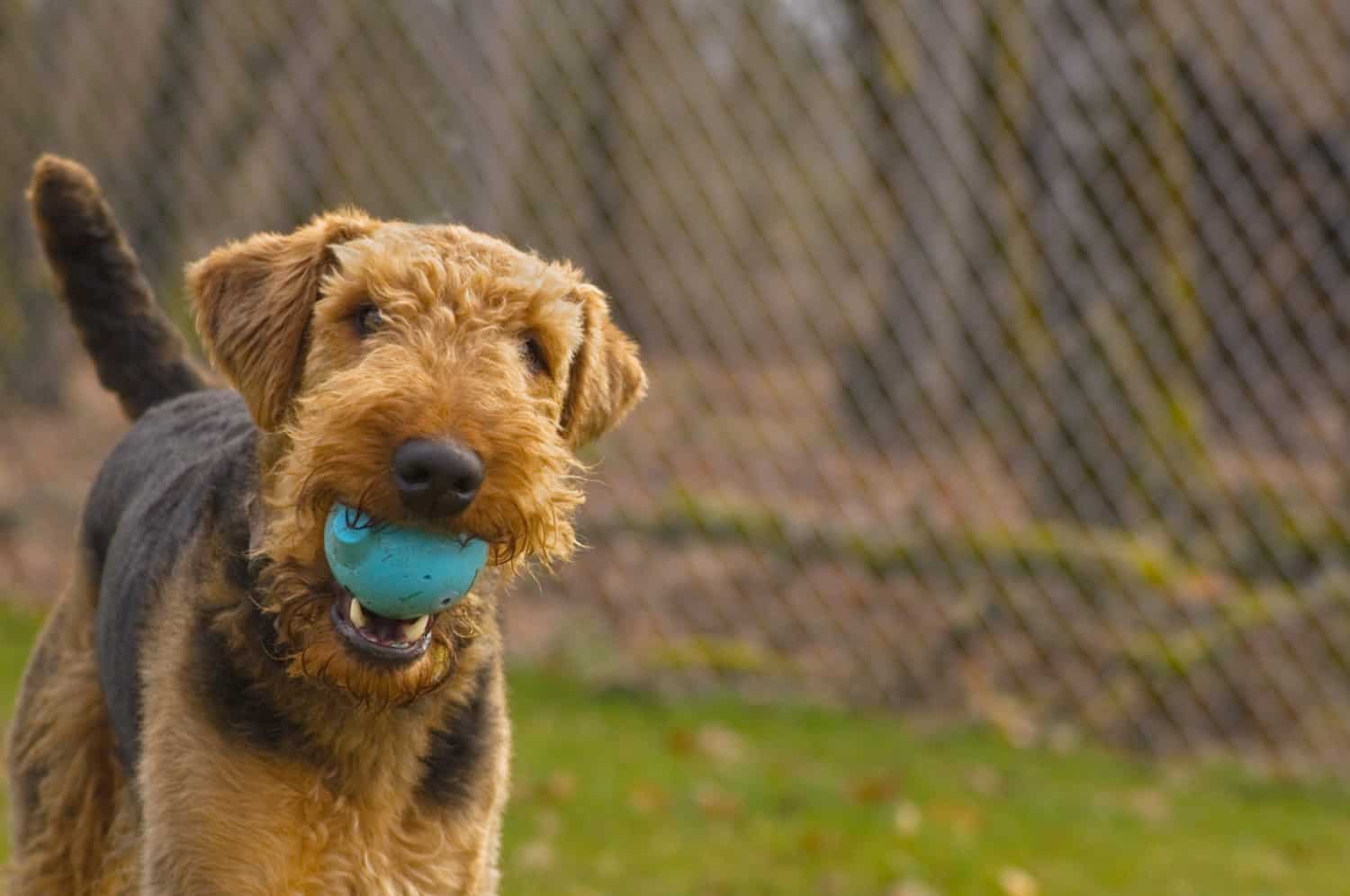 Well-Maintained Park & Dog Park
For pet travelers, the health and safety of our pets is always our primary concern. Finding abandoned pet waste, broken glass, or trash in our campsite raises immediate concerns for our pet's well-being.
Tall grass that harbors ticks and fleas, abandoned dog waste, or broken agility equipment in the off-leash area is also disconcerting.
The photos campgrounds publish on their website could present a rosy version of reality. To determine the cleanliness of pet friendly campgrounds, it's best to read reviews written by recent guests.
Space To Spread Out
Dogs bark. Often at other dogs. And when one pup gets started a "sing along" often ensues. It's part of staying in pet friendly campgrounds.
Campground managers could help reduce the amount of barking by spacing out campers with dogs. But some choose the opposite strategy, packing all the pet friendly sites in a corner of the park.
When choosing pet friendly campgrounds, look for ones with larger campsites and where they don't have a designated area for all campers with pets. Also, ask for a campsite with more privacy or one that's on the end of a row, to give your dog more space from any canine neighbors.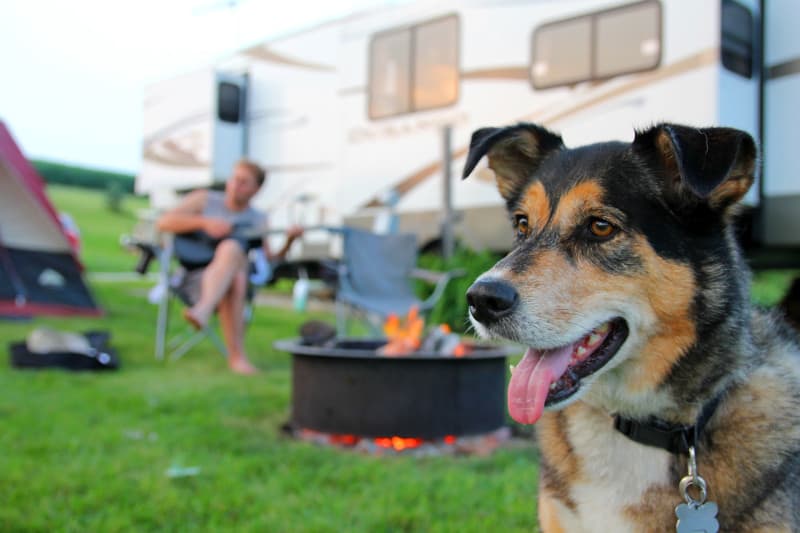 Pet Friendly Camping Cabins
Campgrounds that are truly excited to welcome furry guest will designate some or all of their camping cabins as pet friendly. These are cabins that can be rented by people traveling without their own, tent, camper or RV.
Camping cabins tend to be pretty basic with wood floors and minimal furniture. They make a wonderful alternative to a hotel for pet travelers! Yet few campgrounds that claim to be pet friendly allow pets in their rentals. For park that do, it's a good gauge of their pet friendliness.
All Pets Are Welcome
Another excellent gauge of pet friendly campgrounds is the inclusivity of their pet policies. Do they impose weight restrictions? We've seen them only allow pets up to 20 pounds! In my experience, a dog's size has little to do with the quality of his manners.
And some campgrounds discriminate against dogs based on their breed. Knowing that a campground prohibits certain breeds is a red flag for me. How can that be pet friendly?
In my opinion, a dog of any breed can behave badly. And if they do campground managers should ask their owners to take them and leave. But there's no excuse for setting pet policies that perpetuate discrimination and misinformation against certain breeds.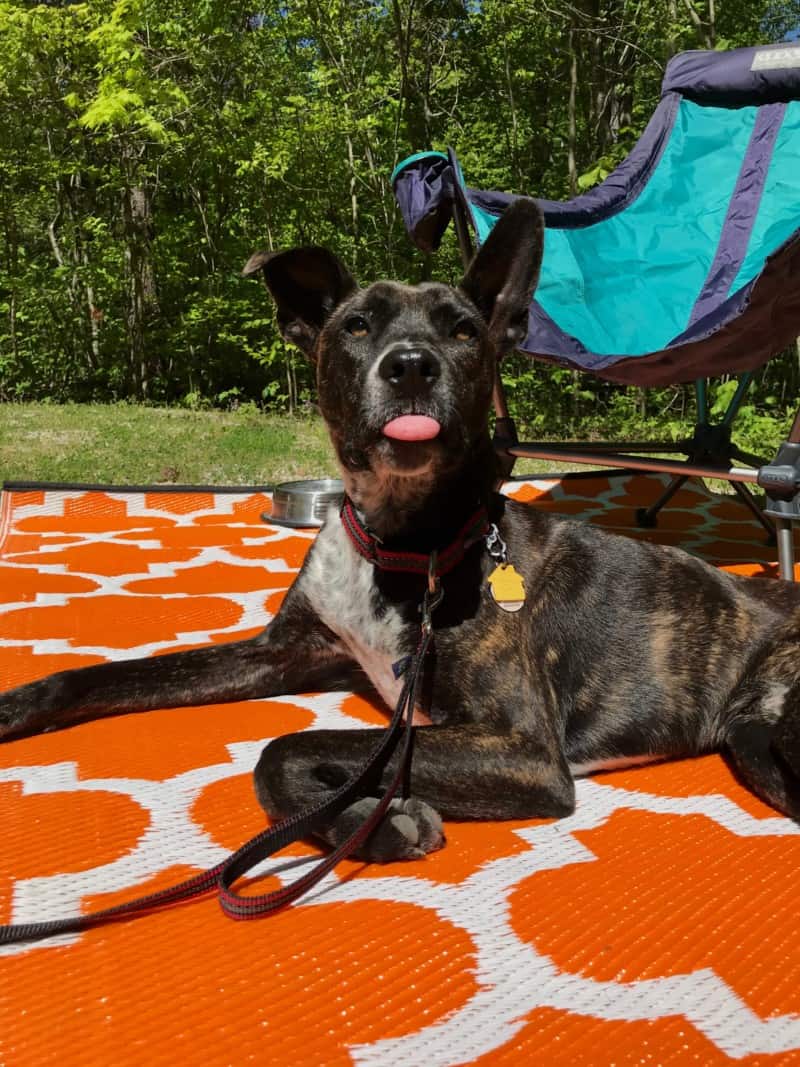 Share Local Information
Pet friendly campgrounds that do all the above and share information about the local area with their guests are the cream of the crop! Locations of pet friendly hiking trails, pet supply stores, the closest 24-hour animal hospital are all pieces of information I appreciate receiving.
Guests would also likely want to know if there are bears or coyotes in the area. Or that pets have gotten sick from swimming in a nearby lake or pond.

Can you think of other things campgrounds could do to be more pet friendly?
Amazon Affiliate Disclosure: GoPetFriendly.com LLC is a participant in the Amazon Services LLC Associates Program, an affiliate advertising program designed to provide a means for website owners to earn advertising fees by advertising and linking to amazon.com, audible.com, and any other website that may be affiliated with Amazon Service LLC Associates Program. As an Amazon Associate, the owner of this site earns a commission from qualifying purchases.
(Visited 6,966 times, 1 visits today)