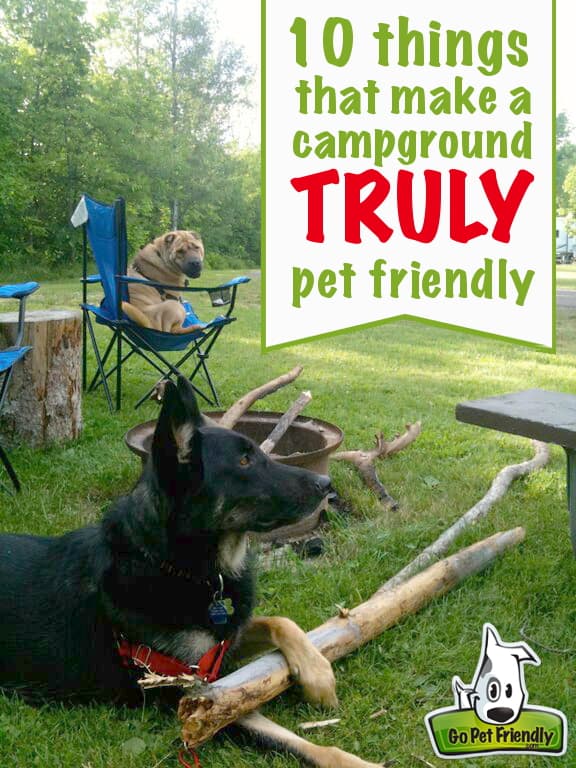 If you like camping, there's really nothing better than including your pets in the fun! Last week we took a look at the differences between staying in an RV park or campground, and really getting away from it all by boondocking at a free campsite. While we've thoroughly enjoyed our boondocking experiences, it's not always a convenient solution when you evaluate the options at your chosen destination. So, if you've decided on an RV park or campground, how do you find one that your pet is sure to love? It's easy – just look for parks that providing these pet friendly services:
1. Welcome pets of all sizes. Some campgrounds impose weight restrictions, which can start at as little as 20 pounds! In my experience, a dog's size has little to do with the quality of his manners, and therefore doesn't preclude him from being a lovely camping guest. Of course, as dog owners, it's important that we train our pups to behave politely in public so this misperception of big dogs being unruly doesn't persist.
2. No breed discrimination. There are some campgrounds that don't welcome pets of any kind, and I'm fine with that. Different parks for different folks. However, it's unacceptable to allow some dogs and not others based on their breed. Our Buster is a German Shepherd – one of the breeds that's often discriminated against – and to meet Buster is to love Buster. Knowing that he's being judged by an unfair prejudice against his breed infuriates me! A dog of any breed can behave badly, and if they do campground managers should ask their owners to take them and leave – but don't set breed specific policies that perpetuate discrimination and misinformation.
3. Clearly communicate the rules. Every campground sets its own rules when it comes to pets. Some allow you to leave pets unattended in your RV, and some do not. Some allow you to set up a pen or use a tie-out for your pets in your campsite, others don't. Some have areas where pets are not allowed (like the pool), while others have no restrictions. Clear communication of the rules regarding pets on the campground website, and providing them again at check-in, makes it easy for pet owners to comply.
4. Provide a place to go. Designated dog walk areas with waste disposal bags and trash cans are perfect for encouraging dog owners to use a specific area to relieve their pups and clean up the waste. Some dogs will only go on grass, so an area with a couple of different surfaces will ensure all the canine guests are comfortable.
5. Off-leash area. After a day in the motorhome, the words "We have an off-leash area for the dogs" are music to my ears. But nothing is more disappointing than whisking Ty and Buster over only to find a fenced space barely big enough to turn around. If you have a chihuahua-size dog park, be sure to indicate that it's only appropriate for small dogs on your website and in your marketing materials.
6. Keep the park well-maintained – including the off-leash area. For pet travelers, the safety and health of our pets is always our primary concern. Finding abandoned pet waste, broken glass, and trash in our campsite raises immediate concerns for our pet's well-being. Dog waste or broken agility equipment in the off-leash area are also disconcerting. We understand that pet owners are responsible for picking up after their furry family members, but when they don't, the park staff need to ensure it's removed for future campers.
7. Help keep barking to a minimum. Dogs tend to bark at other dogs, and when one pup gets started a "sing along" often ensues. Campground managers can help reduce the amount of barking by spacing out the campers with dogs, rather than packing them all together in one corner of the park.
8. Warn of hazards in the area. Pet owners appreciate being made aware that there are bears or coyotes in the area, or that pets have gotten sick from swimming in a nearby pond, so they can take proper precautions with their pets.
9. Provide information on local resources. Dog friendly hiking trails, pet supply stores, the closest 24-hour animal hospital – these are all pieces of information that pet owners would love to receive when checking into a campground.
10. Designate camping cabins as pet friendly. Many campgrounds have camping cabins that can be rented by people traveling without their own camper or RV. These camping cabins are pretty basic with wood floors and minimal furniture and would make a wonderful alternative to a hotel for pet travelers – yet only a few places have any rentals designated as pet friendly. Campgrounds could charge a reasonable pet fee and it would be a win-win for everyone.
Can you think of other things campgrounds could do to be more pet friendly?
Planning a pet friendly trip of your own? We'll make it easy:
Pet Friendly Hotels | Pet Friendly Destinations | Pet Friendly Activities
Amazon Affiliate Disclosure: GoPetFriendly.com LLC is a participant in the Amazon Services LLC Associates Program, an affiliate advertising program designed to provide a means for website owners to earn advertising fees by advertising and linking to amazon.com, audible.com, and any other website that may be affiliated with Amazon Service LLC Associates Program. As an Amazon Associate, the owner of this site earns a commission from qualifying purchases.
(Visited 5,175 times, 1 visits today)