Among the rugged peaks of northern Idaho, where pine trees far outnumber people, lies one of the most beautiful lakes in the world. Unfolding over 26 miles, with more than 135 miles of shoreline, Lake Coeur d'Alene is a sparkling blue jewel. And at the northern tip of this magnificent lake is the lovely town of Coeur d'Alene, were you'll find wonderful things to do with your pets!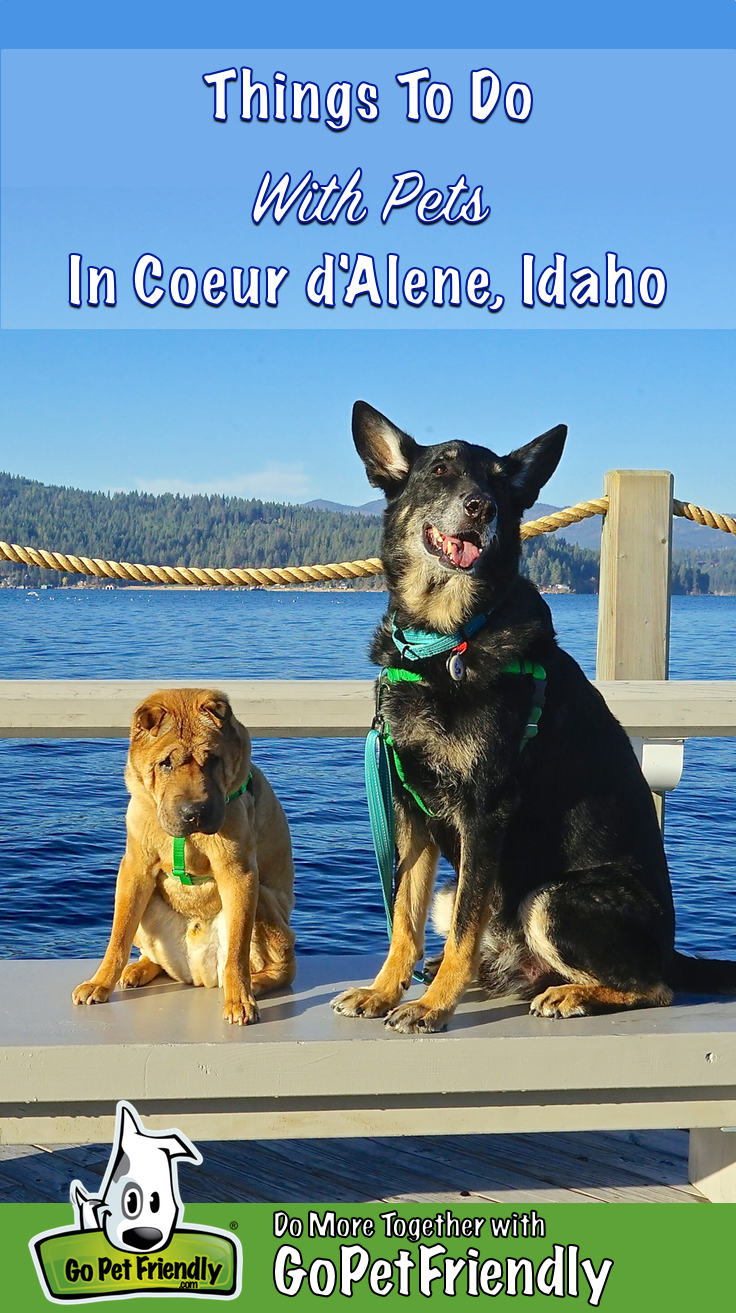 Things To Do In Coeur d'Alene
The name Coeur d'Alene (pronounced kore-duh-LANE), was given to the Native American Schee-Che-Umsh tribe by French-speaking fur traders in the early 1800s. Roughly translating to "heart like an awl," the traders were alluding to the shrewd negotiating skills of tribe members. Now the moniker is carried not only by the tribe and the lake, but also the city of Coeur d'Alene, which runs along on the lake's northern shore.
Coeur d'Alene has a magical ability to satisfy the desires of all her visitors. Those looking for outdoor entertainment and recreation will find it. From water sports and fishing, to hiking and biking along her shores. And those in search of quiet tranquility, will find a reprieve from the hustle and bustle in the lakes quiet depth and serene bays.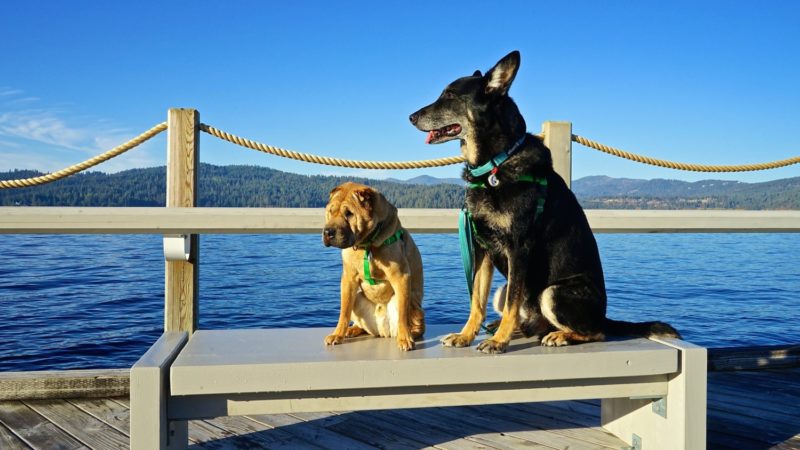 There are as many ways to enjoy Lake Coeur d'Alene as your imagination allows. From diving sunken steamboats, to renting powerboats for cruising or water skiing, to scenic boat tours and drives, to exploring the many miles of trails on foot or bike. During our visit we did our best to explore as many of these options as possible with Ty and Buster.
Lake Coeur d'Alene Cruises
To get the lay of the land, so to speak, our first stop was the boat dock at Independence Point. Lake Coeur d'Alene Cruises offers 90-minute narrated tours that provide a nice history of the area and lovely views from the water of the lake's northern bays. The cruises depart daily from late April through late October.
READ MORE ⇒  5 Questions To Ask Before Taking Your Dog On A Boat
Pets are welcome aboard the daily tours, but not aboard dinner or brunch cruises, and the Captain likes to meet all pets prior to embarking. We took Ty and Buster for an introduction when we purchased our tickets, and found the staff very accommodating. The boat had plenty of space for Buster to stretch out without worrying about being stepped on. And Ty stayed right in his stroller during the ride.
Pet Rules for Lake Coeur d'Alene Cruises

Pets must be leashed or in a carrier
The Captain meets all pets prior to embarking to ensure they're friendly
Pets must stay in the outside areas (upper deck, or covered lower deck)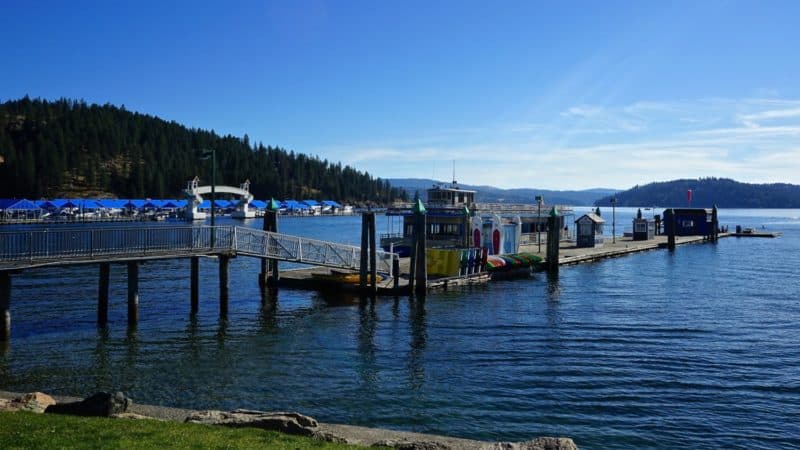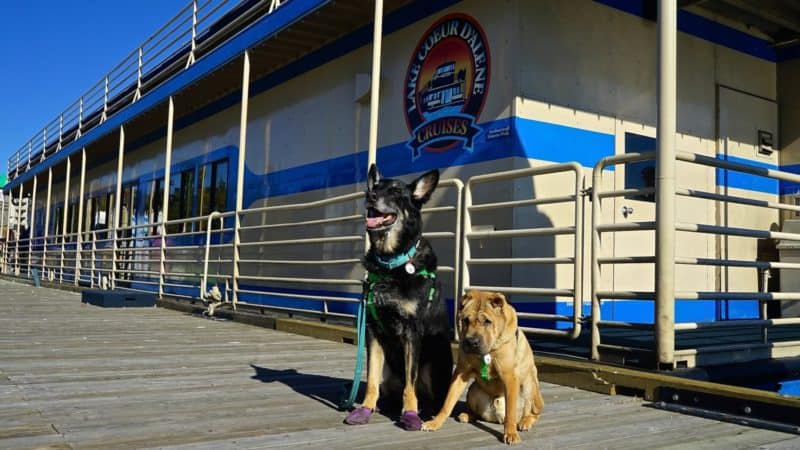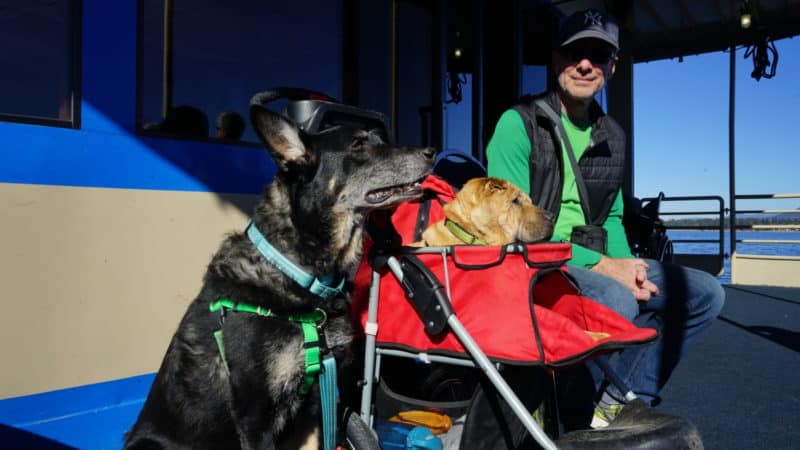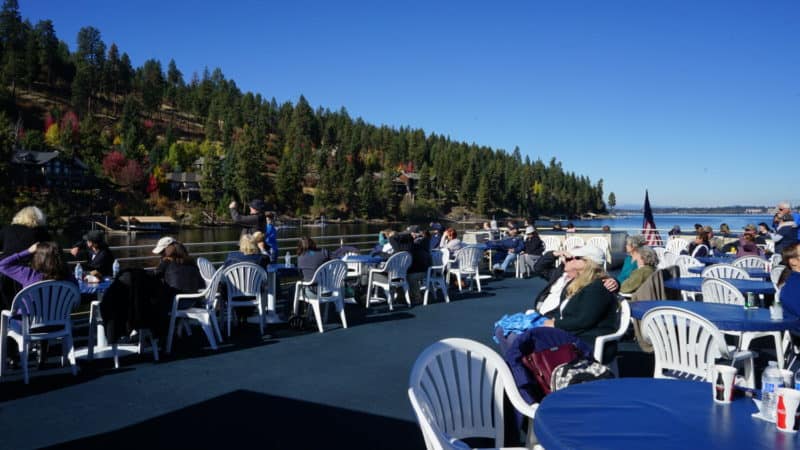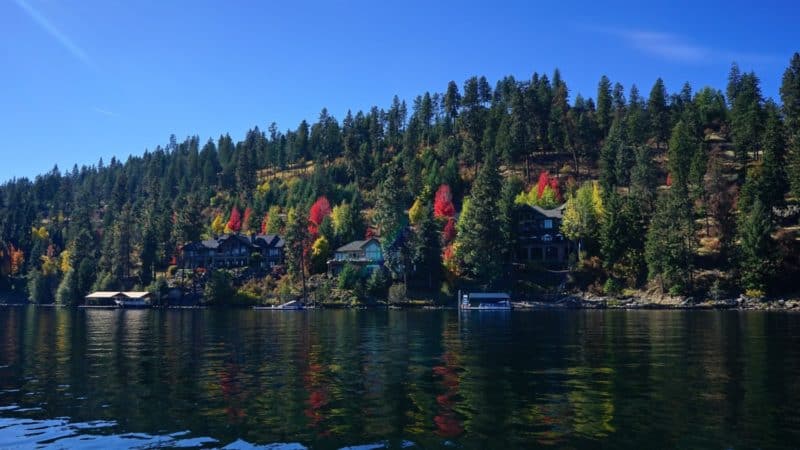 McEuen Park And Dog Park
McEuen Park runs down to the lakefront and has a playground, tennis, pickleball, and basketball courts, a splash pad for the kiddos, and an off-leash dog park for the pups. You can also access the Tubbs Hill trails, which are pet friendly, and follow the shoreline to south to Sanders Beach.
Pet Policy at McEuen Park and Tubbs Hill

Pets must be leashed unless they are inside the dog park enclosure
Within the dog park, please observe all posted rules
Outside the dog park, pets are allowed only on the paved paths in McEuen Park (The same is true of City Park a few blocks away.)
At Tubbs Hill leashed pets can go on all trails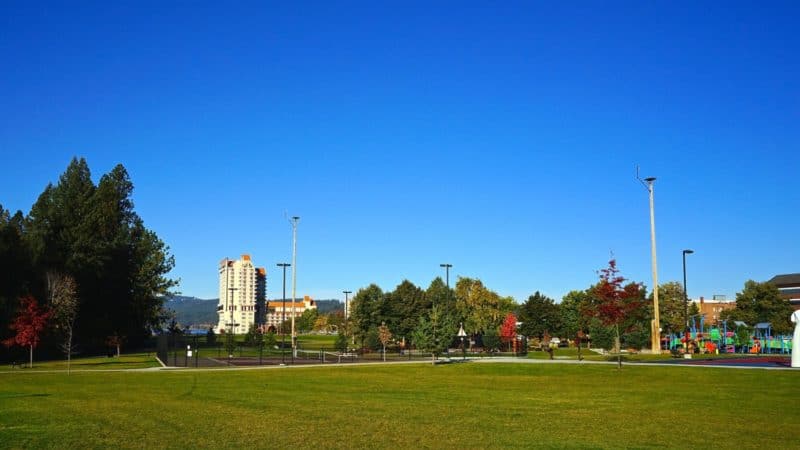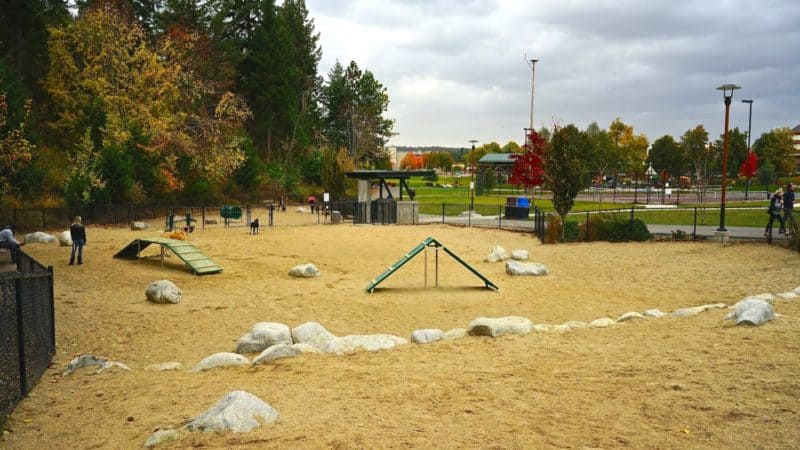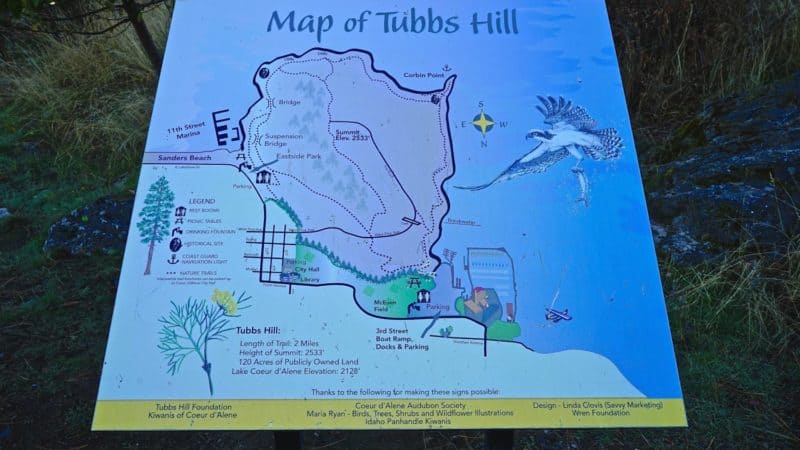 Hit the Pet Friendly Trails
Coeur d'Alene has a fantastic selection of trails, and there's one to accommodate every ability level. The trails at Tubbs Hill, mentioned above, provide great views of the lake, but you do need to keep an eye on the path for protruding rocks and tree roots. If you're looking for something smoother, hop on the 23-mile Centennial Trail, which runs east from downtown to Higgens Point, or west through City Park to the Idaho/Washington border following the Spokane River.
Pet on the Trails

Pets must be leashed
Please pick up pet waste and dispose of properly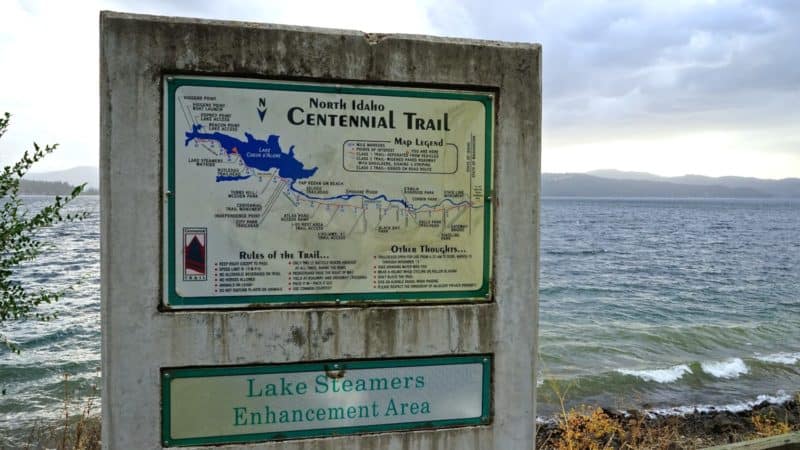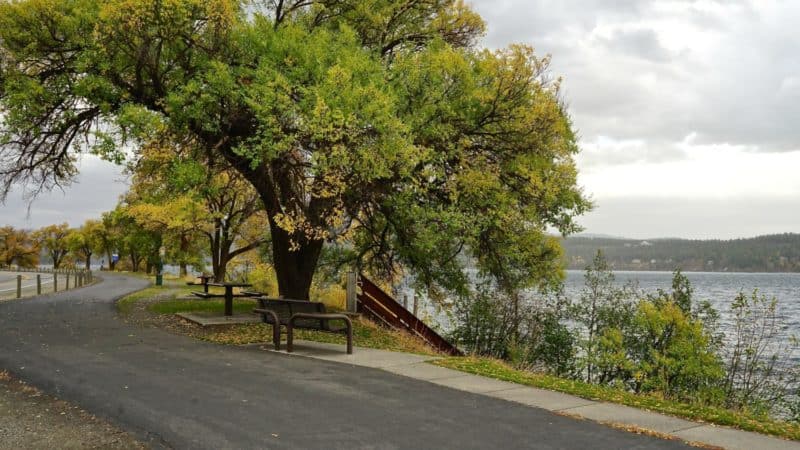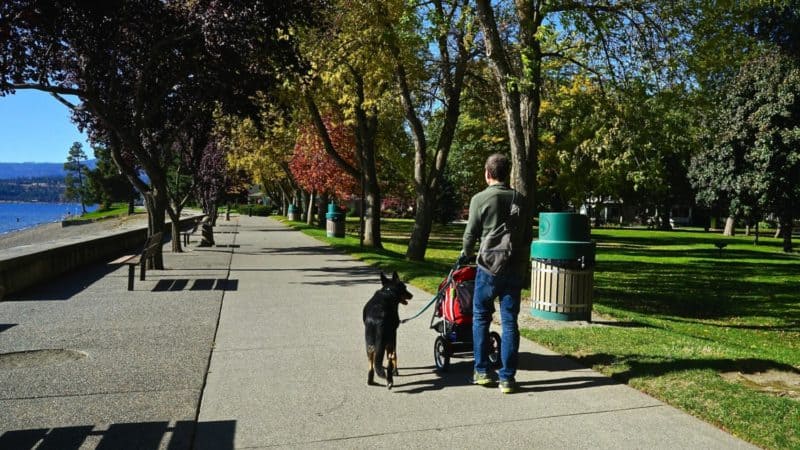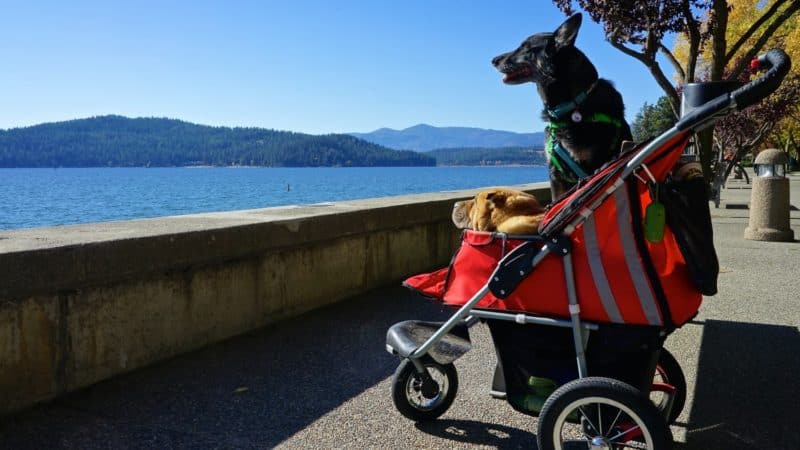 Another of our favorite hikes is at Mineral Ridge, about a 10-minute drive from downtown. This 3.3-mile loop is more challenging with the stroller than the paved trails, but the view of the lake at the end makes it worth the effort!
READ MORE ⇒  Best Strollers for Medium-Sized Dogs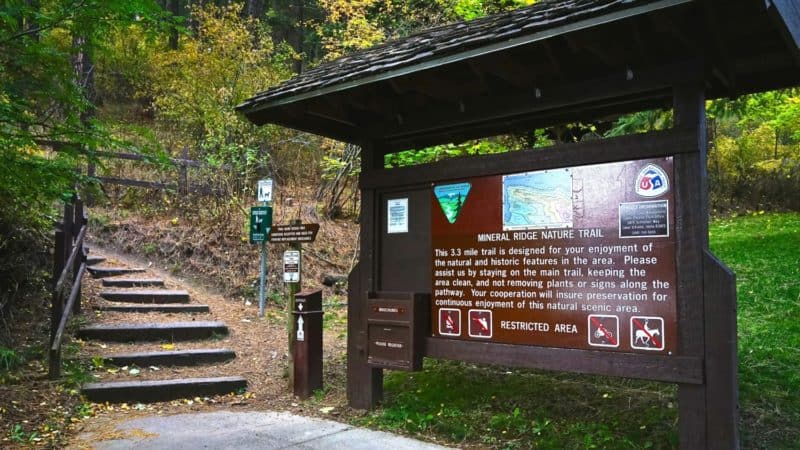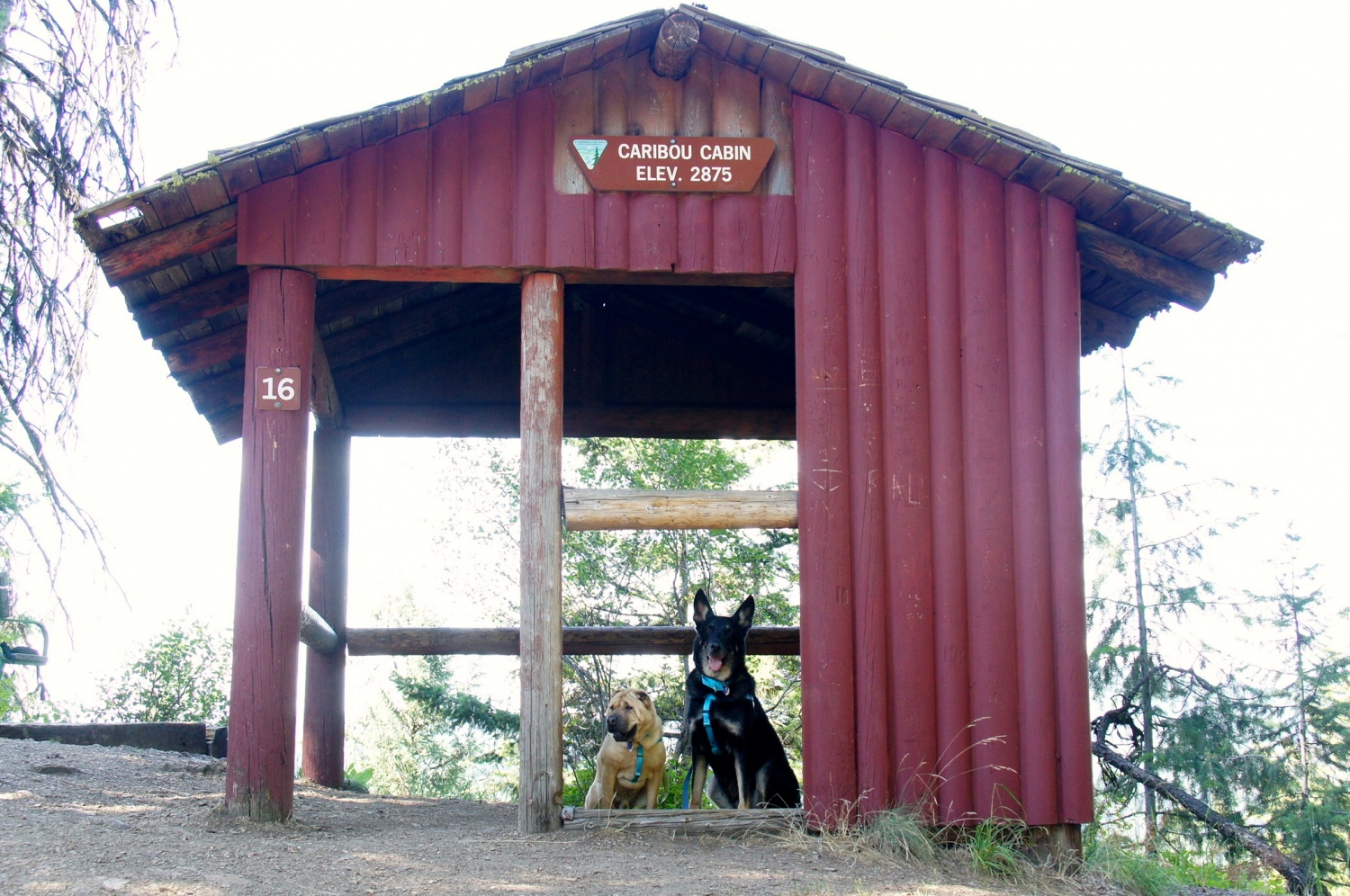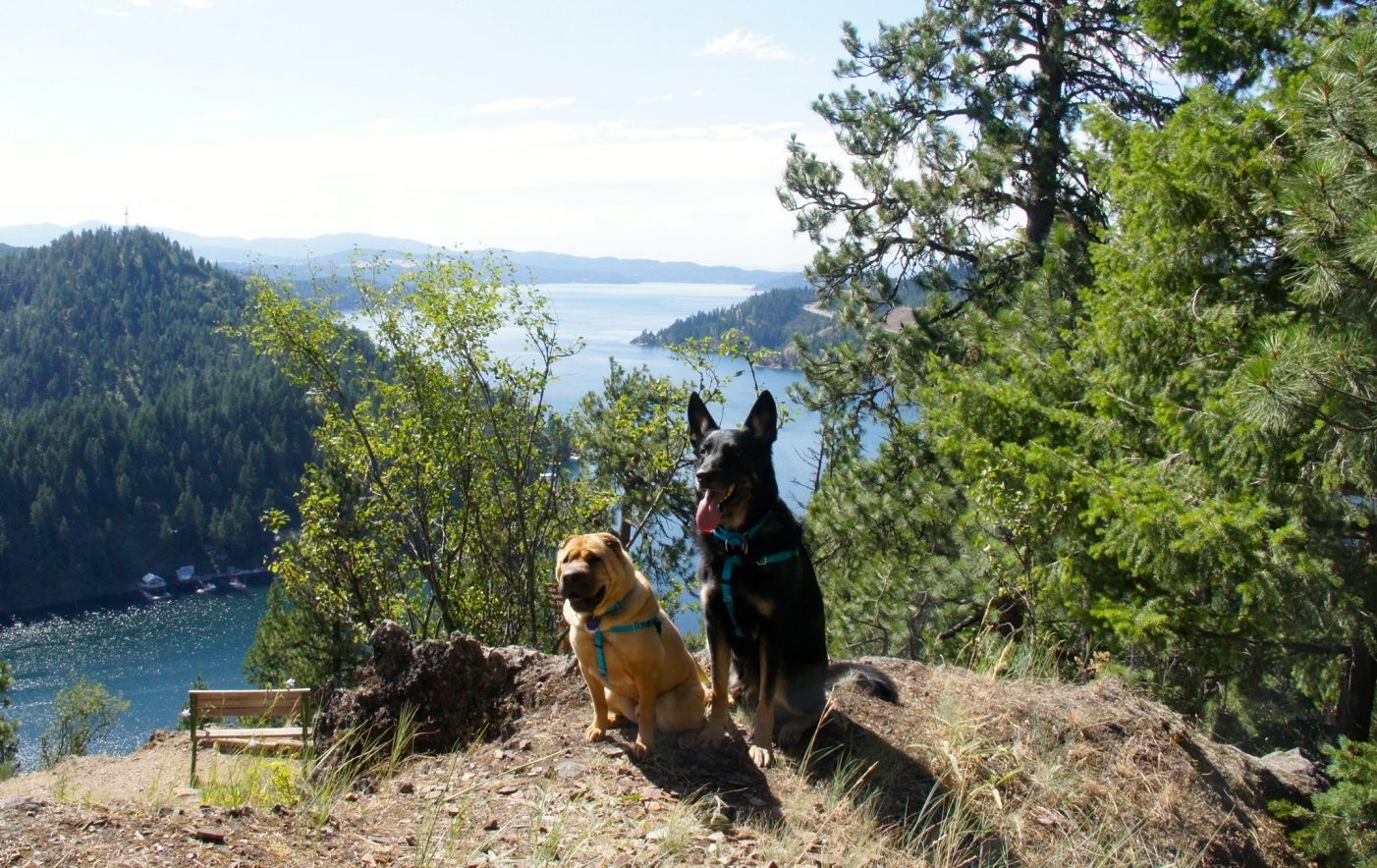 Take a Drive Around the Lake
The hike at Mineral Ridge puts you in a perfect position for a drive around the lake. Head south to St. Mary's and then drive up the western shore back to Coeur d'Alene. The landscapes on the opposing sides of the lake couldn't be more different. And there are plenty of places to stretch your legs, have a sniff, and enjoy the views as you go.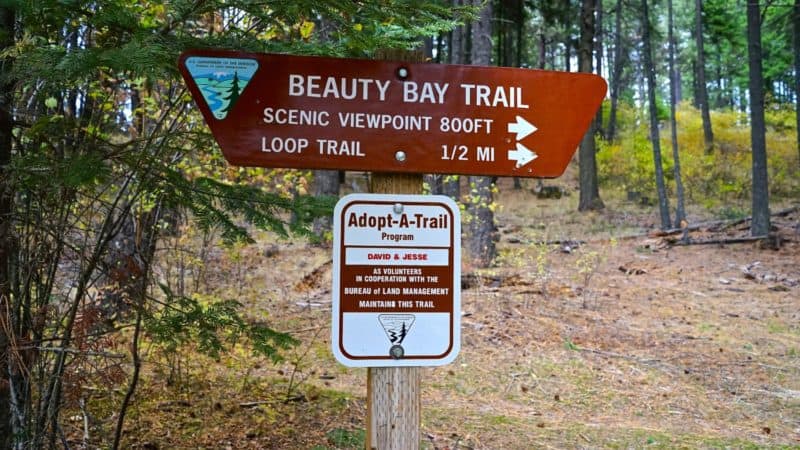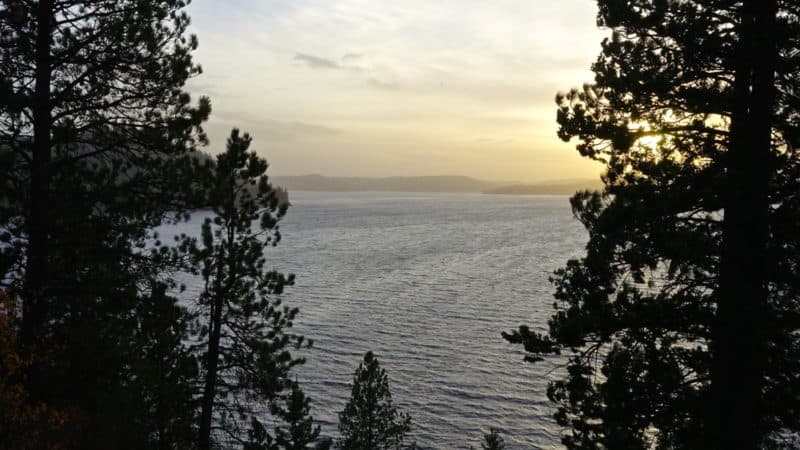 For a quiet walk, hop on the Trail of the Coeur d'Alenes in Harrison. This 72-mile paved trail follows the old Union Pacific Railroad right-of-way from Mullan to Plummer. The trail provides especially nice access to the lake, and there's a fun place to stop for ice cream on your way back to the car!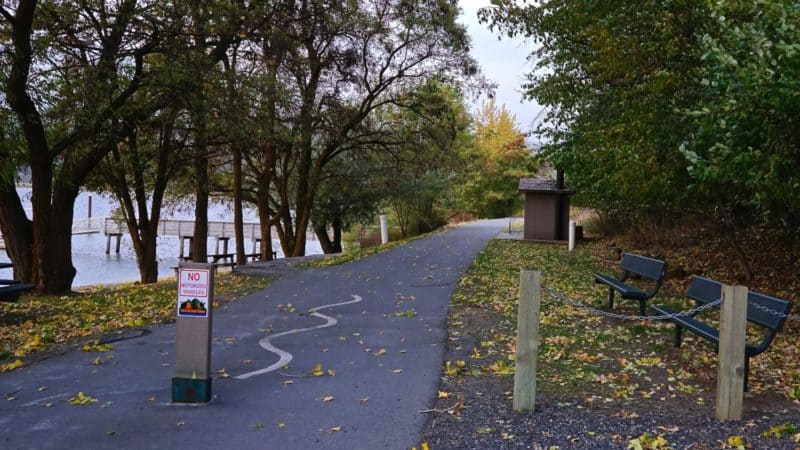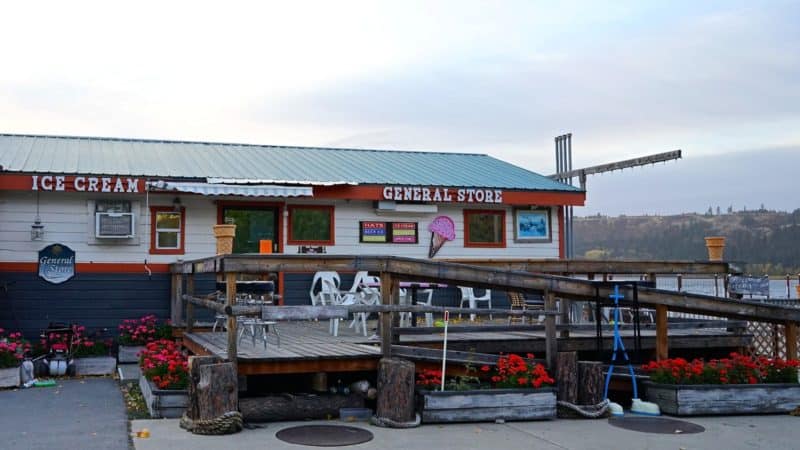 If you time your drive just right, you'll get back to town in time to catch the sunset.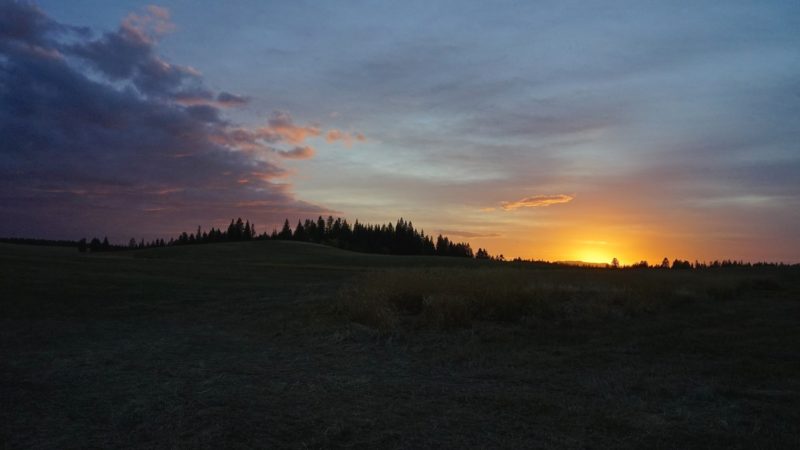 Book a Room Overlooking the Lake
To maximize your lake time, book a room with a view at the pet friendly Coeur d'Alene Resort. When it comes to pet friendly hotel "must-haves," the Coeur d'Alene Resort ticks all the boxes, and then some. They have a convenient area for nighttime bathroom breaks, a shop with pet essentials and gift items next door, and easy access to a multitude of restaurants with pet friendly patios.
The following eateries were happy to have Ty and Buster join us: Rustic, Iron Horse, Fine Brewed Café, Fire, Collective Kitchen, Sweet Lou's Restaurant and Tap House, Bakery by the Lake at Parkside, Coeur d' Alene Coffee Company, and Tony's on the Lake.
Pet Policy at Coeur d'Alene Resort

Please leash or place pets in a carrier in public areas
There is no limit on pet size or the number of pets you may have in your room
There is a one-time cleaning fee of $75 charged, regardless of the length of your stay
Please don't leave pets unattended
READ MORE ⇒  Tips for Keeping Dogs Quiet In A Hotel Room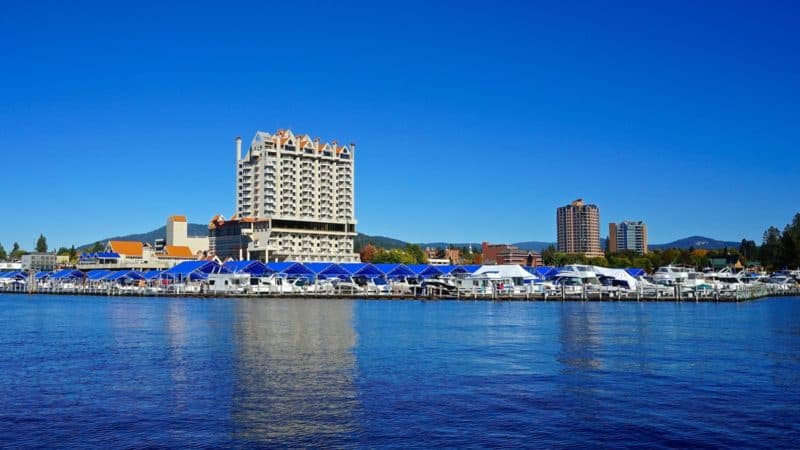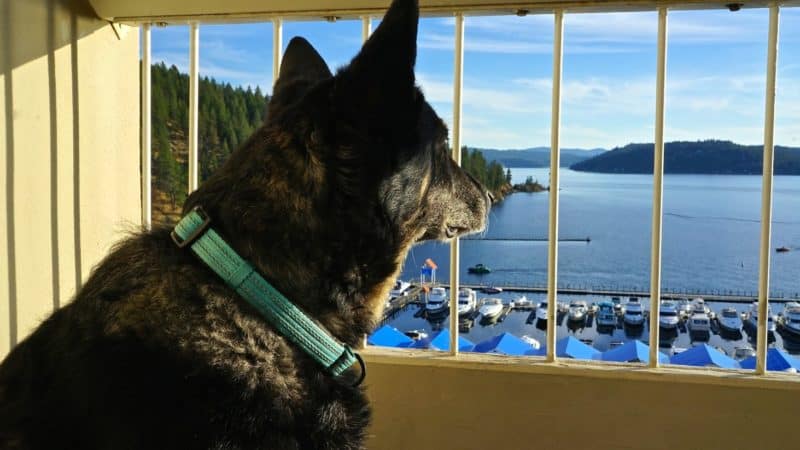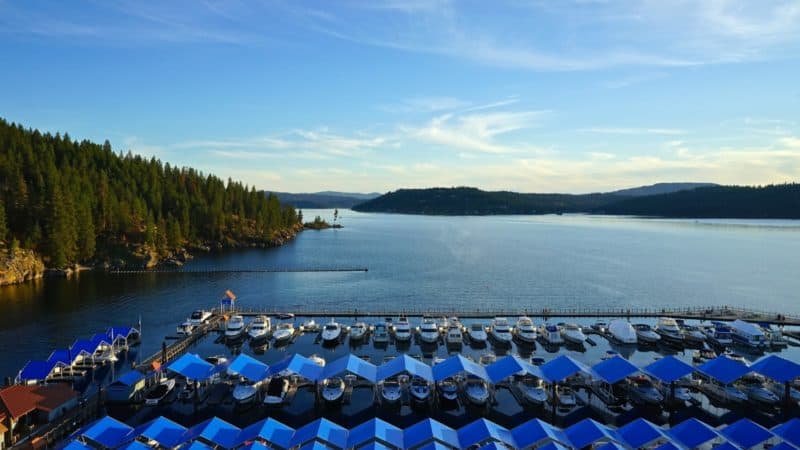 The rooms themselves are wonderful, with a balcony, fireplace, sunken living room, king bed, and huge bathroom and dressing area. Ty and Buster settled in immediately and enjoyed the easy life for a few days.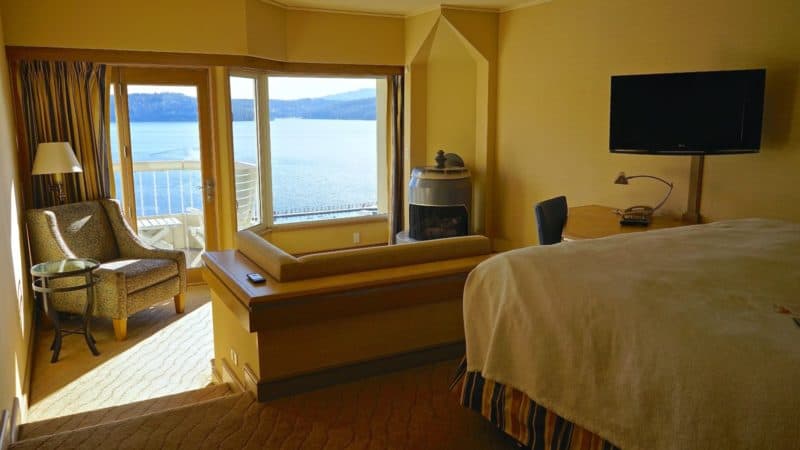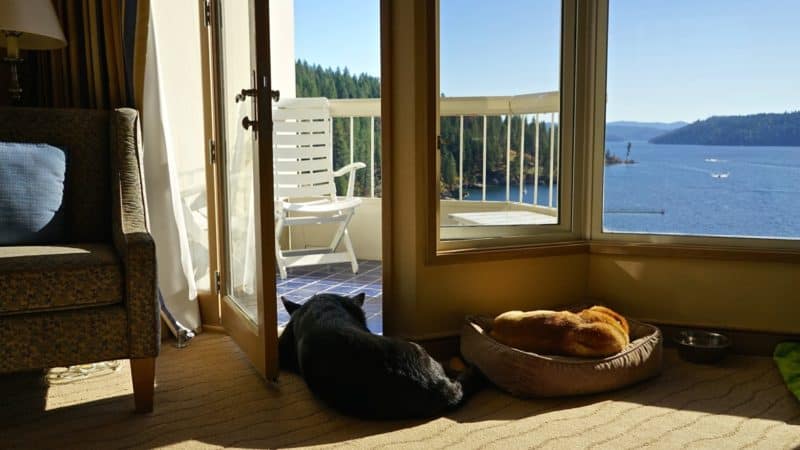 The hotel also has the longest floating boardwalk in the world – and pets are welcome there, too! At two-thirds of a mile long and 12 feet wide, the boardwalk provides a completely different perspective of the lake. It's the perfect place for a picnic lunch or to watch the sunset.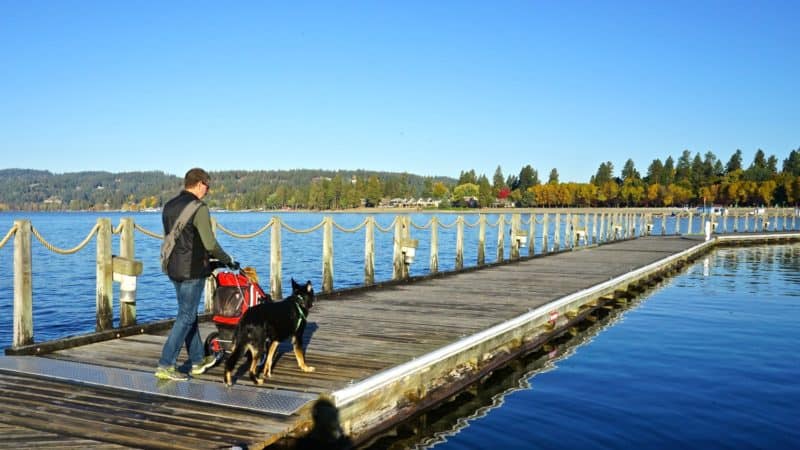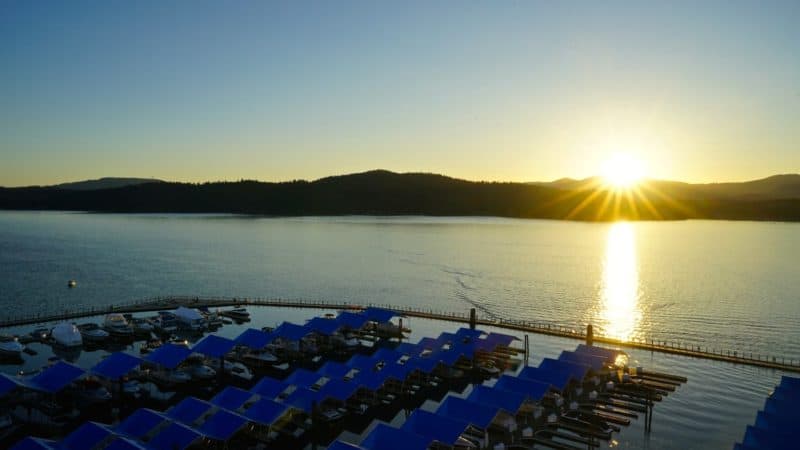 We hope our visit to Coeur d'Alene encourages you to see it for yourself. If you know of more pet friendly things to do in the area, share them in the comments!
Gear Used in This Post:
(Affiliate Links)

Sleepypod Clickit Car Safety Harness

See all the gear we use to make traveling with our pets easier, safer, and more fun!
Visit our Amazon store to learn about more products we rely on to make traveling with pets easier, safer, and more fun!
Amazon Affiliate Disclosure: GoPetFriendly.com LLC is a participant in the Amazon Services LLC Associates Program, an affiliate advertising program designed to provide a means for website owners to earn advertising fees by advertising and linking to amazon.com, audible.com, and any other website that may be affiliated with Amazon Service LLC Associates Program. As an Amazon Associate, the owner of this site earns a commission from qualifying purchases.
(Visited 13,111 times, 1 visits today)