This post is part of a series on The Ultimate Pet Friendly Road Trip, our 10-month, 15,000 mile tour of the top pet friendly attraction in each of the lower 48 states.
Wyoming's Top Pet Friendly Attraction: Bighorn National Forest – Medicine Wheel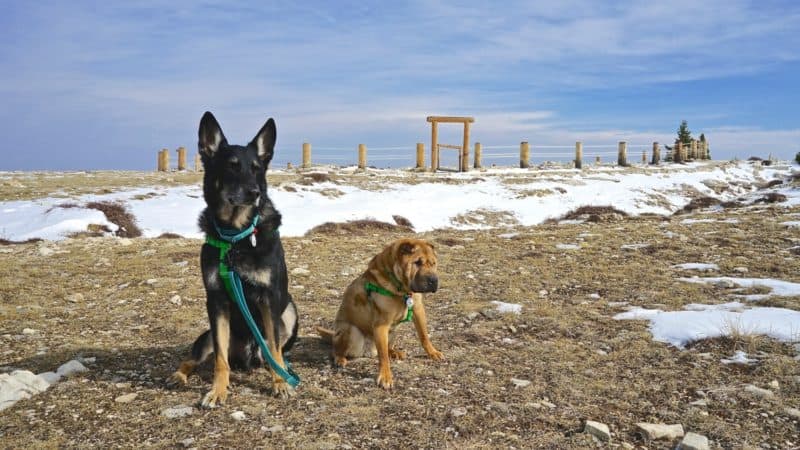 With the popular Black Hills of South Dakota to the east, and iconic Yellowstone National Park to the west, it would be easy to overlook the Bighorn Mountains. This sister range to the Rockies lies quietly in the shadows of her more famous neighbors … just another dot on the map for travelers bent on checking national parks off their bucket lists.
But being less conspicuous has definite advantages. Fewer crowds means more untouched splendor, country that still feels wild, and a chance for solitude to appreciate the ancient energy and substantial history that traces to these peaks and valleys.
One can't visit here without feeling an overwhelming urge to preserve such magnificence, and with that goal, this area was established as a US Forest Reserve in 1897 – making it one of the oldest government-protected forest lands in America. Now known as the Bighorn National Forest, the park runs south from the Montana/Wyoming border for 80 miles, following the spine of the Bighorn Mountains, and encompassing more than 1 million acres.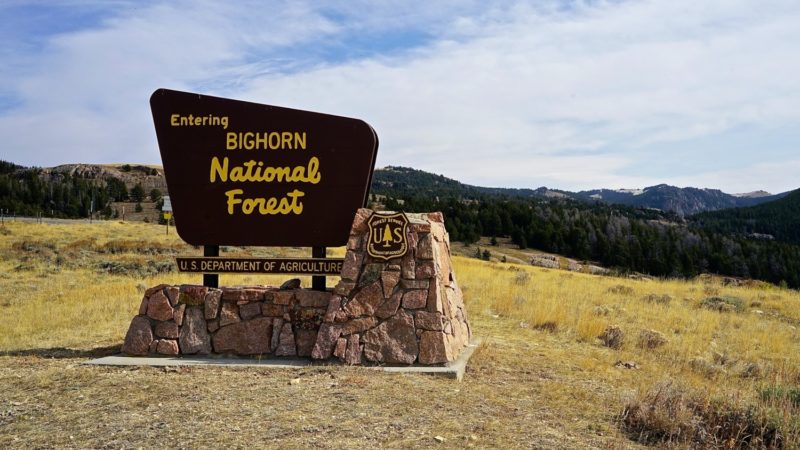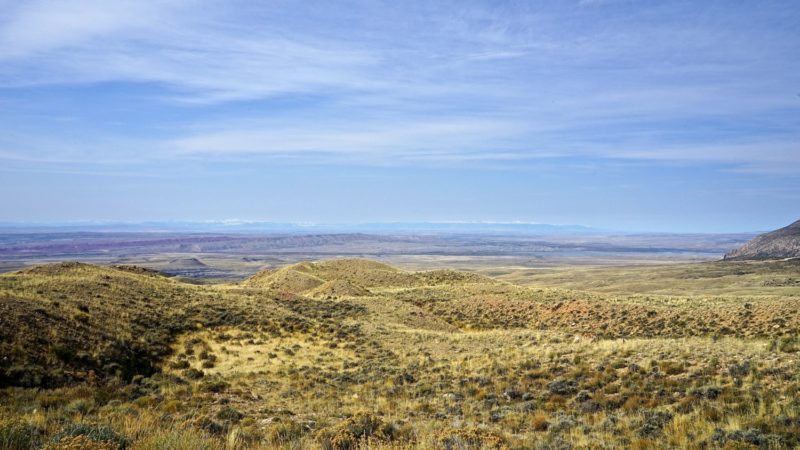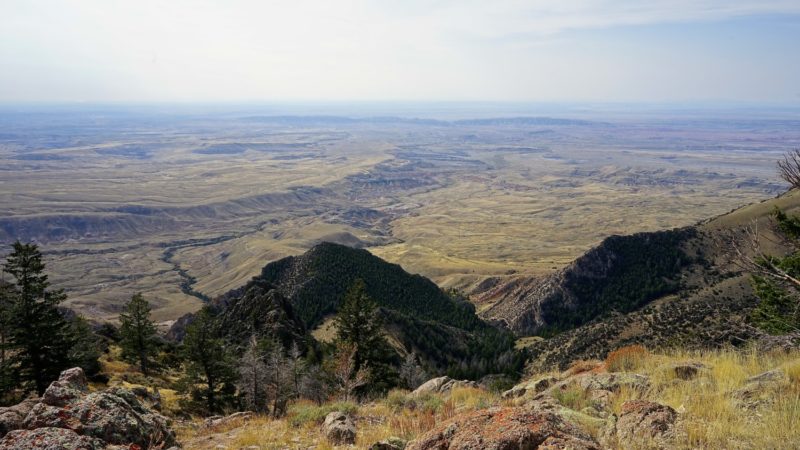 No terrain in Wyoming is more diverse, with elevations ranging from 5,000 feet along the sagebrush and grass-covered lowlands of the Bighorn Basin to 13,189 feet atop Cloud Peak, the highest point in the Bighorns. And opportunities to explore abound, with 1,500 miles of trails, 32 campgrounds, picnic areas, interpretive sites, and three scenic drives. For us, though, nothing speaks to the timelessness and beauty of the Bighorns like a visit to Medicine Wheel.
Medicine Wheel National Historic Landmark
The cultural history of the Bighorn Mountains dates back more than 10,000 years, and perhaps the most significant site of them all is Medicine Wheel. Made of white limestones about the size and shape of a loaf of bread laid in a rim-and-spoke pattern, this has been a place of sacred ceremony for longer than anyone can remember. Though Medicine Wheel lies within the homeland of the Crow Tribe, native people agree that it was created by ancient ancestors and has been used by many people for generations.
Positioned near the top of Medicine Mountain, at an elevation of 9,462 feet, you can still follow the deep-cut ancient trail to the site from Five Springs Campground. However, the climb is difficult and driving up Medicine Wheel Passage (US Hwy 14A) offers some fantastic views as it rises sharply from the Bighorn Basin near Lovell, and winds through steep canyons and high alpine meadows to Burgess Junction.
The turn for Medicine Wheel is well marked, and the parking area is about 1.5 miles down a narrow gravel road. From the parking area, it's typically a nice 1.5-mile walk out to the site on a gravel road with gradual elevation changes. However, on this visit, our timing was off a bit … depending on which members of the GoPetFriendly.com team you ask.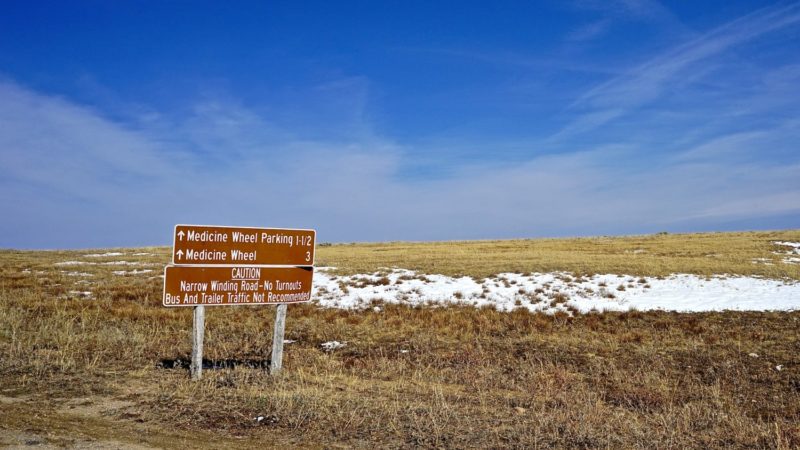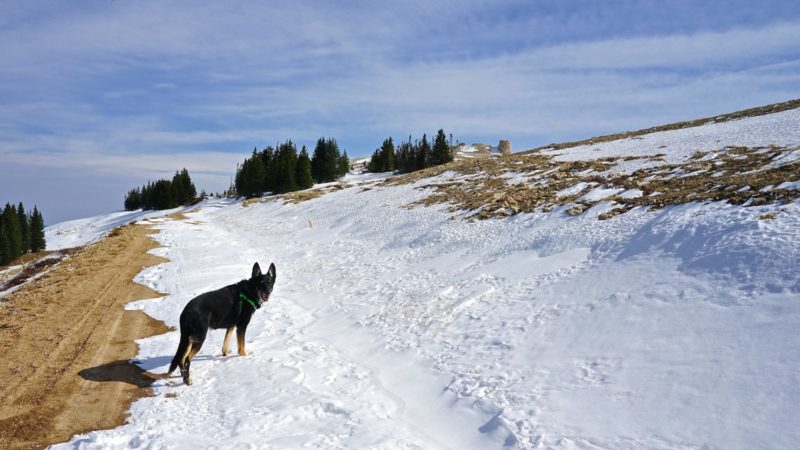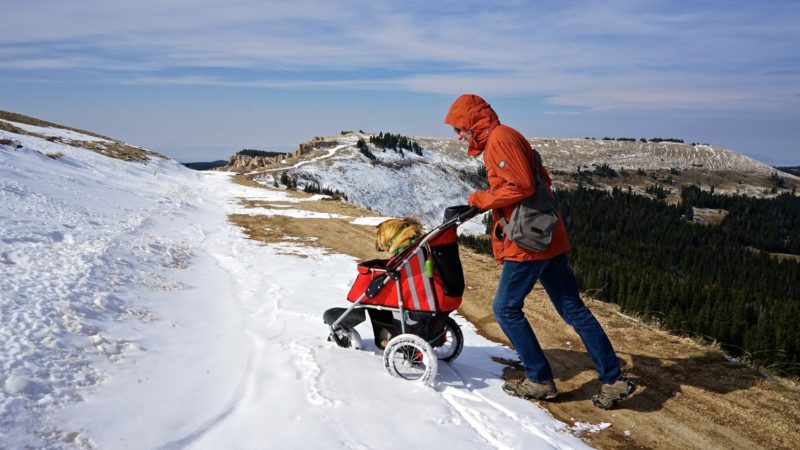 Buster was DELIGHTED to find snow at this elevation, and couldn't wait to get out for a good romp. Rod, Ty, and I were less enthusiastic about the road conditions, but were nonetheless determined to complete our mission. Because our visit in mid-October was late for the tourist season, the gate at the parking area was open and we were able to drive about half way to the site from the parking lot, which helped a lot since Ty's stroller didn't come with skis.
While we would have chosen to visit Medicine Wheel on a warm, sunny day, it was moving to experience this site at it's very simplest – no other people, no sound other than the wind, and no color other than the sky, earth, and trees. It was stark, windswept, isolated, and absolutely breathtaking.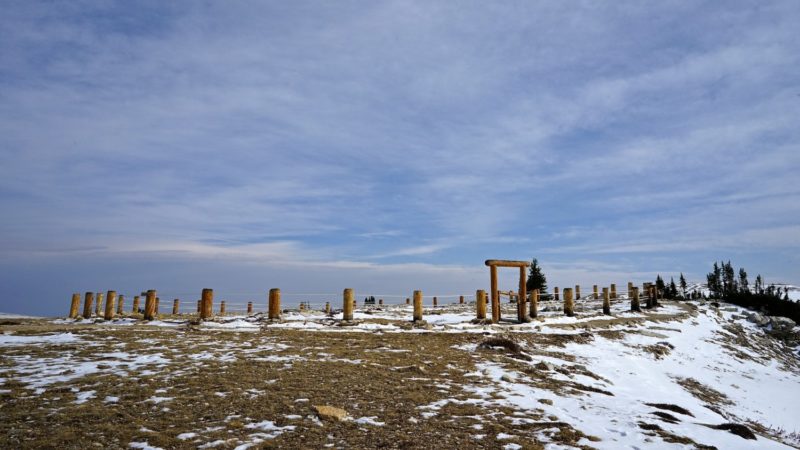 Of course, watching Buster also made the day special. The boy literally could not contain his joy, and seeing him bound through the snowbanks made all of us happy.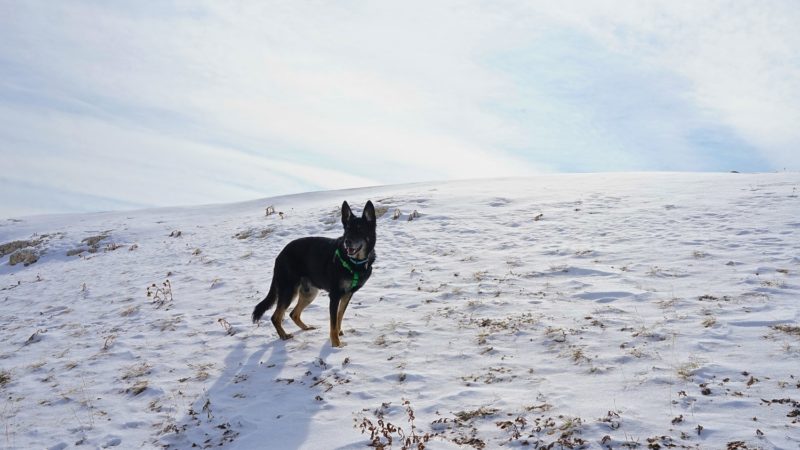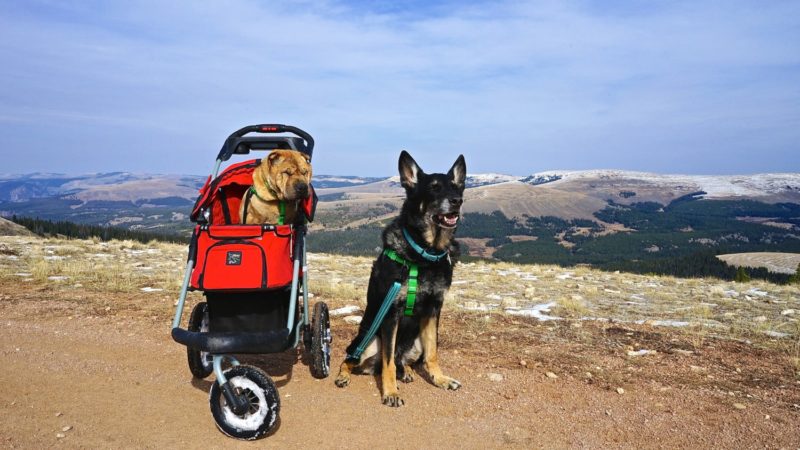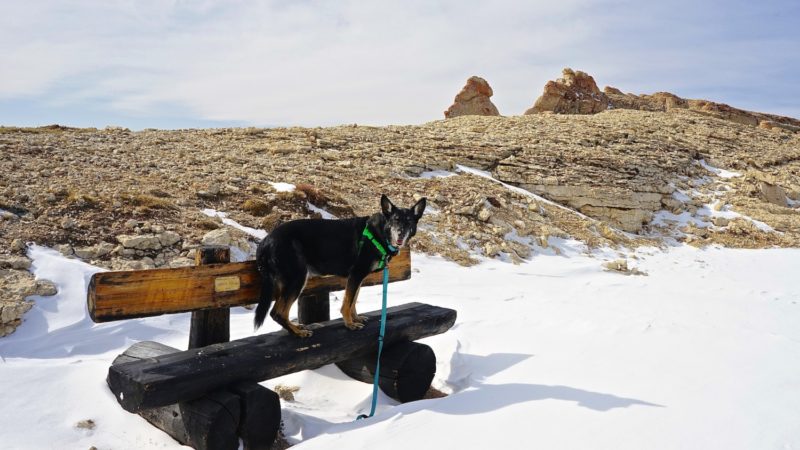 Navigating around snow drifts in the path was the only thing that tore our attention away from the scenery in every direction at this vantage point.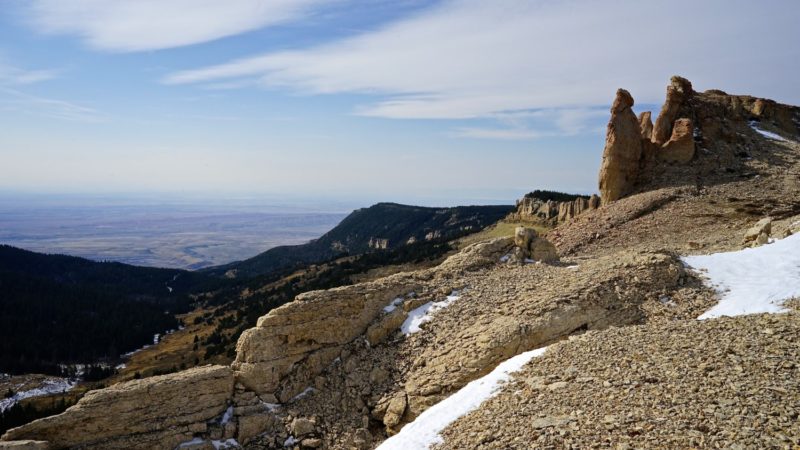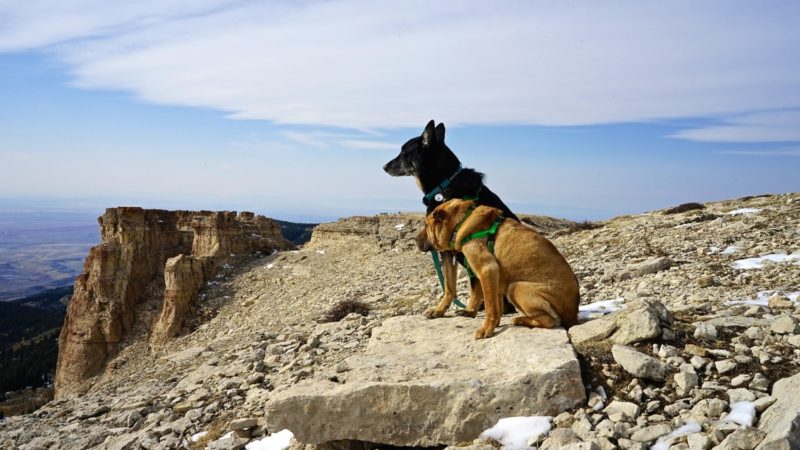 Pets at Bighorn National Forest's Medicine Wheel
Pets are welcome to enjoy the national forest's campgrounds, picnic areas, and trails with you, as long as they are on leash and cleaned up after. At the Medicine Wheel site, pets are not allowed on the circular walking path surrounding the Medicine Wheel, and people are asked to be respectful of the sacred nature of the site.
Pet Rules at Bighorn National Forest

Pets must be leashed
Pet waste must be picked up and disposed of properly
Pets are not allowed inside park buildings, including the visitor center
Pets at Medicine Wheel are not allowed on the circular walking path just outside the fence surrounding the structure and should be kept quiet near the site
In the Area
While you're in the area, it would be an absolute shame to miss Bighorn Canyon National Recreation Area. Just 20 miles down the road from Medicine Wheel, it has pet friendly trails, opportunities to view wild horses, and more unbelievable scenery. Stop in at the Visitor Center near the intersection of Hightways 310 and 14A for trail maps and an update on where the wild horses might be found.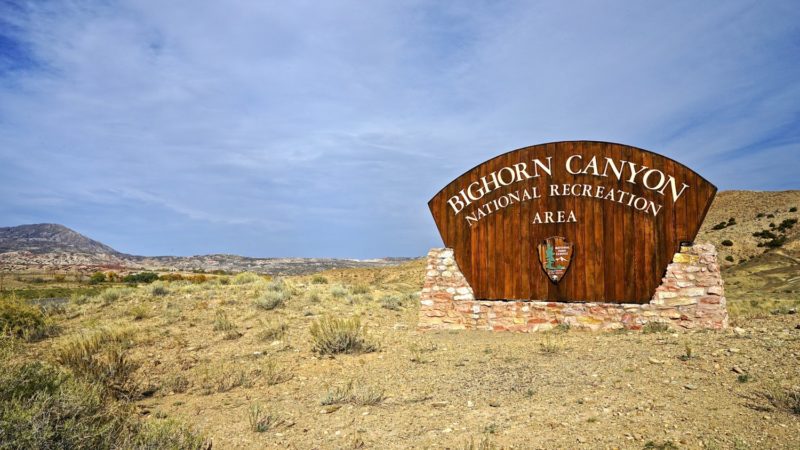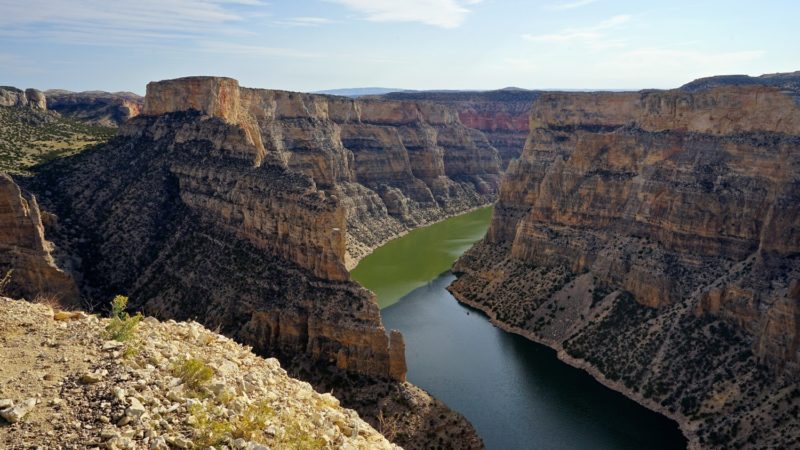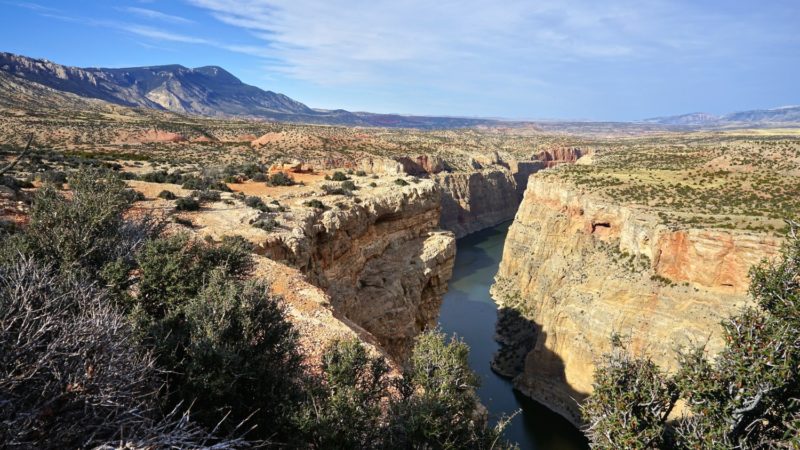 Thank You to Our Sponsors
Visiting these attractions with Ty and Buster is a dream come true. We'll be blogging about each one as we go along, so fasten your seatbelt and stay tuned!
The Ultimate Pet Friendly Road Trip wouldn't be possible without the support of our wonderful sponsors: Winnebago, 2 Hounds Design, Alcott, goDog®, PetGuide.com, Red Roof Inns, Sleepypod, The Bark, PetHub, RVPetSafety.com, and The Honest Kitchen. Please be sure to visit their websites and social media pages and thank them for their participation!
Amazon Affiliate Disclosure: GoPetFriendly.com LLC is a participant in the Amazon Services LLC Associates Program, an affiliate advertising program designed to provide a means for website owners to earn advertising fees by advertising and linking to amazon.com, audible.com, and any other website that may be affiliated with Amazon Service LLC Associates Program. As an Amazon Associate, the owner of this site earns a commission from qualifying purchases.
(Visited 6,095 times, 1 visits today)