Protecting 71,000 magnificent acres in South Dakota's Black Hills, Custer State Park is a place like no other. And with so many pet friendly options, the challenge here isn't finding things to do with your pet … it's deciding what to do first!
From picturesque drives to multi-day hikes, wildlife viewing to kayaking, campfires under the stars to elegant dining options, pet friendly Custer State Park has something to please everyone — and their pet!
Pets are welcome throughout Custer State Park, and pet owners are asked to comply with the following rules:

Pet Rules at Custer State Park

Clean up and properly dispose of pet waste.

Do not leave pets unattended in campgrounds, especially if they will disturb others.

April 1 – Sept 30: Pets must be on a leash no longer than 10 feet when in developed areas, including campgrounds. Elsewhere in the park pets must be under immediate control of the owner and at least 200 feet from developed areas and other park users.

October 1 – March 31: Pets can go without a leash, but must be under immediate control of the owner.

Pets are not allowed on swimming beaches.

Pets cannot go inside park buildings, including cabins, lodges, and comfort stations, unless the building is specifically designated as pet friendly.

Select rental cabins are available for those traveling with pets for an additional fee of $10 per night.
Pet Friendly Custer State Park in South Dakota
You and your pet could cover Custer State Park's most iconic sights in a week. But if you have time, stay for ten days or two weeks and enjoy this wonderful place at a more leisurely pace.
A longer visit will allow you seek out some of the quieter areas of the park, give you better chances for spotting wildlife, and provide a chance to reconnect with nature.
No matter how long you stay, Custer has some attractions you simply can't miss. Below are our suggestions for your agenda!
Wildlife Loop Road
Custer State Park's lush grasslands and rugged mountains are home to pronghorn, white-tailed and mule deer, bison, big horn sheep, prairie dogs, coyote, hawks, and oodles of other birds. If you're especially lucky, you might even catch a glimpse of a mountain lion, elk, mountain goat, or eagle! And Wildlife Loop Road is an excellent place to find them.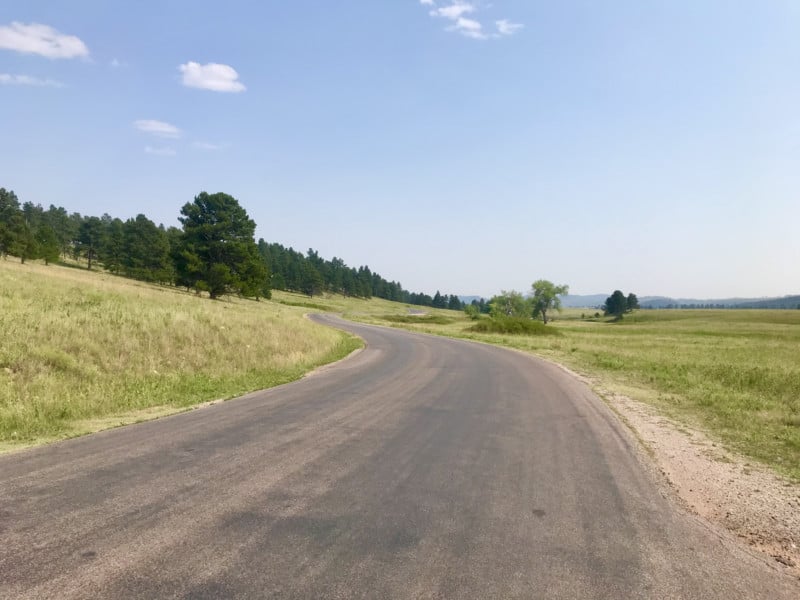 Open 24-hours a day, Wildlife Loop winds for 18 miles through grasslands and pine-covered hills. And, while wildlife are more active in the early morning and evening hours, animals can be spotted anytime of the day. So take the drive at your leisure, but be especially careful at night.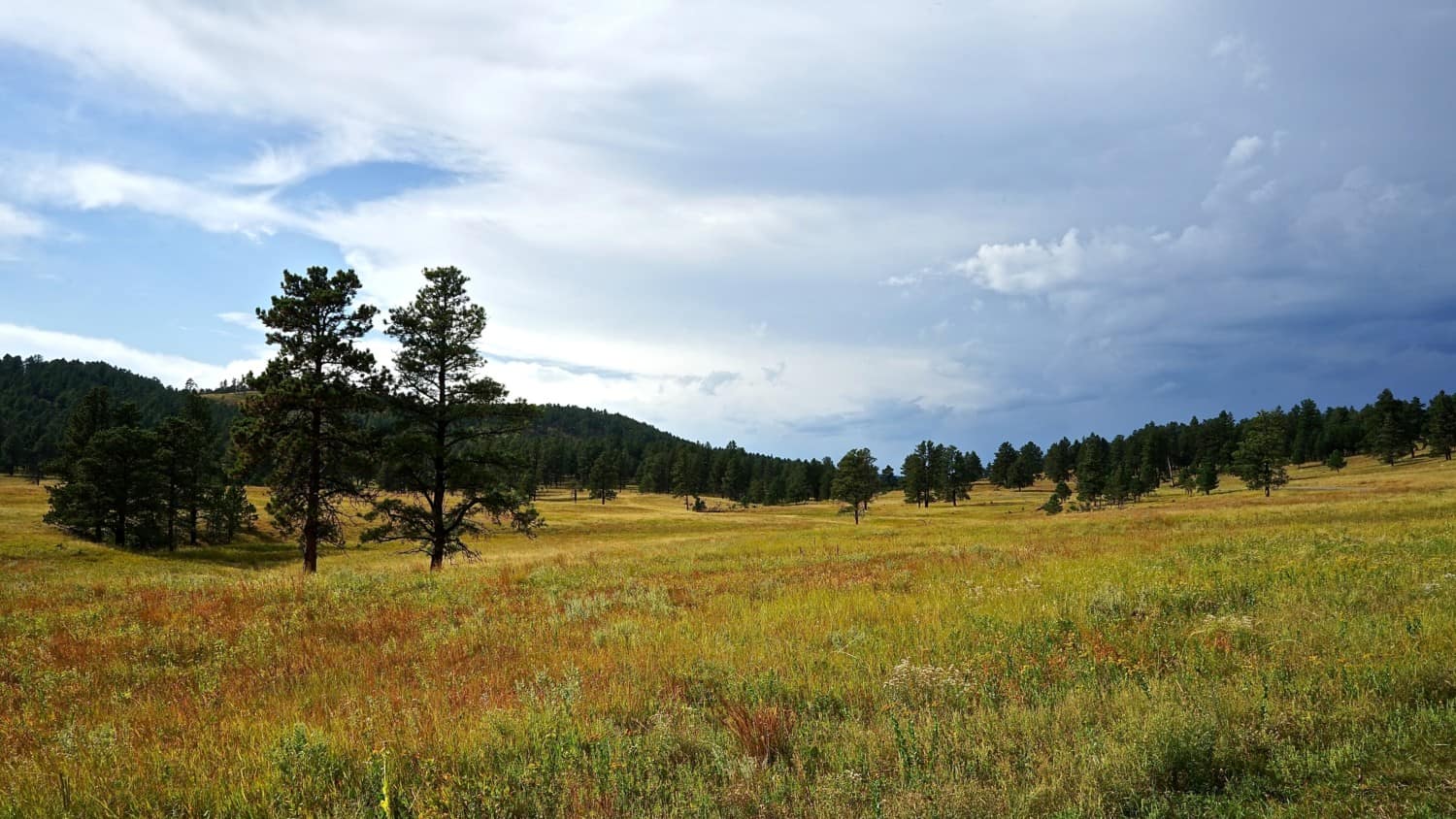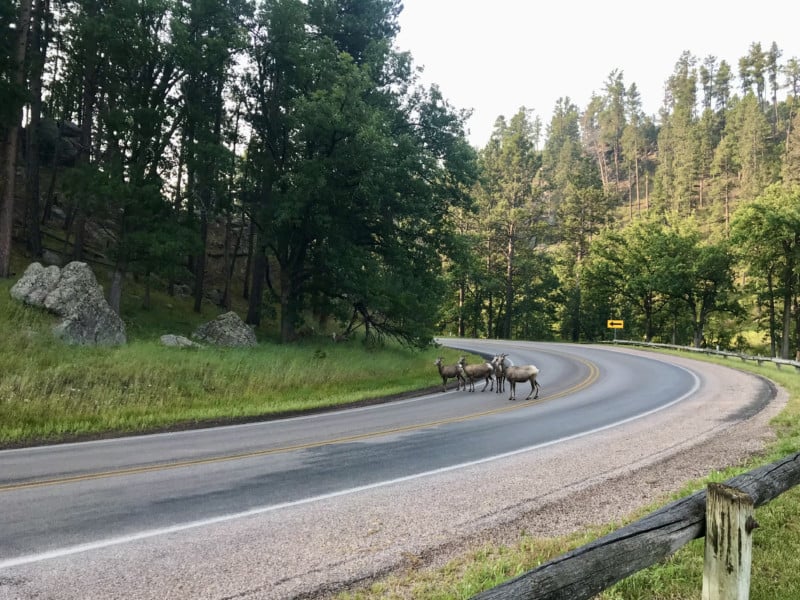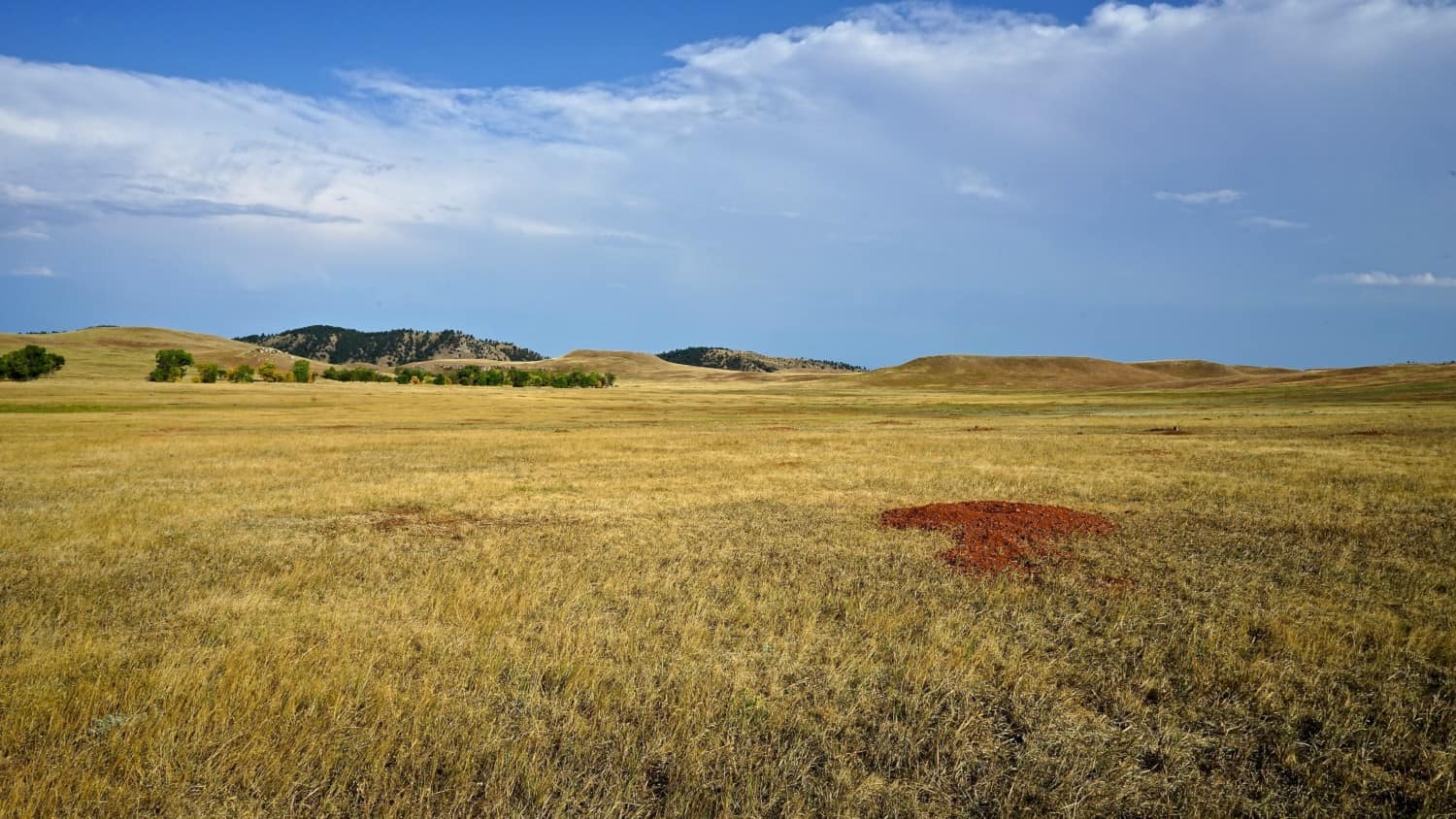 If you're hoping to see some of the park's 1,450 bison, ask about the latest sightings at the Visitor Center. They'll update you on the location of the bison herds, but males can be seen alone or in small groups almost anywhere in the park.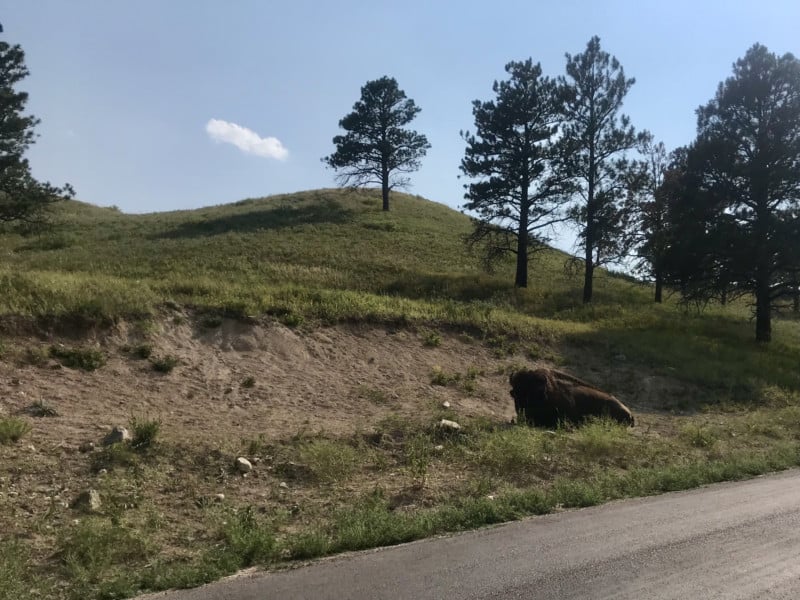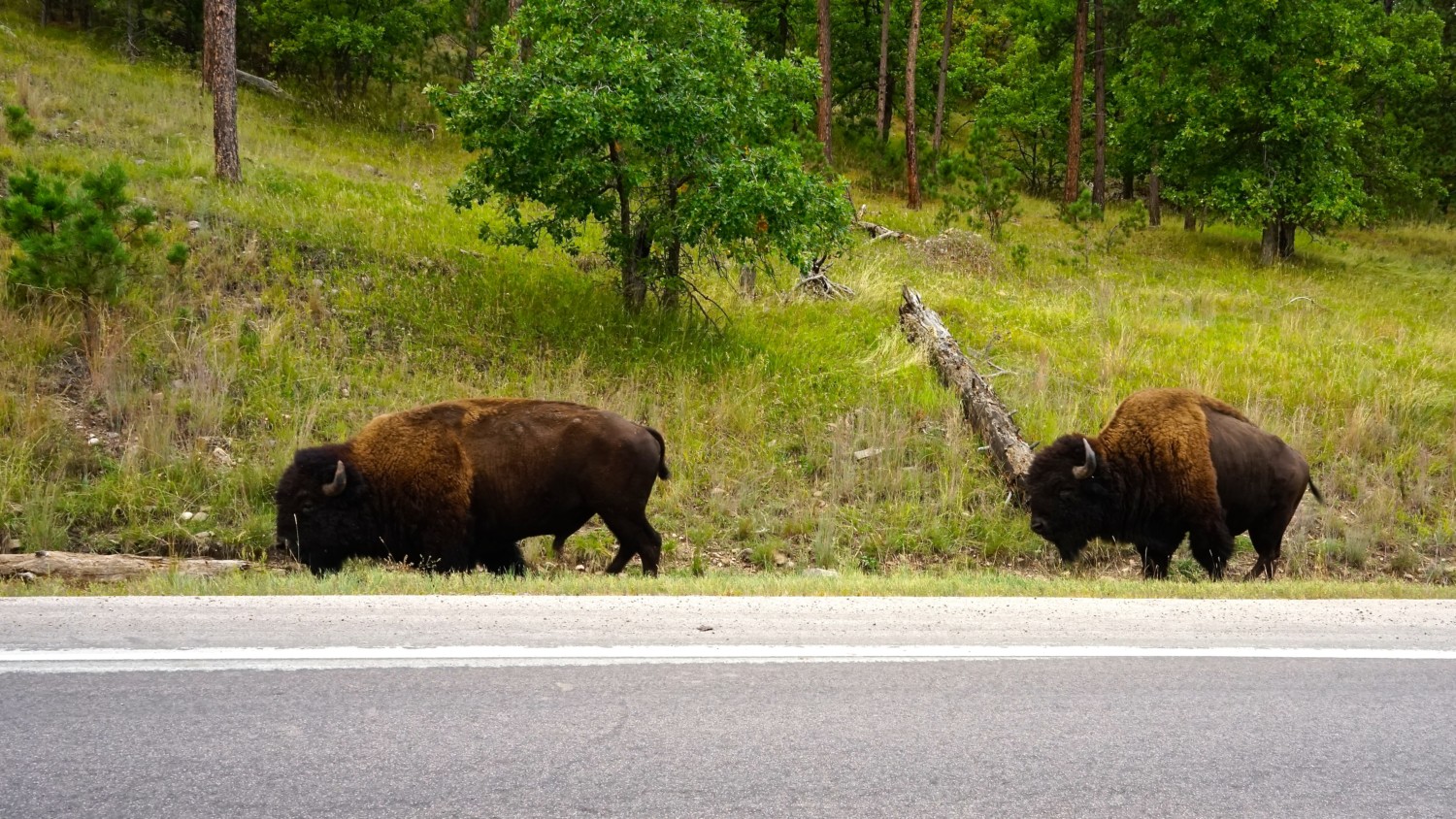 One animal you're sure to encounter along Wildlife Loop is the "begging burro." While they are technically wild, these guys put any dog's begging skills to shame!
Park rules prohibit feeding any of the animals, and doing so causes the burros to reject their natural food sources. Relying on humans to provide their next meal is especially bad in winter when park traffic slows. So please, resist the urge … even when they give you their "burro eyes."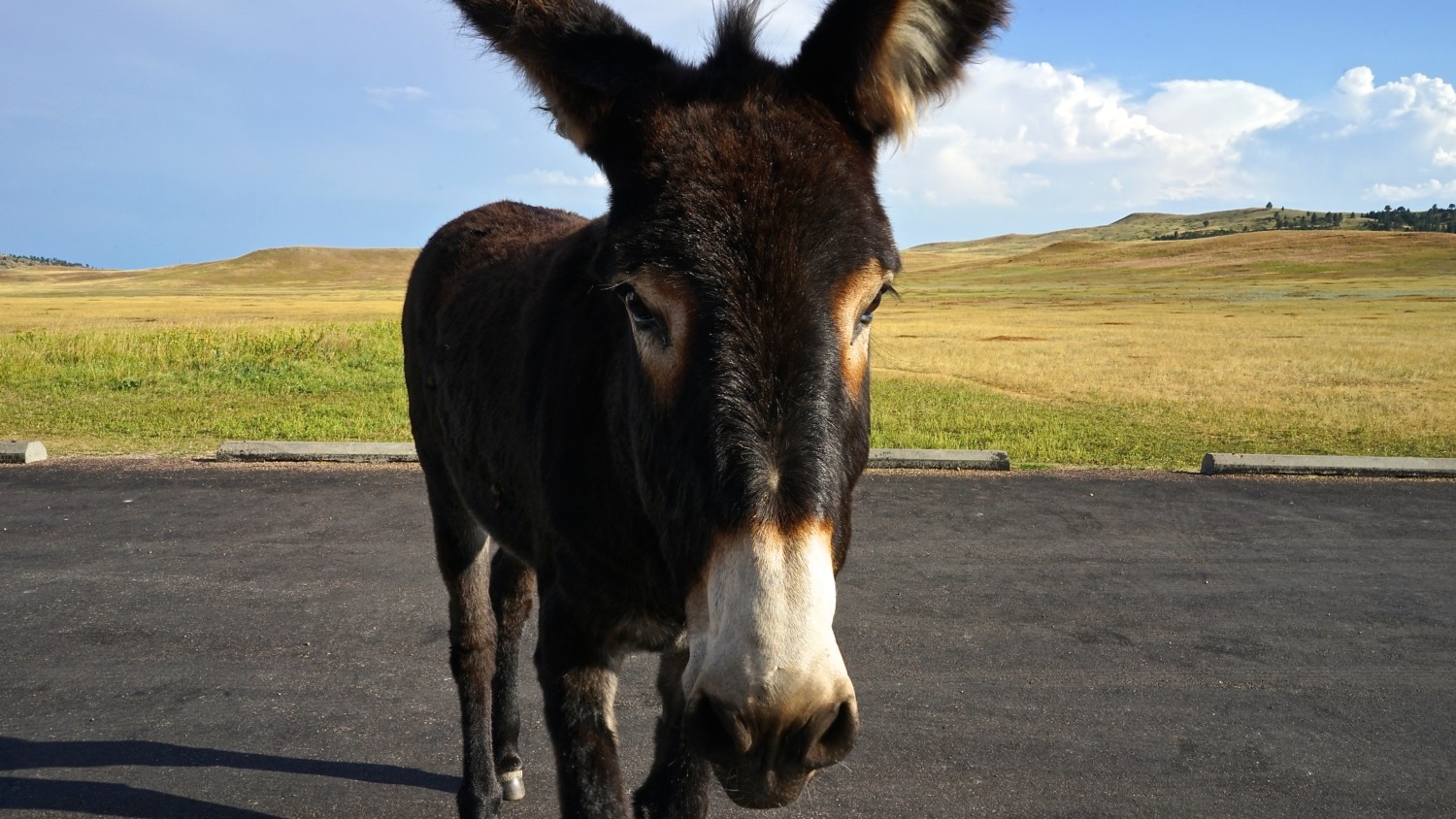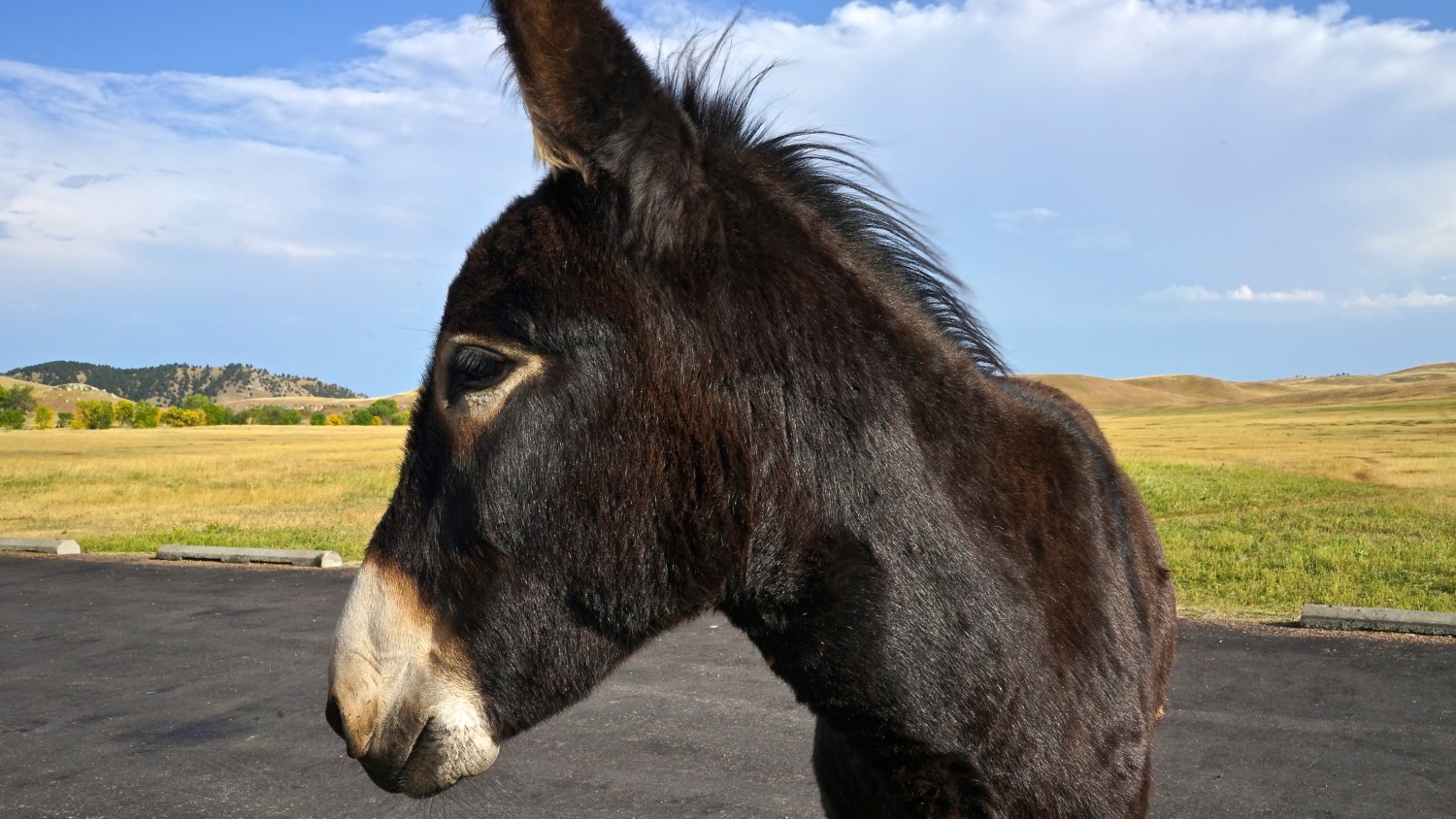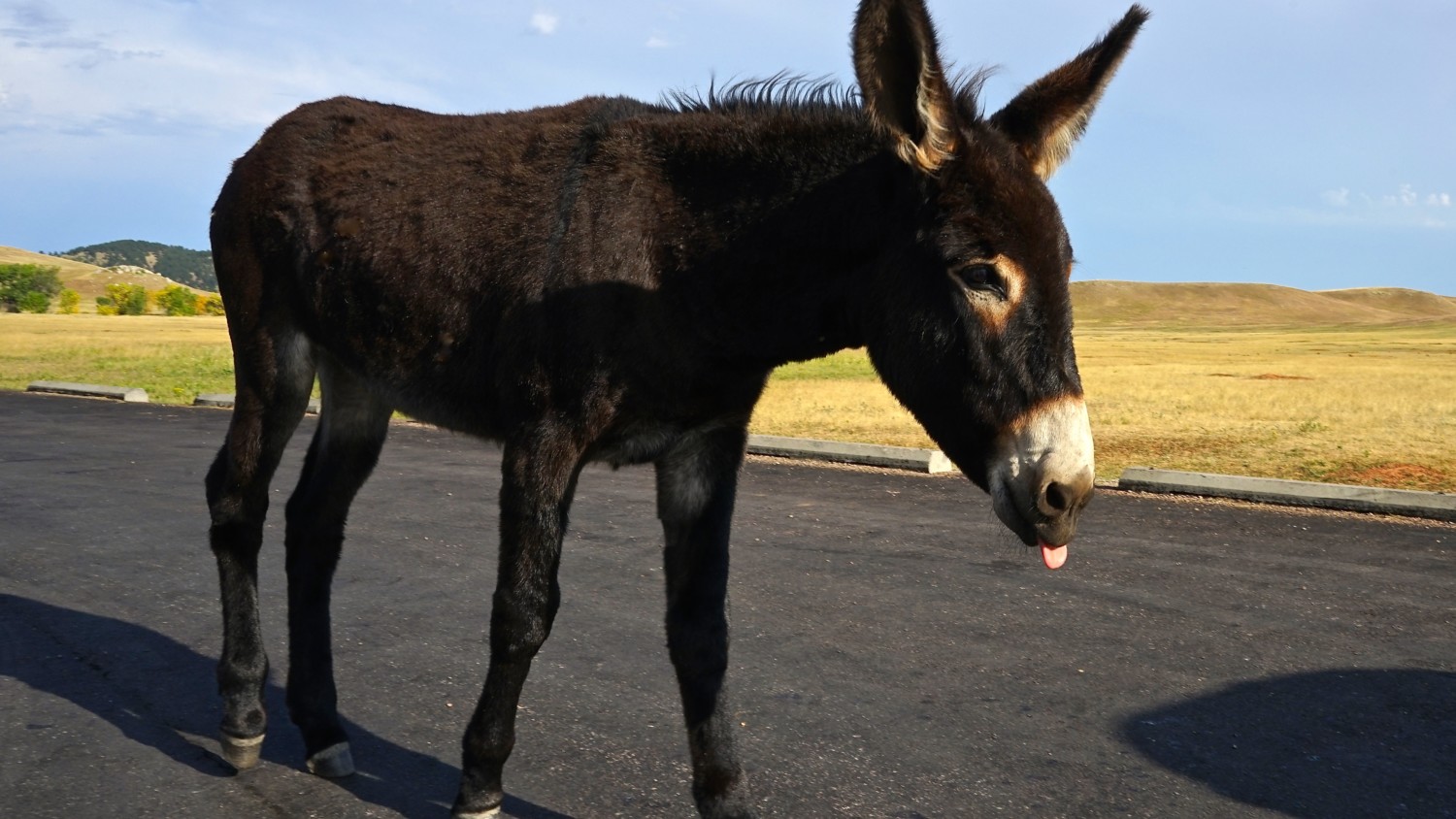 Needles Highway
The most popular reason for visiting Custer – after the bison, of course – is Needles Highway. This 14-mile drive twists around jagged granite mountains, through spruce and pine forests, and across meadows dotted with aspen and birch trees.
The park guide says it takes 45 to 60 minutes to dive Needles. If you're stopping for photos, allow closer to two hours.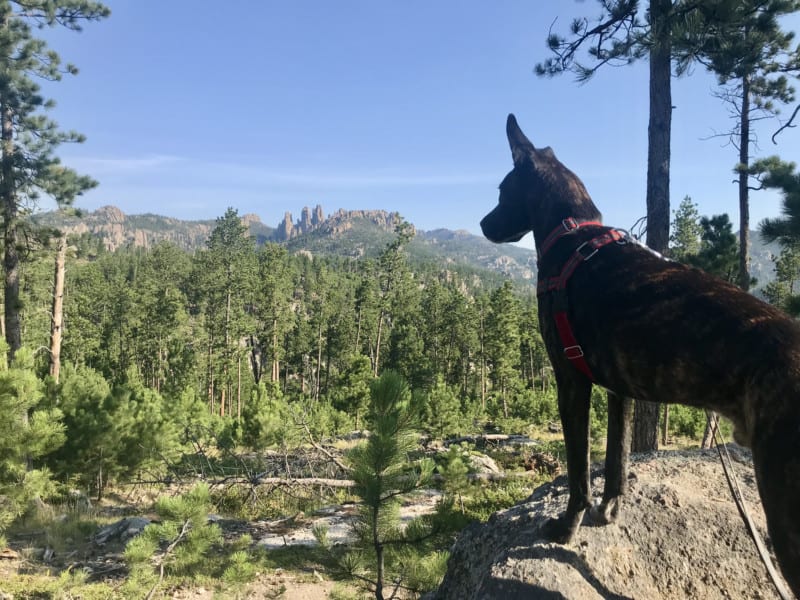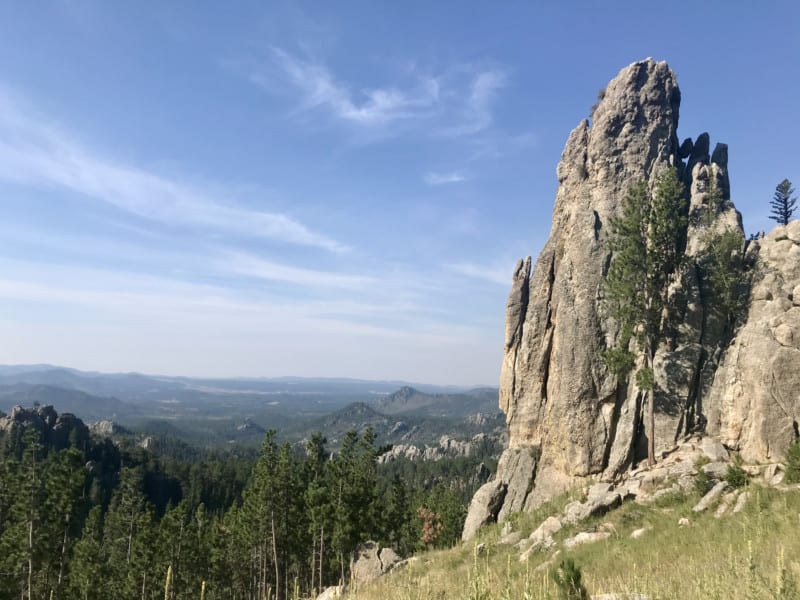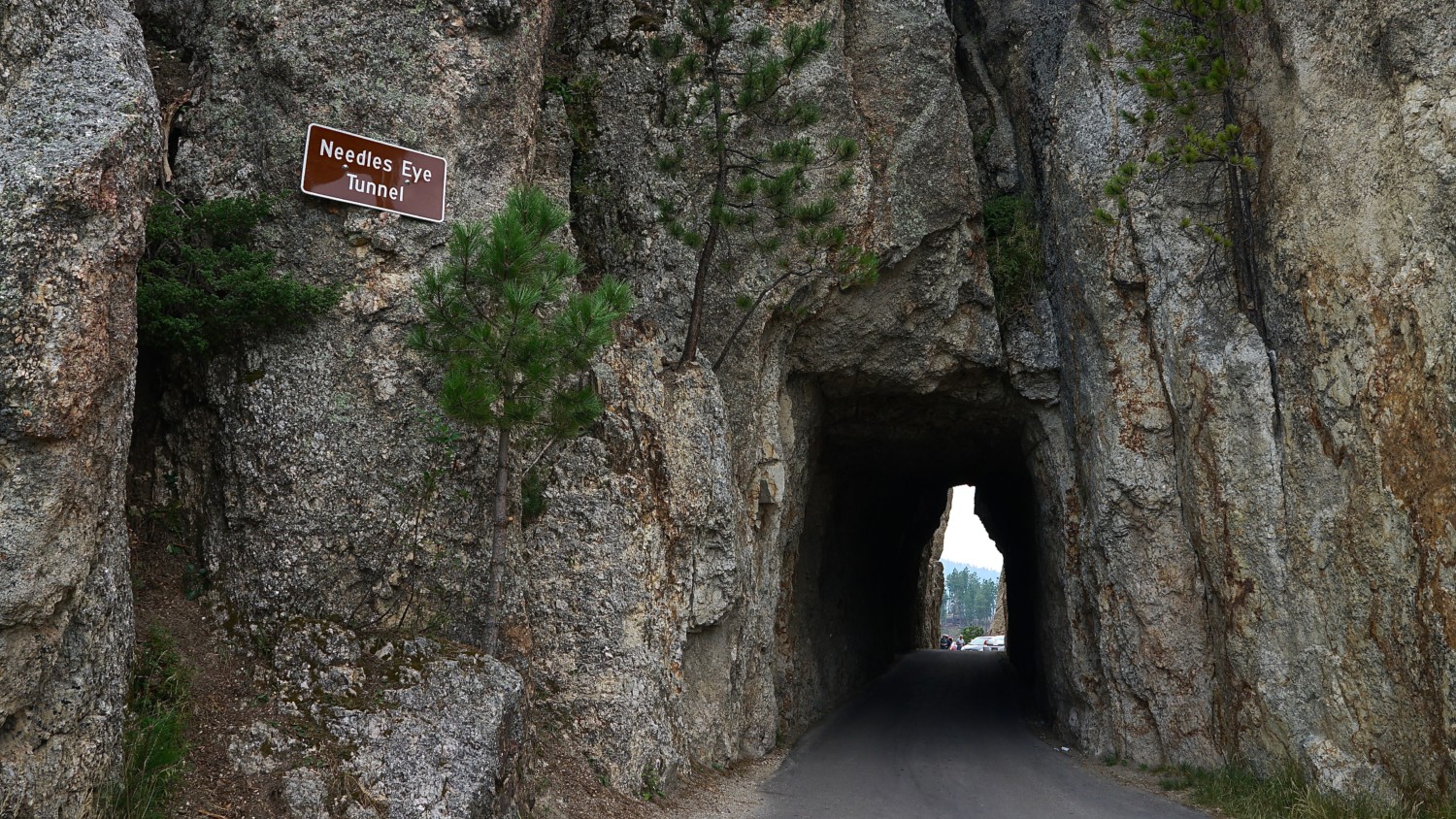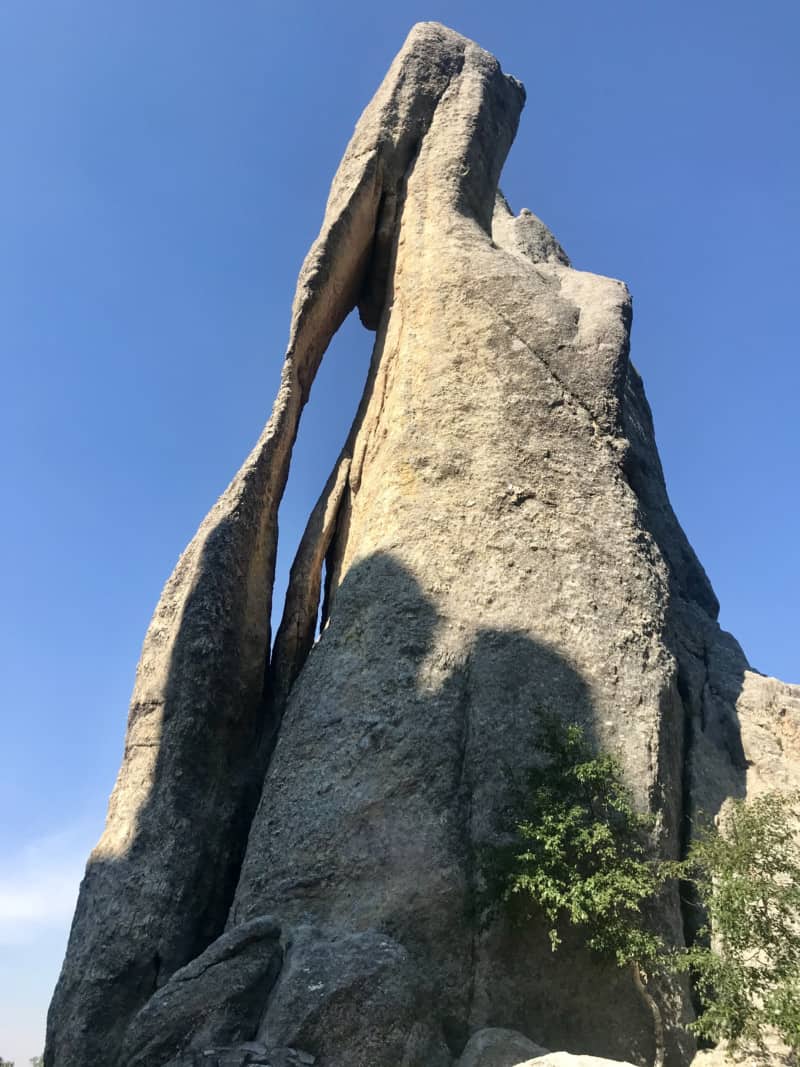 Iron Mountain Road
The other scenic drive you won't want to miss is Iron Mountain Road. Running through Custer State Park and the Black Hills National Forest, its 17 curvaceous miles include pigtail bridges that turn back on themselves, tunnels that frame Mt. Rushmore, and the incredible scenery of the Black Hills. It's a drive unlike any other.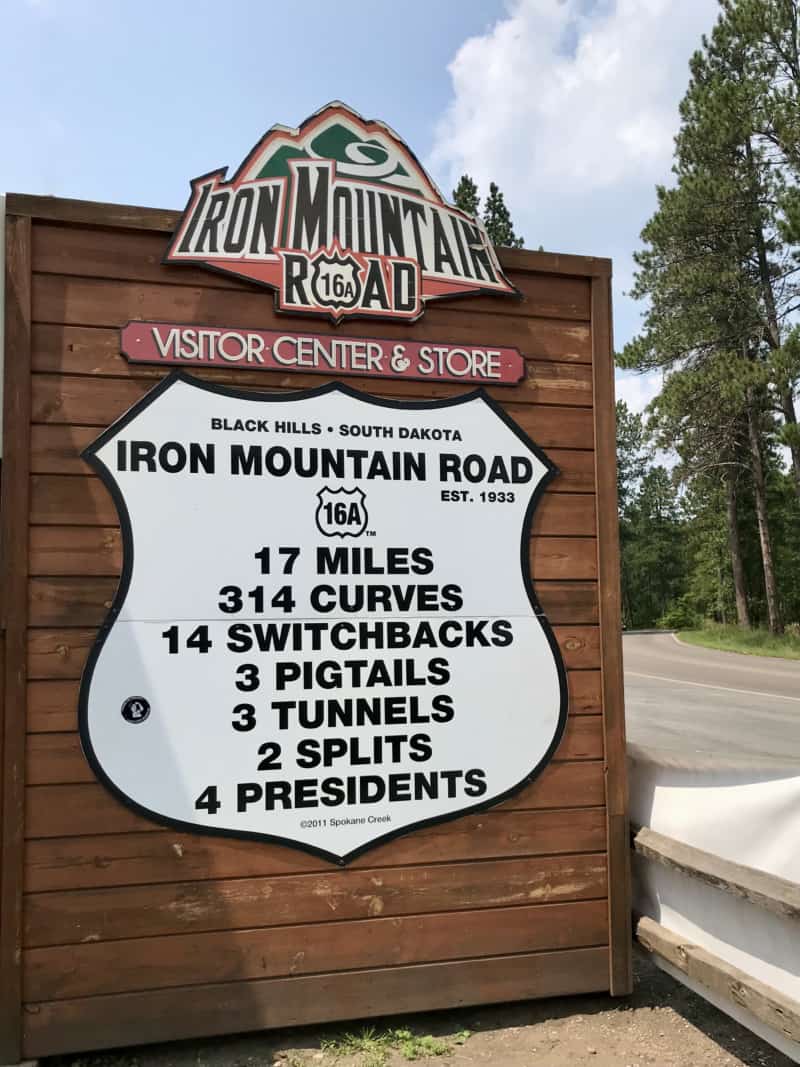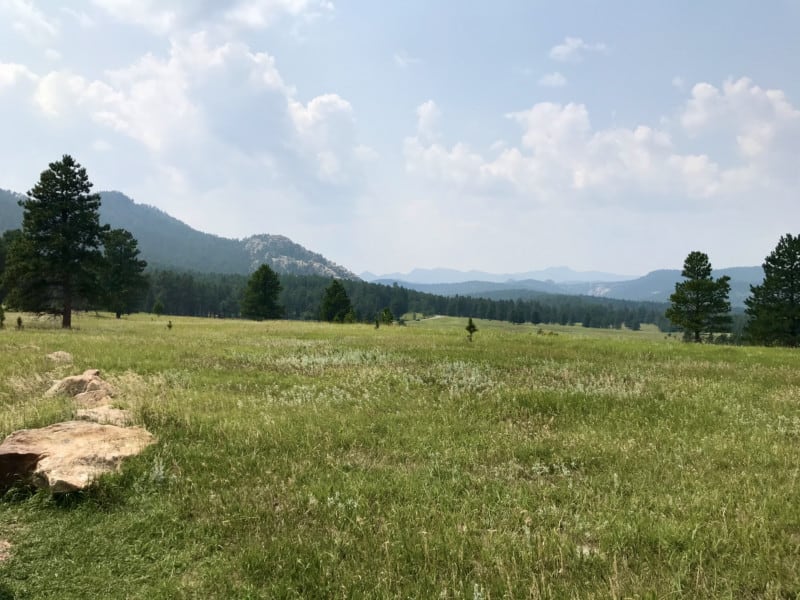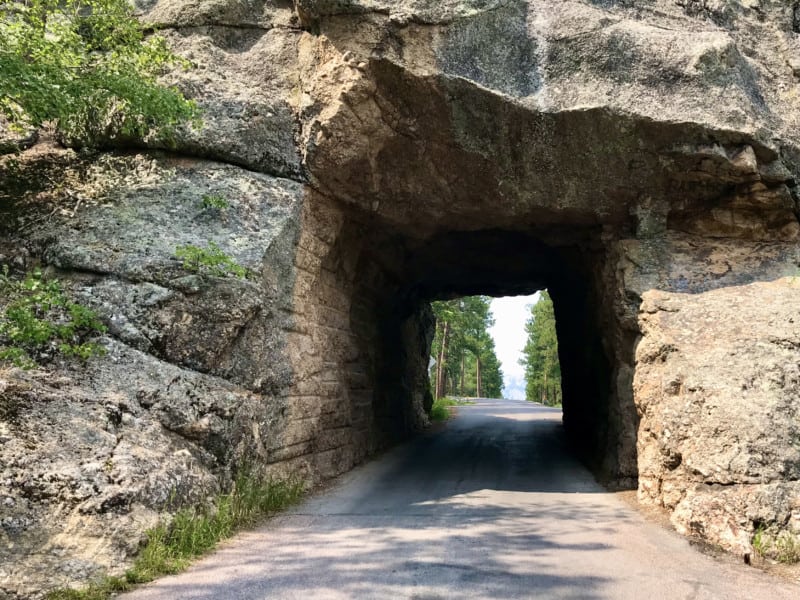 Sylvan Lake
Needles Highway ends at Sylvan Lake, the "crown jewel" of Custer State Park. Here you'll find a trail around the lake, picnic tables, kayak, canoe, paddle boat, and paddle board rentals, a beach for the kids, and several trailheads. There's also a general store with a walk-up snack bar and ice cream.
If you're looking for a place to sit down for a nice meal, check at Sylvan Lake Lodge to see if they're seating on the pet friendly patio. The patio is sometimes closed due to weather.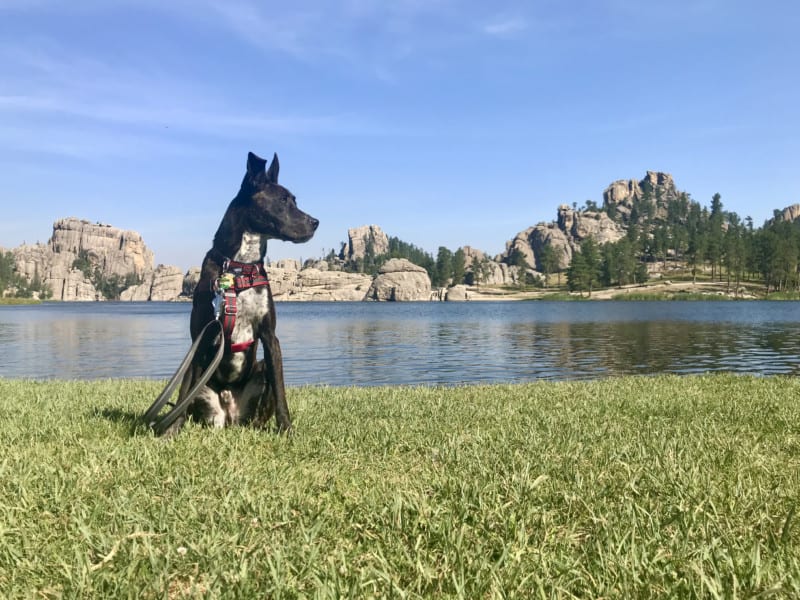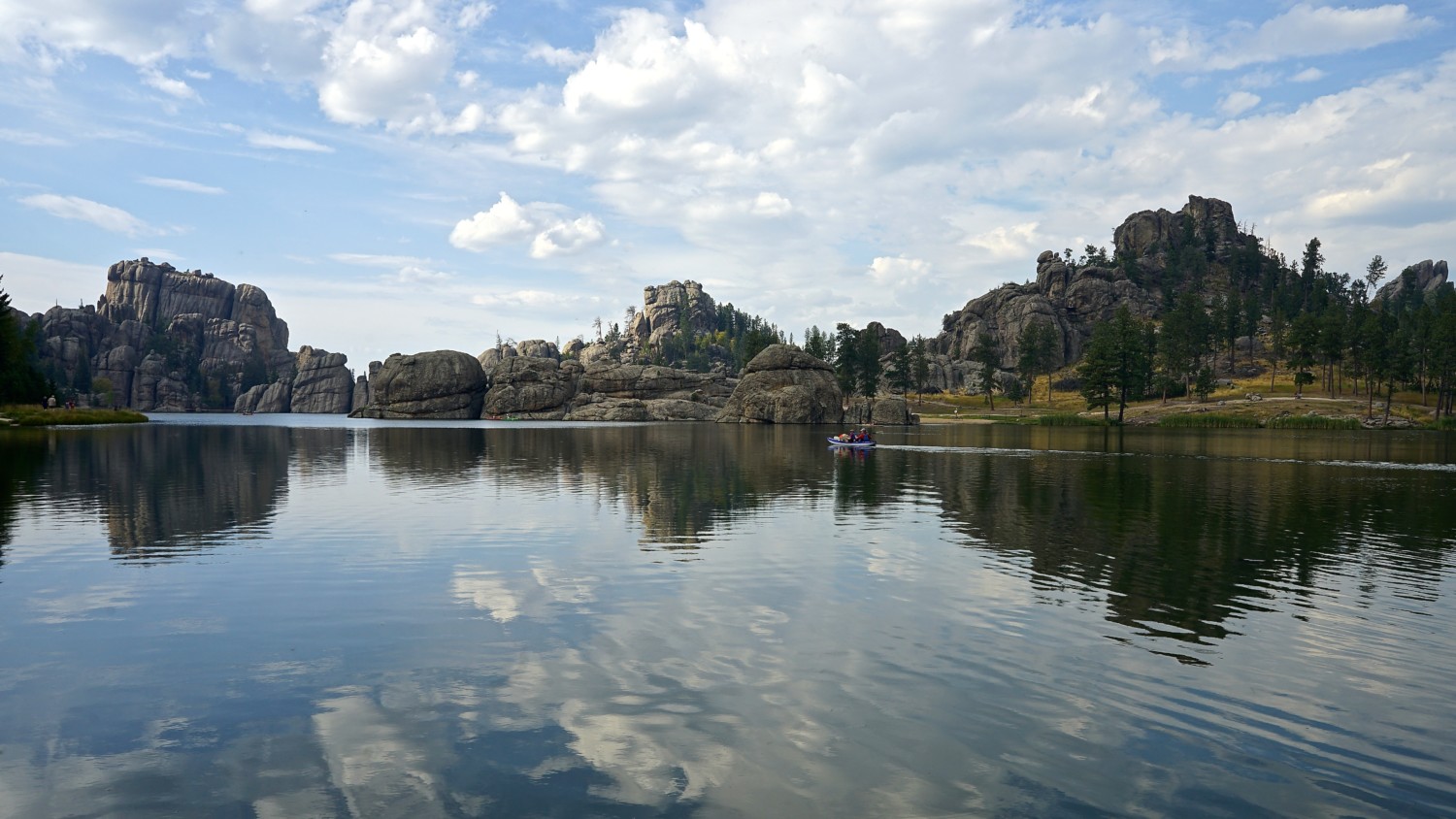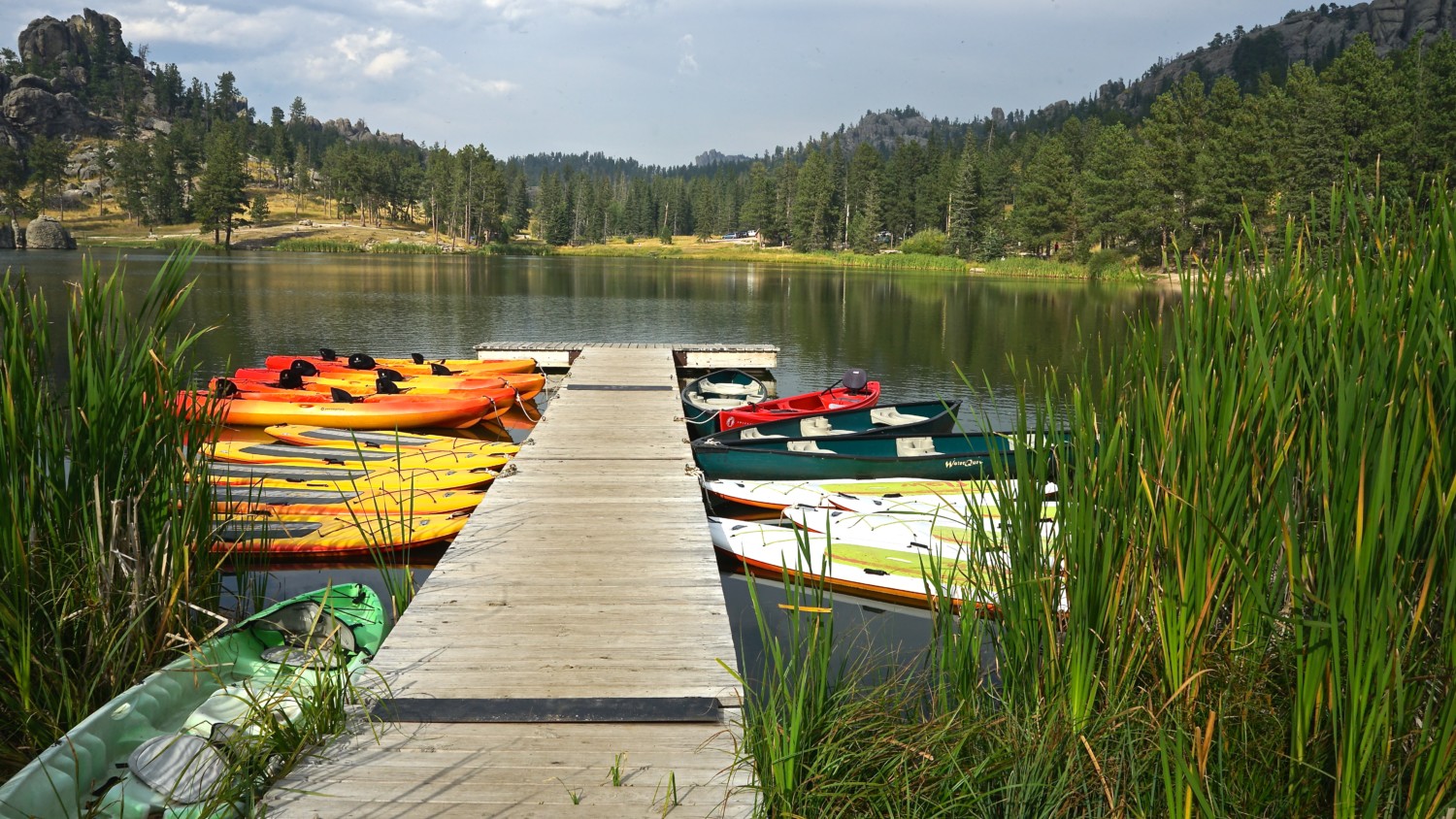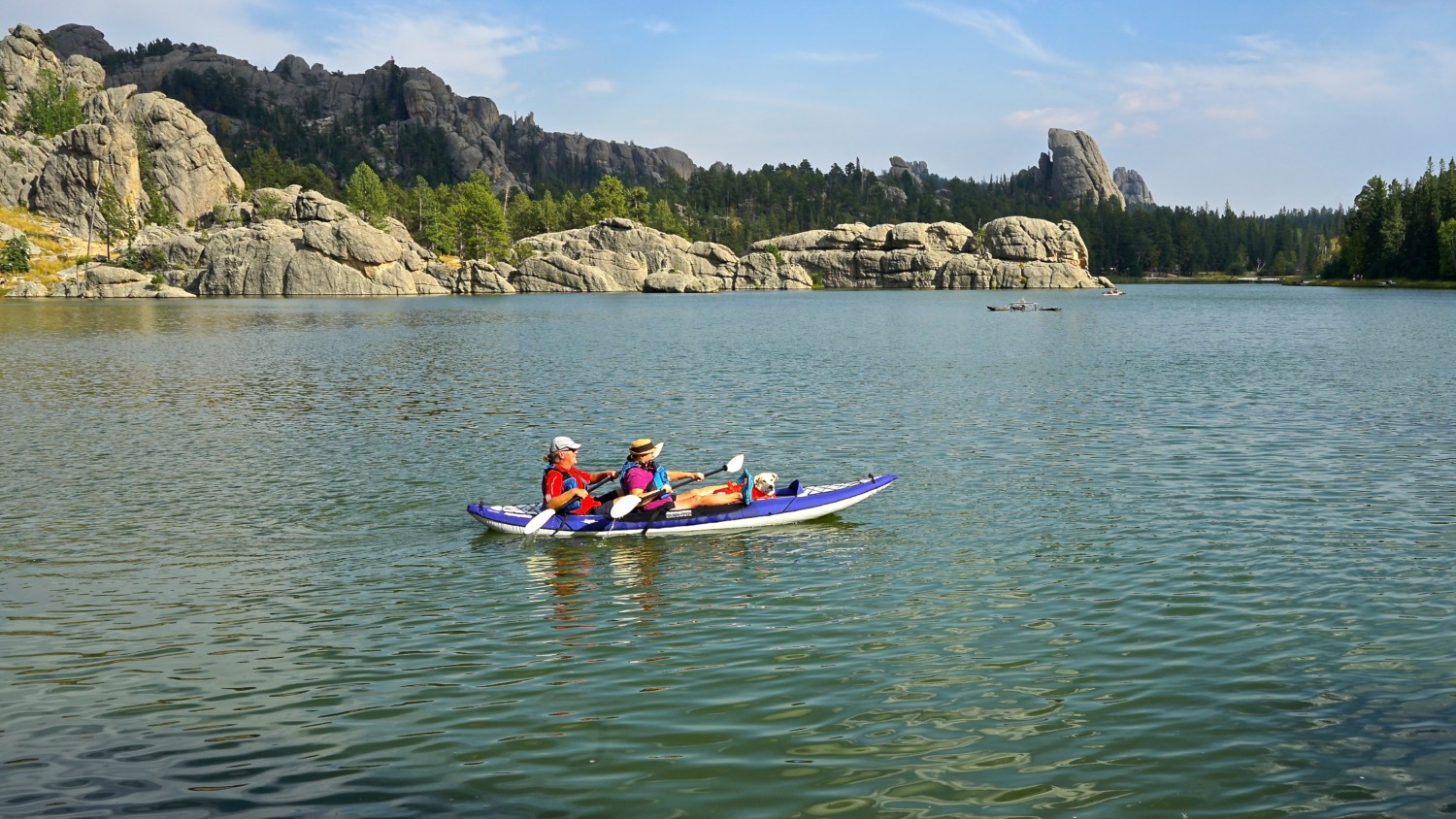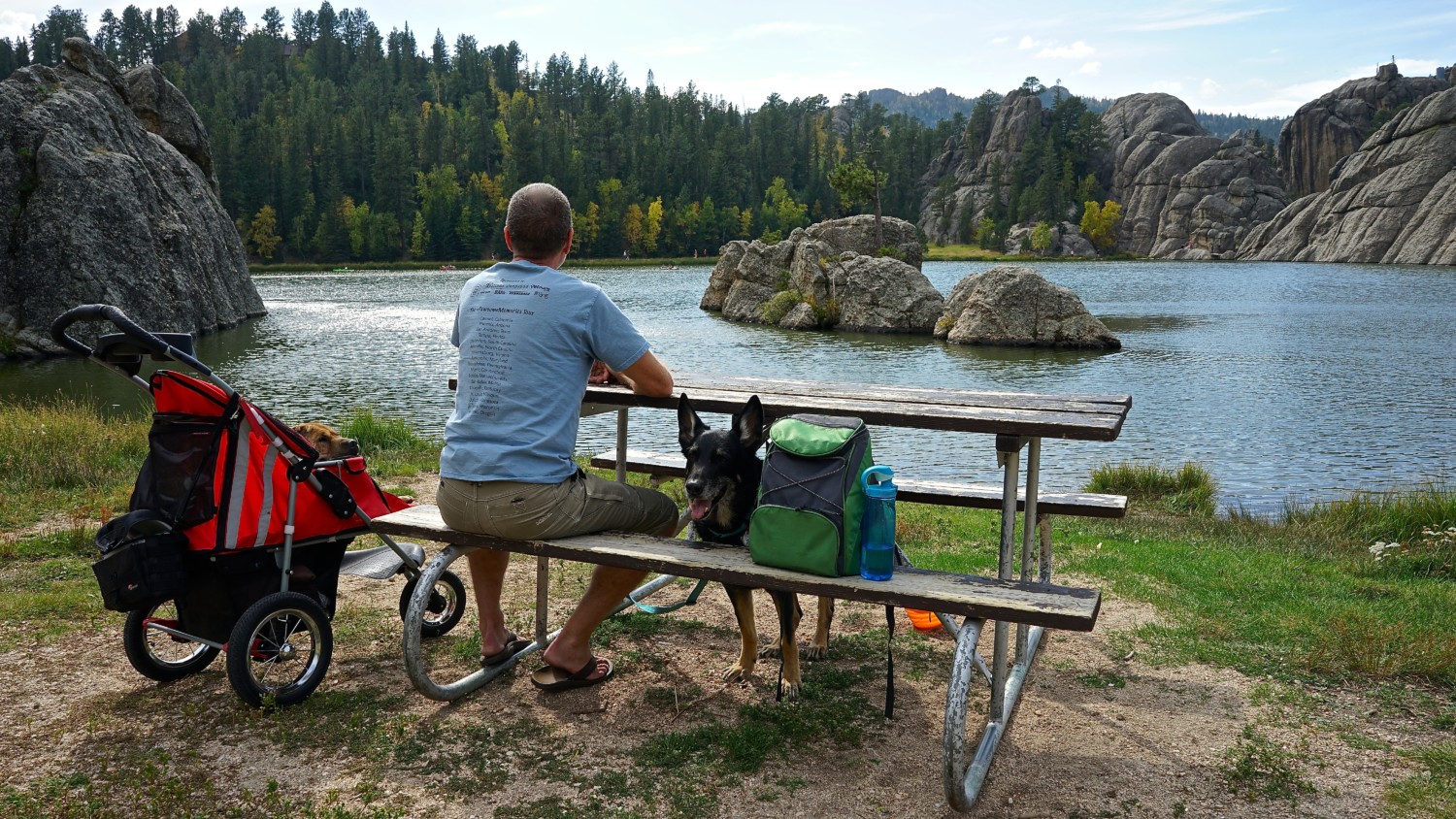 Hiking With Pets at Custer State Park
There are more than 60 miles of trails to explore with your pet in Custer State Park! With so many options to choose from, there's sure to be an ideal trail for you and your pet.
It's important to note that wildlife roams freely in Custer State Park, so it's possible to meet animals on the trails. For that reason, dogs who don't have a rock-solid recall should stay on leash.
Bison can be aggressive if approached, so adding bear bells to your dogs collar or harness will keep you both from surprising one. You can also check with the Visitor Center for advice on trails where wildlife are less active.
Creekside Trail
The most accessible trail for hikers with all abilities and skill levels is the Creekside Trail. This 3-mile, paved trail runs from the Visitor Center to Grace Coolidge Campground, and you can hop on or off at many points along the way.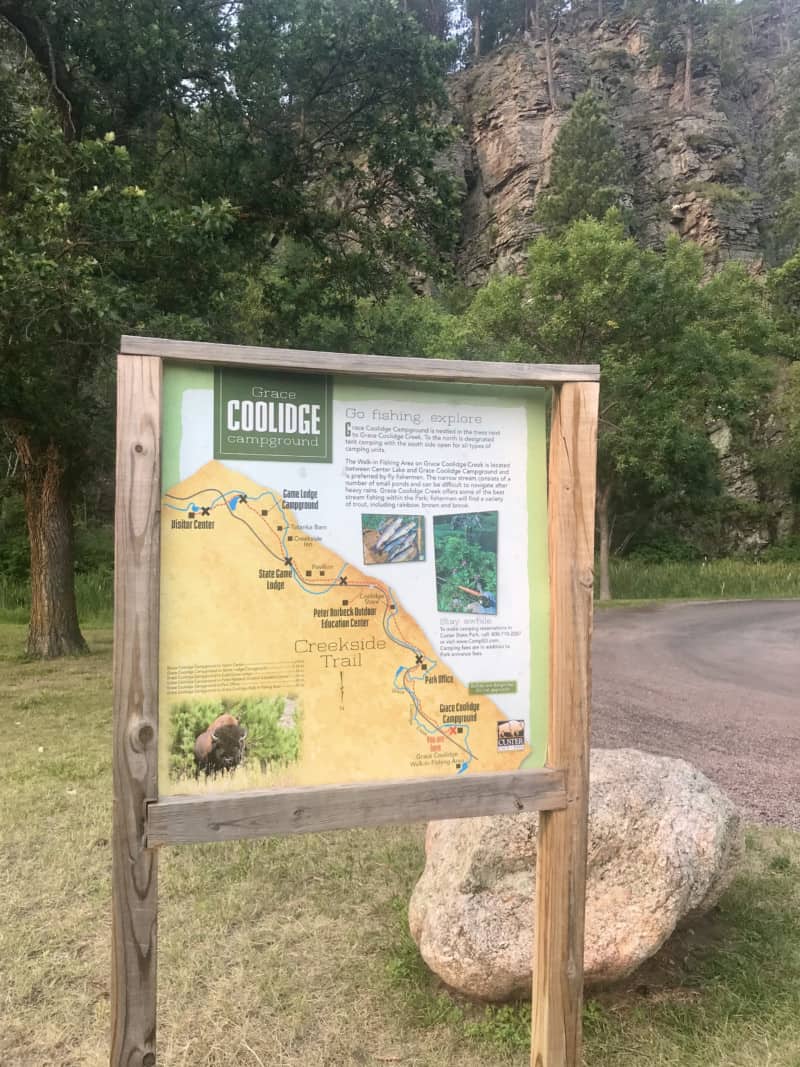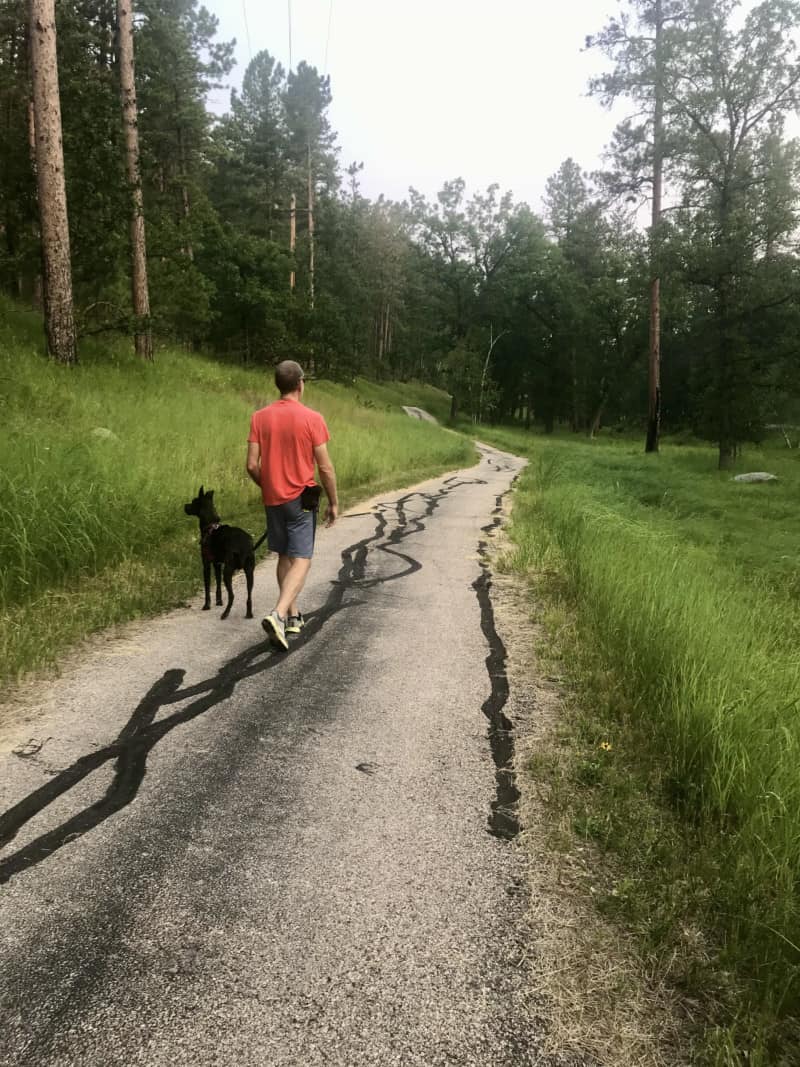 We walk this trail nearly every morning, because it runs right by the State Game Lodge Campground – our favorite place to camp at Custer. It's a great place to see wildlife! Keep an eye out for deer on the hillsides, bighorn sheep scampering over the rock ledges, and bison wandering the trail.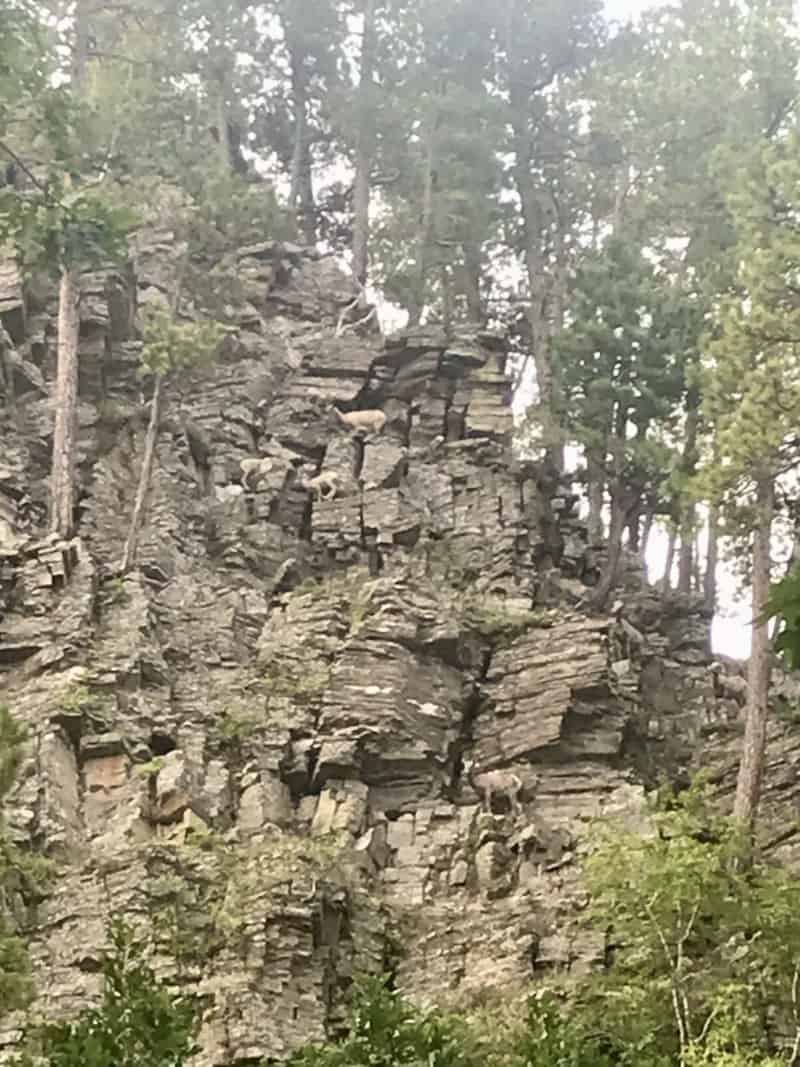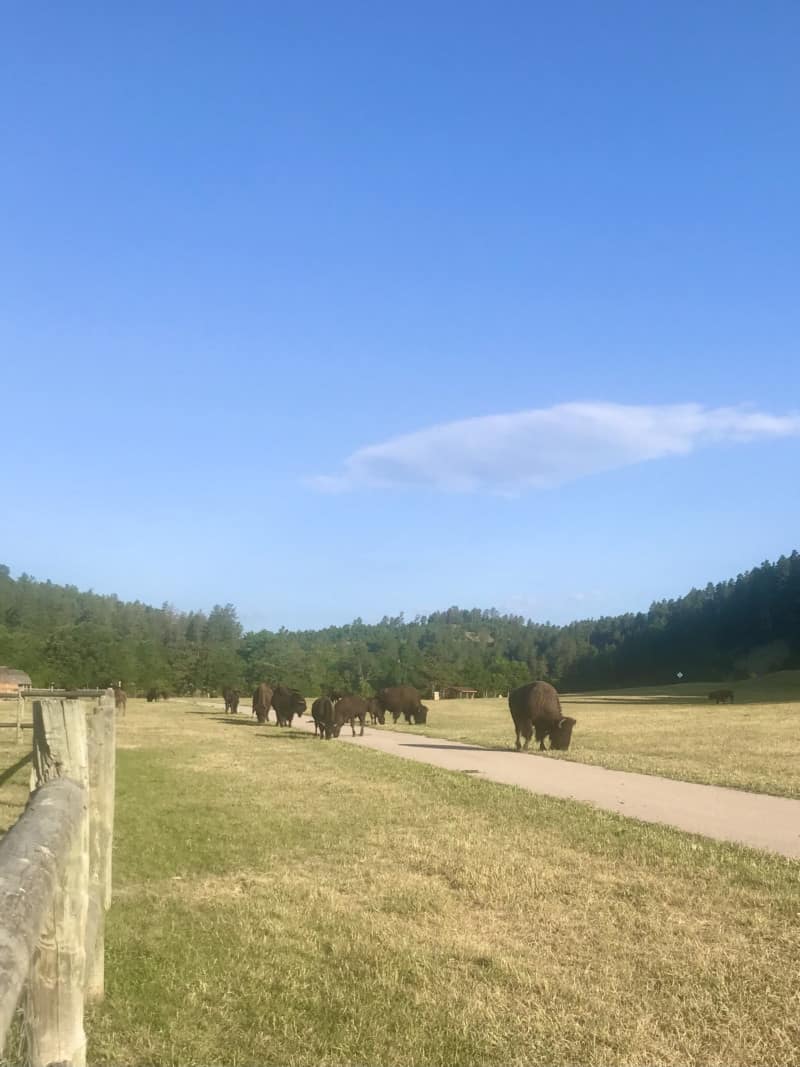 Lover's Leap
One of our favorite trails is Lover's Leap, a 4-mile loop that starts behind the pavilion across from the Peter Norbeck Education Center.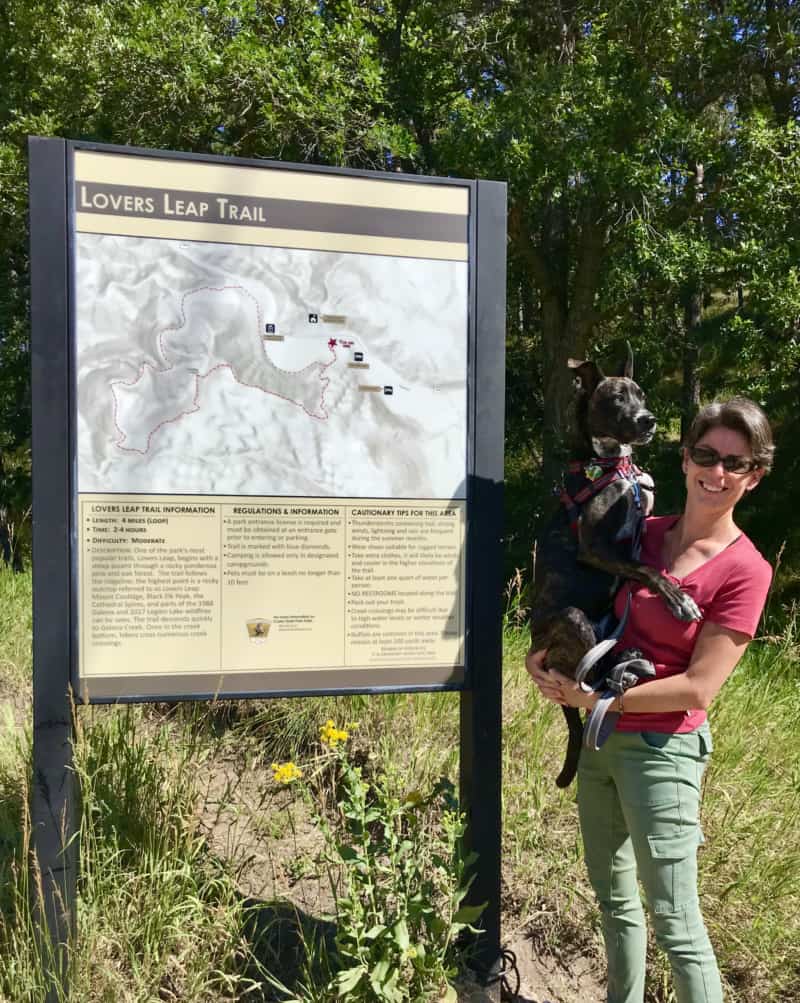 If you hike the trail clockwise, you'll start with a climb up to the ridge. Follow that along until you see the sign with the Bader Clark quote. (It's still true!) Then take the short trail up the rocks for a spectacular view from the overlook.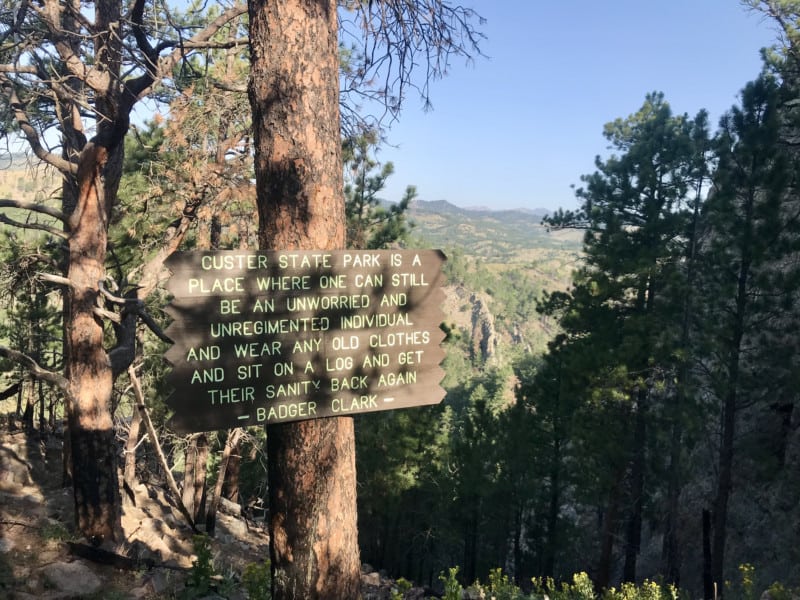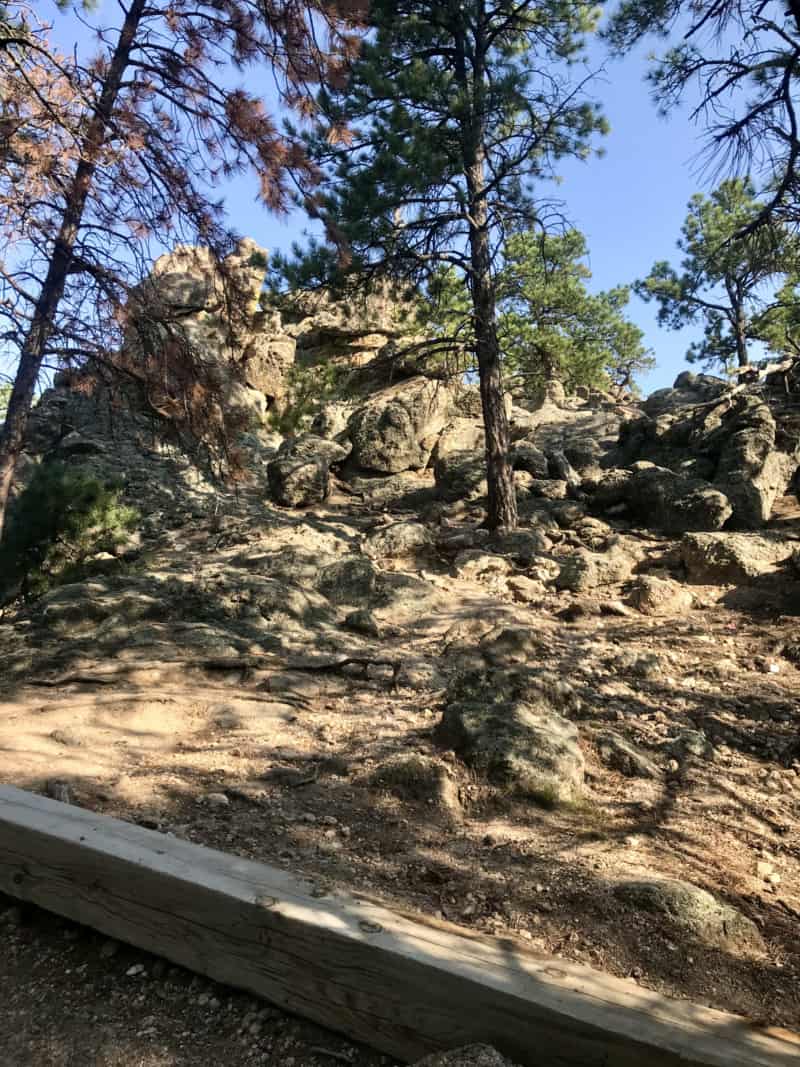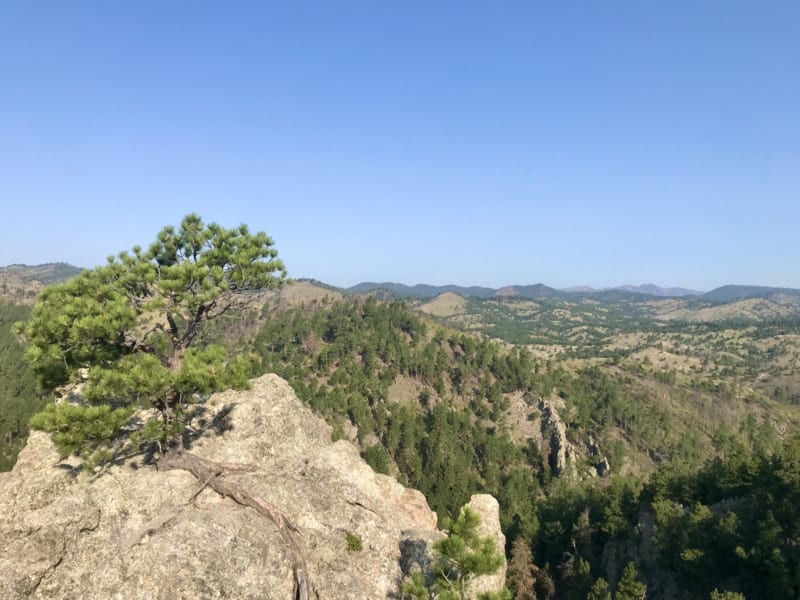 There's plenty of space at the overlook to sit and enjoy the view … or a picnic! When you're ready to return to the trail, you'll slowly descend to the valley and follow the creek for a while before returning to the trailhead.
Grace Coolidge Walk-In Fishing Area
The 3-mile (each way) Grace Coolidge Walk-In Area Trail runs from the parking area across from the Grace Coolidge Campground to Center Lake. Following the creek through the forest, the rock formations are literally close enough to touch.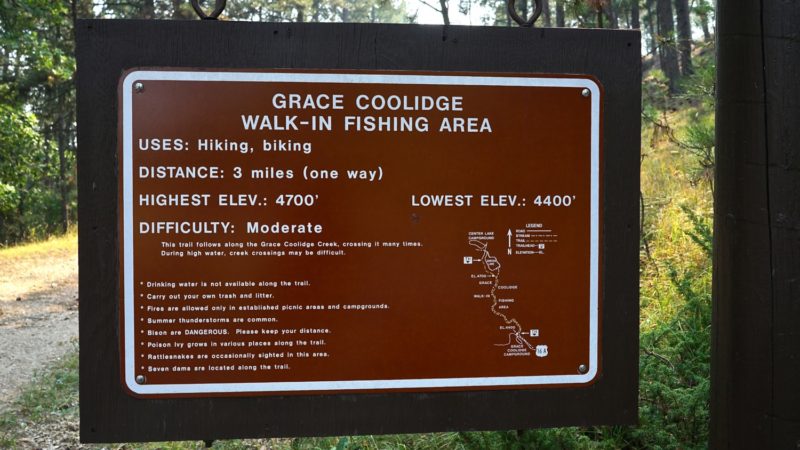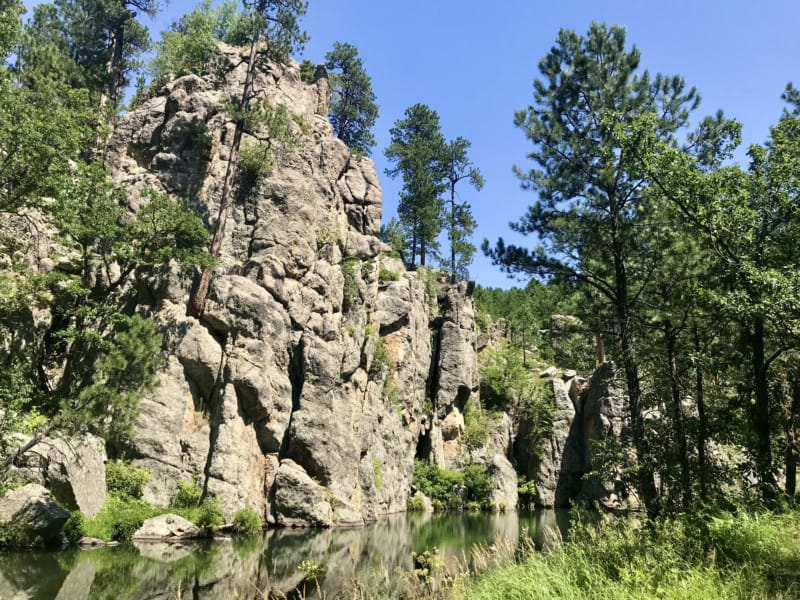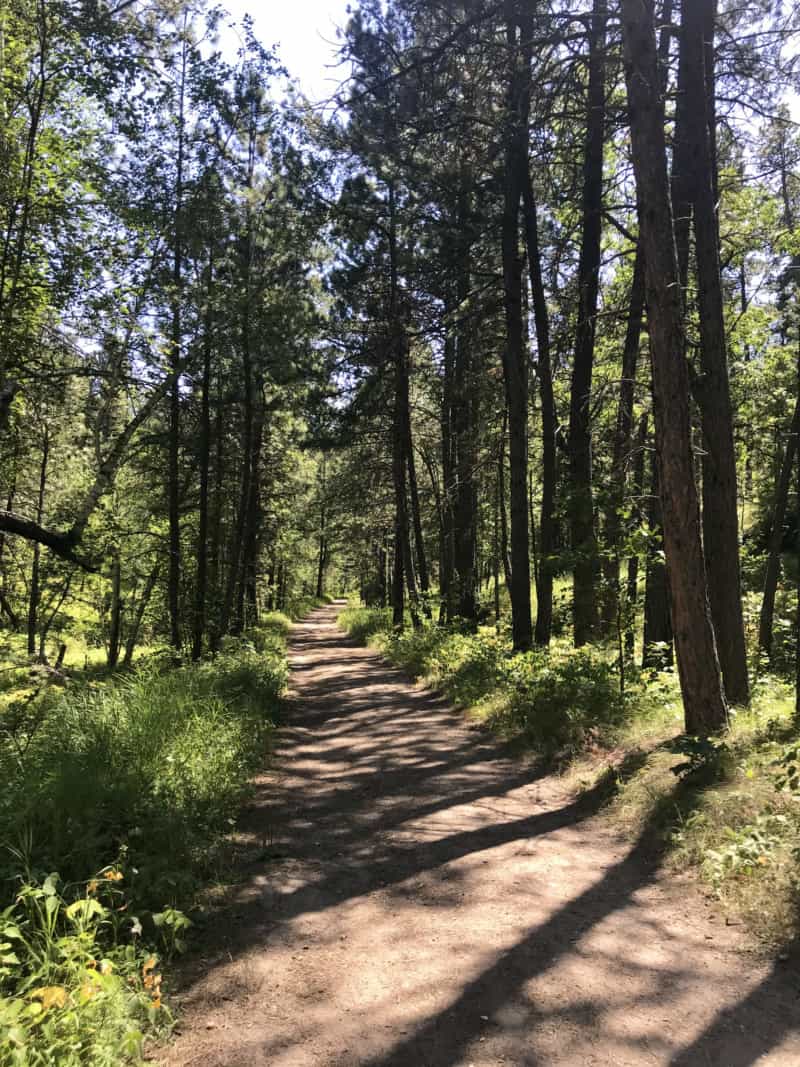 The trail crosses the creek 15 times and, despite what the trail description in the Custer State Park guide says, you won't get wet. There are planks to walk across at every crossing.
On the way to Center Lake, the trail climbs slowly until the very end when there's a steeper section. At Center Lake you'll find picnic tables and pavilions, a beach for the kiddos, drinking water, and pit toilets.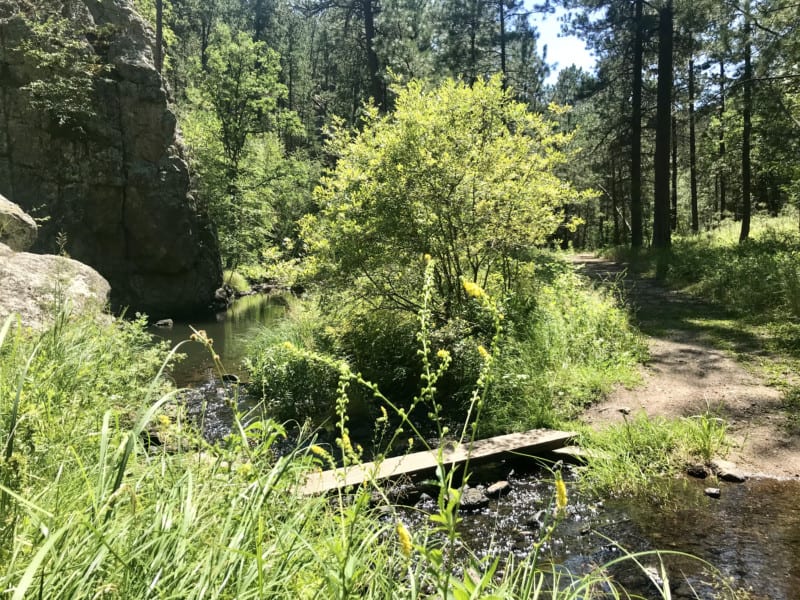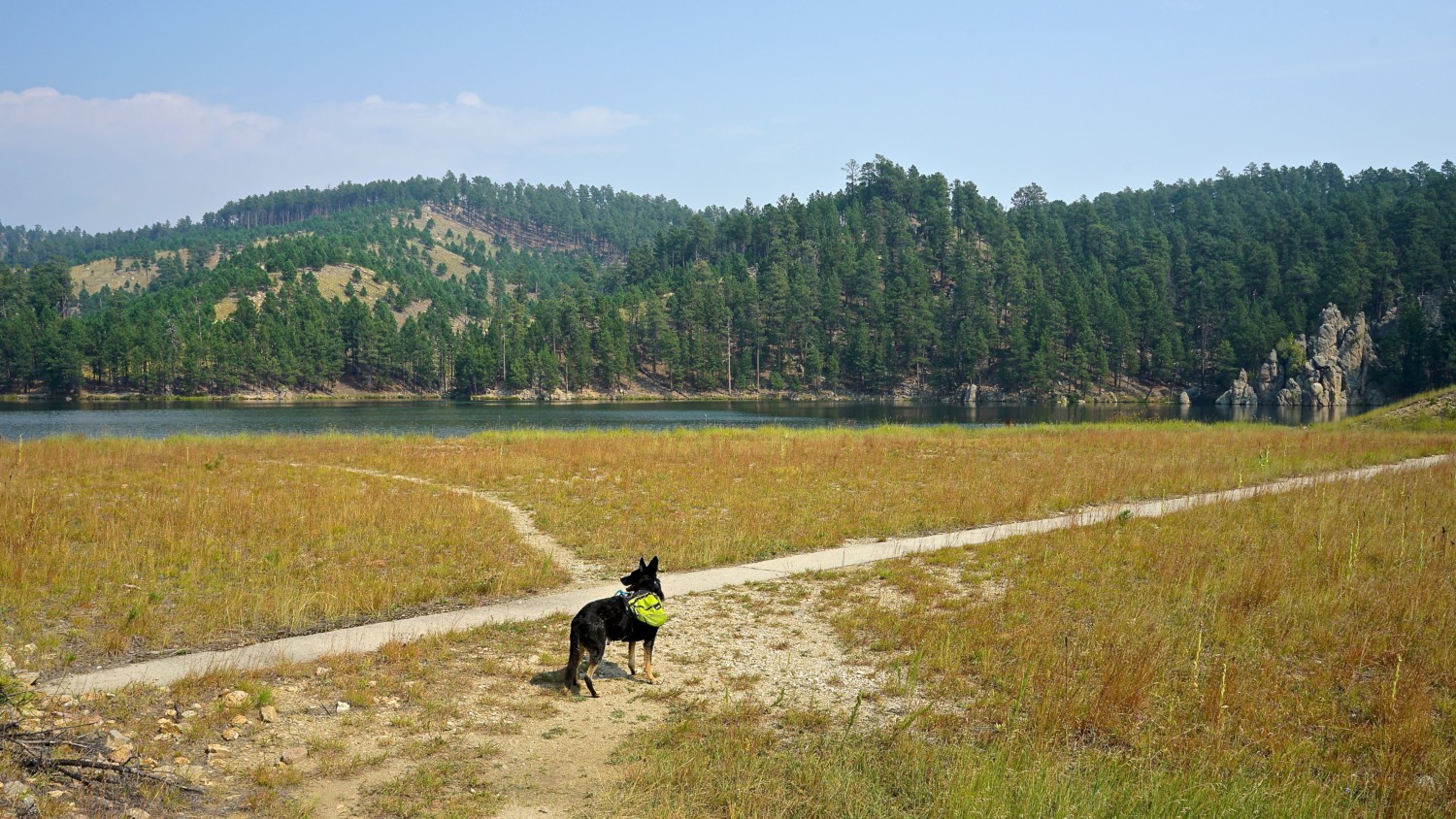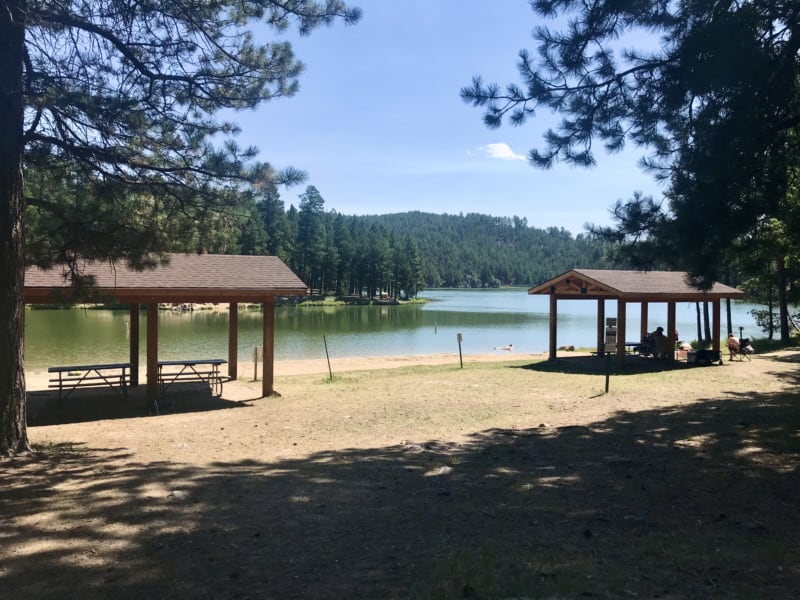 Black Elk Peak
At 7,244 feet, Black Elk Peak (formerly, Harney Peak) is the highest natural point in South Dakota. It's also said to be the highest peak between the Rocky Mountains and the Alps! Given the relatively easy climb and the panoramic reward, it's a trail worth including on your trip to Custer State Park.
There are several routes to the top of Black Elk and the fire tower perched at the summit. The perhaps the easiest way is Trail #9, which begins at the Sylvan Lake day use parking area and climbs 1,100 feet over 3.3 miles.
About half way to the top, Trail #9 leaves Custer State Park and enters the Black Elk Wilderness Area. In the Wilderness area, pets must be leashed at all times.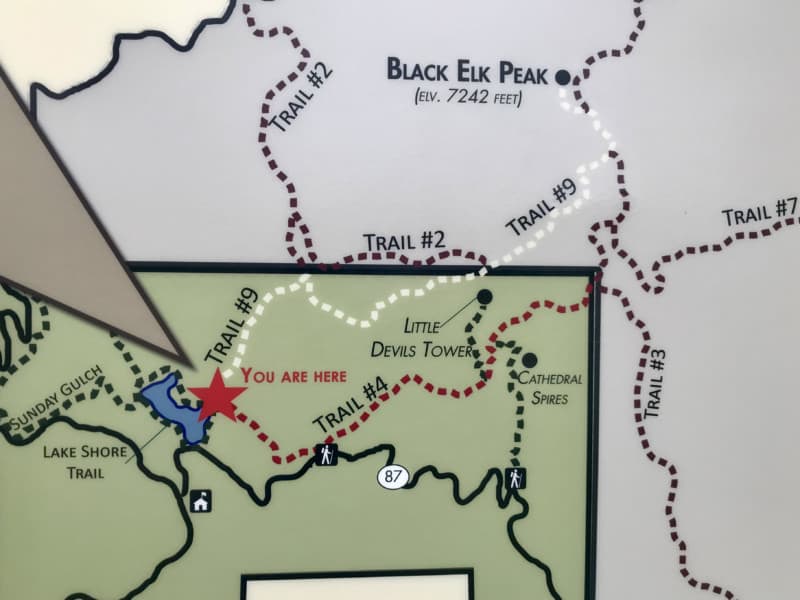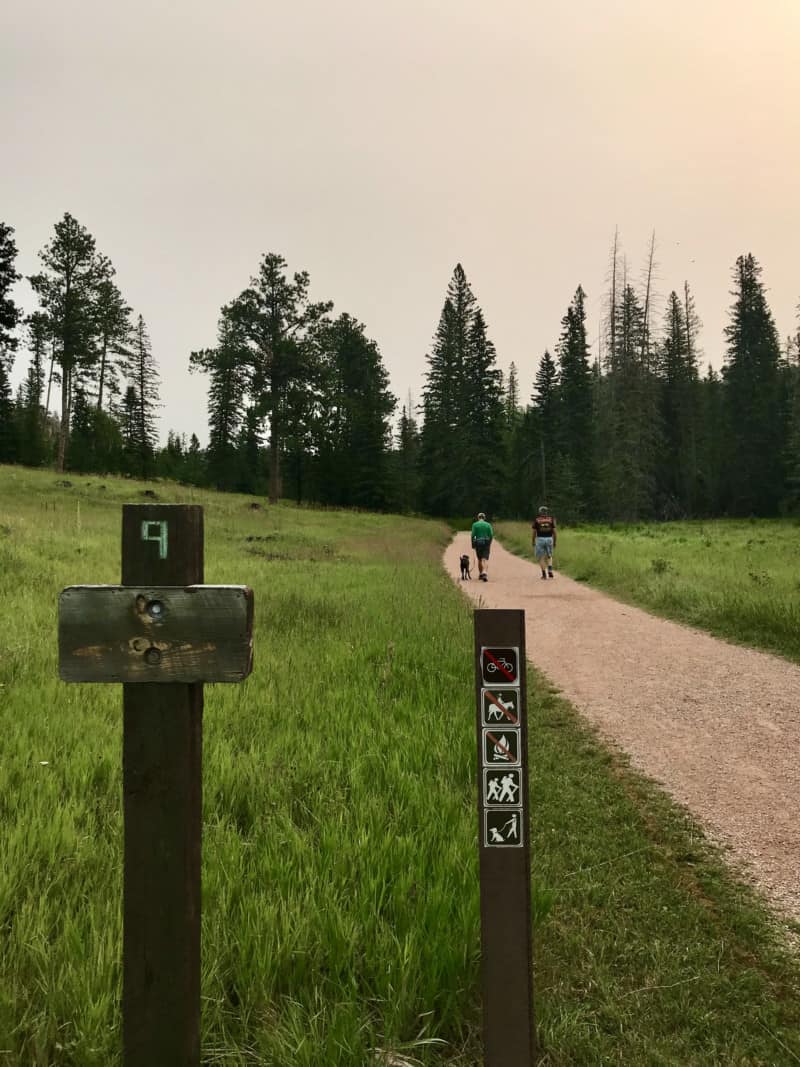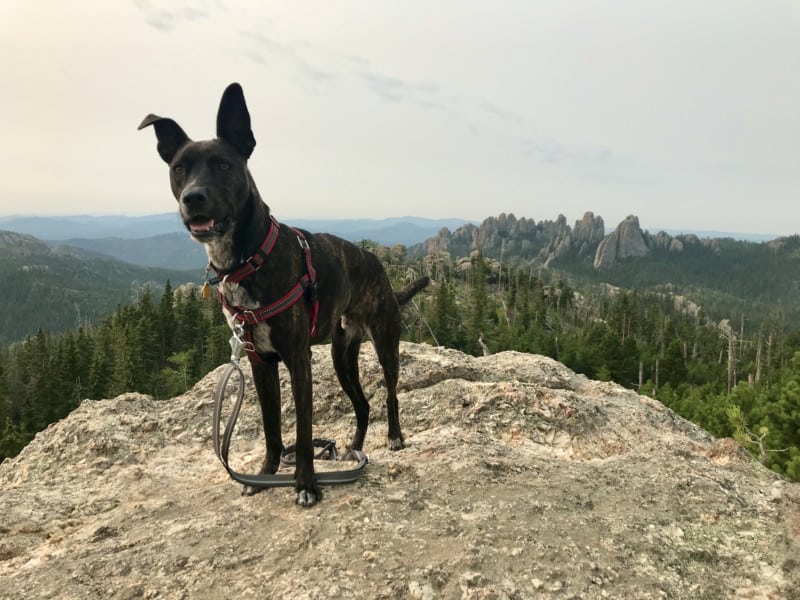 Standing inside the fire tower, built by the Civilian Conservation Corps from 1935 to 1938, you can see for miles and miles! It was hard to imagine the construction of this impressive structure, knowing the stones used to build it were hauled by men and mules up the trail we'd just walked.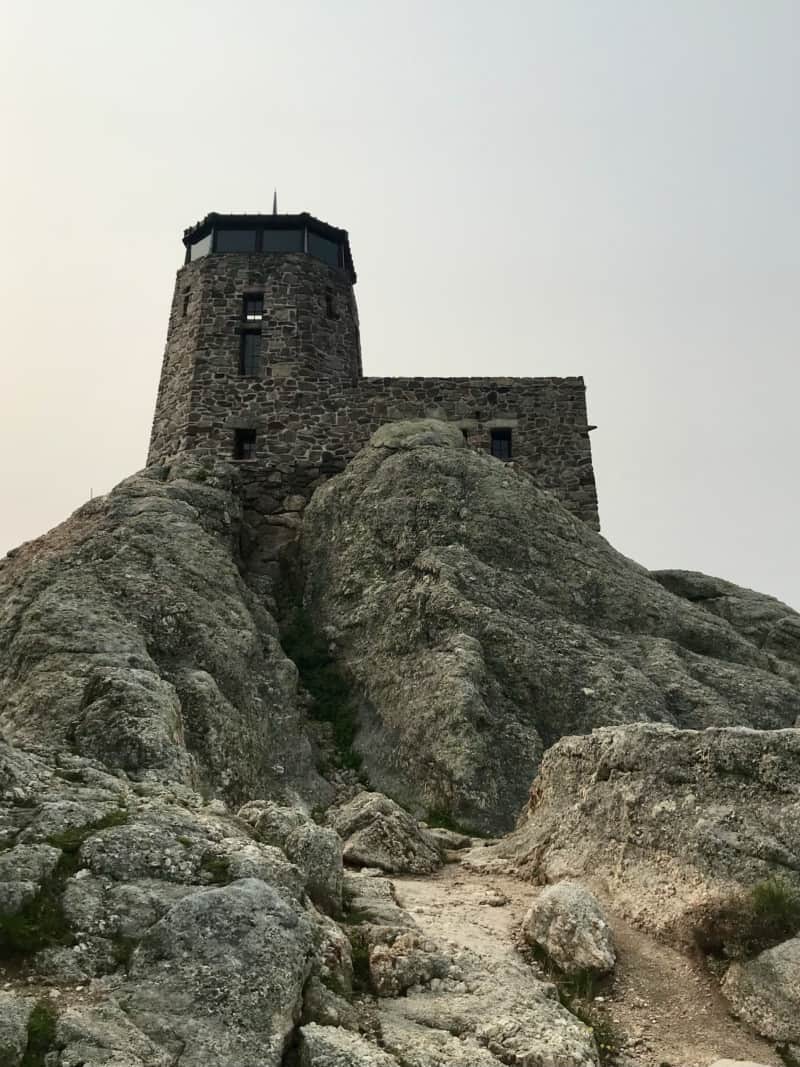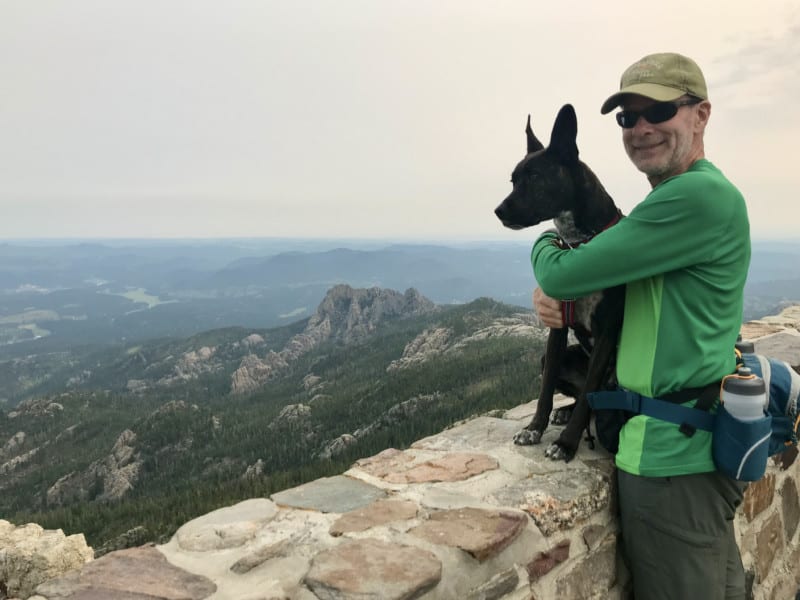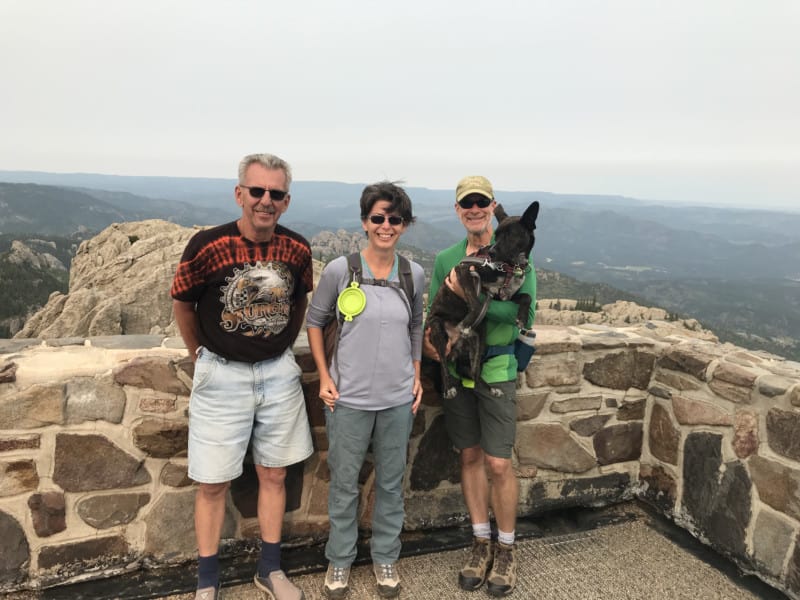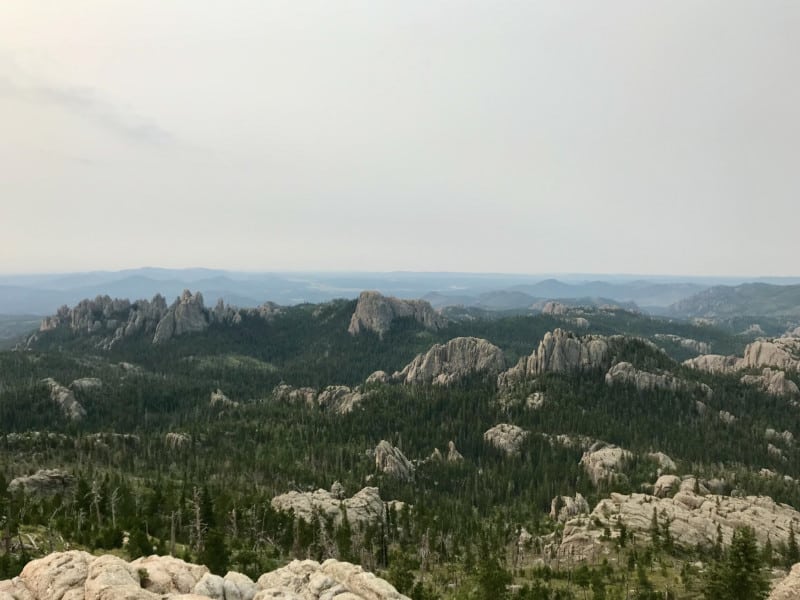 Based on the good advice of a couple we met at the top, we decided return to Sylvan Lake on Trail #4. This 3.25-mile trail is more up and down than Trail #9, but the scenery was spectacular. And it gave us the chance to add the side trails to Cathedral Spires and Little Devil's Tower! Both were worth doing if you have the energy, but if you can only choose one, I'd recommend Cathedral Spires.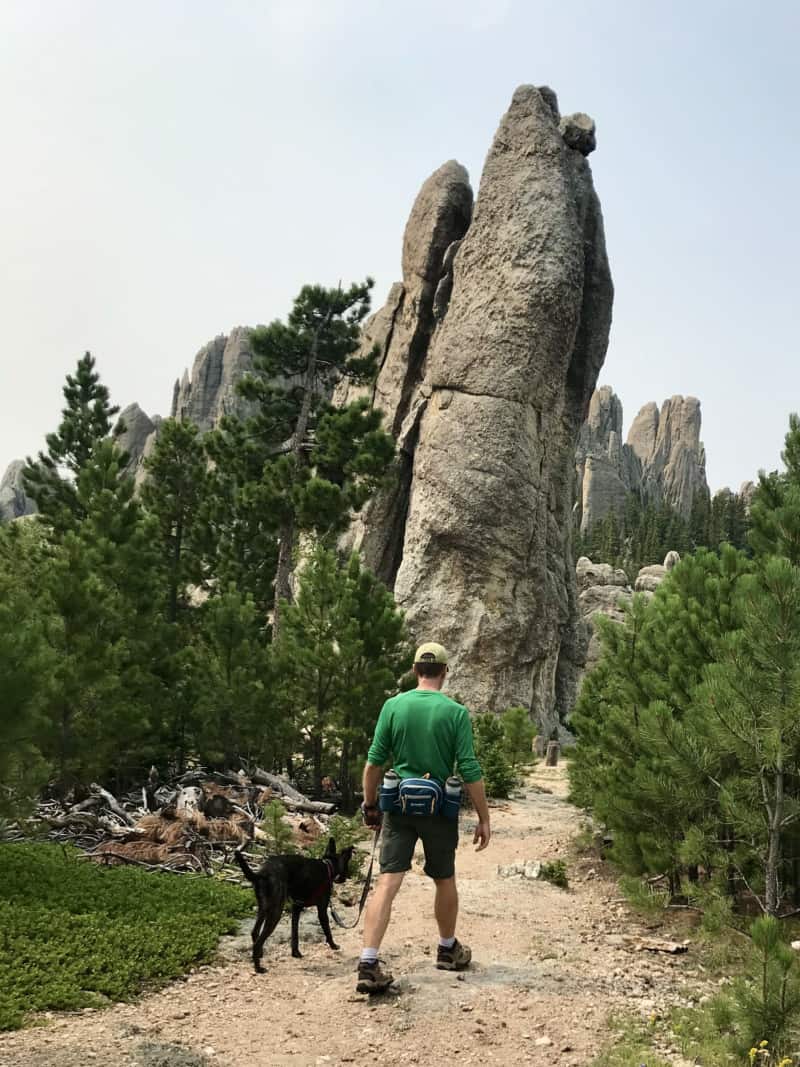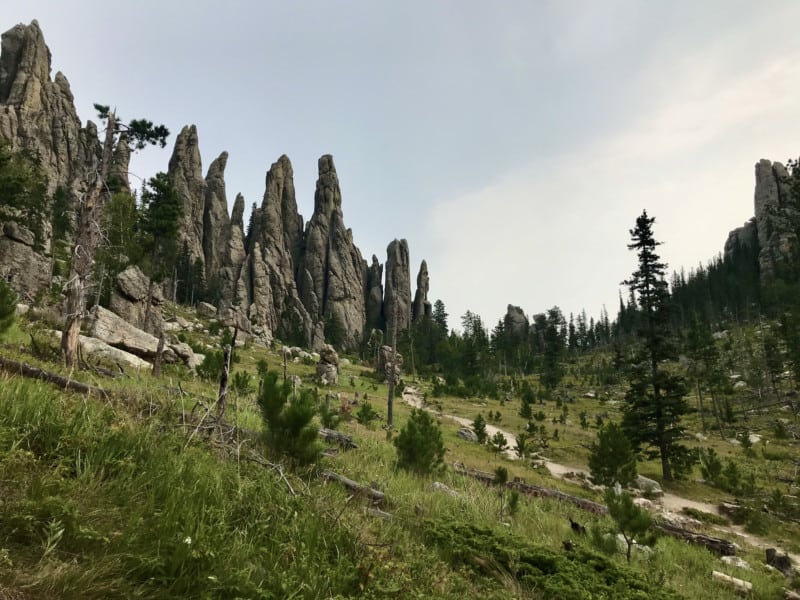 Camping at Custer State Park
A great way to fully experience Custer with your pet is to stay in one of the park's nine campgrounds. If you're bringing horses, French Creek Horse Camp even accommodates your equine travel companions! Our favorite is the Game Lodge Campground for its central location and easy access to hiking trails.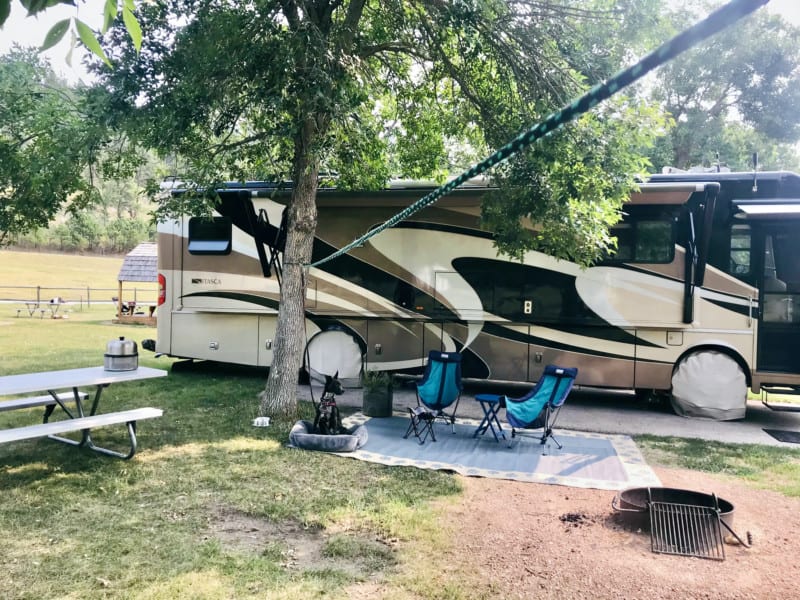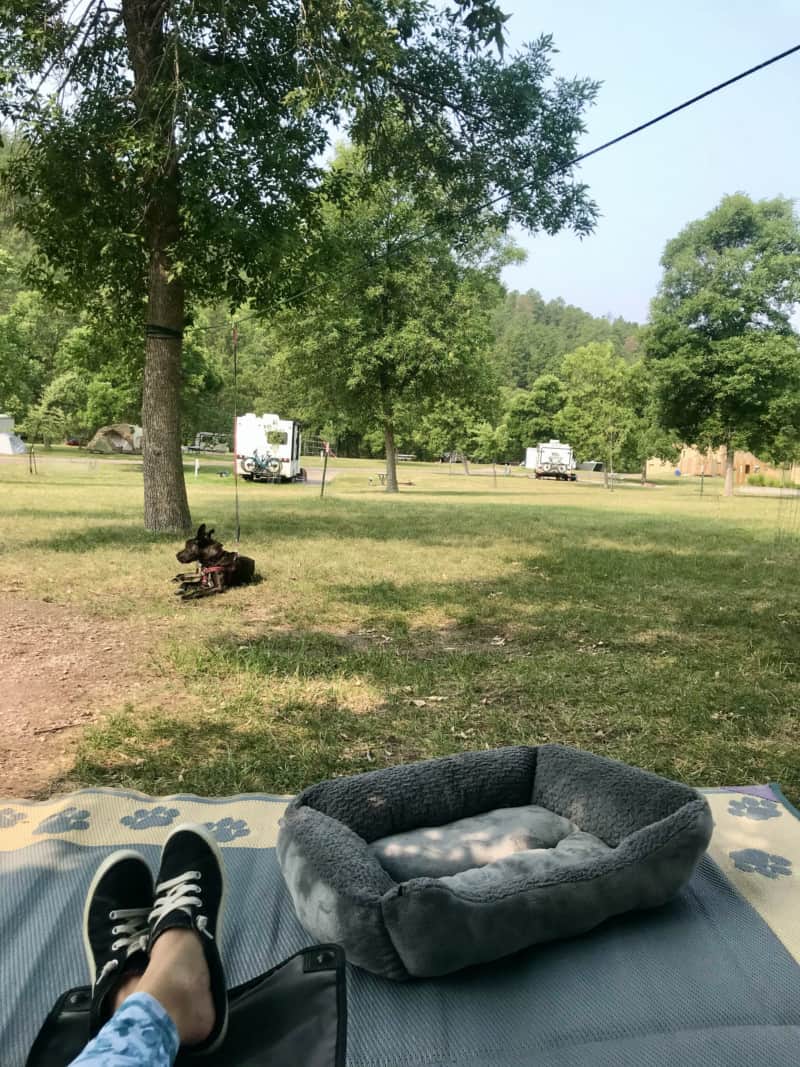 Other Pet Friendly Lodgings Options and Dining at Custer State Park
Custer State Park has four lodges, where you'll find dining, drinks, activities, and pet friendly accommodations. All of the lodges have rental cabins, and pets are allowed in select cabins for an additional fee of $10 per night.
State Game Lodge
The State Game Lodge is a lovely native stone and wood lodge built in 1920 and listed on the National Register of Historic Places. It served as the "Summer White House" for President Calvin Coolidge in 1927 and was visited by President Dwight D. Eisenhower in 1953. Now, when they're not rented, the historic Presidential rooms are on view.
There is no pet friendly seating at the State Game Lodge restaurant. But you can get food to go and eat on the back patio or the front porch. This is also where the popular Buffalo Safari Jeep Tours depart.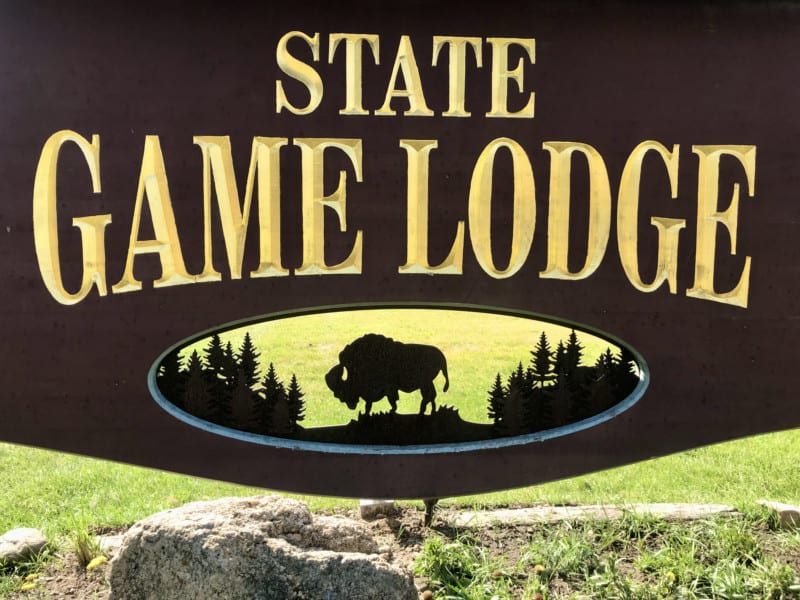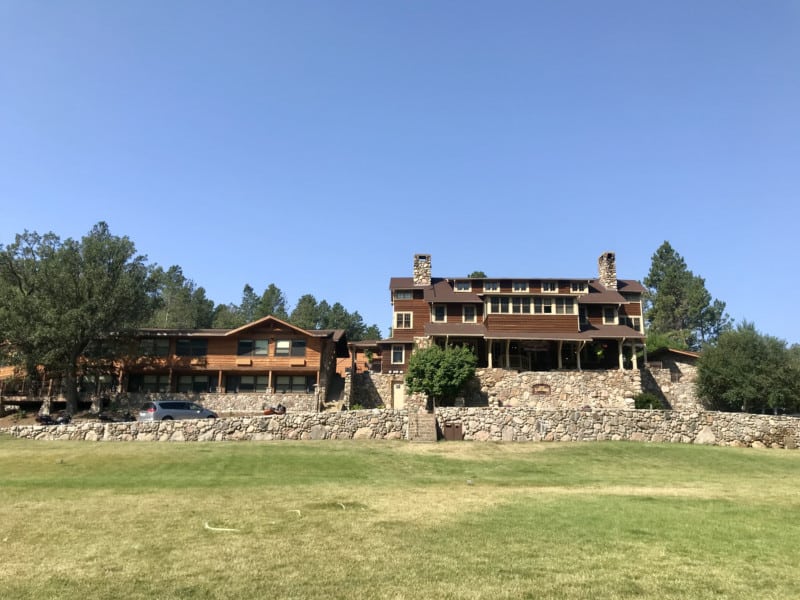 Legion Lake Lodge
Legion Lake is a quiet lakeside retreat perfect for summer picnics, lazy days at the beach, and treks into the outdoors. You can fish, boat, and swim at Legion Lake, or rent a variety of watercraft vehicles.
The restaurant at Legion Lake offers pet friendly, lakeside patio dining.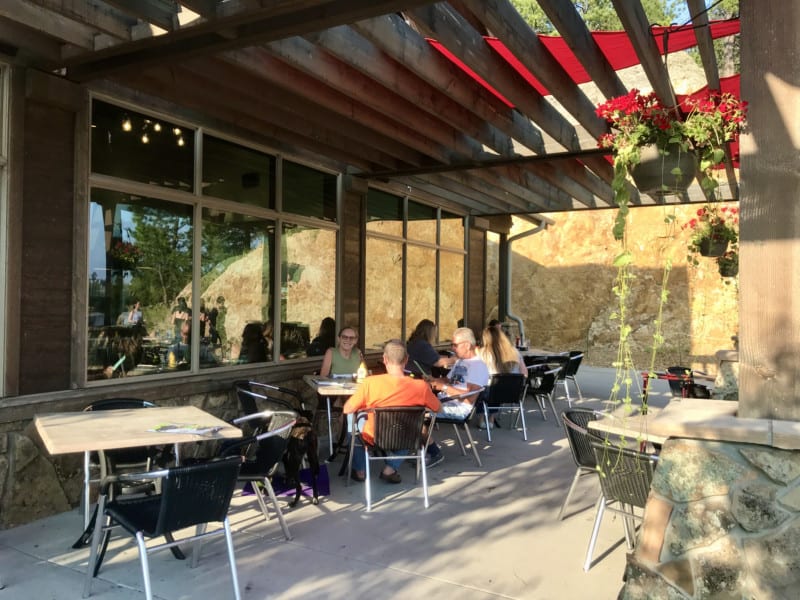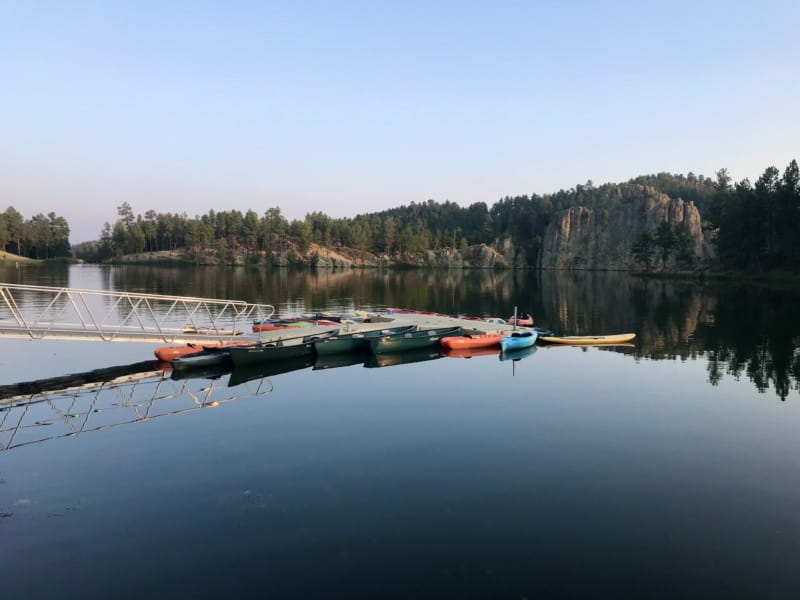 Blue Bell Lodge
Blue Bell Lodge was built in the late 1920s at the base of Mount Coolidge from local timber. This lodge has a distinctly wester flare and is the home of the park's Blue Bell stables and the chuckwagon dinner.
Pet friendly seating on the lovely side patio is available at Blue Bell Lodge.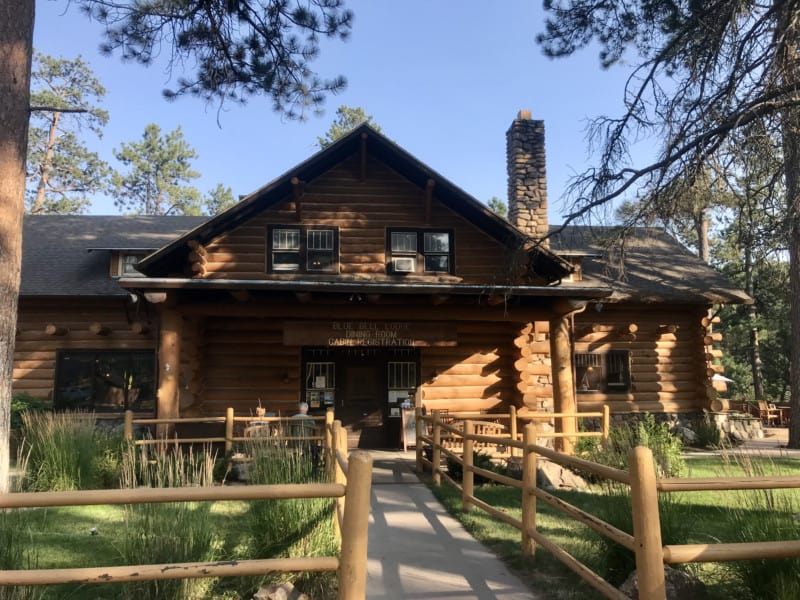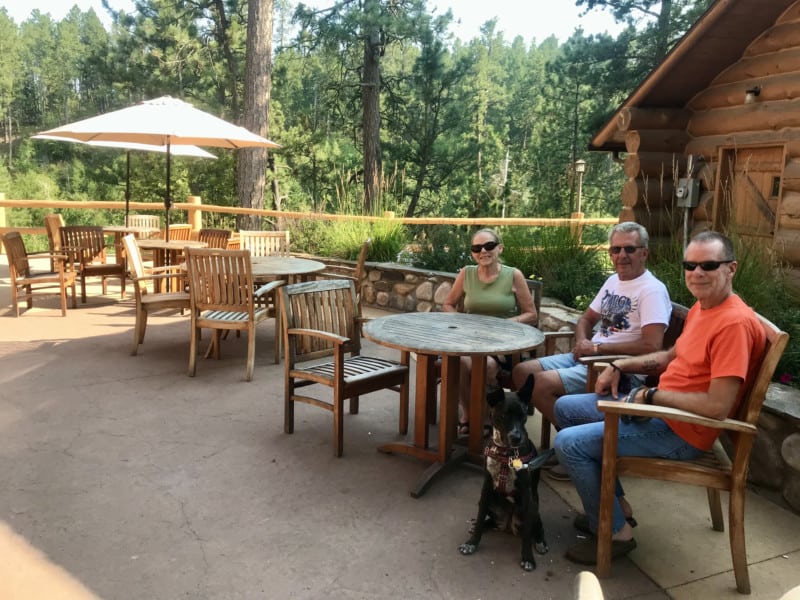 Sylvan Lake Lodge
Sylvan Lake Lodge is situated within a hillside forest of pine and spruce trees. This stone and timber lodge blends perfectly with the breathtaking beauty of Sylvan Lake.
The restaurant at Sylvan Lake Lodge offers pet friendly seating on their patio. And their omelettes are to die for!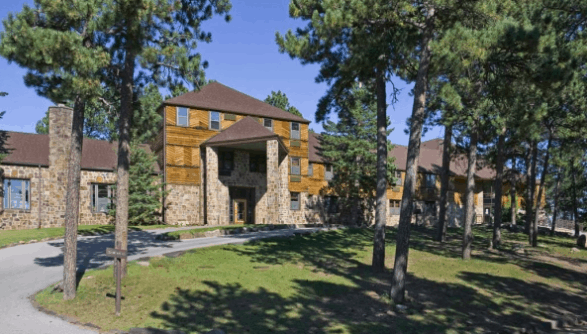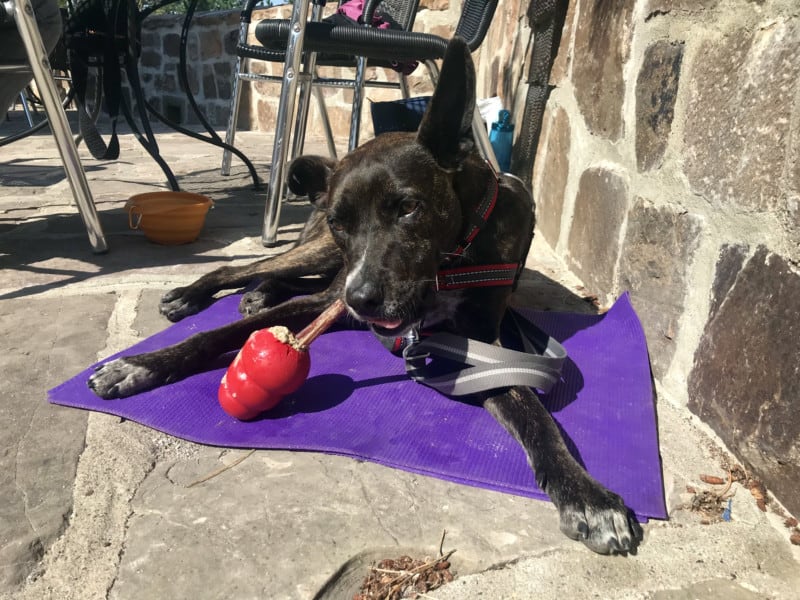 More To Do In The Black Hills
With so much to do right outside your door, you'd never have to leave Custer State Park. But if you want to see more of the Black Hills with your pet, we have a few suggestions …
Urban Hiking In Rapid City
Known as the "City of Presidents," Rapid City has 43 life-sized, bronze statues of our former leaders placed around downtown. Take the walking tour and see them all! Even President Ford's pup is commemorated!
Rapid City also has beautiful old buildings, tempting eateries, good shopping, and super dog photo ops.
Crazy Horse Monument
Crazy Horse is the world's largest mountain carving, and is located west of Custer State Park. Henry Standing Bear, a Lakota elder, commissioned Korczak Ziolkowski to sculpt the 641 feet long by 563 feet high monument. Crazy Horse is still under construction.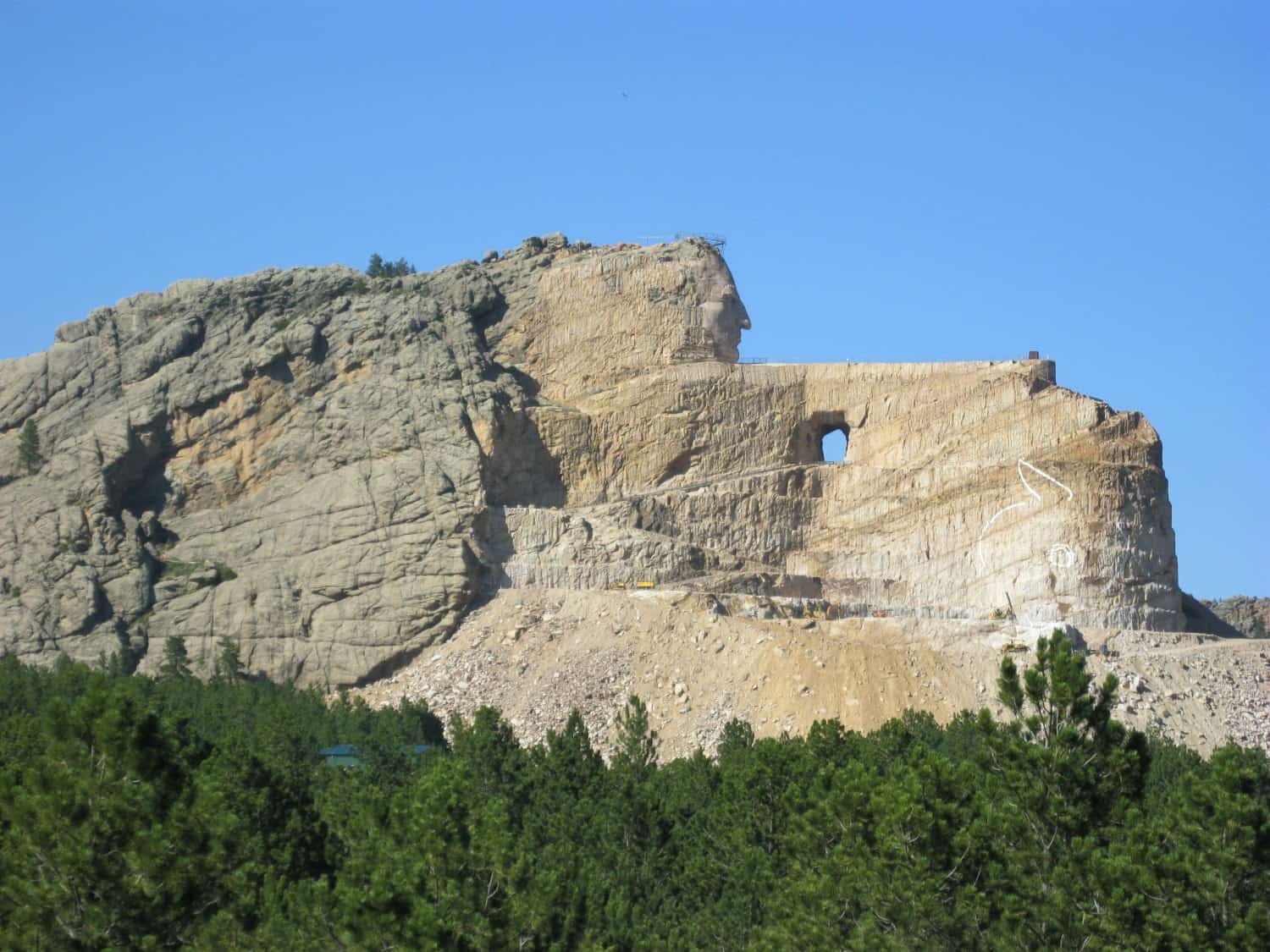 Leashed pets are welcome the covered porch, on the veranda, and outdoors at the Crazy Horse Memorial. Only pets in strollers or those you carry can join you in the Welcome Center/The Indian Museum of North America, the Theater, or the Gift Shop.
Pets cannot go in the Restaurant or Snack Shop area. And they cannot accompany you on the bus to base or the van trips to the top.
Black Hills National Forest
Looking to get off the beaten path? The Black Hills National Forest covers 1.2 million acres, including 11 reservoirs, 30 campgrounds, 32 picnic areas, 2 scenic byways, 1,300 miles of streams, over 13,426 acres of wilderness, 353 miles of trails, and much more.
Some of the National Forest's special places are close enough to Custer to visit on a day trip.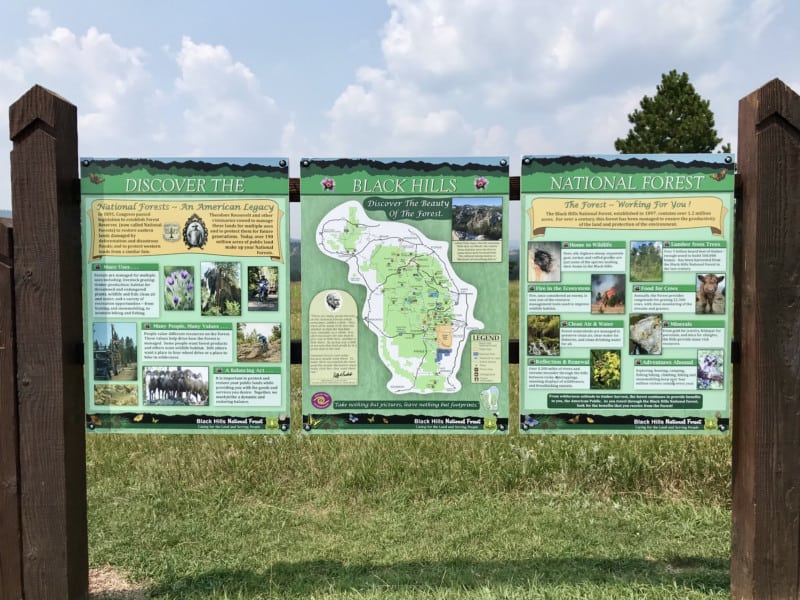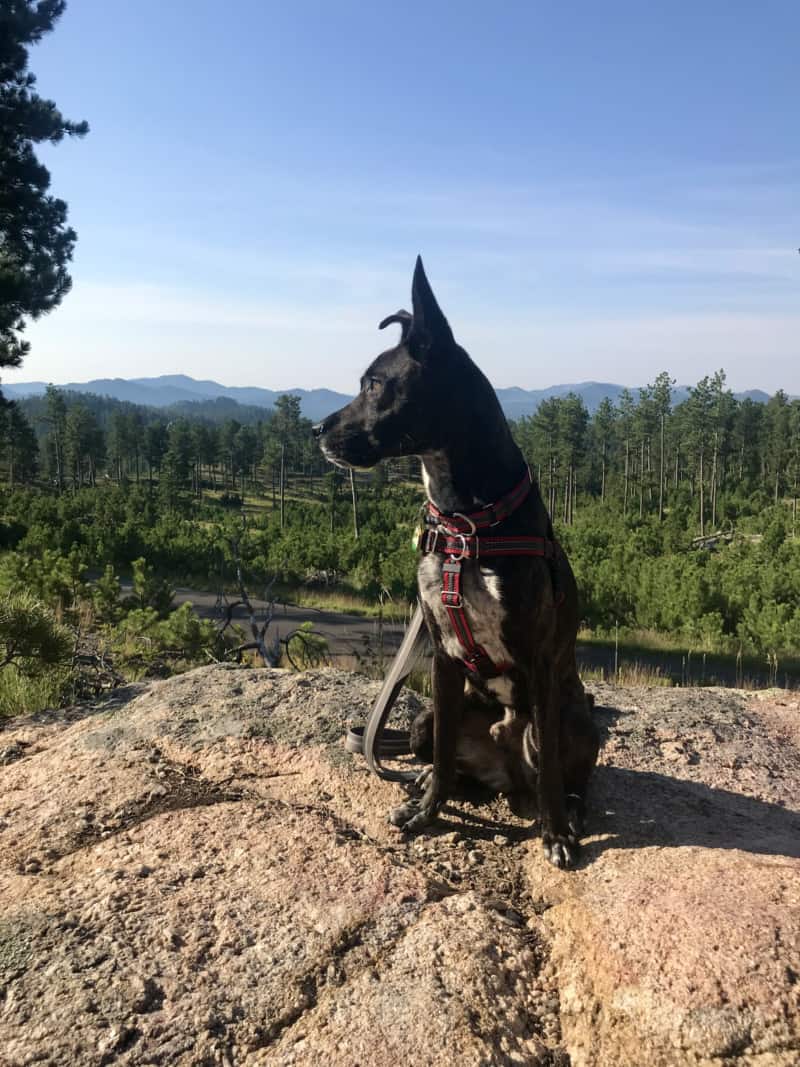 Black Hills Tasting Trail
Get out your map and circle the pet friendly wineries and breweries on the Black Hills Tasting Trail! We've done the paws-on-the-ground research, and you can read all about the pet friendly stops in this post >> Pet Friendly Breweries and Wineries in the Black Hills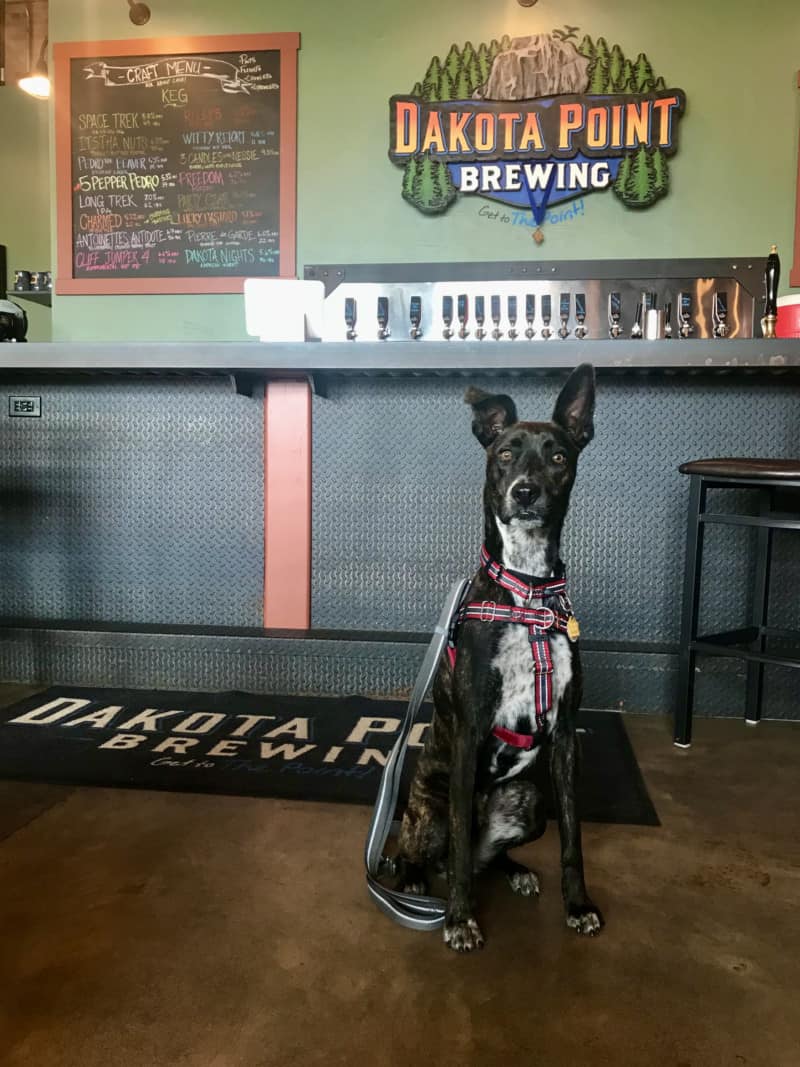 Mt. Rushmore National Monument
Before you plan to visit Mt. Rushmore, you should know it's not pet friendly. In fact, pets cannot go beyond the parking area at Mt. Rushmore. Not on the trails. Not on the observation deck. Just in the parking lot or parking structure.
If you're traveling with another person, you can take turns walking up to view the monument while the other person waits with your pet. If you're traveling alone, we suggest you grab the binoculars and take in the views of Mt. Rushmore from Iron Mountain Road.
Custer State Park and the Black Hills are on our short list of favorite pet friendly destinations and a wonderful place for your next vacation! We hope this peek encourages you to see all the park has to offer for yourself.
Amazon Affiliate Disclosure: GoPetFriendly.com LLC is a participant in the Amazon Services LLC Associates Program, an affiliate advertising program designed to provide a means for website owners to earn advertising fees by advertising and linking to amazon.com, audible.com, and any other website that may be affiliated with Amazon Service LLC Associates Program. As an Amazon Associate, the owner of this site earns a commission from qualifying purchases.
(Visited 26,610 times, 1 visits today)