The Black Hills of South Dakota are known for their majestic scenery, fascinating history, and outstanding recreational opportunities – and for good reason! Our affinity for the area is well-documented as we've sung the praises of Custer State Park, relished our time in Rapid City, and extolled the virtues of Spearfish and Deadwood. Now, much to our delight, we've found another reason to adore this magical landscape … there are some excellent pet friendly breweries and wineries in the Black Hills!
South Dakota may not leap to mind when you consider the usual hotbeds of wine and beer making, but there is a substantial and thriving community here. And they're remarkably pet friendly! With outdoor spaces offering plenty of room to stretch out, and many tasting rooms welcoming pets indoors, your entire family will enjoy the Black Hills' Pet Friendly Wine and Brew Trail! Let us take you on a tour …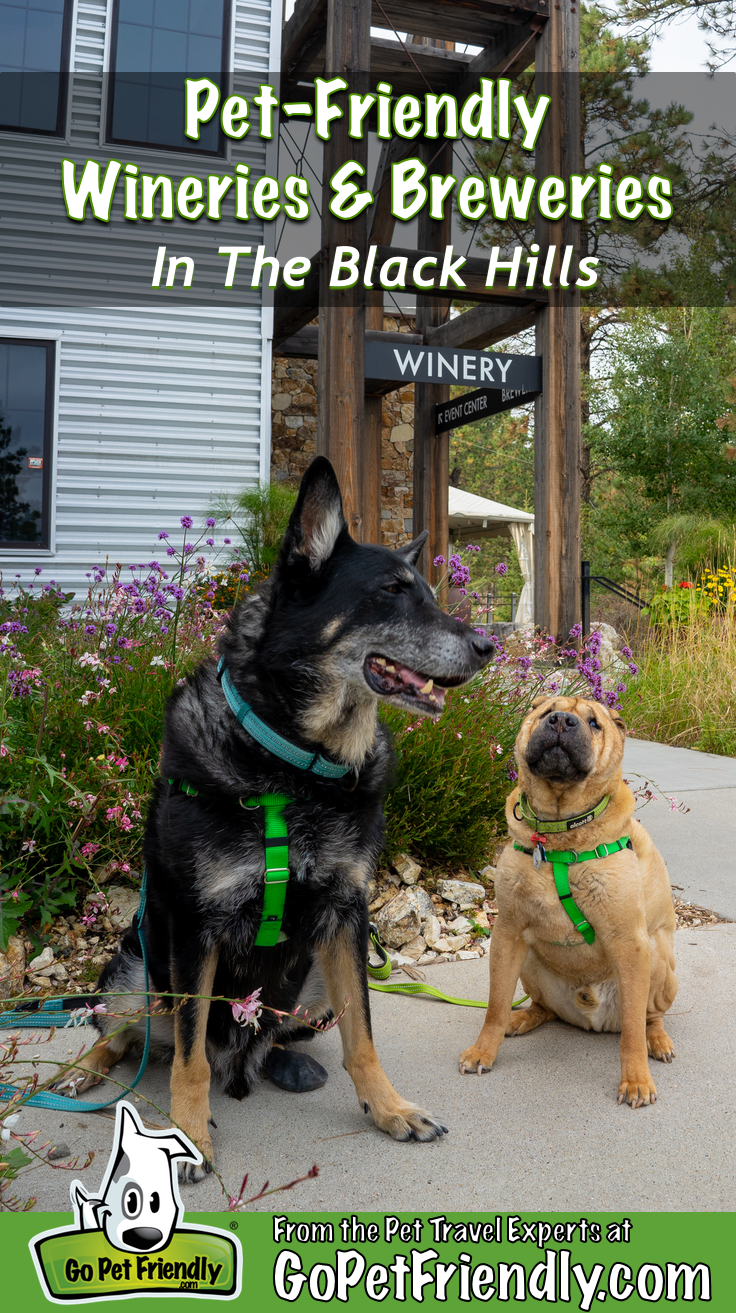 Pet Friendly Breweries and Wineries in the Black Hills
There is no better way to savor the scenery, support local businesses, and have fun with your dogs than by hitting the pet friendly breweries and wineries in the Black Hills. Taking in the sights, cruising the scenic drives, and making a stop at each of these pet friendly establishments will easily keep you busy for a long weekend, so plan accordingly! There are plenty of pet friendly hotels and campgrounds in the area that will be happy to accommodate you.

1. Spearfish, South Dakota
We begin the tour in Spearfish, but on your way to this lively town, don't miss the breathtaking drive through Spearfish Canyon. Following Alt 14 north, the road winds beside Spearfish Creek, passing waterfalls, picnic areas, and trailheads. Work up an appetite on the trails, get a few photos, and then make your way to our first stop.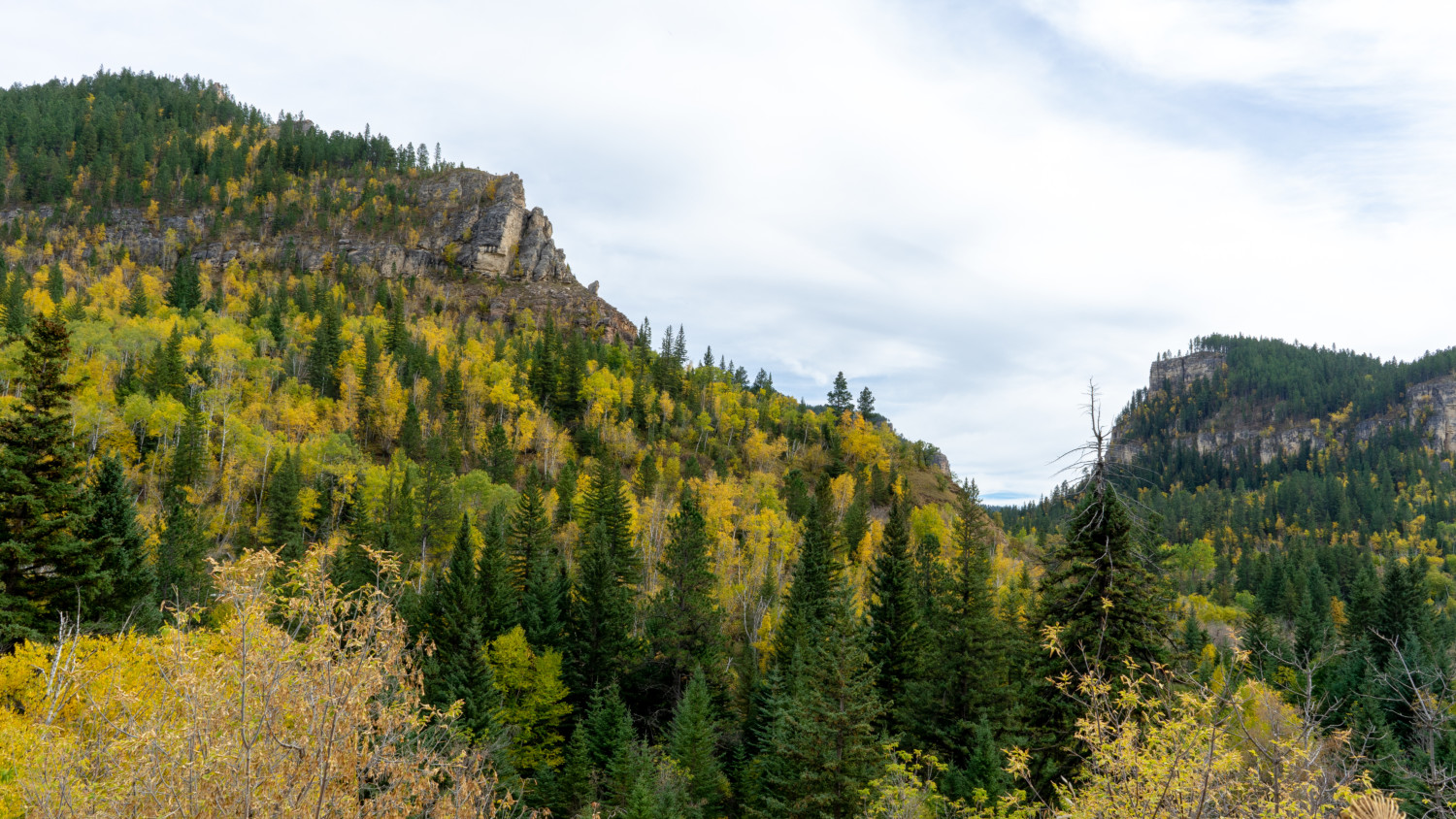 This rustic building houses one of the most creative pet friendly breweries we found in the Black Hills. With 10 or more of their own beers on tap, everyone is sure to find something they like. Snacks can be purchased at the bar, and more substantial fare is available across the parking lot at Bunky's BBQ.
Pet policy: Pets are very welcome on the front patio, where you'll find covered seating, tables and chairs, picnic tables, and an outdoor fireplace.
Located on the main drag in downtown Spearfish, the brewmaster here focuses on ambers and lagers, and has 14 on tap. They offer a limited, but up-scale, pub menu and a classy, modern atmosphere.
Pet policy: Pets are allowed only at the two sidewalk tables located outside the railing around the seating area.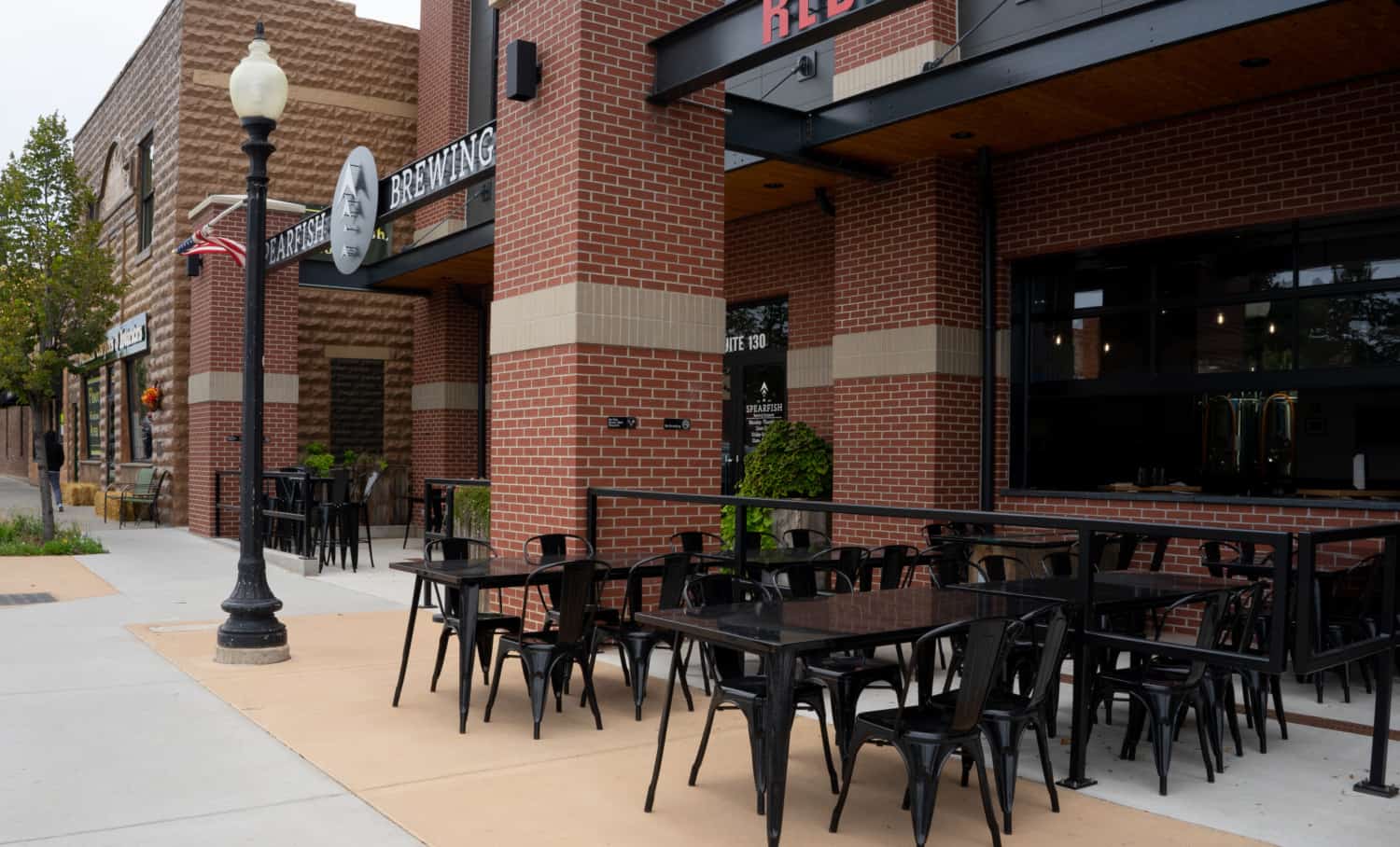 2. Sturgis, South Dakota
Belle Joli's beautiful outdoor patio, overlooking the 5 acre-vineyard and bordered by majestic ponderosa pines, is the perfect setting to sample the wines and sparkling wines created here. Light fare is available, and brunch is served on Sundays on the patio.
Pet policy: Pets are welcome to enjoy the outdoor patio.
The Knuckle Brewing Company was established in 2014, but it's steeped in Black Hills history. Located in downtown Sturgis, on land formerly owned by Colonel Samuel D. Sturgis – the town's namesake – the first year they brewed their Knucklehead Red, it took first place in its category in the Black Hills Beerfest. In addition to great beers, the pub offers an extensive menu.
Pet policy: Pets are welcome on the covered patio where you'll find picnic tables and plenty of space to stretch out.
3. Deadwood, South Dakota
If you can't make it out to the Belle Joli' Winery in Sturgis, the next best thing is their tasting room in Deadwood. Relax on the outdoor patio as you taste the locally grown, award winning wines and sparkling wines. No food is available at the tasting room, so pack a picnic, or get food to go at one of the many downtown restaurants.
Pet Policy: Pets are welcome to join you on the patio.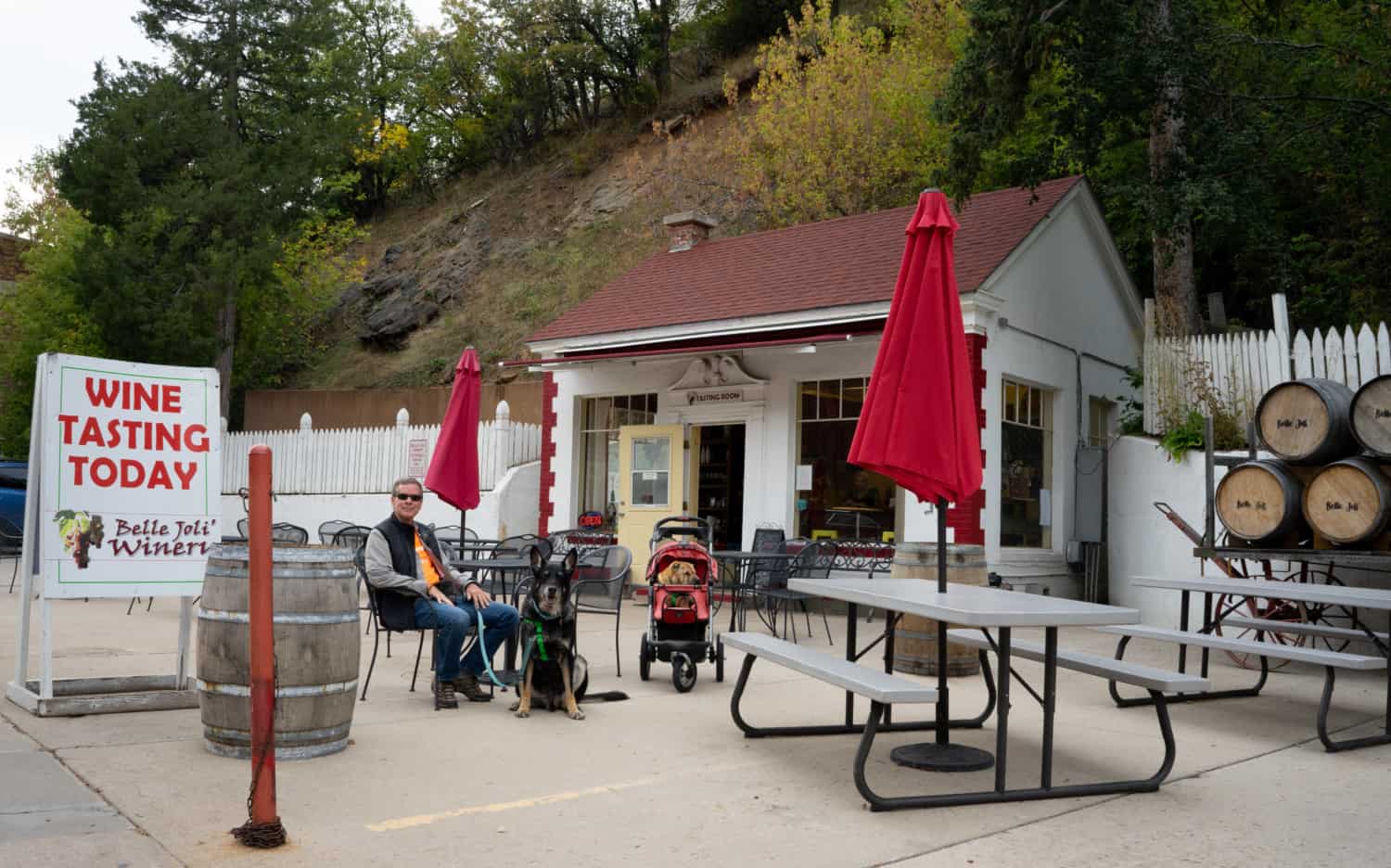 Naked Winery Tasting Room & 

Sick-N-Twisted Brew Pub 
– 692 Upper Main Street, Deadwood
Can't decide between brews and wines? The Sick-N-Twisted Brew Pub and Naked Winery Tasting Room has both under one roof! Naked Winery uses no honey, sugar, or fruit additives in their production – making the grape the star of the show. And the brewery offers a huge variety, as well as having other local brews on tap. Hungry? You'll walk right by a sandwich counter when you pass through the front door.
Pet policy: Well-behaved, leased pets are welcome inside the tasting room / brew pub.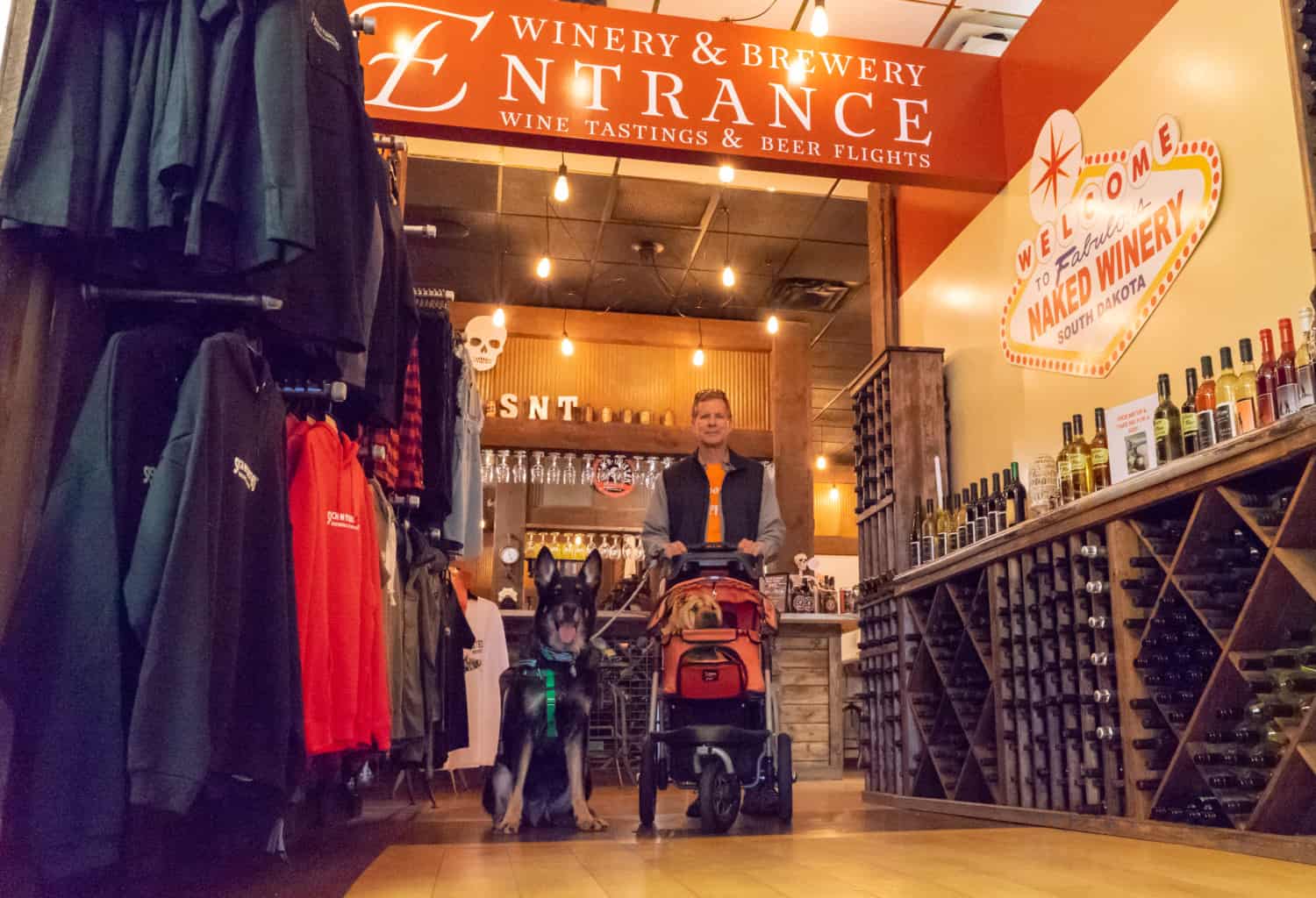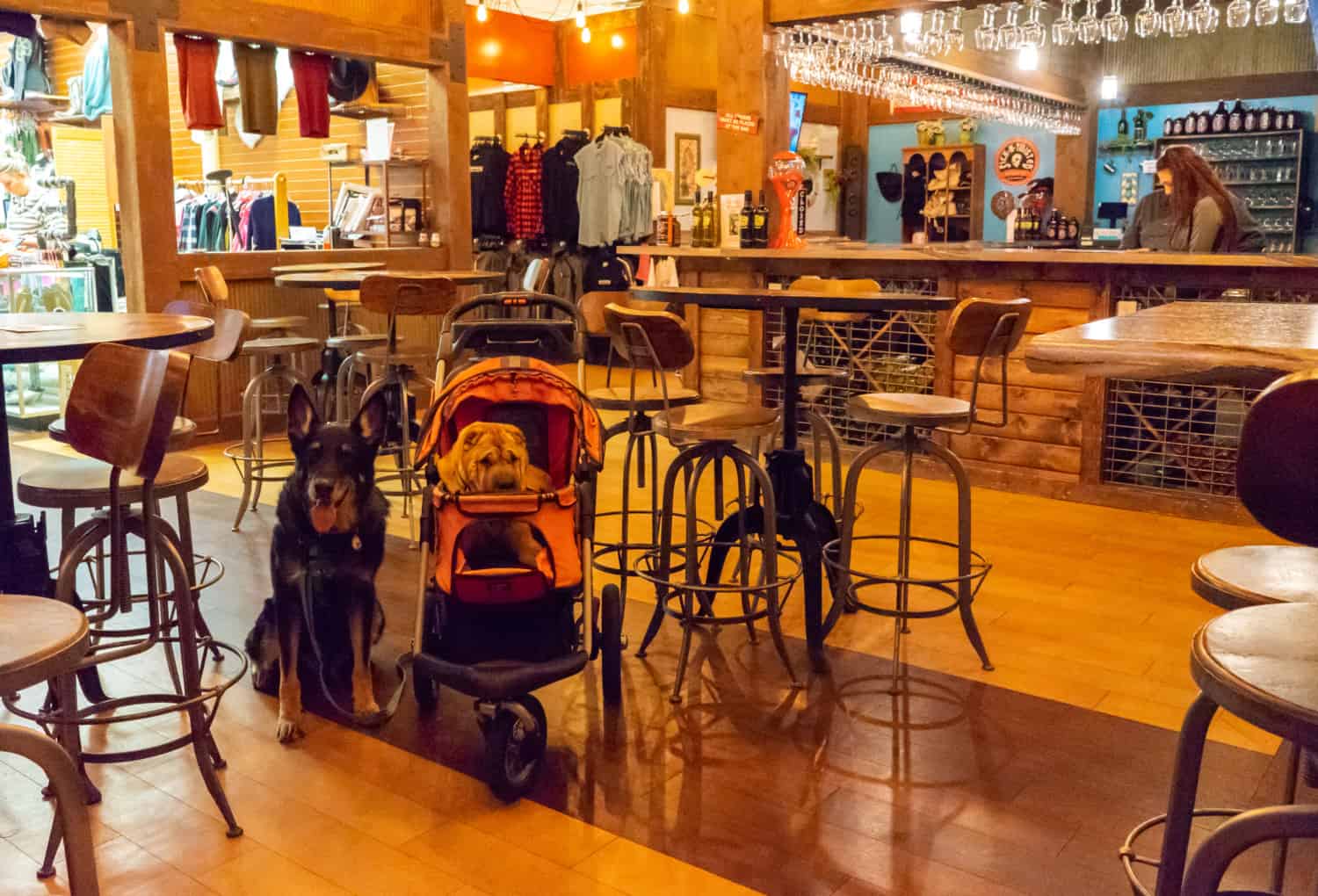 4. Lead, South Dakota
The name may sound cold, the the reception at Dakota Shivers certainly is not! This is one of the most people and pet friendly breweries we've ever had the pleasure to visit, and we're sure you'll like it, too. They don't serve food, but the beers are great, and pups are welcome at the bar!
Pet policy: Pets are welcome to pull up a stool at the bar.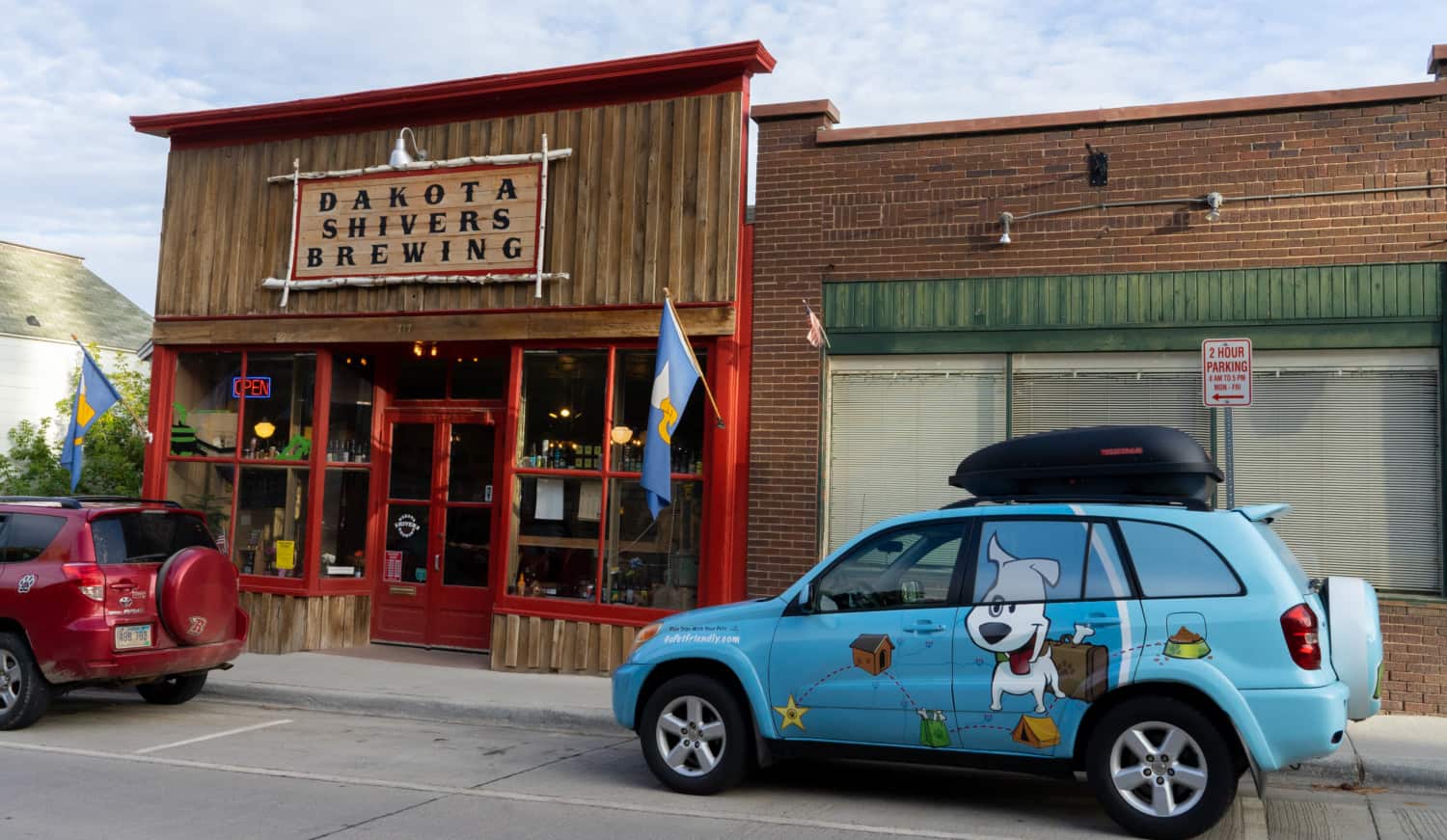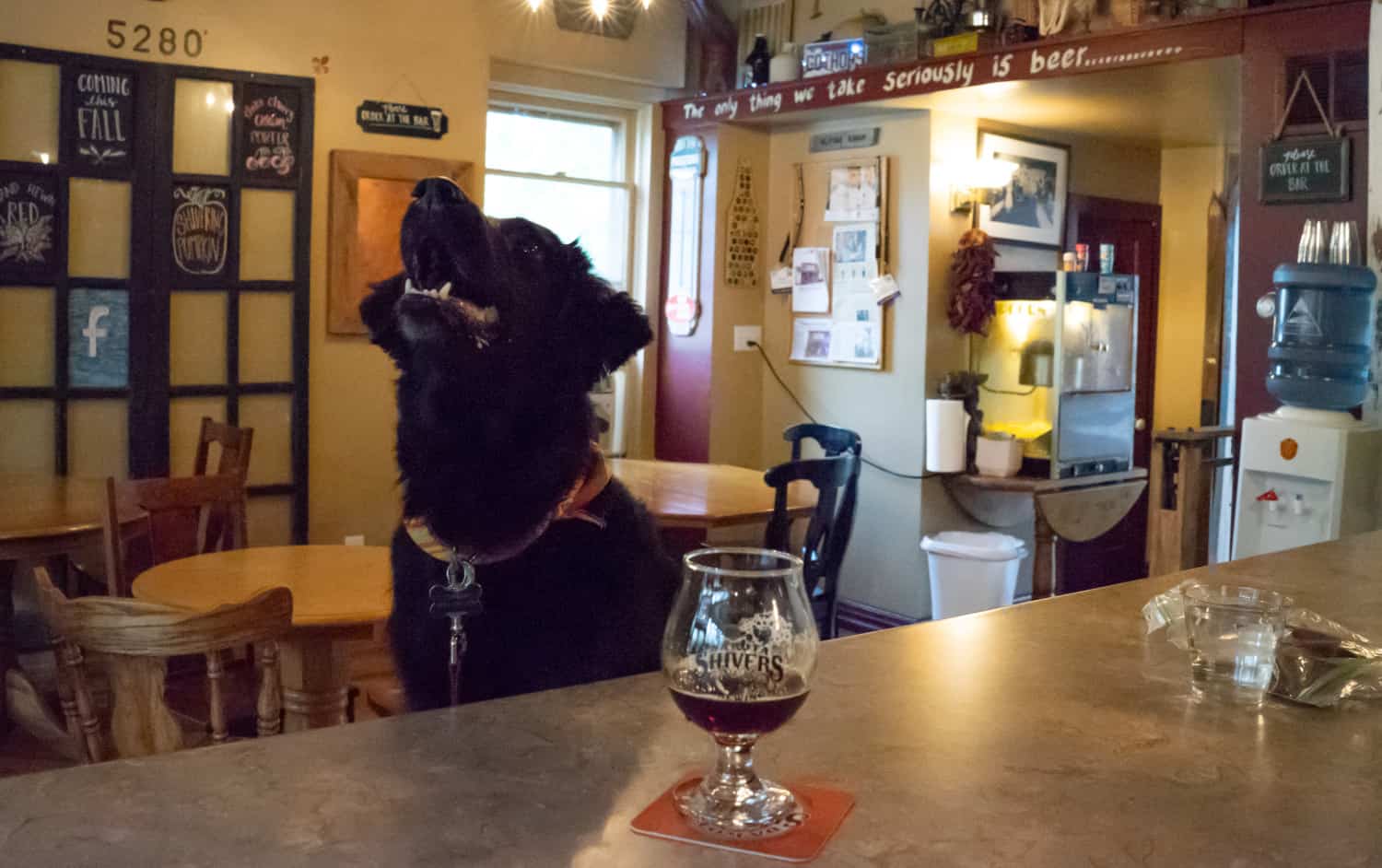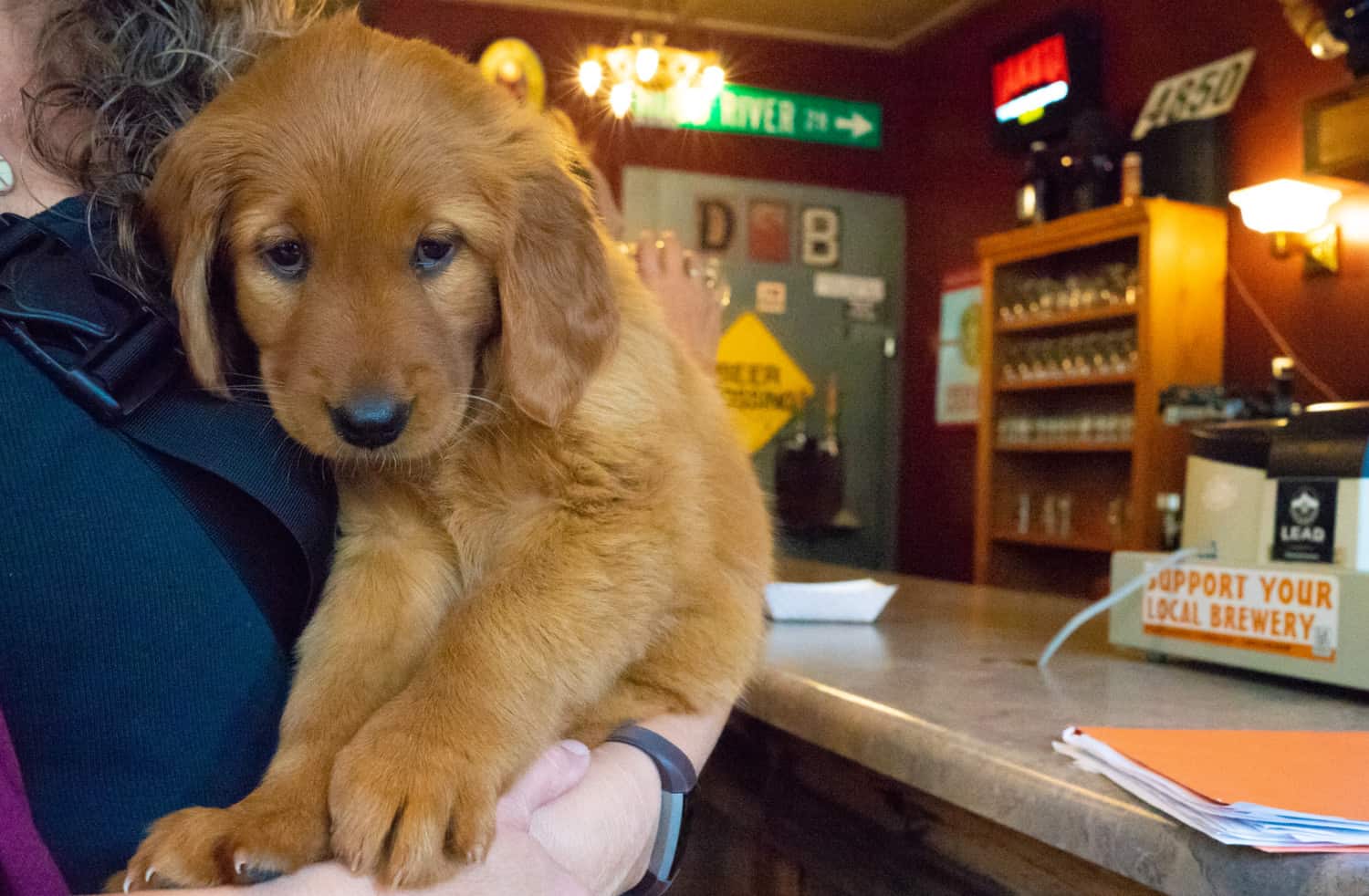 5. Hill City, South Dakota
New to Hill City in 2018, the Smokejumper Station features Firehouse Brewing Company's craft beers and wines, along with a limited menu. The grassy back patio runs along Spring Creek and features live music on Friday and Saturday nights in the summer.
Pet policy: Pets are welcome on the back patio where you'll find picnic tables and corn hole.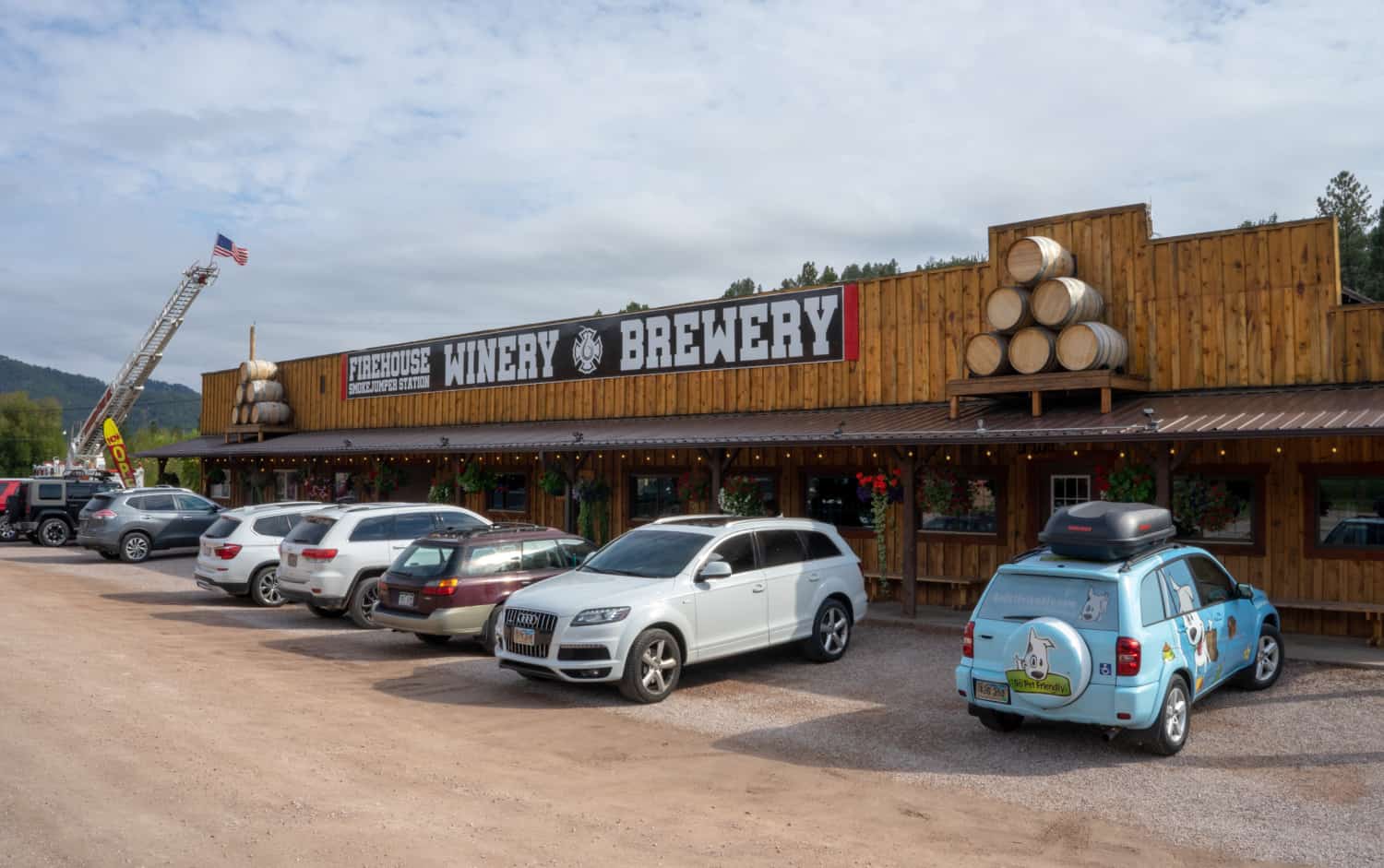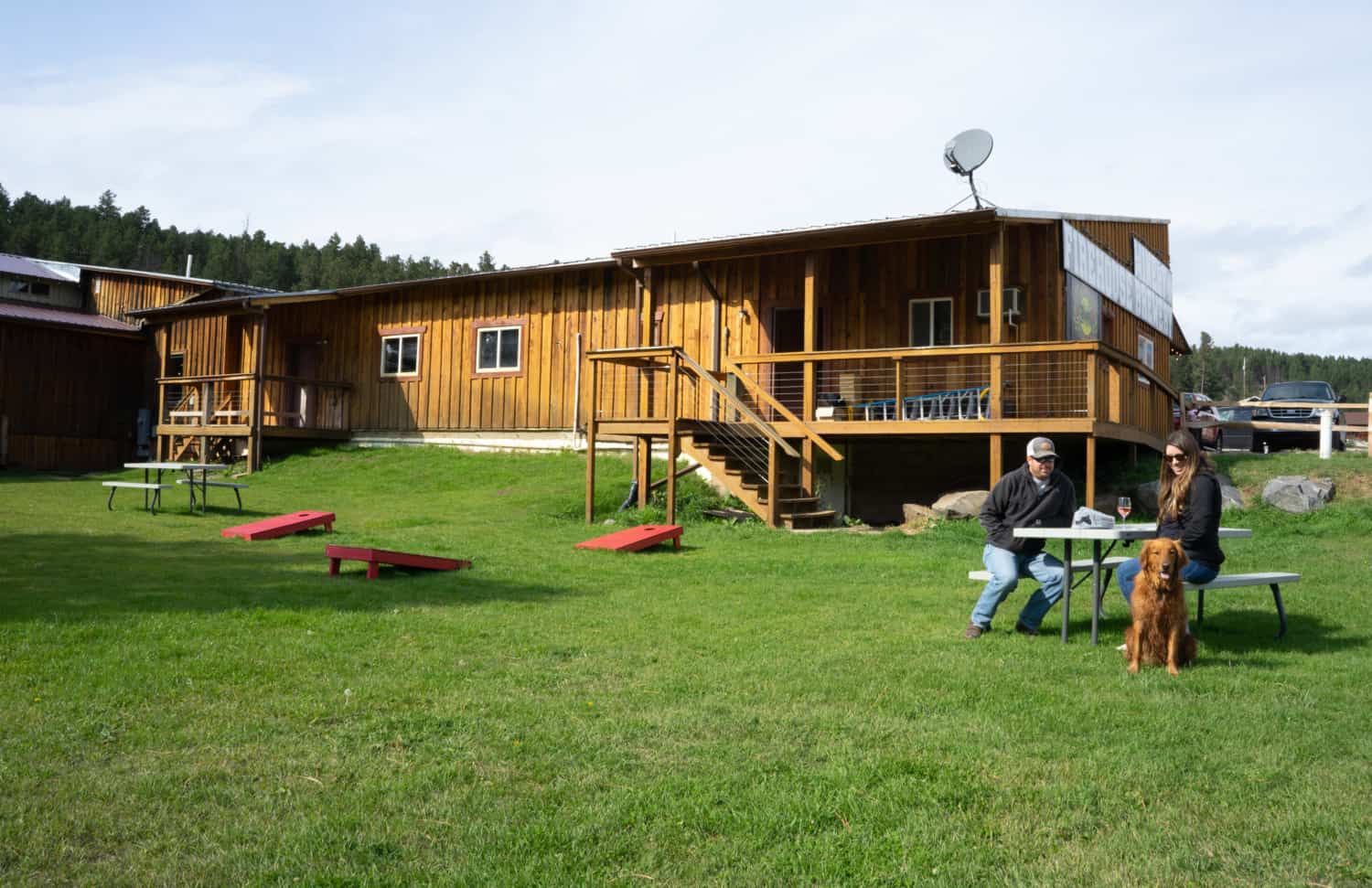 Opened in 2013, Miner emphasizes local ingredients and relies heavily on the water on-site, which gives their beers unique flavors and a distinctive style. Enjoy year-round favorites and seasonal features, including sours, ciders, and meads. They also offer a limited selection of sandwiches and pizza.
Pet policy: Leashed pets are welcome on the patio and yard where you'll find picnic tables, a bocce court, disc golf, and pet waste stations.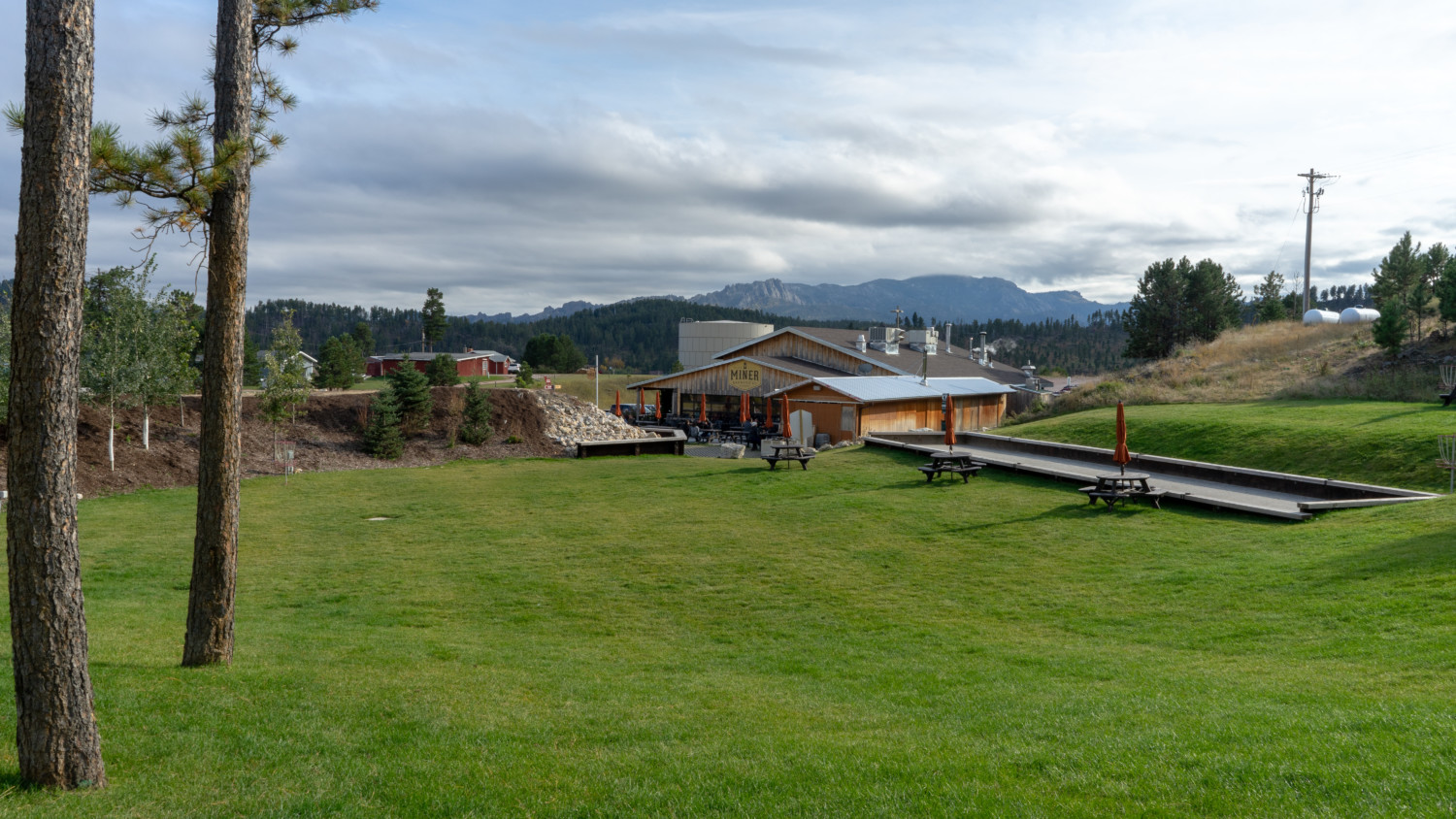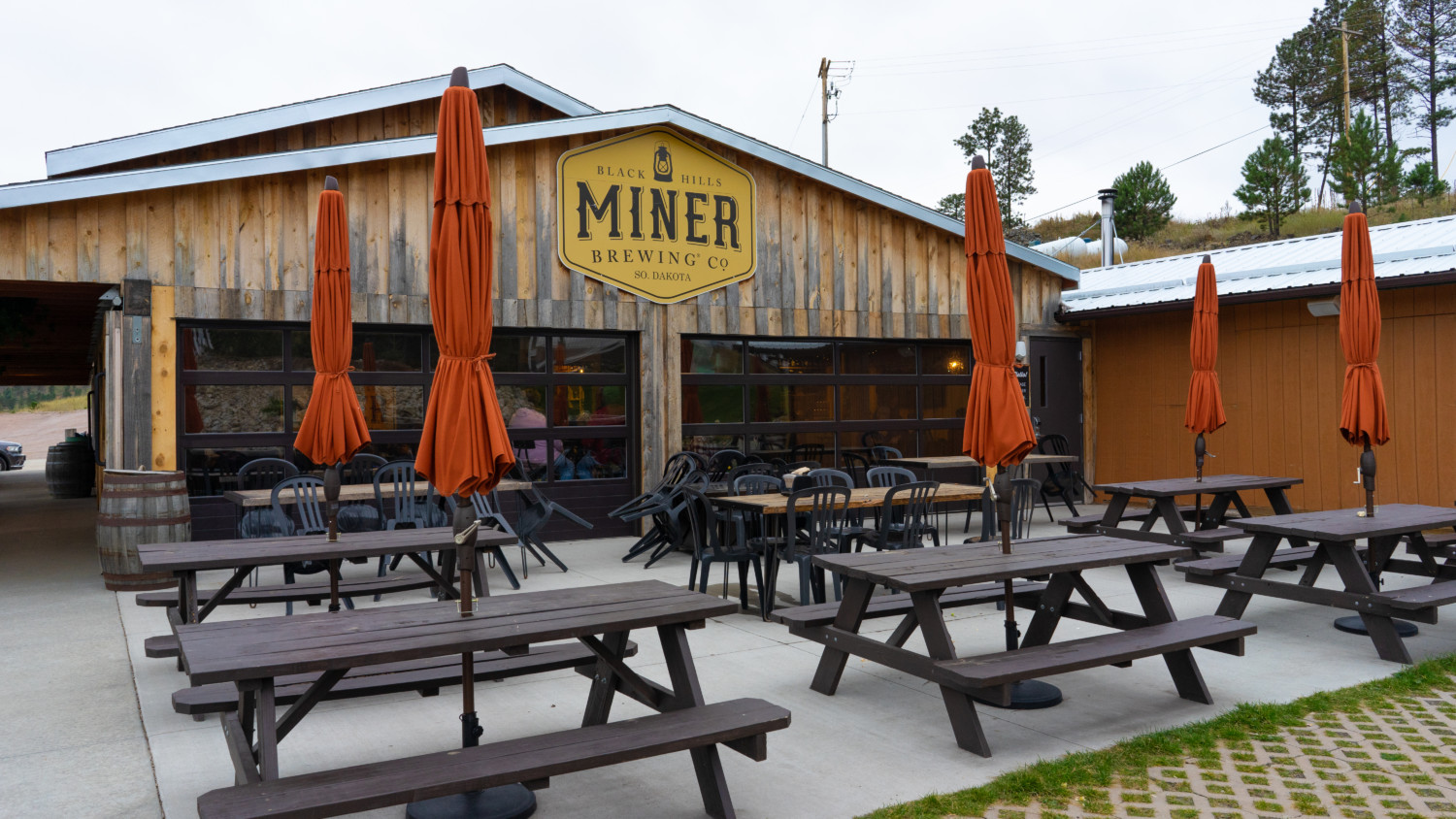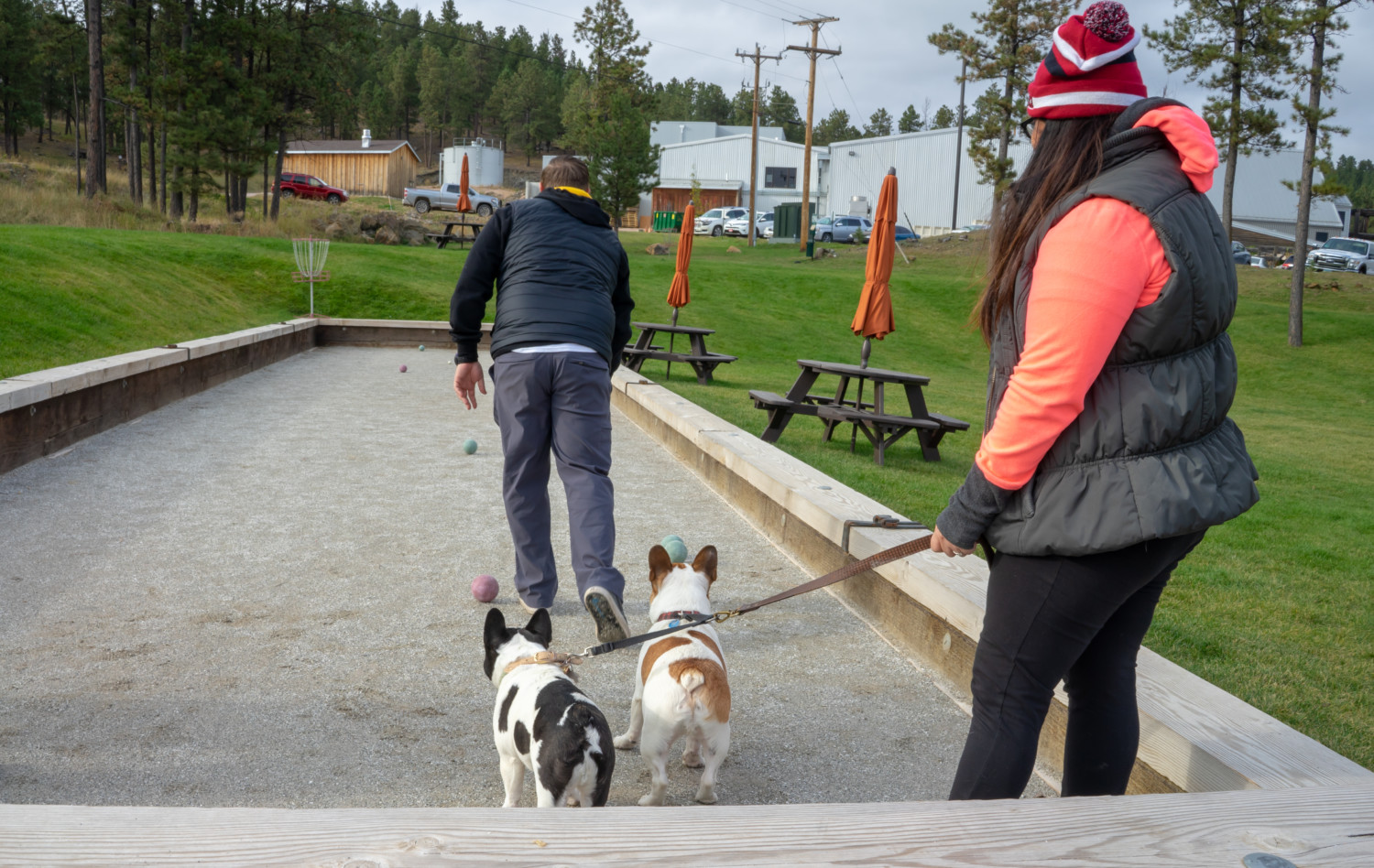 This cozy tasting room offers selections from Naked Winery, 36 beers from Sick-N-Twisted Brewing and other local crafters, and a limited menu. Choose to sit inside, or find a spot in the welcoming courtyard.
Pet policy: Pets are welcome to join you inside the tasting room or in the courtyard.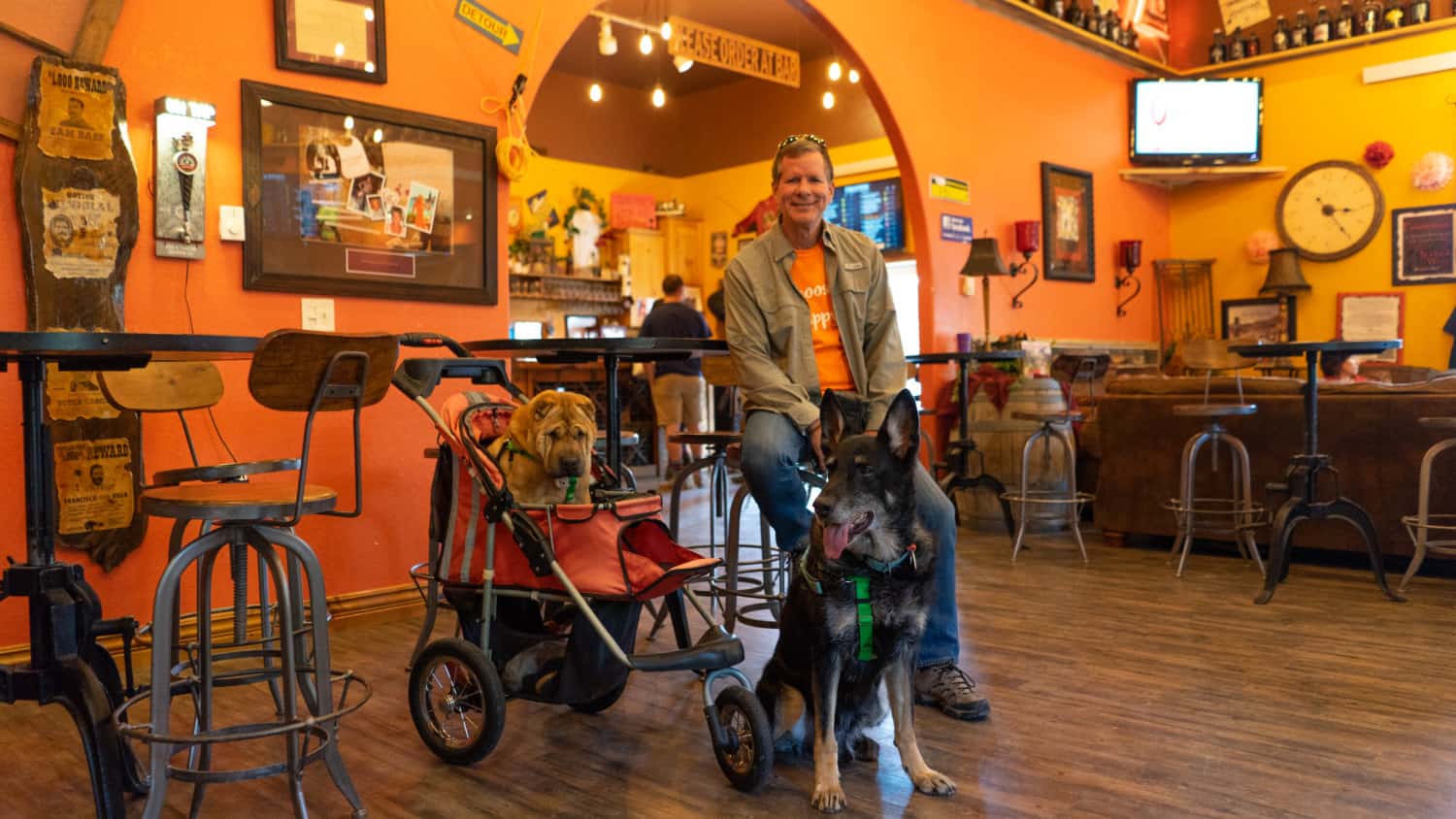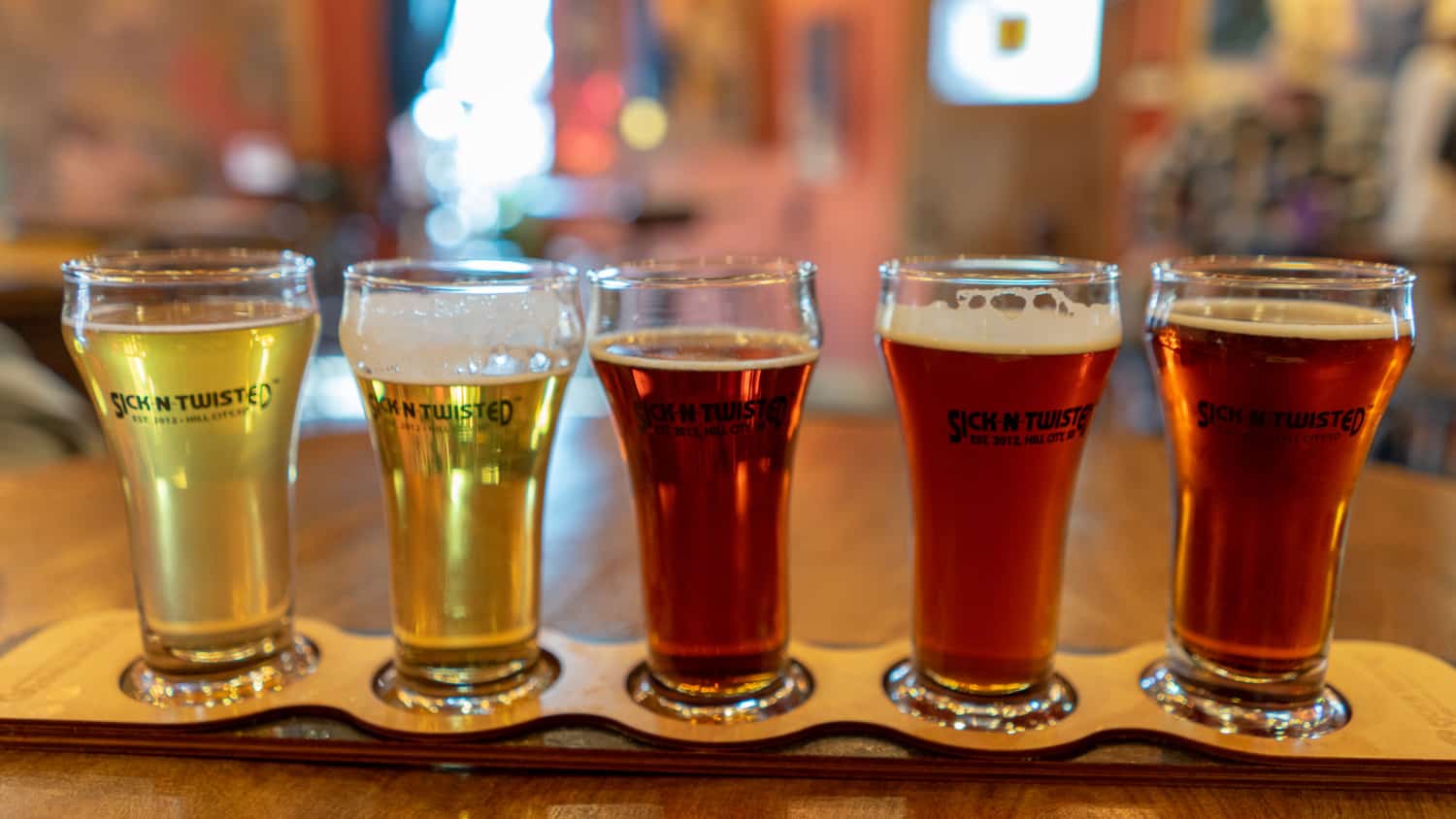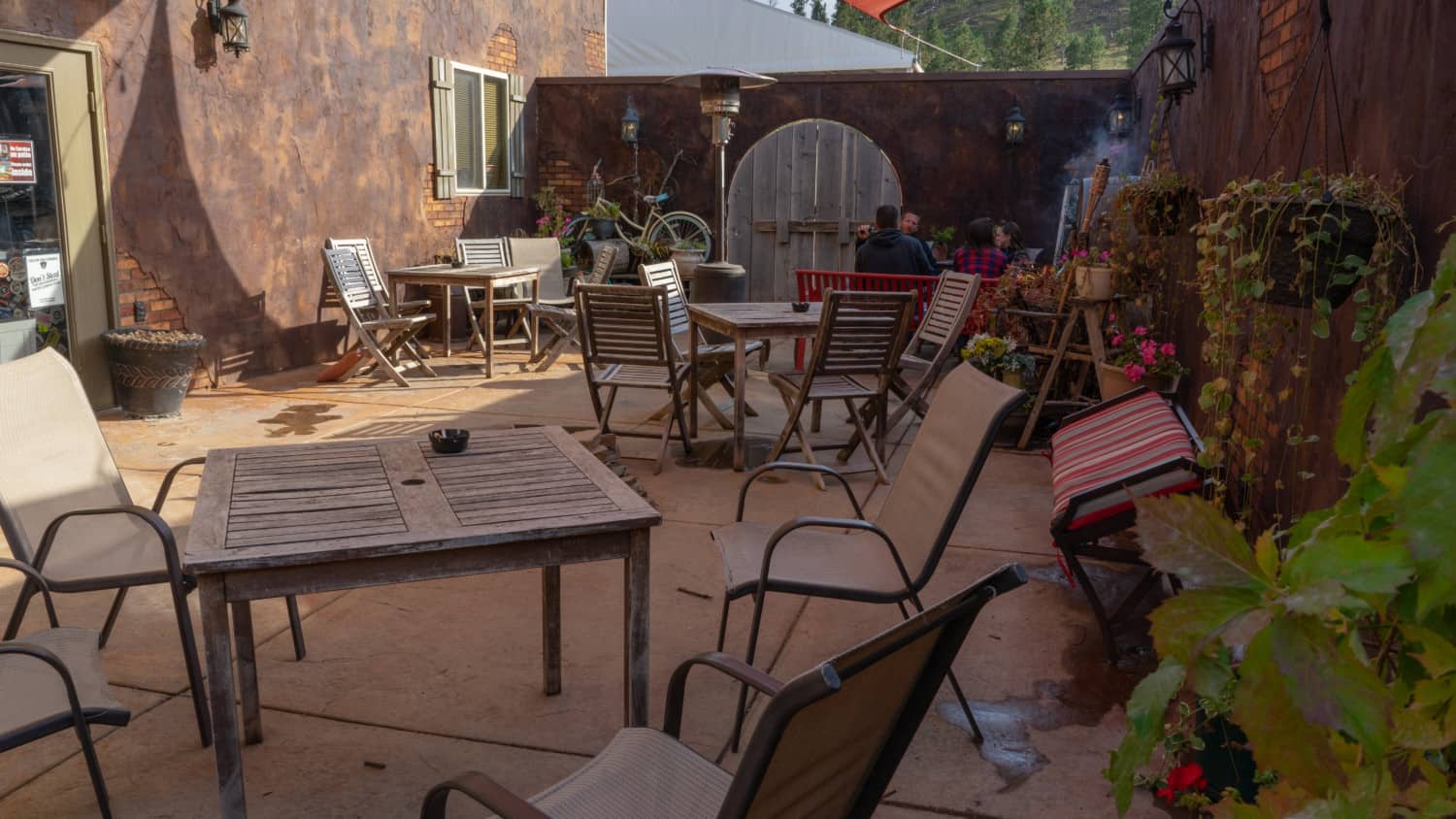 Prairie Berry has earned more than 1,000 awards since it opened in 2001, and they offer selection to please every palate – from crisp, dry wines and robust, oak-aged reds to sweet, fruity varieties. This is Hill City's only working winery and feels like one you'd find in Napa or Sonoma. Enjoy a free tasting, and then settle in on the patio or yard for a glass of your favorite and something delicious from the kitchen.
Pet policy: Pets are welcome on both outdoor patios, and at the picnic tables in the yard.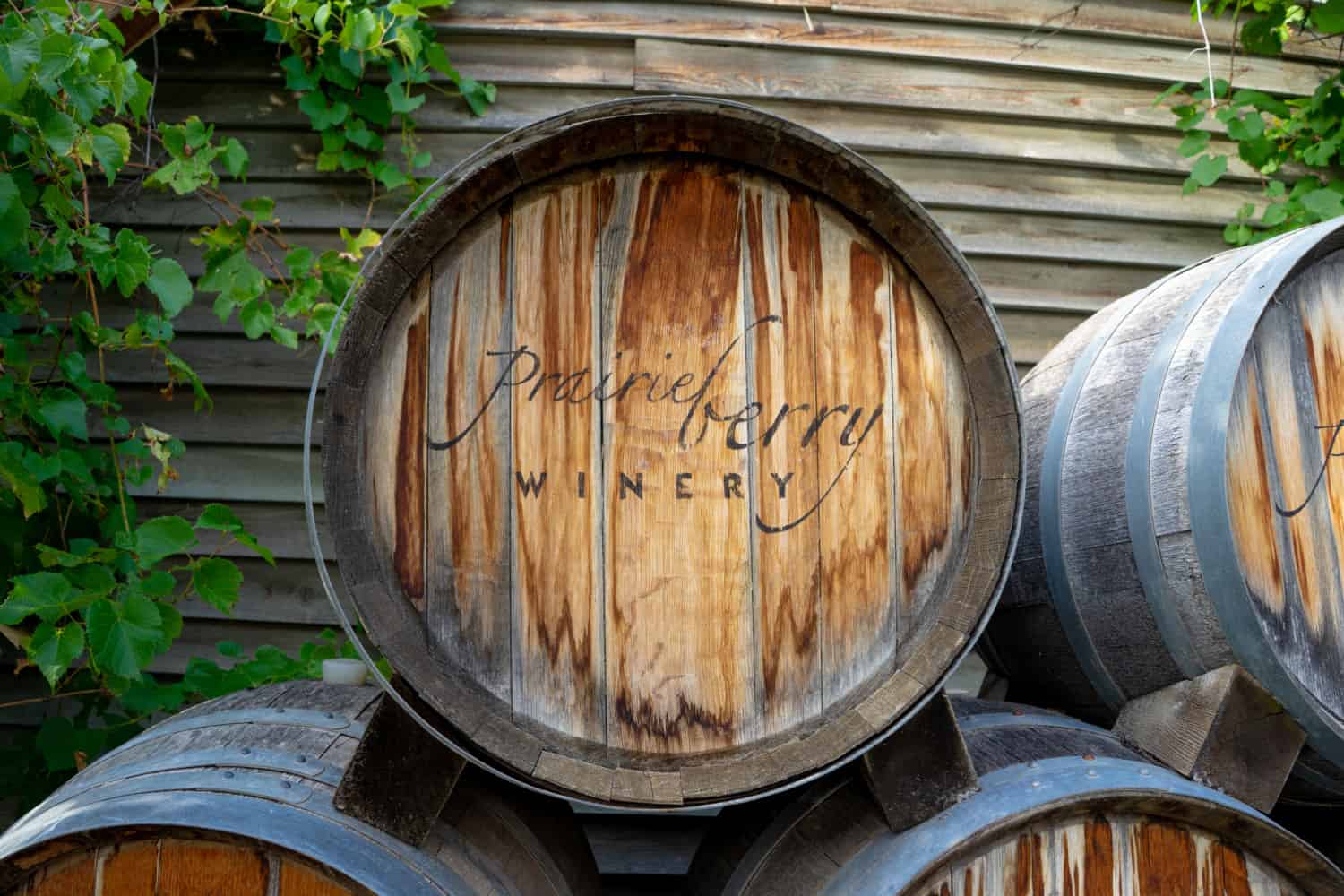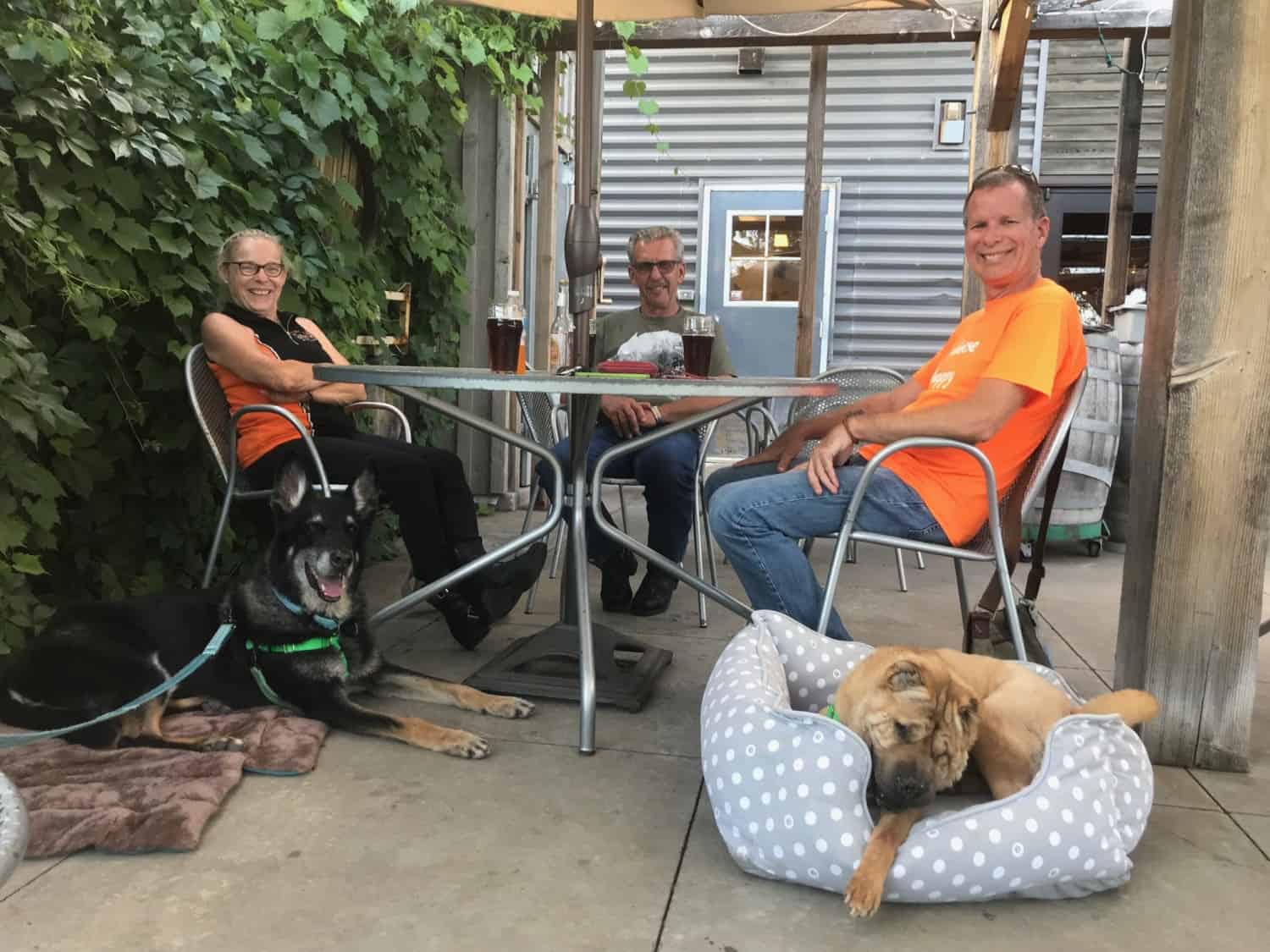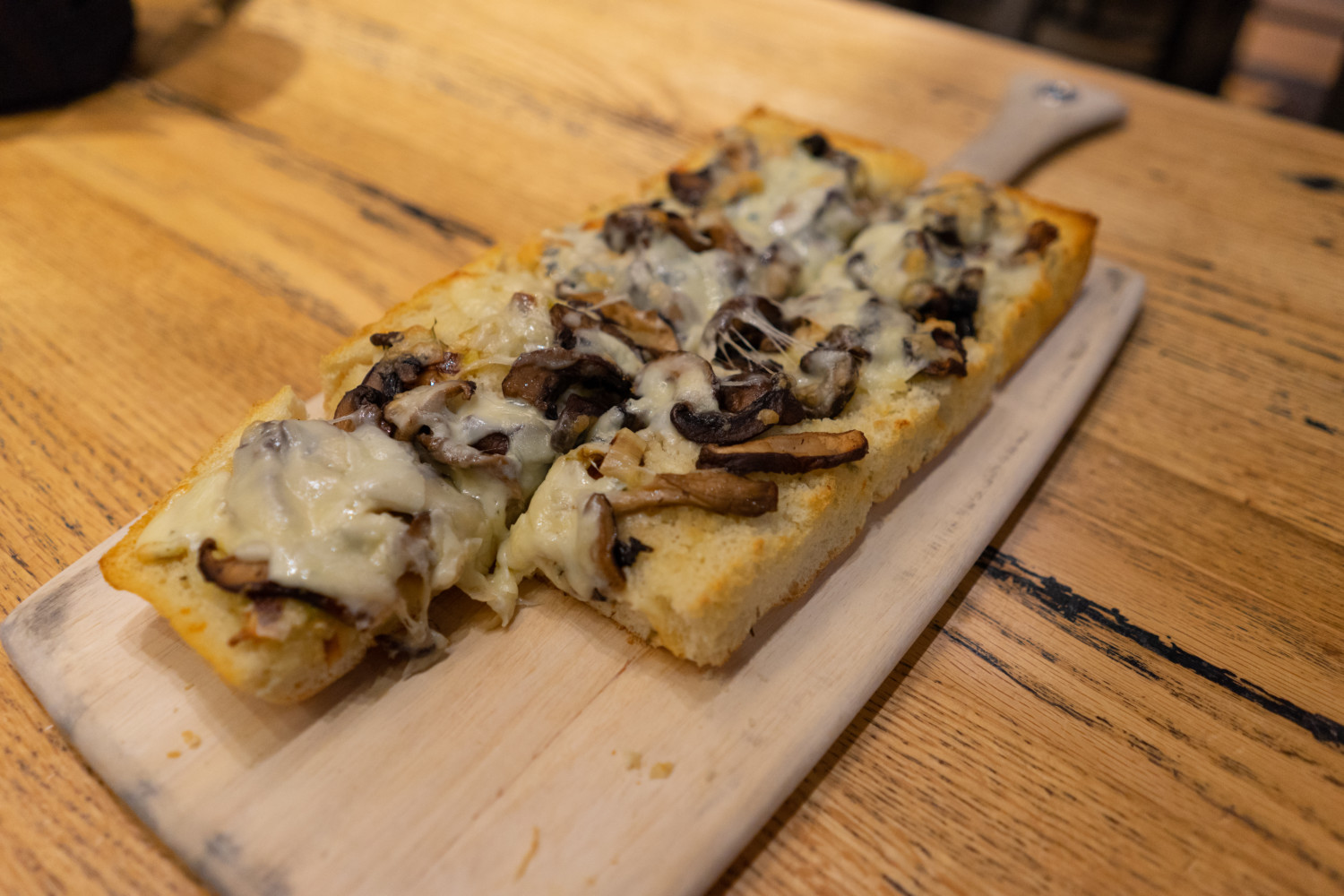 Stone Faces Winery – 12670 Robins Roose Road, Hill City
Stone Faces Winery specializes in South Dakota's native wild grape, Vitis riparia, as well as traditional grapes with a uniquely South Dakota feel. With dry, sweet, grape and other fruit wines, you're sure to enjoy the free tasting. For those that prefer beer, the tasting room also offers brews from Fernson Brewing in Sioux Falls, South Dakota.
Pet policy: Well-behaved pets are welcome inside the tasting room.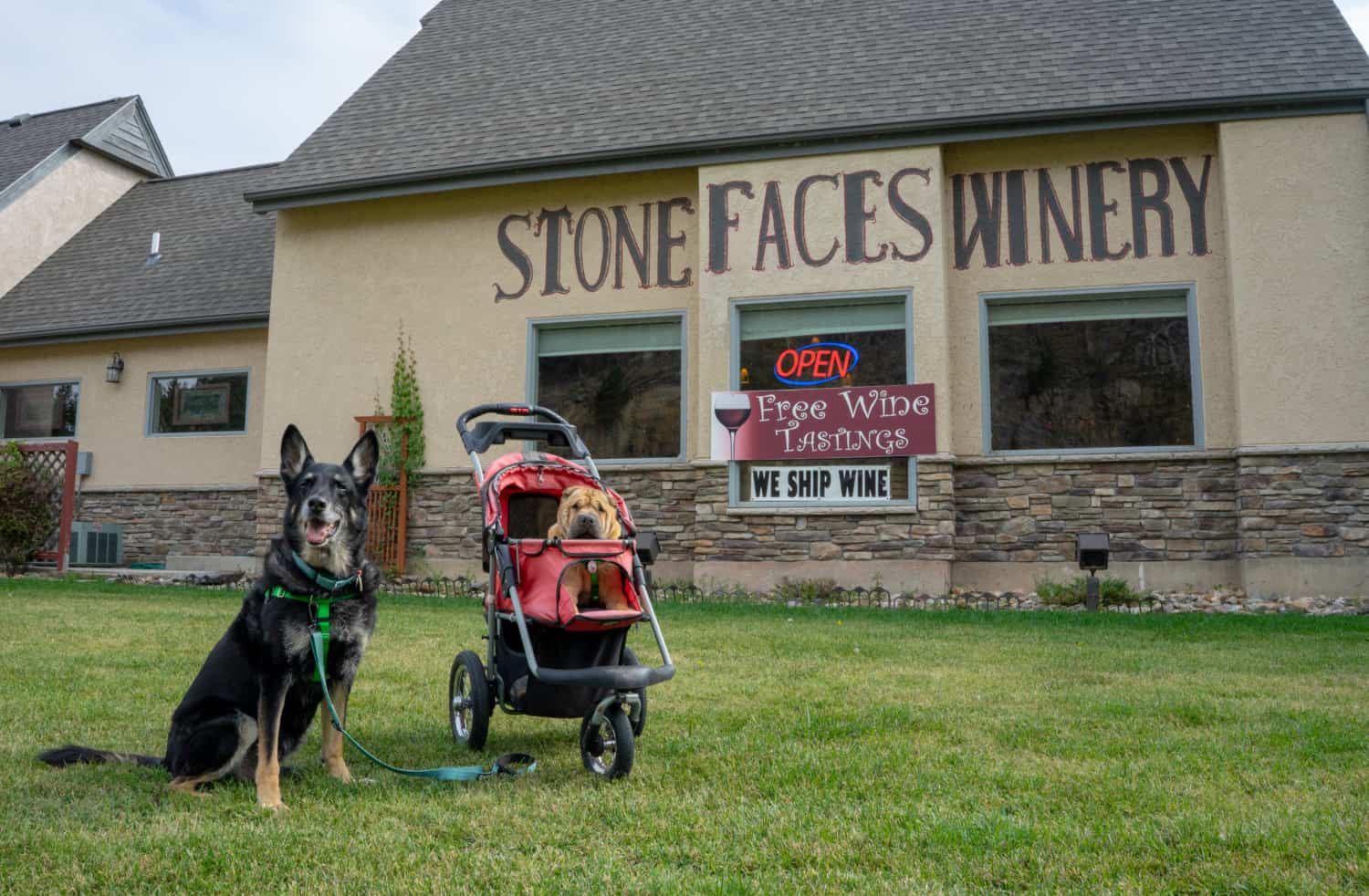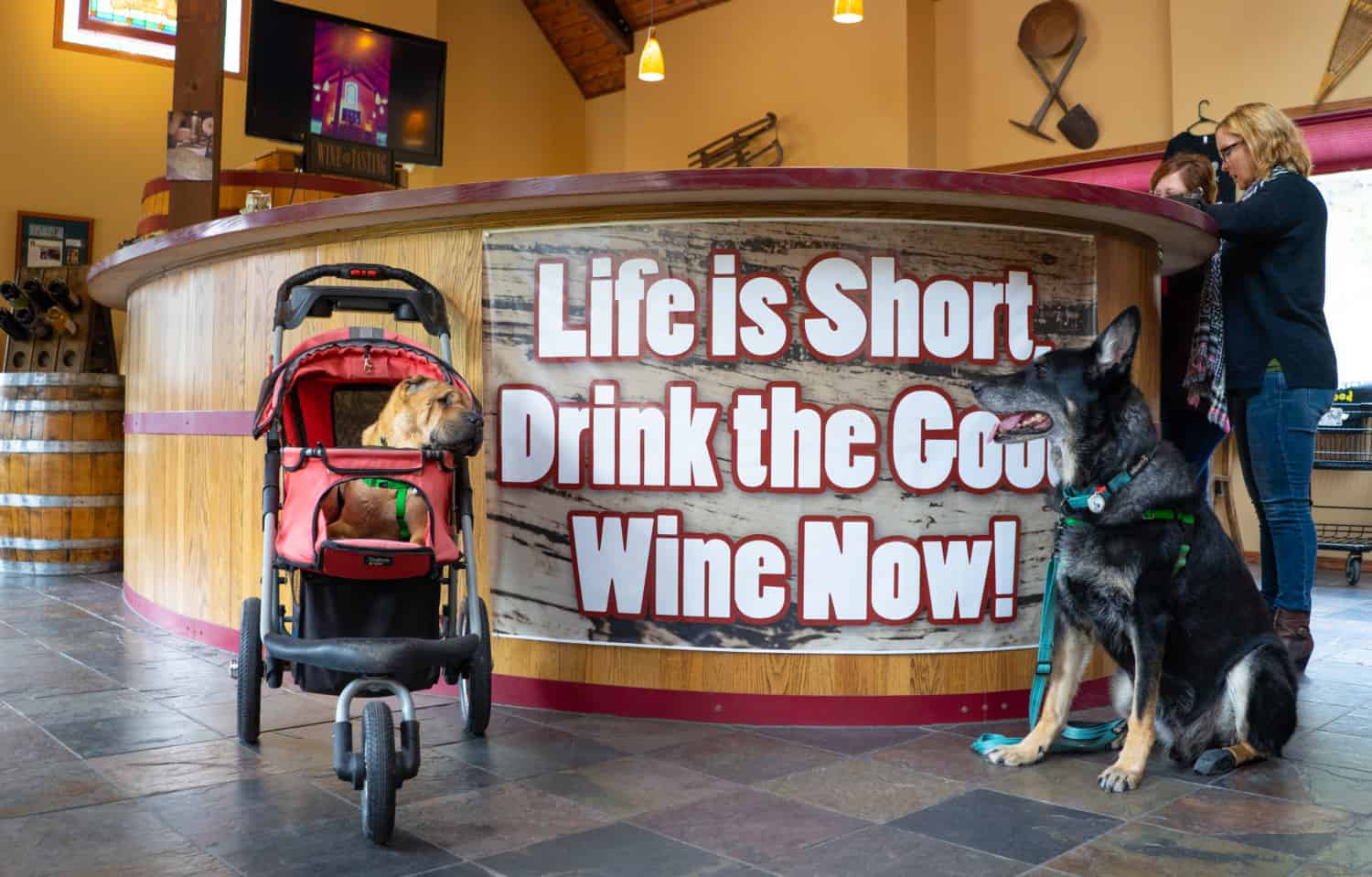 If you're short on time, or just can't decide which pet friendly breweries and wineries to hit, make a stop at Twisted Pine. They don't produce their own wines, but carry a wide selection of local wines and beers for tasting. Narrow down the options here, and then go visit your favorites! You'll also find gifts, oils and vinegars, and snacks.
Pet policy: Well-behaved pets are welcome in the tasting room and on the sidewalk patio.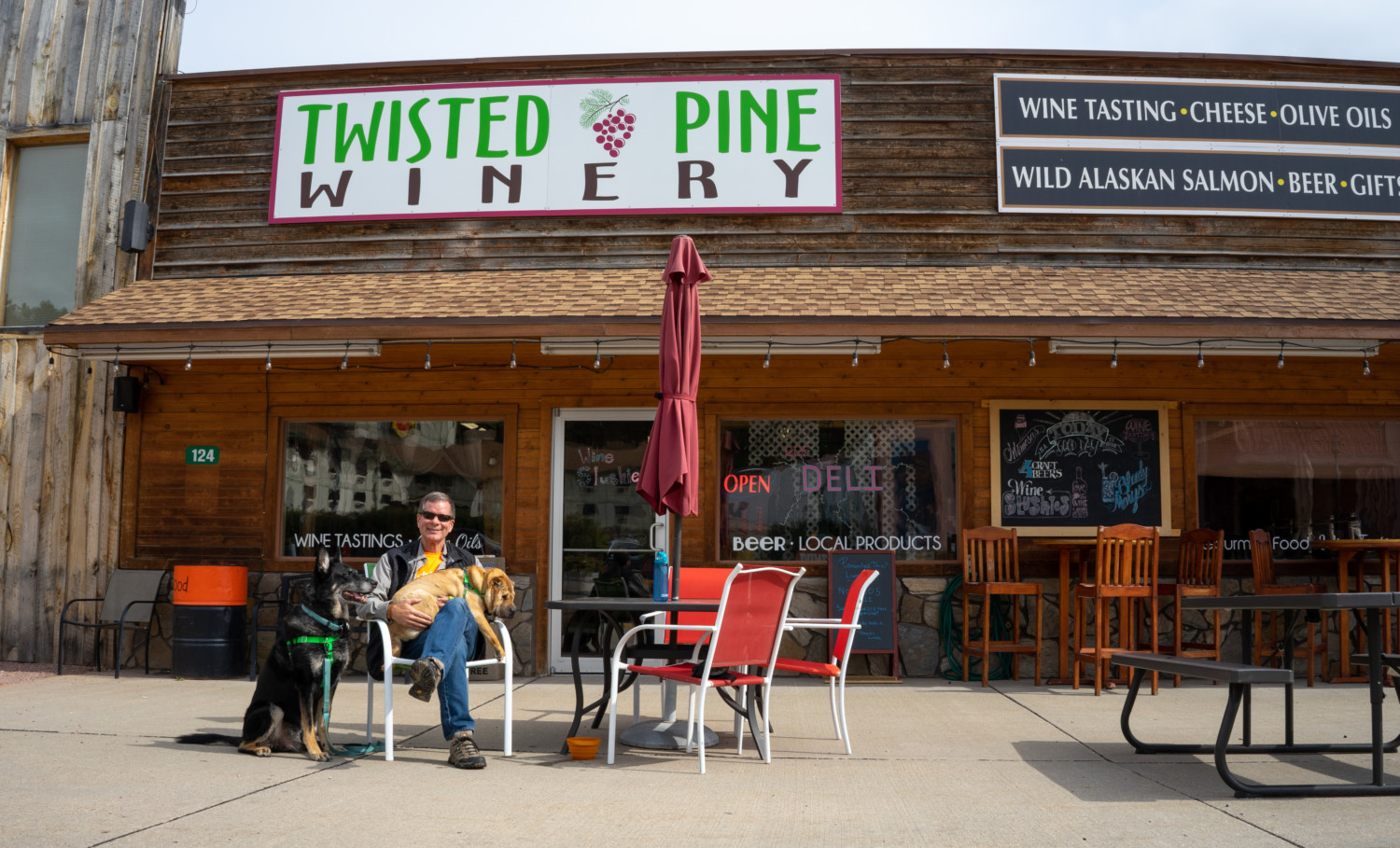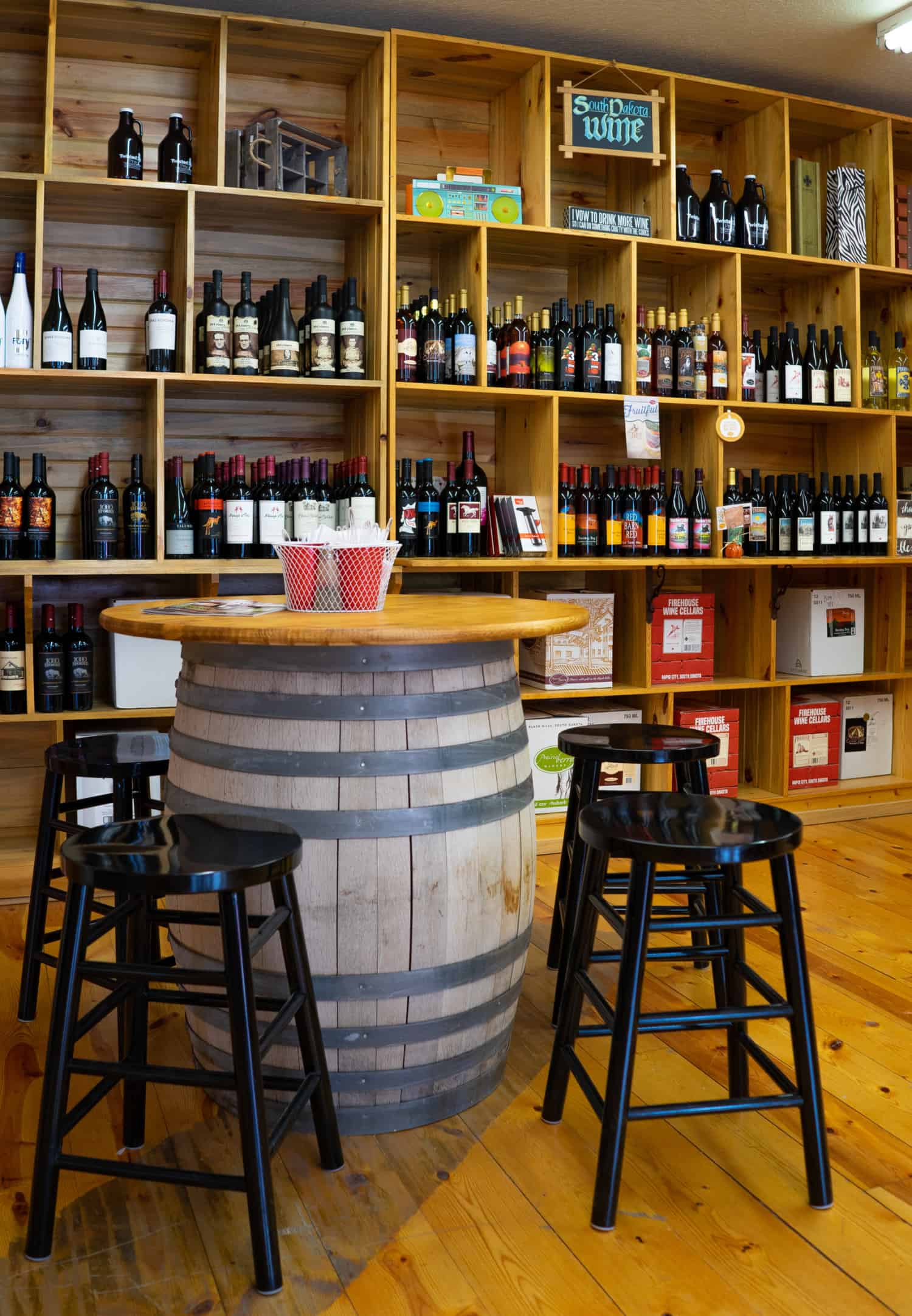 6. Custer, South Dakota
Time for another scenic drive! From Hill City, enjoy the views on the way to Custer by following Hwy 89. If you have a bit longer, the spectacular Needles Highway splits off part way down Hwy 89 and will take you into Custer State Park, where you can catch Hwy 16 back to Custer.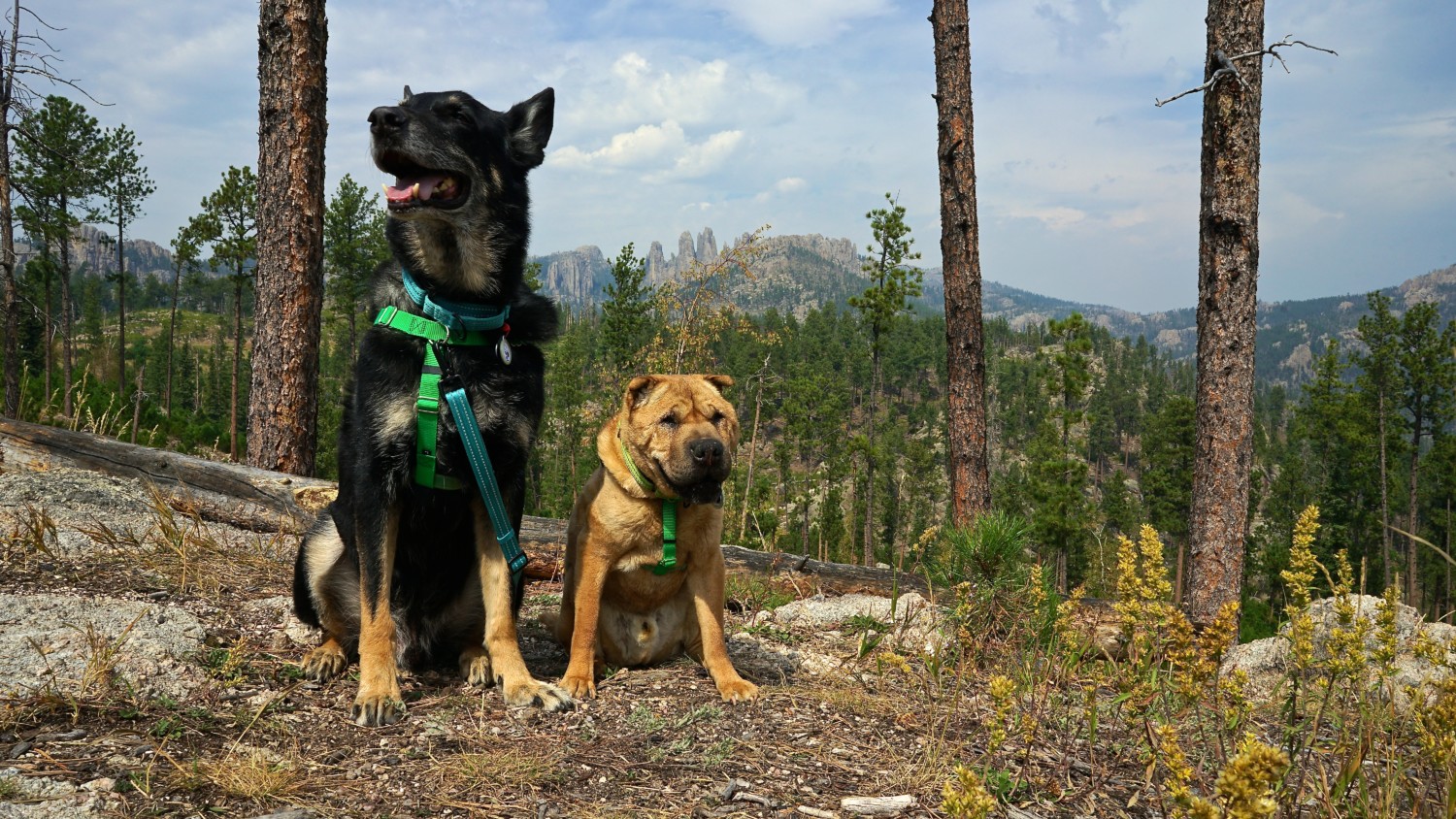 Custer Beacon – 315 Washington Street, Custer
Serving local beers and fantastic food, this is our favorite place in the Black Hills! Pets are welcome inside the bar, on the deck, and in the courtyard, so if your dog doesn't enjoy crowds, there's plenty of space to stretch out. They have live music several nights a week, and the best waffle fries anywhere!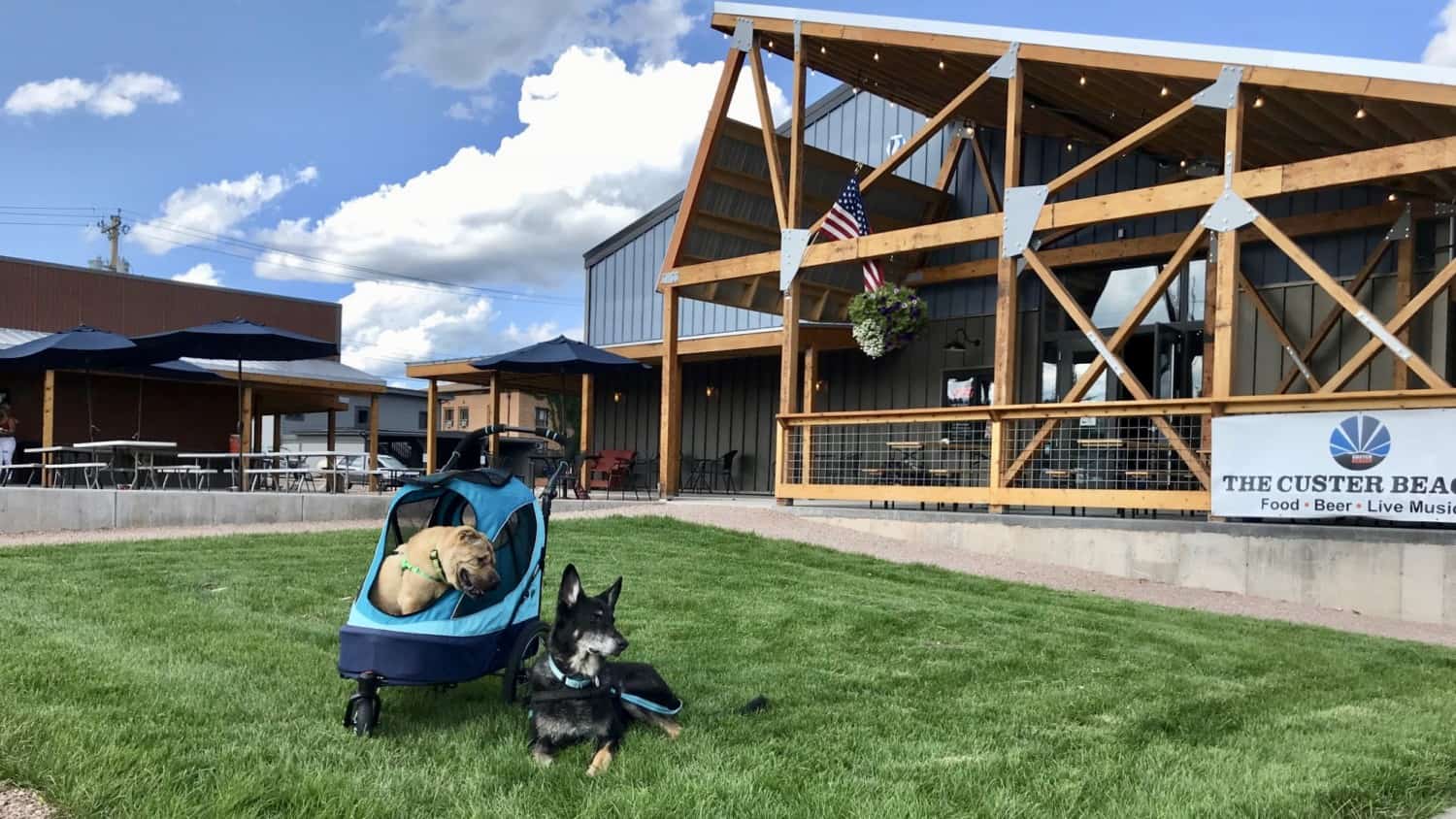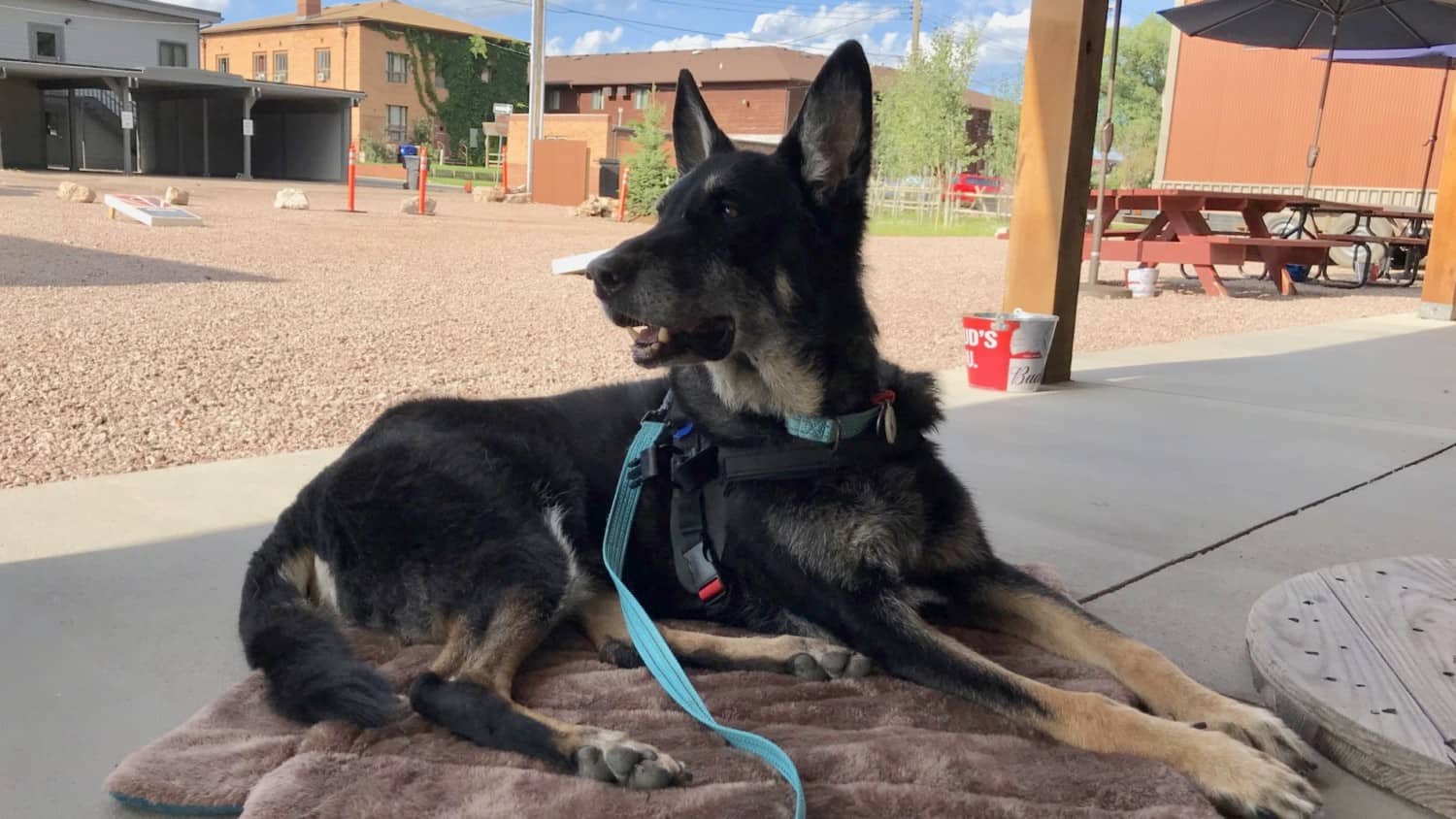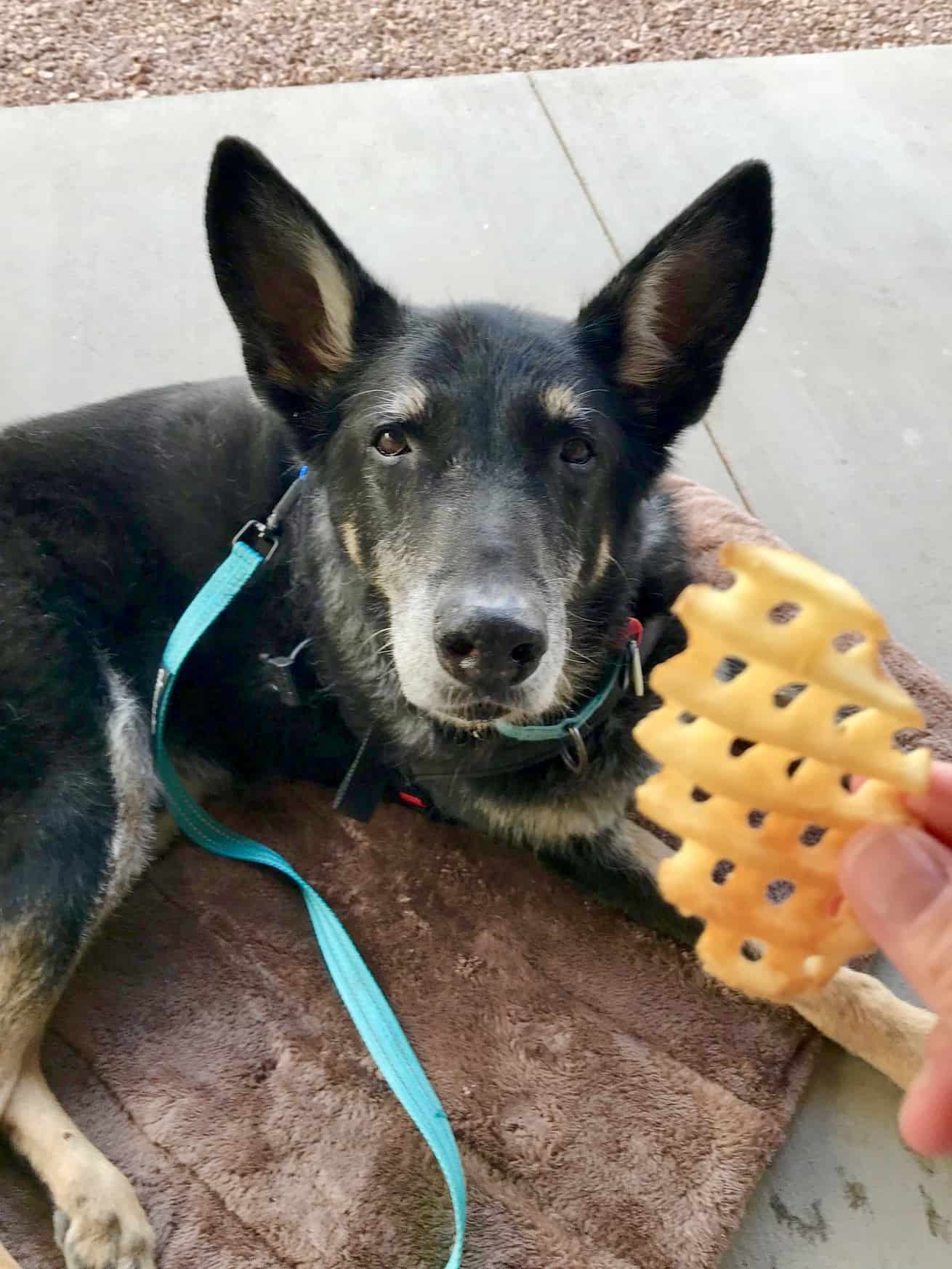 This new brewery is bringing locally hand-crafted artisanal ales to Custer. Featuring a direct-draw tap system – it doesn't get any fresher than that! – and 24 rotating taps with other Black Hills craft beers, they also offer an extensive menu.
Pet policy: Pets are welcome on the large, partially covered outdoor deck.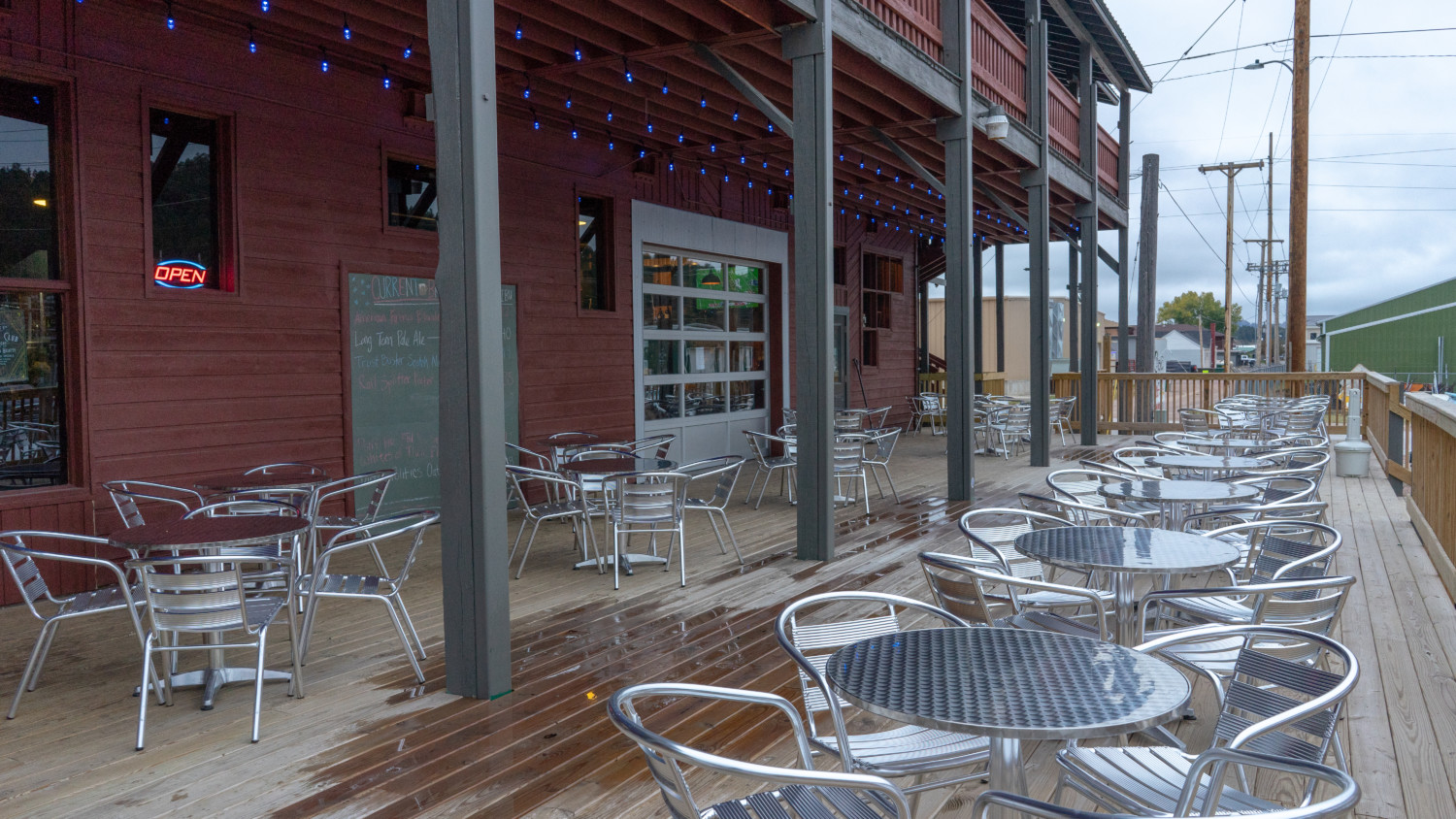 You'll find many more pet friendly restaurants in the Black Hills listed on GoPetFriendly.com. What's your pet's favorite? Be sure to share your pictures on Instagram and tag #gopetfriendly!
EXPERIENCE MORE TOGETHER
Amazon Affiliate Disclosure: GoPetFriendly.com LLC is a participant in the Amazon Services LLC Associates Program, an affiliate advertising program designed to provide a means for website owners to earn advertising fees by advertising and linking to amazon.com, audible.com, and any other website that may be affiliated with Amazon Service LLC Associates Program. As an Amazon Associate, the owner of this site earns a commission from qualifying purchases.
(Visited 3,911 times, 1 visits today)