Southern Utah has the highest concentration of natural wonders found anywhere on earth. Exploring here is a dream. And Kanab, Utah is the perfect basecamp for your pet friendly adventures!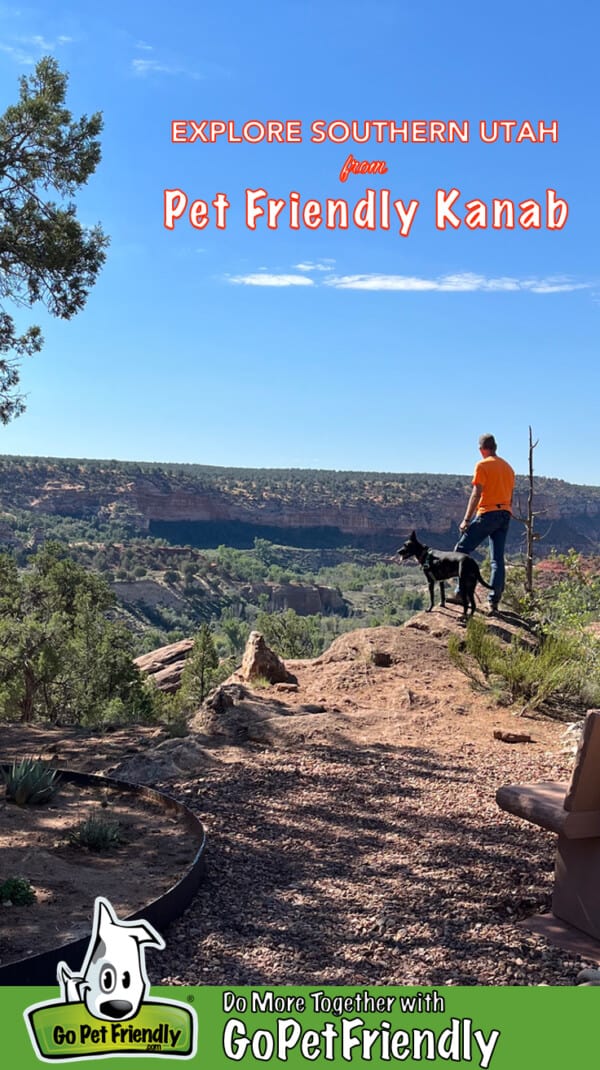 In many ways Kanab, Utah feels much as you'd expect a city with less than 5,000 residents to feel. It has the friendly, small-town vibe of a quiet retreat where serenity and relaxation come easily.
But Kanab's serendipitous location provides another layer to its personality. Set in the heart of some of the most spectacular scenery in America, visitors here are spoiled with once-in-a-lifetime experiences. And at the end of the day, the unique accommodations and brilliant restaurants restore your body for the next day's adventure.
Basecamp: Kanab, Utah
Named for a Paiute word meaning "place of the willows," Kanab, Utah is the perfect basecamp for exploring the pet friendly wonders of Southern Utah. Offering world-class hiking and hidden slot canyons, it's also an easy day trip to three national parks, five national monuments, two national forests, and a national recreation area.
But more importantly for people traveling with pets, Kanab is home to Best Friends Animal Sanctuary. And having the largest animal sanctuary in the United States in your backyard makes Kanab an extremely pet friendly city! There are few places where pets aren't welcome in Kanab. So you and your furry travel companion will find plenty to do together!
Best Time To Visit With Pets
Spring and fall are the most obvious times to visit the American Southwest with pets. However, with 256 days of sunshine each year, chances are good that you will see several days of blue skies and sunshine anytime you visit Kanab, Utah.
If you're hoping to avoid the crowds at the national parks, plan your trip in winter when highs in Kanab are in the mid-40s to low 50s. In fact, the only way to experience Zion Canyon — the most popular attraction at Zion National Park — with your pets is to visit when the park's shuttles aren't operating. And they only shut down for certain periods between December and February.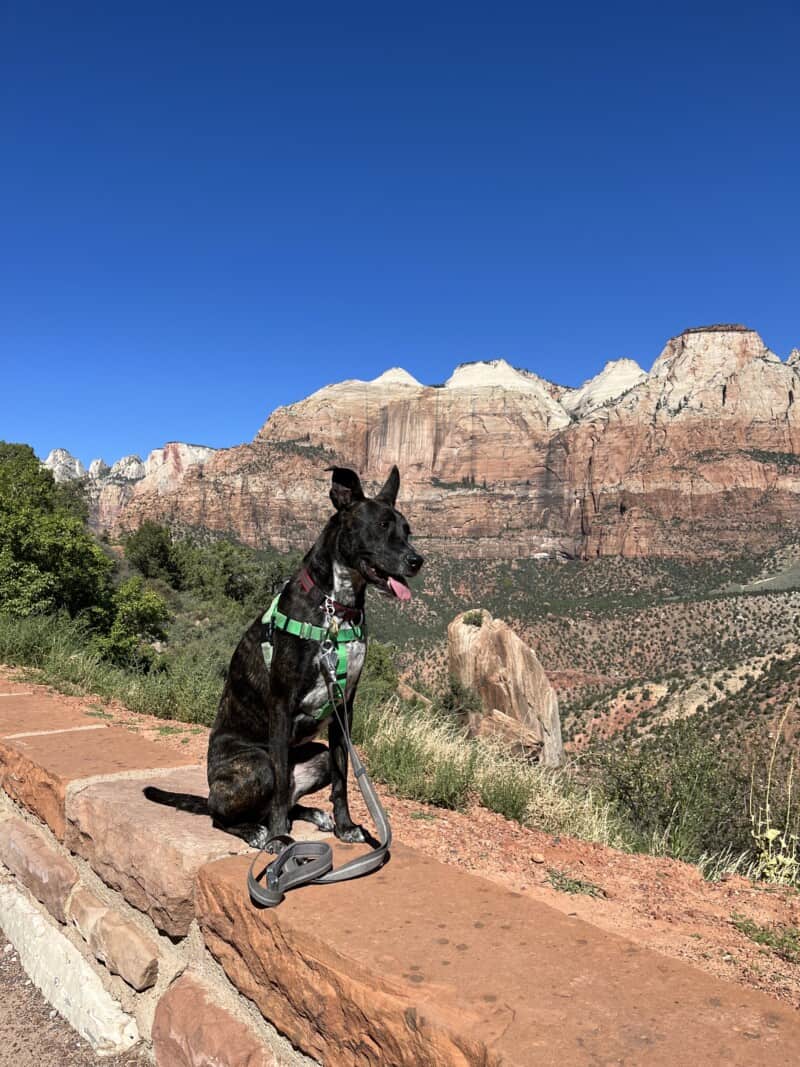 Kanab's Entertaining History
Before it became travel destination, Kanab was honing its skills as a gracious host to actors and film crews drawn by its scenery. Nicknamed "Little Hollywood," hundreds of films have been produced in the area since the 1920s when the local landscape became a favorite for cowboy movies.
Celebrating that heritage, more than 90 plaques now make up Kanab's Walk of Fame. For old movie buffs, strolling around downtown checking out the photos, actor bios, and film credits for the movies and TV shows shot in Kanab and Kane County is endlessly entertaining!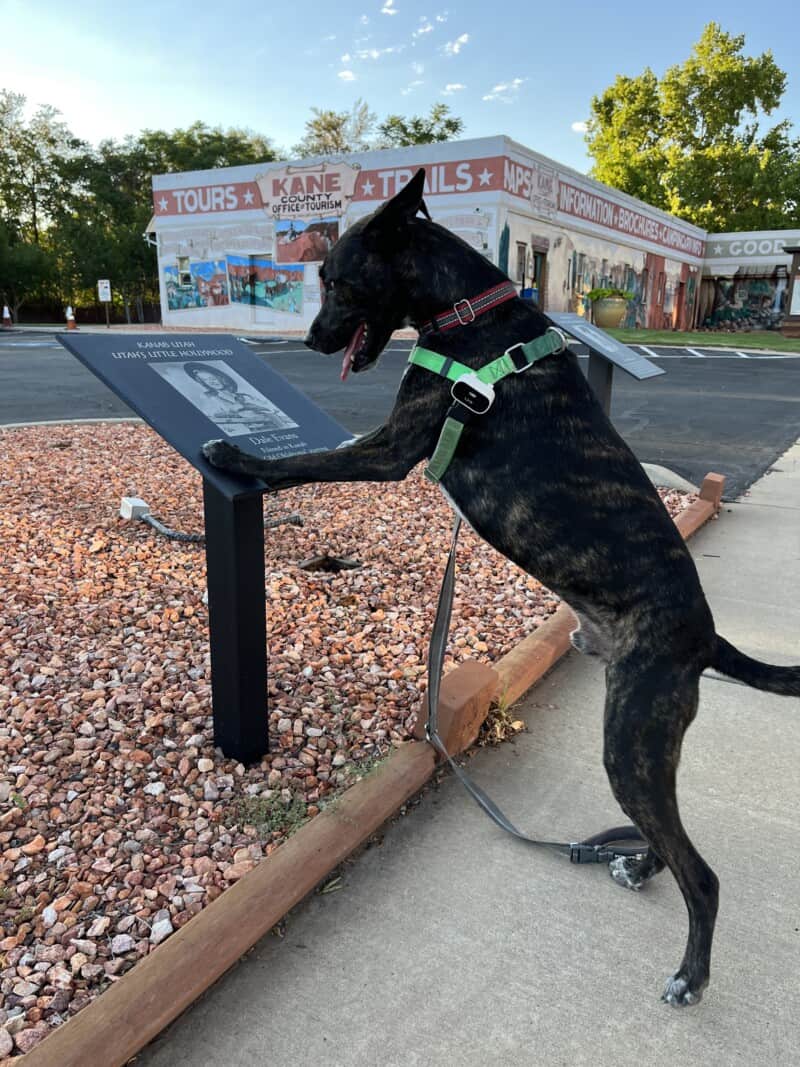 Where To Stay
Disclosure: We were provided with free accommodations at Best Friends Roadhouse and Mercantile in exchange for sharing our experience with you.
There is a nice selection of pet friendly hotels in Kanab, and several campgrounds, too! But if you're an animal lover, there's really only one choice for a place to stay … Best Friends Roadhouse and Mercantile.
Located on the north side of downtown Kanab, the Roadhouse is the most pet-centric hotel we've ever seen. And staying there helps support the lifesaving mission of Best Friends Animal Sanctuary, just five miles up the road.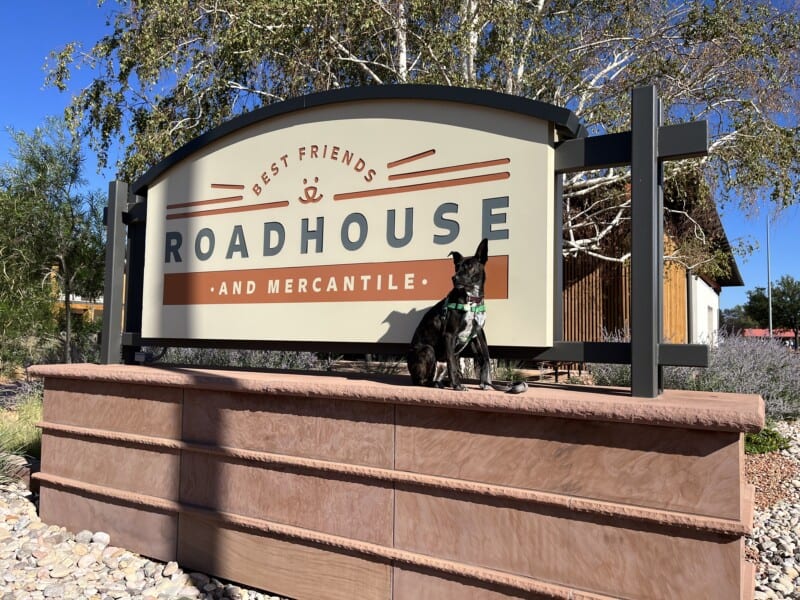 Best Friends Roadhouse and Mercantile
In a world where some "pet friendly" hotels are barely pet tolerant, we'd give Best Friends Roadhouse a 16 out of 10 on the pet friendliness scale. They offer a truly unique experience — the opportunity to stay in a hotel designed for pets!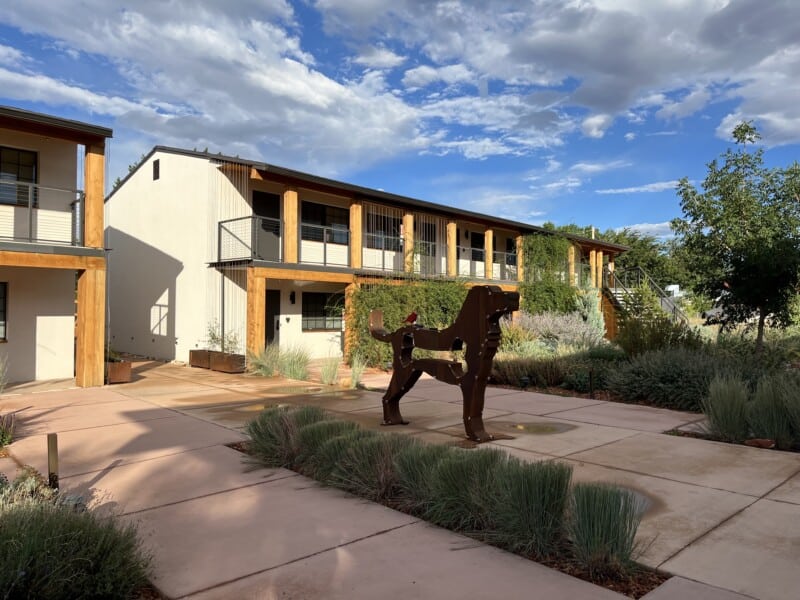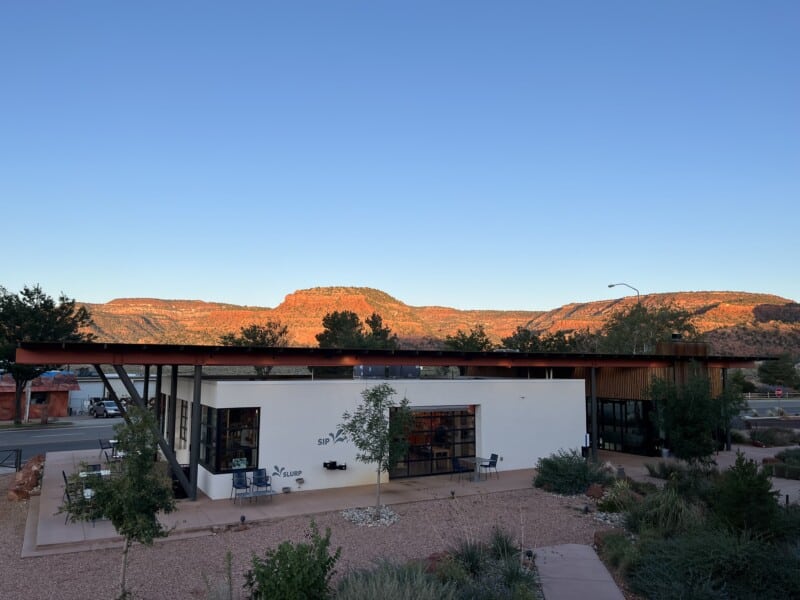 Our room was lovely, with a small kitchen equipped to prepare and serve simple meals and a dining area to share them. The bed was also incredibly comfortable, and the bathroom was gorgeous.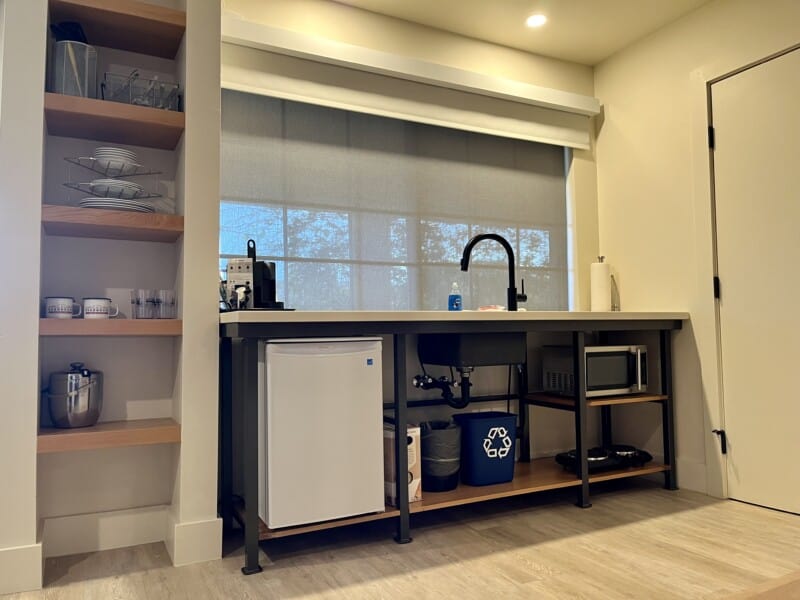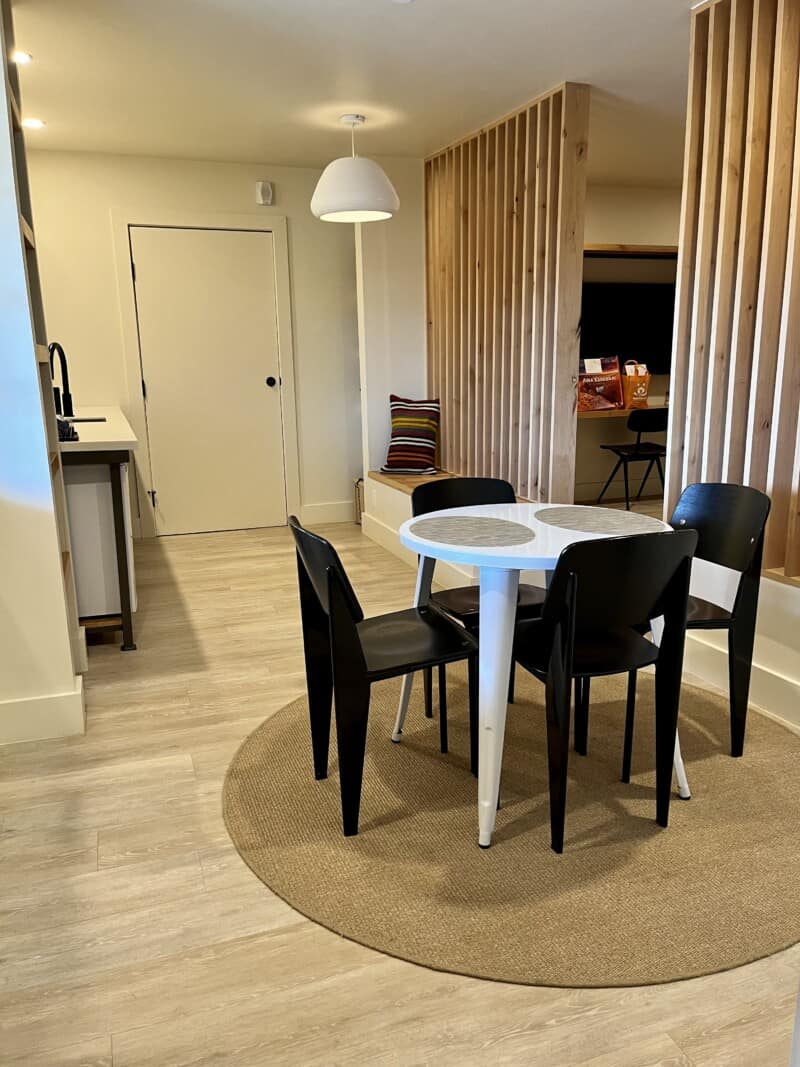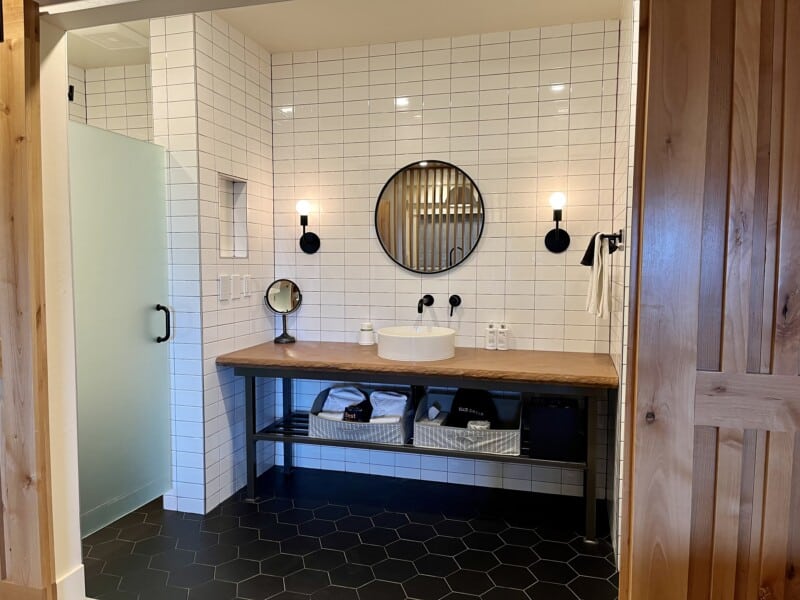 But a lot of hotels have beautiful rooms and cozy beds. Where Best Friends Roadhouse really stands out is in the ways it caters to pets — starting with their pet policy. There is no pet fee, no weight restrictions, no breed restrictions, cats are welcome, and up to four pets are allowed per room.
But even that isn't what makes this hotel so special. It's the thoughtful amenities that makes your pet's stay truly enjoyable.
After a long day in the car, Myles and I were both tickled to find that the Roadhouse has two dog parks! He got to run around and burn off some energy. And Rod and I were off the hook for a long evening walk.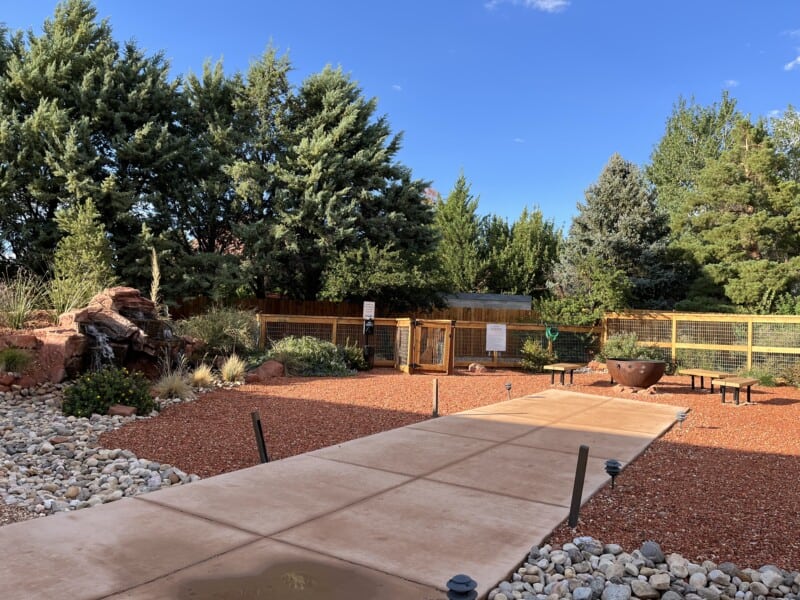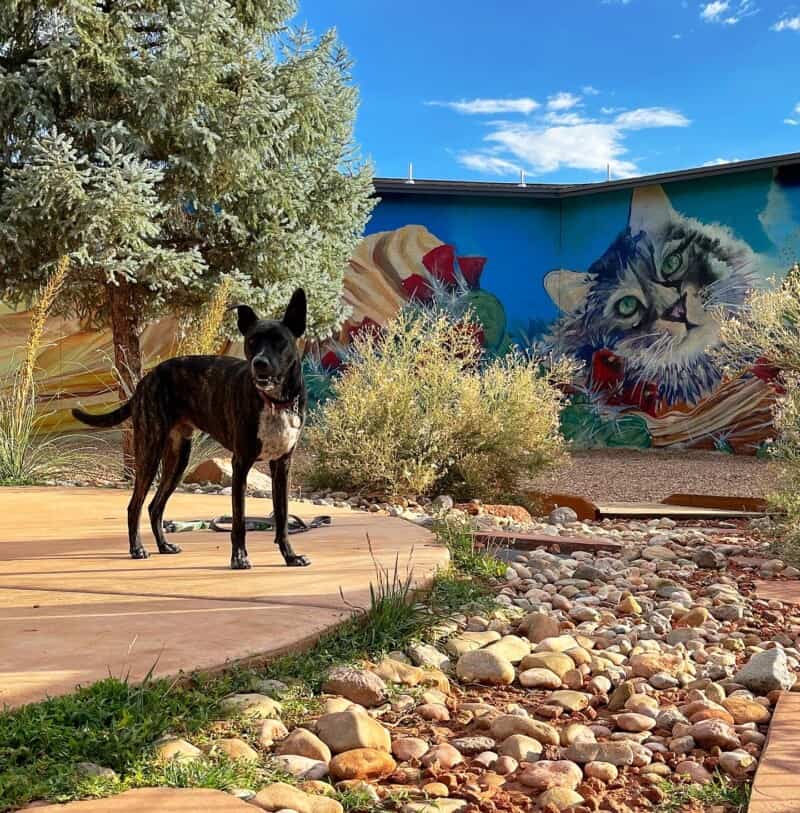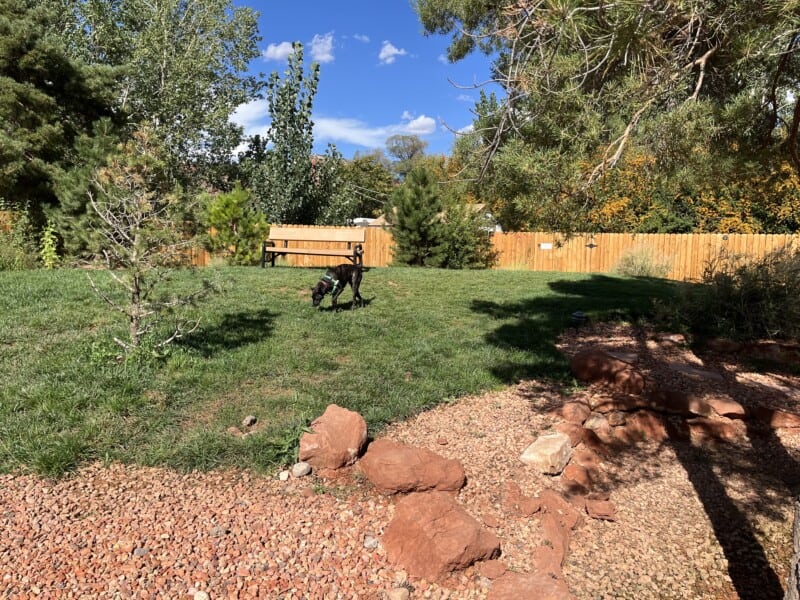 The hotel provided dog bowls for Myles in our room, but he much preferred slurping from the outdoor dog fountain.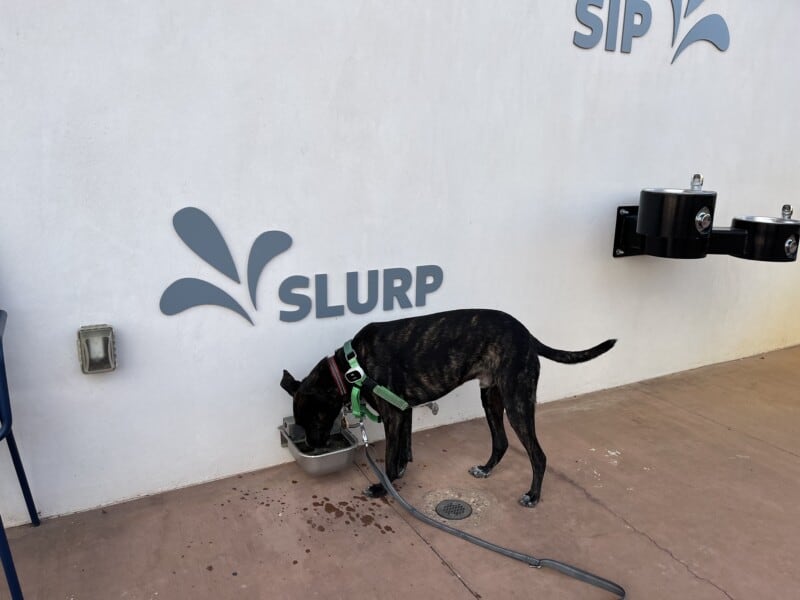 He was less excited to see the pet spa and guest laundry. Fortunately, we didn't have any incidents that required Myles to get a bath. But it would be super handy for anyone whose dog looked forward to a bit of pampering.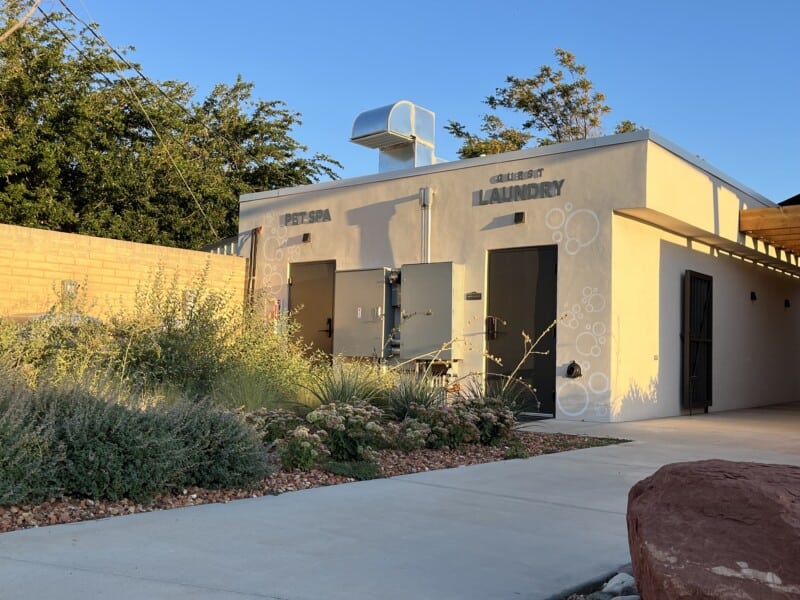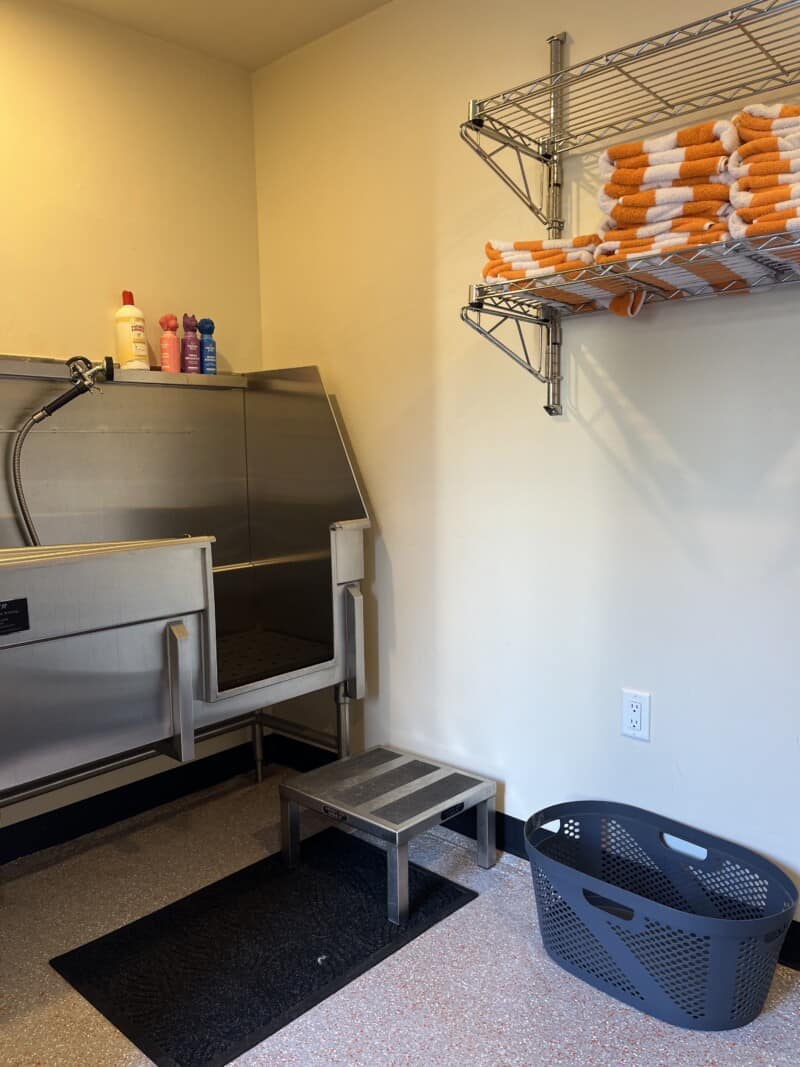 The next treat we discovered (other than the human cookies and dog treats we received at check-in) was that Myles had two dog beds to choose from. Not including ours!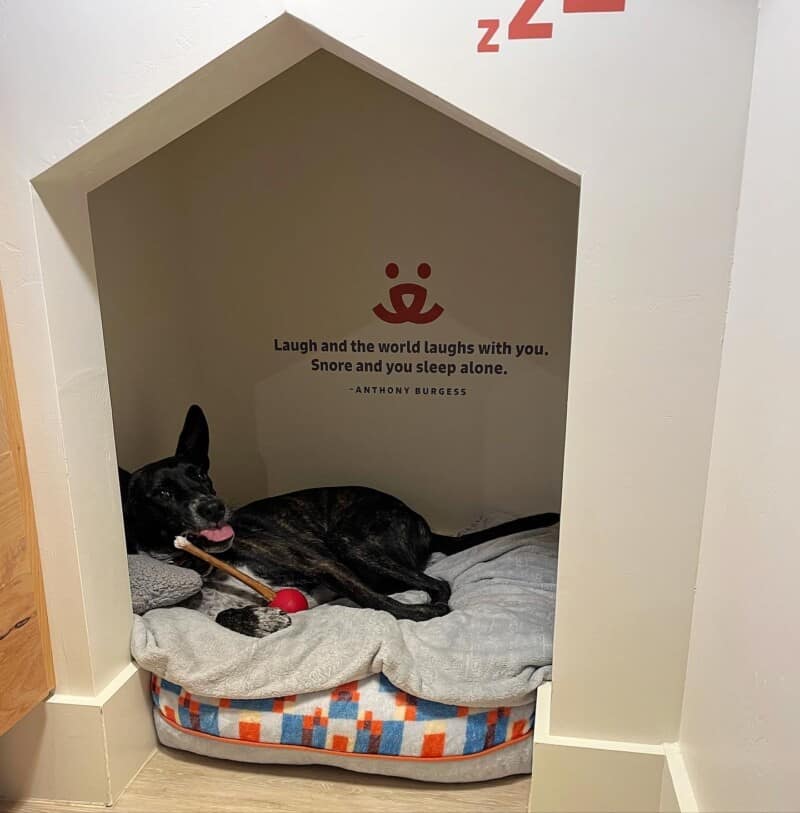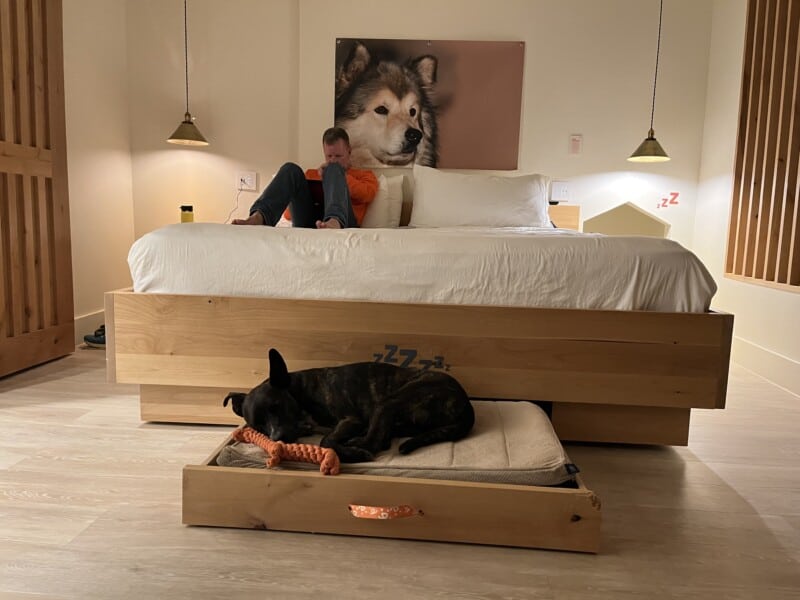 And the mercantile, in addition to serving a fantastic breakfast, is full of all kinds of goodies. They even have pet gear, in case there's something you forget to pack.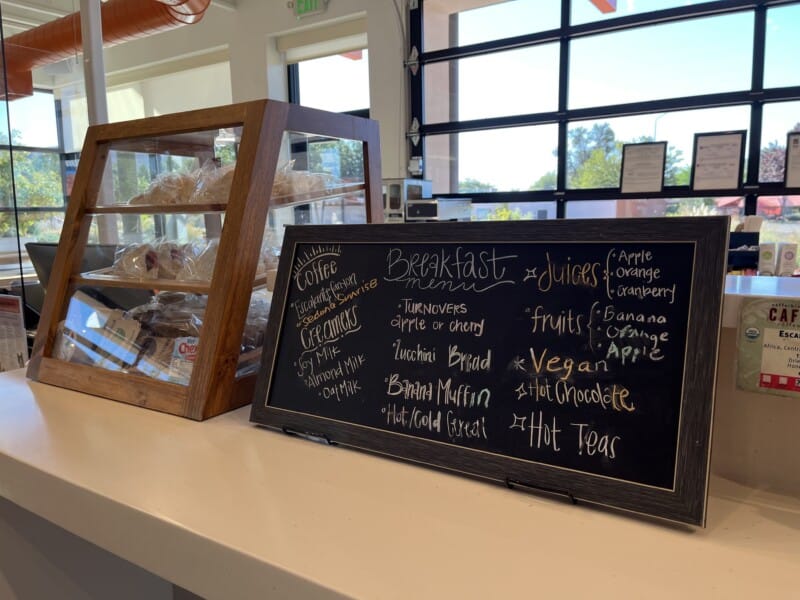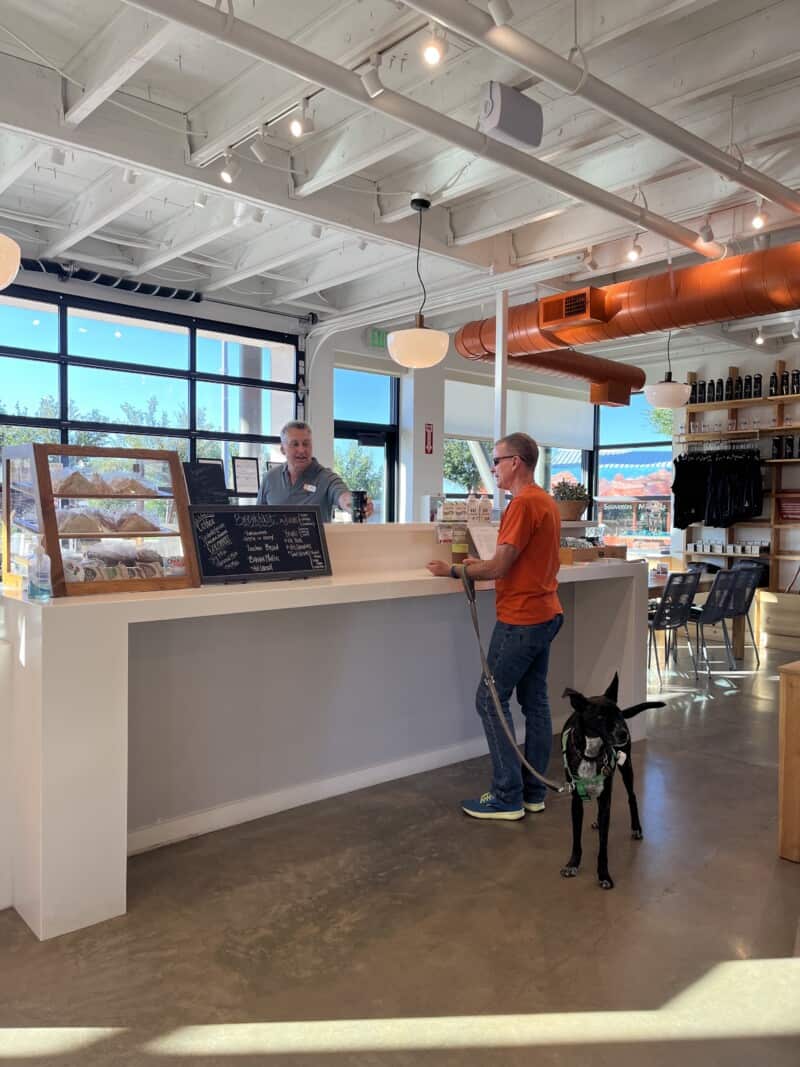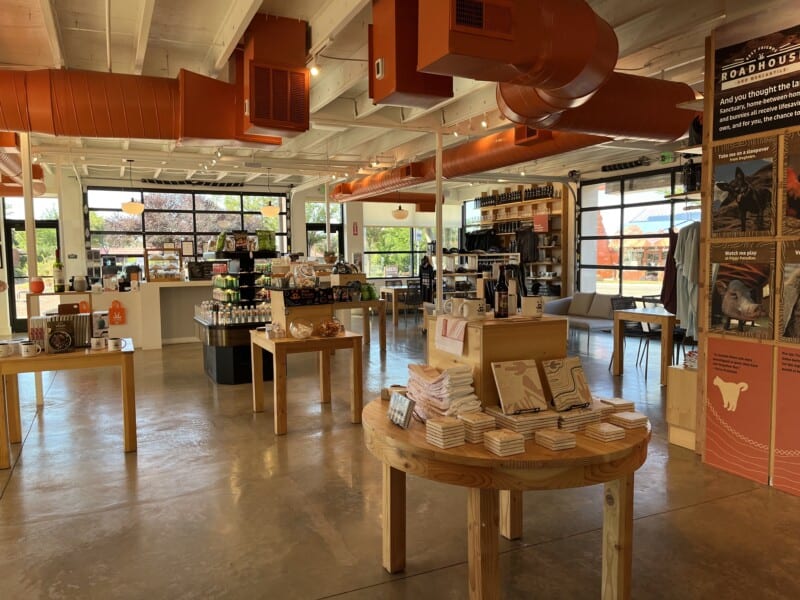 And what about the people who love animals but aren't traveling with their own pet? The folks at Best Friends Roadhouse have this covered, too! They'll arrange for your choice of a dog, cat, or bunny from Best Friends Animal Sanctuary to sleepover with you. That's a whole new level of pet friendliness!!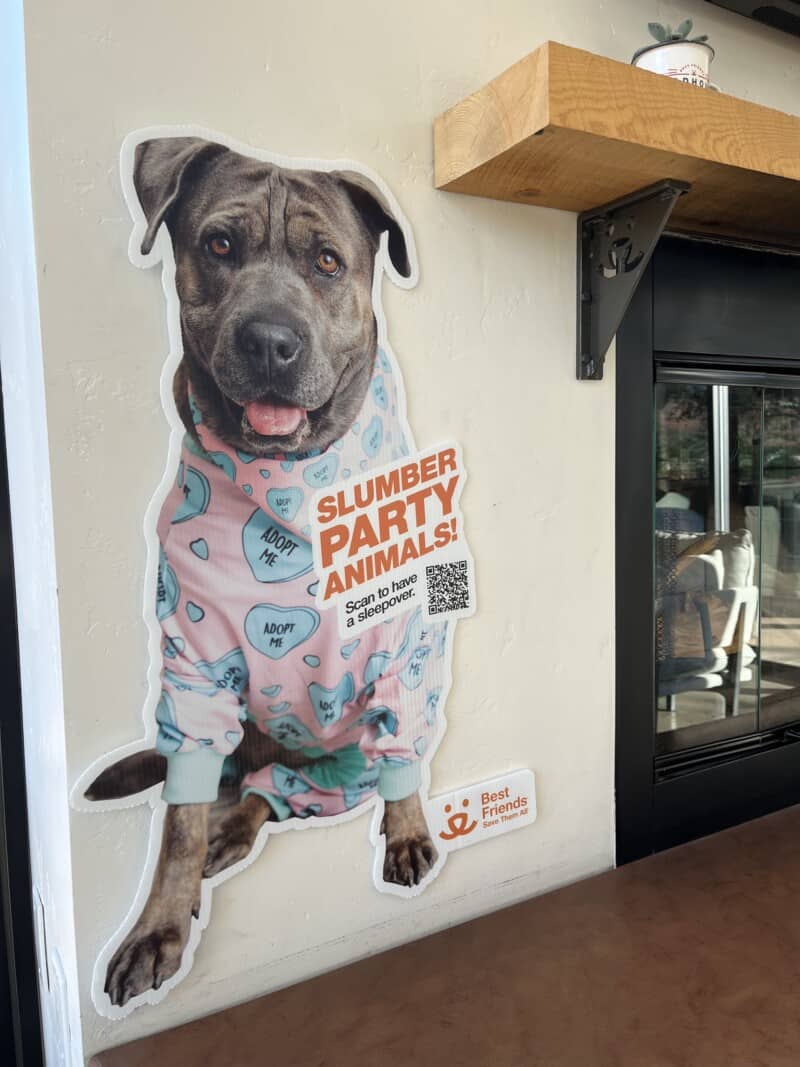 Pet Friendly Places To Eat
As I mentioned, Kanab is very pet friendly, and we had no trouble finding outdoor dining options with Myles. From simple takeaway fare, to a vegan taco truck, to outstanding dining, going hungry isn't a concern.
Here is a list of pet friendly eateries in Kanab that offer pet friendly seating: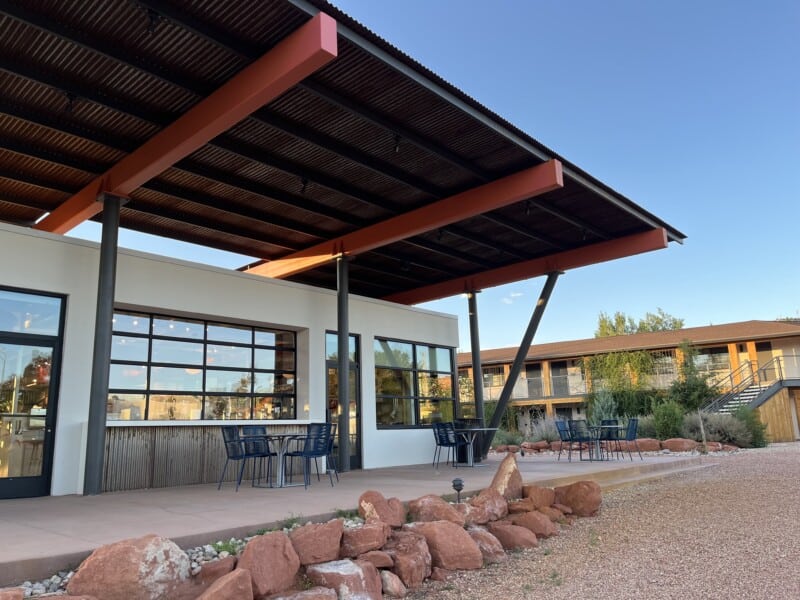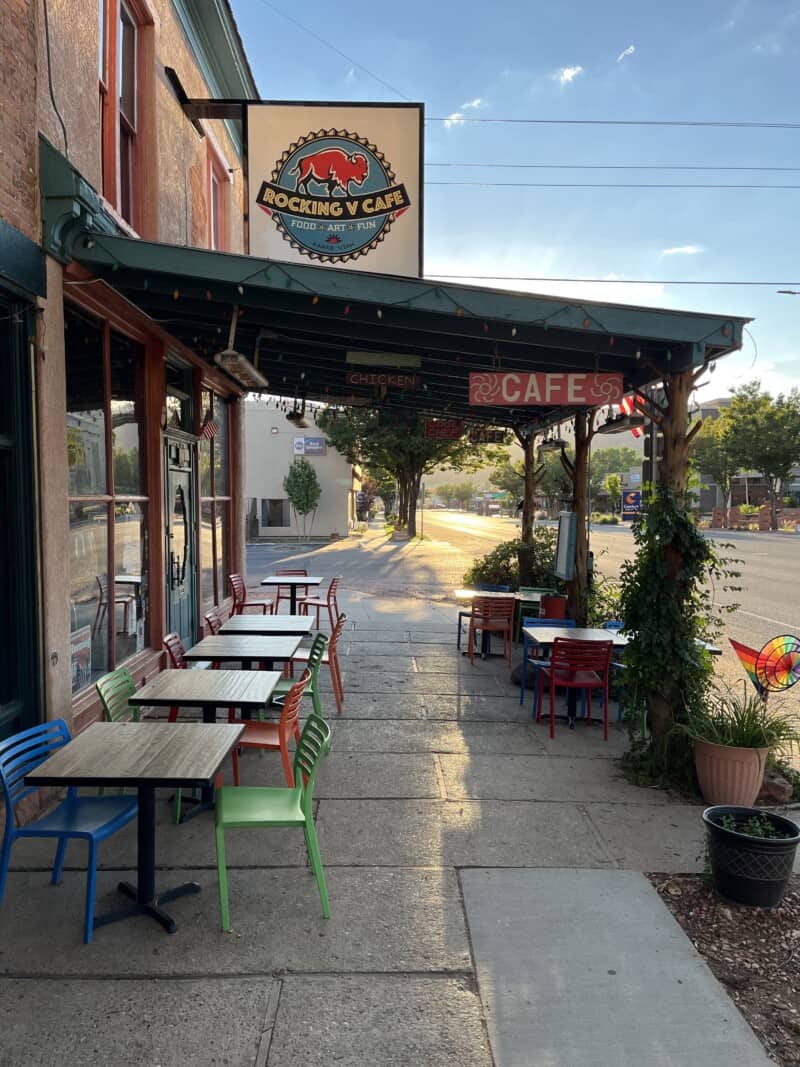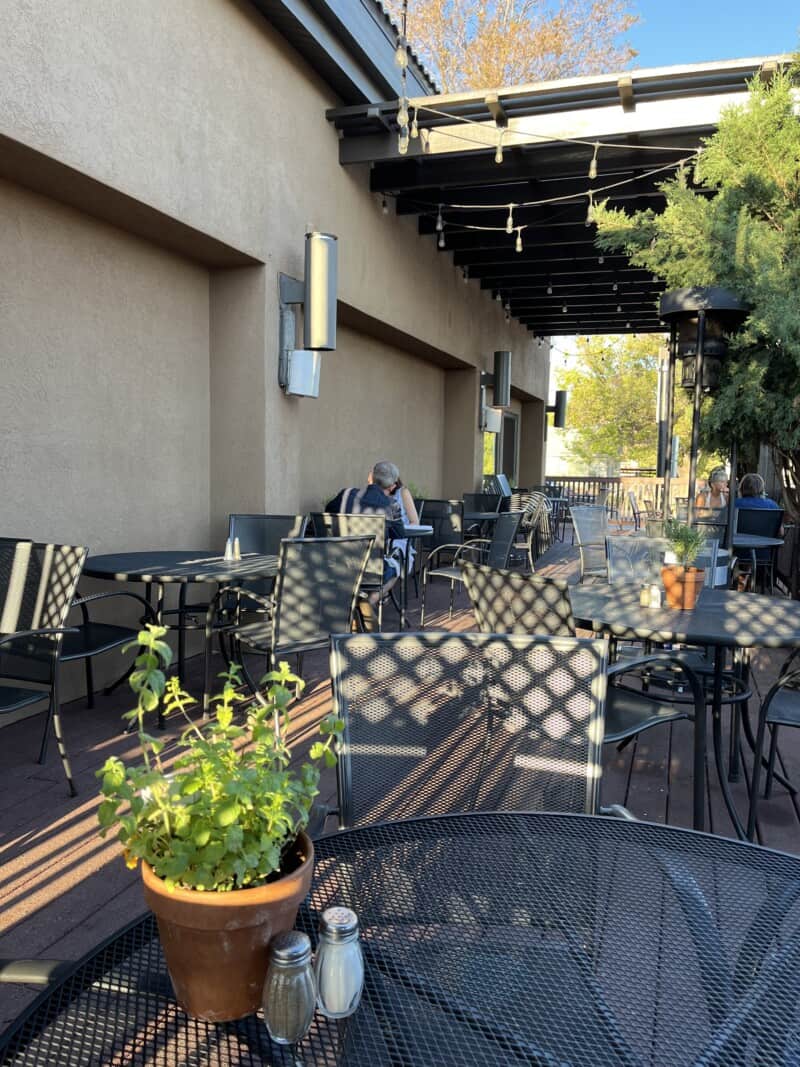 Things To Do In Kanab
Just staying at Best Friends Roadhouse again is all the reason I'd need to go back to Kanab. But when you add the pet friendly places to eat and then consider all the things you can do together, this is a topnotch pet travel destination!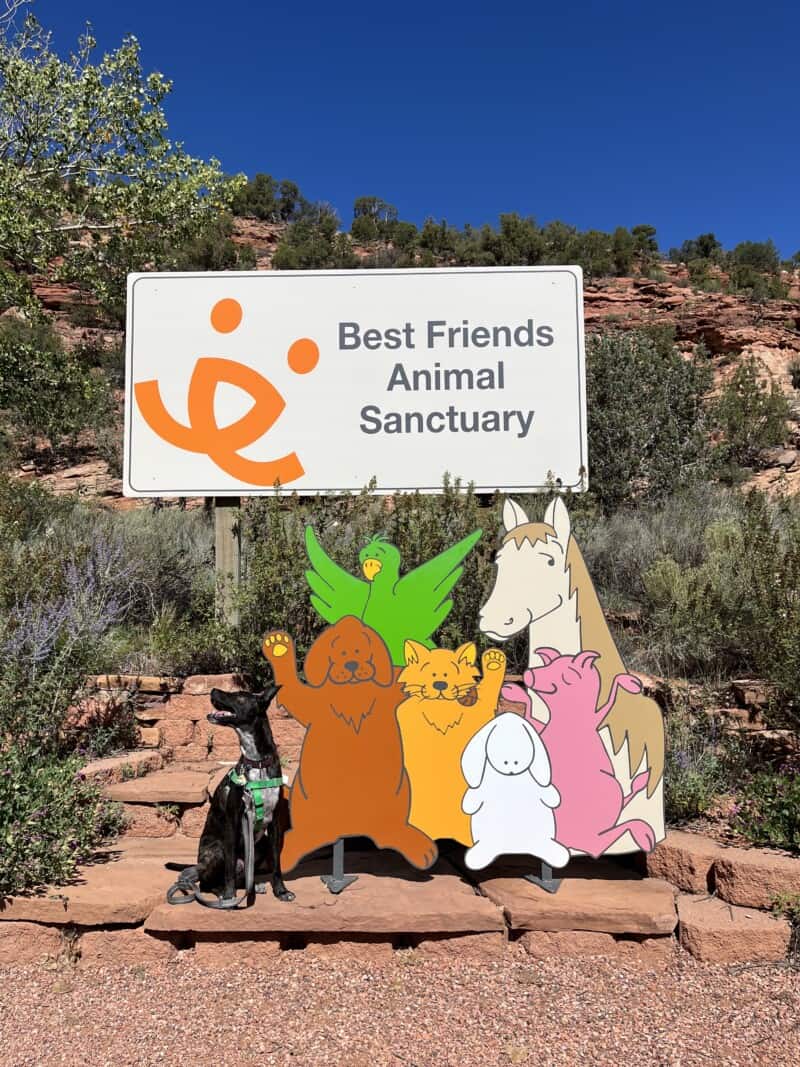 Visit Best Friends Animal Sanctuary
Located on 6,000 acres just five miles north of downtown Kanab, Best Friends Animal Sanctuary is much more than its name implies. Started in 1984, Best Friends has gone from caring for animals in search of homes to leading a nationwide movement to bring an end to the killing of homeless dogs and cats.
On any given day, the sanctuary is home to as many as 1,600 dogs, cats, birds, bunnies, horses, pigs and other animals. And you're invited to take a free, guided tour, volunteer to spend time with the animals, or simply enjoy the trails and extraordinary surroundings with your pet.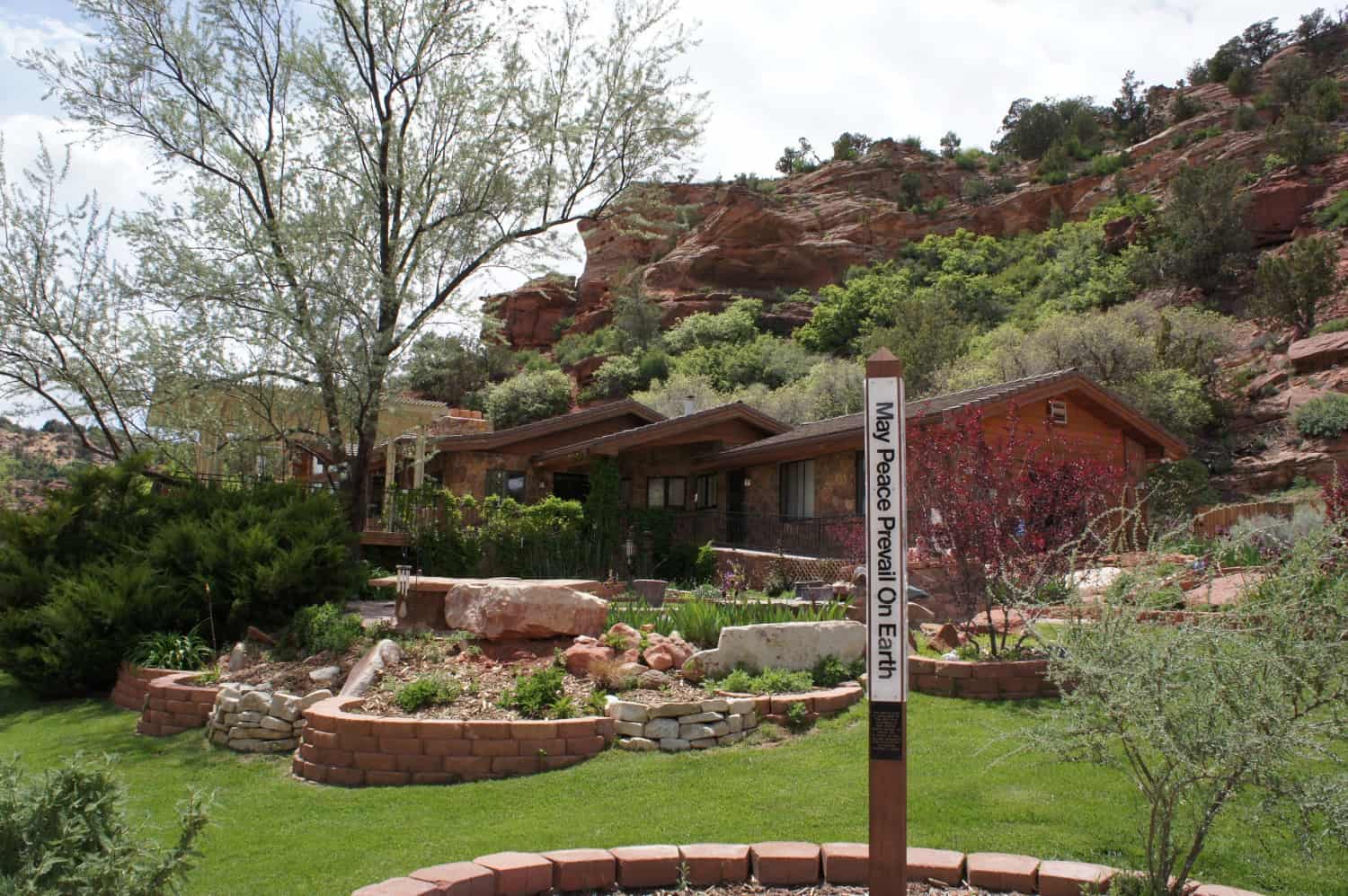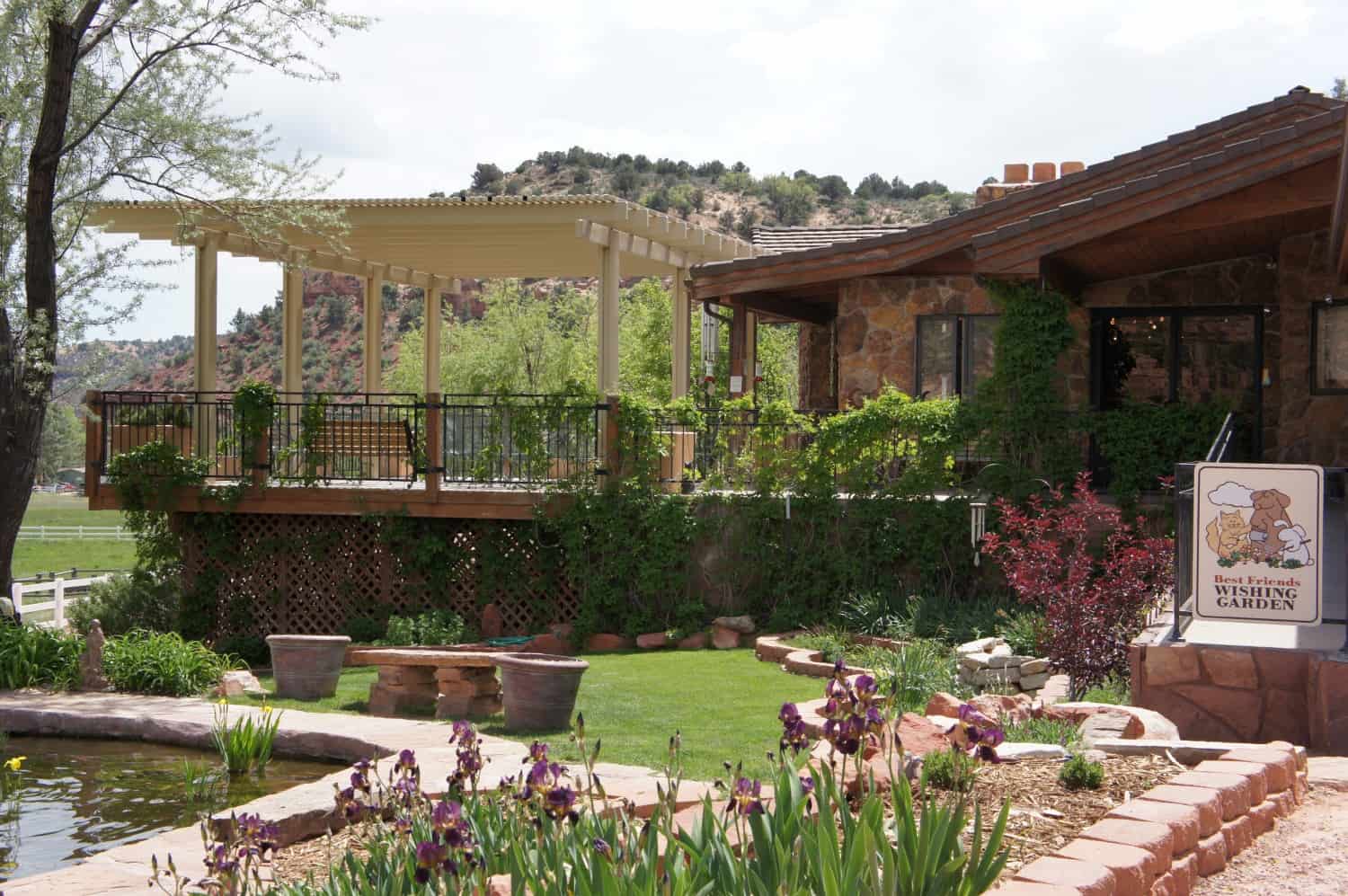 The sanctuary is open seven days a week, but tours and volunteer opportunities fill up quickly, so be sure to sign up early! During our visit we took the Grand Sanctuary Tour, following the tour shuttle in our car with Myles and listening to the tour guide on our radio. Then we did the Pig & Goat Walking Tour with Myles, keeping him outside the enclosures.
Our next stop was for a wonderful, vegan lunch at Angel Village Café. The view from their patio overlooking Angel Canyon will take your breath away!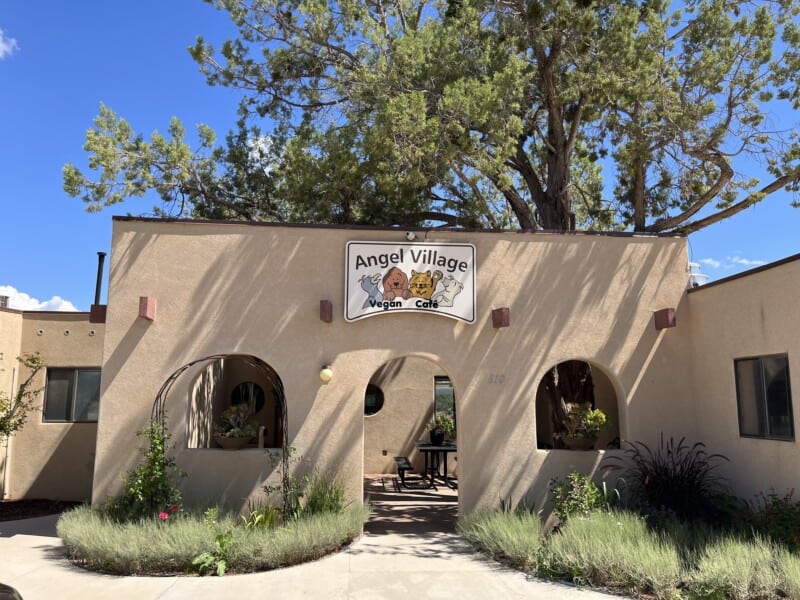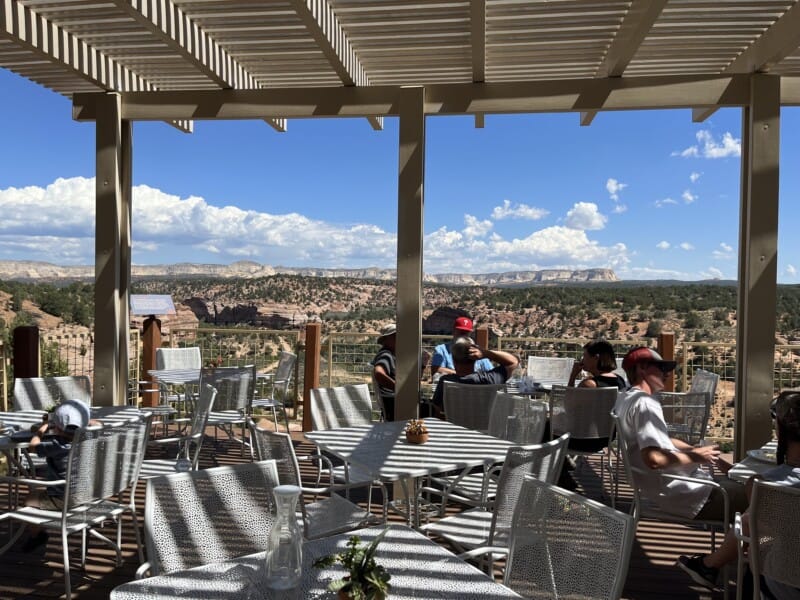 Finally, we hit the trails with Myles! Hiking the 1.3-mile Angels Overlook Trail took us to the Gratitude Garden and fantastic views of the canyon below.
There are several trails to choose from, so pick up a trail map at the Welcome Center. And, if you're not traveling with a pet of your own, sign up to take one of Best Friends' resident dogs along for company!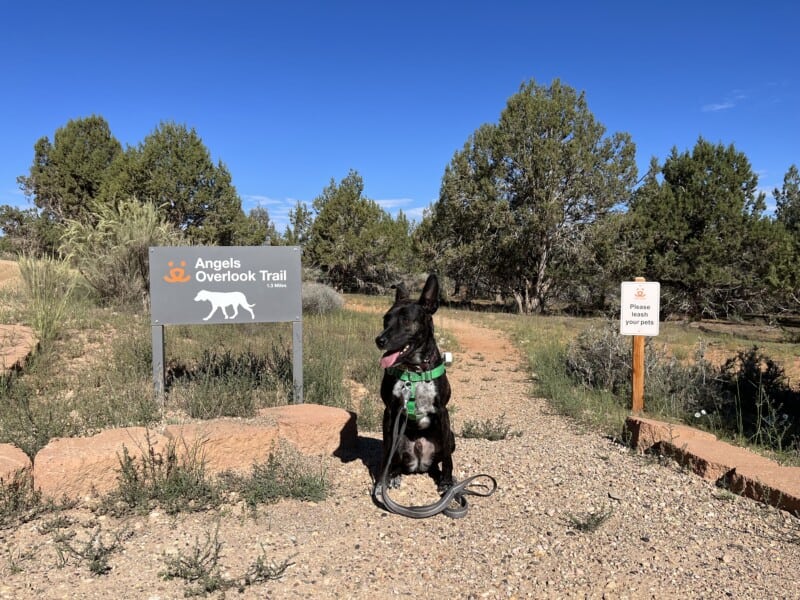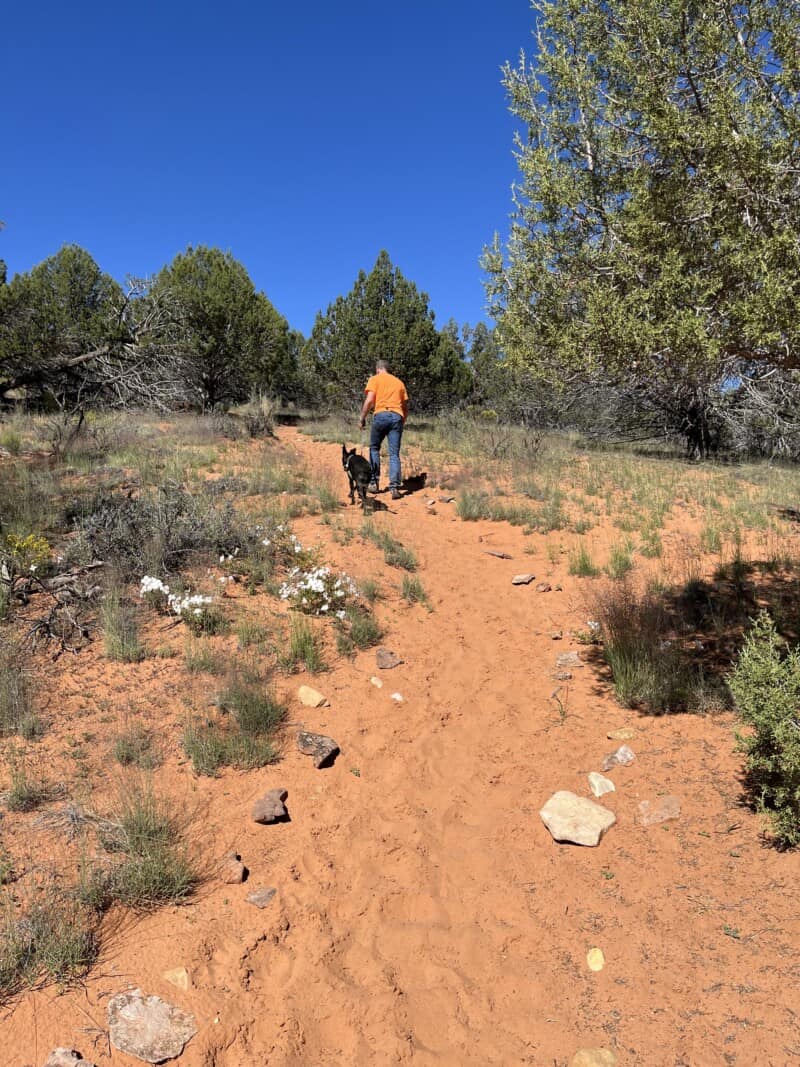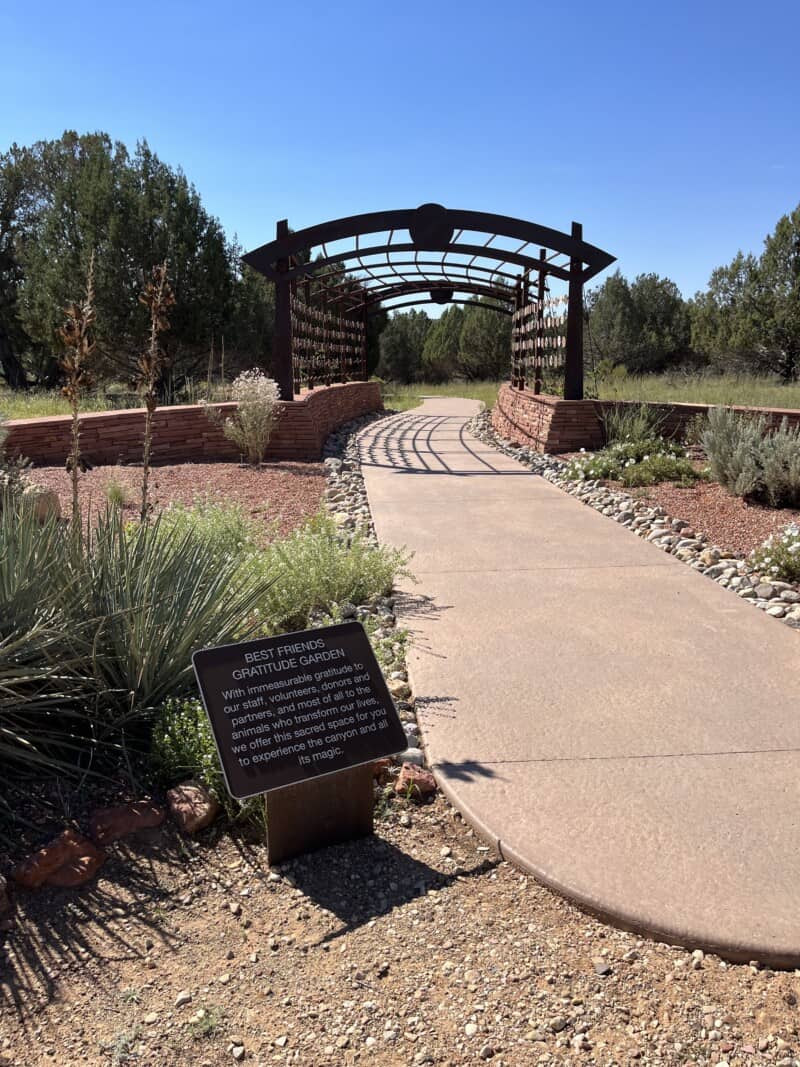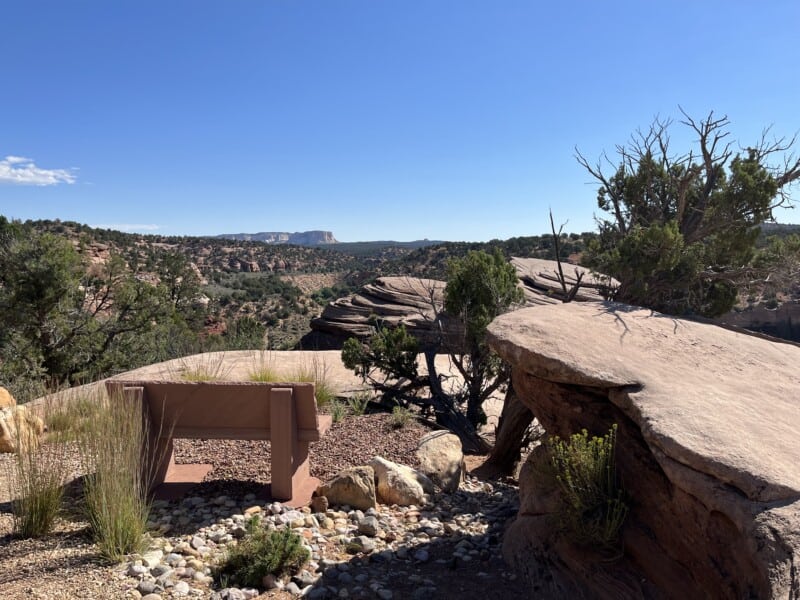 Coral Pink Sand Dunes State Park
Just 22 miles west of Kanab, Coral Pink Sand Dunes State Park protects 1,200 acres of shifting sand dunes! Created by wind funneling through a notch between the Moquith and Moccasin Mountains, it's a completely unique landscape to see in this part of the country.
Pets on leash are welcome throughout the park, though walking on the sand can be difficult for dogs and humans alike. Also be aware that much of the dunes are open to OHV use, so watch for vehicles as you explore. If traversing the dunes isn't your thing, there are plenty of other pet friendly hiking opportunities in Kanab and the surrounding area.
The park also has two campgrounds and a nice picnic area if you are looking for a place to eat lunch.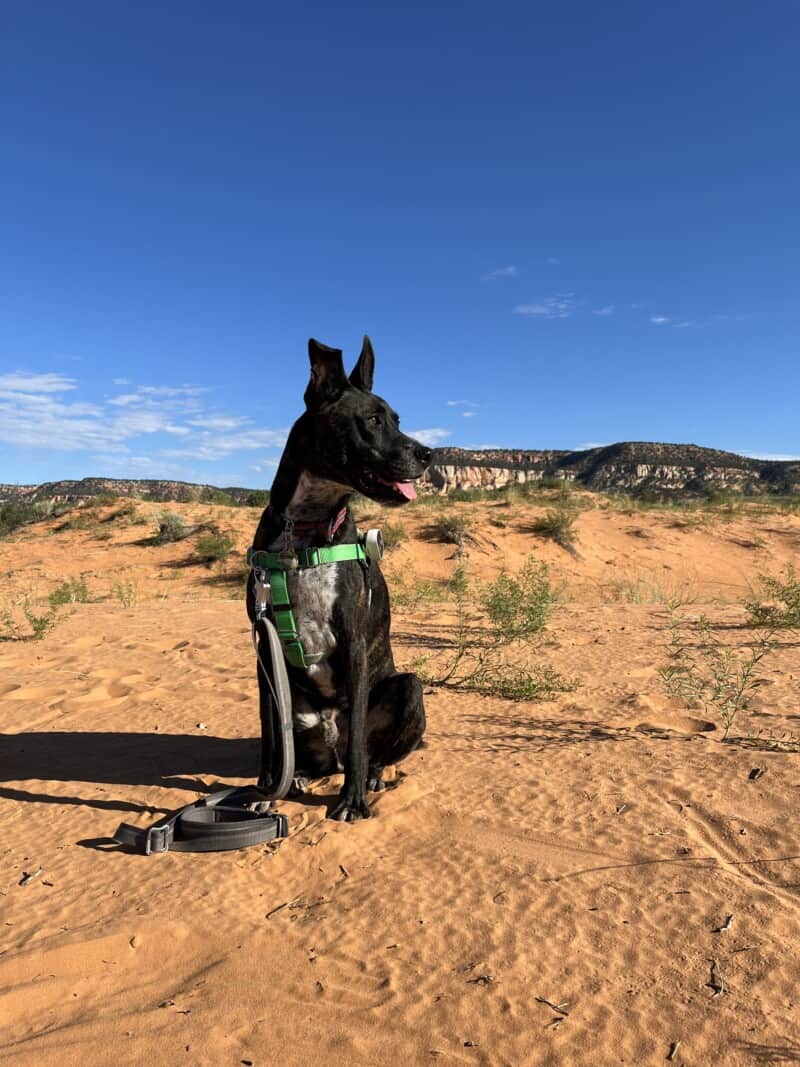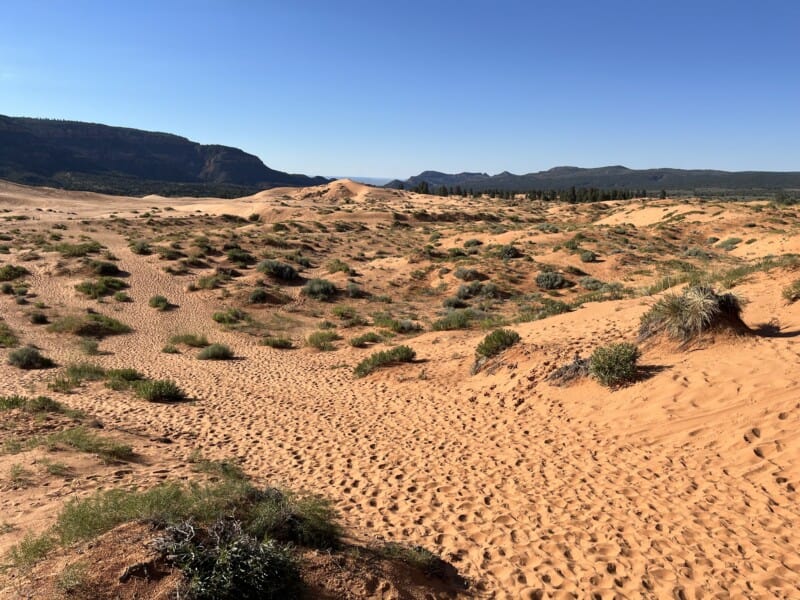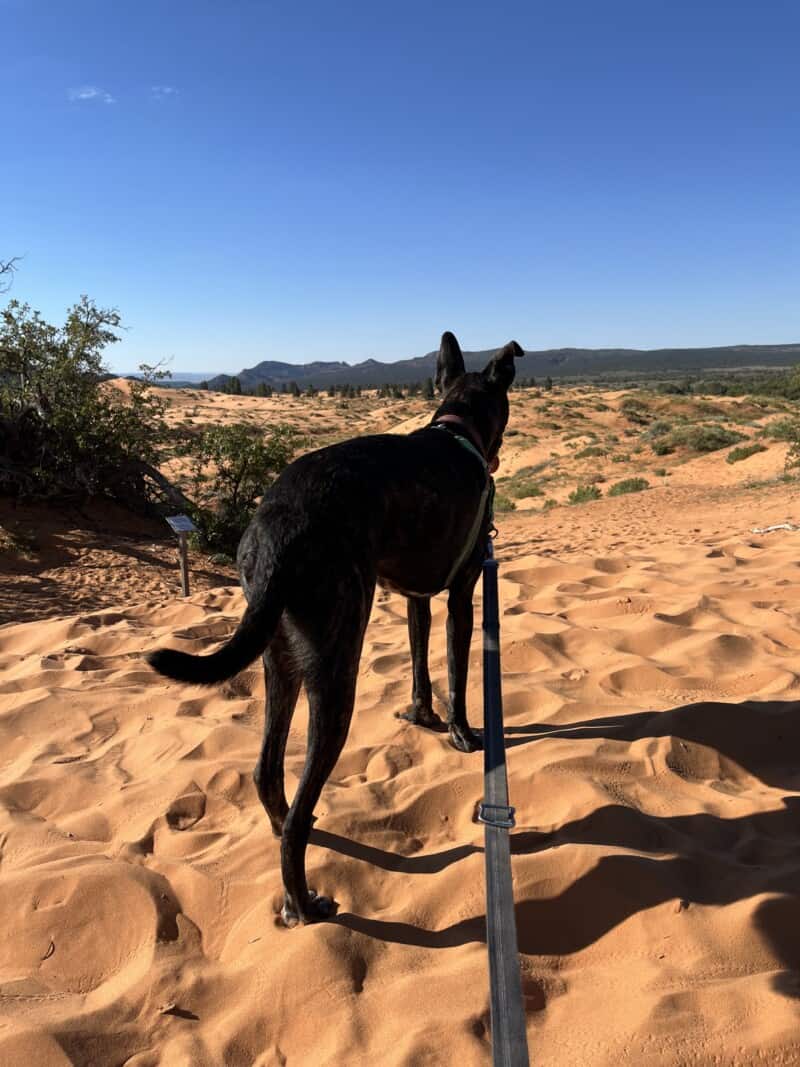 Grand Staircase-Escalante National Monument
Over 250 million years of the Earth's geologic history can be seen in the colorful cliffs at Grand Staircase-Escalante National Monument. Managed by the Bureau of Land Management, the monument covers nearly 1.9 million acres. And the Grand Staircase unit is just outside Kanab.
Choose to explore on your own, or hire one Kanab's excellent outdoor guides and outfitters to show you the hard-to-reach places.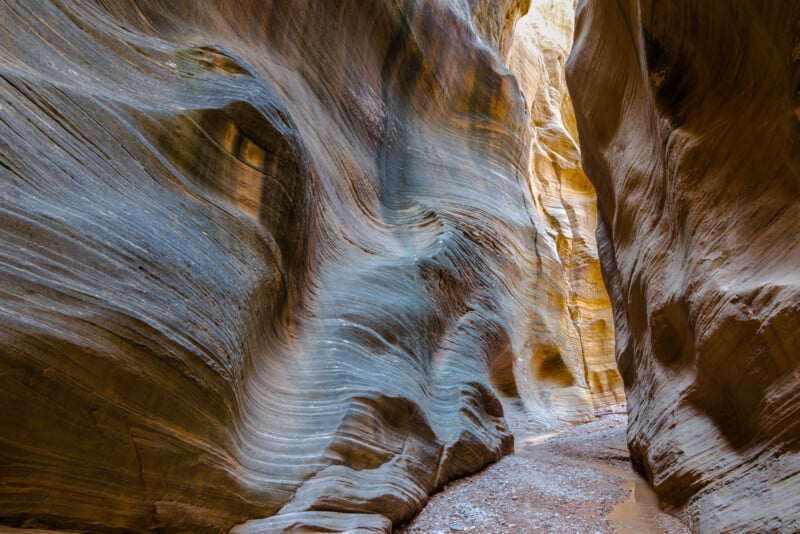 Kanab Trails System
The selection of pet friendly trails in and around Kanab offers something for everyone. From dino tracks to waterfalls, remote lakes to slot canyons, easy jaunts to all-day treks, you'll find the perfect option for you and your pet on the Visit Southern Utah website.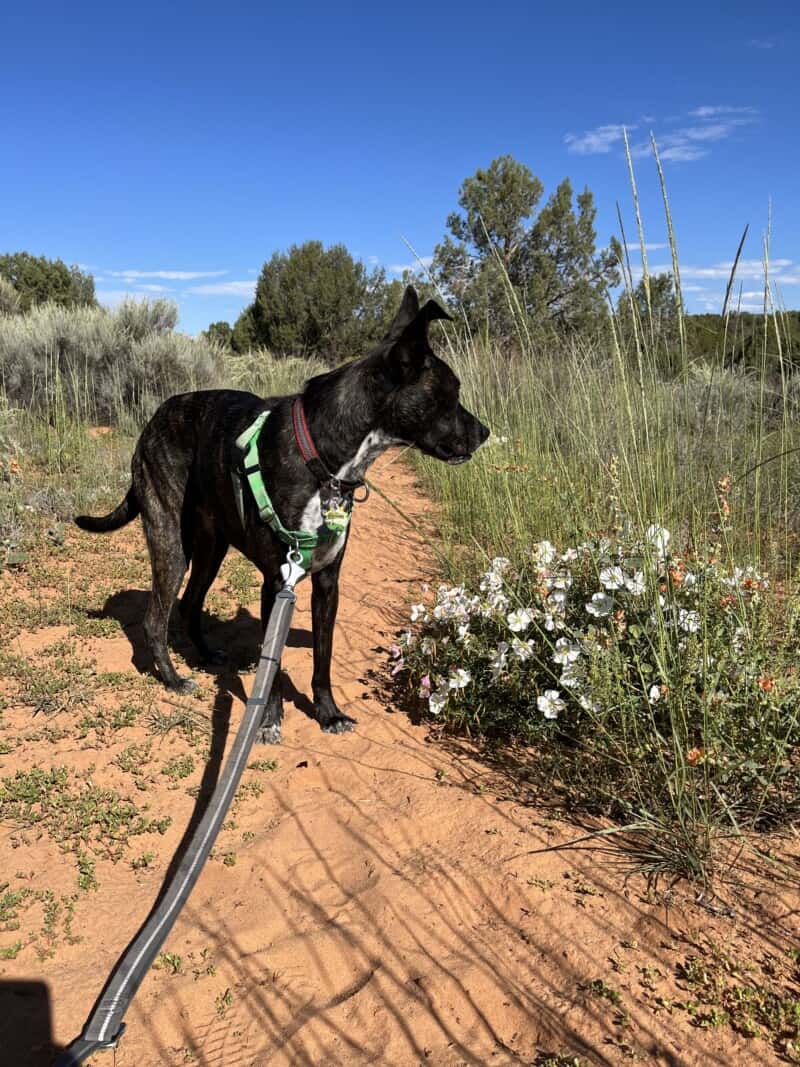 Pet Friendly Day Trips From Kanab
As if all that weren't enough, staying in Kanab puts you within easy driving distance of some of Utah's biggest attractions. Below are a few you'll want to add to your itinerary.
Bryce Canyon National Park
Just a 90 minute drive from Kanab, Bryce Canyon is beyond imagination. Covered in flame-colored spires and fins, you could easily spend a half-day or more admiring the views.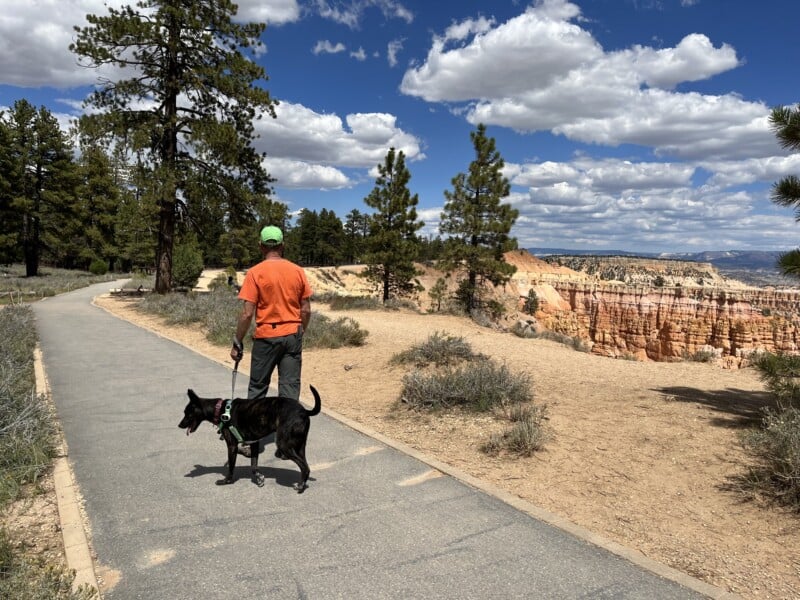 Dixie National Forest
From Kanab, you can be in the Dixie National Forest in about 30 minutes. Encompassing almost 2 million acres and crossed by hundreds of miles of trails, every square inch of the national forest is pet friendly. From mountain tops to pastoral valleys, you and your pet could spend a lifetime in Dixie and not see it all!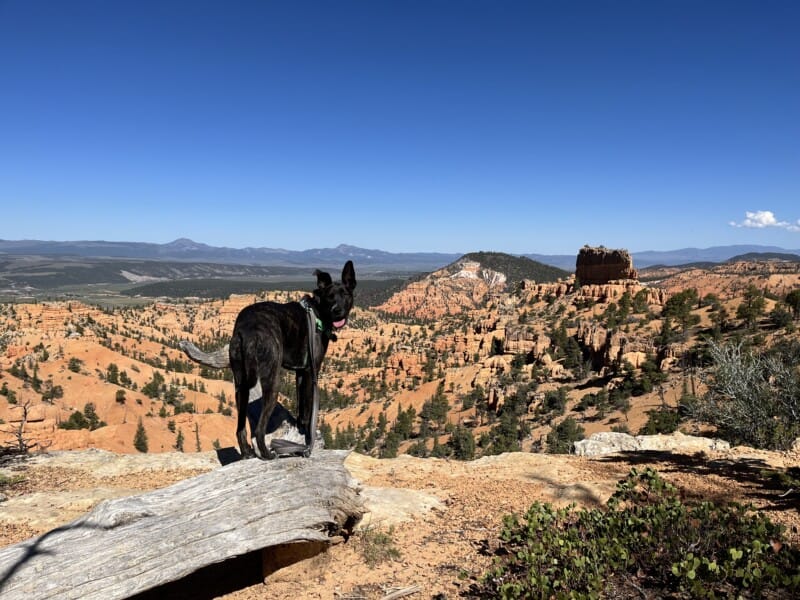 Grand Canyon National Park – North Rim
More than five million people visit the Grand Canyon each year. But only a fraction of them come to the North Rim. From Kanab, you can be there in 90 minutes. So it's a great day trip to check this national park off your bucket list.
Unfortunately, people traveling with pets will find the North Rim less pet friendly than the South Rim. At the North Rim dogs are allowed only on the Bridal Path and the portion of the Arizona Trail that runs between North Kaibab Trailhead and the north entrance of the park. Both trails are pretty, but either have views of the canyon.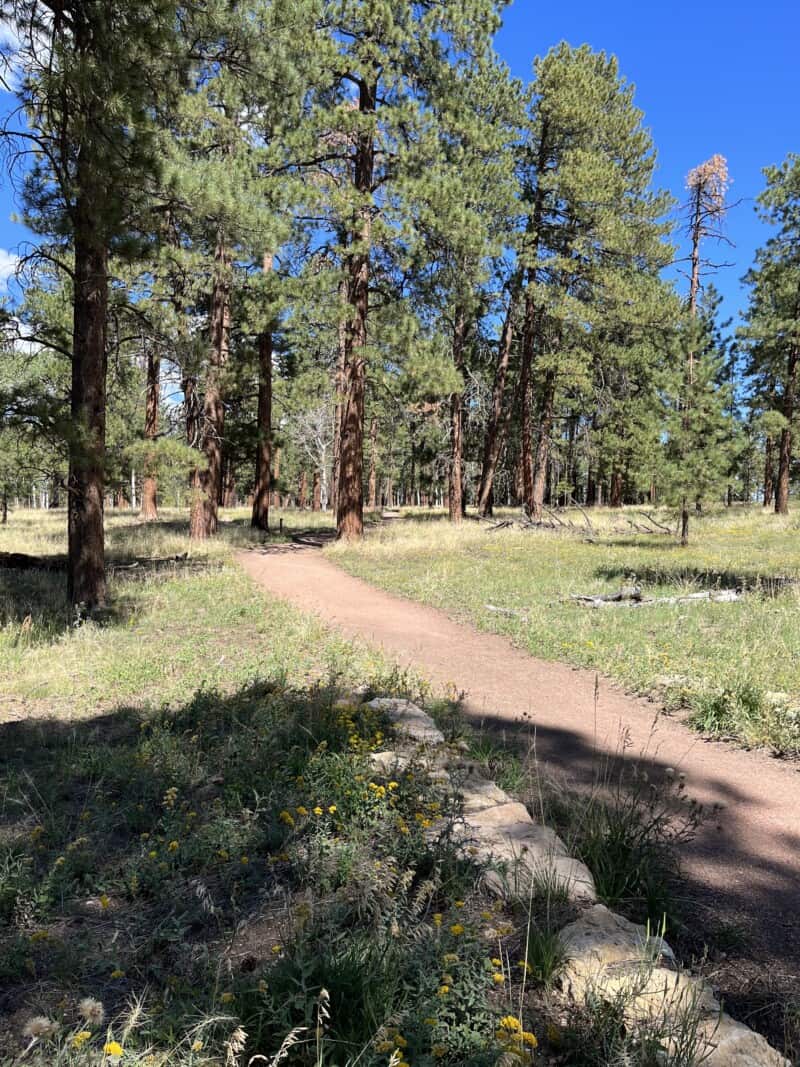 Pets are also allowed at the picnic areas and in the parking areas of the overlooks. So, pack a lunch and plan to drive the 30 miles of scenic roads at the North Rim, stopping along the way to take in the views.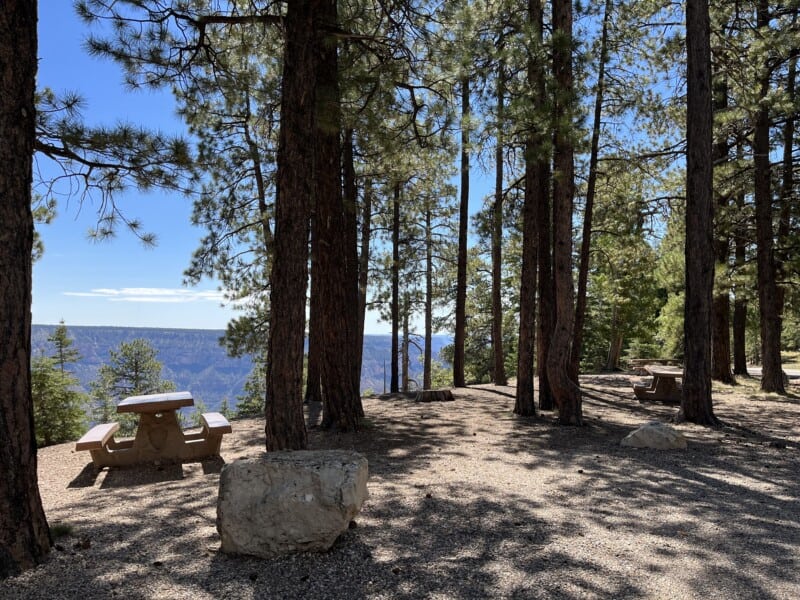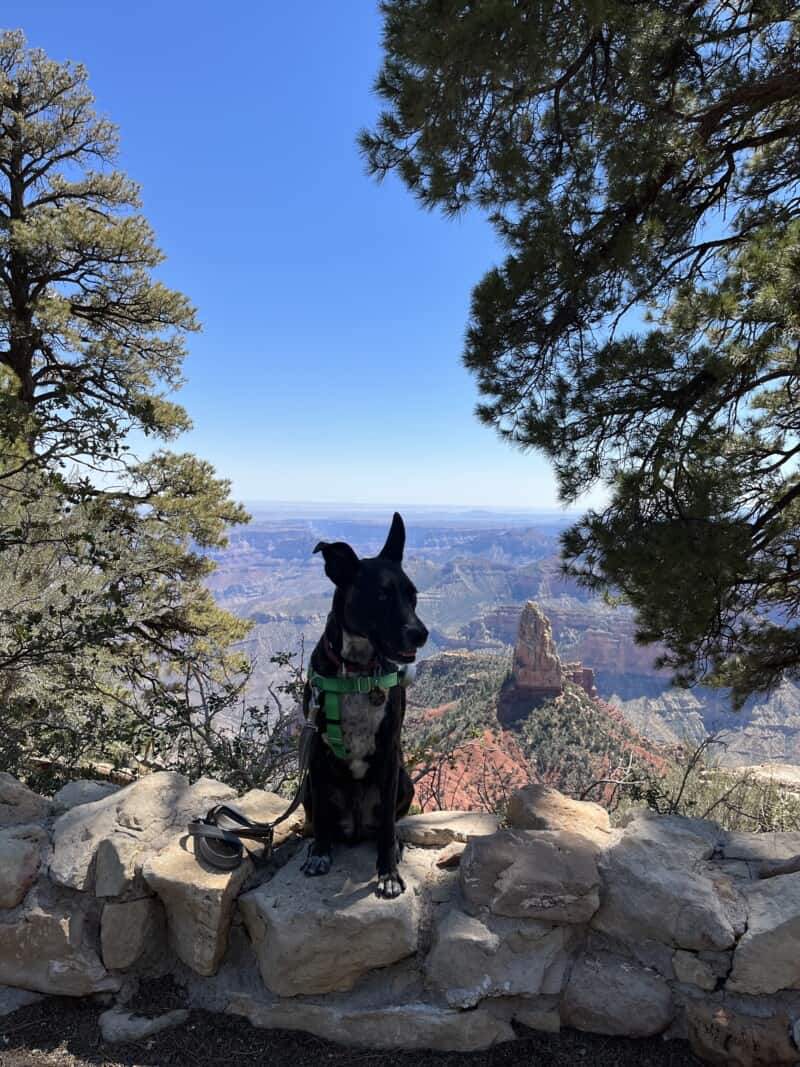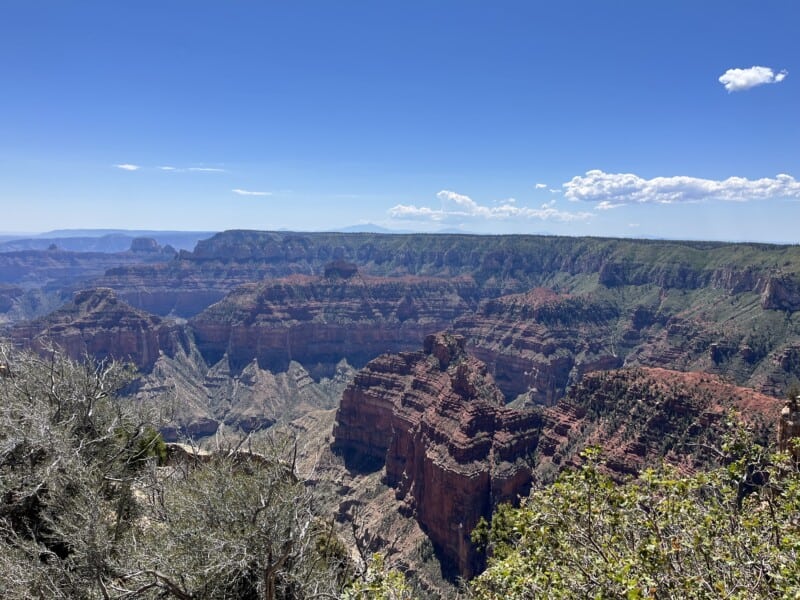 During our visit we got conflicting information as to whether pets are allowed on the patio at the 1930's Grand Canyon Lodge. The hotel and cabins are not pet friendly. But the front desk staff told that Myles was welcome to join us on the patio.
Later, a staff member in the visitor center told us that pets are not allowed on the patio. So our advice is to ask at the front desk and hope for the best!
Overall, if you want to experience the Grand Canyon with your pets, our advice is to go to the South Rim. You'll definitely run into more visitors. But you'll get to see a lot more of the park with your pets!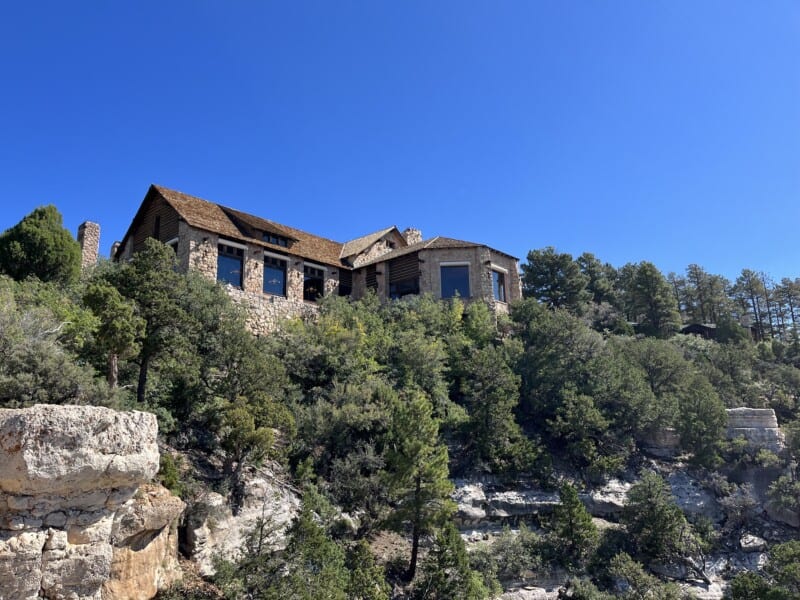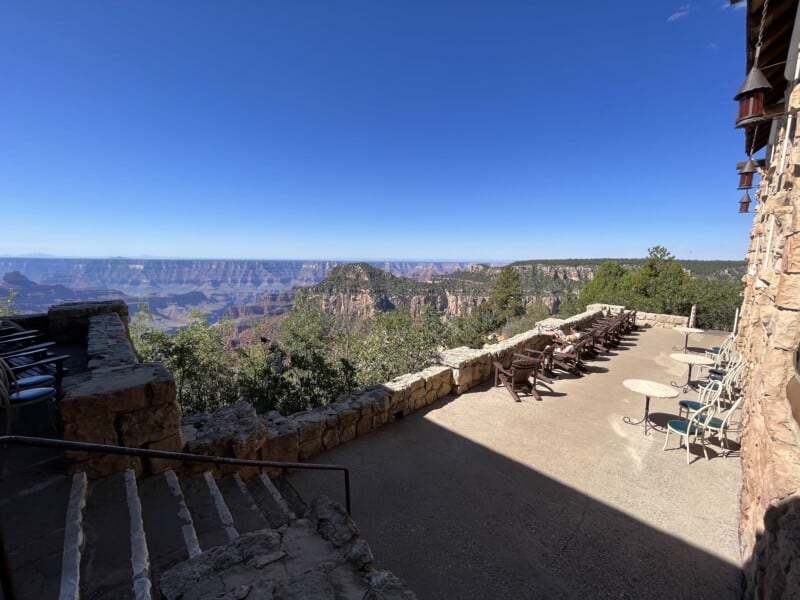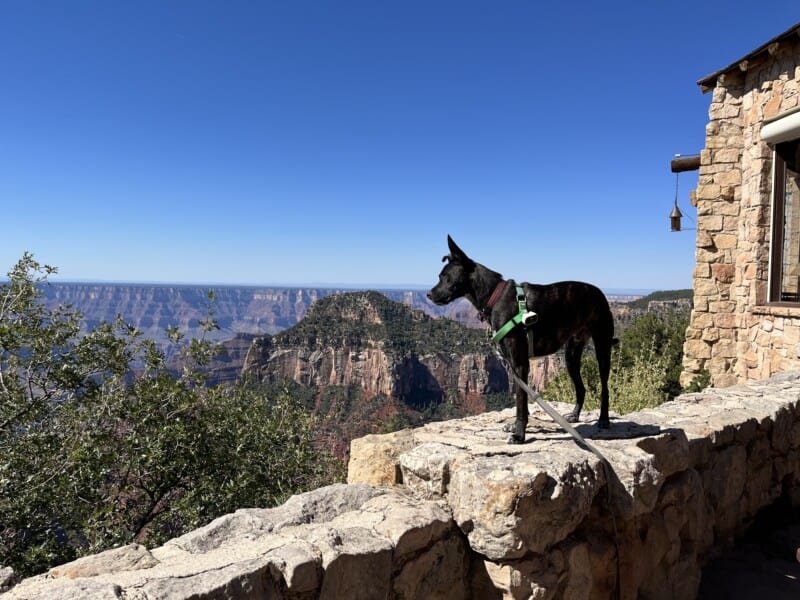 Lake Powell / Glen Canyon National Recreation Area
The deep blue waters of Lake Powell are framed by soaring red peaks. And from Kanab you can be there in about 75 minutes.
Though it's a popular destination, with a shoreline longer than the entire West Coast of the United States, you can always find a secluded cove or canyon. From powerboats to houseboats to kayaks, you and your pet can rent your choice of watercraft and have a ball exploring Lake Powell. Or, when water levels allow, take a ferry between Bullfrog Marina and Halls Crossing for an easy way to spend time on the water.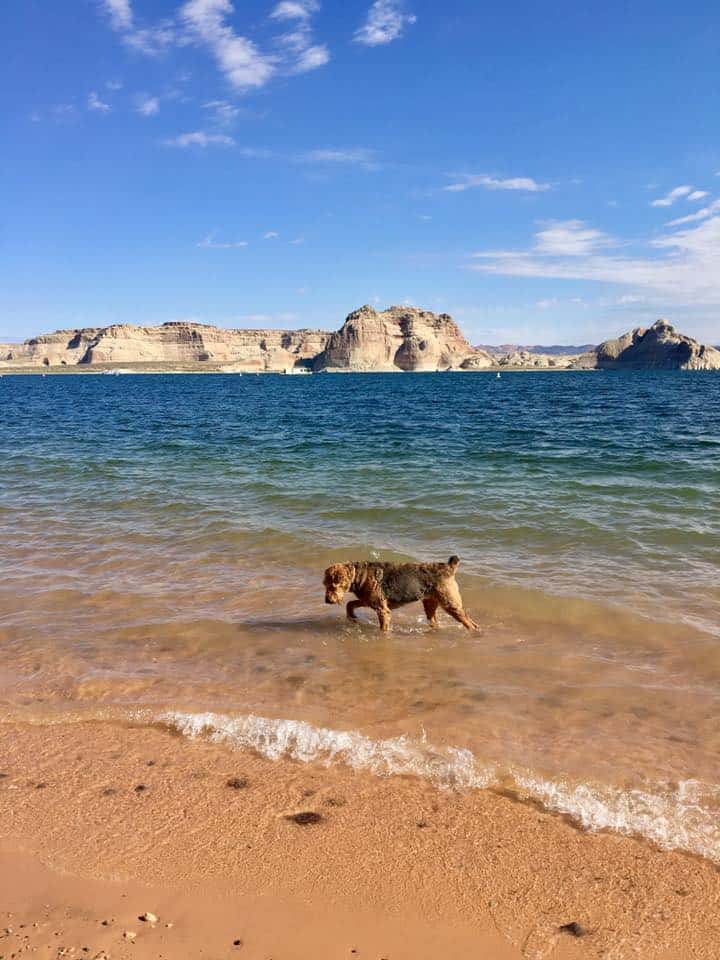 Vermilion Cliffs National Monument
People come from all over the world to see the colorful sandstone swirls in Vermilion Cliffs. But if you're driving from Kanab, you can be there in about 45 minutes.
The Marble Canyon Area is easily accessed from Hwy 89A where it crosses the Colorado River. Here you can take in the views from your car or enjoy a short hike. And as you cross the Navajo Bridge keep your eyes peeled for the California condors that make the bridge home.
If you're looking for a more remote adventure, you'll need to plan ahead. Dogs can hike with you in Coyote Buttes North (The Wave), Coyote Buttes South, and for overnight trips in Paria Canyon, but both you and your pup must obtain a permit in advance.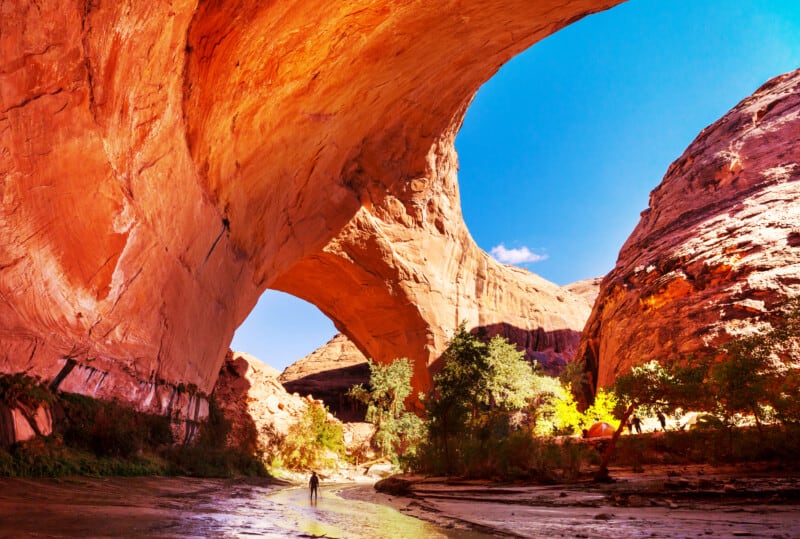 Zion National Park
Zion National Park, Utah's oldest and most popular park, is a 40-minute drive from Kanab. With the red and white walls of Navajo sandstone towering 2,000 feet above you, hiking with your pet in Zion is an experience you won't forget. And there's a lot more to explore with pets at this national park than you might think!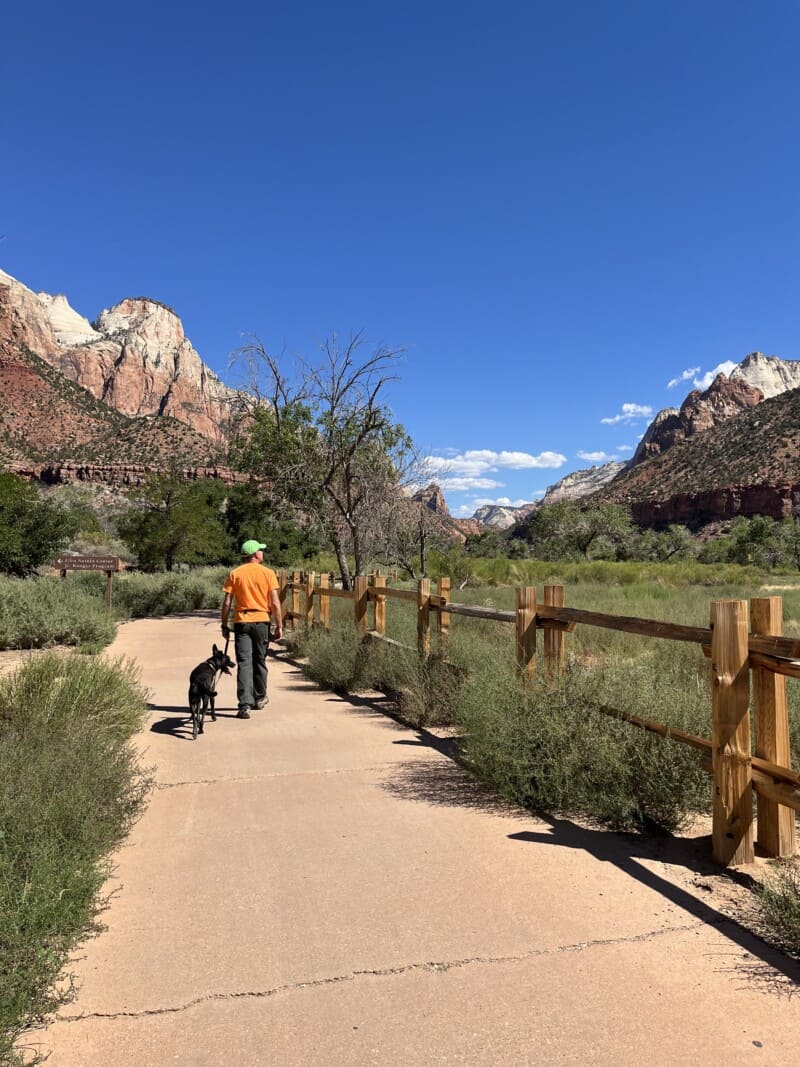 We hope our stay in Kanab, Utah inspires you to explore Southern Utah with your pets! If you've visited Kanab, we'd love to hear about your experience in the comments below.
Waggin' trails!
Amazon Affiliate Disclosure: GoPetFriendly.com LLC is a participant in the Amazon Services LLC Associates Program, an affiliate advertising program designed to provide a means for website owners to earn advertising fees by advertising and linking to amazon.com, audible.com, and any other website that may be affiliated with Amazon Service LLC Associates Program. As an Amazon Associate, the owner of this site earns a commission from qualifying purchases.
(Visited 2,362 times, 2 visits today)