The name "White Sands" might be a little misleading, but that doesn't make this national park any less impressive! The shimmering dunes here are actually made of gypsum – not sand. And thanks to an ancient sea and some very fortunate geography, it's now the largest dunefield in the world! Wondering what there is to do at White Sands with your dog? Let us show you around!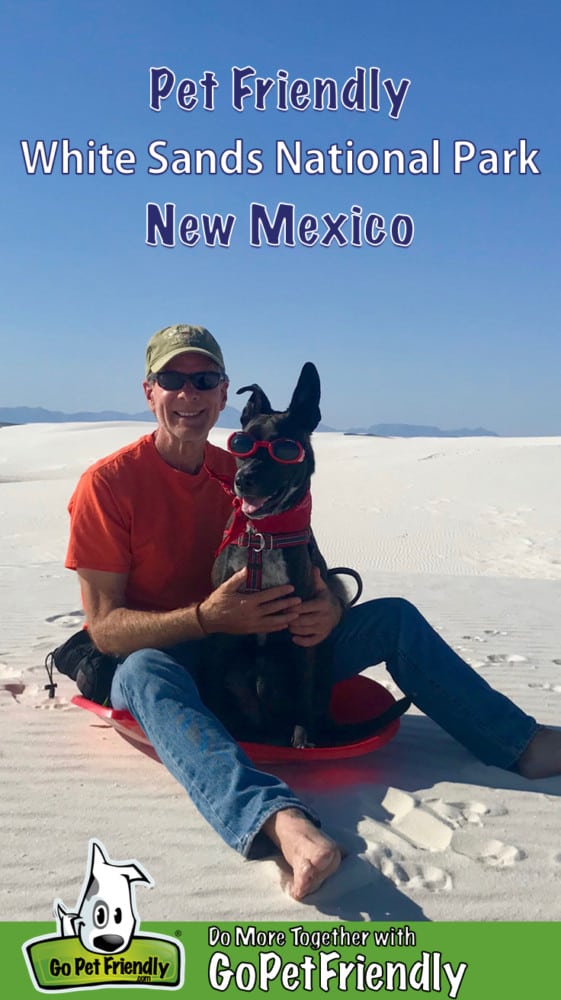 Pet Friendly White Sands National Park
Millions of years ago most of the southwestern United States, including parts of what is now New Mexico, was covered by the Permian Sea. When it retreated, deep layers of gypsum, the white powdery substance used to make drywall, were left behind. Time passed and the tectonic plates shifted. Mountains rose, carrying the gypsum deposits to higher elevations. In the upheaval, the Tularosa Basin – where White Sands is located – was created.
Gypsum is a common mineral that dissolves easily in water, so in most places rainfall and snowmelt carry it through streams and rivers to the ocean. But at White Sands there is no water outlet. The only natural water escape is through evaporation.
So, when gypsum from the mountain washes down to the valley, the water evaporates, the and gypsum crystalizes. The crystals then blow into massive, brilliant white dunes that cover 275 square miles. There's so much to explore at White Sands with your dog!
READ MORE ⇒ America's Most Pet Friendly National Parks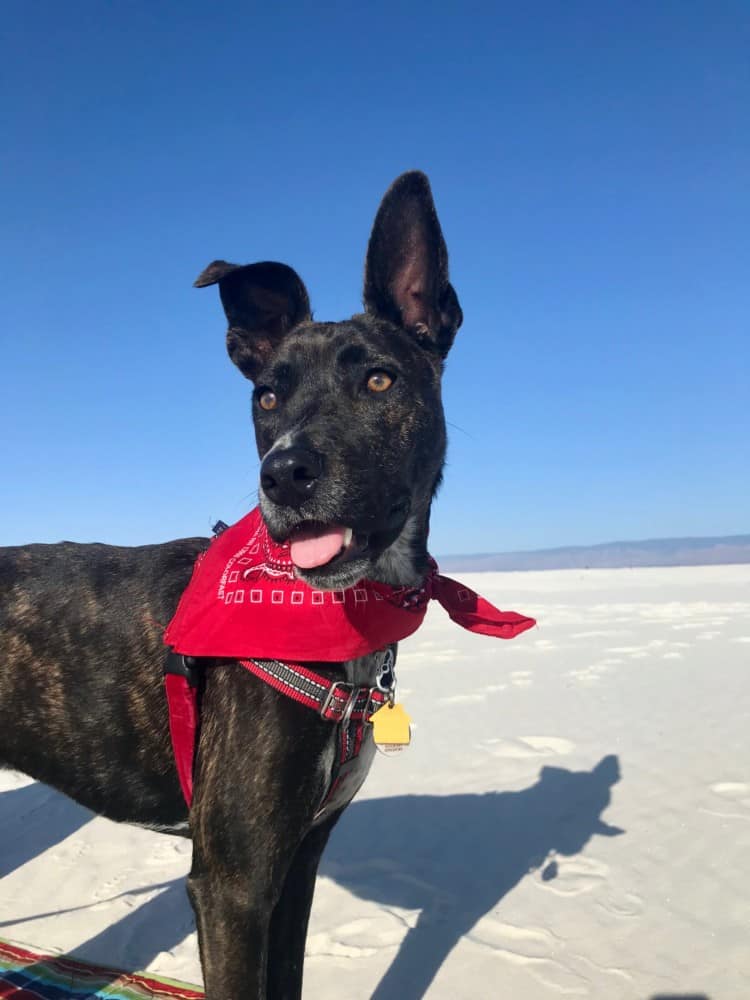 Pet Policy at White Sands National Park
The exciting thing is that leashed pets can explore the entire park with you – except inside the buildings, of course. And even horses are welcome!
Leashed pets can explore the dunes, hike the trails, and join you at the picnic areas. Pets cannot go inside the buildings.

Pets must be cleaned up after and should not be disruptive.

Use a leash that's no longer than 6-feet.

Visitors with horses should check in at the entrance station to receive a horse permit and instructions on where riding is allowed.

Horses must be picked up after and are not permitted in the monument during missile tests.
Be sure to pack plenty of water for you and your pets. The combination of dry desert air and high elevation can quickly lead to dehydration if you're not cautious.
The only place to fill water bottles is at the visitors center, and it's a bit of a drive from the picnic areas and hiking trails. So, top off your containers before heading out!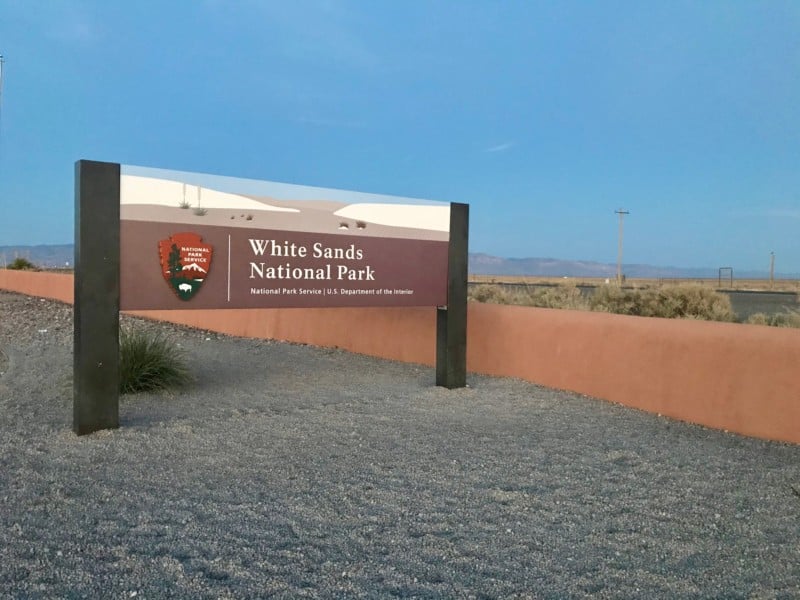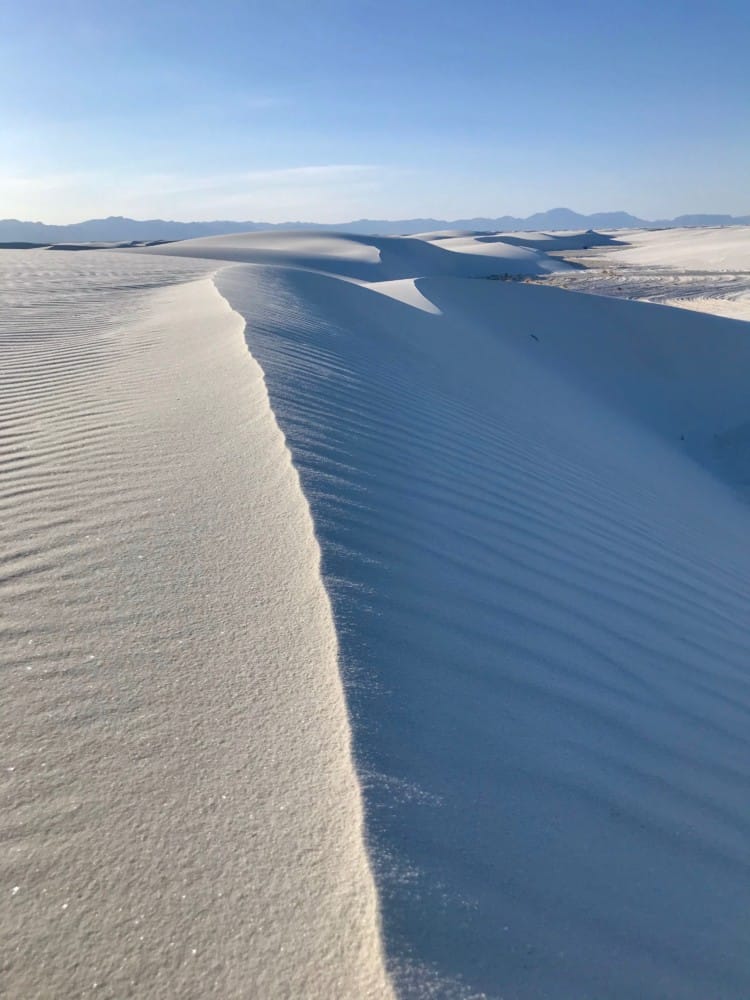 White Sands Hiking Trails
You and your dog can have plenty of fun at White Sands without ever leaving sight of your car. The Playa Trail, Dune Life Nature Trail, and Interdune Boardwalk all have interesting exhibits about the geography and plant and animal life.
Or you can bring a sled (or buy one in the visitors center) and go in search of the perfect run.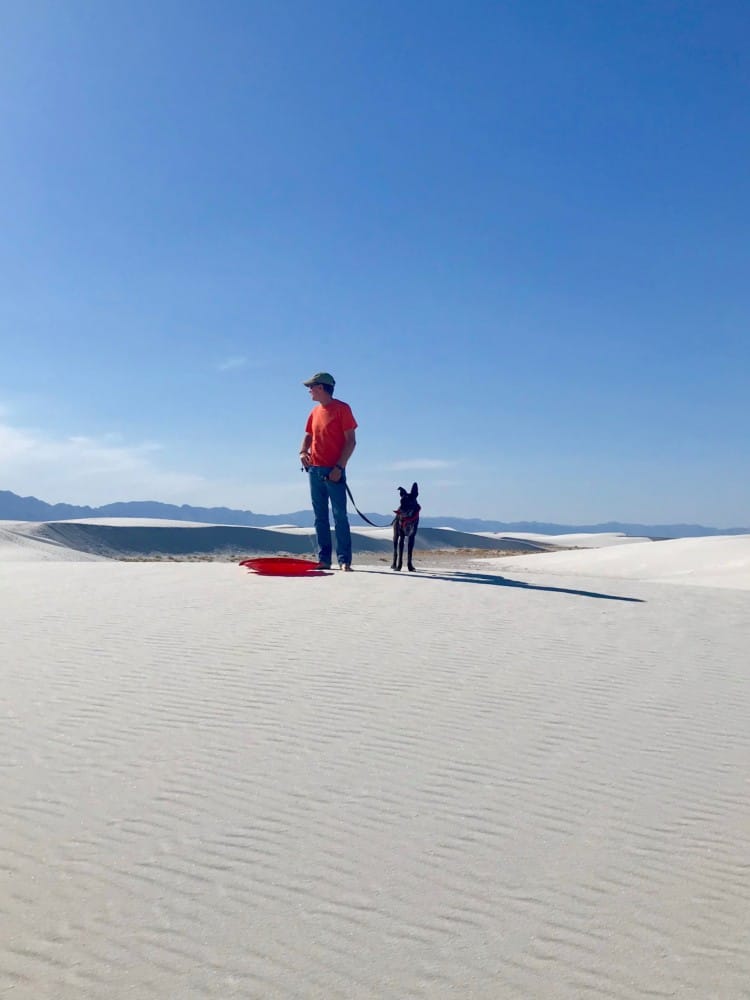 But to truly appreciate the unimaginable size of the dunefield, plan to hike the Alkali Flat Trail. Once again the name is deceiving — this trail is not flat! It's a 5-mile loop that runs up and over dunes the entire way. The 3-hour hike is strenuous in spots, but entirely worthwhile.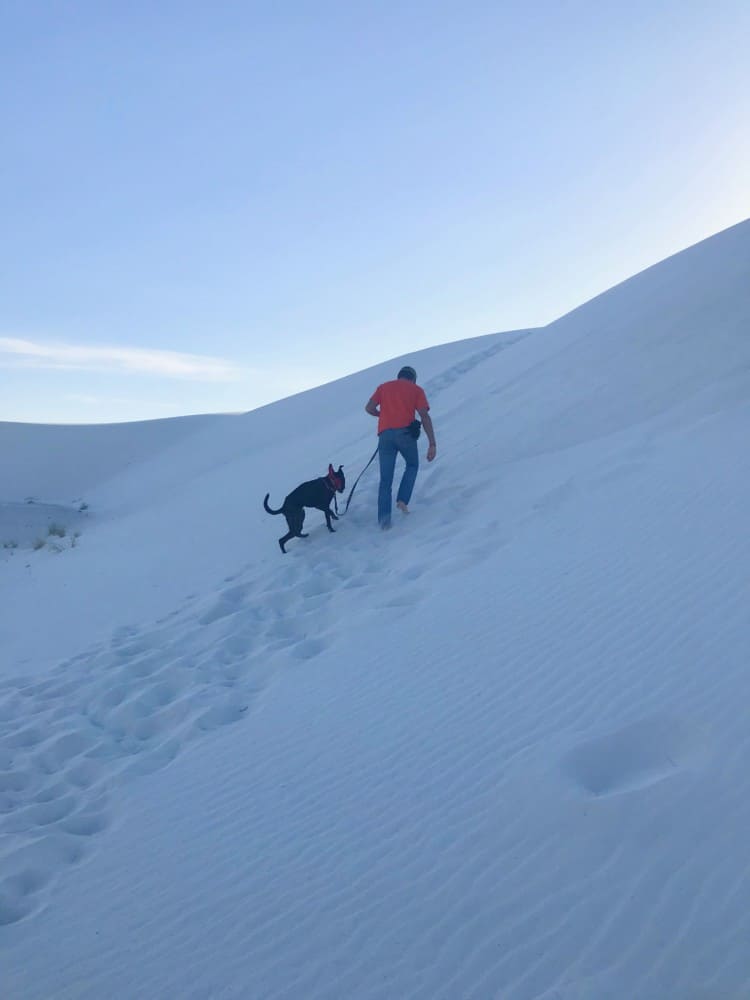 The trail is marked with red posts, and it's important to always keep the markers in view. Once you're away from other landmarks, the dunes all begin to look the same and getting lost is easy.
Don't rely on your footprints either, because they'll disappear quickly if a light breeze picks up!
READ MORE ⇒ Recognizing Dehydration and Heat Stroke in Dogs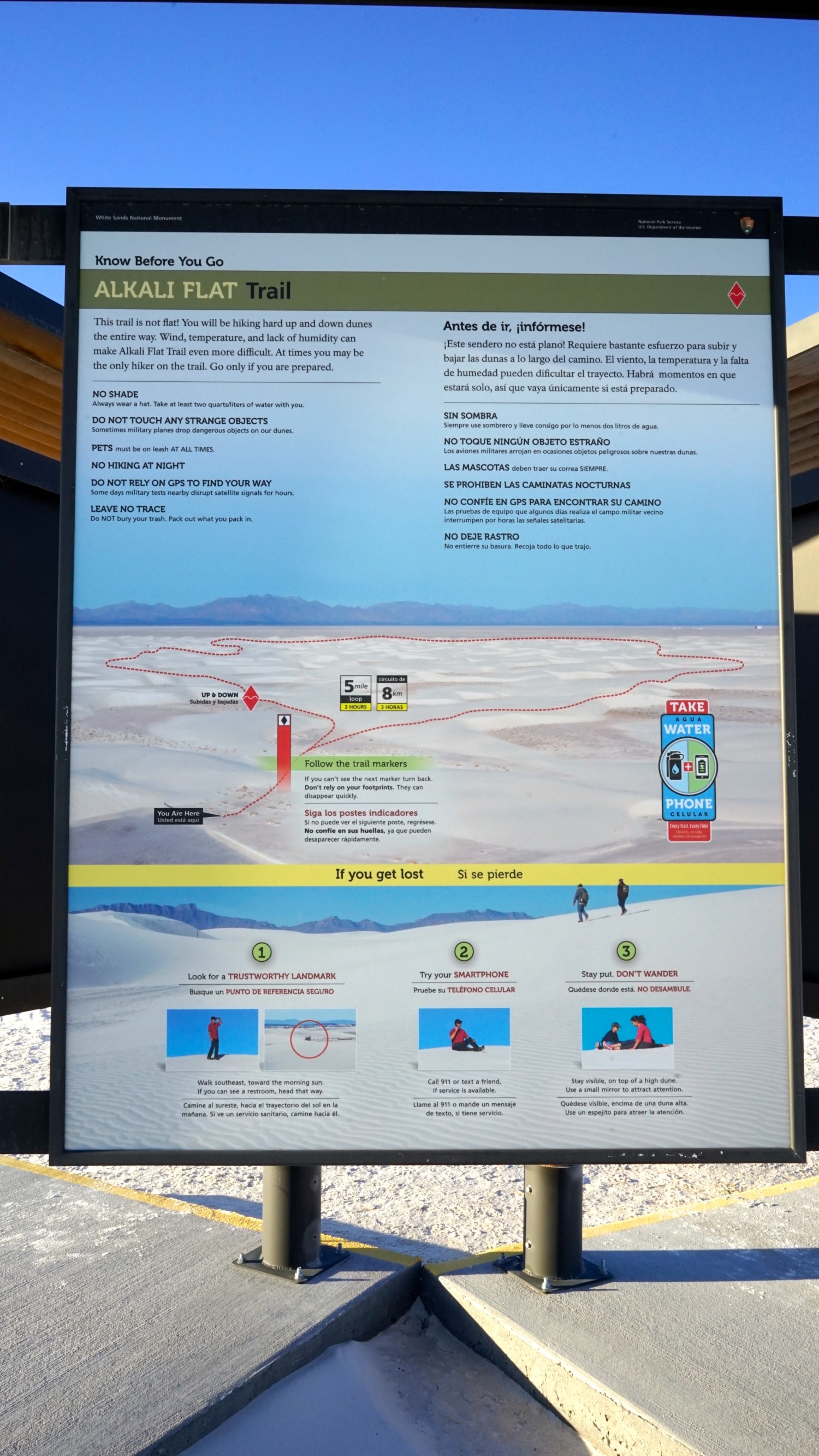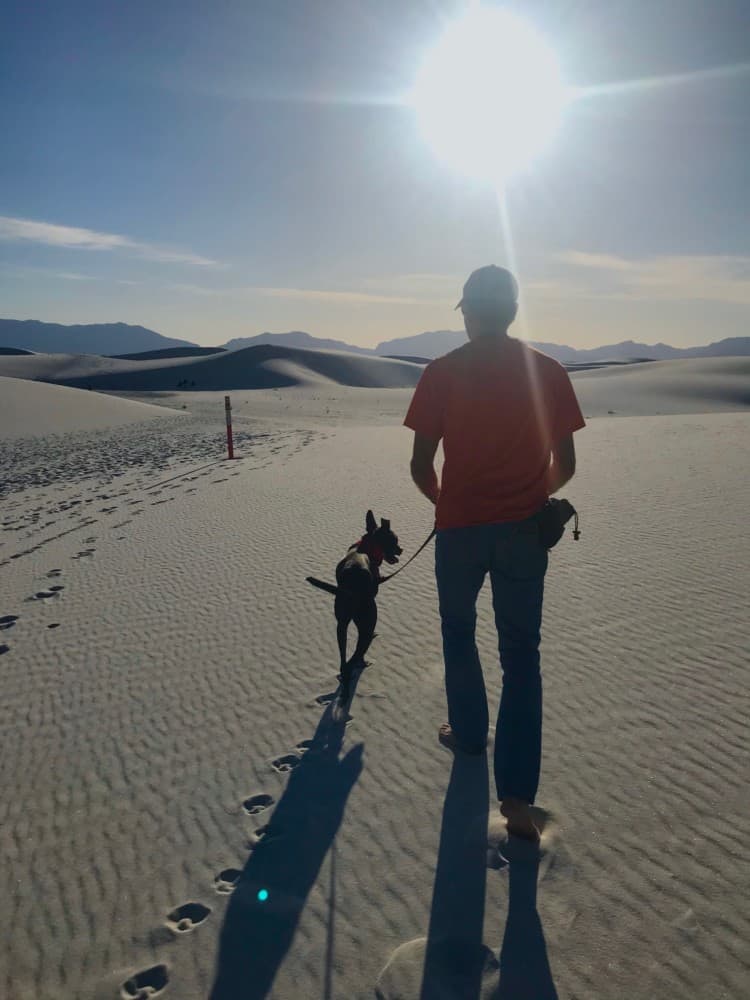 Stay For Sunset
My best advice for visiting White Sands with your dog is (1) buy the sled wax in the visitor center; and (2) pack your dinner picnic stay for sunset.
The dunes can be blinding on a sunny day, but at sunset the sky explodes in a confetti of colors and the gypsum practically glows.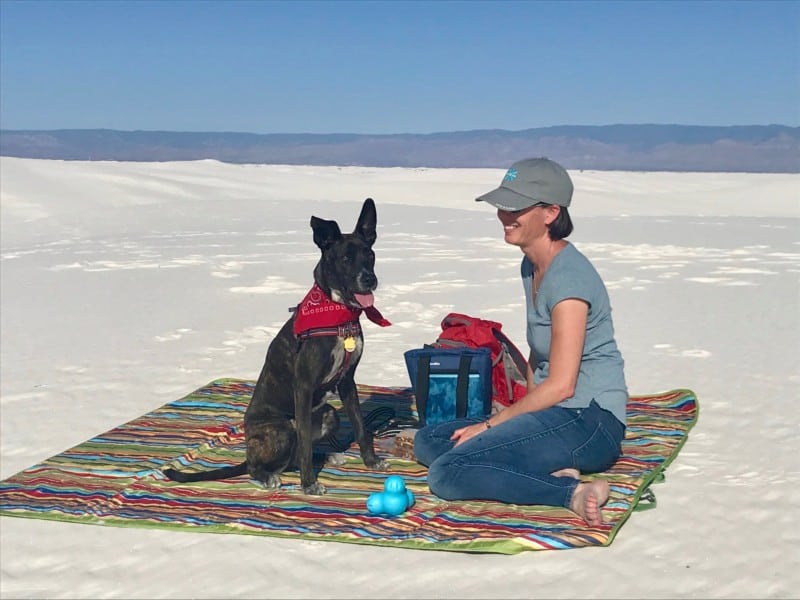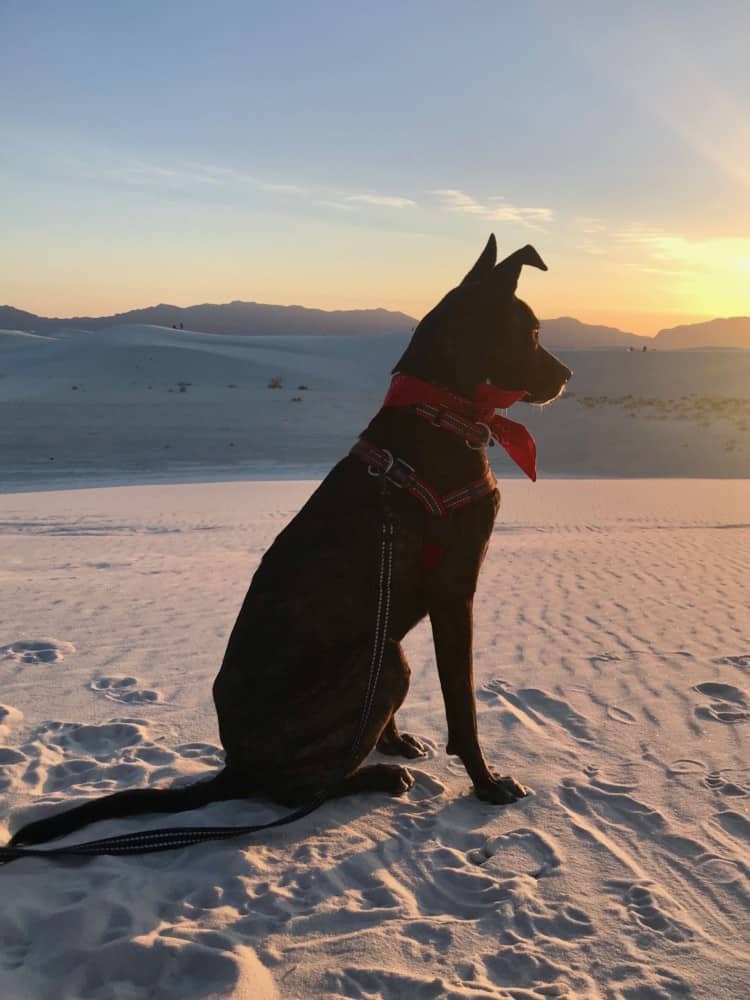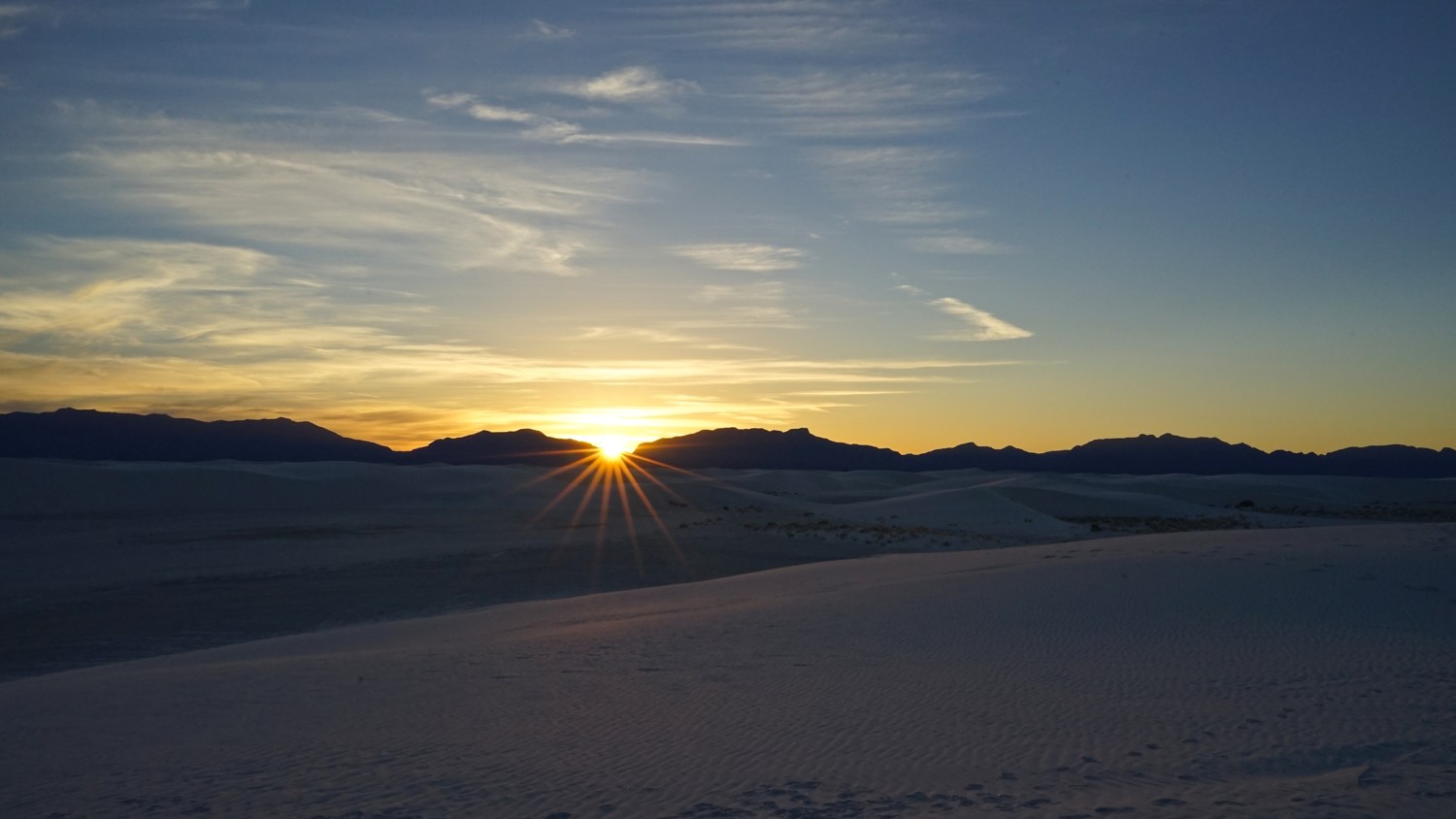 Just after the sun drops behind the San Andres Mountains, be sure to turn around and enjoy "second sunset" as the sunlight reflects off the Sacramento Mountains to the east.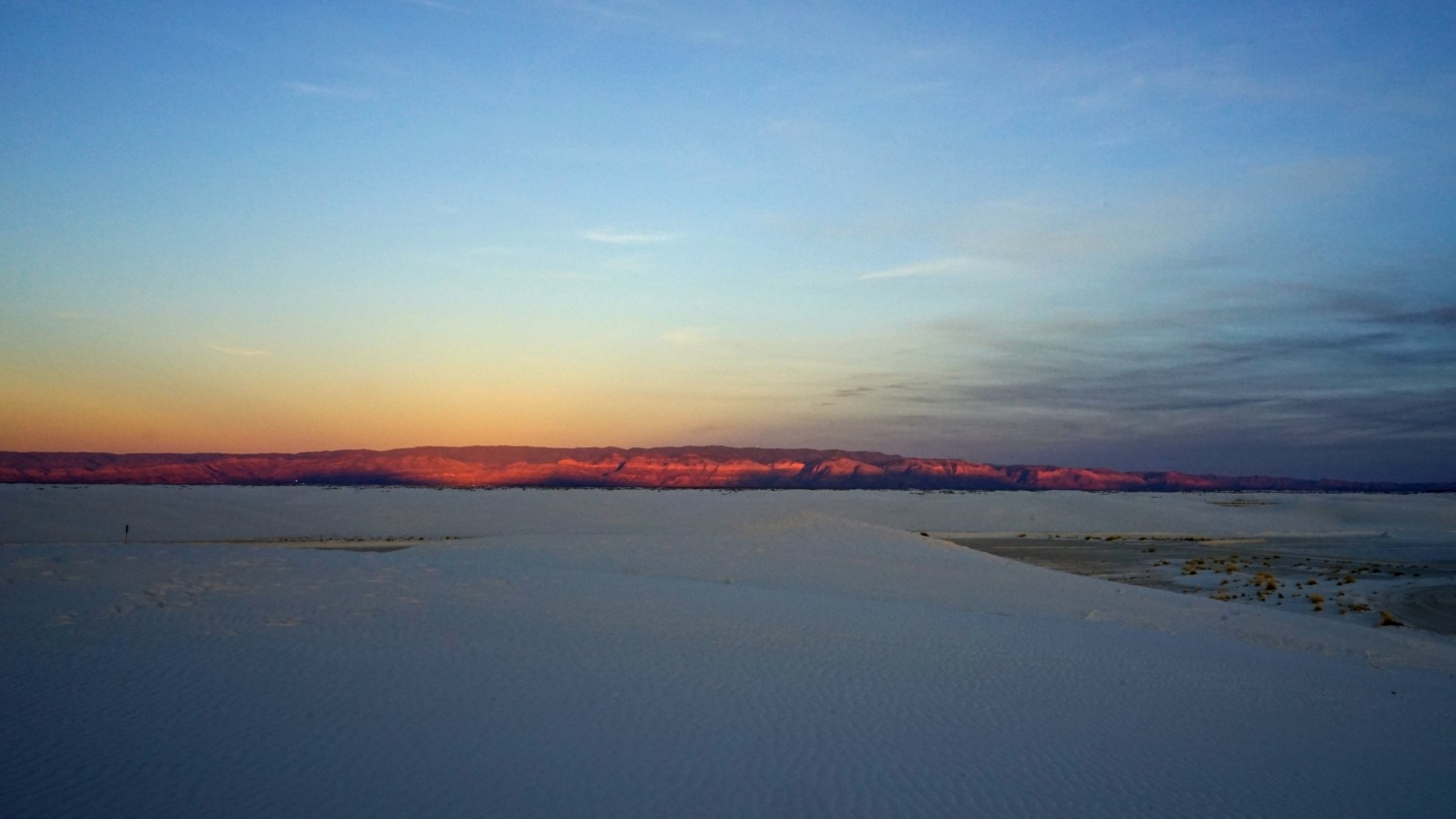 Plan Your Visit
White Sands National Park is located near the White Sands Missile Range. During missile tests the park and Highway 70 are closed. Before your visit, call the national park at 575-479-6124 or check their website to determine if there is a test scheduled.
READ MORE ⇒ The Ultimate Pet Friendly American Road Trip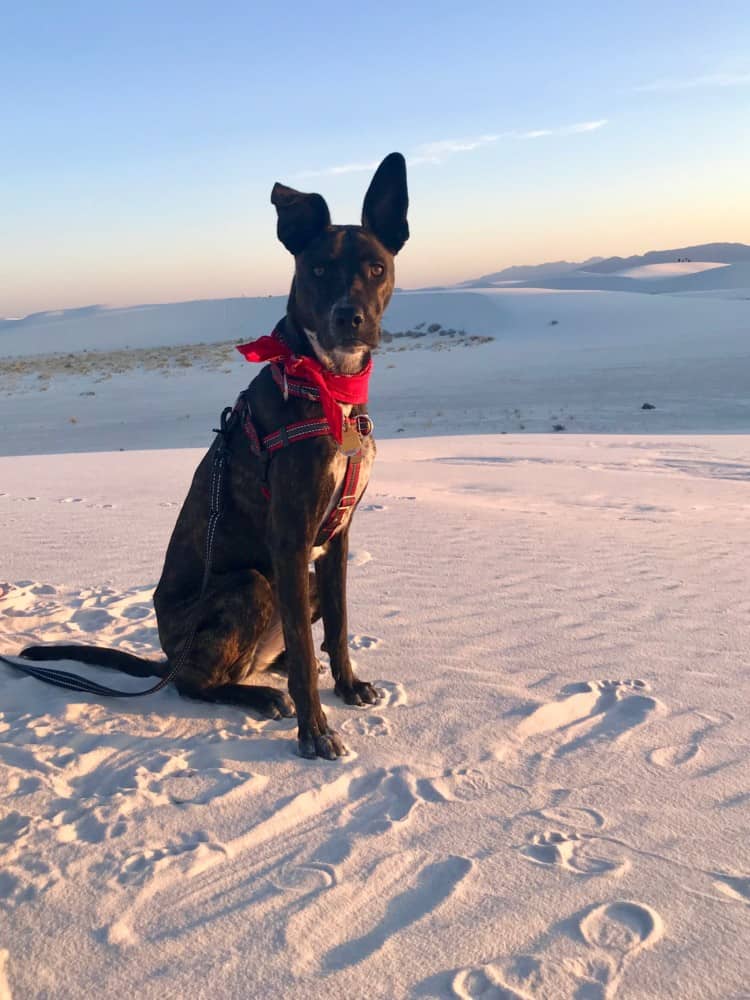 Pet Friendly Places To Stay
There are several pet friendly hotels and campgrounds in Alamogordo (15 miles northeast of the park) to choose from. We opted for a broader selection of pet friendly options in Las Cruces (54 miles west of the park). Our favorite area RV park is Hacienda – it's convenient, well-maintained, the staff is friendly, and it's walking distance to the dog friendly patio and superb pizza and pasta at Luna Rossa Winery and Pizzeria!
In The Area
Located between Carlsbad Caverns and White Sands is the charming town of Cloudcroft. Perched at 8,600 feet in the Sacramento Mountains, skiing is the primary draw here.
But with its location in the Lincoln National Forest, Cloudcroft also has some spectacular scenery and hiking! We LOVE the national forests for being so pet friendly – and there are miles of great trails here to explore.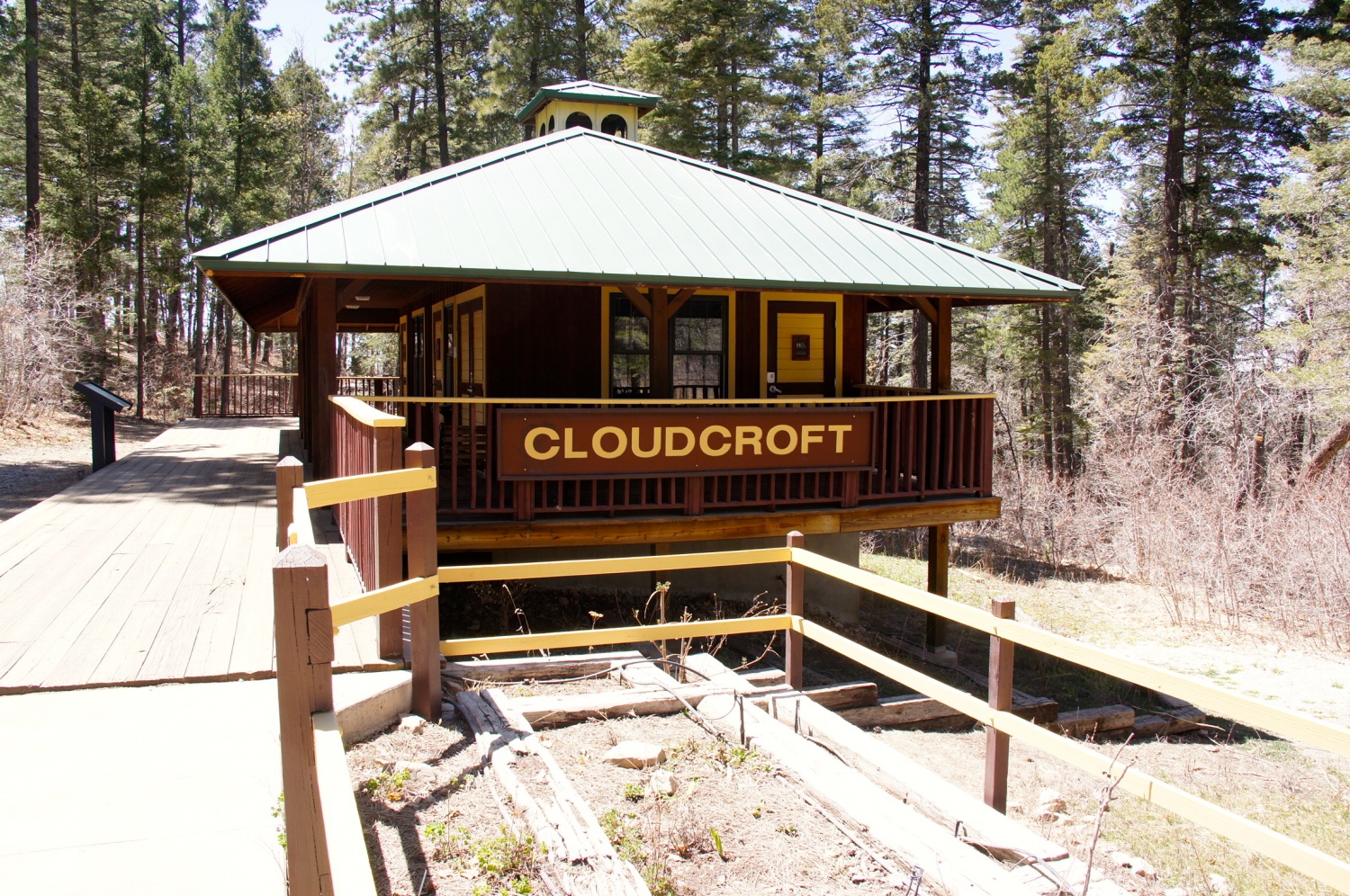 In the late 1800's steam locomotives coming from Alamogordo climbed nearly 4,000 to reach Cloudcroft. Now a Rails-to-Trails runs the 65-mile route, winding along ridges, clinging to ledges, and crossing old wooden railroad trestles that span the mountain canyons.
From the Cloud-Climbing Trestle Trail you can see White Sands in the distance! Though this trail isn't very long or technical, remember that hiking at this altitude is a different experience – for you and your pets. Be sure to take plenty of water and don't push yourself too hard.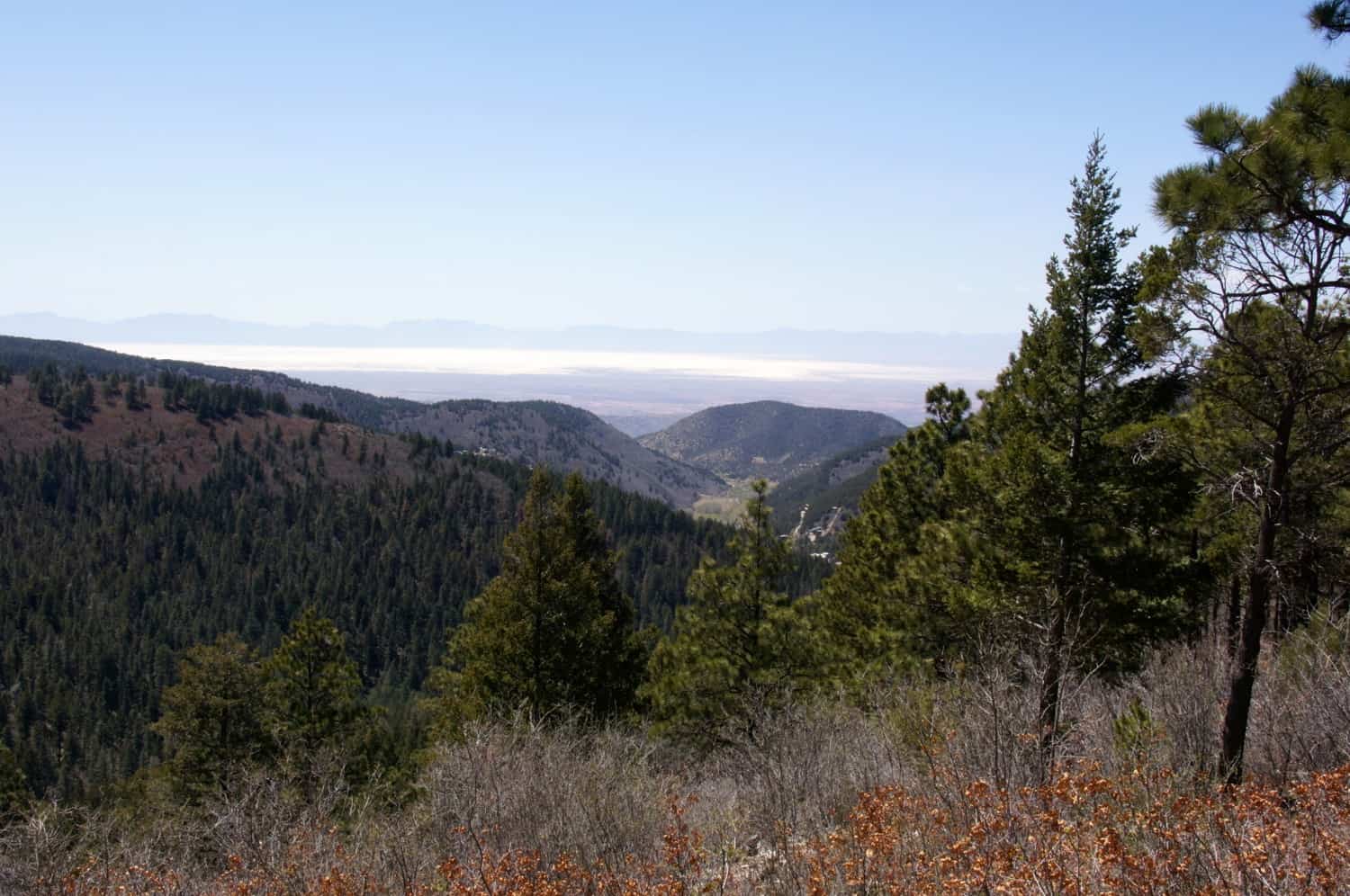 Visiting White Sands with a dog or two is a great way to spend a day! We've visited several times over the years, and always had a terrific time.
Seeing the dunes in different light and during different seasons makes each experience special. One day I'm hoping to see it during a full moon! If you can plan your pet friendly trip around the lunar cycles, getting a camping permit and spending a night under the stars is something to consider.
Amazon Affiliate Disclosure: GoPetFriendly.com LLC is a participant in the Amazon Services LLC Associates Program, an affiliate advertising program designed to provide a means for website owners to earn advertising fees by advertising and linking to amazon.com, audible.com, and any other website that may be affiliated with Amazon Service LLC Associates Program. As an Amazon Associate, the owner of this site earns a commission from qualifying purchases.
(Visited 17,814 times, 1 visits today)